Sharing our new storage ideas for our coastal dining room!
I hope you all had a great weekend! I'm back today sharing our dining room refresh. I started this mini-makeover shortly after our kitchen renovation, and was finally able to wrap it up over the past week.
This post is sponsored by Pottery Barn and contains affiliate links. As always, all thoughts and opinions are my own. Click here to read my full disclosure policy.
Here was how our dining room looked the day we did our inspection before moving it.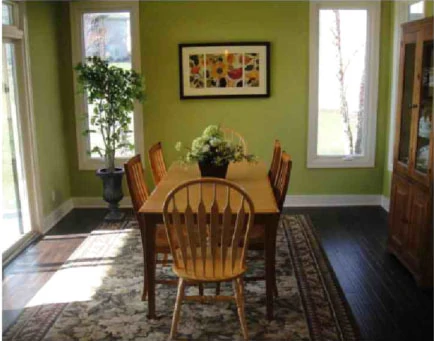 And here's how it looks now with the freshly painted walls (Benjamin Moore Simply White) and the furniture/lighting we've updated over the years. You may also note that the painting in the background looks a little different from the last time I shared the space. I've slowly been updating it with basic craft paint to get a look I love. These updates tie in so much better with the updated kitchen now! But, this is only a small glimpse at the changes in my coastal dining room!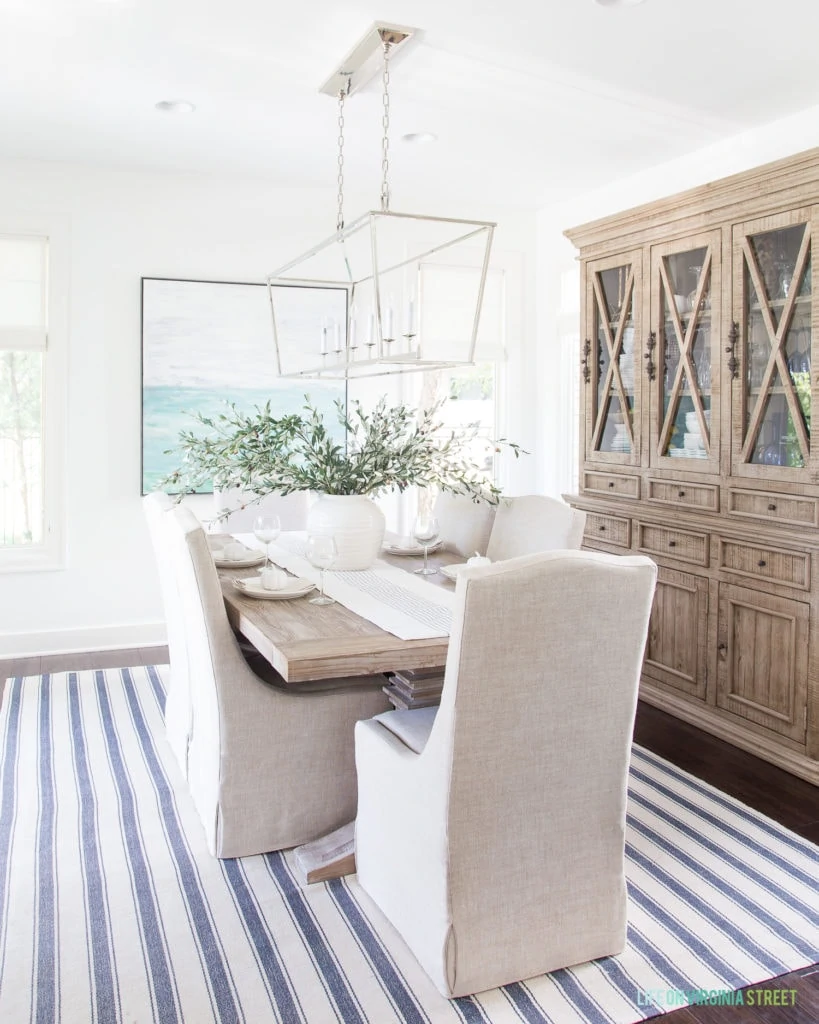 One of my favorite dining room updates to date though, happened last week in this little corner just off the door to the backyard/pool.
For years, we had these wine glass/bottle racks hanging on the wall and a bar car beneath. We later upgraded to a larger bar cart, but the space never felt "right" and almost always looked cluttered. Pair that with the occasional glass falling off and breaking when the sliding door would get slammed and we knew it was time for a change.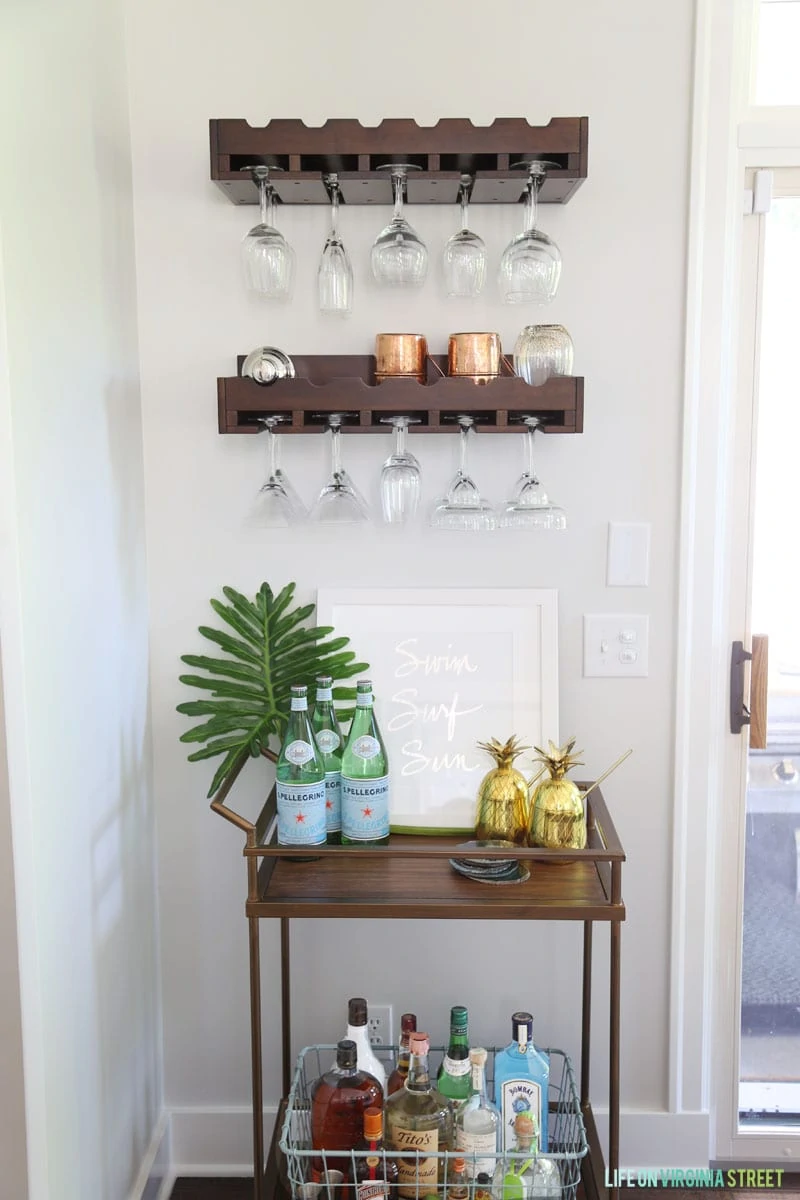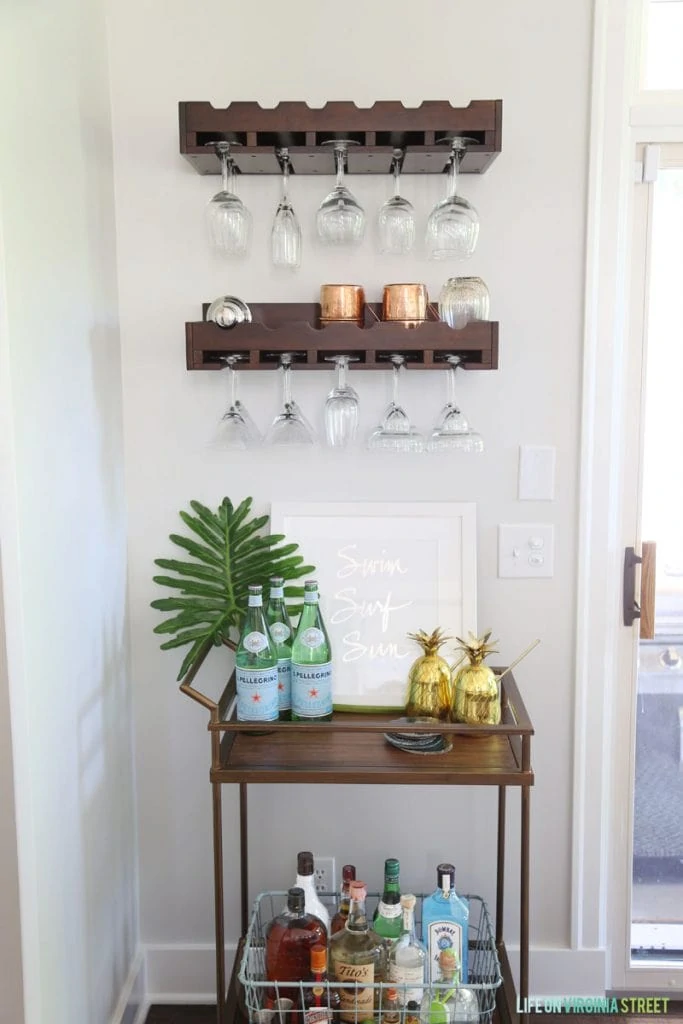 Also, did I mention our floor and bar cart look liked this most days? It was essentially our pool equipment zone as well. Baskets of sunscreen, air pumps, test strips, goggles – the list goes on.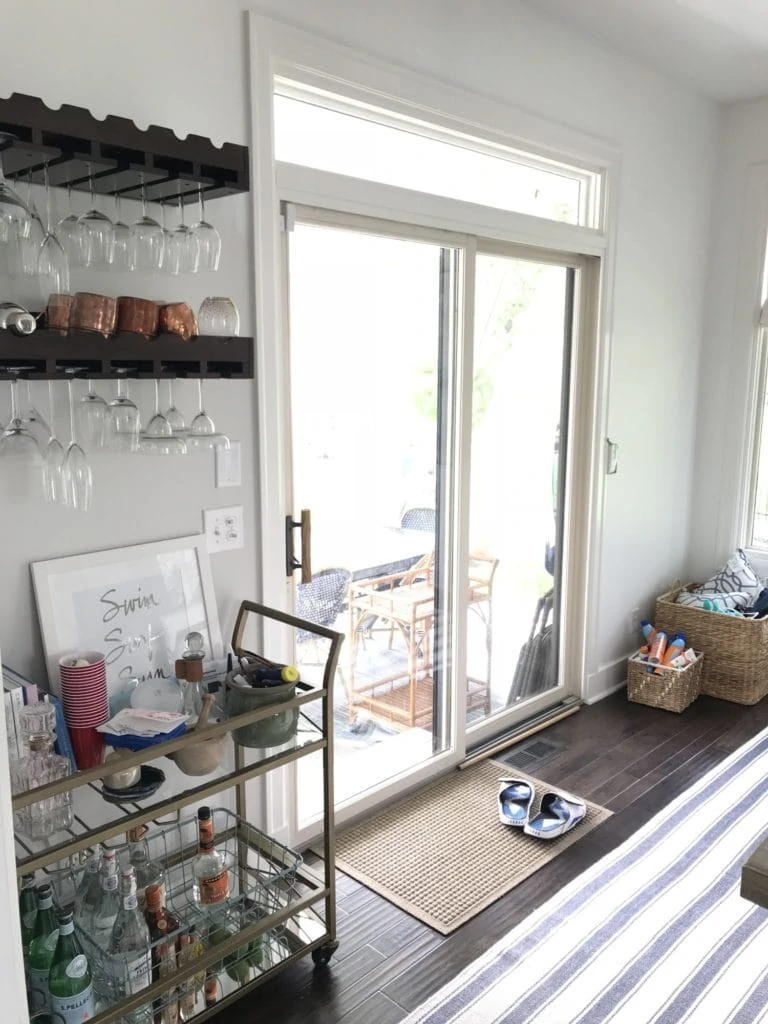 So, I'm sure you can imagine how thrilled I was when Pottery Barn reached out and asked if I wanted to partner to feature an item from their PB/Apartment line. A) Because it's Pottery Barn, and you already know my love for them. B) I knew this would be the perfect spot to feature a smaller pieces of furniture because it's exactly what we were needing to clean up this mess! If you're not familiar with the PB/Apartment line, it's a beautifully curated collection of Pottery Barn products that work well in smaller spaces. You can see the full line here.
And here's how that area looks now. The view from the hallway just got a whole lot better!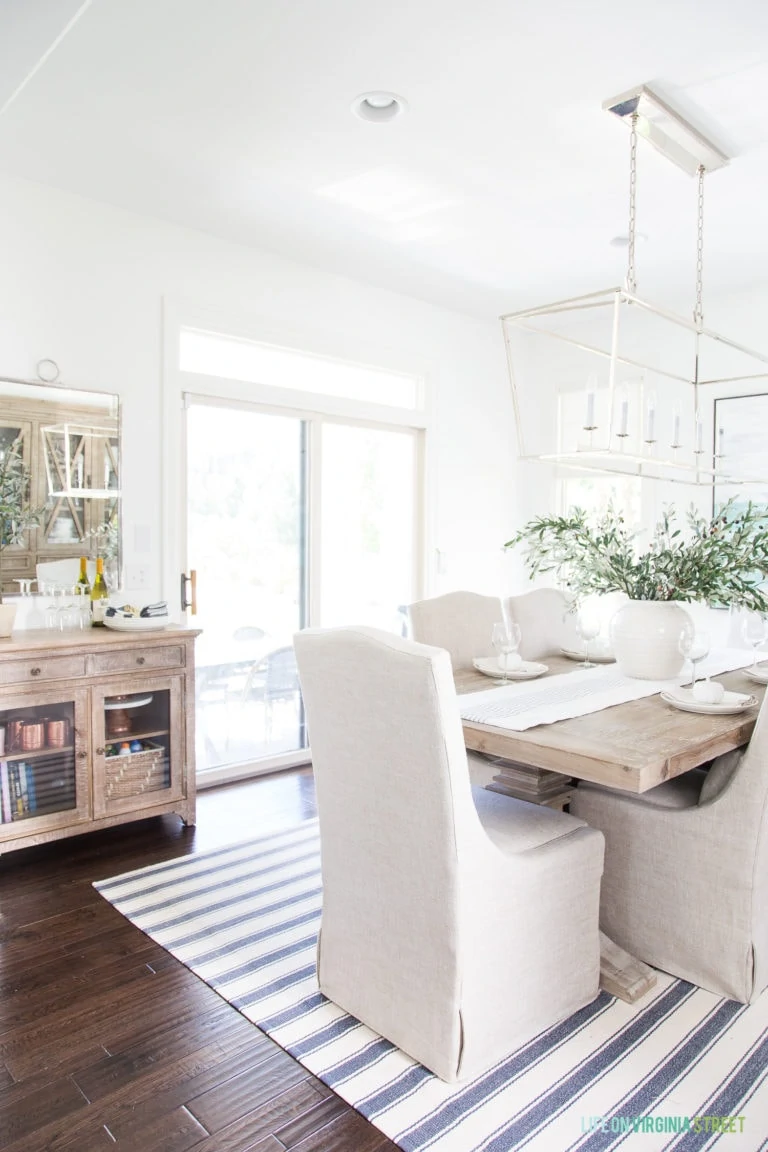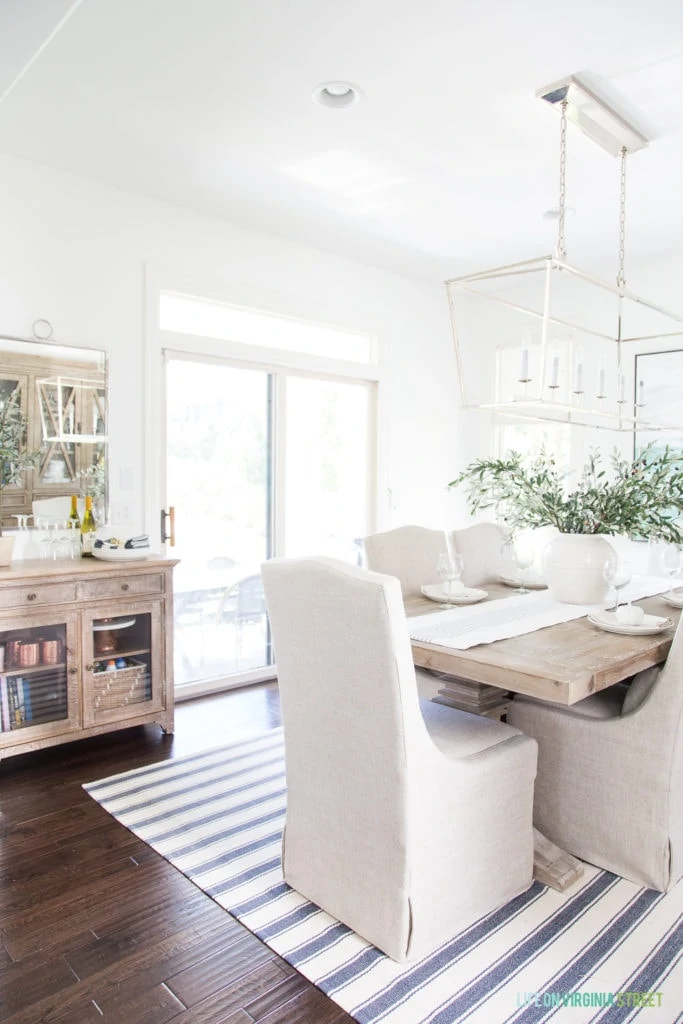 With the kitchen renovation, we moved most of our wine and alcohol to the beverage refrigerator. Which means our new Thalia Buffet can be command central for all things pool related, but it also doesn't look out of place in our dining room! It's the perfect size for this little nook. A full-sized buffet table clearly would not have worked here!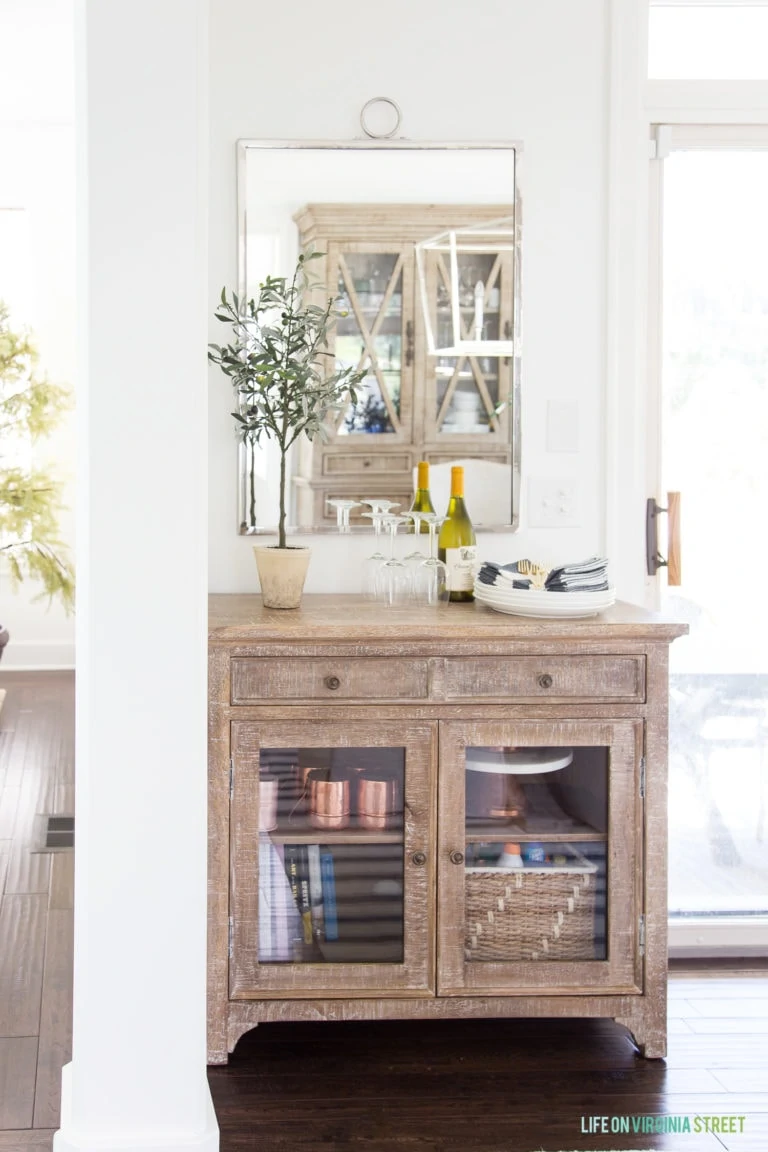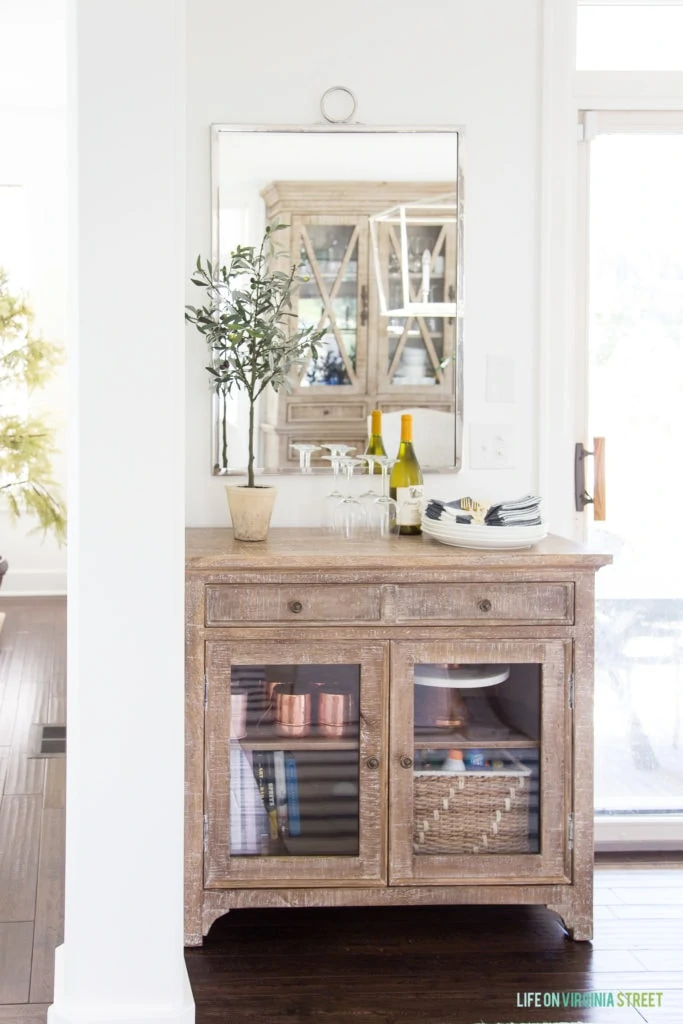 I'm currently storing a combination of overflow cups and mugs, cake stands that don't fit in other cupboards, all of my recipe and entertaining books, and our basket of sunscreen! Is it perfectly styled? No. But it's added the perfect amount of storage we needed to this area!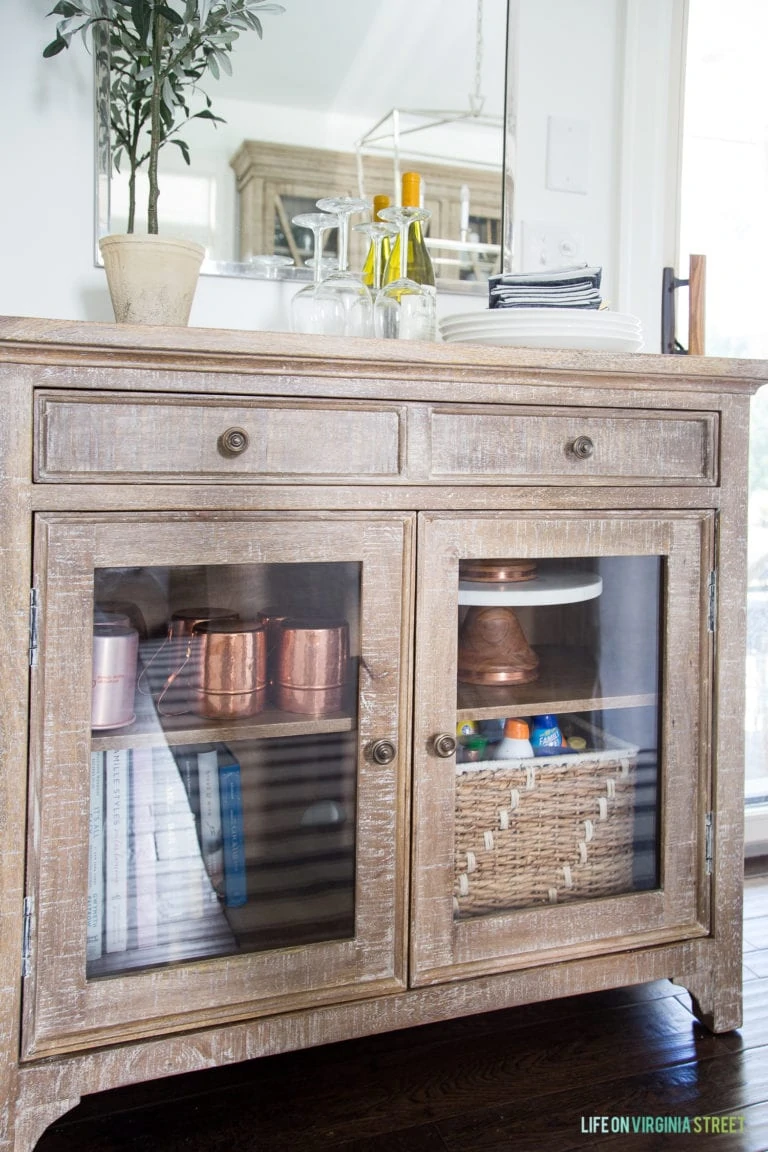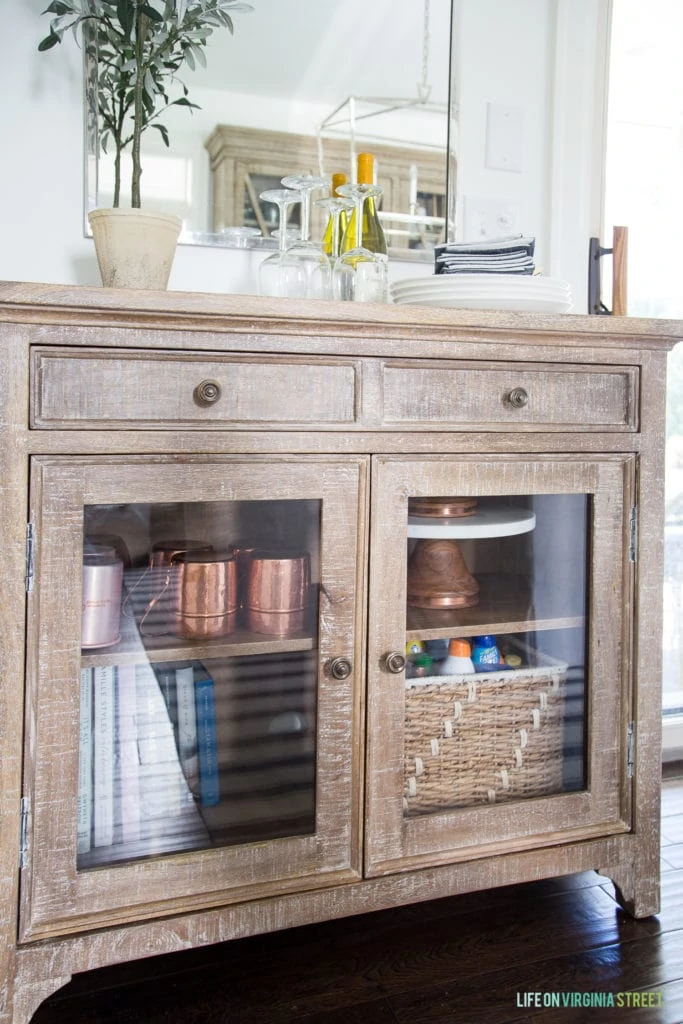 The wooden drawer holds all the pool items we need within easy reach. Our remotes for the pool cleaning system, waterfall, and sprinkler system, as well as our test strips and other items we use on nearly a daily basis. Now they're no longer scattered all over the top of the bar cart, but are still just as easily accessible!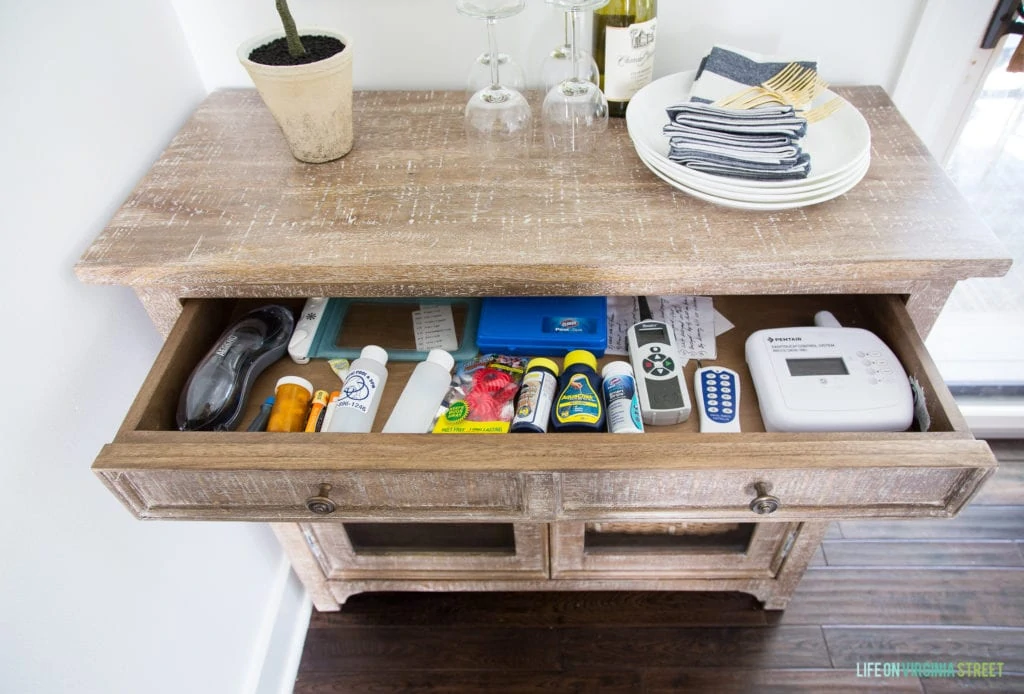 I added this Logan Wall Mirror above the buffet and couldn't love it more! Not only does it reflect even more light into the space but it is so beautiful in real life! This faux olive topiary and these wide stripe napkins finish off the look to create an inviting space!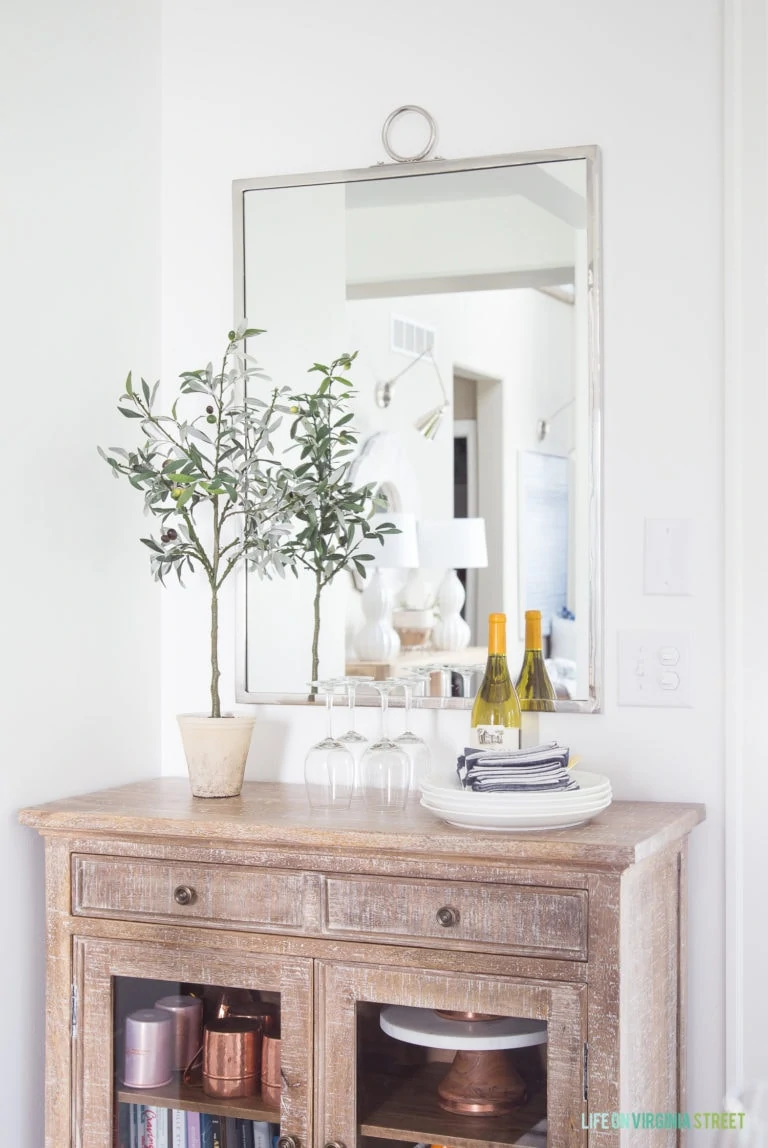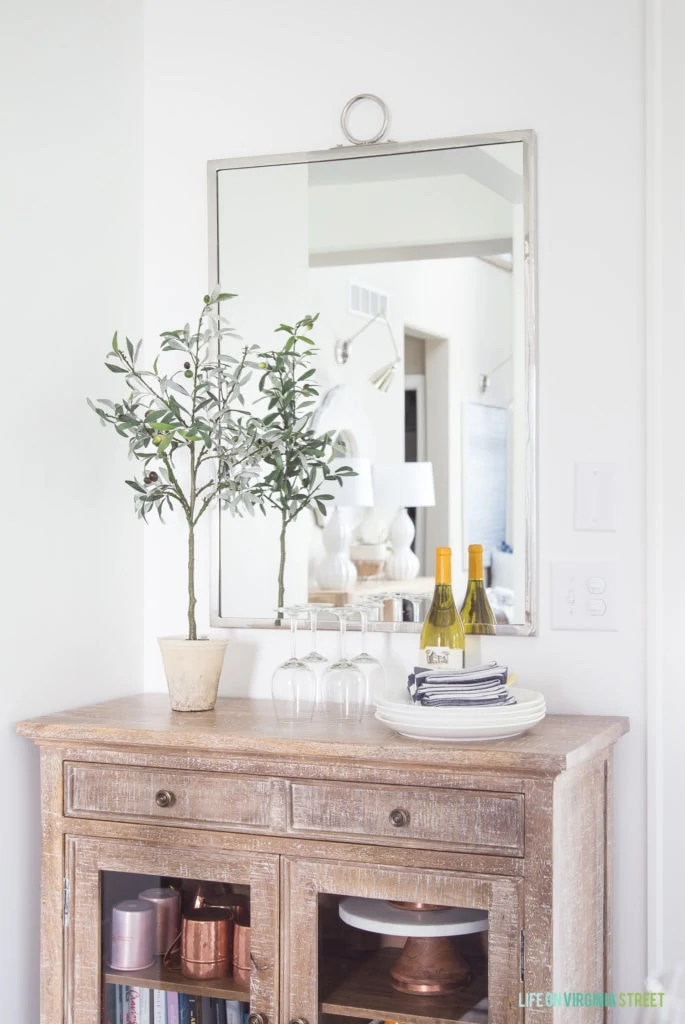 I'm at the point that I may just need to buy another one of these white vases. If you haven't noticed, it has appeared in multiple rooms over the past few weeks in my photos. But every time I try using another vase, I just want this one instead! And did you notice these striped napkins match the duvet cover in our neutral and green guest bedroom? I want them in every color!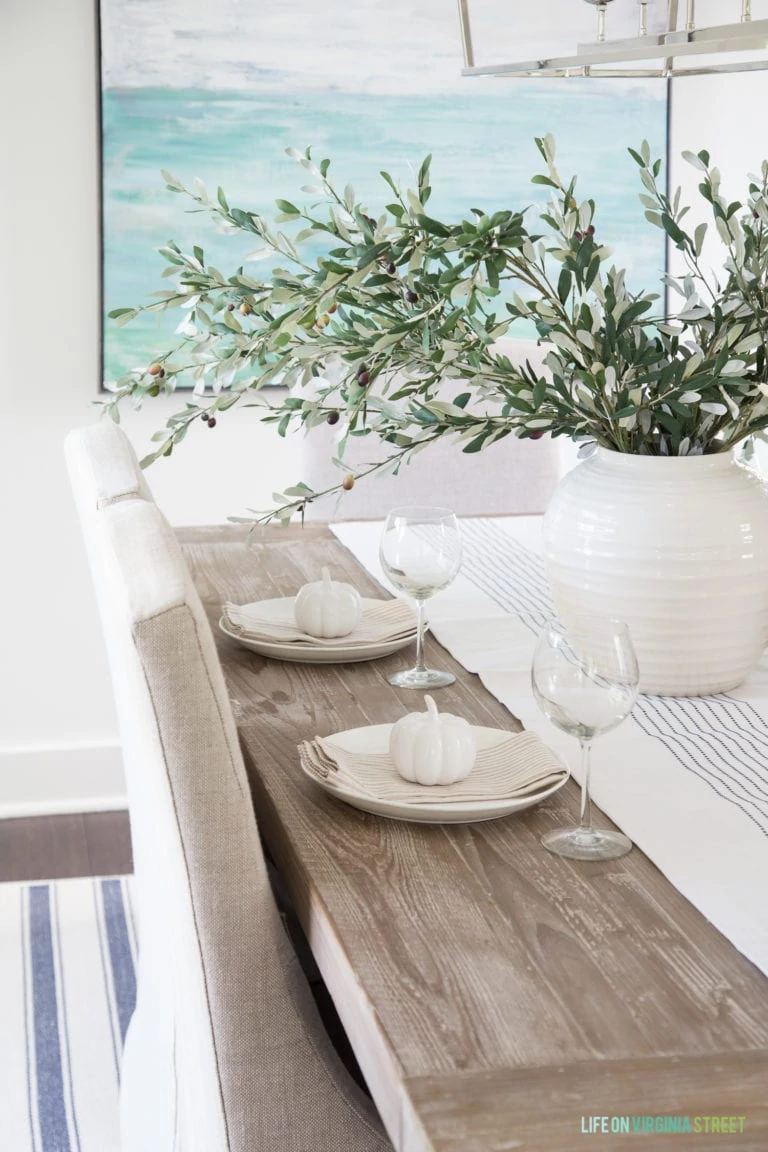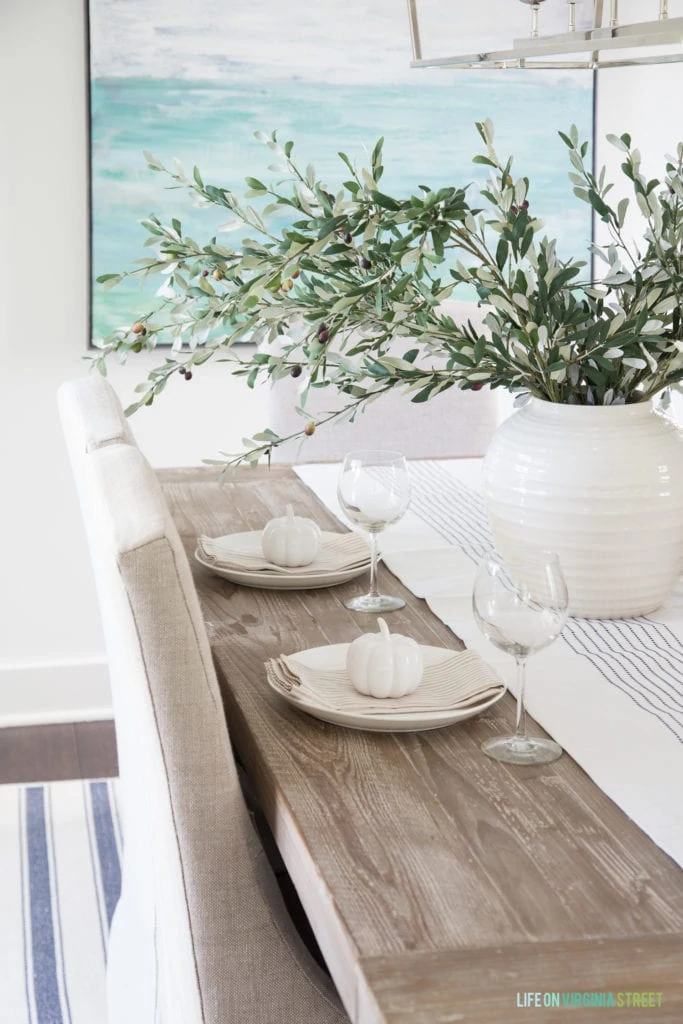 This updated view into our kitchen may just very well be one of my favorites yet!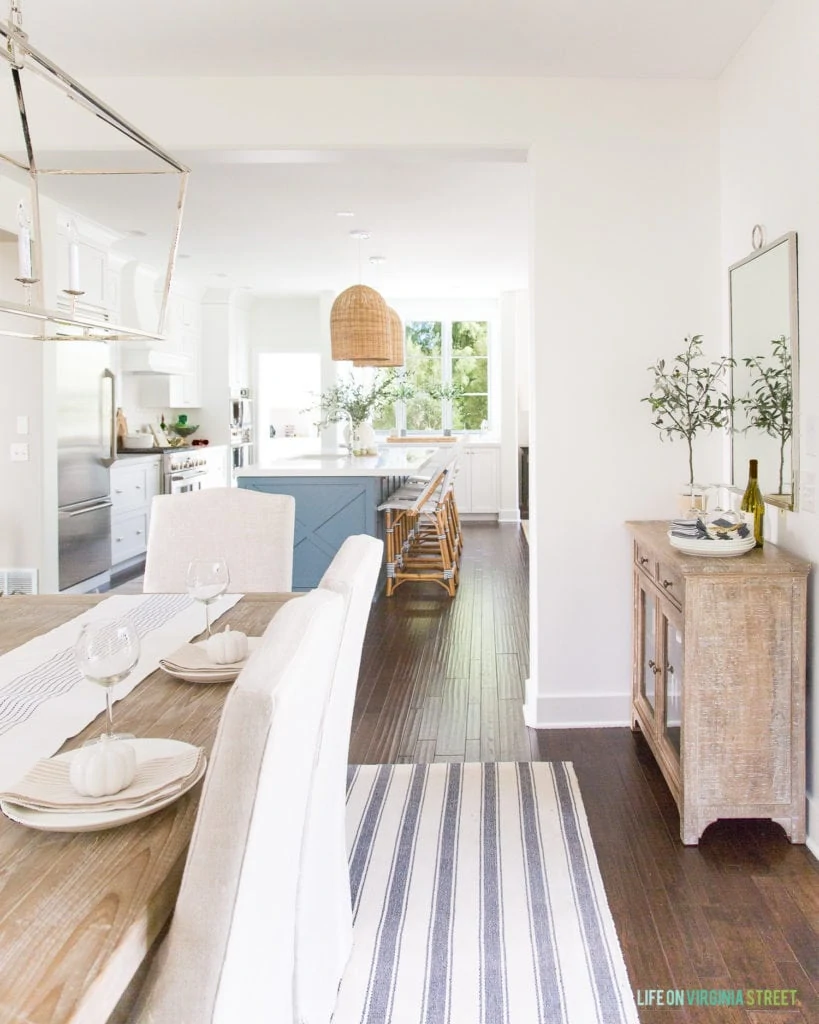 I hope you love this update as much as we do!


If you would like to follow along on more of my home decor, DIY, lifestyle, travel and other posts, I'd love to have you follow me on any of the following:
Pinterest / Instagram / Facebook / Twitter / Google+
disclosure: some affiliate links used