Now that it's December and practically winter, I figured I had better write out my 2020 fall and winter home project goals! So today, I'm sharing everything we're hoping to accomplish around our house, big or small, over the next few months!
This post contains affiliate links for your shopping convenience. Click here to read my full disclosure policy.
I typically write a few sets of home goals each year. But, because we're such warm-weather, summer-loving people, we typically only complete projects around the house in the colder months. So each year, in addition to my goals for the year, I write a fall/winter project list. This year, I'm a bit behind on actually posting them, but we've been hard at work on a few already!
2020 Fall/Winter Home Project Goals
Let's jump right in to our 2020 fall/winter project home goals!
Spray Paint Fire Place
I added this one to the top of the list, because it should be one of the easiest once we just do it. If you look in the photo below, you'll see a silver section on the black grill of our fireplace. Since our fireplace renovation over two years ago, more and more of the paint has fallen off. Which is odd, because we never touch it. But, we run our fireplace frequently and it sounds like this is just something that can happen over time. I've already purchased the high-heat black spray paint, so we just need to take the screen of, sand it down, and re-paint. It will be a quick weekend project, but for safety reasons with the pilot light, also requires us to lock up the cats for awhile. Hopefully we can get this one done by the end of the year!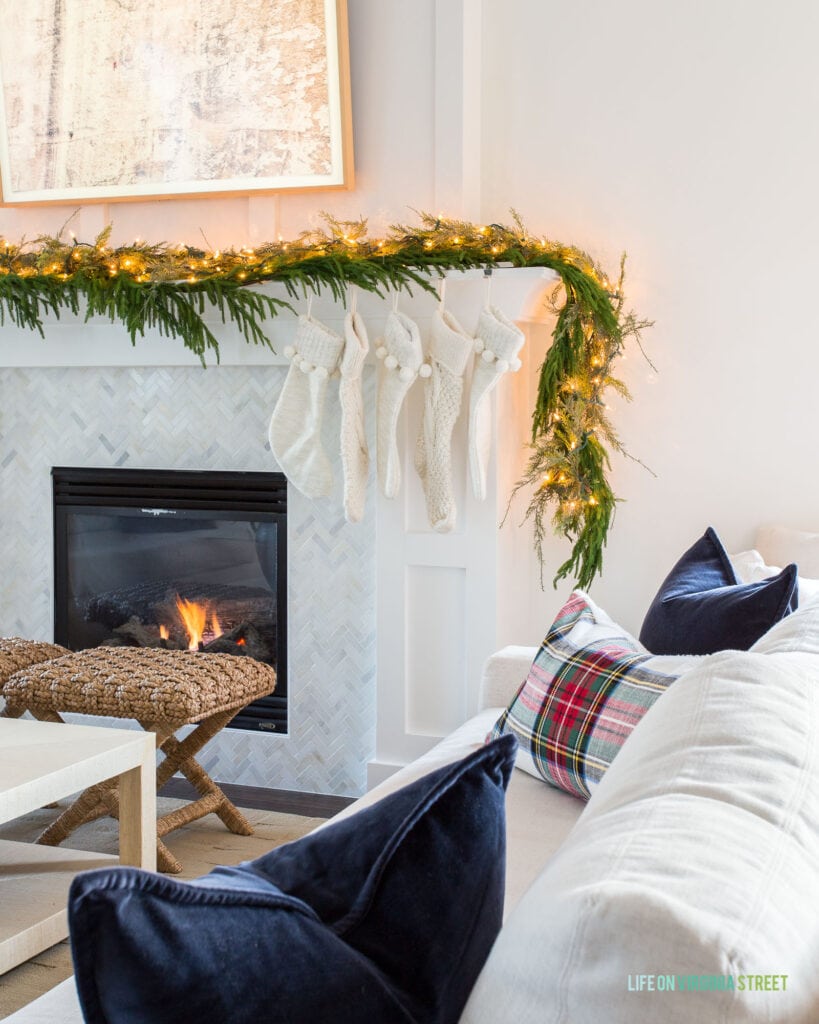 CHRISTMAS LIVING ROOM SOURCES: Linen Sofas | Velvet Pillows | Plaid & Sherpa Lumbar Pillow | Woven Stools | Coffee Table | Pom Stockings | Chunky Knit Stockings | Frame TV | Front Garland | Similar Back Garland 
Living Room Chairs
This next one isn't a top priority, and I'm not 100% sure it will be done this winter. But, I think we're at the point of wanting to replace our spindle chairs. After having them for 3+ years, the fabric hasn't held up all that well. If I would have know what I know now about performance fabrics (like on our sofas), I definitely would have picked a different fabric. Our fabric is the Bevin Natural, and it has started pilling and cleaning stains is nearly impossible. The cushion inserts are also starting to get a little wonky. And although we can take the covers off to wash them (I have yet to try that), there isn't much we can do about the fabric on the arms and those are also showing wear. Again, this isn't a rush at all, and I really want to find the perfect ones for the spot. I still love the spindle look, but would recommend a different fabric selection.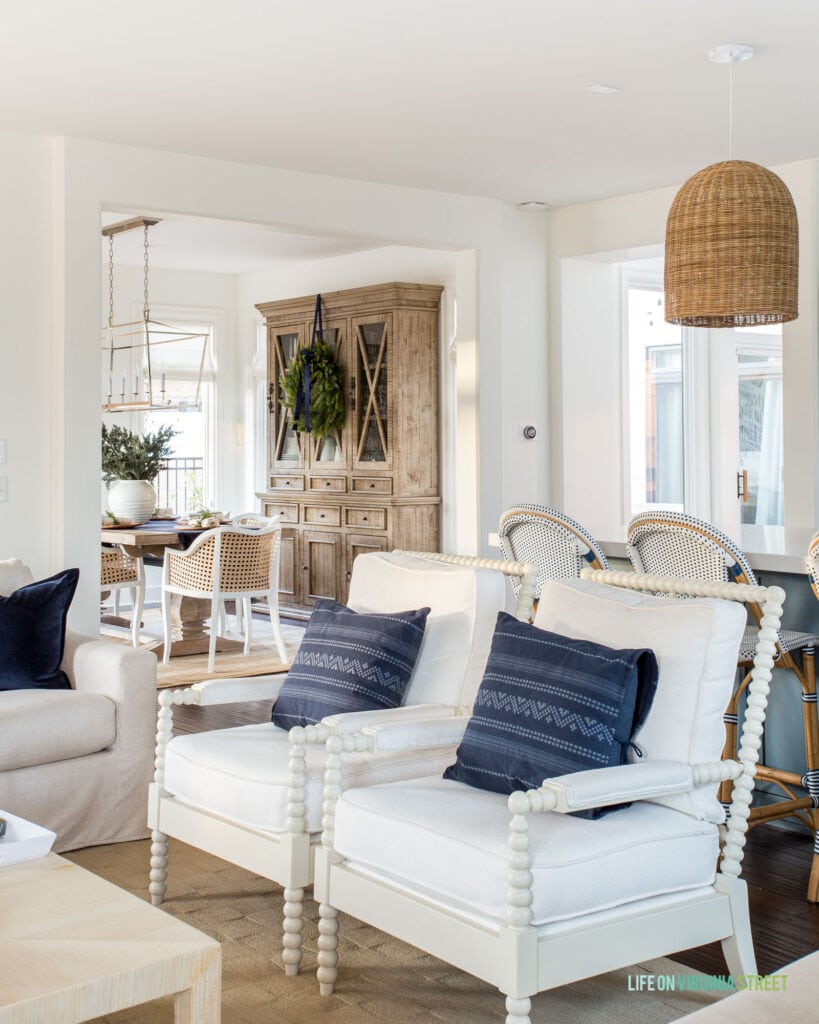 CHRISTMAS LIVING ROOM SOURCES: Spindle Chairs | Linen Sofas | Velvet Pillows | Textured Side-Tie Pillows | Coffee Table | Counter Stools | Basket Pendant Lights | Dining Table | Cane Dining Chairs (look for less here) | Striped Rug | Linear Chandelier (look for less here) |  Hutch Details
Guest Bathroom Makeovers
I think our guest bathroom makeover has been on this list every year since the year we moved in. Good news! I finally took that Frog Tape off the mirror earlier this year, after it had been up for about five years. I shared more photos of the space in this post. It's a Jack and Jill bath, so it attaches to our main guest bedroom and our den. We hate that it has carpet in the vanity area so that will be one of the biggest changes!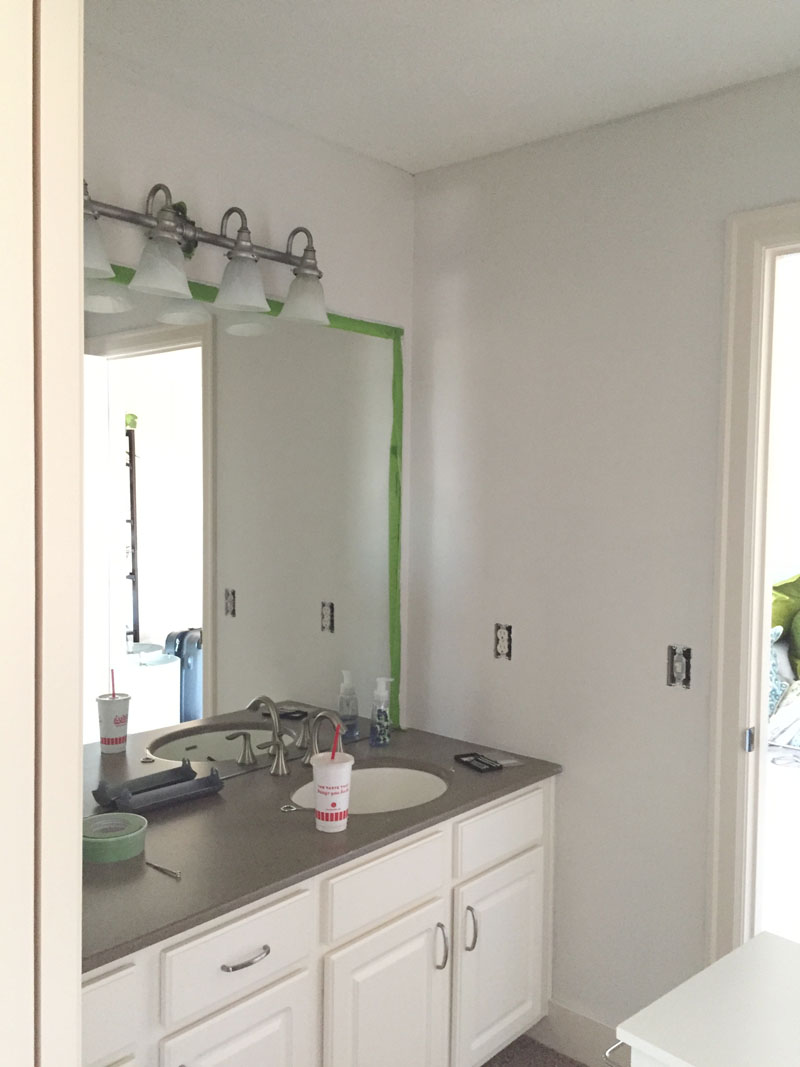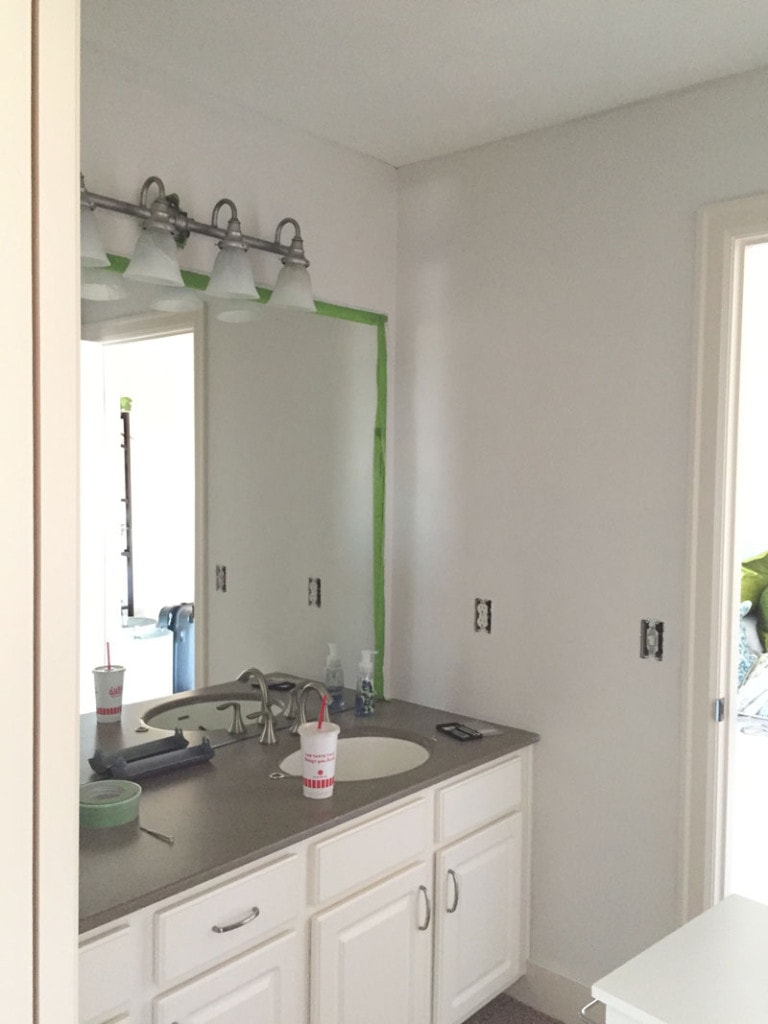 Below is the tentative design board and plans I ultimately made. The vanity is actually here already, but it arrived with a broken countertop. We've been waiting nearly two months now for the new one to show up. Thankfully we still have a little time and it shouldn't delay us. We've made a few changes to the overall design, so I'll be sharing an updated board soon!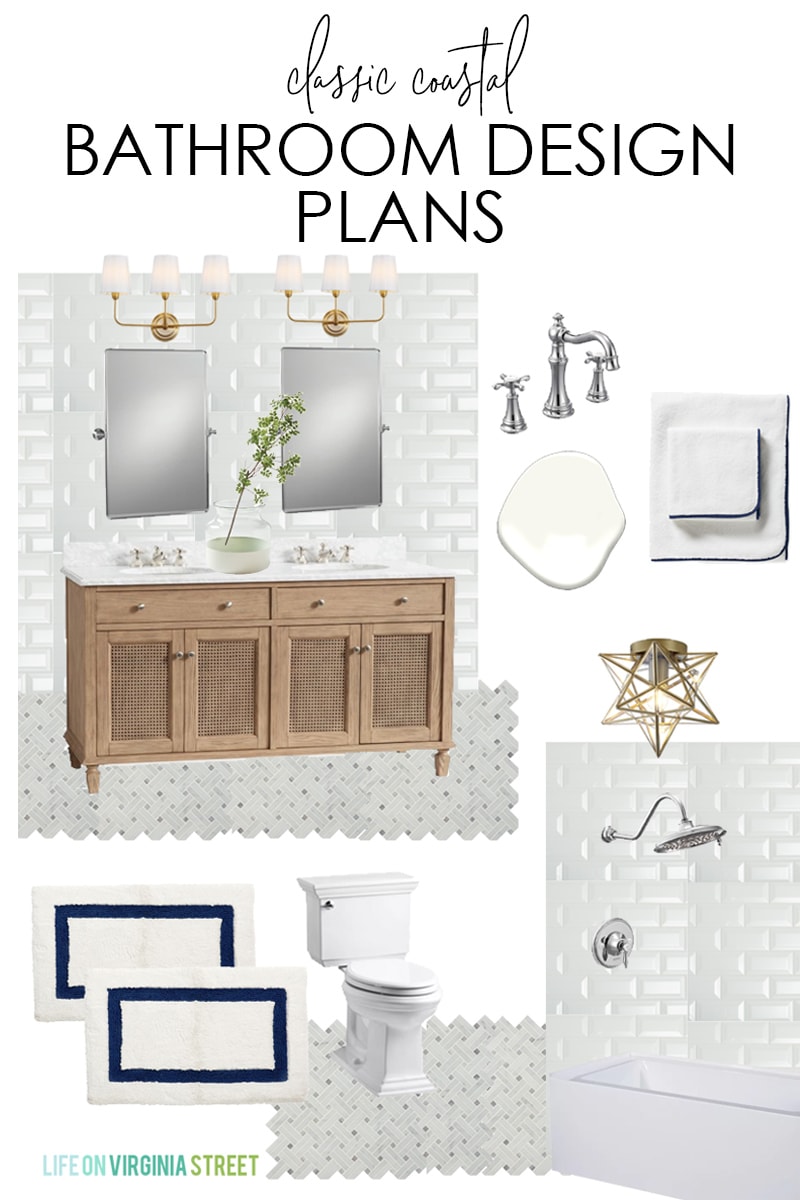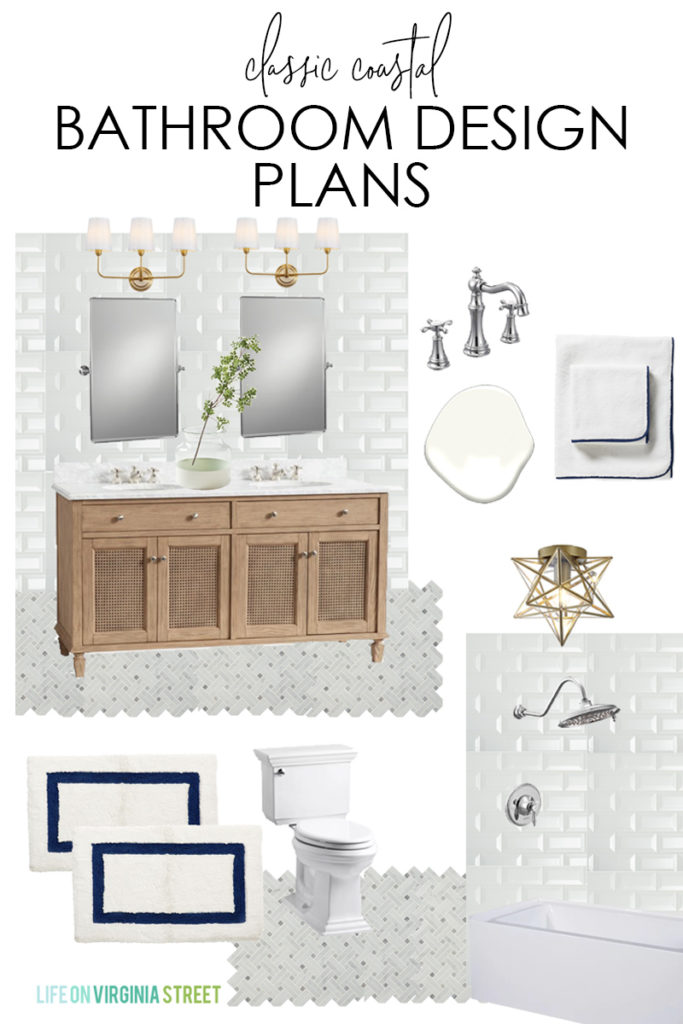 BATHROOM MOOD BOARD SOURCES: Vanity | Pivot Mirrors | Light Fixtures | Vanity Faucet | Faux Greenery | Paint-Dipped Vase | Towels | Beveled Subway Tile | Carrara Mosaic Tile | Memory Foam Bath Mats | Toilet | Moravian Star Light Fixture | Shower Head | Paint Color: Benjamin Moore Simply White
e're also going to tackle this smaller bathroom at the same time. I shared our design inspiration along with some vanity ideas as well. After getting a bid on this one, I'm going to have to scale things back a bit. We'll likely be keeping the existing shower insert (but maybe getting new doors)? Now I just need to make a design board and get moving on ordering items for this one!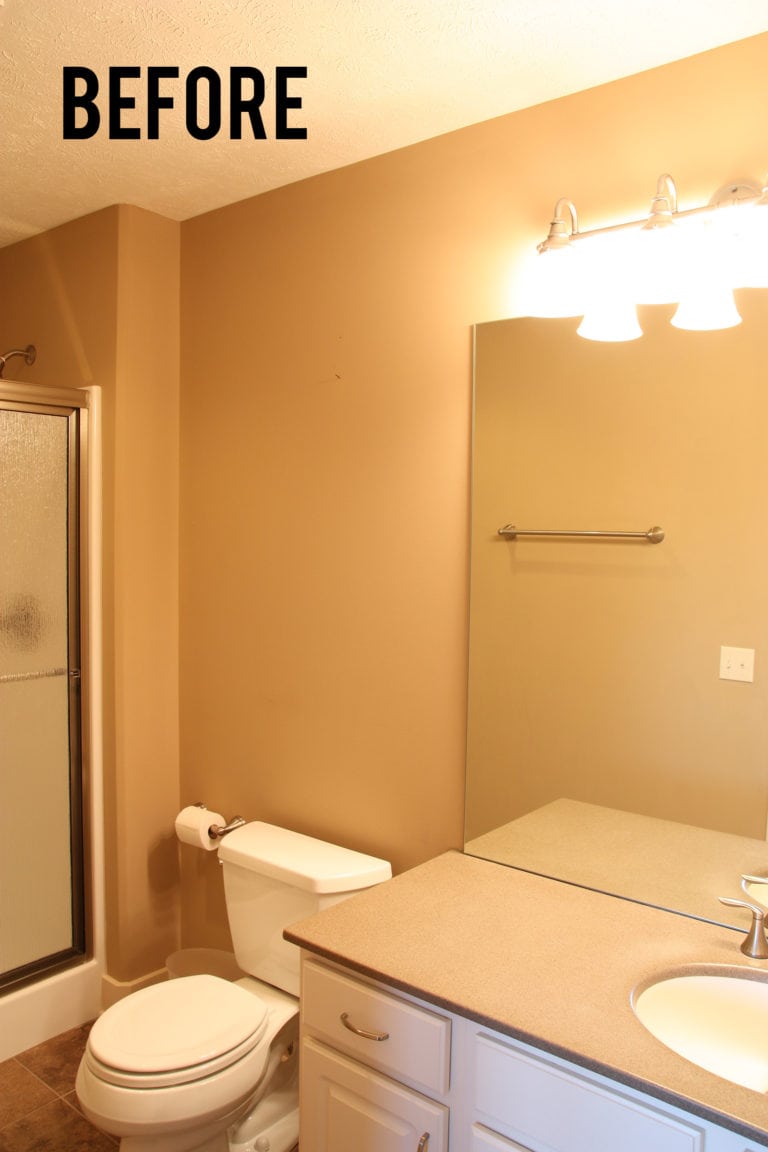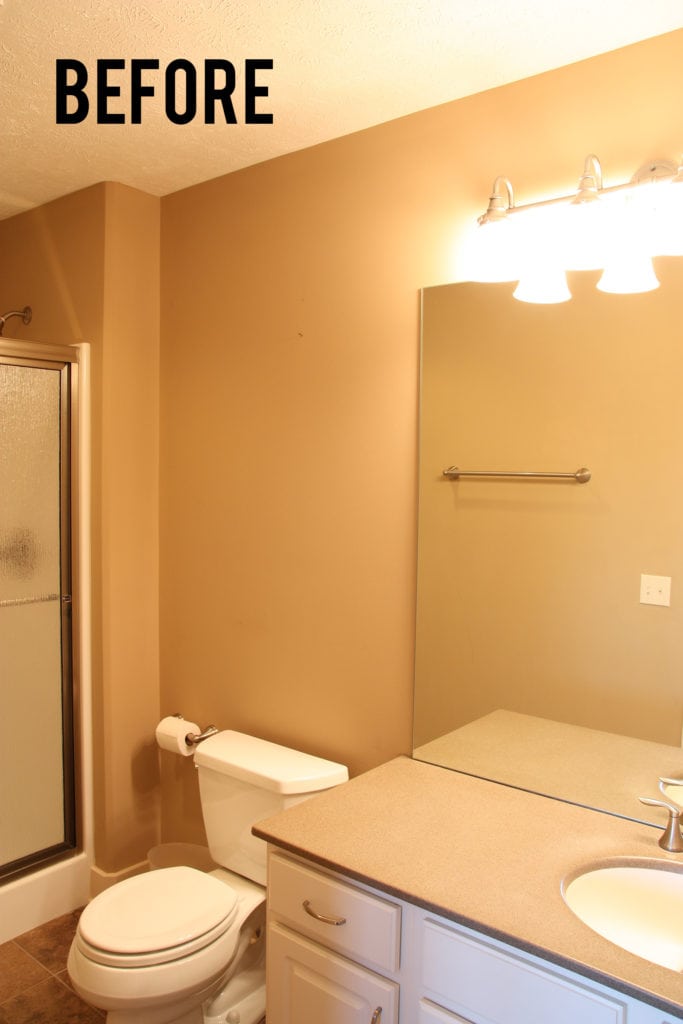 We're excited to get started on these sometime this winter hopefully!
Guest Bedroom Wall Treatment & Final Updates
Last fall, I shared some plans for our main guest bedroom. And, while most of those plans have been achieved, I still need to tackle the wall to the left of the image below. The bookshelf needs to be cleaned off and sold or donated. With our upcoming bathroom reno (it connects on the wall opposite the foot of the bed), I'd love to finally do a wall treatment behind the bed! Since we've done the grid board and batten in so many rooms, we may change it up a bit. So, I'm still scheming up ideas there, but think it could be a fun way to bring this room up a notch! But, at minimum, that bookcase needs to go!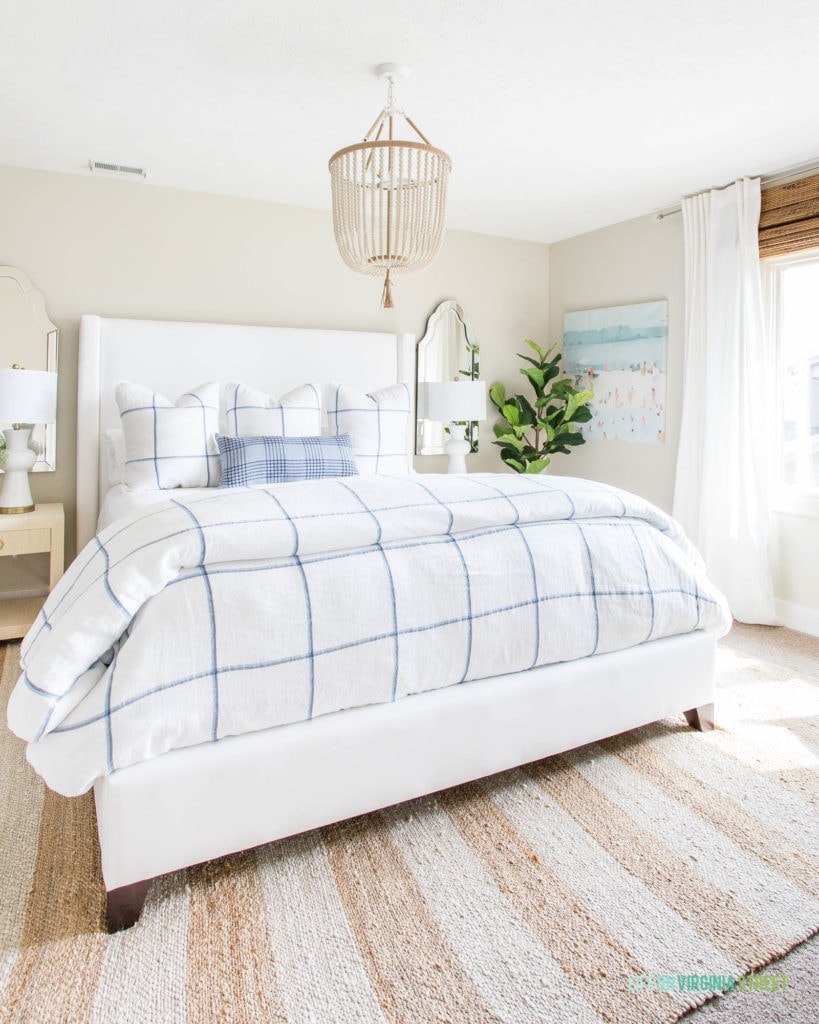 GUEST BEDROOM SOURCES: Upholstered Bed | Windowpane Plaid Bedding | Plaid Lumbar Pillow | Bead Chandelier | Striped Rug | Raffia Nightstands | White Ceramic Lamps (come as a set of two) | Abstract Beach Art | Faux Fiddle Leaf Fig Tree (this is the 5'4″ size) | Mirrors | Similar Drapes | Cane Chair | Striped Pillow
Sell Our Flip House
I recently announced our first flip house along with some of the design boards & inspiration for various rooms in the space, like the kitchen and bathrooms. I have one or two more design related posts I want to share with you and then I'll share the big reveal! But our goal over the winter is to get this place sold!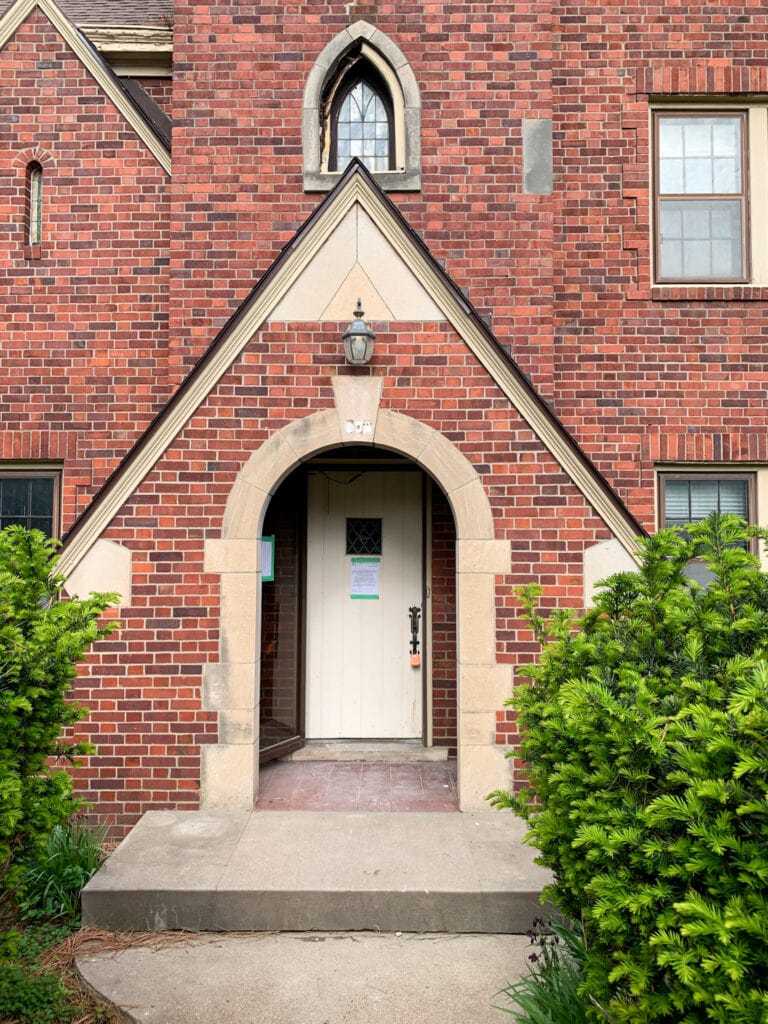 Carpet
Our house will be 13 years old soon, and it's hit that point where some of the originals are needing replaced. Most of our windows are in really bad shape, our driveway needs re-done and we have an AC that's on the fritz. Lots of really fun adult-like things we don't really want to deal with 😉 Another one of those is the carpet in our house. We've hated it since we moved in, and the buckling over the years has gotten out of control. Yes, we could pay someone to stretch it in every single room. But the quality itself is not good so we know it really just needs to be replaced. Kurtis is actually pushing hard for this. I don't want to deal with cleaning out all the bedrooms upstairs to have it done. We'll see who ultimately wins on this one! But even I know it's just a matter of time. Here's a picture from the summer after I had just vacuumed. This is the best it ever looks. We'd ideally like something low-pile and pet friendly!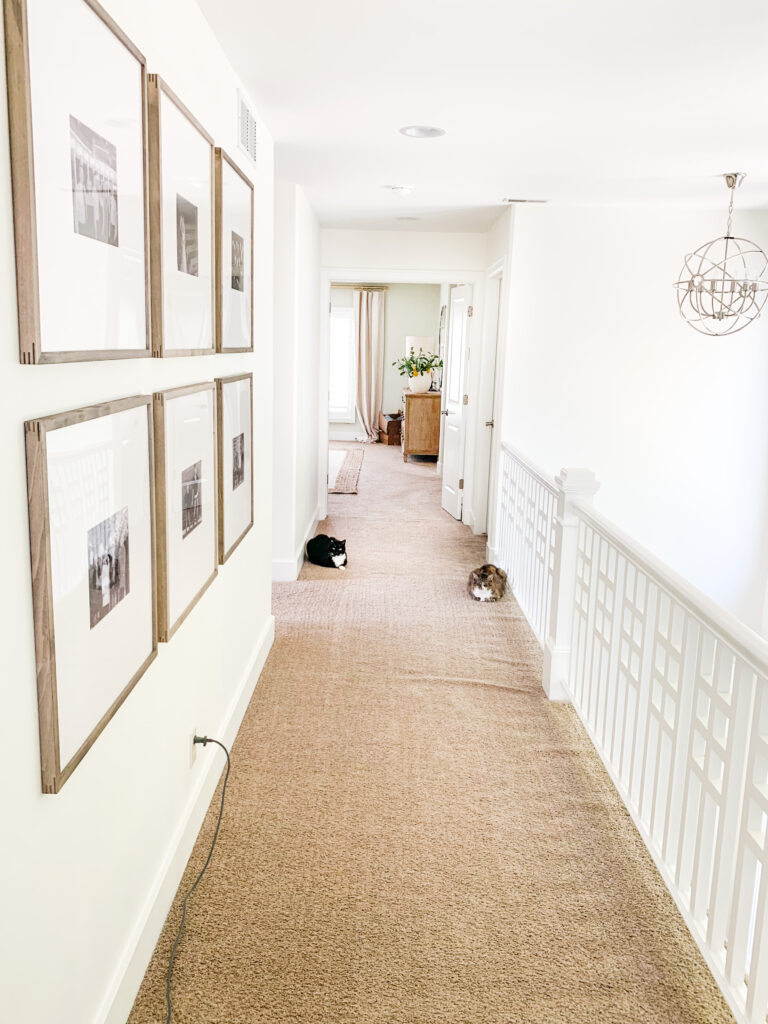 SOURCES: Gallery Wall Frames (similar here) | Similar Orb Chandelier
Dead Space At Top Of Stairs
This should be another easy one, once I find the pieces I want to use. But this is another one of those projects that has been on my list for as long as I can remember. We're still using this old chalk-painted buffet table from our last house to hold all of our wi-fi/modem/routers because its the best spot in the house for reception. Since the photo below taken in 2017, the walls have been painted white which has helped improve the look in this spot dramatically, but I'd love to find a piece of furniture that can still achieve the same task but has a more beachy vibe to it! At one point this fall, we actually considered closing this space in and just making it part of the guest bedroom to the left. That is the bedroom Kurtis is using for his office right now, and since we know he's home another 6+ months, we thought this may be a better use of the space. No idea what that would cost though, so for now, we're thinking we'll just keep it as is.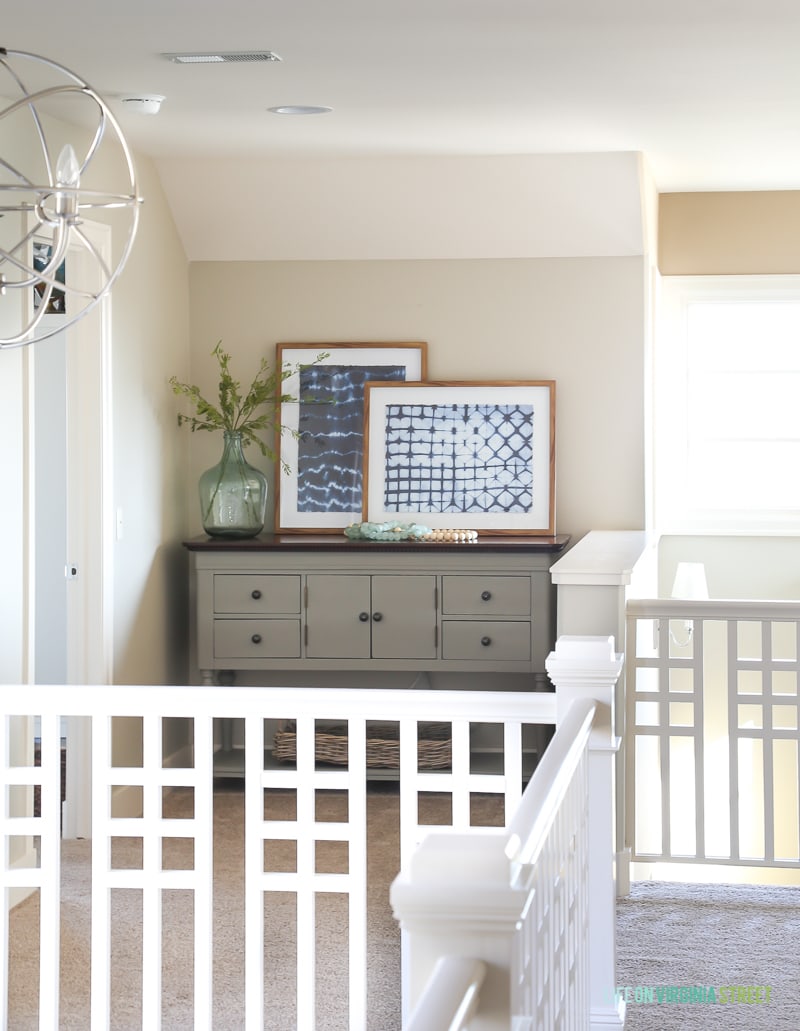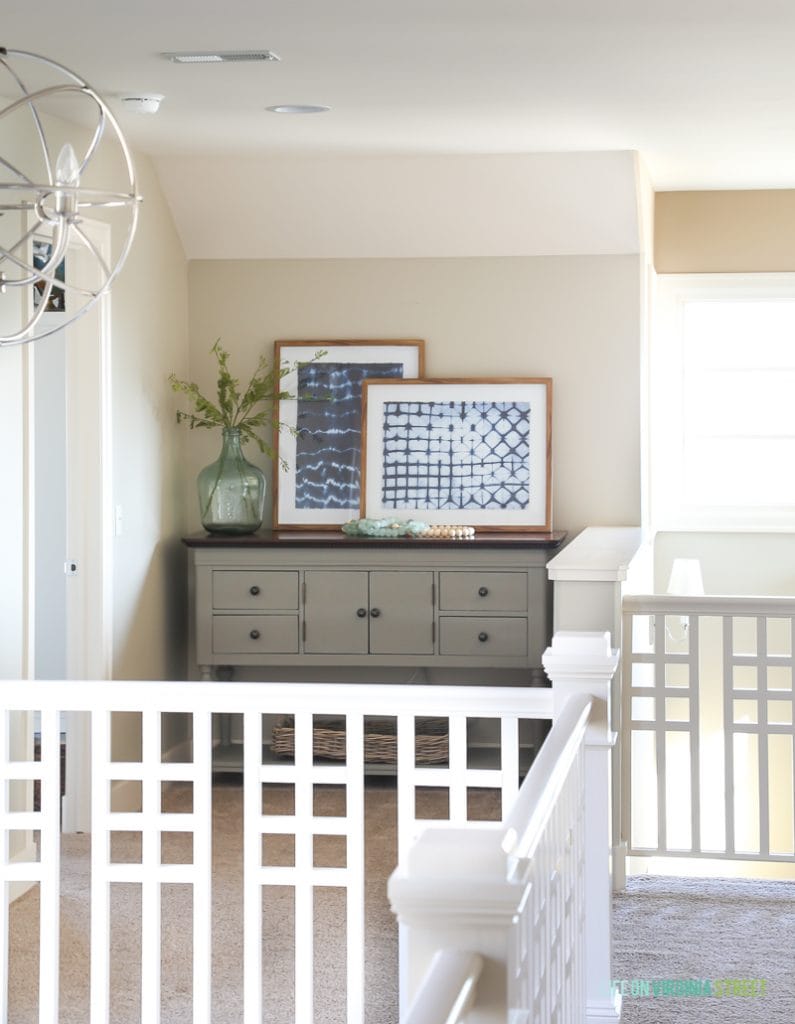 SOURCES: Similar Console Table | Shibori Art 
Pantry Door
This would be a fun little project if we decide to tackle it. Since we basically leave this door open now that our pantry is so much prettier, we'd love to swap out the the door for something fun. There's times we definitely need to close the door (usually because of the cats), but with the window and cupboards we'd still like to see in. So I'm thinking something with glass and maybe in a fun color or natural wood tone. I still need to think this one through more, but think it could be a cute update!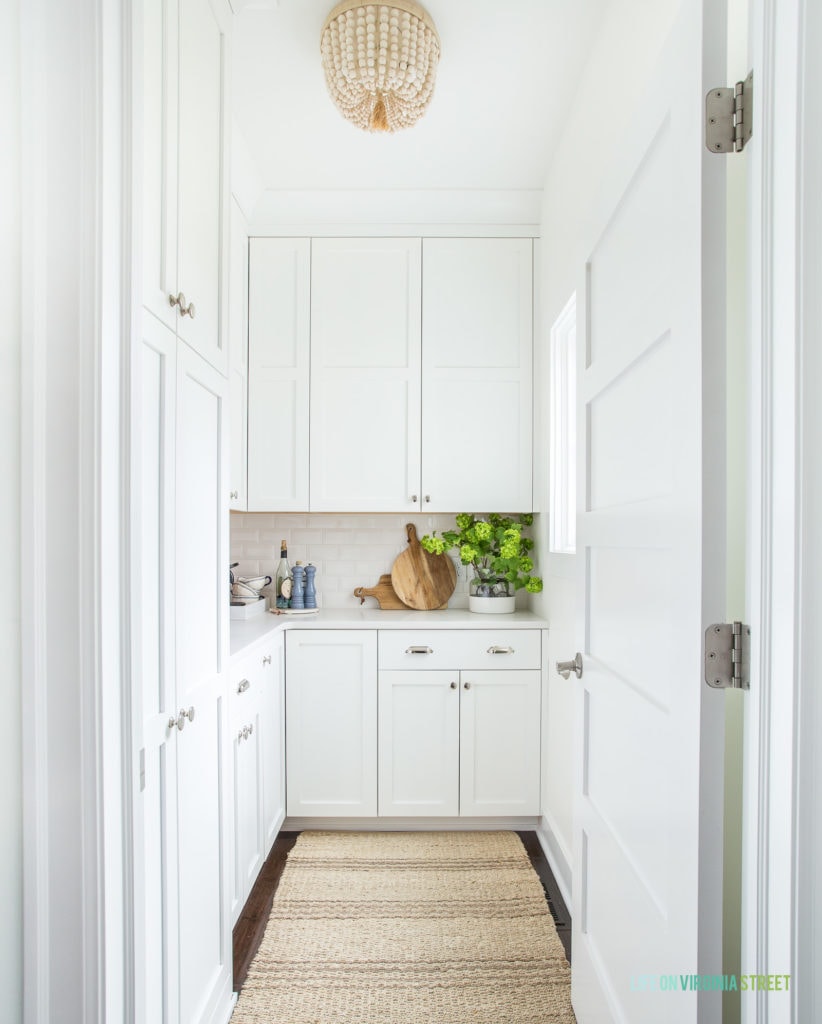 PANTRY SOURCES: Beaded Light Fixture | Cabinet Knobs and Pulls | Wood Boards (Homegoods – old) | Marble Tray | Paint Dipped Vase | Faux Viburnum Stems (similar here) | Motion Sensor | Blue Salt & Pepper Grinders | Rug (old Dash & Albert second-hand find)
Office Status
Our office seems to be a never-ending project. Mostly because our needs are continually evolving! The below image is the last real image I've shown of the space.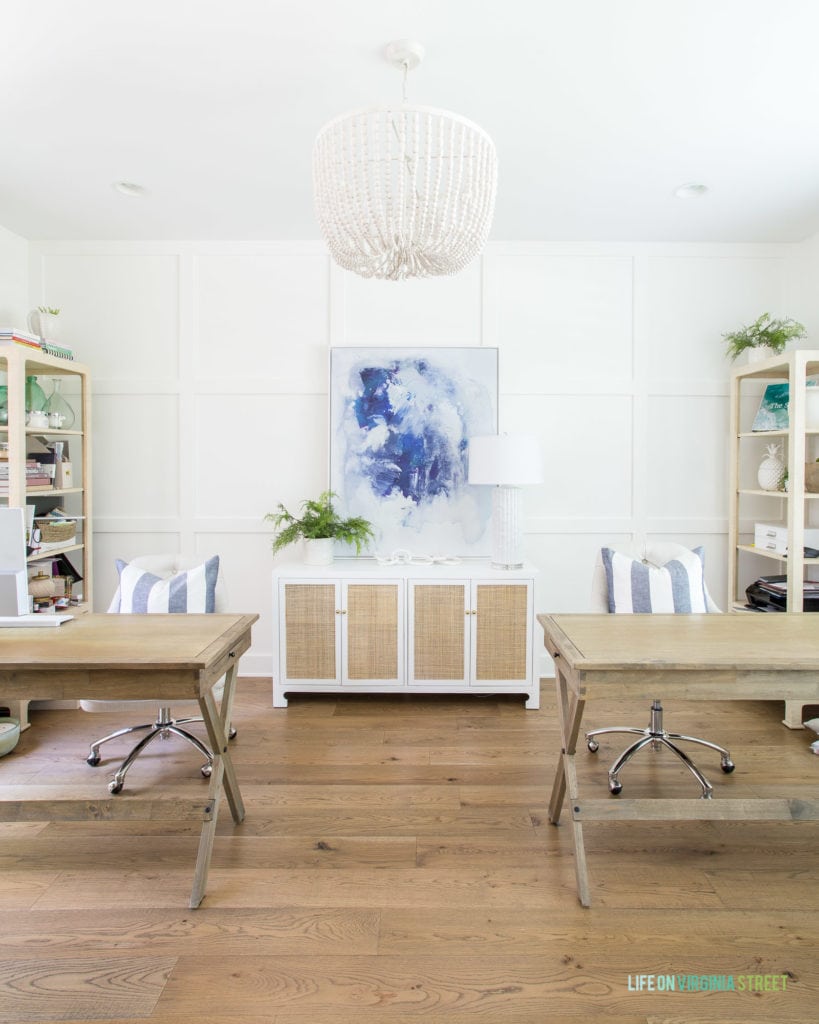 HOME OFFICE SOURCES:  Cane Cabinet | Wood Desks | Linen Chairs | Striped Pillows | Striped Curtains | Bookcases | White Wood Bead Chandelier | Similar Desk Lamps | Faux Fern Pots | Abstract Art | Marble Chain | White Bamboo Lamp – HomeGoods (old)
But we've since added this rug and moved our desks in front of the window and sliding door to the courtyard.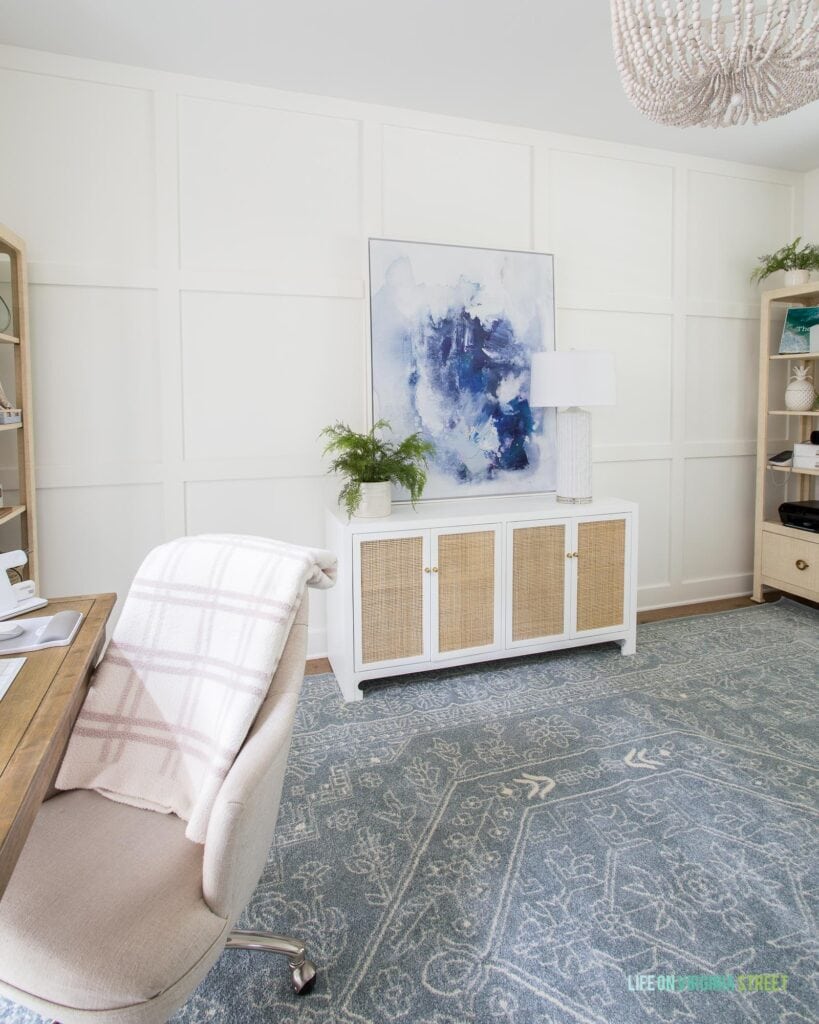 I recently shared our ideas on possibly adding a dining table to the space for one large desk. You guys gave me a lot of great feedback to consider, so we're still weighing the pros and cons of going that route before making a decision. But, we need to get moving on a plan soon!
Clean Storage Room
This should be another relatively quick job when we both decide it needs to be done. I shared the below image of our storage room in our basement a few weeks ago and it clearly needs help. We still have a handful of boxes that are still in there from when we moved in almost EIGHT years ago. There are also a few boxes with items we thought we'd use at some point, and clearly haven't, so it's time to donate them. We both feel it's best to tackle this while all the Christmas decor is upstairs on display, since those are the items we know we're keeping and need to organize properly once we have space for it all.
And before you think I'm the sole source of the problem (as the picture below may appear), the side behind the door to the left is filled with totes of old Michael Jordan memorabilia. We all have our "things" 😉 And now looking at the pictures, I'm wondering if it's ridiculous to consider painting all the raw wood. Logically, yes. Creatively and from a motivational standpoint for future organization, no. But organization is the main goal here!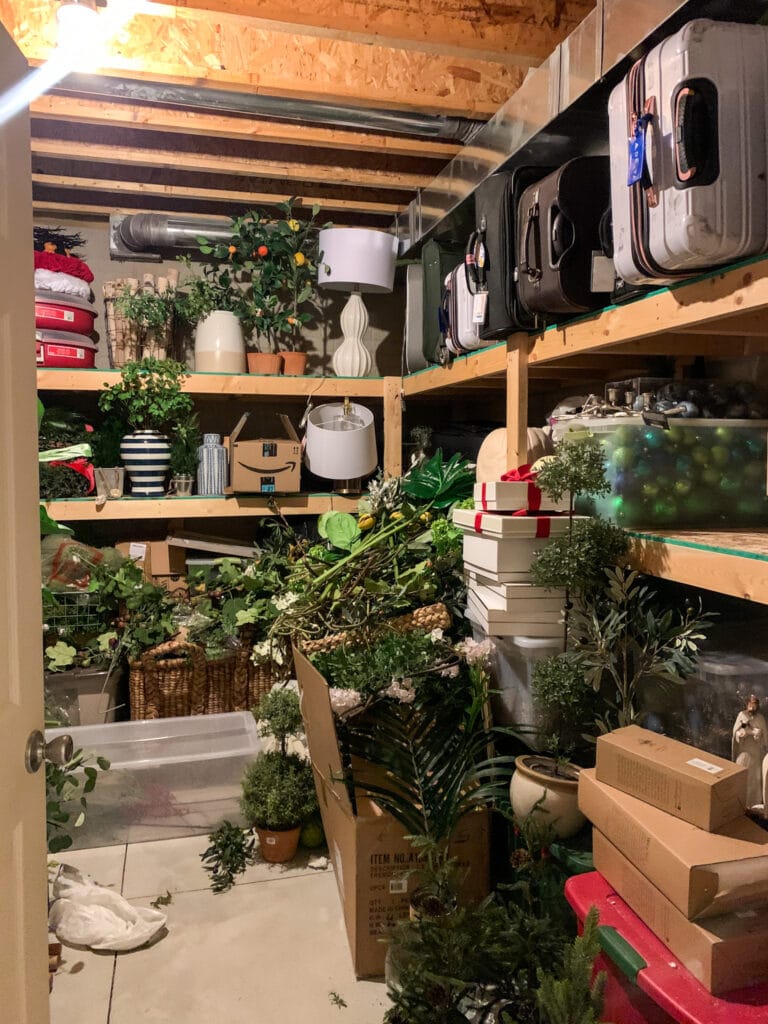 Make Decision On Outdoor Spaces/Pool House
In last year's post, I talked about one of our longer-term plans of building a pool house of sorts off of our current patio. Well, I haven't talked about it here on the blog, but we actually spent a lot of time on this one over the past year. The plans we wanted to incorporate require an architect and people who know what they're doing (definitely not a DIY). We had drawings and bids and design meetings. The pandemic threw a wrench into a lot of the plans, but ultimately, we've decided we're not sure we want to spend the money required to get what we truly want. And we're not sure we want to skimp on the details either, so we're kind of in a rut. So, even if we don't move forward, would you guys be interested in me sharing our inspiration in a post? Or even some of the mock-ups? I'm never sure if that's of any value even if we ultimately don't build it.
The below pics were taken about six and a half years apart, if I remember correctly. Clearly I like trees, flowers, white paint (and the pool)! I'll be sharing our eight year before & after home tour in a few weeks!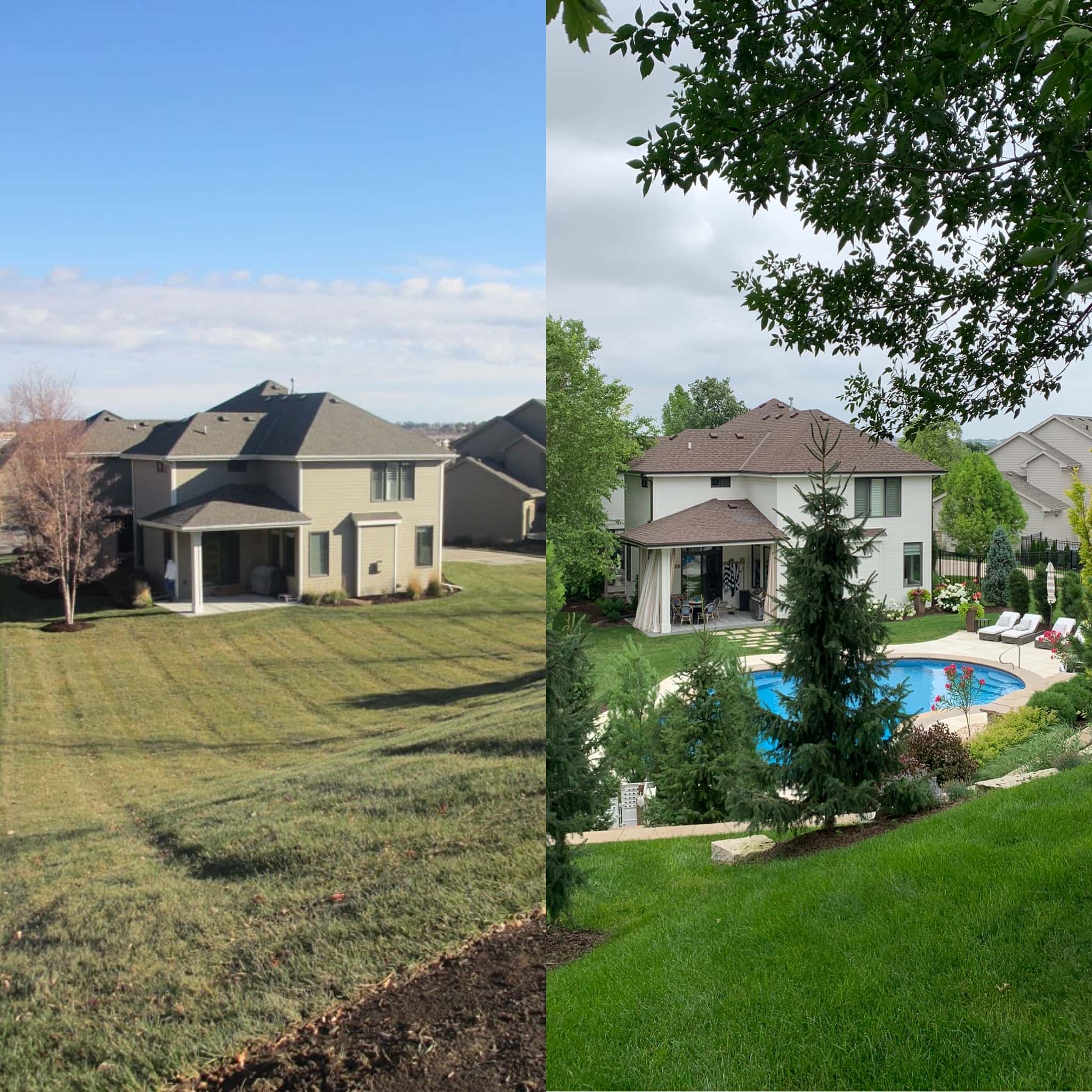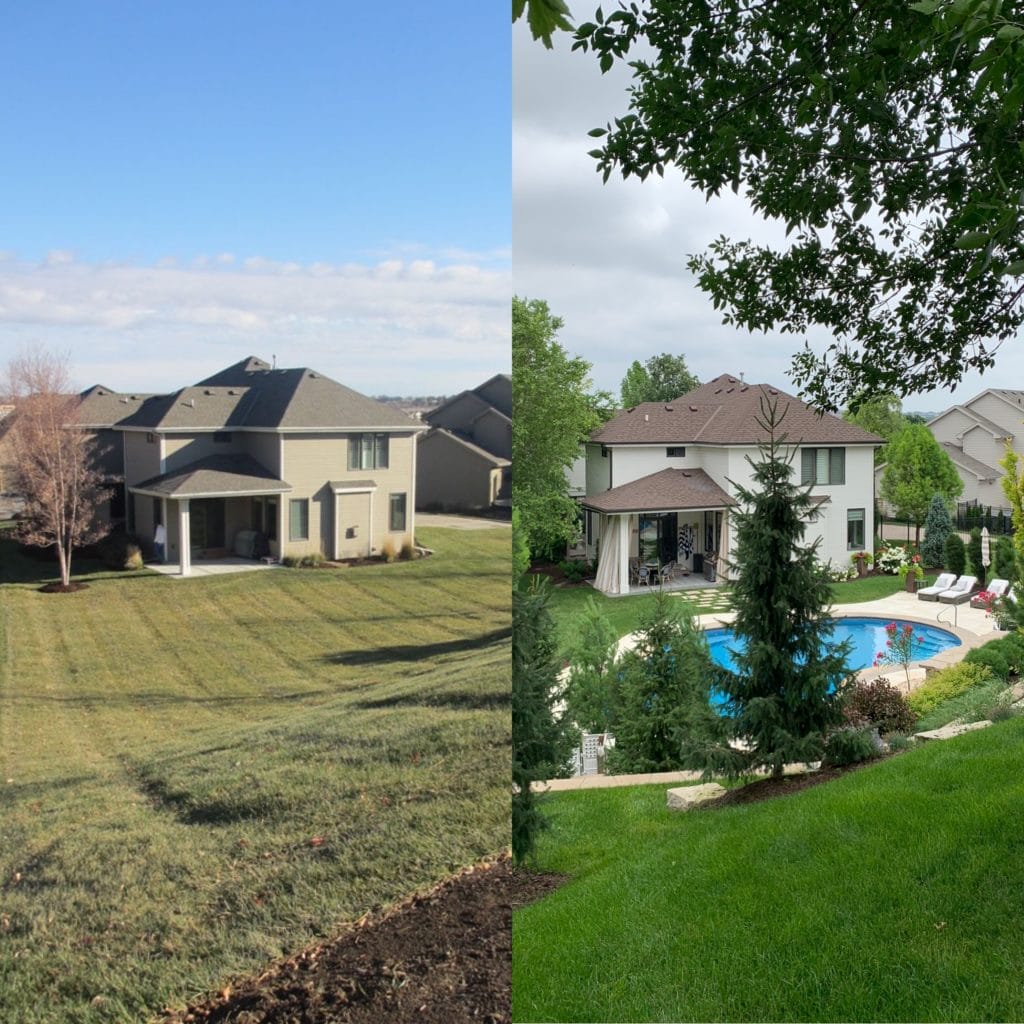 So, there you have it! I think we have our work cut out for us! Here's to hoping we can get at least 50% of these projects tackled soon. Have a great weekend!
If you would like to follow along on more of my home decor, DIY, lifestyle, travel and other posts, I'd love to have you follow me on any of the following:
Pinterest | Instagram | Facebook | Twitter
disclosure: some affiliate links used