Sharing my initial Tudor house renovation ideas along with the design boards I created along the way!
A few weeks back, I announced the big project that has consumed the past six months of my life! Our first flip house! Today I'm going to share some Tudor renovation inspiration as well as the design boards I ultimately came up with the for several of the spaces.
This post contains affiliate links for your shopping convenience. Click here to read my full disclosure policy.
As I mentioned in my announcement post, I had almost gotten to the point that I wasn't going to share this project with you all. It was more along the lines of my initial dream and plans being so beautiful, and then fun things like the HVAC bid came back. The more renovation we did and problems we discovered, the more I had to scale back the grand designs I had originally schemed up. So, in one regard, it was good I didn't build you all up for the world's cutest Tudor 😉 But, in the end, it was pretty clear the before and almost-after spaces were worlds apart and it was still worth sharing. And now that the house is mostly wrapped up, I'm excited to share more about the process.
Tudor House Renovation Ideas & Inspiration
One look at my English Tudor board on Pinterest (especially if you scroll back to the earlier pins), and you'd quickly see I was going to have to scale back my plans pretty quickly. Although our house isn't a true English Tudor, rather more of a Tudor revival, I was able to plan to some fun touches in the house by looking at both styles. And since the house is from the 1920's, we also wanted to add a bit of retro low-key Gatsby-style glam to a few areas.
Since this is a flip house, budget was obviously a big concern from the get-to. Especially if you saw just how much we had to update in my original post. We basically had to re-build the entire guts of the house. But that didn't mean we couldn't have a little fun in a few spaces. My biggest focus was on the kitchen and bathrooms, since those are really the few places with stationary design elements. I also had a lot of discussions about the exterior but I'll save that post for another day.
Tudor House Renovation Kitchen Ideas
For the first month or so, we really thought we could fit an island in the kitchen. And then after meeting with a kitchen layout specialist, I quickly had to bring everyone back to reality. It was a total bummer, but, if we did have one and allowed for standard walkways, our island would be just over a foot wide. Probably not the best idea 😉
When I originally thought we could have an island, this modern Tudor kitchen from Bria Hammel Interiors was the one I couldn't stop thinking about. I loved the white perimeter details paired with the walnut-toned stained island. So gorgeous! In fact, the whole house was a source of so much inspiration!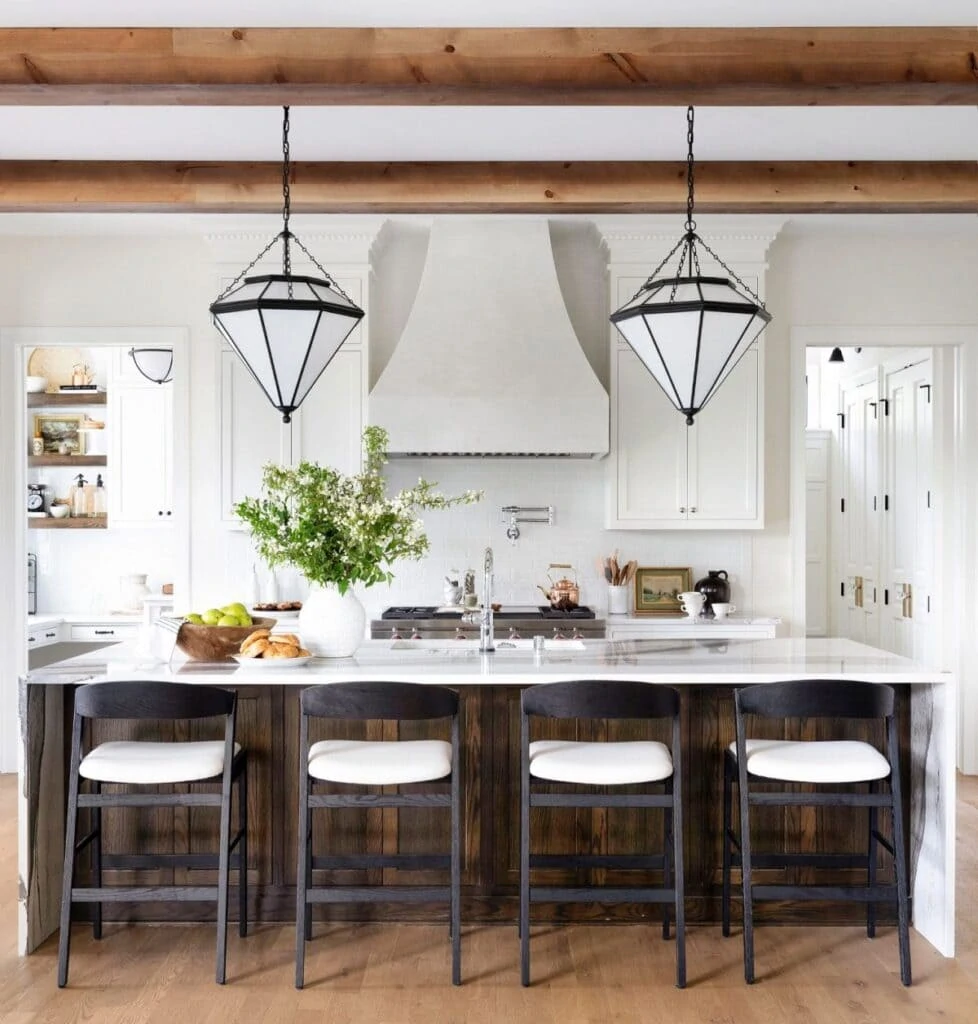 And, while we were all super bummed out we couldn't do an island, I decided that those gorgeous dark wood tones need to come back when we stained the original hardwood floors! The floors were one of the only salvageable items in the home. Not only are they gorgeous now and had some of the original character back in, they saved us a ton of money!
The kitchen had a tiny little eat-in nook that by today's standards would be hard to add any furniture in. Kurtis thankfully thought it may be a perfect spot for a pantry, and suddenly all my Pinterest pins came to life. I immediately declared it our little jewel box of the house as a butler's pantry. With no island in the kitchen, this was how we could make the kitchen feel much more special and add more storage!
The second I saw this pin, I built an arsenal of images to show the guys to convince them dark cabinets, dark subway tiles and industrial gold and glass shelves had to be in the house. Side note: I can't find the original source so I didn't want to add the image here without credit. But if you know who's design it, I would love to know! Pinterest is becoming a never-ending rabbit hole of stolen images without credit leading to irrelevant sites, so it's getting harder and harder to share!
This image from Alice Lane is a bit sassier and more modern than the direction we wanted to go, but it's so gorgeous and helped us decide on the navy blue tile!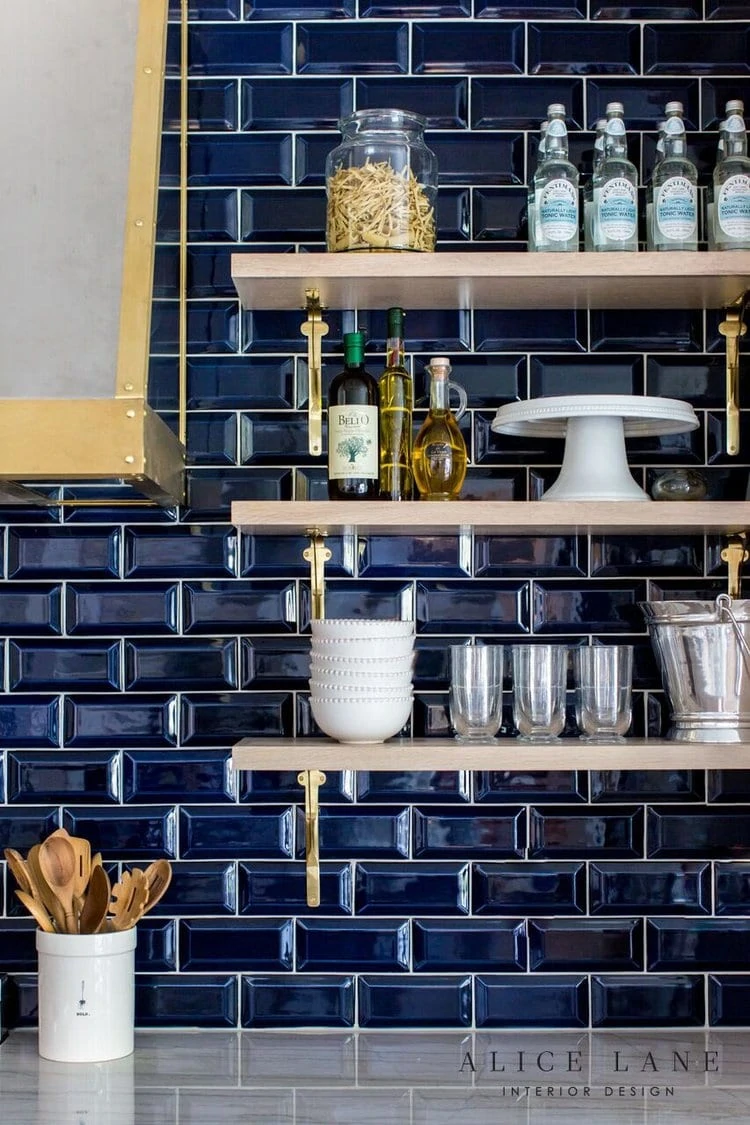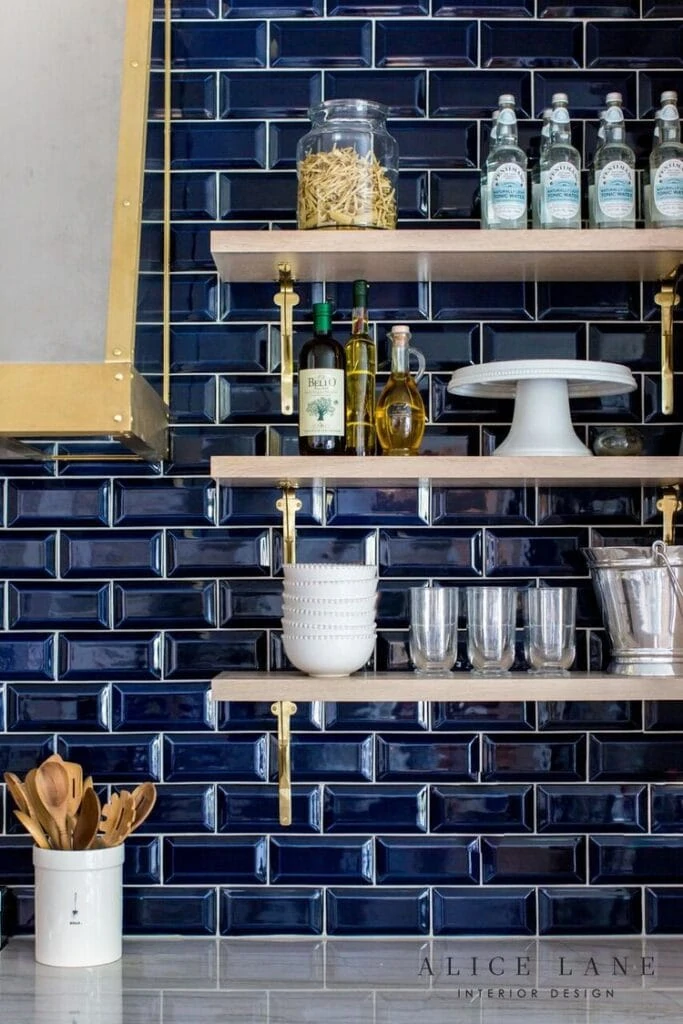 Circling back to the main kitchen area, I saw this next image from Kate Marker Interiors when searching for pantry inspo and immediately wanted to incorporate gold mesh in cabinet doors somewhere. And we did as a DIY!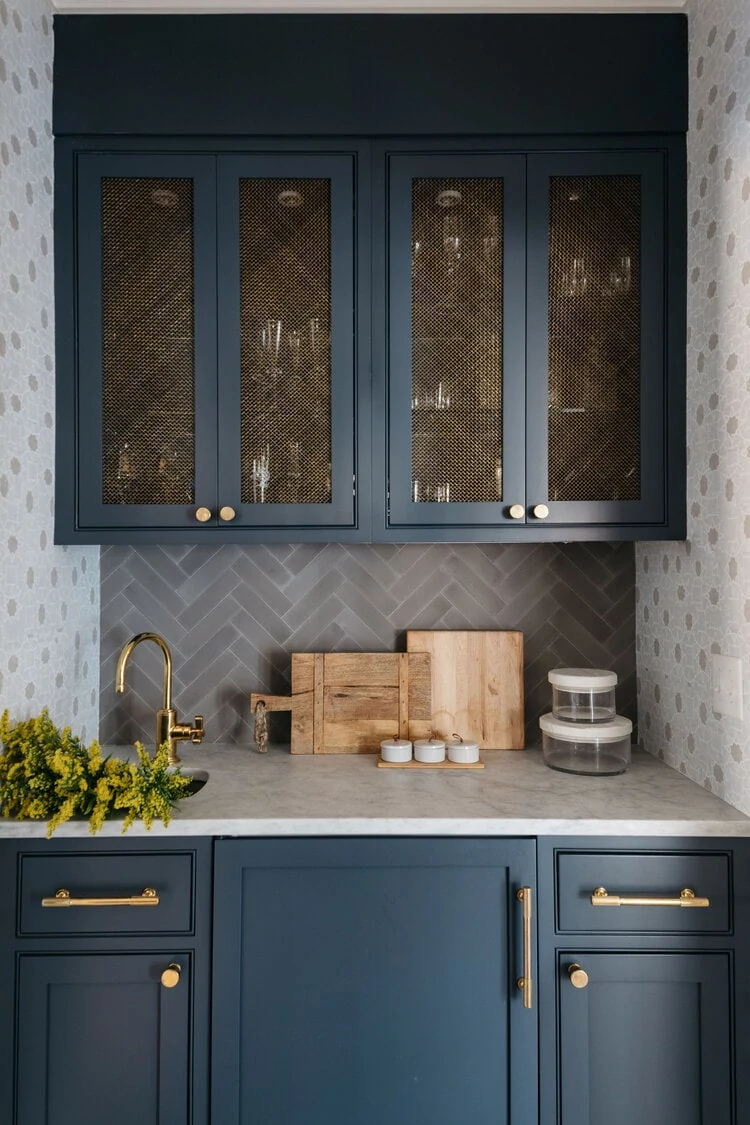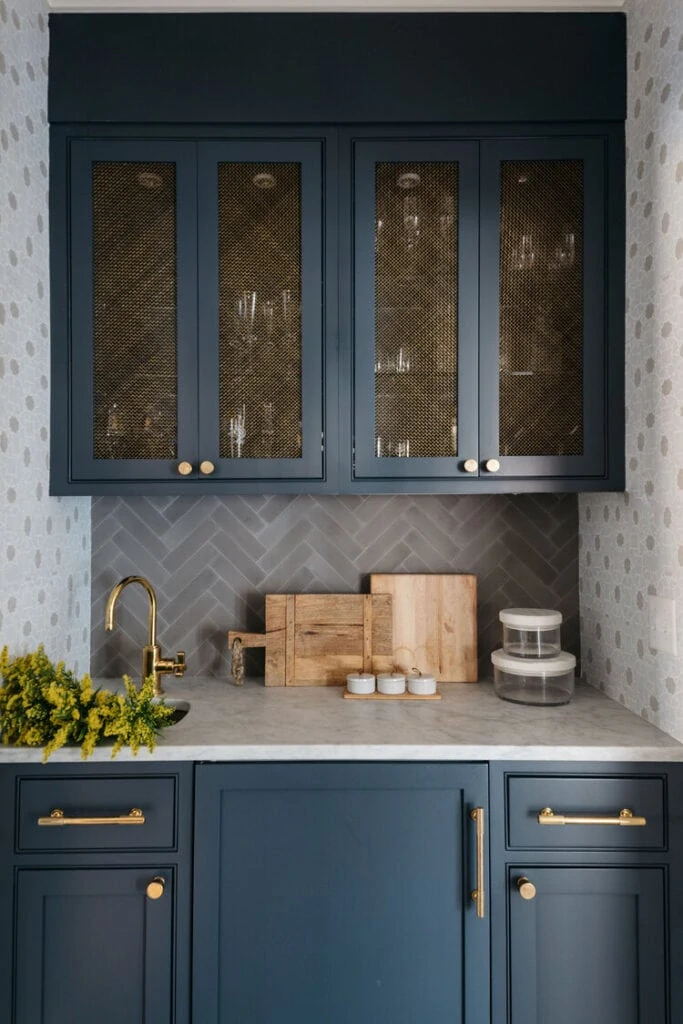 So, after sharing all those stunning images, this is where I have to bring everyone back down to reality about our house. It's the same thing I had to do with myself a few months ago 😉 Obviously since this is a flip and not our personal dream home, I had to make decisions about where it made the most sense to add some cool design elements – all on a super tight budget!
Tudor Renovation Kitchen Design Boards
Let's start with the kitchen since that's still my favorite spot in the house.
Here was my very first design board keeping things super neutral. The herringbone floors were simply to represent more the width of our boards and the color of stain I liked. Since we kept the original, we weren't going to pull them up to lay in a herringbone style. And I'll be honest, most of these products were chosen quickly at the time, simply to illustrate the look I wanted. Clearly Rejuvenation hardware wasn't going to fit in our budget 😉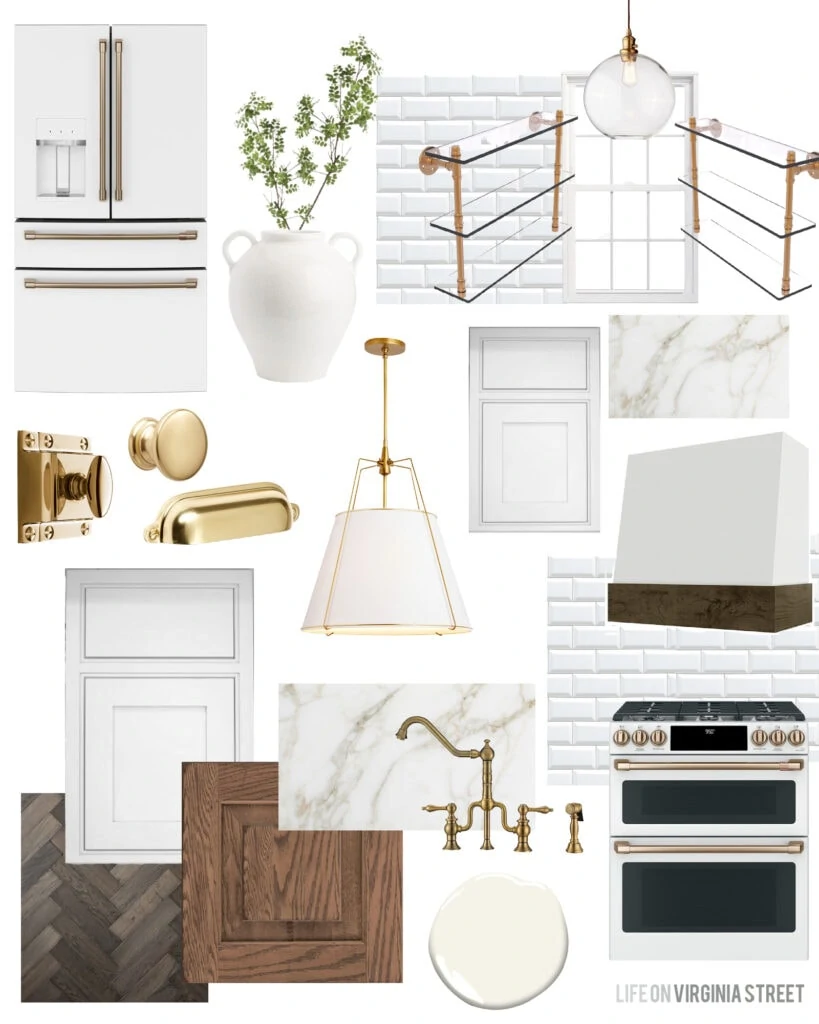 KITCHEN MOOD BOARD SOURCES: Urn Vase | Faux Greenery Stems | Window | White Beveled Subway Tiles | Gold & Glass Shelves | Globe Light | Cupboard Latch | Bin Pull | Cabinet Knob | Cone Pendant Light | Range Hood | Bridge Faucet
I also made this version that was very similar to the above, but a much moodier take on it.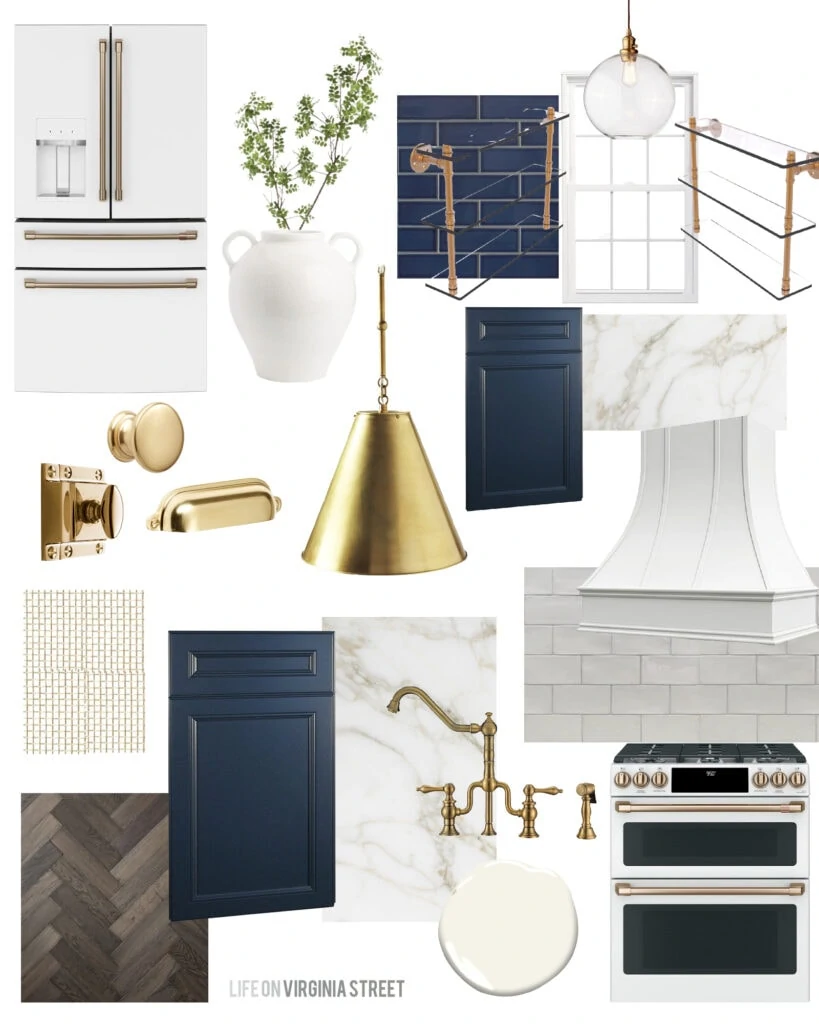 KITCHEN MOOD BOARD SOURCES: Urn Vase | Faux Greenery Stems | Window | Navy Blue Subway Tile | Gold & Glass Shelves | Globe Light | Cupboard Latch | Bin Pull | Cabinet Knob | Similar Gold Cone Pendant Light | Ceramic Tile Backsplash | Range Hood
Following was the final plan we came up with. Still no decision on final finishes like hardware, tile and lighting but this was ultimately the plan we started to move forward with. We met with a few kitchen designers, and after one came out on site, it was a huge relief to have an expert help with cabinet layout. She basically took our tentative layout and design plans and then made the measurements all work perfectly!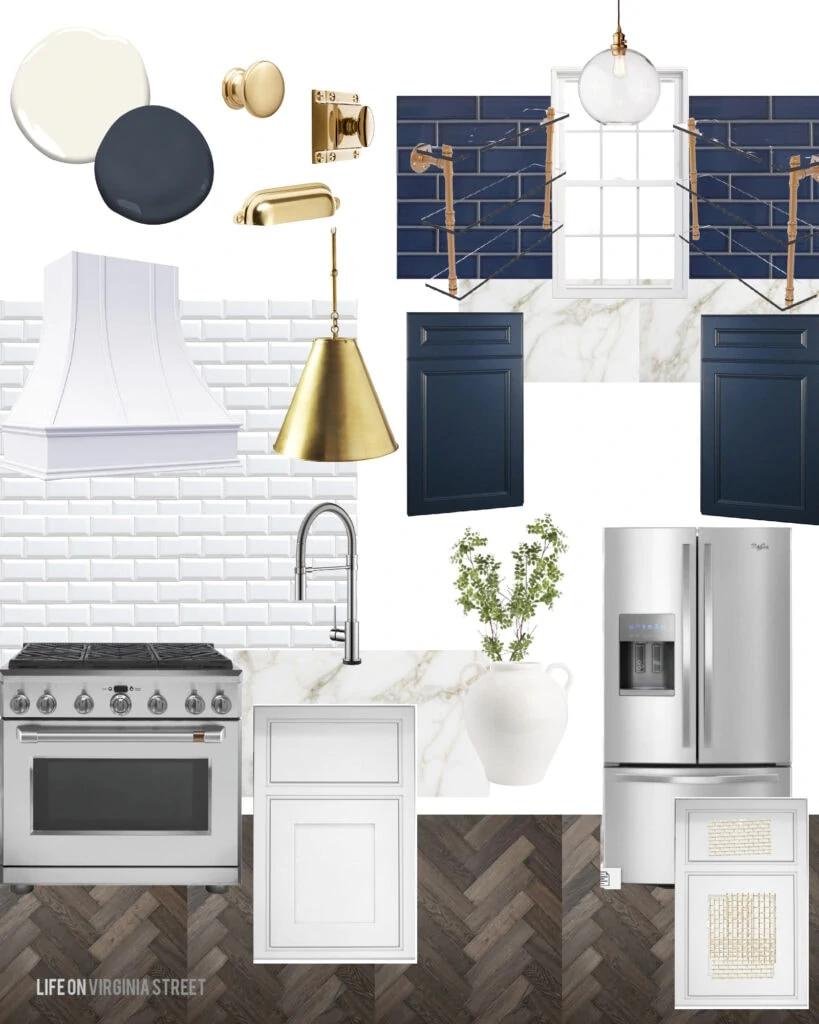 TUDOR KITCHEN MOOD BOARD: Cupboard Latch | Bin Pull | Cabinet Knob | Window | Globe Light | Navy Blue Subway Tile | Similar Gold Cone Pendant Light | Range Hood | White Beveled Subway Tiles | Kitchen Faucet | Urn Vase | Faux Greenery Stems
I don't have a design board with the final finishes, and I'm afraid if I make one, it will give too much away for the big reveal! But, we ultimately decided on a white kitchen with navy range hood and then navy cabinets in the adjoining pantry. It's all so beautiful! We also were able to DIY a lot of features like the gold/glass shelves, range hood, gold mesh inserts and more! I love how it all turned out!
Tudor Renovation Bathroom Design Boards
We wanted to keep the bathrooms classic and clean and timeless. You can check out my Tudor Pinterest board for the overall vibe. Again – too many images that don't lead to the right site, but at least you can see the look.
Let's start with the master bathroom. We actually transformed a secondary bedroom next to the master bedroom to make it the master bathroom and closet. We added an extra bedroom in the attic, so we felt a nice bathroom and large closet (with laundry hook-ups) were more essential than a fifth bedroom.
One of the partners on the project was very firm about using a tile and soaker tub he had seen in person and loved. He wanted to run it from the floors and up the walls. I'll be honest. It isn't my favorite tile. But I also had to learn where to choose my battles. Ultimately the bathroom was a bit more modern than I would have originally gone with, but it still turned out beautifully! The tile I'm referencing is actually a glossy faux Carrara tile (it comes off much more yellow in their stock photo). But it's a true/white gray marble look.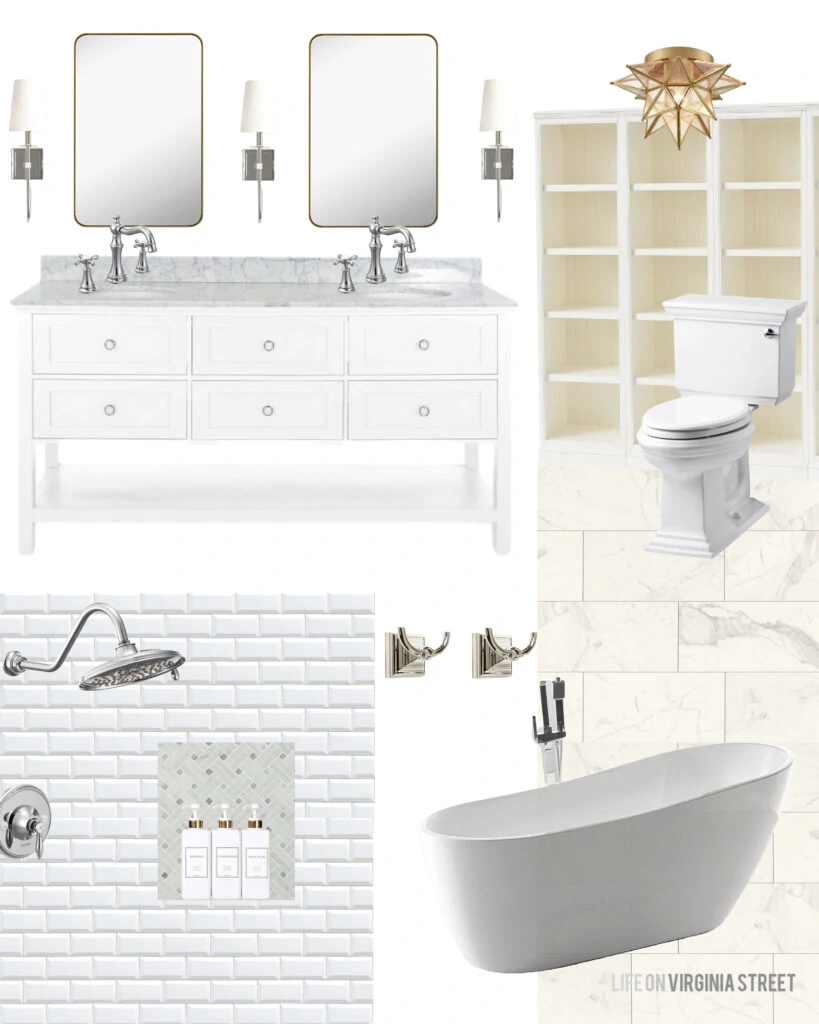 MASTER BATH SOURCES: Vanity | Mirrors | Sconces | Faucets | Toilet | Star Light | Beveled Subway Tile | Shower Fixtures | Inset Mosaic Carrara Tile | Refillable Shampoo, Conditioner & Soap Set | Towel Hooks | Bathtub | Floor & Wall Tile
After ordering the tub this vanity over the 4th of July when it was on sale, I updated the board a little further. We also quickly realized we didn't have room for so many sconces (and ultimately didn't add any – we had to go with over mirror lights).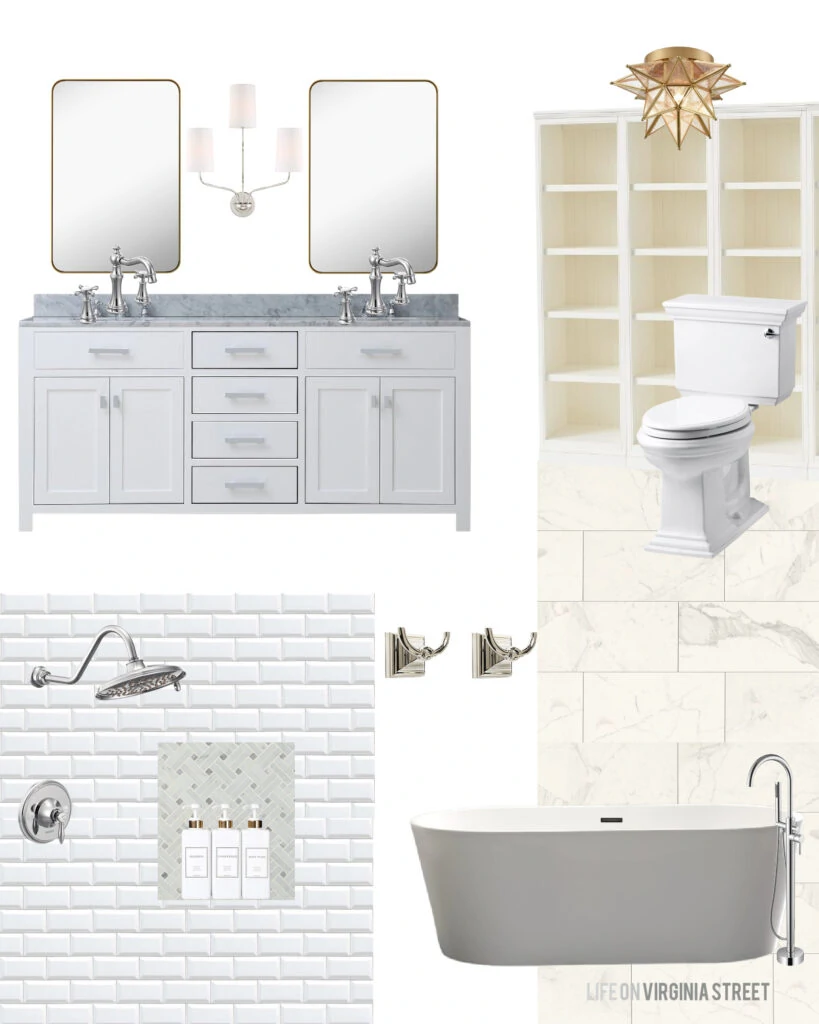 MASTER BATH SOURCES: Vanity | Mirrors | Sconce | Faucets | Toilet | Star Light | Beveled Subway Tile | Shower Fixtures | Inset Mosaic Carrara Tile | Refillable Shampoo, Conditioner & Soap Set | Towel Hooks | Bathtub | Tub Filler | Floor & Wall Tile
In the end, we made a few changes, including using a smaller version of the floor tiles we chose in the shower (in lieu of the subway tile). And, my light orders got mixed up/swapped, so a few of the finishes aren't what I would have preferred. But it's still a beautiful bathroom in the end!
In the hallway bath, I pretty much had free rein. We actually ordered this navy blue vanity (it includes the countertop, sink and hardware) and I love it so much. The whole bathroom is super cute – and in this room we were able to salvage one of the super unique original windows. So the design looks a little plain, but the window adds a ton of character (it looks a lot like this wall decor). It's such a perfect kid's bathroom!
TUDOR MAIN BATHROOM SOURCES: Navy Blue Vanity | Beveled Subway Tile | Shower Fixtures | Toilet | Light Fixture | Mirror
So, the biggest challenge of all was getting a high-end designer look on a major budget! Basically the above items as affordably as possible. I think that's enough info for one day. I don't want this post getting any longer 😉 Next I'll be sharing all the details on the exterior and the big decisions we had to make there. Thanks for tuning in and following along!
If you would like to follow along on more of my home decor, DIY, lifestyle, travel and other posts, I'd love to have you follow me on any of the following:
Pinterest | Instagram | Facebook | Twitter
disclosure: some affiliate links used