Every fall, I love to check in on our annual list of home goals, and report back to share what we still plan to tackle for the year (and into early next year). We typically take the summer off to enjoy the weather and pool, but by fall, we're ready to tackle our list! Today I'm sharing our fall & winter project plans, as well as some of our long-term house goals (something I'm not sure I've done before).
This post contains affiliate links for your shopping convenience. Click here to read my full disclosure policy.
In January, I made a list of our 2019 Home Goals, as I do each year, and it's a great way to check progress on our plans. I actually really enjoy re-reading through my goals each year to see if we're on track or not!
My 2014 Home Goals post was my first one after we moved into this house (in 2012) and it's still so fun to look at just how much progress we've made over the years! Sometimes when you're in the daily throes of life, it doesn't feel like much progress has been made. That's why I love documenting all of the changes! Although I do laugh at just how ambitious I was back then, especially considering half those items are still on my list five years later! But, if you've read here for any amount of time, you know I love projects and I love seeing spaces transform. I get more excited than scared when I look at the list of what we still need/want to do!
If you don't already make a similar list personally and have projects you want to tackle, I'd strongly encourage you to do so! It helps to have everything listed out on "paper" and to track your progress!
Looking back at this year's goals, we've already managed to finish the master bedroom and den/former craft room. I've also decided to remove the staircase from our project list at this time. Now that the walls are white, I'm really happy with how the space looks, so I think we'll live with it like this for awhile before tackling a wall treatment.
Now that our home is nearly twelve years old, we unfortunately have some projects we know we'll have to undertake that we aren't really looking forward to. We have some windows that need to be replaced, an air conditioner that barely made it through this summer, trees that need cut down, a driveway that will likely need to be replaced soon… the list goes on. It's what I call the boring list and I like to pretend it doesn't exist 😉 But, those items will sometimes have to take priority and could impact other items further down on the list.
Fall & Winter Project Plans
So what projects are we still planning to do this fall and winter? Let's jump into them.
THE GUEST BEDROOMS – I have a few tweaks I want to make to each of our guest bedrooms. One involves a DIY wall treatment and possibly downsizing some of the furniture in the space. The other involves updated window coverings and a few other minor changes. I'll share more updates and the plans I have for each soon, but these should both be fairly easy to tackle since I can do all the work myself!
WI-FI STATION – This one will be an easy update once I find the pieces I want to use. We're still using this old chalk-painted buffet table from our last house to hold all of our wi-fi/modem/routers because its the best spot in the house for reception. The walls have since been painted white which has helped improve the look in this spot dramatically, but I'd love to find a piece of furniture that can still achieve the same task but has a more beachy vibe to it!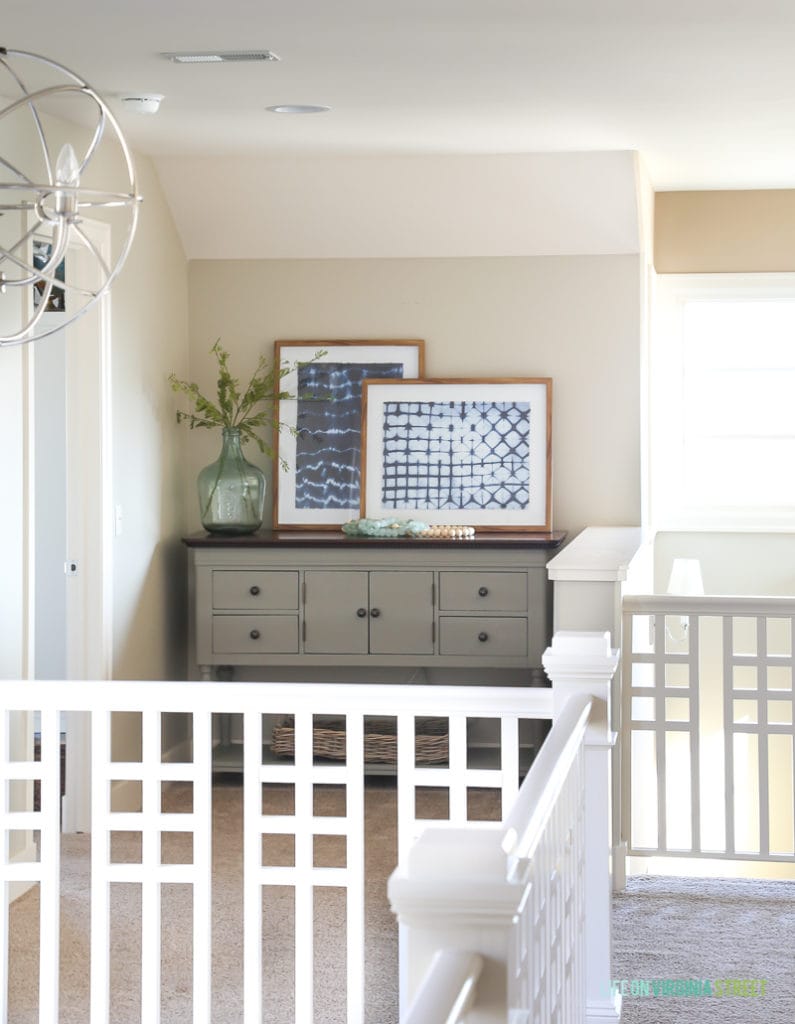 THE ENTRYWAY HALLWAY – If you look back on my 2019 Home Goals, you can see I'm super close to wrapping this one up! I do still need to find a bench (since the legs keep falling off this one and the cats have shredded the fabric). I'm also on the hunt for a new, small table next to our front door. You may remember, the one there was actually bought for a guest bedroom but felt too high next to the bed. So this one has been a placeholder ever since and has been there much longer than I ever intended! Again, super easy updates once I find the perfect pieces.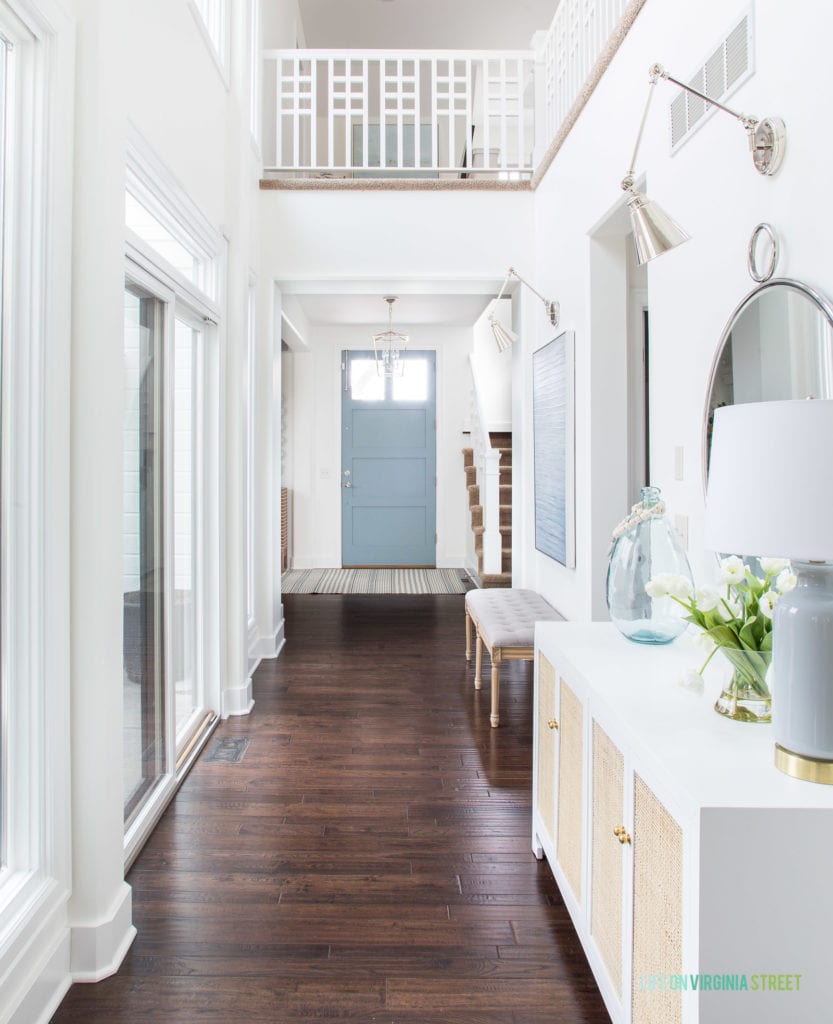 Cane Console Table | Lamp | Similar Mirror | Swing-Arm Sconces | Bench | Striped Rug | Glass Vase
OUR OFFICE – This one wasn't on the list at the beginning of the year, but I'm adding it now. I ordered our new bookshelves to help upgrade our office from a functionality standpoint, and have a few other tweaks I may make to the space. Stay tuned for the plans! Nothing major and I'm hoping it's something I could wrap up in a weekend or two once the bookcases arrive!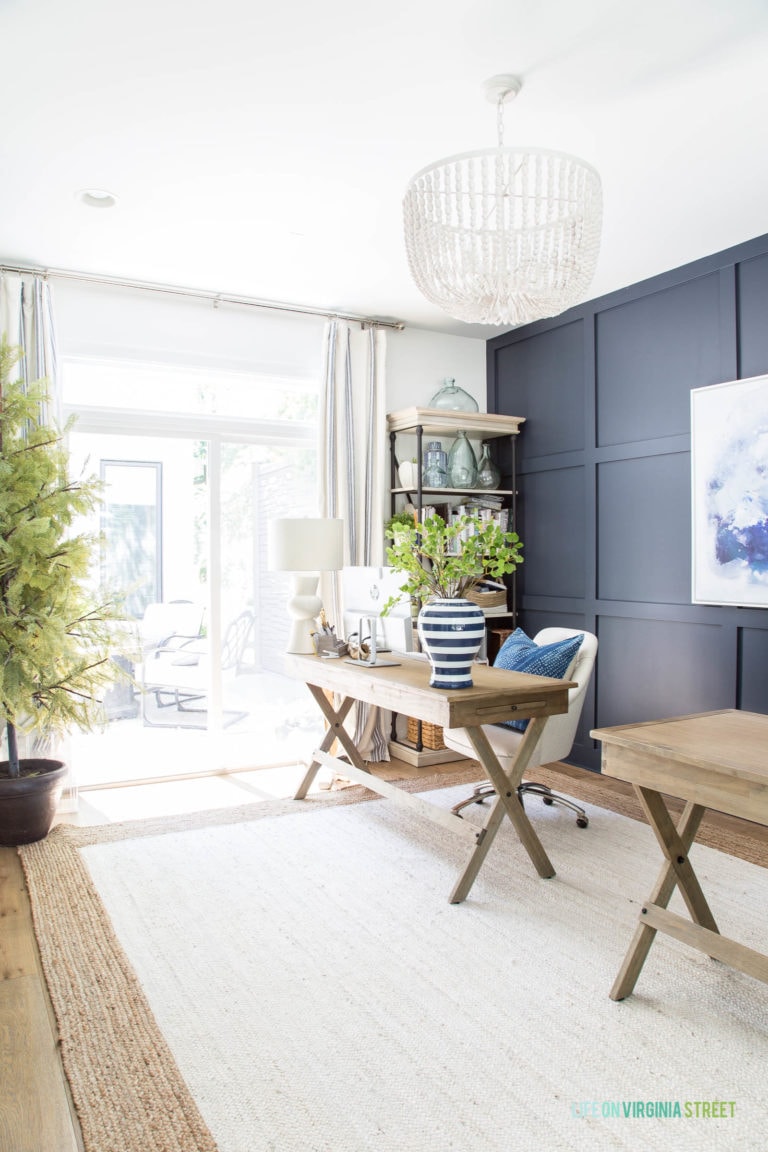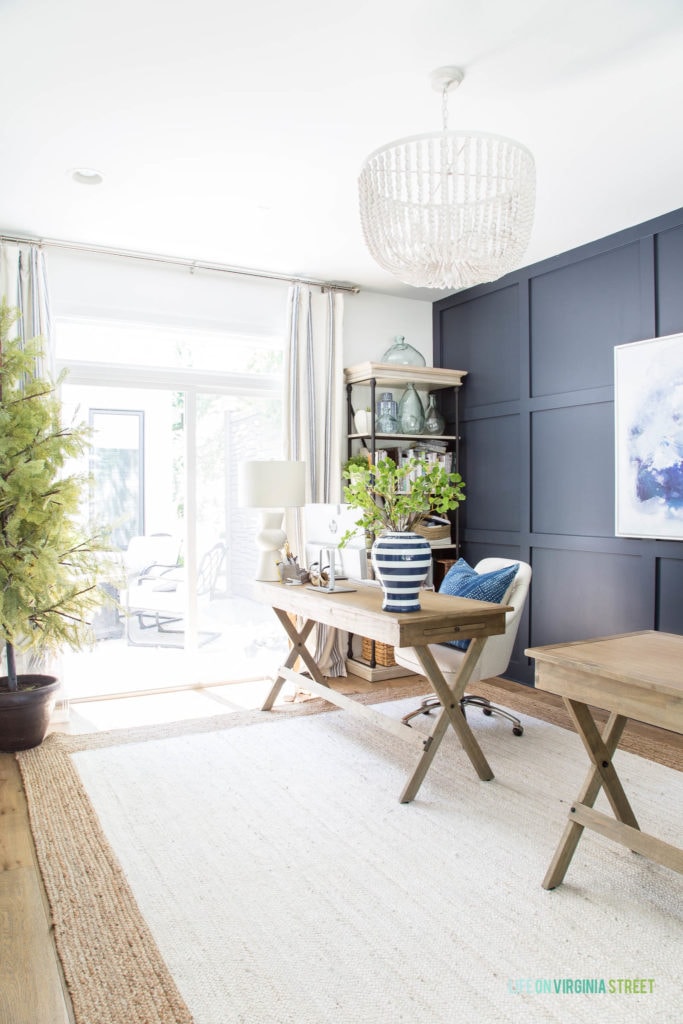 Wood Desk | Linen Chairs | Blue Dyed Pillows | Jute Rug | Striped Curtains | Bookcase | White Wood Bead Chandelier | Similar Lamps | Faux Ginkgo Stems | Similar Striped Vase | Abstract Art | Faux Cypress Tree – Locally at Amethyst Home
MASTER BEDROOM – Although our bedroom is completely done from a project standpoint, I still do need to find a dresser and rug for the space! Not a huge priority since the ones there are working fine, but the space does feel a bit unfinished with the mismatched furniture right now!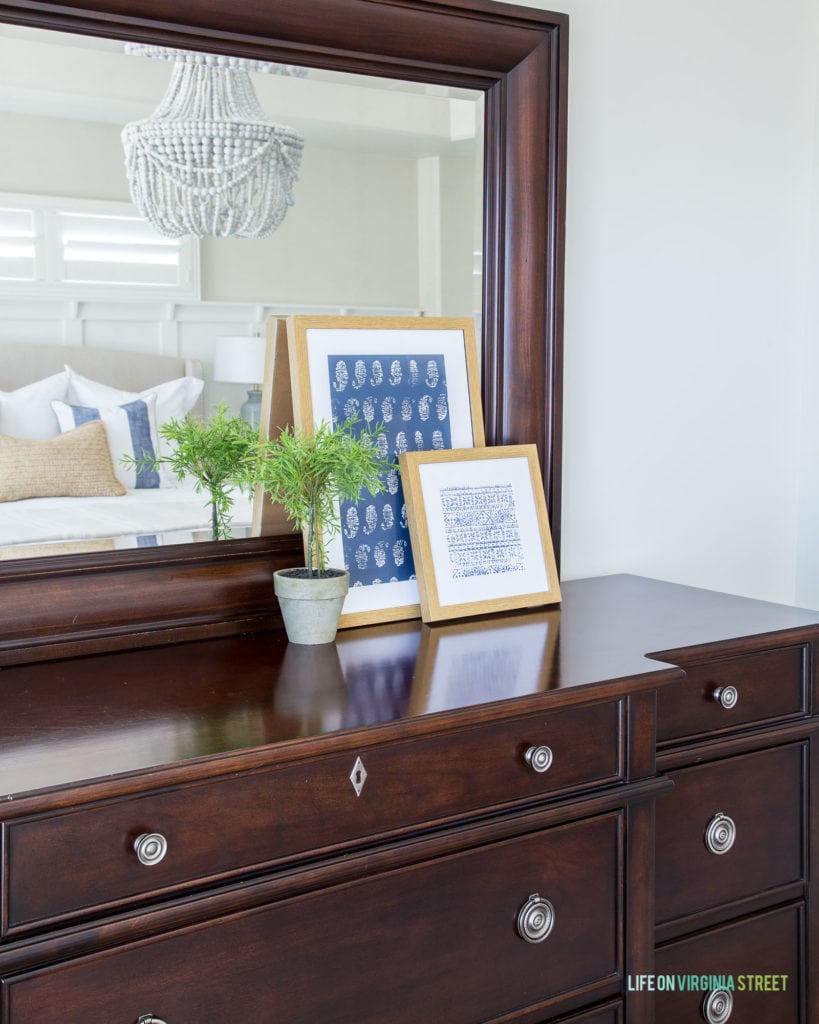 TRIM & DOOR PAINT – Earlier this year, we had most of our upstairs doors and trim painted white (in spots I hadn't already done it myself). However, due to budget and my sanity, we had to leave a few areas out of the project. So, I'd love to have the remaining doors and trim done in the next year or two. This mostly only involves bathroom and closet doors so they're currently a bit more hidden and can wait longer if need be!
RENTAL PROPERTIES – We achieved our goal of hiring a property manager in May! It's been a huge relief, but also hasn't come cheaply. It still consumes a lot of our time, but we prefer speaking to the property management company directly rather than five various tenants when issues arise. As much as we'd love to add another property to our portfolio this year, it likely isn't going to happen with Omaha home prices where they are currently. We've had some serious conversations about possibly trying to expand in another state with better prices and lower taxes. Since we'd use a property manager there as well, it seems like it could be feasible… If we ever figure out exactly where we want to start looking! It does make me a bit sad that, with a property manager, there aren't really projects for me to share here on the blog. However, I then remember what a nuisance it would be to get calls from tenants at all hours of the days with issues and I'm over it pretty quickly! 😉
THE GUEST BATHROOM – This one is still a big maybe. However, since we need to renovate all three of our upstairs bathrooms at some point, I'd love to tackle this one this winter if possible. It's the bathroom that connects our main guest bedroom and den so it gets pretty regular use. The Frog Tape that's been in the room for several years now is beyond the point of embarrassing 😉 I threw one coat of paint up years ago and then never finished and it still looks like this to this day. We want the carpet out of the vanity area and need to replace the melamine cabinets and bleached out Corian countertops. I would love to add a bit of personality in here to help make it look less builder basic.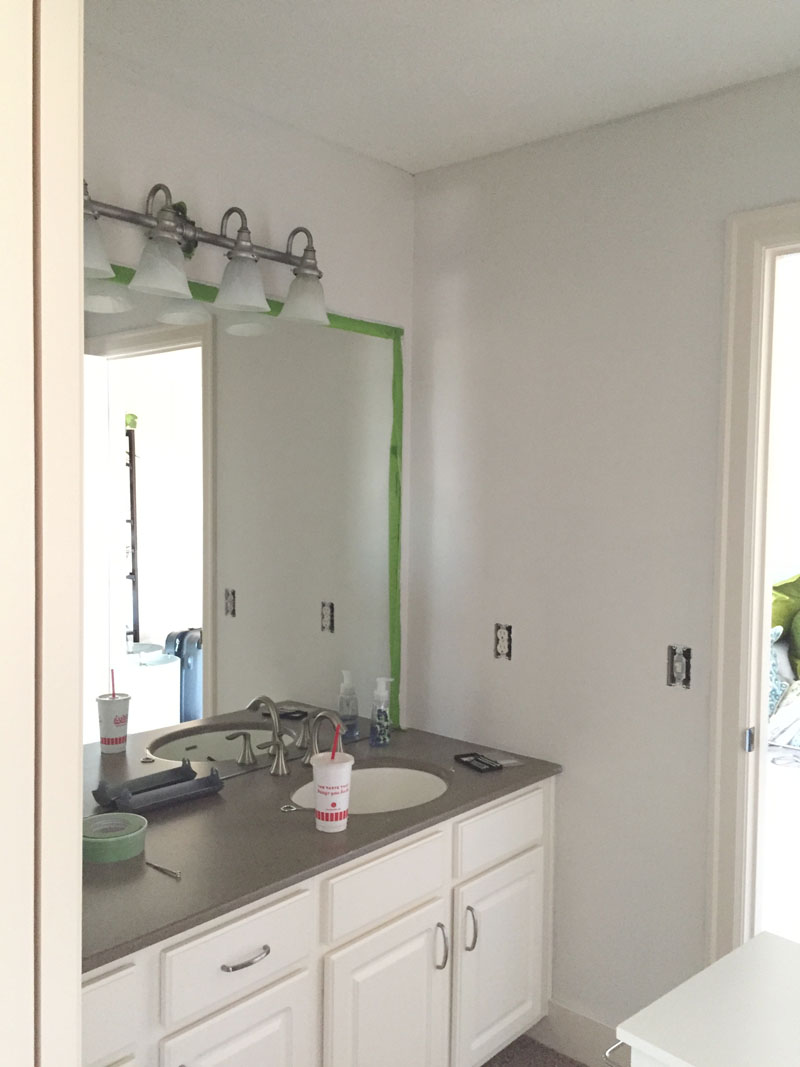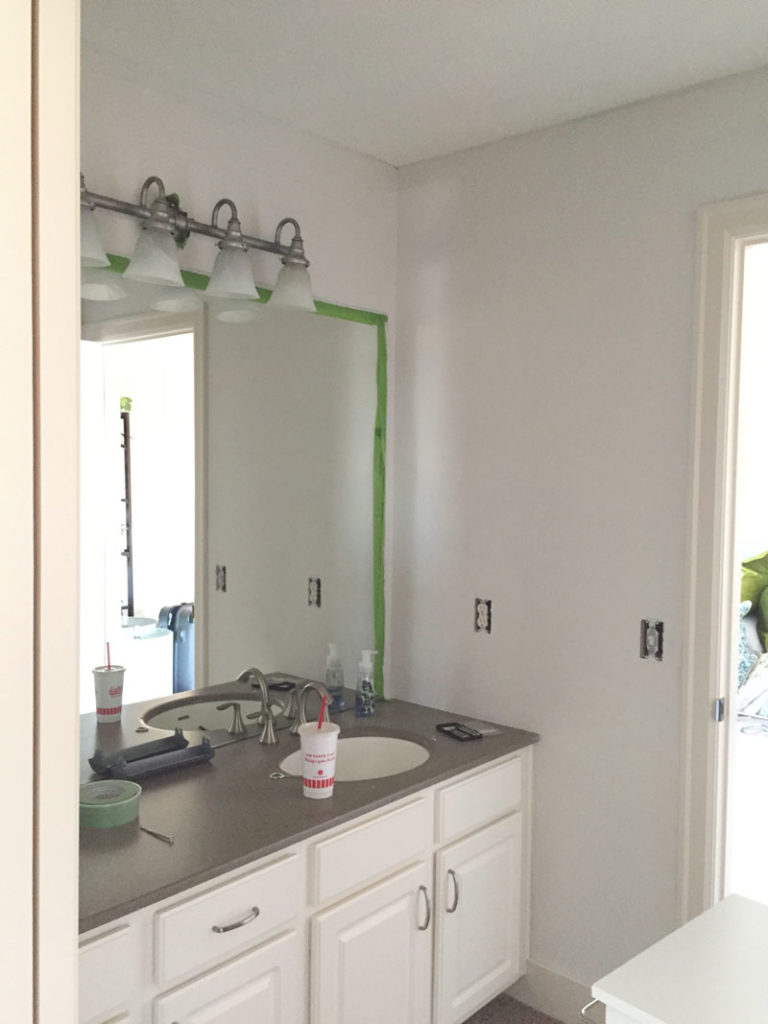 The shower area mostly just needs a fresh coat of paint, but the dark tile on the floor will likely come out so that it can match whatever we choose in the vanity area.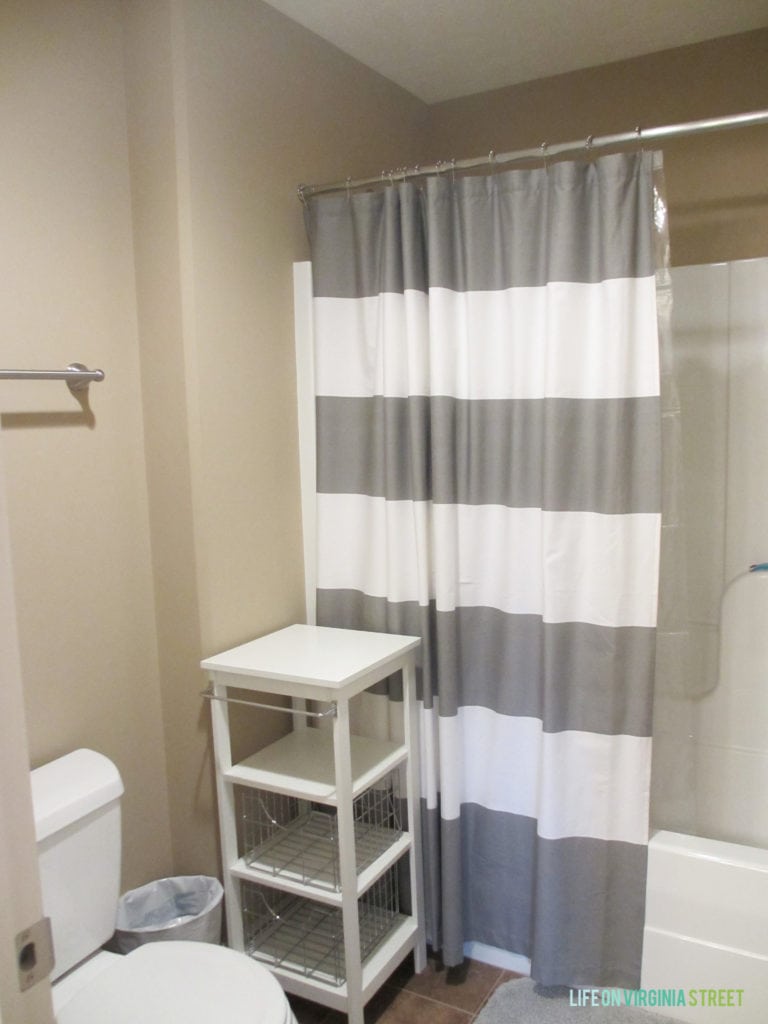 This one is still at the bottom of our priority list for this year, but I'd love for it to happen if possible. Especially since we have two other bathrooms we'll still have to tackle in future years!
Long-Term House Goals (The Dream List)
Following are projects we'd love to tackle that are further out than the next year. And honestly, several may be on the five to ten year (or never) plan! Fortunately, our home was on the lower end of prices in the neighborhood when we bought it, so we feel like we can continue a few of these bigger projects without pricing ourselves out of the neighborhood. Also, at the end of the day, we want to do projects that we fully get to enjoy and aren't always 100% concerned about resale!
OUTDOOR EXPANSION – We have several long-term house goals, but many of them are contingent upon one we have planed for 2021. That sounds so far away! But, since the day we finished the kitchen last year, we've started saving for the project we're most excited to tackle next. Due to budgeting, it does limit some of the above projects (and other long-term goals) and really makes us re-prioritize where we want to spend our money.
Ultimately, we'd love to expand our covered patio out back and incorporate an outdoor kitchen (essentially just building in our grill), adding a fireplace and TV, and creating some storage space for pool furniture/toys. Currently, we only have space for a small outdoor table and our grill. And when we use the grill, there isn't really a walkway out to the pool. We both have hundreds of photos saved (literally – ha!) of what we're envisioning, but I feel like that deserves a post all it's own.
Truthfully, much of what we may ultimately decide to do will be based on the bids we receive. We're actually really scared for that part! My goal is to line up some meetings early next spring to see just how feasible this project would be so we're prepared, come Spring 2021, if we decide to move forward! Our plans would take place on that patch of grass you see to the left in the photo below.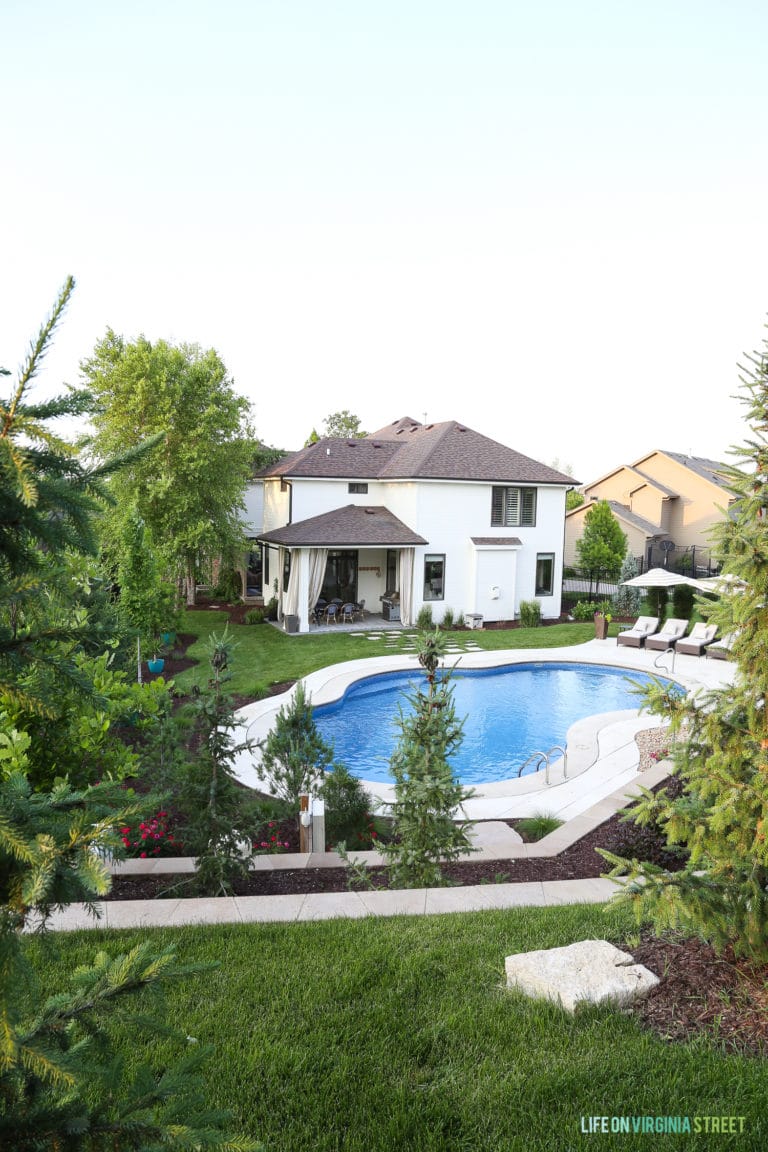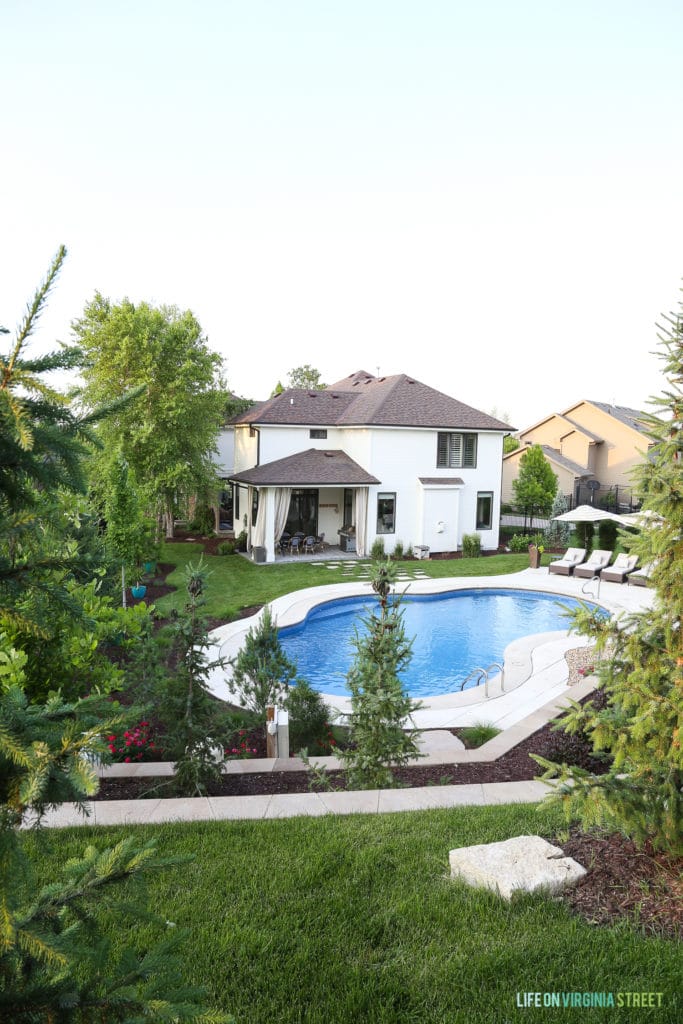 MASTER BATHROOM – Depending upon how bids go for the outdoor portion, we'd also love to tackle our master bathroom in the next year or two. I never show it because, while it is beautiful and spacious, it's a big dark brown dungeon! It actually sits in that area just above and behind our covered patio so I do want to hear just how pricey it would be to expand it (and our closet which is off to the right) just a bit. We'll have to tackle the roof either way and I have no idea if it would be slightly more or crazy more. Again, a lot of why I've never shared this is because at this point we have no idea what we are in for! We may have to scrap it all once we get bids!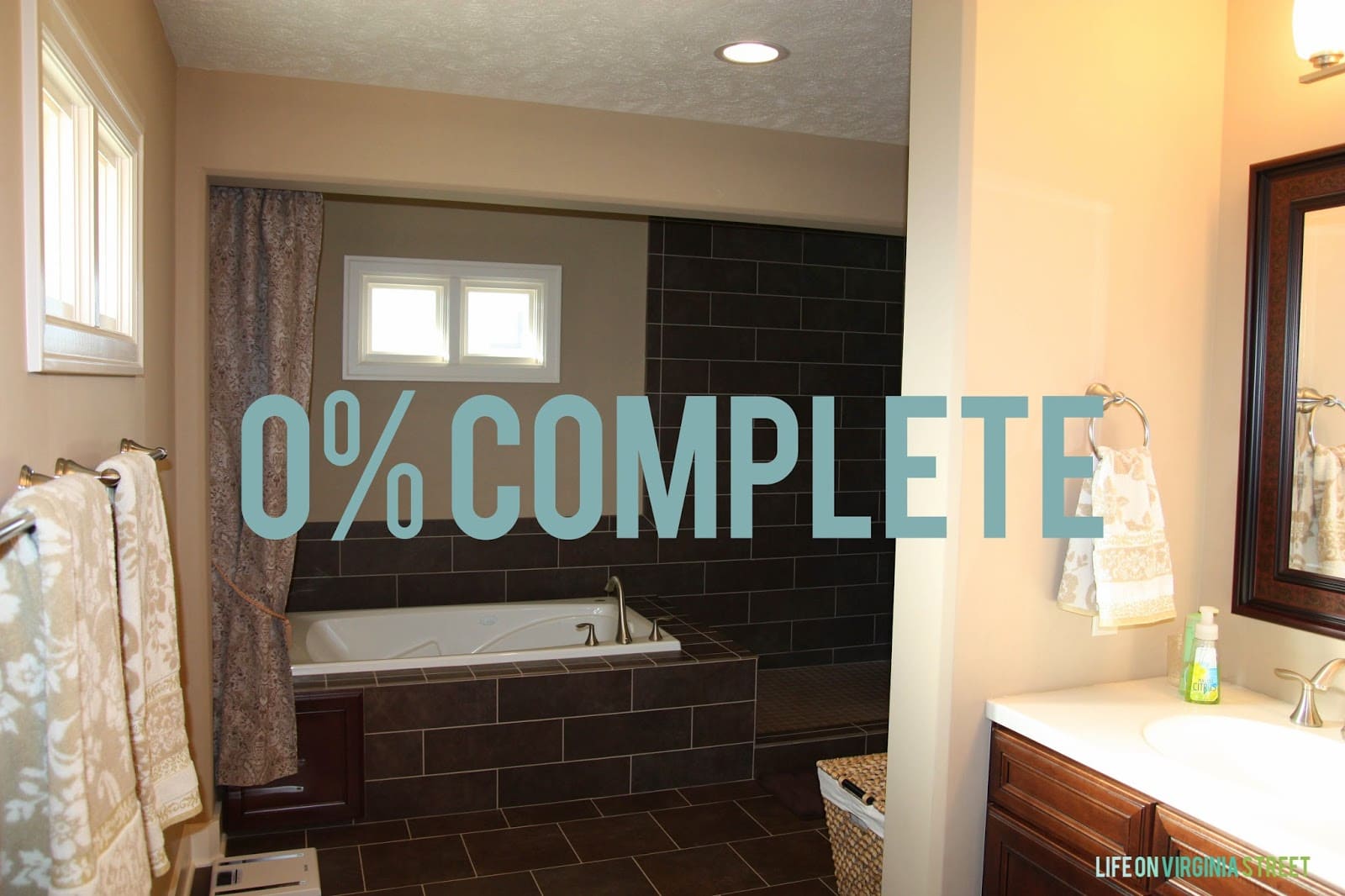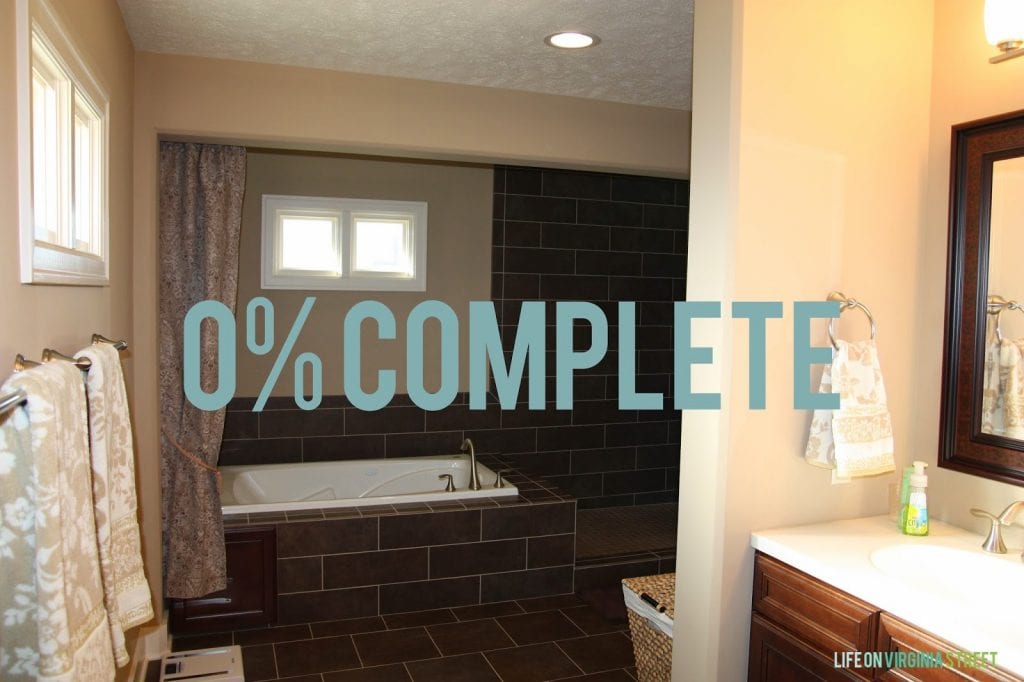 CARPET/FLOORING – With our carpet being nearly 12 years old, and not that great to begin with, it's probably going to have to be replaced sooner rather than later. Fortunately, we only have carpet on our upstairs level and one small square in our living room. However, it's not an expense I'm super excited to take on. I mean, it's carpet!! Not only is it not in great shape, it is buckling everywhere. And although I know we could pay someone to come stretch it in every room, I'm not sure I want to pay for a temporary solution when I still know we'll hate the current carpet!
THE BASEMENT – Truth be told, we won't ever need the additional space our basement offers. It has space for another bedroom and bathroom and then a small living room (currently Kurtis' workout room). However, we both know that long-term if we ever want to sell, we'll need to have, at minimum, the bedroom and bathroom finished to compete with other homes in our neighborhood. We're in zero rush to tackle either at this point in time, but they are on the horizon at some point, and may just be more opportunity-driven than anything.
WINDOWS/DOORS – Here's where the "dream" part of the list comes in. Knowing that several windows need to be replaced (likely within the next year), I'd love to add a few windows to our home as well. Especially knowing just how much of an impact they made in our kitchen and mud room. I'd love to add a window to our tiny, dark laundry room (which would look out onto the courtyard) and add one in one of our guest bathrooms (which would also look out onto the courtyard). I'd also love to find alternatives to our sliding glass doors once they need replacing.
COURTYARD – This is also on the dream list and one that Kurtis isn't quite as on board with. I think our courtyard has the potential to be even more magical but it does need some upgrades. The concrete is heaving and we know that will likely need to be replaced. But I'd love to see brick pavers (or equivalent) and to remove the vinyl "rock" wall with something more permanent and possibly a fireplace!
So, there you have it! It's all a bit ambitious, but I think it's all manageable over the coming years!
If you would like to follow along on more of my home decor, DIY, lifestyle, travel and other posts, I'd love to have you follow me on any of the following:
Pinterest | Instagram | Facebook | Twitter 
disclosure: some affiliate links used