Good morning! I hope you all had a wonderful Thanksgiving weekend! We had some busy days and some lazy days, so it was the perfect mix. Today I'm sharing what we've been up to around here the past few weeks, as well as sharing the best Cyber Monday sales. If you're just here for the sale details, you can skip right to the bottom of the post!
This post contains affiliate links for your shopping convenience. You can read my full disclosure policy here.
Home Projects & Updates
Between styling and photographing both the Pool House Addition Reveal and our Christmas Home Tour, I might be project-ed out for the rest of the year! But since we're likely hosting Kurtis' family for Christmas over New Year's weekend, I'll probably get a little more Christmas decor up over the coming week or so. But, come the first of the year, I have another fun (and big) project to share with you all!
If you missed either of the two tours, nearly everything in our house is on sale today! And some items, at the deepest discounts I've ever seen! Our pool house living room only has a handful of items that aren't on sale. It's crazy!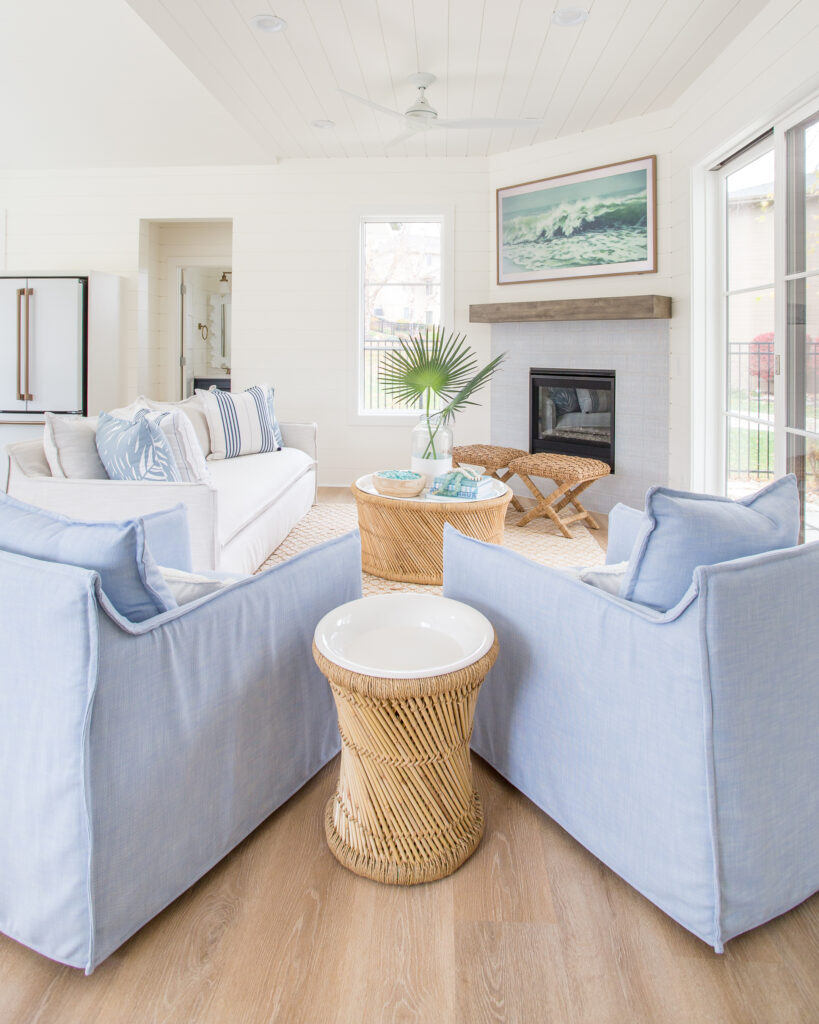 POOL HOUSE LIVING ROOM SOURCES: Outdoor Sofa (Perennials Basketweave – Chalk) | Outdoor Swivel Chairs (Perennials Basketweave – Coastal Blue) | Round Storage Coffee Table | Round Storage Side Table | Rug | Woven Stools | Indoor/Outdoor Palm Pillow Cover | Indoor/Outdoor Striped Pillow Cover | Indoor/Outdoor Fringe Lumbar Pillow Cover | Floating Shelf Mantel | Frame TV (teak frame) | Ceiling Fan | Colorblock Vase | Wood Bowl | Seaglass | Recycled Glass Beads | Bone Beads | "Beautiful" Coffee Table Book | "Dream Decor" Coffee Table Book | "Surf Shack" Coffee Table Book | "Escape" Coffee Table Book | Fireplace Tile
Same with the kitchen area – our favorite Striped Runner Rug, Basket Pendant Lights, Seagrass-Wrapped Glasses and Backless Counter Stools are all included in the sale. I really believe the Serena & Lily sale is one of the best out there currently. Especially since the 25% off even covers sale items! They haven't done up to 25% off sitewide for two years, and even their 20% off sitewide sales only occur a handful of times throughout the year. This one ends tomorrow night.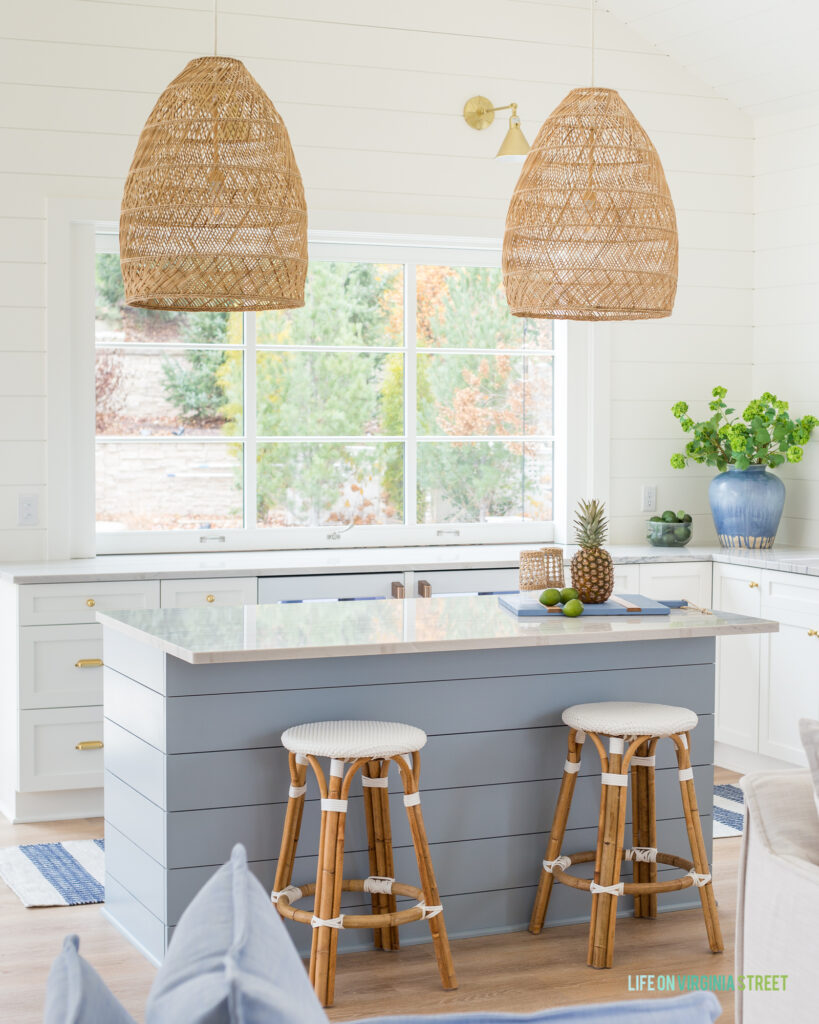 POOL HOUSE KITCHEN & BAR SOURCES: Basket Pendant Lights | Aged Brass Star Sconces | Striped Runner Rug | Backless Counter Stools | Cabinet Ball Knobs | Drawer Bin Pulls | Trash Drawer Pull | Faucet | Counter Depth Fridge | Beverage Fridges | LVP Floors | Blue Serving Board | Seagrass-Wrapped Glasses | Seaglass Bowl | Faux Viburnum Stems | Blue Vase | Cabinet Color: BM Simply White | Countertops: White Macaubas Quartzite
The plaid rug in our dining room is also on sale now (along with the dining table and canvas art)! The 8×10 rug sold out pretty quickly with the sale, but there are still three other sizes remaining!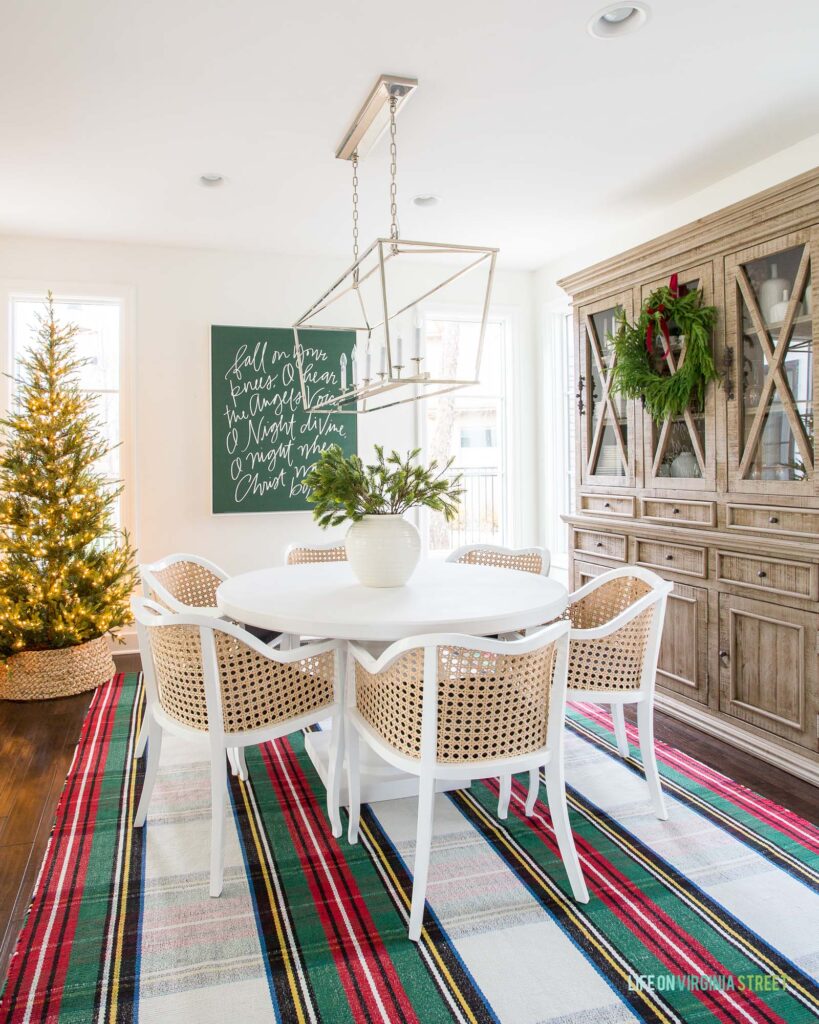 CHRISTMAS DINING ROOM SOURCES: Dining Table | Cane Dining Chairs (look for less here) | Linear Chandelier (looks for less here) | Faux Christmas Tree | Woven Tree Collar | Long Serving Board | Shorter Serving Board | Stewart Plaid Rug | 'Fall On Your Knees' Canvas | Faux Pine Stems | White Vase | Faux Pine Wreath | Velvet Ribbon | Hutch | Small Buffet Table
There are seriously so many more pieces on sale, so if there was something from either of the tours you loved, it might be worth going back to see if it's on sale. There's a high likelihood it's on sale today!
Top Sellers Of The Week
Following are the top sellers of the past week across all of my channels. Links to each item are below the graphic.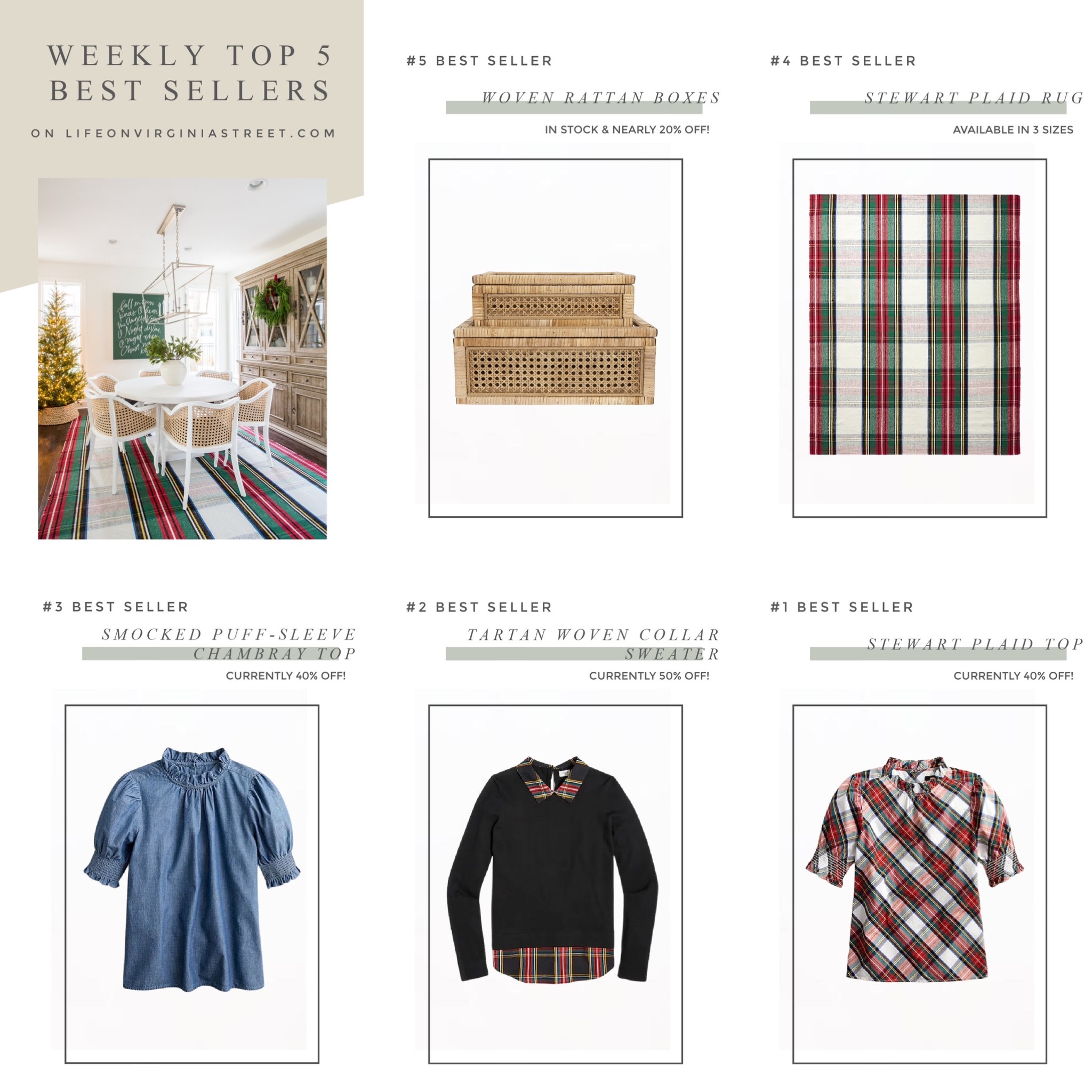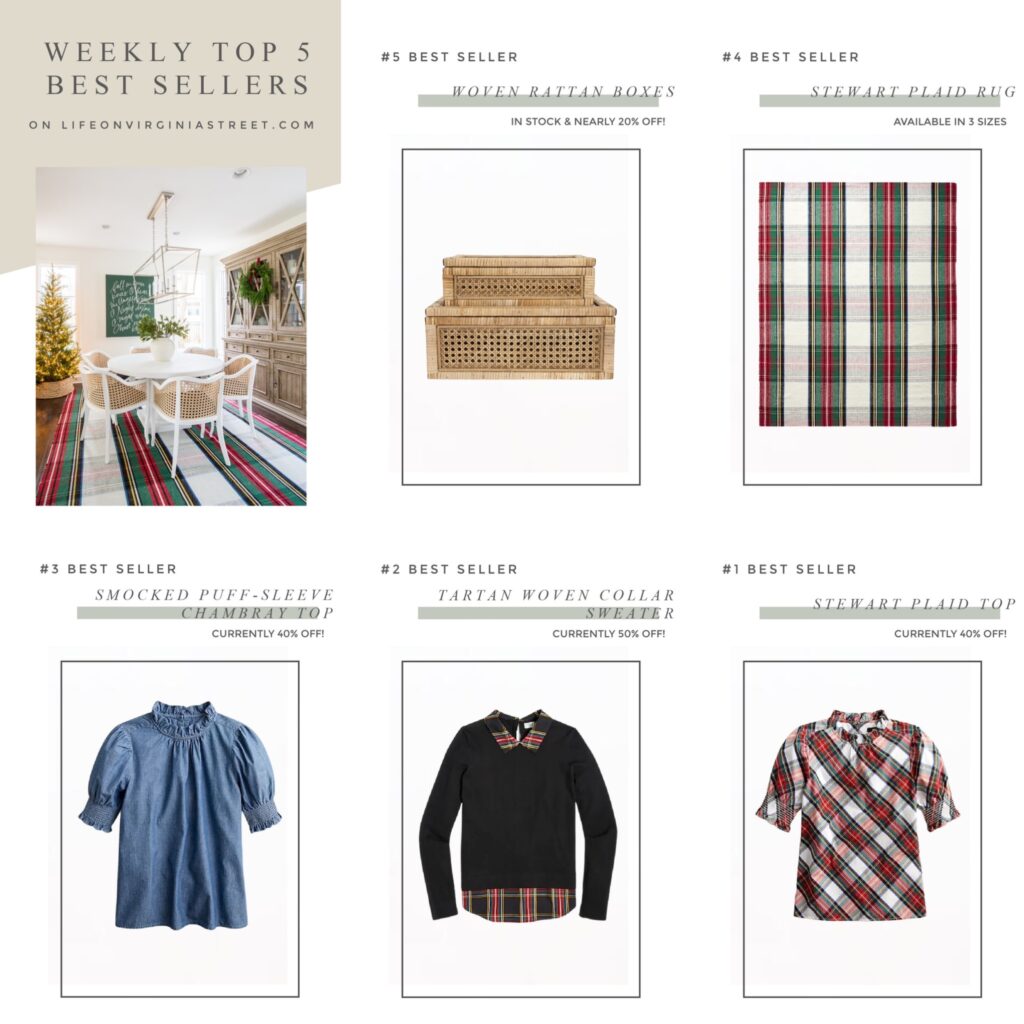 BEST SELLERS (each number is clickable): #5 | #4 | #3 | #2 | #1
And here are the top sellers from the prior week, since I didn't post a Weekend Recap post last week.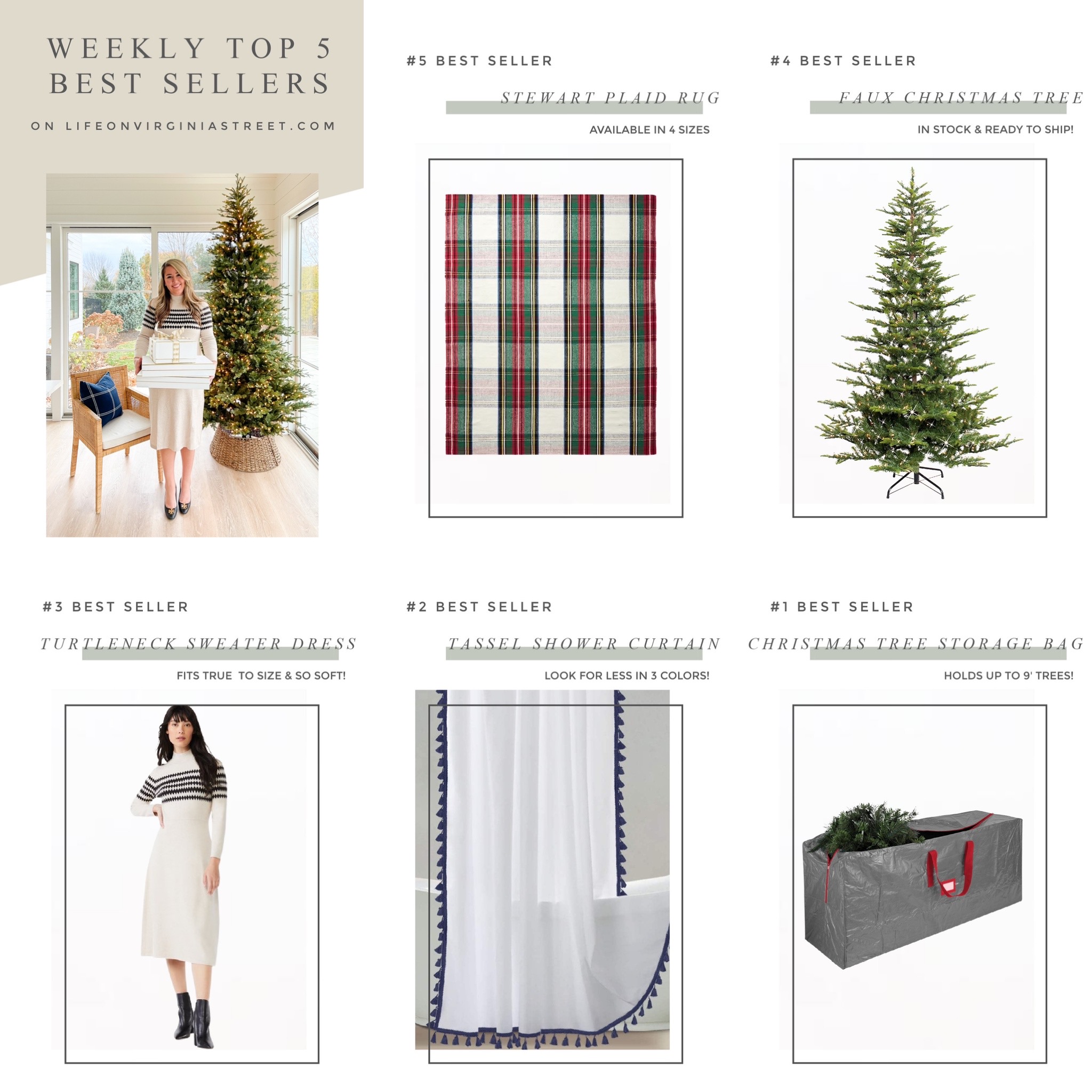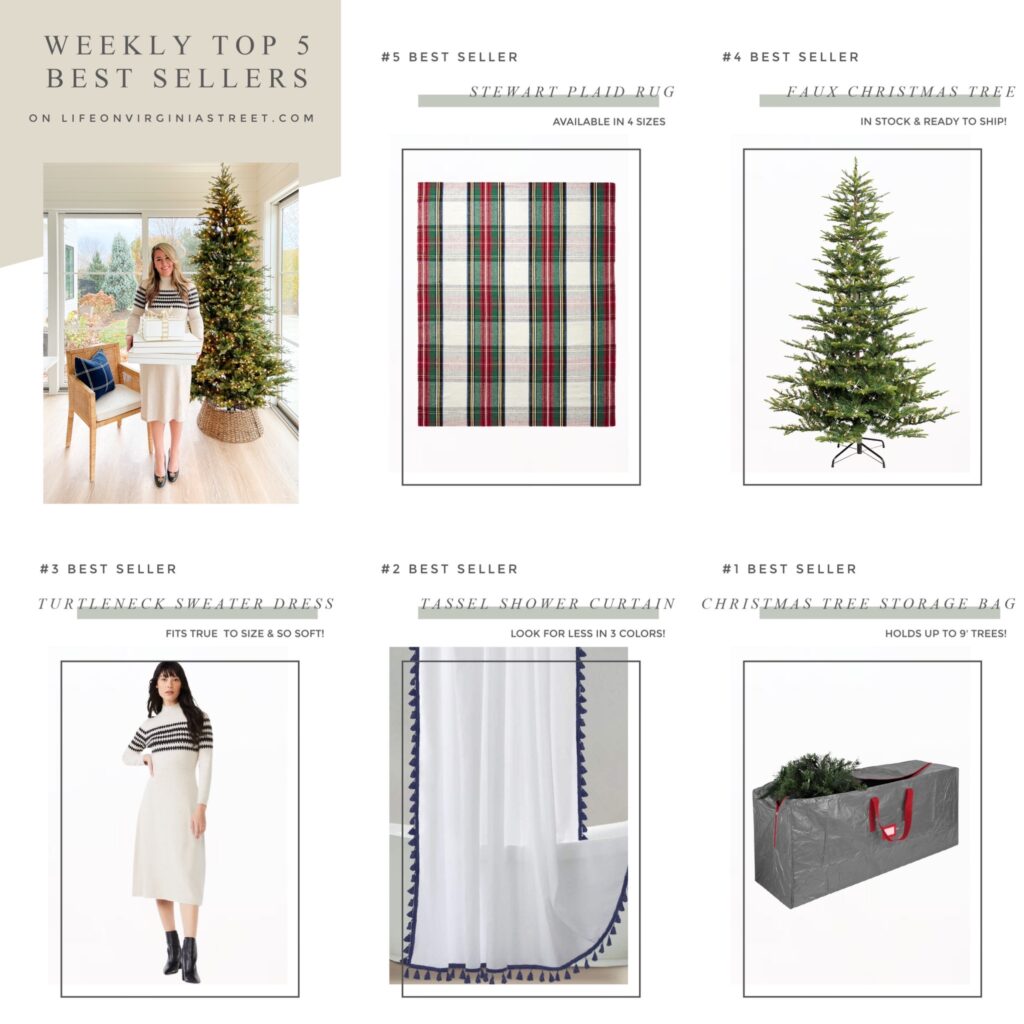 BEST SELLERS (each number is clickable): #5 | #4 | #3 | #2 | #1
In Case You Missed It
Following are my posts from the past two weeks.
Following are the most read blog posts of last two weeks (excluding any of the new posts already mentioned above). Many times this includes old posts that are popular on Google or Pinterest! It's fun to see what is trending each week!
Around Town & For Fun
During the pool house building process, we always assumed Hawkeye would love it most out of all the cats. And he does, if we're in there (and mostly if we can open the doors). But Henley has essentially taken it over as hers. She's out there nearly 24/7. A few weeks back, there was a squirrel that was taunting her in the bald cypress tree, and she was not happy about it!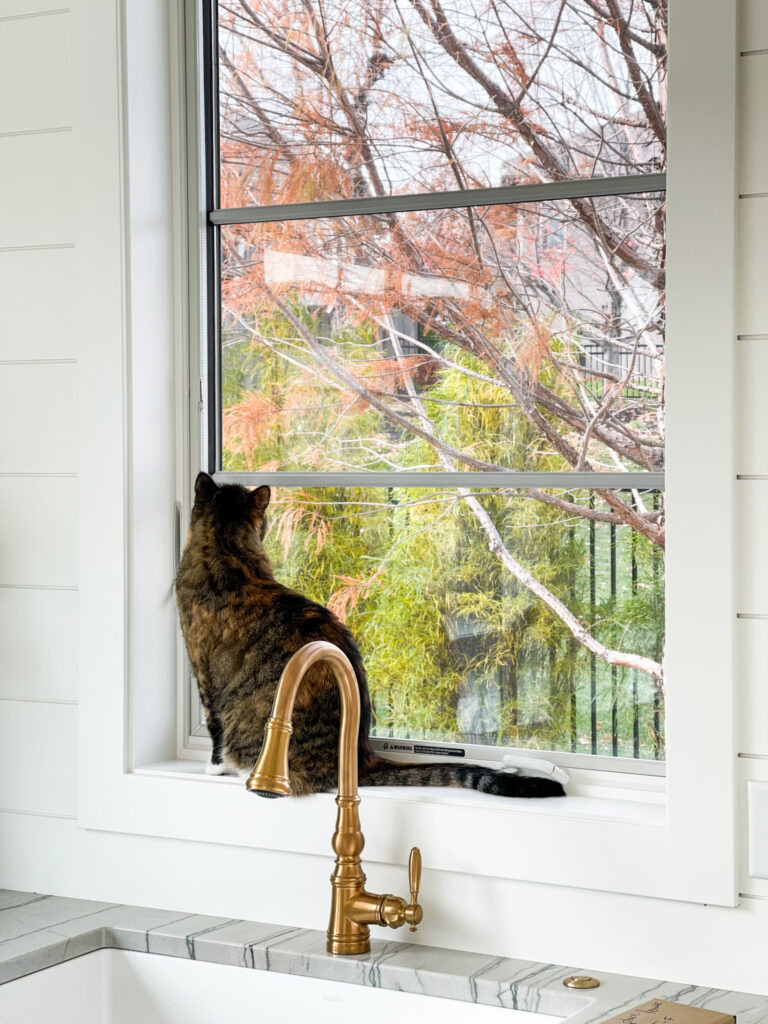 This is now the view out of our bedroom window when looking towards the pool house. Needless to say, I'm obsessed!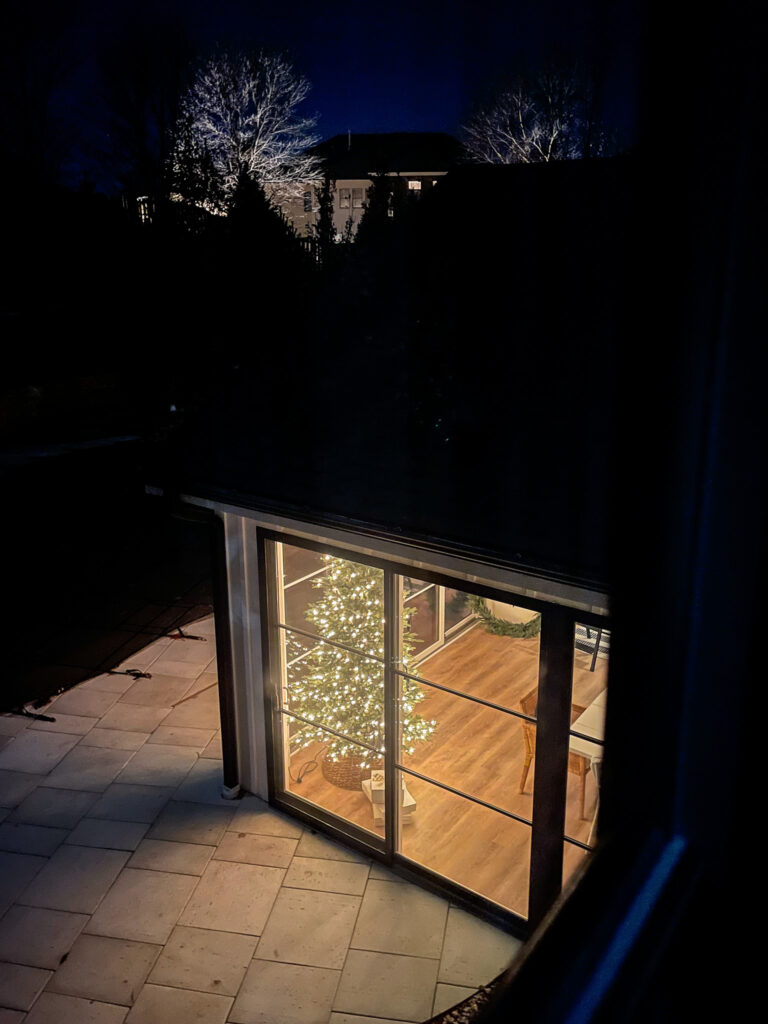 I finally got in for a highlight and cut last week, and I swear it's always the best two and a half hours of any 8-12 weeks. Ha! I told my stylist that if I ever win the lottery, I'm going to have her wash my hair for me multiple times a week. Pure heaven!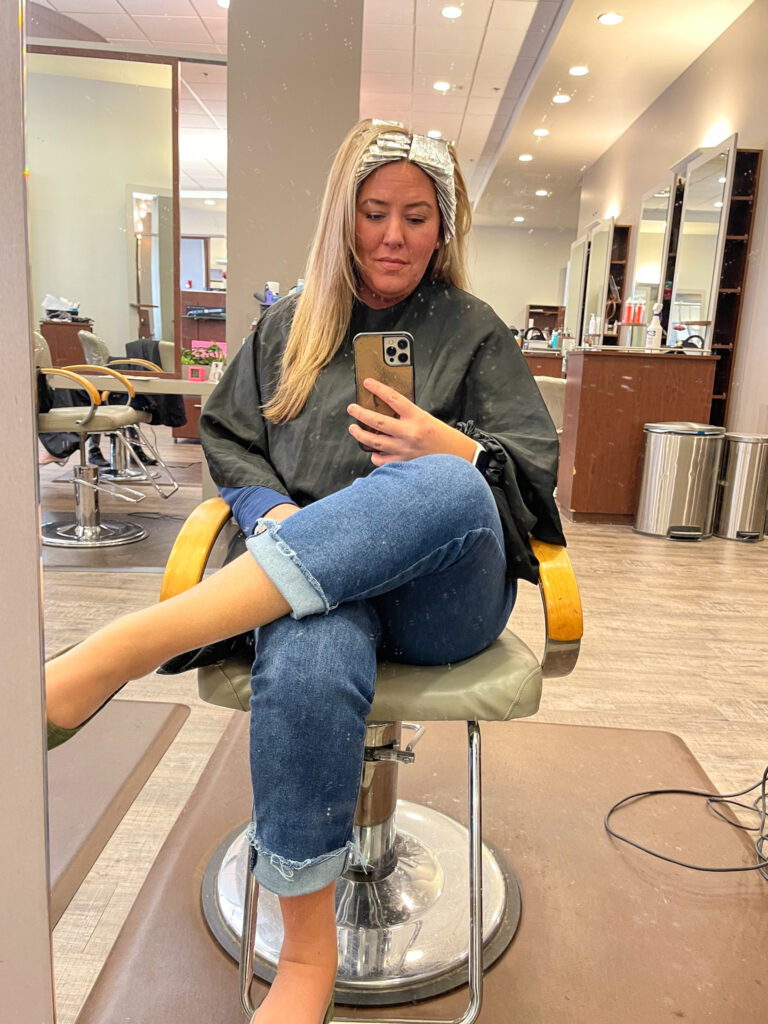 We headed to Iowa for Thanksgiving with Kurtis' side of the family on Wednesday. On Thanksgiving Day, we took a quick family picture before eating. It was so cold that day, we opted out of going outside. So, I think it turned out pretty cute for a last-minute change inside with just a tripod and an iPhone! It was a fairly quick trip, but it was a wonderful time!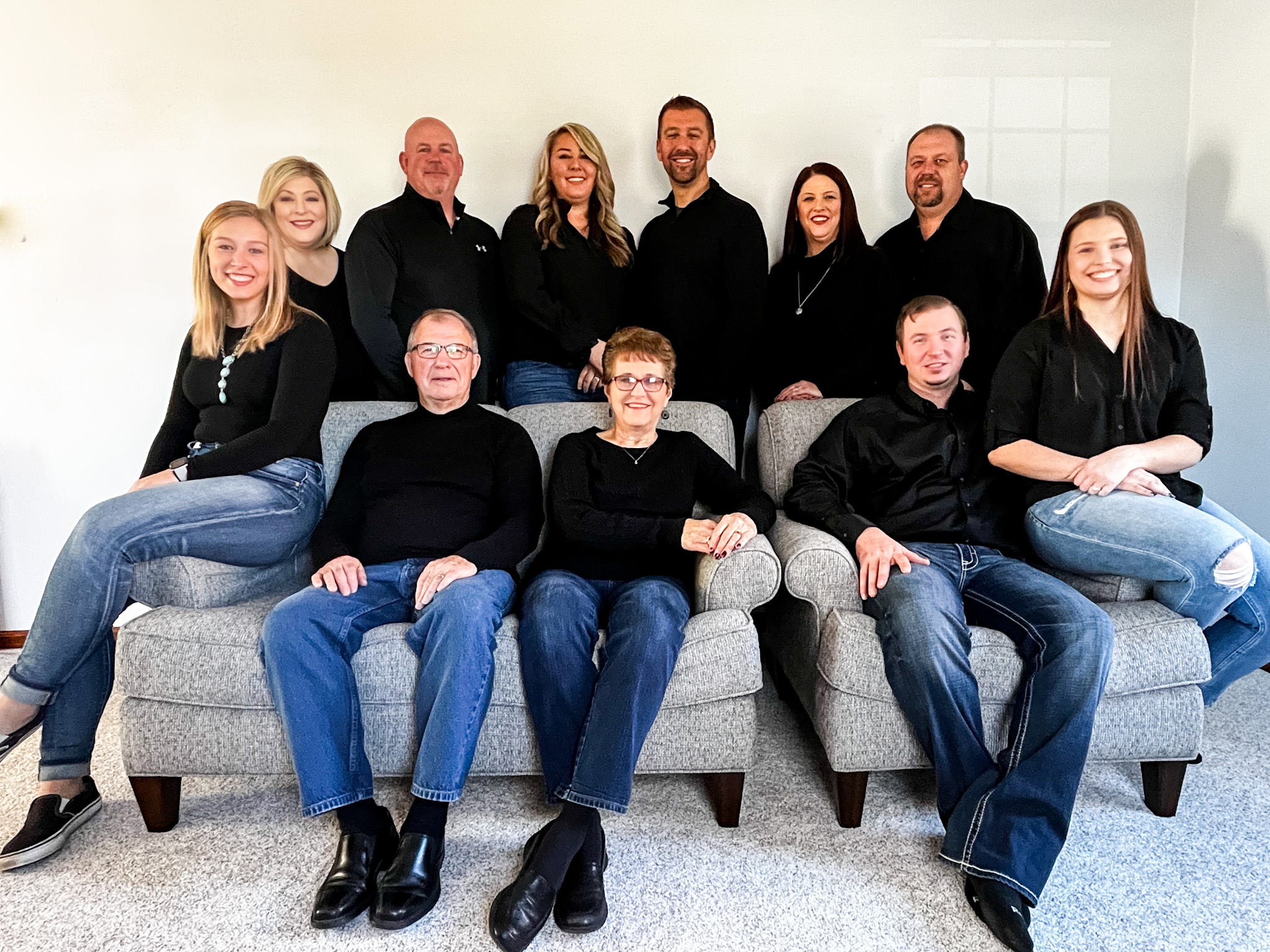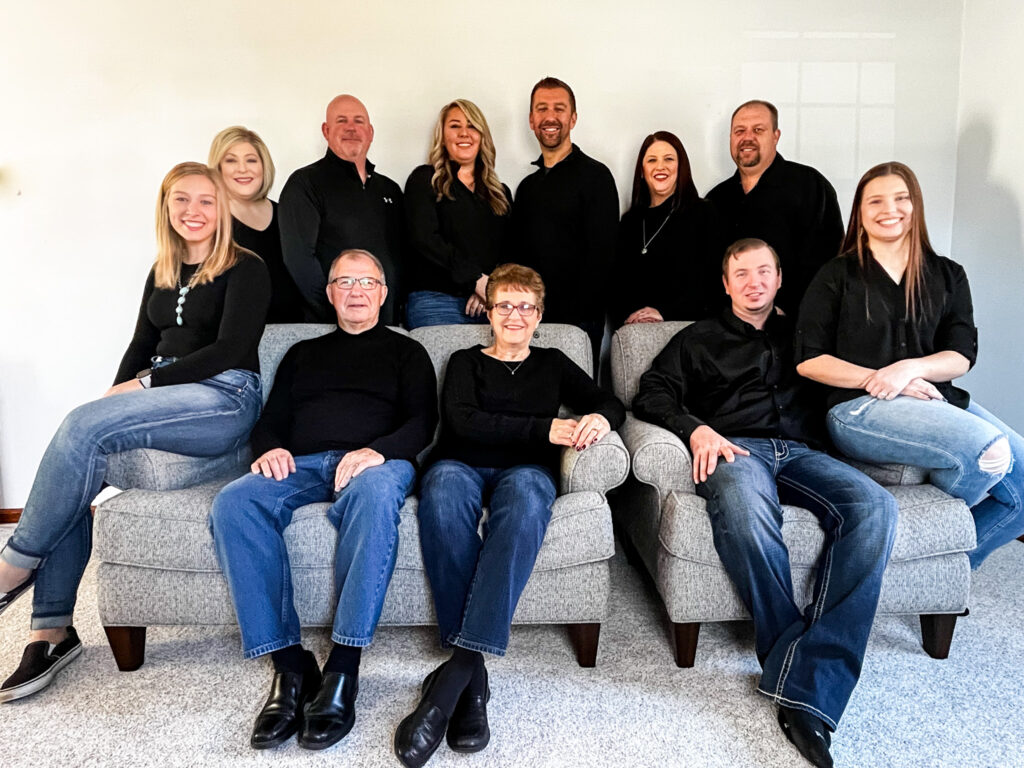 We got home Thanksgiving evening, and of course had to watch The Holiday! I try hard not to watch it any other time of year, so I seriously look forward to watching it again for months! It never disappoints.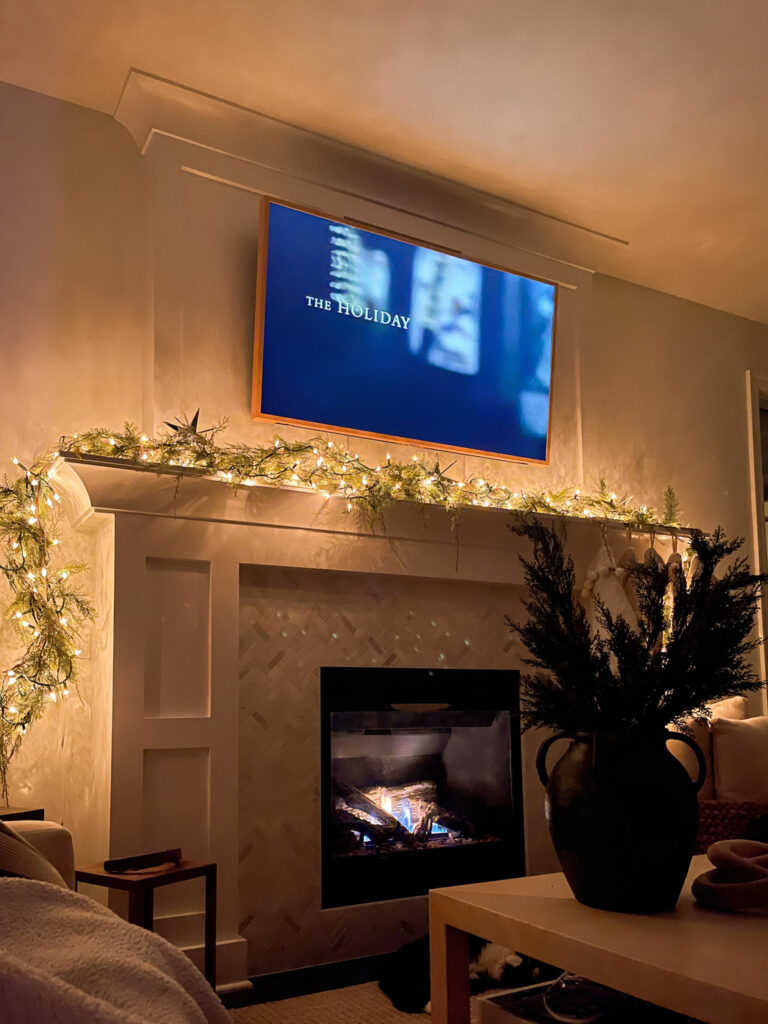 On Friday, the guys had tickets to the Iowa v. Nebraska football game. Since it's typically an early work morning for me, I opted out and then around lunch time headed to hang out with Jill and the girls who also stayed home. One of our neighbors had a reindeer and hot chocolate party so we quickly stopped in to say hi.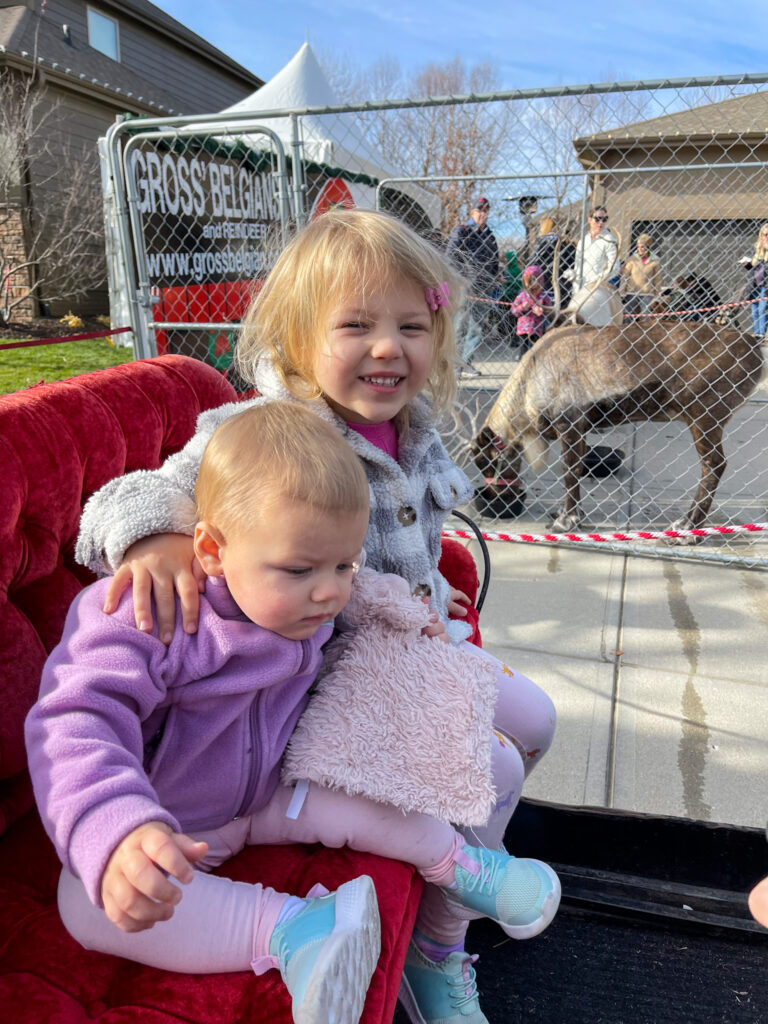 We then headed back to their house, and the adult girls had mimosas and Z got orange juice while we watched some kids Christmas movies.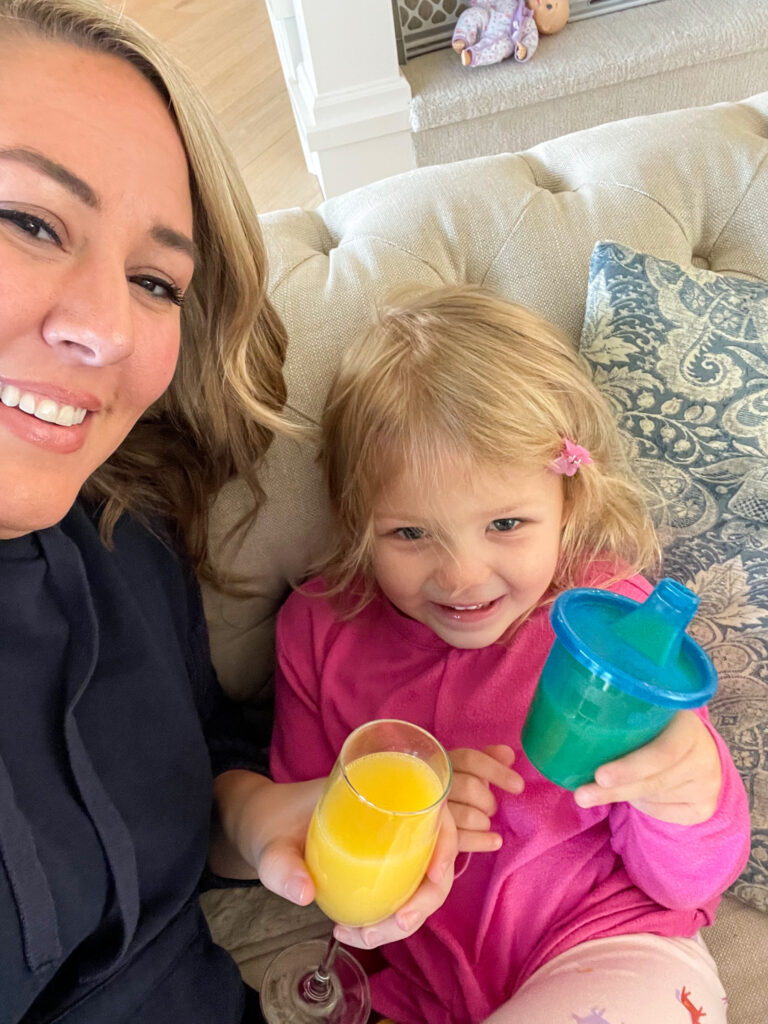 Zoe also wanted to make sure I got a picture of her and Elle in their matching shirts. Ten shots later, this was the closest I could get to them both looking at the camera. Ha! It was a fun day, and once the guys got home that night, we hung out for a bit and ordered pizza. It's so fun having them live even closer to us now. I actually WALKED home from their house at one point in the day.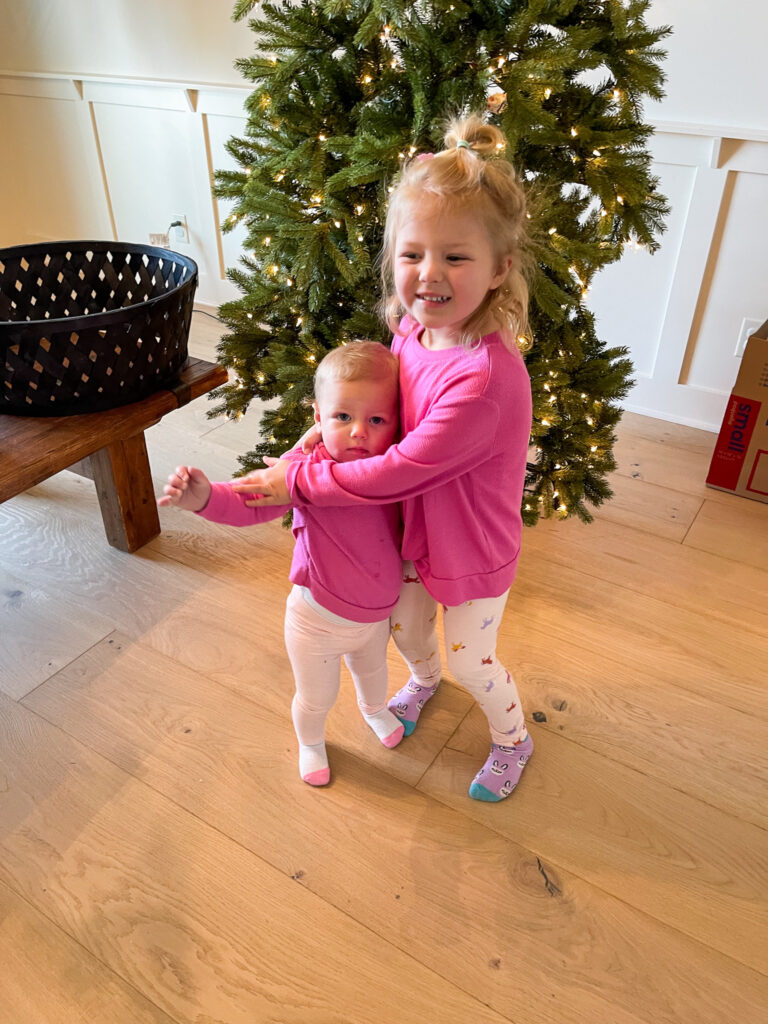 Saturday and Sunday we were fairly lazy. We did a few random tasks around the house, but Kurtis mostly watched football and I started a puzzle. Something I don't think I had done since last holiday season. It was fun to set it up in the pool house on the island and still kind of hang out with Kurtis while he was watching football. Hawkeye had to visit the scene many times as well 😉 I'm doing this puzzle and use this puzzle mat for those interested!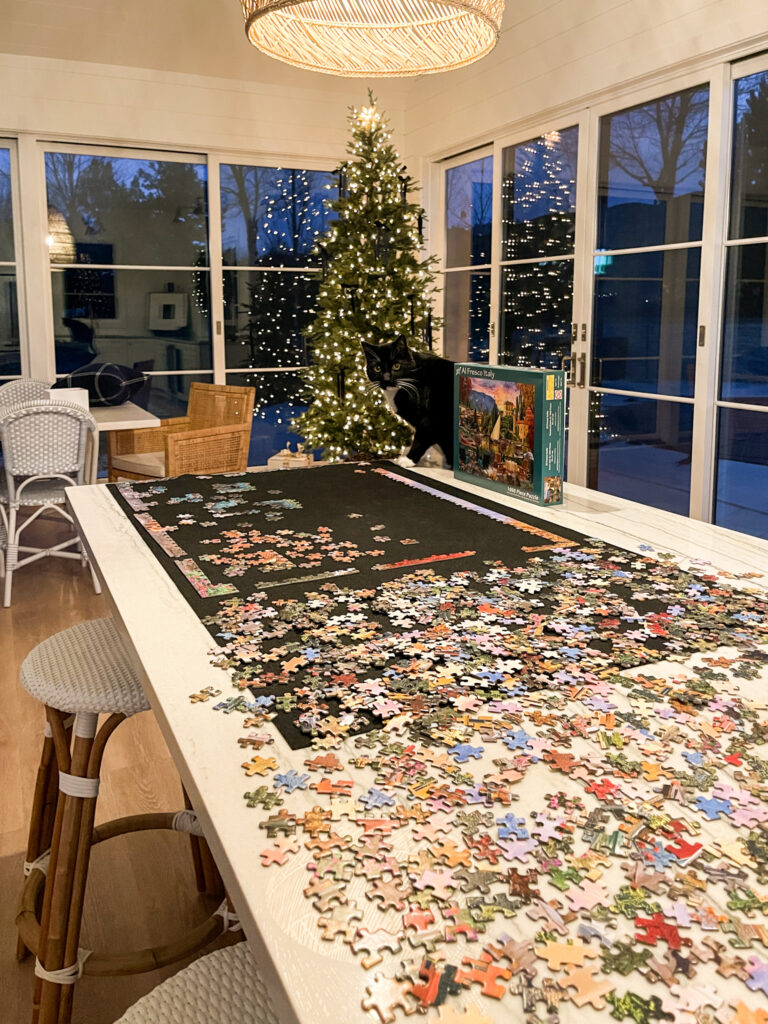 Henley isn't usually a fan of Hawkeye getting too close to her. But she must have been in the Thanksgiving spirit because she was much more tolerant than normal.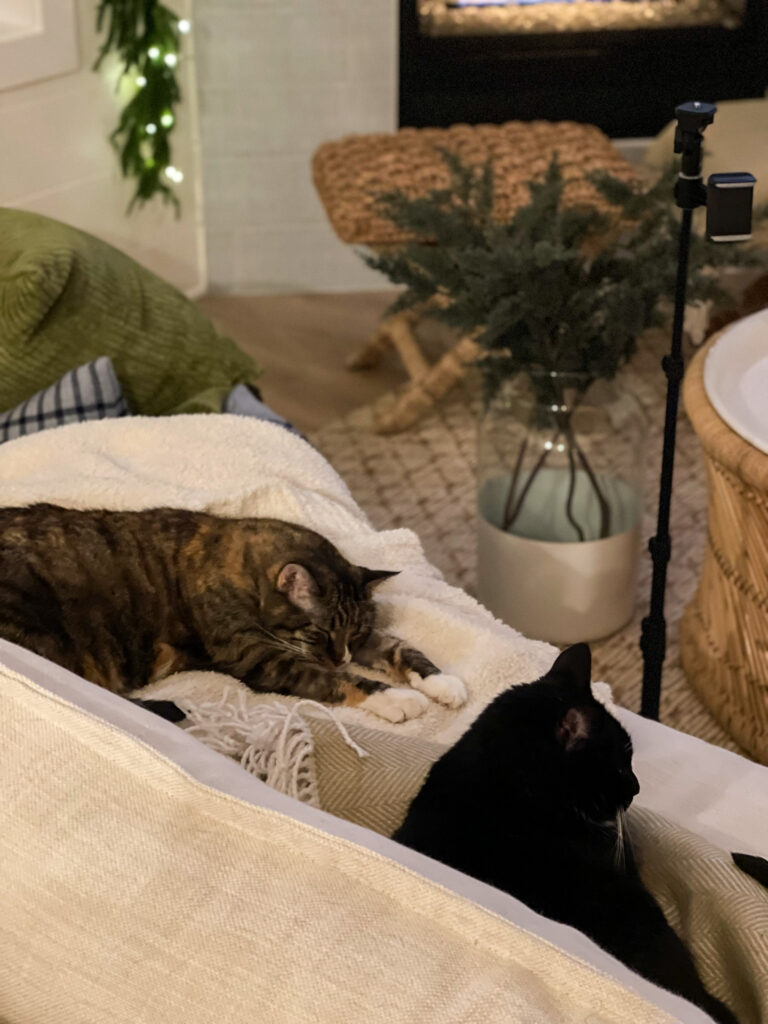 Bailey on the other hand will cuddle all day if Hawkeye wants to!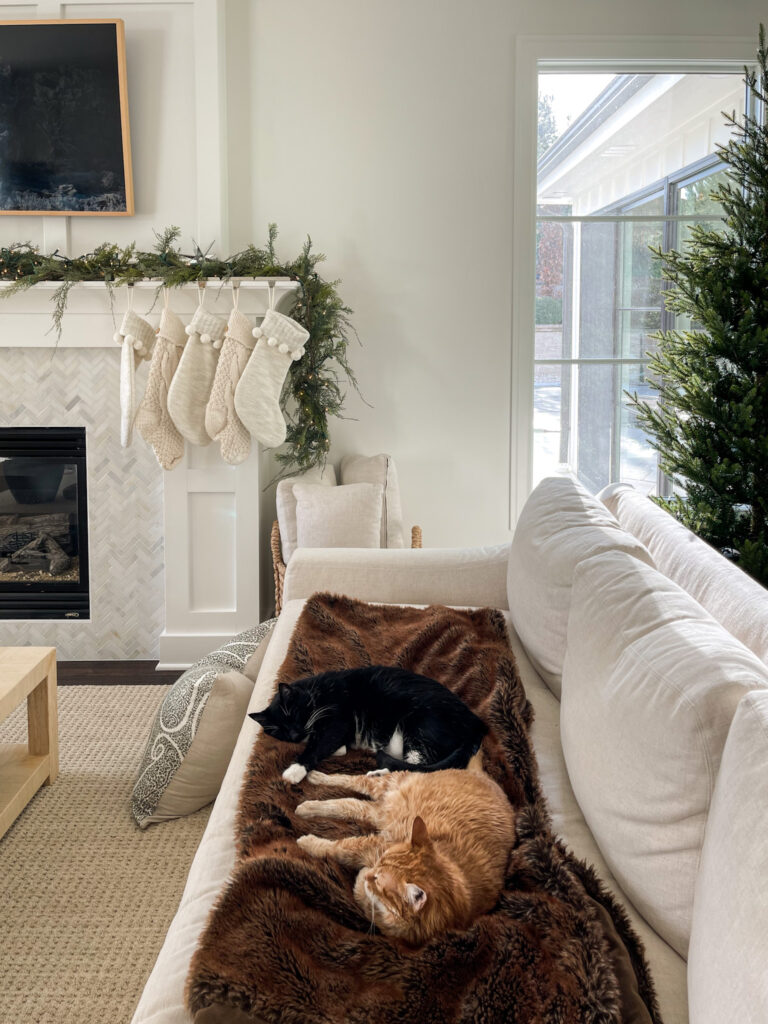 We've got another busy week ahead, and I plan to get a lot of stuff prepped so I can try and take a little time off over the next month or so. It isn't always the easiest for me to shut my brain down (or not feel guilty for not working every day), but I'm determined to make it happen! I have a lot more content to share yet this year!
Recent Buys & Sales
Following are the best Cyber Monday sales from today. You can see my top picks from Friday here, many of which are still on sale. It looks like most sales are fairly similar, with a few improvements and a few additions of free shipping!
I hope you all have a great week!
If you would like to follow along on more of my home decor, DIY, lifestyle, travel and other posts, I'd love to have you follow me on any of the following:
Pinterest | Instagram | Facebook | LTK
disclosure: some affiliate links used