Sharing the recipe for my mom's award-winning Praline-Topped Sweet Potatoes as well as all the details on one of my favorite time-saving tips during the holiday season.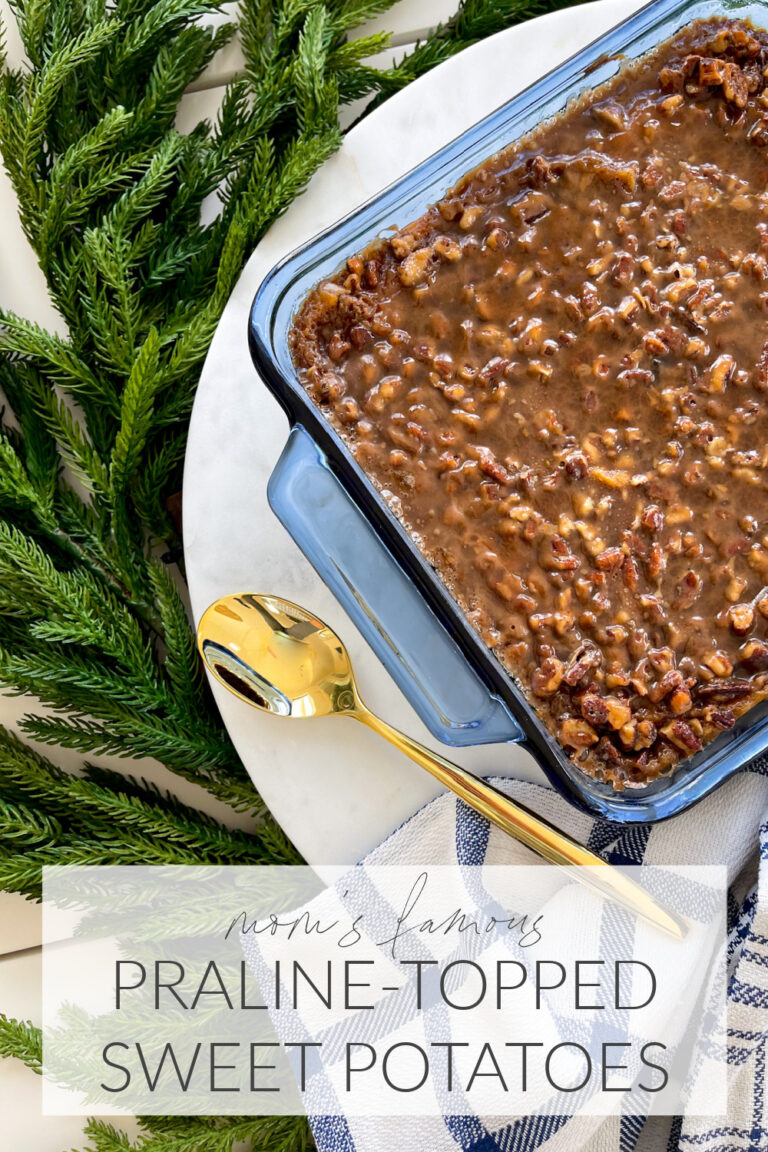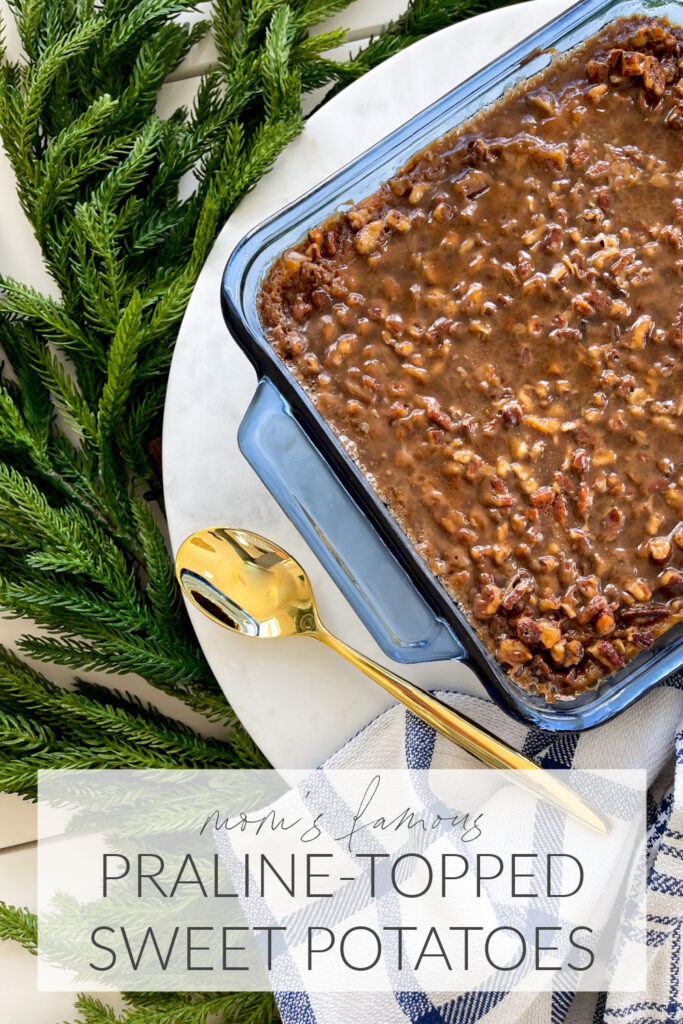 This post is sponsored by Walmart+ and contains affiliate links for your shopping convenience. As always, all thoughts, opinions, and product selections are my own. Read my full disclosure policy here.
A few weeks ago, the Stewart side of the family planned our Thanksgiving menu and made assignments from there. This year, in lieu of my crockpot mashed potatoes, my father-in-law specifically requested my mom's famous sweet potatoes. About ten or eleven years ago, when Kurtis and I had moved into our last house, we hosted both sides of families for Thanksgiving that year since it coincided with the move. My mom made this recipe that year, but had also won a cooking contest with it when I was in elementary school. In addition to cash and other prizes, she entered so many meals, we also got a free trip to Disney World for our family! Needless to say, she's an incredible cook. Sadly, she didn't pass on much of those skills to me 😉
Since I had never made the recipe before. it intimidated me a bit with the caramelized-like topping. My mom assured me I could do it. So, I decided I needed to do a trial run first before officially committing. This time of year is crazy busy for me, as it is for basically everyone, so I rarely step foot in a grocery store.  I don't love grocery shopping to begin with, and in an effort to save time, I'm a huge advocate of grocery delivery. In fact, we sometimes utilize it several times a week! We have been buying so much more from Walmart in the last year or so, so we recently purchased a Walmart+ membership in addition to the others we already subscribed to.
The great thing about Walmart+ is they have a much larger variety of items than a traditional grocery store. So, for this recipe, I could get everything from the ingredients (listed below) to the Pyrex container to the dish towels (available for free shipping in the app for members!) if I didn't have them on hand. It's so convenient and saves so much time! Especially this time of year when stores are always so busy! This can also help give you more time to focus on the things that matter this time of year and spend less time grocery shopping!
What Is Walmart+?
Walmart+ is a membership by Walmart that helps you save more time & money. By helping families get whatever they need, whenever they need it, Walmart+ helps people take full advantage of anything their days may bring. If you're on the hunt for a gift, this could make a great one for someone that has a hard time leaving the house or somebody needing to free up more time in their life! You can gift a year's membership here.
What Do Walmart+ Members Get?
Convenience and value. With unlimited free delivery from your store, you can get fresh groceries & more delivered as soon as today for holiday gatherings and gifting wins all season long, at the low prices you love ($35 order minimum. Restrictions apply.). Other Walmart+ benefits include:
Free shipping, no order minimum on last-minute gifts for all your holiday moments, all season long at the everyday low prices you love (Excludes most Marketplace items, location & freight surcharges.)
Exclusive early access to Black Friday deals (Not available to trial members. While supplies last.)
Member prices on fuel
Mobile scan & go
Rx for less (The program is not insurance and cannot be combined with insurance.)
You can also try the service for free for a trial period! After the trial, members can enjoy Walmart+ benefits for only $12.95 per month or $98 per year! You can visit WalmartPlus.com to start your free trial!
Walmart+ Holiday Benefits
From now until the end of the year, you can get unlimited free delivery from your store, as often as you want, with a $35 minimum each order (restrictions apply). This includes not only fresh groceries, but even things like decor or last-minute gift needs and holiday gatherings! While this service is so helpful throughout the year, it can be even more beneficial during the busy holiday season! You can order again and again with no delivery fees!
My Mom's Famous Praline-Topped Sweet Potato Recipe
Now that you know the easiest way to get the ingredients to your home, let's jump into my mom's famous praline-topped sweet potato recipe. They are absolutely fantastic and are typically a hit even with those that don't think they like sweet potatoes! They're so delicious, you'd almost swear they were a dessert!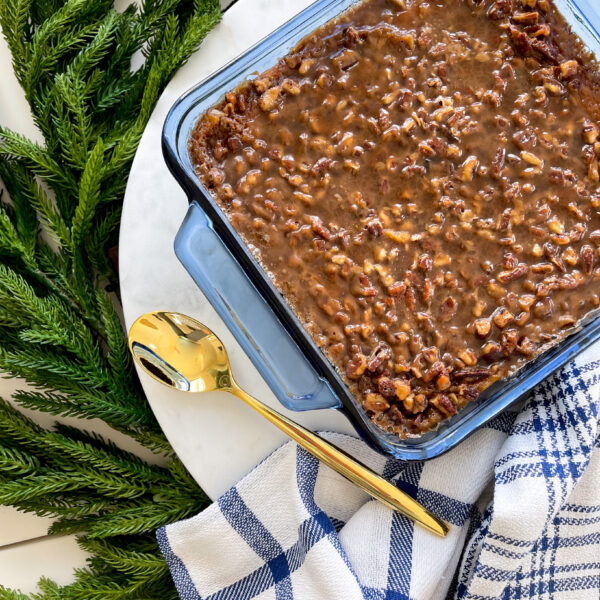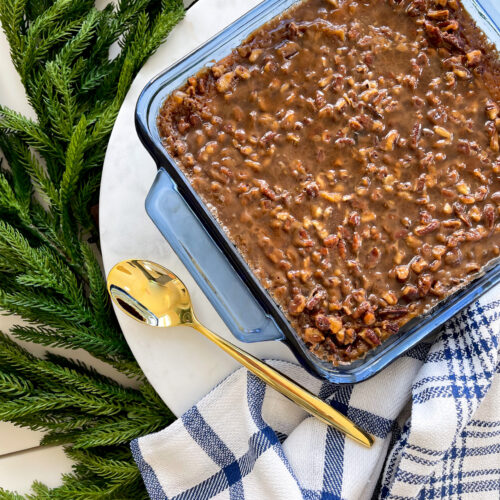 Prailine-Topped Sweet Potatoes
A delicious sweet potato recipe that works perfectly for Thanksgiving or Christmas!
Print Recipe
Ingredients
3

cans (15 oz each)

yams in light syrup, drained

1/2

cup

butter or margarine, melted

1/2

cup

heavy cream

2

large eggs

1

cup

light-brown sugar, firmly packed

3/4

cup

chopped pecans

1/4

tsp

ground cinnamon

1/4

tsp

ground nutmeg

1/4

tsp

salt

1

tsp

vanilla extra
Instructions
In food processor, puree yams with 6 tablespoons melted butter and 2 tablespoons cream. Add eggs and 1/2 cup brown sugar; process until blended. Spread the potato mixture in shallow 2-quart baking dish.

Preheat oven to 375 degrees F. In small saucepan, combine remaining melted butter, cream and brown sugar, the pecans, cinnamon, nutmeg and salt. Bring to boiling; simmer 5 minutes. Remove from heat; stir in vanilla. Spoon over center of potato mixture. Bake 20 minutes, or until bubbly. If desired, garnish with toasted pecan halves.
Notes
The original recipe serves 6-8 people. However, my mom always doubles this recipe for a 9x13 pan and when she does, she only uses 2 eggs, not 4. All other ingredients would be doubled for this pan size.
You can shop all the ingredients I used with these easy links below:

With the recipe being a success during my trial run, I plan to double the recipe for Thanksgiving! The best part is, now that I know I'll be making them again, I already filled my cart in the Walmart+ app scheduled my delivery for today so I don't have to think about it again!
If you try this praline-topped sweet potato recipe, I hope you enjoy it as much as we do! It's an easy one to do (especially using Walmart+). And if I can make it, I'm sure any of you can, as well!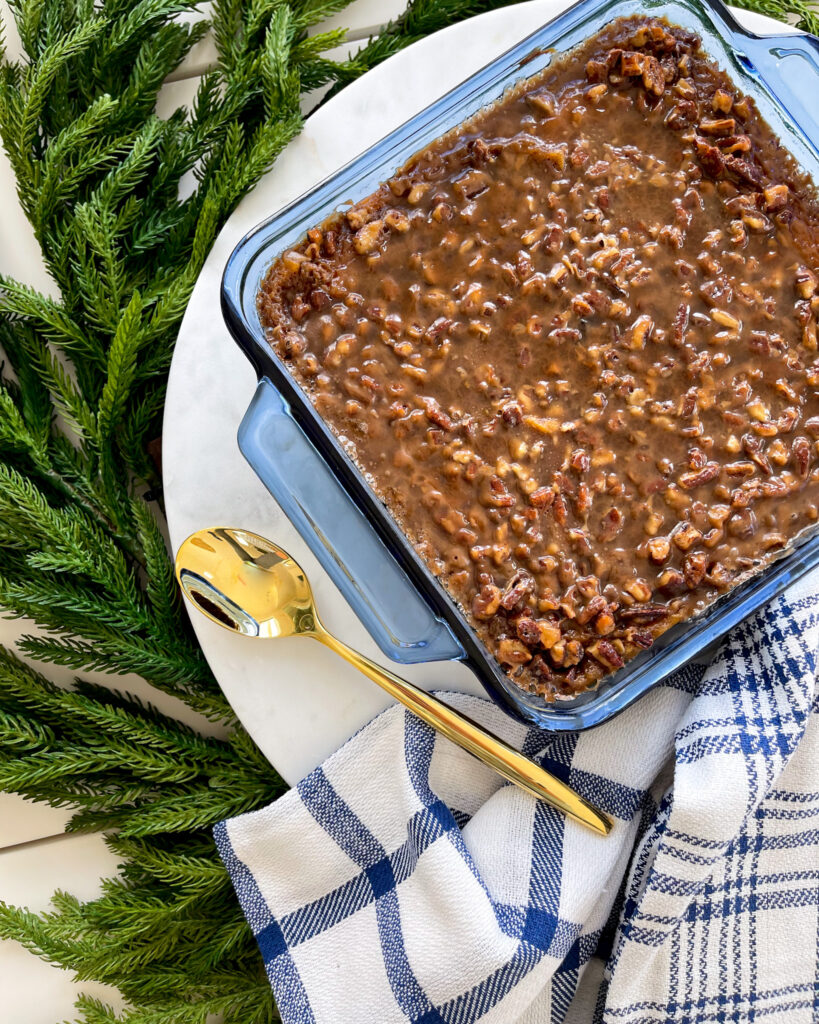 If you would like to follow along on more of my home decor, DIY, lifestyle, travel and other posts, I'd love to have you follow me on any of the following:
Pinterest | Instagram | Facebook | LTK
disclosure: some affiliate links used