Happy Monday! I hope you all had a great weekend! Here's a bit of what we've been up to this past week.
This post contains affiliate links for your shopping convenience. You can read my full disclosure policy here.
Home Projects & Updates
Over at the new build, they've decided to let the peninsula countertops dry out as much as possible before seaming them. If you missed last week's update, since we did a mitered edge, they use a lot of water to make the cuts and the quartzite (Via Venato Quartzite in a leathered finish) absorbs a lot of that. They were really dark when they first showed up, but thankfully have lightened quite a bit as they've continued to dry. However, with the heat and humidity right now (and no working HVAC in the house) it's taking a bit for them to dry.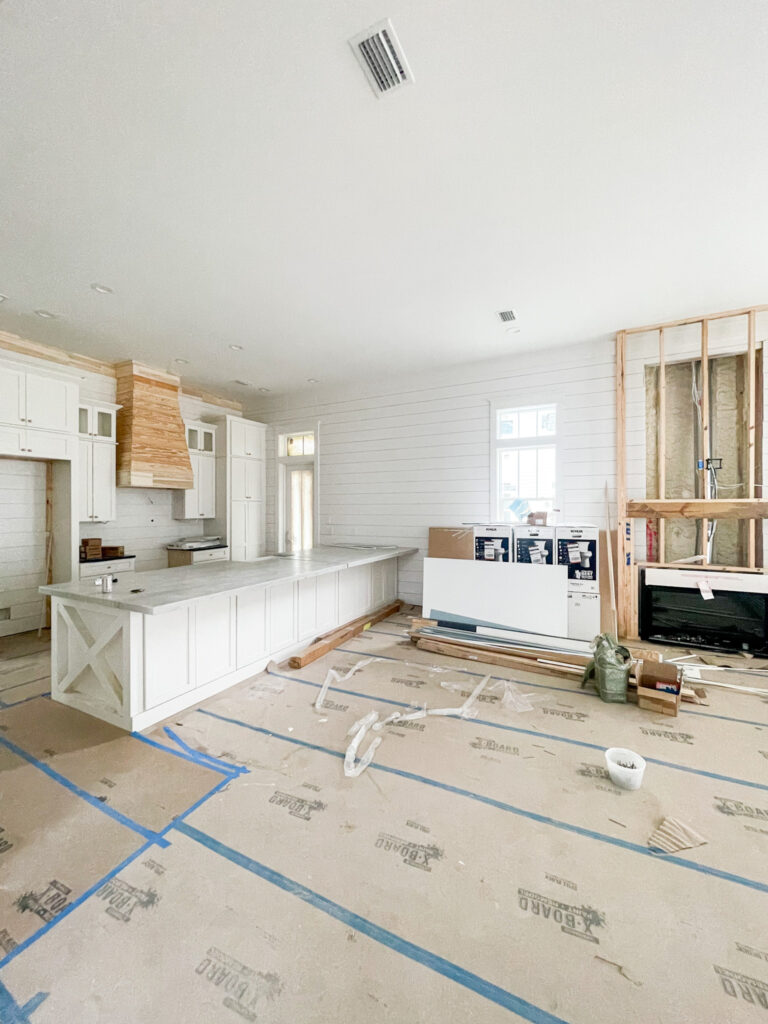 They installed the countertops for the outdoor kitchen, as well! There were only two colors of granite they let us select from, so we just went with the lighter of the two.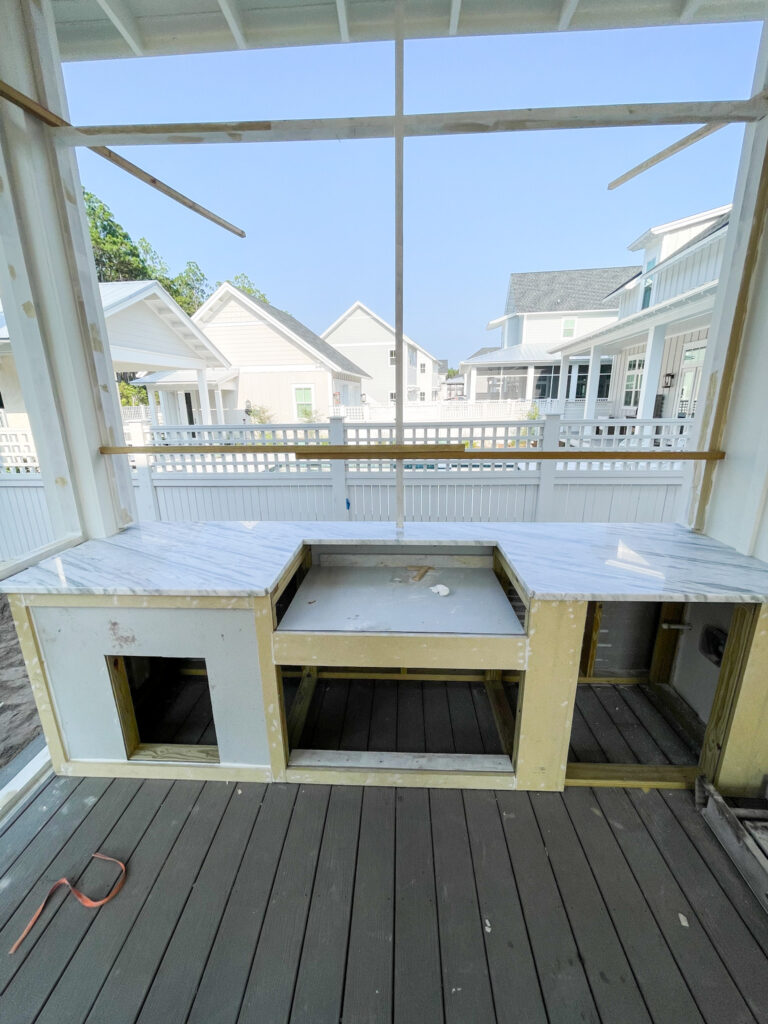 Sunday, Kurtis and I had to mark the height of all the mirrors so they can properly place all the light fixtures. The builder typically does a built-in mirror in all the bathrooms, but we only opted to have them do that in one bathroom. All the others are options I picked from this post and you can see most of them in these design boards. The bathroom below is the only one that I selected a navy cabinet for just to change things up. This will actually be the bathroom where we place the cat litter boxes for now.
Top Sellers Of The Week
Following are the top sellers from last week across all of my channels. Links to each item are below the graphic.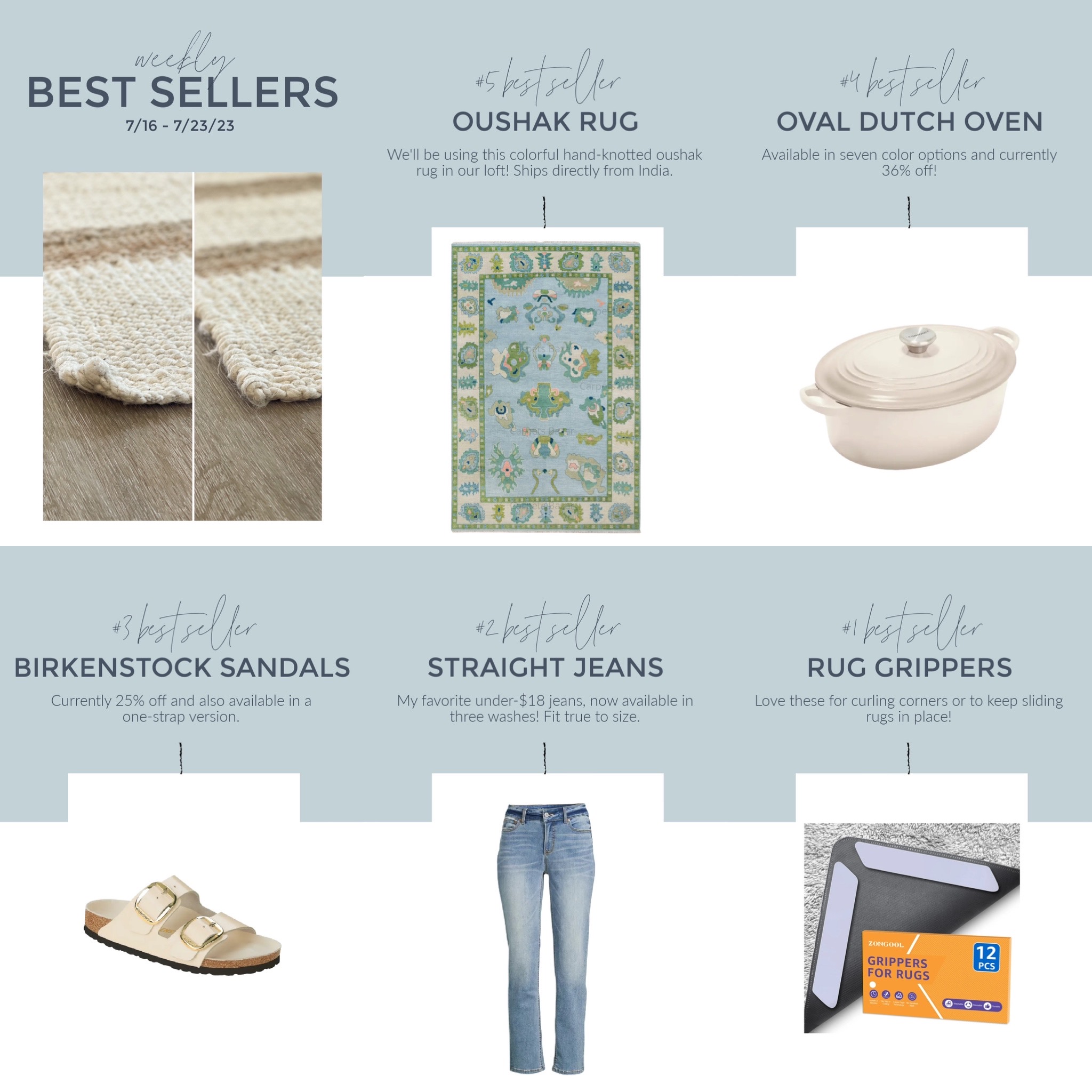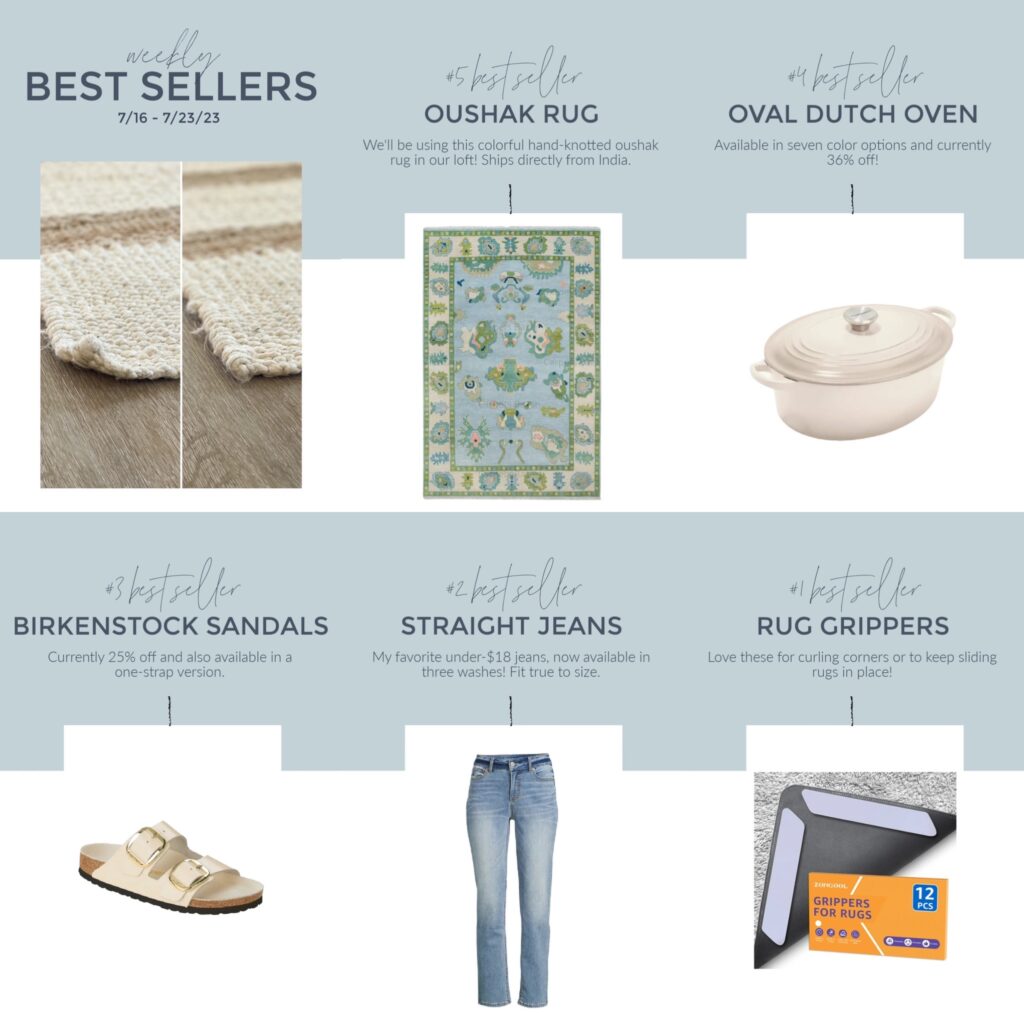 BEST SELLERS (each number is clickable): #5 | #4 | #3 | #2 | #1
In Case You Missed It
Following are the posts I shared over the past two weeks, in case you missed some days!
Following are the most read blog posts of last week (excluding any of the new posts already mentioned above). Many times this includes old posts that are popular on Google or Pinterest.
Around Town & For Fun
Kurtis was still in Omaha for work through Thursday, so I was on my own most of the week. He was able to go out to dinner with most of his family Monday night, which was great!
Tuesday I spent much of the day helping our friends move into their new house. Rachel and I stopped in our tracks when we saw how the movers were getting her sectional up into the carriage house. Apparently the main door at the top of the stairs was too small, so they talked to one of the builder guys and asked if he could help with his forklift. They ended up hoisting it up through one of the Juliet balcony doors on the back side. I'm pretty sure that sectional is never coming out of that space again 😉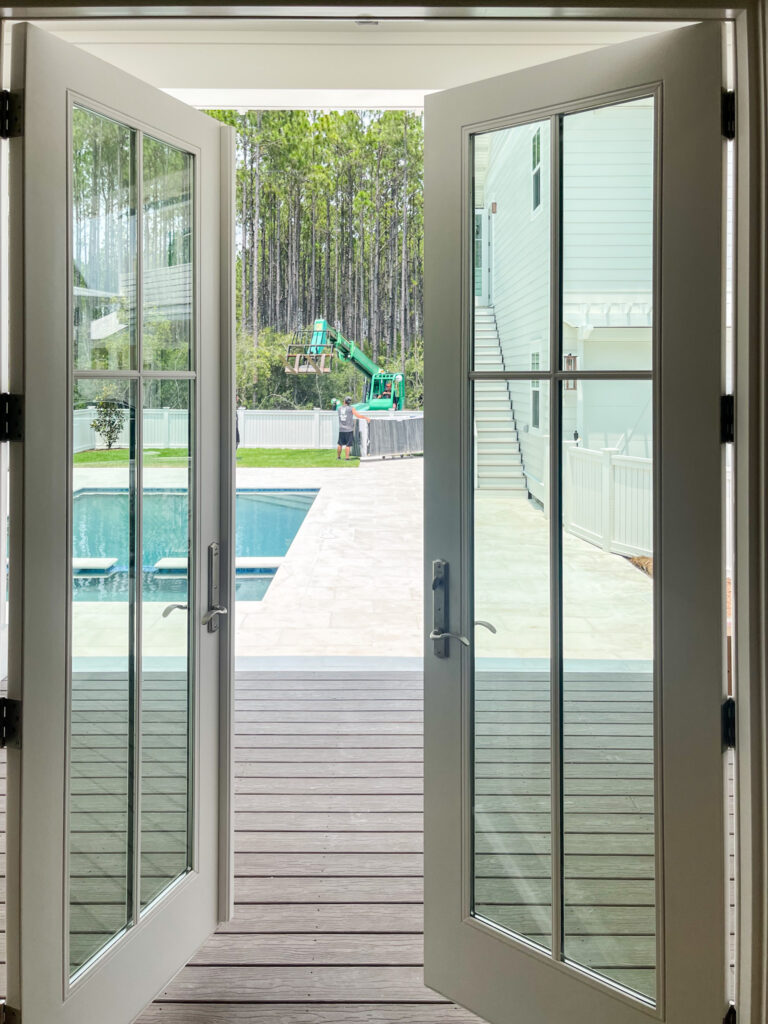 Rather last minute, we were told some pretty limited options on how they can finish our fireplaces. This is my friend Rachel's. We were originally told they would fully be wrapped with shiplap. Last week I was then told due to fire code, they'd have to add a white quartz surround with trim. I didn't love the look of some of the examples they were showing me. Rachel just had them wrap it with drywall and she's going to apply Venetian plaster to it down the road. But I think I love the drywall more than the options the builder is providing so we may go this route (and can then add tile or whatever else down the road if we want to). Our fireplace bumps out about six more inches than hers for reference, since we had a little more space to play with. The fireplace is a fully vented gas fireplace so if you have other solution ideas, send them my way! I'm not seeing much I love searching the internet, especially with such a wide insert (all the good ones are square rather than rectangular and the non-symmetry really bothers me)!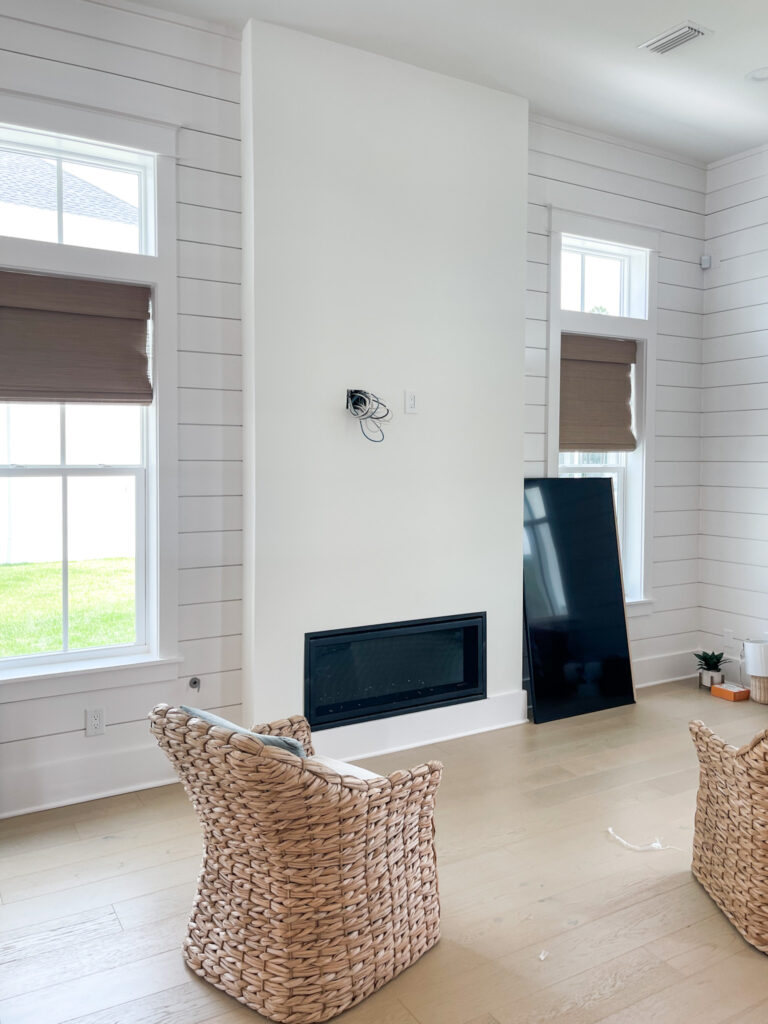 Our house is out of control now. Between shipments needed for the new house, campaigns, and Prime day orders, you can barely walk in our entryway. I'm counting down the minutes until we can bring a large load of mirrors and light fixtures over to the new house!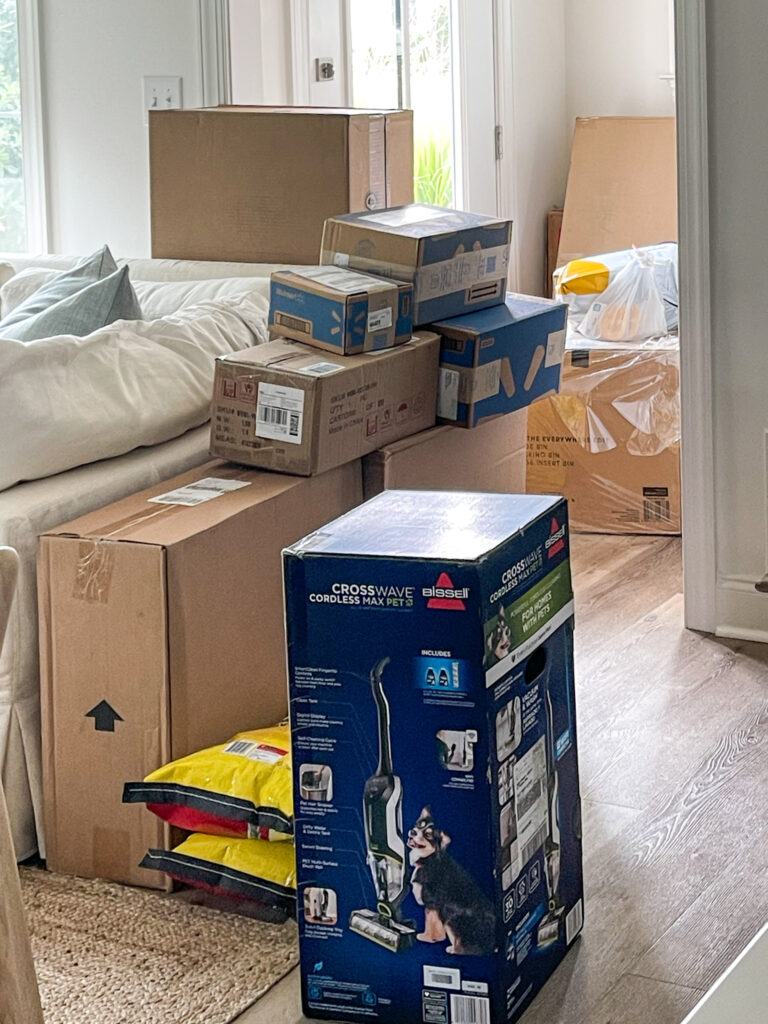 And in exciting-to-us news, we both packed our first boxes for the move this week! I packed four while Kurtis was away and he did another three over the weekend. Slowly but surely we're trying to tackle it so it goes as quickly and smoothly as possible in August.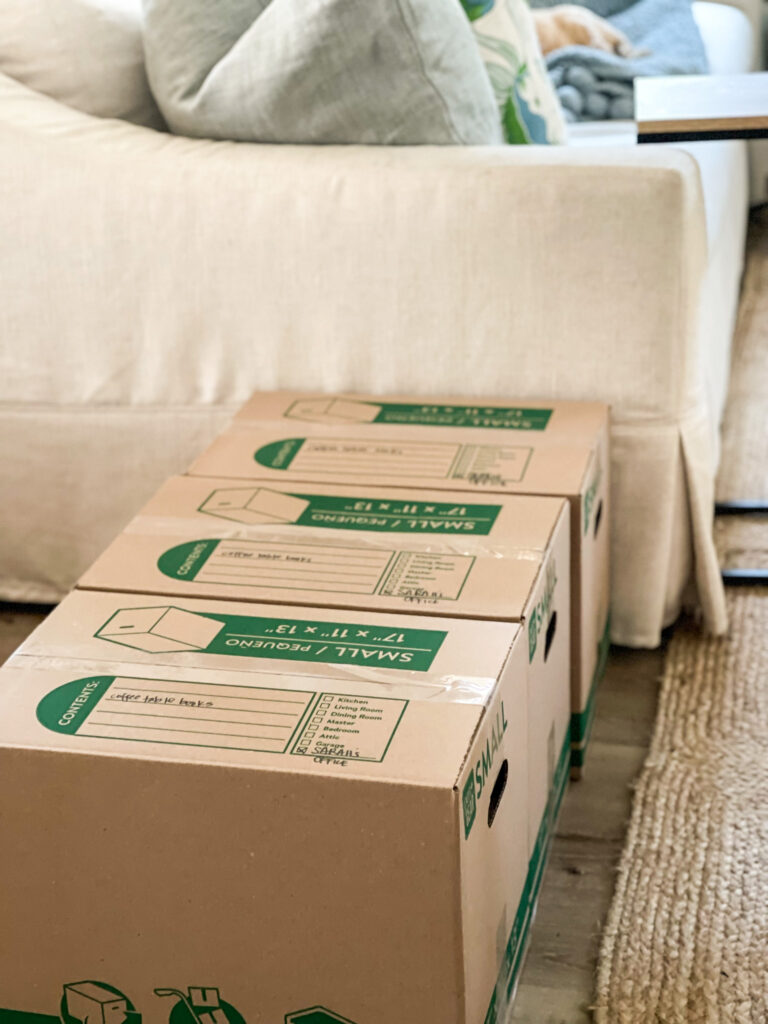 The cats and I had some downtime back on their patio several times throughout the week. We had several storms, and I love to sit out there when it's raining. I always forget the prior owners left these string lights so it's fun to turn them on when it's stormy out!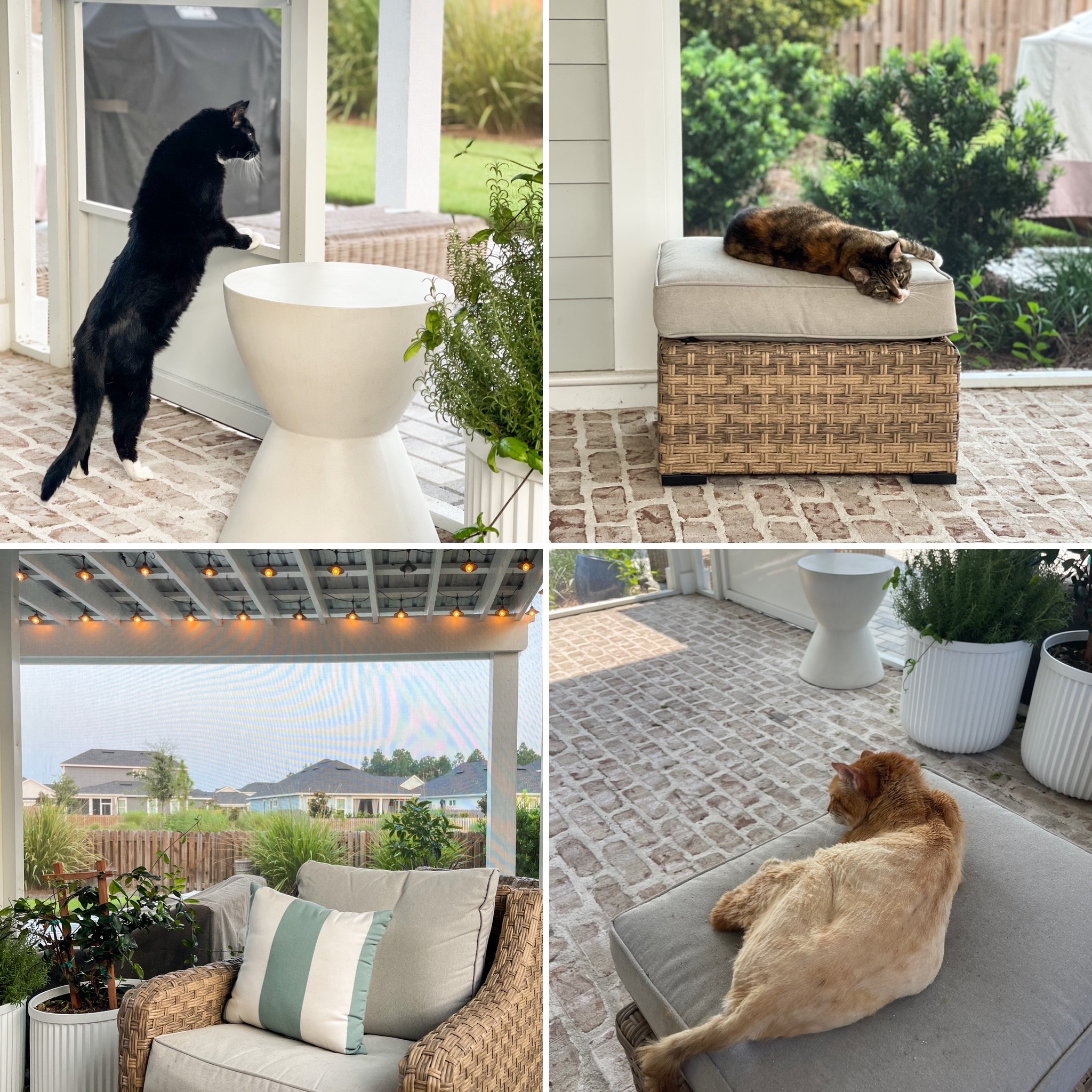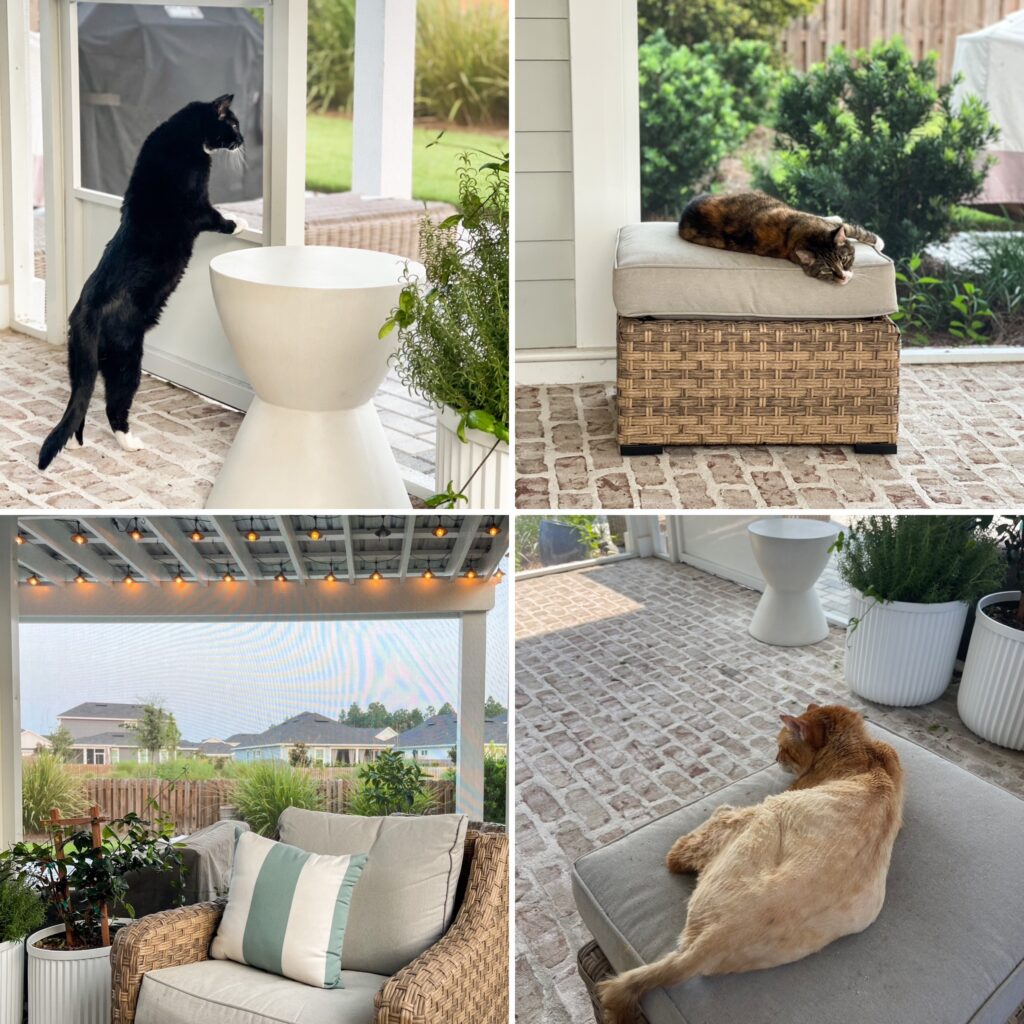 Friday morning, I headed down to our commercial building to work on a few things. I also donated a bunch of school supplies to Acton Academy of 30A so got them all opened, organized and prepped so the teachers didn't have to! You can find the affordable cabinet here and all the acrylic organizers are from here and here (this is the woven organizer).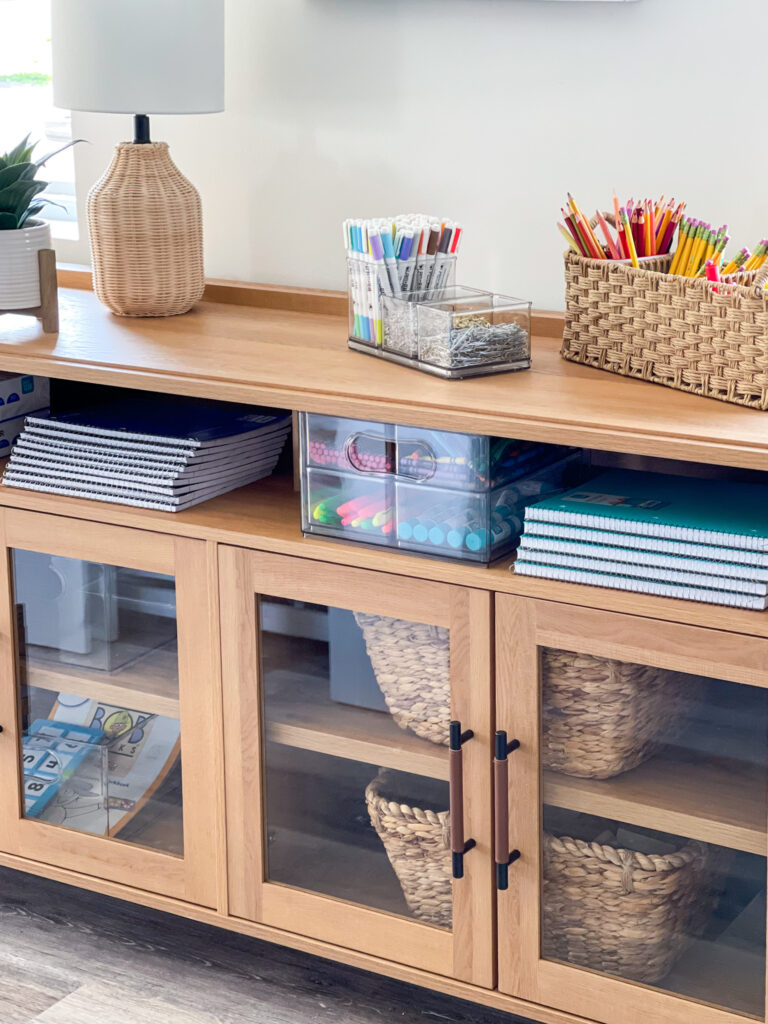 I still love organized school supplies and office gear so much. WHY?!? lol Rachel's boys were helping me and they declared these pencils one of their favorites of the whole lot. They each asked if they could take a few home too because they loved them so much. They said their friends would raid those first once school started, so they wanted the best colors 😉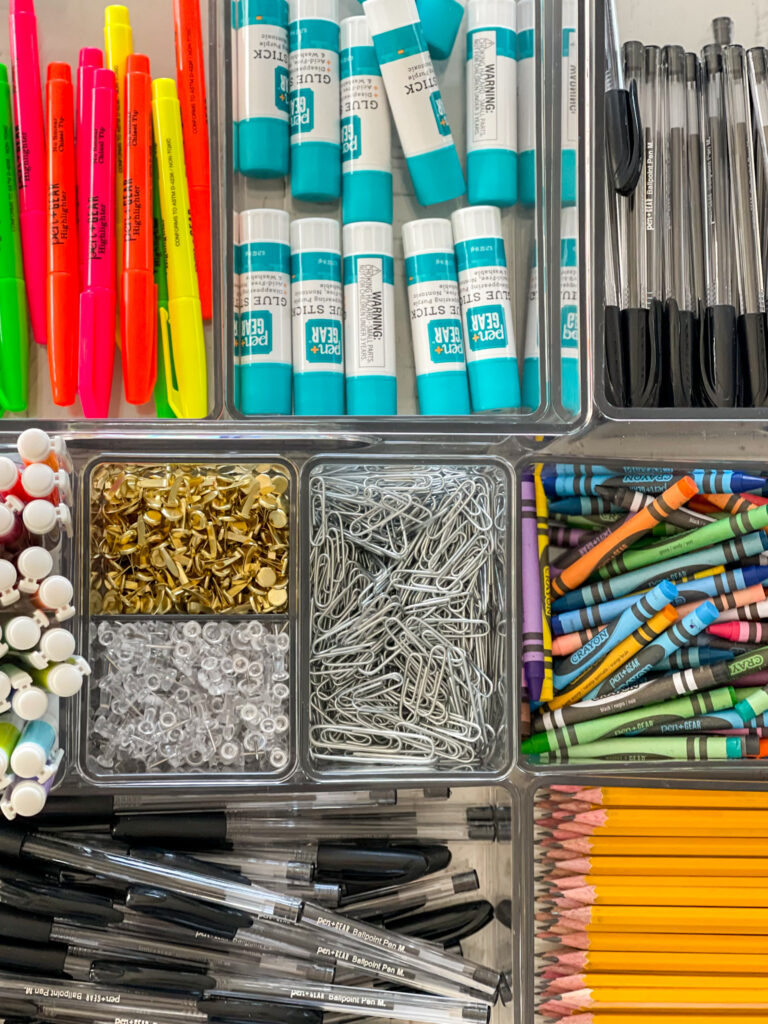 Saturday was our 18 year anniversary! Still so hard to believe we've been married that long – and that we're old enough to have been married that long 😉 Here we were back in 2005, the night of our rehearsal dinner the night before our wedding. Babies!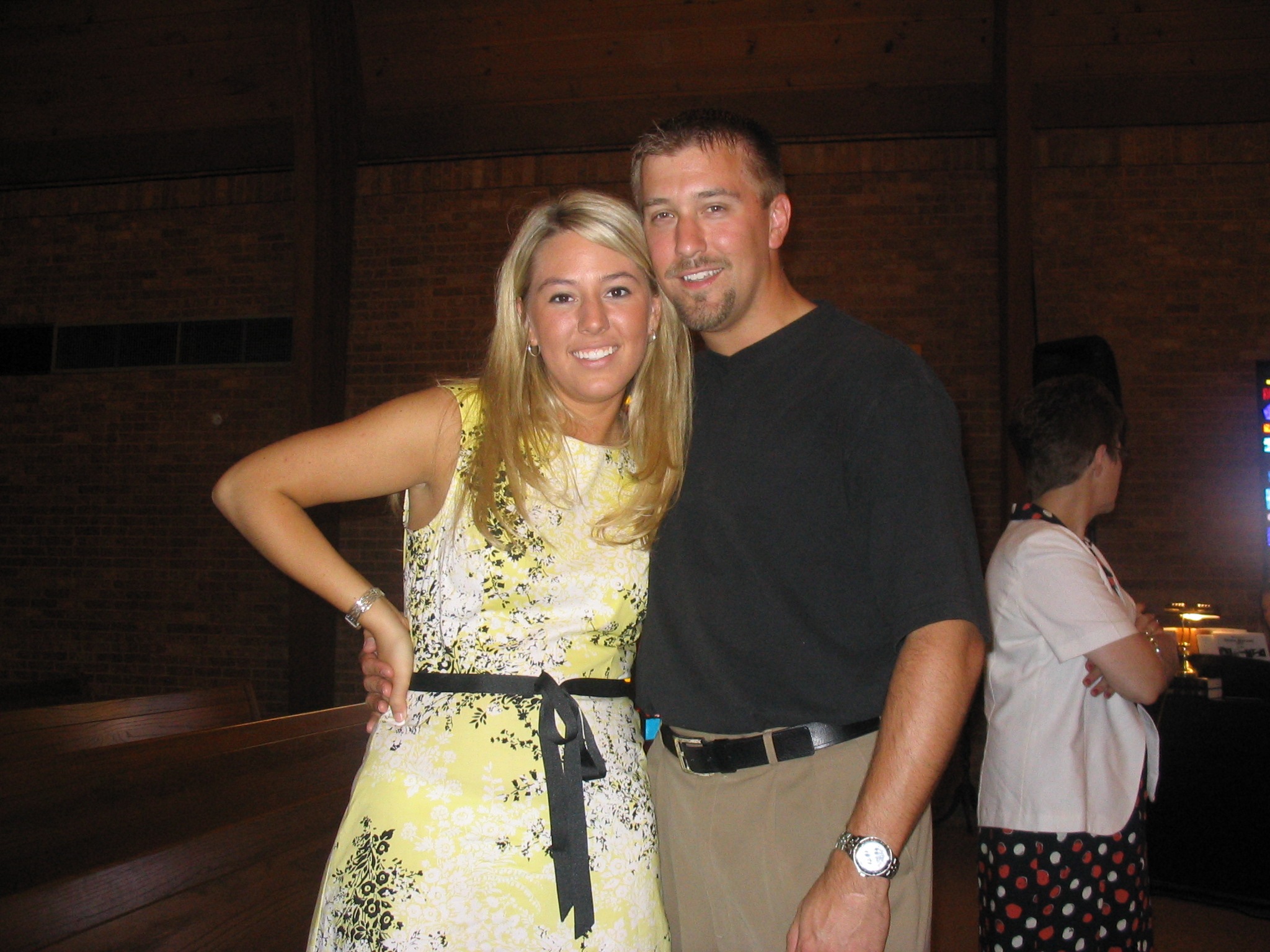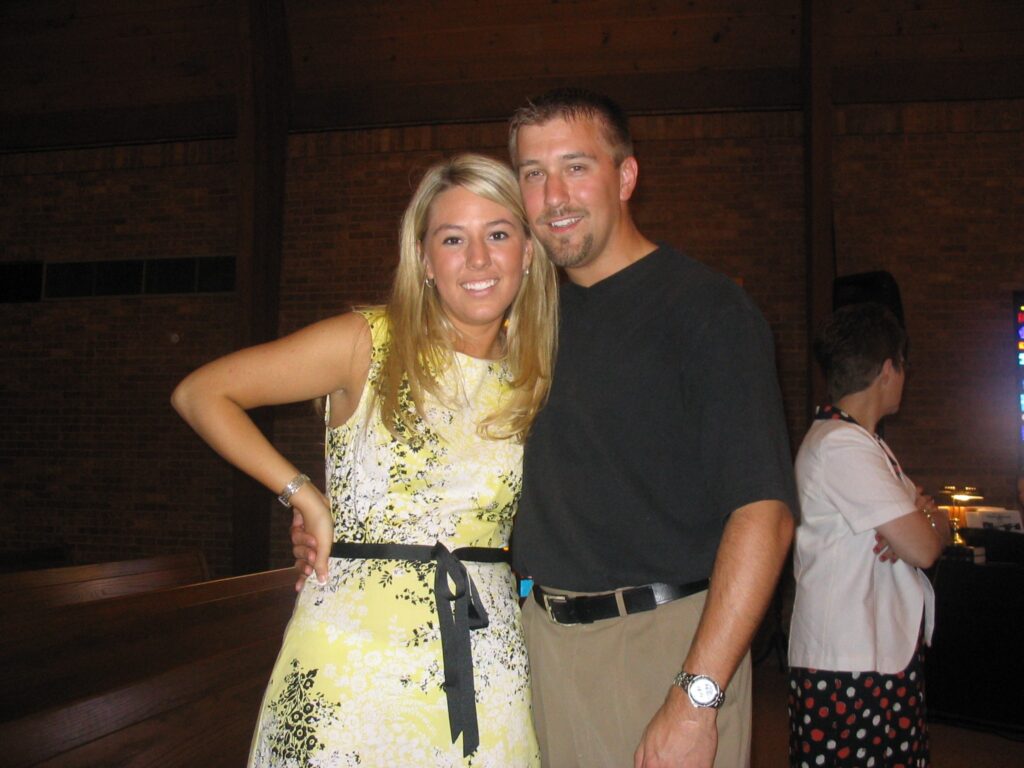 Saturday morning, we headed down to Alys Beach for breakfast at Raw & Juicy. It was such a beautiful morning, and I always love how peaceful this little town is!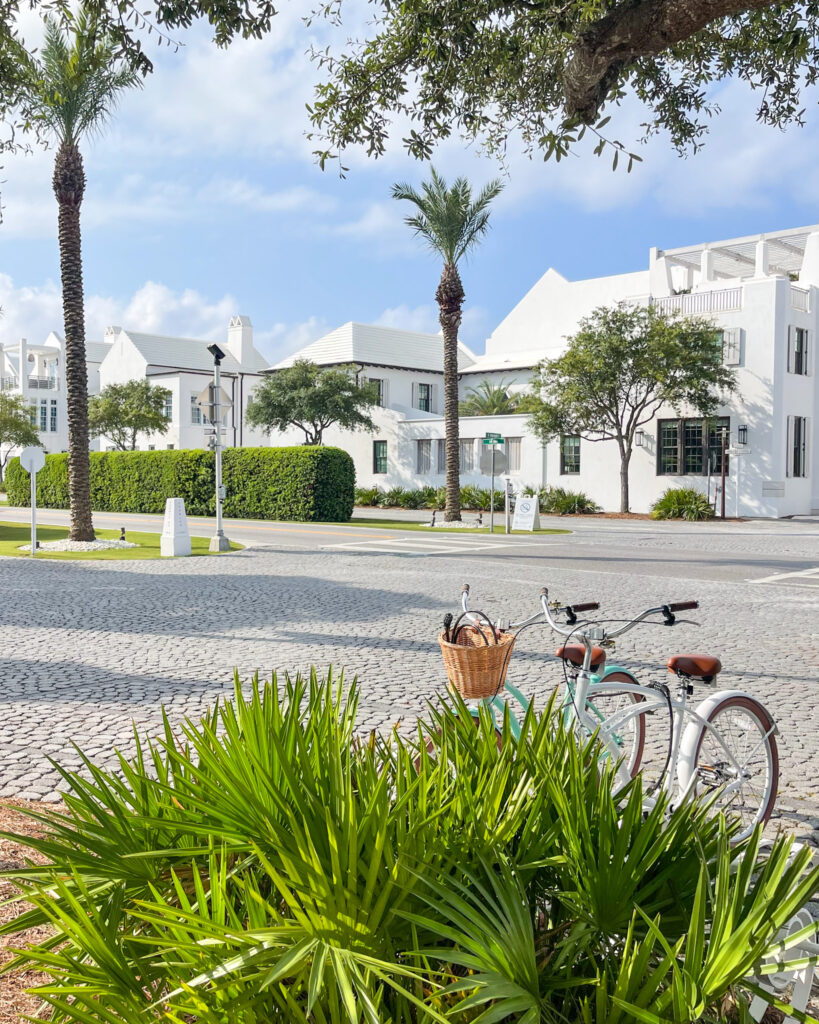 Saturday night we headed to Rosemary Beach for dinner to celebrate. I always love driving through the tree lined streets here on 30A.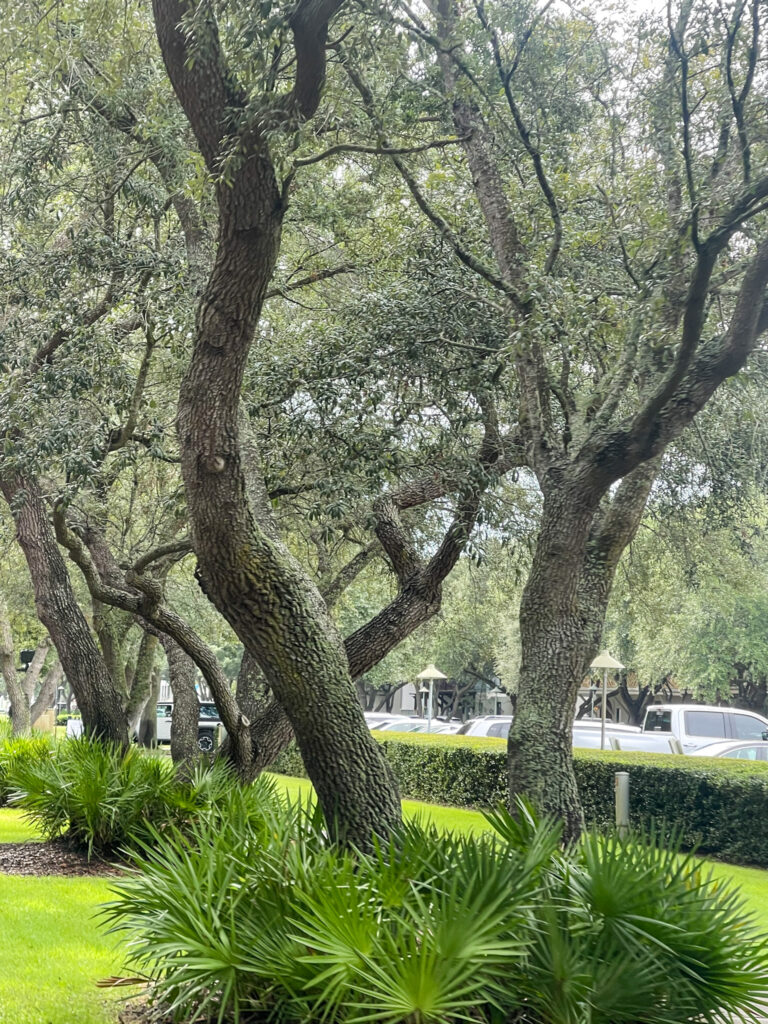 Our town hall and post office are always so charming!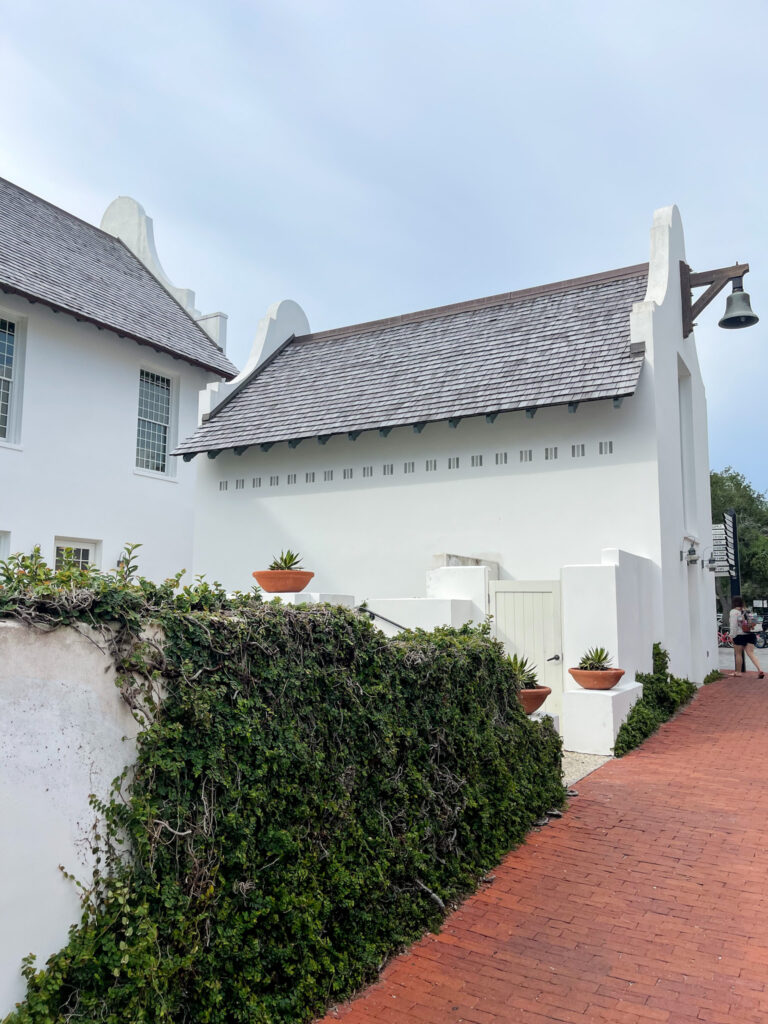 We opted for dinner at Edward's, a post we had never tried before across the street from The Pearl hotel. It was really great!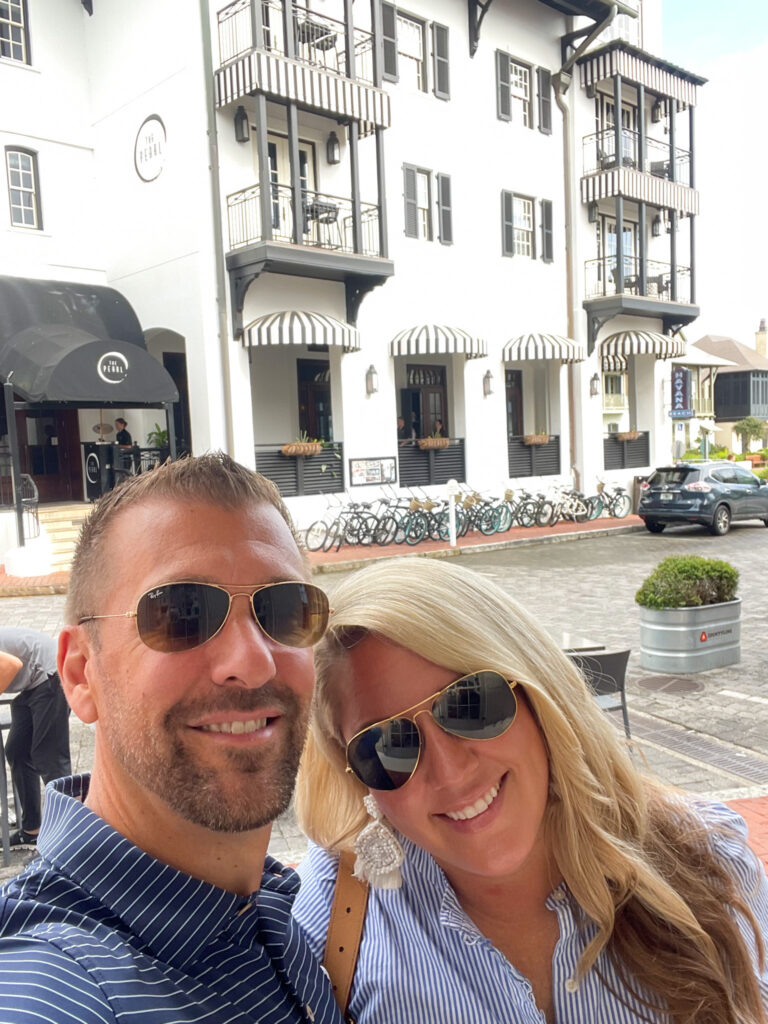 By the time we left (we love an early dinner so were there right at 5 when they opened), the streets of Rosemary Beach had quickly filled with other diners. I always love the energy so much here!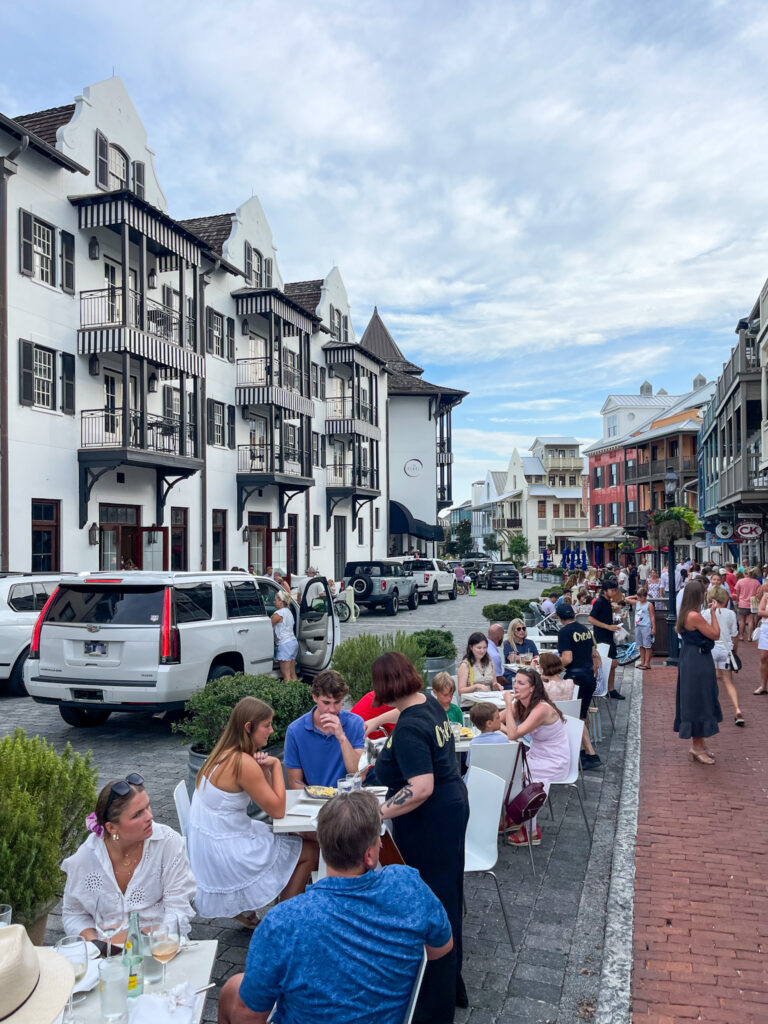 Sunday we did our new routine of church followed by a stop at Walmart, and then lunch somewhere. This time around lunch was at Amici! We had a pretty slow day afterwards, stopping at the new build to measure for the mirrors. But then it turned pretty rainy and we kind of vegged out.
Sunday evening, we celebrated our friend Chris' birthday at Amigos. The owners surprised the table with two giant dessert trays filled with all of their desserts. It pays to eat there multiple times a week 😉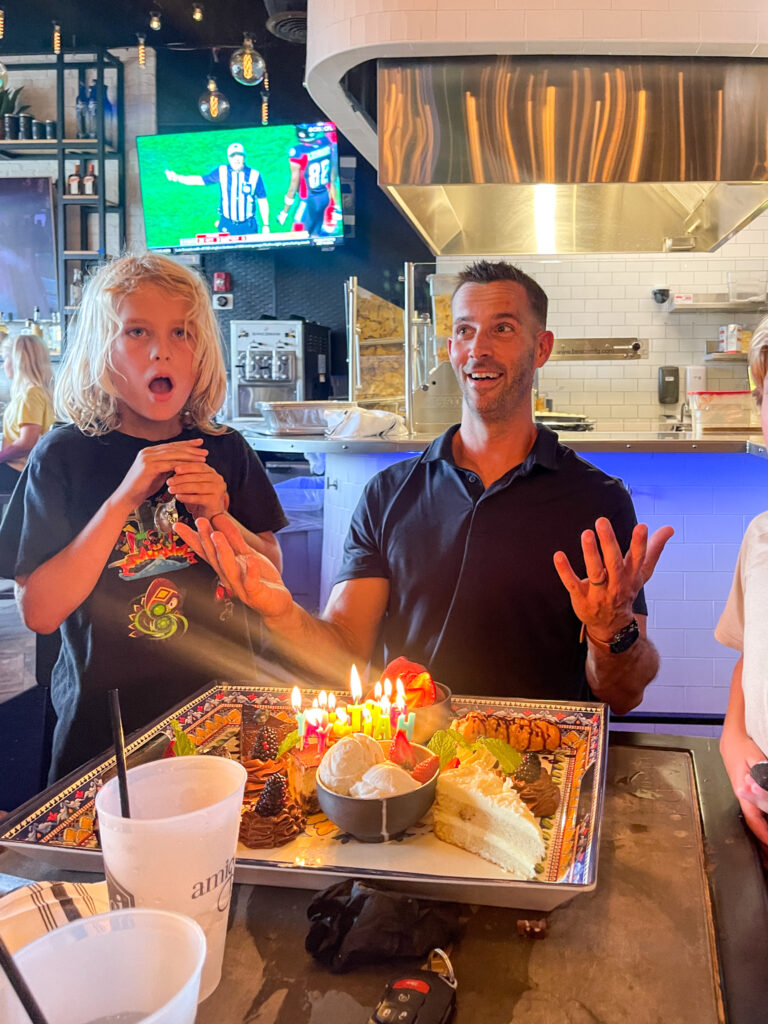 Afterwards, we went to their house for a bit and just hung out on their back porch, watching a storm roll in. Their backyard is so peaceful!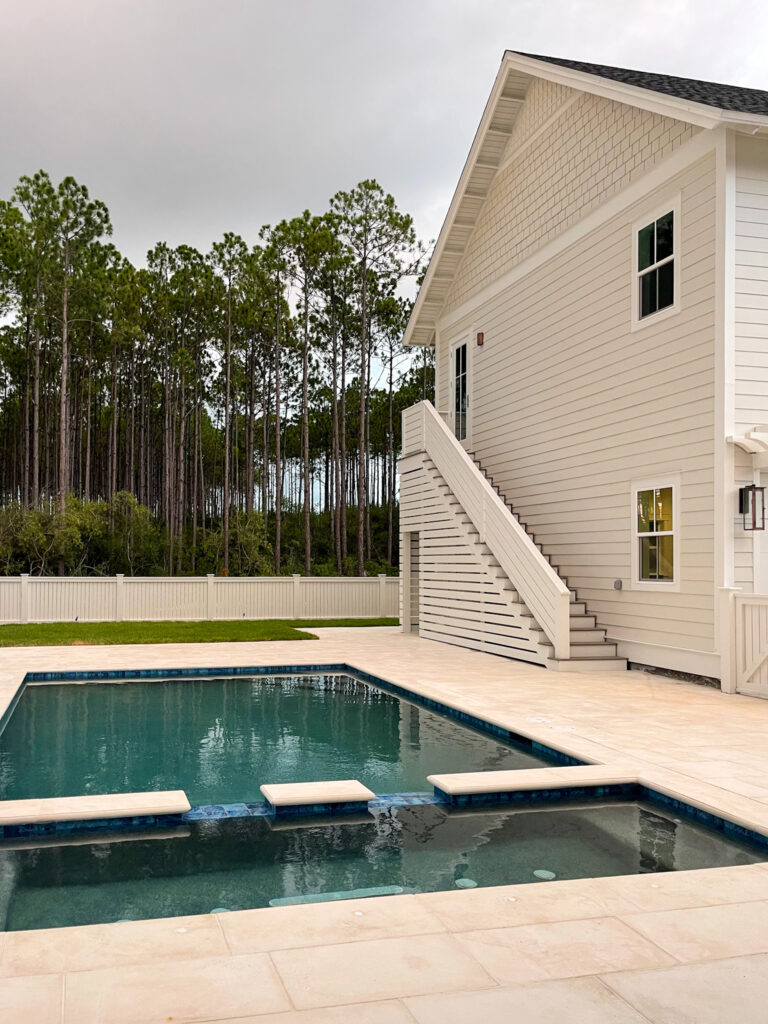 Dune was in heaven, just jumping from one lap to another giving kisses and cuddles. He doesn't always realize he's almost as big as the humans sitting in the chairs 😉
Yesterday was to have also marked the one-month day from our closing/move. But, they're now saying we may end up being delayed up to another week. Not the end of the world, but we are ready to get this move behind us and be in our new house! I'll keep you posted, but we should for sure be in before the Labor Day weekend!
Recent Buys & Sales
Following are some sales from the weekend that have carried over and are still going strong!
I hope you all have a great week!
If you would like to follow along on more of my home decor, DIY, lifestyle, travel and other posts, I'd love to have you follow me on any of the below channels: