Happy Monday! I hope you all had a nice and relaxing weekend! Here's a bit of what we've been up to this past week.
This post contains affiliate links for your shopping convenience. You can read my full disclosure policy here.
Home Projects & Updates
Lots of exciting updates over at the new build. They started our countertops (with several rain delays) and it's starting to make so many of the spaces feel much more finished! Now that the counters are on, we're blown away at how much larger our peninsula feels! I made Kurtis stand here for scale, because sometimes it's hard to gauge with the 12′ ceilings. He's 6'2″ for reference.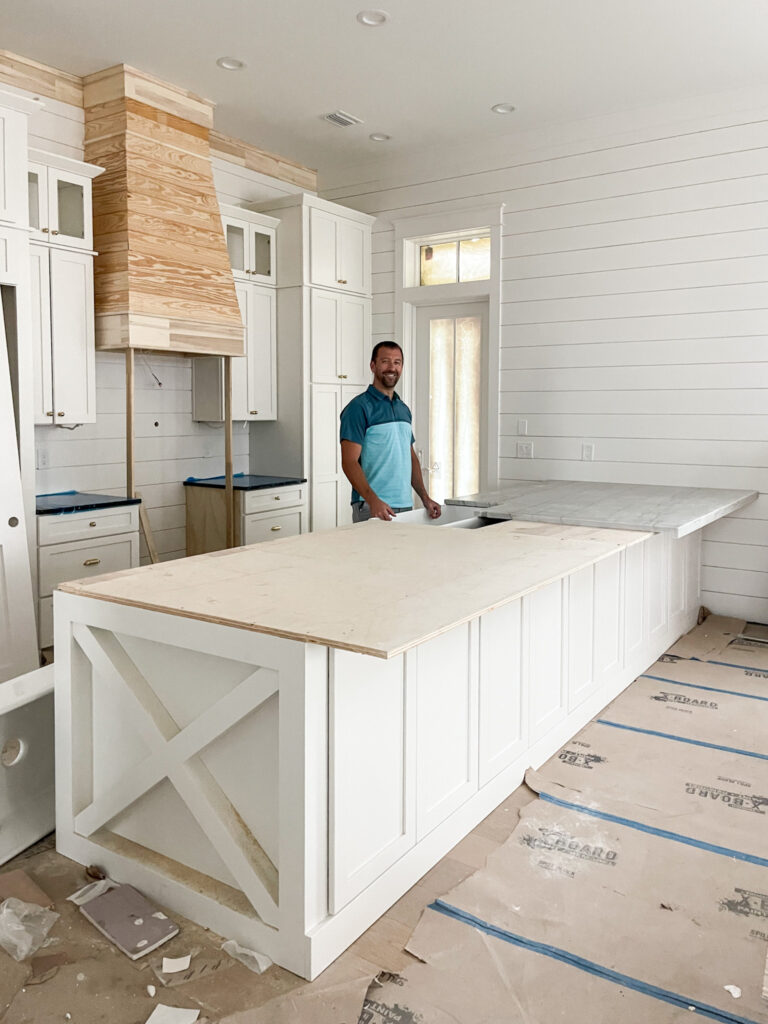 Honestly, we were a bit concerned the night we first popped in after they were installed. They looked so dark – especially in the spaces with the blue cabinets or those where they don't get much light! But I remembered our sales person saying that with the mitered edge, they'll absorb a lot of water in the process, and it may take a month or so to fully try and lighten. Apparently that's just the nature of quartzite. We can already see that in play once the other peninsula slab arrived. You can see it's darker even though they're from the same large slab/lot. The one on the right had already lightened so much in a matter of days! Side note: the counters by the range will not remain black. That's a story for after we move in… 😉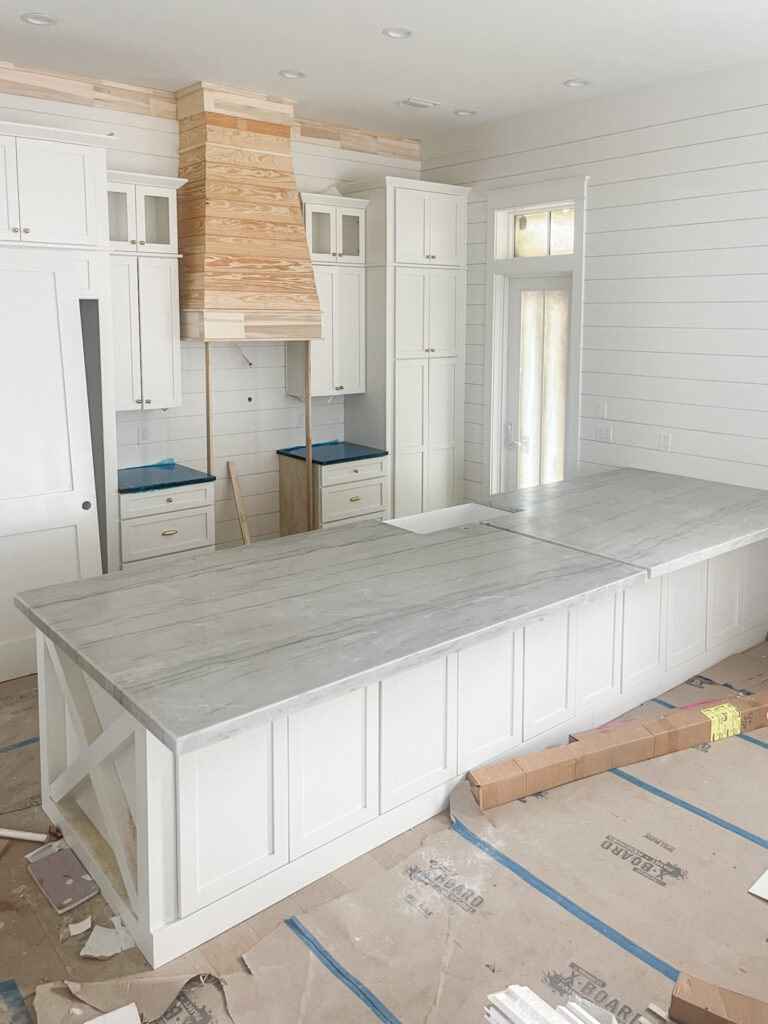 Not sure why they didn't attach them Friday. Hoping it was a time management thing and not an "issue" thing. I'm sure I'll hear one way or the other yet today! As a reminder, we went with a leathered finish rather than a gloss. Seeing it in here with the natural light, I'm so glad we went that route. These still need to be cleaned and have dust all over them, but I can tell a polished finish would have been a nightmare with all the light!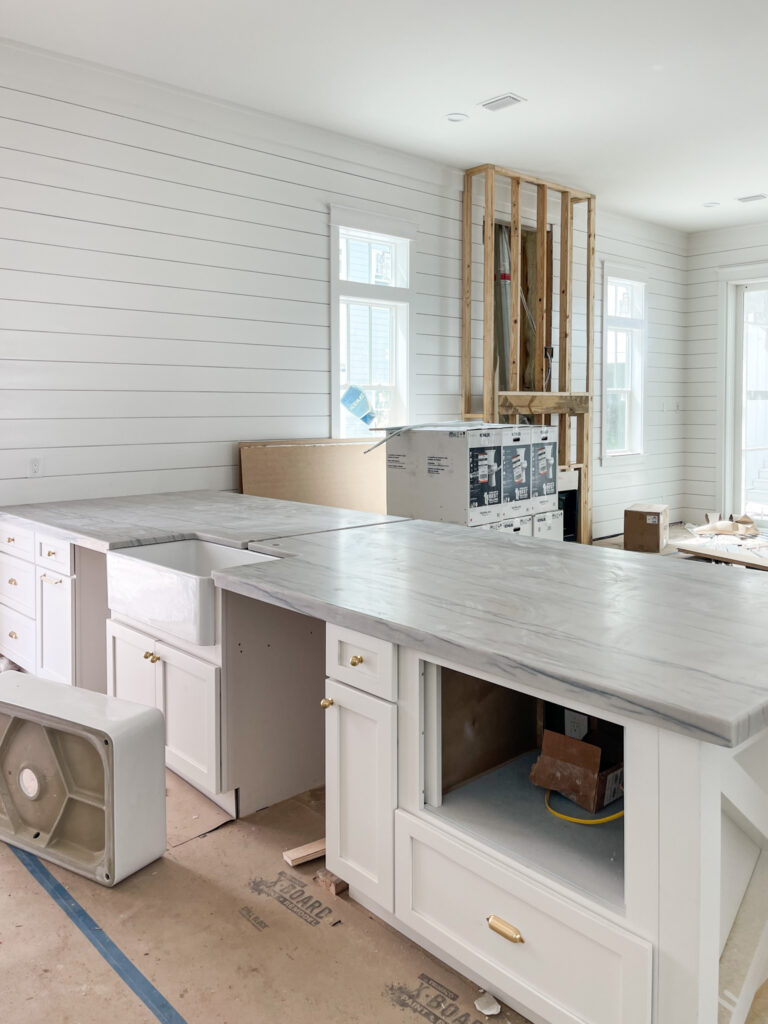 Because we ended up having to buy three slabs for our kitchen alone, we had a bunch of the countertop material left from those slabs for other spaces. Here in the laundry room where it gets a lot less light, you can see it definitely looks darker. We're hoping there's still some water in there and they'll continue to lighten up!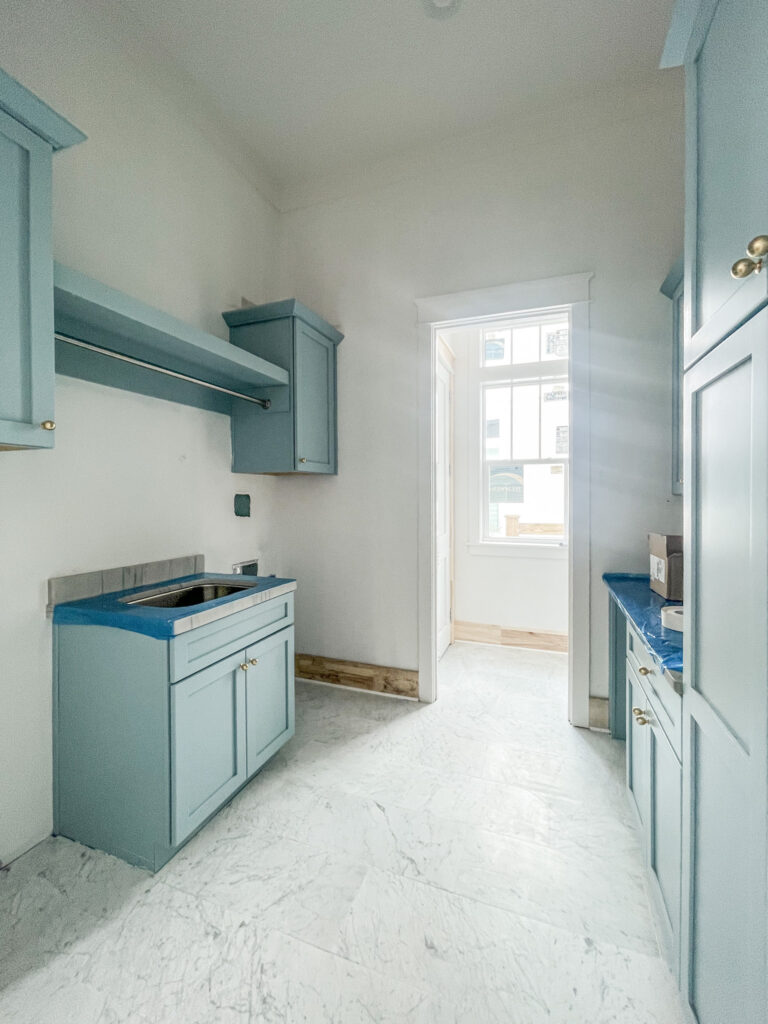 In our bathroom, the standard material the builder offered was Carrara marble, so we just went with it. It's turning out really nice!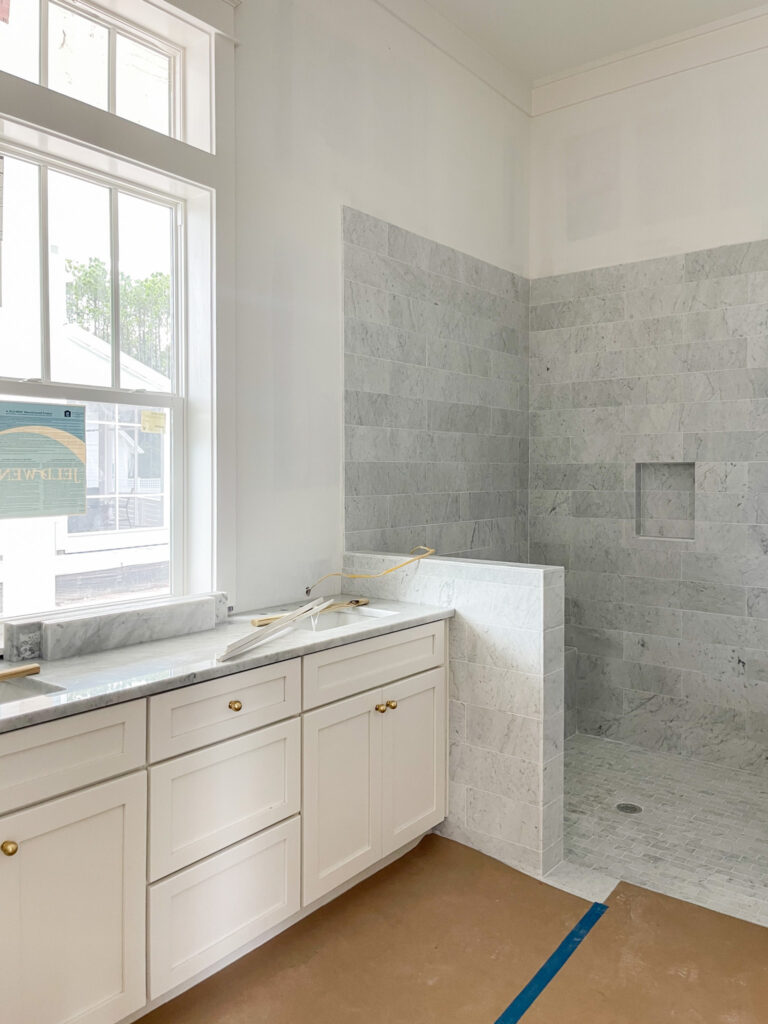 We got so much rain last week, it basically filled our pool! That will be nice and gross for them to pump out 😉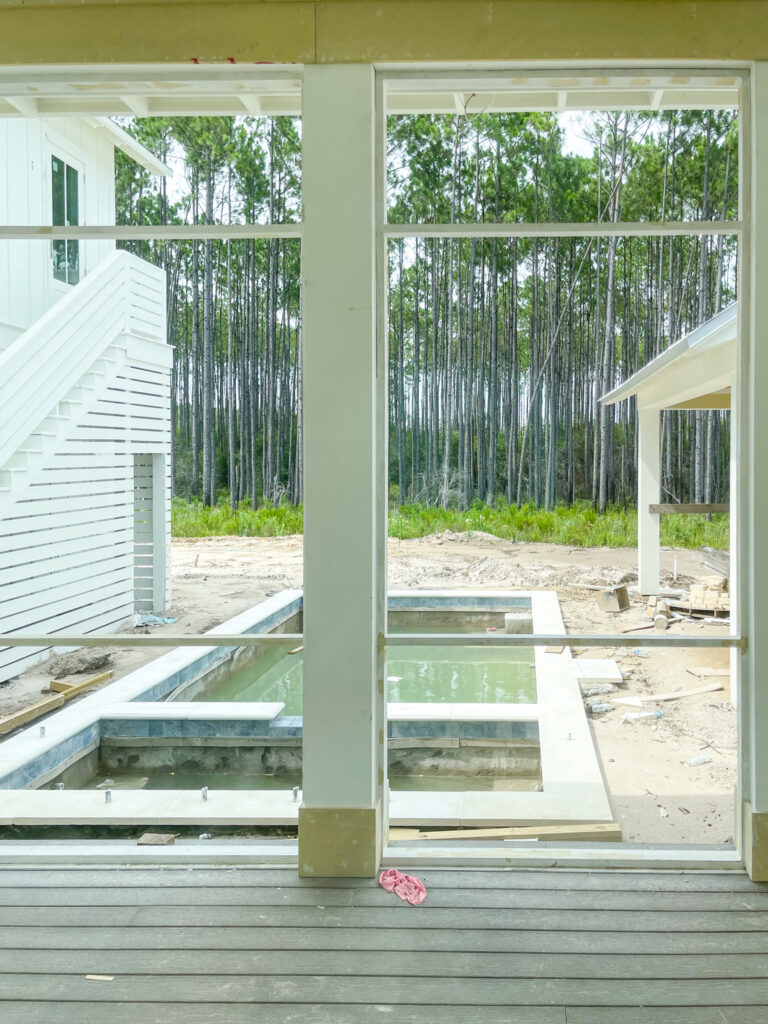 They made some further progress on the outdoor kitchen. The wall behind the grill will be slatted up several feet to protect the screens from heat, but also to give us some much-needed privacy out here!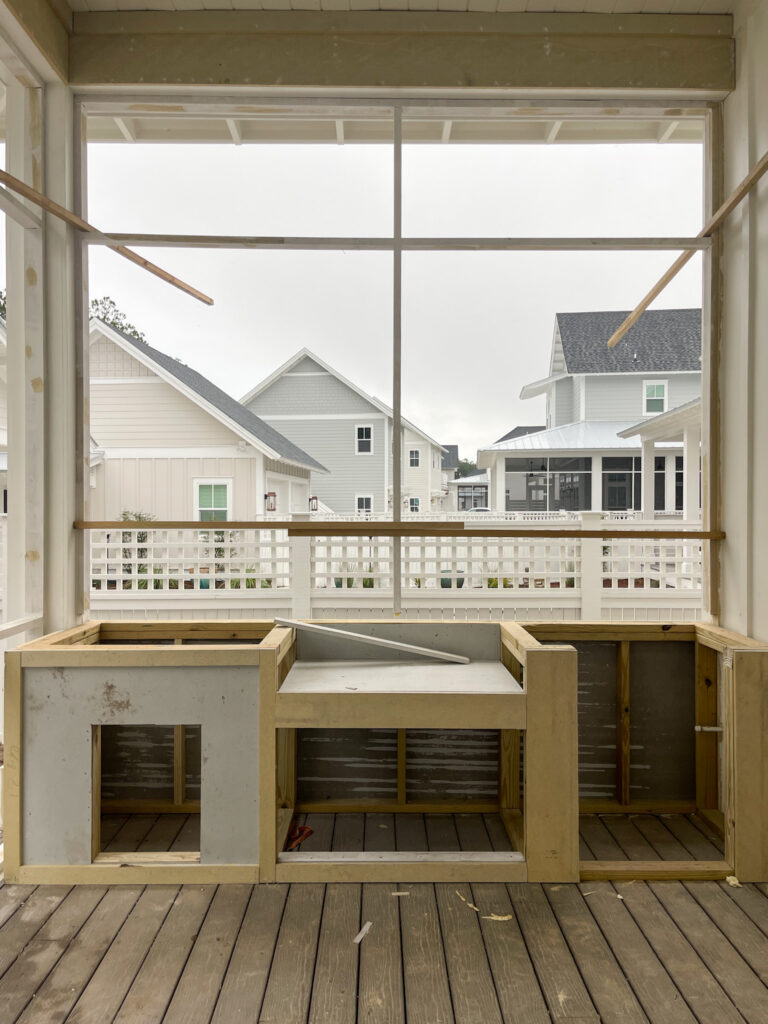 Moving into the carriage house, you can see the quartzite and blue cabinet combo here too. Hoping once the walls and ceiling are all painted and the counters dry more they'll look lighter!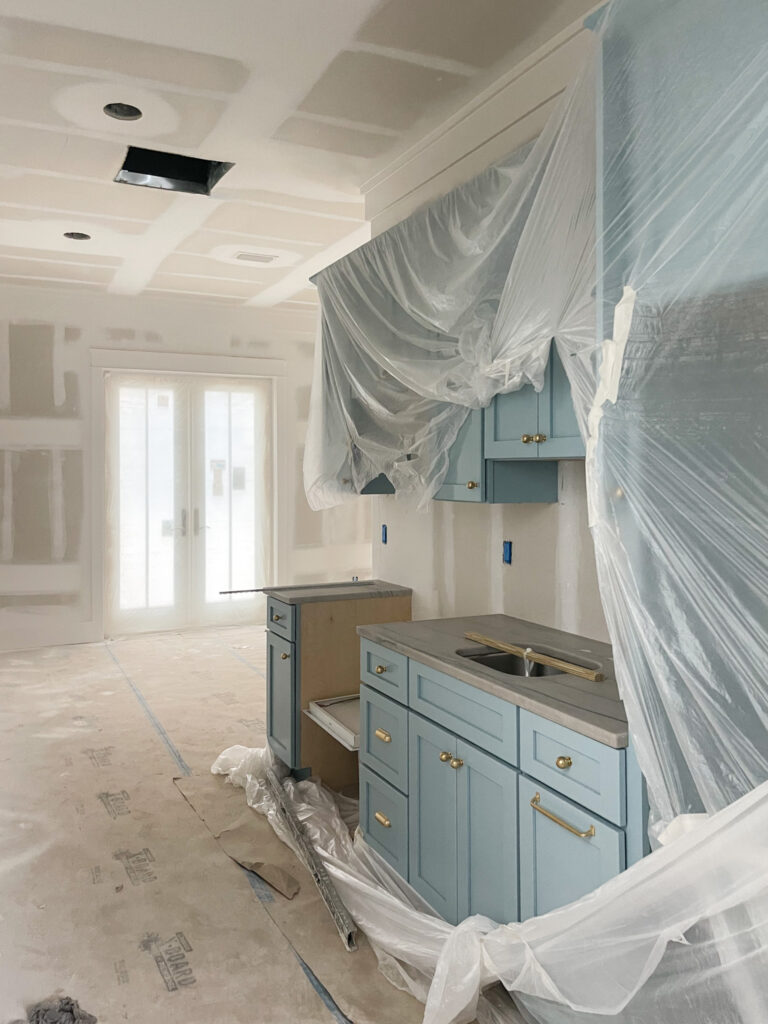 Our lighting should get delivered this week. I've been instructed to run over and write on the walls to tell them the lighting placement for all the bathrooms based on the various mirrors I ordered.
Around Town & For Fun
Tuesday night we had dinner at 30 Avenue again with our friends, but this time at Amici (the Italian sister to our favorite, Amigos). We threw a few bags afterwards and listened to some of the live music before running over to our new houses to check progress.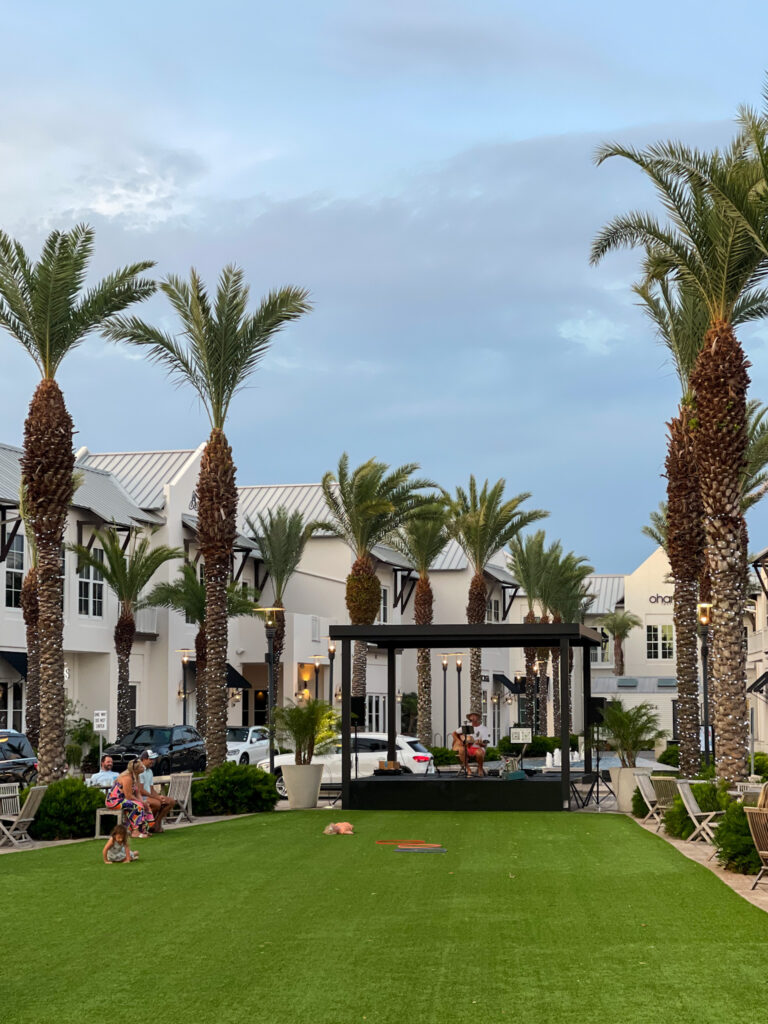 Prime week and Anniversary Sale week wore Henley out too 😉 The other two don't follow me around quite as much as she does, so she seems to be the subject of more of my photos lately.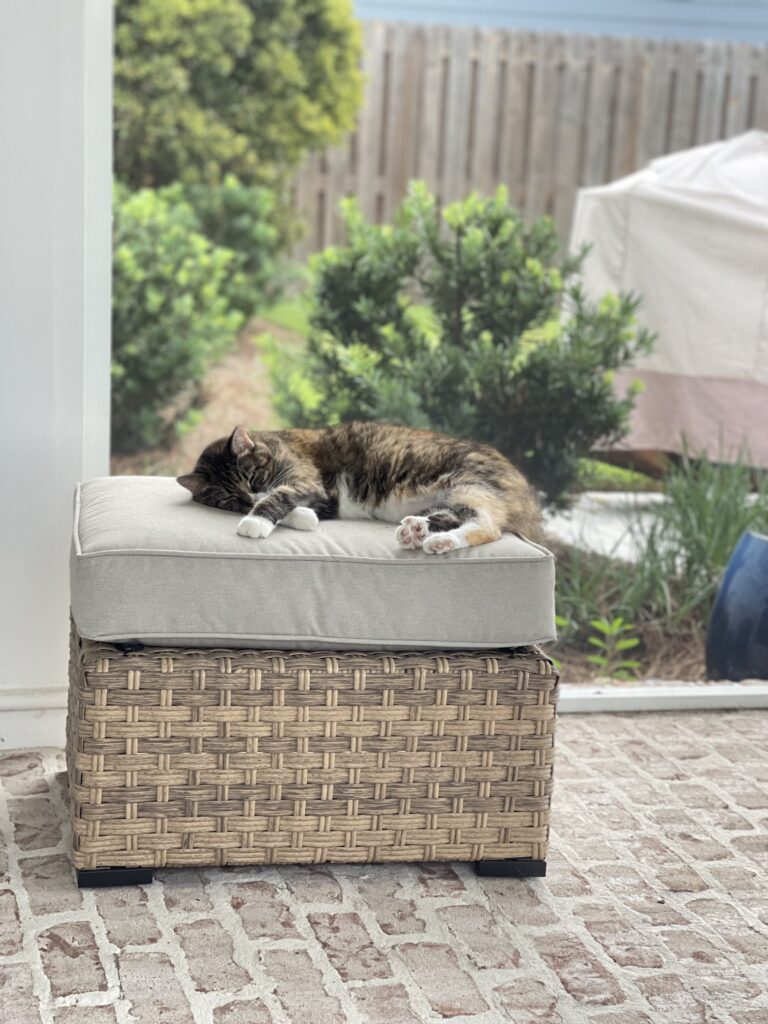 Kurtis flew to Omaha Saturday morning to spend some time with our besties and family before heading to the office today. Two little girlies were very excited to see him!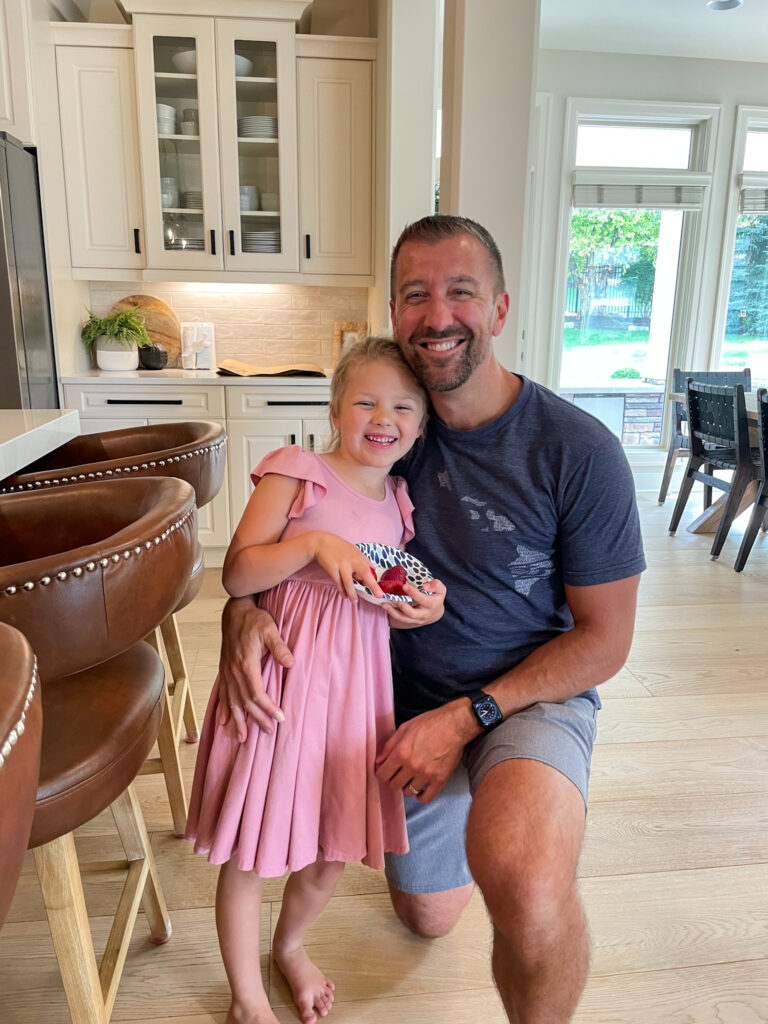 I definitely have FOMO! I miss our friends, goddaughters and family so much! I also miss Roja, one of our favorite restaurants 😉 Our lighting was scheduled to be installed this week originally, and they asked me to be onsite for that. That has since been delayed so I'm bummed I didn't try and make it work but it was such a last minute call. Kurtis is going to have dinner with his family tonight after he wraps up at the office!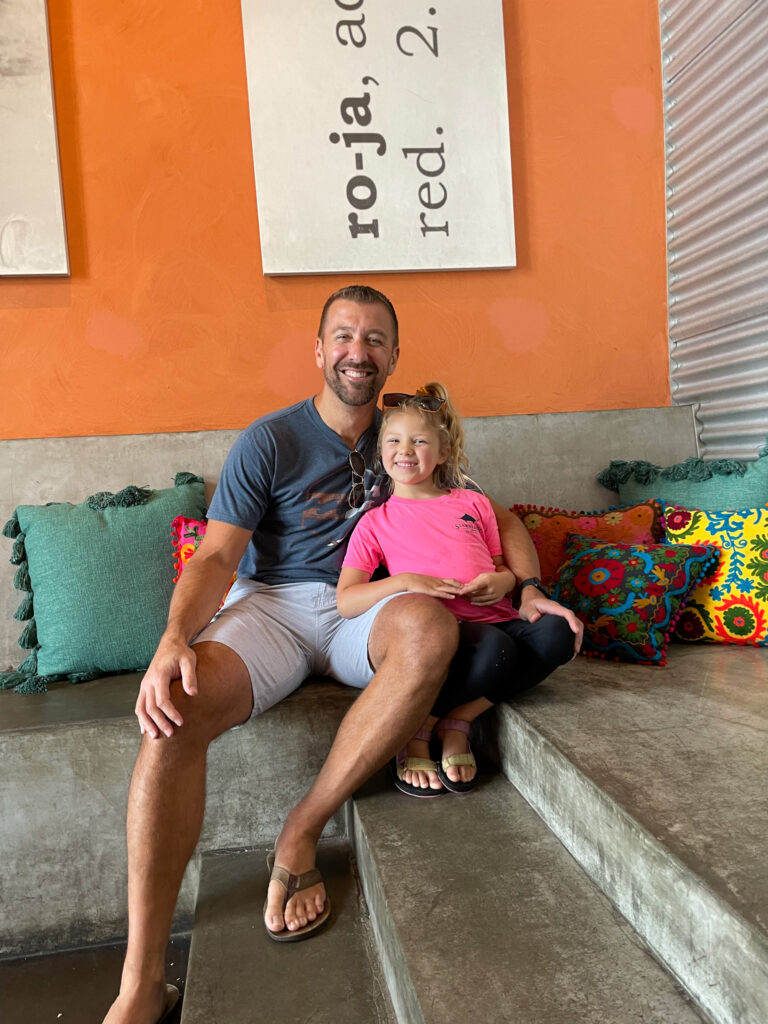 I threw together this pasta salad version of caprese for lunch and it was so delicious. I basically used all the regular versions of a caprese salad but added in some pasta once it cooled. Then I just added the olive oil, balsamic vinegar and salt to taste. Yum!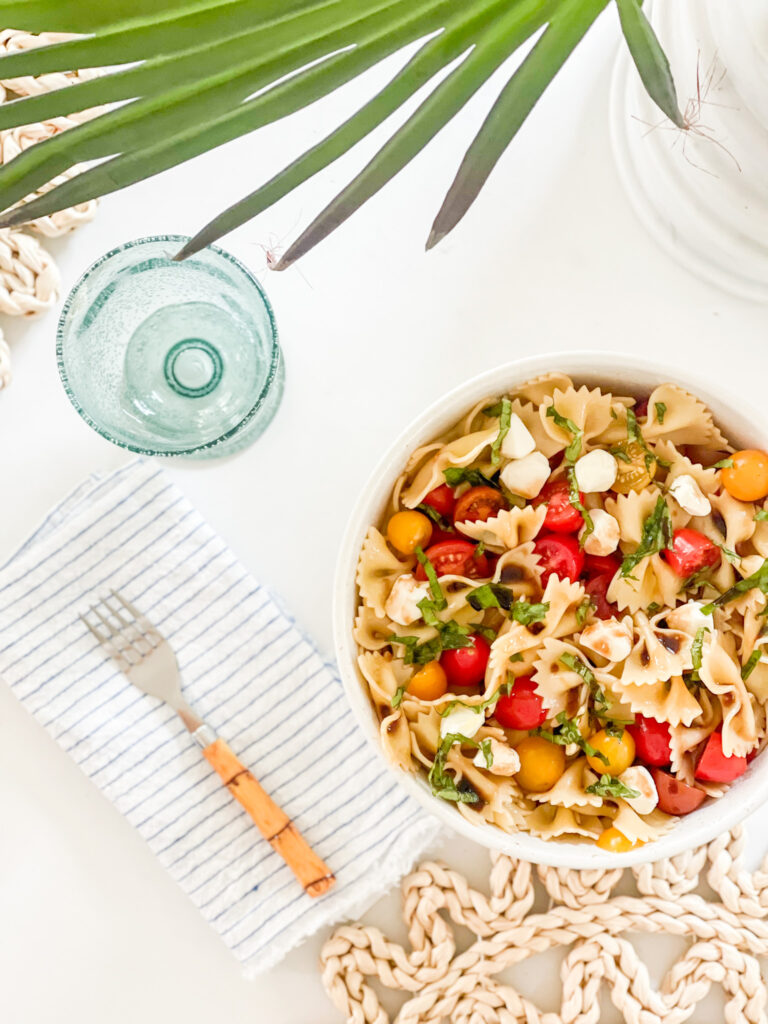 We finally had new pictures taken at Hola Beaches if you want to check them out here. Message me if you have any interest in the remaining dates of summer that are still available. I can offer discounts! And how cute is this watercolor of the house that Breanna Megan Studio made for us 🙂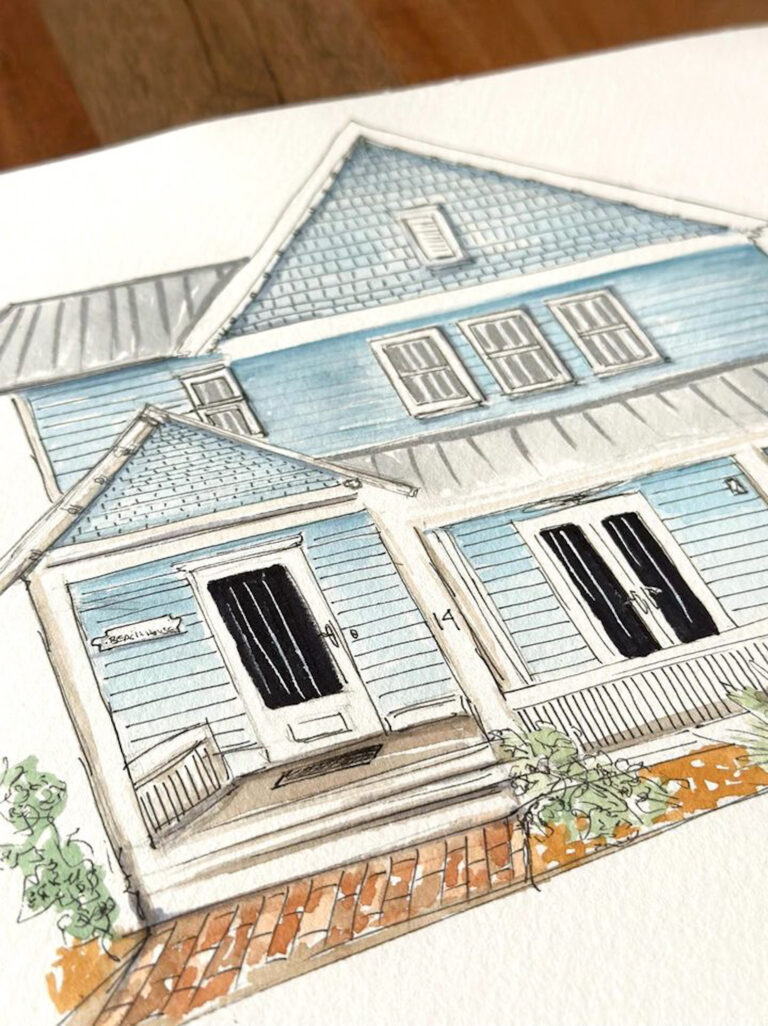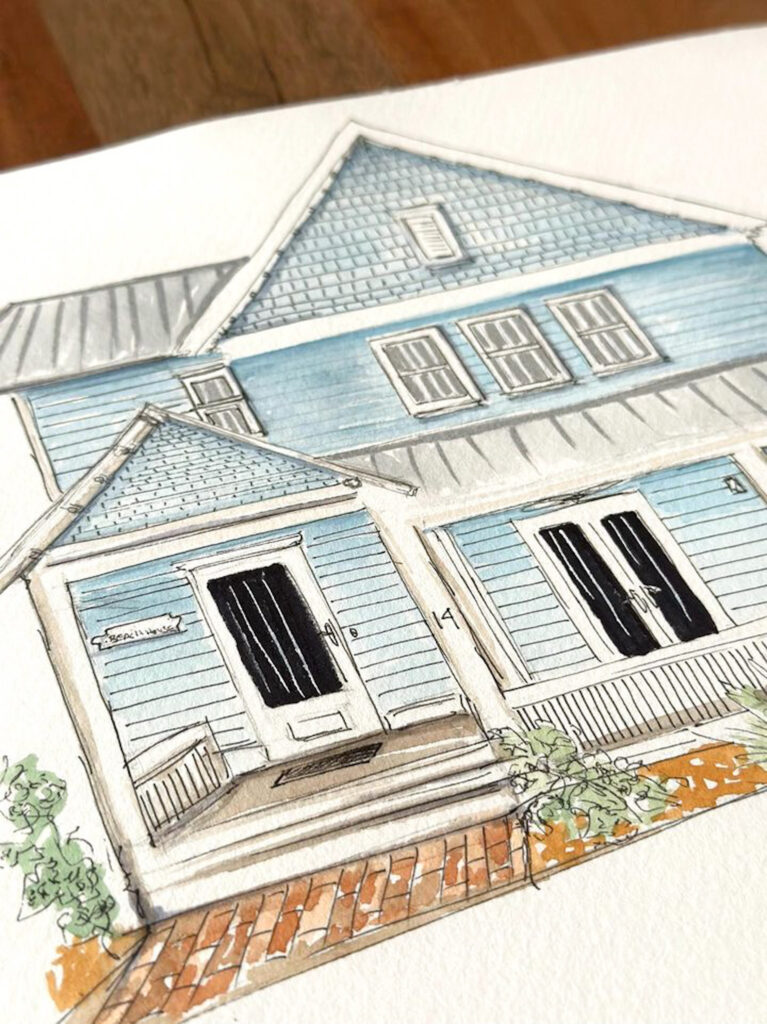 The Nordstrom Anniversary Sale opened to the public last night! You can see all of my top picks here and some of Kurtis' mens picks here and here.
I'm in charge of moving our friends' kitchen tomorrow for moving day! We're excited they'll finally be in their new home only a few doors down from our new build! With that, and with Kurtis gone most of the week, I'm hoping to finally start some packing around here. I finally bought some moving boxes and have been collecting them from orders, too. Our friends' move definitely makes ours feel a lot more imminent!
Recent Buys & Sales
Following are some sales from the weekend that have carried over and are still going strong!
I hope you all have a great week!
If you would like to follow along on more of my home decor, DIY, lifestyle, travel and other posts, I'd love to have you follow me on any of the below channels: