Good morning! I hope you all had a nice weekend! I'm coming to you a day late with my Weekend Recap since my family was visiting through this morning. Here's a bit of what we've been up to this past week.
This post contains affiliate links for your shopping convenience. You can read my full disclosure policy here.
Home Projects & Updates
With my parents in town, we were able to show them the new house. It's coming together fairly quickly! This is the upstairs loft/living room area now that the shiplap has all been added to the walls.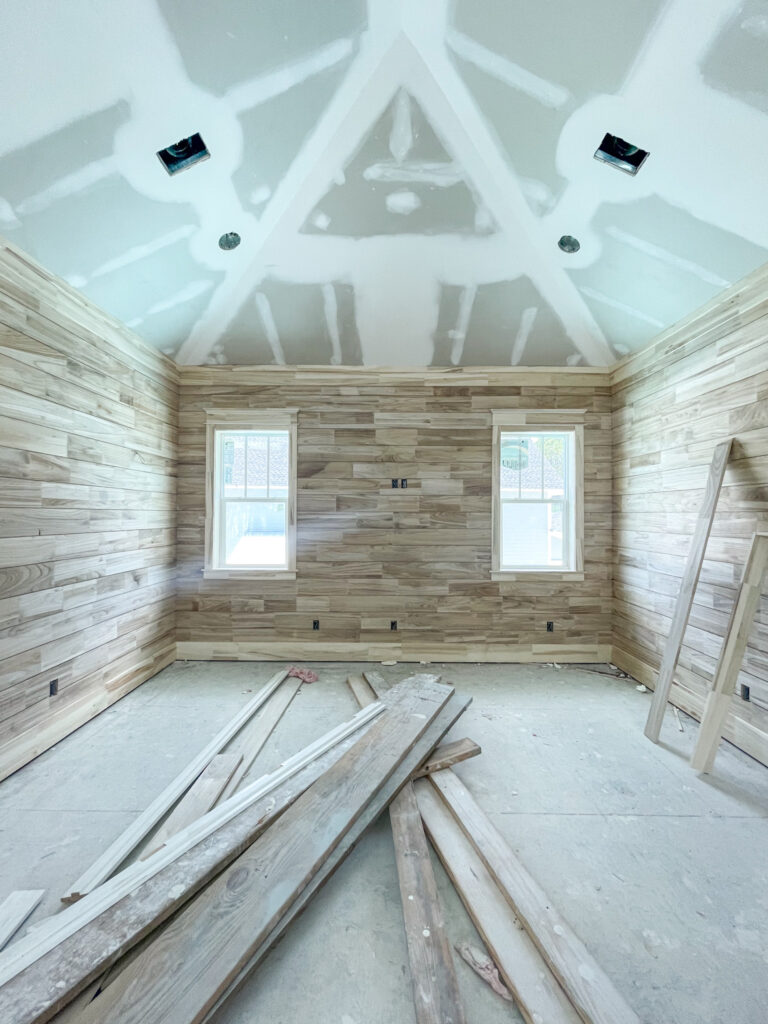 They also got most of the trim work completed, including hanging all the doors!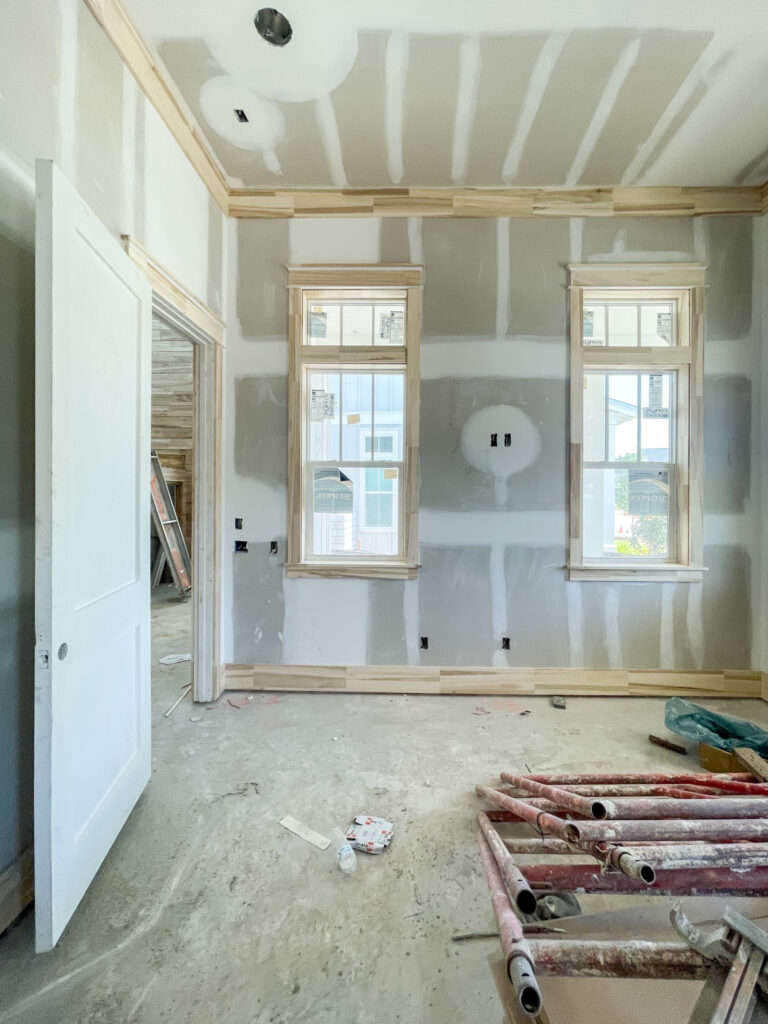 Most of the closets have been built-out now as well. This one of the upstairs bedroom closets.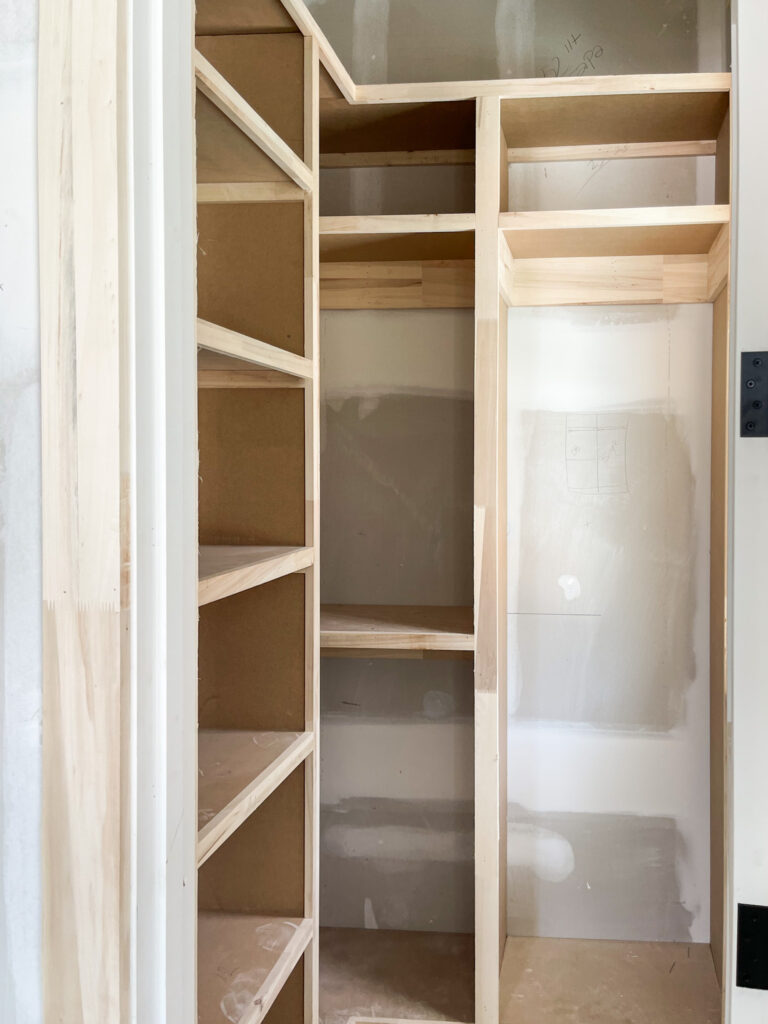 I asked for confirmation of estimated move in date early last week. To our surprise, they said mid- to late-August. We had been under the impression for the last few months that it was early July but I think the sales office and the builder were on two entirely different pages. I'm trusting the August date at this point, but he hopes they can get it done a bit sooner. It just feels a bit crazy there are still four months of work left now that all the trim work is done!
I planted my front porch planter last week. It looks like this planter is finally restocked this morning for online shipping, but I'm guessing it won't last through the end of the day. It's been selling out in hours when there's a restock. I used yucca cane, petunias, sweet potato vine, and an asparagus fern. I have a bunch of flower planter ideas in this post if you're interested!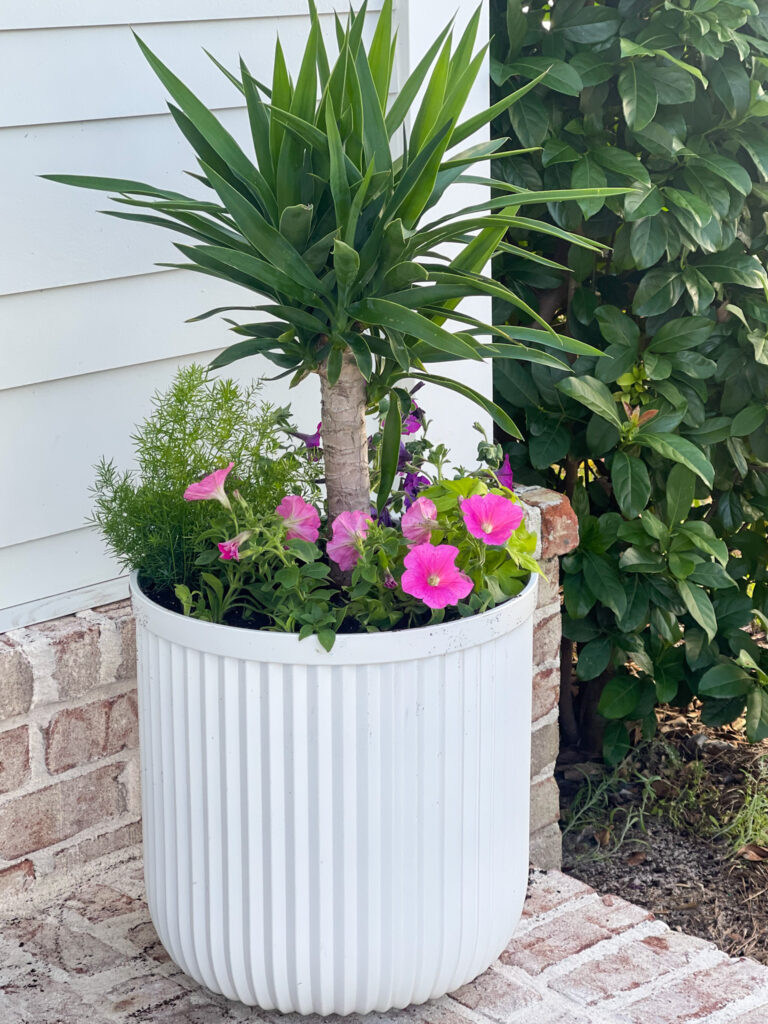 I only had one pink petunia left so I threw it in this planter that was left by the prior owners. There's a mini olive tree in it, so I'm hoping the flower fills out a bit 😉 We also finally got some fresh pine straw, which is what everyone uses down here in lieu or mulch or rocks.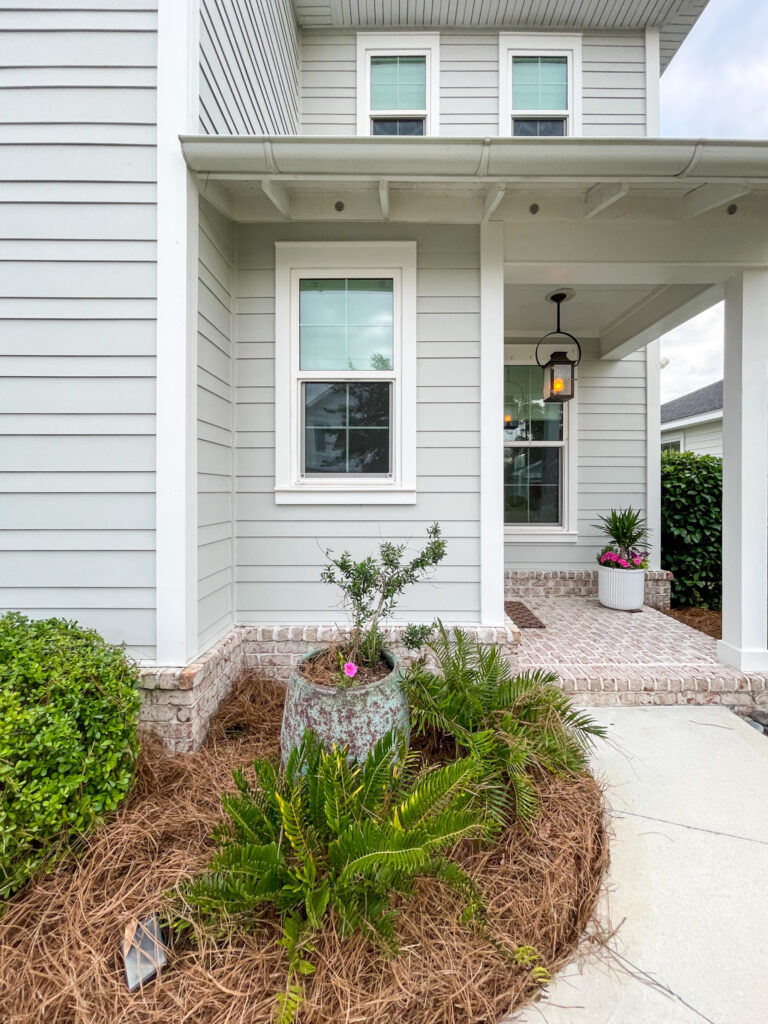 I ordered some outdoor furniture and decor for the new house, thinking we were a lot closer to move-in date. Funny enough, it's the fastest shipping I've ever seen (even with the furniture). Things are about to get interesting around here 😉 These are the pillows from this post.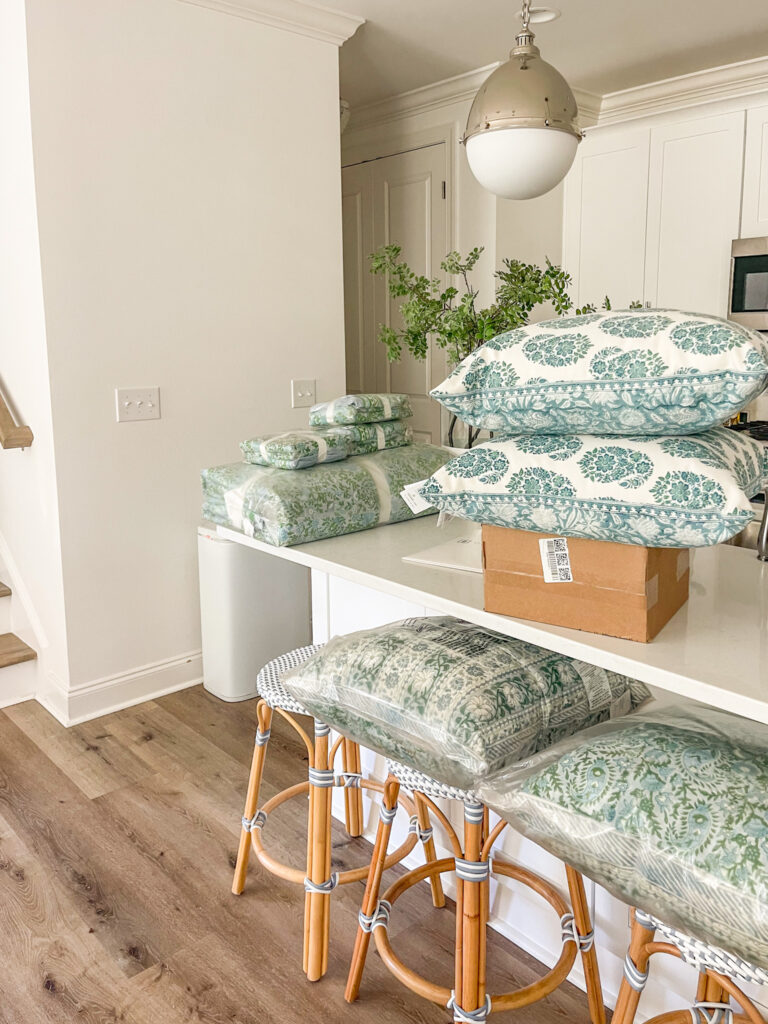 And, not sure how long the pricing will last, but my faux hydrangeas are on major markdown right now! The shipping time is a bit extended (which is why I'm guessing they're offering the discount), but it's such a great price! I love how life-like they are.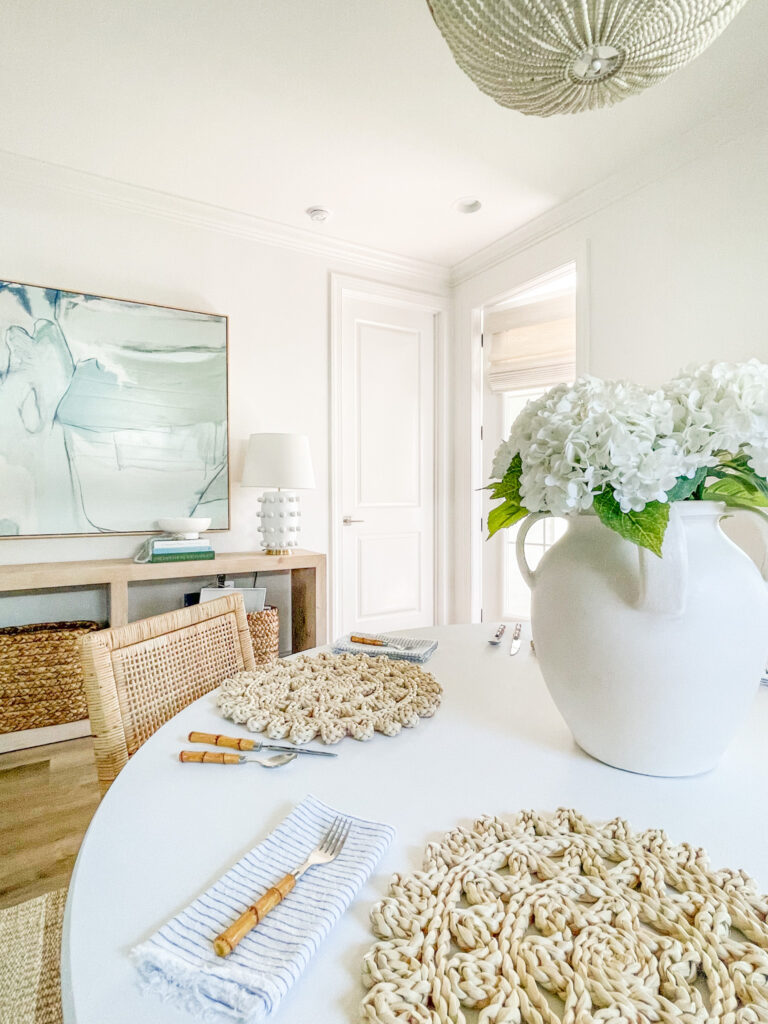 SOURCES: Console Table | Lamps  (look for less here) | Abstract Art | Chandelier | Striped Rug | Baskets | Ceramic Bowl | Vase | Faux Hydrangeas | Placemats | Bamboo Style Flatware 
Top Sellers Of The Week
Following are the top sellers from last week across all of my channels. Links to each item are below the graphic.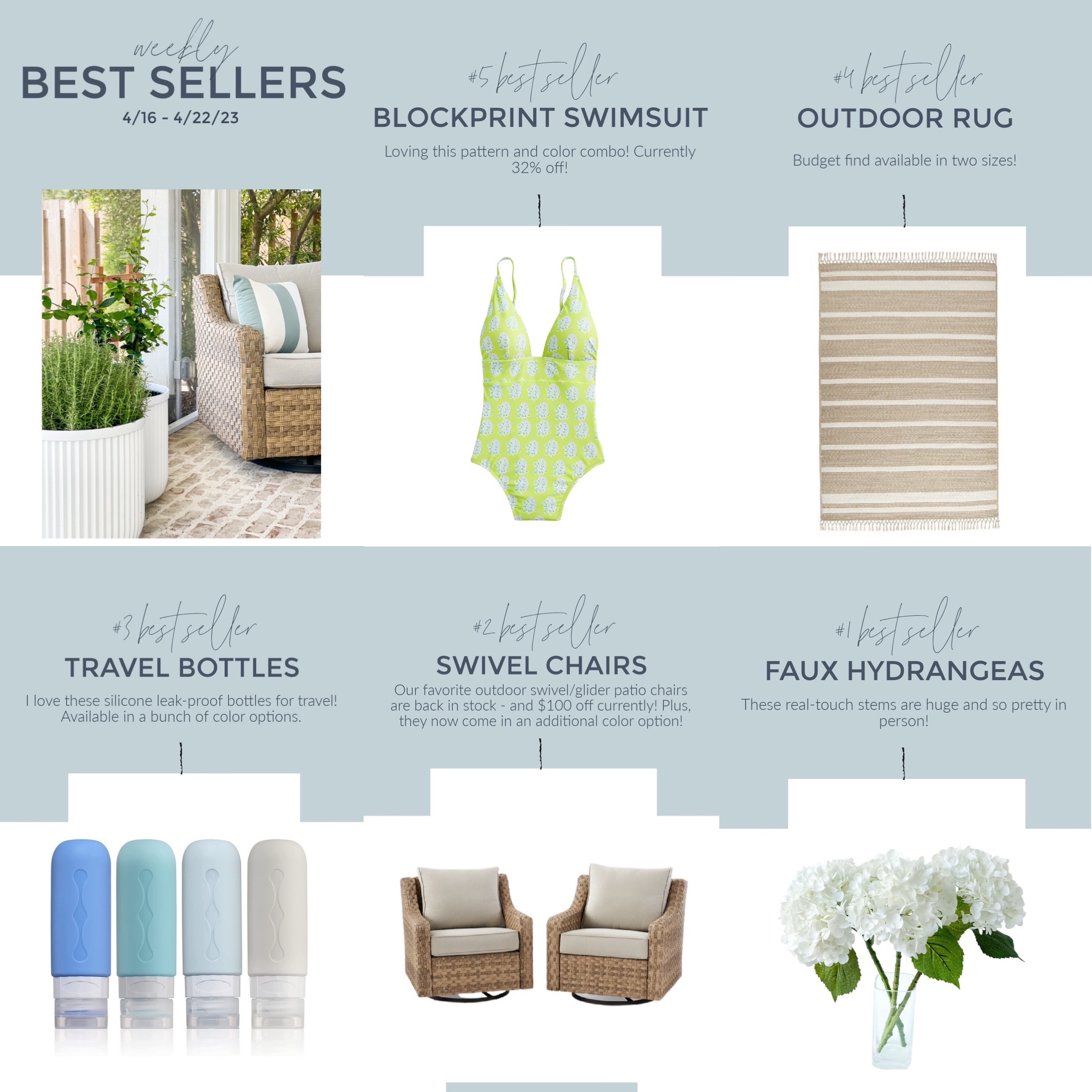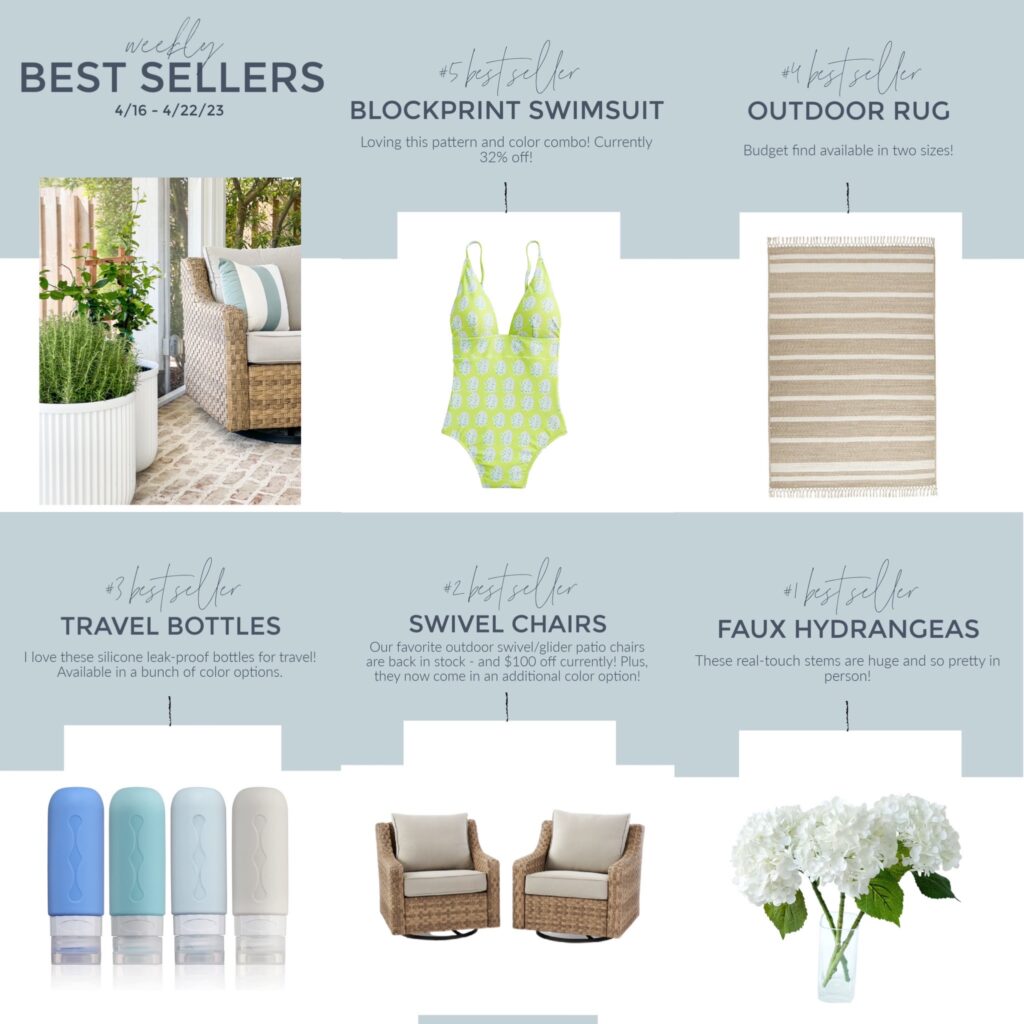 BEST SELLERS (each number is clickable): #5 | #4 | #3 | #2 | #1
In Case You Missed It
Following are the posts I shared over the past two weeks, in case you missed some days!
Following are the most read blog posts of last week (excluding any of the new posts already mentioned above). Many times this includes old posts that are popular on Google or Pinterest.
Around Town & For Fun
My parents arrived in town late Wednesday night. My brother and sister-in-law were then supposed to arrive Thursday night. Sadly they weren't able to make it (dang flight issues!). So, it was just my parents here for a long weekend.
We showed them around town Thursday morning and then headed to the beach. The water has been very clear lately, really making all the Emerald Coast colors look even more beautiful!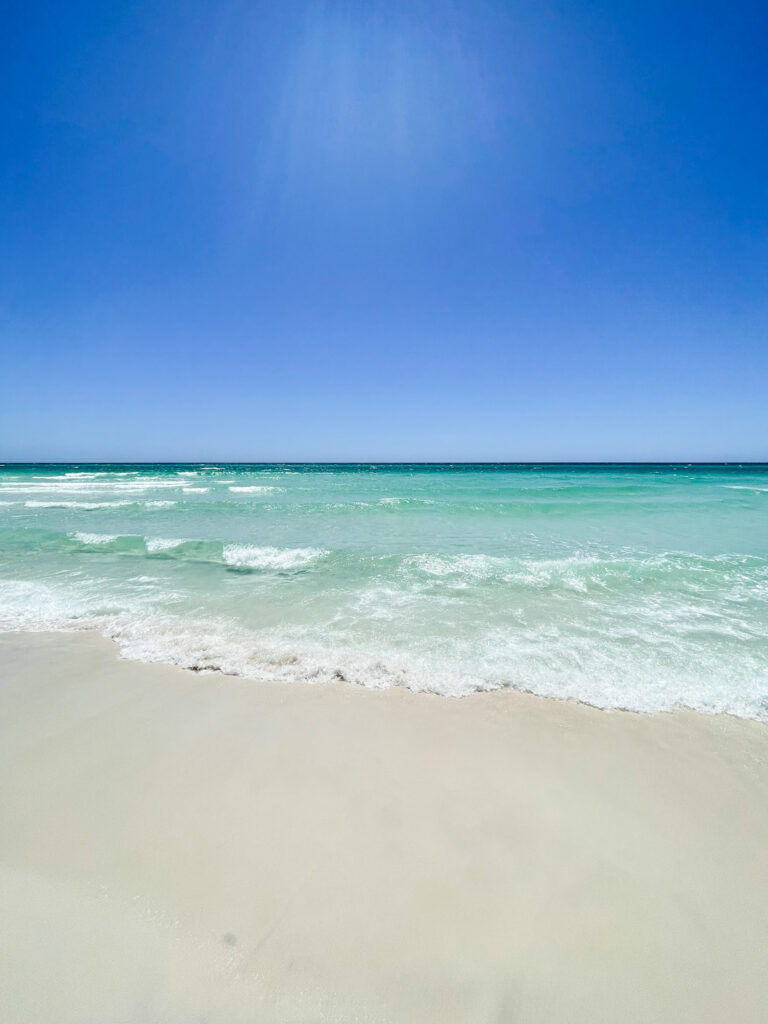 Friday we headed to Navarre, about an hour and forty minutes west of 30A. We had a family friend's wedding on Saturday night, so we got a rental down there for the weekend. We were on the top floor of the tower overlooking the gulf. One of the things we love about 30A is they don't allow the high rises so it feels a bit more quaint and sleepy.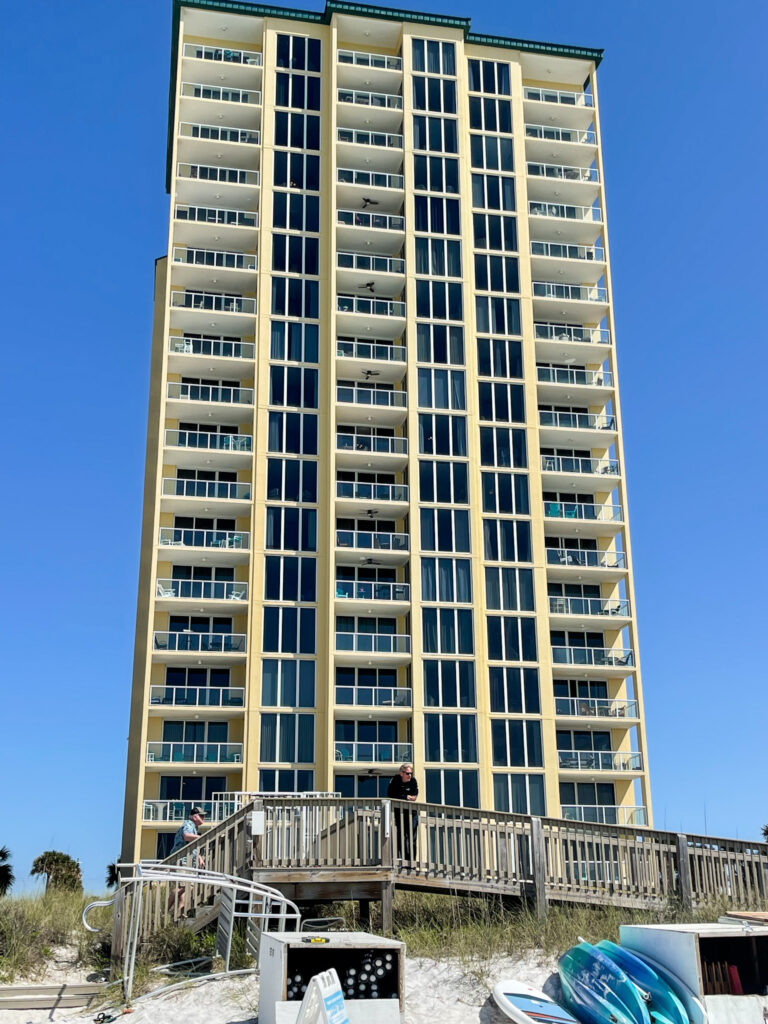 But, without the high rises, you don't get to see incredible views like the one below from 18 stories up! We spent a few hours outside on our balcony watching the water. We saw small sharks, a giant turtle and a few dolphins here and there. It was a lot of fun!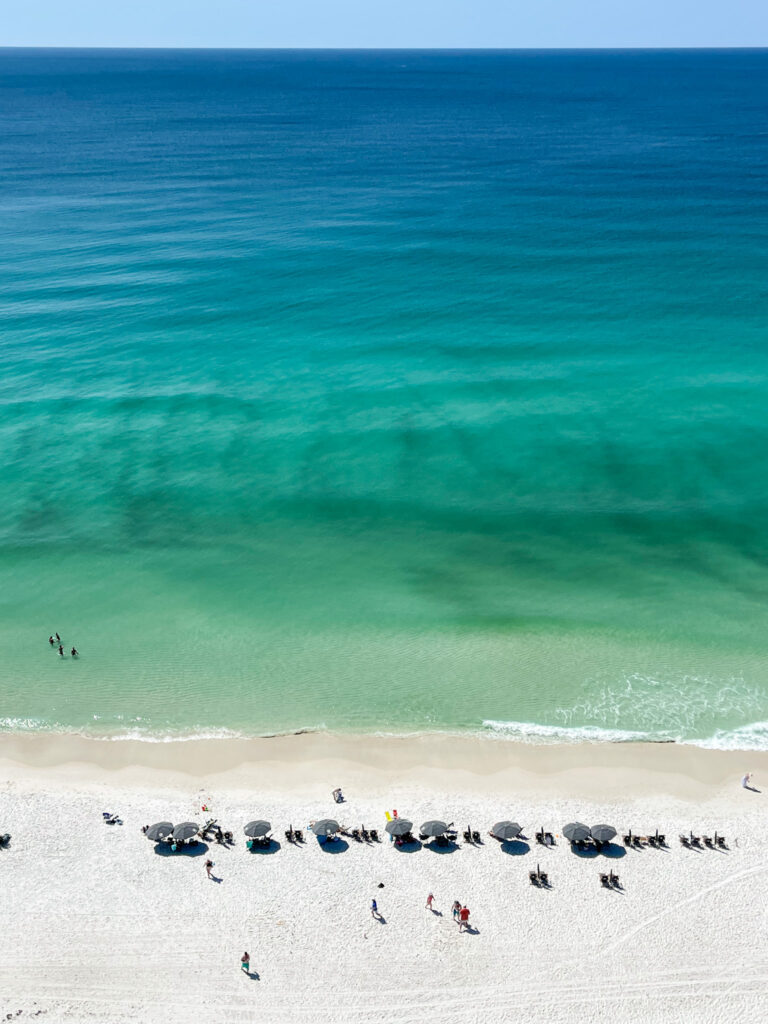 And, I went to my very first waffle house! We actually tried to go to a local spot for breakfast but it was a super busy morning. Waffle House it was! I'm not a huge breakfast food person, but I can see the charm.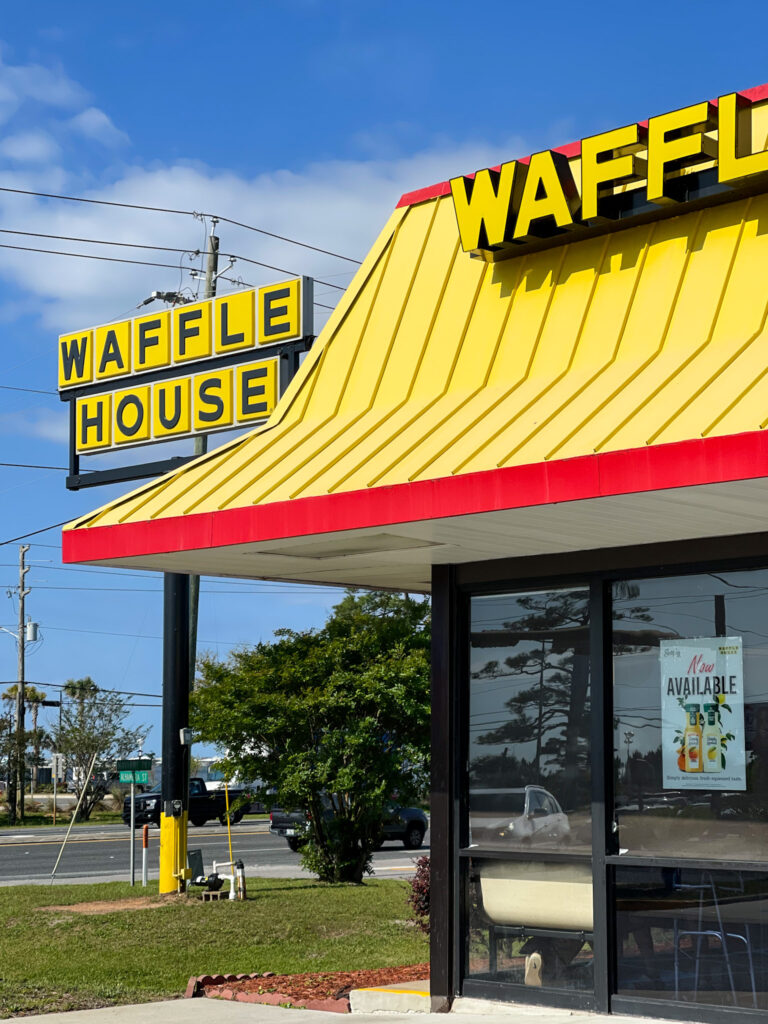 The wedding was on the beach on Saturday afternoon and was very beautiful! The evening ended at their rental house for the reception, which was a lot of fun!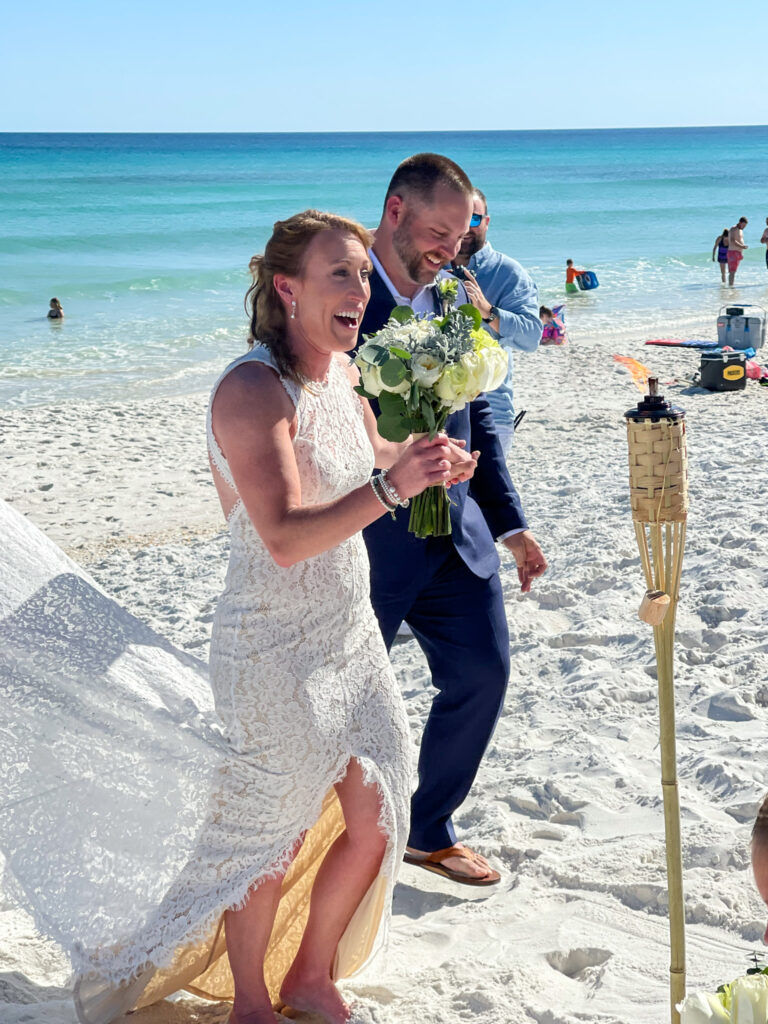 I ran into someone I hadn't seen for probably 20+ years. When I first moved to Nebraska for graduate school, I lived at a family friend's house in Lincoln until I got a job and found a place to live. I was only there about six weeks, but this was one of their daughter's best friends at the time. Crazy enough, she is now a colleague of the bride in Colorado, and I was there for the groom's side of the family who we know from Utah. Such a small world!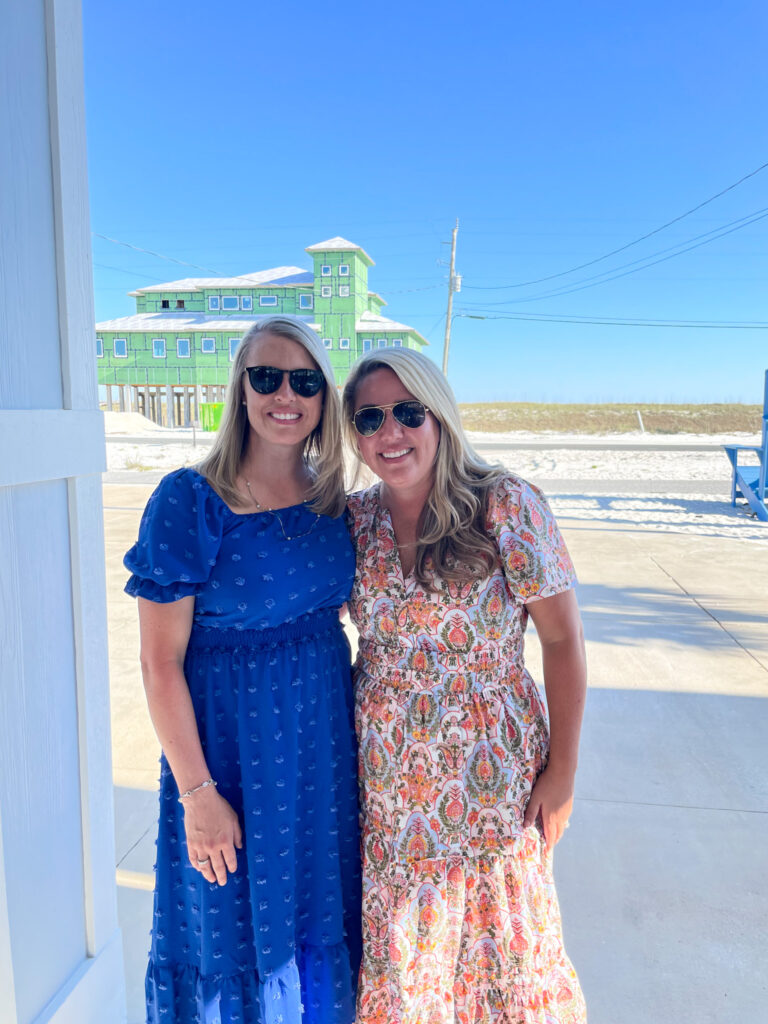 Our regular cat sitter was out of town, but the cats settled right in with their new friend. As long as they have their catio, they're happy!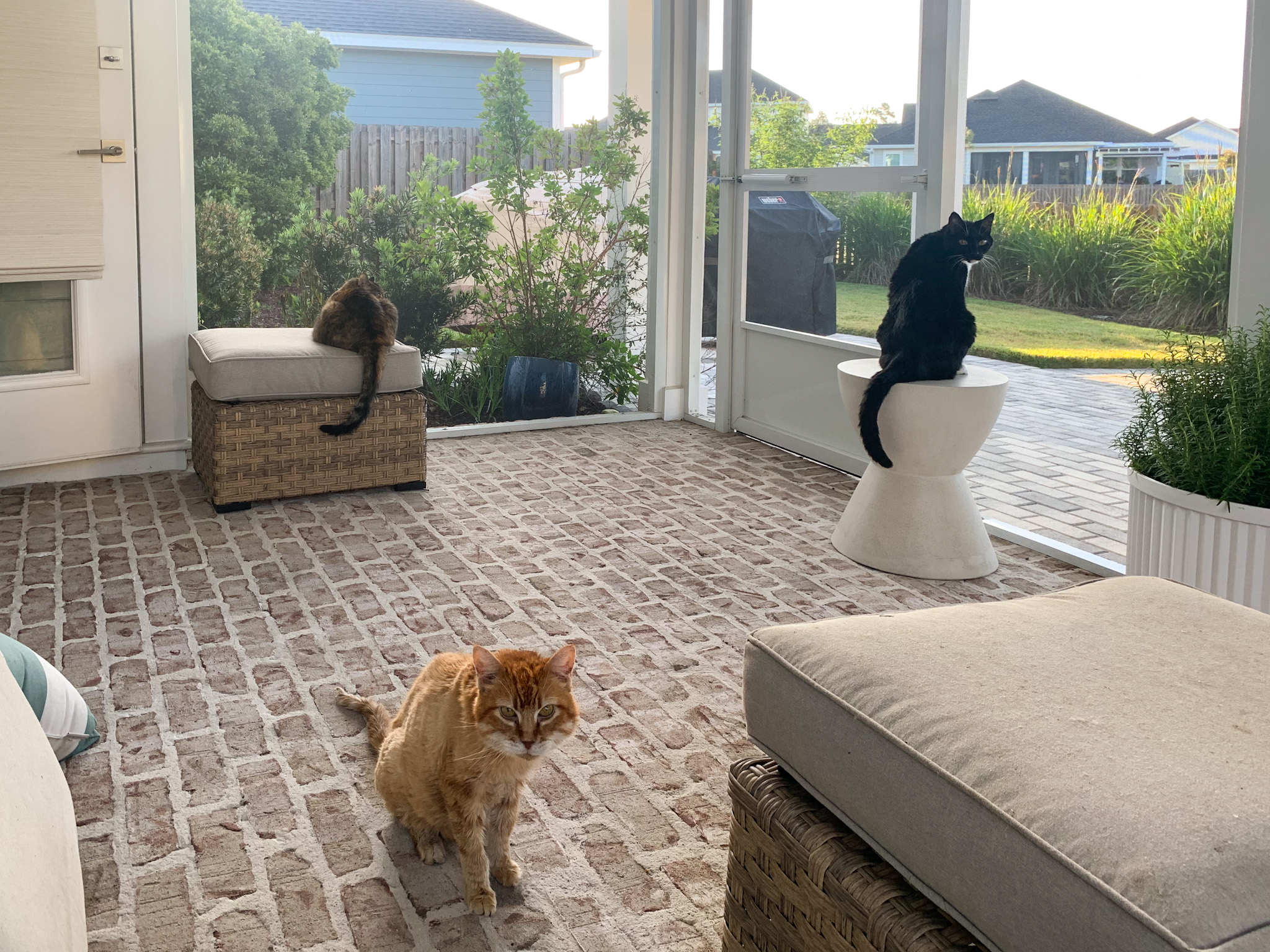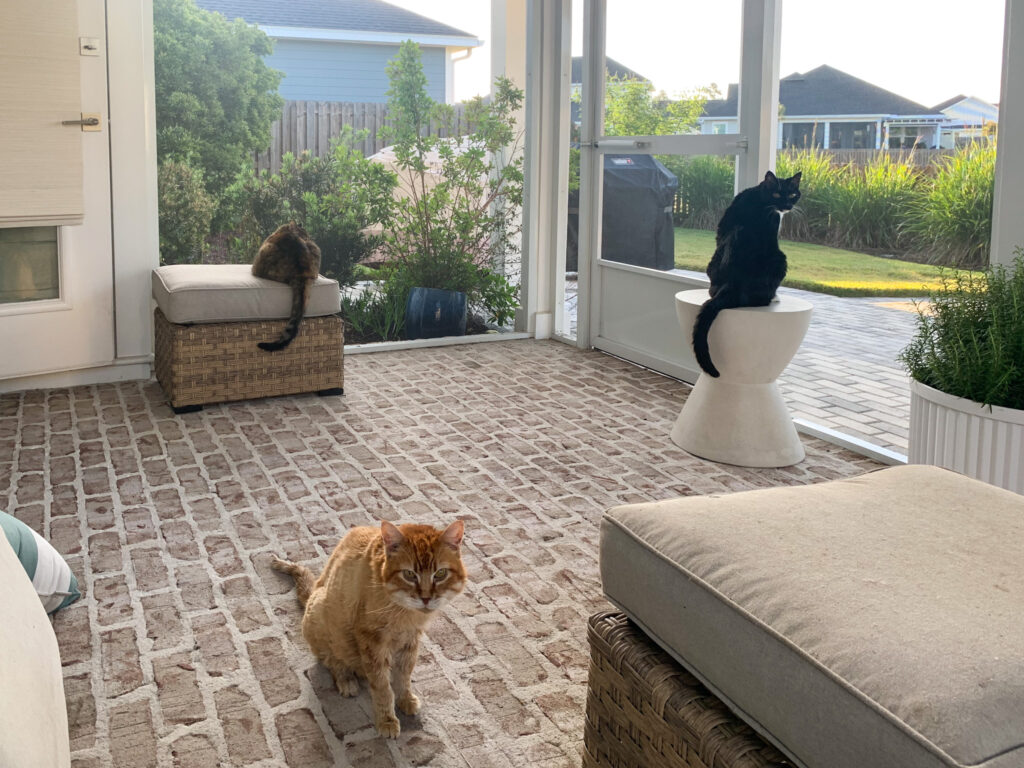 We headed back from Navarre Sunday morning, and then spent some time in the sun on Sunday afternoon.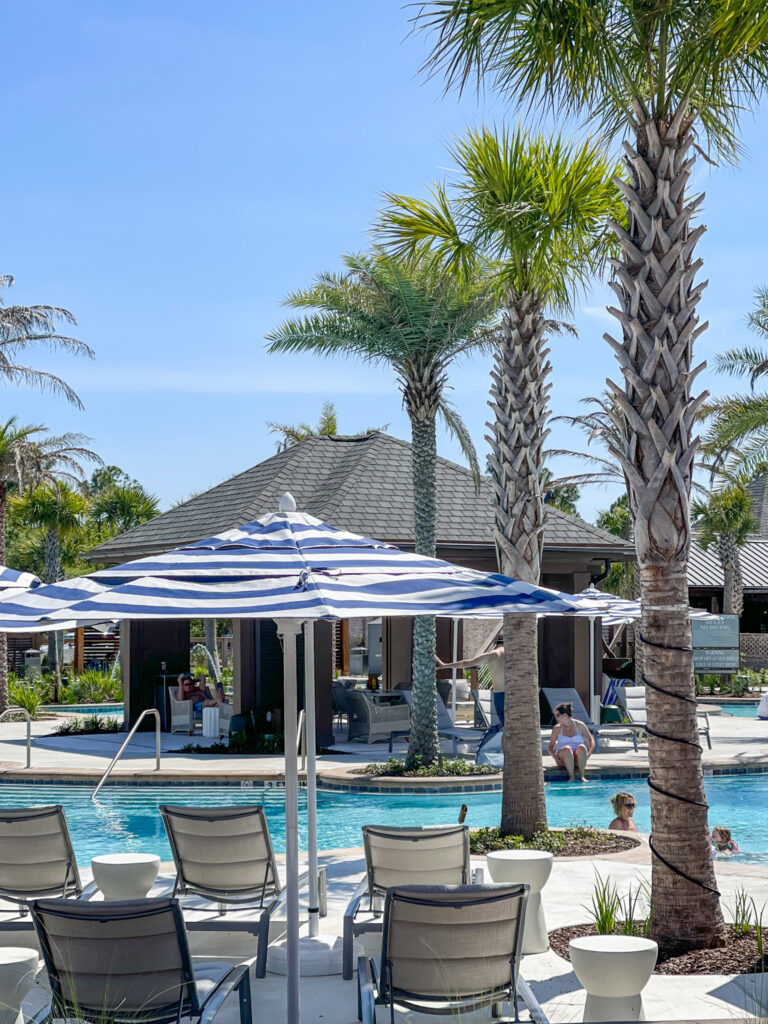 That evening, we headed to Old Florida Fish House for dinner. We were celebrating all the guys' birthdays – my dad just turned 70, my brother turns 40 on Saturday, and Kurtis turns 46 today! It was just a bummer that my brother and sister-in-law couldn't make it! But the food was amazing, per usual, and always such a great vibe.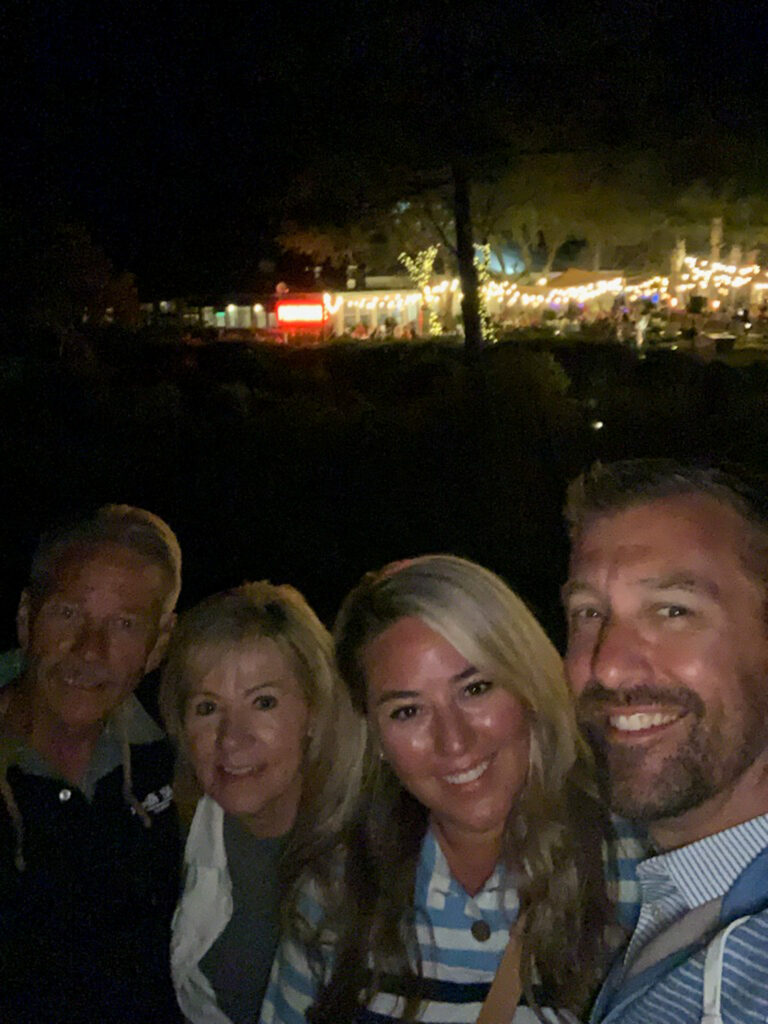 We're running my parents to the airport shortly, but really enjoyed their stay here! Now I'm off to celebrate the birthday boy! Happy birthday Kurtis!
Recent Buys & Sales
Following are some sales from the weekend that have carried over and are still going strong!
I hope you all have a great week!
If you would like to follow along on more of my home decor, DIY, lifestyle, travel and other posts, I'd love to have you follow me on any of the below channels: