Happy Monday! I hope you all had a nice and relaxing weekend! Here's a bit of what we've been up to this past week.
This post contains affiliate links for your shopping convenience. You can read my full disclosure policy here.
Home Projects & Updates
We're still working on getting everything unpacked, but we're so close! I'm hoping this is the week and then I can start sharing more photos with all of you. I'm really looking forward to the decorating stage of this move!
I did decorate our Florida porch for the first time ever, and even threw in a "spooky" Halloween cat for the photo 😉 I didn't think I was a bat person, but I'm kind of in love with these!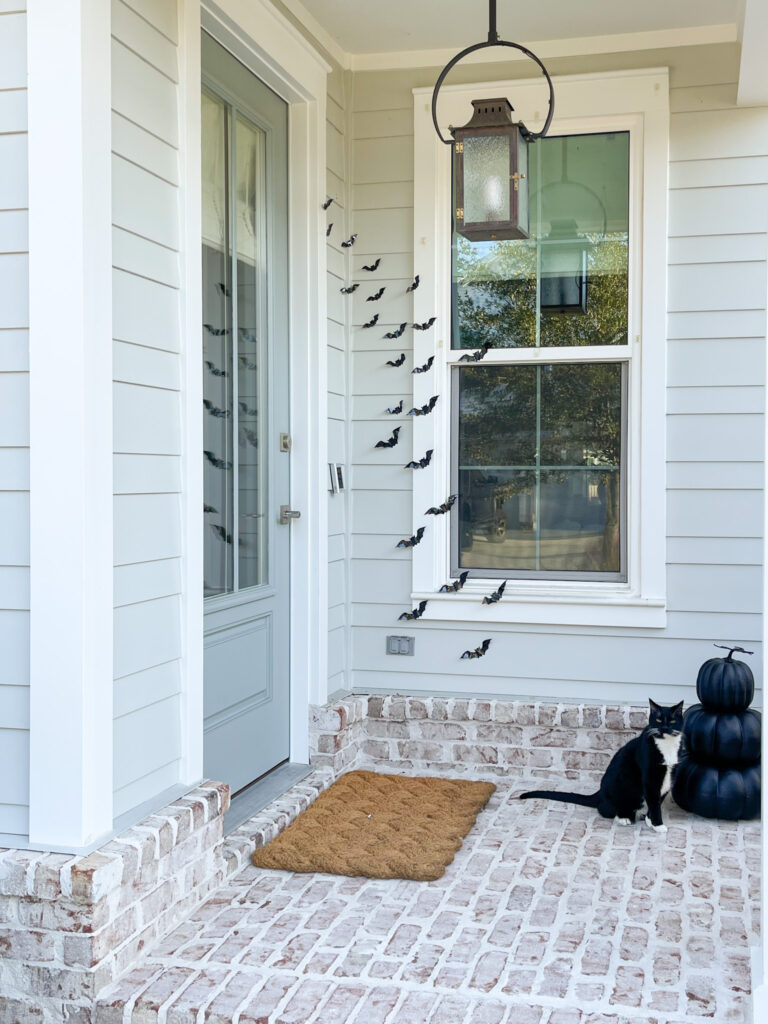 SOURCES: Stacked Pumpkins | Bats (I used less than half in the kit) | Doormat
I ordered some cute items from TJ Maxx for an Instagram post and thought they were worth sharing here. The Potted Tree is so adorable with the seagrass basket! All of these would make great hostess gifts too!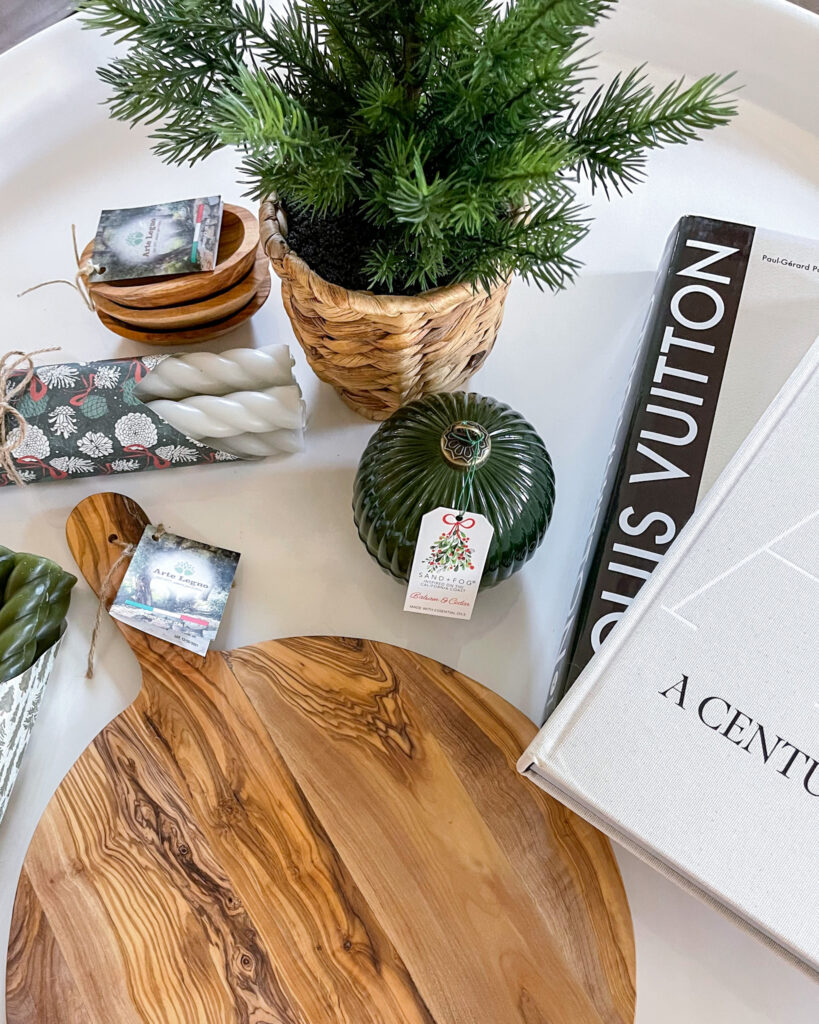 SOURCES: Potted Tree | Olive Wood Bowls | Ivory Twisted Candles | Olive Green Twisted Candles | Ornament Candle | Serving Board | Louis Vuitton Book | Architectural Digest Book
Sunday, we met our friend Rachel and walked the street where our new build will be. We were excited to see that our lot has the forms started for the slab! And if you're thinking the houses look super close together, they are 😉 And it's still crazy to me, even being about 1.5 miles inland, that the ground is sand here!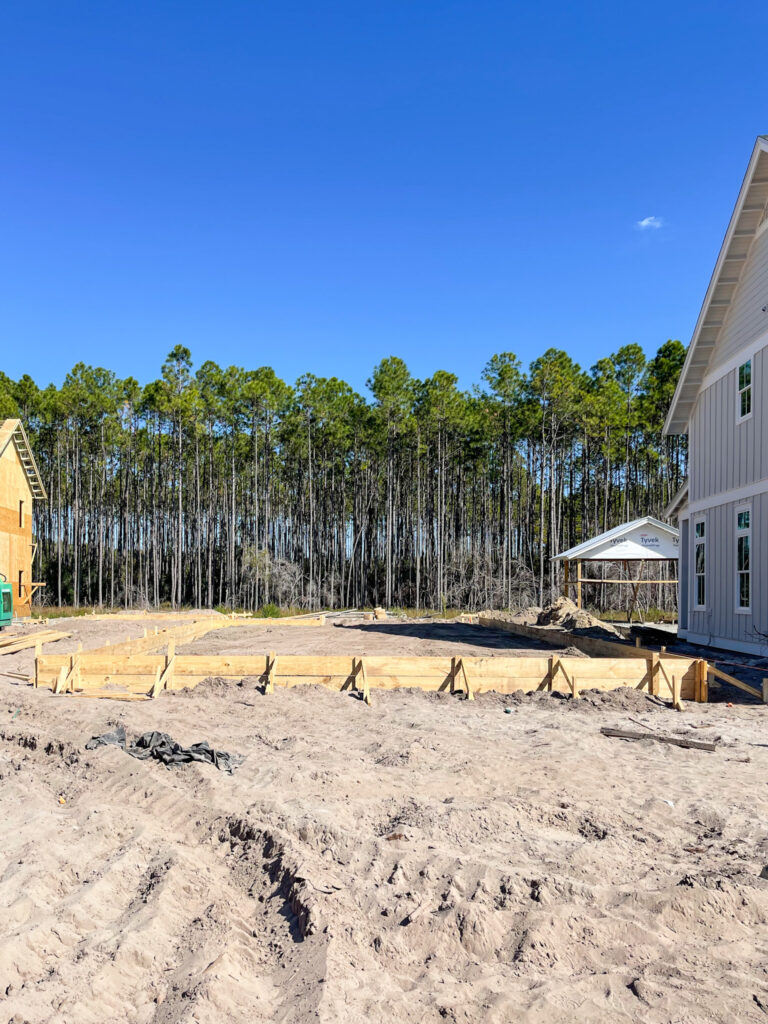 Top Sellers Of The Week
Following are the top sellers of the past week across all of my channels. Links to each item are below the graphic.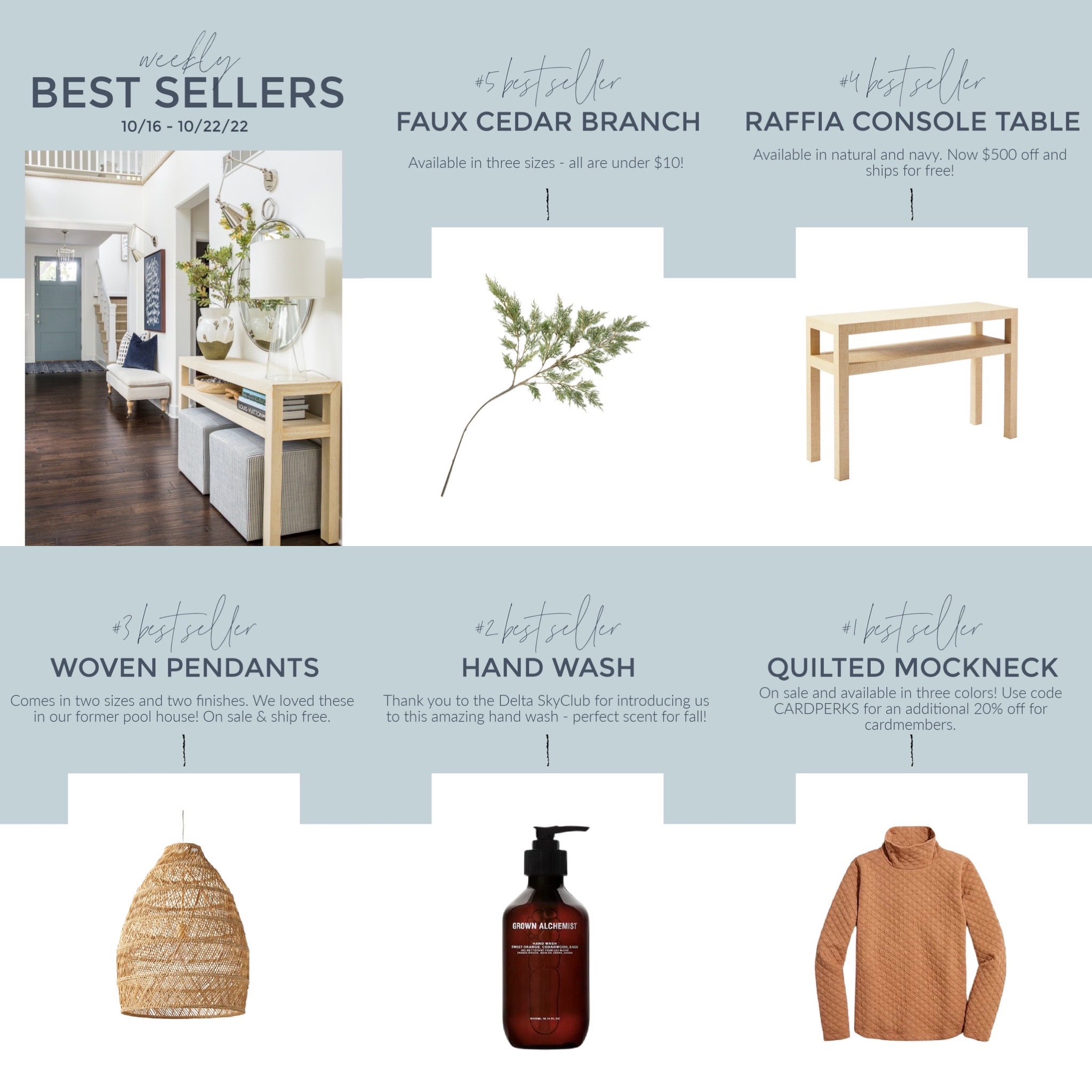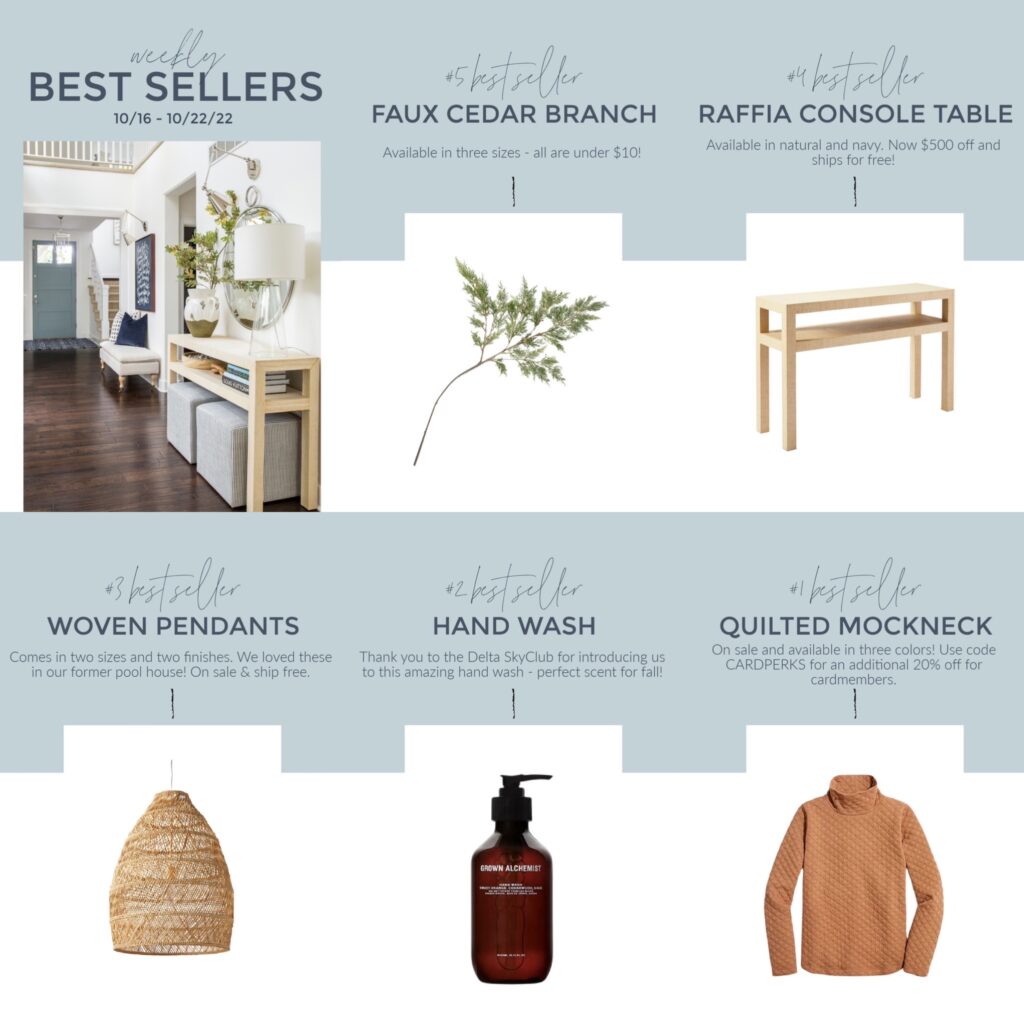 BEST SELLERS (each number is clickable): #5 | #4 | #3 | #2 | #1
In Case You Missed It
Following are the posts I shared over the past week, in case you missed some days!
Following are the most read blog posts of last week (excluding any of the new posts already mentioned above). Many times this includes old posts that are popular on Google or Pinterest.
Around Town & For Fun
I met my friend Rachel for dinner on Tuesday night for tacos and margaritas. I had to stop at one point in our conversation to take a photo of the sunset through the trees. This was the true colors – not altered in any way. So beautiful!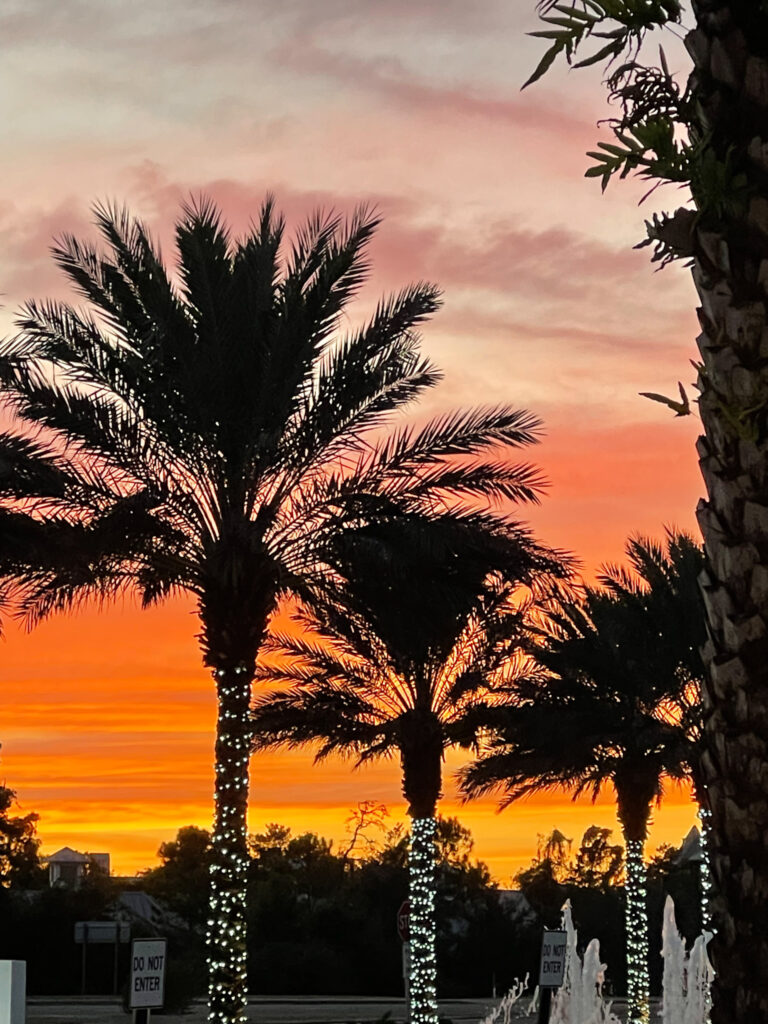 I never left the house the rest of the week, and the cats were a-okay with that! These two are obsessed with this blanket (in Omaha they always used the ivory version, but now it's always the blue one)!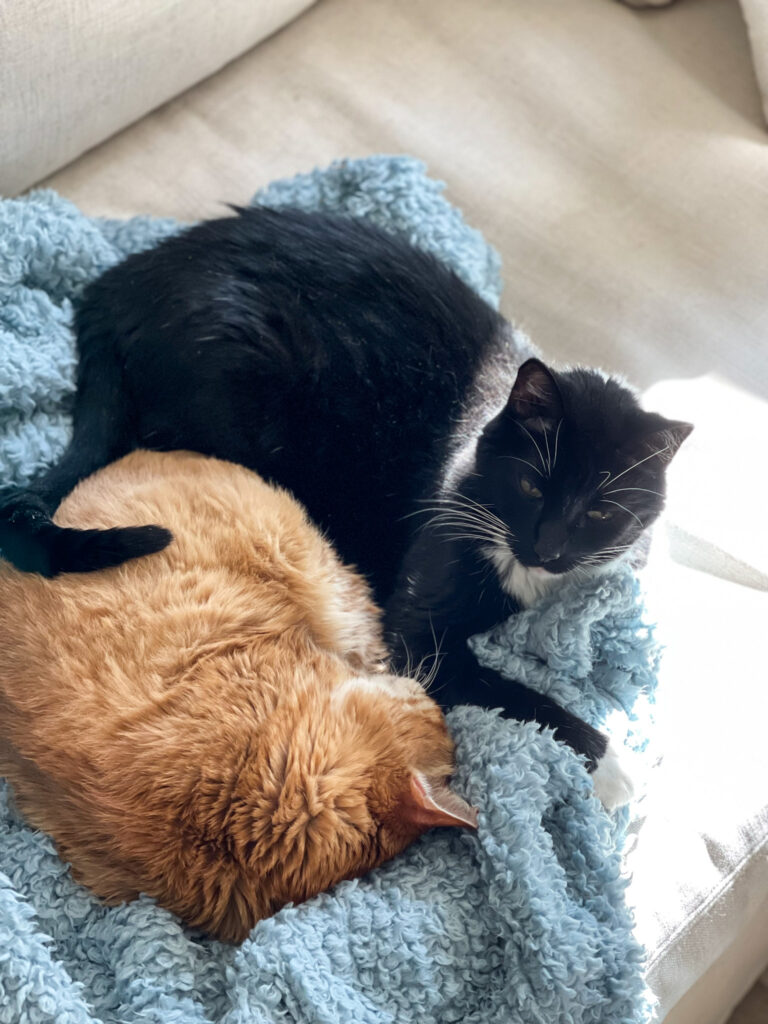 And Henley is more and more obsessed with "her" catio. She'll sit out here for hours! It looks like our outdoor swivel glider chairs are restocked again and available to ship!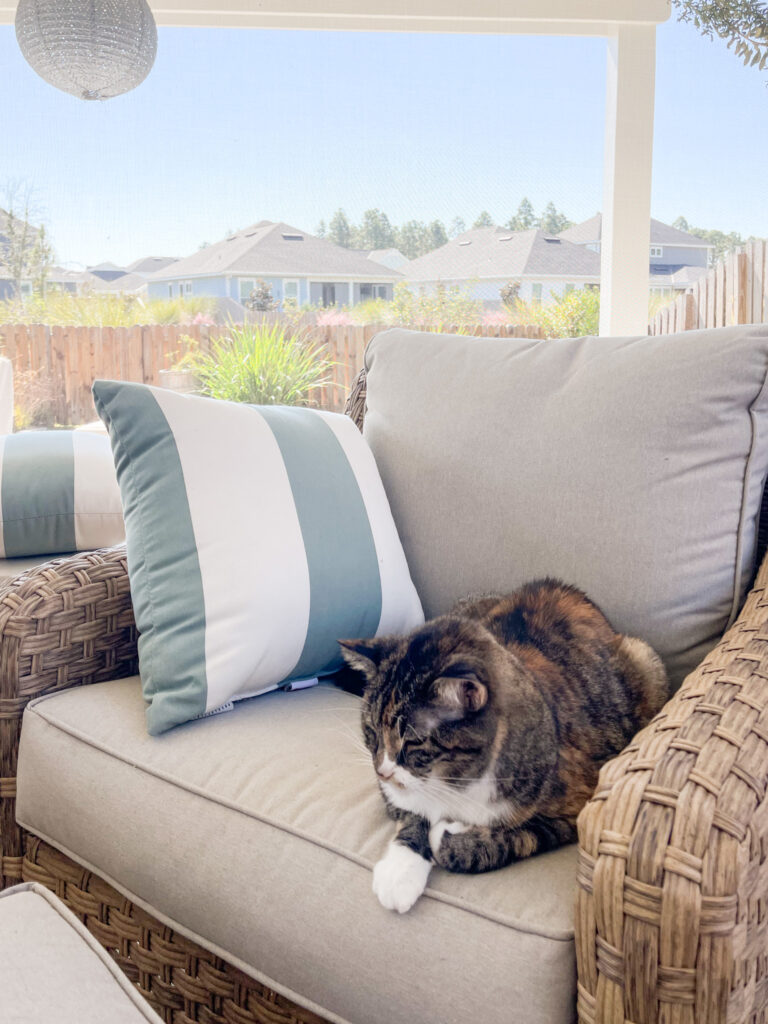 Kurtis was in Omaha all week for work, and didn't return until Friday night. We were going to branch out, but ended up at Amigos for Mexican food again. Never a bad idea!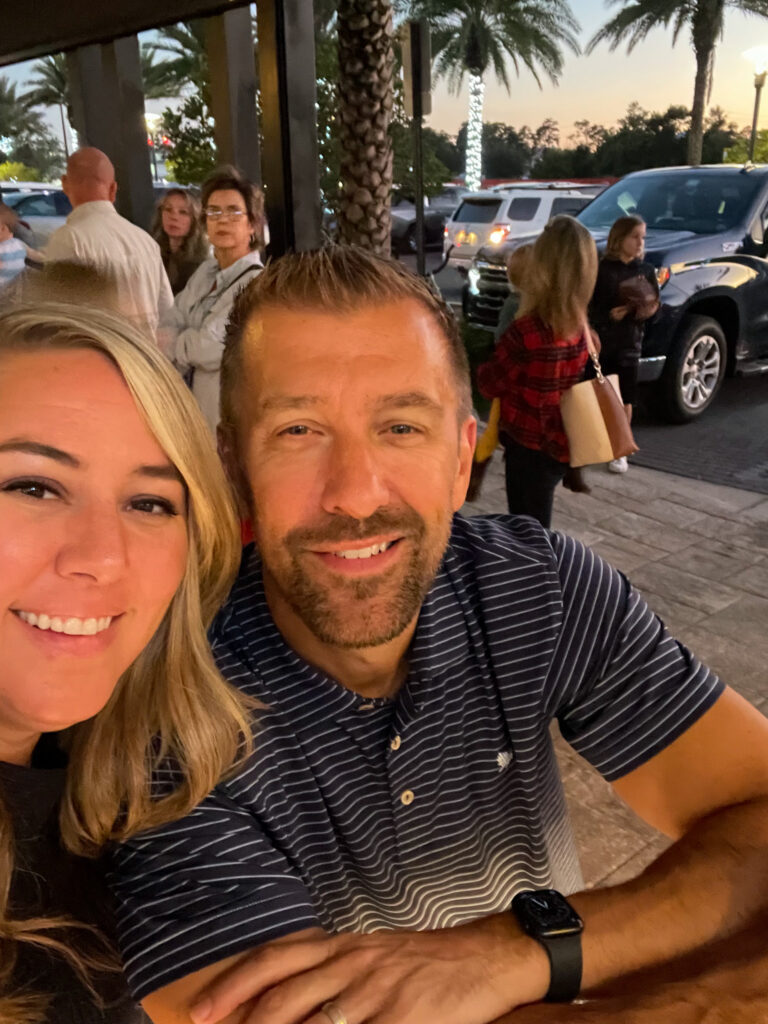 During the week, the temps were very cool with the cold front that hit most of the country. But, the weekend was absolutely beautiful so we took full advantage of it! It's still hard for us to be in the mindset that we live here now, and aren't just on vacation. We allowed ourselves to indulge in the vacation mindset for the weekend but are already looking forward to the routines Monday brings!
Saturday we did some things around the house before heading to Alys Beach for a little exploring. I had ordered some Walmart clothes shortly after arriving here, most of which were sweaters and fleece, but I love this smocked sleeve top I also ordered! It looks like a shirt/vest combo, but without all the added bulk. The jeans and sunglasses are Walmart too!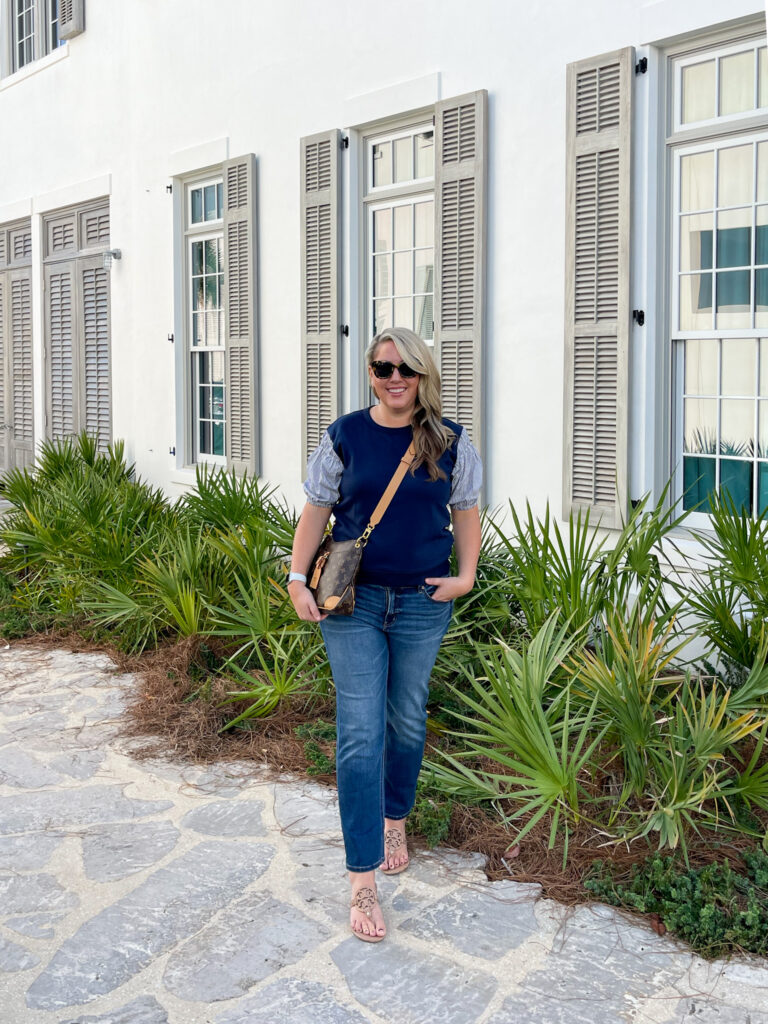 We then met our friends, Marissa and Jake, for beer at Beach and Brew. It's always fun to explore new local spots, especially when they carry a wide variety of local beers!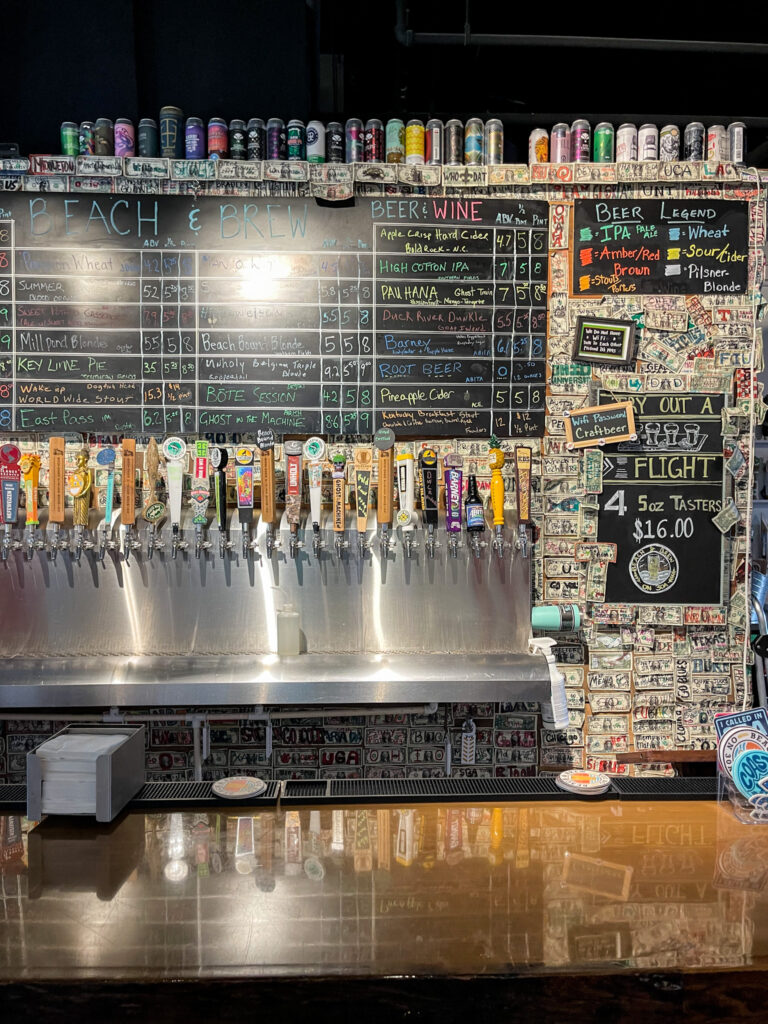 After beers, Kurtis and I grabbed dinner and then started watching Anatomy of A Scandal. We're always so behind on shows, because we prefer the whole series to be launched so we can binge it. It's really interesting so far!
Sunday morning I mentioned we ran to the lot. I asked Rachel to take a picture of my outfit so I could share it, and most of the photos turned out like this. Ha! Can you tell posing isn't my strength?! I'm definitely learning to dress in layers this time of year here. It was in the 40's when we woke up, 50's when we headed to the house, and was already in the 60's by the time we left. Needless to say, I didn't need my fleece for long 😉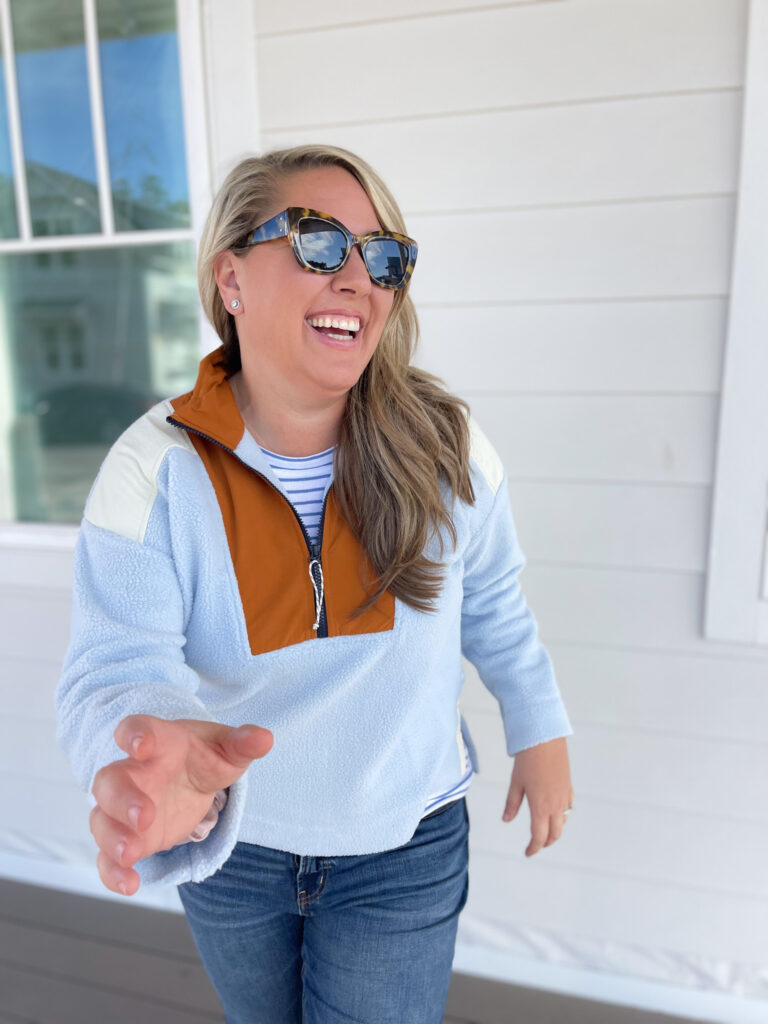 OUTFIT DETAILS: Fleece | Striped Top | Jeans | Sunglasses
In fact, it got so nice out, Kurtis and I decided to grab lunch at the newly re-opened Fonville Press. Such a cute spot, and I love that it's both a market and casual restaurant.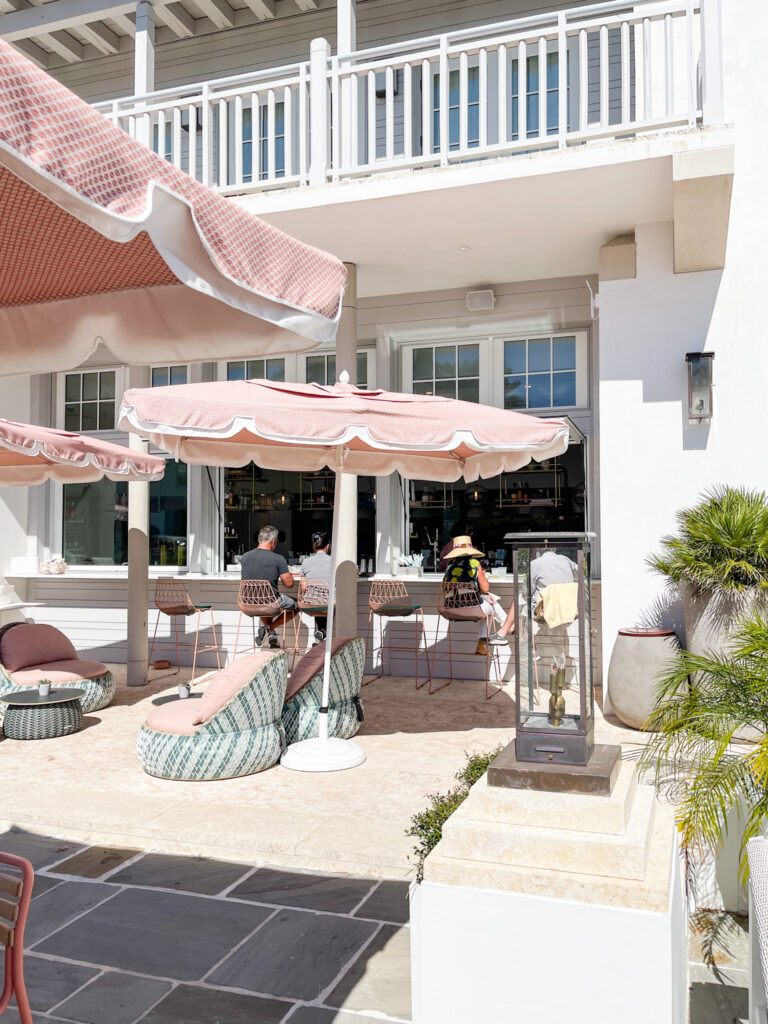 We then headed to the beach for a few hours! We're not sure how many beach days we'll have left this year, so we wanted to take full advantage of such a beautiful day! We relaxed in chairs, went for a walk, dipped our feet in, chatted with friends and stayed until sunset.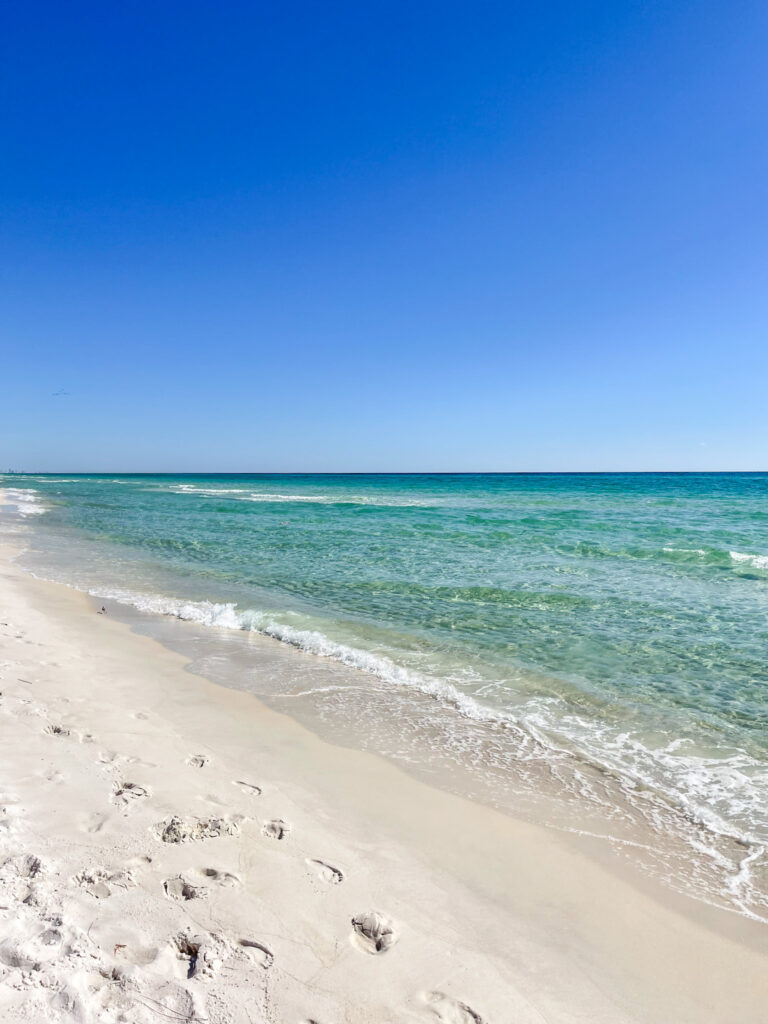 Kurtis even decided to try kayaking!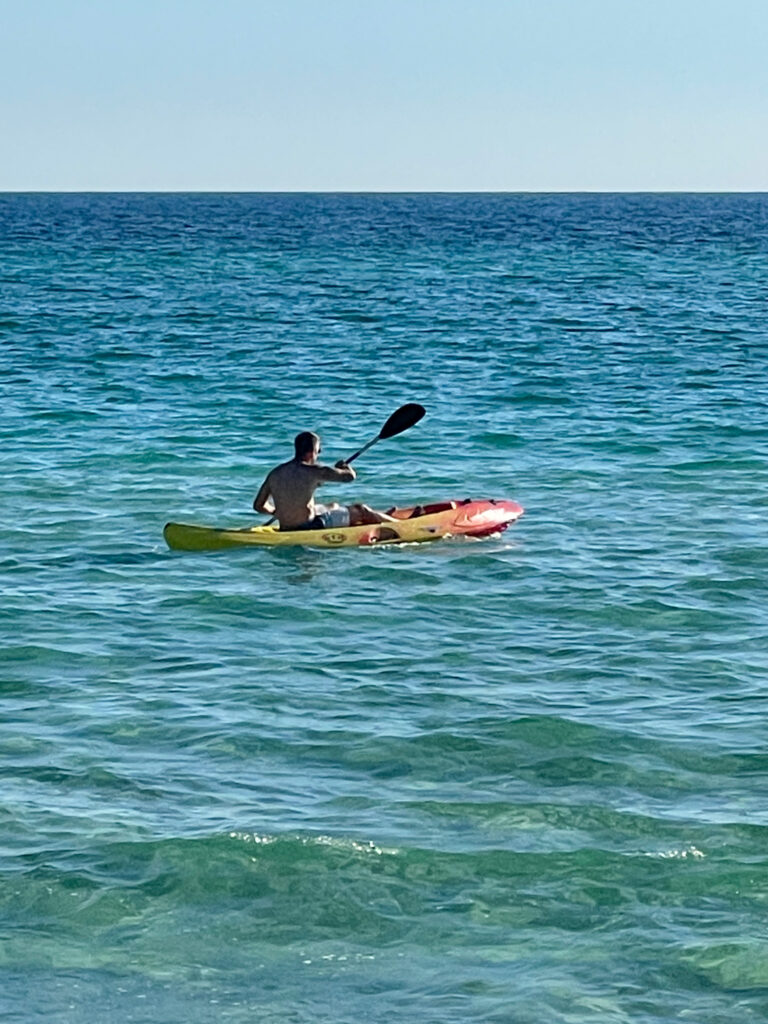 Saw this darling little structure on our walk. Maybe we should paint our new house in blue and white stripes?! 😉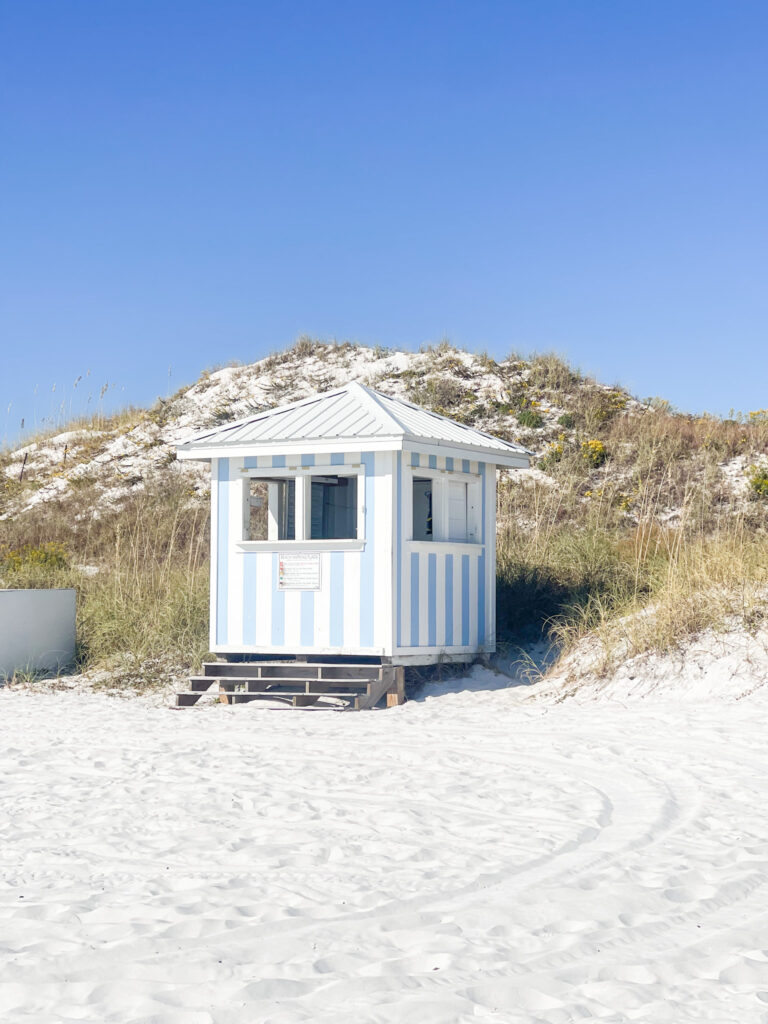 The sunsets here will never get old!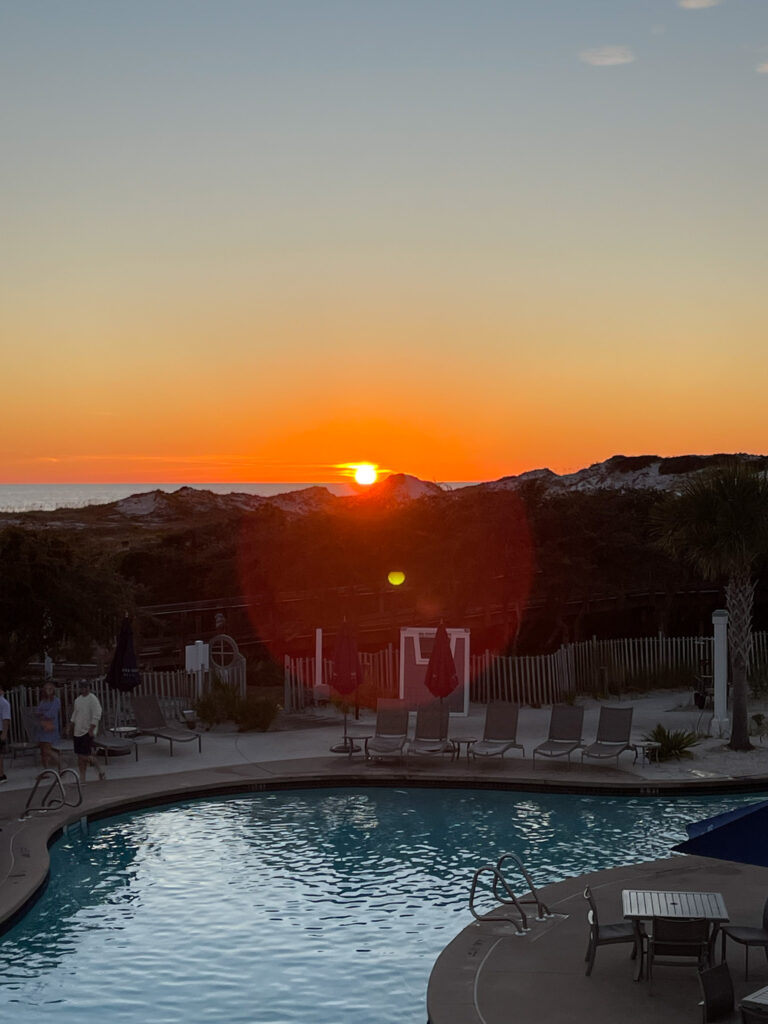 This week feels like the week can really start getting settled in. There's no more travel on the horizon for a month or so, so we're looking forward to new routines and getting the house unpacked further. Maybe we'll actually be able to use the garage by the end of the week 😉
Recent Buys & Sales
Following are some sales from the weekend that have carried over and are still going strong! You can see my top picks here.
I hope you all have a great week!
If you would like to follow along on more of my home decor, DIY, lifestyle, travel and other posts, I'd love to have you follow me on any of the below channels: