I know I shocked most of you in April with the announcement that we're moving to Florida! If you would have asked either of less than a year ago, it would have been a shock to us too (or at least in this accelerated time window)! But, with the way the interest rates and the housing market have changed so quickly, we're very happy we made the decision to sell and move when we did. Today I thought I'd share some details on the house we'll be building in Florida!
This post contains affiliate links for your shopping convenience. You can read my full disclosure policy here.
Like I mentioned previously, we're under contract for the house, but building for our home has not started yet. They're estimating a move-in date of mid- to late-summer 2023. However, once we knew we wanted to move, we decided to only stay in Omaha through this summer, and then move south this fall. We haven't finalized moving dates yet, but we have to be out of our house no later than Halloween. Because of the complexities with leaving some furniture/decor and taking some, as well as having to travel with the cats by car, we may plan to leave earlier with the cats and a small trailer. Then fly back for a week or two for the official move and final cleaning/touchups, etc. Still to be determined! Since our new build won't be finished until next year, we have lined up a temporary solution that we're excited about. I'll share more on that once it's finalized.
Florida New Build Details
I've shared this before, but we'll be downsizing with the move to Florida – and we're really excited about that! Not all of Florida is hot and humid 100% of the year, which is what drew us to the panhandle where they still have all four seasons. When you can spend so much more of the year outside, you don't need nearly the living space inside! The biggest shock in our new home will not be having an unfinished basement where we can store crap and keep the cat boxes. We never saw the house in person, and only relied on a drawn floorplan to move forward. To this day, we still haven't been inside a finished version of our house!
Here's our lot! This makes it look much larger than it is. It's very much in a subdivision and the homes on either side of us will be very close. Lots in this area of Florida are all super deep but not wide at all, since typically they're trying to maximize houses in relationship to beachfront. But we love the trees behind our lot and the fact we won't have neighbors behind us! And yes, we have sand for the foundation of yards here – not dirt. It takes a little getting used to!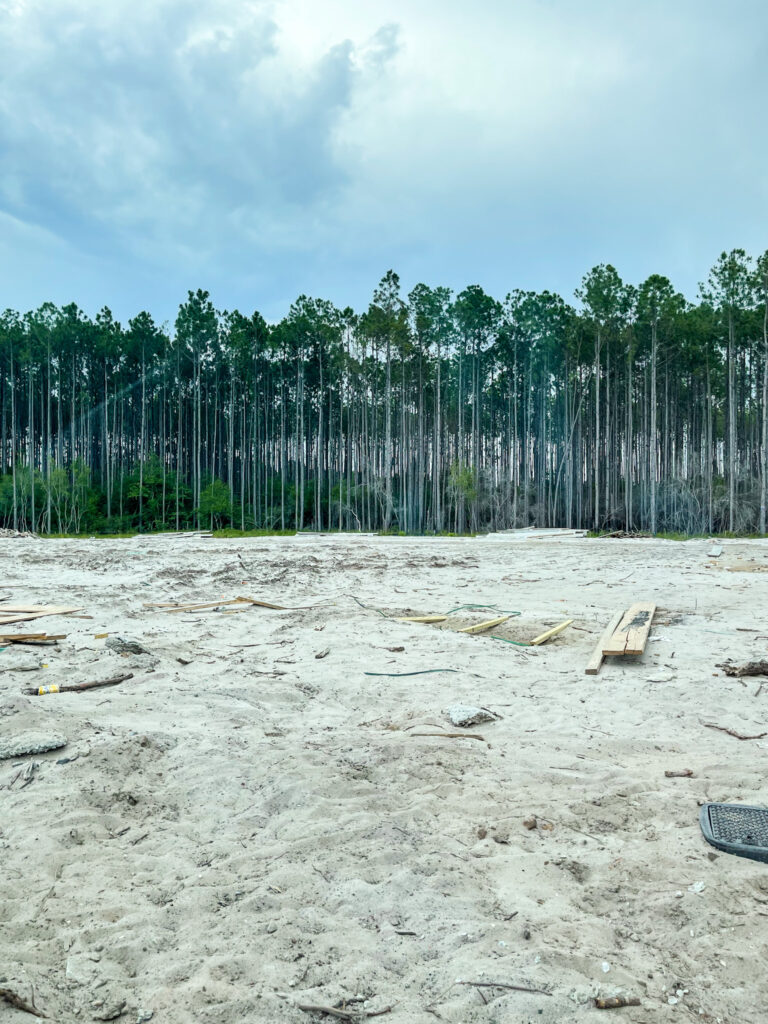 The home we're under contract to build is a set floorplan that the builder determined based upon the lot we chose. With that, we get to make very few changes and decisions. And to be quite honest, the move was a hard enough decision that I don't think either of us have it in us at this time to design something from scratch! We also know this likely won't be our forever home. But if it does end up being so, then we know it's still an amazing house in an excellent location! We'll be about 2 miles from the beach (and about a mile from Rosemary Beach) and the neighborhood does not allow short-term rentals. It's more of a "locals" community rather than a true touristy area. The touristy areas are great for vacation, but on a long-term basis, we think it would get old in a hurry!
The standard floorplan is under 3,000 square feet. We've made a few tweaks, including closing in one of the covered porches, to bring us up to about 3,200 square feet. And although we'll be downsizing quite a bit, that is still more than enough house for us! It actually has a similar number of rooms (minus the basement), they're all just much smaller spaces.
One of our favorite features we were able to add is a carriage house above the detached garage! That will provide living space for guests with a bathroom and small kitchenette, similar to a small hotel room. We're hoping that our new location brings an abundance of house guests that want to stay for longer periods of time. This will allow family and friends to stay with us, without feeling like they're right on top of us and they can come and go as they please if they want to take an extended vacation!
A few other favorite features that come standard with this floorplan:
12′ Ceilings throughout the first floor (this definitely makes the smaller rooms feel larger)
White oak hardwood floors throughout the home
Shiplap in all common areas
Gas lanterns on the porch (!!!)
Pool, spa, and outdoor shower
A few things that we'll have to choose in August during our day and a half of selections (these make me the most nervous):
Lighting (we are given an allowance and meet with a lighting designer for 1/2 day)
Select granite/quartz for counters. We choose one for the kitchen and then one for all the bathrooms & carriage house kitchen/bath
Interior and exterior paint colors
Cabinet colors (all cabinet styles for kitchen/bath/laundry are shaker style)
Kitchen backsplash (we only have a choice of five different subways and then the pattern to lay them)
Porcelain tiles for all secondary bathrooms (it's automatically marble in the primary bathroom & laundry room)
Finish for plumbing fixtures (they dictate the brand/style, we only pick the finish)
Tile for the pool and spa waterline
Yes, I'll have a day and a half to see the options for the first time and lock them all in with no future changes allowed. Just a little intimidating 😉
About a month ago, we had the chance to go into an under-construction home with our floorplan. This is the view when you walk in. Oddly enough, it has almost the exact stairwell we have currently in our house, with the windows wrapping it at the top. But, you're essentially looking at the full-width of the house in the image below. Like I said, it's not very wide but pretty deep (you can actually see the end of the house in the back left corner).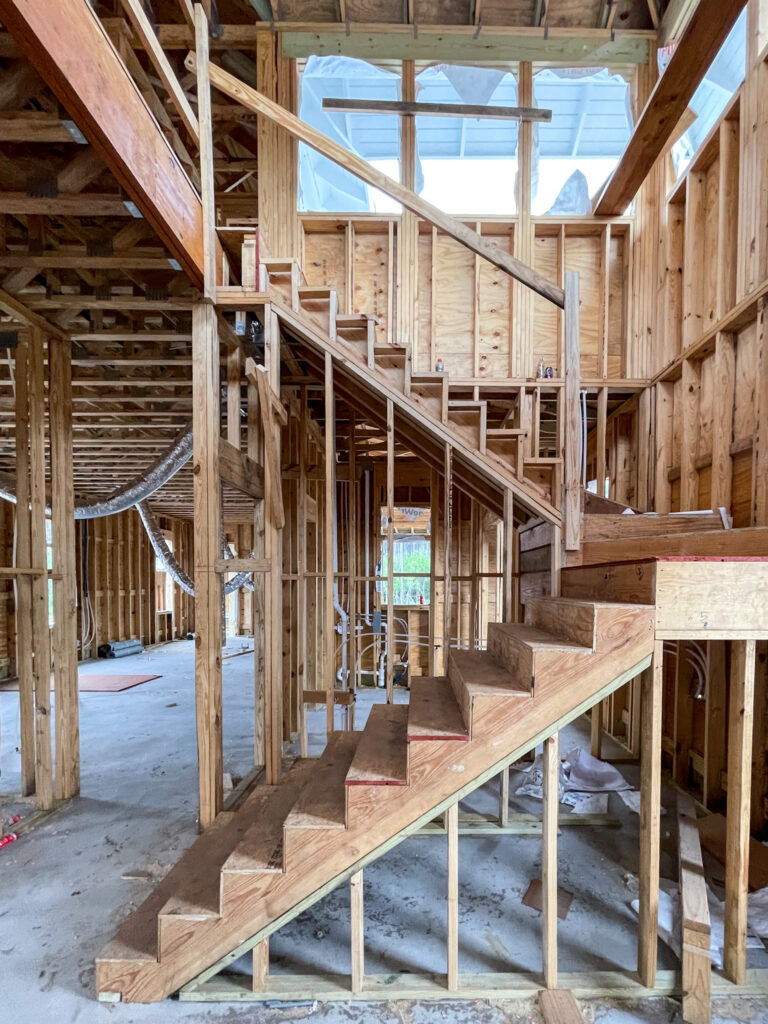 And as it turns out, I took very few other pictures (super annoyed at myself) but hoping I can get more when we head down in August for selection day! This gem was Kurtis testing out the sun angles for the pool at the same home shown above (which is only a few houses away from ours). The covered porch you see below is where we'll be closing in a portion to add a small office for me.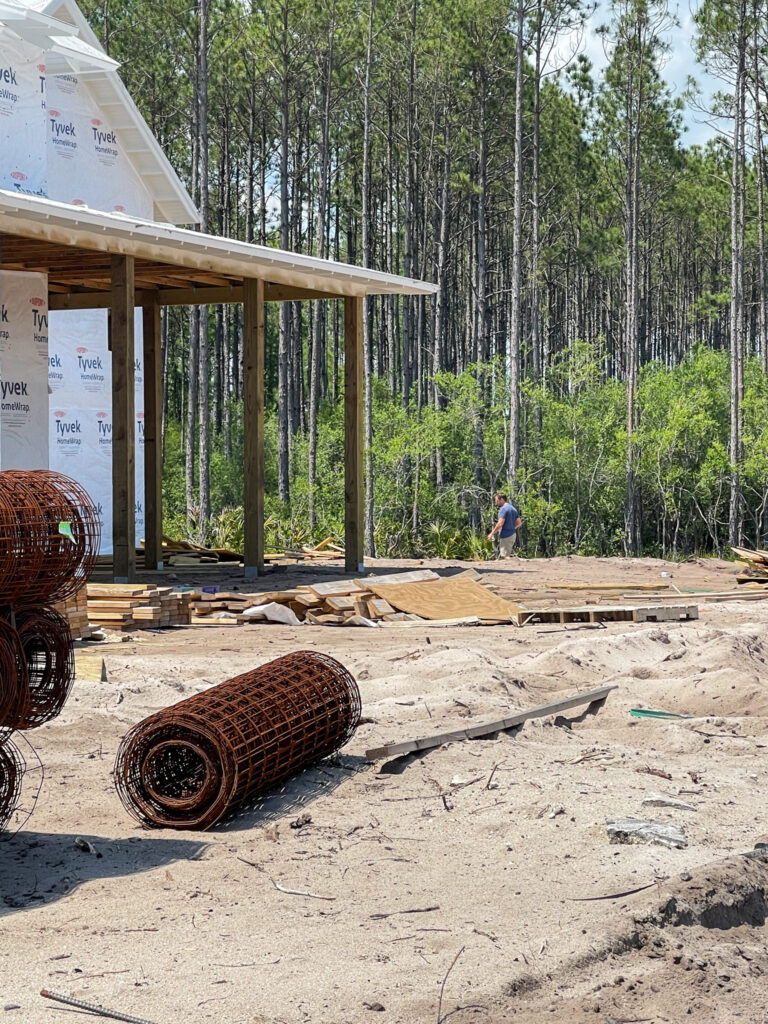 We're also excited to have some friends that will be living very nearby on our street!
New Build Outdoor Spaces
One of the number one questions I've received is if we'll still have a pool. In the short-term house, no (but we'll have access to the community pool). However, with the house we're building, it also includes a pool and spa. Granted, the pool will be about half the size of the one we have here (as will the lot and the house itself), but we're so excited that it will be built along with the house, so we don't have to go through the construction of one down the road! We'll also have the gulf nearby, so a large pool isn't a top priority to us!
Since indoor/outdoor living is so much more achievable in Florida (particularly in the panhandle where they still have seasons), we're excited for some of the outdoor spaces we'll be gaining. Although we won't have a pool house, we'll have a small cabana. It's essentially a detached covered patio with a fireplace so it will function similarly. We'll also have a screened-in covered porch along the back of our house. I'm affectionately calling it the catio 😉
Below is a color-coded rough layout from the realtor assigned to help us. As you can see, our house/garage/pool area takes up 90% of the lot. But the great thing is all that open space behind our lot should help it feel a little less tight! I know it's hard to see what's going on and you can't read the smaller text, but I just wanted to show a high level look at the general layout. The front of the house is the bottom right area. The drawing includes the porches in both the front and back, and that whole section on the left is the driveway leading back to the garage.
We should have our "official" drawings and floorplan back in the coming month or so, so I'll be sure to share more then!
A Peek At Current Design Ideas
Since much of the house will be covered in white shiplap and all the floors are white oak, I think the neutral foundation makes for a great opportunity to use some color! Plus, we'll be in sunny, cheerful Florida after all! While I still plan to use plenty of blue and white I also want to incorporate a bit of pinks and corals and other fun colors that make me think of Florida. Kind of like a scaled back and much more tame version of Palm Beach style mixed with my current vibe. Think the colors of citrus, bougainvillea, oleander, etc. As many of you know, the buyers of our home are purchasing a large amount of our furniture, so it will be fun to have a fresh start.
Want to know the number one item that has been consuming my thoughts? Getting a blue bed. Like legit blue (on the lighter side). I've seen a few inspiration photos and can't stop thinking about it. Kurtis will only find out if he reads this post. Ha! But, since we're going much more minimalistic with our move, I want to invest in some textiles and a few pieces of art. And then we should be good to go as we won't need much more furniture than what we're taking with us! I also love that we'll only be about 10 minutes away from Hola Beaches, so I can make small updates there much more regularly!
Here's a quick bedroom mood board I threw together last night. Definitely not the specific items we'll be using, but it definitely is the overall vibe I'm thinking. I've linked all sources under the image (including the look for less options and the designer options where applicable). I'm calling it sophisticated coastal, but in a much more casual way. So really I don't know what it's called 😉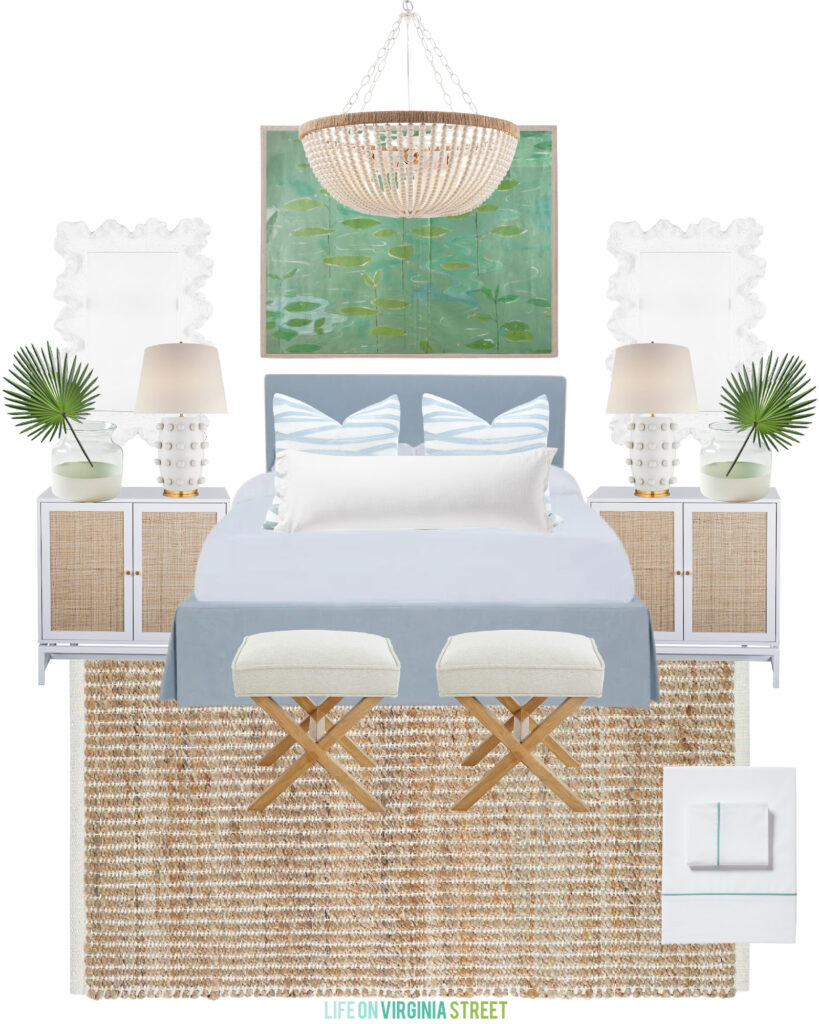 BEDROOM DESIGN BOARD SOURCES: Wood Bead Chandelier (designer version here) | Green Lilies Art | White Wavy Mirrors | Faux Fan Palms | Colorblock Vases | Circle Dot Lamps (look for less here) | Nightstands (designer version here) | Blue Upholstered Bed | Watercolor Brushstroke Pillow Covers | Linen Lumbar Pillow Cover | X Bench Stools (designer version here) | Sheets | Jute Rug
In all the other spaces I'll likely use a very neutral foundation and then add color through accessories and textiles.
I hope you enjoyed this brief look at where we'll soon be living! Once August rolls around and I know more about what we'll be using in terms of actual materials, I'll start to plan even more design plans!
If you would like to follow along on more of my home decor, DIY, lifestyle, travel and other posts, I'd love to have you follow me on any of the below channels: