Good morning! I hope you all had a wonderful weekend! Here's a bit of what we were up to around here (and in Florida) this past week.
This post contains affiliate links for your shopping convenience. You can read my full disclosure policy here.
Home Projects & Updates
Last week we were in Florida for most of the week, returning home late Thursday night/early Friday morning.
If you're new around here, we'll be moving from Nebraska to Florida in October (you can read more about that here). We headed to Florida last week because we had meetings for our new build. With that, we decided to bring a moving truck along with us with some of our belongings to make the move down in October a little easier! We'll be living in this house until our new build is done sometime mid- to late- next year.
While at the house, we did everything we could to get it feeling "settled". As I mentioned in last week's recap, our friends arrived when we did, and helped us unload the truck in just over an hour! That was huge. They also opened a handful of boxes for us, so we could start getting things situated.
In the kitchen we got the old fixtures swapped out for these pendant lights, and added in these stools. I obviously now just need to add some greenery/decor to the space, but now it's all ready to go for us once we arrive in October.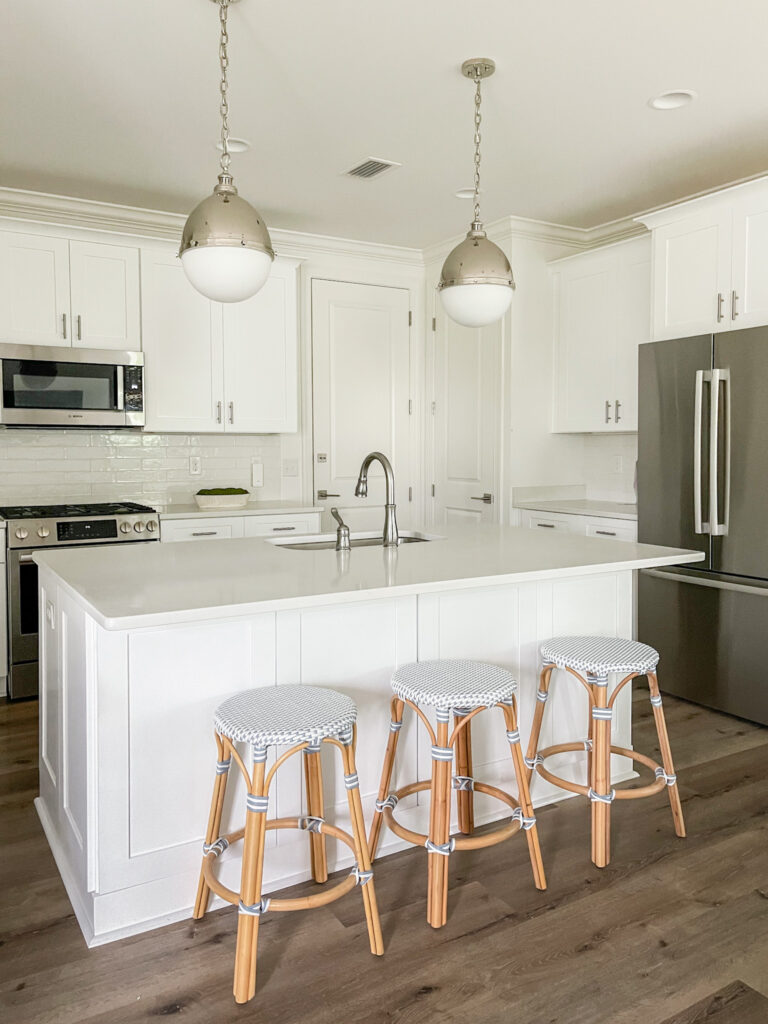 The dining room is almost ready to go once we get some dining chairs! I also bought this light fixture to hang over the table, but we didn't get around to hanging it. I'm super happy with the striped jute rug I ordered for the space! The buyers of our Omaha home purchased almost all of my rugs, and with LVP on concrete slabs floors, I knew I'd want to get some rugs right away to add some softness to several spaces. The window shades came with the home when we purchased it, so I need to do a little digging to see if I can get more info on them. They're beautiful!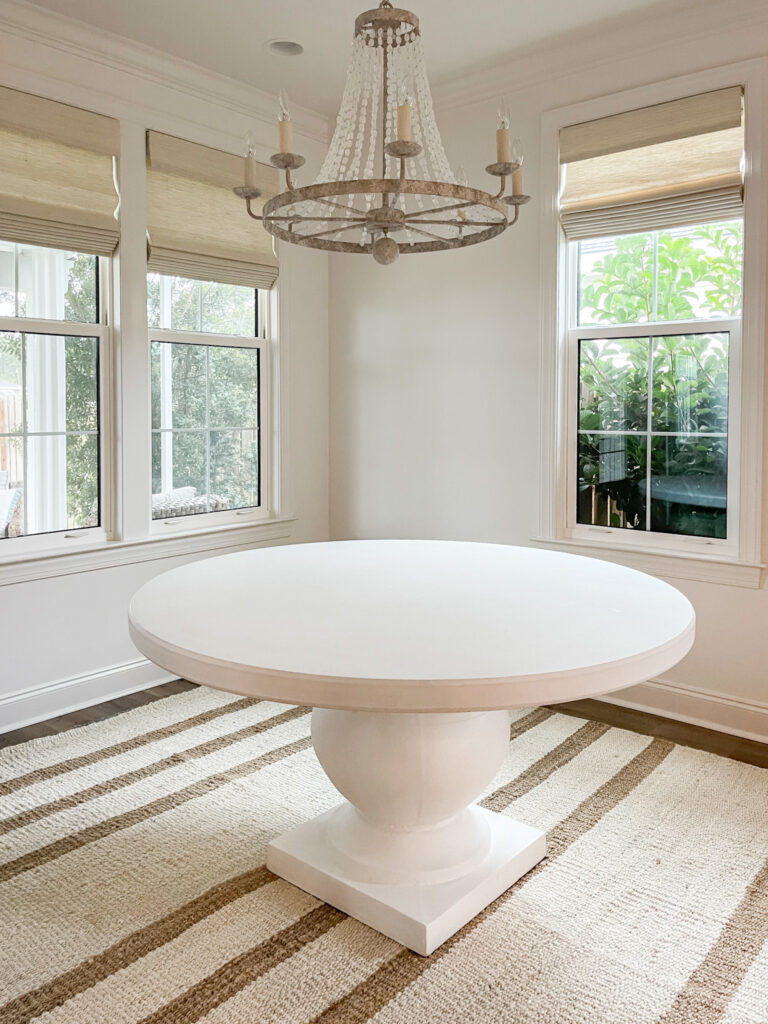 SOURCES: Dining Table | Striped Jute Rug
We had to get Kurtis' office set up rather quickly upon our arrival, because he had meetings all Monday afternoon and all day Wednesday. Most of his meetings use video so he needed a quiet spot without me running around in the background 😉 He'll be using this little nook in one of the upstairs bedrooms as his office. This room will also double as a guest room. We headed to World Market first thing Monday morning and found this desk and chair that were both in stock and fit the space almost exactly. In fact, the desk was such a perfect fit, we had to add the second leg after we had the desk in the nook or it wouldn't fit around the door trim!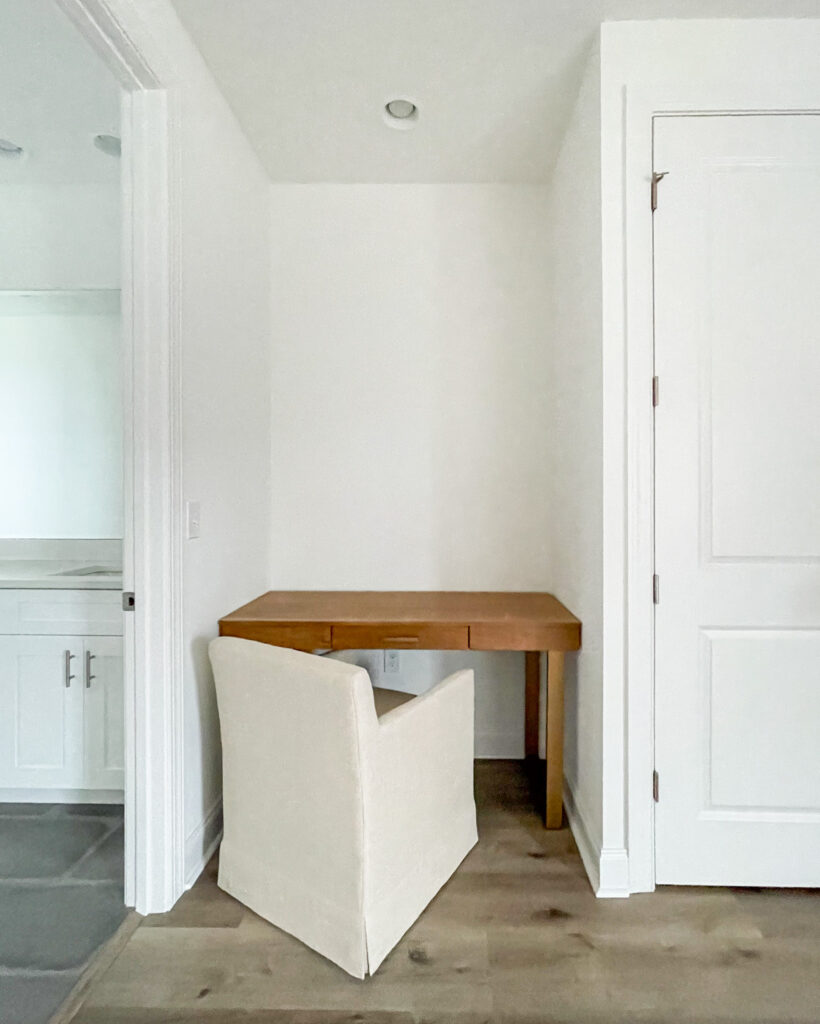 I unpacked all (SIX) of my pillow cover boxes and got the bulk of them hung up in what will be my office/partial storage room. So happy they all fit along with our Christmas decor, my fabric and other home decor. We're not used to 9′ ceilings in our bedrooms, so it's great for maximizing storage in the closets! And no, I really don't need this many down here. I actually purged quite a few and plan to use a bunch at Hola Beaches once the ones I have there need to be replaced! You can see off to the right, I also have a set of built-in locker style cabinets that will be super handy! There isn't a linen closet anywhere in the house, so this will be great for those types of items we want to store. We may also have to carve out a little space for my vases and faux greenery 😉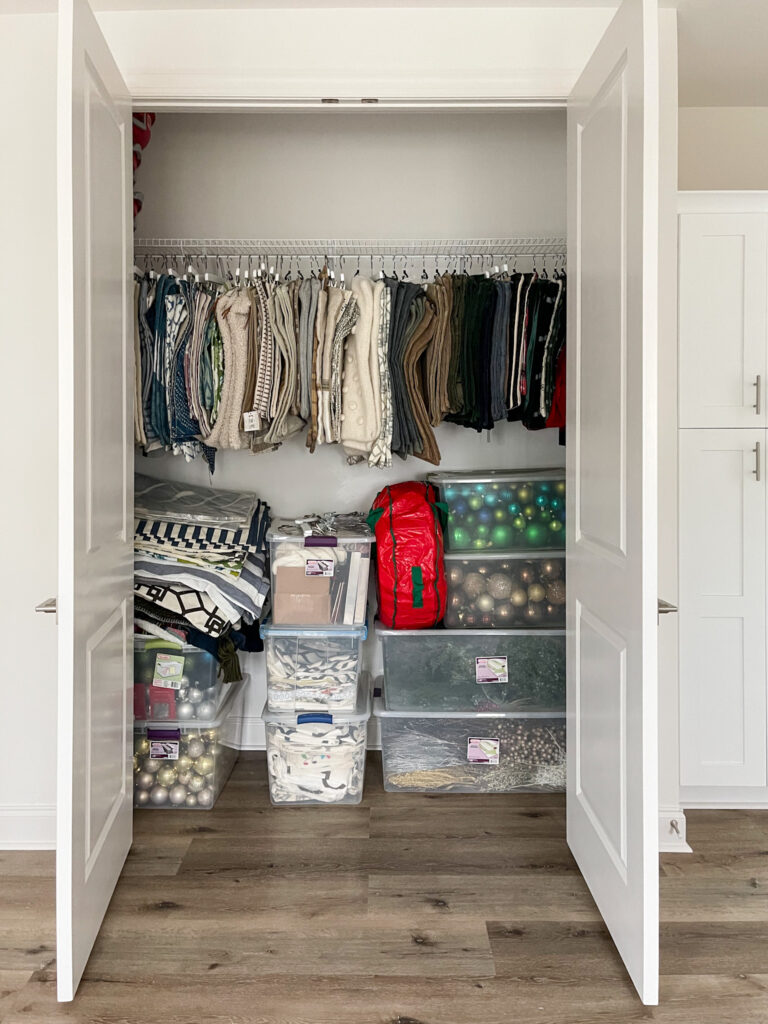 We also went to two days of new build planning meetings. One was to finalize floorplan/floors/tile/cabinets/etc. The other was the lighting meeting, but we actually spent several hours working on the electrical plans for the house (lighting/switch/outlet placement). It was a lot of work but worth the time to think things through! We'll have to go to two more meetings in October once we're down there, and then building should starting fairly quickly after that (or even possibly right before)! It's definitely a lot of pressure to see finishes and have to finalize them an hour or two later! Thankfully, there weren't tons of options, so some items (like bathroom tiles) we could narrow down super quickly.
The floors were the toughest for us! We narrowed it down to these two samples and I took a poll on Instagram. It was literally split 50/50. Just like our household! 😉 I'm leaning towards the right and Kurtis is leaning towards the left. It's harder to tell here, but the left is really light and doesn't have much grain, so it looks a little fake to me. Since our walls will all be white, I think the right could bring in some nice warmth and texture! Unfortunately I don't have any info on either of these samples or anything on the countertops. I was hoping that would be provided so I could Google stalk some images in homes! Hopefully I can get more info after our next visit.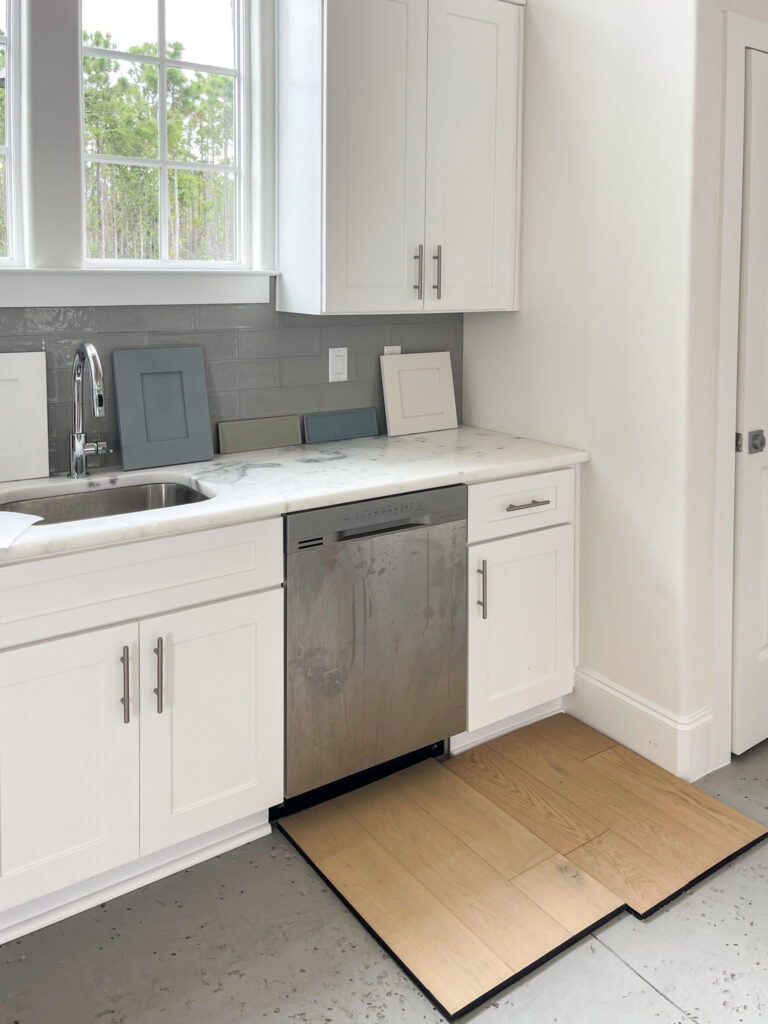 And here's a taste of real life for you back in Omaha. I'm now lovingly refering to these as my COVID planters. I basically didn't water them for two weeks the beginning of August when I was sick, so I told my brother-in-law and sister-in-law not to worry about them while we were in Florida. I think they're officially done for. And I'm okay with it. I just need to pull them at this point, because they're looking a little embarrassing!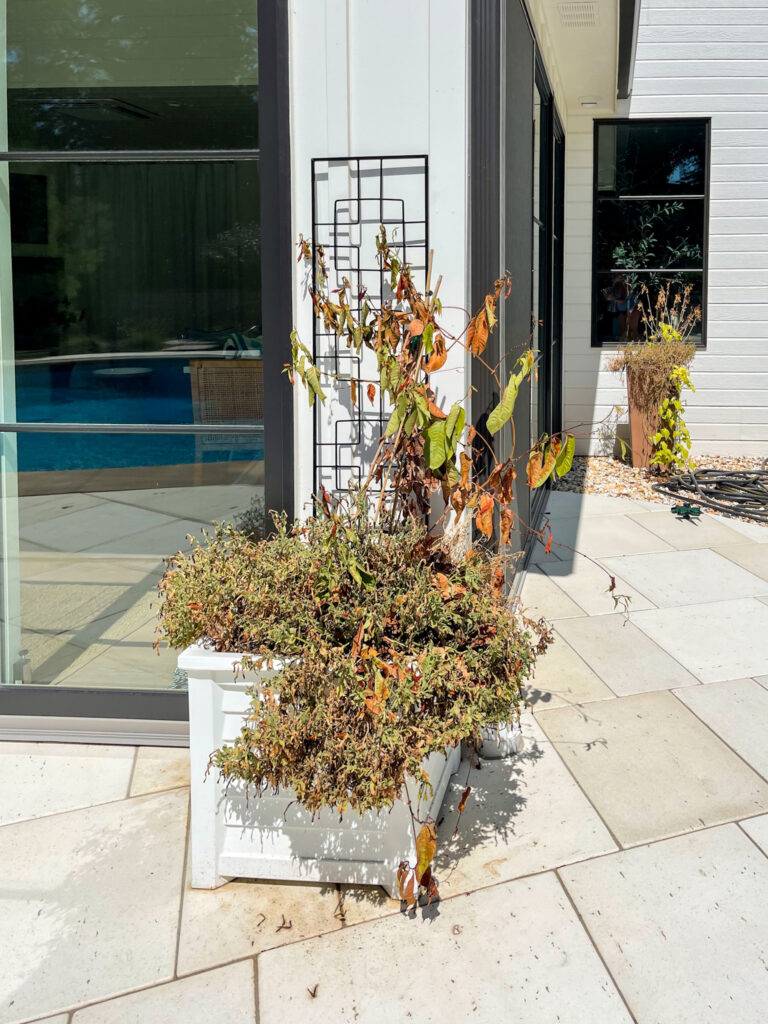 At least my limelight hydrangeas are thriving! I was kind of shocked to see them taking on their fall hue already. I feel like that doesn't usually happen until mid-September!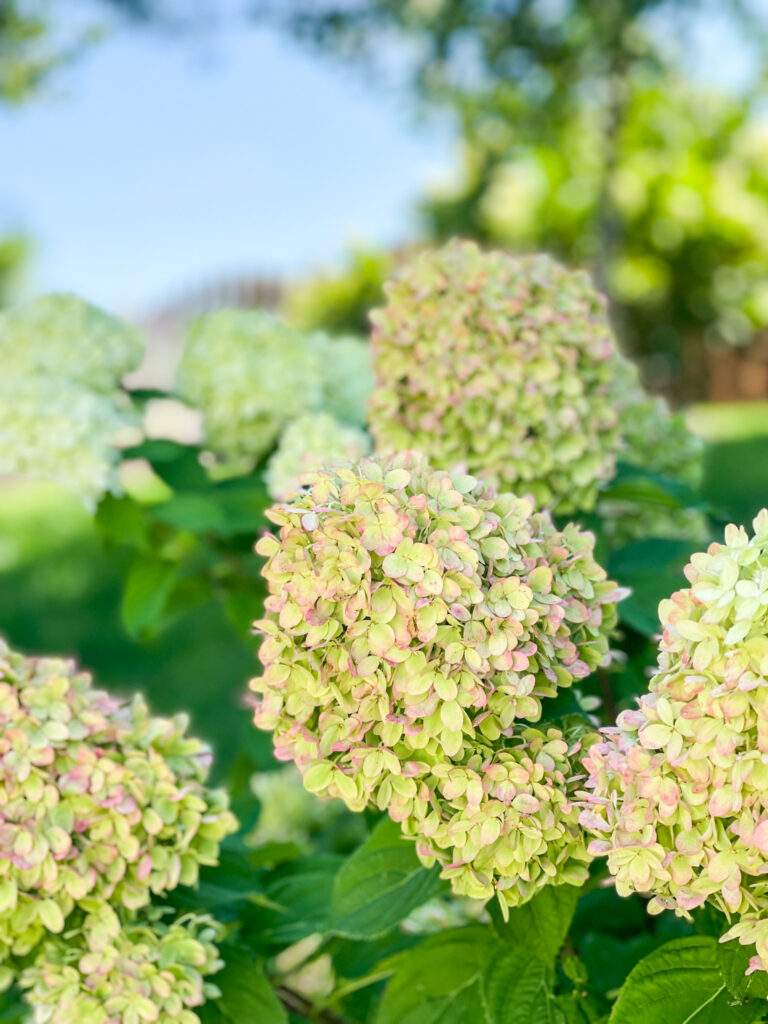 My hydrangea tree out by the pool is blooming and I always love when it adds some floral elements to this corner! Side note: It's not growing in this planter. The angle just makes it look that way 😉 These petunias are still alive because the sprinklers hit them, not because I watered them. Ha!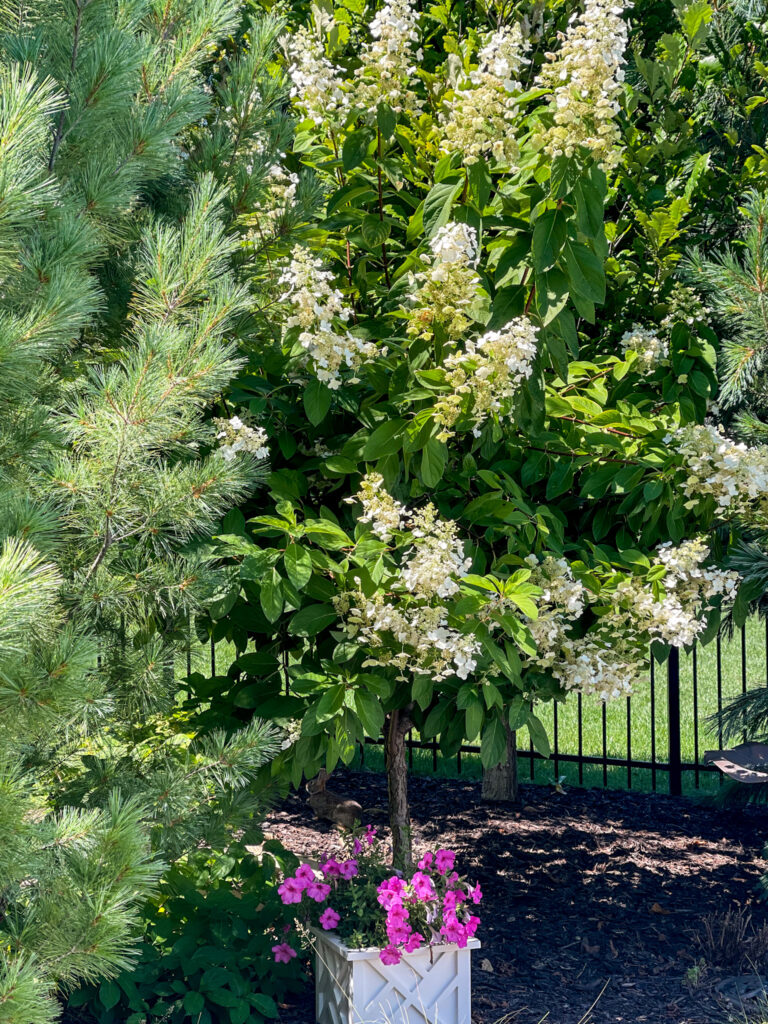 Top Sellers Of The Week
Following are the top sellers of the past week across all of my channels. Links to each item are below the graphic.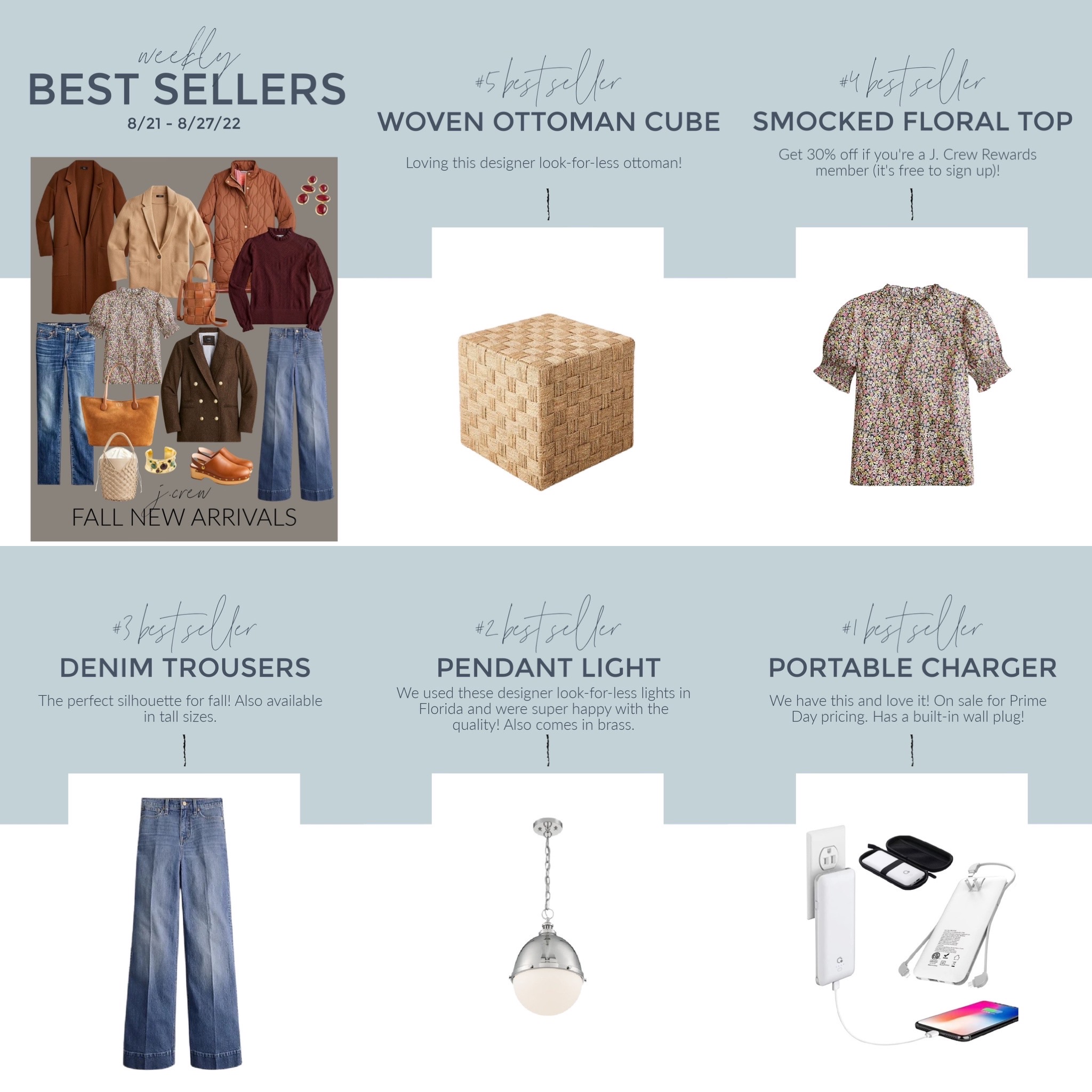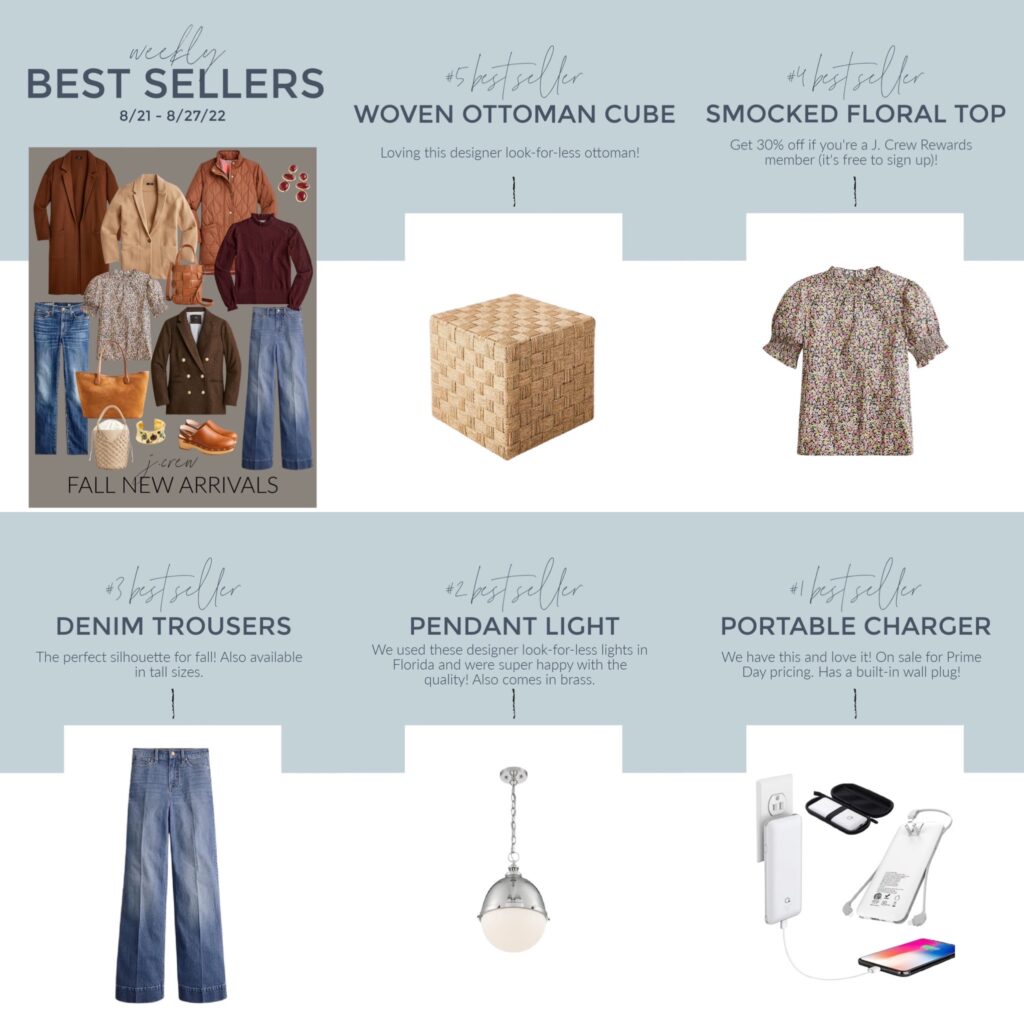 BEST SELLERS (each number is clickable): #5 | #4 | #3 | #2 | #1
In Case You Missed It
Following are the posts I shared over the past week, in case you missed some days!
Following are the most read blog posts of last week (excluding any of the new posts already mentioned above). Many times this includes old posts that are popular on Google or Pinterest.
Around Town & For Fun
Each time we head down to the 30A area in Florida, we try and visit new-to-us restaurant and/or shops. This time around we did both! One day Kurtis and I swung into the new SummerStory (used to be MAST but now in a much larger spot), Holiday and Parsol in Alys Beach.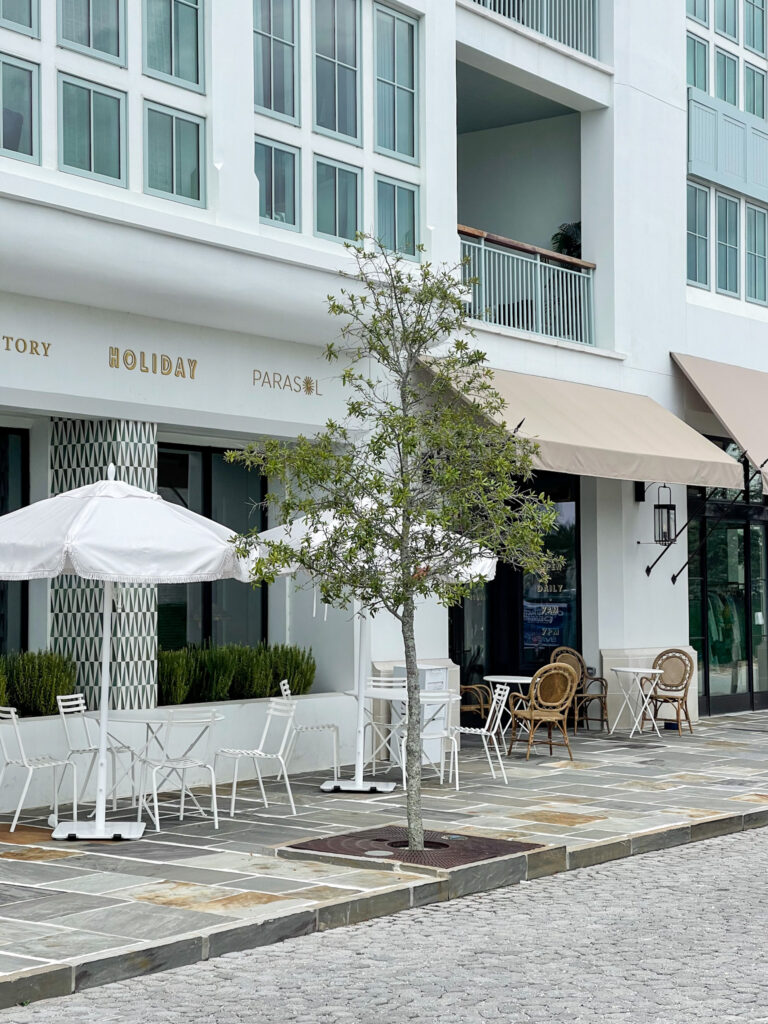 It was pretty pricey but there was so much inspiration around every corner! The three shops are a home decor store, cafe, and clothing boutique. Definitely worth a visit. It's super easy to access, right in the main square in Alys Beach.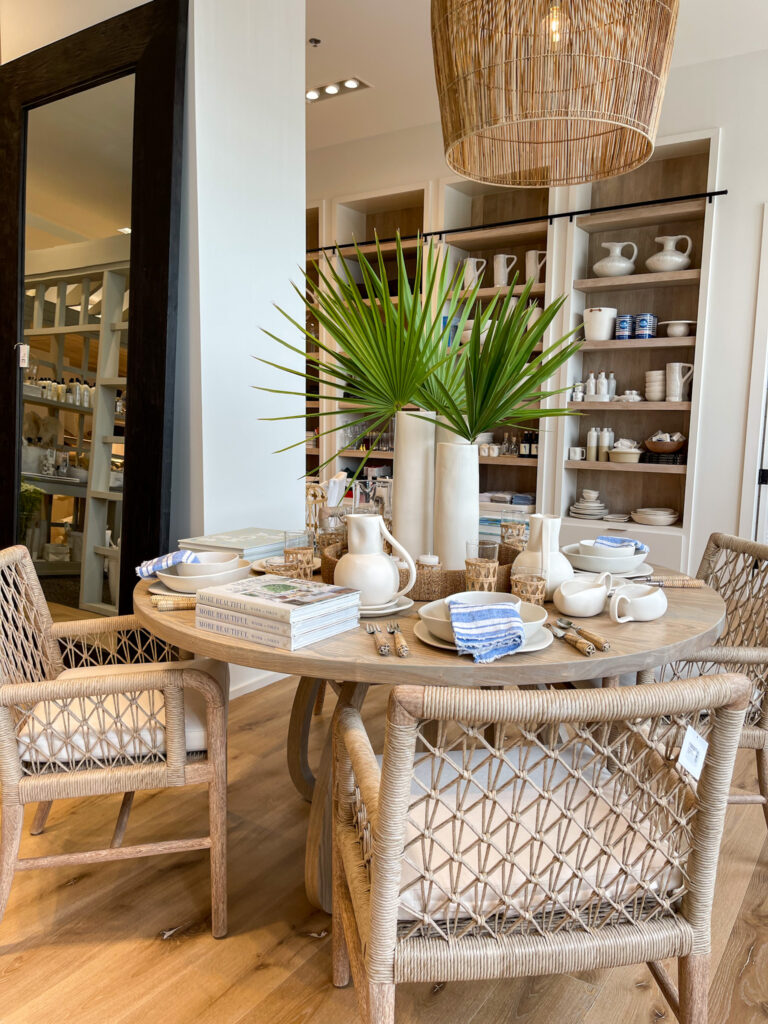 We also went back to CTZN, which we ate at our very first visit almost a year ago! It was as delicious as ever, and I always love the decor. From the unique wall treatment to all the cane details, and the plaid and leather seating, it's a fun one to check out!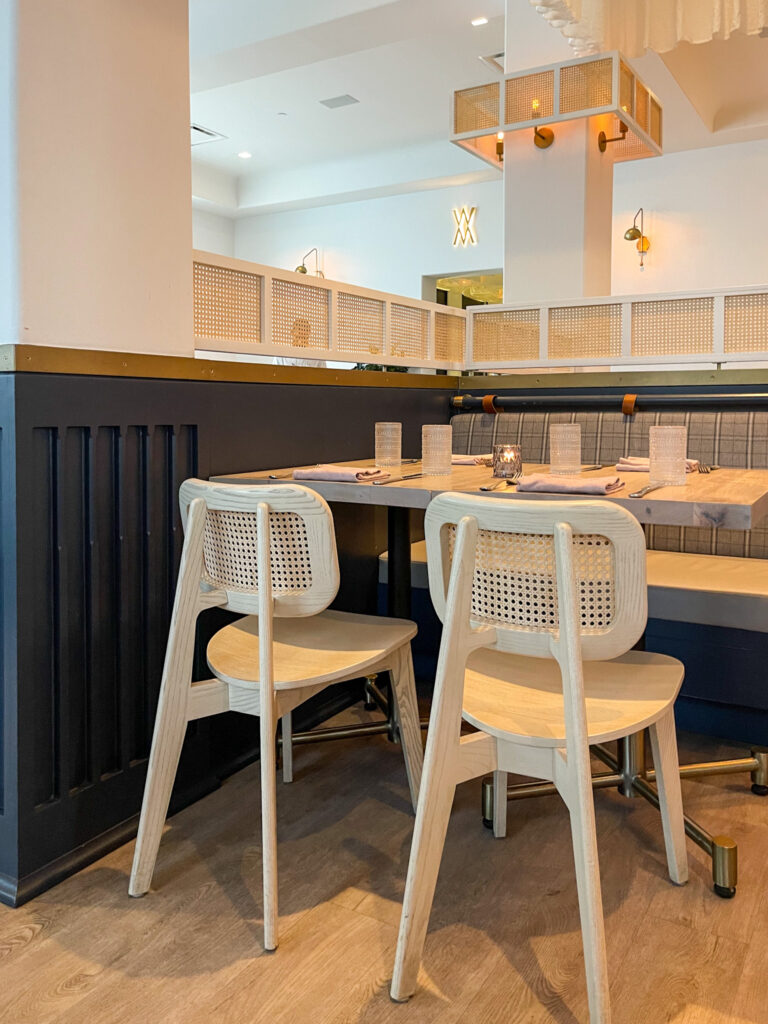 This is a terribly styled photo, but I was walking by the back door and took a quick snap because I love this little screened in porch so much! I can tell we're already going to get so much use out of it!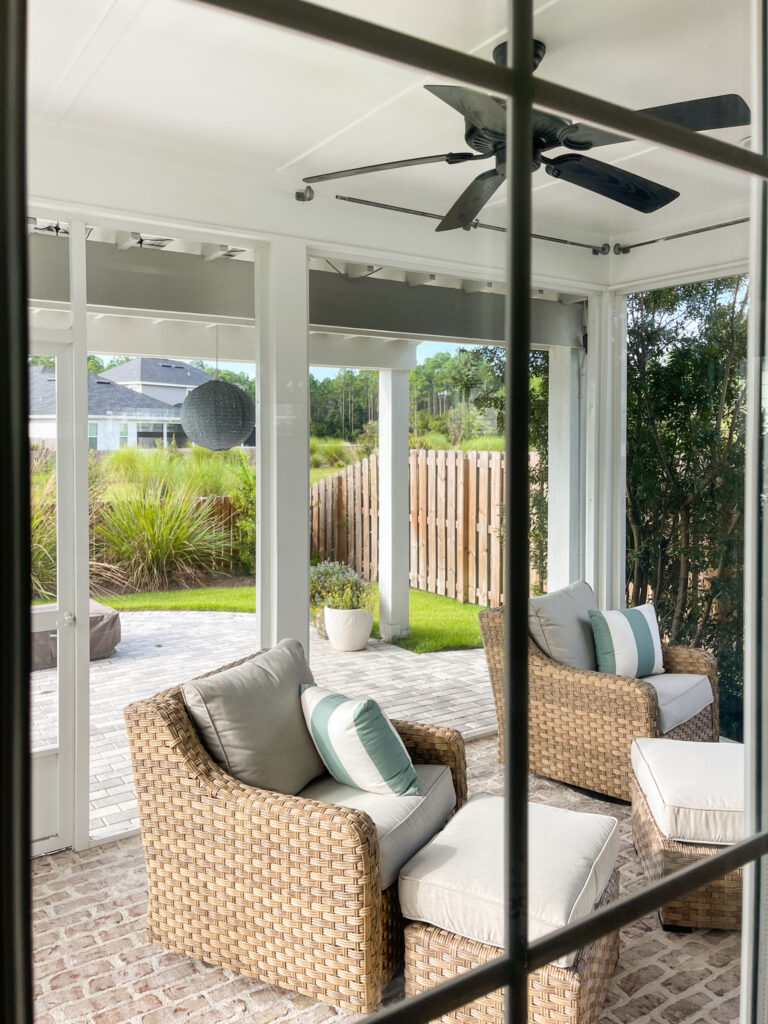 SOURCES: Outdoor Swivel Glider Chairs | Ottomans | Striped Pillows
Here's how it looks at night. You really can't even tell the screen is there, but you know it's there because you don't have to deal with any bugs (or all the frogs and geckos) 😉 We'll likely remove the pendnt light that was there but leave the string lights the prior owners left. They're all on a little remote which makes them so easy to turn on and off.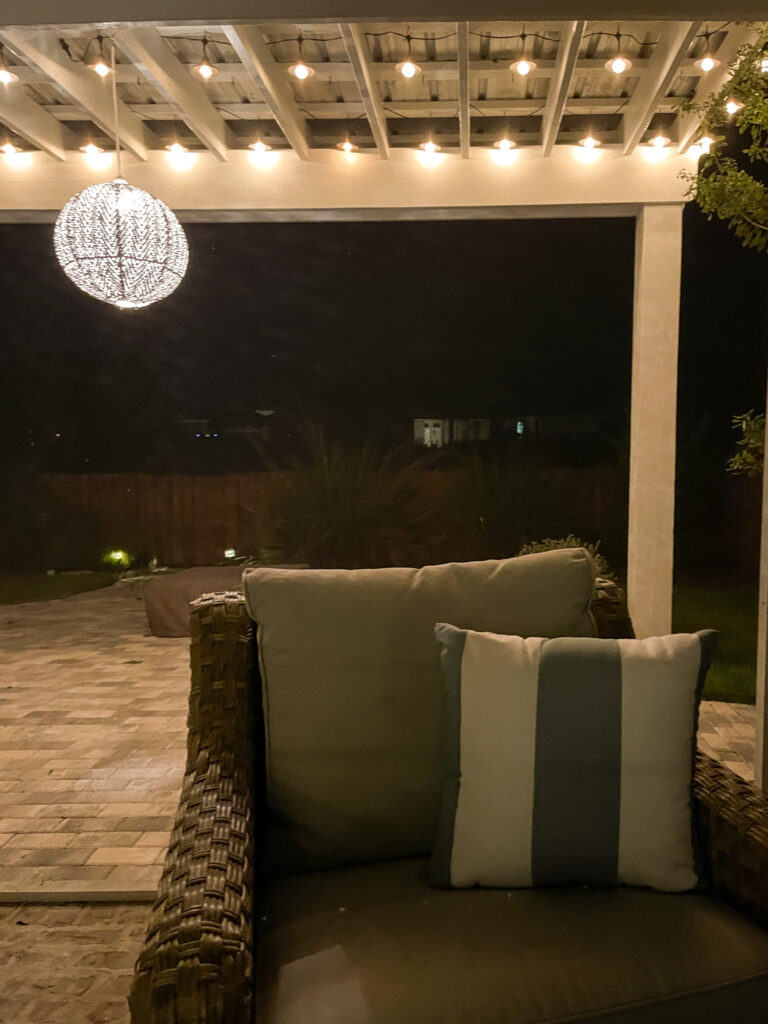 We got back to Omaha late Thursday night/early Friday morning and both tried to crank out a ton of work. We also needed to make sure we gave the cats all the attention we could. It's definitely pretty clear they miss us when we're gone. They're such creatures of habit and don't exactly thrive on change. We're just grateful for such amazing catsitters (Kurtis' sister and brother-in-law). They have to come over twice a day because of Bailey's insulin shots, so it's definitely a lot of work for them. So appreciative! Here are some of the cute pics they sent us while we were away. Henley is obsessed with Pat, but she makes him pet her through the railing for the first few days because she's such a nervous little thing around everyone except us! And they all love their Aunt Janine because they know she gives them treats whenever she comes over 😉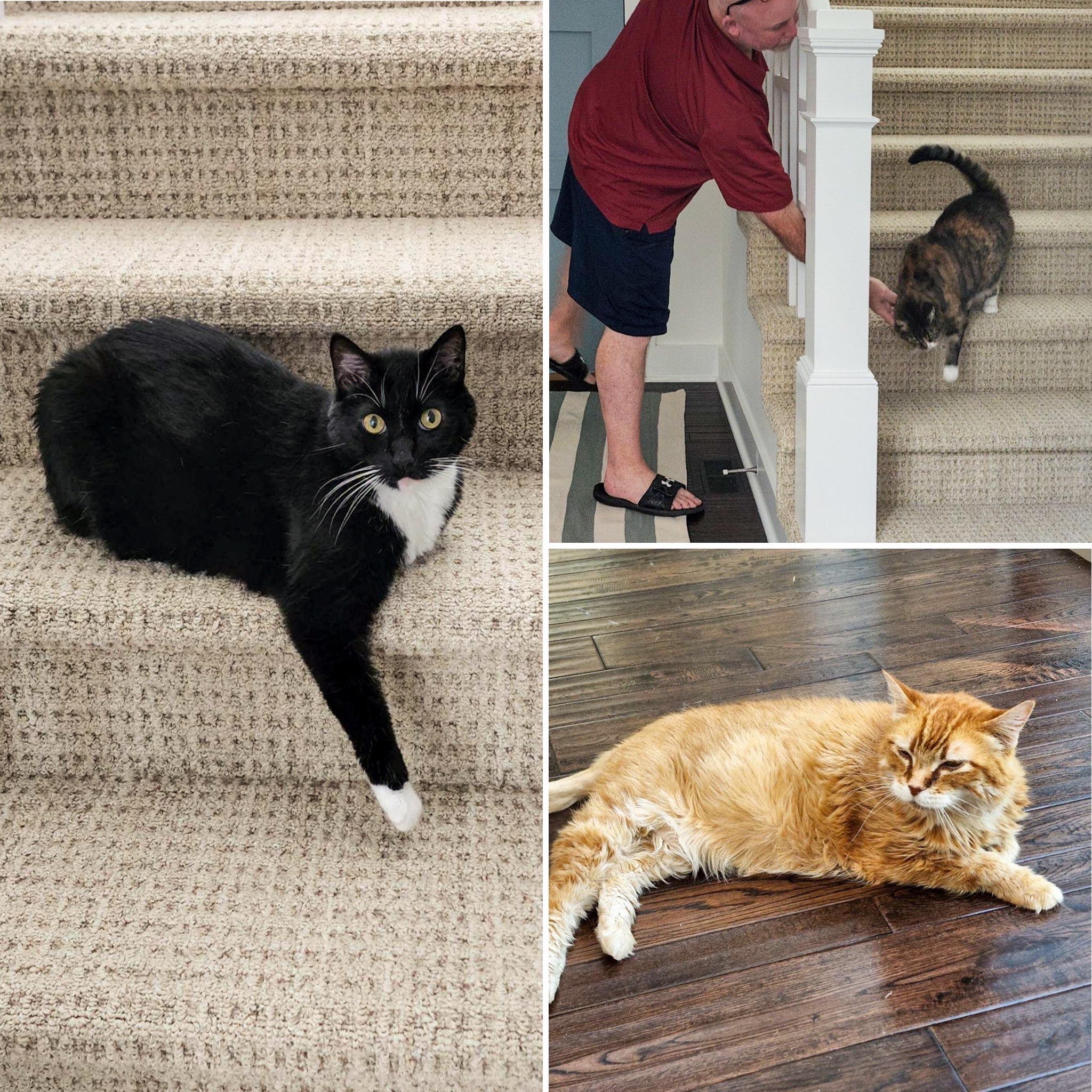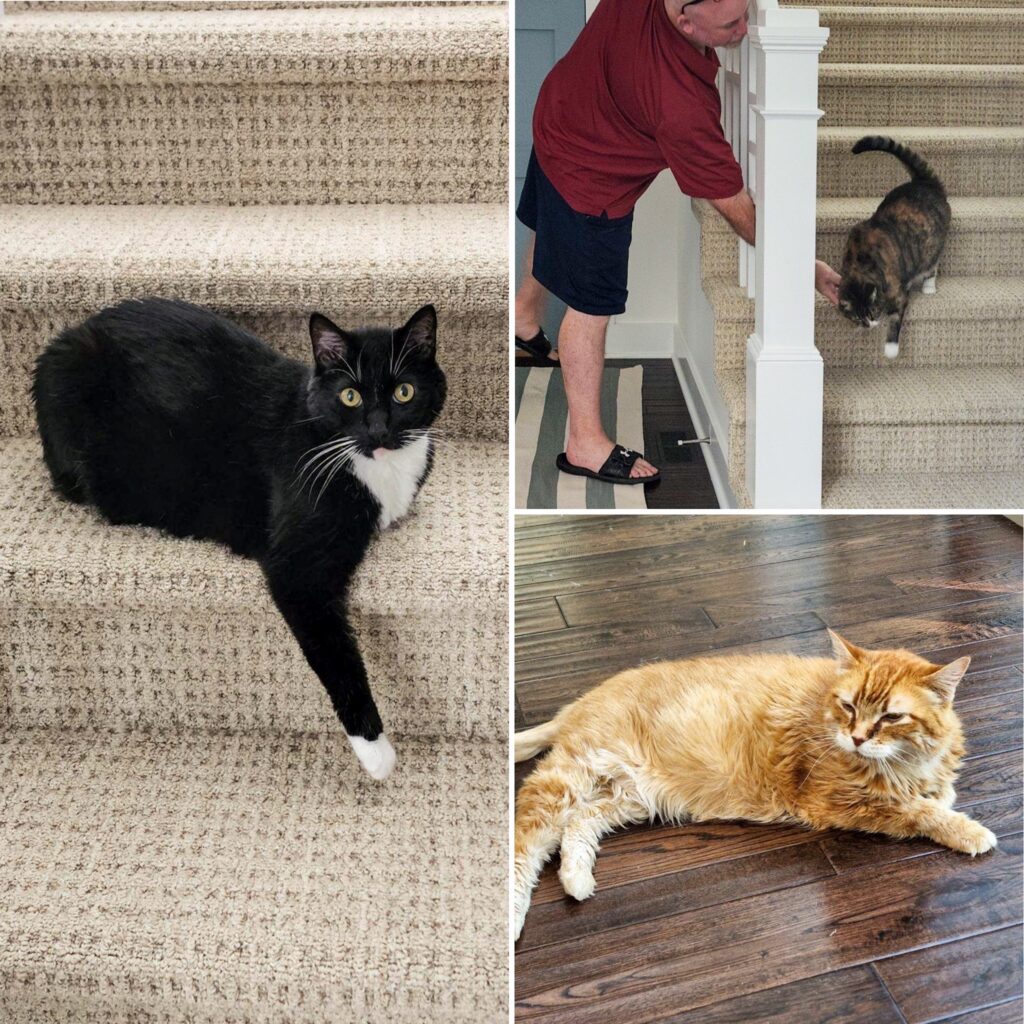 Kurtis had his fantasy football draft early Sunday afternoon, so once he got home we headed out to the pool. With us being sick and the weather being so weird lately, neither of us had been out since his sister's 50th birthday party which was already a month ago! It's definitely feeling a lot more like a "fall pool" with all the shadows starting to show up. You can definitely tell the sun has already dropped south in the sky quite a bit!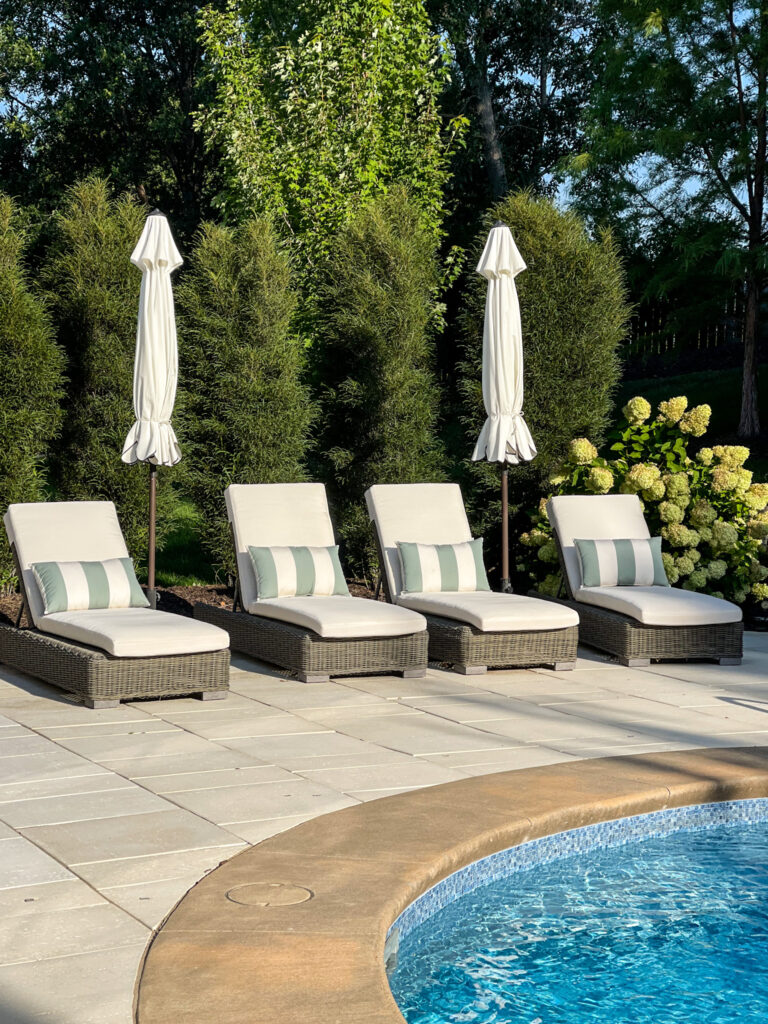 SOURCES: Chaise Lounge Chairs | Scalloped Umbrellas | Striped Lumbar Pillows
We're off to Napa/Sonoma this week for our friend's 40th birthday! It's not the greatest timing with the crazy week we just had, but it's going to be a lot of fun and we're really looking forward to it. It's hard to believe it will be September when we get back home. Down to crunch time before the big move!
Recent Buys & Sales
Following are some sale from the weekend that have carried over and are still going strong! You can see my top picks here.
I hope you all have a great week!
If you would like to follow along on more of my home decor, DIY, lifestyle, travel and other posts, I'd love to have you follow me on any of the below channels: