How's that for an attention grabbing headline?! I know the subject line of this post completely blindsided most of you. As did the conversation with most of our friends and family. But, after many months (and really years) of consideration, Kurtis and I have decided to sell our house and move to Florida. We don't have all the answers yet, but I'll share as much info as possible in today's post to catch you up to speed.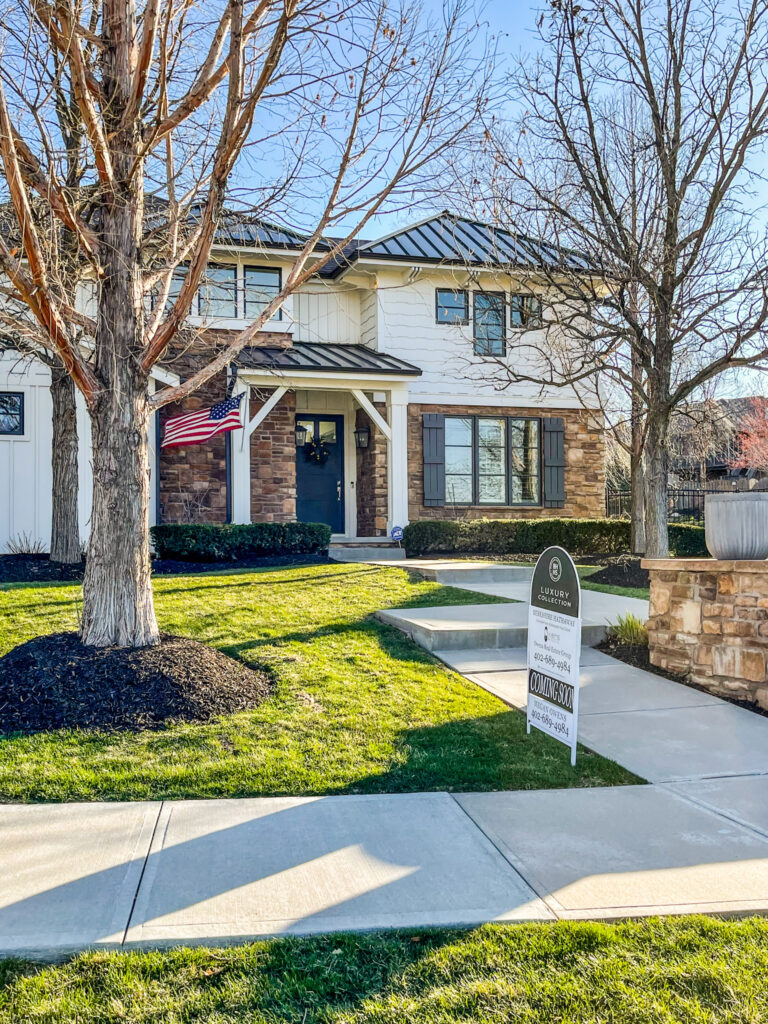 For as long as both of us can remember, our goal has been to retire near the beach. We are both happiest near the ocean and whenever we can see palm trees and sunny skies! But, we didn't think that would be an option for another 15-20 years. With the pandemic, came a lot of changes, and last fall, Kurtis found out he had the option to work from home on a more permanent basis. From that point forward, we started having some serious discussions, and decided we should start exploring some of our potential retirement cities sooner rather than later.
As most of you know at this point, we visited 30A in Florida last fall. It was more of an exploratory trip, but we immediately fell in love with the location, friendly locals and overall vibe. We ended up purchasing Hola Beaches and knew immediately we'd start spending more time in the area.
We visited a few more times in 2021 and again this year for a more extended stay. The trips were actually for maintenance and updates around the house, but we continued to fall more in love with the area and the beach lifestyle. Once we returned back to Omaha in March, we knew our decision was 100% clear. We wanted to move to Florida, and we wanted to do it sooner rather than later.
FAQs
Following are some of the most common questions we've received as we've had conversations with family and friends over the past several weeks.
Why are you moving?
In addition to the reasons listed above, the simple answer is the weather (and taxes). We genuinely love Omaha from about May to September, but the older we get the more we dislike the winters. Add in the property taxes and state income taxes, along with home prices that are nowhere near as affordable as they used to be, and it doesn't make sense to live somewhere you love less than half the year. With both of us now working from home and not having kids we have to uproot, it makes the process much easier. Obviously the hardest part in all of this, is the proximity of family and friends. We plan to visit as frequently as possible, but also hope our new home is filled frequently with visitors also wanting to escape the cold!
Is your house already sold?
We began pre-marketing last week, but will not be allowing any showings until Friday, April 29th (the listing won't go live until that date either). Because I know I have several followers who may be interested in our home, it was important to us to not sell in a private listing or to not let you know once it went on the market. For serious inquiries, you or your agent can reach out to Megan Owens, world's best realtor of all time!
Do you regret building the pool house?
Yes and no. We're sad that we won't be able to use it long-term. It was also a big investment, both from a time and money perspective. But we're also so happy with the outcome and really believe it will make our home stand out from others on the market. We are assuming the future owners (unknown at this time) will buy in part because they'll also fall in love with the space and know what great potential it will be for entertaining. I also really enjoyed the process of designing a space from scratch, and I'm not sure when that opportunity will arise again. So overall, very little regrets!
When will you be moving?
Honestly, no idea. At this point, nearly everything hinges on the offer(s) we receive and how long we can stay. Our dream situation, would be to stay until early fall so we can enjoy the pool and pool house for one full season. October would be ideal. But, we are also prepared to leave sooner if we need to. If a buyer came along that wanted to do a quick closing to lock in interest rates, since they're starting to get so volatile, we'd also consider doing a rent-back situation if they'd allow us to.
Where will you live?
Again, no idea for the short-term once our house sells. We are not interested in moving within Omaha temporarily, so once our home closes, we will plan to move to Florida. We will NOT be living at Hola Beaches. We already have bookings into mid-2023, and we want to honor those reservations. We absolutely love the location of the rental home, however, we would prefer to live in a neighborhood that excludes short-term rentals so we have actual neighbors vs. vacationers.
Our more permanent plan is to build a new home. As of last week, we are officially under contract on a lot in a neighborhood we love that is north of 30A about two miles and is very close to Rosemary Beach. The neighborhood specifically excludes short-term rentals, and is where a lot of the locals live. The home likely will not be complete until late summer or early fall of 2023. It is not a custom home, and based on the lot, we didn't even pick the floorplan. However, we were able to pick out a few customization options structurally. Quite honestly, this feels like a big relief to us to not go fully custom because making the decision to move makes us not want to make any other super important decisions for a long time 😉 We don't anticipate it will be our forever home, but we're really excited about a lot of the features, and think it will be a great fit for us. We won't be making actual design selections until late summer or early fall, so I'll be sure to take you along with us on that journey soon!
With building a new house, especially during a time with so many supply chain shortages, we know it would be nearly impossible to perfectly time selling our house and nailing down a mutual closed dated, moving cross-country, and then pulling right up to the new build once it's ready.
Why are you listing now if you don't want to move until fall?
We're trying to enter the market at the hottest time of year. Granted, with so few houses on the market, it seems like all year is hot currently. But we also have concerns about how rising interest rates could impact us and how it could impact a future buyer. We'd love for the pool of potential buyers to be as large as possible, so listing prior to summer/Mother's Day/Memorial Day weekend is a top priority. We also need some clarity on just how soon we'll need to move so we can start making arrangement for finding temporary housing!
Are you making any updates/refreshing any spaces in your home prior to listing?
Yes, we've actually been hard at work behind the scenes these past few weeks with a variety of projects and tasks. Number one on that list was purging, cleaning, donating, selling and sorting! We've also had painters here freshening up a few areas and painting the vanity in our bathroom to brighten up the space! I'll be sure to share all of the updates in my spring home tour within the next week or so. We are also having carpet installed on the stairs to the basement (we never had this done last fall when we replaced all of our carpet). Depending on how long we're here, I'll also plan to make seasonal updates and home tours!
Will you be selling your Omaha rental properties?
At this time, no. Our plan is to keep all of them or most of them. We like the diversity of having properties in different locations. At some point, we may sell our most recent rental home (that was actually purchased to be used as a VRBO right before the pandemic). We may then roll that (via 1031 exchange) into another investment property in Florida. There's a lot up in the air at this point. We've also been approached about selling the rental house that flooded (after the tenant left town and turned off the water and the pipes froze). We always say for the right price any of them are for sale, but at this time, we'll likely be renting that one out again once restoration is complete (hopefully next month)!
Are you planning to sell your furniture before you leave?
Knowing that we will likely be living in temporary for housing for up to a year, we'd ideally like to sell most of our home decor and furniture. Whether that means the future buyer purchases some of it, I sell it on Marketplace, give some to family and friends, that's all to be determined. We love our furniture and decor but also don't really want to pay to have it moved across the country and stored for a year until we get into our next home. Particularly since so many rentals are fully furnished down there. I'll keep you posted if I end up doing a local sale down the road! I will not be doing any private sales at this time until I know what the future homeowner may or may not want.
Does this change anything for your blog? Will you be changing your blog name?
Things will be status quo here on the blog! My goal is to still post regularly, outside of the hectic days we may be moving. This venture will also give me the opportunity to add some additional topics to the blog related to moving and perhaps even decorating a rental (if we go that route temporarily). It will also give me an opportunity to really expand upon the 30A travel guide we have planned! In terms of the blog name, we actually haven't lived on Virginia Street for nine and a half years. I had named the blog while living in our last home, so my plan is to continue on with the same name!
So, that wraps up our big news! I'm happy to answer any other questions you may have at this time. I'll be sure to keep you in the loop once we know more! In the meantime, we'll be scrambling to get our home ready for the official listing date. A week and a half to go! As always, I want to thank all of you for your support throughout the years. It's hard to believe I started this blog at age 28, and now at 41, a lot of things have changed, but it's exciting to think some of you have been along for the ride all of these years. I'm excited to share this new chapter of our lives with you all, wherever that may be!
If you would like to follow along on more of my home decor, DIY, lifestyle, travel and other posts, I'd love to have you follow me on any of the below channels: