A little over a month ago, I shared a sneak peek at the home we'll be building in Florida. It likely won't be done at this point until late summer or early fall of 2023. They've actually postponed starting it for another month or two (which I'm honestly not that sad about since we'll be there for more of the action this way).
We aren't planning to spend any time living at Hola Beaches, as we already have bookings as far out as next summer! We've known all along we'd have a gap between leaving Omaha (since we don't want to be here another winter) and when our new build would be completed. We first talked about buying a small short-term, furnished rental that we could then rent out after we lived there. So we offered to sell most of our furniture and decor to the buyers of our home.
After our last visit to Florida in May, we found a house in the neighborhood where we'll be building. It's absolutely darling, and felt like the perfect place for us to start our lives in Florida. Plus, we're only two streets away from some of our friends! We're now officially closed on the house, so today I'm sharing a look into where we'll be living once we move to Florida in October!
This post contains affiliate links for your shopping convenience. You can read my full disclosure policy here.
During that particular Florida visit in May, we toured four or five homes. We actually weren't planning to make an offer on anything. Rather, we were just trying to get a feel for a few home types and neighborhoods, so our online search with our realtor would be easier once we were back home! But, we found one we both loved and it just felt "right". Things moved quickly after that, but we asked for a later close date to ensure we closed on our home in Omaha, a rental property we were selling here, etc. Thankfully the sellers were accommodating, and we now officially own the house!
As you may know, Kurtis and I have a selections meeting in August for our new build, so we decided it made sense to bring a truck full of some of our belongings down at that time. This will help alleviate the load in October, and we can have a few things settled and in place for our arrival. Hola Beaches is also booked several of the dates between now and then (as well as when we'd be there), so this will officially be our Florida home-base now!
So, let's get to it! The only pictures I have are from the quick walk through day with my iPhone. And shockingly, I took more video than photos, so I uploaded a tour to Instagram for you here (it's set to music so turn down your volume if you're not interested in that). 😉 It's such a cute house! I don't know the paint colors but I'm guessing the front door is something along the lines of Boothbay Gray. Love it! I'll investigate more once we're down there permanently. How cute is the brick stoop?! I'm also very intrigued by the concept of rain chains. We'll likely swap out the "lantern" because we both can hit our heads on it if we're not careful!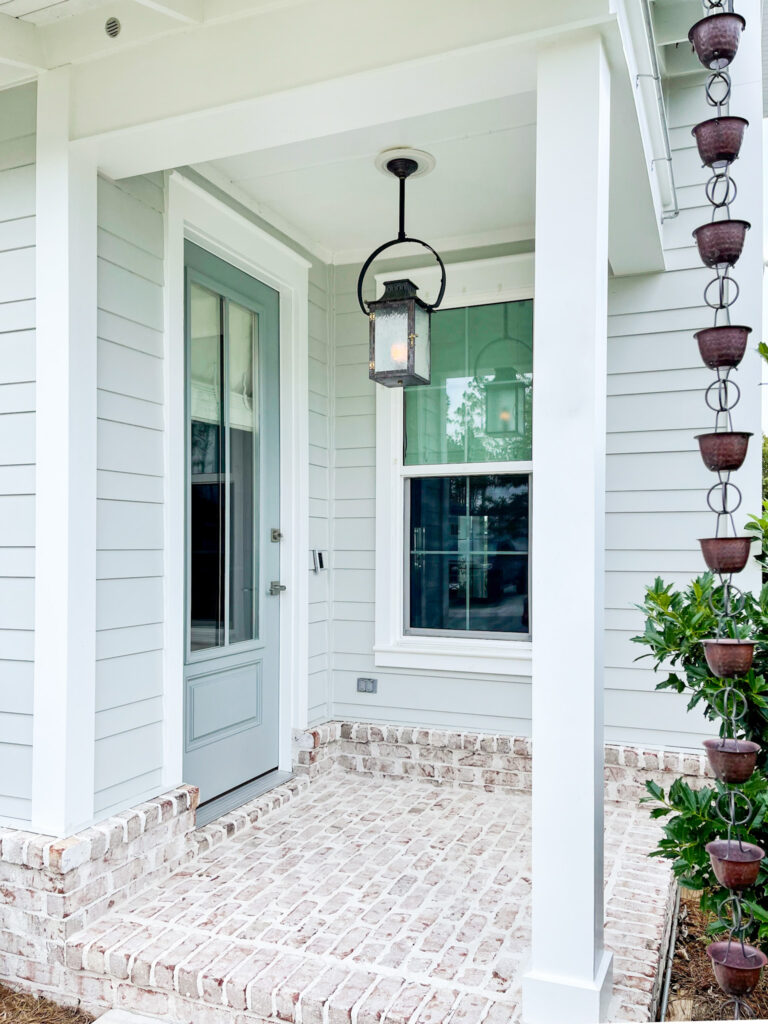 The home is close to 2,000 square feet with 3 bedrooms and 2.5 baths. It's actually a perfect size for us in theory, with the only real challenges being the one-car garage and the fact there is no basement or storage closets. Which means the cats' litter boxes get to be in my office 🙂  Kurtis is concerned about where his workout equipment will go (possibly the garage). But honestly, it's nothing that isn't easy to live with and make adjustments for. The home is only a handful of years old, but has already had several owners. But it is in pristine condition and was clearly very well cared for!
Here is the cute little entryway. I had to use my wide-angle feature on my phone to capture as much as possible, so it doesn't distort things a bit.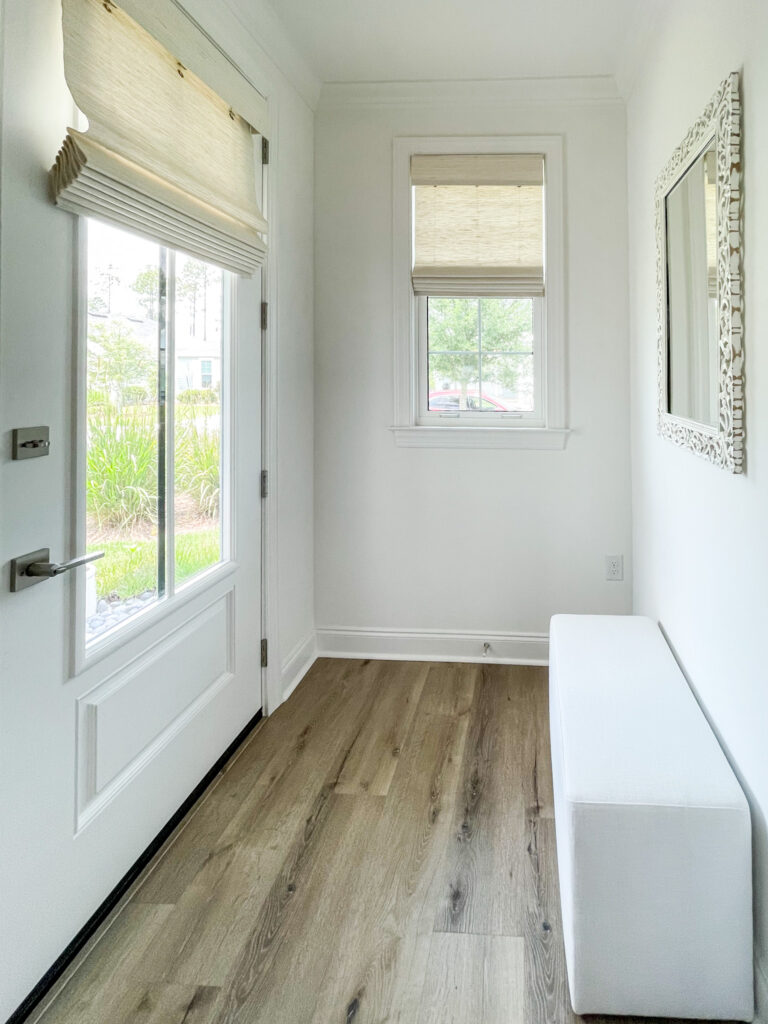 The living room is right inside the front door. The entire house has LVP floors and we (along with our realtor) were all in love with the window coverings. I don't have any sources right now, but will do my best to figure them out once we get down there! And if you know my obsession with plants, I love that you see so much greenery out these windows! The prior owner is leaving this TV which works perfectly, because the buyers of our home purchased our Frame TVs.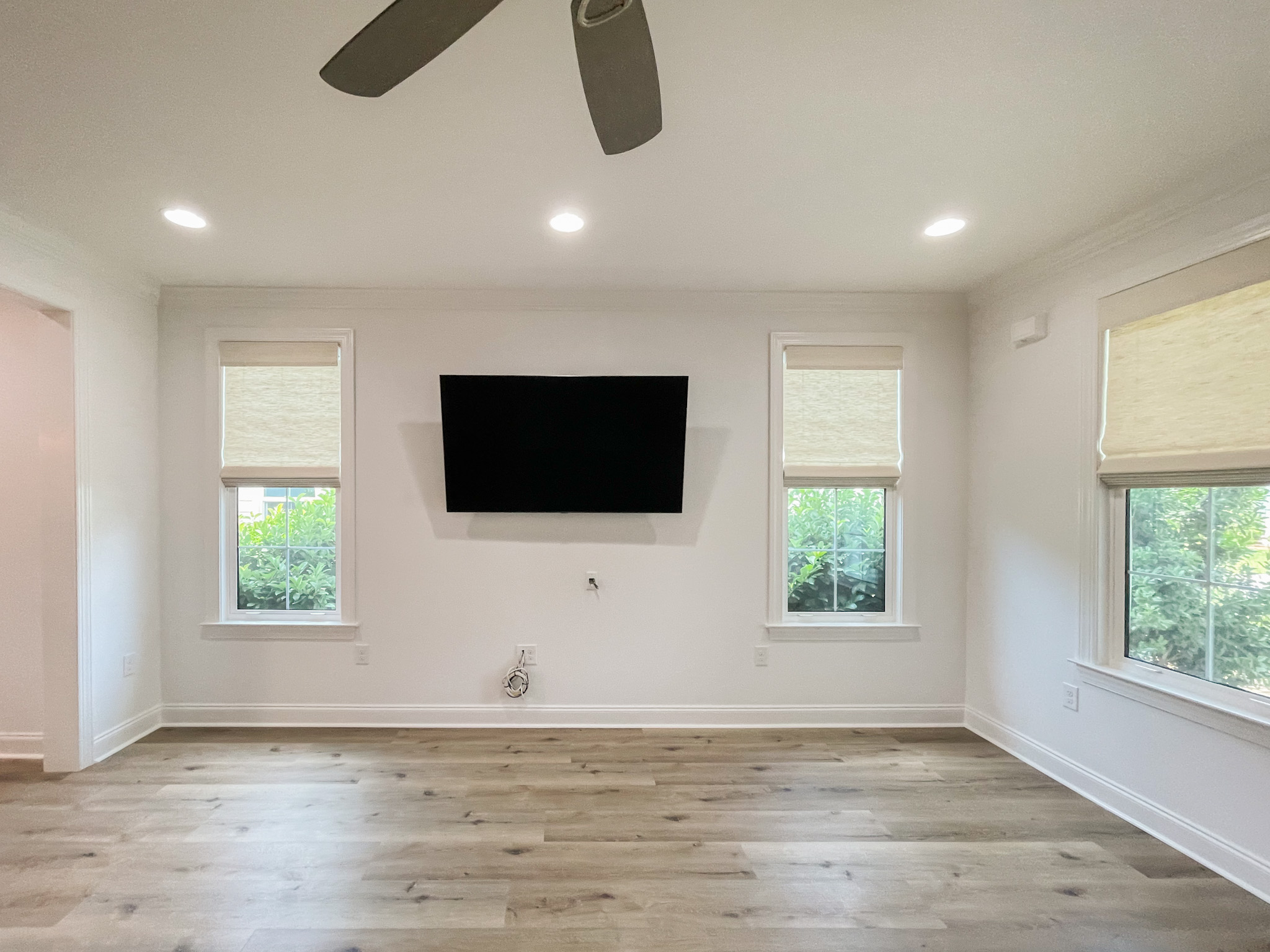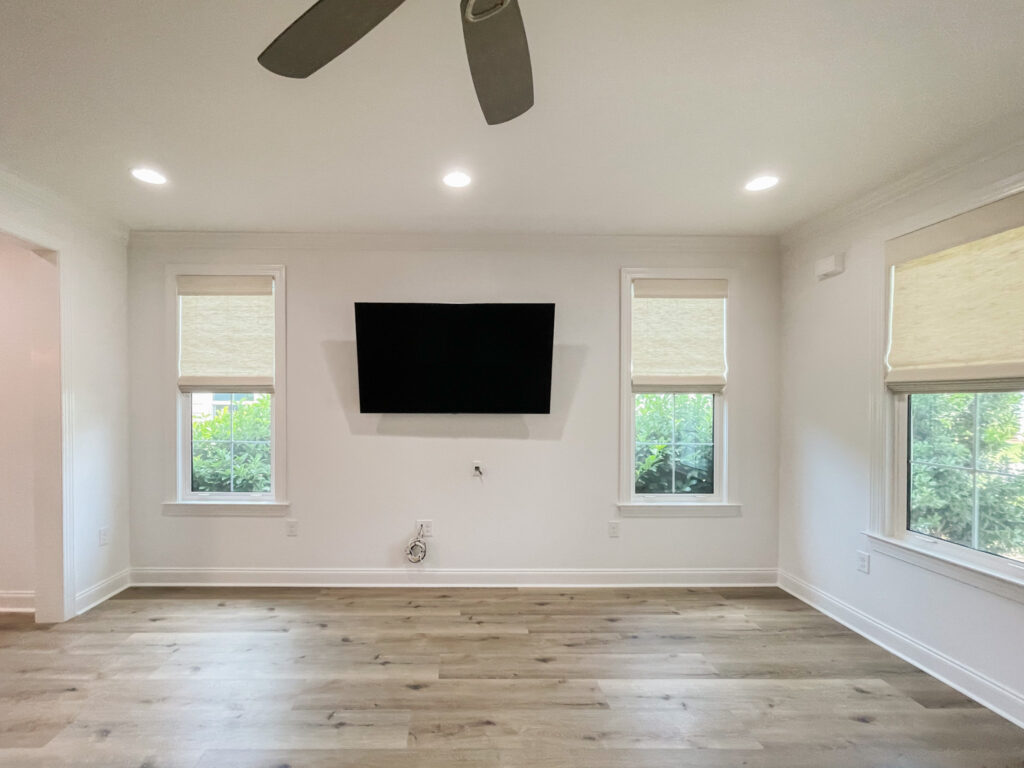 I know this may be hard to believe, but I haven't actually put much thought into the design plans yet! Until we officially closed last week, I didn't want to order items or plan things out too much, just to be safe! But, now that we'll be down there in a few weeks, and officially live there in close to two months, it's time to get some wheels in motion!
The kitchen is fairly small but very functional. The door straight ahead leads to the garage, there's a pantry on the right, and the powder path, laundry closet and HVAC closet are to the left. The staircase to go upstairs is to the front left and the living room from above is where I'm standing to take the picture (I'm in the room with the TV behind me). I didn't snag a picture of the powder bath, but we're calling it the airplane bathroom (thanks to our realtor, Chris)! The ceiling is sloped since it's under the stairs, and the light fixture is in the most odd location. I'll be sure to get a picture next time, but figured that description could give you a visual in the interim 😉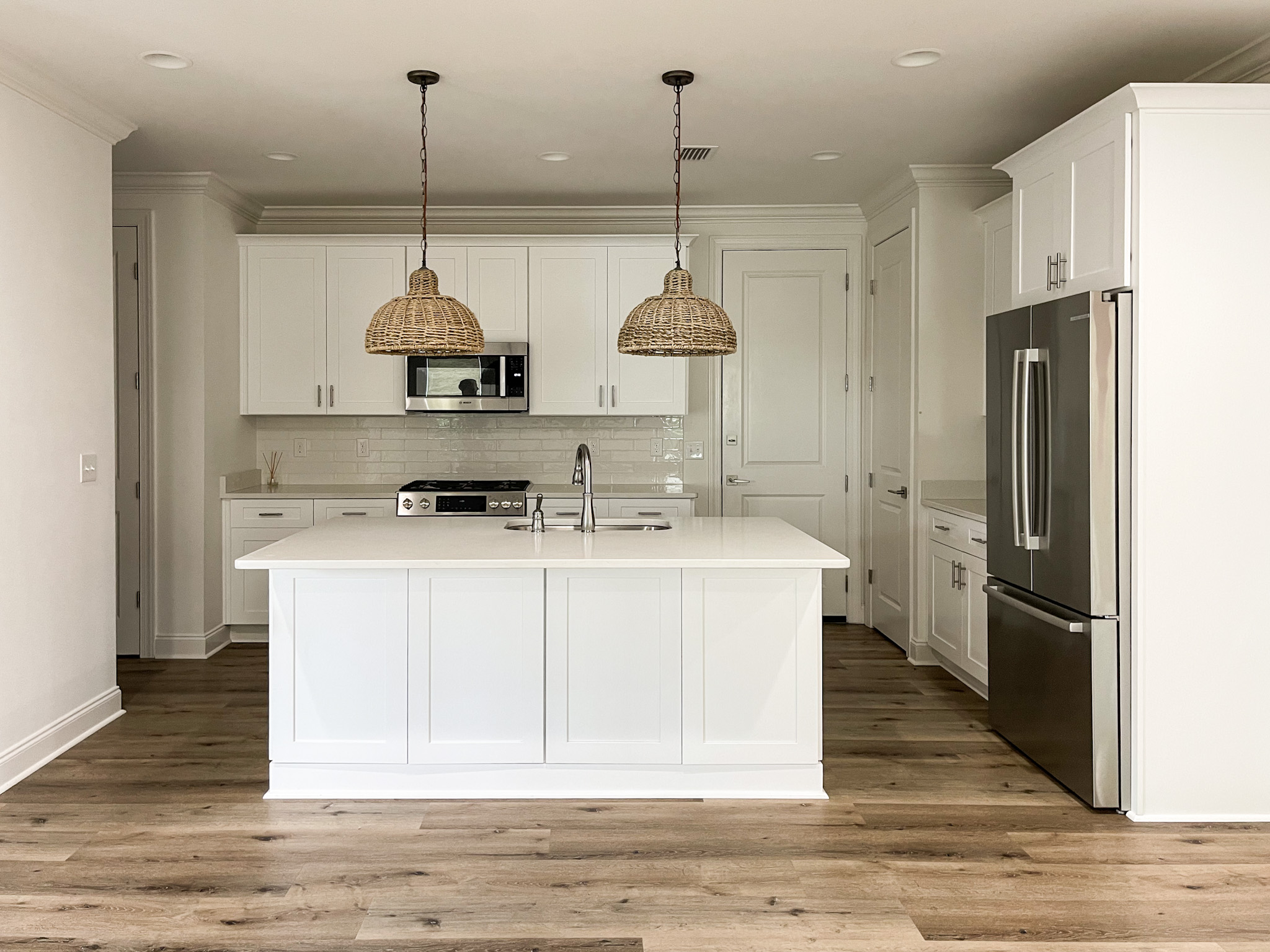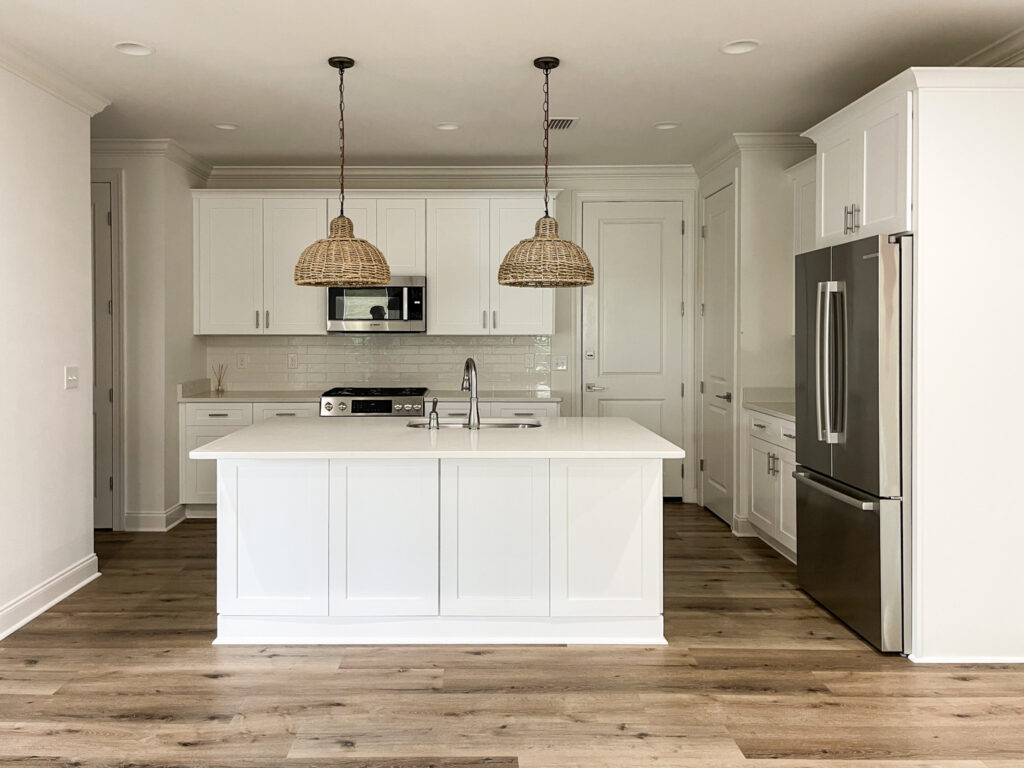 Off of the living room and kitchen is a rather spacious dining room.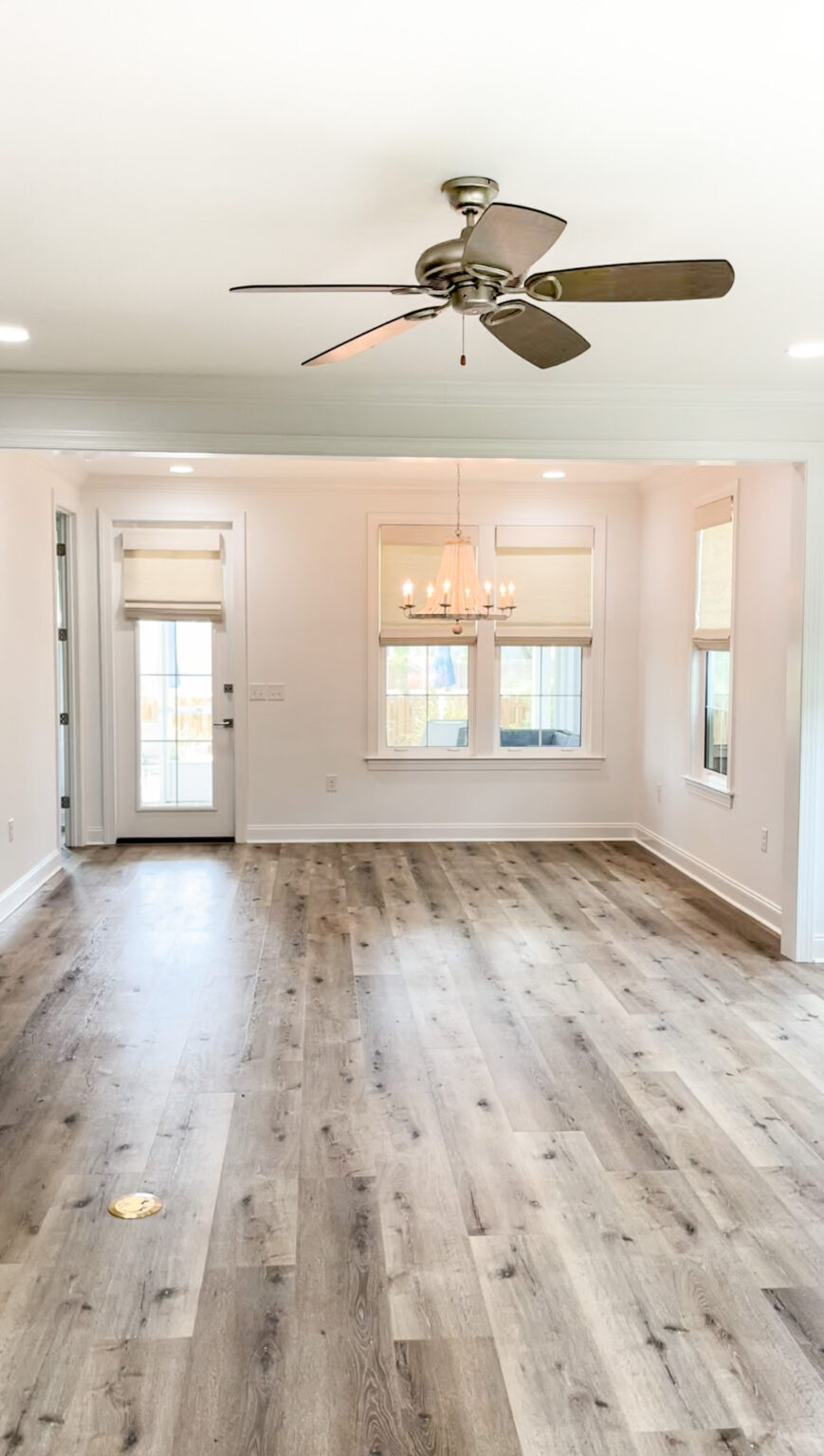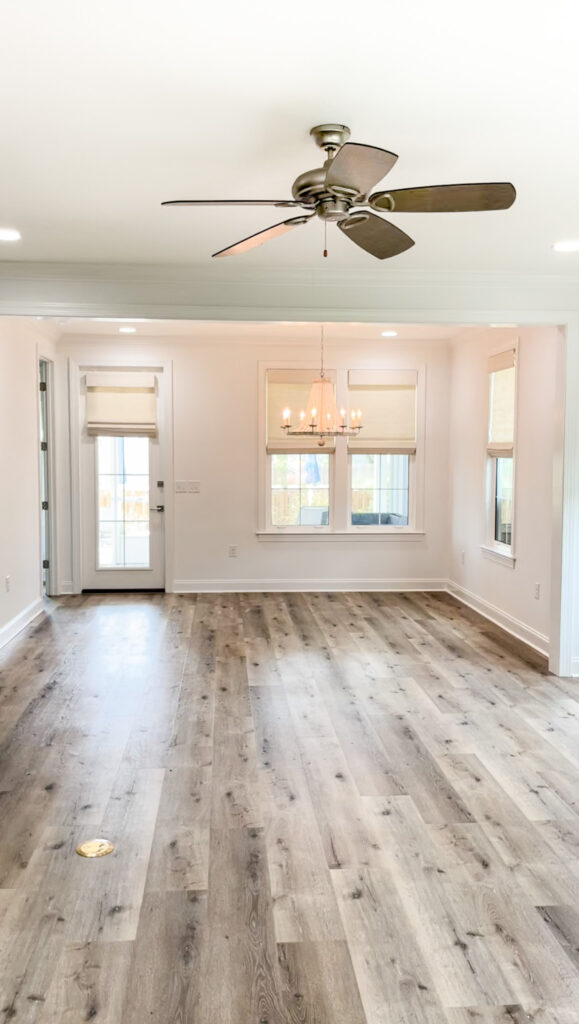 I'm planning to do a few light fixture swaps while we're there. The existing ones are cute but definitely lean a bit more French Country than coastal. I'm thinking I may try this look for less fixture, which is a great alternative to this light.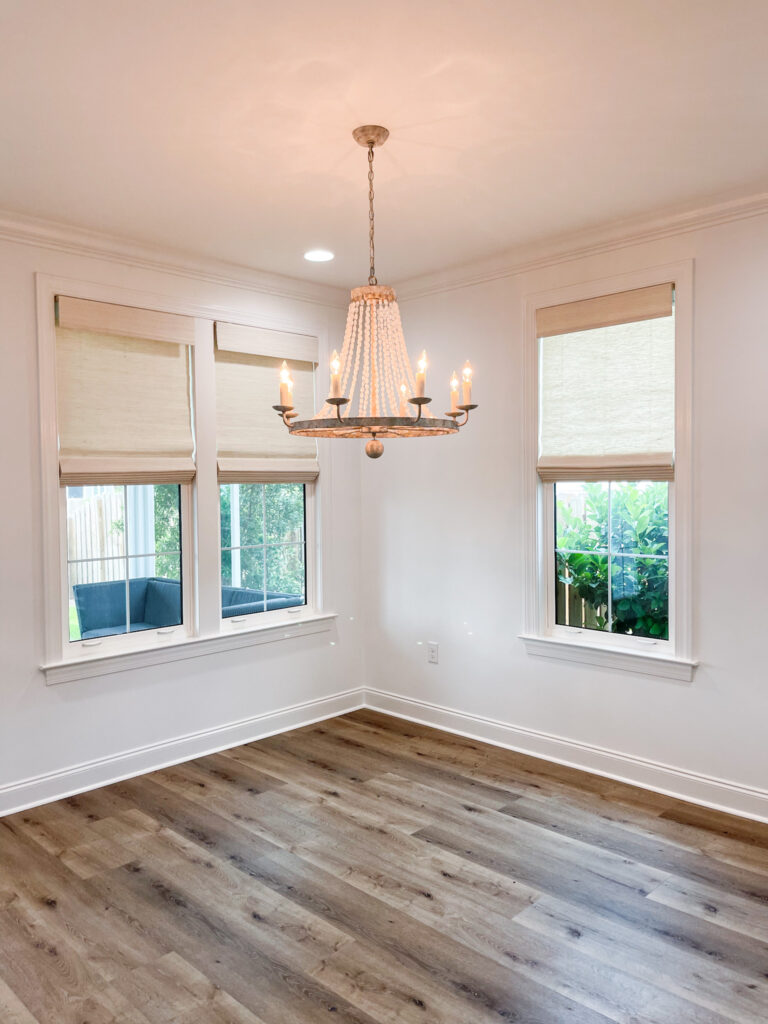 To the left of the dining area is the primary suite. This will be another light I'll swap pretty quickly. With all the short-term rentals in the area, there's a pretty incredible resale market, so it's easy to swap when you want a change! There's an en suite with a shower, vanity, toilet and closet (no bathtub which we're totally okay with)!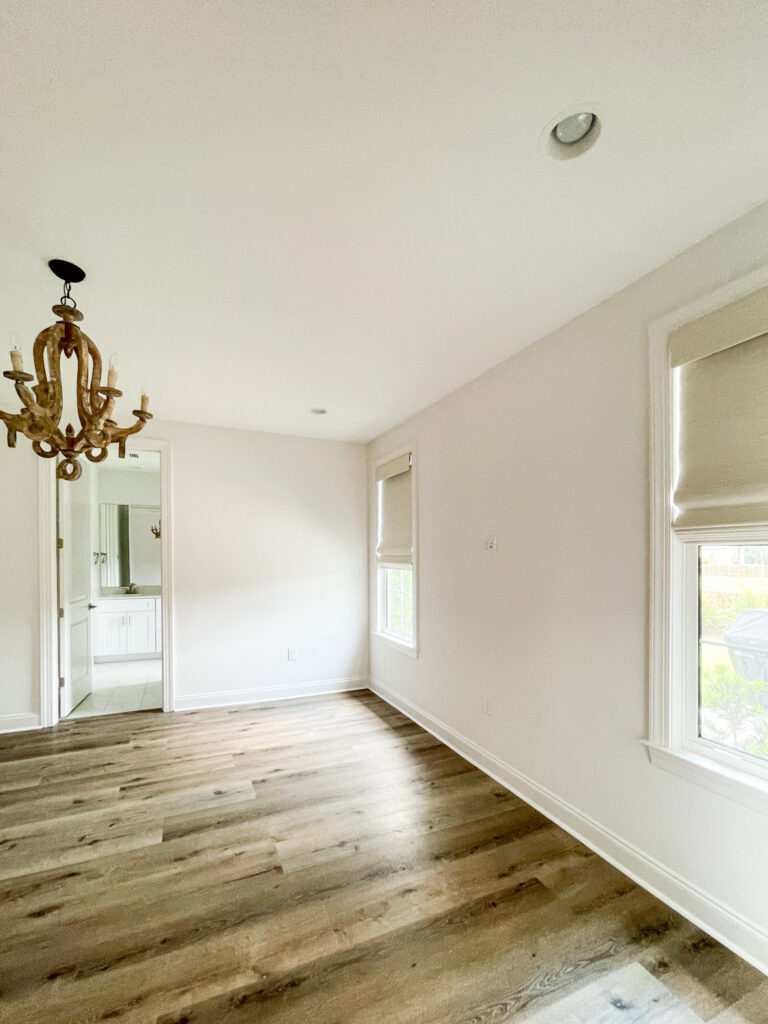 The exterior door off the dining space leads to one of our favorite features, the screened-in porch and the greenspace behind the house! Many of the homes in this area have backyard neighbors directly behind the fence, so we love that this lot provides a bit more space behind (even if not on the sides). Sadly, I didn't get a picture of it, but tried to take a screengrab from my video.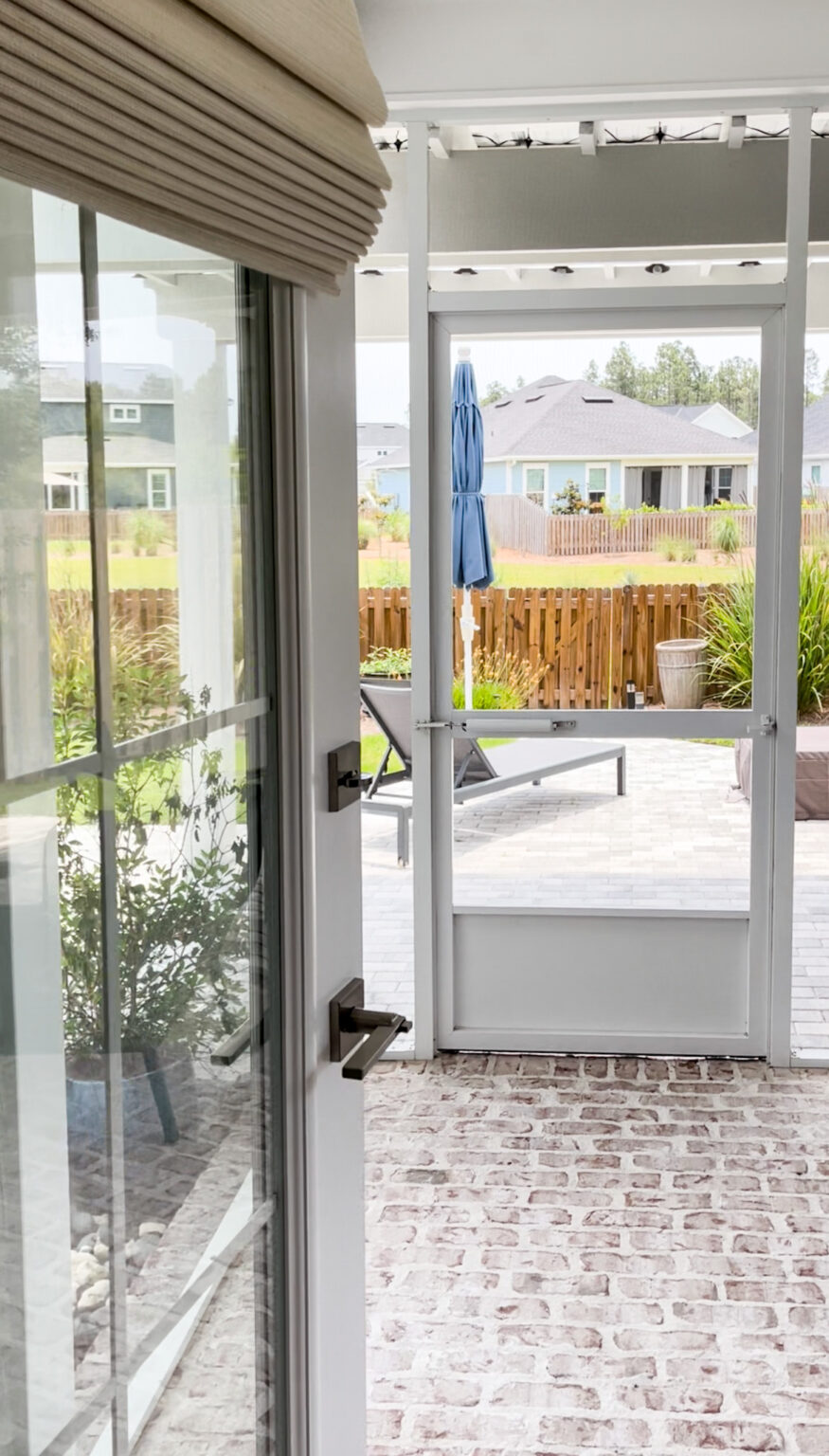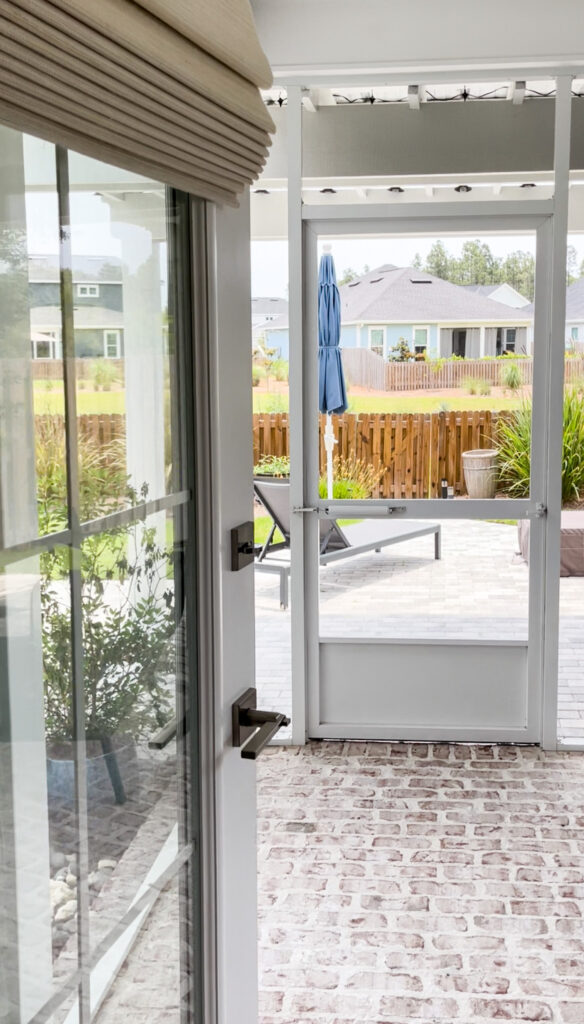 I'm lovingly calling this our catio. The cats will legit be obsessed because they can feel like they're outside, but with the screens, I won't have to worry about them truly being in the yard. I love that I can also try my hand at Florida planters and gardening in the backyard!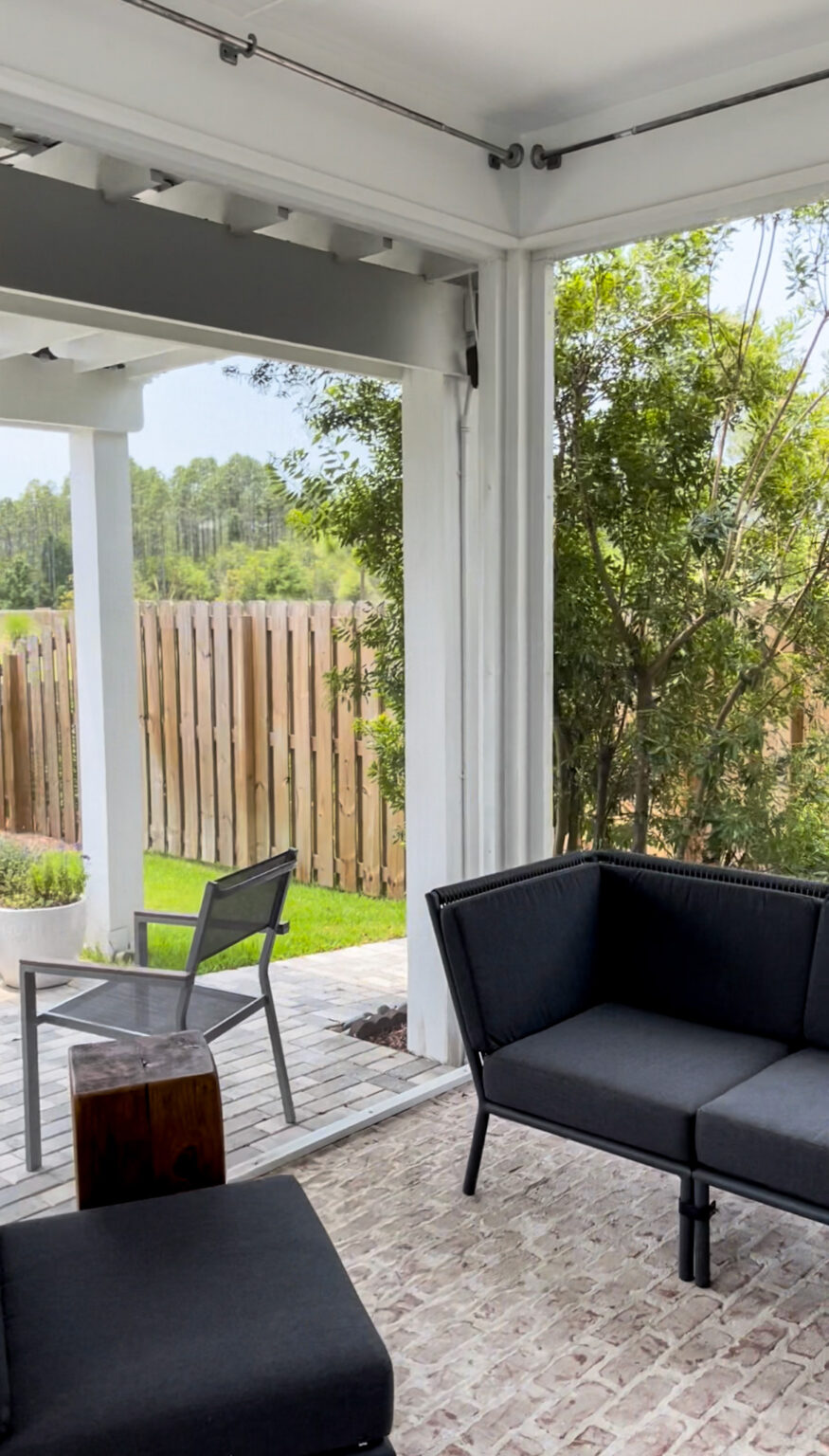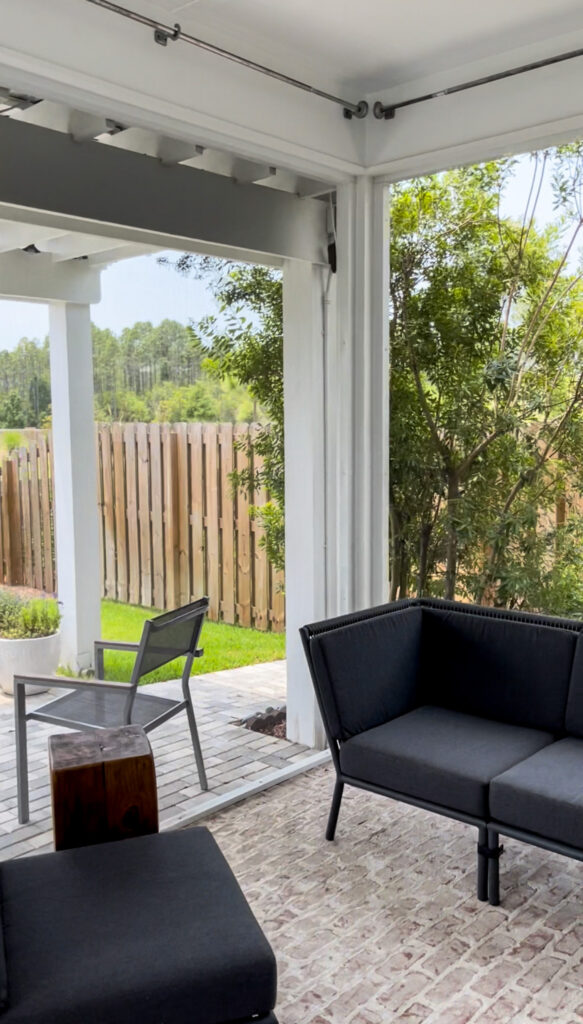 Heading upstairs, there's a "loft" which is basically a wider, open hallway to separate the two bedrooms. This will likely be our furniture storage area. Ha! We're really hoping we don't have to rent a storage unit, and since we don't need a second TV space, we'll store what we can here. We'll be able to use most of the furniture our buyers didn't purchase in the new build, but we just don't have room for it here. So, a mini storage area it is!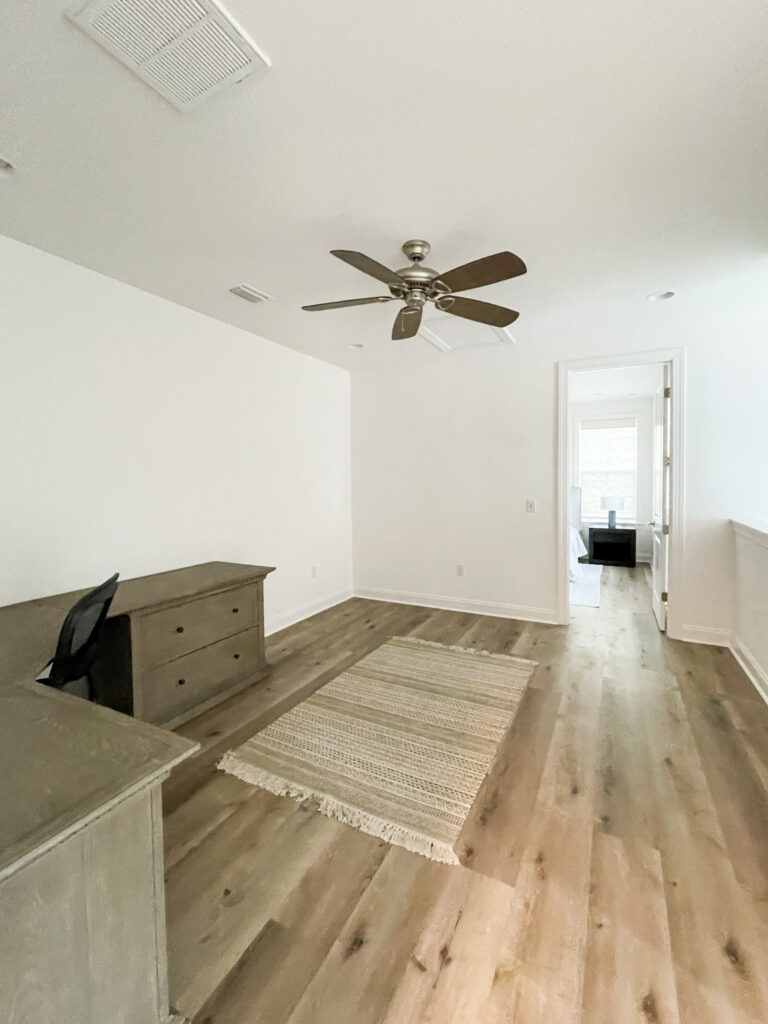 The first bedroom up here is going to be my office, more storage, and the "cat room". The room is about 12'x14′ for reference. If the ceiling fans stay, I'll either be painting them white or finding something that blends in much better! I have some great options in this post on stylish ceiling fans.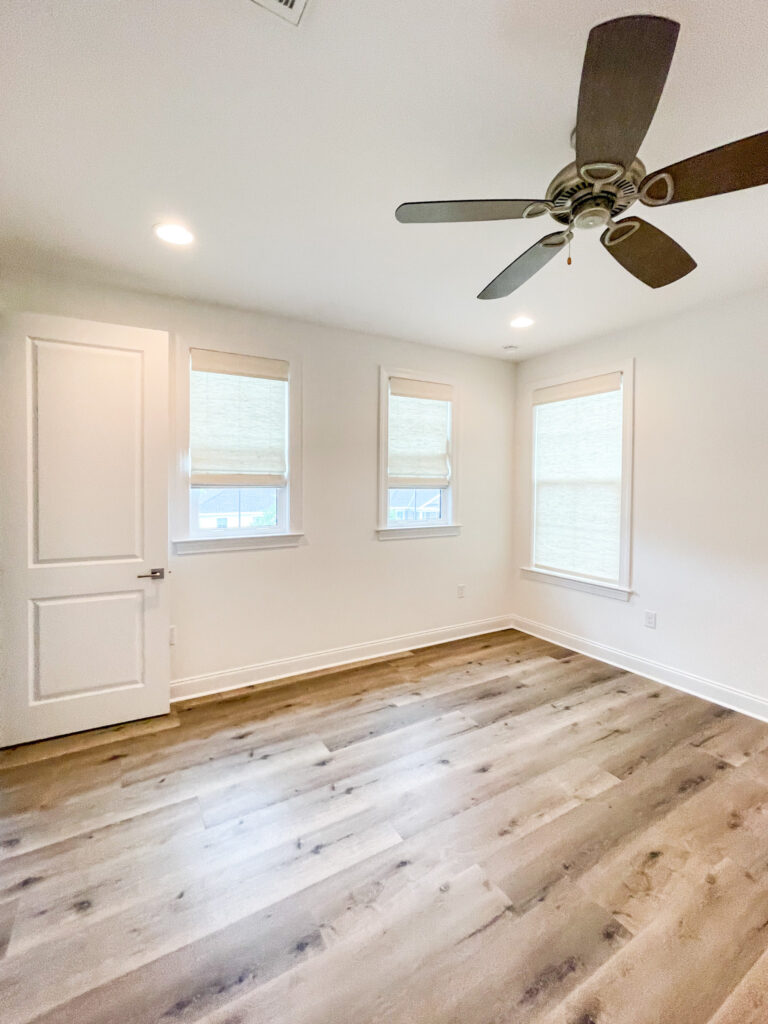 Next to the closet is a built-in set of locker style cabinets. It will be perfect for storing all my seasonal home decor and pillow covers!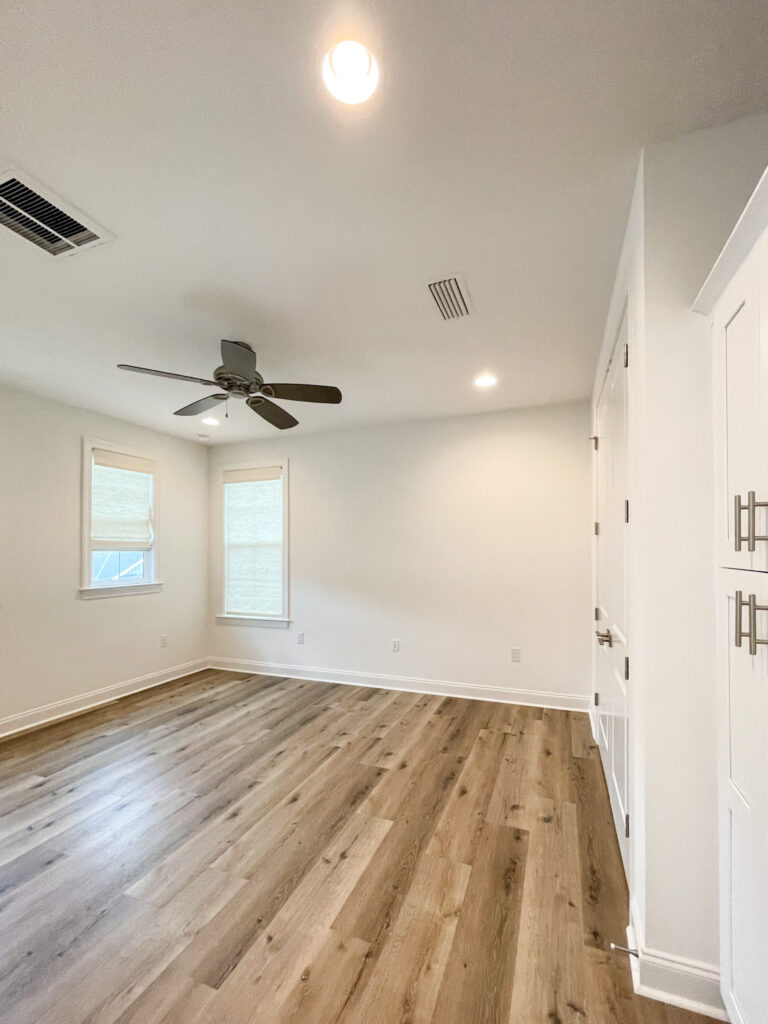 The second bedroom is a mirror image of the other, but in place of the built-ins, there's a cut out for a desk. Perfect for Kurtis' office. We'll also have a small guest bed in here, as well. But, while we live in this house, we'll likely have any visitors stay at Hola Beaches if it makes more sense. From a decorating perspective, the biggest challenge with both of the bedrooms is the offset window. With the closet doors opening on the left, it makes it hard to fit a larger bed between the window and closet and still have room for a nightstand. So we'll have to play with it a bit!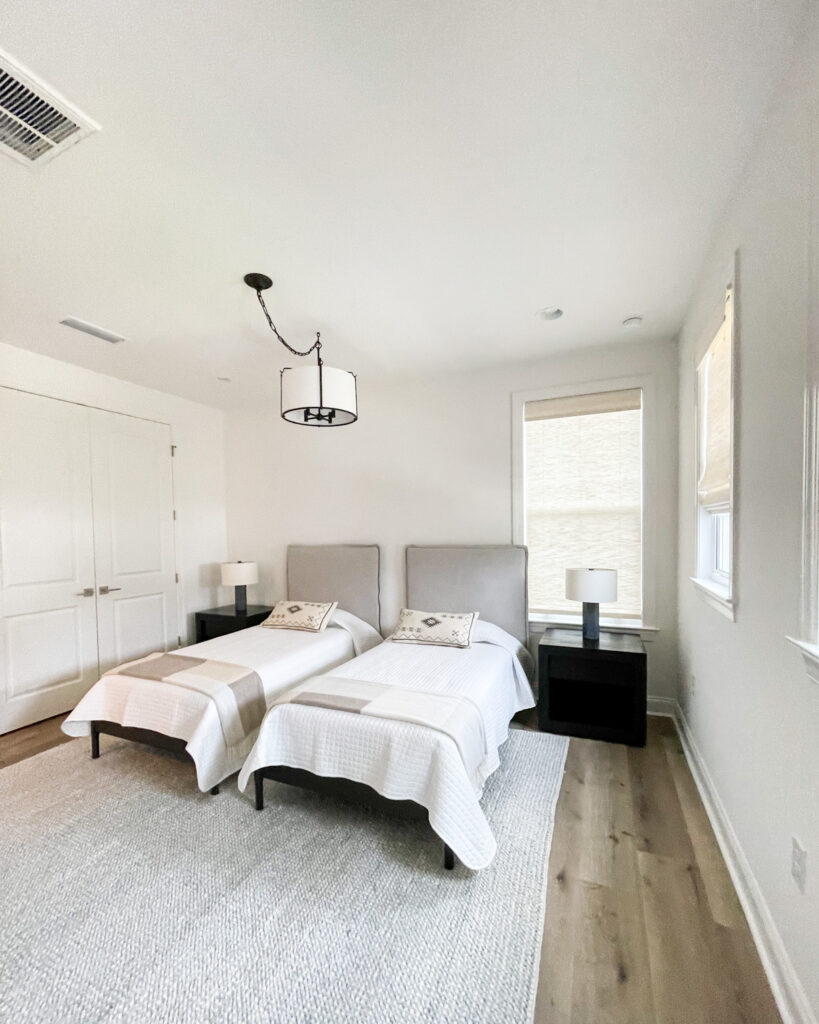 There is a Jack and Jill style bathroom that connects the two bedrooms behind the loft area. I used my wide-angle camera option on my phone here so it looks a bit larger here than it really is. But, this would be an alternative area for the cat boxes, as well. The challenge is that they will always need access to wherever their boxes are, so it basically makes this a non-functional bathroom if we go that route. I'd honestly prefer them in here if we can make it work! For all of you cat owners without basements, I'd love to hear your thoughts or tips! Especially if you have multiple cats/boxes!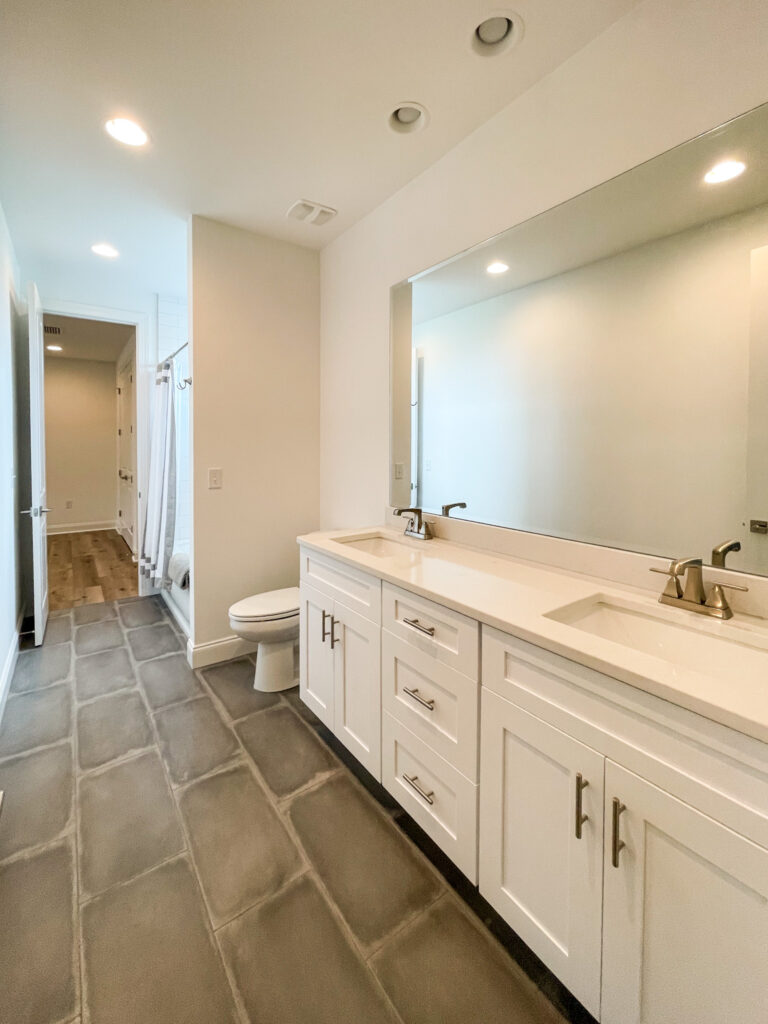 And that wraps up the tour! We can't wait to put our personal touches on the space. I'll plan to share even more once we arrive later this month with the first truckload of items!
So, what will happen with this home once our new build is finished? To be honest, we don't know the answer to that. As you likely know, the housing market is so volatile right now, and what it will look like one year+ from now is even more uncertain. We may sell it, we may keep it as a long-term rental (the neighborhood doesn't allow short-term rentals) or we may stay there more long-term. The only reason we'd stay there is if we find we are good with such a reduced square footage, and if our new build is worth far more than we're under contract for and it makes more sense to sell.
I honestly don't even know who we are any more with how flexible and carefree we're being about the whole situation. Ha! But we ultimately know, it made much more sense to go this route, than waste a year+ on rent, assuming we could even find somewhere to rent. Wait times are crazy right now, and add three cats to the mix, and the need for extra bedrooms since we both work from home, and this solution makes us feel much more at ease.
Once we get to the house later this month, I'll plan to take some measurements and get started on design plans! I'll be sure to share those along the way. We'll be using as much of our furniture as possible (that our buyers didn't purchase) but I also want this to feel like it's own special place. Stay tuned!
I also feel like we need a nickname for this interim home of ours so it's easy to differentiate among which "house" I'm referring to! Feel free to throw suggestions our way!
If you would like to follow along on more of my home decor, DIY, lifestyle, travel and other posts, I'd love to have you follow me on any of the below channels: