Good morning, and happy first day of August! I hope you all had a nice weekend! This summer is flying by much too quickly (as they always seem to do!). Here's a bit of what we've been up to this past week.
This post contains affiliate links for your shopping convenience. You can read my full disclosure policy here.
Home Projects & Updates
I spent most of last week prepping for my summer home tour, which I shared Friday, and the big birthday party we had over the weekend! If you missed the tour, be sure to check it out here! We hired a cleaning service to come in Wednesday and I forgot just how much we miss that service! We used to have someone clean once every two weeks, but haven't since the end of last year. I'm adding it to my new list of goals once we move. I feel so much more productive in a clean house!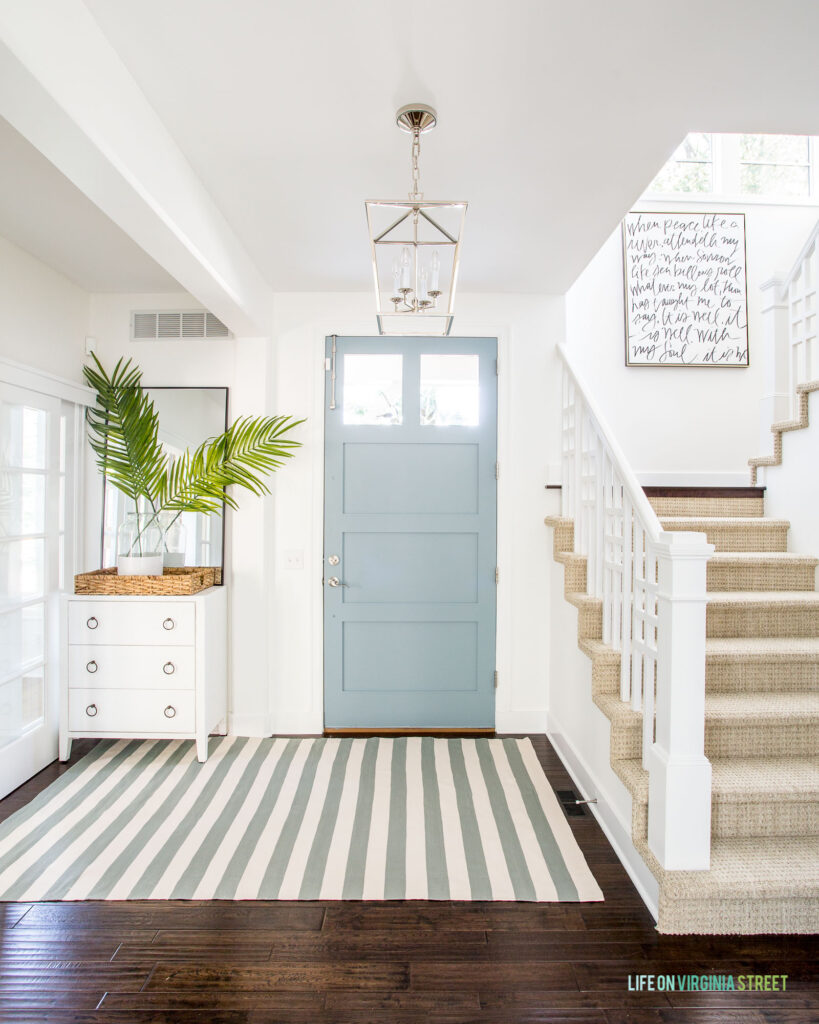 ENTRYWAY SOURCES: Faux Palm Branches | Tall Dipped Vase | White Raffia Chest | Mirror | Woven Tray | Indoor/Outdoor Striped Rug | Lantern Light Fixture | 'It Is Well' Art
The "missing" part of our office furniture was finally delivered. We're still waiting on the much wider side pieces (which is why I still haven't styled it outside of loading it with things I need stored). About the time the missing base was delivered, I received notice that the other items were backordered again until October. So I basically had to tell them to change the delivery address to Florida. I'm bummed I won't be able to use and photograph the set in this house as it was intended. But this will help make the moving process a heck of a lot easier. Even the smallest pieces in this set are heavy!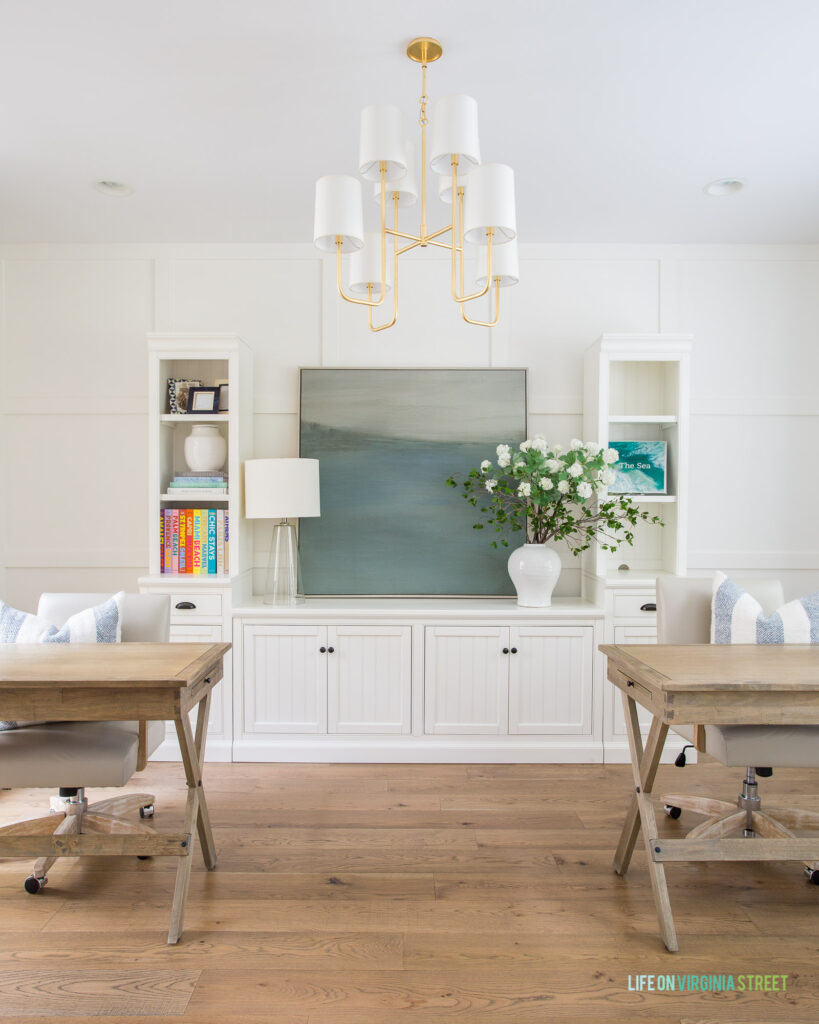 OFFICE SOURCES:  5-Piece Entertainment Center | Abstract Art | Lamp | Desks | Leather Desk Chairs | Striped Pillows | White Ceramic Pots | Set of Frames | Light Fixture
On Thursday, we officially closed on the house we'll be living in for the next year+! I have the post all ready to go tomorrow with all the details. I've been wanting to share for weeks now, but I always like to make sure things are "official" before I get too ahead of myself 😉 I mentioned we'll be downsizing when we build, but this interim home will be even smaller than that (by about 30%). So, by the time we get to the new build, we're hoping it feels huge at that point! I do feel like I need to either name each of the houses or have a nickname for each of them so it's clear on which house I'm referring to. There's going to be a lot of activity on both fronts over the coming years!
Now that our big reunion/sister-in-law's 50th birthday party weekend is behind us, I plan to start hitting the packing pretty hard. It's hard to believe, but we load our first moving truck in only 18 days! Now that August is here, things are going to start moving pretty dang quickly.
Top Sellers Of The Week
Following are the top sellers of the past week across all of my channels. Links to each item are below the graphic.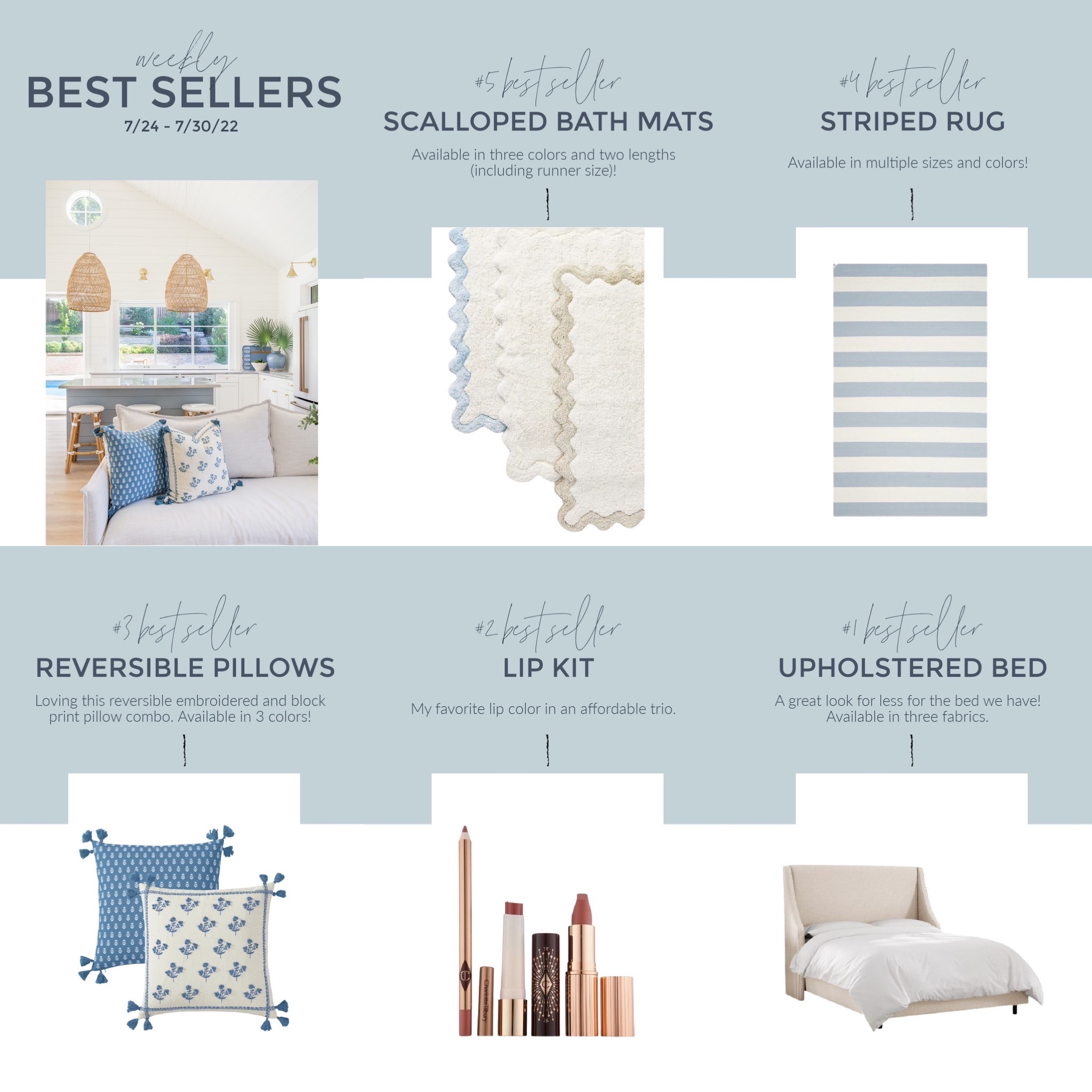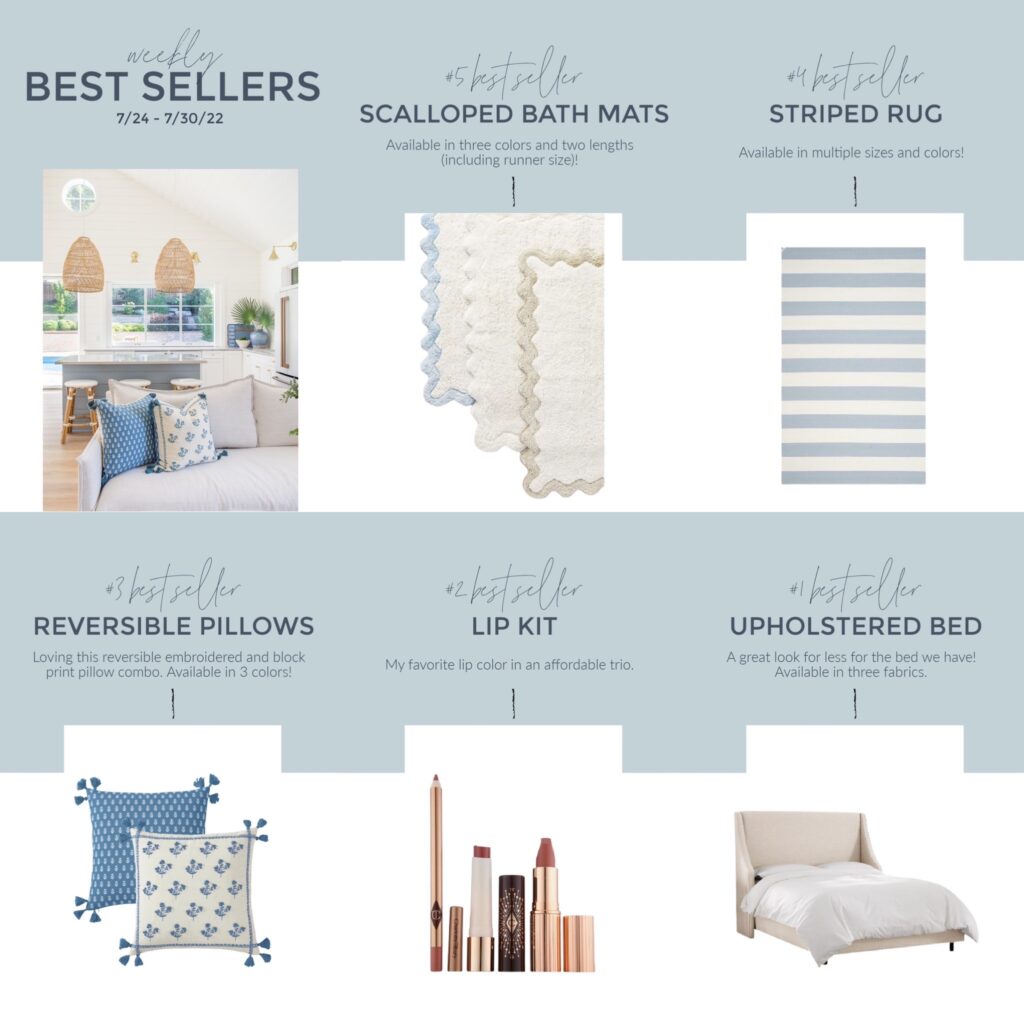 BEST SELLERS (each number is clickable): #5 | #4 | #3 | #2 | #1
In Case You Missed It
Following are the posts I shared over the past week, in case you missed some days!
Following are the most read blog posts of last week (excluding any of the new posts already mentioned above). Many times this includes old posts that are popular on Google or Pinterest.
Around Town & For Fun
We had some quintessential summer meals early last week! Kurtis ran to the farmer's market in Elkhorn and picked up some sweet corn, tomatoes and peaches. We had BLTs with corn on the cob for lunch one day and it was so good! And there's nothing to see here – just two cats that wanted to lick the corn cob once I was finished. I swear they aren't even cats at times!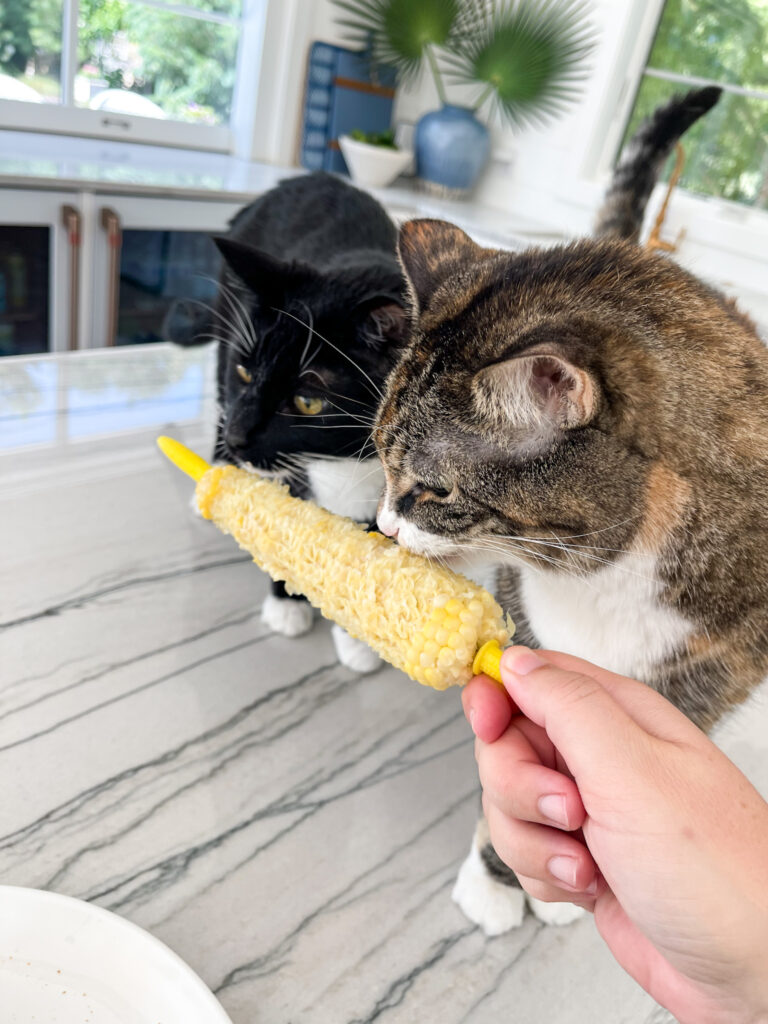 As I mentioned, we closed on the house we'll be moving into, so Kurtis and I had our meal out for the week at Jams. The weather was pretty spectacular most of last week, so when that happens, we try and hit a patio for dinner. It didn't disappoint! I always love the Jams patio because they're one of the few places in Omaha I know that has aspen trees. I find them so peaceful and they remind me of growing up in Utah!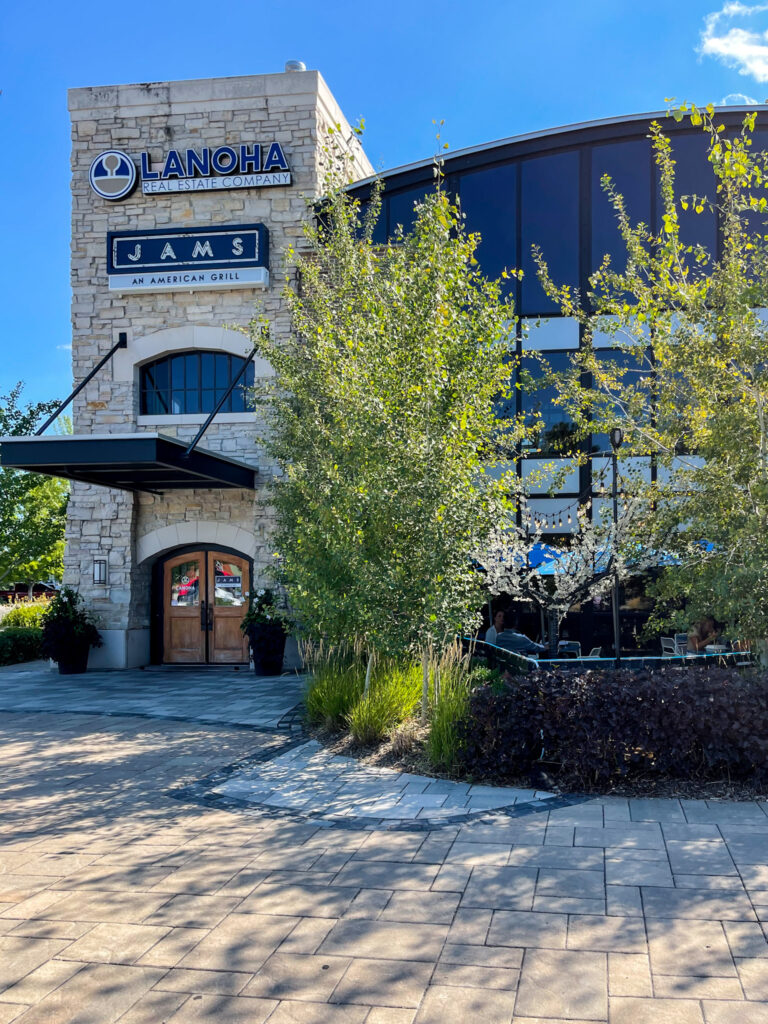 On Thursday, Kurtis' side of the family started rolling into town for the big birthday celebration and friend reunion. At our niece's wedding in June 2021, we chatted with the Stewart family's best friends and their kids to plan a weekend in Omaha. The other family is all from Minnesota, and has kids super closer in age to Kurtis and each of his two sisters. They've been life-long friends and we all have so much fun together when the crew hangs out. It feels like we can always pick right up where we left off!  At the time, we obviously didn't know we were moving to Florida, so when it came time to list this year, one of the biggest factors in the offer that we accepted was that we could still stay in the house to host this party. We're so glad we made it happen!
Thursday night, we had dinner at Lazlo's with most of the Stewarts that were in town. Our niece then wanted to swim once we got back to the house that night so Kurtis joined her.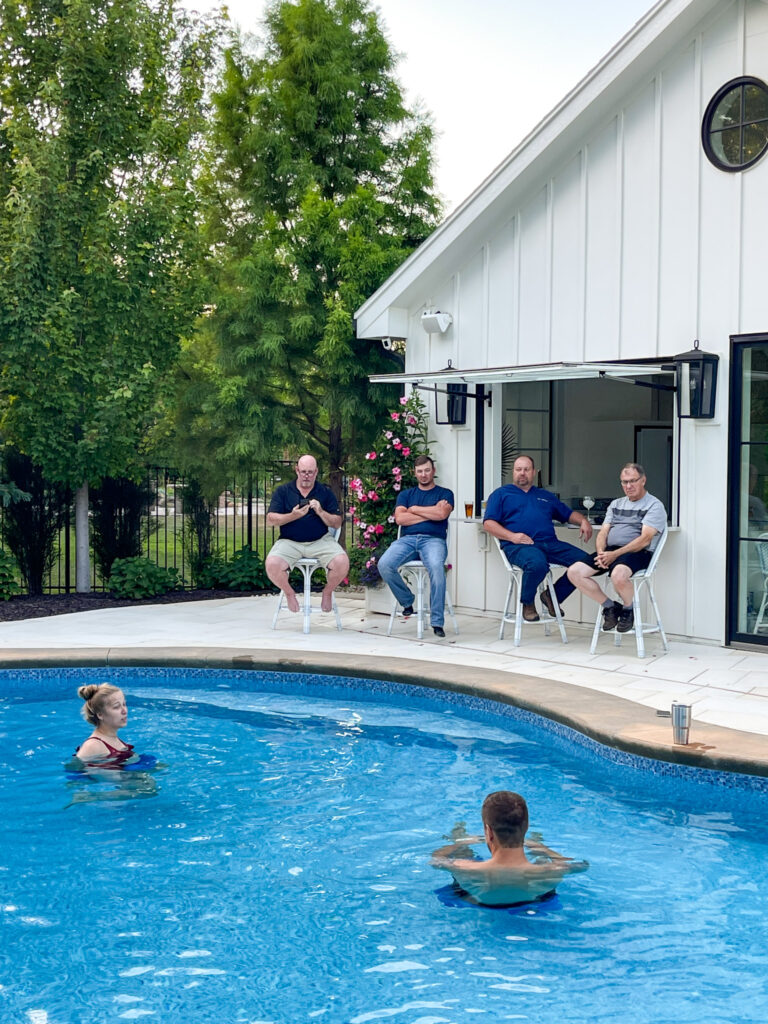 We hung out, lounged around, and talked and laughed a lot!
My sister-in-law Teresa's 50th birthday was Friday! I ordered this balloon display locally and my other sister-in-law Janine found the cutest sash, crown and tabletop decorations for the party. Since most of the crew had rolled into town at that point, during the day, we suggested a few group activities (golf, the zoo, SAC Air Museum, shopping, etc.). That evening, we all met at our house for the party. Some of the kids swam while the adults hung out and got caught up after more than a year apart! We had a taco bar for dinner, which was a lot of fun (and easy!).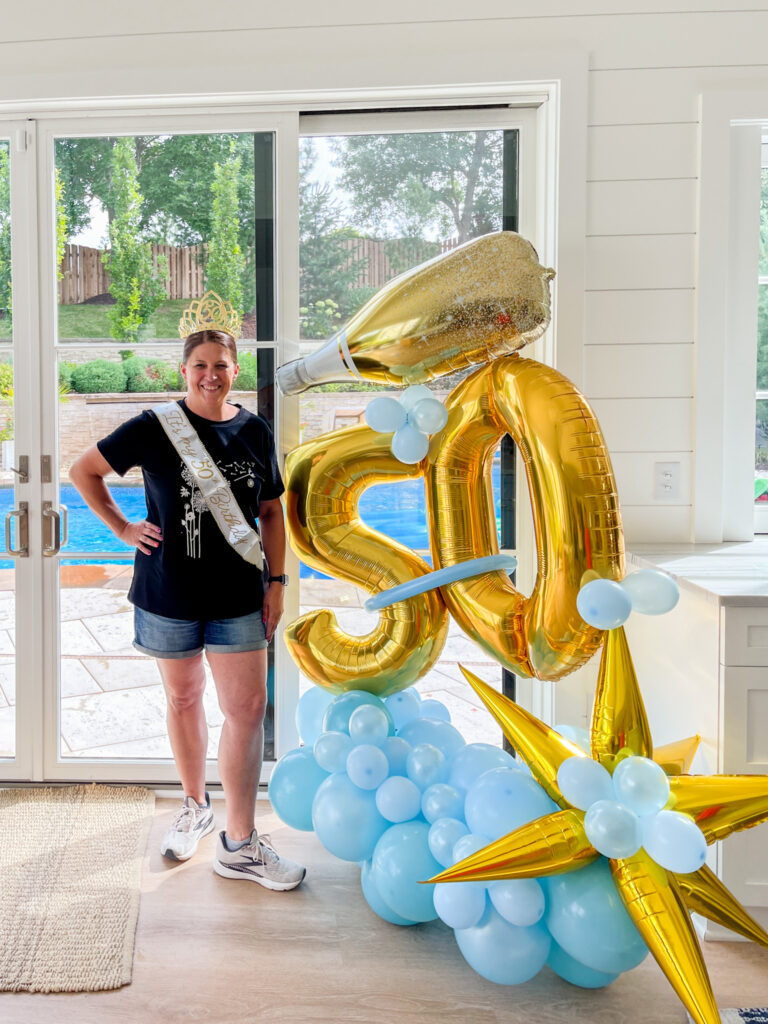 Saturday was a full swim day at our house. We managed to get a group shot with everyone looking at the camera in only one try! I think the sunglasses helped a lot 😉 I believe we were only missing two people in the entire crew, which is pretty impressive, especially now that several of the kids' kids are starting to hit college age! Such a fun group and we're so happy we all made the weekend work!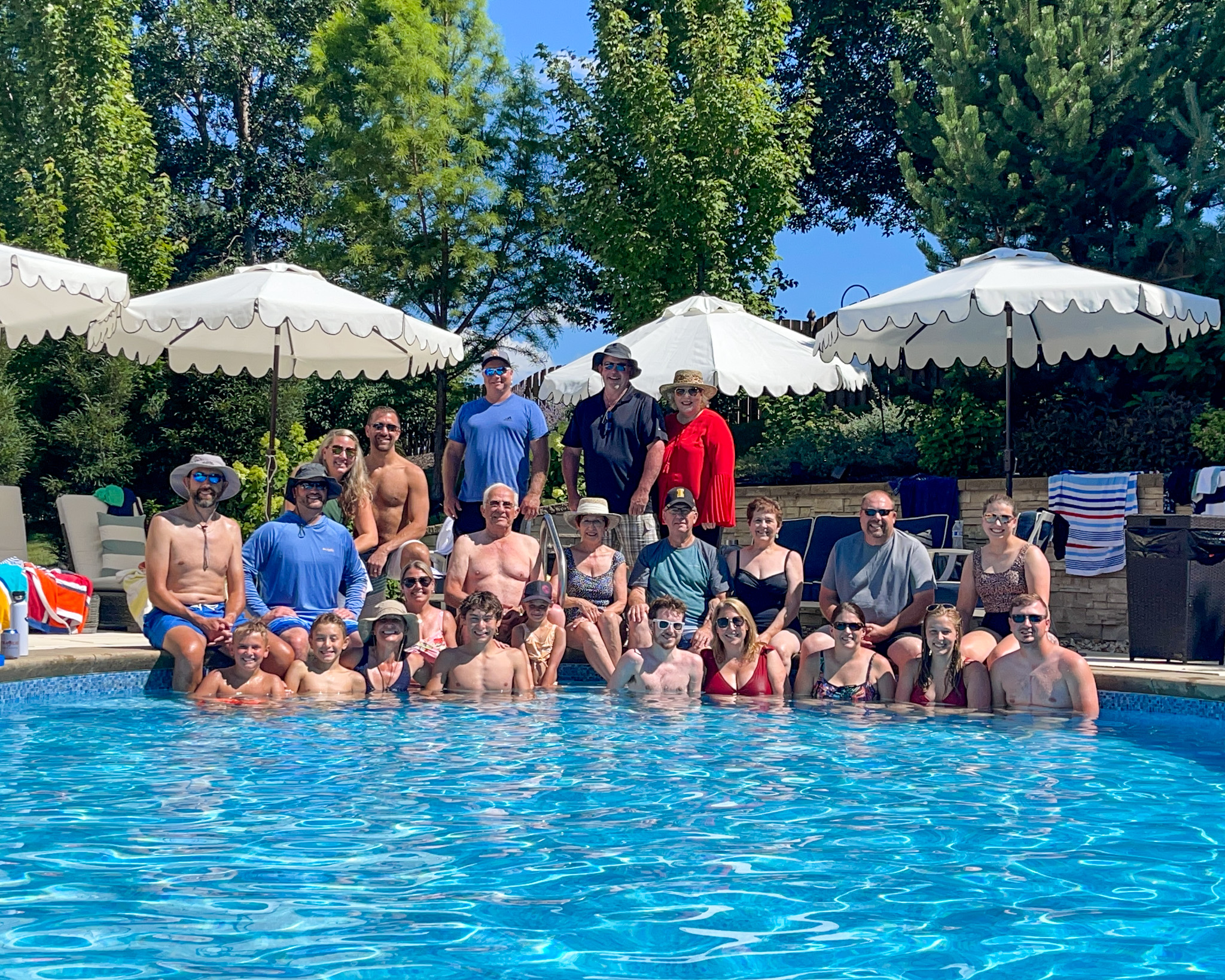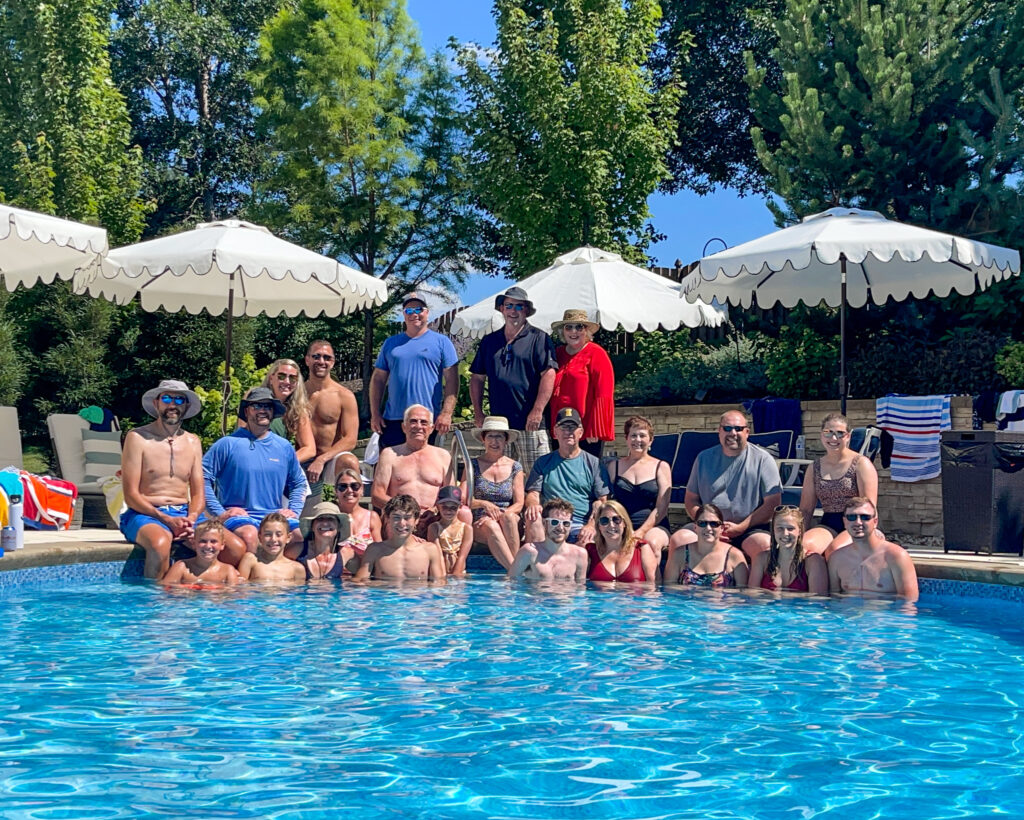 One of the littlest in the crew also happened to turn 8 on Saturday, so it was another day of birthday celebrations!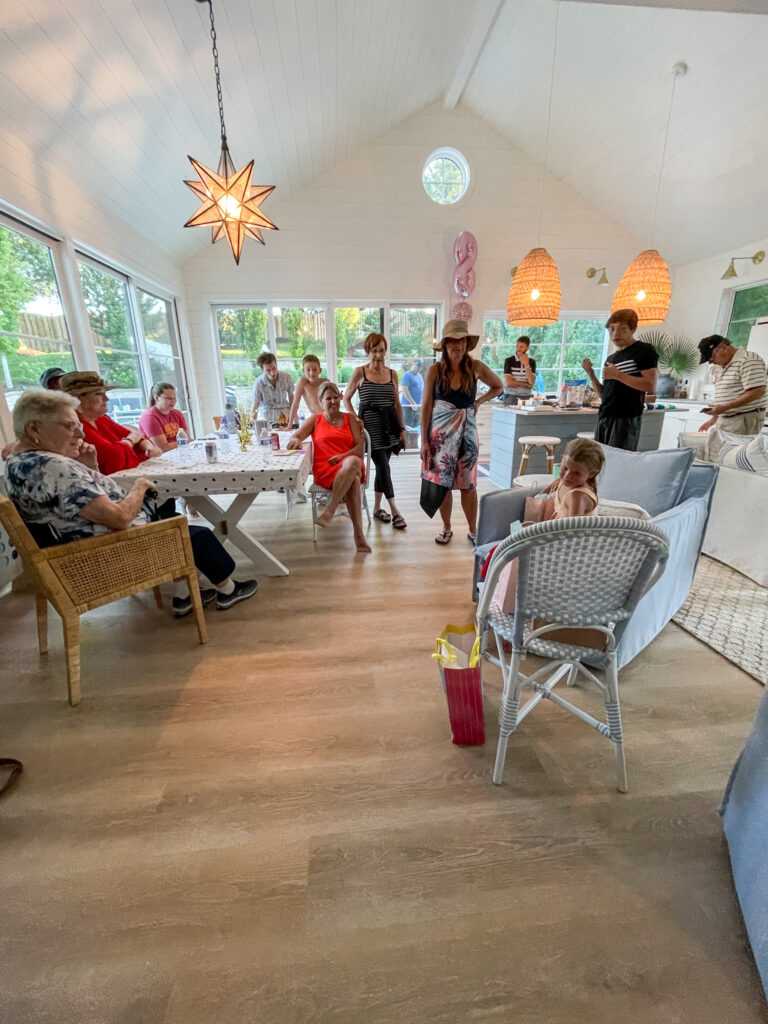 I'm pretty sure some of the kids swam for no less than ten hours that day!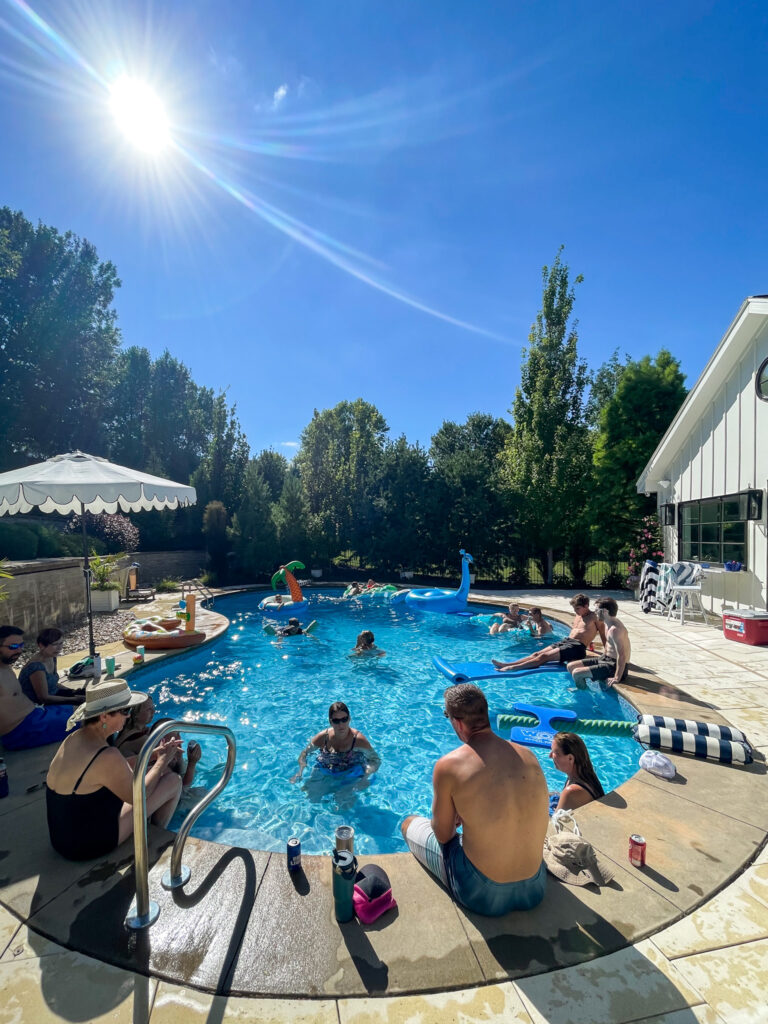 Sunday morning, the Minnesota crew left town early, so we had the Stewarts all over for a brunch. We also loaded up trucks with some items we were able to send with our niece who is headed to vet school this fall and needed some items to furnish her new place!
By mid-Sunday, everyone had rolled out of town. Needless to say, everyone in our house was exhausted! Nap time for everyone, including the cats! They're not used to so many people at our house for four days straight 😉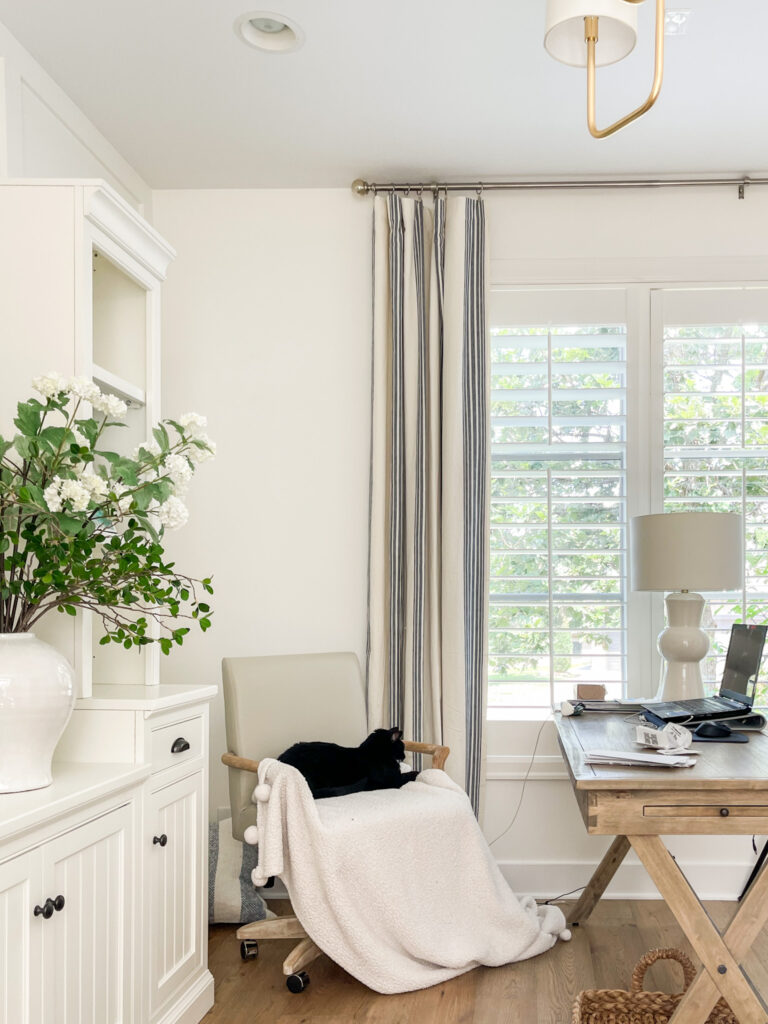 OFFICE SOURCES:  5-Piece Entertainment Center | Abstract Art | Desks | Similar Lamp | Leather Desk Chairs | Striped Pillow | White Ceramic Pots | Light Fixture
Hawkeye served as our fly ninja after the party ended. With so many people going in and out, we had a few. Who needs pest control with three cats?! 😉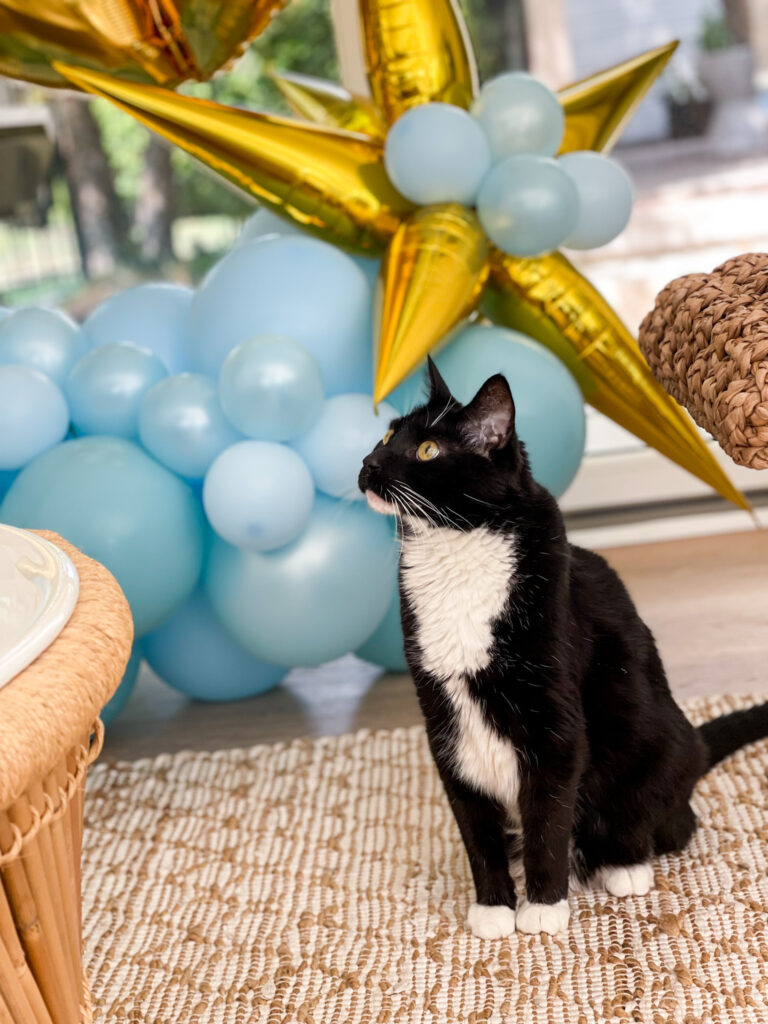 Kurtis heads to Orlando for work for part of the week, so I'm looking forward to a little downtime after last week being so busy! But I also want to make some good progress with the packing! My parents visit us next week into the following week, and then later that following week, we already head to Florida! That's followed by a week in Napa/Sonoma for our BFF's 40th birthday and then suddenly it's September. We knew August would be chaos, and on day one, my thoughts on that haven't changed! But, I feel like we have a good roadmap planned to get it all tackled. Be on the lookout for my post tomorrow with all the details on our next Florida house!
Recent Buys & Sales
Following are some sale from the weekend that have carried over and are still going strong!
I hope you all have a great week!
If you would like to follow along on more of my home decor, DIY, lifestyle, travel and other posts, I'd love to have you follow me on any of the below channels: