Good morning! I hope you all had a fun weekend and an enjoyable week last week! Here's a bit of what we've been up to around here.
This post contains affiliate links for your shopping convenience. You can read my full disclosure policy here.
Home Projects & Updates
We've continued to spend some time packing and purging. My two little "helpers" always seem to be nearby 😉 We're using this open area in the hallway upstairs to store items for our niece as well as potential donations, etc. It's starting to drive me crazy but it does help to have one area dedicated to these types of things so it's not all over the house! Thankfully she'll be taking what she wants this weekend and then we can go from there! We have less than a month until we take our first truck down to Florida!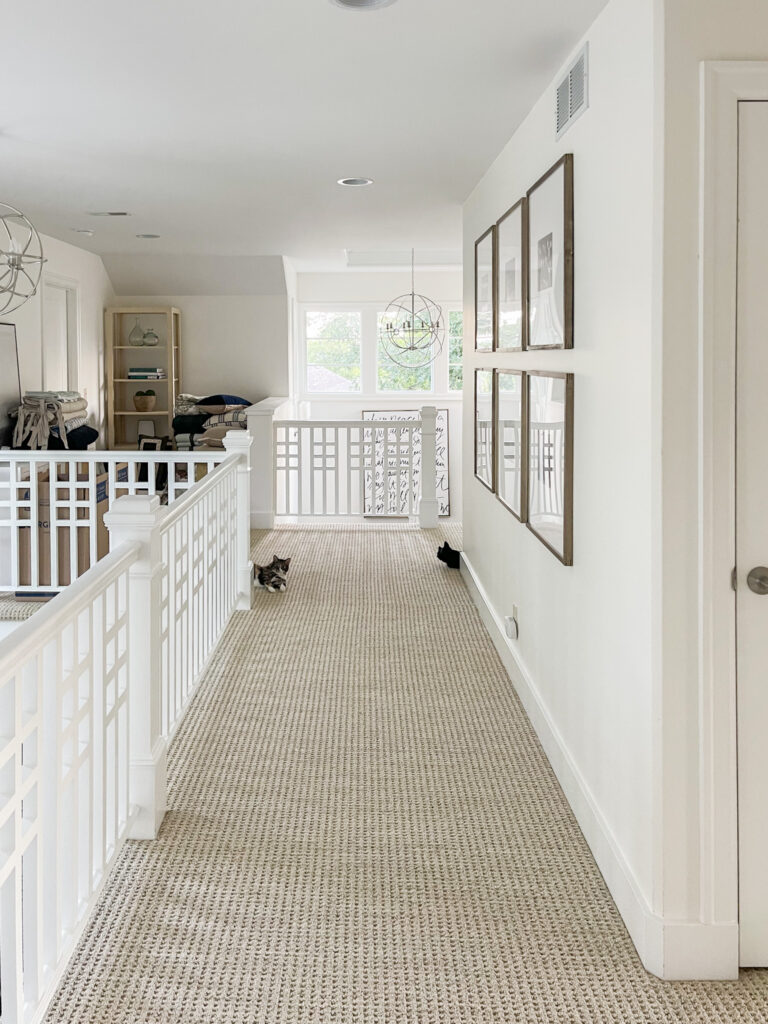 I wanted to show you these cute reversible pillows after I swapped one of the inserts. The insert on the embroidered side is a down insert and then I left the original fill in the other pillow so you can see the difference. It's actually not super dramatic with these. If you do decide to swap, just know it's actually a stuffing and not an insert that originally comes with it. Not a big deal, but it is a little messy getting it out (it feels like teddy bear fur or something like that). They likely won't be staying in the pool house because I only have two of them, but I'm thinking they'll be super cute in our guest bedroom!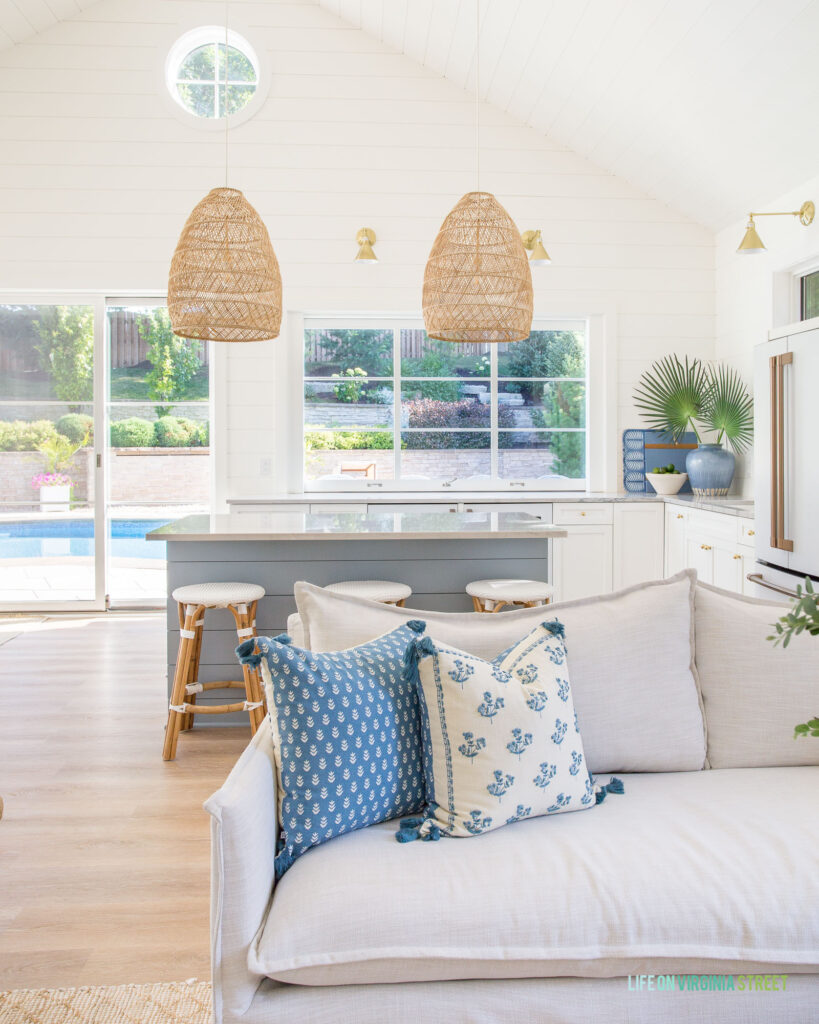 POOL HOUSE SOURCES: Sofa | Reversible Pillows | Basket Pendant Lights | Aged Brass Star Sconces | Backless Counter Stools | Cabinet Ball Knobs | Counter Depth Fridge | Beverage Fridges | LVP Floors | Blue Serving Board | Similar Fan Palms | Blue Vase | Cabinet Colors: BM Simply White (perimeter) & BM Santorini Blue (island) | Countertops: White Macaubas Quartzite
Things become more official for the first house we're moving into in Florida this week! Since our new build likely won't be ready until summer or fall next year, we've found the cutest little place to live in the interim. Once it's official this week, I'll be sure to give you a little tour and share more about it. It's starting to feel really real! I might be most excited that we'll be done with all the paperwork and loans and underwriting! Not sure I'd ever recommend buying/selling a total of four houses in less than a three month window 😉
Top Sellers Of The Week
Following are the top sellers of the past week across all of my channels. Links to each item are below the graphic.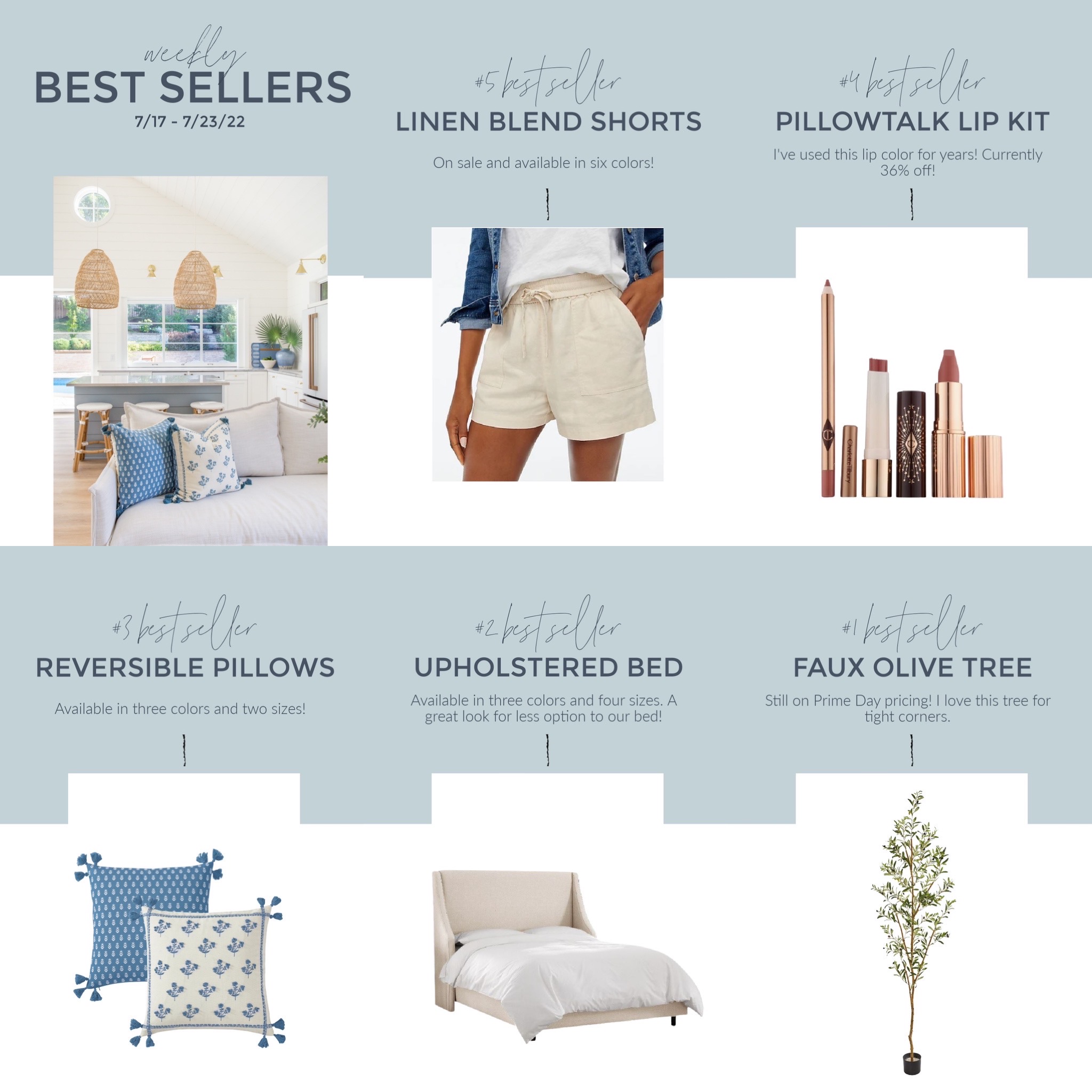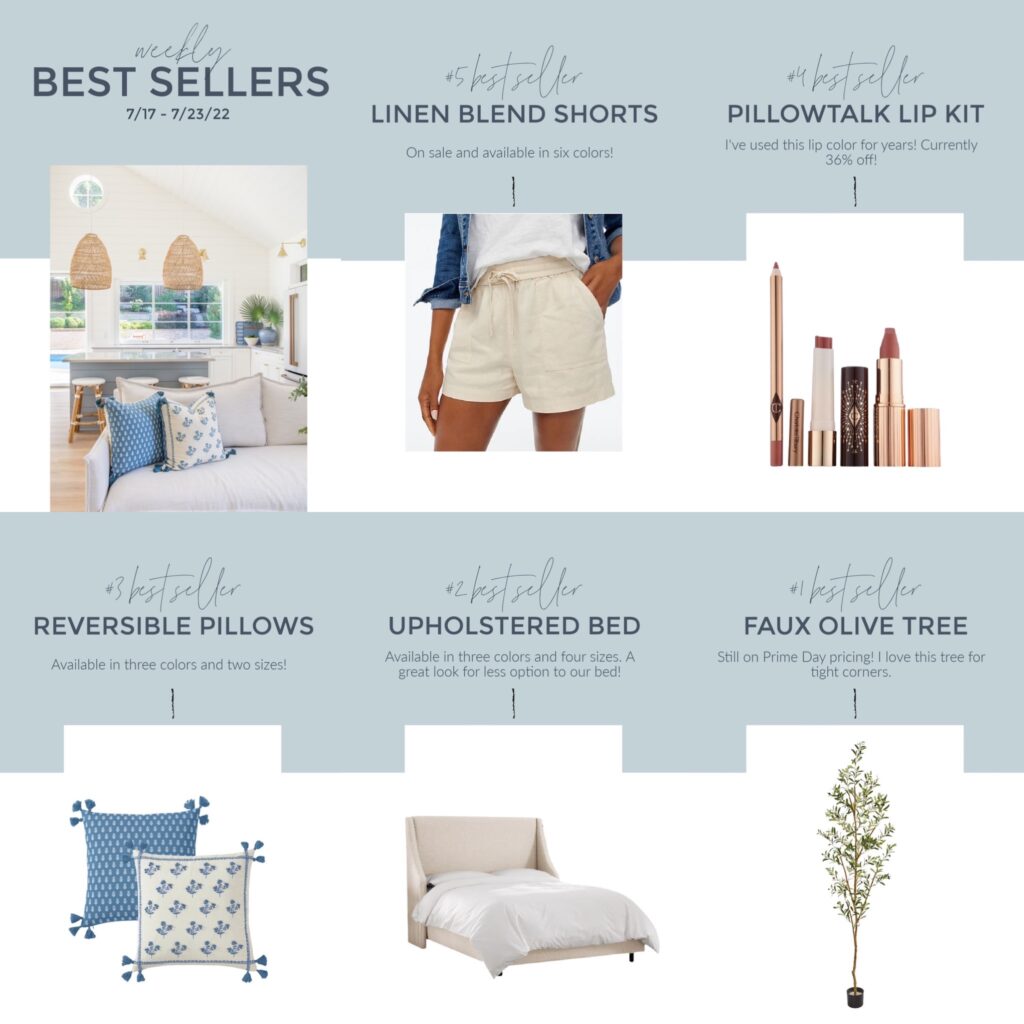 BEST SELLERS (each number is clickable): #5 | #4 | #3 | #2 | #1
In Case You Missed It
Following are the posts I shared over the past week, in case you missed some days!
Following are the most read blog posts of last week (excluding any of the new posts already mentioned above). Many times this includes old posts that are popular on Google or Pinterest.
Around Town & For Fun
Early in the week, we had a fun and casual dinner and pool party with a few friends Kurtis works with along with their spouses. We kept it simple with a few snacky foods and then we ordered pizza for dinner!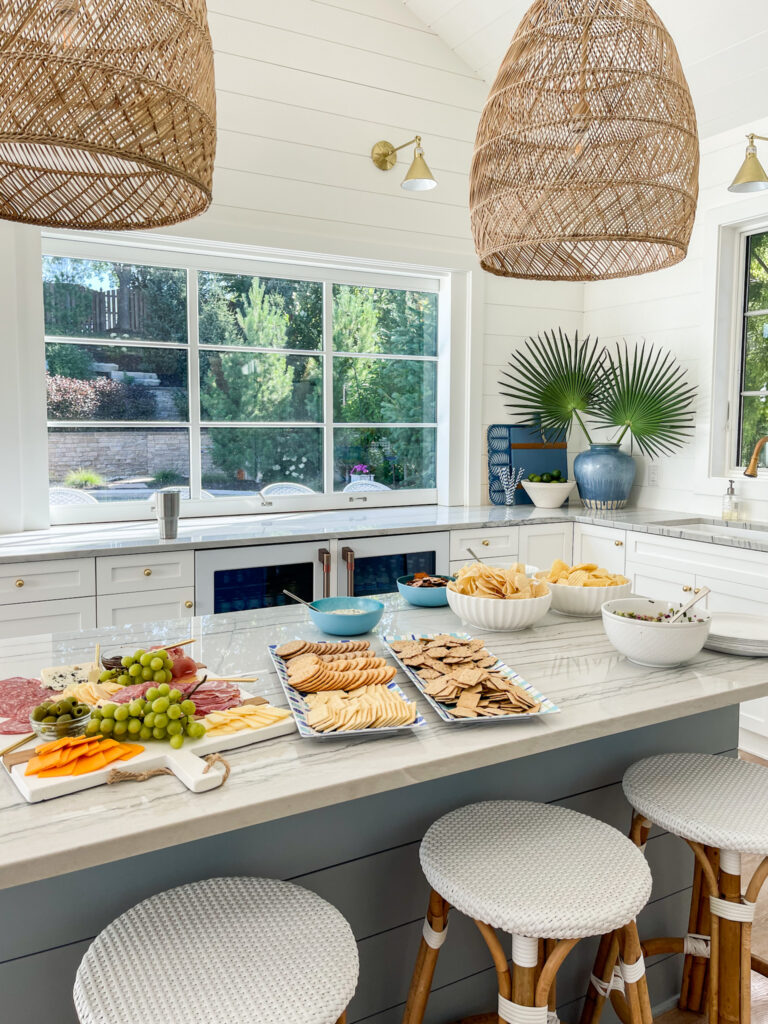 I think it might have been the first time we used the pool at night this year! We all try to get together at least once a year, and it was so fun to catch up with everyone!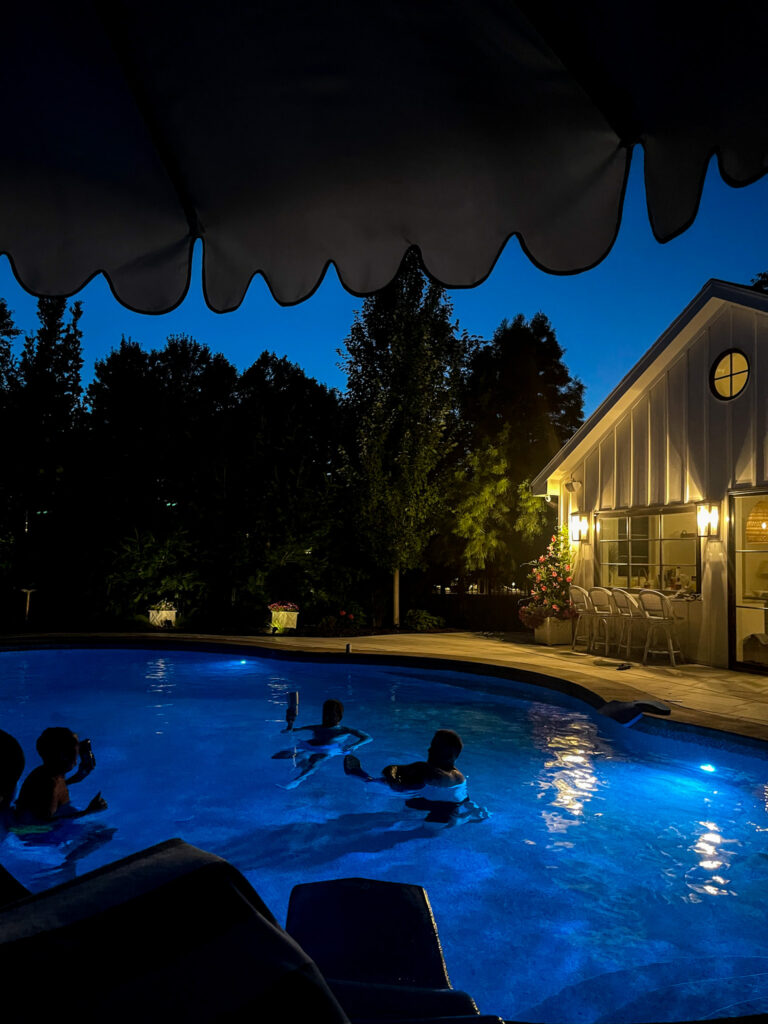 Thursday I went to dinner with two of my friends for sushi for a Girls Night Out. We had a lot of fun laughing, eating, and hanging on the patio and then headed back to Jill's for a drink. I got to see these two little munchkins and chase them up and down the slide about 50 times 😉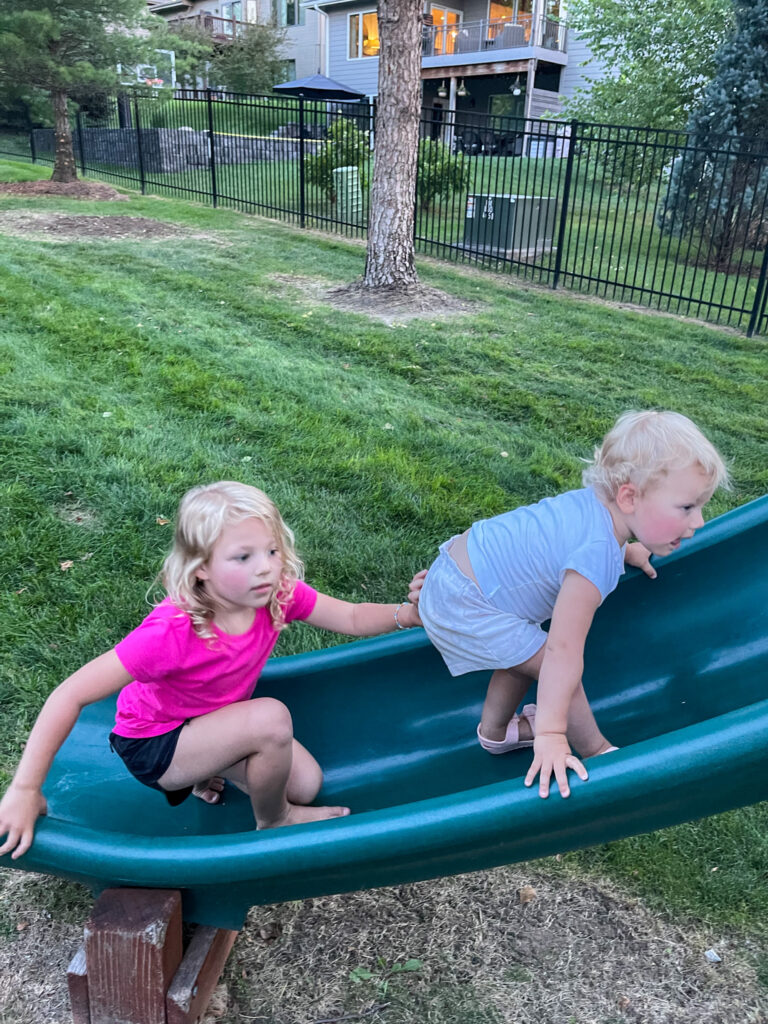 Friday was our 17th wedding anniversary! It's hard to believe it's been that long – especially when we realized we've also been together just over 20 years now. We celebrated with a steak dinner at Mahogany Prime and really enjoyed it! It was only our third time ever going there, but it really is delicious and great for special occasions.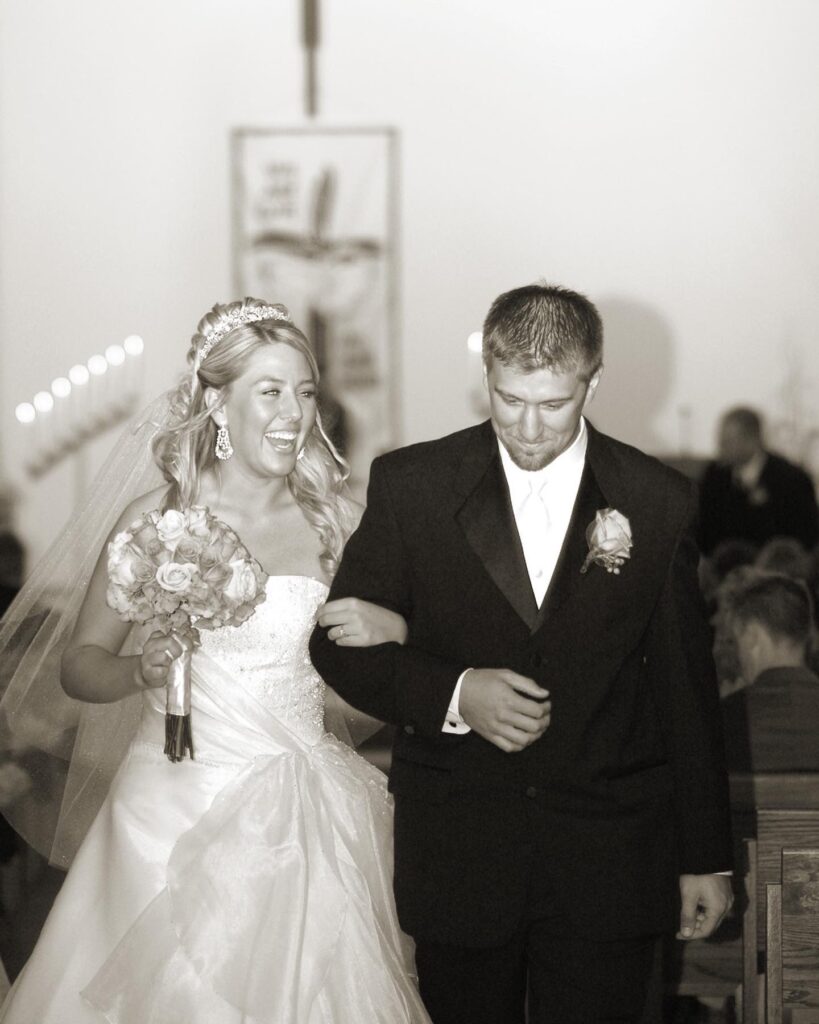 Saturday I asked Henley if she wanted to take a nap with me (she legit knows what those words mean) and she was so excited. She sprinted up the stairs and climbed in bed. Her new medicine seems to finally be kicking in and she seems to be doing much better!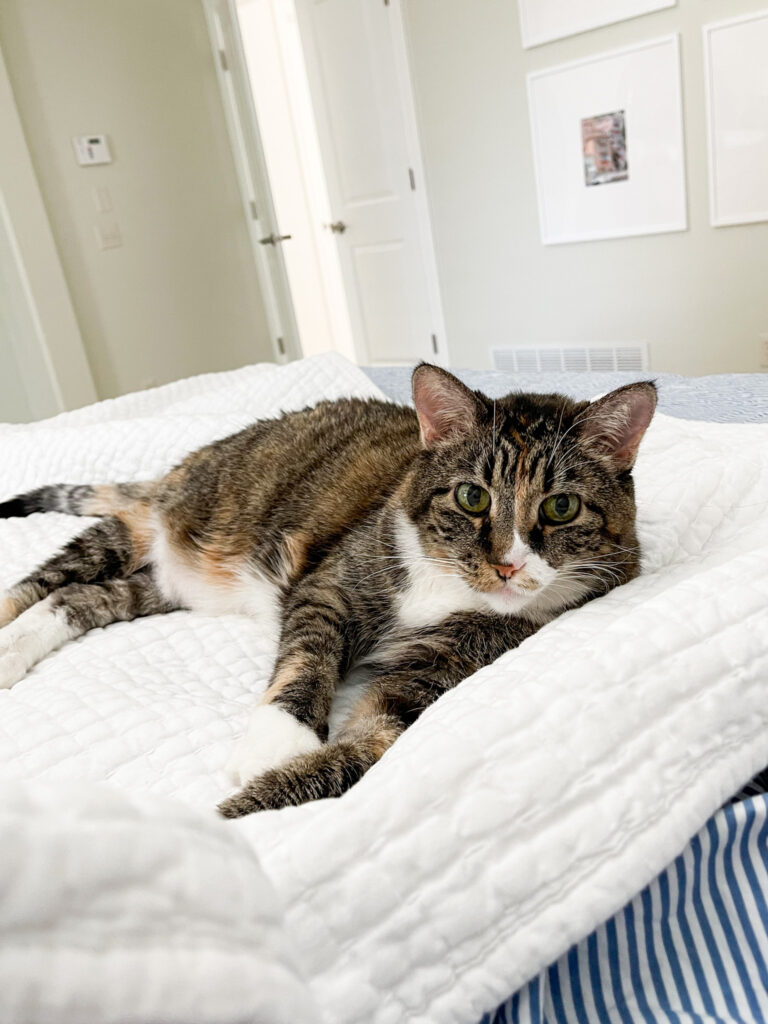 This is too funny not to share. On Sunday morning, I was sitting at my desk and randomly looked outside and noticed this bullfrog looking in our courtyard patio door. Hawkeye walked by and was like "what on earth?!". Hawkeye even got up close and tried to smell him through the glass and it didn't even phase the frog. The bullfrog stayed like that for 20+ minutes and next time I looked he was gone. Guess he realized our lives aren't all that exciting or worth spying on 😉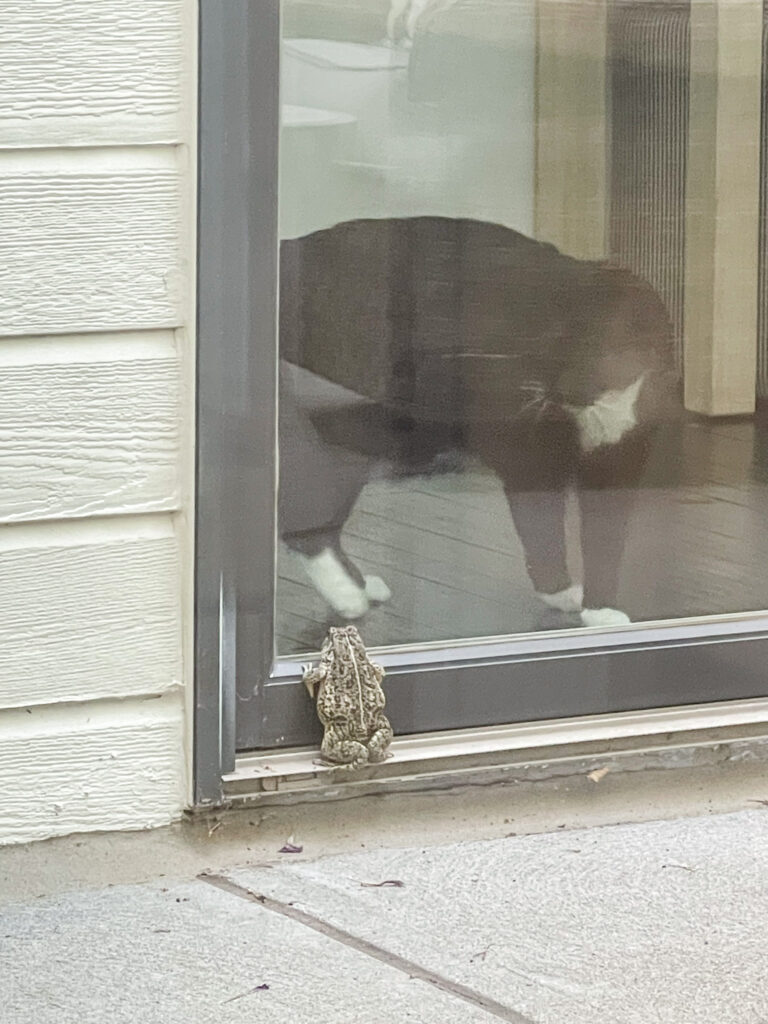 I spent some time reading in the pool house Sunday. Hawkeye has been my little shadow lately and I loved that he always had to be touching me while I was reading. Too cute!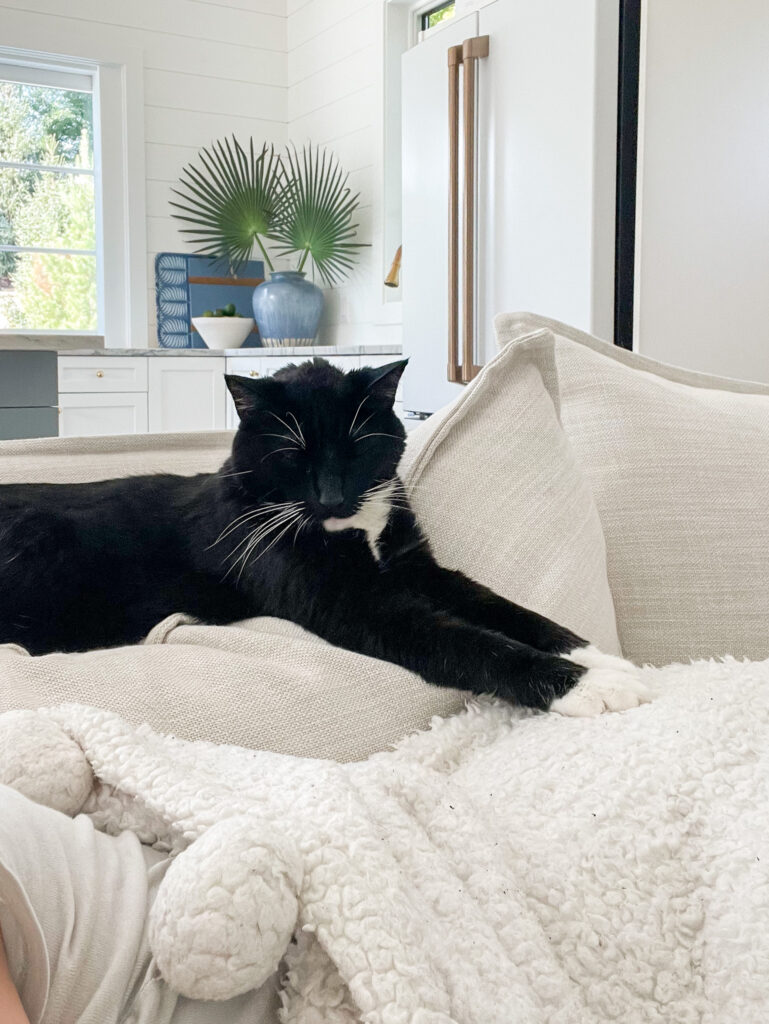 We headed to the pool for the afternoon and enjoyed a bit of reprieve from the crazy heat we had all week. It was 87 degrees out and actually felt cool. Ha! My flowers are looking pretty rough at this point, but we're supposed to have temps in the 70's today along with a rainstorm, so I'm hoping they can be revitalized!
The balance of most of the new Studio McGee x Target items were released online yesterday! I few sold out already but there are still quite a few cute items in stock. You can see my top picks here.
We're celebrating Kurtis' middle sister's 50th birthday this upcoming week/weekend with a big weekend family and friend party. We'll have 25-30ish people or so in town to help celebrate and to have a reunion of sorts at our house. We're really looking forward to it and it should be a lot of fun – we just have a lot to prepare this week!
I'll also be sharing my summer home tour THIS WEEK! It's slightly weather dependent, but I plan to have it posted by Thursday or Friday at the latest!
Recent Buys & Sales
Following are some sale from the weekend that have carried over and are still going strong!
I hope you all have a great week!
If you would like to follow along on more of my home decor, DIY, lifestyle, travel and other posts, I'd love to have you follow me on any of the below channels: