Happy Tuesday! I hope you all had a nice, relaxing long weekend. Here's a bit of what we did over the last week and holiday weekend.
This post contains affiliate links for your shopping convenience. You can read my full disclosure policy here.
Home Projects & Updates
I finally got my planters wrapped up out front! I'm nearly a month behind schedule thanks to the crazy weird spring we've had.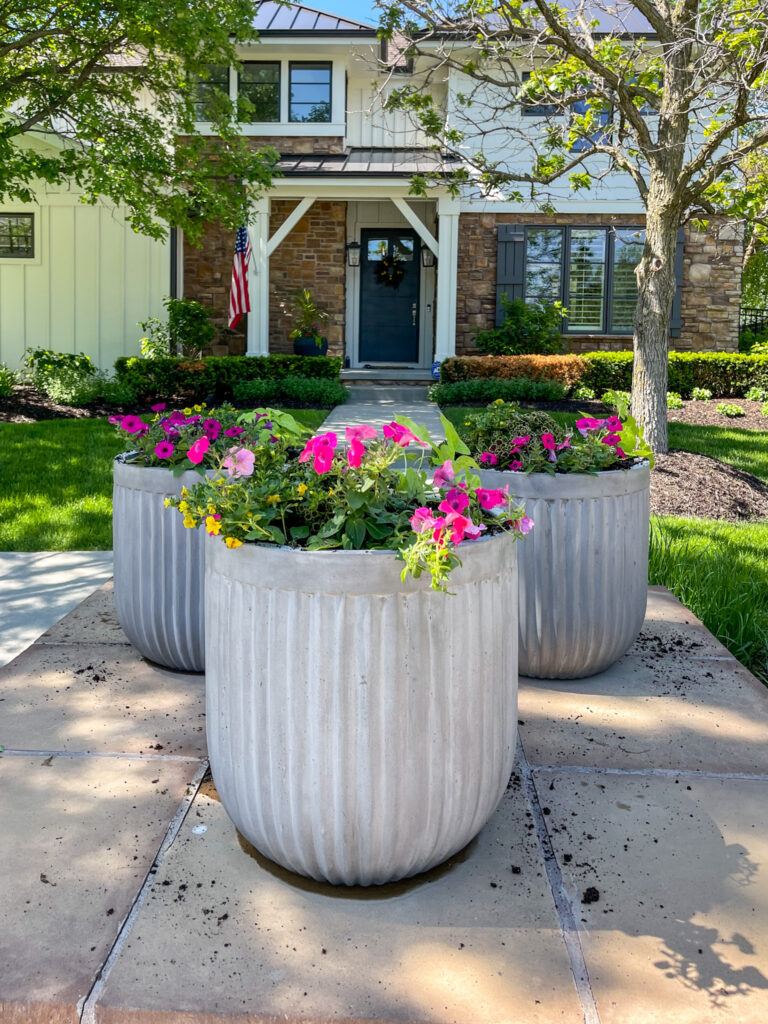 I opted for larger plants than I normally would to make up for the weather delays. But I think these will fill in really nicely now! I used some wave petunias, a sweet potato vine, and then one of those planter refill inserts that Lowe's carries that had some calibrachoa and other mixed plants. And don't forget the fertilizer that my mom and I swear by! They'll be caught up in no time!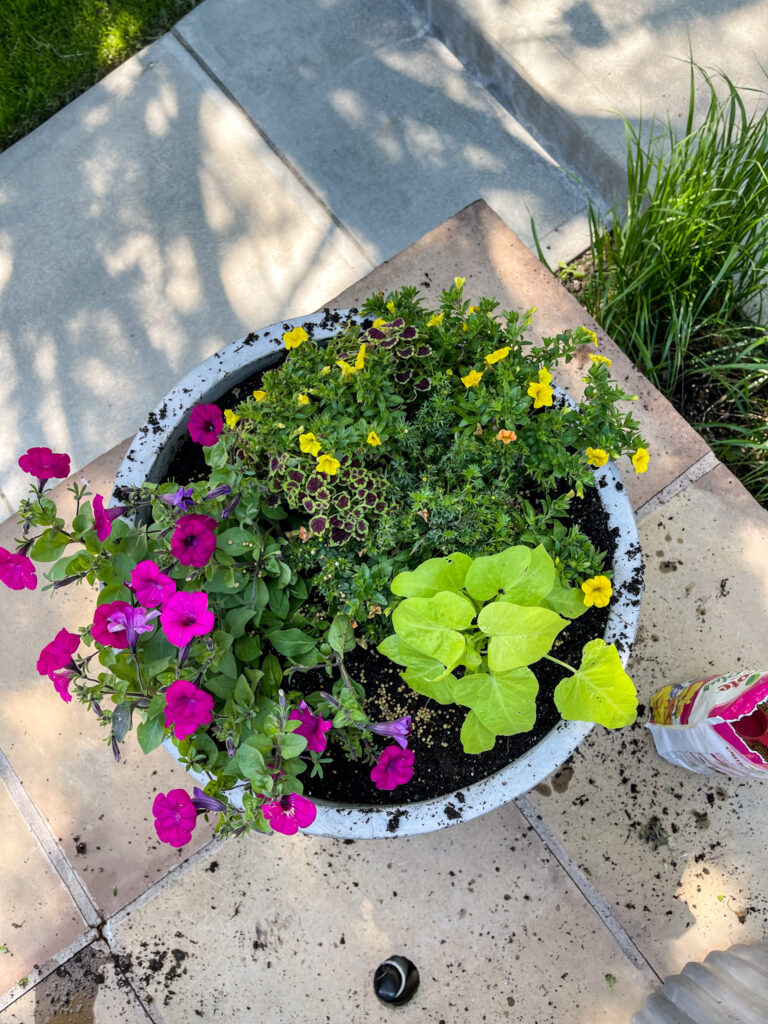 If you look closely in the picture at the top, you may have noticed the following. With the harsh, long winter we had (with very little moisture) we had three yews die out front. Such a bummer, since they had been so hardy for about 14 years (we never chose/planted any of our landscaping out front other than the hydrangeas)! But Kurtis has hated them for awhile, so maybe it was a blessing in disguise. I talked to the guy that did our landscaping around the pool house, and he said once a yew turns like this, it's not going to come back. So, I used a hedge trimmer and cut it all out.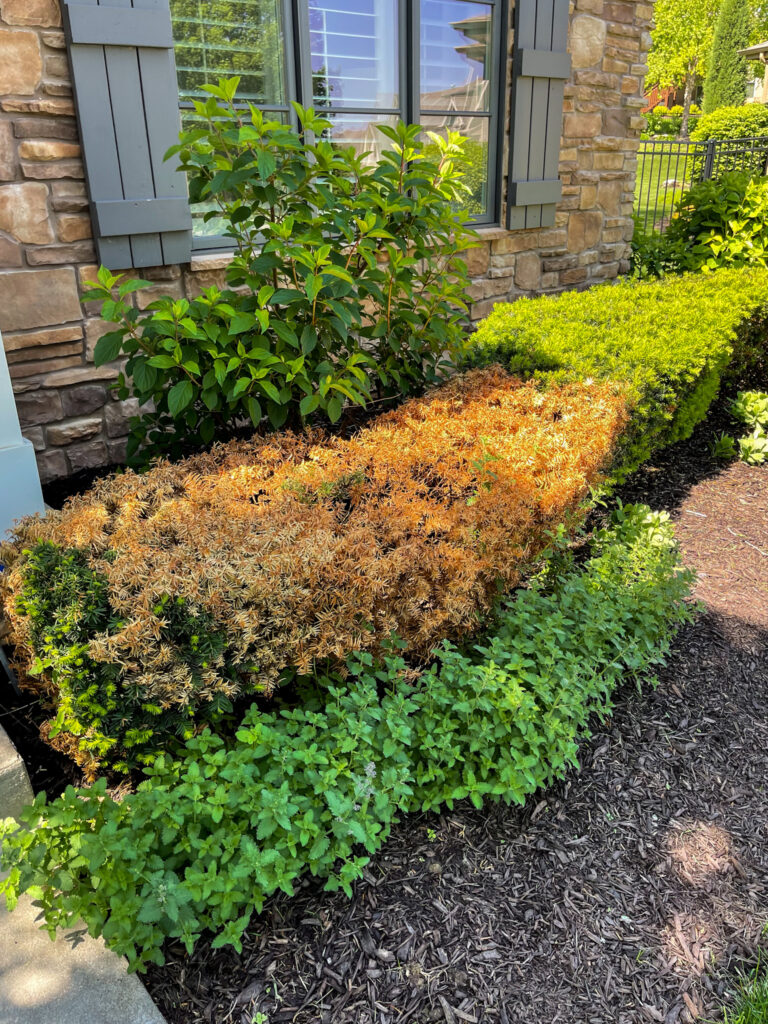 Much better for now, even if it looks a bit choppy! Kurtis followed up by digging out all the roots. We're going to give it a month or so and see if we need to do anything further. This will now allow the catmint to fill in much more and the large limelight hydrangea bush to grow more evenly. From there, we'll evaluate if we want to try and and more yews back in or not.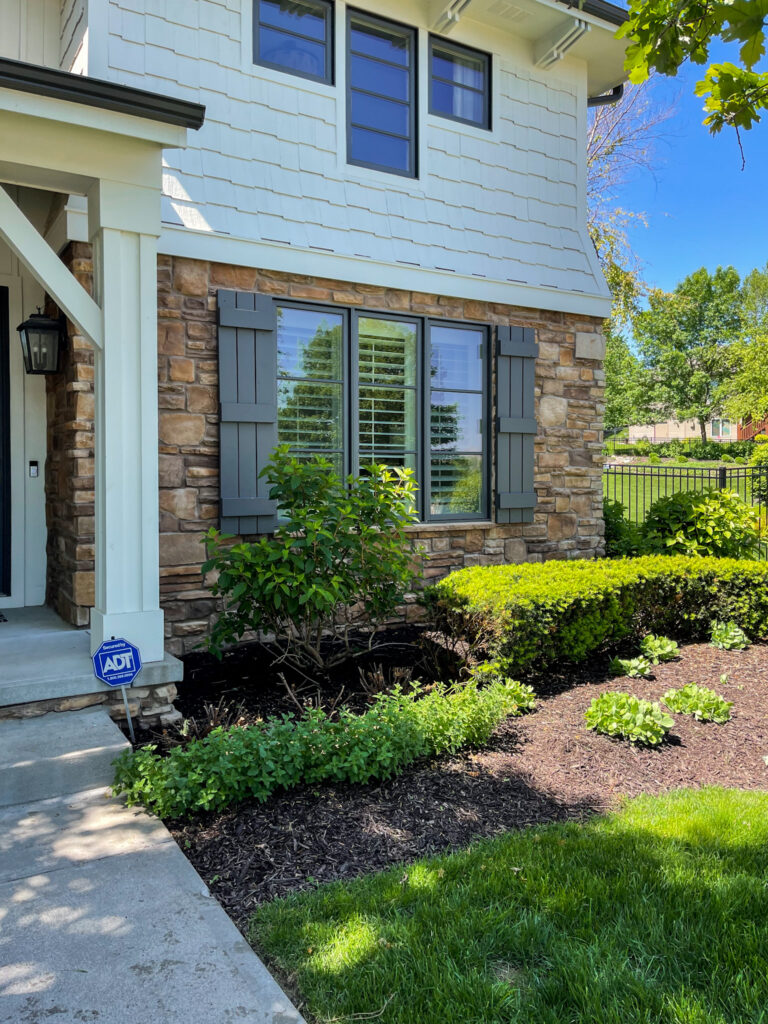 I *think* that about wraps up my landscaping and planting for the season. But, we'll see how that actually goes 😉
We had also ordered a bunch of fineline buckthorns last fall after all the pool house construction. But the landscaper was having a difficult time finding decent ones. They arrived last week, and since we had already paid for them, we had them finish up despite the fact we're moving. They'll make such a beautiful privacy hedge along the fence in a year or two for the new owners!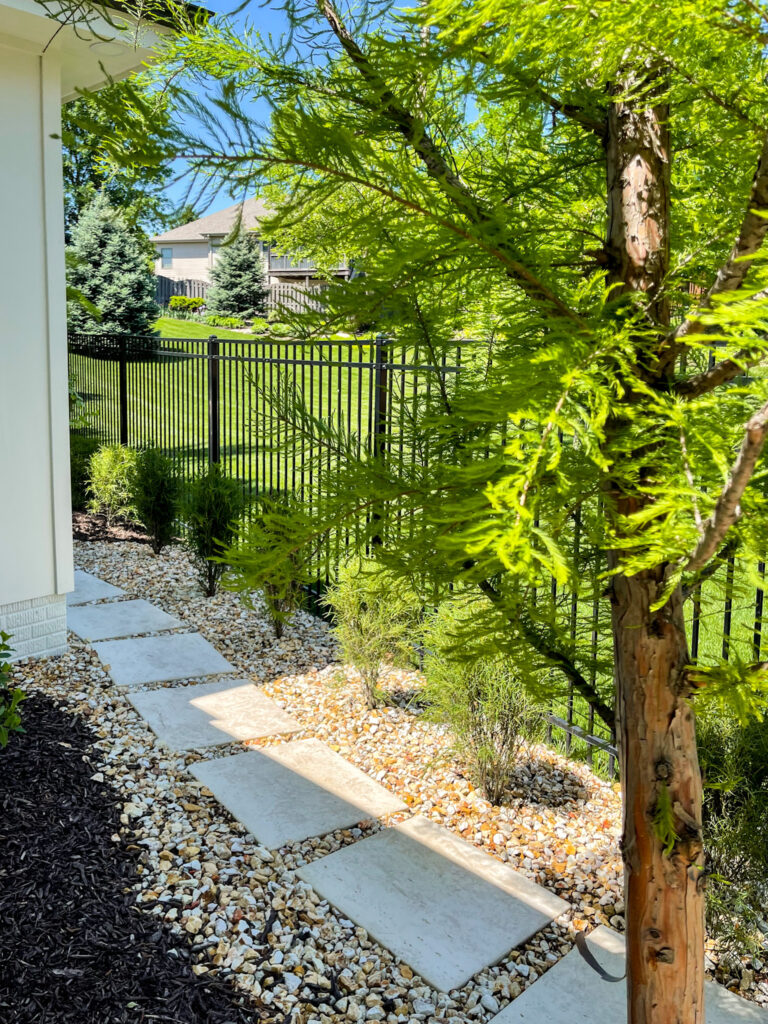 Top Sellers Of The Week
Following are the top sellers of the past week across all of my channels. Links to each item are below the graphic.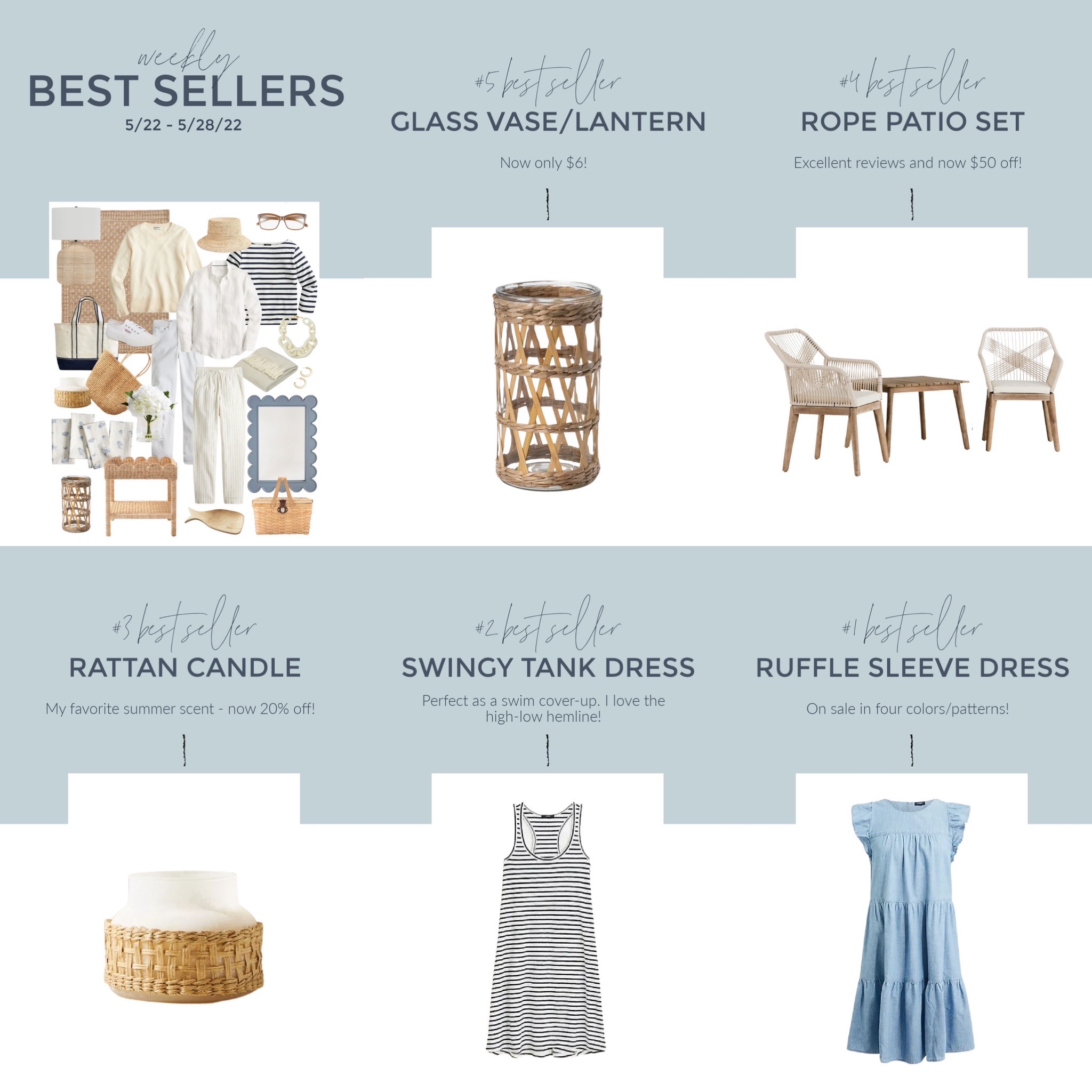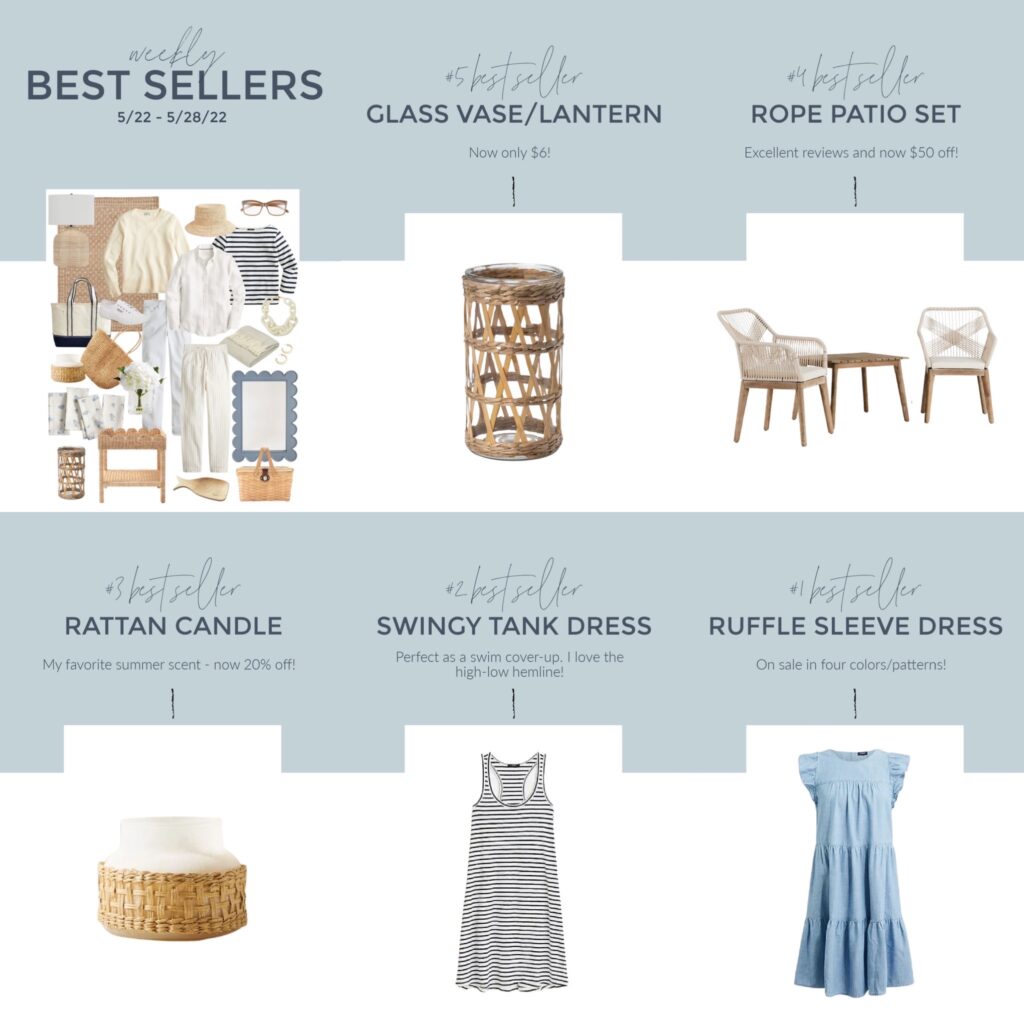 BEST SELLERS (each number is clickable): #5 | #4 | #3 | #2 | #1
In Case You Missed It
Following are the posts I shared over the past two weeks, in case you missed some days!
Following are the most read blog posts of last week (excluding any of the new posts already mentioned above). Many times this includes old posts that are popular on Google or Pinterest.
Around Town & For Fun
Most of the week last week was cold and rainy. Which called for what is *hopefully* our last fireplace run of the season. But that also means Hawkeye immediately turns into "lap cat" mode, which neither Kurtis nor I can turn down since it's so rare!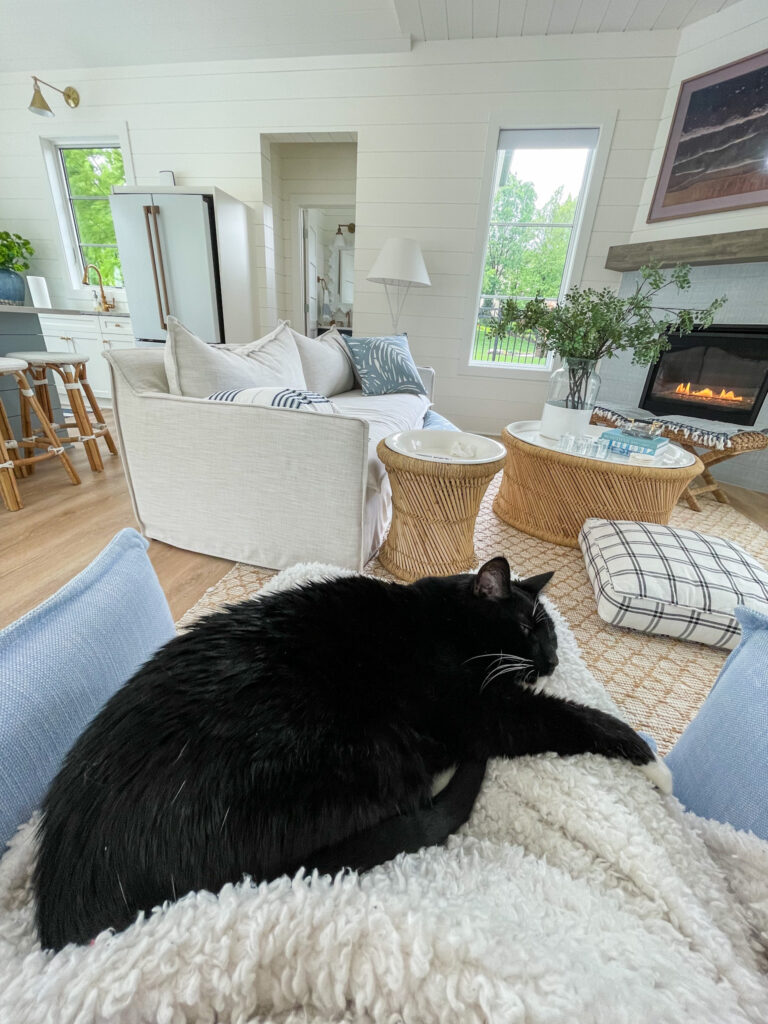 POOL HOUSE LIVING ROOM SOURCES: Outdoor Sofa (Perennials Basketweave – Chalk) | Outdoor Swivel Chairs (Perennials Basketweave – Coastal Blue) | Round Storage Coffee Table | Round Storage Side Table | Rug | Woven Stools | Indoor/Outdoor Palm Pillow Cover | Indoor/Outdoor Striped Pillow Cover | Floating Shelf Mantel | Frame TV (teak frame) | Colorblock Vase | Faux Greenery | Fireplace Tile | Tripod Floor Lamp
Are you kidding me with how stinking cute Henley is?!? Despite her nearly 14 years old, she still seems like such a little kitten to us!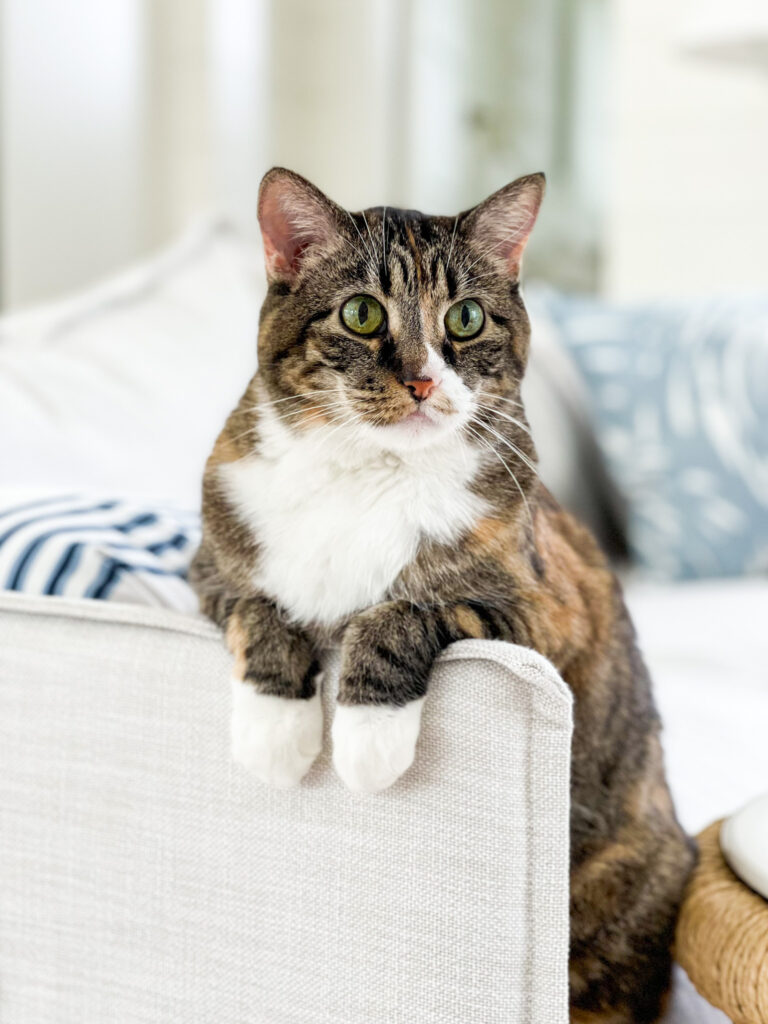 Friday night, Kurtis and I made reservation at Dante for a meal out on the patio. We could tell the weather would be gorgeous, and it was! When we got home, we realized we had locked ourselves out of the house. It's a long story, but we're short a key with one still being in our realtor's lockbox. Thankfully our realtor was able to let us in after about 40 minutes or so. Kurtis' attempts at showing the cats how to unlock the gas strut window didn't work out too well 😉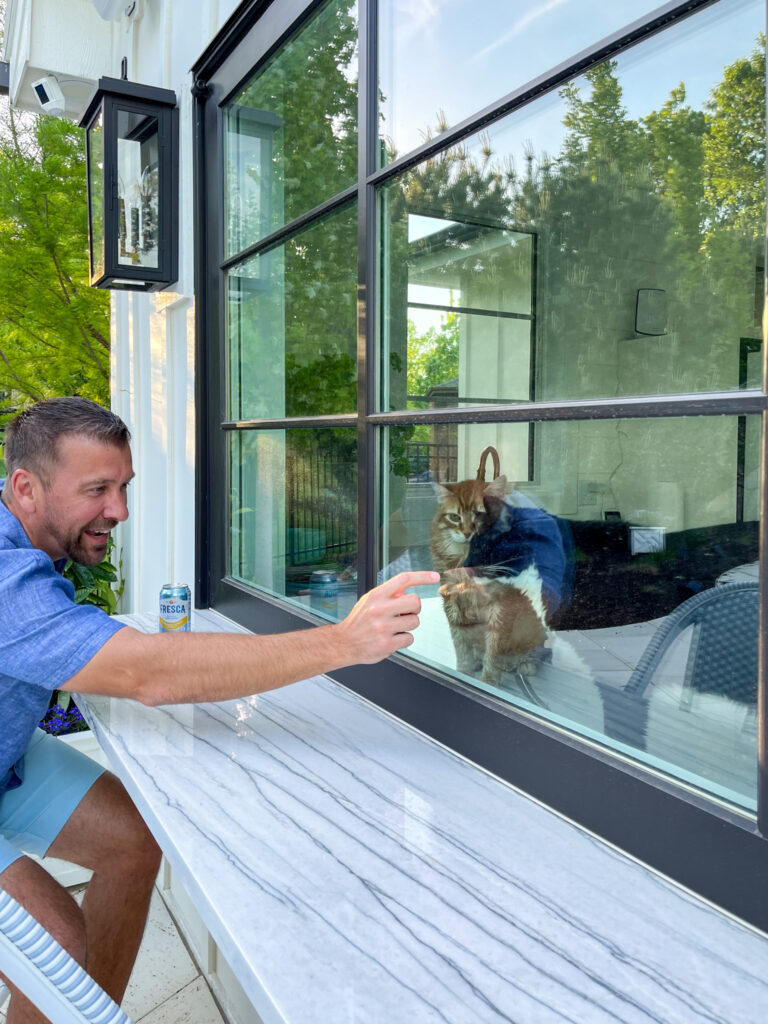 With the colder weather earlier in the week, these two little office companions looked like this most of the time. If we bring the extra floor cushion in, they still prefer to share. Especially when the temps are cooler!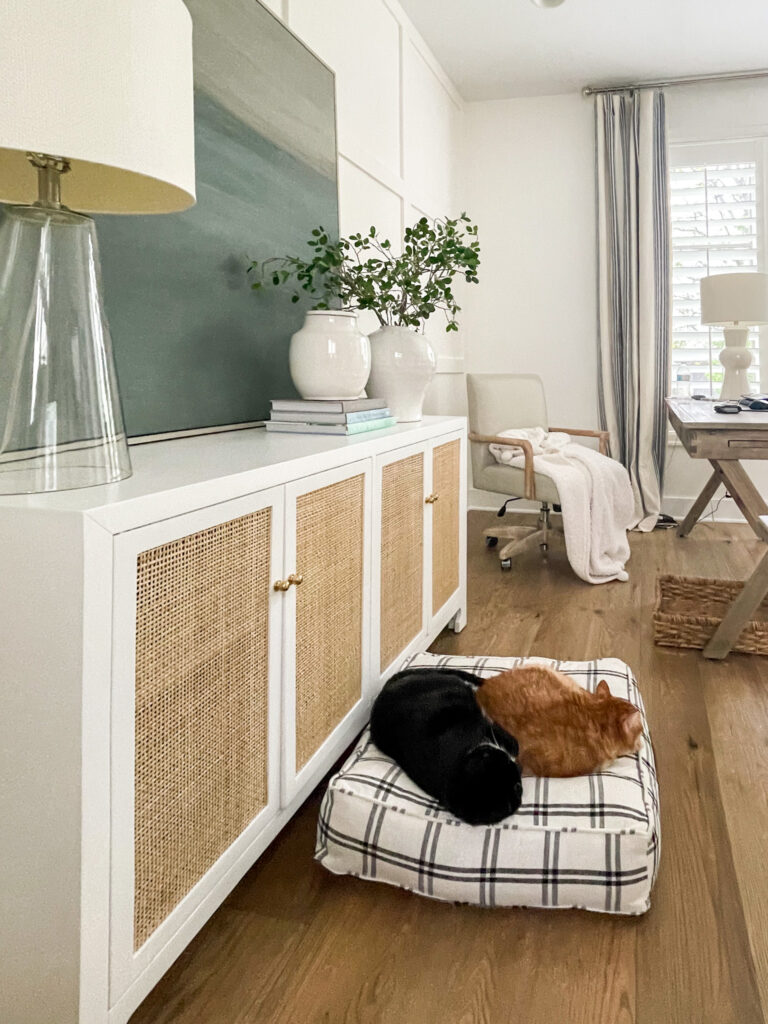 OFFICE SOURCES: Rattan Cabinet | Abstract Art | Glass Lamp | Faux Greenery | Smaller Ceramic Pot | Larger Ceramic Vase | Rolling Leather Chair | Wood Desk | Striped Drapes | Floor Cushion
Saturday afternoon, Kurtis and I spent a little time out at the pool before heading over to our friends' house. They were hosting a pool party and dinner for two of their daughters' birthdays!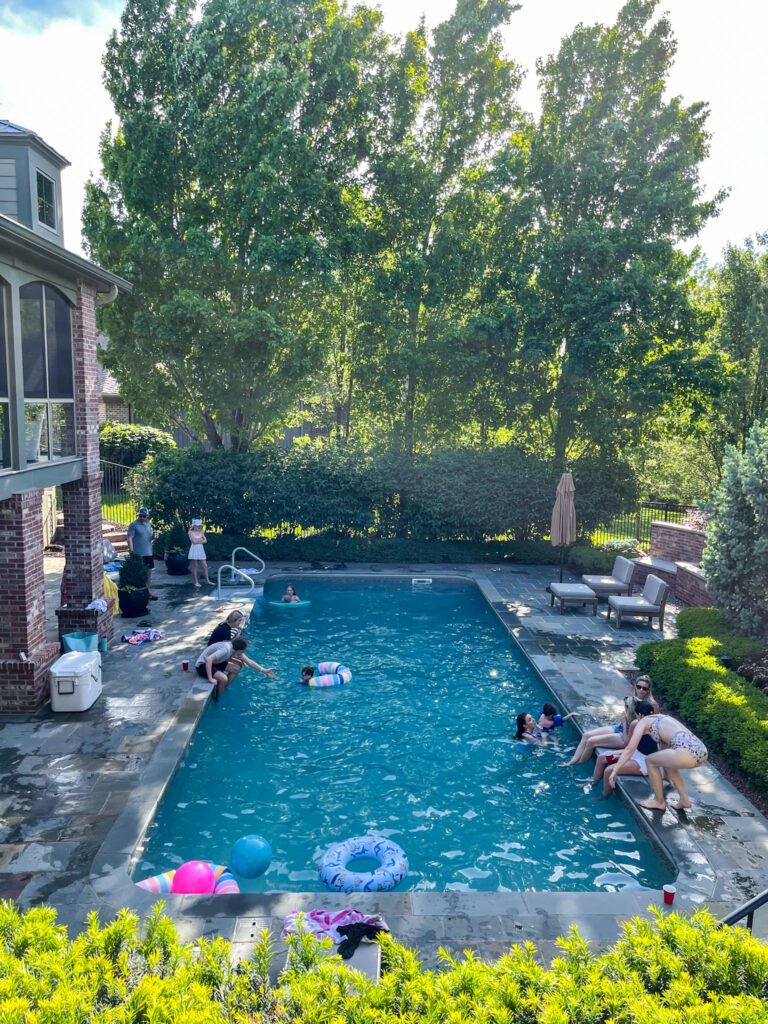 Sunday afternoon, we hosted our friends for a pool party at our house! I made this spicy cucumber salsa that we love so much in the summer time!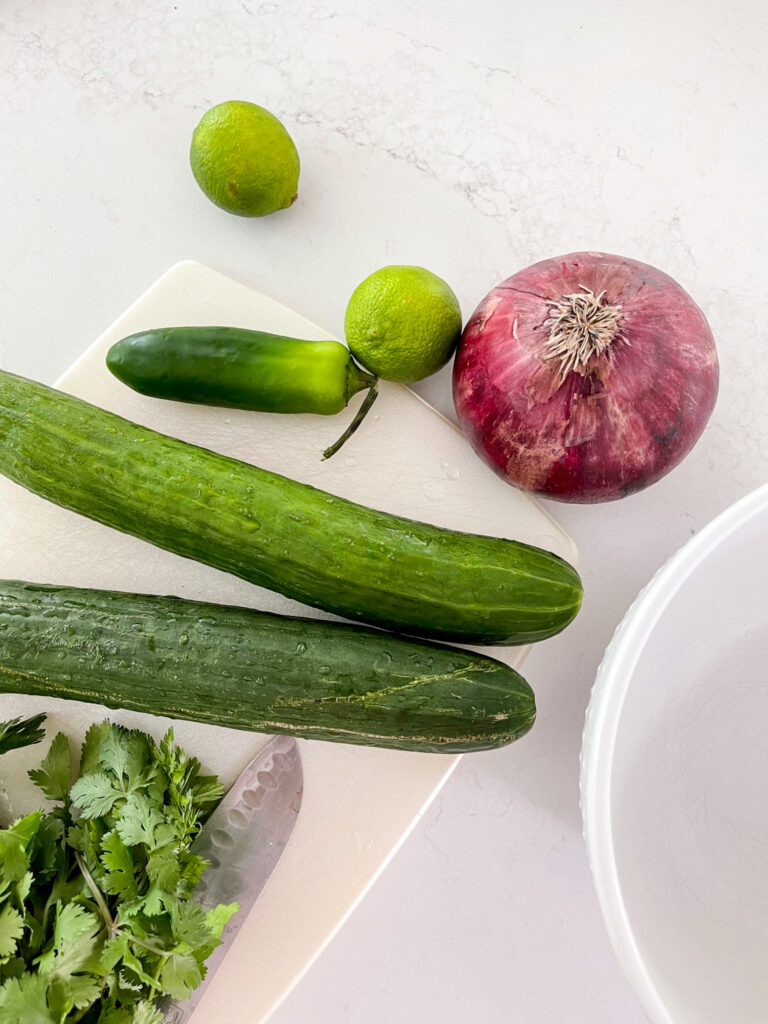 It was nice and hot out, but the sun didn't make much of an appearance the whole day. We still managed to have a lot of fun though!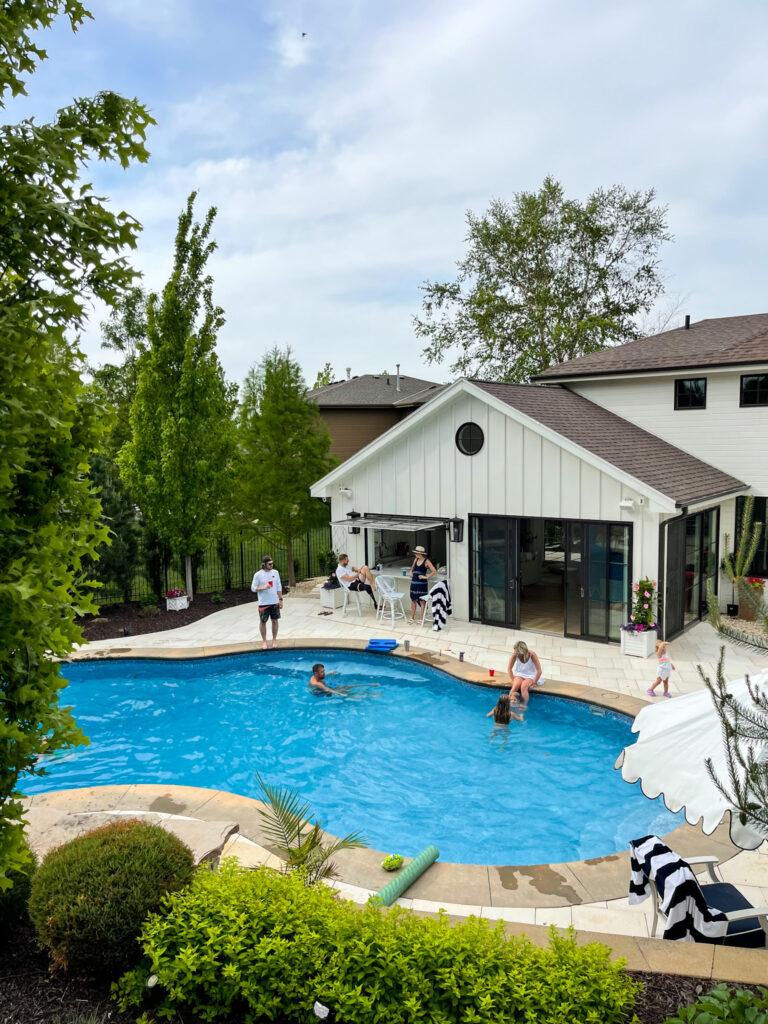 We also started "Jack Ryan" on Amazon Prime last week. We're hooked! It reminds us a lot of the days when we would watch "24" in our first house after we had just gotten married! Now that things have mostly finished greening up outside, I love my view from the sofa looking towards the courtyard and my office! That's the wall where all the honeysuckle is starting to bloom!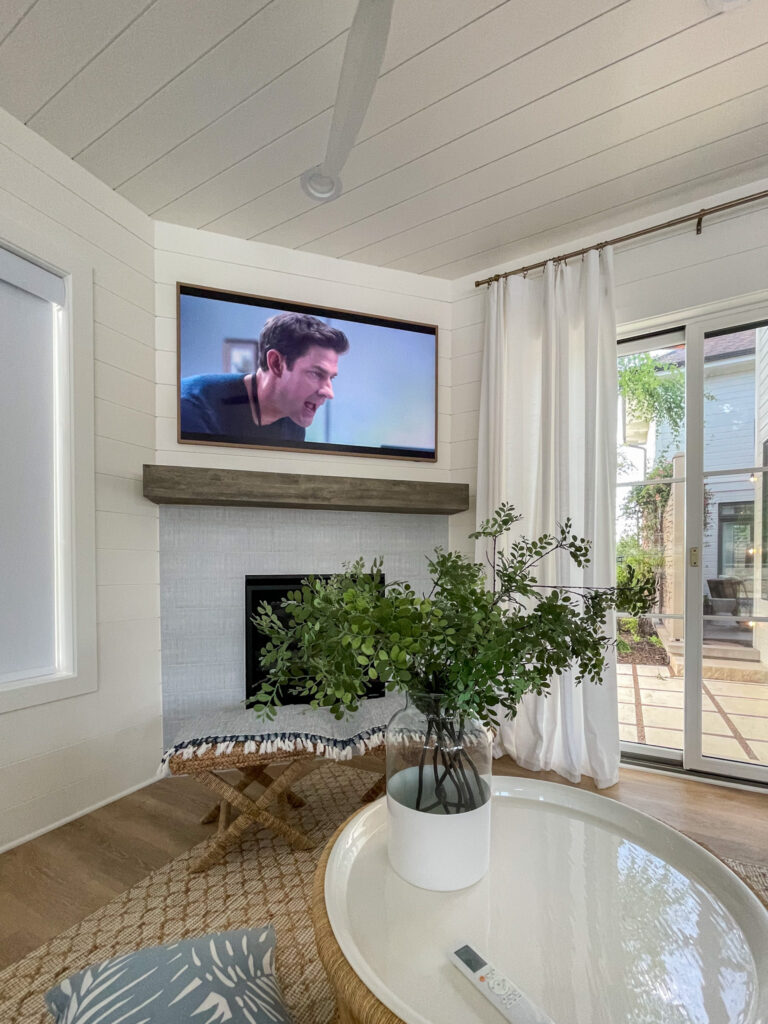 I'm already feeling behind for the week, now that it's already Tuesday and tomorrow is the first day of June. What?! But we sure are excited that summer is unofficially here! Just hoping our weather gets the memo from here on out 😉
Recent Buys & Sales
Following are some sale from the weekend that have carried over and are still going strong! Several retailers have extended their holiday sales by one day! You can see my top picks from the weekend here.
I hope you all have a great week!
If you would like to follow along on more of my home decor, DIY, lifestyle, travel and other posts, I'd love to have you follow me on any of the below channels: