Good morning, and happy Monday! I hope you all had a nice weekend! Here's a little bit of what we've been up to over the past week.
This post contains affiliate links for your shopping convenience. You can read my full disclosure policy here.
Home Projects & Updates
One of the most exciting parts of last week while we were in Florida? We finally got to see our lot we'll be building on! We'd seen it once before in person, but not since everything was "official". A few doors down, they're building a very similar house, so on Sunday when we got there, we walked through to feel it out. It's only framed at this point, but it gave us a better understanding of how everything will flow. Up until that point, we'd only ever seen drawings of the floorplans! Kurtis made us drive back on a sunnier day, because he wanted to ensure the detached garage wouldn't cast too many shadows on the pool area. Priorities! But you can see the house backs a really pretty wooded area. Nobody will be directly behind us, but there is another street behind the woods a bit, so they're not too deep.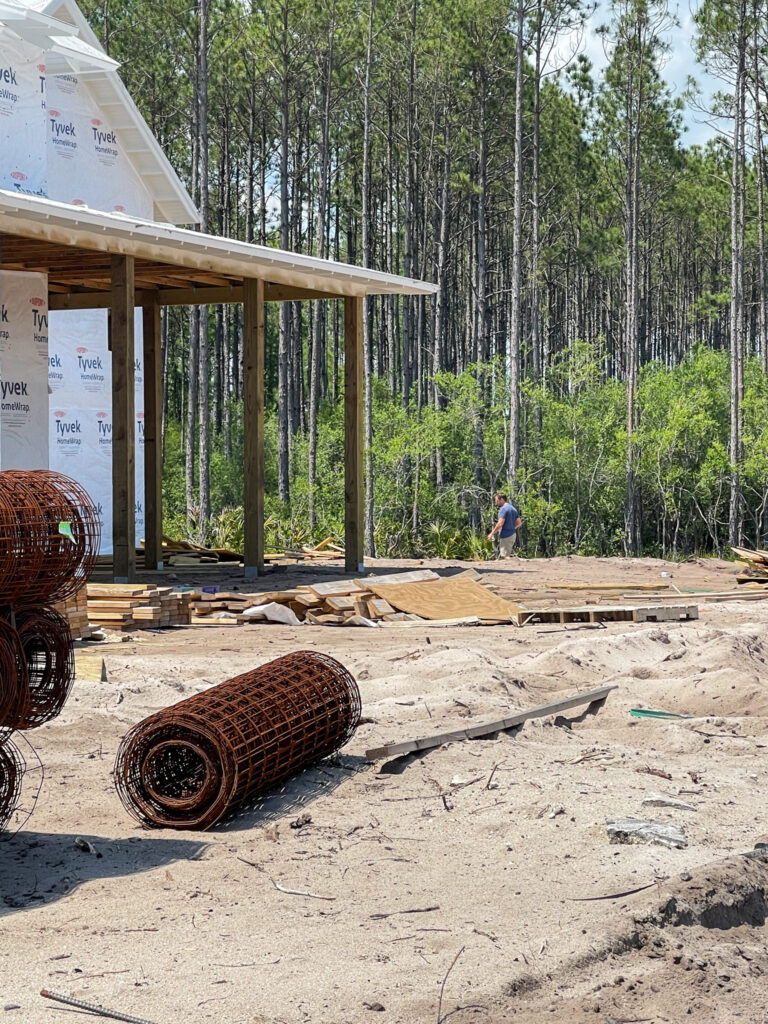 Owning a short term rental has definitely been a learning curve! We're actually kind of shocked at just how poorly some people treat homes that aren't theirs. In the two months we've been gone, we've already had to have the sofa cleaned twice due to wine and chocolate spills (rather aggressive ones), stains cleaned from the rug, damage to one of our brand new beds, etc. My mom even found wine poured/sprayed on an upstairs bedroom pillow. It's mind boggling to me! But, I have a few other friends down there with similar vacation rental homes, and it sounds like it's the norm. I know some of you warned me about that as well 😉 I guess we just had to experience it first hand! We're just looking forward to the day when we're nearby and can check in more periodically and address any issues much sooner! Our property manager does a great job, but they also don't know the place as intimately as we do at this point.
Super minor, but we also showed up to the garage looking like this. Remember how we spent time in March hanging this organization system so it would keep things tidy? Ha! Well, several of you did warn me it would never happen and to expect it to always be chaotic. It only took about five minutes to get back in shape, but I'm seriously laughing that this was how the wood chair was hung.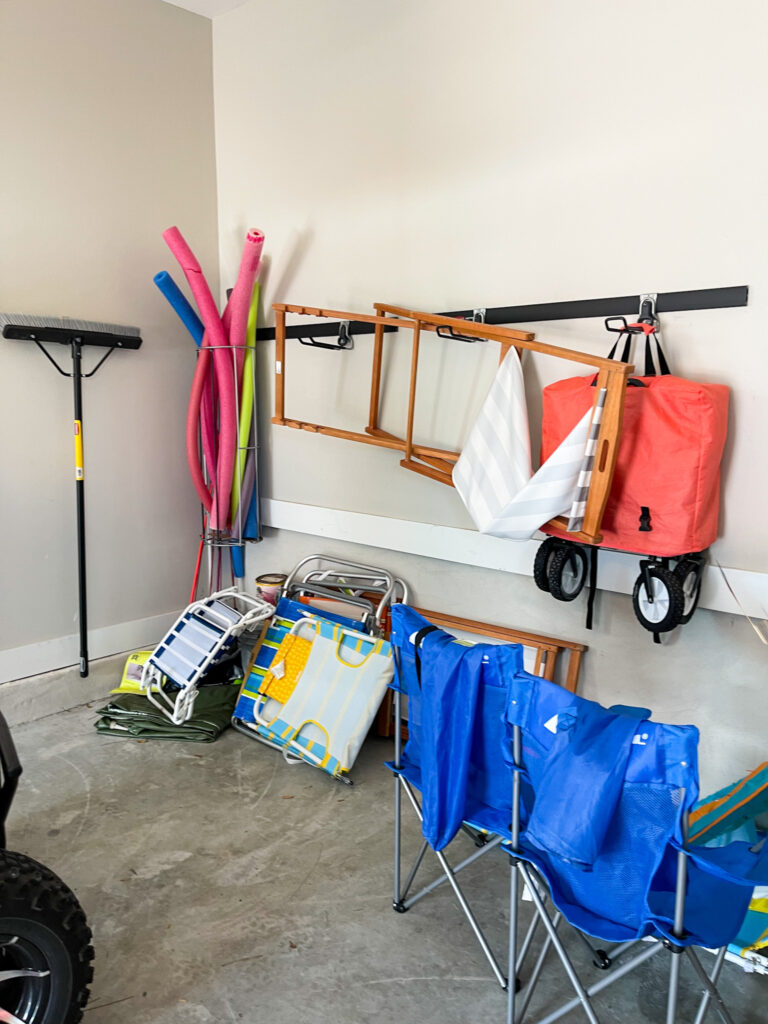 At least we have everything off the floor again. We'll see how long it stays this way 😉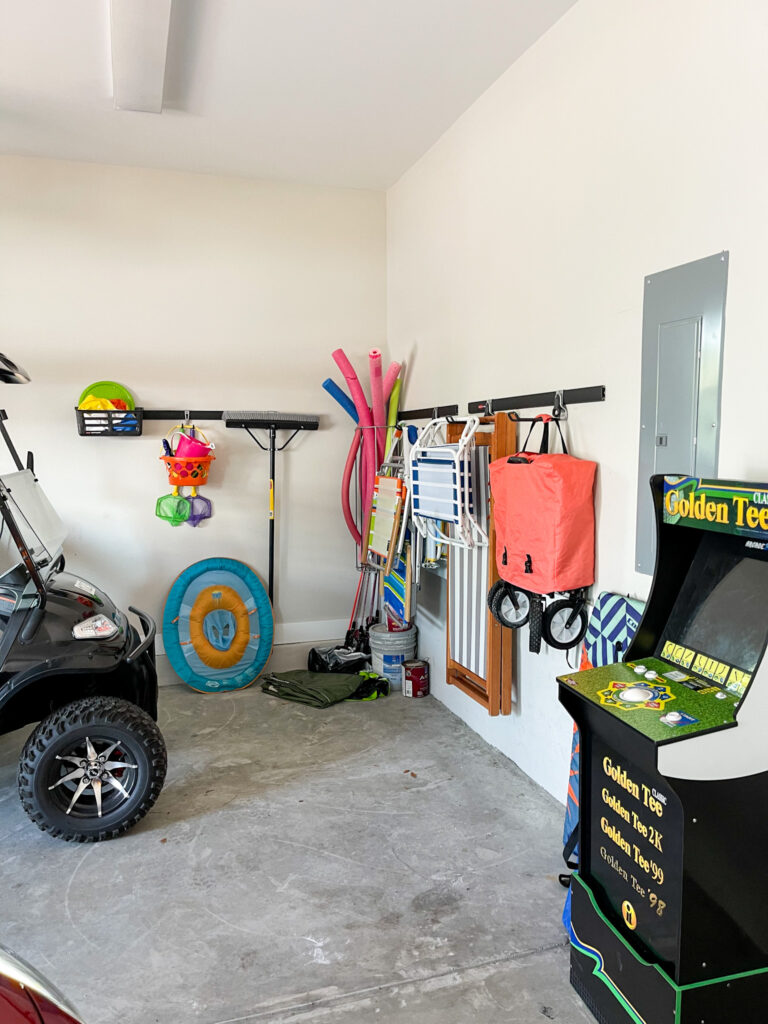 In other news, we think we've found the place we'll be living in Florida until our new house gets built. We likely won't be able to move into the new-build until mid- to late-summer 2023. But, we plan to be out of our current home by October 31st this year. Our initial thoughts on what we'd do changed with this last visit, so once things are more set in stone, I'll be sure to share an update! Hopefully we have that all wrapped up in the next week or so!
Once we got back to Omaha Thursday night, the landscaping had changed quite a bit! The trees are so much more filled in, and we have new blooms around every corner. I absolutely love when the honeysuckle blooms on our courtyard wall! We even saw a hummingbird hanging around!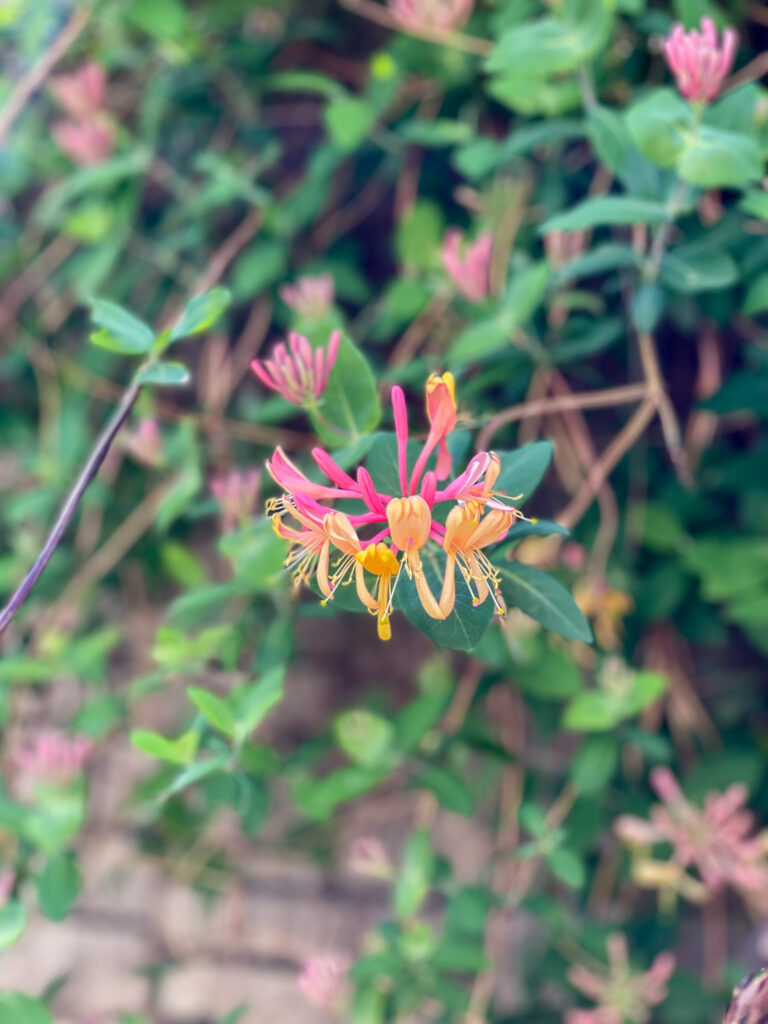 My mandevilla is blooming like crazy already too. And there are tons of new buds ready to explode!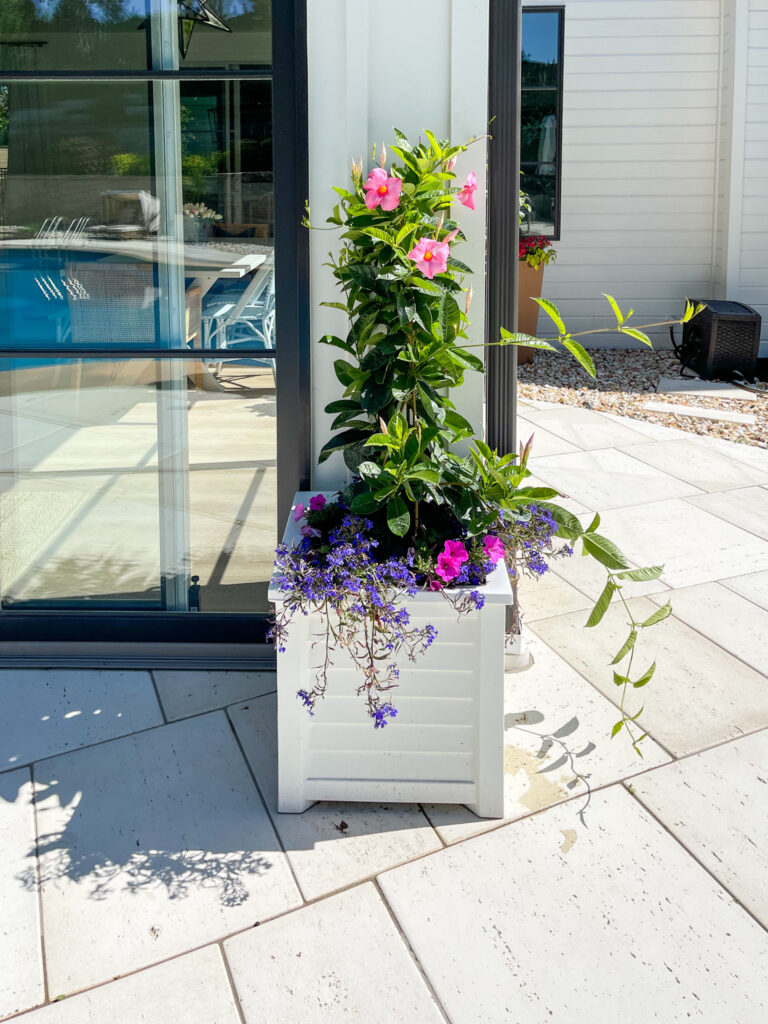 You can kind of see in the image below the trees have already filled in so much too! I'm hoping we can get the drone out this week to get an updated aerial image of the backyard!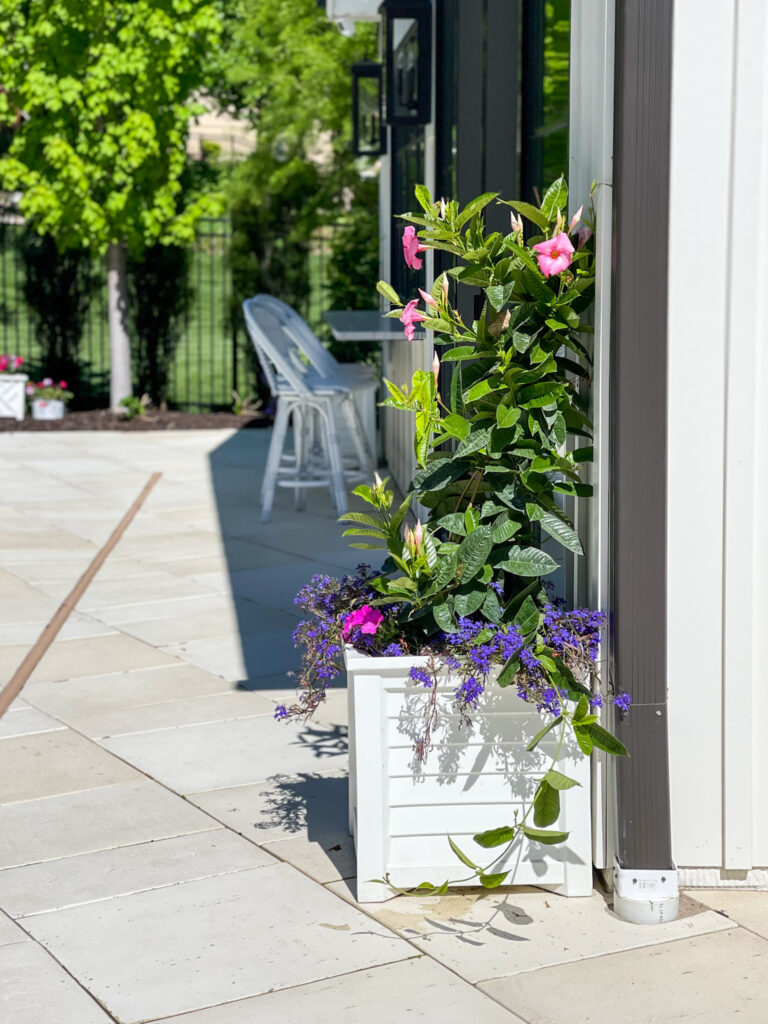 Top Sellers Of The Week
Following are the top sellers of the past week across all of my channels. Links to each item are below the graphic.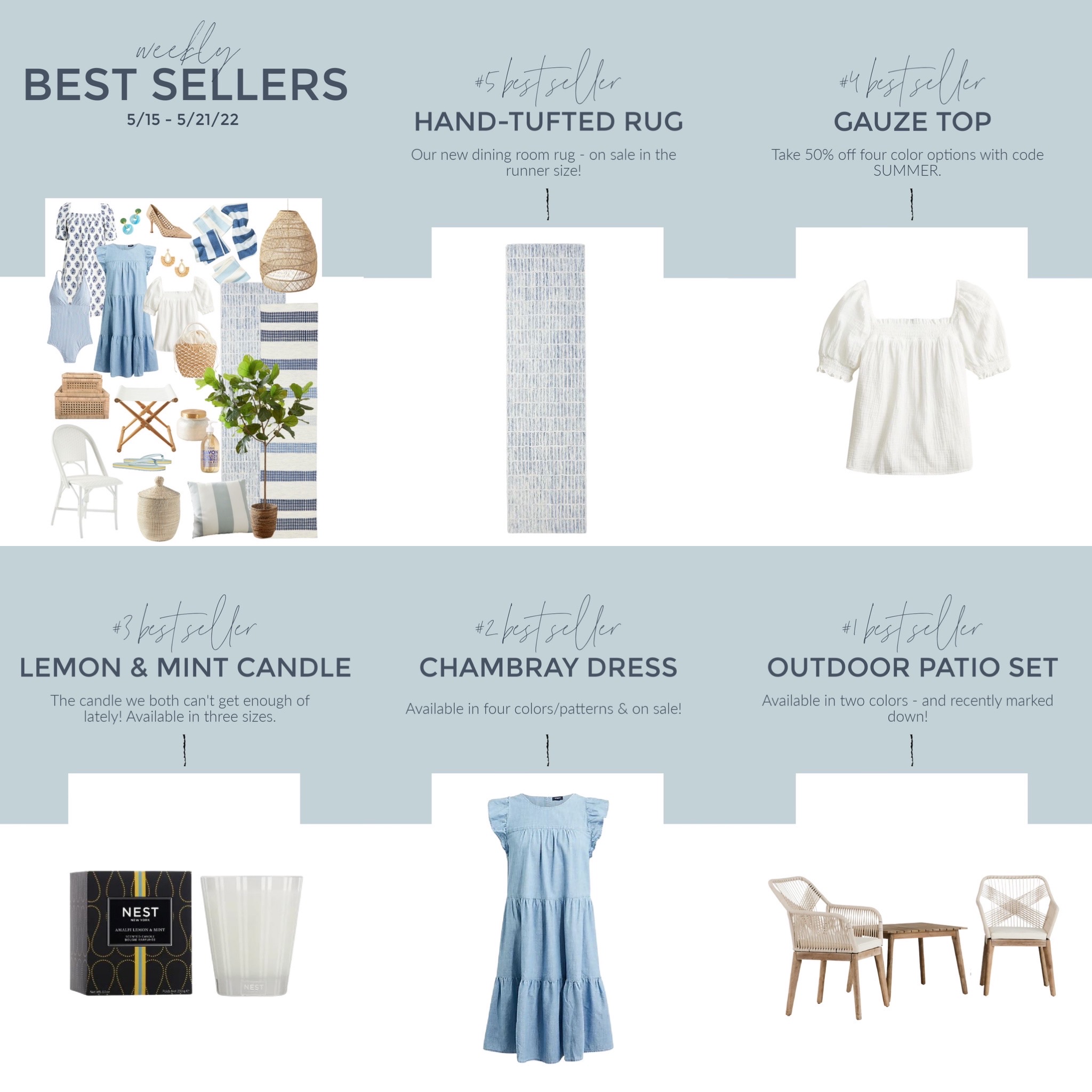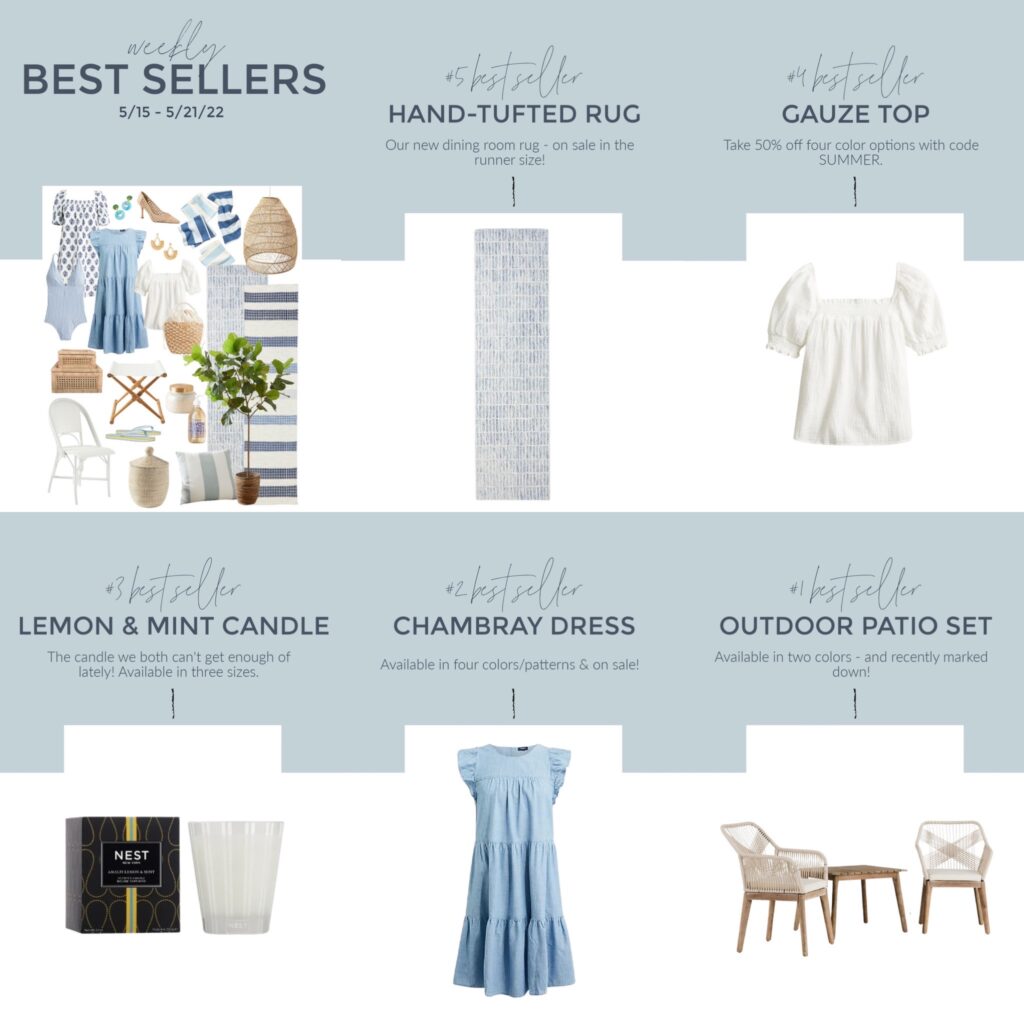 BEST SELLERS (each number is clickable): #5 | #4 | #3 | #2 | #1
In Case You Missed It
Following are the posts I shared over the past two weeks, in case you missed some days!
Following are the most read blog posts of last week (excluding any of the new posts already mentioned above). Many times this includes old posts that are popular on Google or Pinterest.
Around Town & For Fun
Last week while we were in Florida, I tried to spend some time out exploring and taking photos. Now that we've been again, we're going to wrap up our 30A travel guide to share with you guys! We've really tried to make an effort to try new restaurants and spots each time we're out there. This time around, we headed down to Santa Rosa Beach one day to try out Shunk Gulley. We were able to snag one of their bar seats that looks out to the Gulf. The image below was after we walked across the street to see how busy the beach was, but that water color never gets old! So beautiful!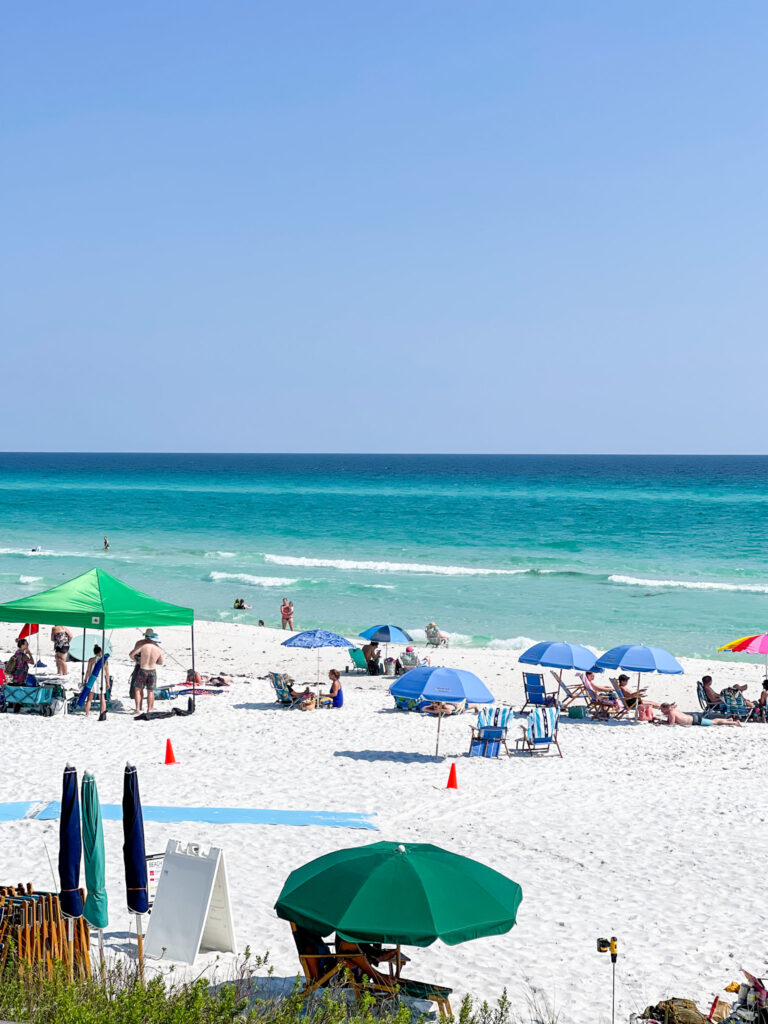 The oleander was in full bloom, and the jasmine had just finished blooming. It was such a pretty time of year to visit and wasn't super busy yet, either! This jasmine-covered entrance in Alys Beach was a showstopper!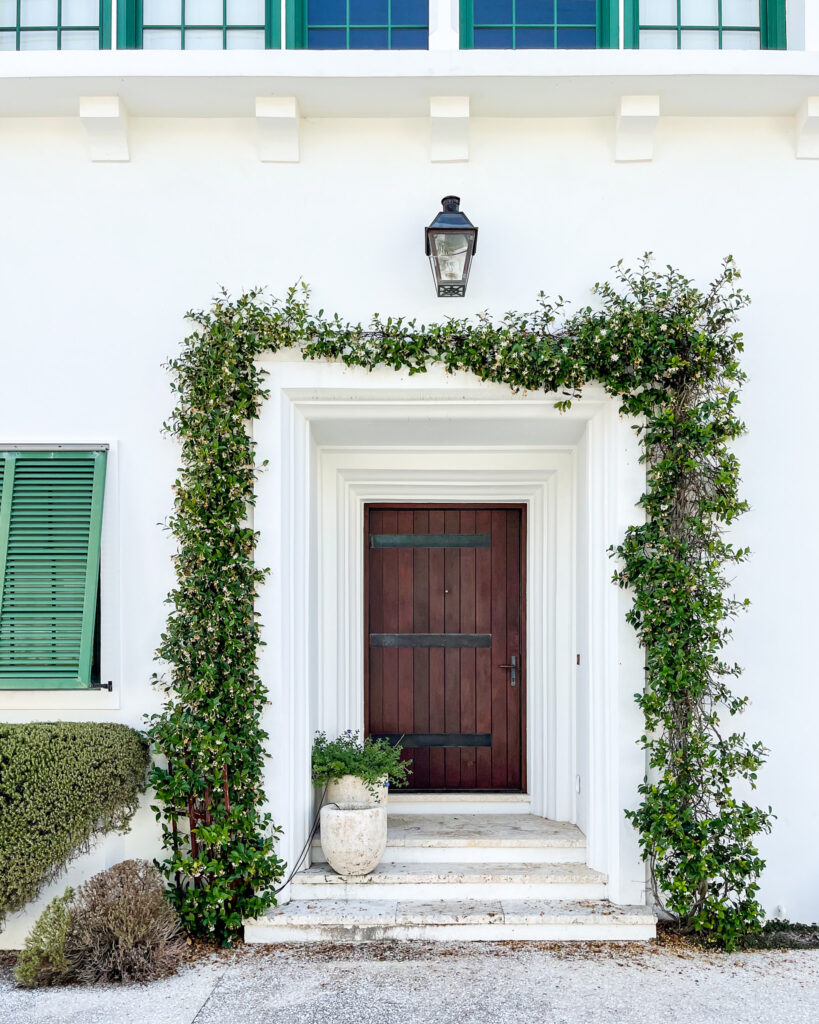 30A sunsets rarely disappoint, even when you're not down on the water! We had a beautiful one our last night in town!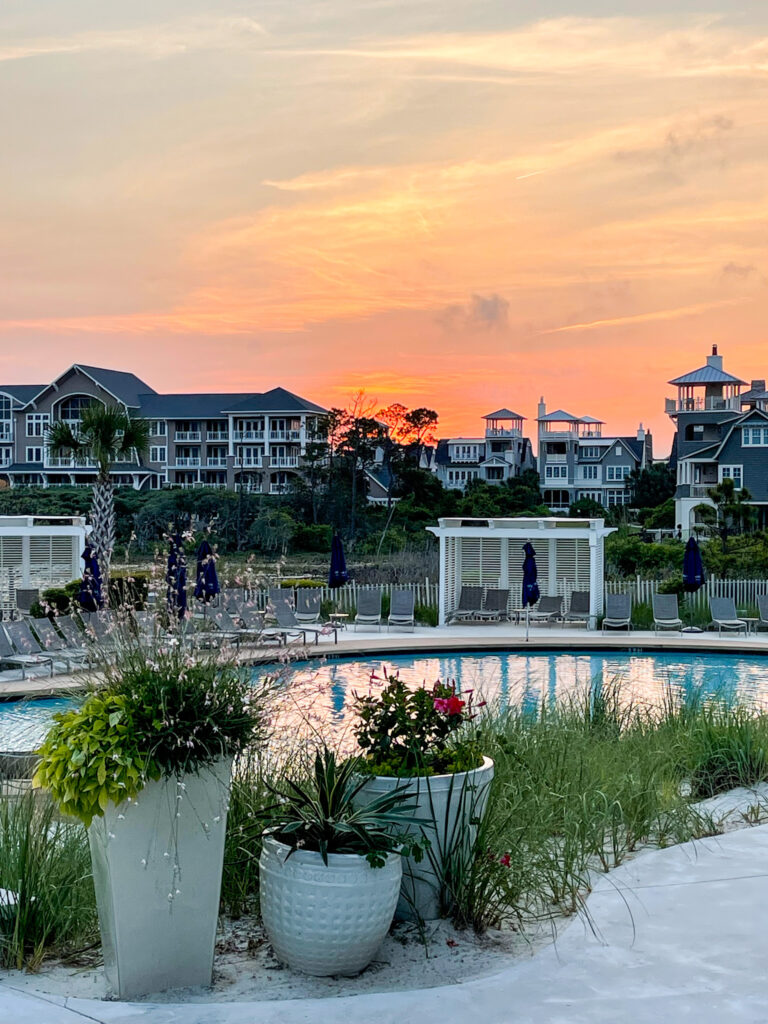 We got home from Florida Thursday night, so we spent much of Friday and Saturday getting caught up on work and things around the house.
Saturday night we had dinner with our friends. Zoe put on her special ballerina outfit to show us how she dances to the Barbie ballerina movie. Too cute! I thought the added unicorn leggings were a nice touch 😉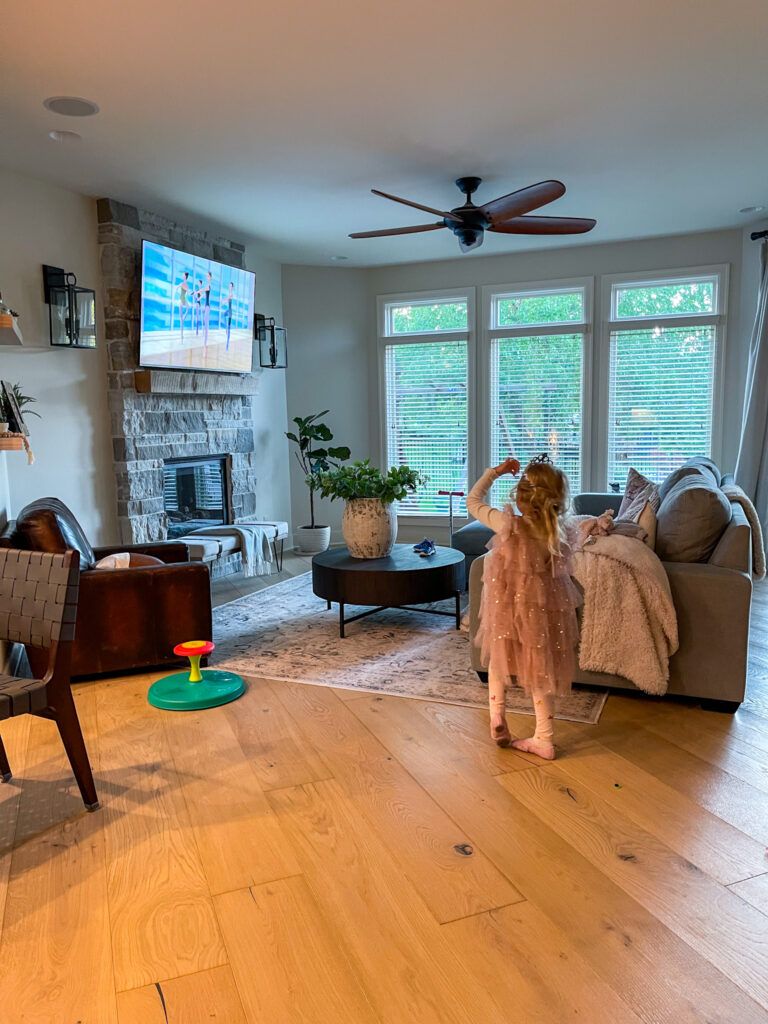 On Sunday, Kurtis went golfing with his brother-in-law, so I worked on a few things around the house. We had brought some of our outdoor furniture inside while we were in Florida so I had the pool house doors open for a bit while I brought things back out. One minute, Hawkeye was right next to me, the next he was over by the lounge chairs prepared to join the bunnies in their game of chase. Needless to say, he was not happy when I made him come back in, and he could still see the bunnies running in the yard!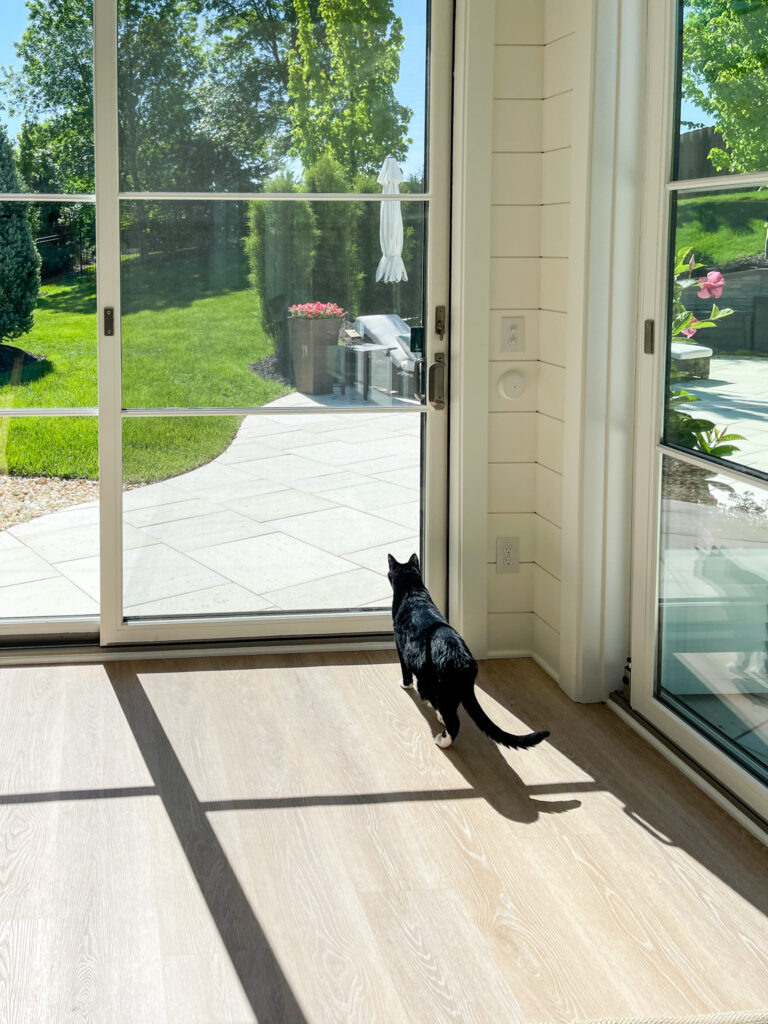 Sunday night we grilled for the first time of the season. The courtyard had a bunch of birch seeds that had dropped so I was working on cleaning that up while Kurtis grilled. Bailey was so excited to get back in the courtyard. She didn't even wait for me to blow off the furniture!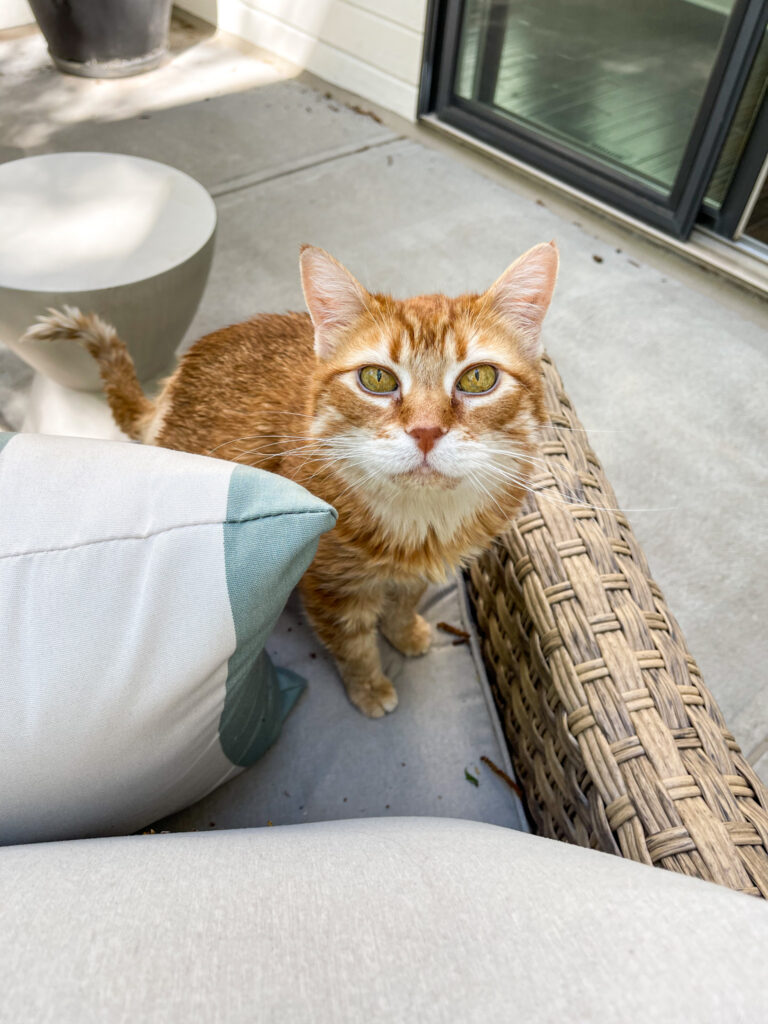 Henley has definitely been a little undone since we got back. She's following us everywhere, crying super loud if she can't find us, etc. She definitely wasn't happy that we went without her for this little excursion. She fell asleep the other day hugging this chair and it couldn't have been cuter!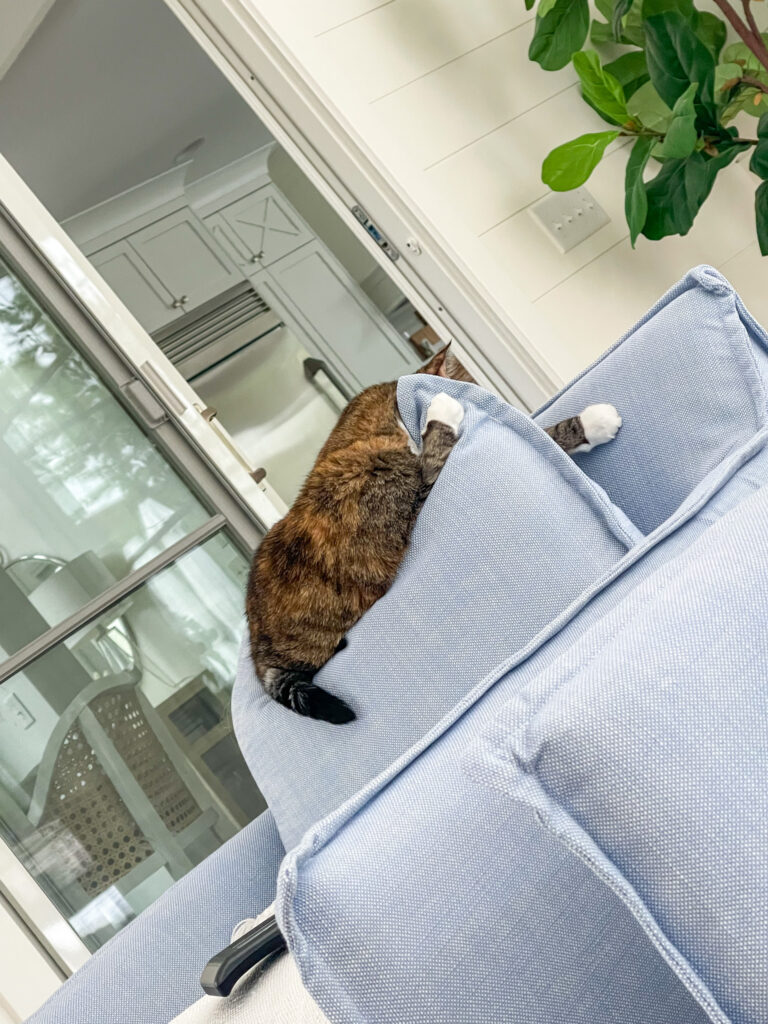 It's going to be a busy week as we head into the holiday weekend! We have the appraisal on our house today, a rental house here in Omaha we're trying to get listed ASAP, loan paperwork to complete, contracts to review, etc. It's easy to get stressed in times like this, but we're trying to take it all in stride. The fact that all of this will end with us living in our dream location helps keep our eyes on the prize! I still can't believe it's already June next week!
Recent Buys & Sales
Following are some sale from the weekend that have carried over and are still going strong! You can see my top picks from the weekend here.
I hope you all have a great week!
If you would like to follow along on more of my home decor, DIY, lifestyle, travel and other posts, I'd love to have you follow me on any of the below channels: