Good morning! I hope you all had a nice weekend and had some enjoyable down time! Here's a bit of what we've been up to this past week.
This post contains affiliate links for your shopping convenience. You can read my full disclosure policy here.
Home Projects & Updates
First and foremost, we have light fixtures!! They haven't been hooked up to electricity yet, but holy cow does it make everything feel much more finished! The Moravian star light below is still missing one of the arms (it arrived broken from transit)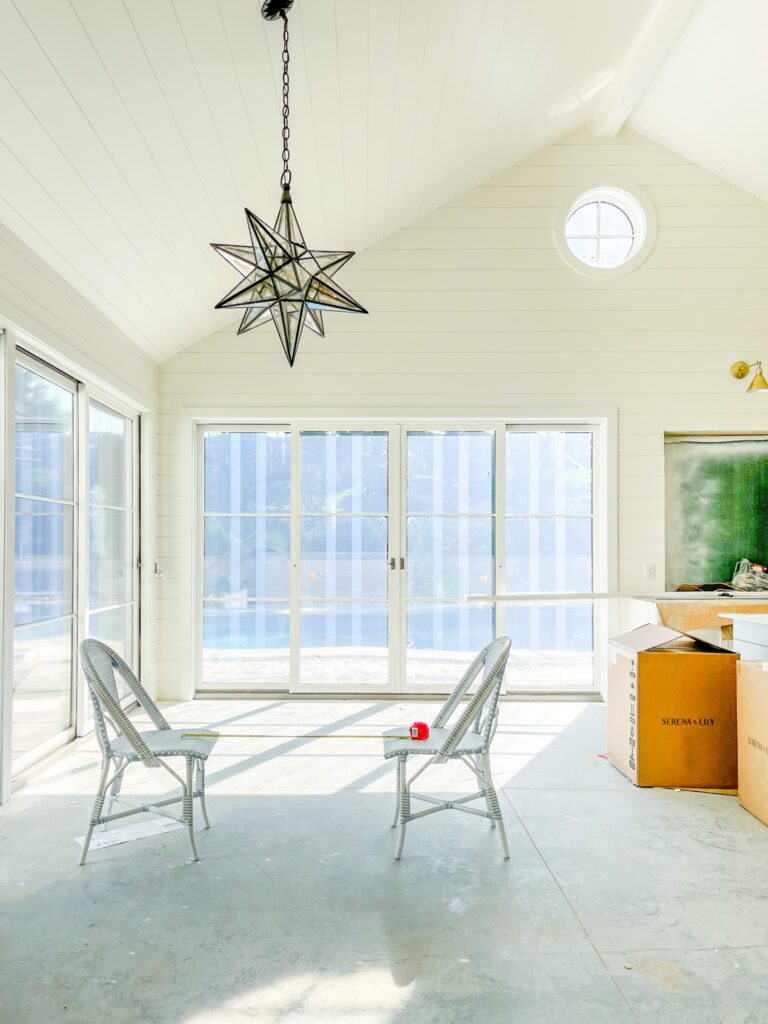 SOURCES: Moravian Star Light | Outdoor Bistro Chairs | Star Sconces
These Star Sconces that we have over the kitchen sink and the bar window are another favorite!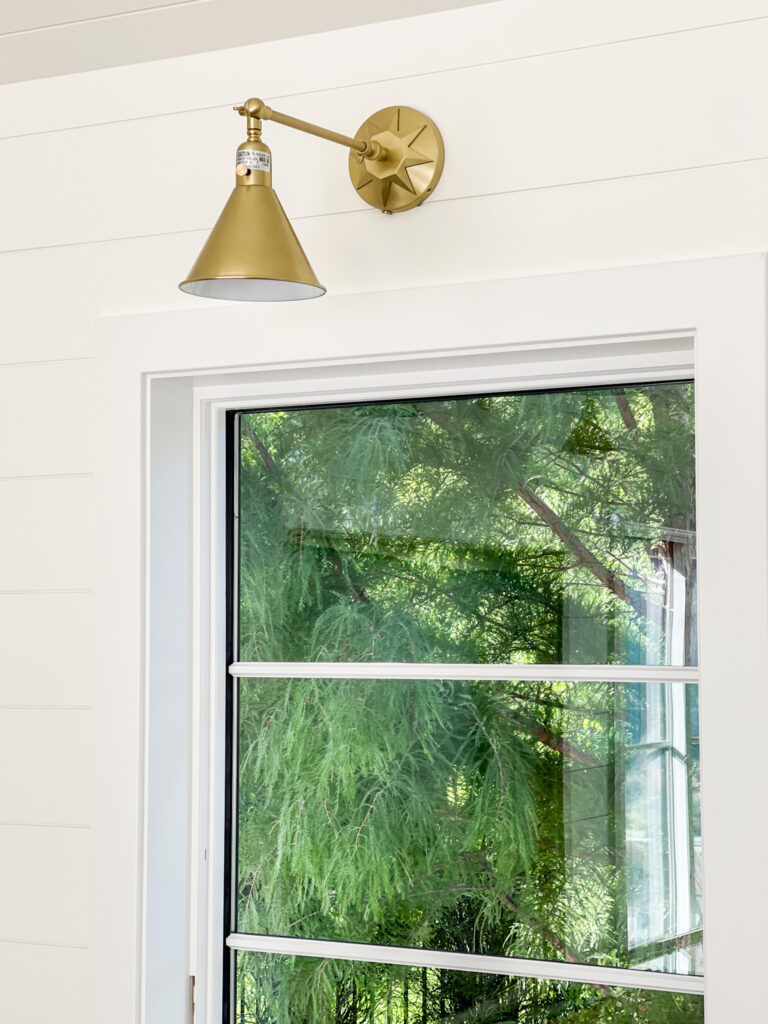 And despite the fact I don't love ceiling fans, I decided to add this one to the space. I'm happy with how sleek it is and I'm glad I opted for an option without lights to keep it as minimal as possible.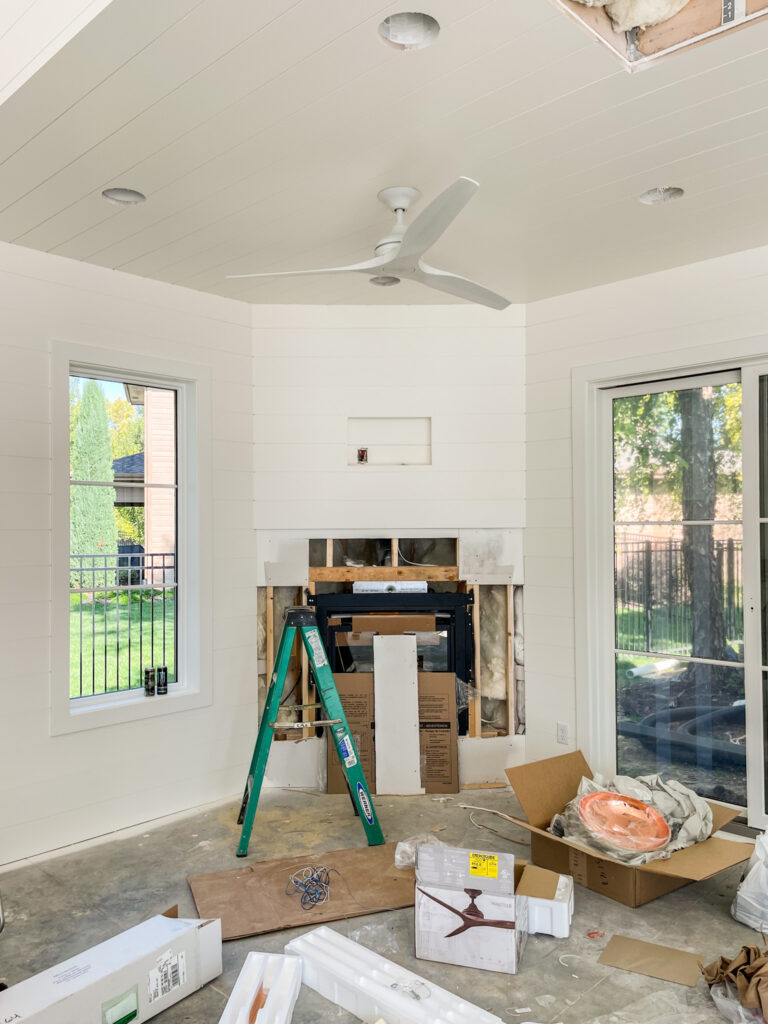 In the bathroom, I went with this fixture. It's so cute in the space, and I love the milk glass style shades. They're hoping to get the bathroom vanity set this week! I still never opened the box (other than to ensure the countertop wasn't broken), so once I see it, I'll decide if I'll swap hardware out or not.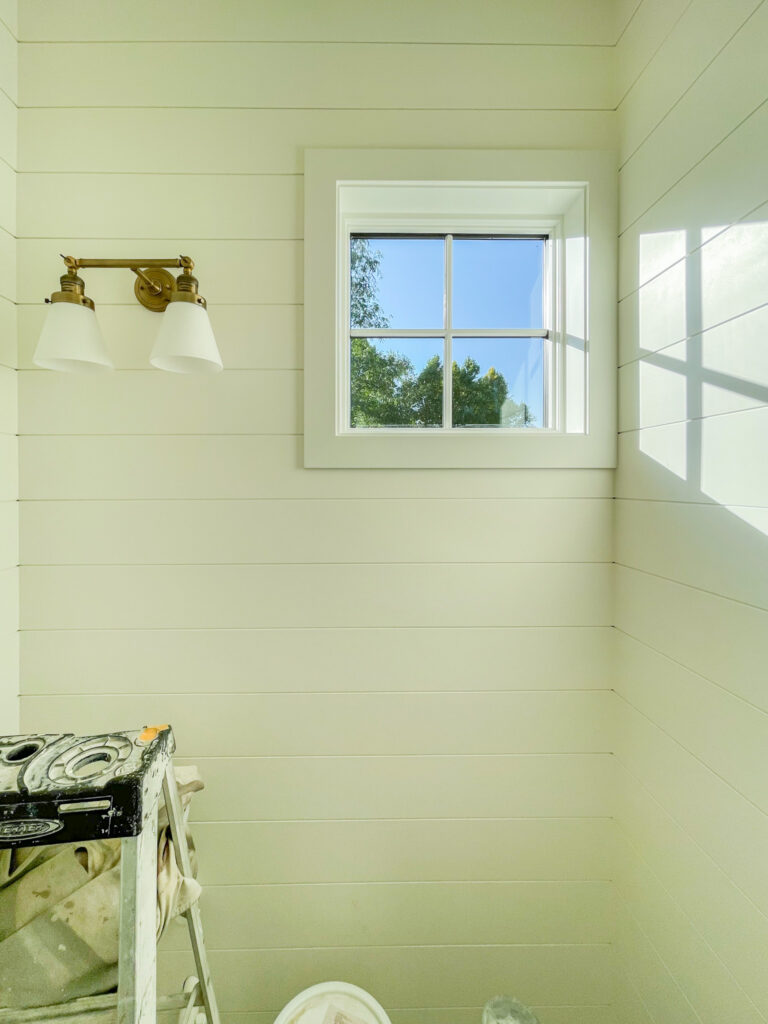 I then had Kurtis help me design a gooseneck sconce for this exit from the pool house. This is the door that is on the same wall as the sliding door leading into the dining room. We're going to use all our leftover pavers from the old checkboard path we had to build mini patio here for our grill. The grill will be placed to the right of these doors. We opted to have a natural gas line out here (it's on the back side of the fireplace so it was an easy addition). So, when it comes time to replace our grill, we can get one that doesn't require propane!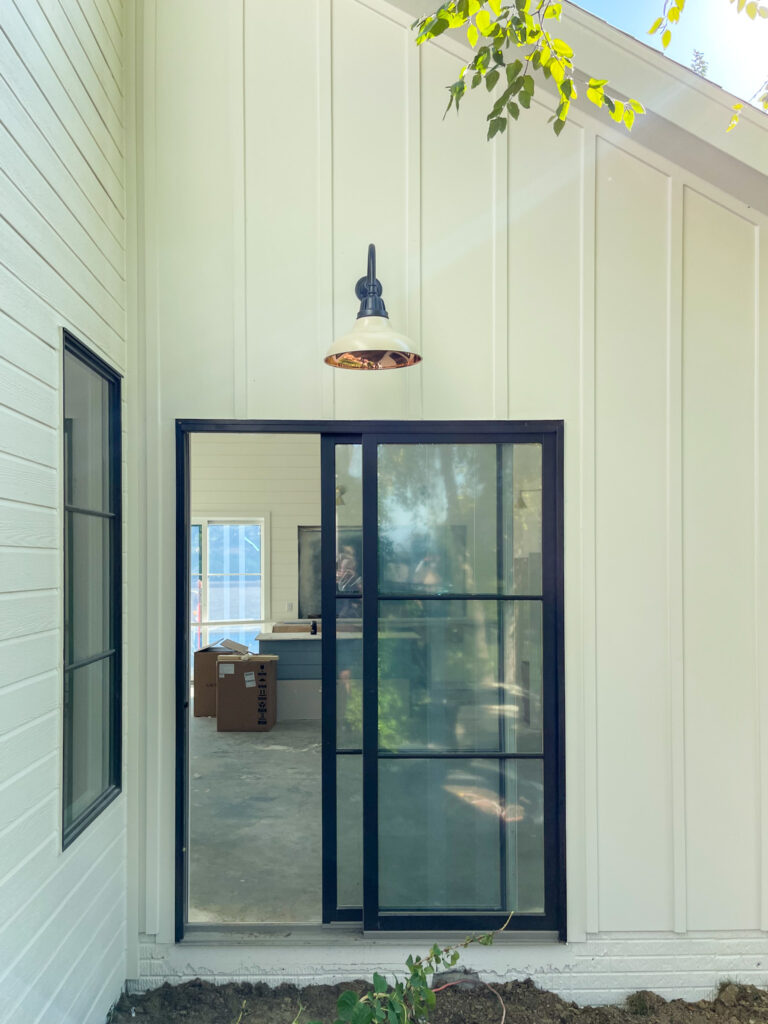 And in other exciting news, the LVP floors were installed on Thursday! We're really happy with how they look, and think they'll work well in the space! Our color is "Dusk Cherry".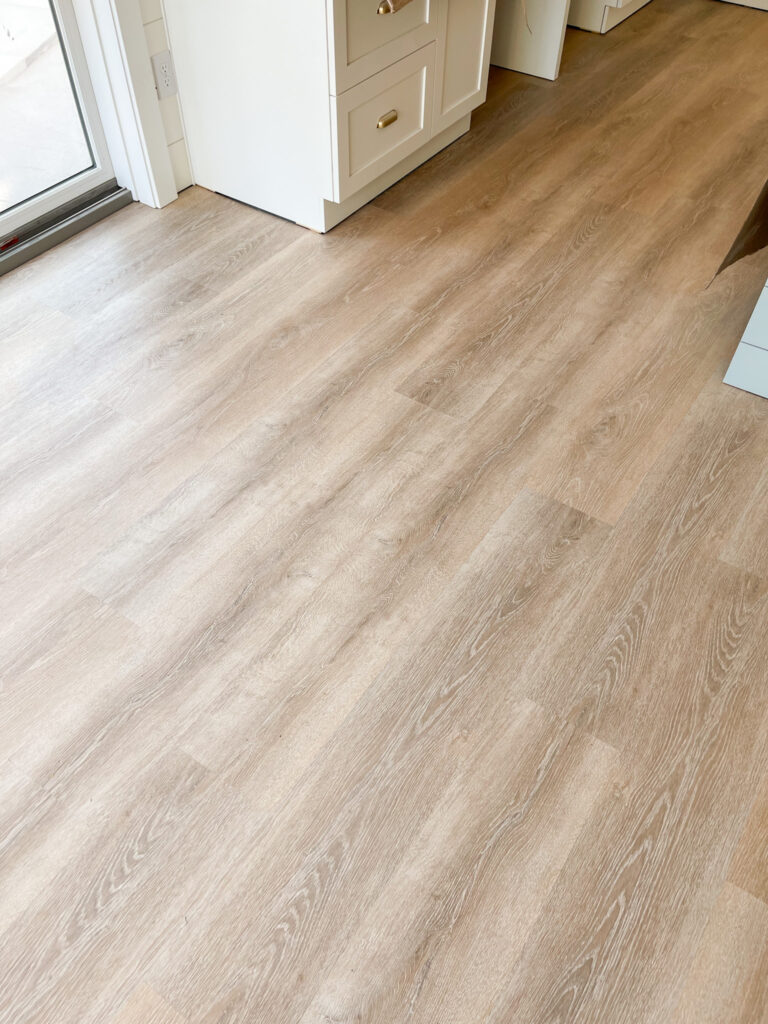 Hawkeye definitely approves, since it means he's more likely to be allowed outside 😉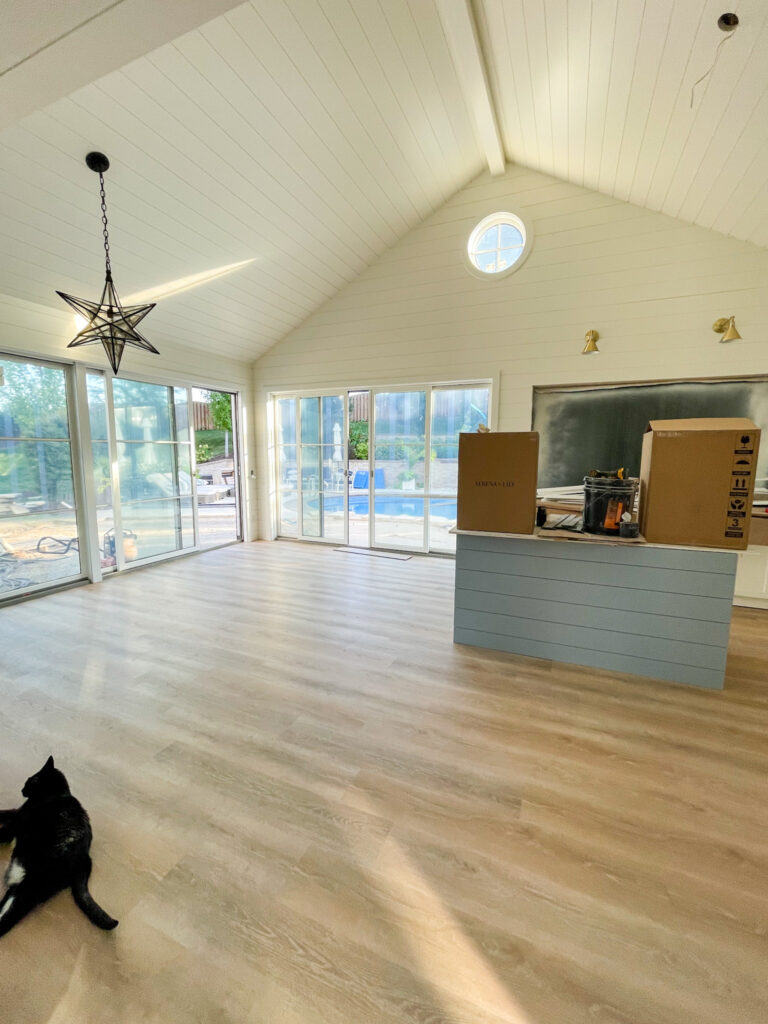 Outside of the pool house, the landscaping crew started on the pavers that run from the pool deck to the house. It was actually kind of cool to see sand down for the base. Probably the closest we'll ever get to having a beach in Omaha 😉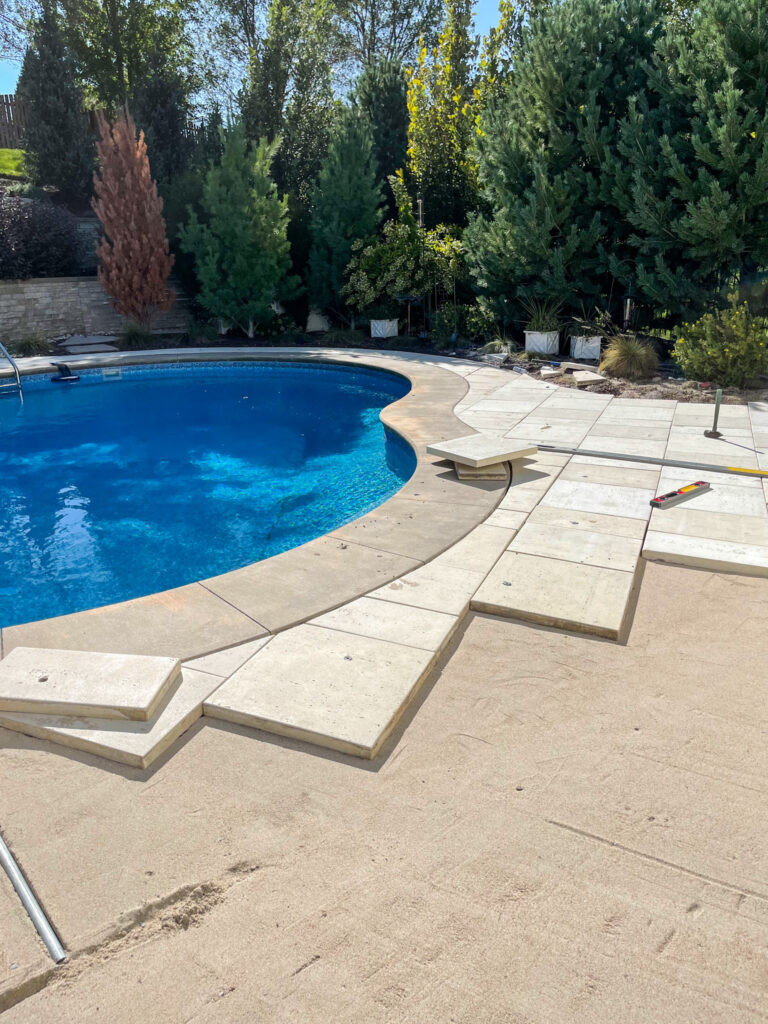 The pavers have been loosely laid and fit over on this area we'll be expanding. As a reminder that big section of white siding will actually have our pivot window and countertop, along with four outdoor counter stools. We're also carving out a little area on the left for a conversation set or something similar once we see how much space we have.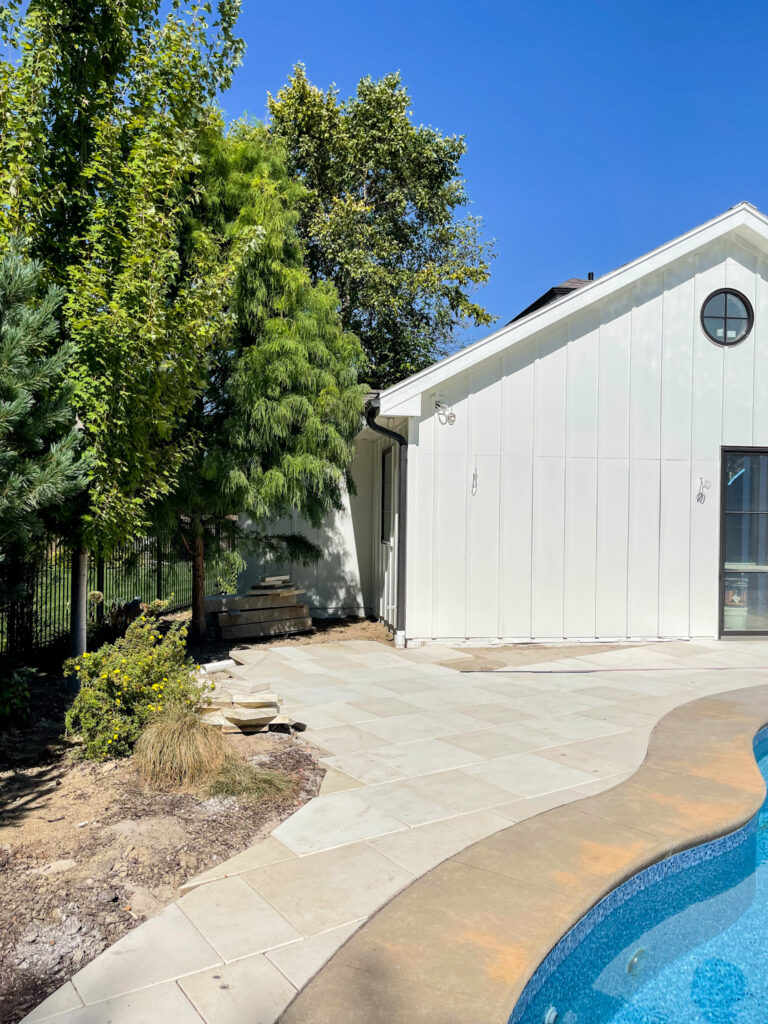 The interior of the pool house will be slow going this week, as we await word on when the pivot window will arrive. It continues to get pushed back, and unfortunately is the piece we need to wrap up all of the other features. But, I'm guessing the landscaping should be wrapped up by the end of the week and that will be exciting to have done! No more dirty/dusty/muddy backyard!
Top Sellers Of The Week
Following are the top sellers of the past week across all of my channels. Links to each item are below the graphic.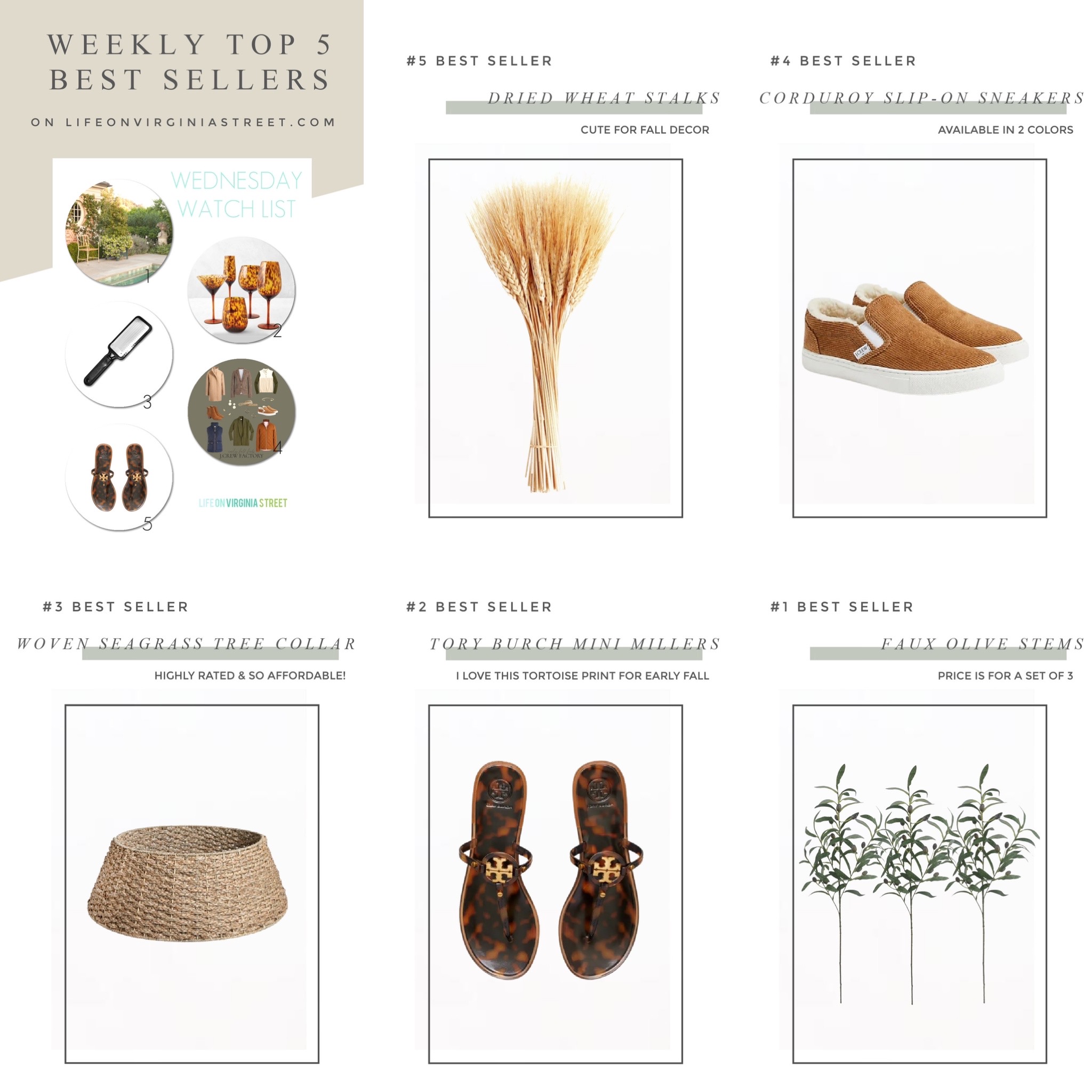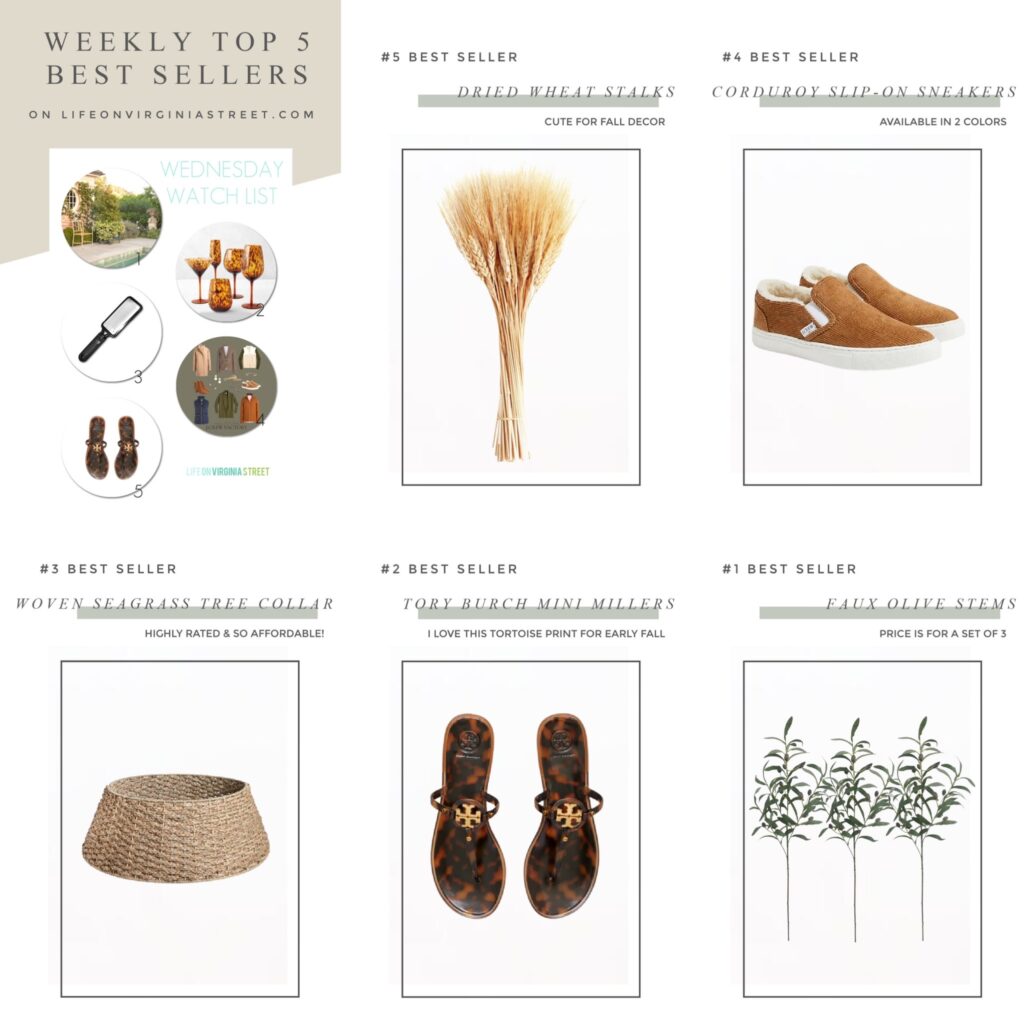 BEST SELLERS (each number is clickable): #5 | #4 | #3 | #2 | #1
In Case You Missed It
Here are the blog posts I shared over the past two weeks, in case you missed any of them! Click any of the titles below to be taken to the full post:
Following are the most read blog posts of last week (excluding any of the new posts already mentioned above). Many times this includes old posts that are popular on Google or Pinterest! It's fun to see what is trending each week!
Around Town & For Fun
Monday we turned in Kurtis' car, so we celebrated with tacos! We'll basically find any reason to eat tacos 😉
Friday night, we did an early patio dinner, and while we were there, our friends asked us to join them for dinner. Since we were already eating, we decided to meet them for an after-dinner drink (or a pre-dinner drink in their case). We headed to Alice which is a speakeasy underneath Jam's in West Omaha if you're local. We had been meaning to try it for the last year, and our friends had been several times before. It was a lot of fun and the drinks were delicious and very unique! I definitely see us heading back, maybe for celebratory events, etc.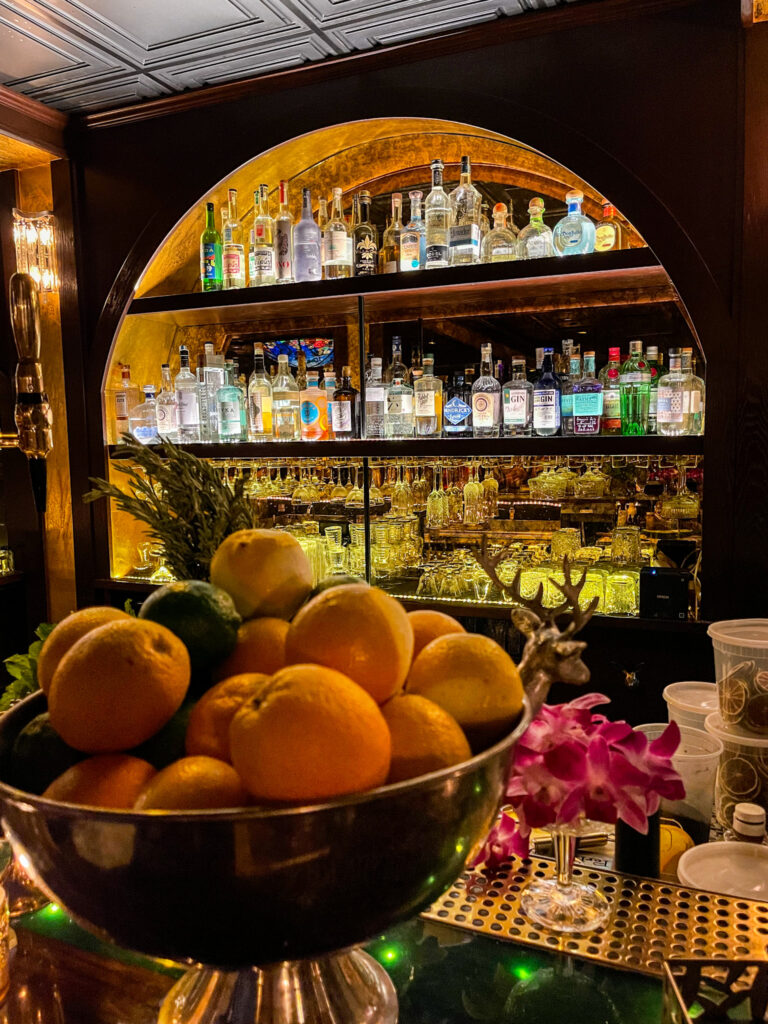 After a quick vacuum of all the floors, I let the cats out in the pool house. Hawkeye, per usual, was beyond curious. We brought a few lamps and chairs out and sat for a bit. I had to laugh at this photo I took of Hawkeye. He was up on every single counter, box, you name it. But it was his shadow that made me laugh later!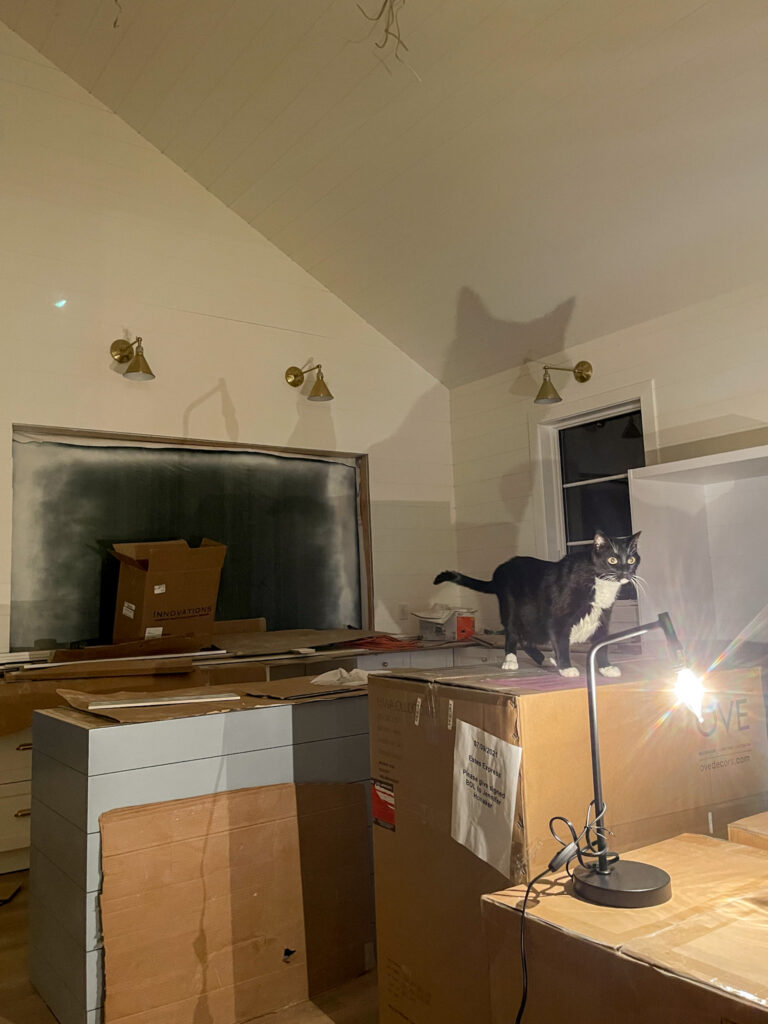 Kurtis' dreams were semi-fulfilled on Saturday when he figured out a way to watch football while in the pool. The temps this weeks were in the upper 80's, so despite the falling leaves into the pool, he was a happy camper! He's even more excited for the pool house to be done because he'll be able to watch the first few games of the season from the water via the TV inside!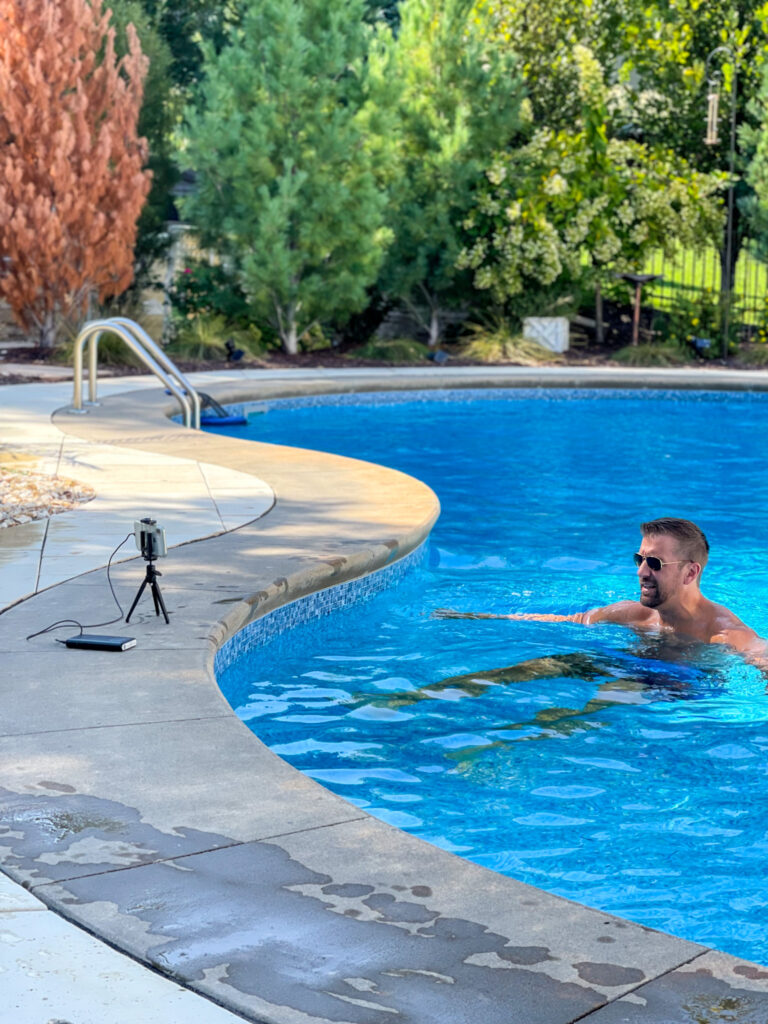 Saturday night, our BFFs had us down for dinner. We had burgers and cauliflower "potato" salad. It was all so good and a great way to end the summer weather! Z needed a family photo for show and tell for preschool, so I was the designated photographer. I quickly learned if you just hold down the shutter, you'll likely find one where everyone is looking at the camera 😉 But I thought it turned out pretty cute!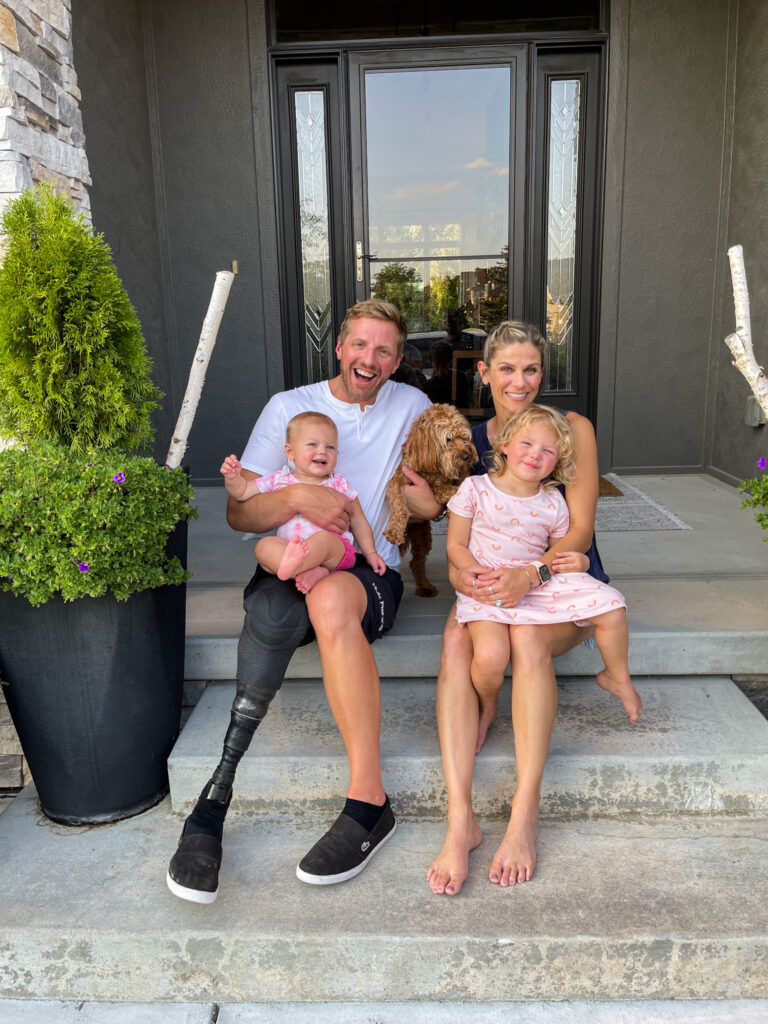 We ended the weekend with more pool time on Sunday after some chores around the house. We're hoping this isn't our last pool weekend of the year! We have the close scheduled for the first full week of October, so I'm hoping we can still get another swim or two in before it turns too cold!
We have a busy week ahead, with a bit of an adventure planned along the way! It may or may not include some potential Airbnb scouting for our property investment company. Remember the cute little house we bought last March for that very purpose? And then the world shut down and suddenly an Airbnb didn't seem like the best idea? We were able to quickly turn that house into a long-term rental but we're now talking about the Airbnb route for another property somewhere. This is very early stages, but we're hoping to get a lot of research done and really hone in on what we're ultimately looking for. It should be a fun week ahead!
Recent Buys & Sales
Following are the sales from the weekend that are still going strong.
I hope you all have a great week!
If you would like to follow along on more of my home decor, DIY, lifestyle, travel and other posts, I'd love to have you follow me on any of the following:
Pinterest | Instagram | Facebook | LTK
disclosure: some affiliate links used