Not only do I rarely post on Sundays, but I'm guessing you weren't expecting the title of this post either! Surprise! So I'll get right to it: I bought a house this week.
Now, a little back story.
It's been a dream of mine for a few years to have a "Life On Virginia Street" house on a beach somewhere. A place I could rent out as an Airbnb to my blog readers as well as other travelers, and even use personally for vacations. It was always a big dream that was likely going to cost a lot of money (as beach homes usually do). It was also going to be a bit of a logistical nightmare renovating a house (likely the only way I could afford one), furnishing it, then managing a short-term rental from afar. But, I still started saving for a down payment in hopes it could someday become a reality.
Over the past few months, I've really spent a lot more time thinking about this idea. I still want the "big" version of the dream to happen. But, I also knew that I'd probably be a lot more comfortable with the idea, if I had a chance to practice first on a smaller scale. We started talking about the idea of a local short-term rental and starting small to get the ball rolling.
After doing some research, we narrowed down the area of town where we would ideally like to buy a property. I let our realtor know to keep an eye out for something that could be a good option. If you're local, Megan Owens is a total dream and we've used her for the past eight or so years. Highly recommended if you're looking for a realtor!
Things really snowballed this week. I texted Megan and set up an appointment to see a really cute brick Tudor she had found to see if it could be a possibility. We had a meeting scheduled for the next afternoon, but she texted me that morning that it was already under contract. The joys of a hot real estate market 😉 She texted an hour or so later with another option she found and we made plans to see it that night.
Wednesday night after teaching confirmation class, I met Megan in midtown to take a look at the house. Kurtis was actually in Dallas for a conference, so I had warned him ahead of time I may have to make an offer if I thought it could work out. He obviously understands just how quick things are moving and gave me the green light.
When we got to the house, there were two other couples looking at it at the same time us. It was the first property I had even looked at but, I still decided to make an offer. I didn't actually have a ton of faith that it would be accepted, given the activity level and current market. However, I got a call on Thursday that my offer was accepted! Talk about a shock. I bought a house that Kurtis had never even seen (and maybe only briefly looked at online ahead of time). I texted him like, "Surprise! We have a house!"
We met our realtor yesterday afternoon to look at the house together. It was the first time I saw it in daylight and the first time Kurtis ever saw it. Probably a bit unusual, but we've found that with investment properties, it has to be a lot more about making the numbers work rather than emotional attachment to the actual house. We've been disappointed too many times before to know that!
We don't have the inspection until the end of next week. So, technically nothing is final until that is done and we actually close on the property at the end of the month. But, I still wanted to share with you because if this one doesn't go through for any reason, we'll be aggressively pursuing another one shortly. So it's happening either way (my words, not Kurtis' 😉 ).
And here's a little peek at the house. I'm calling it a "cottage" and I think I could bring a lot of really great curb appeal to it down the road (although I think it's already adorable). It has about 750 square feet on the main floor, with a full basement that is only about half finished. It needs a little bit of cosmetic work, but is actually pretty turnkey given it's age (it was built in 1942).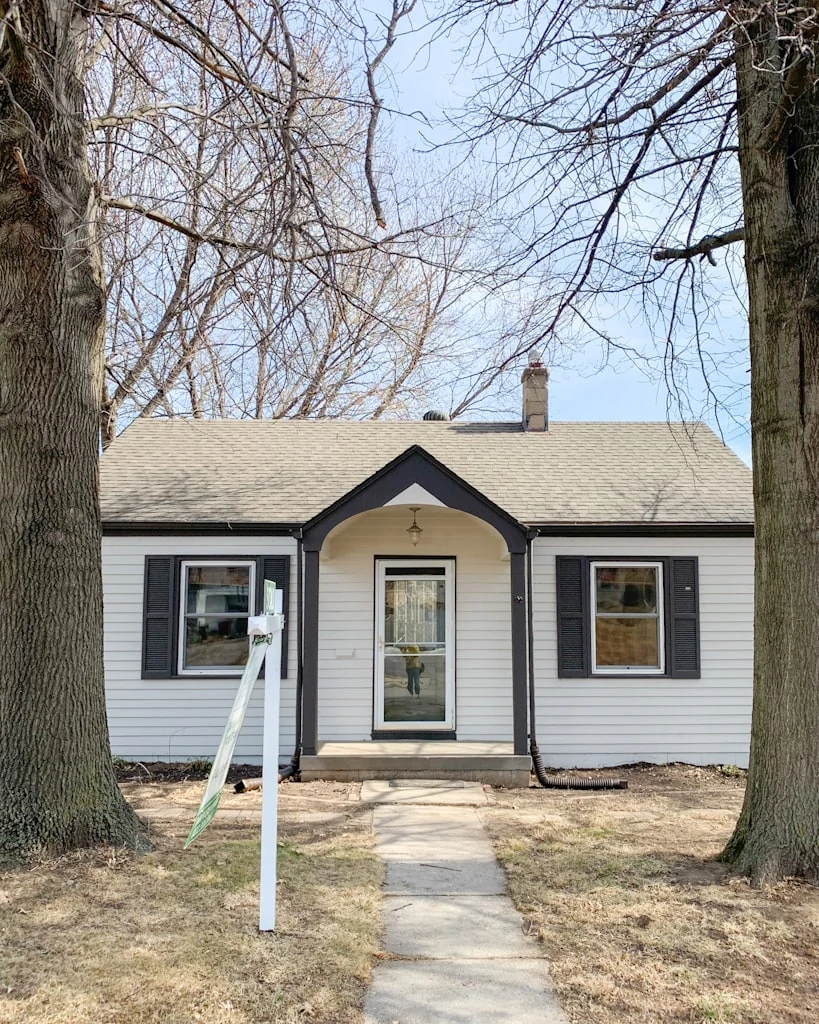 Because I'm the crazy person that I am, I've already created six design boards for the house, have built out a separate website, had several conversations with our property managers, stalked other local listings, etc. I'm hoping to share more details soon once things feel a bit more final (perhaps after the inspection).
I'm excited about the challenge of furnishing an entire house on an extremely limited budget (as in, under $4k). I'm also considering designing this house completely different than my current design style to try something new!
I would love to make a lot of really great improvements to the home, but the reality is, it's already in good shape so I have to weigh my cosmetic updates carefully. My goal is to have it up and running by mid-April so that we will be ready for the Berkshire Hathaway shareholder meeting, College World Series and Olympic Swim trials! If you're local, the house is a few blocks away from the the Nebraska Med Center for reference, so it's convenient to a lot of popular spots in town!
So, what does this mean going forward? Ideally, if it goes well with the house, I'd like to continue to add properties down the road. And, I still want to open my branded house somewhere on a beach in the future! Basically, I want to make all the houses in all the world pretty and functional and brought back to life again.
For all you Airbnb/VRBO/short-term rental pros out there, I'd love your advice on what you look for when renting a property. What are must-haves and nice-to-haves? Give me all your thoughts!
I'm equal parts nervous and excited to tackle this new project. You guys are going to get to watch me in real-time, and I'll plan to share all the ups an downs. I'm sure I will make more than one mistake along the way, but I'm excited to get started and learn about this whole new venture!
If you would like to follow along on more of my home decor, DIY, lifestyle, travel and other posts, I'd love to have you follow me on any of the following:
Pinterest | Instagram | Facebook | Twitter
disclosure: some affiliate links used