Good morning! I hope your week is off to a good start so far. Coming off another very heavy and emotional week for our country and world, I found myself a bit on edge all weekend, which is not normal for me. Before we jump into the light stuff, I wanted to send out love and extra prayers to any of you that may need it this week. Between the hurricane, and fires, and what's happening overseas, among other things, it's a lot. I pray for healing and calm and peace and safety this coming week.
Here's a bit of what we have been up to this past week.
This post contains affiliate links for your shopping convenience. You can read my full disclosure policy here.
Home Projects & Updates
I shared a big pool house update last week, but here's a bit more of what has happened since then.
We had a pretty big, fairly unexpected storm, again last week. It doesn't seem to end! Unfortunately, water was coming in again where the two rooflines meet because the siding still wasn't up.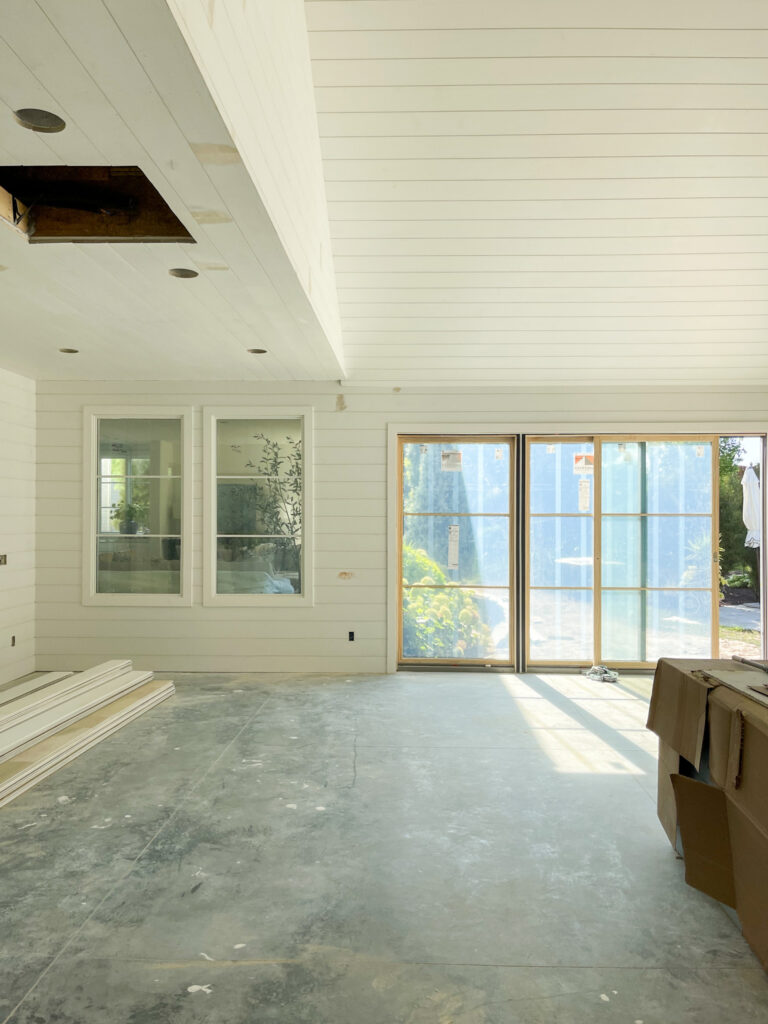 Needless to say, they had to tear off some of the shiplap siding, drywall and insulation to make sure everything dried out. Kind of a bummer, but I'm glad it happened before everything got painted. Thnakfully the rest of the siding, caulk and gutters went up late last week, so it's now done! We've even had another storm since with zero issues.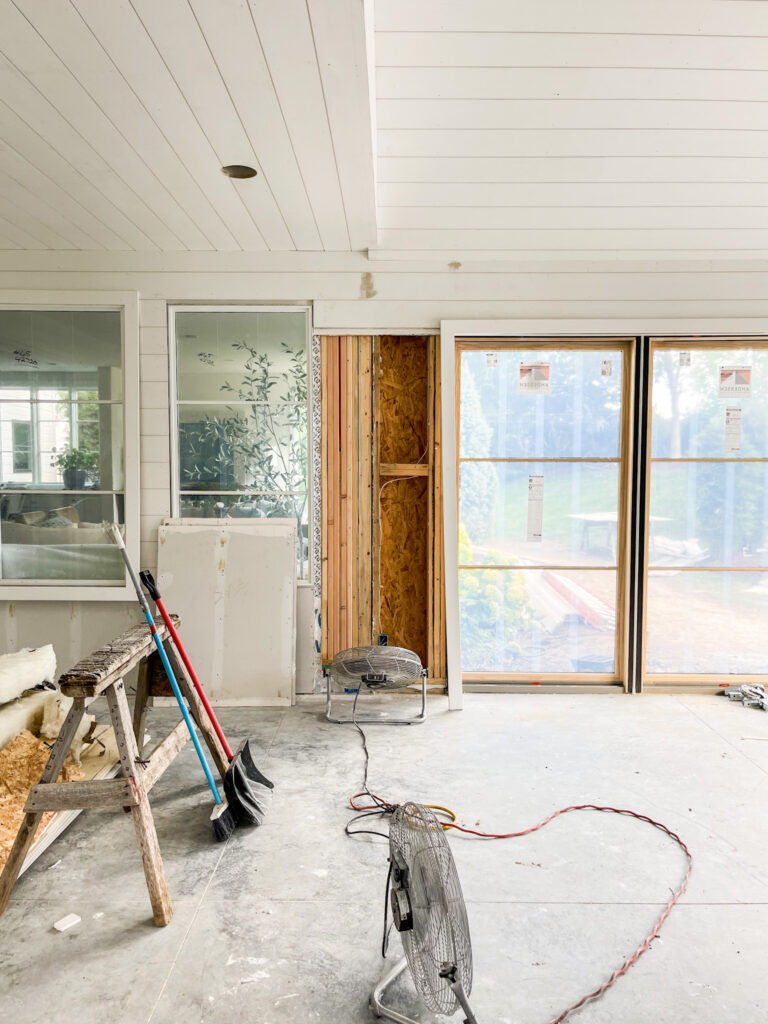 The other good news is, the guys took out the large sliders on this main wall and were able to grind the concrete a bit to resolve the tilting doors! They're good as new now! I'm so glad we don't have to order a new window!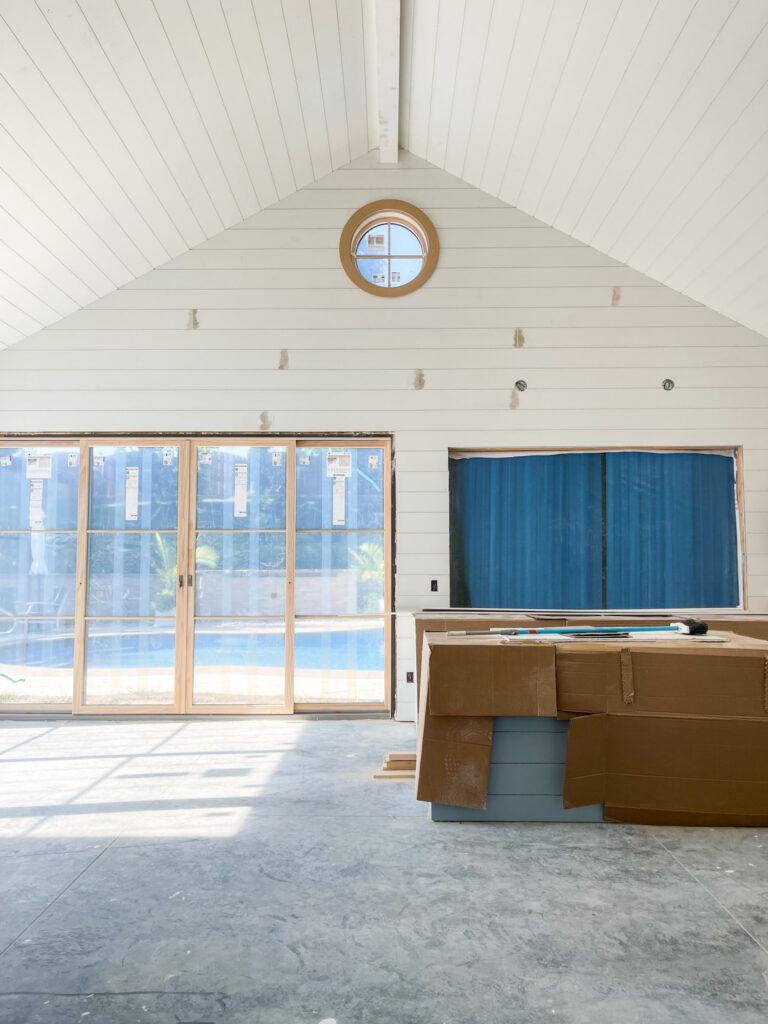 CKF came out late last week to template the countertops. They had to take all the cardboard off the cabinets, so I was able to get a slightly better shot of how the island looks. It already needs a good cleaning (so much sawdust and drywall dust!) and the light can change it so much, but we love how it turned out!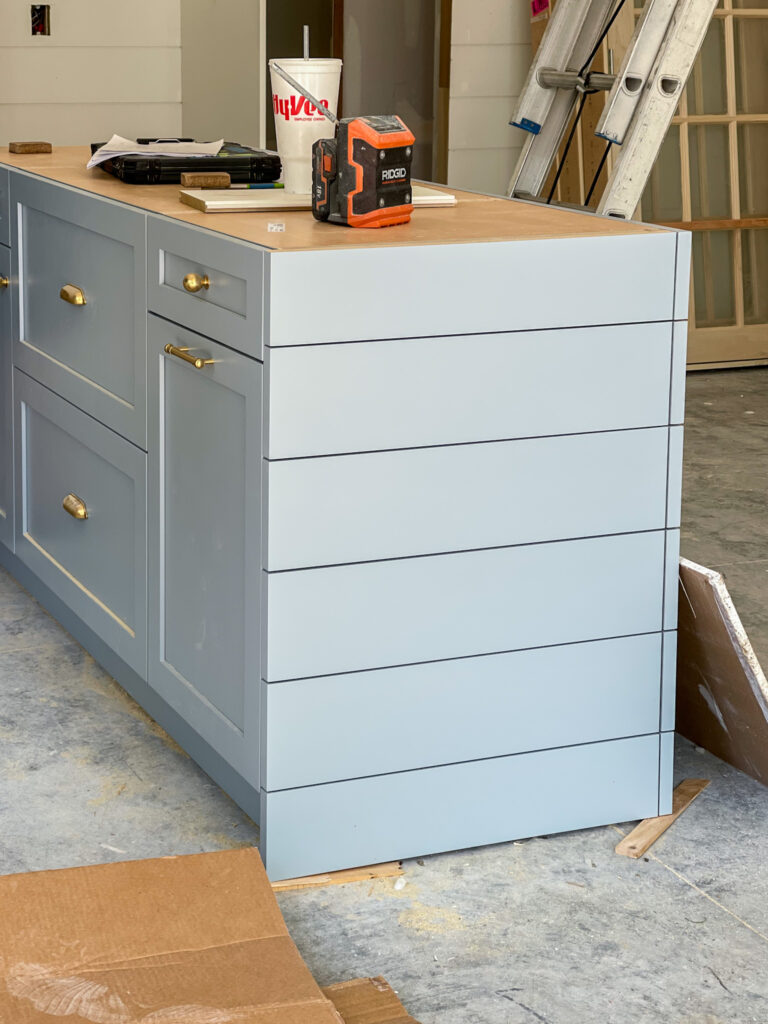 If the humidity ends up dropping this week, we should be getting interior and exterior paint. The floors are set to be installed sometime next week after the holiday!
I mentioned in my update post that I'm hitting the point of analysis paralysis on a few things with our project. We got an initial bid for our closet, and we realized how dumb it was not to have it bid out a few other places. It's been hard to commit to anything because the truth is, our old closet worked for us. It had zero bells and whistles, so now I'm overwhelmed by the choices that are out there. Not a bad problem to have, but I don't want to jump into anything just to be "done" with it, if that makes sense. So I've decided to pump the brakes and really think through this a bit more.
So, long story semi-short, we decided to make an appointment at The Container Store to look at their closets. That may have been a huge mistake, because of course, I was drawn to the most expensive model in their showroom. Ha! But they were super helpful, and it really made us stop and think about what we do and don't need. Let's take a little tour of fantasy land closets. Isn't this gorgeous? I love how deep the units are so that you can't actually see the clothes without standing right in front of them. This is obviously way more elaborate and large than ours, but I loved the overall aesthetic.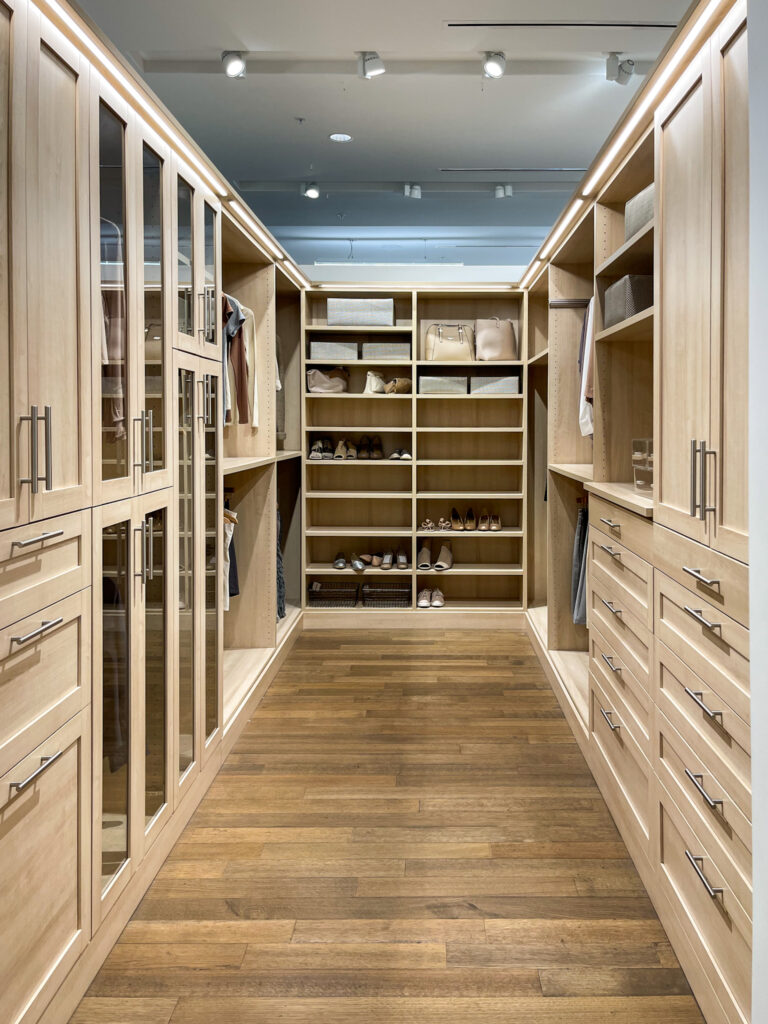 Kurtis wants his section to have dark vibes like the one below. I've basically given him free reign, since he's the one really pushing for us to do the closets right now. I was fine just finishing the space with drywall and then coming back to it in another year or so.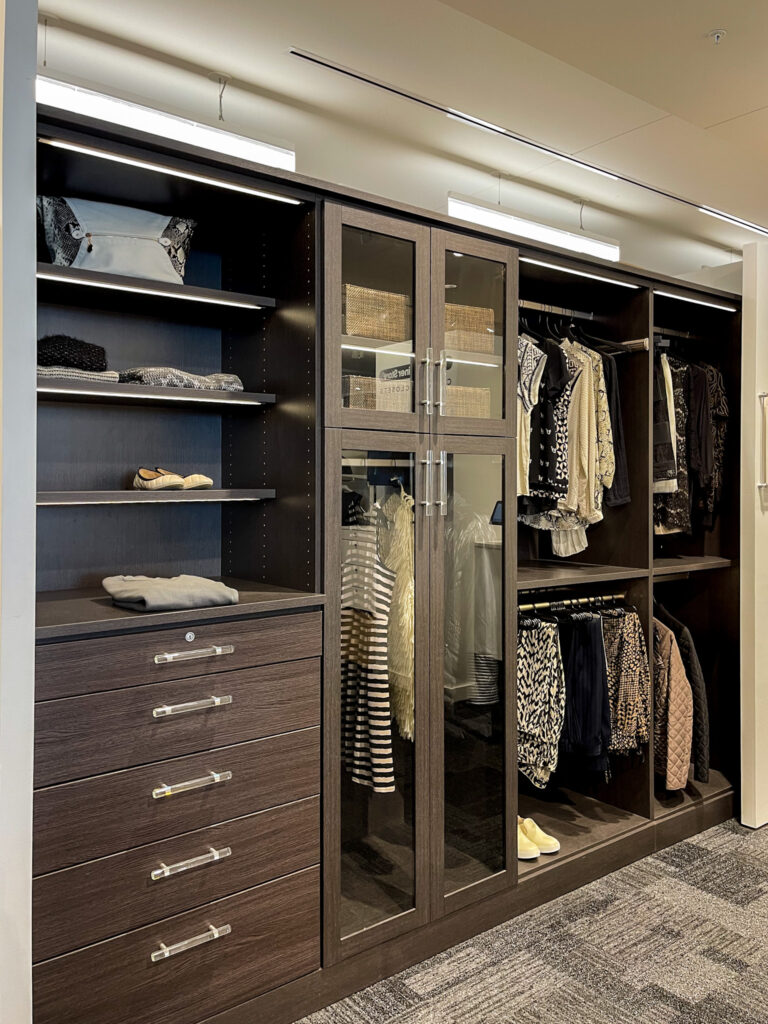 We're supposed to get a bid and tentative layout back from them early this week. I'm sure it will be another serious case of sticker shock but it will be good to have something to compare the other bid to. Stay tuned.
Circling around to pool life. I mentioned in my Instagram Stories that I regularly have to rescue frogs from our pool skimmers. It's such a relief when I can save them while they're still alive. I immediately had messages coming in about this contraption. I had actually come across it several years ago, but Kurtis told me it looked like a gimmick. But, when I got so many messages that it actually works, I promptly ordered one.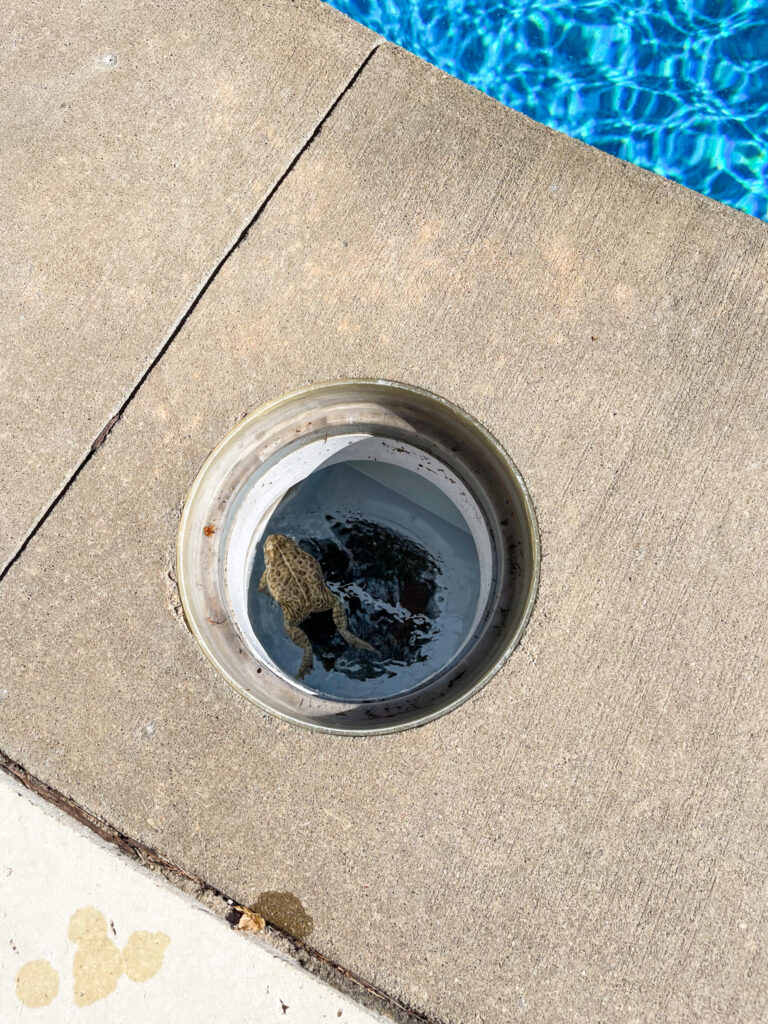 So, here it is in all it's FrogLog glory! I'm not entirely sure how I'll know it's working, since in theory, I shouldn't see any frogs. But I guess if we can make it a month or so without any in the skimmers, I can call it a win!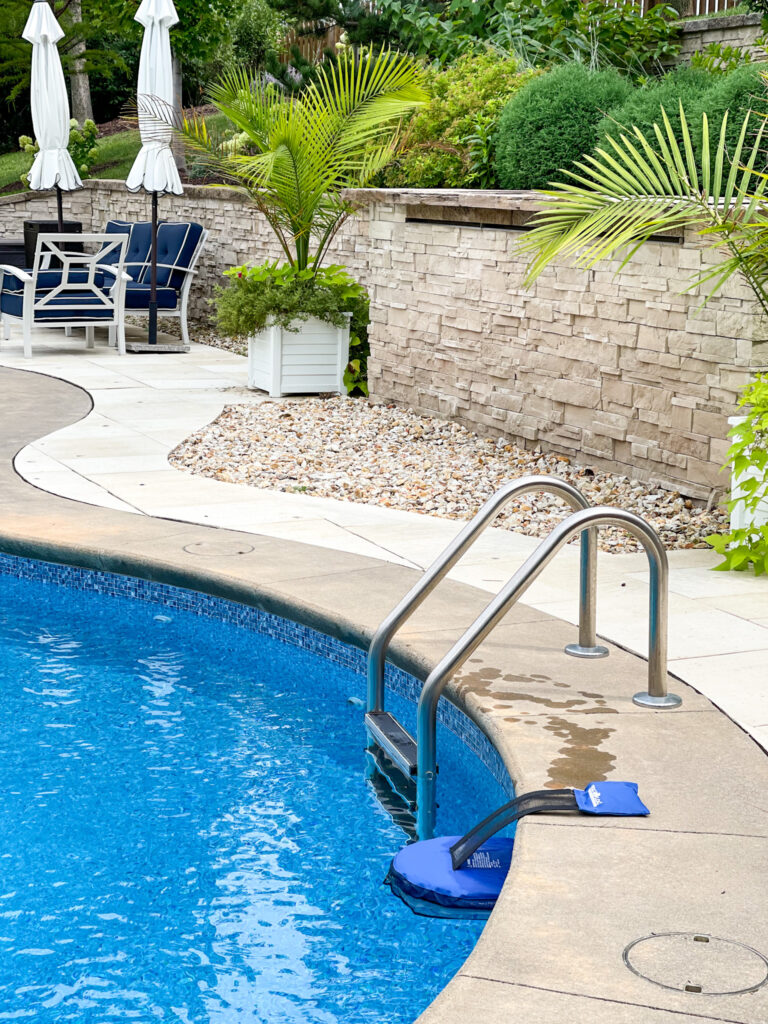 For the past several weeks, I've contemplated painting this BM Van Courtland Blue wall in our den to BM Hale Navy. The lighter blue has only been up for about a year, but I'm already ready for change. I think I may have actually predicted that would happen last year 😉 I absolutely love the color, but it just feels like a bit much in here on such a large wall. And the truth is, I kind of miss the Hale Navy wall we used to have in our office, although I can't commit to it there again. So, don't be surprised if I report back next week with a darker and slightly moodier den! It's a good thing I love I love painting so much!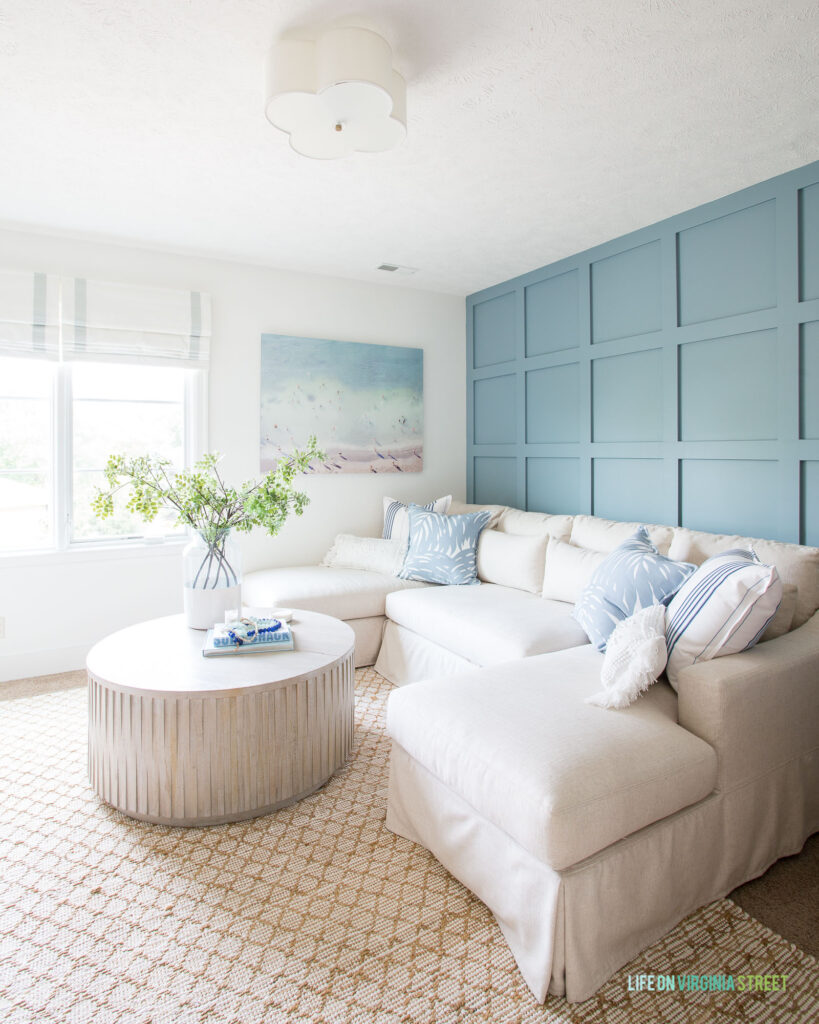 DEN SOURCES: Sectional (read my review here) | Coffee Table | Beach Art | Diamond Jute Rug | Scallop Light Fixture | Blanket Ladder | Roman Shades | Faux Greenery | Colorblock Vase | "Surf Shack" | "Escape" | Recycled Glass Beads | Marble Coasters | Palm Outdoor Pillows | Striped Outdoor Pillows | Textured Lumbar Outdoor Pillows | Tripod Lamp
Top Sellers Of The Week
Following are the top sellers of the past week across all of my channels. Links to each item are below the graphic.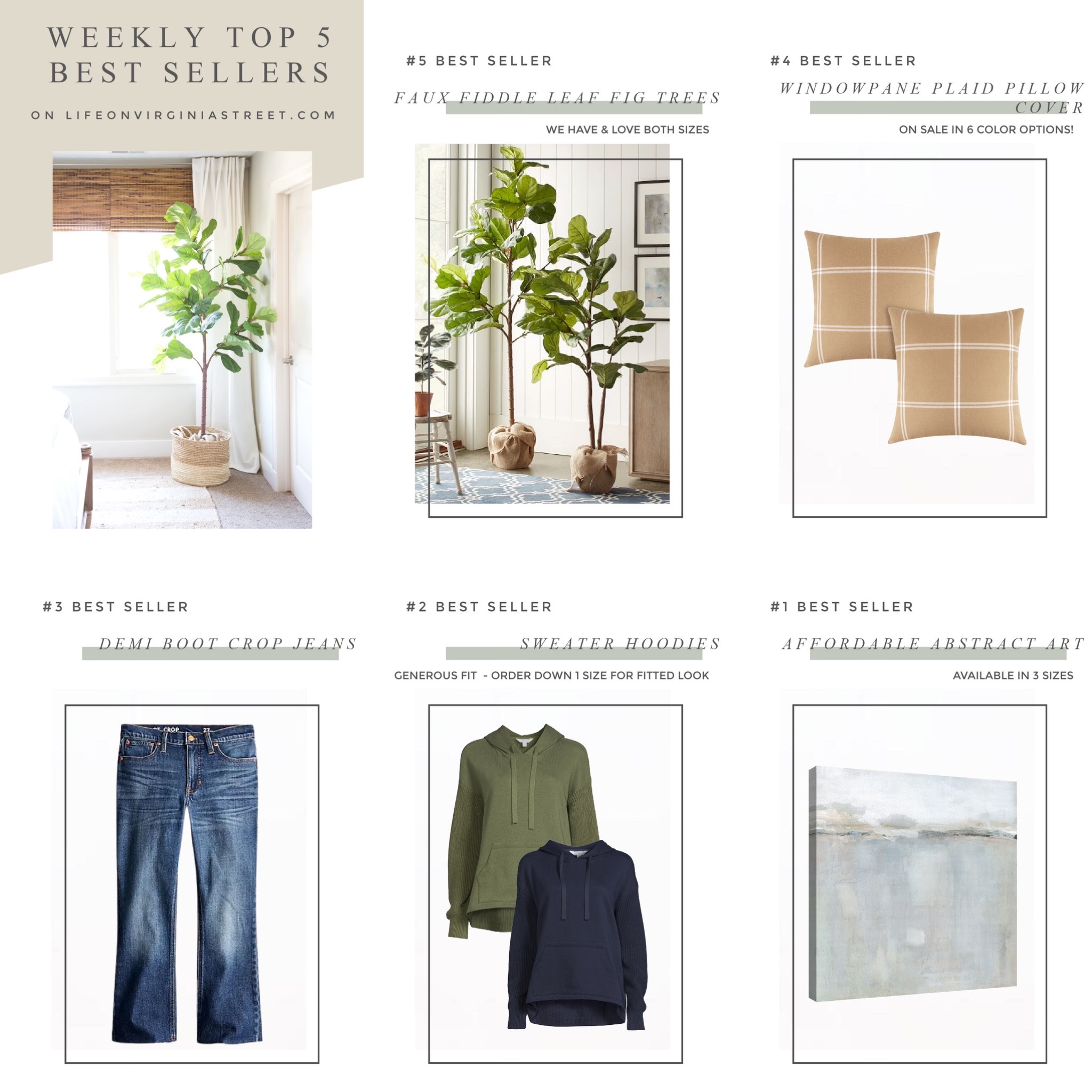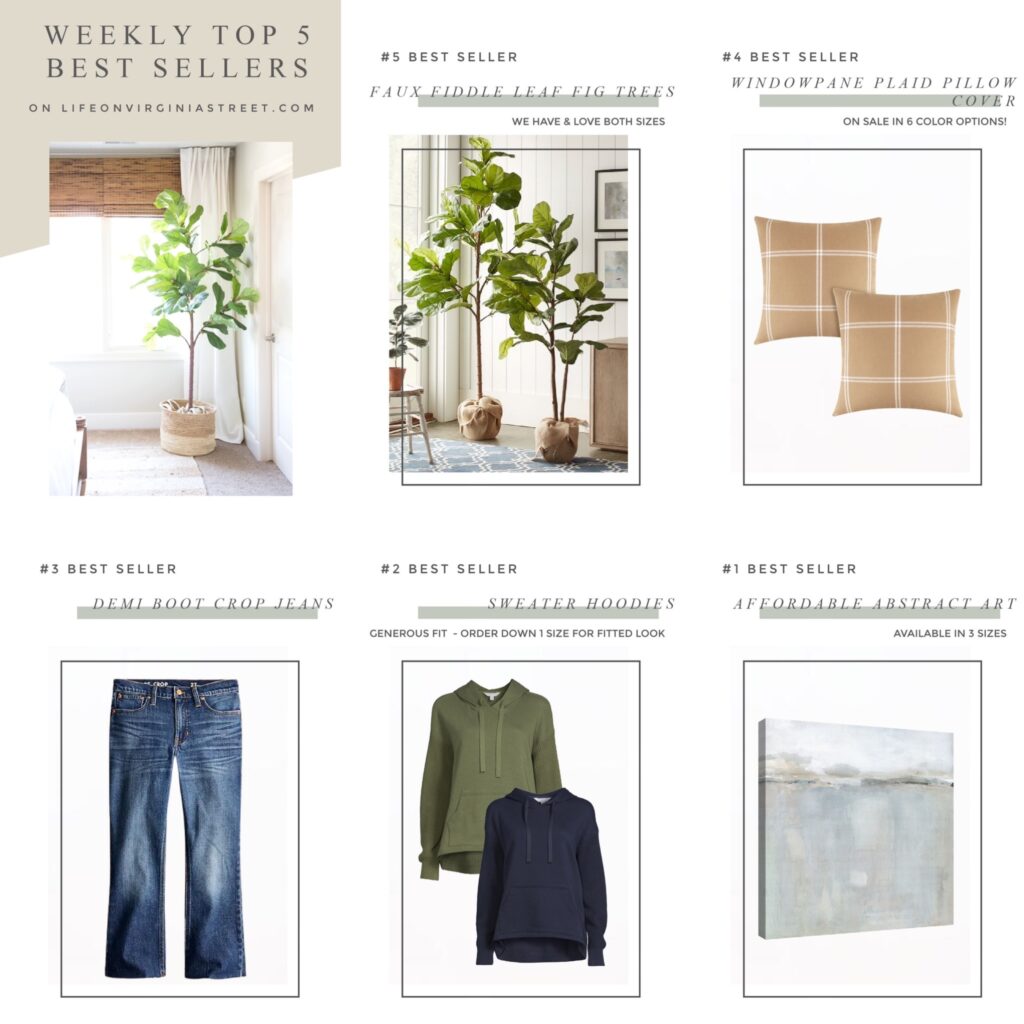 BEST SELLERS (each number is clickable): #5 | #4 | #3 | #2 | #1
In Case You Missed It
Here are last week's blog posts, in case you missed any of them! Click any of the titles below to be taken to the full post:
Following are the most read blog posts of last week (excluding any of the new posts already mentioned above). Many times this includes old posts that are popular on Google or Pinterest! It's fun to see what is trending each week!
Around Town & For Fun
I've mentioned before that it's killing the cats that they can't go out on their back patio any longer. Particularly Hawkeye. So, I let him wander one night last week when the floor had been swept. He acted like he owned the joint and was into everything. But he was so happy to get to explore a little!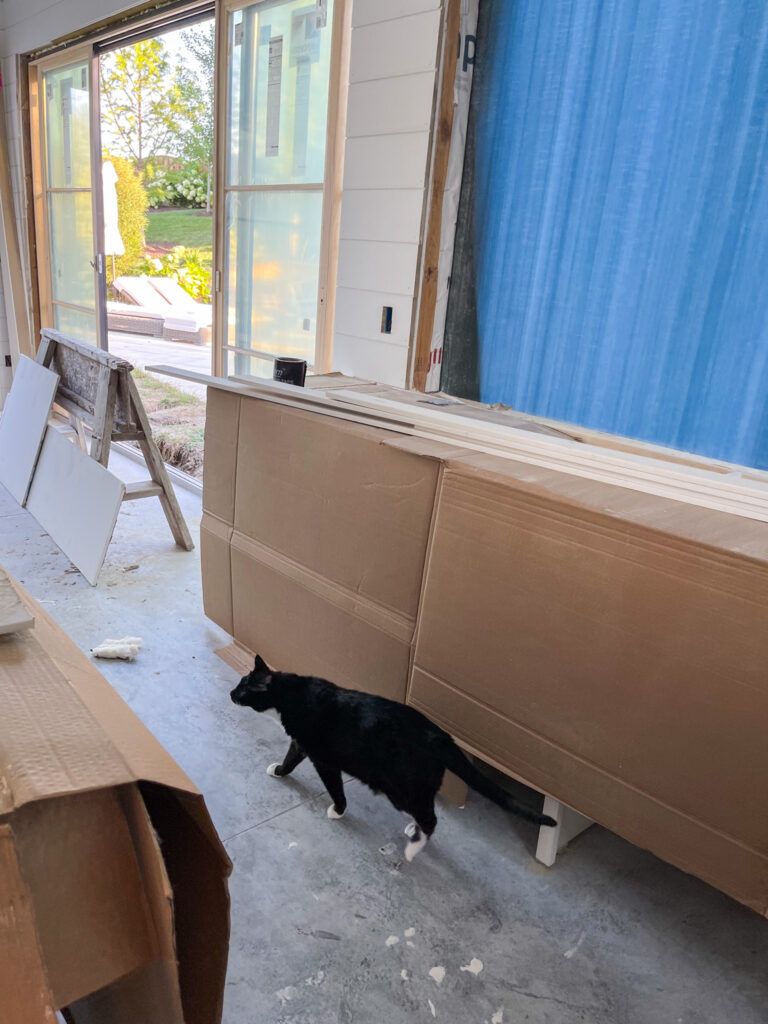 Friday night, our neighbors invited us over for a wine tasting event. The CEO of Trujillo wines was in town from St. Helena, CA and we had such a fun night! We hadn't spent much time with our neighbors since they moved it, so it was nice getting to know them better and hang out for a few hours! We had such a great time.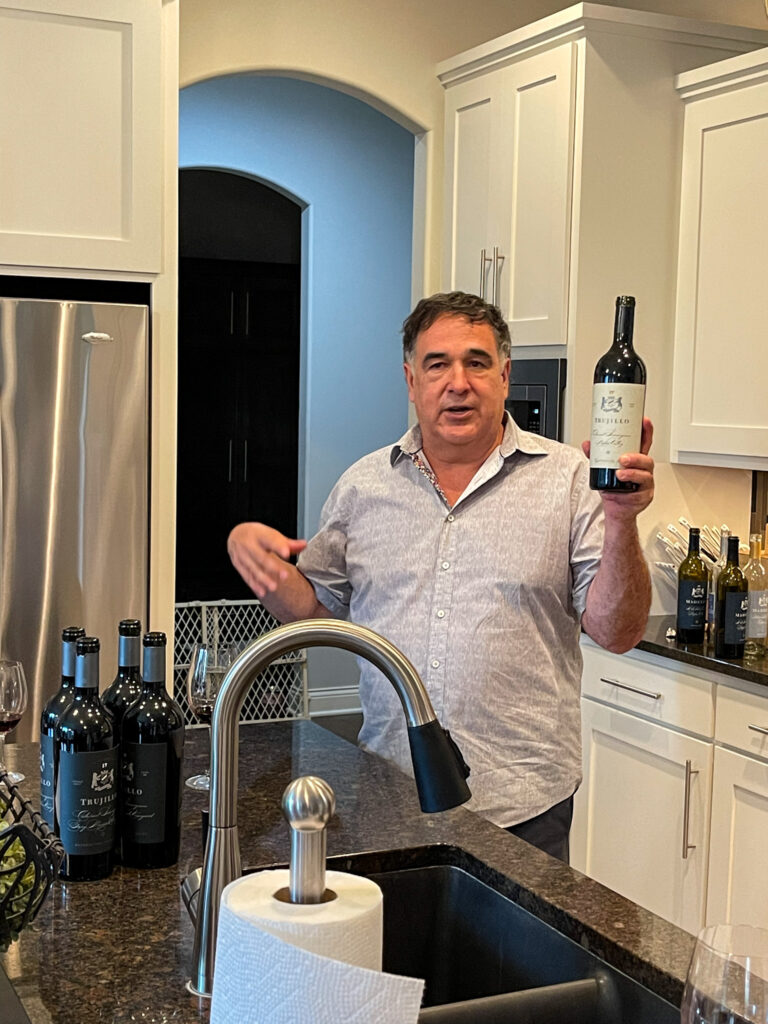 Trujillo also has a few wines under the Madelyn label (his daughter's name). My shot is a little blurry because I didn't want to be "that person" taking photos like I usually am so I only got a quick snap 😉 But the wines were all so good! Highly recommended if you're looking for some new wines to try! If you're local, Mahogany Prime is featuring them right now. You can also get them at Pacific Cellars in West Omaha.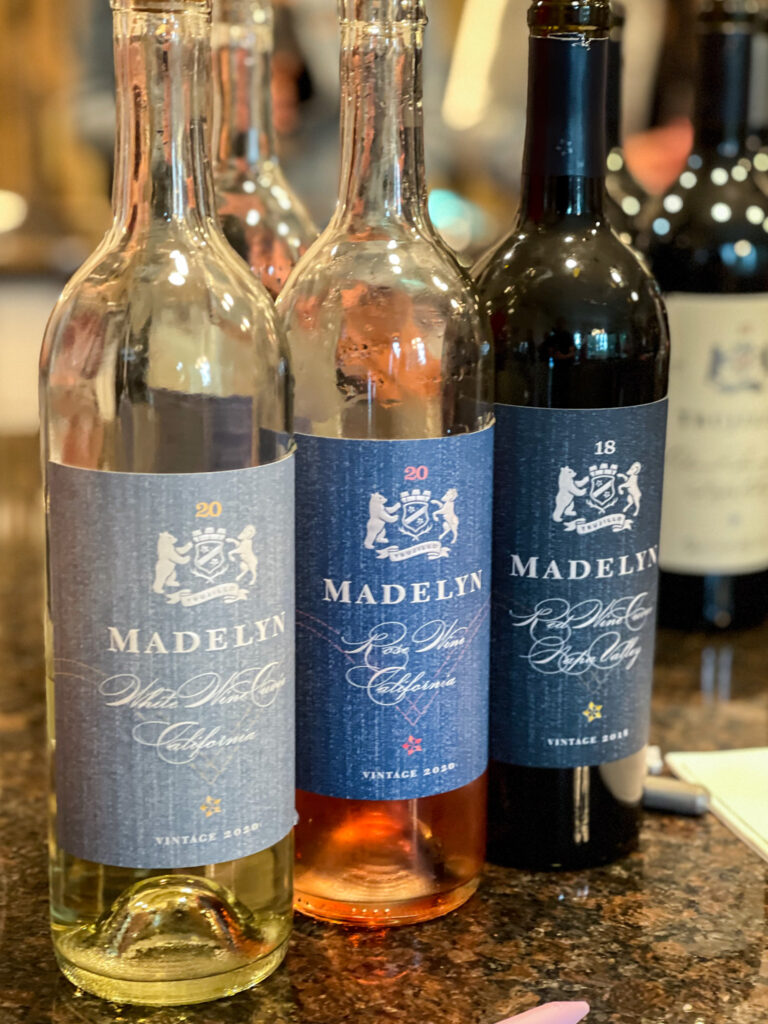 Saturday afternoon, after running a bunch of errands, Kurtis and I snuck in some pool time! It's already that time of year where the sun has shifted quite dramatically, and half the pool is in the shade. But it was nice to get out and enjoy the heat! You can also see below that the rest of our siding was completed (and they covered the pivot window opening for now). The gutter extension will actually run underground once we're to the landscaping stage.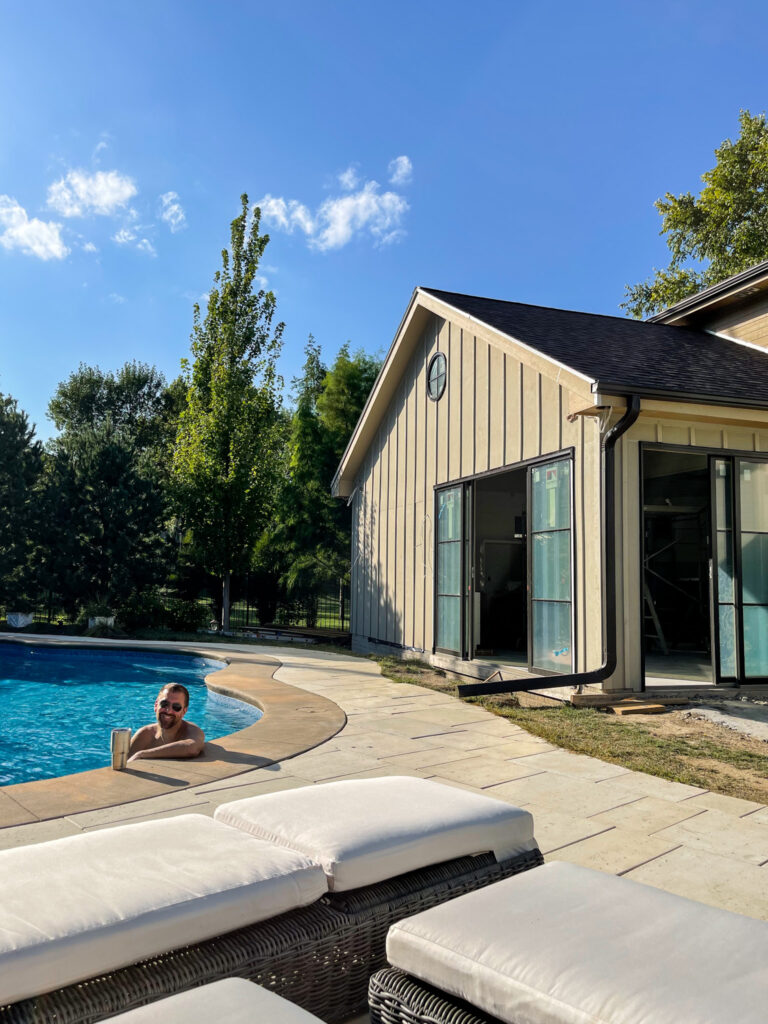 Kurtis had a fantasy football draft most of the afternoon yesterday, so I finally sat down and figured out some of my fall decor. I got a few orders placed, and am hoping to share my design boards with you soon, in case you're looking to get a head start on decorating. I likely won't be sharing a fall home tour until October, but it feels good to have it all figured out "on paper" so I don't over-buy anything! Here were a few things I ran across at Target while shopping online that are still in stock from the Studio McGee fall collection! I'm definitely feeling the neutrals and olive green tones again this year.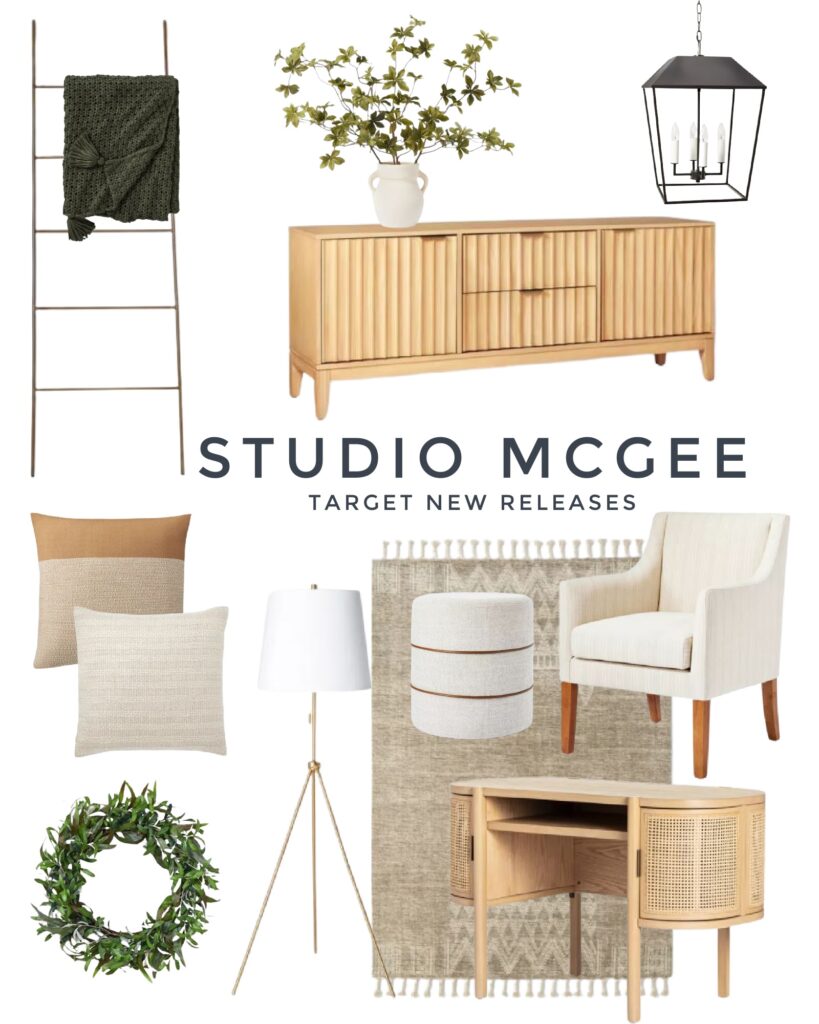 SOURCES: Ladder | Blanket | TV Stand | Plant | Pendant Light | Color Block Pillow | Cream Pillow | Wreath | Tripod Lamp | Ottoman | Chair | Desk | Rug
My parents are visiting early next week (also my birthday weekend – or MONTH, as I like to remind Kurtis), so I'm looking forward to the weekend! But that may bump my usual posting agenda next week by a few days, while we focus on spending time with my parents. Have a great week!
Recent Buys & Sales
Following are the sales from the weekend that are still going strong.
I hope you all have a great week!
If you would like to follow along on more of my home decor, DIY, lifestyle, travel and other posts, I'd love to have you follow me on any of the following:
Pinterest | Instagram | Facebook | LTK
disclosure: some affiliate links used