It's hard to believe, but it's already been just over a month since my last official pool house update! In fact, aside from my brief updates in my Weekend Recap posts, this may be my last official progress report before the big reveal! Which realistically, probably won't be until early October at this point. Let's jump into all the new details!
This post contains affiliate links for your shopping convenience. You can read my full disclosure policy here.
If you're looking to get caught up on this project or see where we started, be sure to check out these additional posts:
Pool House Construction Progress
Can you believe in my last official update a month ago, we didn't even have the concrete pad/floors or the windows and doors installed yet?! It's pretty crazy to look back and see how much has changed in a little over 30 days! When you're living through it, it never seems to go quite as quickly 😉 But our builders, Bluestone Custom Builders, have been great about keeping things moving along and addressing potential delays.
So, actually the day of my last post, our concrete pad was poured. It also happened to be our 16th wedding anniversary, so we felt like it was the perfect gift from Bluestone! Our pool had really started to be affected by all the blowing dirt and sawdust, etc. So it was a relief to get most of that covered up by concrete!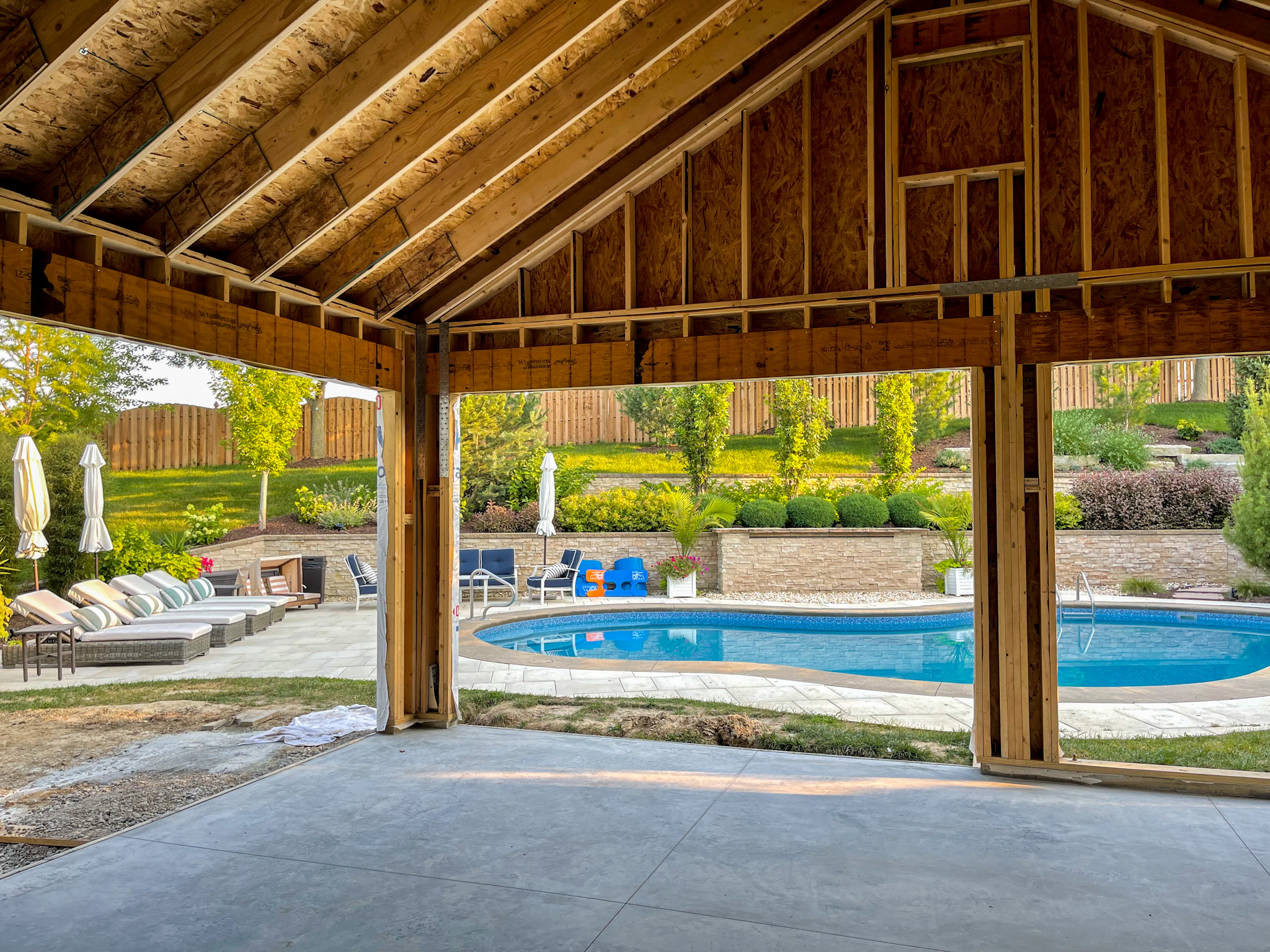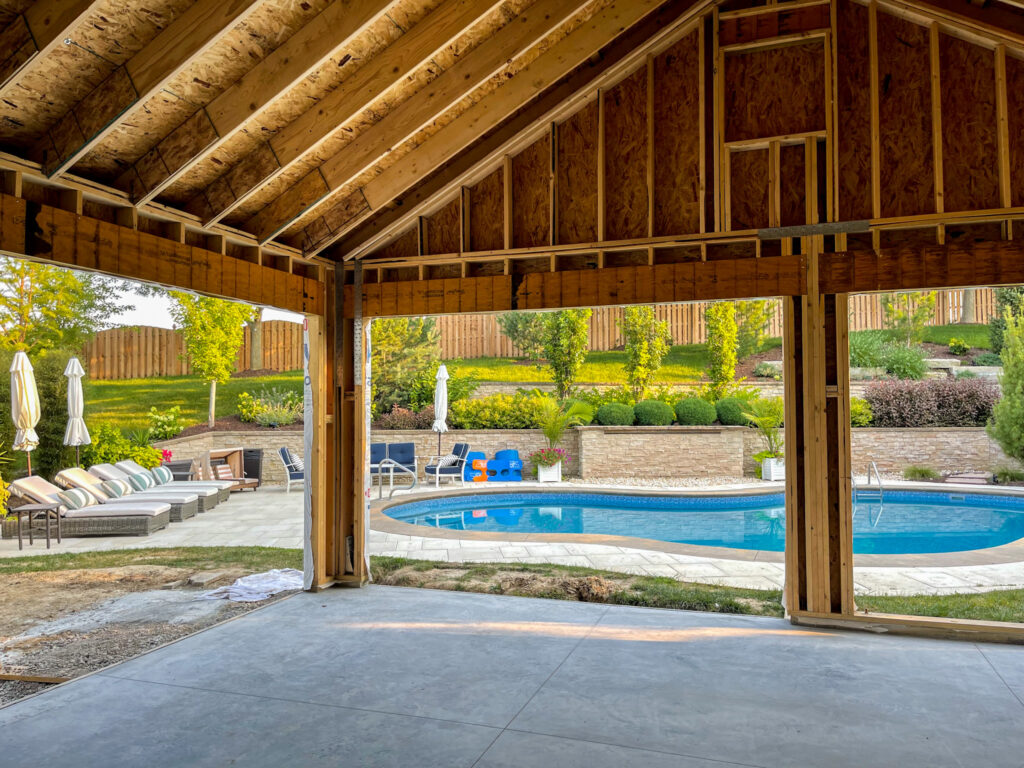 Once that was able to cure, our builder installed our windows and then Andersen installed all the doors. Some of you detail-oriented folks have noticed that we're doing Andersen windows and doors in the pool house, but Pella in our house. Our builder had better pricing on Andersen, and honestly, they look nearly the same the way we designed them, so I'm actually interested to watch how they both compare over time!
Things started to feel a heck of a lot more real once those windows and doors went in! Unfortunately, our gas strut window (the opening on the left in the image below) is backordered until the end of September. We weren't going to be able to install it regardless until the countertops went in. However, it is causing a few issues as we figure out siding, shiplap, trim (and blocking the rain!) until it arrives. I think that one will be our favorite too, because it essentially lifts off the countertop and goes overhead like an awning above the bar!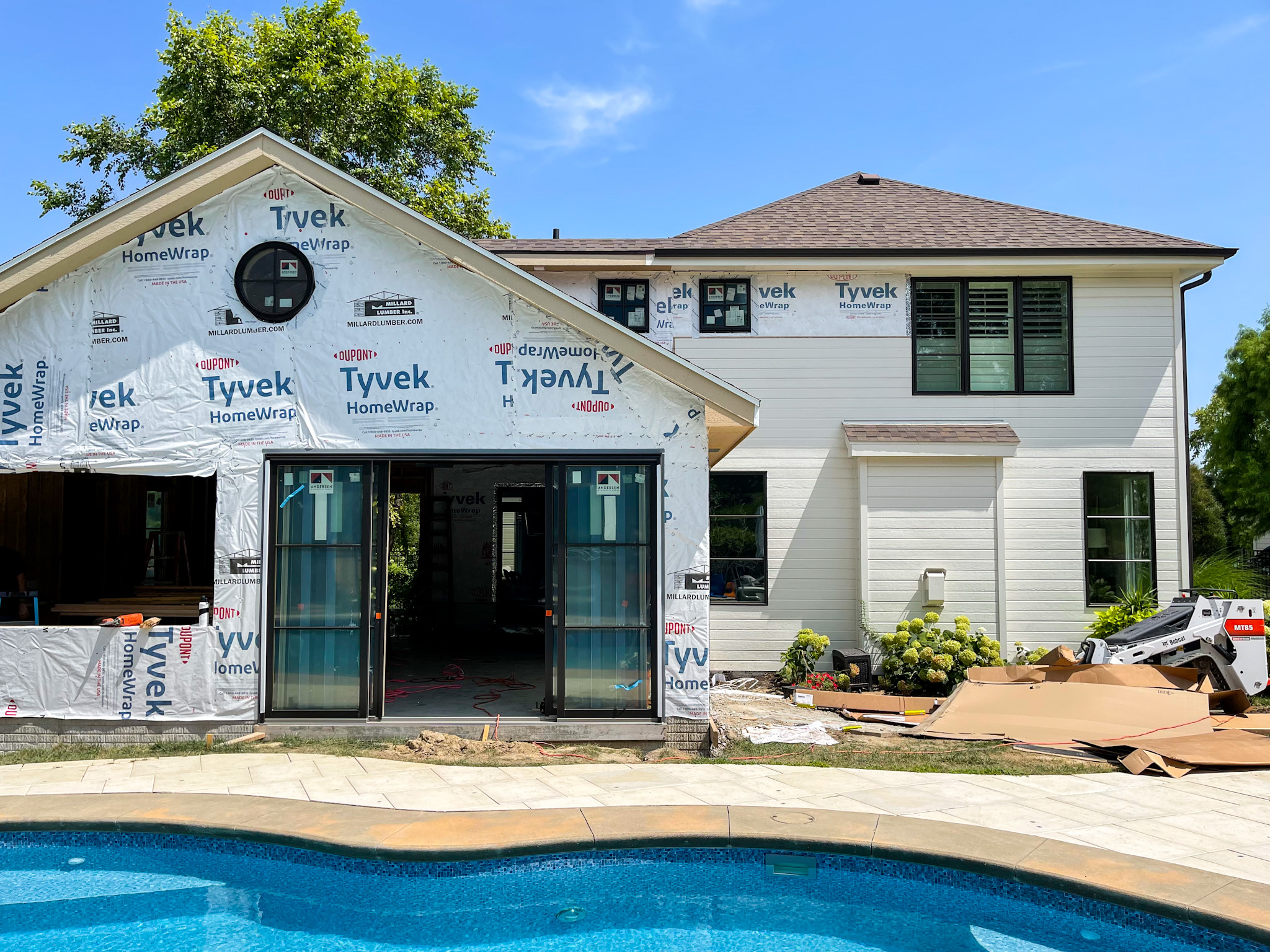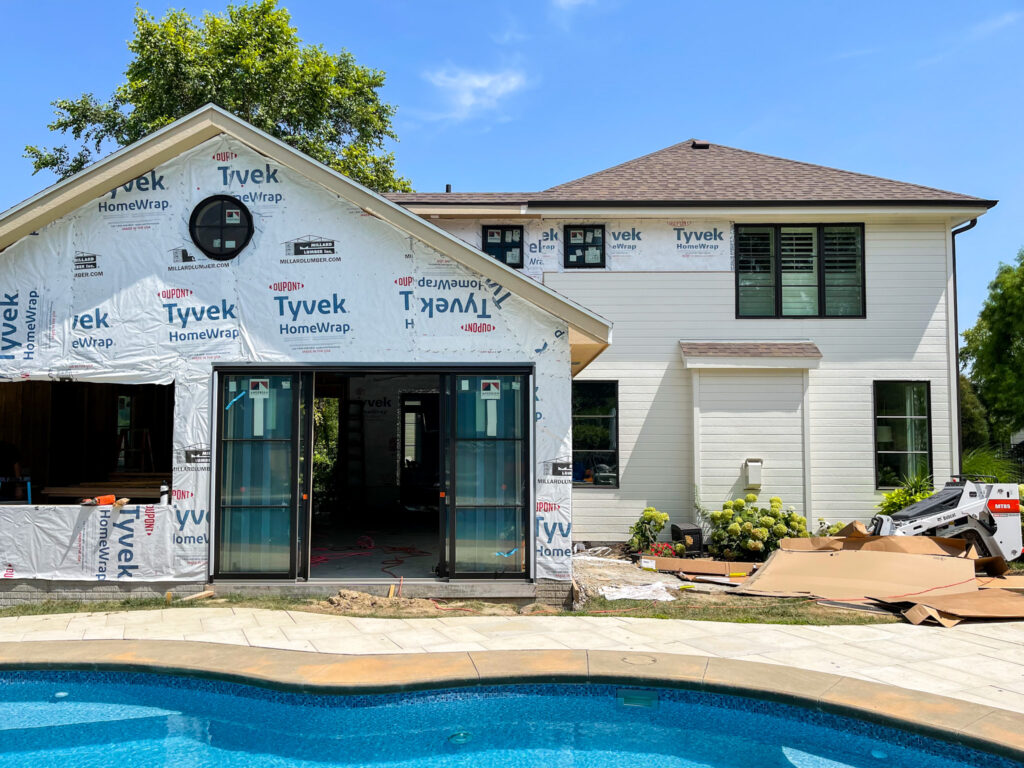 We've since found an issue with the two large doors you see in the middle above. When they're both fully open, they tilt downward. It's about 1-2 inches difference on each from the top to the bottom and is noticeable to the eye. The floor for the most part is super level, so the door guys and our builder are going to try and remove them Wednesday. They're then going to test the concrete again and grind off even the slightest of imperfections. Since the span is so large, and the doors are so heavy, even the slightest imperfection may make a difference. We're hoping that fixes it – otherwise it might be a production issue with the track. Fingers crossed that's not the case, or we'll have to order a whole new door. Which then also delays trim, paint, floors, etc. That's one of the biggest downsides to any delays right now. It creates a domino effect with so many other steps.
Okay, back to the progress.
We also replaced the existing slider going from the dining room to the pool house. Since this view was actually outdoors previously, the old frame was dark bronze. And with so many other doors in the space (including one right next to this one), we decided to make them all match. Which, also meant we got a lot more glass, going from a standard sized door with a transom above it, to just one large door for the space. Side note: this may have been the last time the cats were able to come out here. It hasn't been clean enough since! It's killing Hawkeye, but I keep telling him he'll soon get to go out whenever he wants. It doesn't seem to be helping with this whining 😉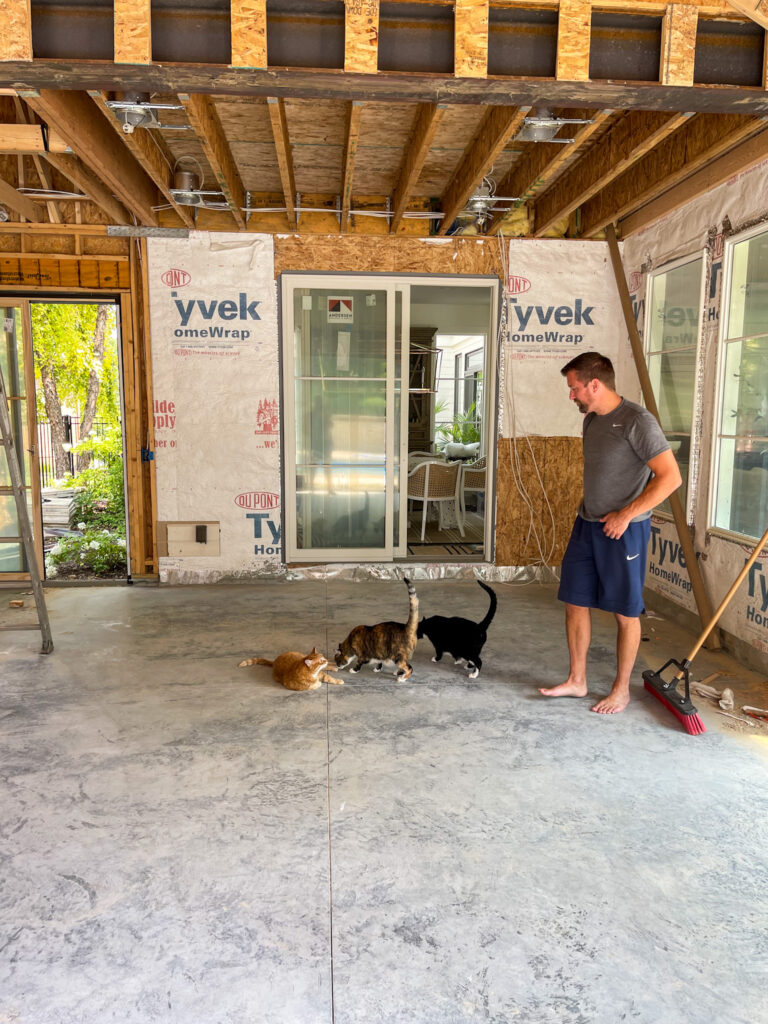 The next step was insulation and drywall.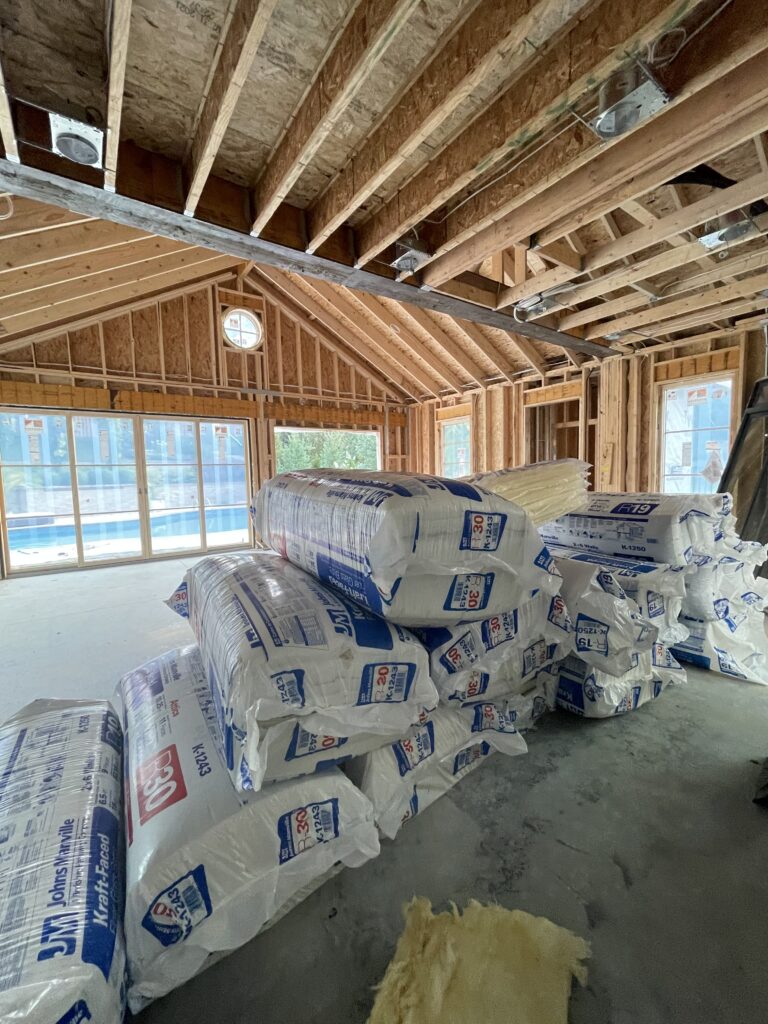 I mentioned this briefly in last week's post on coastal chandeliers that during our electrical, we decided to add a few lights, outlets, and switches that weren't in the initial plans. It was so helpful to walk through with our builder and the electrician once the space was all closed in (and before the insulation and drywall went up). In addition to adding a light to the dining space, we also added two lights over the bar window and then one over the kitchen sink. I opted out of can lights on the vaulted ceiling, so we realized we were going to have some dark corners if we didn't add a few to this side of the room!
Once the drywall went up, I was so happy to have a white space again. It was definitely time for all that orange lumber to be covered. Since we used an 8″ exterior siding (that looks like nickel slot shiplap), the drywall only had to be fire taped. We didn't have to go through all the mudding and sanding steps, which was nice (and much cleaner)!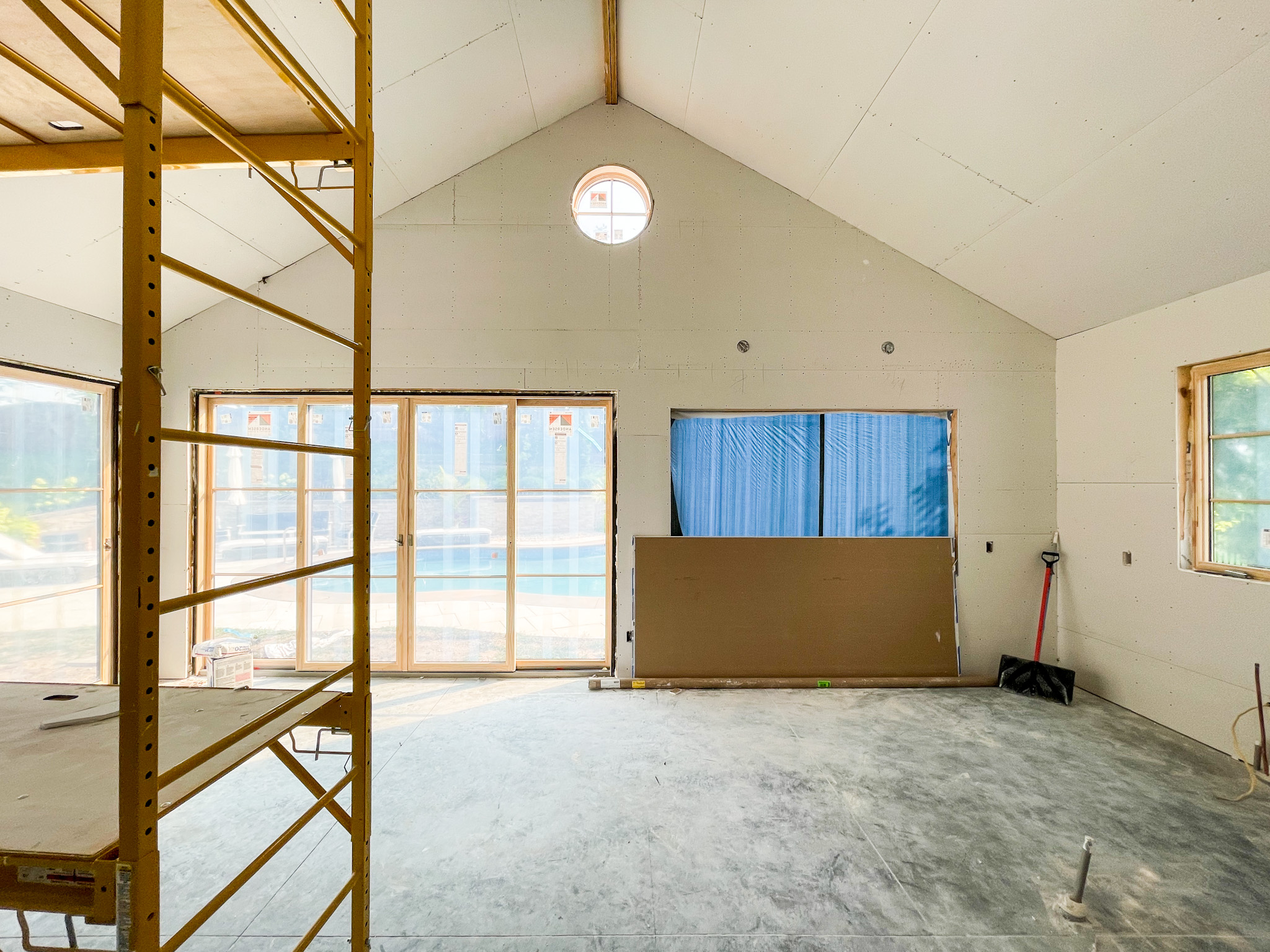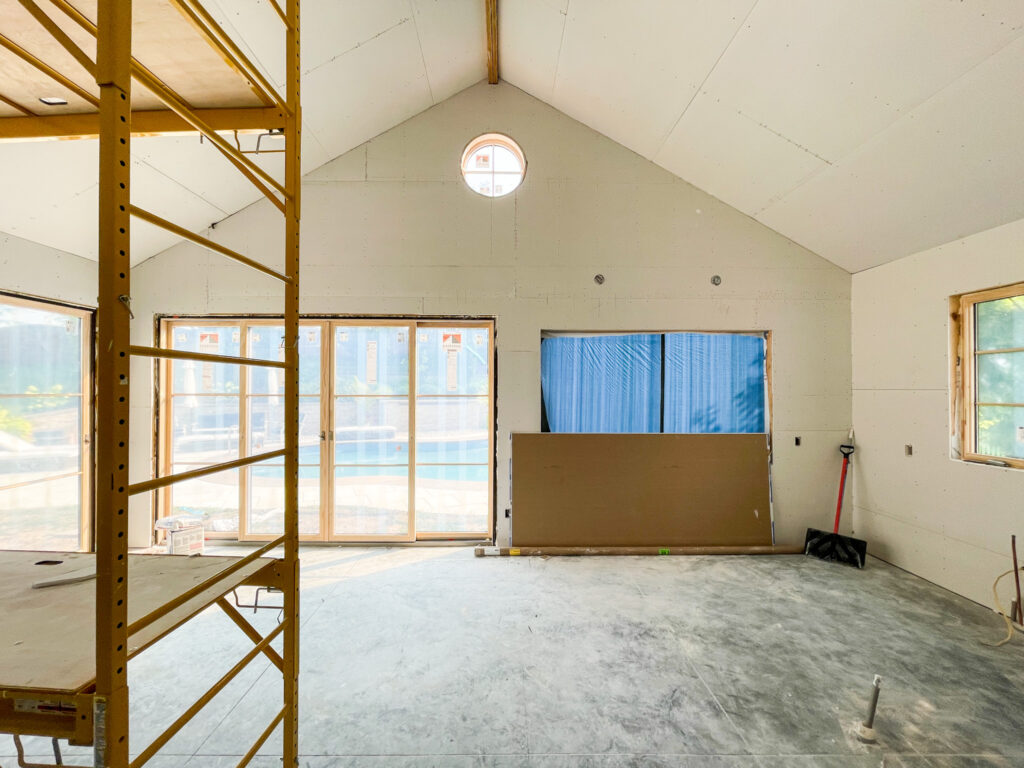 Last week was extra exciting! Prior to that, it was starting to feel like we were a long ways away from any of the finishes going in. But, we got cabinets – and some of our shiplap! Here's one of the pictures I shared yesterday with a sneak peek of our little kitchen area after the first day of the CKF install. As a reminder, we'll have a full-sized counter-depth fridge, two beverage fridges, and then just a sink/disposal. We opted not to do a dishwasher, microwave, range, etc. Not only was it a huge cost-savings, but we didn't really have the space (or need) either. With our actual kitchen being so close, it really didn't make sense to make this too elaborate. It's more about convenience for grabbing drinks and ice, and to serve snacks, etc. Despite the chaos of the construction, I promptly brought our counter stools out here the first night after they wrapped up!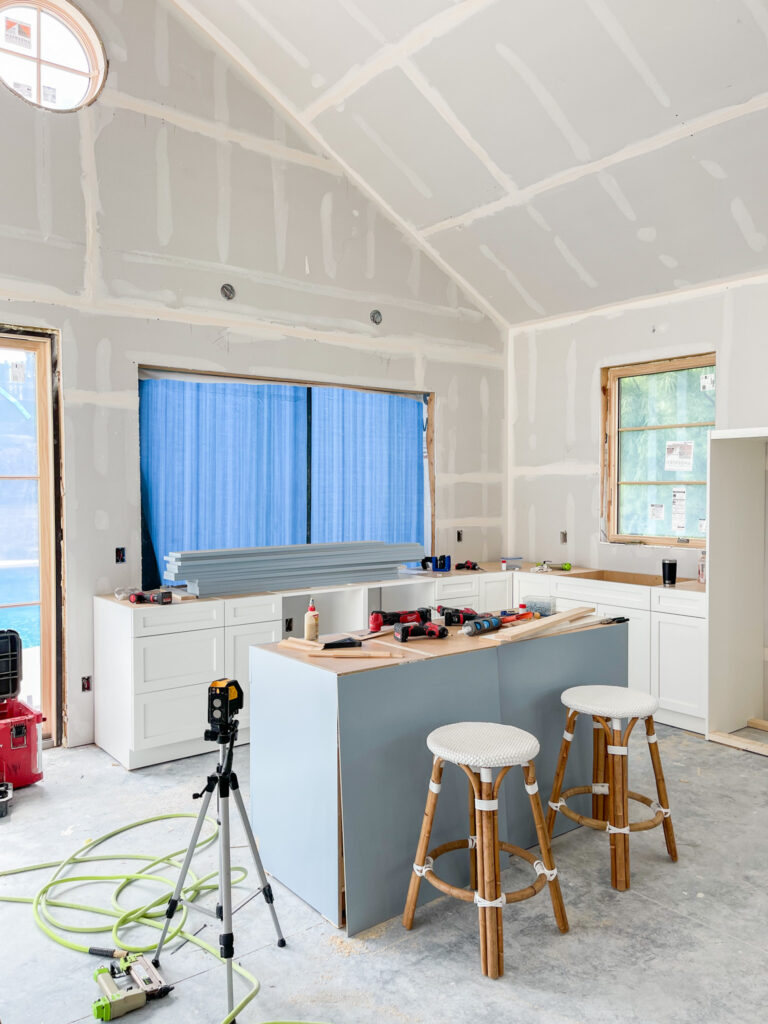 I promised more angles of the kitchen, so here they are! This is before the island was finished. But the color (Benjamin Moore Santorini Blue) is proving to be such a chameleon already. It literally changes at every angle and then again multiple times throughout the day! I think the blue tarp on the gas strut window is casting some weird tones too. But this view is one of my favorites. With the large sliding doors, it almost feels like a greenhouse in here from this angle!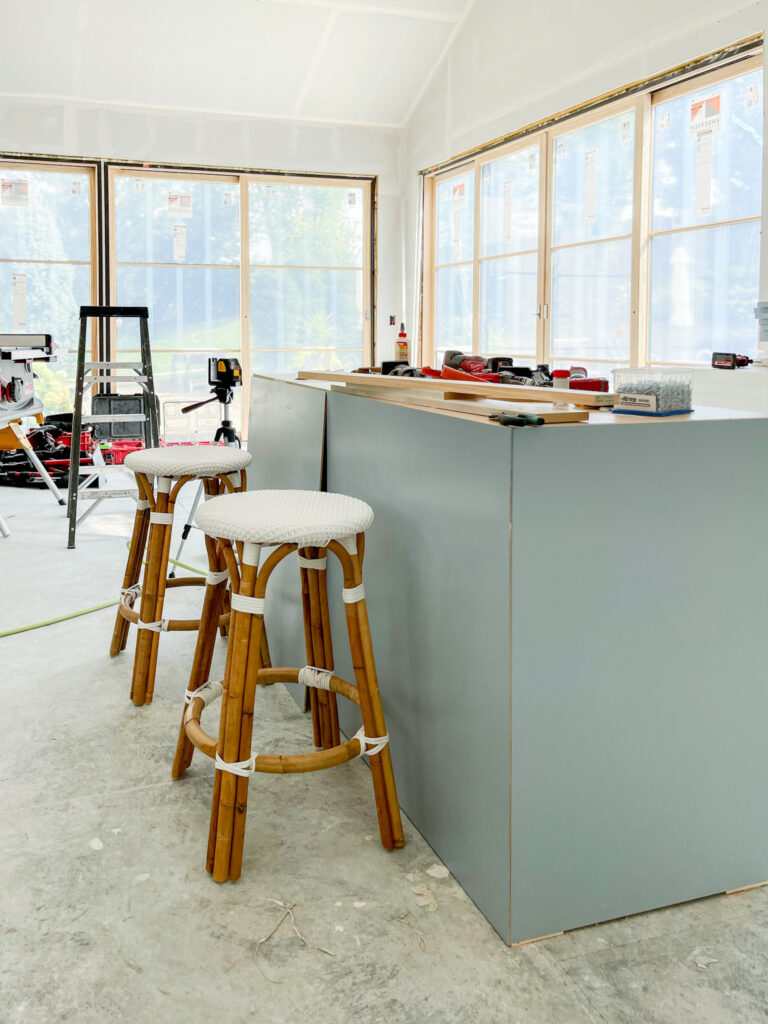 We'll be using White Macaubus Quartzite on the counters. We had some thorough conversations with the guys at the stone yard (we're using Unique Stone Concepts). With part of our countertop being outdoors year round, there were very few options they said would be okay in our climate. And it may still be iffy. We had to consider freeze/thaw, heat in the summer, and then hail during storms. So it needed to be a natural product, but one that wasn't too porous, and one that wasn't too soft. So this is where we ended up! Here is one of the two slabs we'll be using. We still haven't seen our exact slabs in person, but I think these will work! It was the lightest option we could find that fit all the parameters we needed.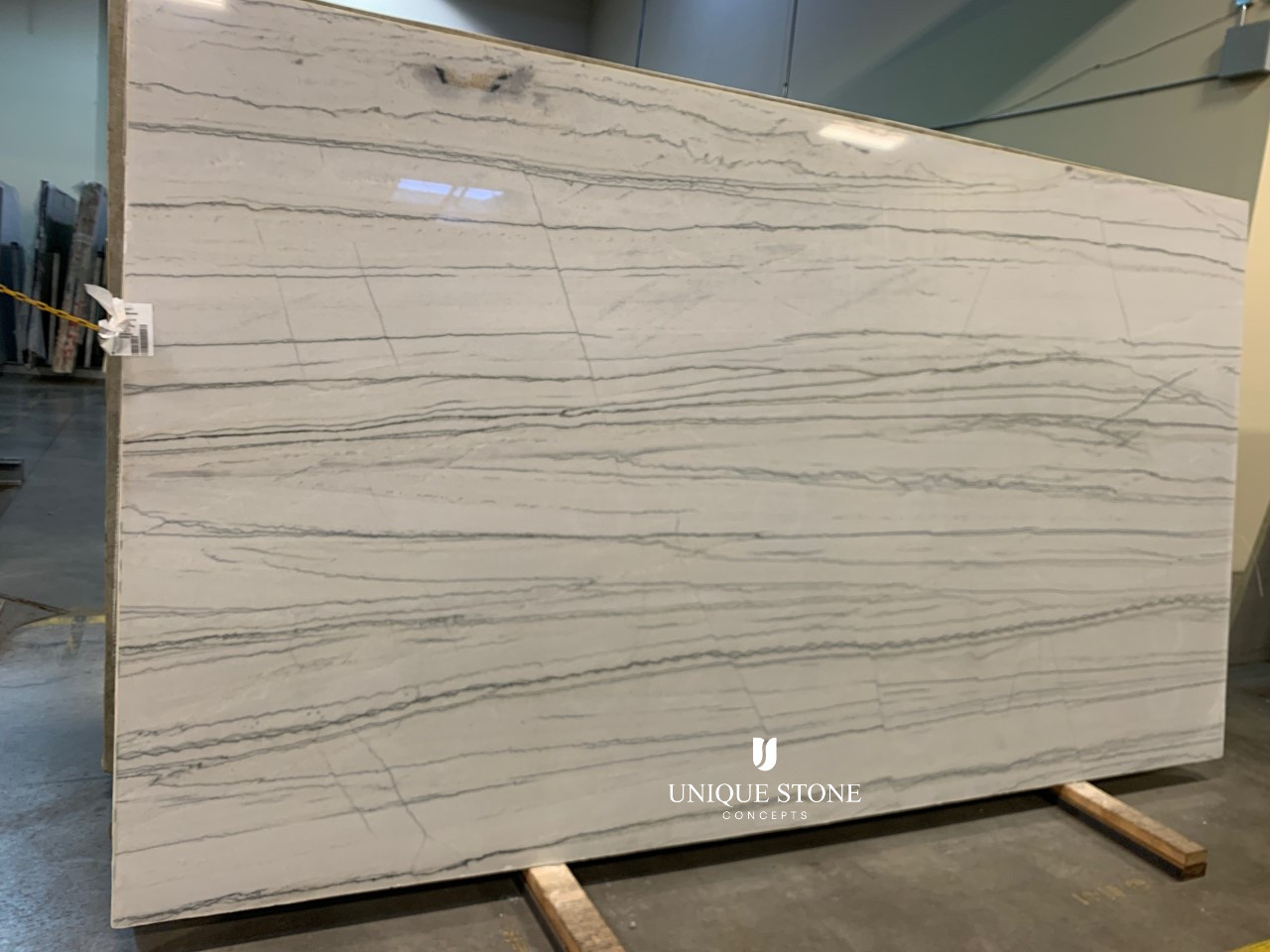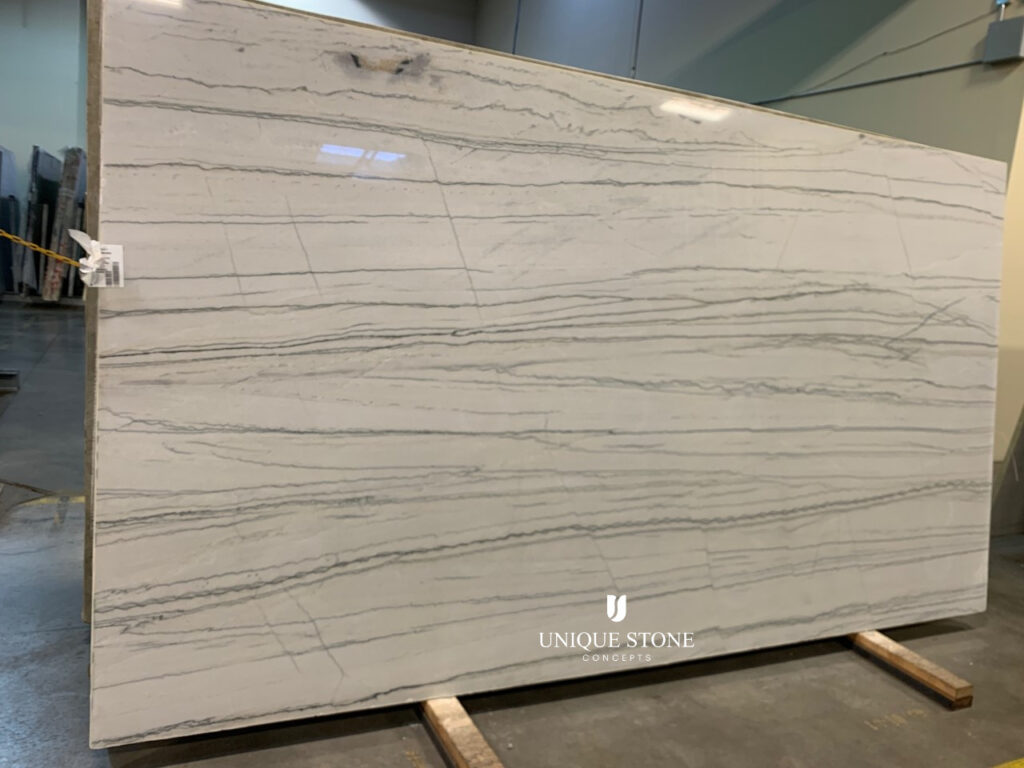 The sink will be centered under the window you see straight ahead in the photo below. That box frame off to the right will be for our refrigerator, and the two under cabinet openings to the left are for the beverage refrigerators. I'm partnering with Café on the appliances, and just got word that they are delayed a few months longer than expected. So, we may be appliance-free out here for the first few months. But, as I'm sure many of you know, appliances are so backlogged right now!
I realized right as we were about to order the appliances that the fridge is actually black on the sides (even though I'm going with the matte white). So, we had to have that box panel to cover it up. The fridge is standard height, but the frame looks squatty with the tall ceilings. But, without any other upper cabinets, I didn't want to add an upper cabinet because it looked super top heavy in drawings. Once we're further down the road and the appliances are in, I may opt to add a cute woven basket or something on top if I feel like the height still looks off. But, I think once the pendant lights are hung over the island and the sconces go up over all the windows, it will help balance some of the current lopsided-ness!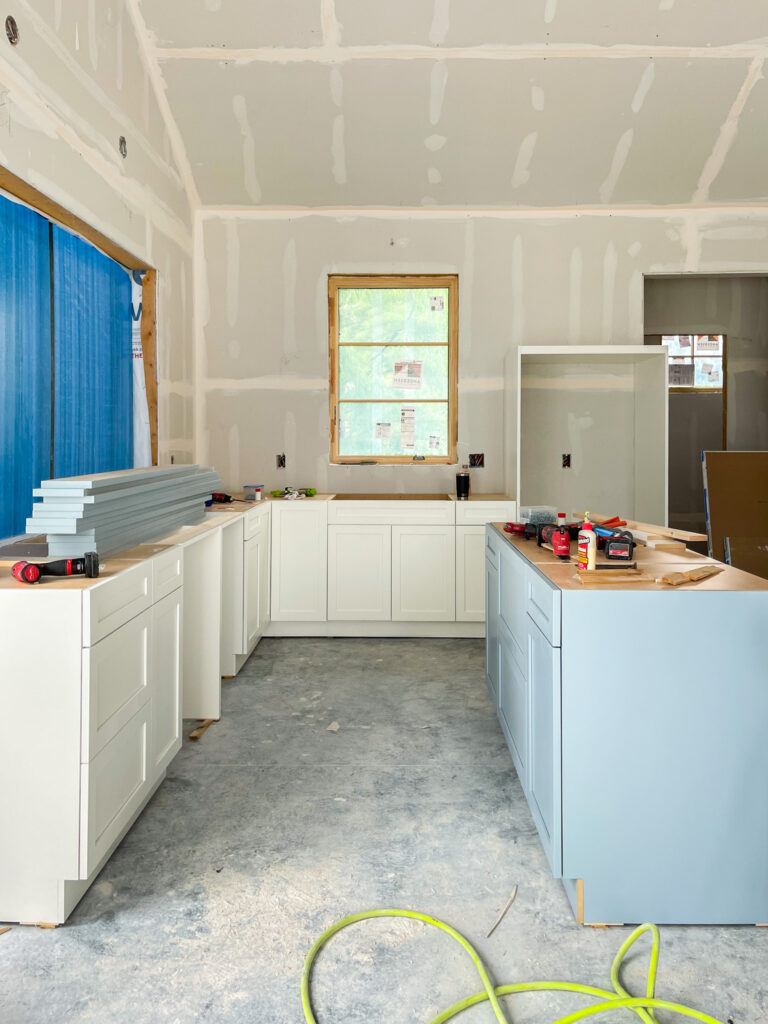 The thick film is obviously still on both sides of the windows, but I'm thrilled that the kitchen sink lines up with one of my favorite trees in our yard. This fluffy bald cypress has such pretty and unique texture, so I love that it will be what we see during the summer months! Side note: the cabinets hadn't been adjusted here, so don't worry, everything lines up nicely now 😉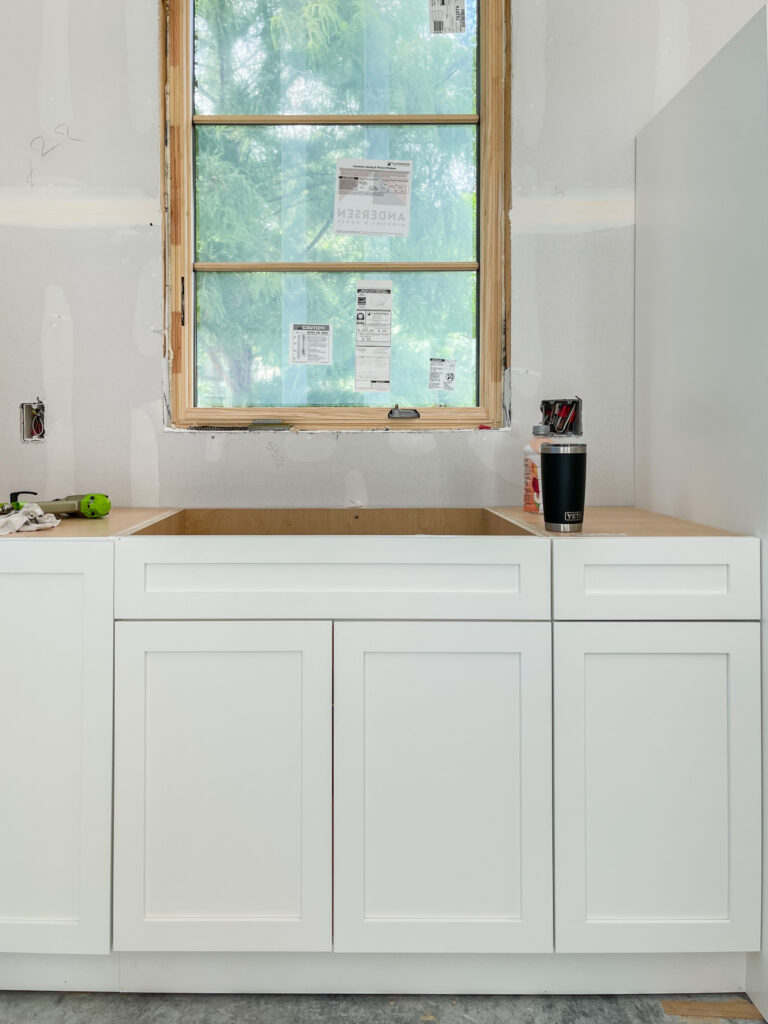 Here you can see a peek at the cabinet hardware! I talk more about that (with a close-up look) further down in the post.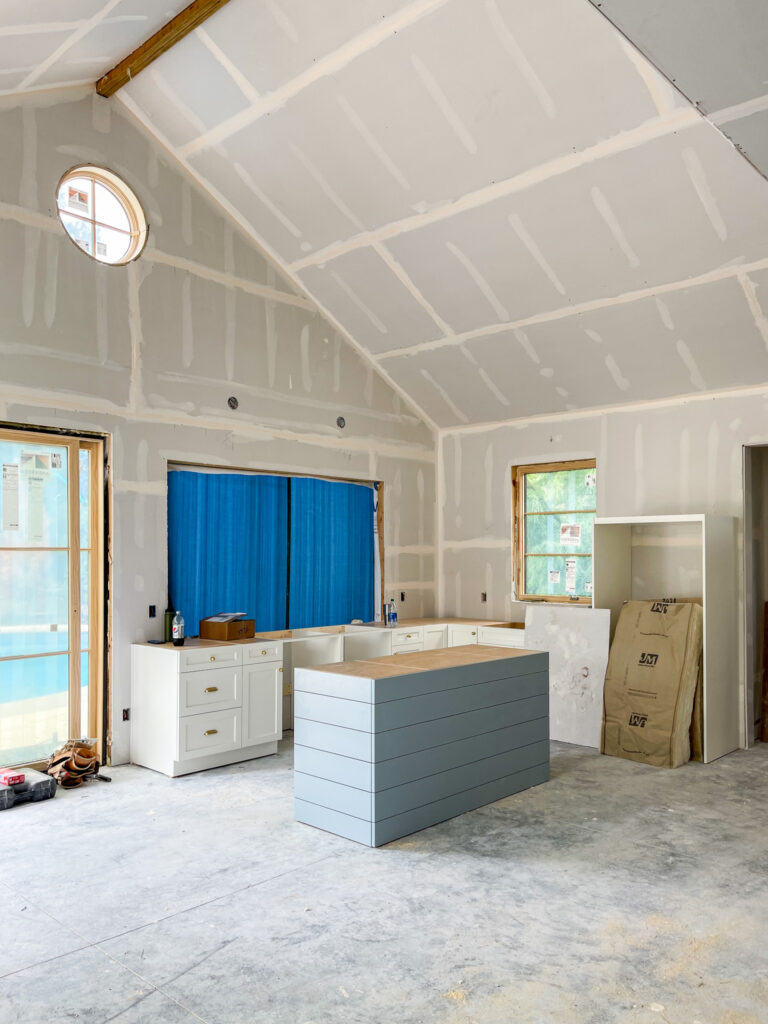 Last Friday, the trim carpenters arrived late morning. They got most of the vaulted ceiling completed.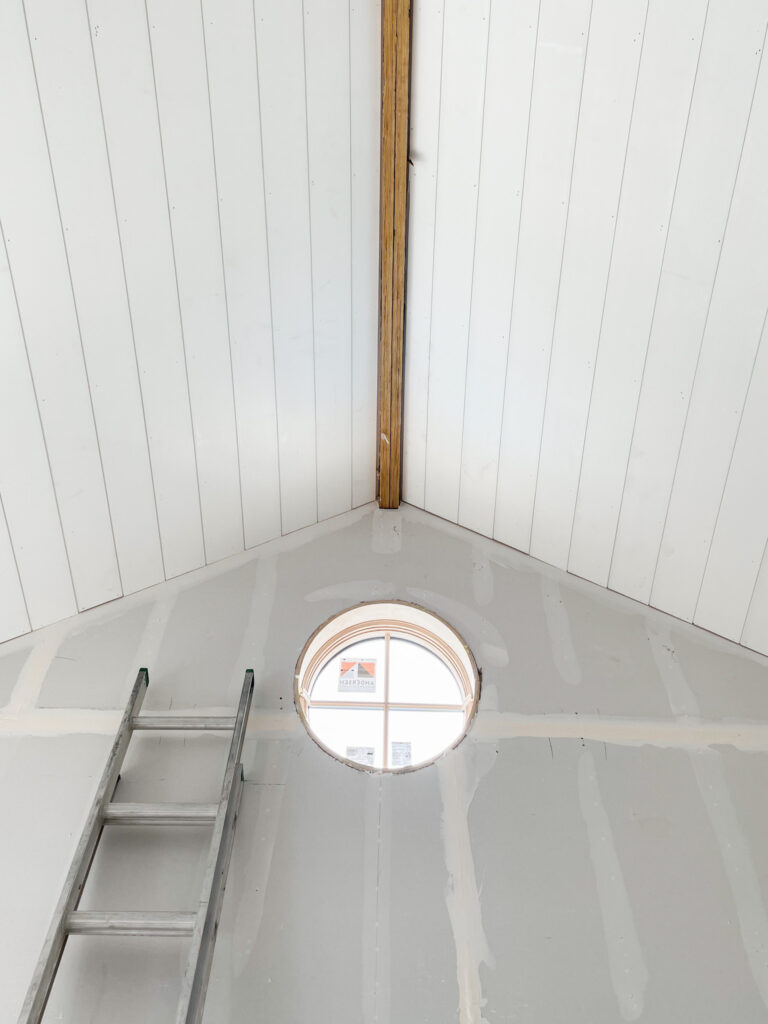 And here's how the space looked at the end of the day last night! They're almost done with the entire room! There's just a bit left in the hallway cove and bathroom, and they'll be done (shown further down). Today they'll be wrapping up all the window and door trim. We absolutely love how the shiplap siding turned out! These guys did incredible work. You can see below, they also built out the beam in the center and made it quite a bit chunkier. We went back and forth on deciding whether or not to do natural or white, but ultimately decided to just go white. I honestly just didn't want to go through the motions of finding a stain at this point. So, it will also be painted Benjamin Moore Simply White along with all the shiplap and trim, since it was never intended to be a focal point regardless.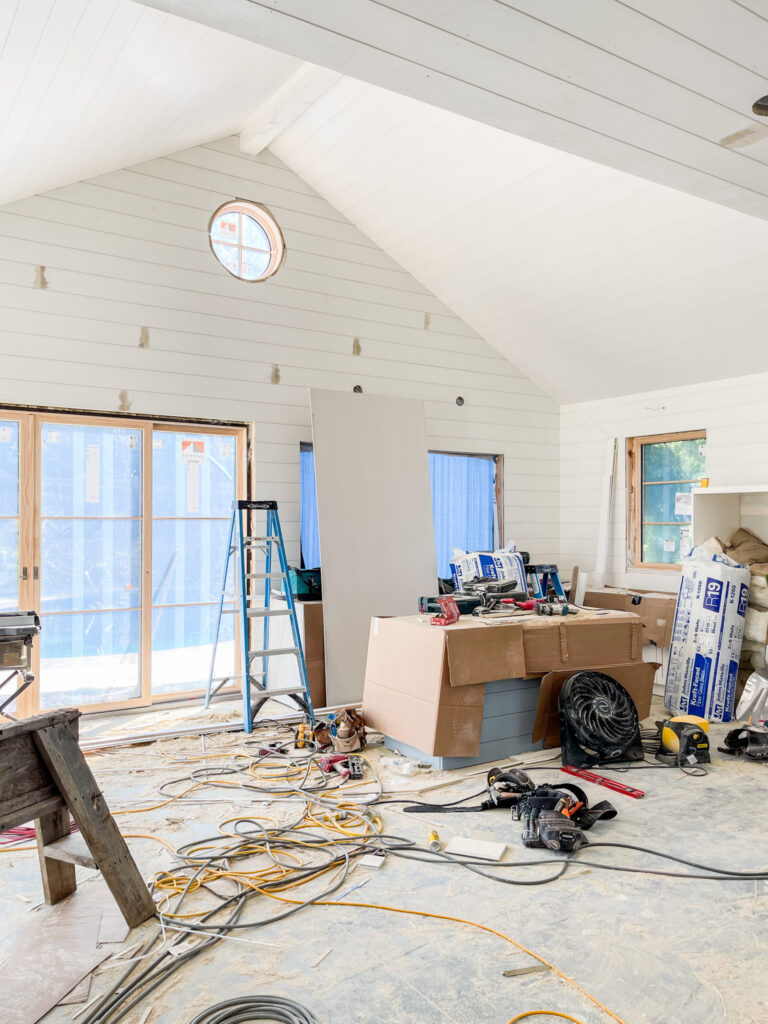 Here's the view to the right of the kitchen. Kurtis had a little bump-out made for the TV components and outlet so we can keep the TV as flush as possible to the wall.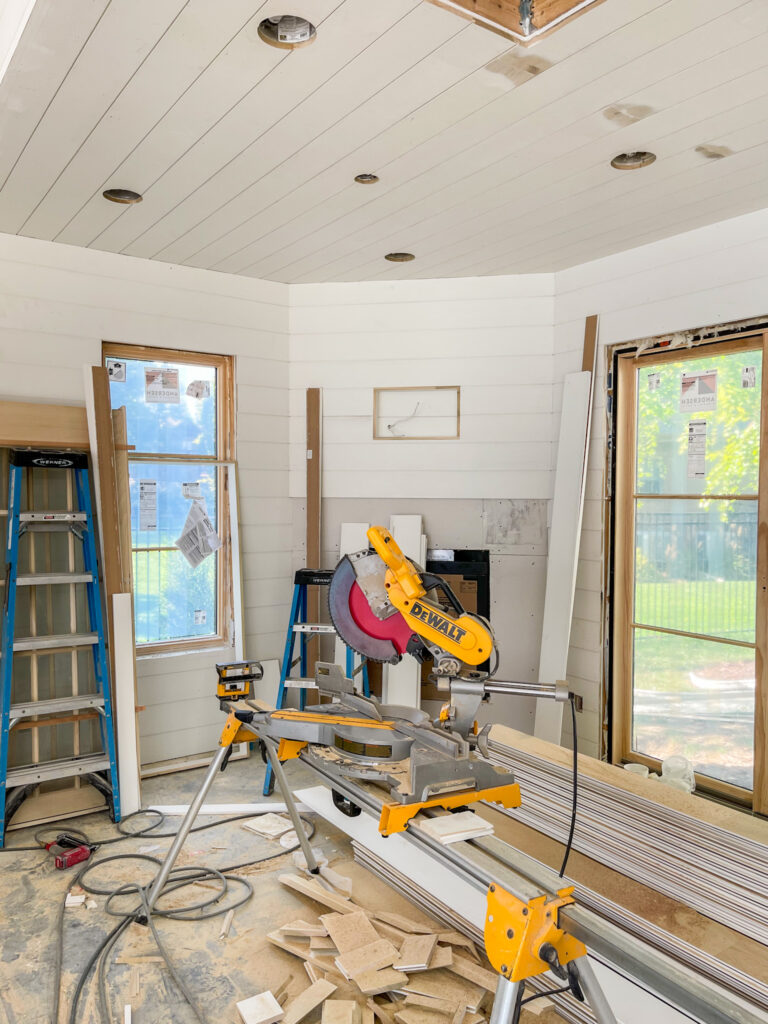 Here's the little space in between that they still have to wrap up. It's so tight that it's almost impossible to photograph. Wide-angle phone lens to the rescue! On the right, we're going to have a really small closet, which will actually just be one really tall set of cabinets. We only opted to go this route recently, so they won't arrive until the end of September. It felt like a standard door was going to be way too tight and narrow, so stacked cabinets seemed like a better alternative. We'll be using it to store things like our stick vac, Crosswave, cleaning supplies, etc. Once we live with it for a bit, we also may store pool towels in the upper section. It's only 18″ wide, so space will be limited, but should be just enough for all the essentials!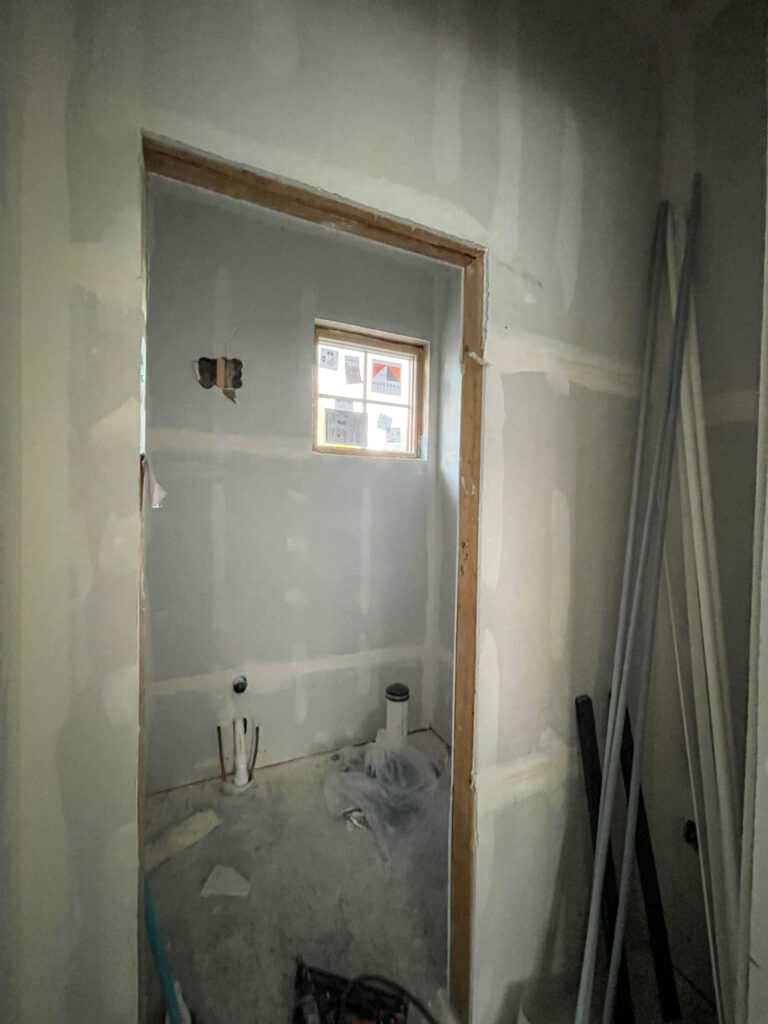 The painter is set to start next week, hopefully! He'll be doing both the interior and exterior, so his first project may depend upon what happens with that big sliding door on Wednesday and when the exterior siding guys wrap up. If the door tweak goes smoothly and they can get it fixed, the trim carpenter can wrap up that door before everything gets painted. It sounds like then, we can have the electrician back to install all the light fixtures, outlets, and switches. Then I believe it's just plumbing and floors! With that, I'm hoping for at least a semi-reveal by early October. Fingers crossed!
I haven't really touched on our closet situation either. You may recall, we added an area upstairs on top of the pool house to make a bigger closet. Here is our old closet, once we added the window. Essentially we'll now have two closets. This will be Kurtis' and mine will be on the right side of this wall. We've had a lot of comments about how small our closet was in relation to our house and bedroom size, so we knew this was the one last chance to make it bigger if we were ever going to do it. We had made the small size work for 8+ years, but it only made sense to also tackle this for resale purposes down the road. The space actually still looks like this today (with mine literally just being the plywood). We've seen some closet drawings from CKF, but I feel like I'm out of decision making abilities at this point. Ha! Our builders are coming today, actually, to insulate and drywall my side. Hopefully that will get my butt in gear! Although, our clothes spread out in random rooms for the past month or so is starting to become incentive enough to make some decisions 😉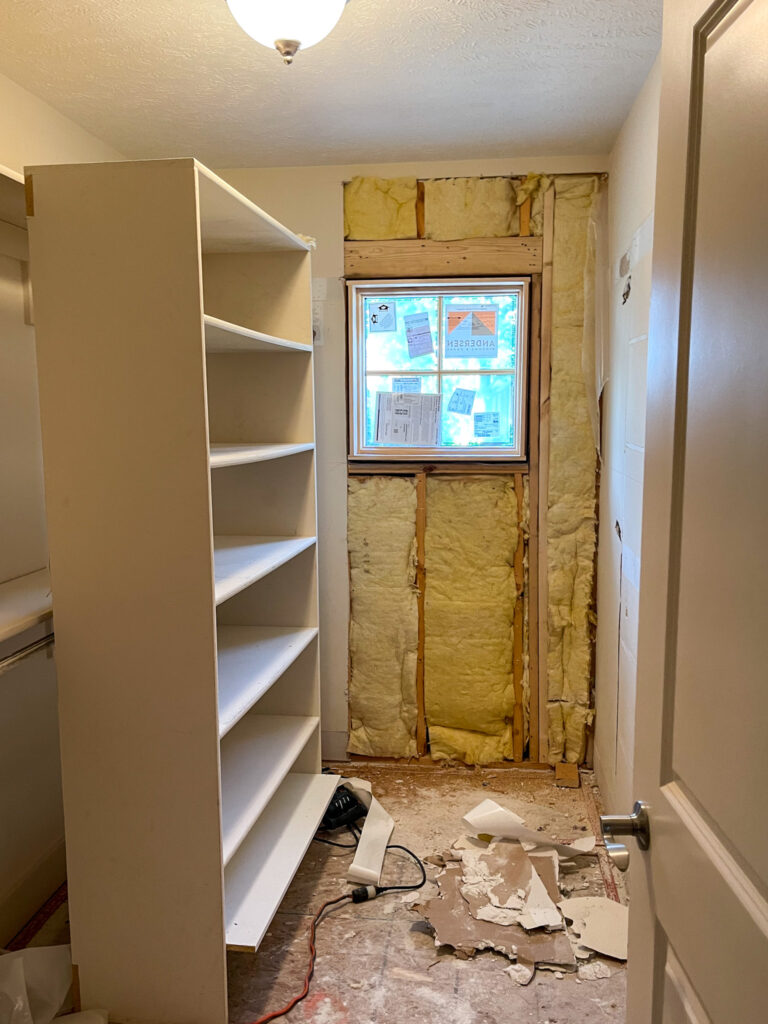 But with that, I had ordered an extra window for my side of the closet, hoping it would fit with the pool house roof pitch. It turns out it didn't, so I made a game-day decision and had a window added to our water closet in our bathroom. Best decision ever! This image was from my Instagram Stories at the beginning of this month.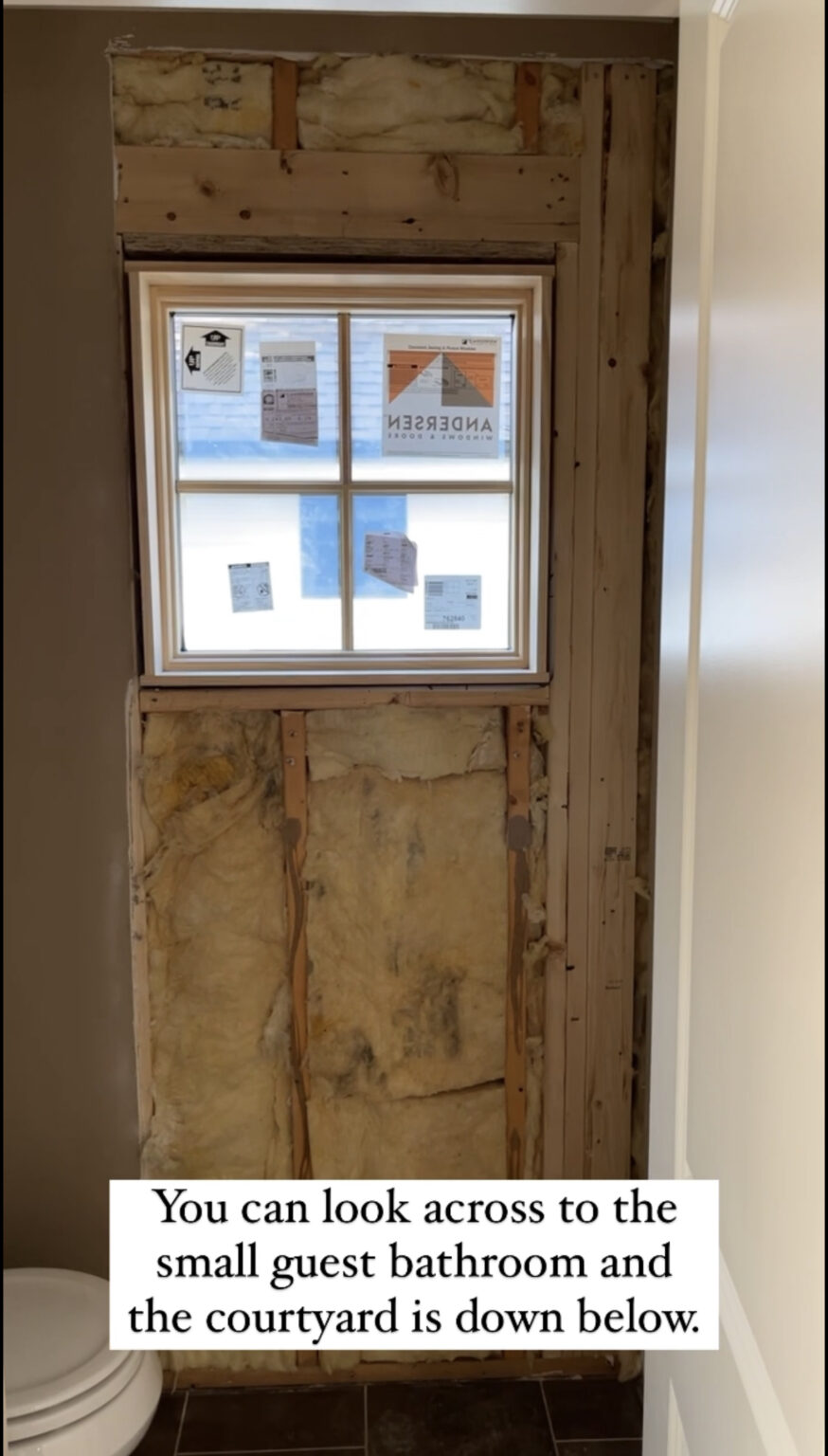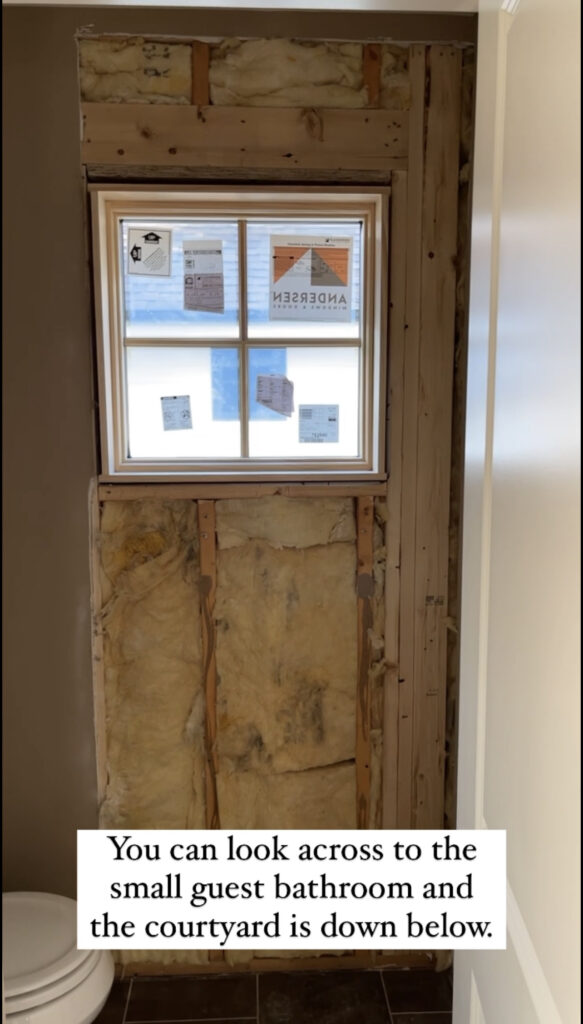 Alright, I think that about wraps up the progress so far!
Additional Pool House Selections
In last month's progress update, I shared more of my selections that we had since finalized from the initial selections post. I still had a number of items to finalize though, so I'm going to share all of those with you today. I *think* the only thing I have left to finalize is the bathroom light fixture! That's it! I'll tell you what, though. At this point, I can't ever imagine building a custom home from start to finish. Holy cow there are so many finishes and selections to think about, and this is essentially just one large room!
Last week, I talked about coastal chandeliers and our decision to add one over our dining area. Although the space looks huge right now with it essentially empty, it's a modest 26×26 – and that has to hold the dining area, kitchen, and living room. So it's going to be cozy but also, with very little wasted space. I only bring that up because the lighting becomes a bit of a challenge. I want them to complement one another, without competing or looking too matchy matchy. Most times, you'd have a little separation among all these spaces, but our is essentially one big room.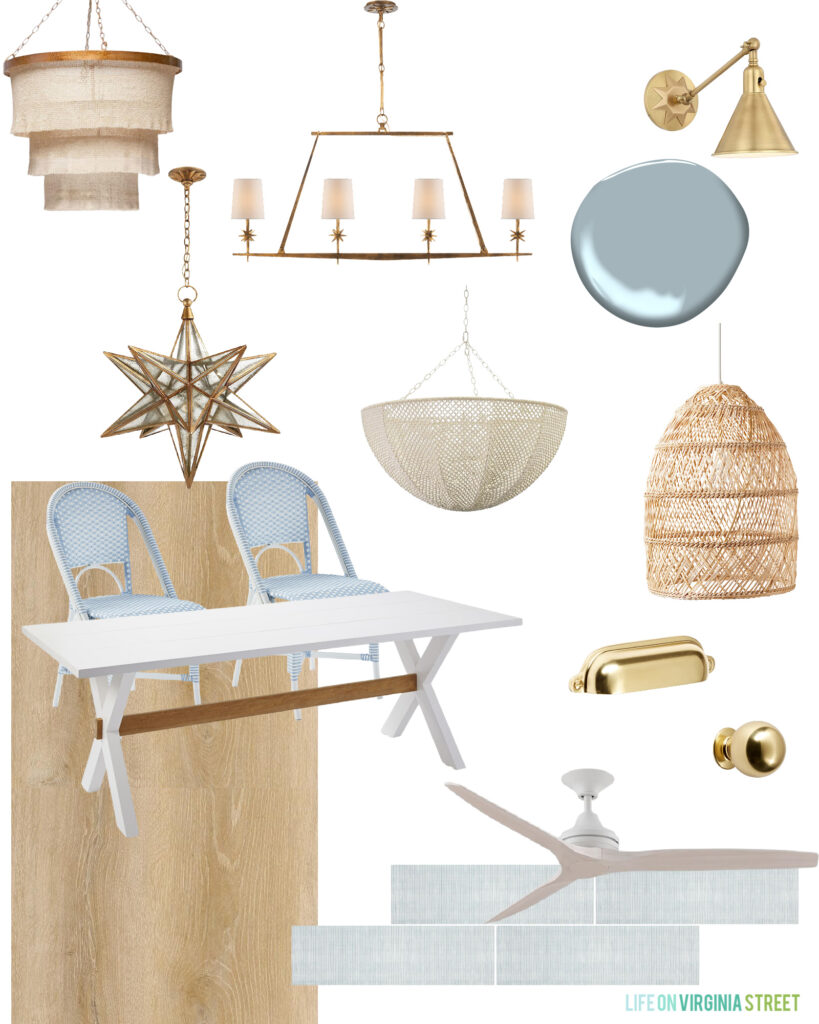 SOURCES: Tiered Chandelier | Linear Star Chandelier | Moravian Star Chandelier | White Coco Bead Chandelier(look for less here) | Star Sconce Light | Island Paint Color: Benjamin Moore Santorini Blue | Basket Pendant Light | LVP Floors | Dining Chair | Dining Table | Cabinet Bin Pull | Cabinet Knob | Fireplace Tile | Ceiling Fan
I think we're going to try and make the broken Moravian Star Chandelier work in the dining area. I had Kurtis inspect it with me further over the weekend. He thinks he can rig the broken arm back on, and we're going to try and glue the broken glass for now (or have a glass specialist make a few new pieces). I'm hoping we can make it work because that's the light fixture I love most for the space! And, now that it's free, it's even more incentive to try and salvage it. It's such a beautiful fixture! It's going to complement the Star Sconce Lights I picked for over the kitchen windows.
On the living room side of things, we're just doing simple can lights in the ceiling were the ceiling is lower. We'll also be using this lightless Ceiling Fan to go in the area and to help circulate the mini split we're using for heating and cooling. Below is the tile I selected for the fireplace (bottom right of the photo). We'll be using this floating shelf as the mantle above it. The tile has a cool, linen-like watercolor effect so I think it will be a fun option for the space!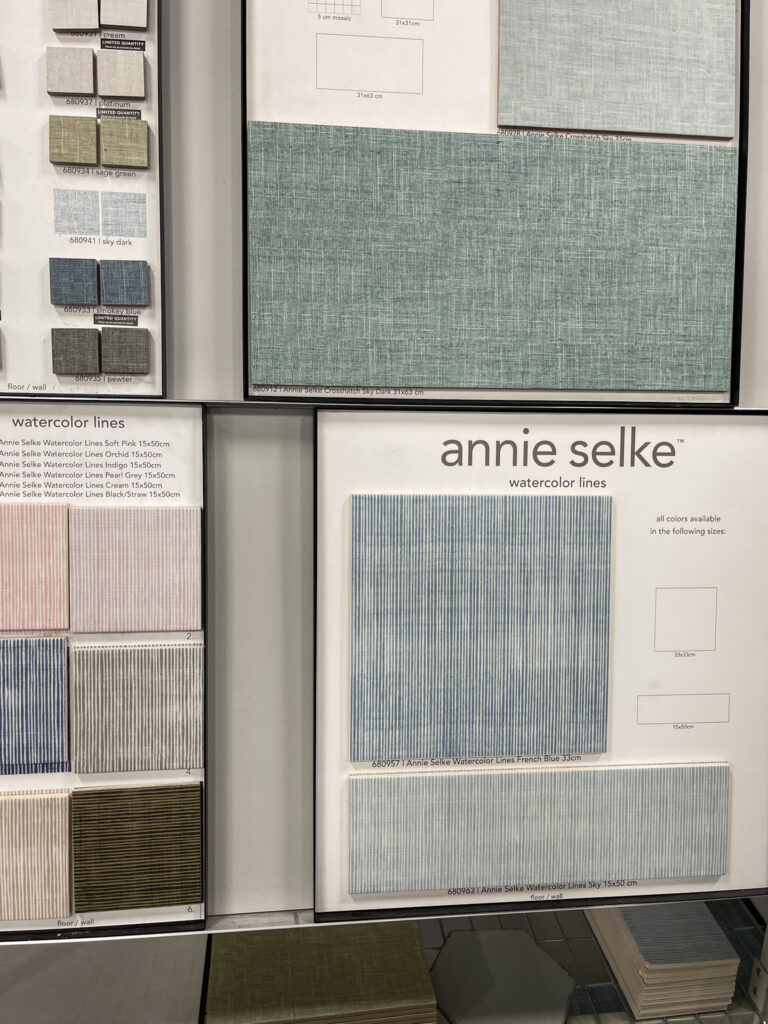 Here is the cabinet hardware I selected. The bin pulls are the same ones we have in our kitchen, but in the aged brass finish. I then opted for the matching ball knobs in lieu of the mushroom knobs we have in our kitchen, just to change things slightly there as well. I selected the longer drawer pull for the trash bin cabinet. Since whatever I chose would have to be mounted at the top center of that panel, it would look different regardless. But, I wanted to make it super obvious to guests which one was the trash. Ours is camouflaged in our kitchen and looks like drawers, so nobody can ever find it! Not a huge deal in our main kitchen (and was actually intentional), but out here, it's much more important for it to be visible!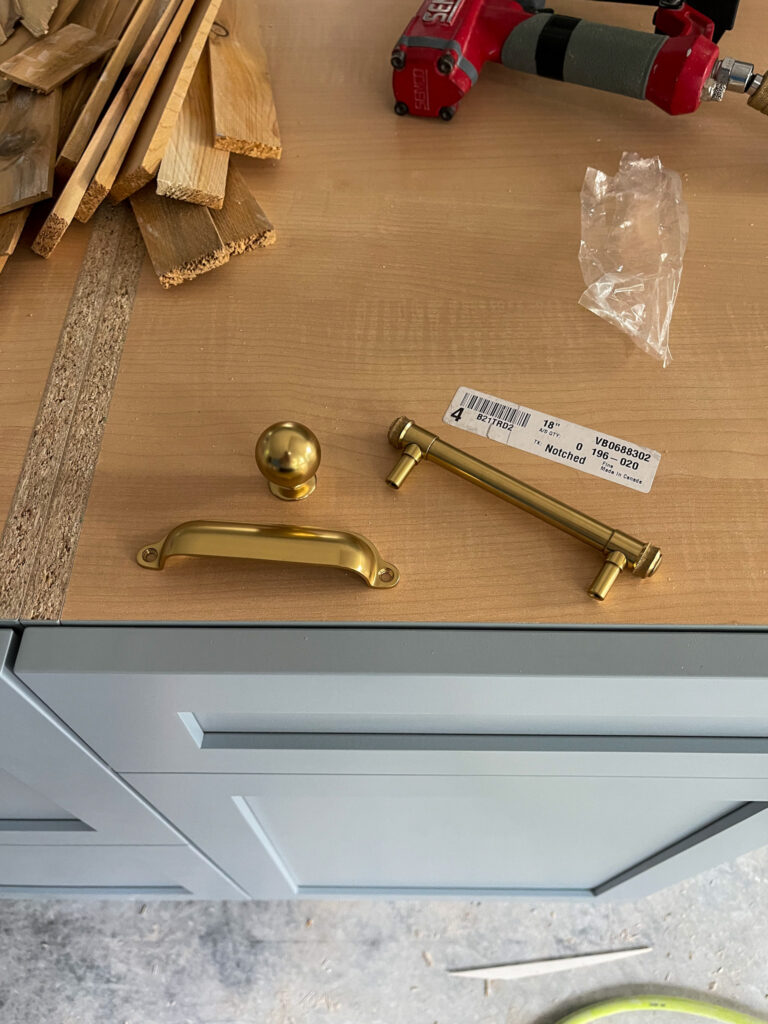 SOURCES: Cabinet Bin Pull | Cabinet Knob | Longer Drawer Pull
All of our furniture has arrived, except for the Dining Table, which is set to be delivered Thursday! Our house is starting to look a bit crazy as we try and find a place to store everything. But I'm grateful I ordered everything as early as I did, knowing just how bad lead times are starting to get for furniture. We're currently storing the sofa behind our living room sofa, and one chair in the office with the other still in the entryway. It looks interesting, to say the least, even without the grainy phone pic 😉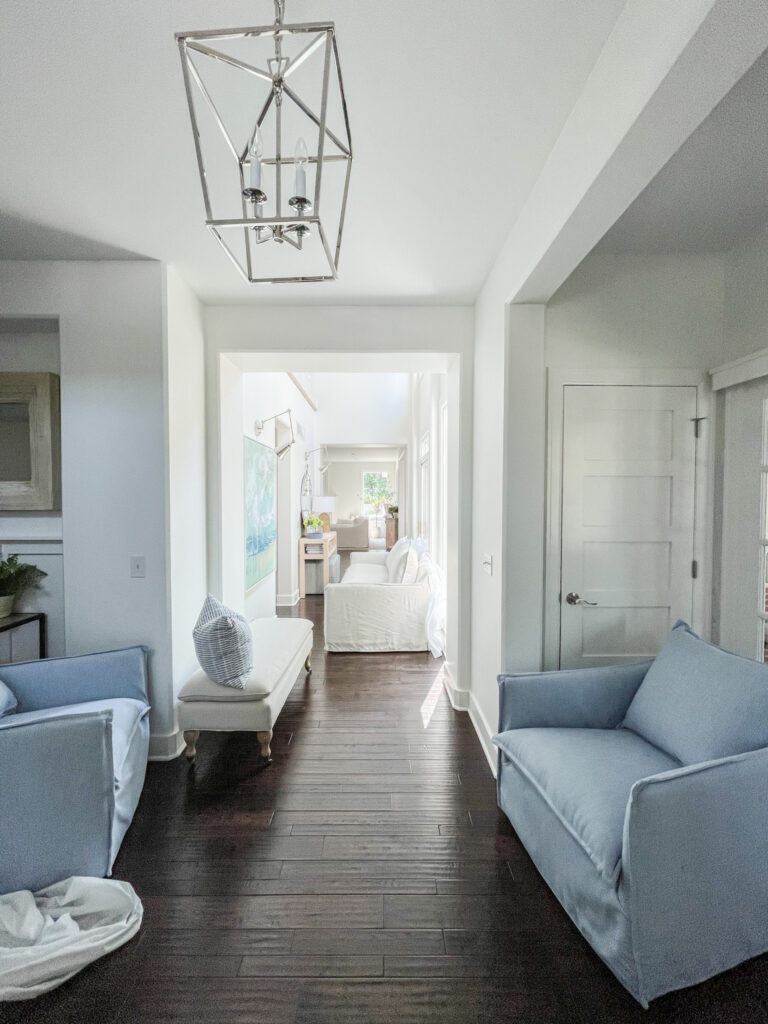 That about wraps up this month's pool house progress report! I'm thinking (hoping) we'll be far enough along this time next month that I'll hold out until the big reveal. But, that may depend upon a number of factors (like the door and then the gas strut window arrival). As always, I'll continue to do weekly reports in my Instagram Stories. I also have all of my old videos saved out there as well!
If you would like to follow along on more of my home decor, DIY, lifestyle, travel and other posts, I'd love to have you follow me on any of the following:
Pinterest | Instagram | Facebook | LTK
disclosure: some affiliate links used