Good morning! I hope you all had a nice weekend. Here's a little bit of what we've been up to around here!
This post contains affiliate links for your shopping convenience. Click here to read my full disclosure policy.
Home Projects & Updates
The weather delayed some of the pool house progress again this week, but that didn't totally prevent things from happening! The plumbing, gas, and electrical are all now run "underground" and have been inspected so our concrete pad can now be poured. We're so used to structures with basements around here, so it's so interesting to watch the process unfold with a slab essentially on grade! Thankfully BlueStone Custom Builders has been super patient with our million and one questions. We just truly love watching the process unfold and love to know the "why" behind everything. Literally everything. 😉 Early this week, they'll be filling all this back in to bury the lines, and then our 4″ slab of concrete will be poured. And I believe it will be 4″ up from the openings you see now (the bathroom hallway is the easiest example to see below). So, the floor will be nearly as high as the top of the interior foundation (just a few inches lower). We're excited for this stage to occur because we want all that dirt covered. It's been messing with our pool a bit (thanks to our daily wind) so it will be nice to have a much cleaner space once the concrete is in! Side note: I'm also having them raise the header in the entrance to the bathroom area to be as high as the windows. We weren't sure it could be done initially because our HVAC split will be hung above the doorway, but turns out it will fit!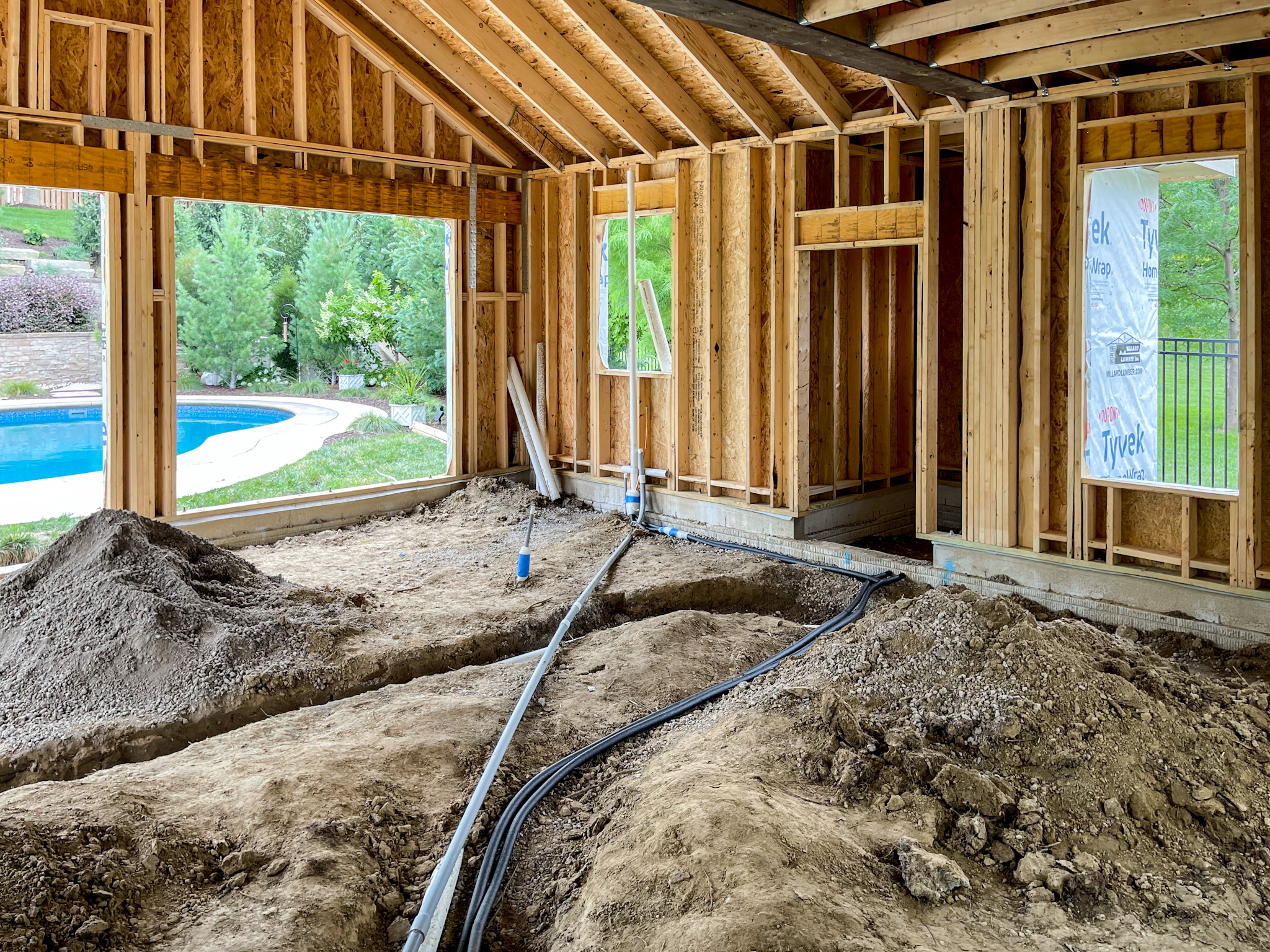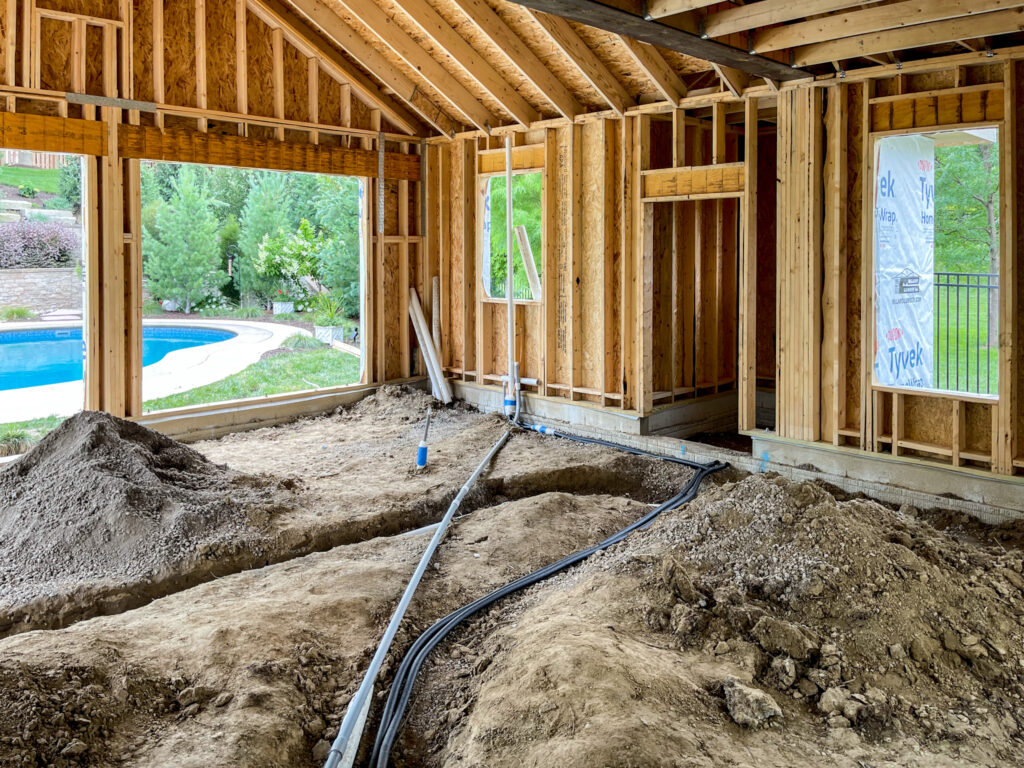 One of the most exciting things for me last week was that a dumpster finally got delivered! With all the framing and roofing materials, in our driveaway, they couldn't bring a dumpster in until they were done (or we wouldn't have been able to use our garage). If you look closely below, there were three trash piles going on in our yard, and it's so nice to have it all gone now!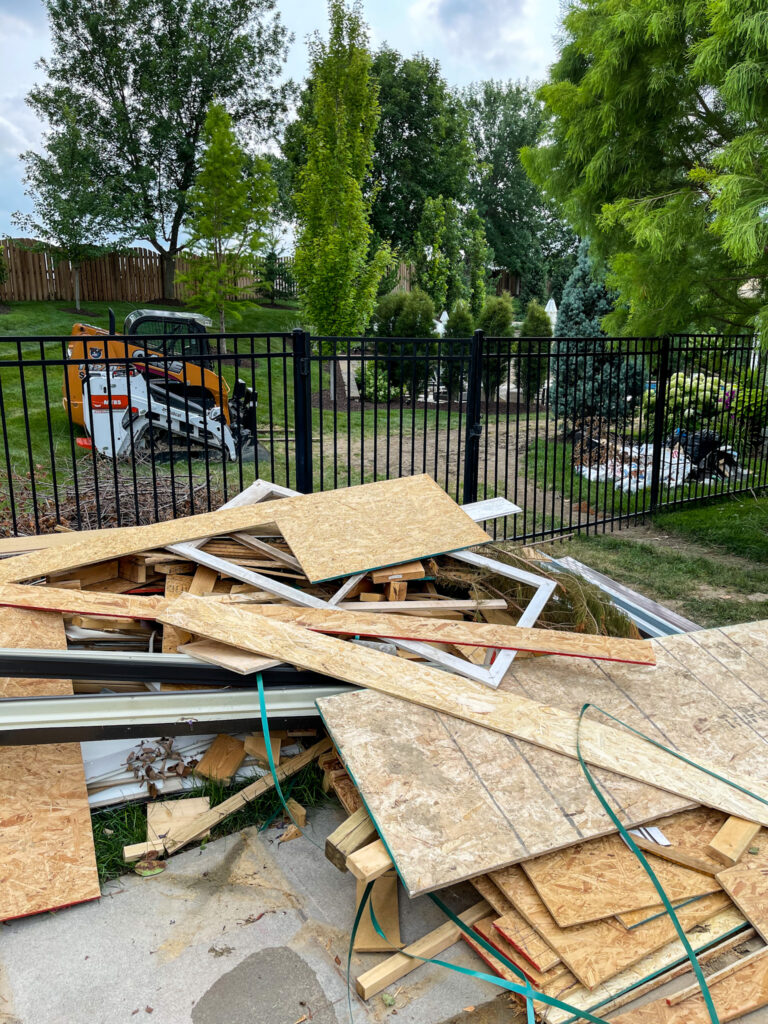 Saturday morning, the roofers came to do the shingles! After last week's debacle with the rain getting in our house, it was so nice to have our house officially sealed up again!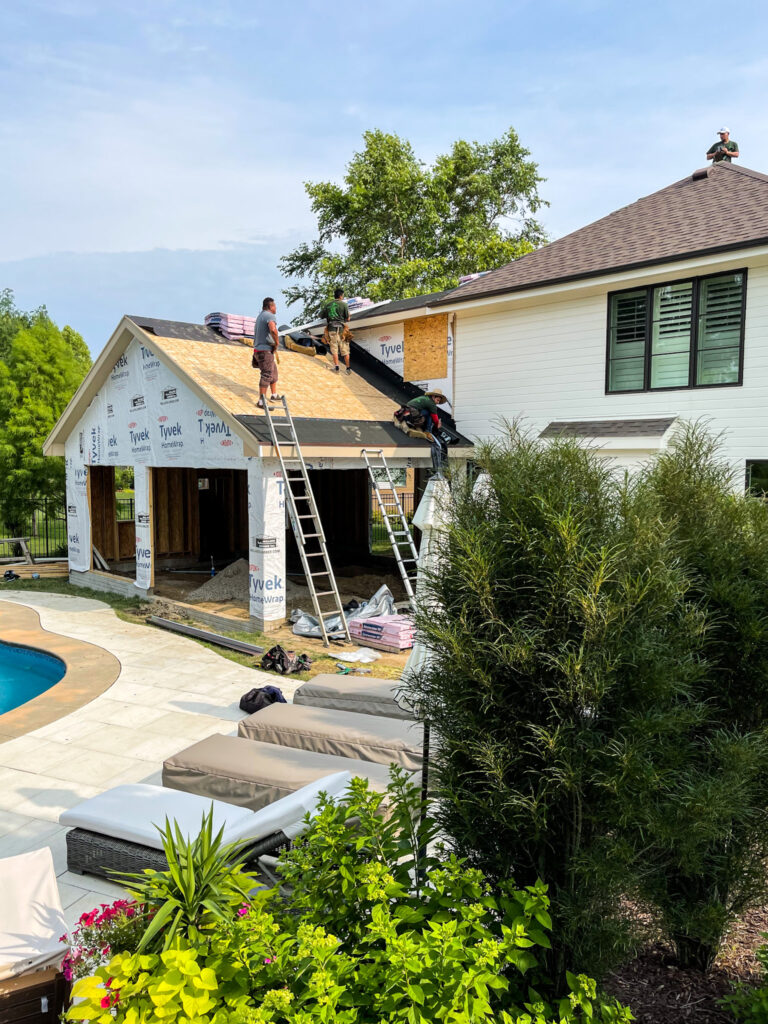 Here you can see the fully completed roof! They still have to add gutters, but other than that, it's done. Outside of the concrete pad, I'm most excited to see all of our windows and doors going in soon! The opening on the left in the image below is where the indoor/outdoor bar top will be. They just can't frame out the lower portion until the concrete is pours since the gas strut window needs to be such a precise fit. So that will be fun to watch take shape, as well! You can see the full plans here if missed them or are looking for a refresher! I actually need to do another update post now that I've finalized more of my selections.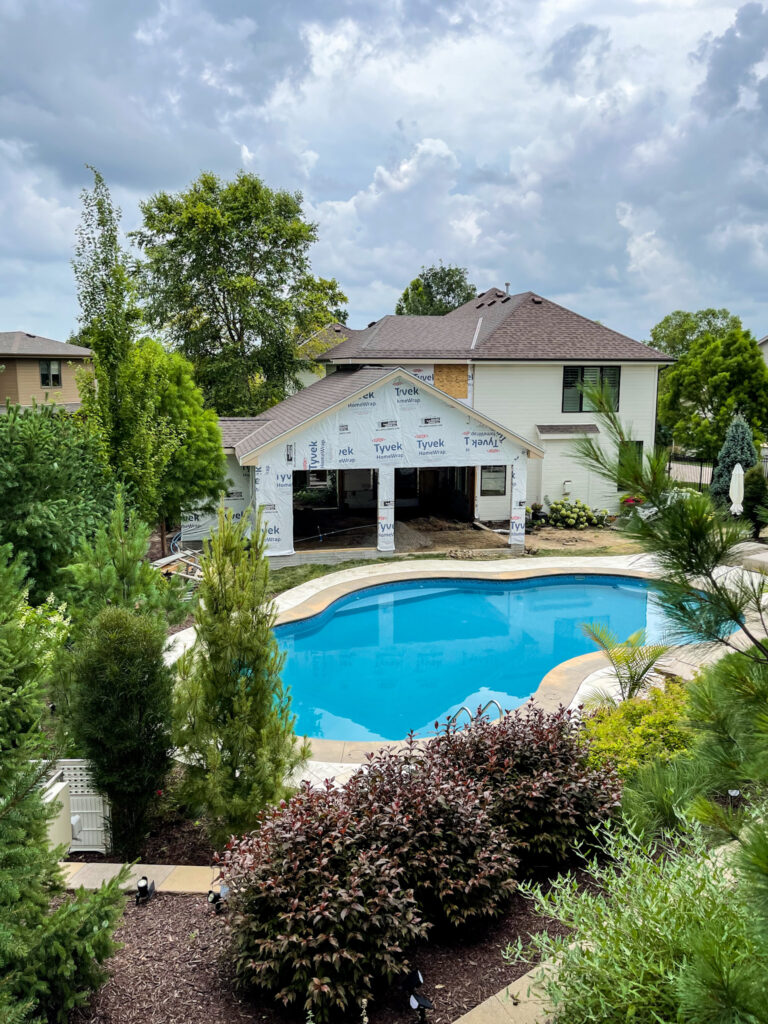 It's officially that midpoint of summer where the look of my flowers really start to change and more arrive. My Incrediball hydrangeas have entered their green phase for the summer!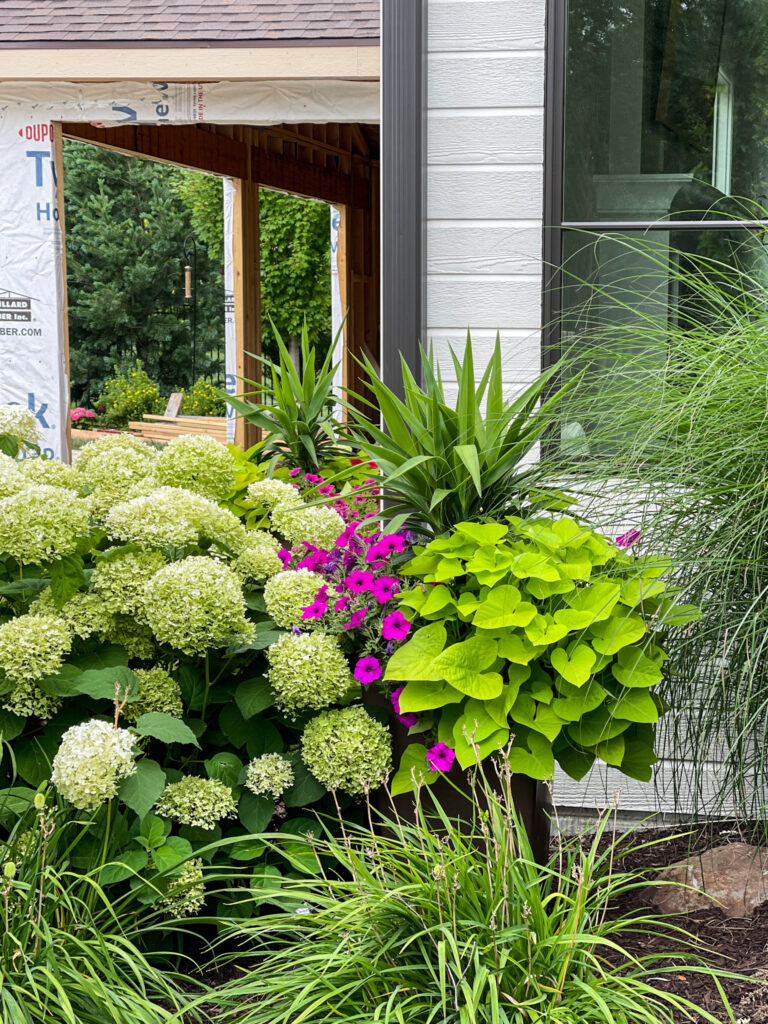 And my limelight hydrangeas are slowly starting to show up. All of my Little Limes seem to be blooming first. I love how this one looks with the Russian Sage in the background along the fence line!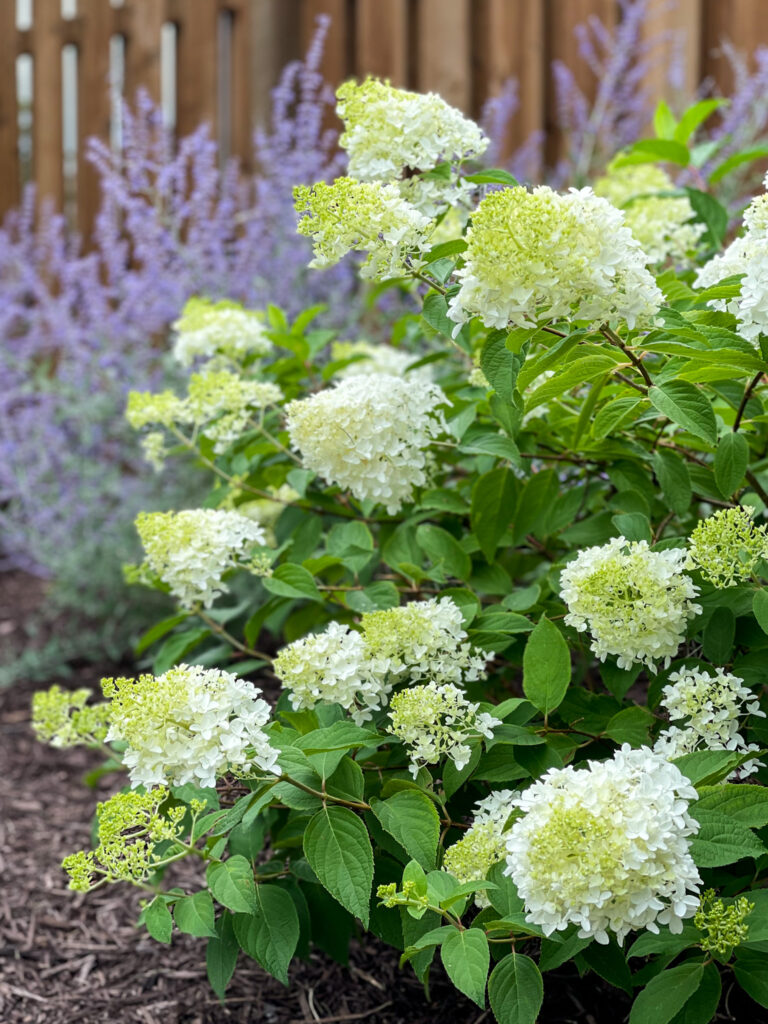 And my hydrangea tree is starting to bud as well! The little Bobo hydrangeas below it and around the pool equipment have actually had blooms for several weeks now.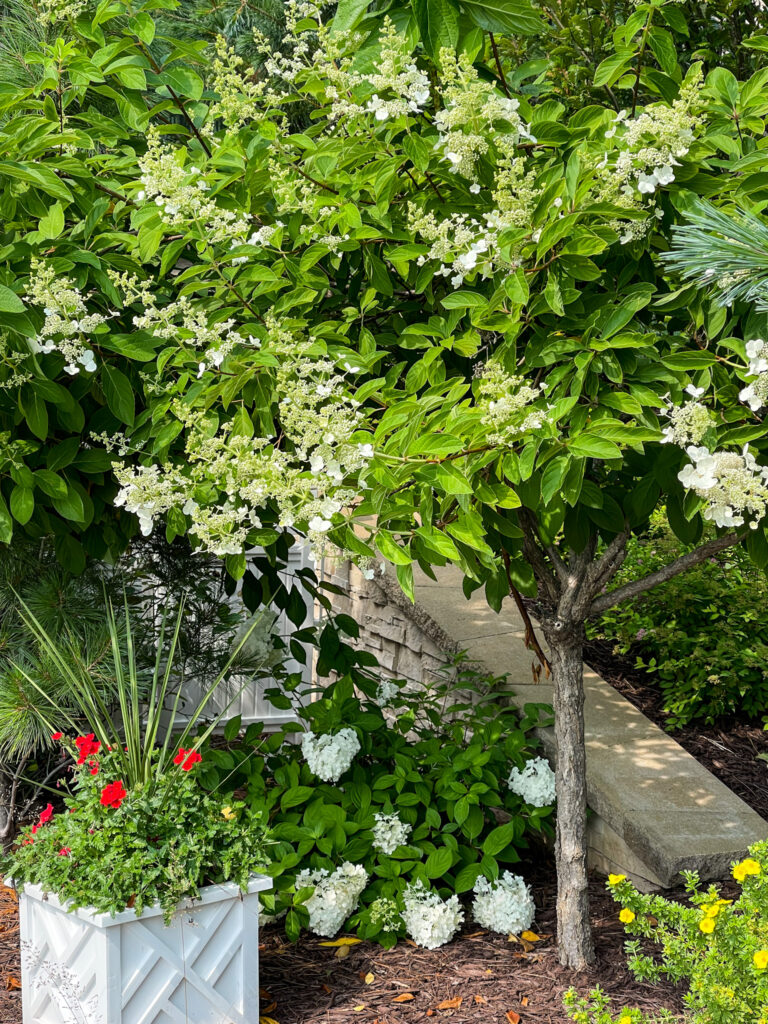 And my bright pink Endless Summer hydrangeas started blooming too! This color always reminds me of Tuscany. When we were there several years back, this color of hydrangea was potted in so many doorways and we both fell in love with it. Mine have been struggling a bit this year with the sprinklers being so erratic with the construction, so I was happy to see them blooming! And ignore all the green stuff growing in the mulch. This is right below one of my finch feeders so the fallen seeds seem to be sprouting. Apparently the rabbits aren't interested in these sprouts like they are the ones under my cardinal feeder 😉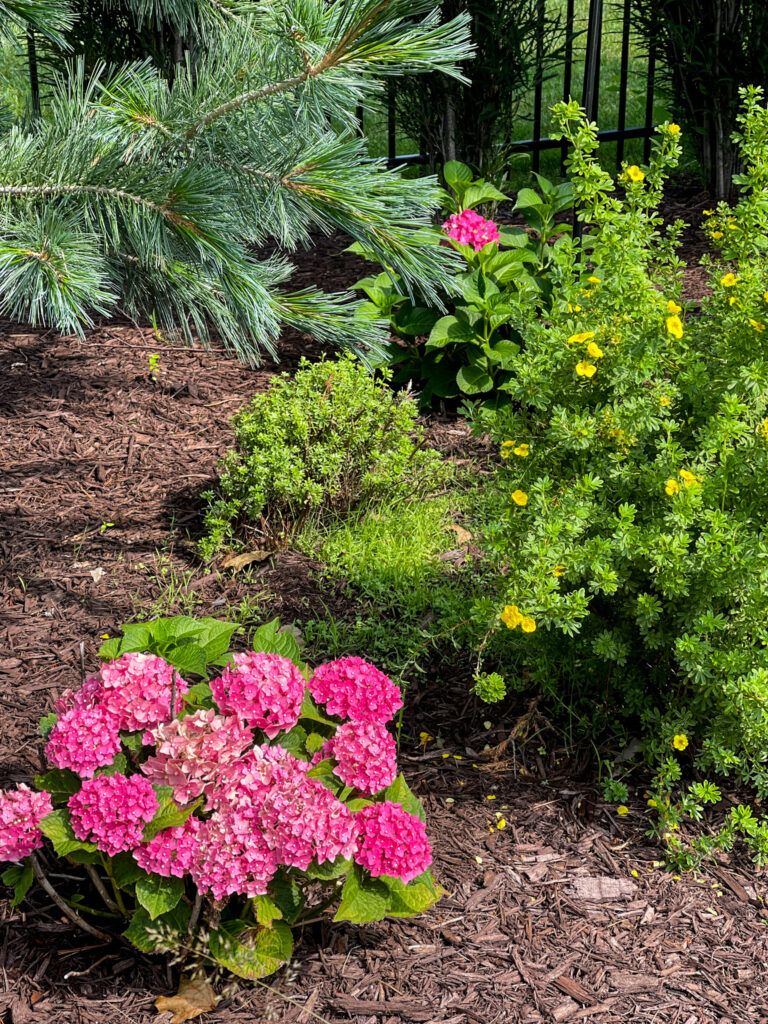 Top Sellers Of The Week
Following are the top sellers of the past week across all of my channels. Links to each item are below the graphic.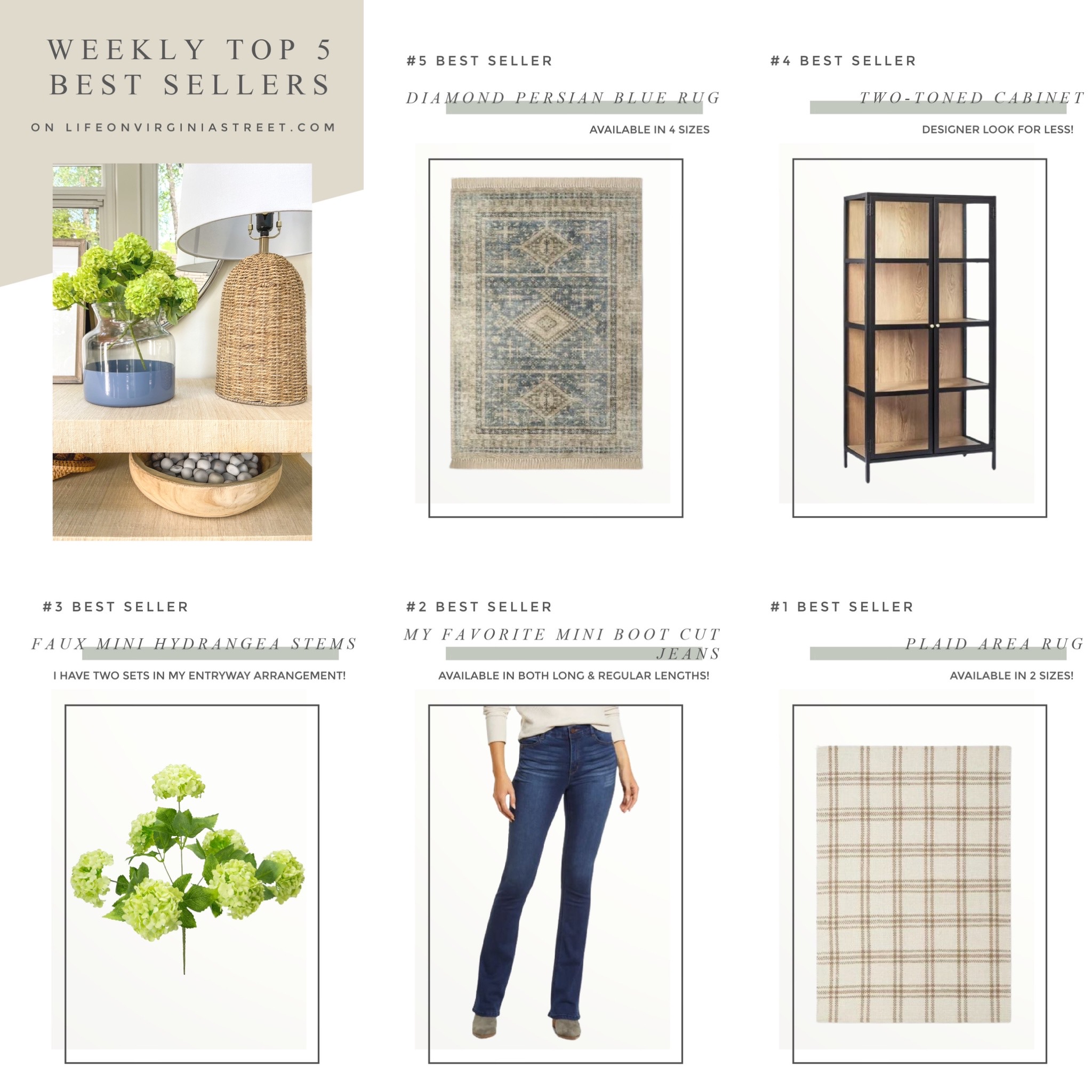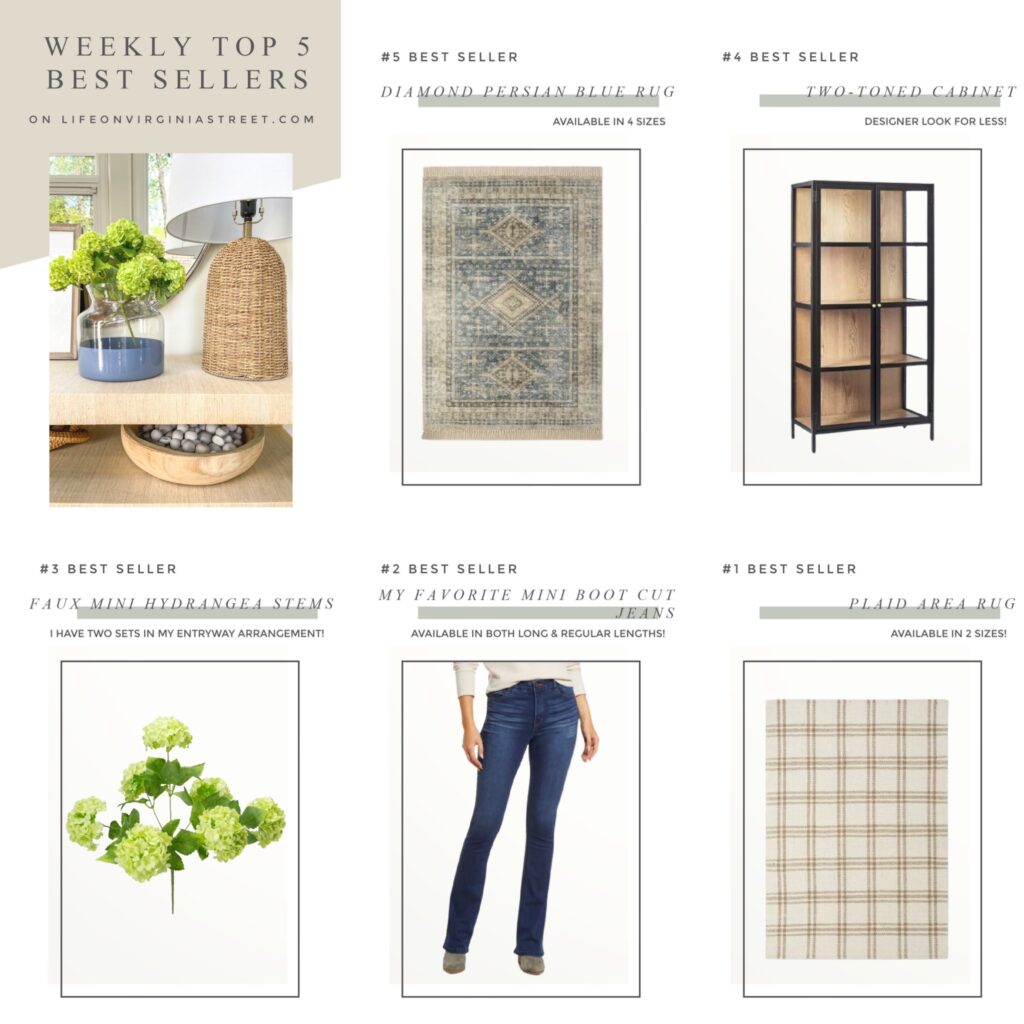 BEST SELLERS (each number is clickable): #5 | #4 | #3 | #2 | #1
In Case You Missed It
Here are last week's blog posts, in case you missed any of them! Click any of the titles below to be taken to the full post:
Following are the most read blog posts of last week (excluding any of the new posts already mentioned above). Many times this includes old posts that are popular on Google or Pinterest! It's fun to see what is trending each week!
Around Town & For Fun
We apparently watched the last episode of The Crown and didn't realize. That is, until we went to watch the next episode and realized it was over. We had really enjoyed it so far, so we were disappointed we had to try and find a new show we could both agree on 😉 Our friends (all prior farm boys) have been recommending Clarkson's Farm on Amazon Prime. We watched the first episode Saturday night and got some laughs out of it. If you're not familiar with it, it's a documentary about a former race car driver that decides to take over a farm in England. He has literally zero farming experience, so it's definitely entertaining!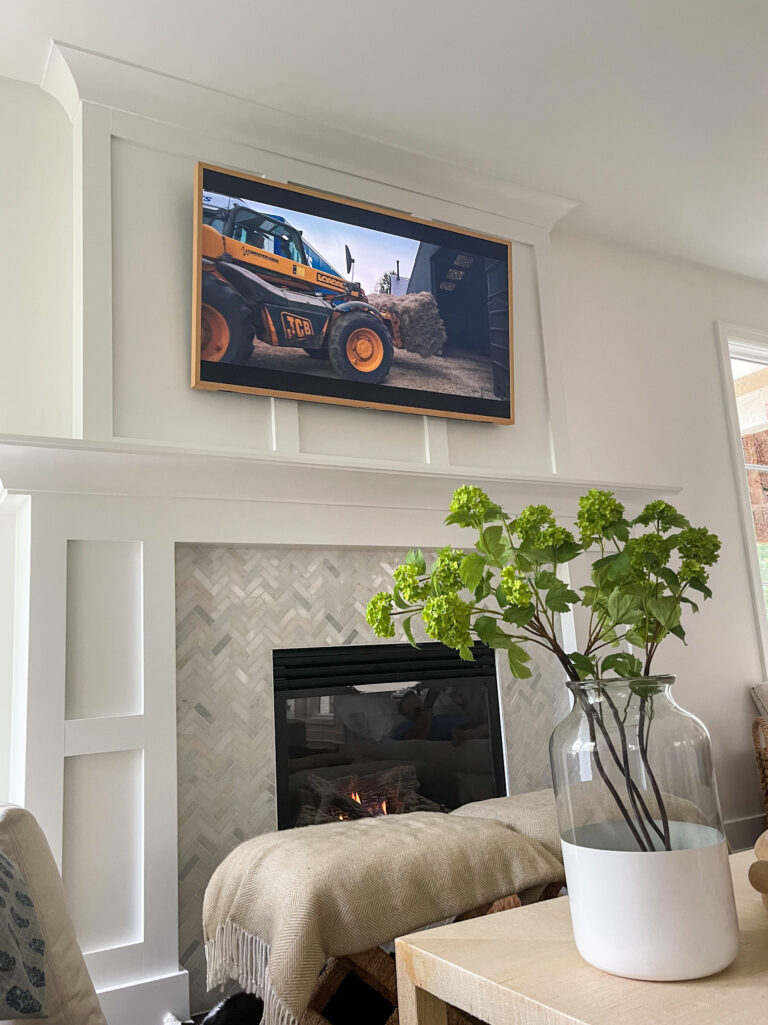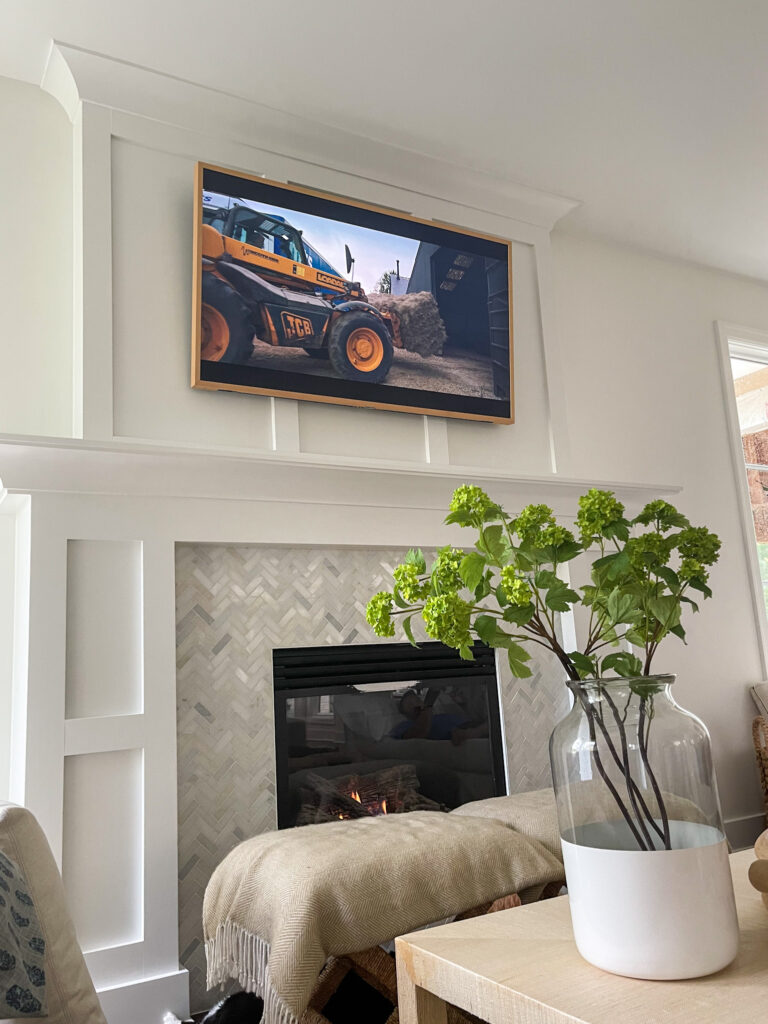 I caught Hawkeye trying to sit "with" Bailey over the weekend. He basically just sat on top of her, and couldn't look more guilty in this picture if he tried! She's so dang chill!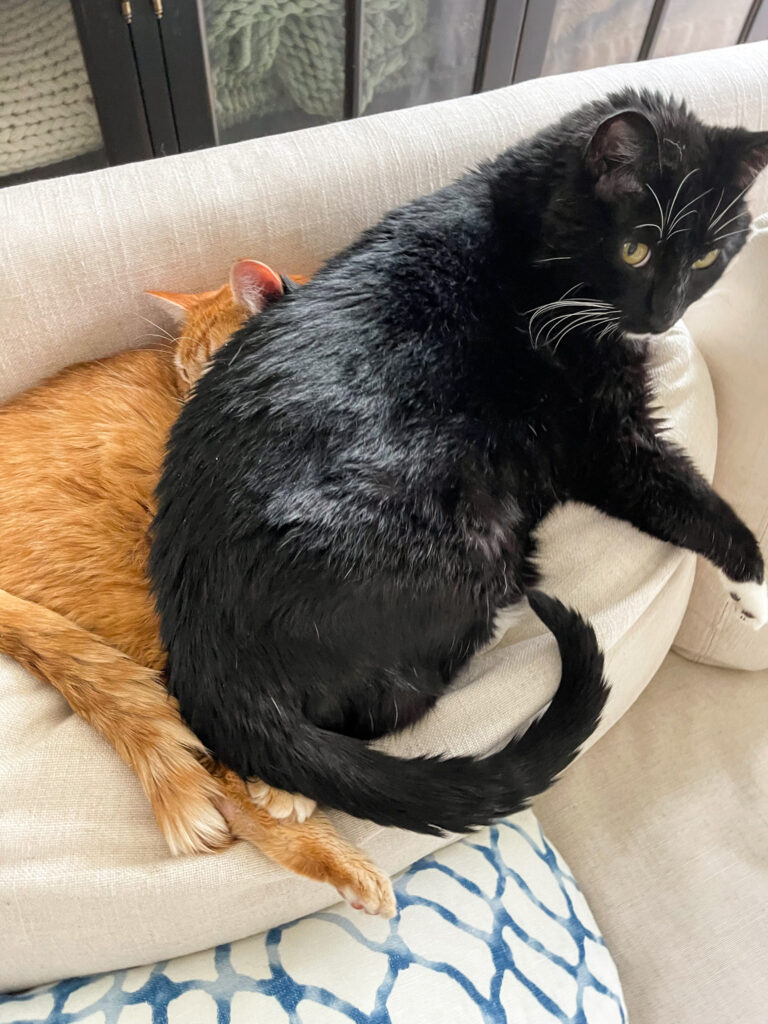 A few hours after our roof was finished, a big storm rolled in and we got a lot more rain. This is basically unheard of for us in July! Our weather this month feels more like June – but thankfully everything stayed dry inside since the roof was finished! There was a beautiful rainbow outside afterwards.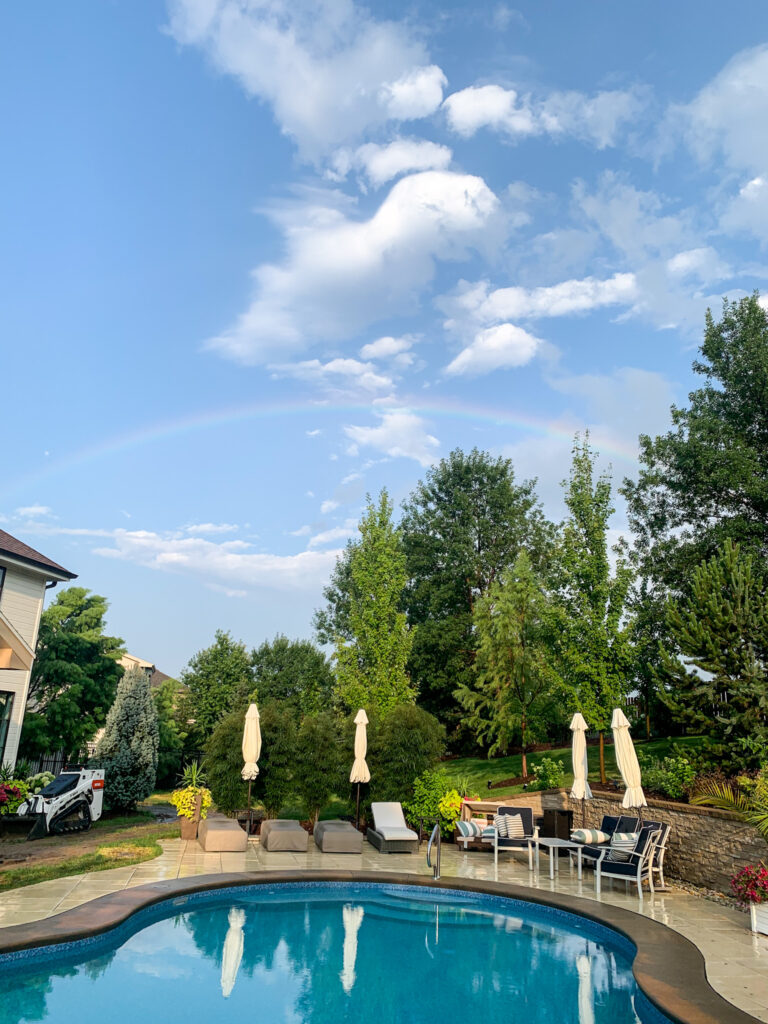 I actually finished TWO books this past week: Second First Impressions and People We Meet on Vacation. They were both really cute rom-com/chick flick type books, which I always think are fun for summer reading.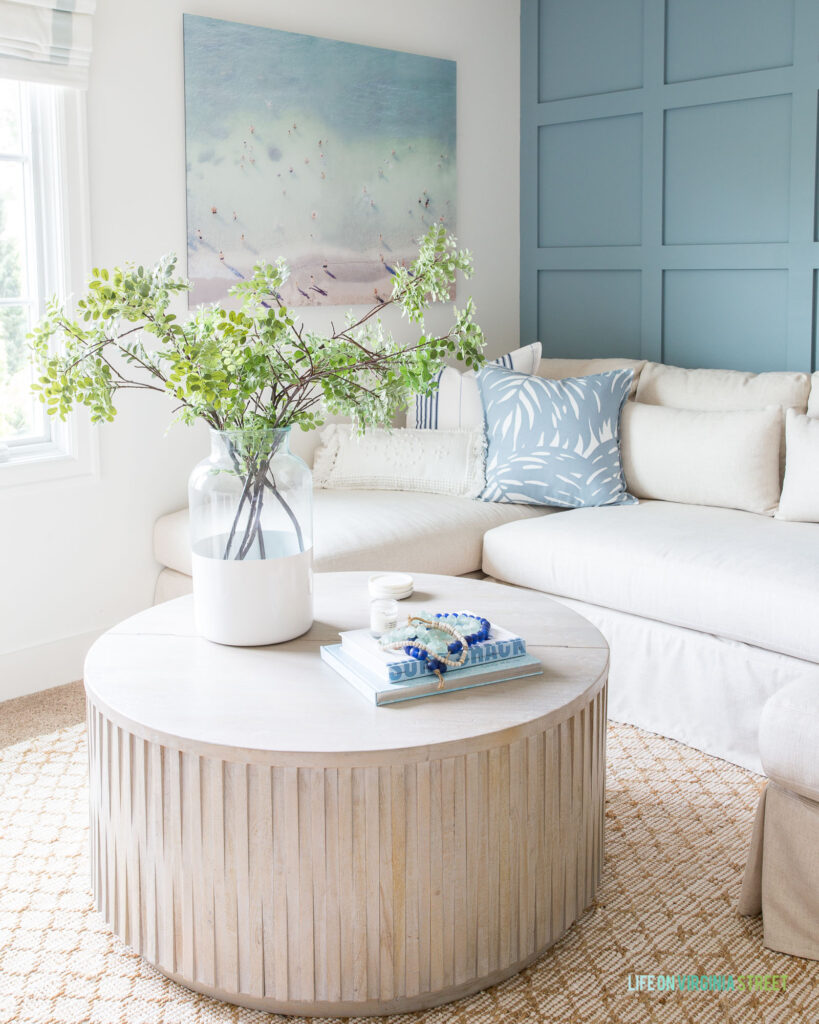 DEN SOURCES: Sectional (read my review here) | Coffee Table | Beach Art | Woven Rug | Scallop Light Fixture | Roman Shades | Faux Greenery | Colorblock Vase | "Surf Shack" | "Escape" | Recycled Glass Beads | Marble Coasters | Palm Outdoor Pillows | Striped Outdoor Pillows | Textured Lumbar Outdoor Pillows
We finished off the weekend with a caprese salad hack and hot dogs on the grill. So classy 😉 But also so delicious and very summery! For the salad, I just use those Sangria tomatoes at Costco, the pearl mozzarella balls, fresh basil from our herb garden, balsamic, olive oil and Mediterranean sea salt. Yum!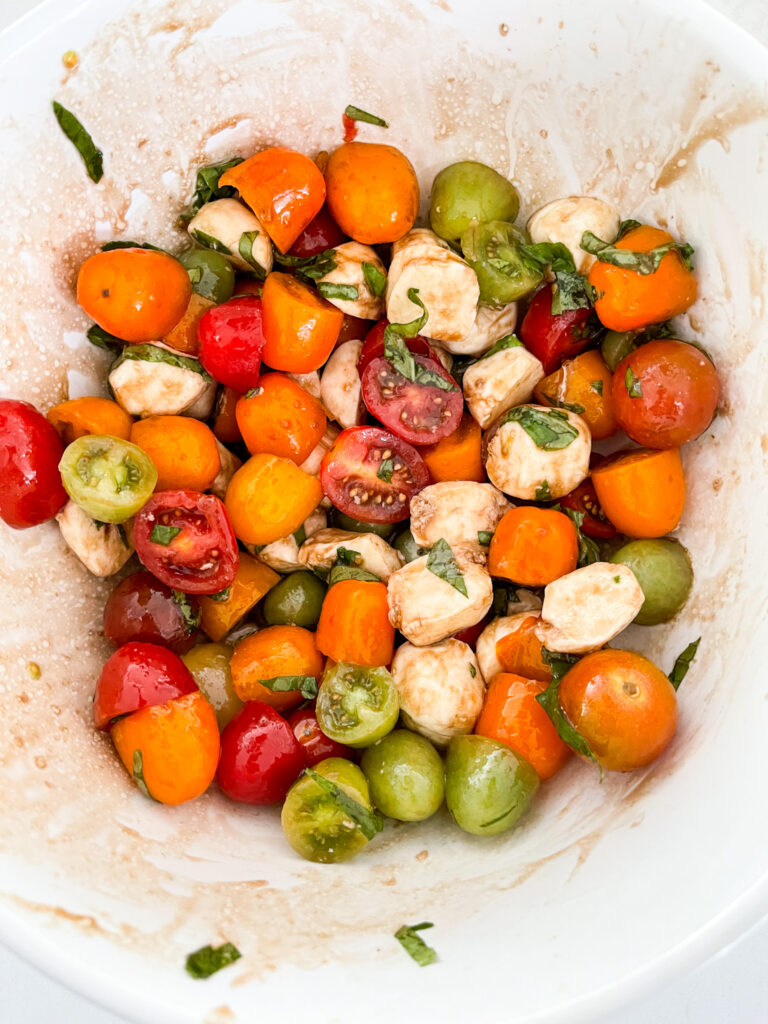 The Nordstrom Anniversary Sale kicked off to all cardholders on Friday (and opens to the public the 28th)! You can see my top picks here. I also wanted to remind you, yesterday, the rest of the Studio McGee fall collection launched at Target (including a lot of lighting)!
We're celebrating our SIXTEENTH wedding anniversary this week! I seriously don't know where the time has gone. We haven't been in the pool for a few weeks again, so we're really just hoping for a pool day this next weekend and a dinner out to celebrate!
Recent Buys & Sales
Following are the sales from the weekend that are still going strong.
I hope you all have a great week!
If you would like to follow along on more of my home decor, DIY, lifestyle, travel and other posts, I'd love to have you follow me on any of the following:
Pinterest | Instagram | Facebook | Twitter
disclosure: some affiliate links use