Good morning! I hope you all had a nice weekend! Ours was an eventful one, to say the least. Here's a bit of what's been going on around here!
This post contains affiliate links for your shopping convenience. Click here to read my full disclosure policy.
Home Projects & Updates
Despite the holiday Monday and the rain delay on Tuesday, there was a lot of progress on our pool house! They were able to finish the new roof, tearing out part of our old section and attaching the new part over the closet.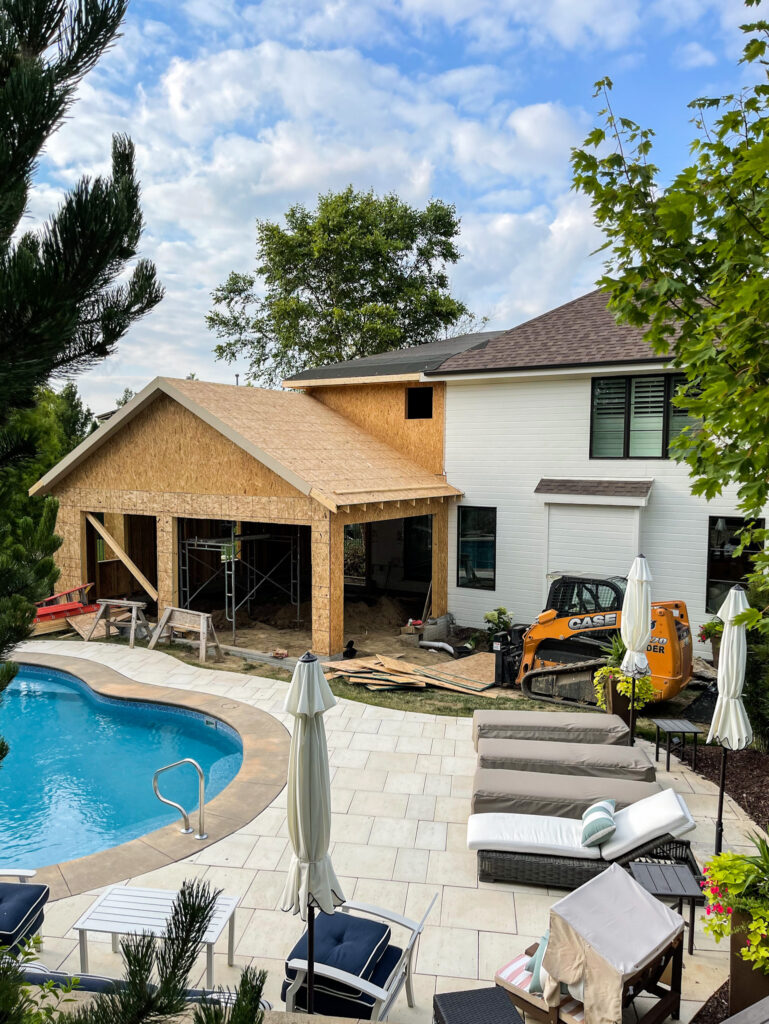 They also had the floor trenched for the sewer, water, and electrical lines. The plumbers were also able to start on Friday, so a lot of little things were done, that are moving things right along, but visually doesn't change much.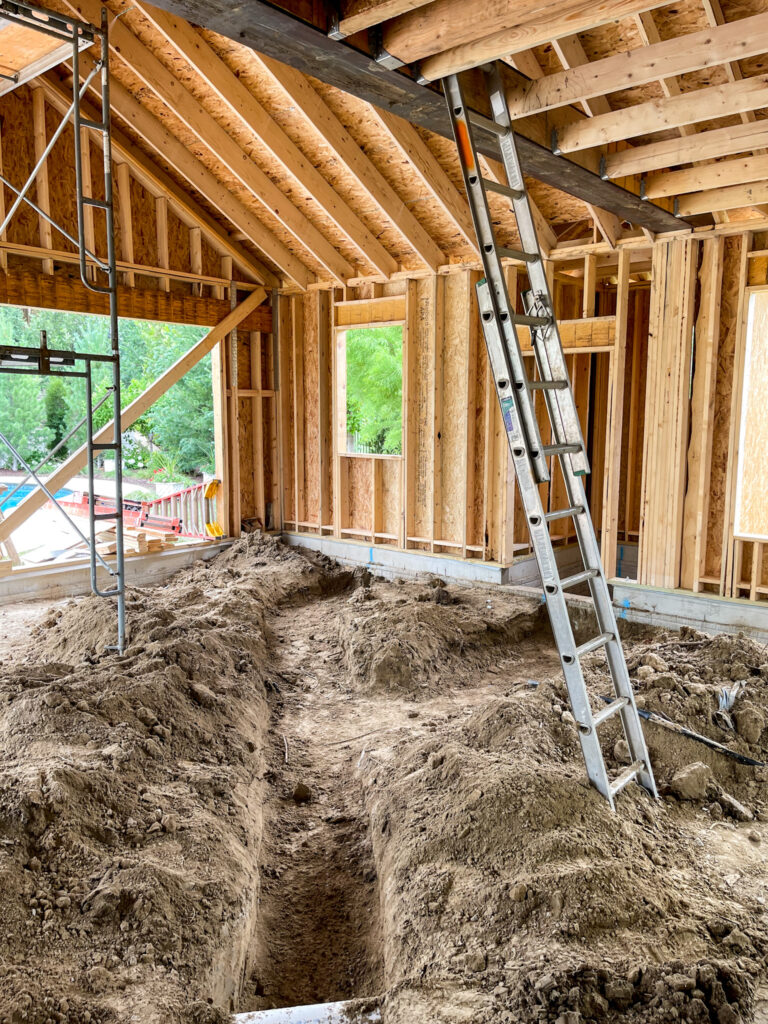 The roofers are scheduled to start shingles early this week, the plumbers are supposed to wrap up their stuff today, electricians tomorrow, and then potentially, the cement pad can be poured later this week! The windows also arrive this week, so they're hoping to start on some of those next week! Once everything is fully enclosed, it will be fun to watch the progress on the interior.
Kurtis took Tuesday as a vacation day to get some things done around our house. We had ordered a Ring camera during Prime Day (it had been on our to-do list for the five years we've owned the pool). We're excited to finally be able to see gate access to the pool. Although the gate locks, we're always still paranoid with so many kids in our neighborhood. The camera will give us much more peace of mind! It also has a motion light for night, so with this being the garage side, it may deter intruders too. Once the pool house is done, we may install another camera back there so we're alerted any time there's motion by the pool.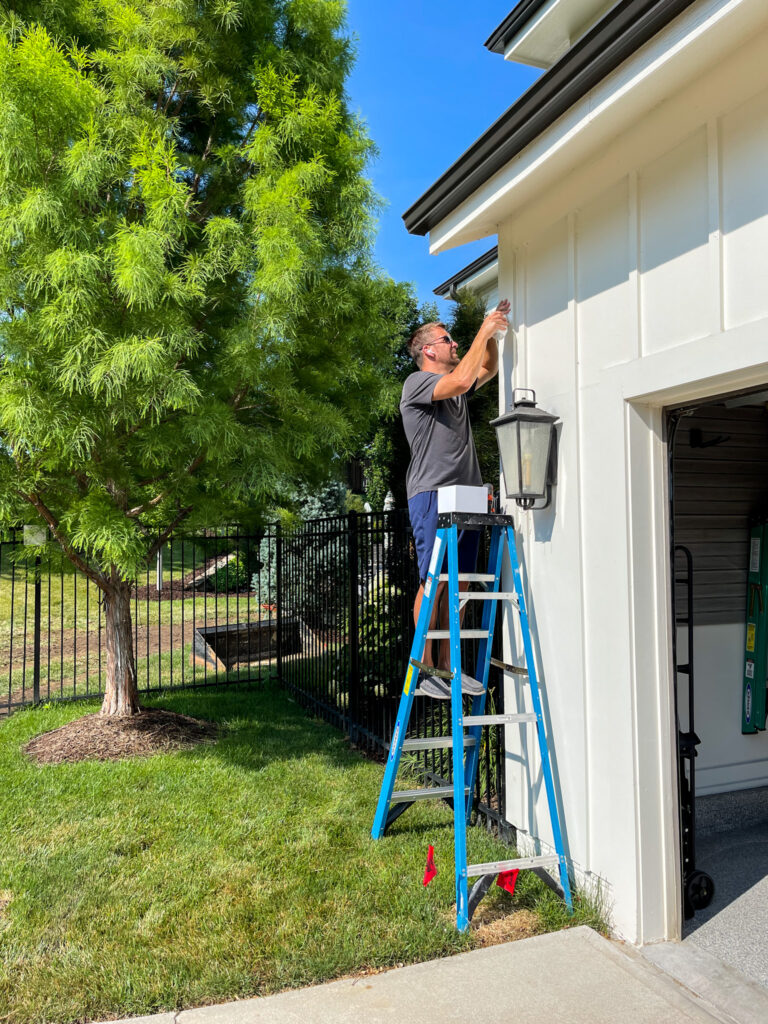 I'll try to be more active on Instagram Stories this week as progress on the pool house unfolds!
Top Sellers Of The Week
Following are the top sellers of the past week across all of my channels. Links to each item are below the graphic.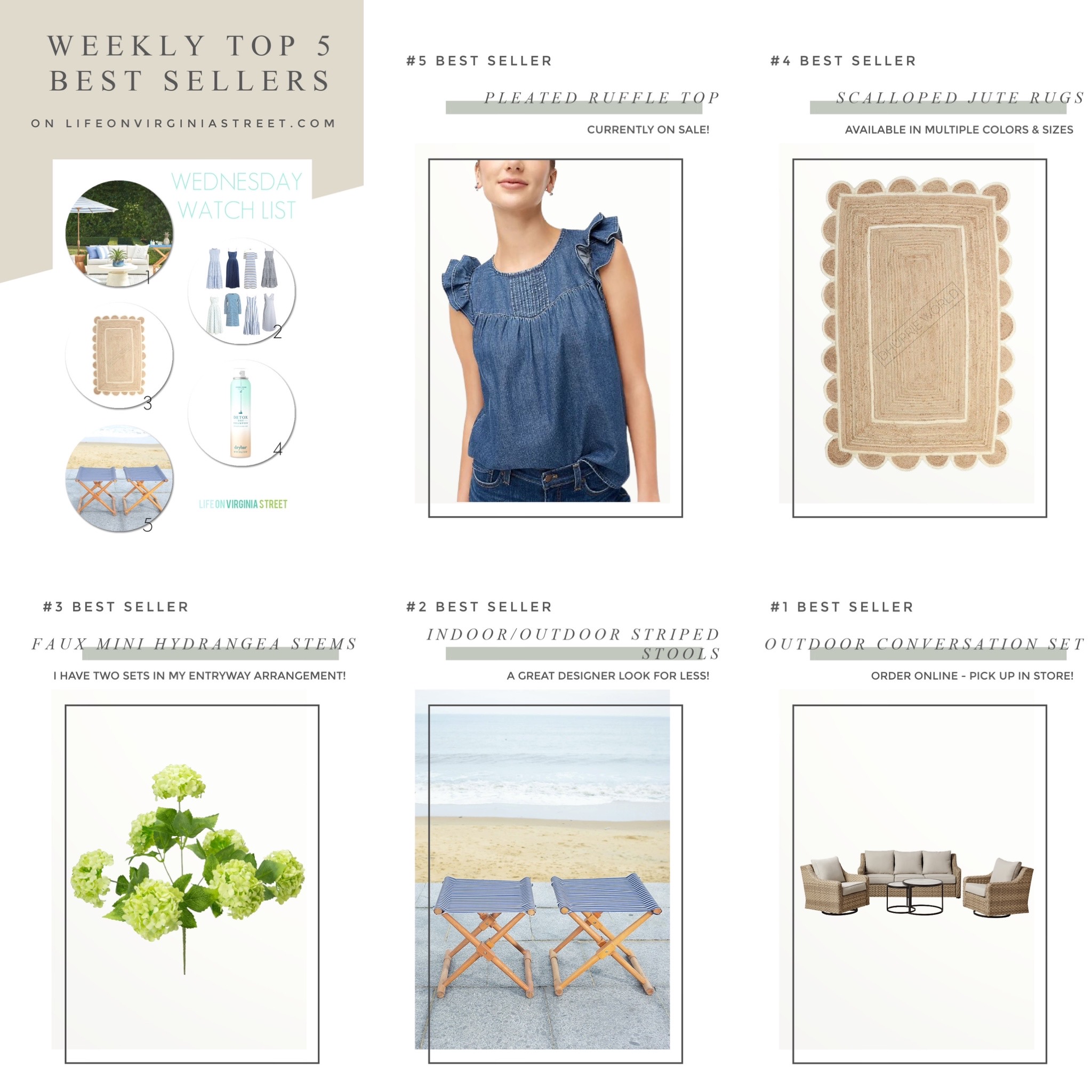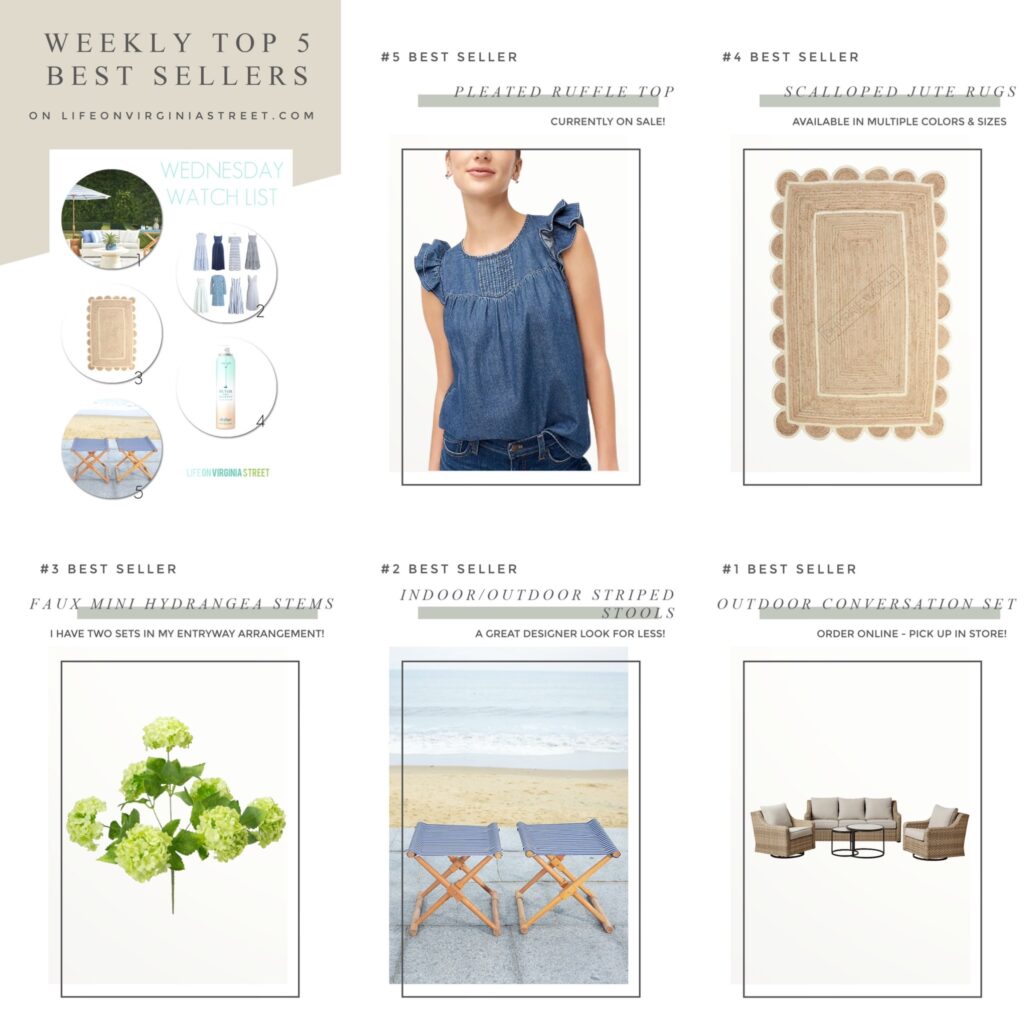 In Case You Missed It
Here are last week's blog posts, in case you missed any of them! Click any of the titles below to be taken to the full post:
Following are the most read blog posts of last week (excluding any of the new posts already mentioned above). Many times this includes old posts that are popular on Google or Pinterest! It's fun to see what is trending each week! People were feeling the blues and greens this week!
Around Town & For Fun
It was a bit of an exhausting week for us, so we're ready for the new week!
I won't go into too much graphic detail, but the girl cats had fluids coming out of their bottom ends all week and Hawkeye had it projectiling out his mouth. We had switched foods recently for Bailey and had done what we thought was a fairly gradual switch, but it must not have been gradual enough. We had to get tricky hiding medicine and probiotics in things like tuna and pumpkin. And needless to say, Kurtis and I spent a lot of time throughout the week on cleanup duty and giving sink baths. We think things are gradually getting better, so hopefully it turns around quickly this week!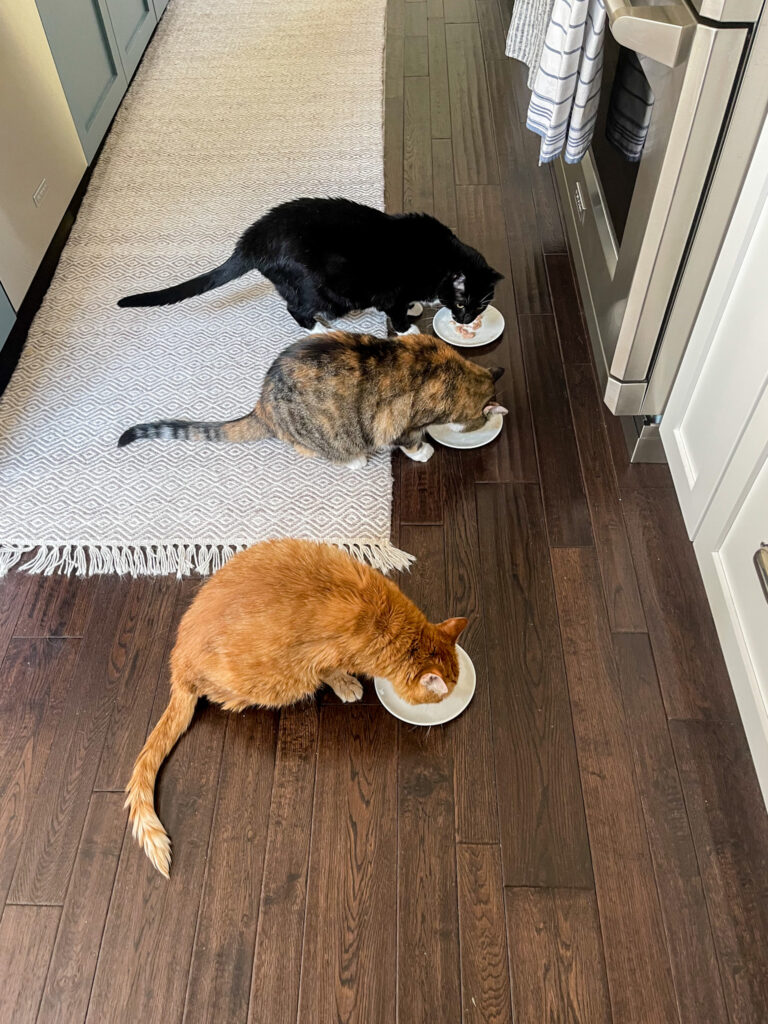 One of the highlights of my week? Getting my hair done. Ha! I typically go every 6-8 weeks, but it turns out it had been 14 weeks this time around. How?! Needless to say, it was a much needed visit. The good news is, with all the gray hairs that have been popping up lately, my roots don't look nearly as dark as they typically would after this long between sessions 😉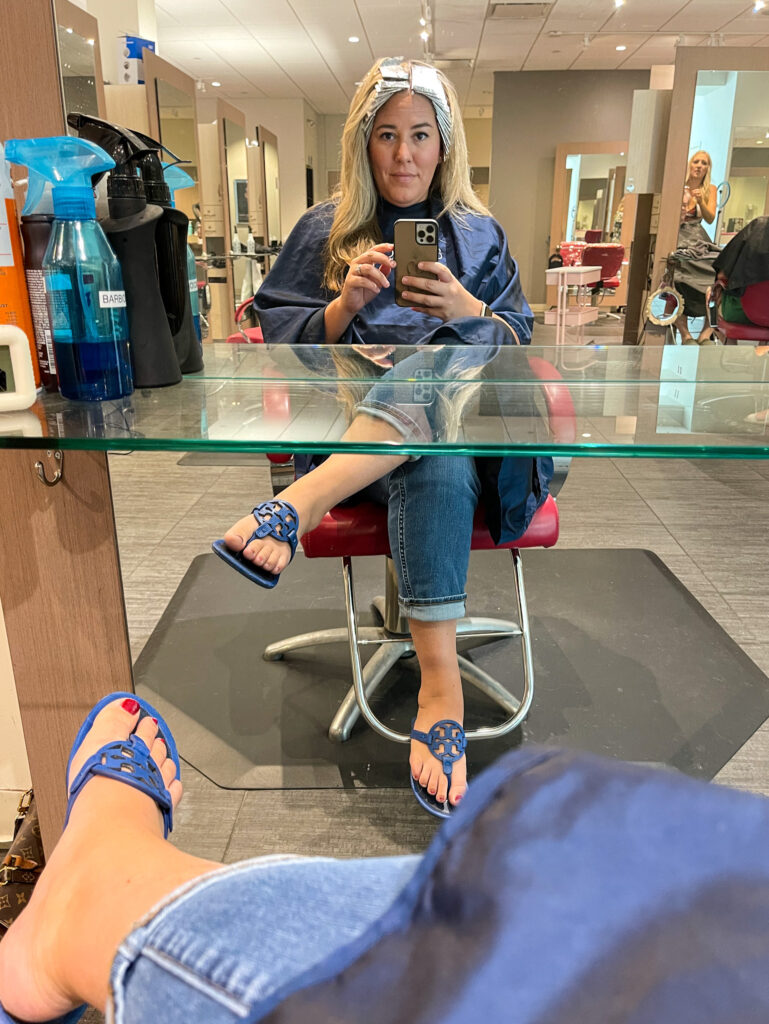 We had a few fun dinners this past week too! My cousin from Minnesota, along with her husband and two daughters, came in town for the weekend. They came specifically to go to Felius Cat Cafe. We met them Friday night in Bellevue, near their hotel, and decided to try Stella's Bar & Grill. It's claim to fame is the best burgers in Omaha. It had a fun atmosphere and good food and it was great to catch up with everyone! They had big plans to go to the zoo on Saturday morning, but sadly the zoo closed due to a huge storm we got that night and they were without power. So sadly, their tour of Omaha was pretty brief.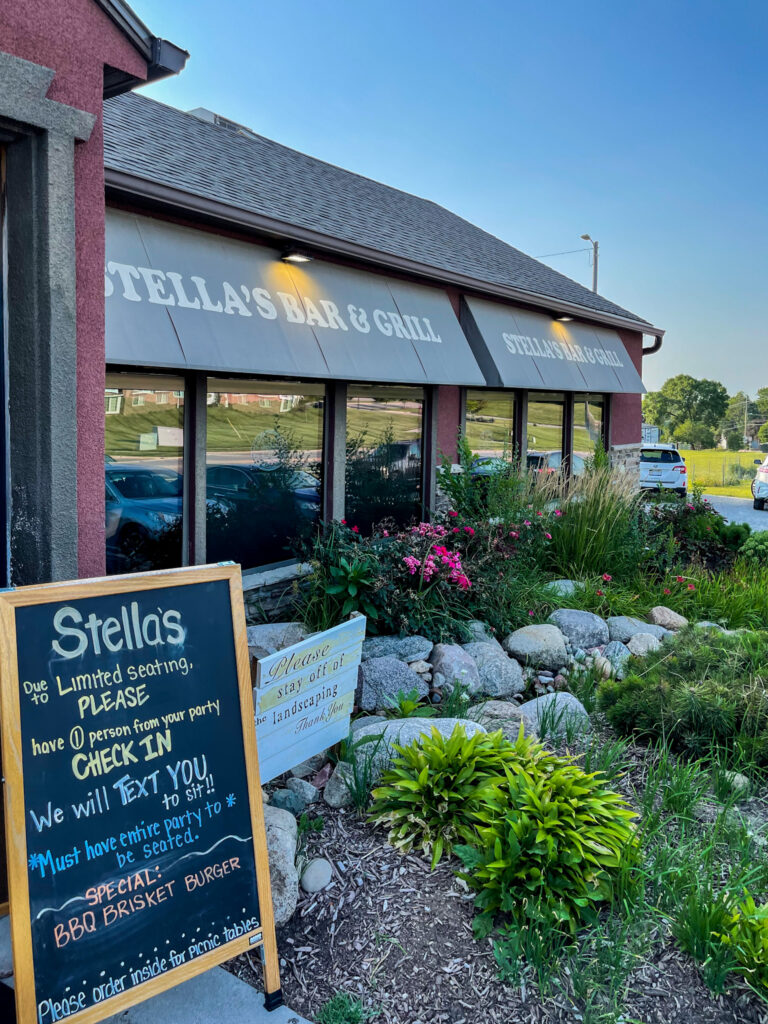 Friday night after dinner, we got home and went to bed pretty early. Thankfully! Kurtis woke me around 12:30 because our tornado sirens were going off. Definitely not the way you want to be woken up in the middle of the night! We rounded up the cats and took shelter in the basement. Turns out there wasn't a tornado, but the straight-line winds were so high, it set sirens off around town. We found out later, the winds peaked around 90 mph, and we were left with an absolute mess on our hands.
While we were in the basement, we could tell we had water running down our walls under where the pool house addition is going on. We then found water in our bedroom closet (it was dripping out of the overhead air vent). Then we found more on some carpet. Keep in mind, we didn't have power this entire time, so we were trying to hunt for leaks with our cell phone lights and a small flashlight we have. We ultimately headed back to bed after multiple more comedy of errors (carpet tack through a toe, a fly that wanted to drive us insane, etc.). I then heard a loud dripping sound that I knew would keep me awake (it was more of a loud plopping every 15 seconds or so). I found the culprit and realized one of our new Pella windows was leaking in our bedroom. I think the crew forgot to caulk 1/3 of it because water was running in, down the wall, and into the carpet. All we could do at this point was laugh (so we didn't cry), and try and get some sleep.
Here's how things looked outside when we woke up. See that big black square in the pool? We didn't know what it was at the time, but it was the cause of even more issues.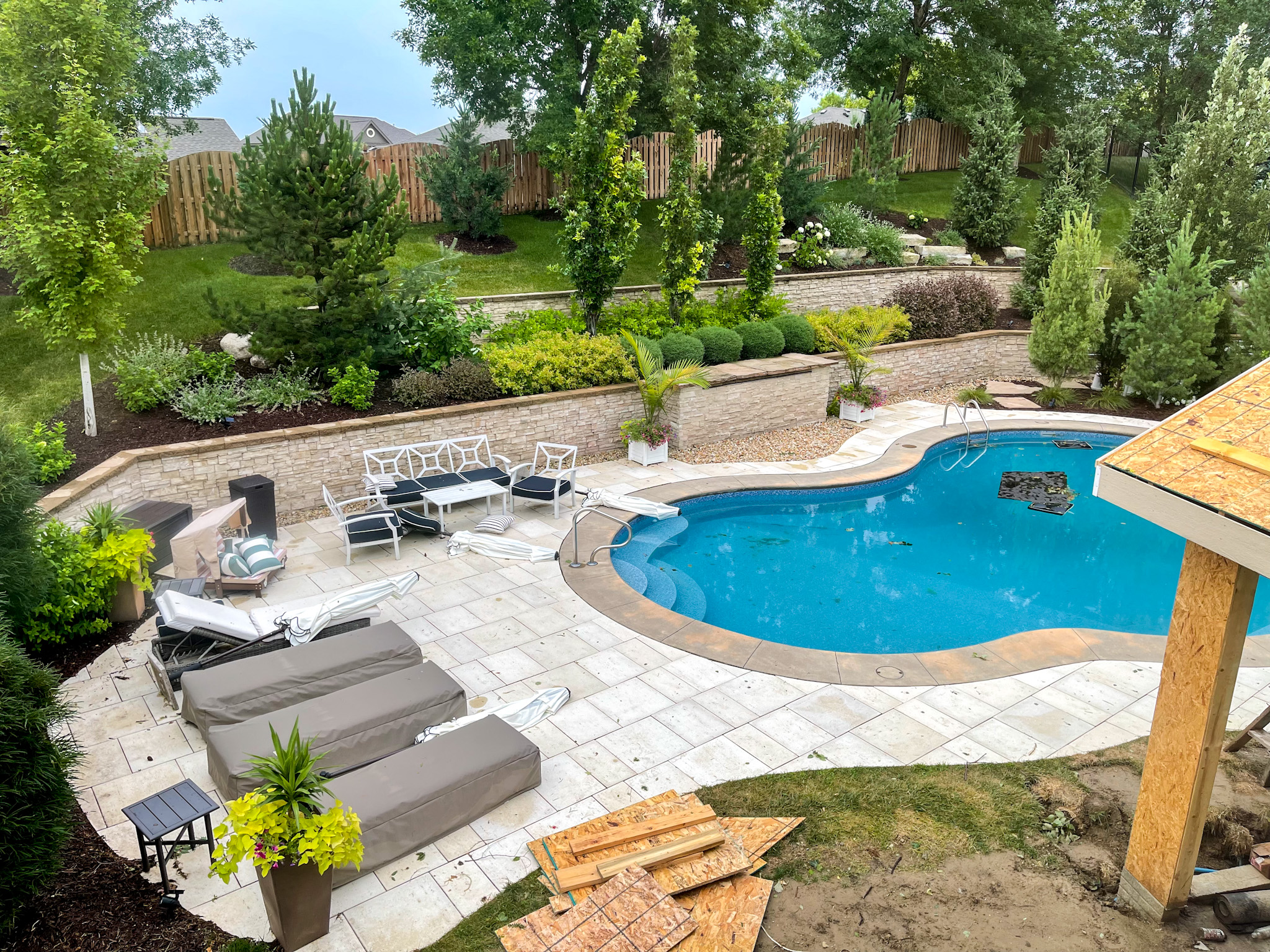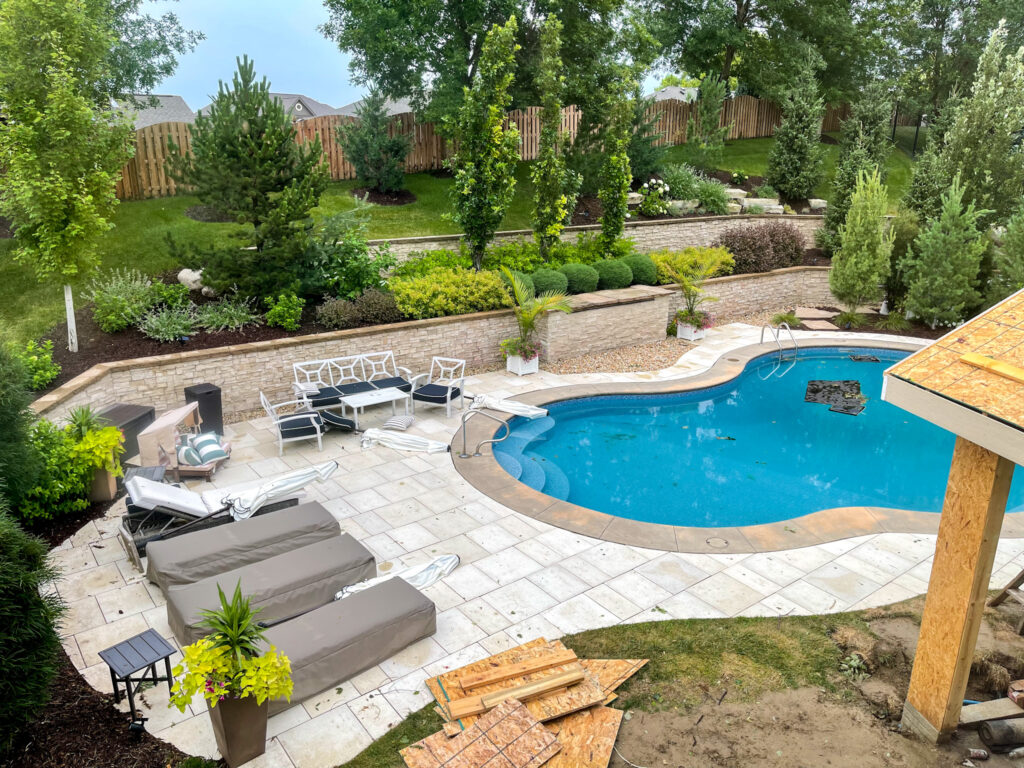 I was saddened to see so many large trees were blown over around town in the storm. We only had one major limb that broke, but the way it snapped was so weird. Sadly, we also found several dead birds in the yard from the violent storm.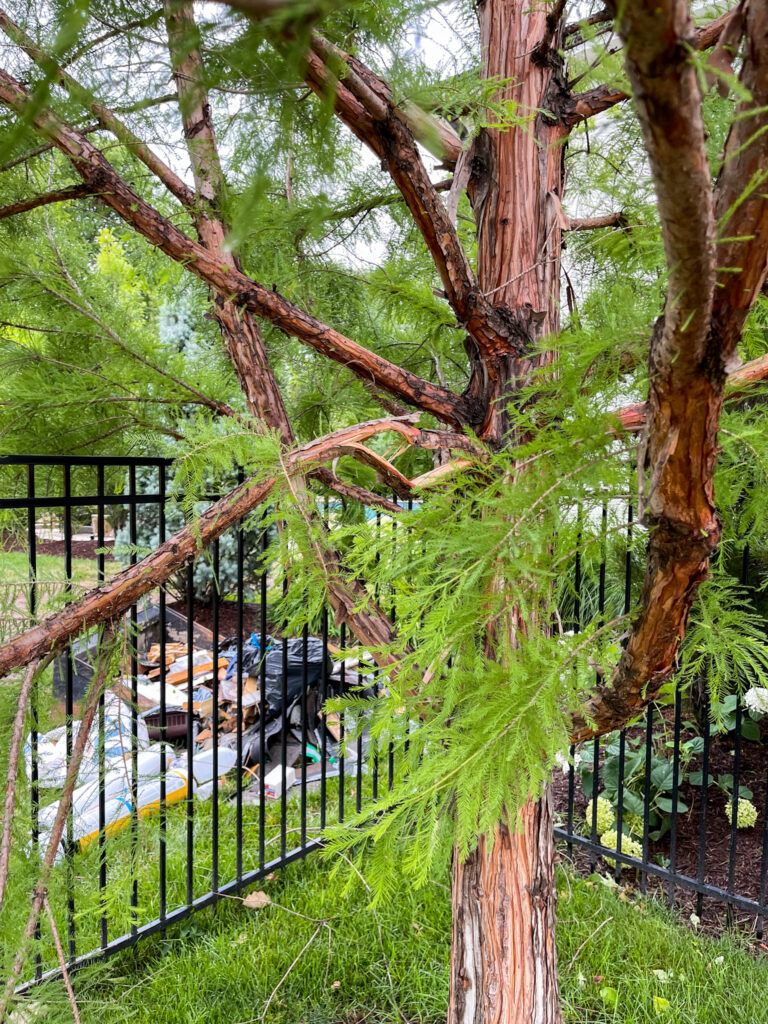 Around 7 am Saturday, I texted our builders with the info we had from the night before and asked if they had someone that could come peek at the potential damage. They were so responsive and there were three of them here within about 20 minutes. Turns out the water intrusion was much worse than we realized. That black square in the pool I mentioned? The wind had ripped off the tar paper from the area right where our old roof and new roof met, allowing water to run down the main back wall of our house. It doesn't appear to have done drywall damage at this point, but it got into most of our floors along that wall. Here is what our bedroom has looked like since.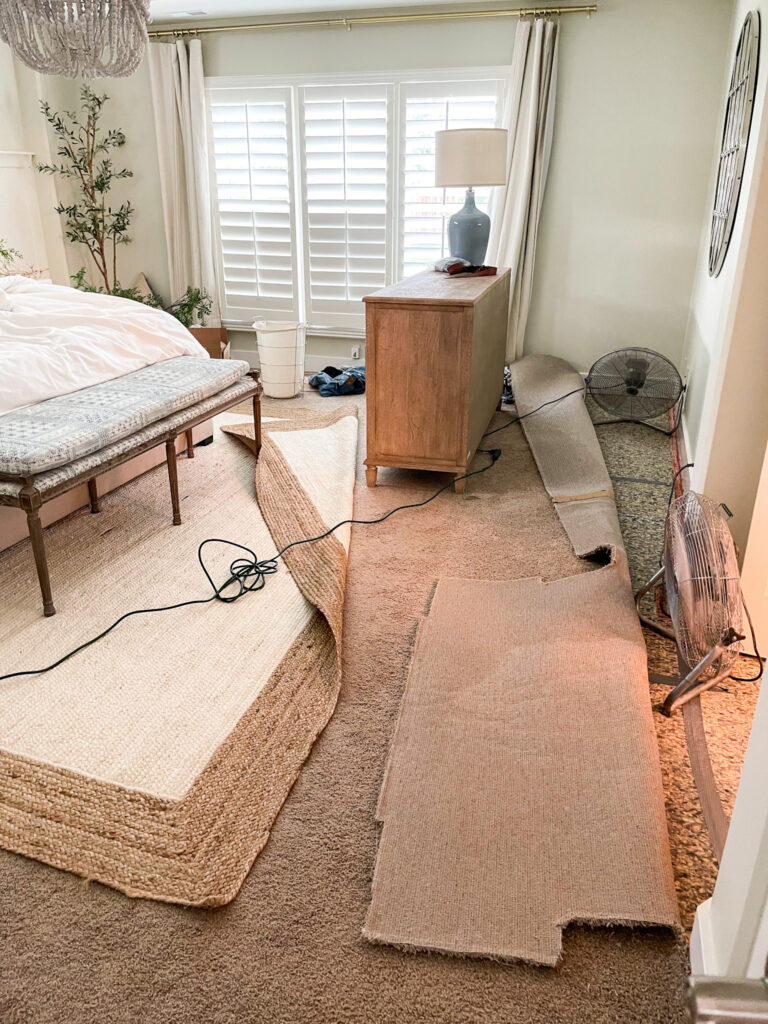 It was bad enough in our closet that they fully removed all the carpet and the pad. Thankfully, this was all getting replaced regardless with the closet expansion.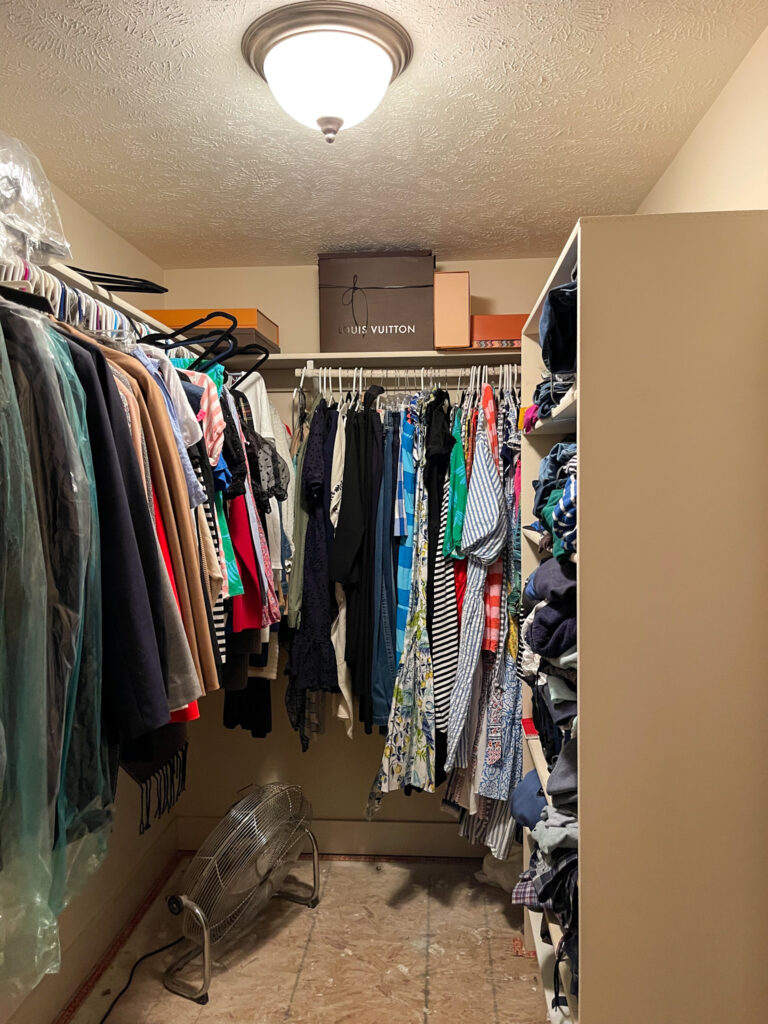 We thought we had it all taken care of and then one of us noticed the living room carpet felt slightly damp. Sure enough, it had also gotten into the carpet here (this is directly below our bedroom wall with the same issue). We can tell some of the hardwood floors are starting to warp as well. I think we still have about nine fans running in these areas, along with our basement, as well as a de-humidifier. We'll be able to better evaluate the damage once they open up some of these walls next week, but for now, we're just trying to keep things as dry as possible!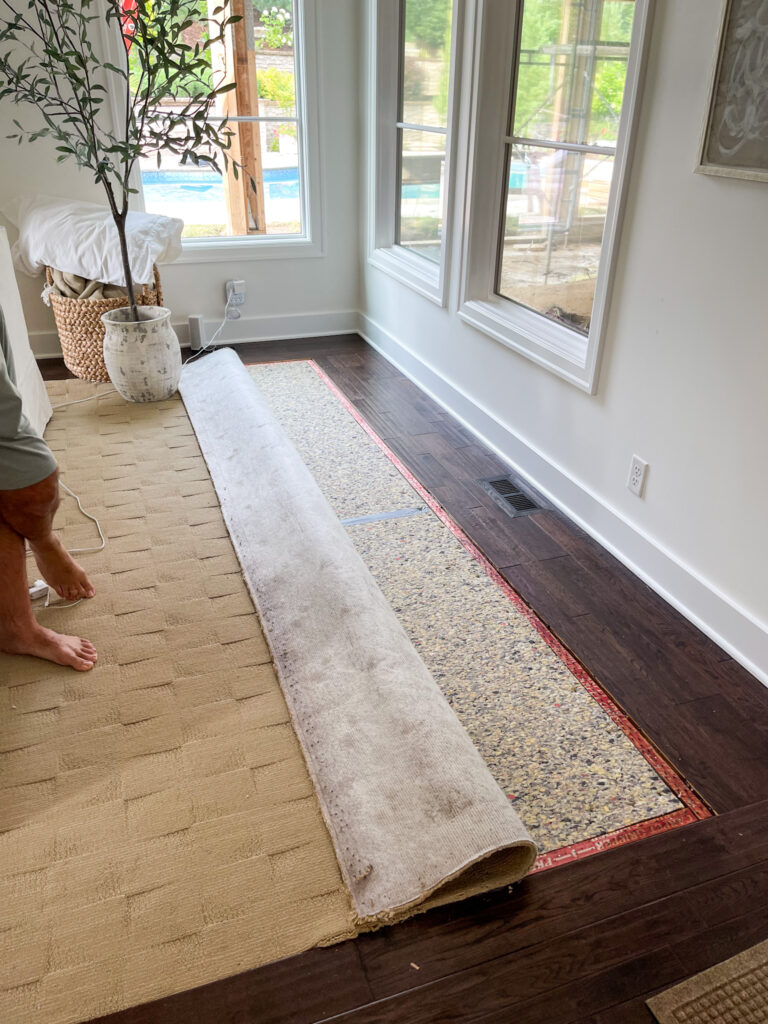 Unfortunately, Saturday afternoon another major storm blew through with another few inches of rain. Something we definitely didn't need at this point! Thankfully, with the winds only getting as high as 60 mph this time around, the tar paper (and tarp they added Saturday morning) all held up!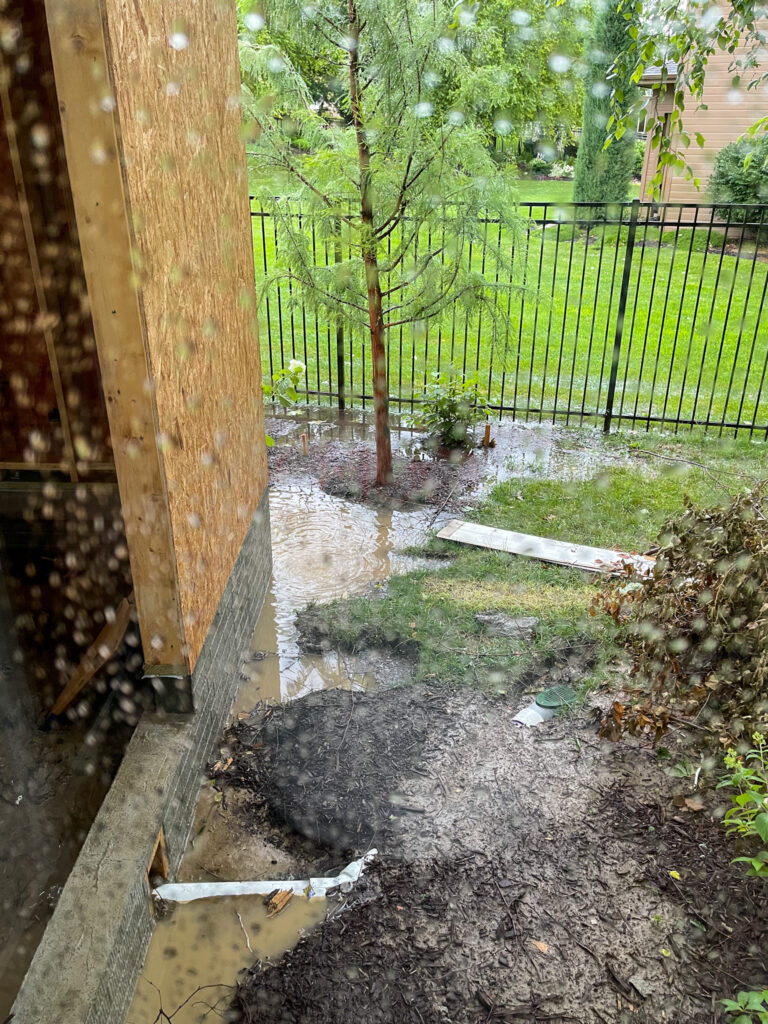 And thankfully Pella remembered to seal this window in our living room, or things would have gotten really ugly 😉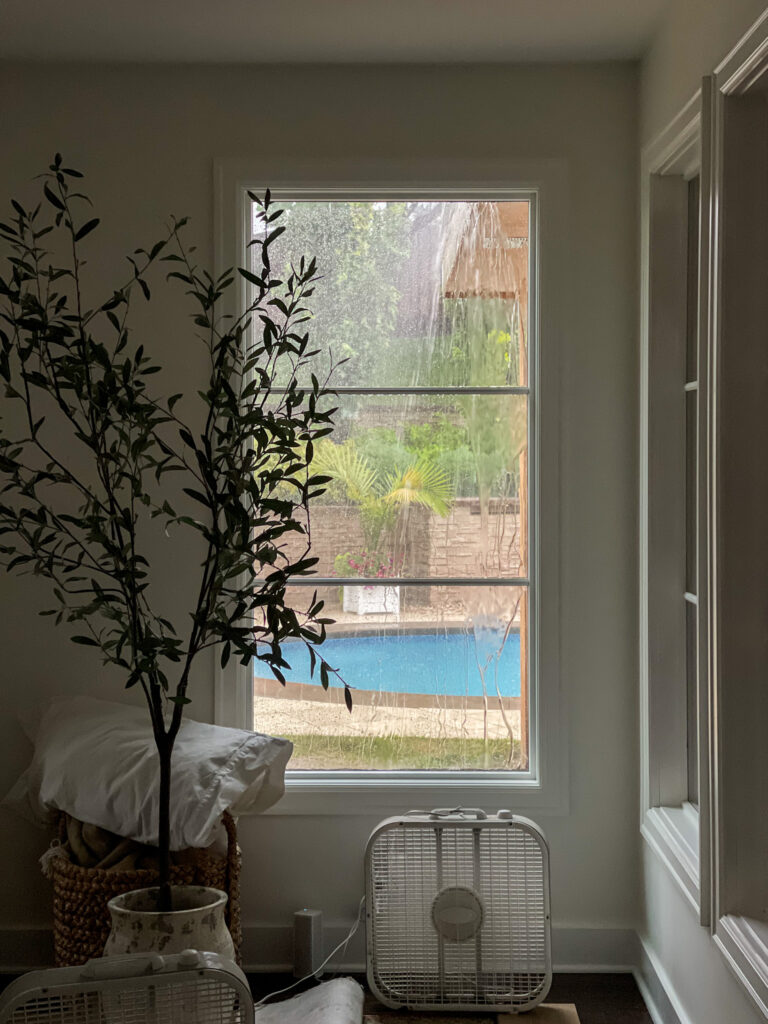 Things definitely could have been much worse. So, while this wasn't fun, it's nothing we can't deal with and address as needed. We're just both very tired heading into this week but definitely ready for the fresh start!
Saturday night, Jill and Nick invited us down for dinner. The first BLT and sweet corn of the season definitely requires documentation!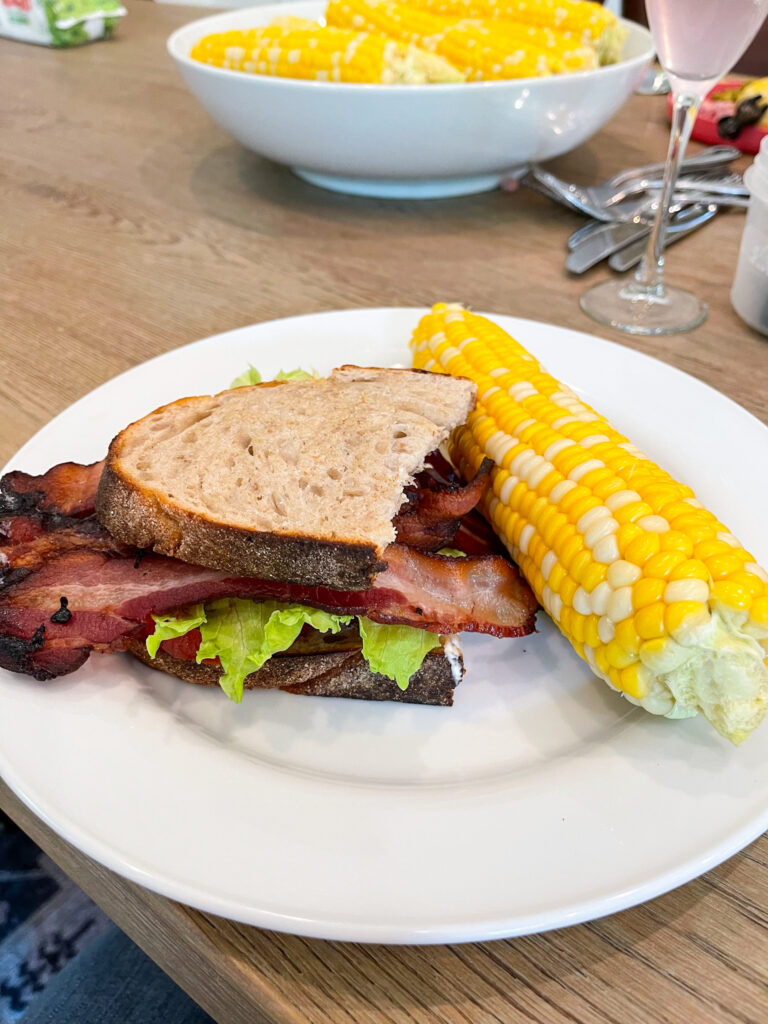 Zoe loves her sweet corn! But I think she loved her little weiner dog corn holders even more 😉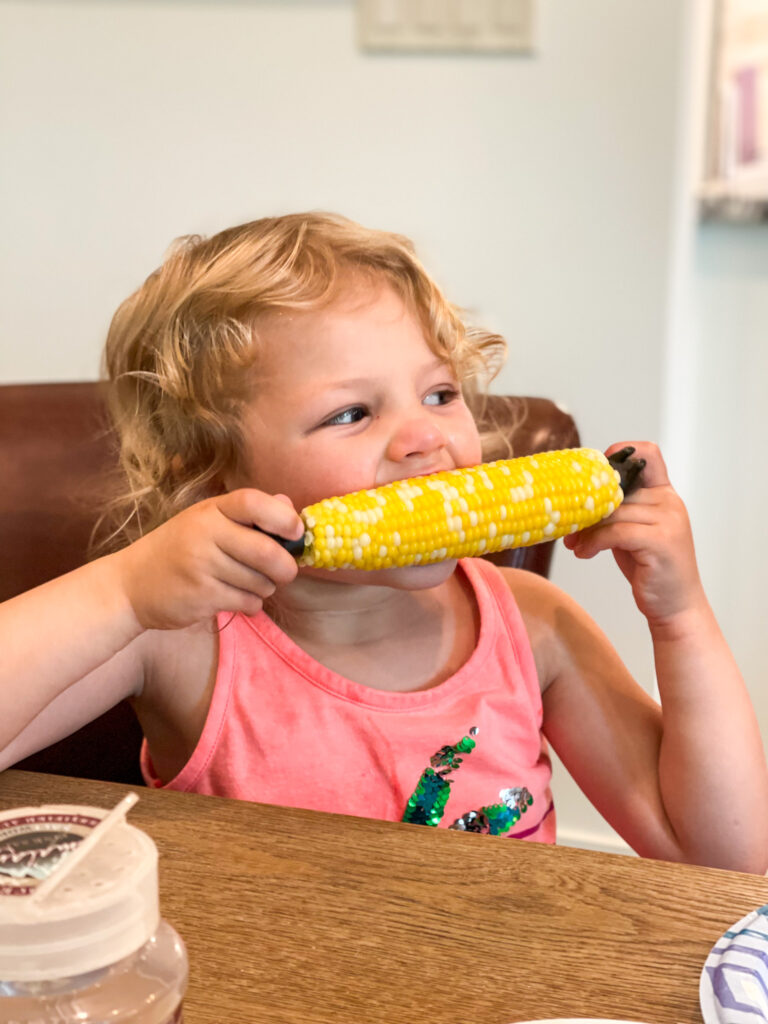 Zoe had her dad help her draw a picture of her family and house and Scout (their dog). She also included me and Kurtis and the three cats, as well as my car, which she loves for some reason 😉 It was the cutest thing ever! She also made sure he included the fire pit where we made s'mores last weekend.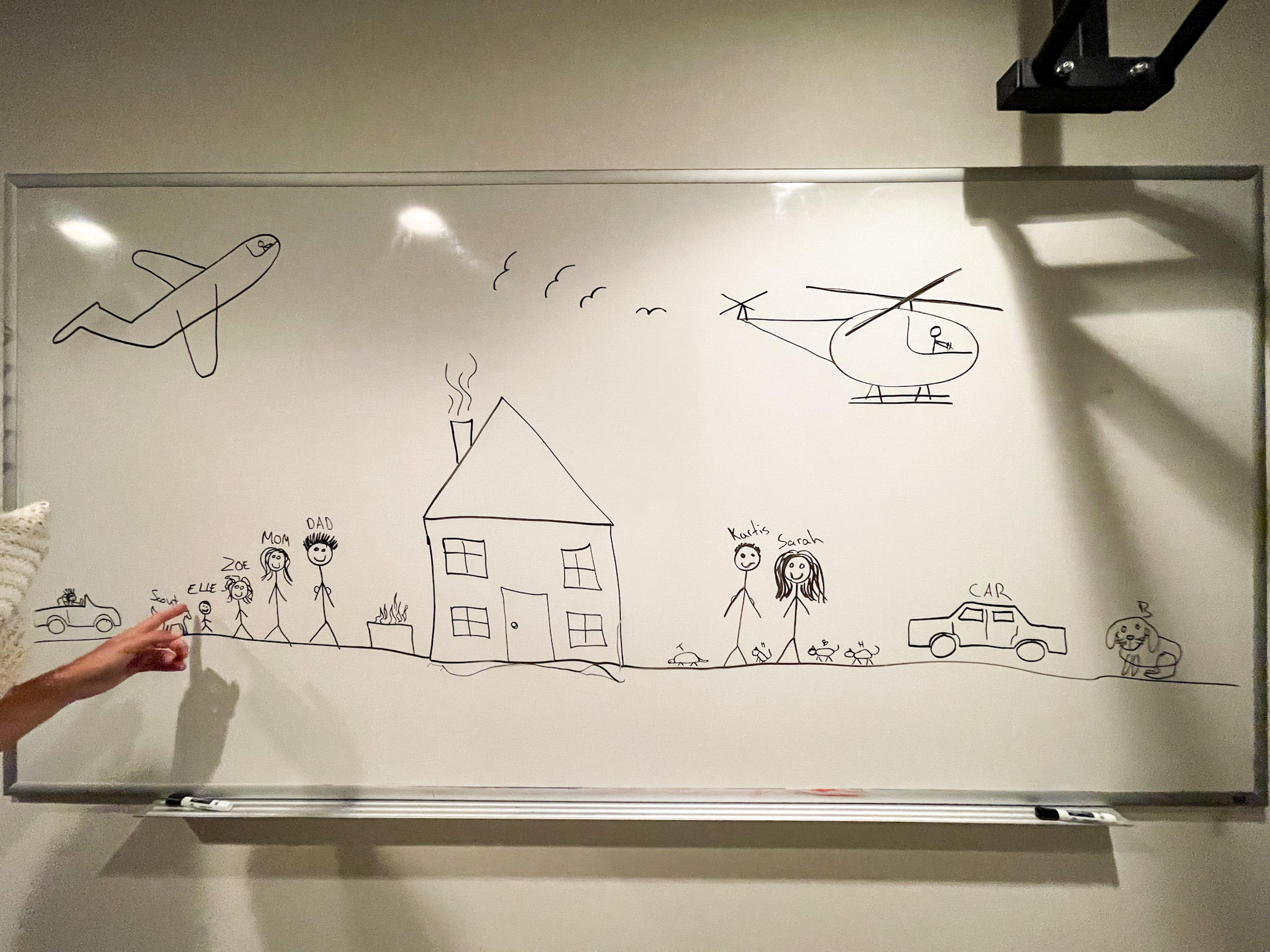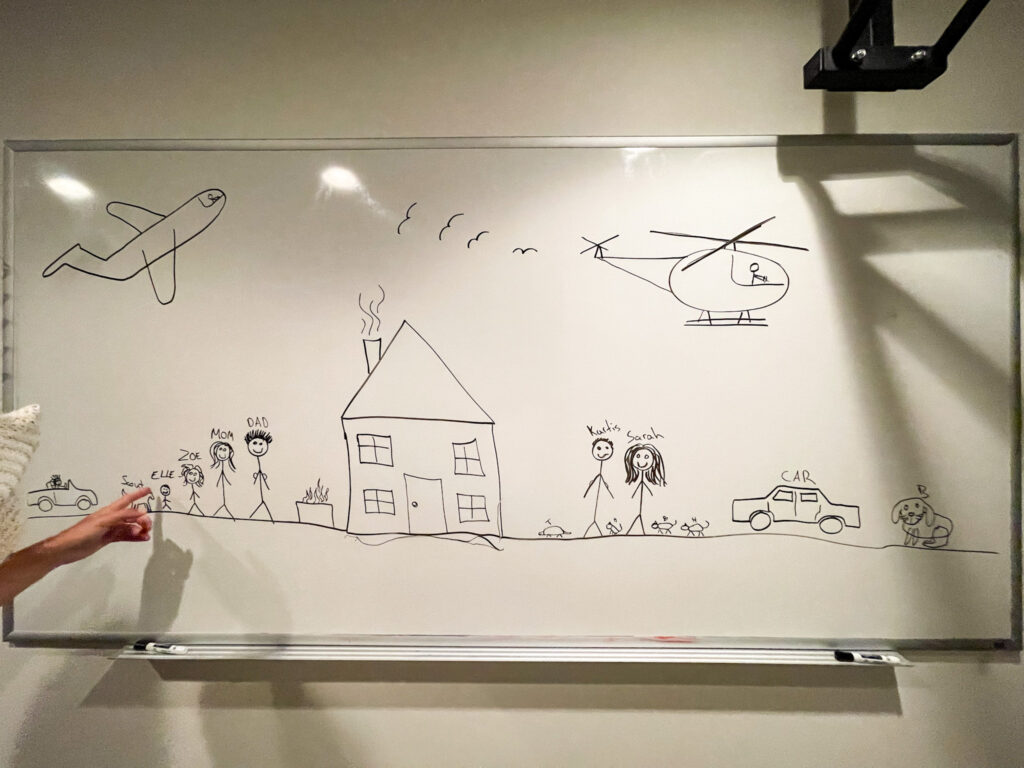 Sunday I spent a lot of the day sorting clothes. The debacle in our closet actually sped up a task we had already been left with for the weekend. The guys will likely be breaking into our old closet in the coming week or so, so we had been told to get all our clothes out regardless. I was in a major purging mood, and I'll likely be donating about 30% of my closet! Maybe we won't need that expansion after all 😉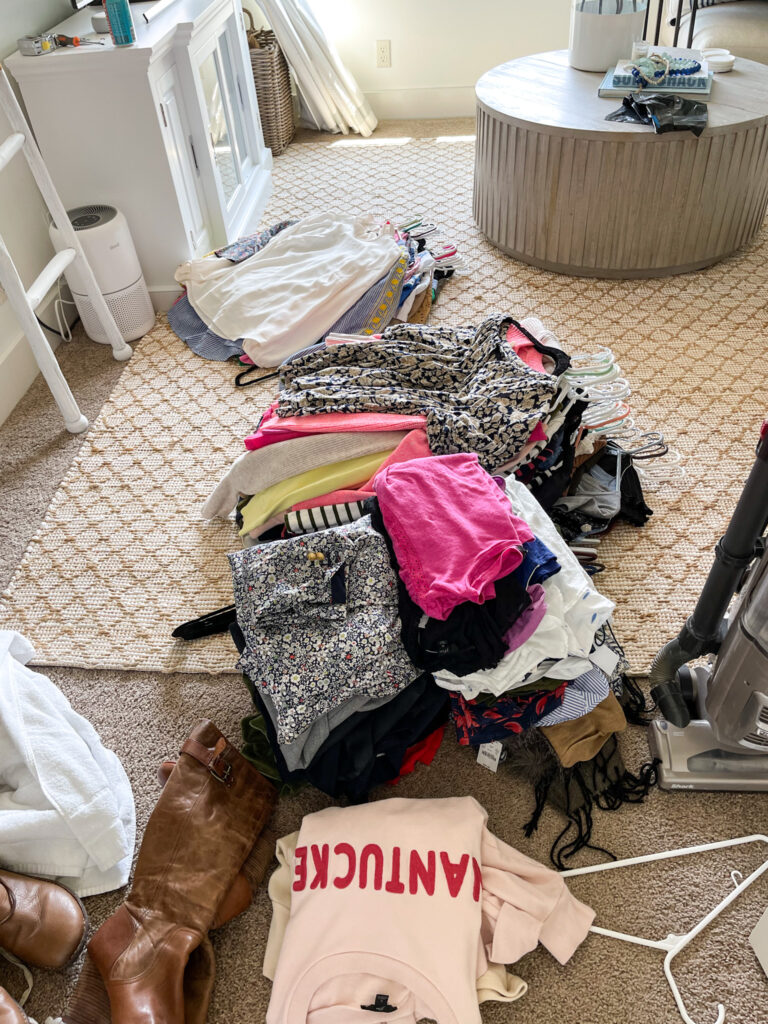 As a reminder, the new 2021 Studio McGee Fall Collection launched at Target yesterday morning! Lots of cute finds this time around. I was excited to see they finally restocked this rug. I've been wanting it for some time for our den, so I was finally able to snag one! I'm also interested in these leather-trimmed stools, but it looks like they may have to be found locally.
And, another exciting launch – the Nordstrom Anniversary Sale started today for Icon level cardholders. I spent a few hours going through everything over the weekend, so I'll be sharing my top picks with you this week! The sale opens to Ambassador level on Wednesday, and then Influencer level on Friday (which is all cardholders). The sale will then open to the public on the 28th of this month.
I was able to photograph about half of my summer home tour on Friday before all hell broke loose over the weekend. I had planned to post the tour on Sunday, but that has now been pushed back a little so I can photograph a few more rooms once I get them put back together. I also will have to leave out a few rooms (like our bedroom) since we likely won't be back in there for awhile. But, the summer home tour is coming! Just much later than anticipated!
Recent Buys & Sales
Following are the sales from the weekend that are still going strong. You can see all of my top picks here.
I hope you all have a great week!
If you would like to follow along on more of my home decor, DIY, lifestyle, travel and other posts, I'd love to have you follow me on any of the following:
Pinterest | Instagram | Facebook | Twitter
disclosure: some affiliate links use