Good morning! I hope you all had a wonderful weekend! We had a lot of activity over here this past week, so I'll jump right into the details.
This post contains affiliate links for your shopping convenience. Click here to read my full disclosure policy.
Home Projects & Updates
We had a lot of excitement on the home front around here last week!
I found out early in the week that I had two remaining days to finalize the pool house kitchen cabinet colors. The reality is I hadn't even looked at samples yet, but rather, had a general idea of what I wanted in my head. So, I pulled out my sample boxes and went to work. We narrowed it down to either Benjamin More Hale Navy (top left color) or Benjamin Moore Santorini Blue (second from the right on the lower level), which is one color lighter than the interior of our front door (Water's Edge). We submitted our order, so and I'll be writing a post with all of my selections so far later this week!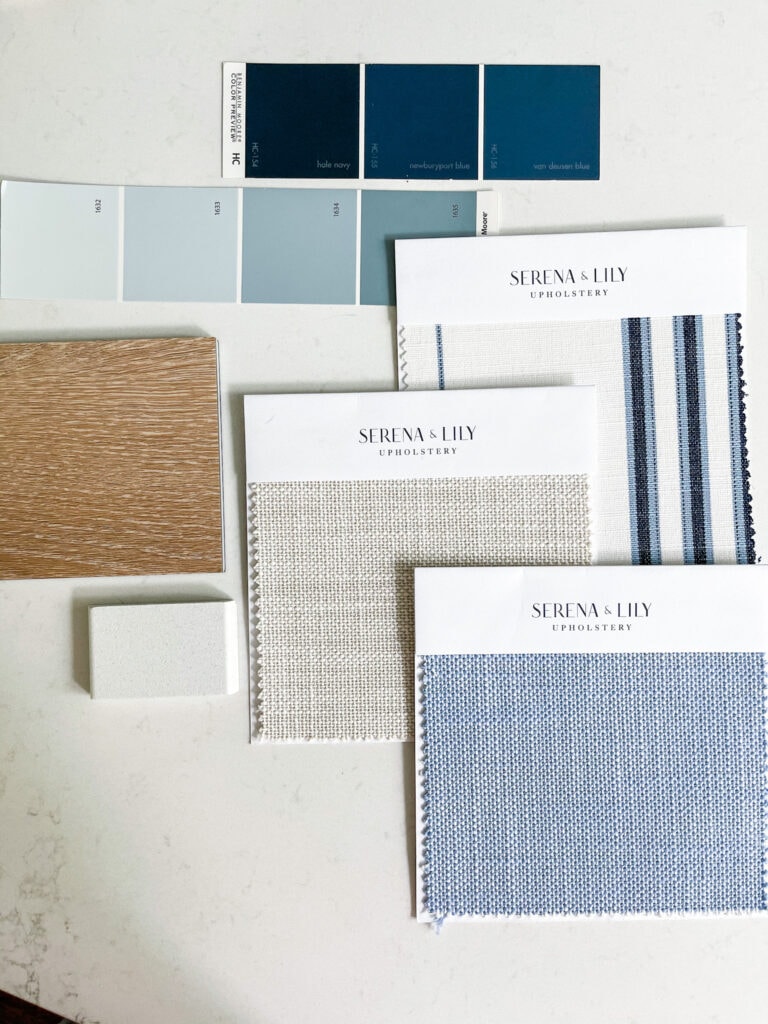 And in major news, demo started last week! I got a message Thursday morning that the foundation guy could start Tuesday morning this week, so demo essentially started about an hour later! Things moved super quickly, and I basically stalked the project all day long. It was so fun to watch! In the drone shot below, they already had our checkerboard pavers removed, and as you can see got to work pretty quickly on tearing off the old covered patio.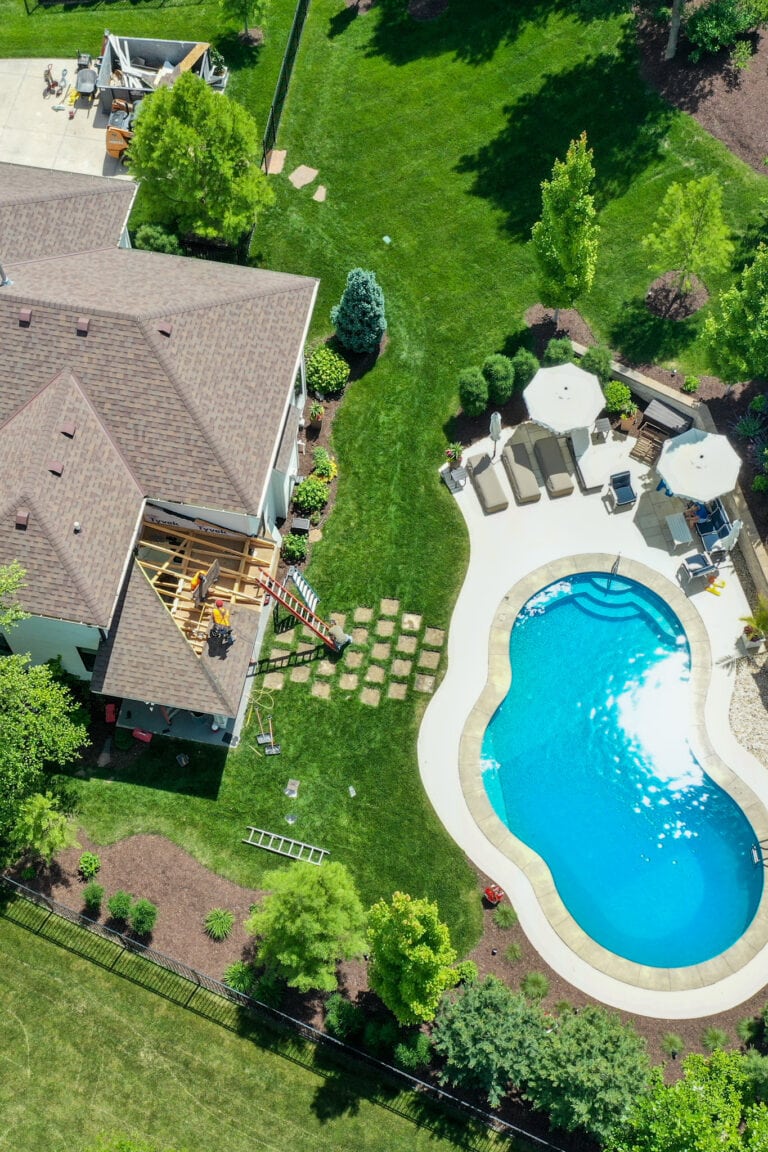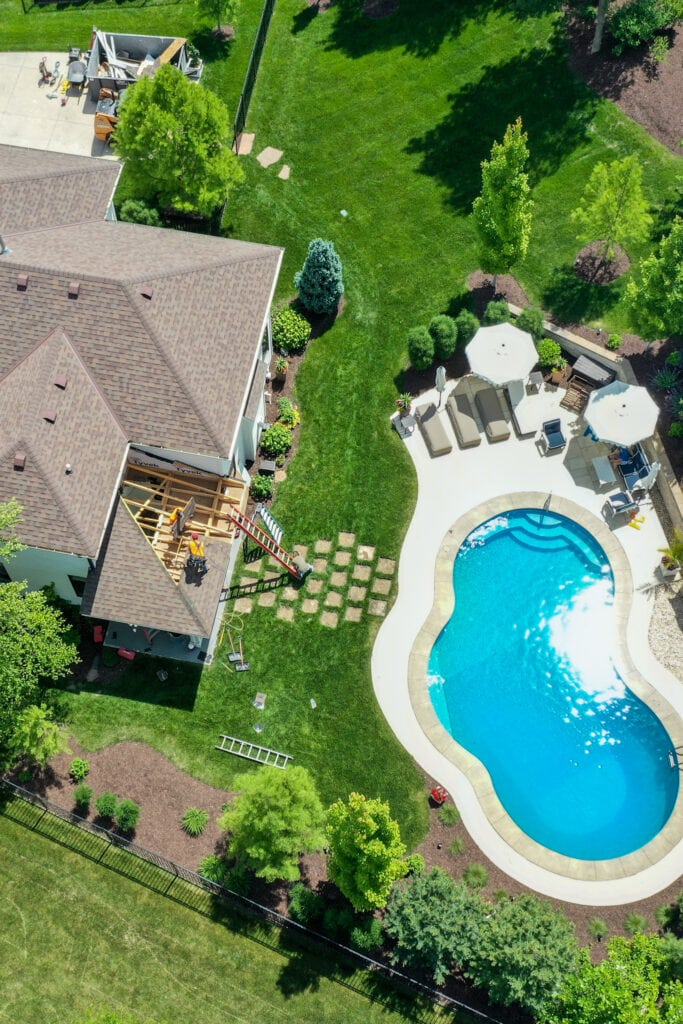 Here's where they were by the end of the first day! It's crazy how different things already look. We had to leave to Iowa by early afternoon on Friday, but when we got home, they had our concrete patio fully removed as well. Things are ready for excavation and foundation tomorrow! Once that's in and cured, it will be much easier to envision the overall footprint and size!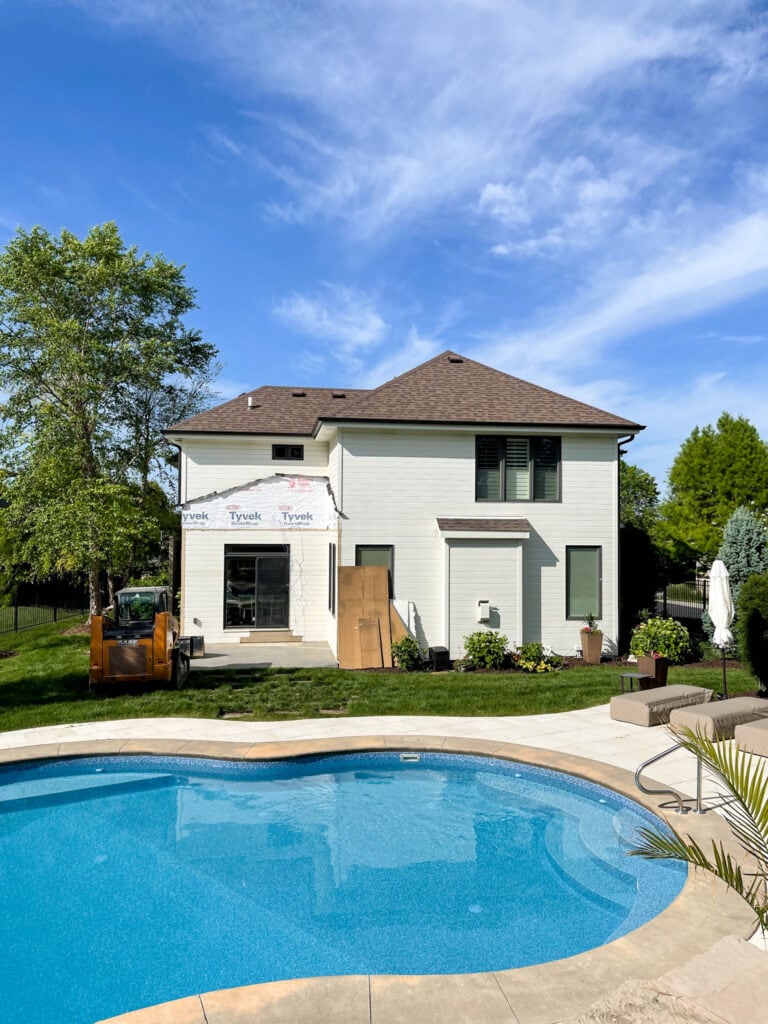 We also finalized our appliances, fireplace, windows and more, so things are starting to come together. With lead times as crazy as they are right now, we didn't want to delay ordering anything! I also received some more finalized 3-D renderings of the space, but I'll save all of that info and those images for a follow-up post this week!
I finally got these mandevilla trellises planted. I bought them about a month ago, not really knowing where I was going to use them. But the price was right and they were in full bloom and so beautiful! I finally decided to add them at the top of our driveway. Only to realize the next day that they're completely in the way of the dumpster for the pool house 😉 I filled the planter with the trellis, two colors of petunias, and two colors of calibrachoa. I'm excited to see the trellis when it fully blooms again and the base flowers have filled in a bit more!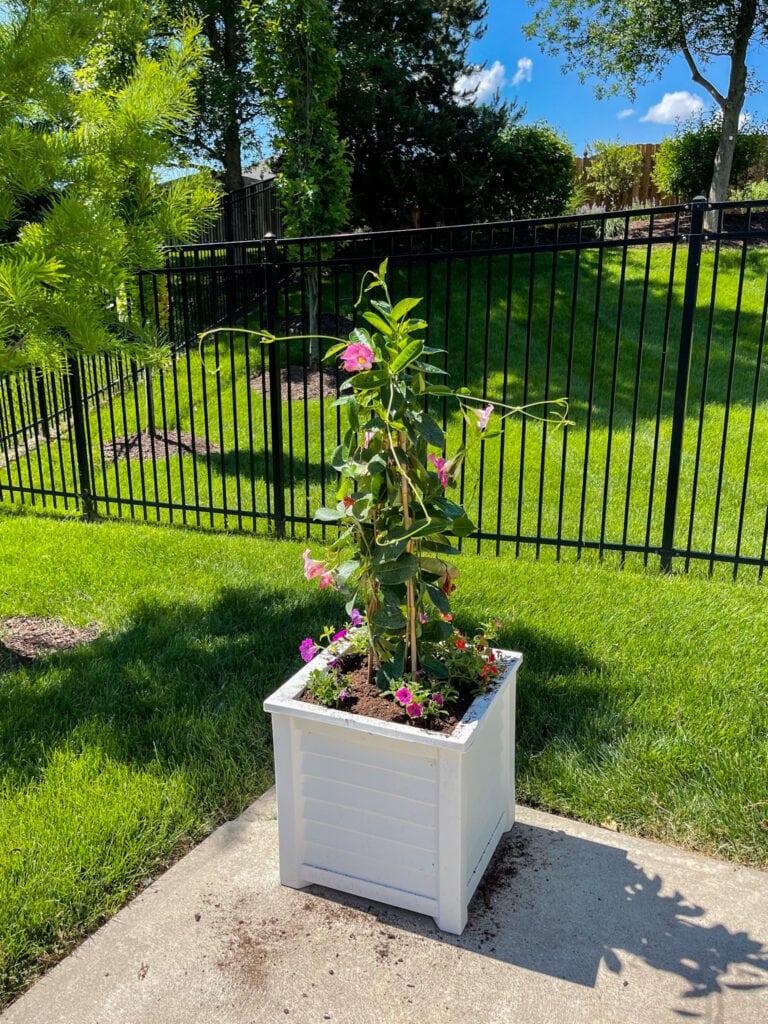 A few months back, I finally ordered new planters for our front elevated area. The planters we had been using were left here by the prior owners and they have served us well! But we were ready for a change and to transition to something a bit more our style. I ended up ordering these fluted ceramic planters and couldn't be happier with them. They're a bit darker gray in person (more of a true concrete color), but they were flooded with sunlight the morning I took this.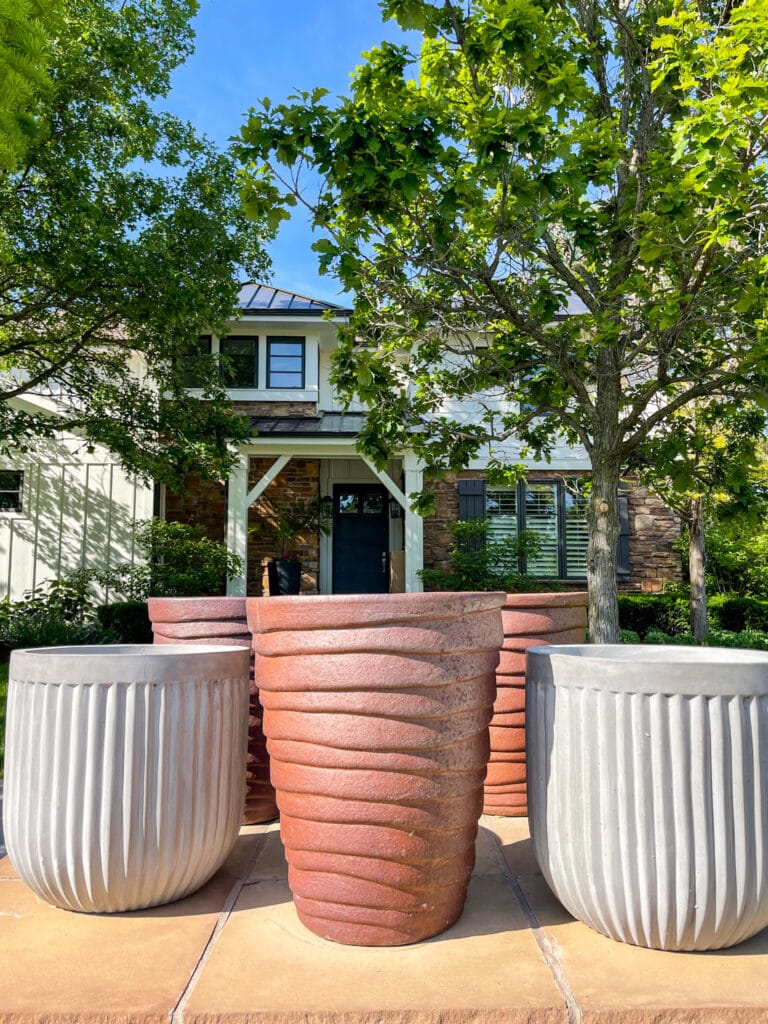 Kurtis helped me transition all the sand and dirt from the old ones to the new ones, and then I got some flowers and greenery added. It's a bit late in the season for me to start planters, but hopefully I can get them to grow quickly with the help of my favorite fertilizer! Here I planted petunias, calibrachoa, sweet potato vines, and creeping Jenny.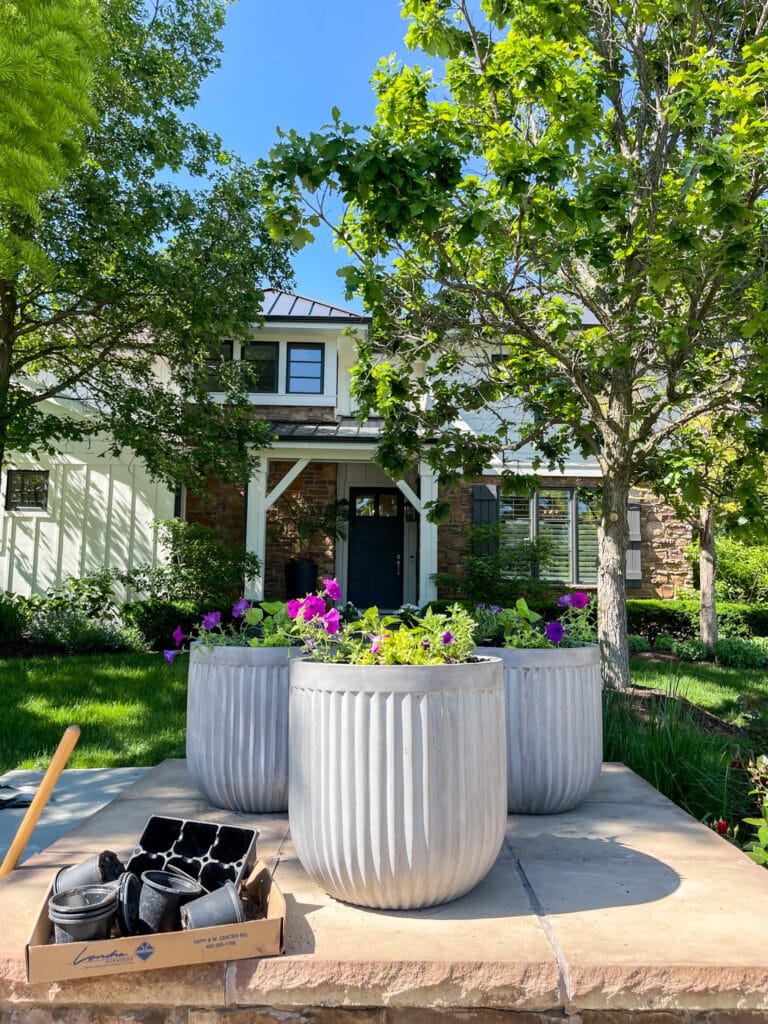 The planters were only added to my cart because I actually ordered a new coffee table for our den, and I had to maximize those freight shipping charges! Knowing that this coffee table was going to move to the pool house, I started searching pretty early for a new one for the den. I added a bunch of my finds to this post if you're on the hunt for a coffee table of any size! The coffee table I chose arrived with the pots, and it is so perfect for the space. Now that the board and batten wall is blue, the more muted tones of this table work a lot better than the warmer tones of the prior table! I love that this one still has interior storage, as well! I'll be sharing a full room shot soon!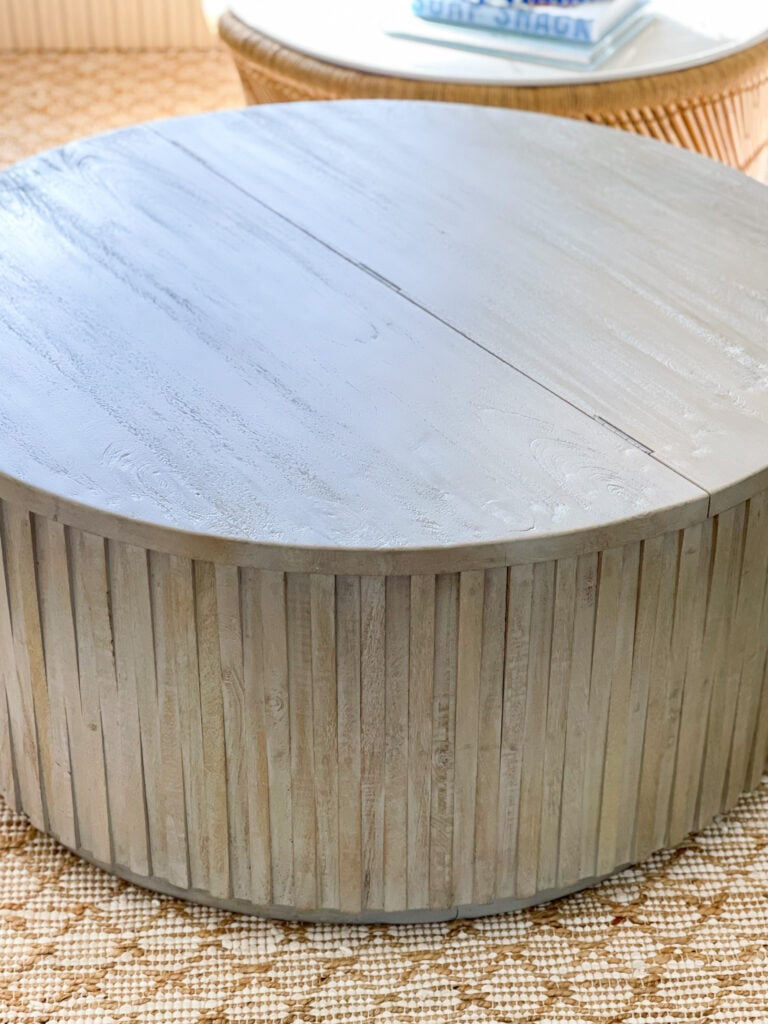 Top Sellers Of The Week
Following are the top sellers of the past week across all of my channels. Links to each item are below the graphic.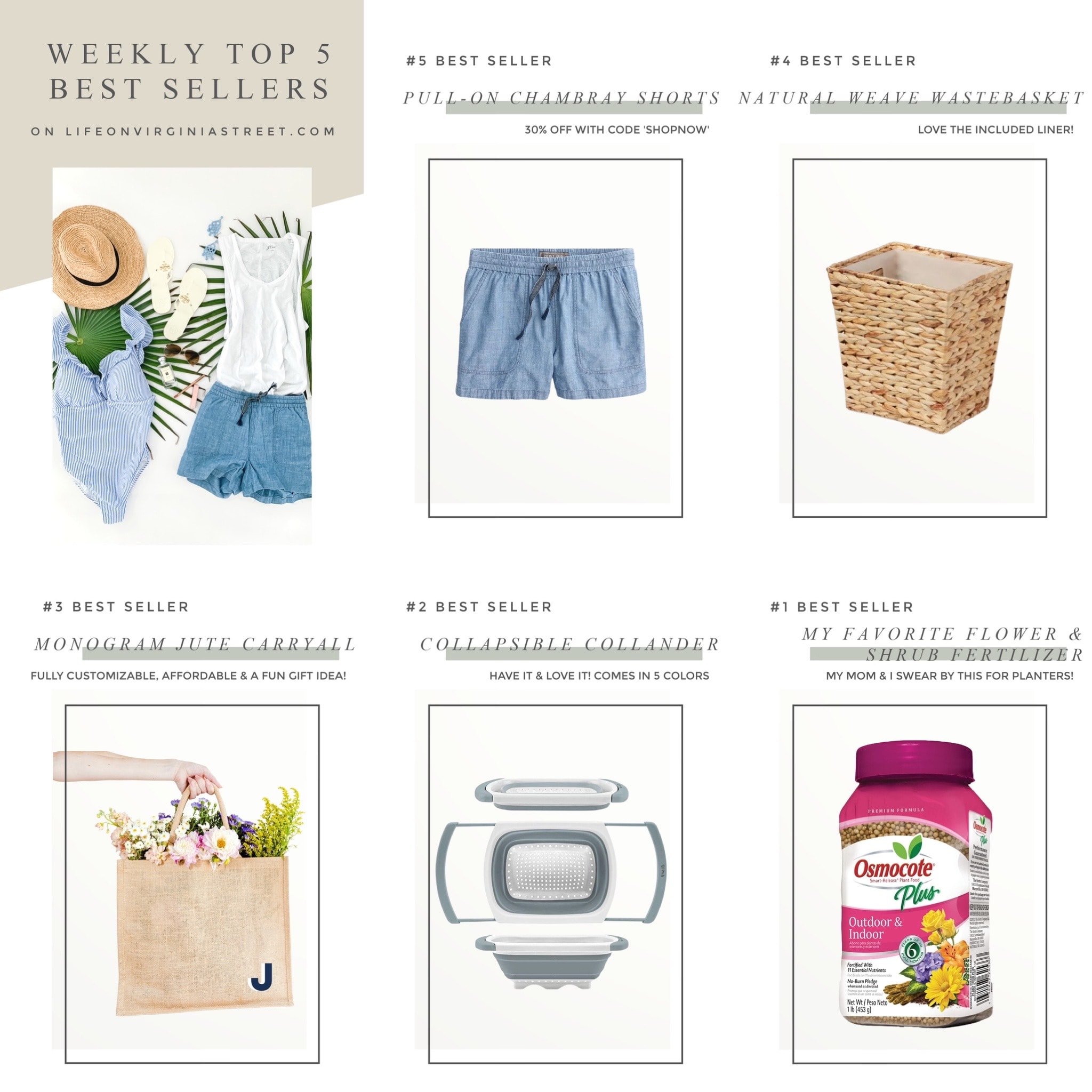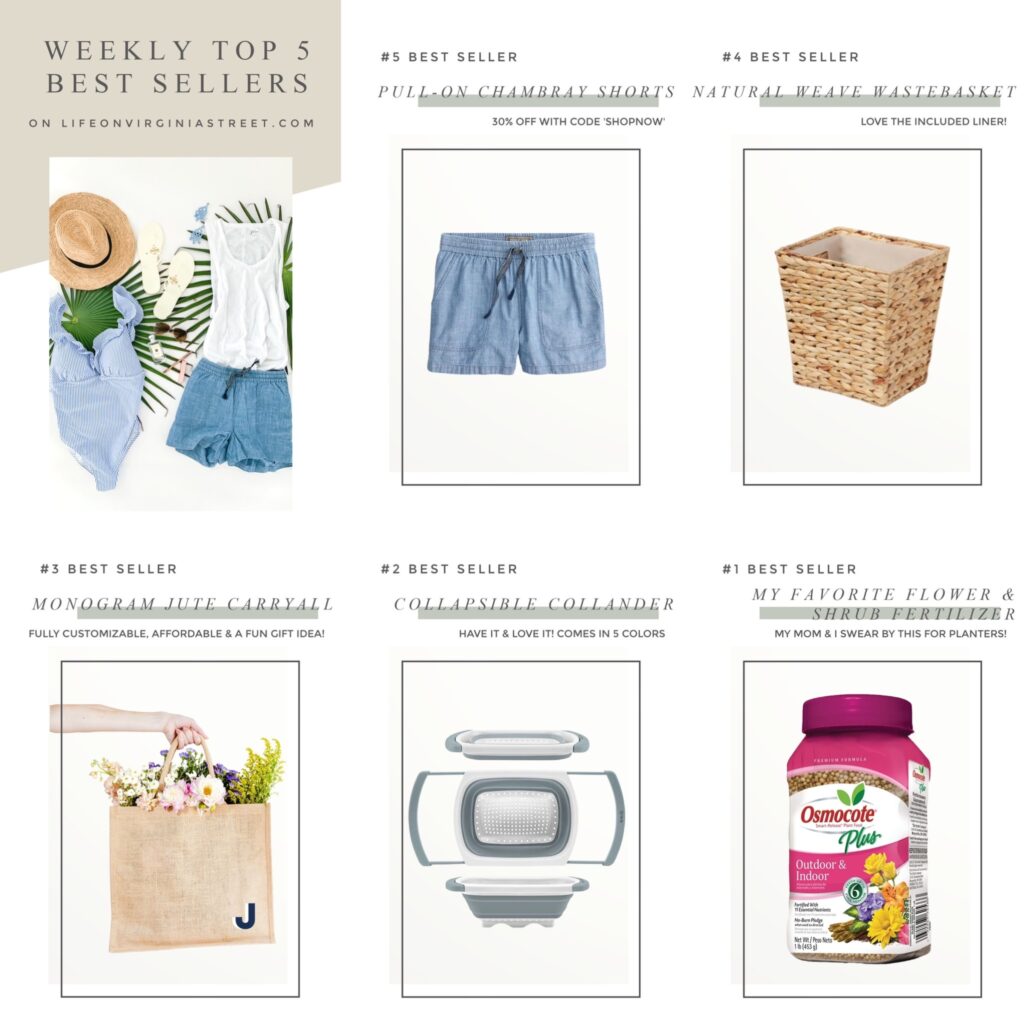 Around Town & For Fun
It's possible last week was the most social week I've had in a year or two!
Wednesday night I went out to dinner with a group of ladies I hadn't seen in nearly a year and a half. We've only all done dinner once together, and yet, this time too, we continued right where we left off. It feels like we've all been friends for ages! It was such a fun night, and the food at J. Coco is incredible. If you've never been, I highly recommend the sea bass. It may be one of the best I've ever had! This time around it was served on a bed of potstickers and veggies, and was so dang good!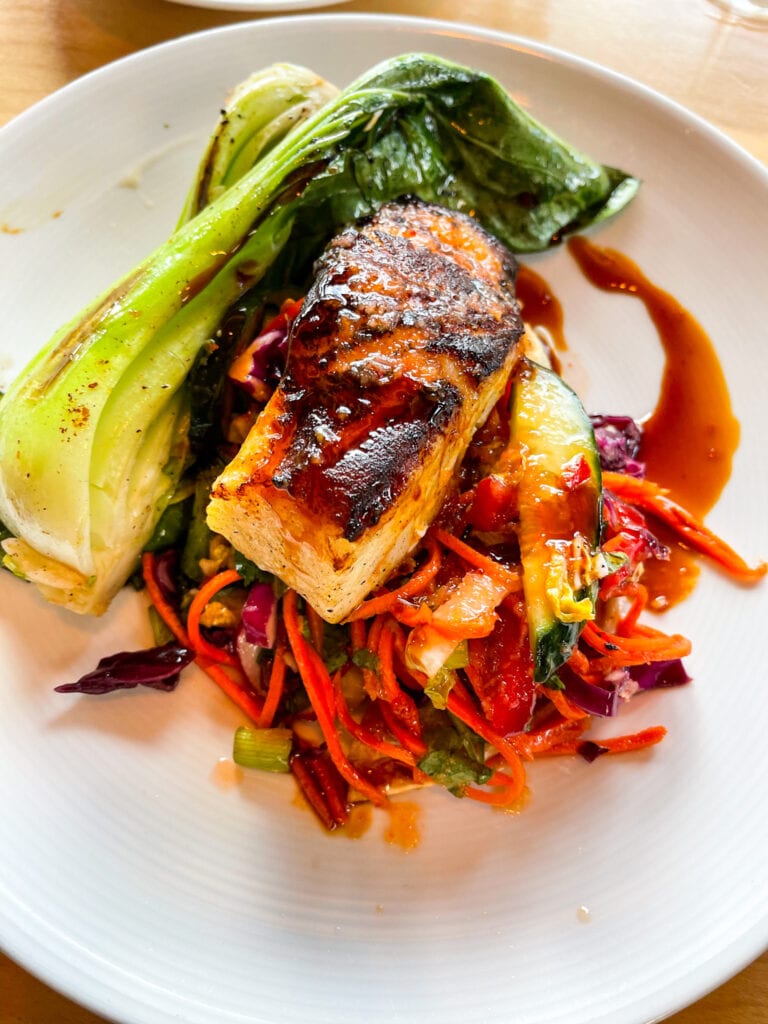 Thursday night Kurtis and I had dinner downtown with another couple. I can't even remember the last time we went downtown, and it was fun to try a new-to-us restaurant, Boiler Room. The food was excellent and the company was even better.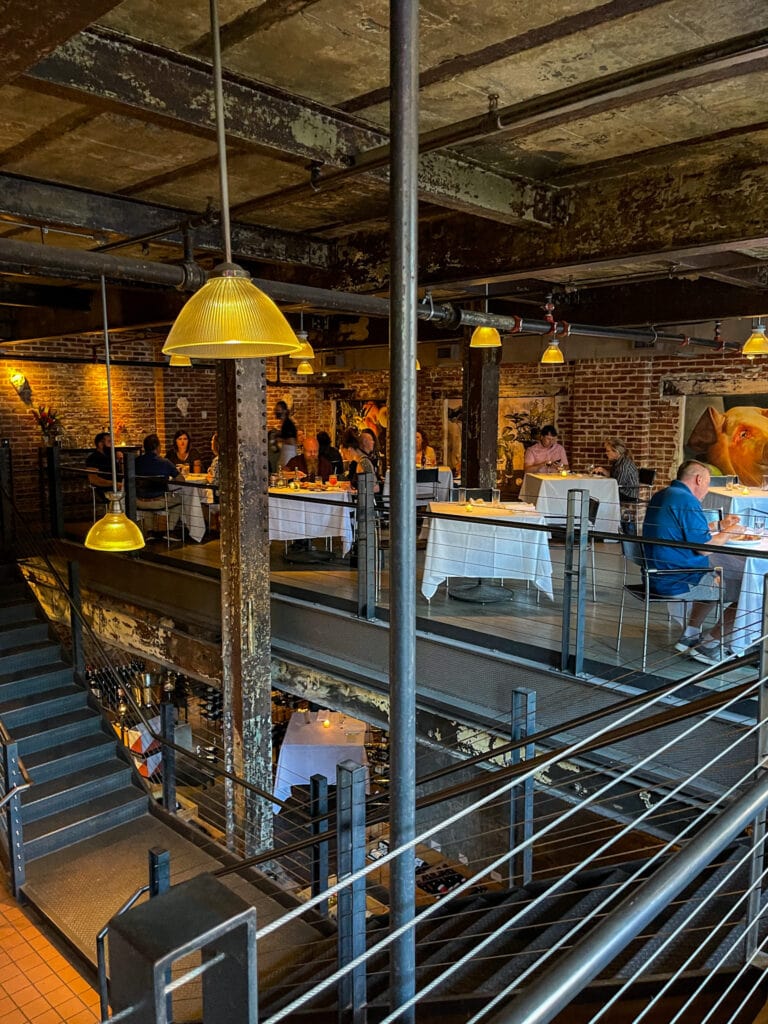 Friday afternoon, we hit the road two hours northeast to Iowa for our niece's wedding weekend!
Fun fact. I'm a snow cone/shaved ice addict. I used to get them weekly (if not more frequently) when I lived in Utah. But ever since moving to Nebraska, they are hard to find! When we were driving back to Iowa on Friday afternoon, we saw a Tropical Sno in Denison, and I was so excited, I made Kurtis pull over so I could buy one. And of course, it required photo documentation! There's nothing better than a coconut shaved ice!!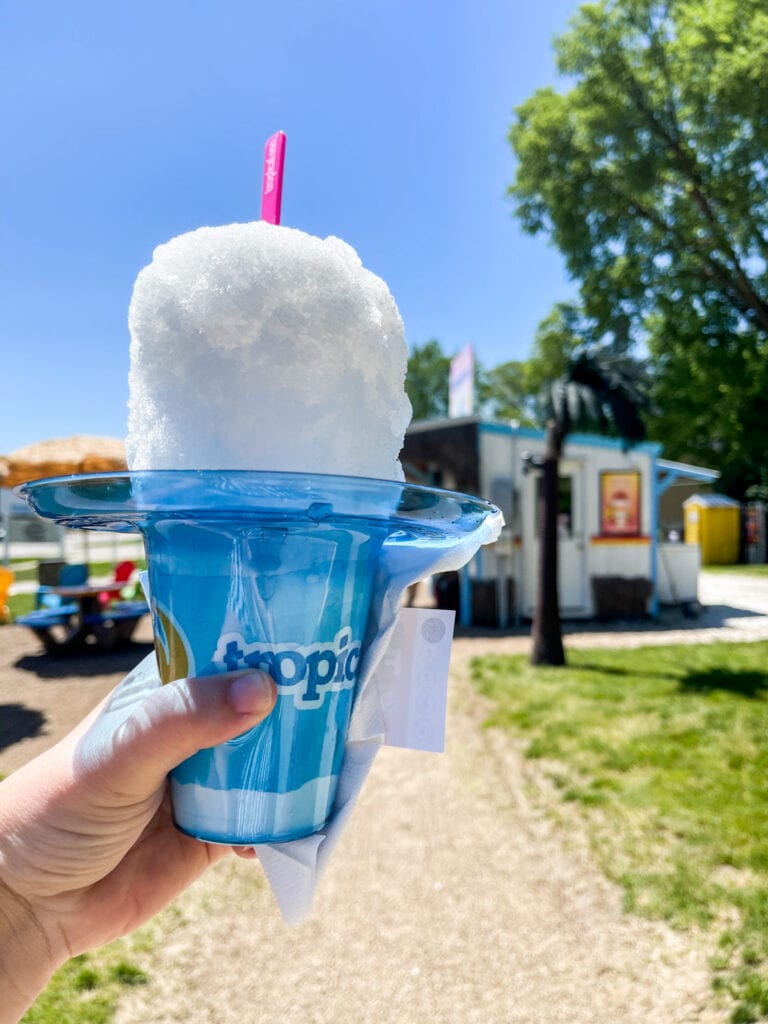 We helped with the wedding rehearsal dinner at Rustic River Winery the night before the wedding. Loved this picture of Kurtis and his sister, the mother of the bride!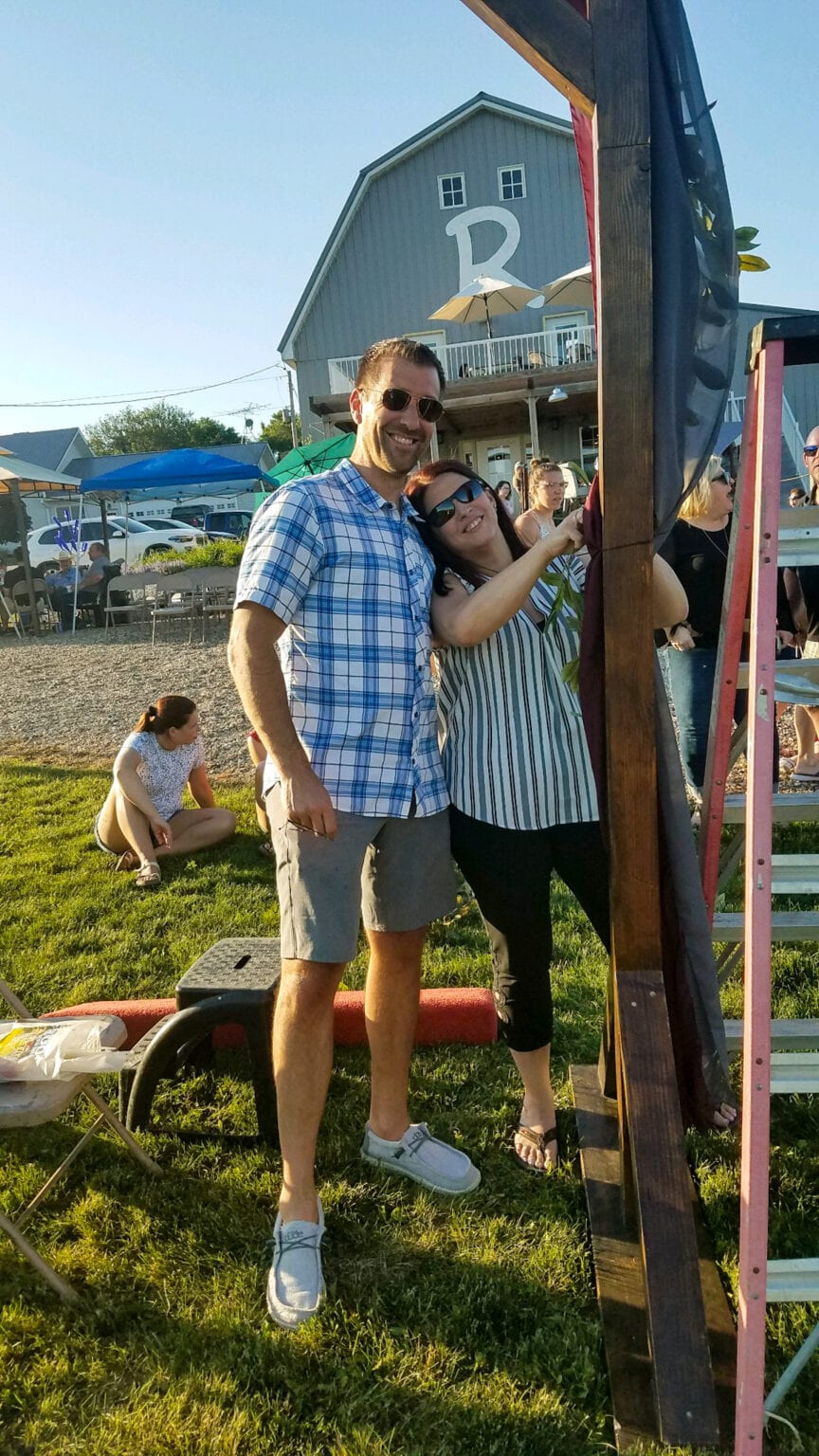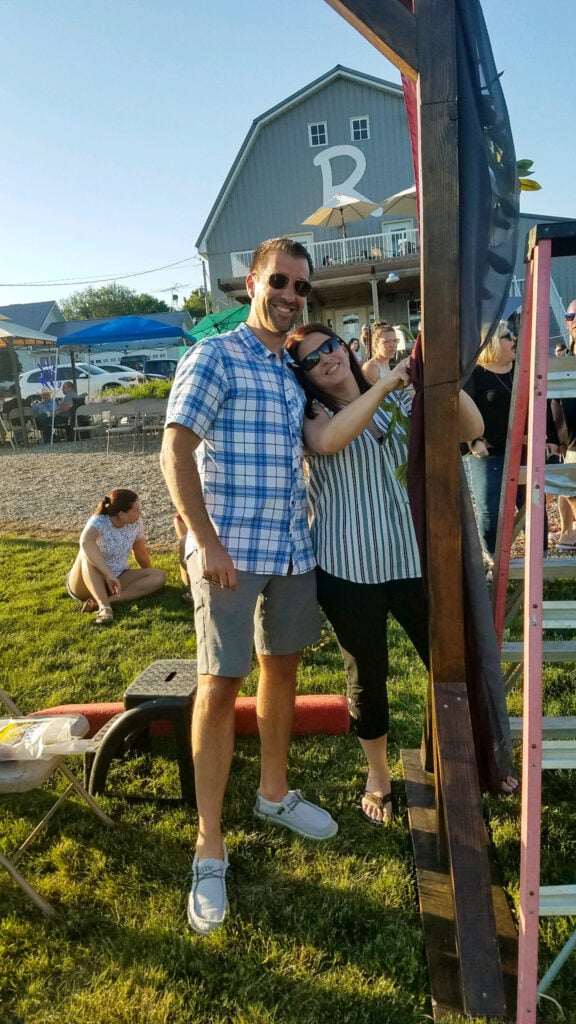 Despite the high heat and winds, it was an absolutely beautiful ceremony and reception! We're so happy for this beautiful couple!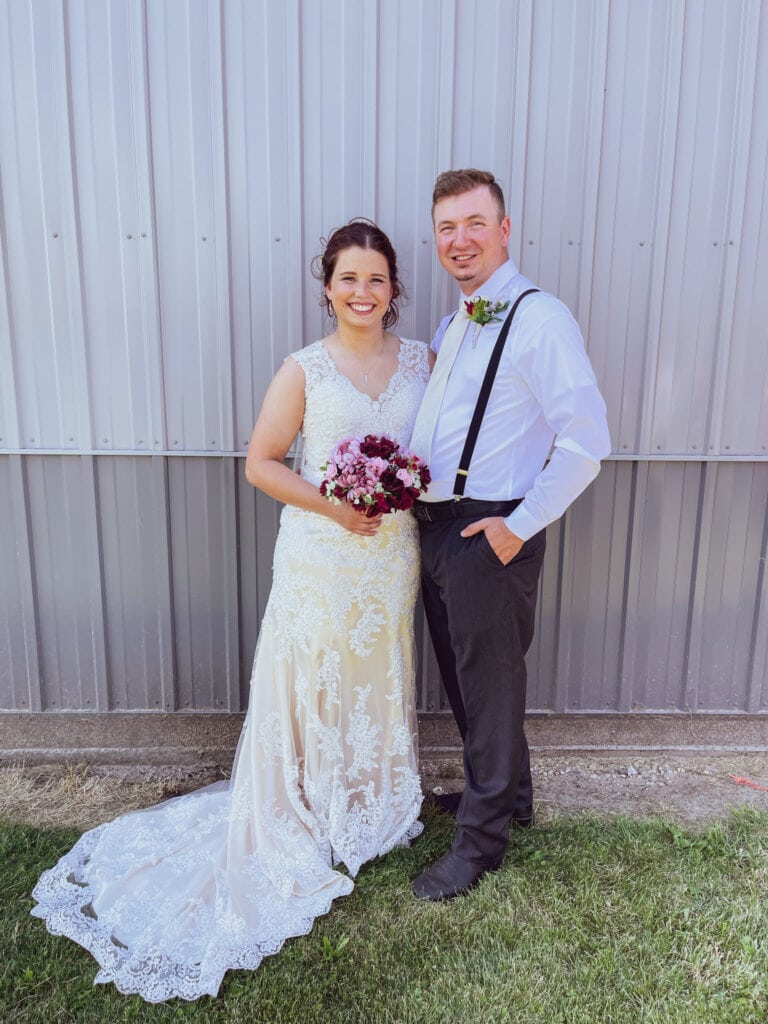 Our younger niece knocked her Maid of Honor speech out of the park!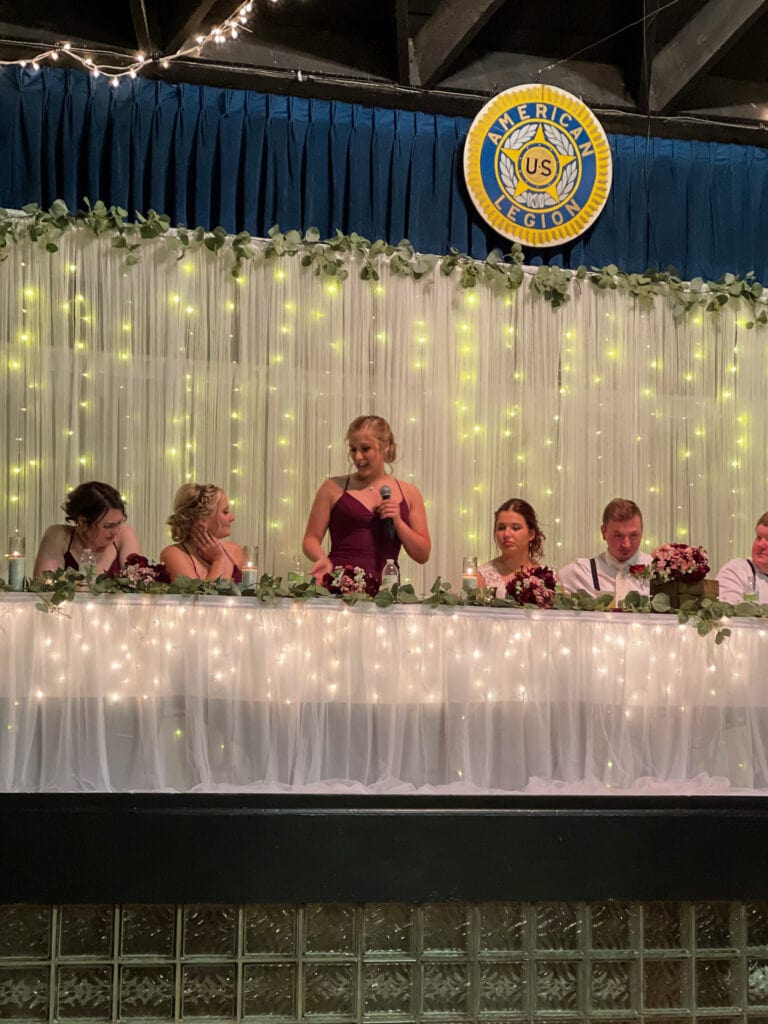 We had more wedding weekend festivities Sunday morning and afternoon, and it was so great to catch up with family and family friends for the few days we were in Iowa! It was such a fun and beautiful weekend celebrating this couple we love so much!
Typically my sister-in-law and brother-in-law take care of our cats while we're away. But, they were obviously with us in Iowa for the wedding. Thankfully my friend Jen (who blogs over at The Striped House) was able to step in. She also has a diabetic cat so we knew our cats were in good hands! She was so great with them, I'm pretty sure they weren't even happy to see us when we got back 😉 Loved these cute photos she took of them while we were away.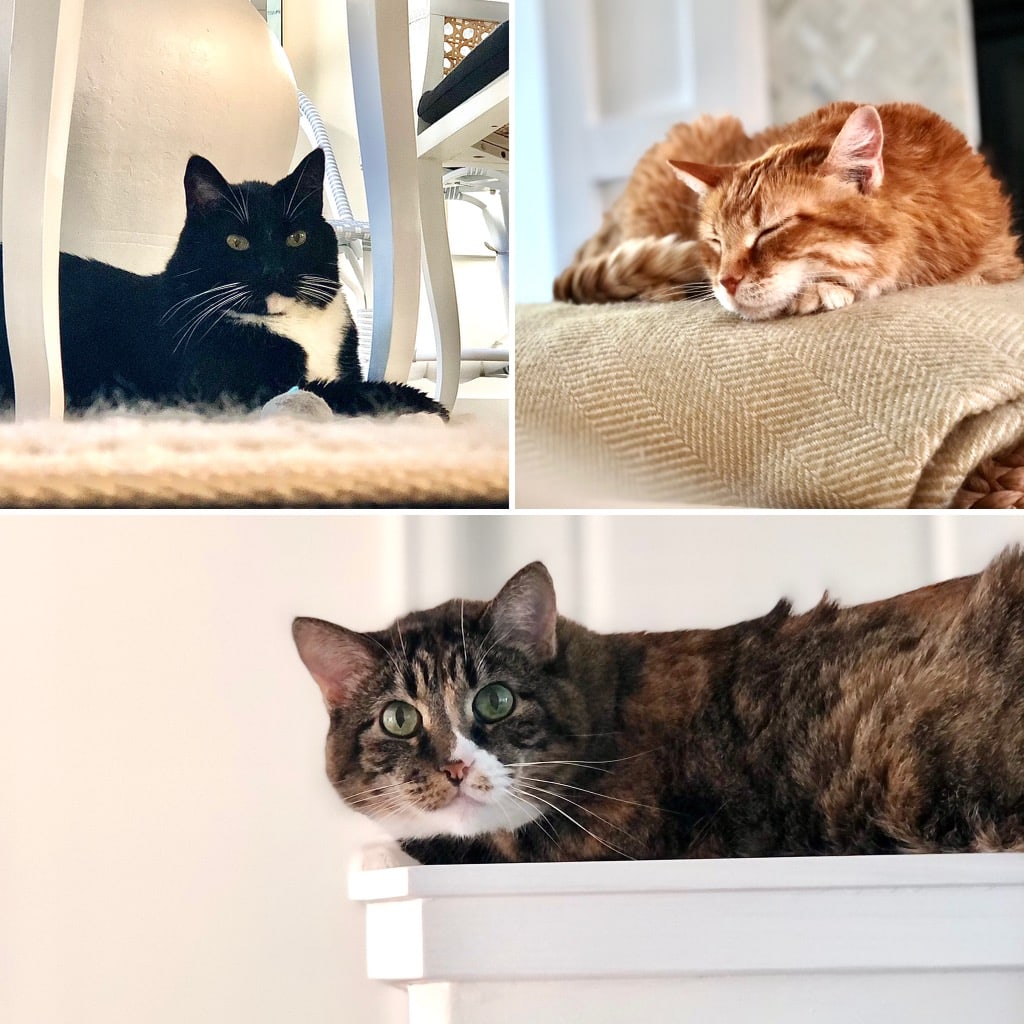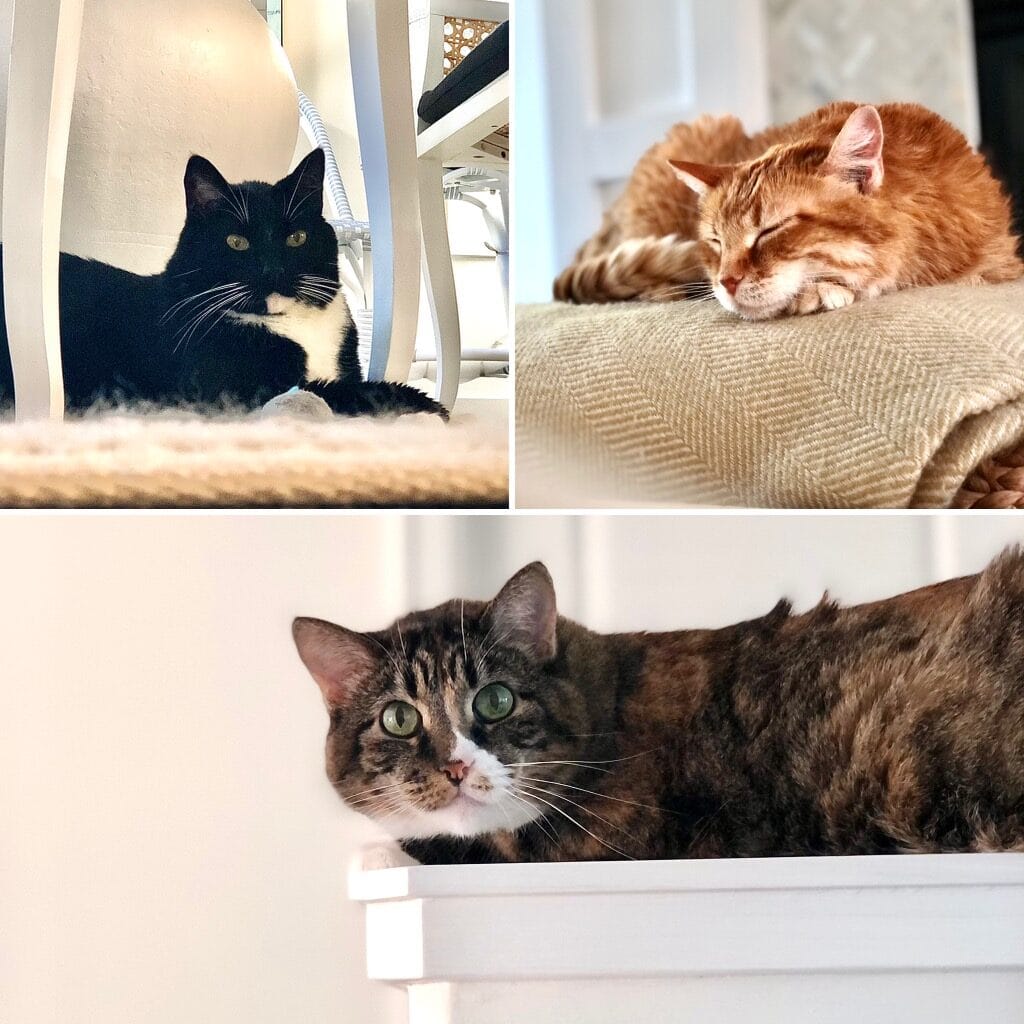 We got home Sunday afternoon and crashed! It was such a busy and exciting week and we basically had zero energy left in us. The cats weren't too sad that we needed naps. That meant cuddle time for them after us being away most of the weekend!
I'm planning to be pretty active on my Instagram Stories this week as the pool house project progresses. Feel free to hop over if you want to follow along! Otherwise, I'll plan to do a project recap later this week.
Recent Buys & Sales
Following are the sales from the weekend that are still going strong.
AMAZON has a number of deals sitewide in the Daily Deals section. These pillow insert pairs I've been using lately have an 8% coupon you can clip as of the time of this post going live! Remember to order 2″ larger inserts than your pillow covers for the best designer look! I also have these striped pillow covers and they were already such a great price, but now there's an extra 5% coupon you can clip on the pair! They're such a great staple! These Lantern Pendant Lights come in four finishes and are a steal when you apply the extra 10% off coupon. Such a great designer look for less! You can shop their sales here.
AMERICAN EAGLE is offering 25% off shorts! You can shop their sale here.
ANN TAYLOR is offering select full-priced summer finds at $45. You can shop their site here.
ANTHROPOLOGIE is offering an extra 25% off sale items! No code required. You can shop their site here.
BALLARD DESIGNS is offering up to 20% off all outdoor. You can shop their sale here.
BANANA REPUBLIC is offering 40% off your purchase plus an extra 20% off at checkout if you use a Gap Inc card with code BRCARD20. You can shop their sale here.
BODEN is offering 15% off full-priced items at checkout (no code required) and free shipping on orders of $49+. You can shop their site here.
GAP is offering up to 50% off summer finds, an extra 40% off sale styles with code SALE, plus get an extra 10% off at checkout or an extra 20% off $100+ with code MORE. You can shop their sale here.
J CREW has women's casual styles starting at $19.50, plus an extra 50% off select sale styles with code SHOPSALE. You can shop their sales here.
J CREW FACTORY has a number of markdowns sitewide, plus an extra 15% off 2+ men's styles with code GETMORE! You can shop their sale here.
KIRKLAND'S is offering 25% off one regular priced item with code ANYONE. You can shop their sale here.
LULULEMON has a number of new items in their sale section, including some new Align and Wunder leggings! You can shop their sale here.
MARK & GRAHAM is offering up to 50% off 100s of items! You can shop their site here.
MARSHALL's has a number of deals sitewide including new markdowns. You can shop their site here.
MICHAELS is offering 20% off all regular priced purchases with code 20MADEBYYOU, plus tons of deals sitewide! You can shop their site here.
NORDSTROM has a number of deals sitewide, including these Tory Burch Mini Millers for 60% off! You can shop their sale items here.
OLD NAVY is offering 30% off your purchase with code HURRY if you don't have Super Cash to spend. You can shop their sale here.
OVERSTOCK is hosting their Summer Red Tag Sale with major discounts sitewide! You can shop their sale here.
POTTERY BARN is offering free shipping on orders $99+ with code FREESHIP. You can shop their sale here.
SERENA & LILY is offering special pricing on all bedding and bath. You can shop their site here.
TARGET is offering up to 25% off select home items. You can shop their site here.
TJ MAXX is has a number of deals sitewide! I love this Pair of Table Lamps! You can shop their site here.
TORY BURCH has added a bunch new pieces to their sale section. You can shop their site here.
TUCKERNUCK has added some new sale pieces that are all darling per usual! You can shop their site here.
VANITY PLANET is offering 50% off sitewide with code VPA50. You can shop their sale here.
I hope you all have a great week!
If you would like to follow along on more of my home decor, DIY, lifestyle, travel and other posts, I'd love to have you follow me on any of the following:
Pinterest | Instagram | Facebook | Twitter
disclosure: some affiliate links used