And just like that, it's already February! I hope you all had a great weekend and end to January. Each winter, I'm always so excited when the first day of February rolls around. Although I know there's still a good chunk of winter left, February 1st makes me feel like spring is almost here. It certainly helps that it's a short month and then it's March which then means we're only a month or so out from opening our pool, so it's basically summer. Do you like my logic there? 😉 Here's what we've been up to this past week.
This post contains affiliate links for your shopping convenience. Click here to read my full disclosure policy.
Home Projects & Updates
We had a major snow storm last week, so there were some delays on the bathrooms. But, the guys worked through Saturday to make up for missed days and got all the shower tile done! They also loosely laid out the floor tile so we could pull any sheets with too much color variance. You can see the full design board and sources here. The guys at Gitt Construction are meticulous with their tile work, which is one of the main reasons I hired them! It took three days to finish those subway tiles because they level them from every single direction and are crazy detail-oriented! The tile will all look much less busy once all the grout goes in (I'm using tone-on-tone colors), so for now you're just seeing the dark shadows in between each tile.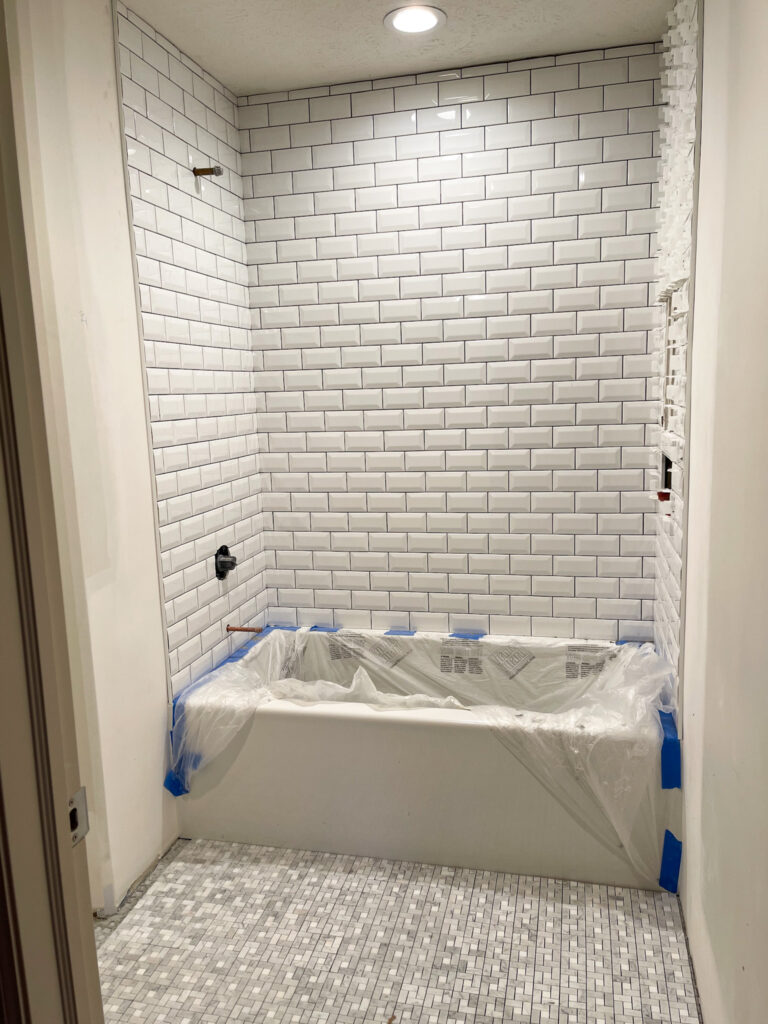 It's hard to believe just over three weeks prior, the bathroom looked like the below image from the same view! Isn't it crazy how much bigger the space feels with the tile running to the ceiling, vs. the insert that stopped about two and a half feet short?! I'm also so happy we added the extra can light over the shower since this space doesn't get any natural light. So excited for the progress to continue this week!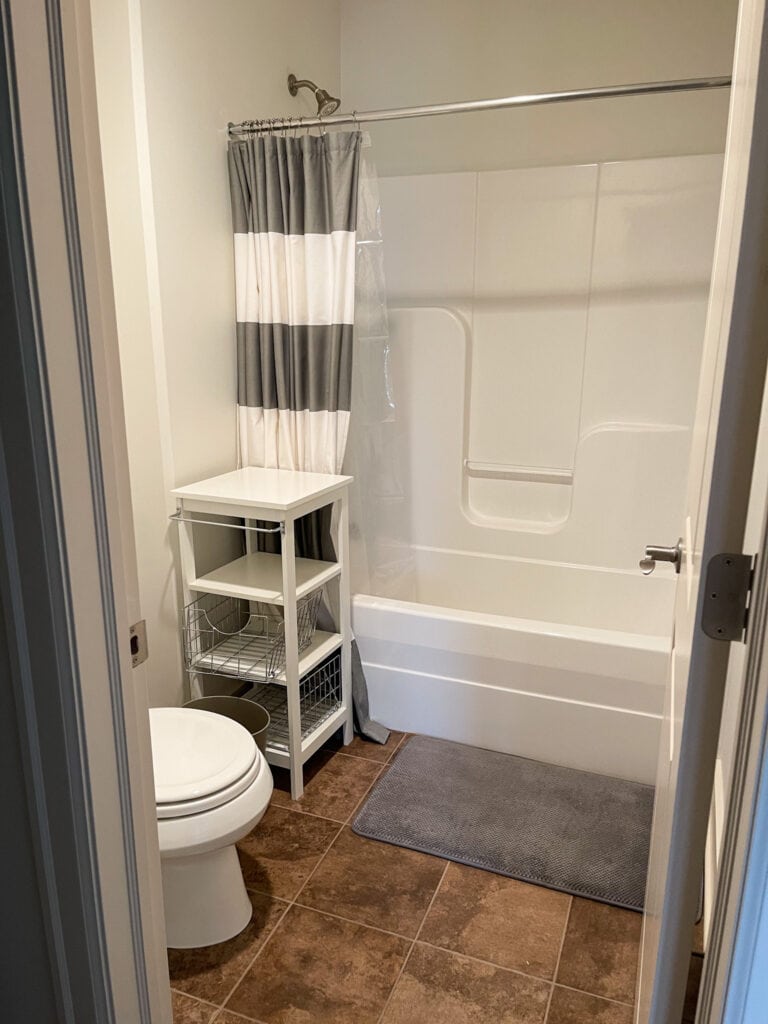 They aren't able to come back today due to other commitments, but the floor tile in both rooms should start tomorrow and be grouted by the end of the week! We talked with the owner yesterday, and with the snow days, he's thinking we're about 2-3 weeks out max. But it will start looking a lot more finished very soon!
This weekend, I woke up and looked at my clock both mornings and it was 4:58 am. So weird it was the same time both days and that it was about an hour earlier than I normally wake up. But I was wide awake. Turns out by 10 or 11 each day I had already gotten a full days worth of work in and it felt great! I was crazy productive. I get questions frequently if my house is always as clean as it looks in photos (particularly on Instagram). I feel like you guys know it's for sure not 😉 I spent some time in our basement cleaning out items to donate and then headed up to the den. With the construction and chaos from holiday decor, I had essentially just shoved crap in the den closet and called it a day. It had gotten so bad, I basically couldn't even open the door any longer. Oops!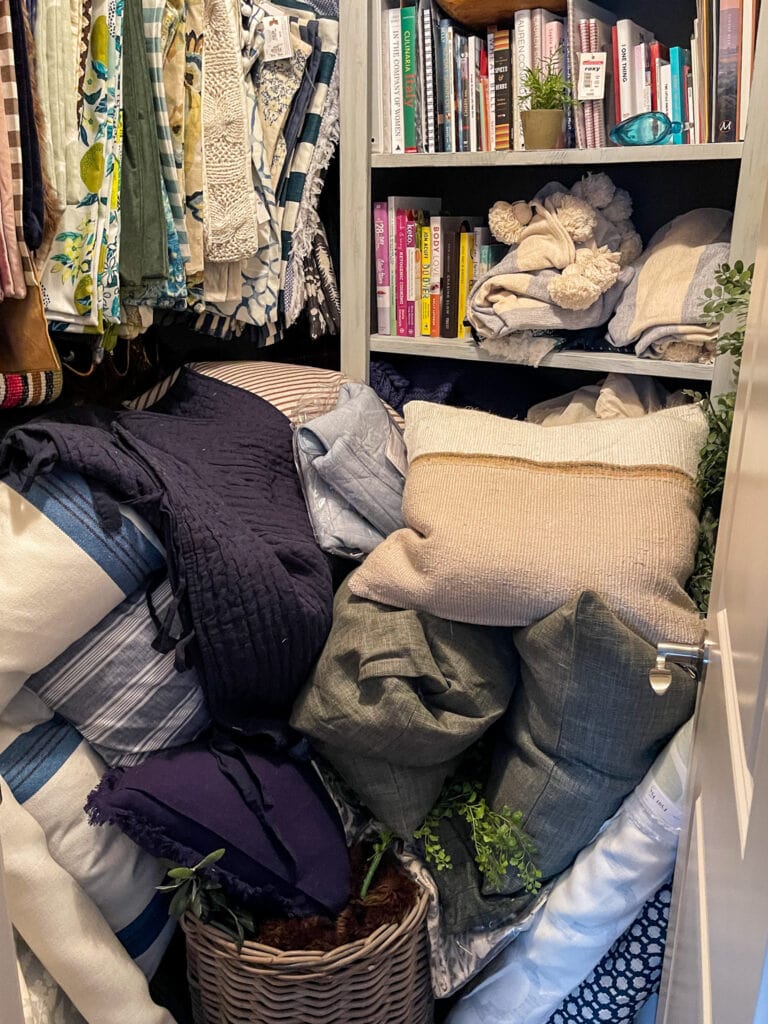 I started by emptying everything single thing out of the closet and moving it into the room so I was forced to deal with it. I decided the bookcase was becoming an easy junk collector so I took that out too and plan to sell or donate it. I moved in a much smaller cabinet and purged a ton of stuff.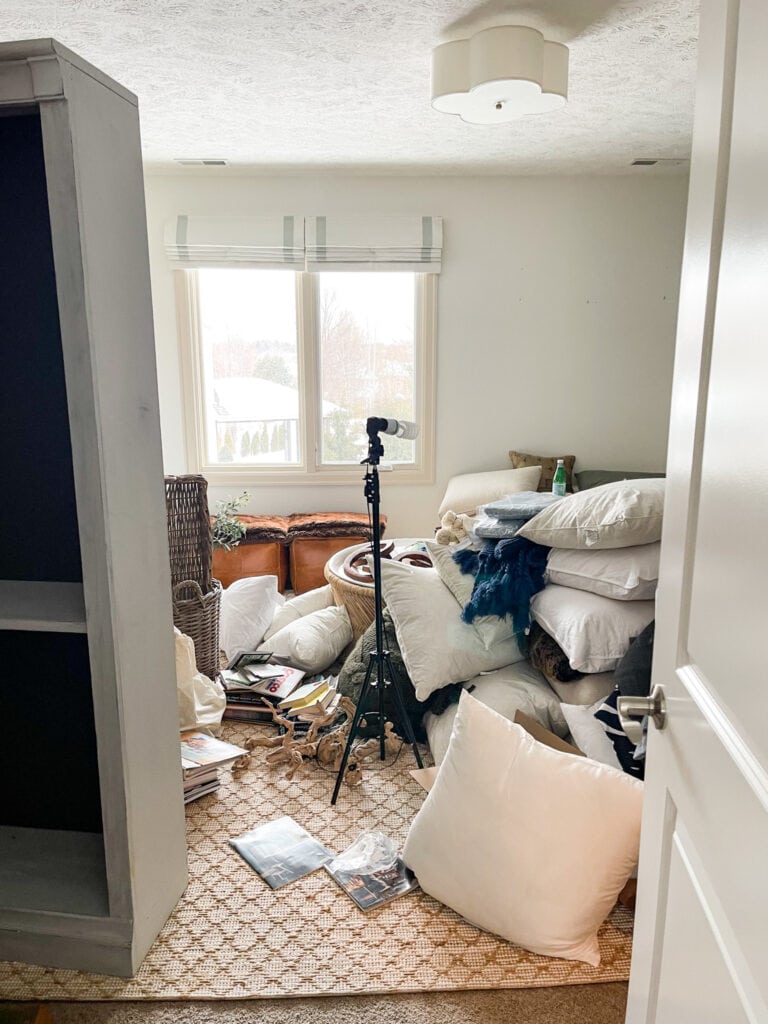 I was able to fill my entire car with donations and decided to handle it immediately so it all wasn't sitting around our house. It feels so good to have it all gone! Now I need to wrap up sorting all the stuff I kept, but I was so happy with the progress. It feels so good to have this off my plate and not cringe every time I walk into the den! I still have another carload to take from the basement, so I plan to do that today or tomorrow and have it all out of the house.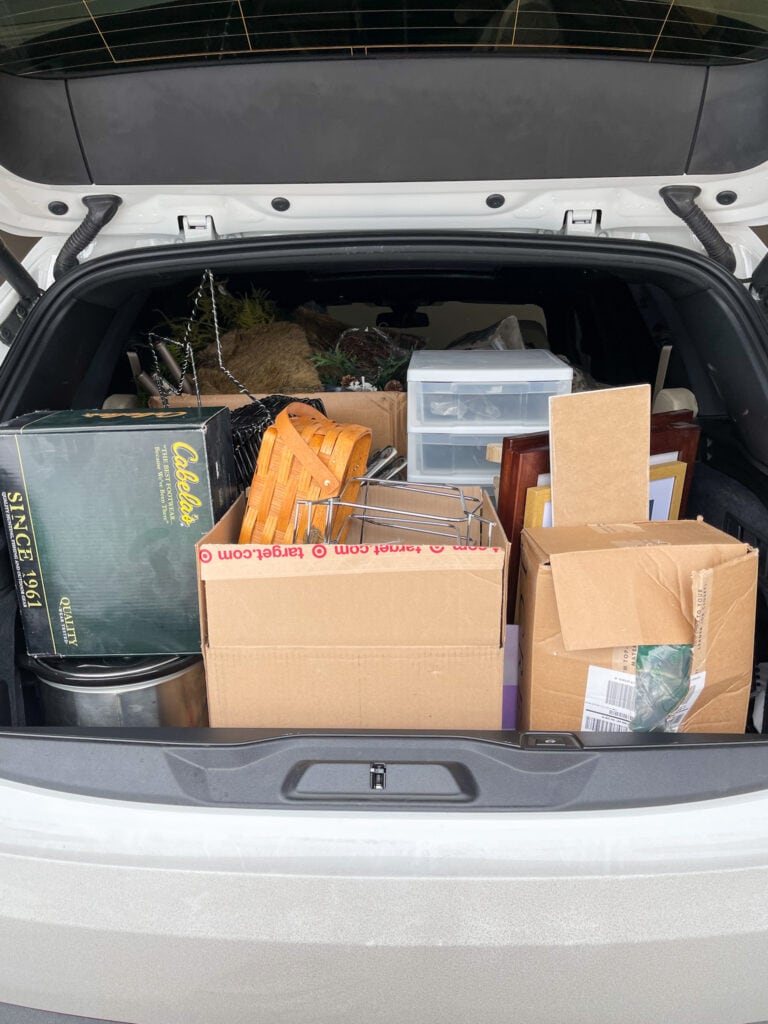 One day last week, I finally moved around our office again to the old setup. Most days I had to pull the shutters and curtains because the glare was getting so bad from my screen. The room was also a dumping grounds for bathroom products, etc. that had arrived and had been sitting there since early January. I couldn't deal with it any longer. I still need to take a pic with it all organized, but still have a bit to do. But I'm happy to have our old setup back now – especially since I can actually see my monitor now that my desk is facing the doors again!
After all those images, I should probably reassure you all that I'm not a hoarder. At least I don't think so! It's just becoming increasingly clear how much we use our whole house, so when two bedroom are fully non-functioning (since they're covered in plastic for the construction), it's not good. Add in all the boxed bathroom products that have been sitting here for a month+ including two vanities, countertops, toilets, bath hardware, six light fixtures, towel bars, etc. it gets a bit crazy! We're glad we're approaching the end point!
Top Sellers Of The Week
Following are the top sellers of the week across all of my channels. Links to each item are below the graphic.
In case you don't follow me on Instagram, the super popular outdoor set came back in stock last week and a bunch of people snapped it up! I've been asked a handful of times if I know if they'll be bringing just the pair of chairs back, and unfortunately, I'm not sure. I'm hoping once March rolls around, they'll release more patio furniture and the pair of chairs may be included but I'm not certain! You can see how our set looks in this post. We couldn't be happier with the quality of the pieces! Our friends have the full set and the sofa is just as good too!
I took a quick selfie when I was wearing the sweater after recording some Instagram Stories last week. Per the reviews, I ordered up one size to an XL and like how it fits. The length is actually great too, and not too short for my 5'8″ long torso frame! Paired here with my super chic Barefoot Dreams socks 😉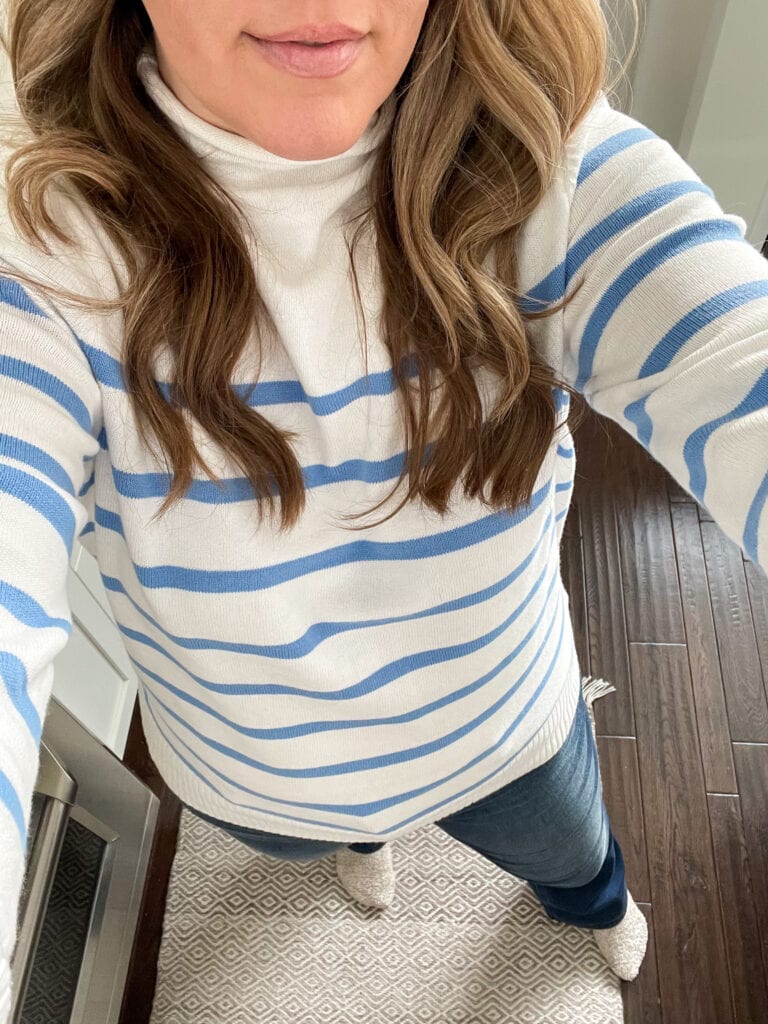 Around Town & For Fun
Like I mentioned above, Monday we were hit with a huge snow storm. The news said it was the single most snowfall day recorded since the 1970's! The photo below was taken in the early evening and it continued to snow through a lot of the night. I think we ended up with about 10″ at our house. After growing up in Utah, I know that isn't a ton, but for Omaha it is when it's all in one day!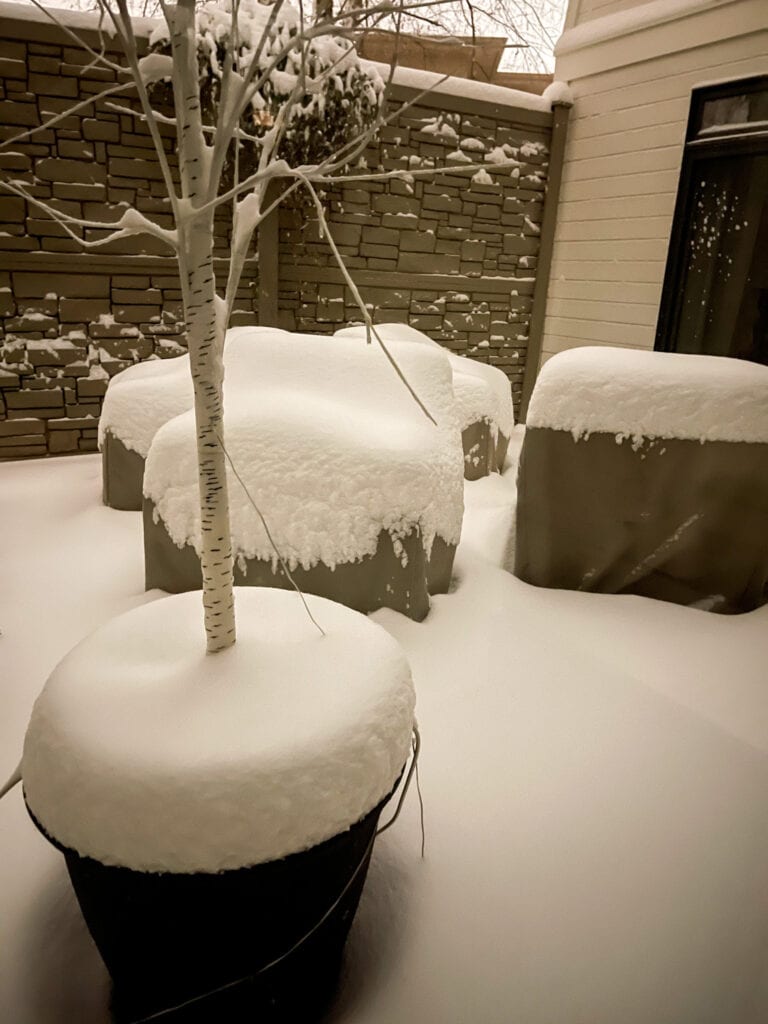 Friday night, we went and looked at a home for dear family friends that are hoping to move to Omaha soon. I definitely don't envy anyone trying to buy a house in this crazy market where houses are selling the day they're listed. We have virtually no inventory in Omaha, so trying to buy something remotely is even more challenging! Although this house probably wasn't "the one" for them, it did have some great features. Despite the powerlines, it had a beautiful golf course view. It was also fun to get out of the house and look at a home. I could literally tour houses all day long and never get sick of it!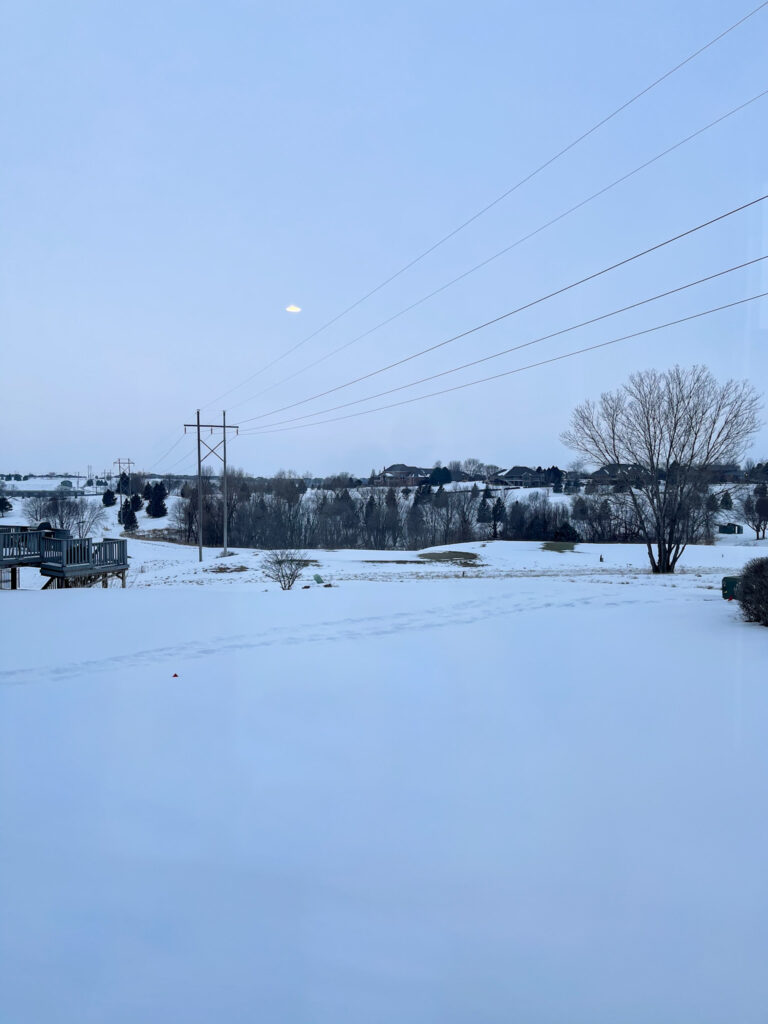 We're a week in, and Bailey has been taking her insulin shots like a true champ. The funny thing is, she now almost begs for them because she knows she gets a treat with them. Haha! We're really good at creating bad habits apparently. She never jumps on our kitchen island, but that's where we've been giving her shots. And now she's up there all the time. Her arthritis in her lower back and legs must not be too bad!
The cats are loving the new office setup. They're probably excited they can finally roam around again without all my crap in the way 😉 I was working on my computer Sunday morning and looked over to see Henley just staring at me. She basically couldn't be cuter!
We've made it to our last week of Dry January! We got a late start (1/4) with the NYE holiday weekend, so we've got a few more days to go. I think we're the only two out of the six of us (two other friend couples) that actually made it the full time 😉 It feels good to do a hard reset each new year. But that doesn't mean I'm not already craving my first margarita on Friday night!
I have a number of posts planned this week! Tomorrow I'm going to put together all my favorite kitchen organization tools. I'm definitely not an organizing pro, but there was a ton of interest on this on my Instagram Stories over the last few weeks when I did little mini tours of areas. If you missed it, I saved them all here (under the Kitchen Org highlight). But, I'll plan to do a written out post tomorrow with even more details and images.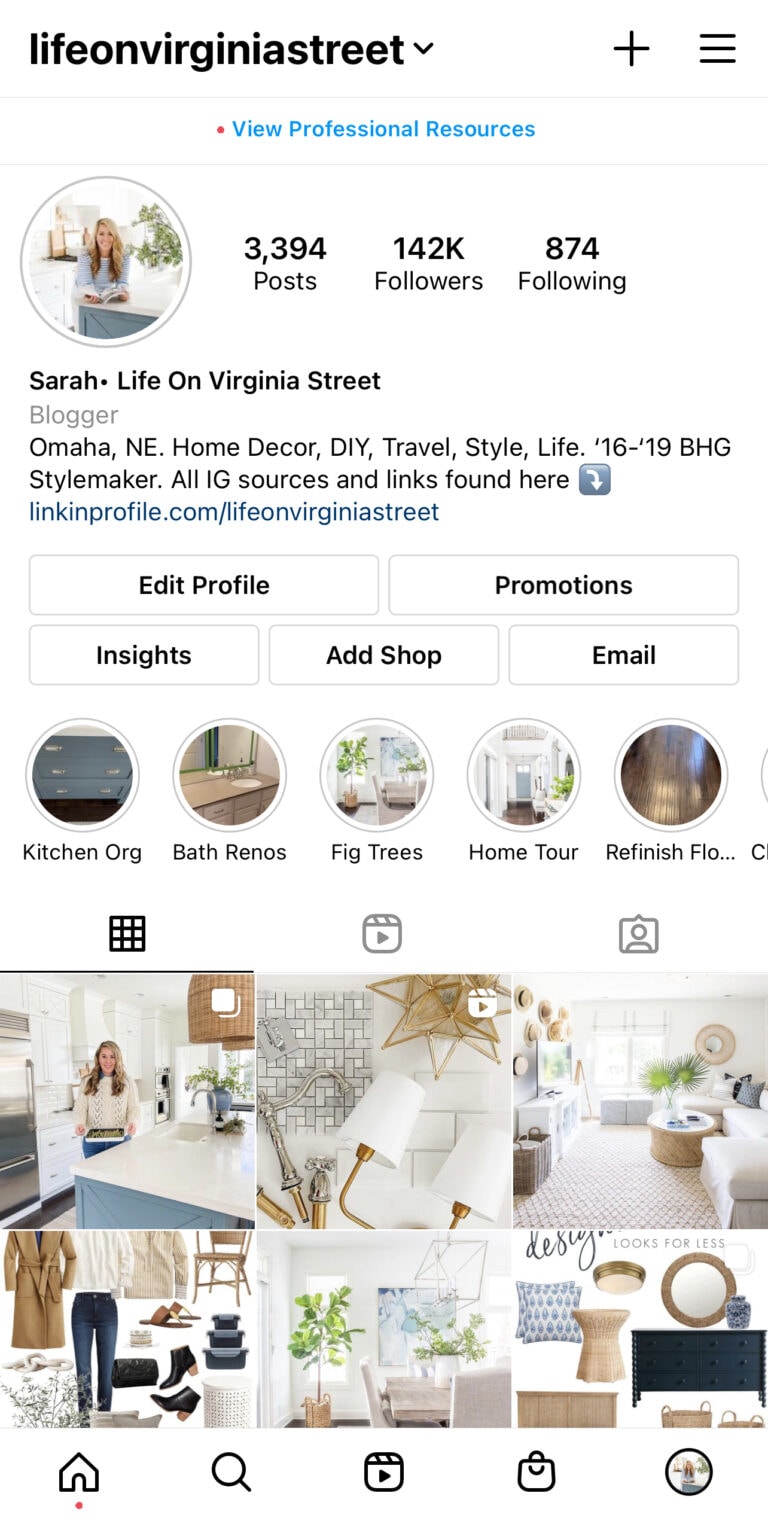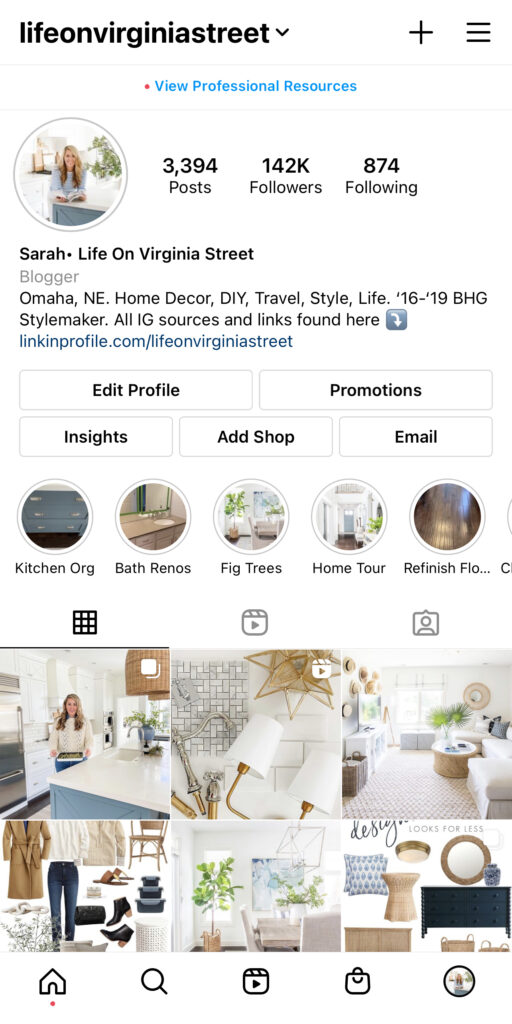 I'm also really hoping to get to the flip house either this week or next to take final photos. It's been staged since we listed it (basically the day after all the work was completed, so I never got "good" photos). We've been under contract for awhile, contingent on the buyer's home selling. That happened last week, so the staging will be pulled shortly. Once I can confirm everything is out and I can get down there to photograph, I'll plan to do the reveal post. I have one more post to sneak in about the house before then, but the reveal should be yet this month!
I feel like when January rolls around, there's always so much going on behind the scenes and my "blog posts to write" list gets longer than the number of days in the month! Or I'm working on so much that I don't have time to sit down and write. But, I'm hoping this is the week to get caught up on a lot of that! Shockingly, I'm 100% ready for taxes this year, and actually kept my books current all year so at least that isn't hanging over me! I have a lot of upcoming projects to share with you all, as well. It's going to be a busy spring, that's for sure!
Recent Buys & Sales
The sales were a bit underwhelming again this past weekend, so I didn't do a dedicated sale post. But, here are some of the sales that are currently going on.
I hope you all have a great week!
If you would like to follow along on more of my home decor, DIY, lifestyle, travel and other posts, I'd love to have you follow me on any of the following:
Pinterest | Instagram | Facebook | Twitter
disclosure: some affiliate links used