A collection of the best blue gray paint colors along with examples in real homes! There are so many beautiful, serene options that work well for walls, doors, and more!
Today's post is an exciting one! I'm finally sharing our freshly painted interior front door along with the best blue gray paint color options! I spent a lot of time researching the perfect blue gray paint color to use, and I think I found a winner for our home. But, because natural lighting can play such a huge factor in how a color looks in a home, I'm sharing my other top picks for you, as well!
This post contains affiliate links for your shopping convenience. Click here to read my full disclosure policy. This post was originally published March 22, 2019, but I am sharing it again today with some slightly updated information!
The Best Blue Gray Paint Colors
Previously our front door was painted Benjamin Moore Hale Navy. I actually really loved the color but it felt a bit dark in this area of our entryway that doesn't get a lot of natural light. The door had also gotten a bit beaten up during our kitchen renovation last summer and was in need of fresh paint regardless. I decided I wanted to go with a muddy blue gray color with slight green undertones (versus purple). Something that is calming and serene and reminds me of the beach, but without it being too saturated or "baby" blue. And although I used blue gray paint in more coastal-inspired rooms, the shade can be equally as beautiful in more modern spaces!
I spent several hours researching online as well as asking many of my readers what their favorite options were. After compiling all the results, I'm sharing the best blue gray paint colors! Somewhat surprisingly, not one Sherwin-Williams paint color made the list. I think they excel on the slightly greener versions of these colors (like Sherwin-Williams Sea Salt). Following are my top picks for the best blue gray paint colors!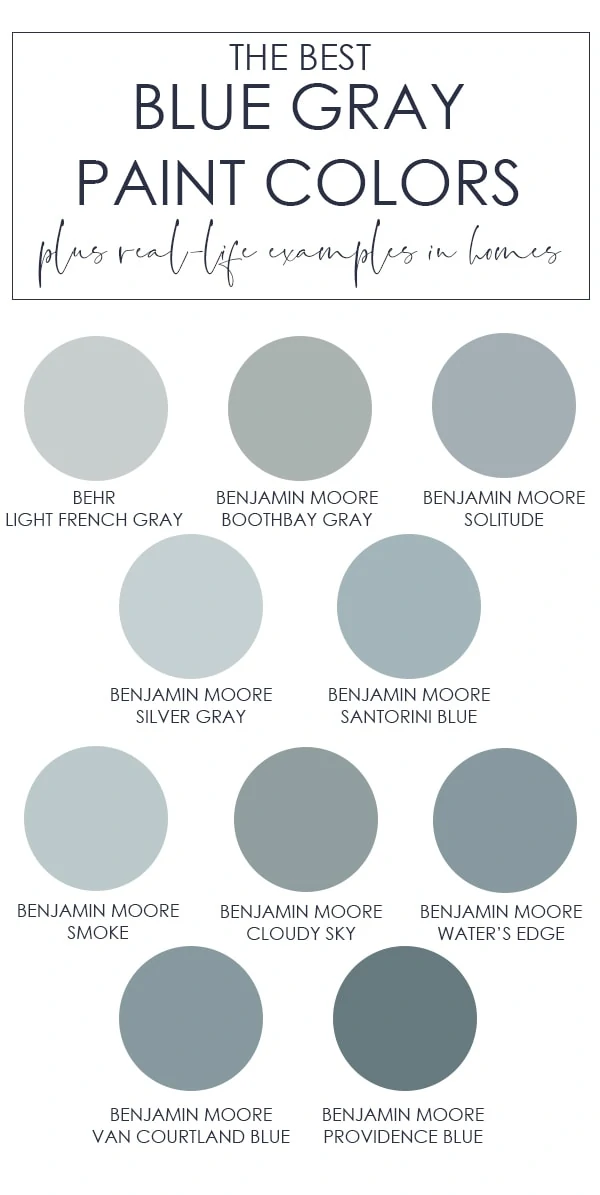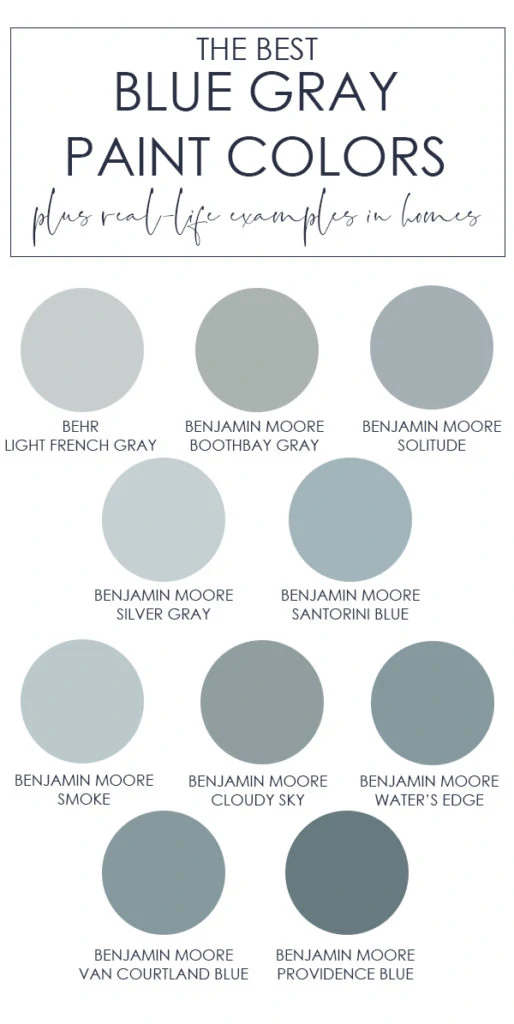 Further down in this post, I'm sharing real-life examples of how these colors look in real spaces! I'm also sharing a fun update to our entryway using my new favorite blue gray paint color! If you're wanting to try large, pre-painted samples, I'd definitely look into Samplize for picking the perfect blue gray paint color for your home! Their peel and stick samples are made with real paint (not dyed to mimic the color) so it can definitely help narrow down your top picks.
Our Interior Front Door: Benjamin Moore Water's Edge
In early 2019, I tested three color samples on our front door. From left to right you can see (all Benjamin Moore): Wedgewood Gray, Van Courtland Blue, and Water's Edge. All were such beautiful options that I don't think we could have gone wrong with any of them!
Painting the interior of your front door is such an easy project! Not only is it super affordable, it can be done in a few hours, even with multiple coats! You can see my method on how I paint our front doors in this post.
This time around, I actually just ended up using the sample pot of paint from the Benjamin Moore store! I selected Benjamin Moore Water's Edge and couldn't be happier with how it turned out! I'm also just a tiny bit obsessed with our striped rug. It's indoor/outdoor and virtually indestructible! It comes in multiple sizes but sometimes they split them as individual listings.
The new serene color looked equally as beautiful paired with the Benjamin Moore Hale Navy that used to be on the wall in our office!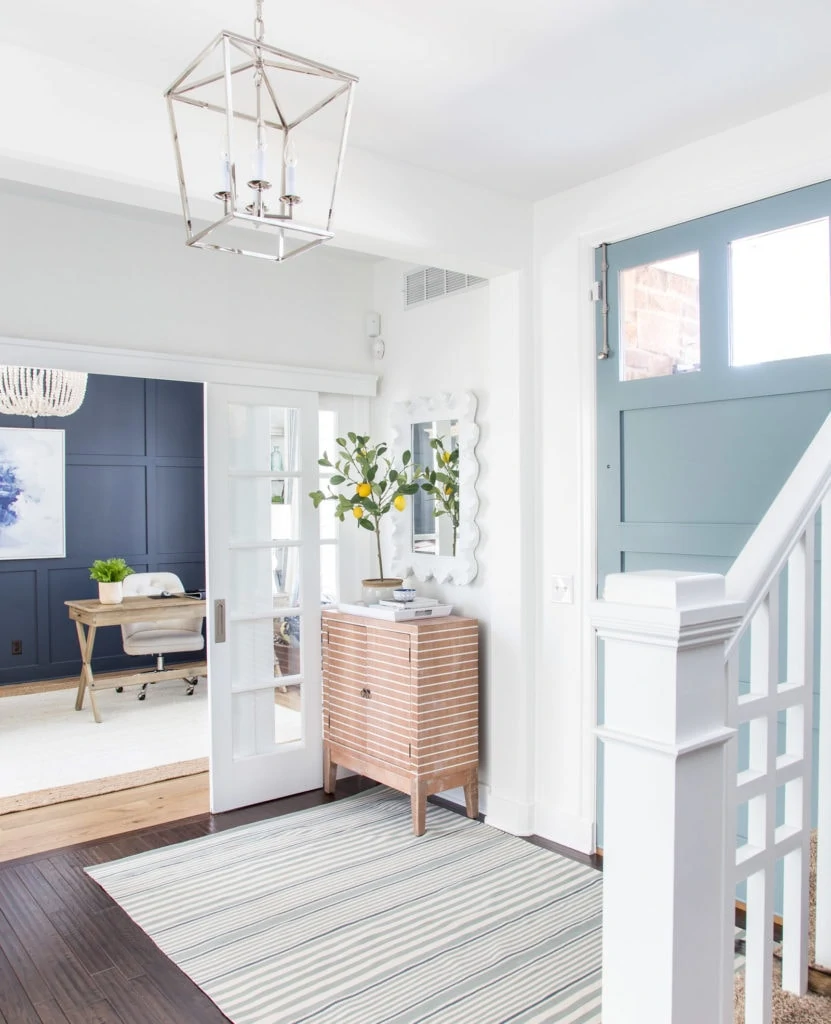 More recently, we painted the board and batten wall in our office Benjamin Moore Simply White (like the entryway walls). We love this color combo pairing just as much!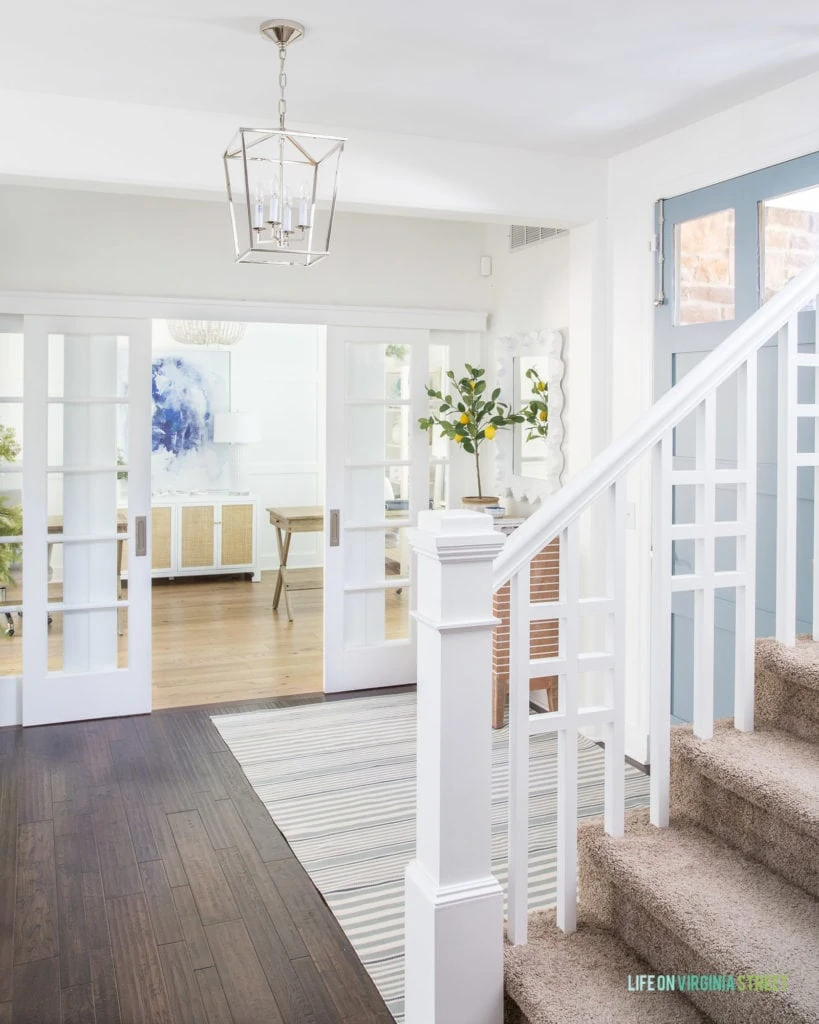 HOME OFFICE SOURCES:  Cane Cabinet | Wood Desks | Linen Chairs | White Wood Bead Chandelier | Similar Desk Lamps | Faux Fern Pots | Abstract Art | Marble Chain | White Bamboo Lamp – HomeGoods (old)
Following are even more of my favorite blue gray paint colors for creating a calming, serene effect in your home!
The Best Blue Gray Paint Colors in Real Spaces
When I'm on the hunt for a new paint color, I love being able to see real homes with colors I'm considering. It can definitely help narrow down the selection process! Following are some examples of the best blue gray paint colors in real spaces!
Benjamin Moore Providence Blue
In our kitchen remodel, we used Benjamin Moore Providence Blue and absolutely love how it turned out! This space get a lot of natural light from multiple angles so the color looks a bit lighter here than it likely would in most spaces. However, it's a beautiful darker blue gray paint color option! It's also very much a chameleon color that takes on more gray or green tones depending on time of day and angle of the sun!
Benjamin Moore Van Courtland Blue
The gorgeous laundry room cabinets below are painted Benjamin Moore Van Courtland Blue which seemed to be a super popular pick among readers!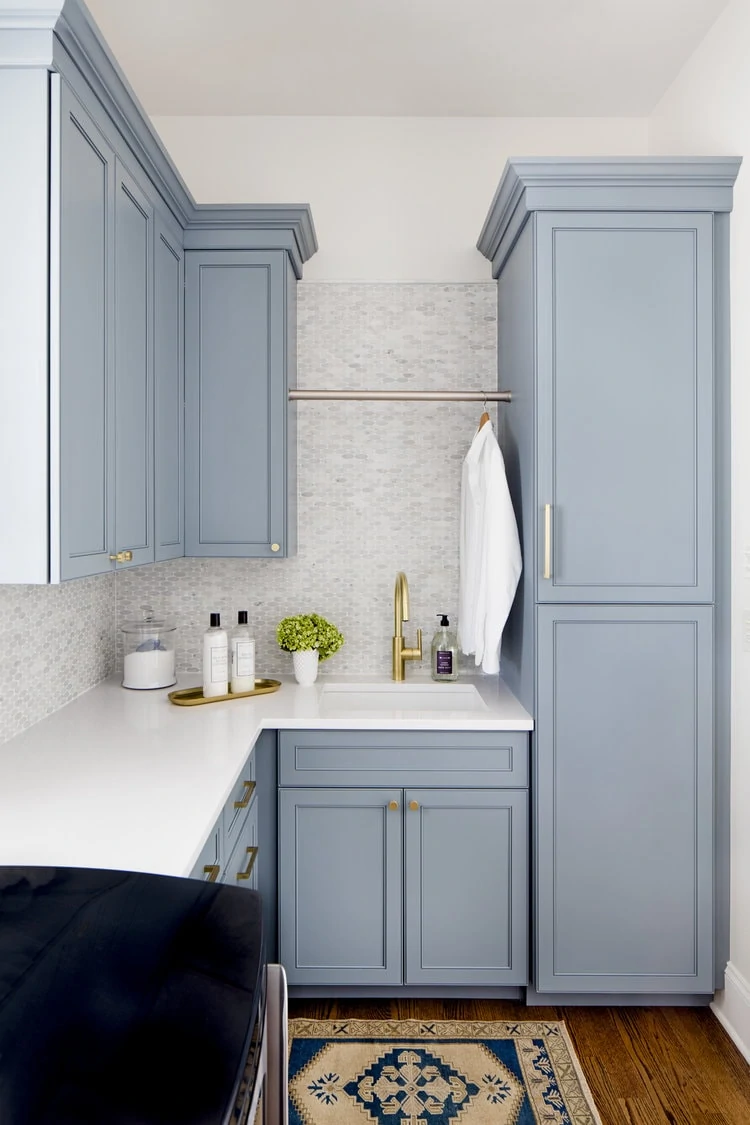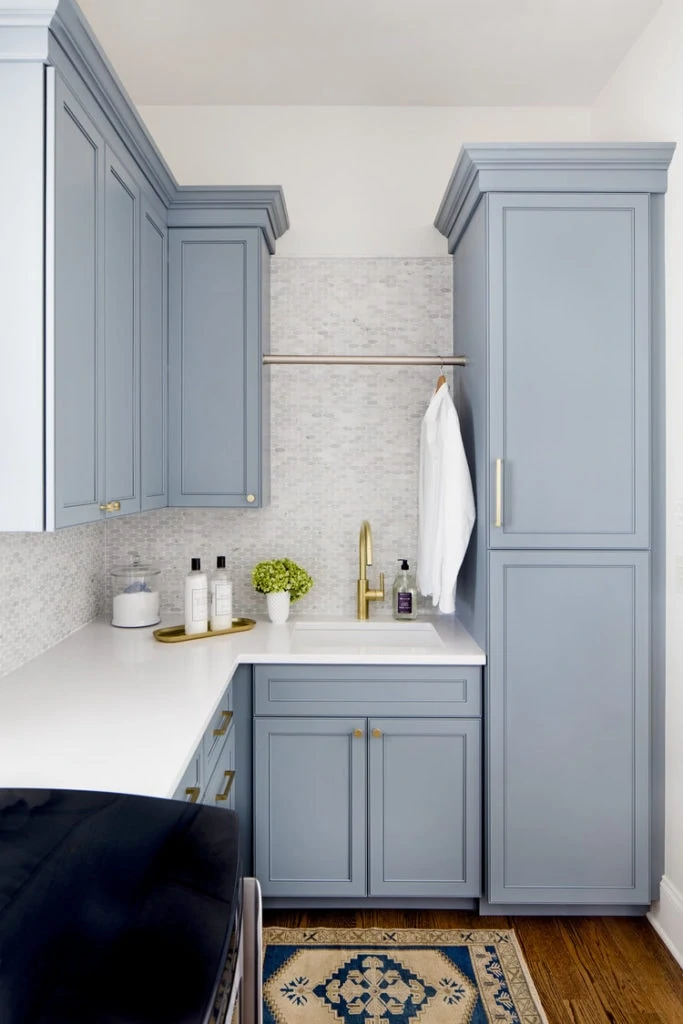 As an update to this original post, I actually used Benjamin Moore Van Courtland Blue in our den earlier this year. It looks very different in our home than it does in the home above. But both versions are equally as beautiful! Our den faces west, so it gets a lot of warm morning sunlight, tinting the color slightly more green. I'm guessing the laundry room above doesn't get much direct natural light and may be one of the biggest reasons for how different they look!
Benjamin Moore Boothbay Gray
Perhaps the grayest of all the options, Benjamin Moore Boothbay Gray is a super popular choice on doors (interior and exterior) right now! It's another chameleon that will look blue in some lights and very gray in others. I've actually tried samples of this color personally, and it looks very gray in our home, but I've seen it with beautiful blue tones in other homes.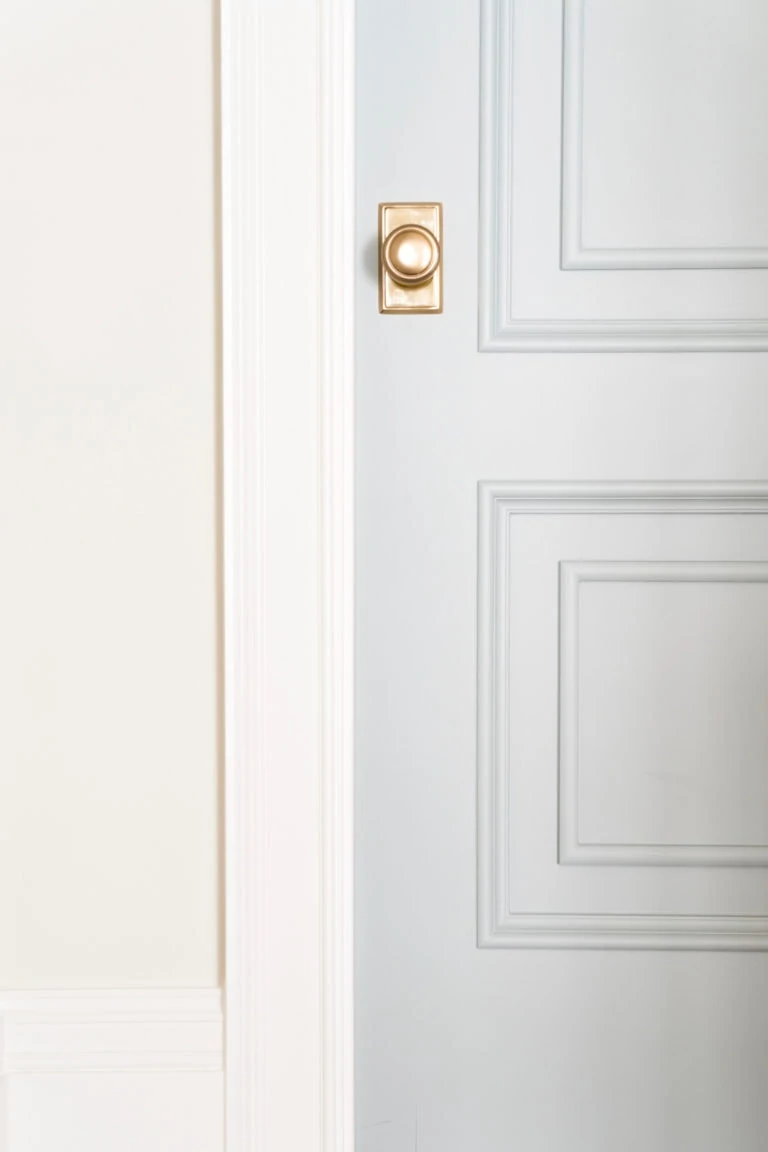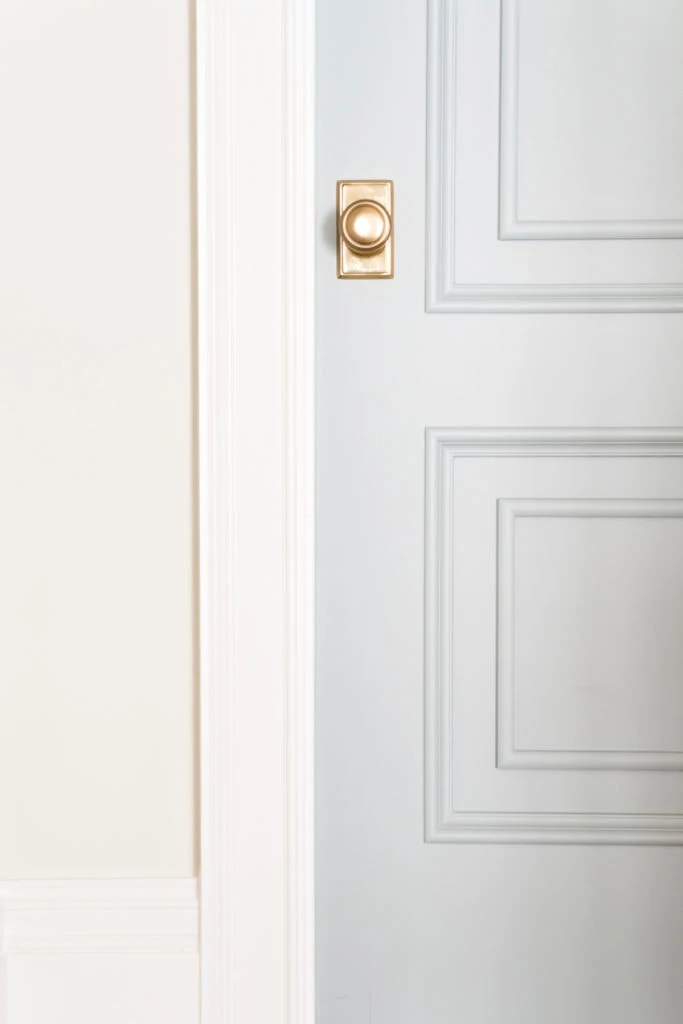 Behr Light French Gray
In our last home, we used Behr Light French Gray and it had a really beautiful tone to it (as do the colors one shade lighter and darker on the paint swatch). It's a beautiful light toned paint that looks more blue in some lights and more gray in others. It creates a calming and cooling vibe to any space and we loved having it in our bathroom!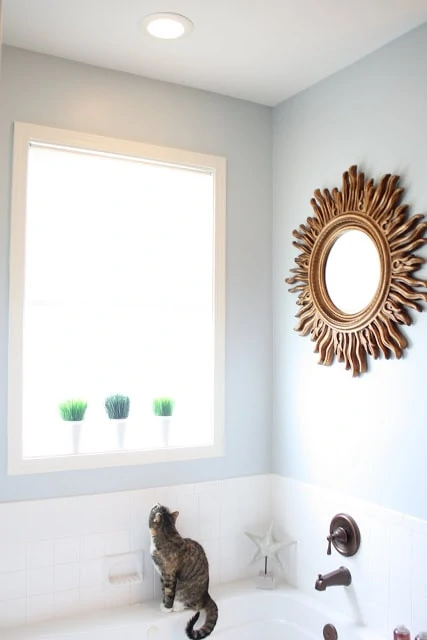 Benjamin Moore Santorini Blue
Benjamin Moore Santorini Blue is another gorgeous blue gray paint color option, as shown in the living room below! This one actually has an alias and is the same color as Benjamin Moore Nantucket Fog!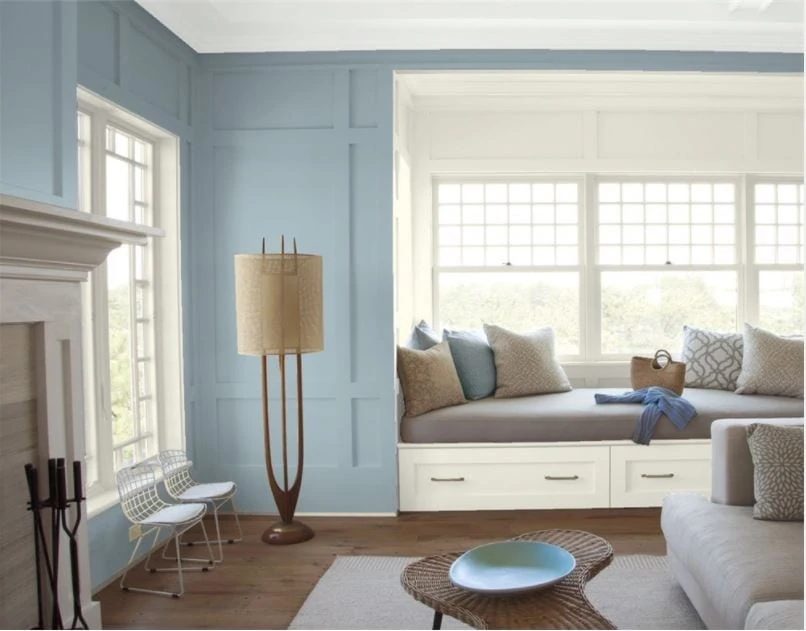 We chose to use this color on the island in our pool house addition, as well! It's definitely a chameleon and takes on more blue tones at certain times of day and gray tones other times! You can see more photos at different times of day to gauge the color here.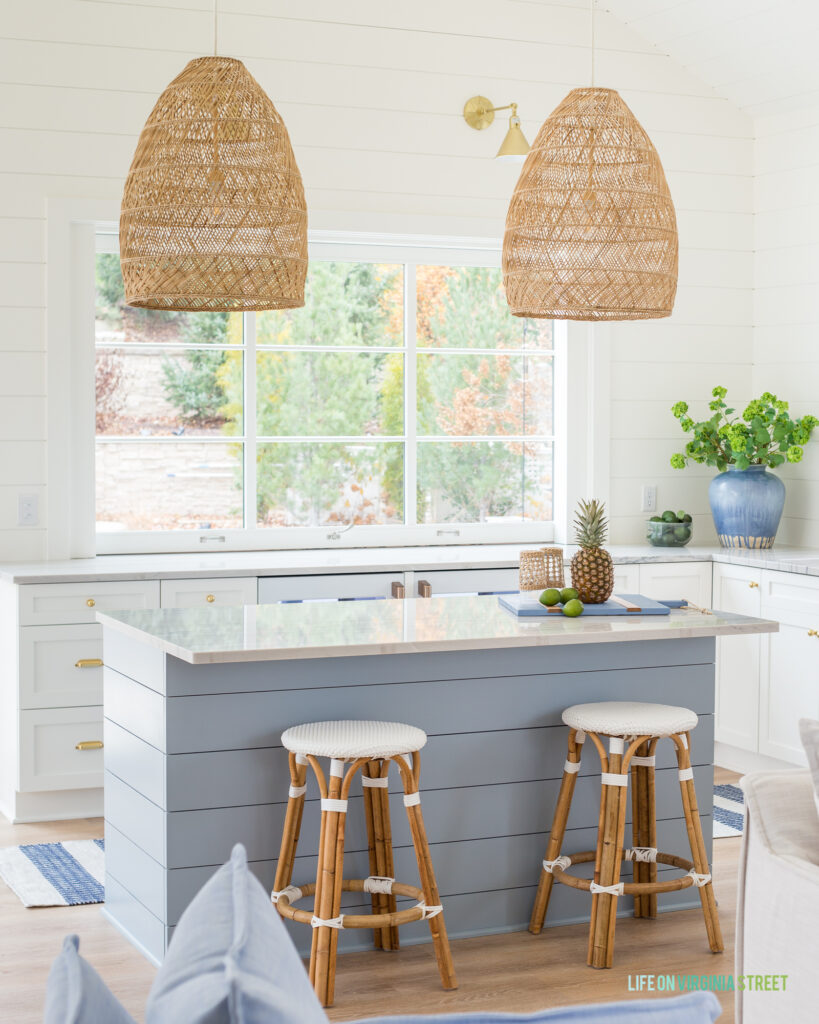 POOL HOUSE KITCHEN & BAR SOURCES: Basket Pendant Lights | Aged Brass Star Sconces | Striped Runner Rug | Backless Counter Stools | Cabinet Ball Knobs | Drawer Bin Pulls | Beverage Fridges | LVP Floors | Blue Serving Board | Seagrass-Wrapped Glasses | Seaglass Bowl | Faux Viburnum Stems | Blue Vase | Cabinet Colors: BM Simply White (perimeter) & BM Santorini Blue (island) | Countertops: White Macaubas Quartzite
Benjamin Moore Cloudy Sky
These laundry room cabinets painted in Benjamin Moore Cloudy Sky couldn't be dreamier!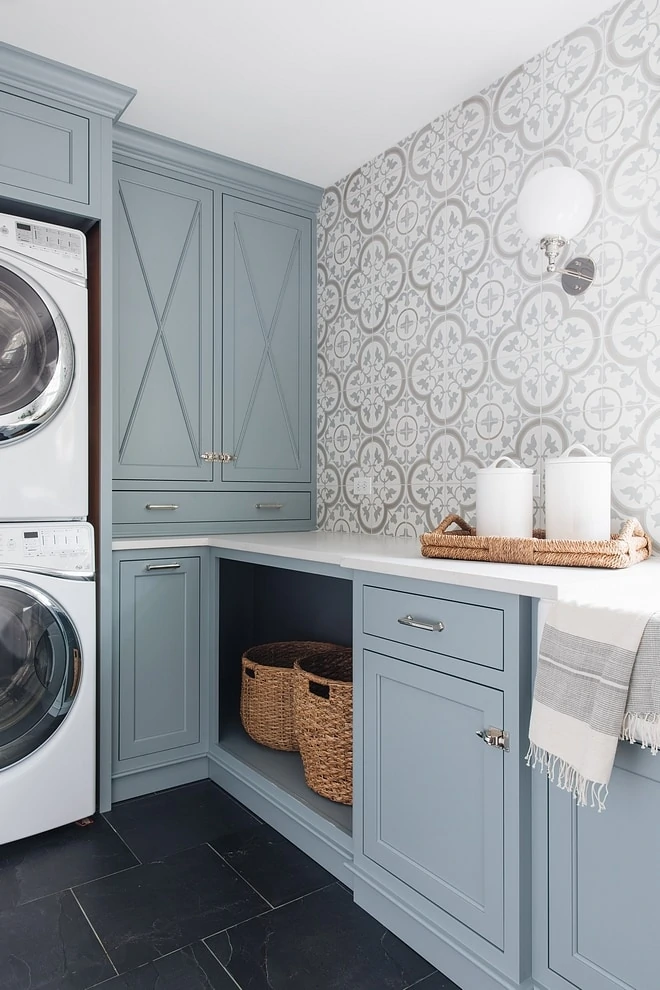 Are you a fan of this color tone? I can't get enough of it lately!
How to Organize Your Paint Colors
If you frequently paint your home like I do, it can sometimes difficult to keep all your colors (and paint cans) organized! I recently created this free download that I think you will all love!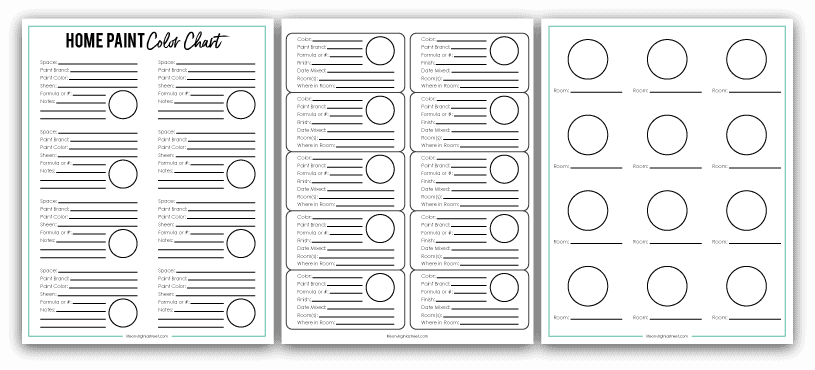 Here's how I use each of the pages:
Page 1 – I print on cardstock to complete and keep handy around our home or near where we store our paint.
Page 2 – I print on these labels and add them to the paint cans for easy identification.
Page 3 – I shrink to fit on an index card to keep in my purse, or print as is and fold up to carry with me at all times. I simply add a drop of paint and the room name.
Simply complete the form below and I'll email the PDF files over to you to start using today!
Additional Paint Color Inspiration
If you're looking for even more ideas, be sure to check out my post on light blue gray paint color ideas! It's full of options that look a bit lighter than the examples shown above! Be sure to check out these other paint color posts by clicking on their titles below:
I hope you all have a wonderful weekend!
If you would like to follow along on more of my home decor, DIY, lifestyle, travel and other posts, I'd love to have you follow me on any of the following:
Pinterest | Instagram | Facebook | Twitter 
disclosure: some affiliate links used