Last week, I shared my top ten blog posts of 2020. Now today, I'm sharing the top readers' favorite buys of 2020, as determined by each and every one of you! I've broken this year's list down into home/home decor top sellers and then fashion top sellers. It's always fun to see which products I shared that sparked the most interest in all of you! It's also a great chance for you to see what others are loving too, especially if you missed the original post(s) where they appeared!
This post contains affiliate links for your shopping convenience. Click here to read my full disclosure policy.
Home Decor Top Sellers
Let's jump right into the home decor top sellers, in true countdown fashion! I'll share a bit more details on each of the items as we go along, as well as some additional posts you may find helpful that discuss the items.
As we were all forced to spend a lot more time in our homes last year, I know a lot of people started to make some upgrades and changes. I've never had more questions about our sofas than I did last year. So many so, I updated our Pottery Barn York Sofa Review post to include all the original content as well as a three-year update! Spoiler alert: we still love them!
These wood gallery frames are the closest look for less I've found to our oversized gallery frames in our living room, upstairs hallway and bedroom. The version in our living room is actually an older style for the 8×10″ images and looks very similar to these wood gallery frames. I love that they're sold in pairs and they have several size and finish options, as well! I also wrote a post last year on gallery wall ideas and tips!
In the image below, I have these frames (in gray) on the wall, the old version of these (from our living room gallery wall) on the floor, and then the wood gallery frame pair. The last pair is actually pretty sizeable in real life, but they just look smaller next to 2'x2′ frames on the wall. They all hold an 8×10 image (which is my preference on gallery walls). If you're okay with an even smaller frame (for an 8×10), these brass wall frames are another beautiful option!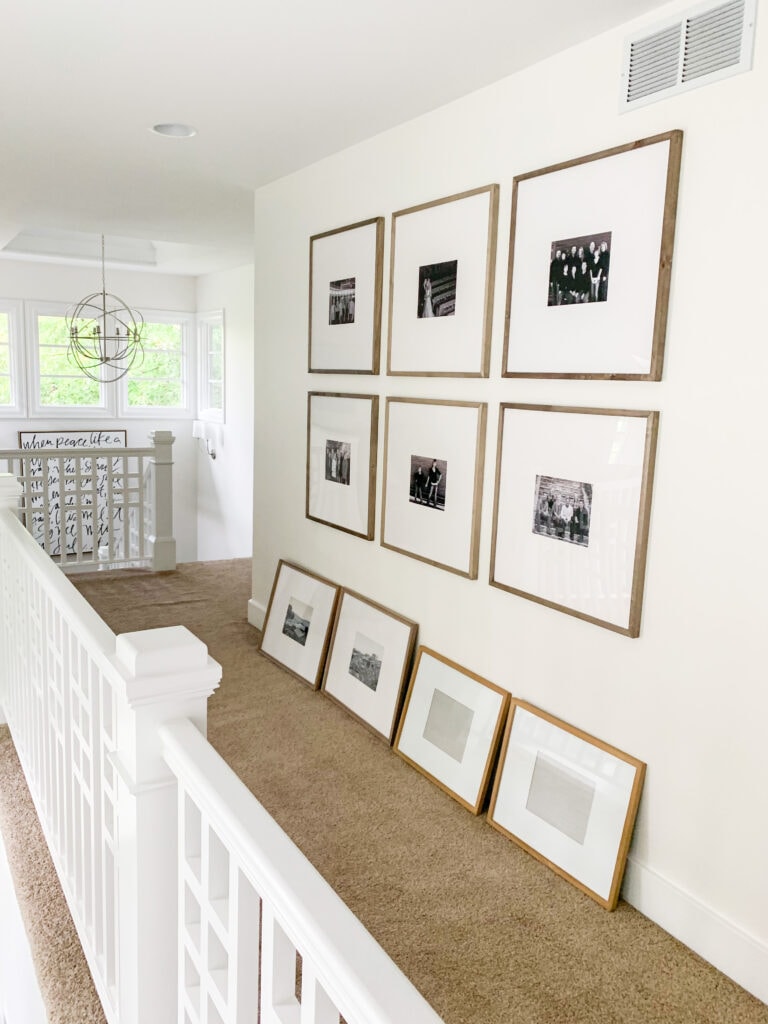 I have both sizes of this faux fiddle leaf fig tree! I love it so much, I even wrote a full blog post on it called The Best Faux Fiddle Leaf Fig Trees & How to Make Them Look Real. It includes a more cost-effective version as well as my link to the video sharing how to style the leaves and branches! Out of the box it can look a bit scary, but it's fairly easy to get it looking lifelike pretty quickly!
I've sung the praises of Osmocote for years and years and it's still my favorite! My mom got me hooked on it about a decade ago and I've never turned back! I sprinkle it on my plants about once a month and it's incredible the difference in the growth and blooms. The two pictures below are the same planters, taken May 21st and then again on July 10th from opposite angles.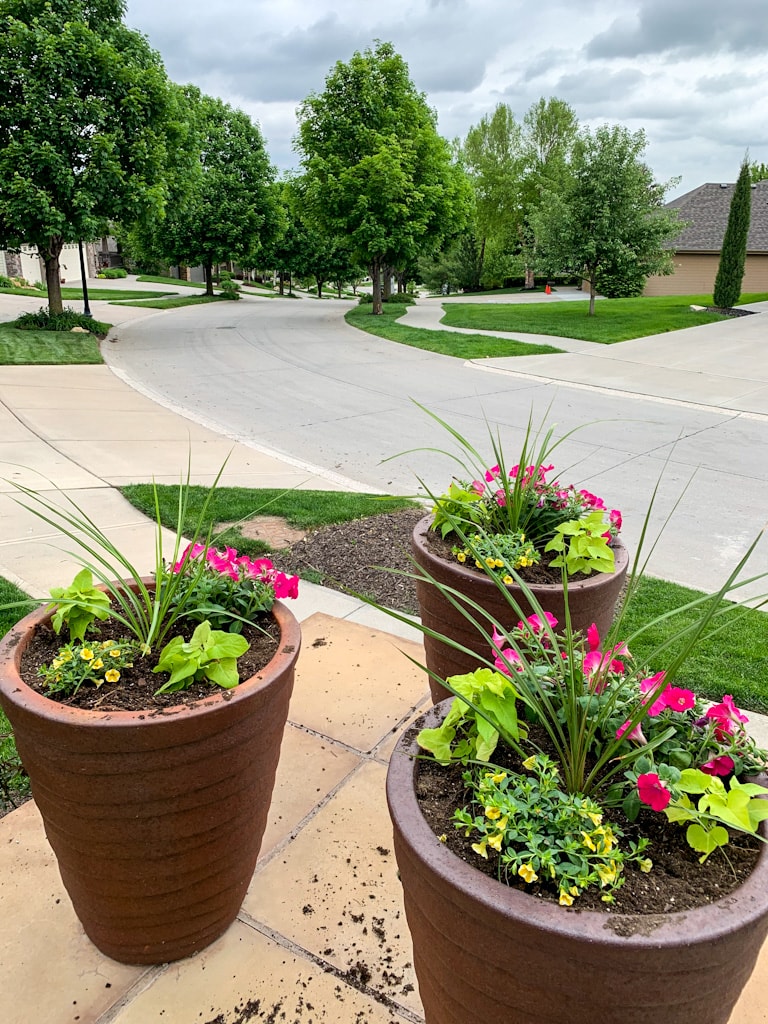 The July photo was before they really started going crazy but I go through a lot of Osmocote each year given how many planters I have around our yard. The sweet potato vines ended up going all the way down the stone pedestal and I love that it helps my petunias continue to bloom over and over again!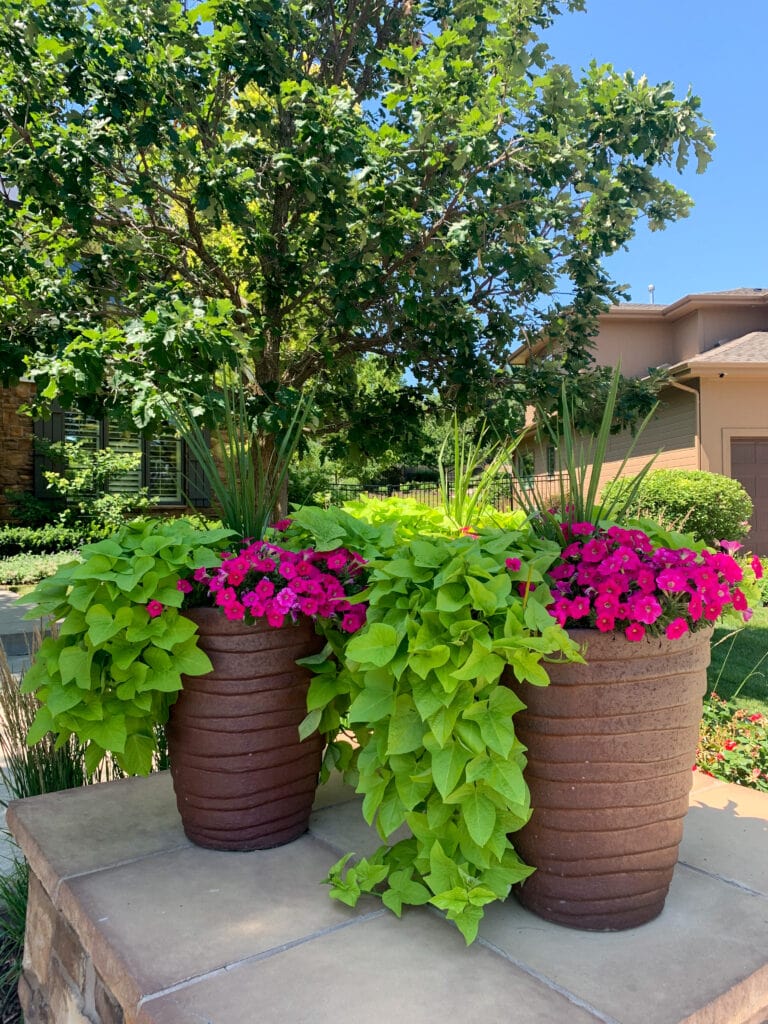 I get more and more into planting and gardening every year. It's one of my favorite things to do in the summer – plants and flowers just make me so happy! If it's something you want to try but haven't before, I wrote a post a few years ago on how to plant flowers in a pot. I'm already counting down the days until I can get started on this year's planters!
I've had this faux olive tree for a few years now and it's still a favorite! I love how much personality it adds to a space, but it can also fit in pretty tight corners. And I was excited to see that it's finally down to a reasonable lead time. It had gotten up to 2-3 months, but is now down to 1-2 weeks and ships free!
We ordered this affordable area rug in the Slate/Ivory color for our office over the summer and have been really happy with it so far! Since we ordered the 10×14′ and it shipped free with Prime, it came folded and took a little effort to get the wrinkles out. But, it's cleaned up remarkably well (that cats have allowed me to test that theory multiple times). I still don't have a great full room photo of it because I have yet to actually organize our office properly but you can see it below. Ours is the Slate/Ivory combo (not to be confused with Ivory/Slate) but it comes in several other color options.
It wasn't a surprise at all to see this Gold Lantern Pendant Light in the top 10! It sold out multiple times throughout the year after sharing it in my first Interior Design Looks for Less post! It's one of the best Darlana lantern looks for less I've ever seen – and the price is hard to beat! And after reading the reviews and seeing it in homes, it's safe to say this one is a definite winner!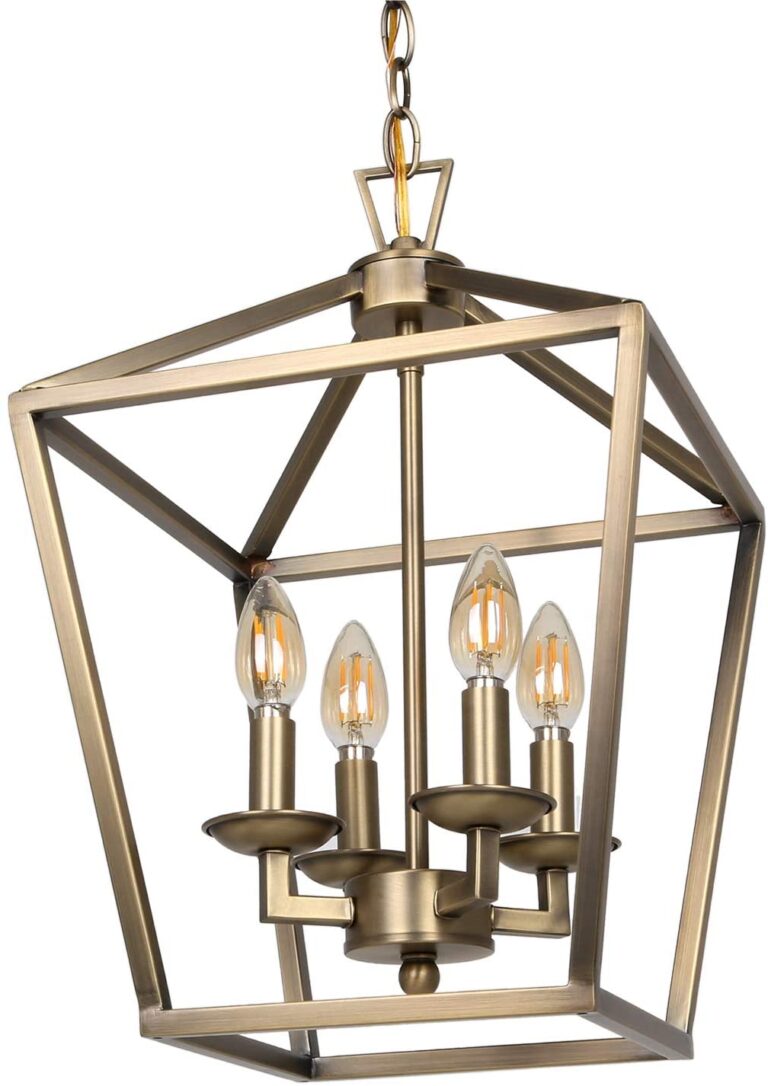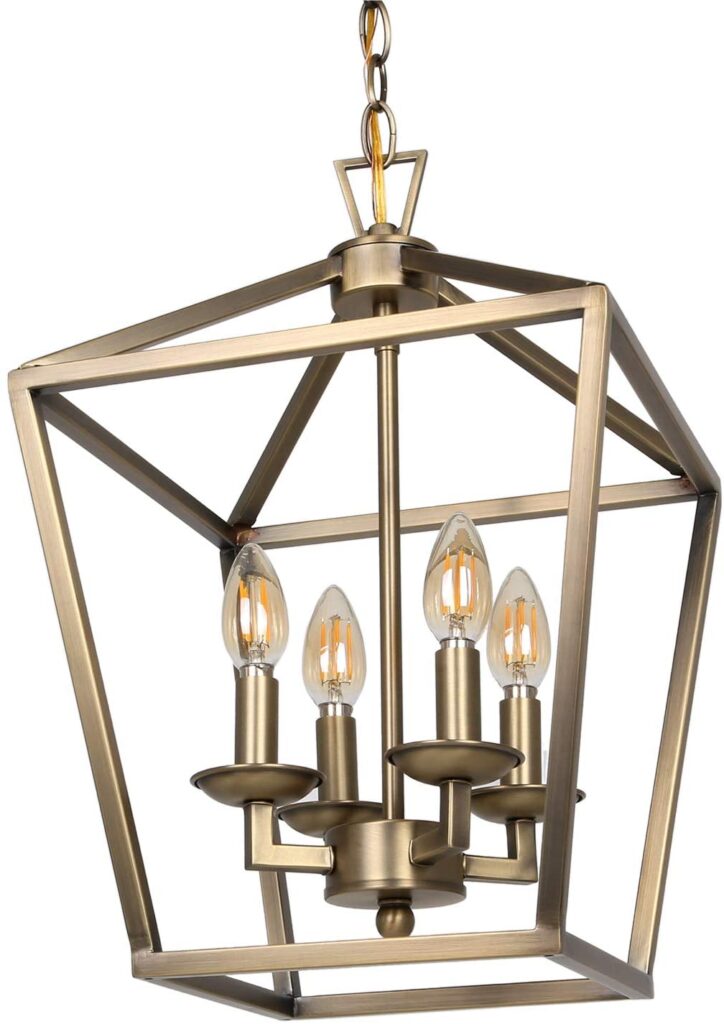 For the past several years, one of the most frequently questioned items in our home is our spindle armchairs. We've been happy with them, but as I've mentioned recently, the fabric I chose (Bevin Natural) is starting to show wear. We actually got these within a few weeks of our sofas, and it's now further underscoring the importance of performance fabrics for our lifestyle. The fabric is pilling, difficult to clean, and is just starting to look old in general. So, while I love the look, frame, and overall design, I'd recommend a different fabric (there are 150ish to choose from) if these are going to be in a high-traffic room.
You guys love a good faux Christmas tree as much as I do! Even though I didn't share this pre-lit aspen fir Christmas tree until October or November, it quickly became a top seller. It's hard to argue with the value, and I love the natural, more sparse look this year. And although I've finally removed the ornaments from it, it's still in our bedroom because I love to read with the lights on it each night!
By far my #1 home decor top seller was these BHG Outdoor Swivel Gliders! The second more would come in stock, you guys would sell them out again! It looks like they're not available currently, but I noticed the full set (with sofa, two chairs and tables) is currently available! I'll keep a close eye on this one, come spring time, and let you know if they bring the chairs back as a set again! They completely transformed our courtyard and we couldn't be happier with them. You can see even more photos of them in my Outdoor Courtyard Refresh post!
Fashion Top Sellers
On the fashion side of things, following are the top sellers & readers' favorite buys of 2020 on the fashion side of things! It was definitely an odd year, and it's pretty clear we all had to up our lounge wear game!
I didn't share this Joy sweatshirt until Black Friday but it instantly became a favorite! And I can see why! Such a cute top for spreading holiday cheer!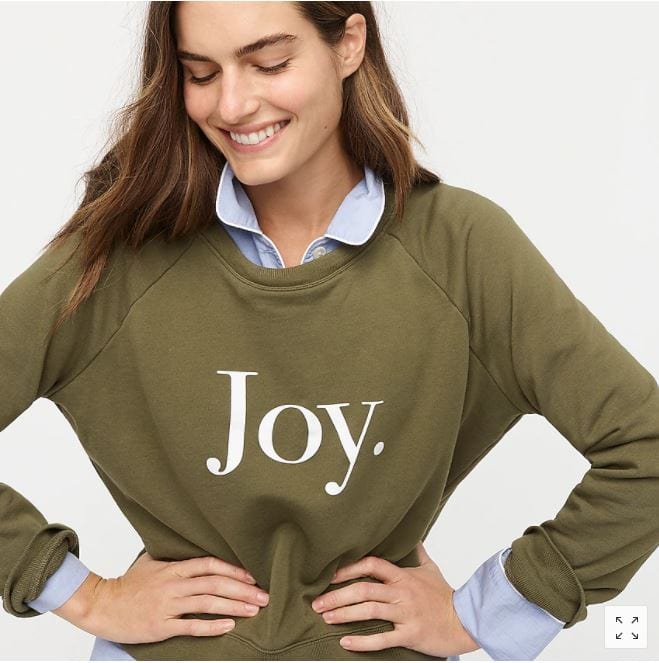 I've had this maxi dress for years now and have it in two colors and it's still a favorite! I love the longer length and it looks so cute worn long or knotted at the bottom off to the side. I love that they keep bringing this one back year after year! It's perfect to dress up or to even use as a bathing suit cover up. So easy to wear – and comfy too!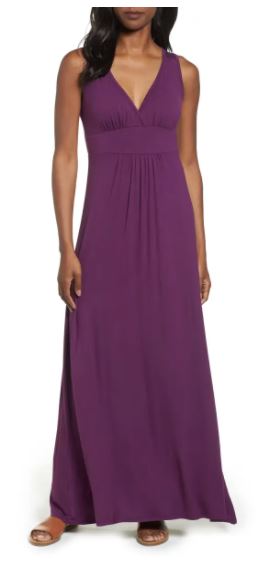 This tunic sweatshirt couldn't be comfier or cozier! It's running low on sizes, but is still available. I actually own both colors because I love it so much! It's a slightly oversized fit, so if you're between sizes or want it more fitted, I would order down one size.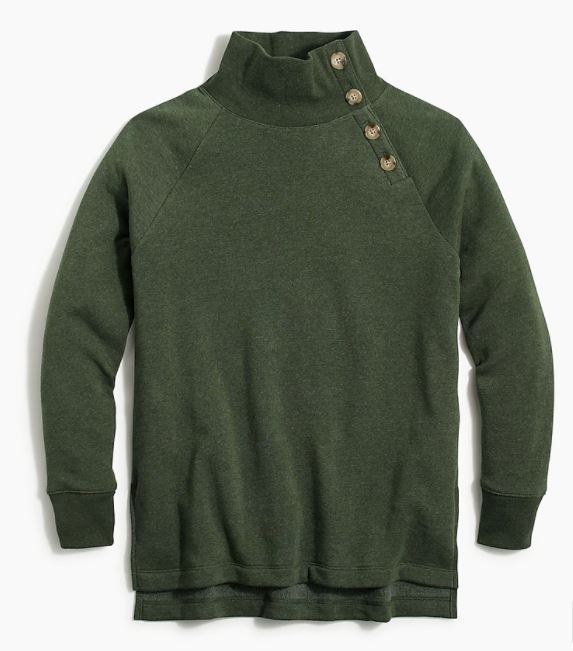 I have this cute Sunshine Sleeveless Ruffled V-Neck Top in the stripes and noguci prints (see the first and third images below). It's such an easy top to dress up or down and could also be worn under a blazer in the colder months! If you used code SARAH20, it should still give you an extra 20% off the sale price (or off anything else sitewide)!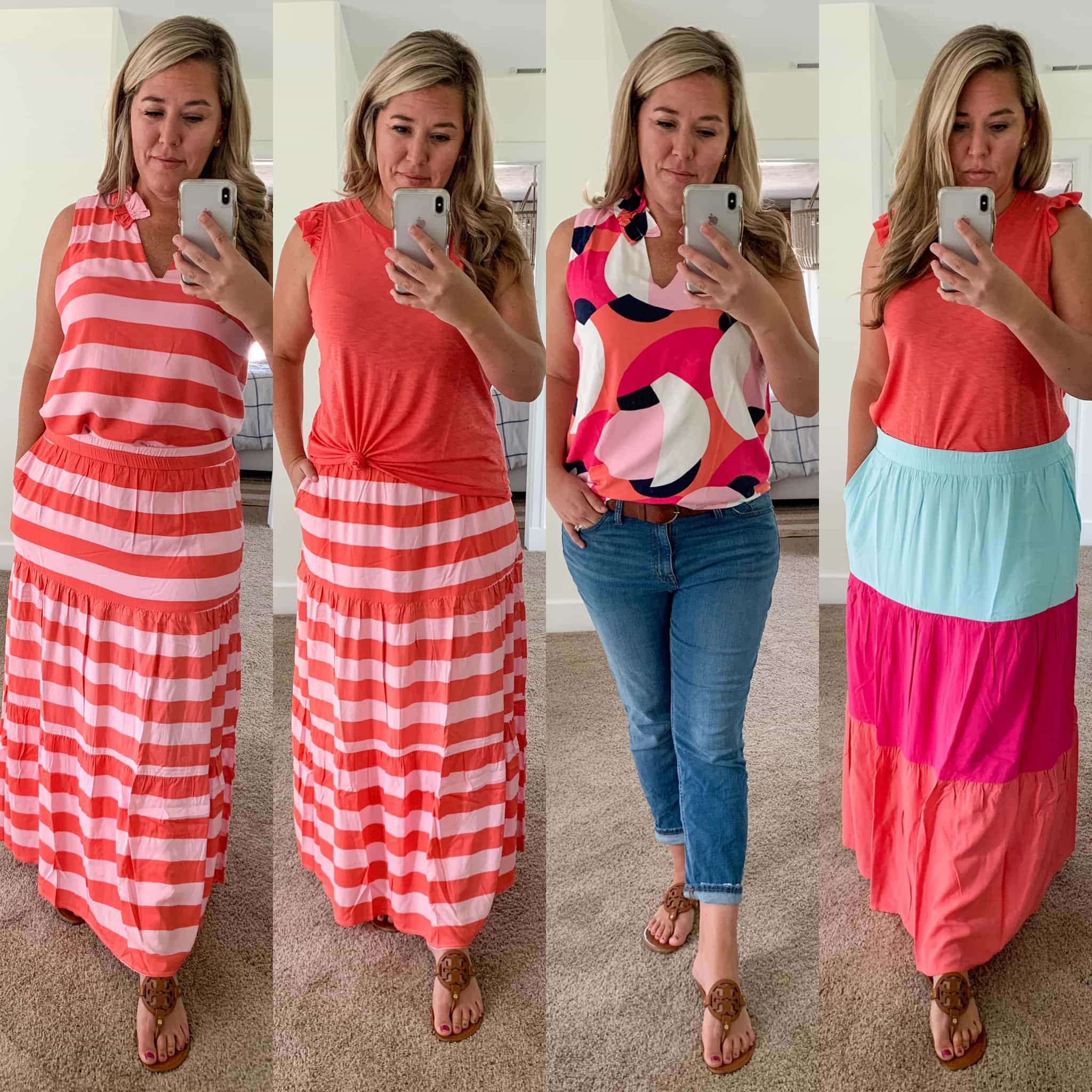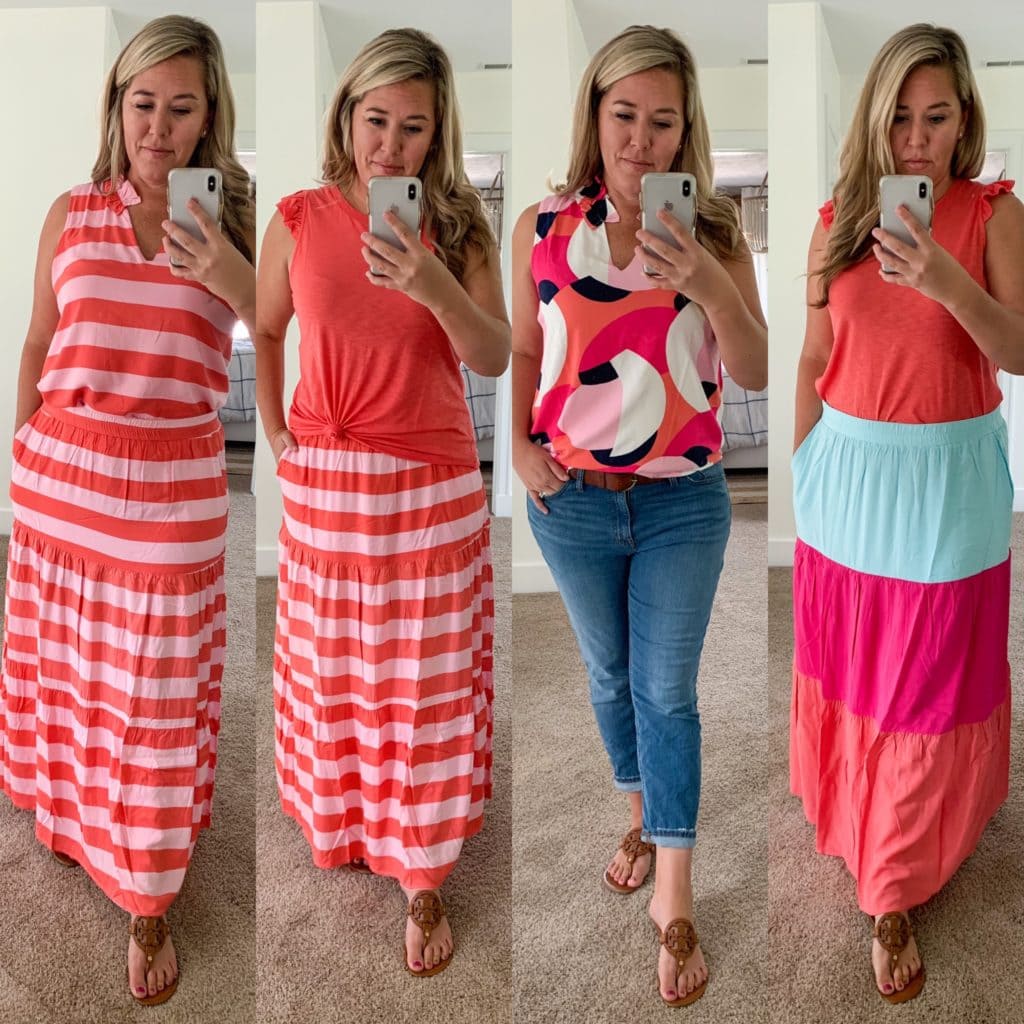 This cowl neck tunic sweater is so comfy and affordable that I actually own it in three colors! I love the ribbing detail on the shoulders and arms and it's a great one to wear with leggings or skinny jeans.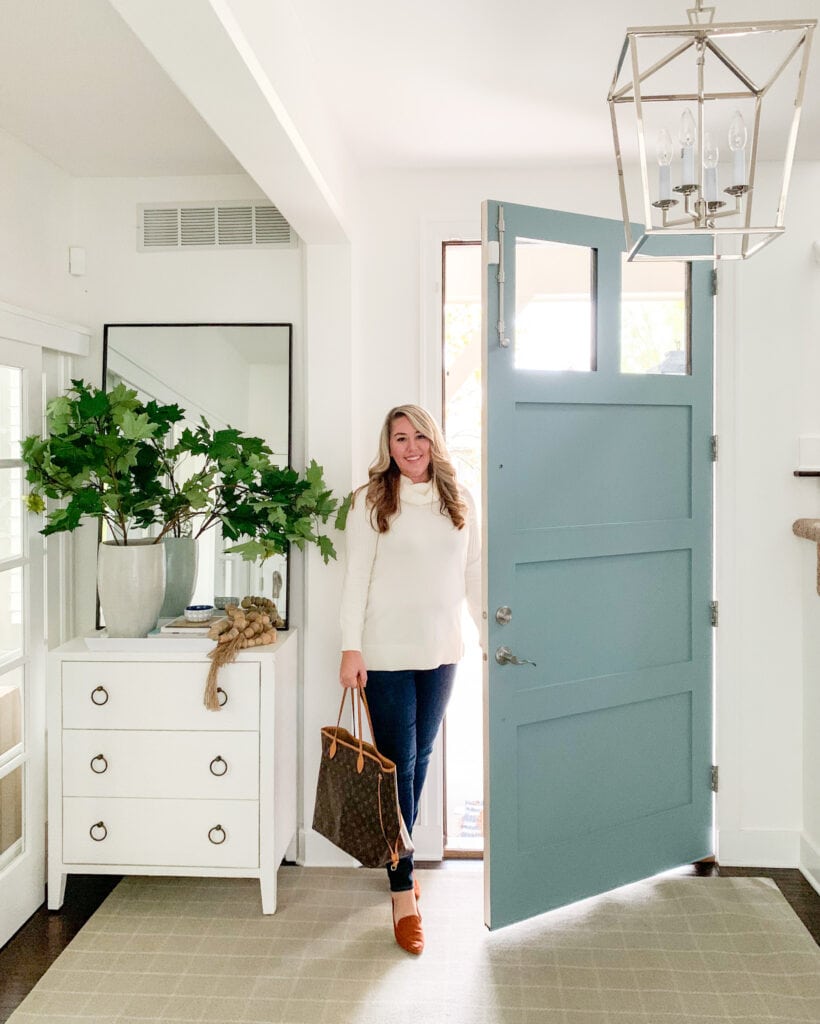 These super-soft joggers made it on to my Cozy Gift Ideas gift guide because they have been a favorite of mine all year! I can't recommend them enough, and I hope they bring back more sizes soon!
Perhaps one of J. Crew's most popular items over the years (especially this year!), these Dreamy Cotton Pajamas jumped all the way up to 4th place, even though I didn't share them until November! I have them in the cute pink/red stripe combo but there are several solids and other striped combos available too! So soft and cozy!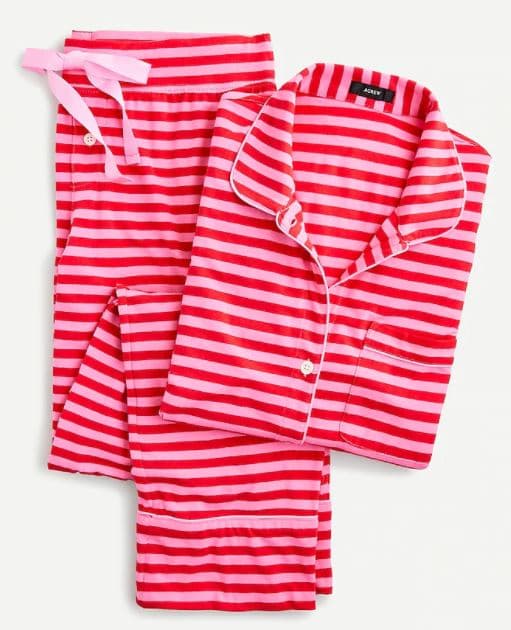 I bought this boho style dress for Kurtis' work trip last winter and shared it with a few others in the image below. I think what really sold it though was the live Instagram stories I did while wearing it. It's so affordable and so cute and comes in a number of color options! I felt like the midi length was a bit "off" for my 5'8″ frame, and would have either preferred it longer or shorter but it's such a cute find!
I bought these leggings in both colors during the Nordstrom Anniversary Sale because I love them so much! One of my biggest gripes about most leggings is that they don't have pockets, so these were a winner all around! I also love the banded cuffs at the bottom to make them look a little less legging-ish. Not the greatest photo below, but you can see them on me for length purposes (I'm 5'8″).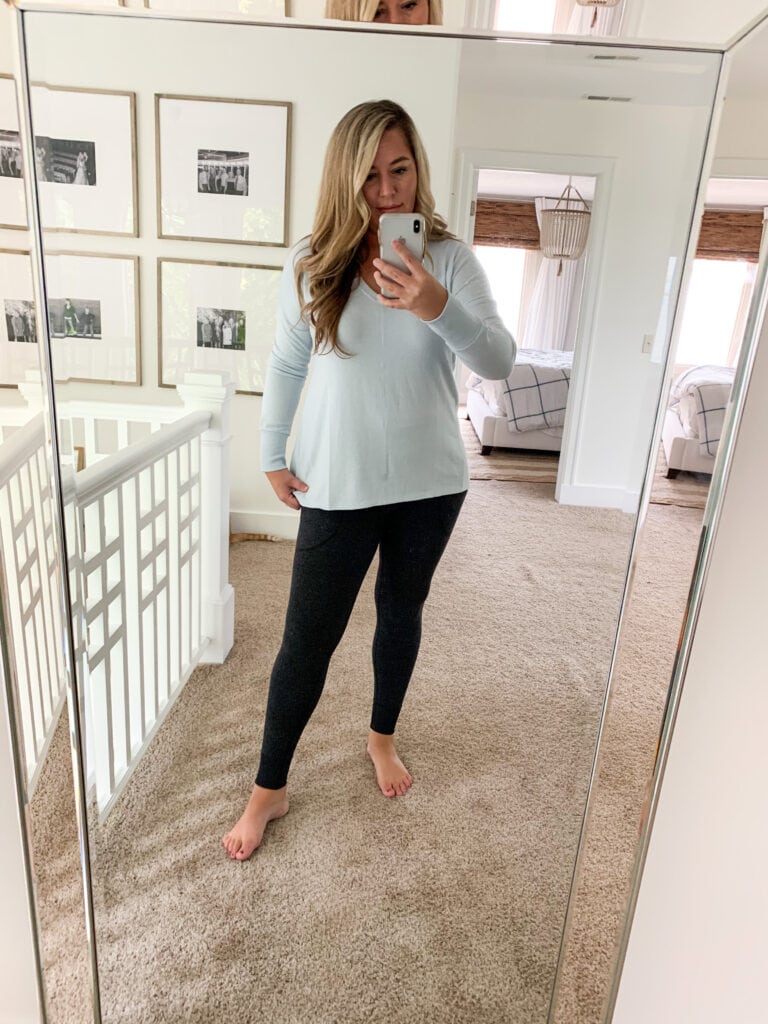 I had to laugh because the chambray version of these shorts made it as #1 all on their own. But the other solid colors were top contenders too, even though they're basically all the same shorts. I lived in both styles all summer and honestly wore them probably 6 days a week. They're that good! They comfy enough to wear as lounge shorts but can also looked more polished with the right top and accessories. So glad to see they have them back for resort wear this year! I'm showing them below in a flat lay that also includes one of my favorite purchases of 2020 – my packable straw hat!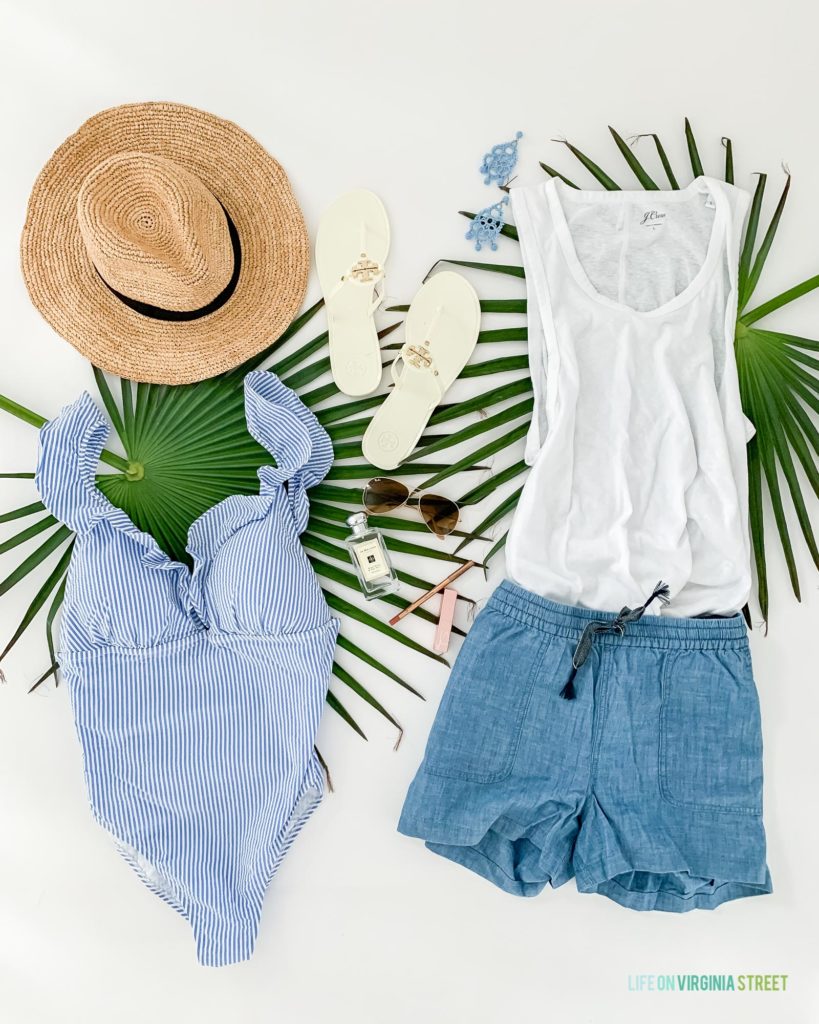 SOURCES: Faux Fan Palm | Packable Straw Hat | Seersucker Bathing Suit | Tory Burch Mini Miller Flip Flops | Bead & Embroidery Earrings | Aviator Sunglasses | Jo Malone Cologne | Lip Liner (color: Pillowtalk) | Lip Balm (color: Orgasm) | Long Layering Tank Top | Chambray Seaside Short
Alright! That about wraps up my 2020 recap posts. I hope you enjoyed seeing the top sellers and readers' favorite buys of 2020! Thank you all so much for supporting my blog and content over the years! I have a lot of exciting new content coming your way in 2021!
If you would like to follow along on more of my home decor, DIY, lifestyle, travel and other posts, I'd love to have you follow me on any of the following:
Pinterest | Instagram | Facebook | Twitter
disclosure: some affiliate links used