Fiddle leaf fig trees are an excellent way to add color and life to a room in your home! The real plants can be a bit finicky, so I'm sharing real life reviews of the best faux fiddle leaf fig trees and stems. I'm also offering tips and tricks to make your fake plants look as life-like as possible!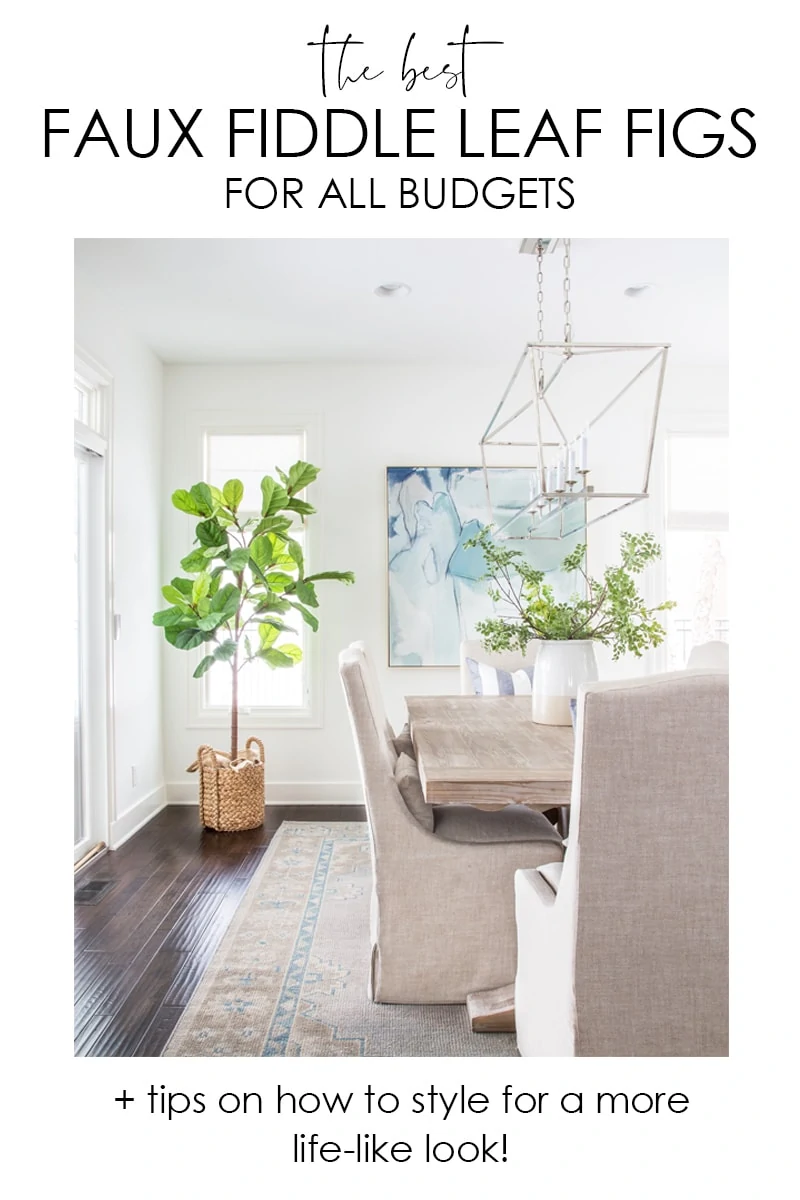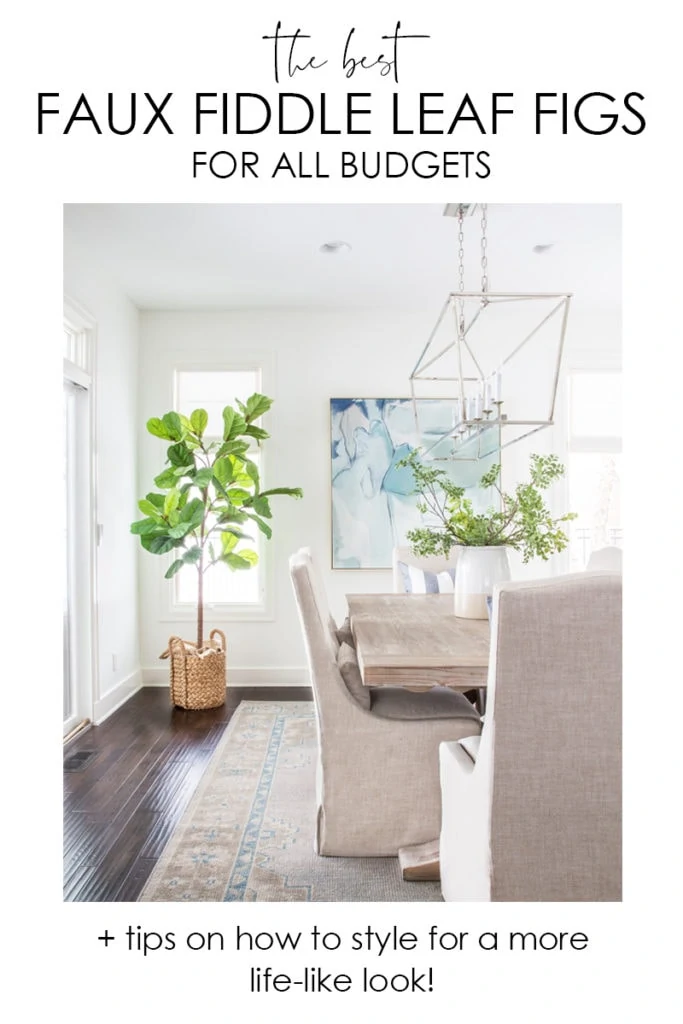 This post was originally published on March 8, 2019 but is being updated today with additional tips and sources! This post contains affiliate links for your shopping convenience. Click here to read my full disclosure policy.
It's no secret that I love fiddle leaf fig trees and this post has been years in the making! Some may argue this is a "trend" on it's way out, but my thought is, if you love the look of something, does it really matter? Now that I've tried every type of fake fig trees from real to faux and brand after brand, today I'm sharing the best faux fiddle leaf fig trees and how to make them look real!
Over the years, I've actually had several real fiddle leaf fig trees. They are absolutely beautiful, but also the most finicky plant I've ever dealt with! I had a real one that thrived for years until there was a "mishap" with one of our cats while we were out of town on an extended vacation. Since that point, it's only faux fiddle leaf fig trees around here!
The Best Faux Fiddle Leaf Fig Trees For All Budgets
I currently have three faux fiddle leaf fig trees and countless faux fiddle leaf fig stems to use in pots. I've also seen tons of options in person – some good, and some really bad! So first I want to share what I believe to be the best fiddle leaf fig trees on the market, and then we'll jump into how to make them look as real as possible!
If you're looking for a full-size option, this nearly 7′ faux fiddle leaf fig tree is by far my favorite! The key to really making it look life-like is all in how you style the leaves (I'll share more on that in the next section, along with photos of how it looked when it arrived). I love that the leaves are a mix of dark and light, and really mimic that natural leaf look!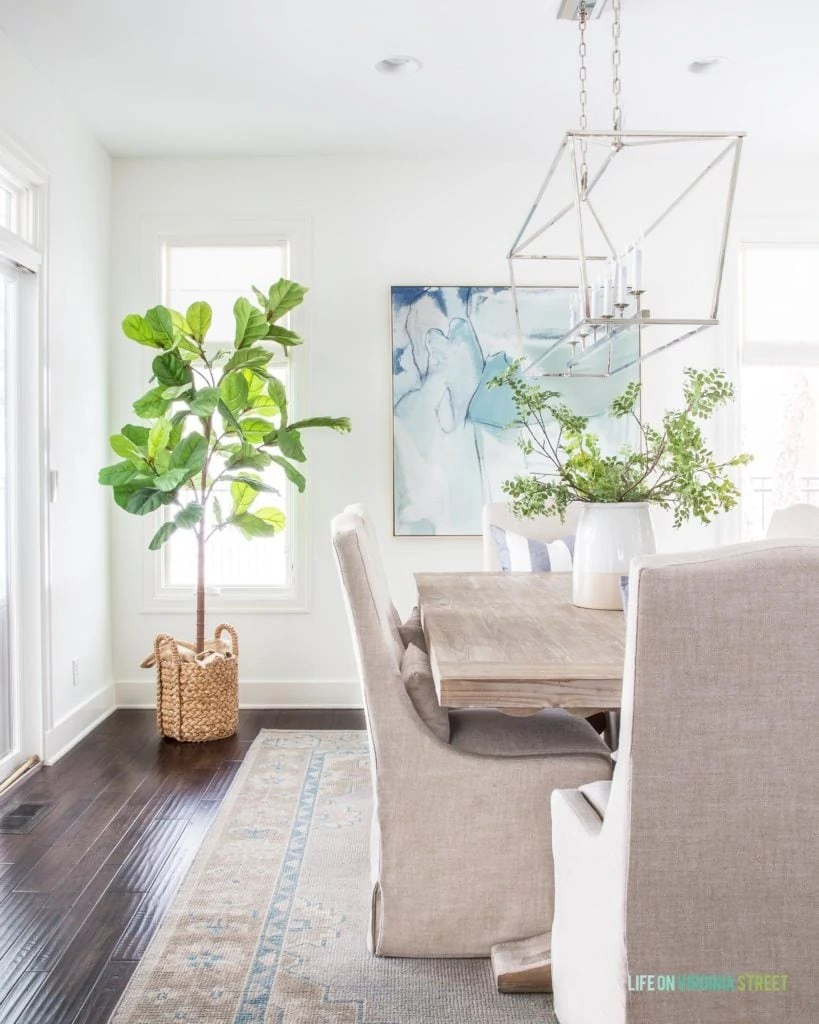 DINING ROOM SOURCES: 6.9′ Pottery Barn Faux Fiddle Leaf Fig Tree | Basket (size large) | Hand-Knotted Rug (look for less here) | Art | Linen Dining Chairs | Dining Table | Vase | Faux Greenery Stems | Striped Pillow Covers | Chandelier (great dupe here)
I previously had the 5.4′ faux fiddle leaf fig tree (size small) that coordinates with the option above in our office. Although it's smaller, the double trunk helps it to look a bit more substantial.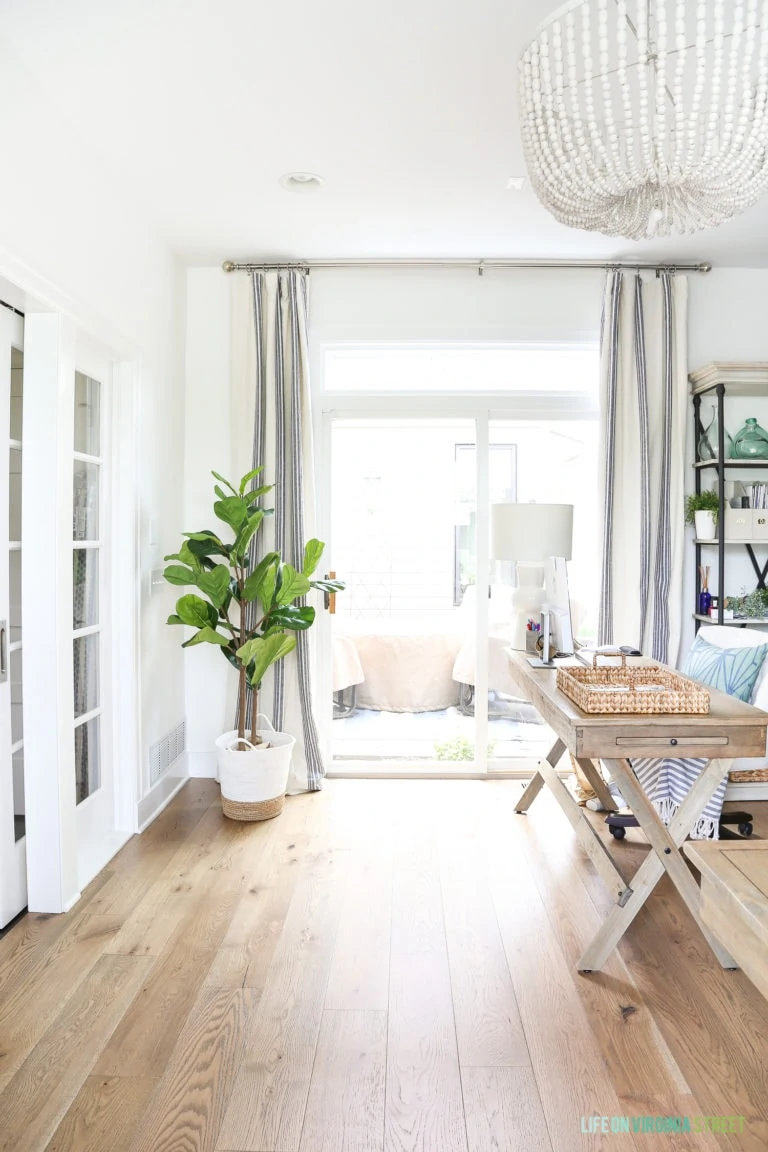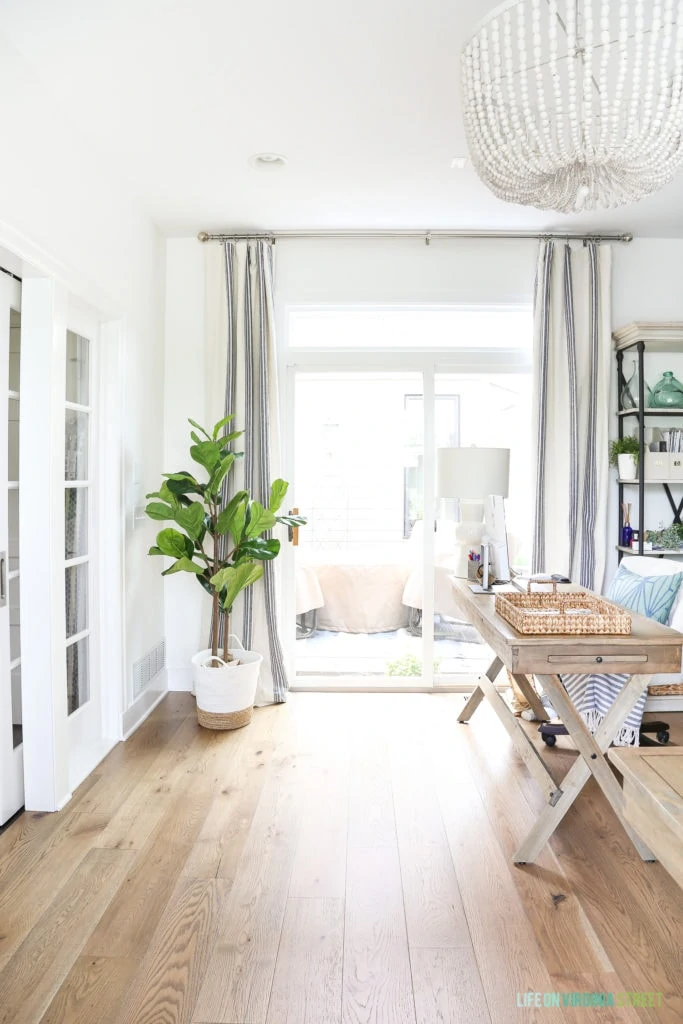 OFFICE SOURCES: 5.4′ Pottery Barn Faux Fiddle Leaf Fig Tree | Desk | Drapes | Bookshelf | Wood Bead Chandelier | Chair | Pillow | Similar Lamps
Here you can see how I styled it in our guest bedroom more recently. I just love the pop of color and life it adds to any space!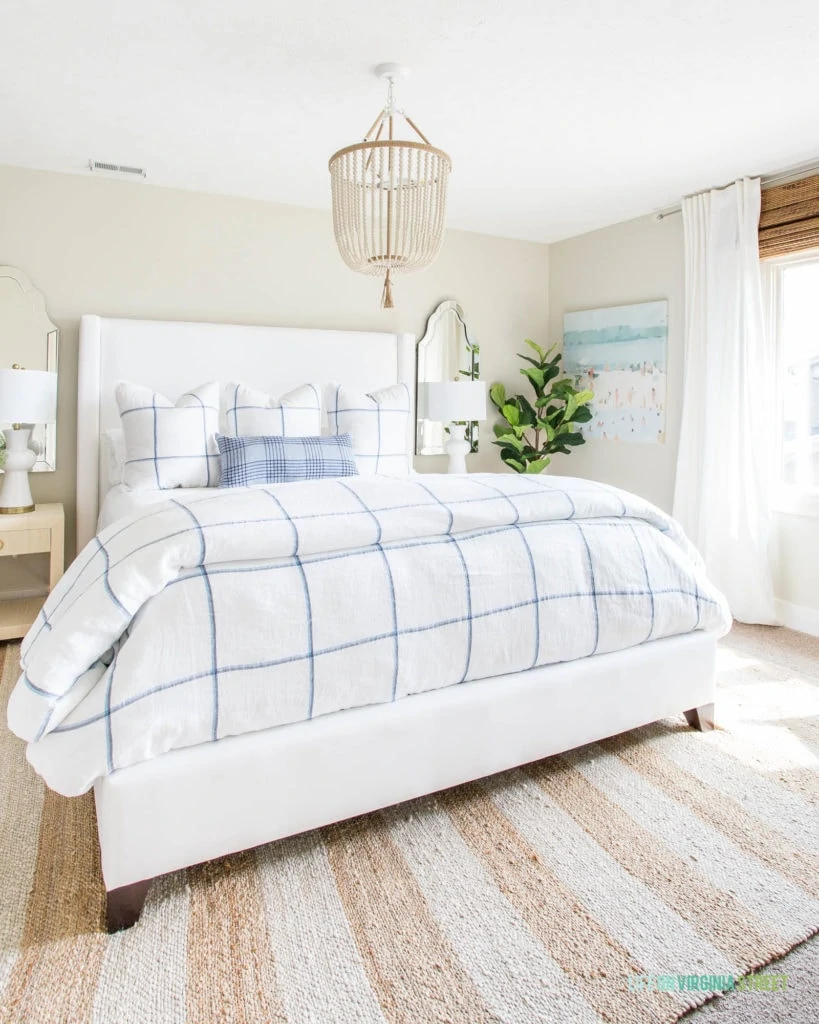 GUEST BEDROOM SOURCES: Upholstered Bed | Windowpane Plaid Bedding | Plaid Lumbar Pillow | Bead Chandelier | Striped Rug | Raffia Nightstands | White Ceramic Lamps (come as a set of two) | Abstract Beach Art | Faux Fiddle Leaf Fig Tree (this is the 5'4″ size) | Mirrors | Similar Drapes
And if you're looking for a more budget-friendly option, I also tried this 5′ QVC faux fiddle leaf fig tree for less than $60 to test an alternative! The leaves are darker that the others shown above. However I actually like the crinkle effect on the leaves, as it closely mimics what you'd find on a real leaf. The base isn't quite as stable, but if you add it to a basket (which I recommend regardless), you shouldn't have any issues. You'll likely laugh when the box arrives thinking there is no possible way a tree could fit in it, but after a few minutes of working on it, it looked significantly better! Is it perfect? No. But it's an excellent option for those on a budget! It now lives in our goddaughter's bedroom and she loves it!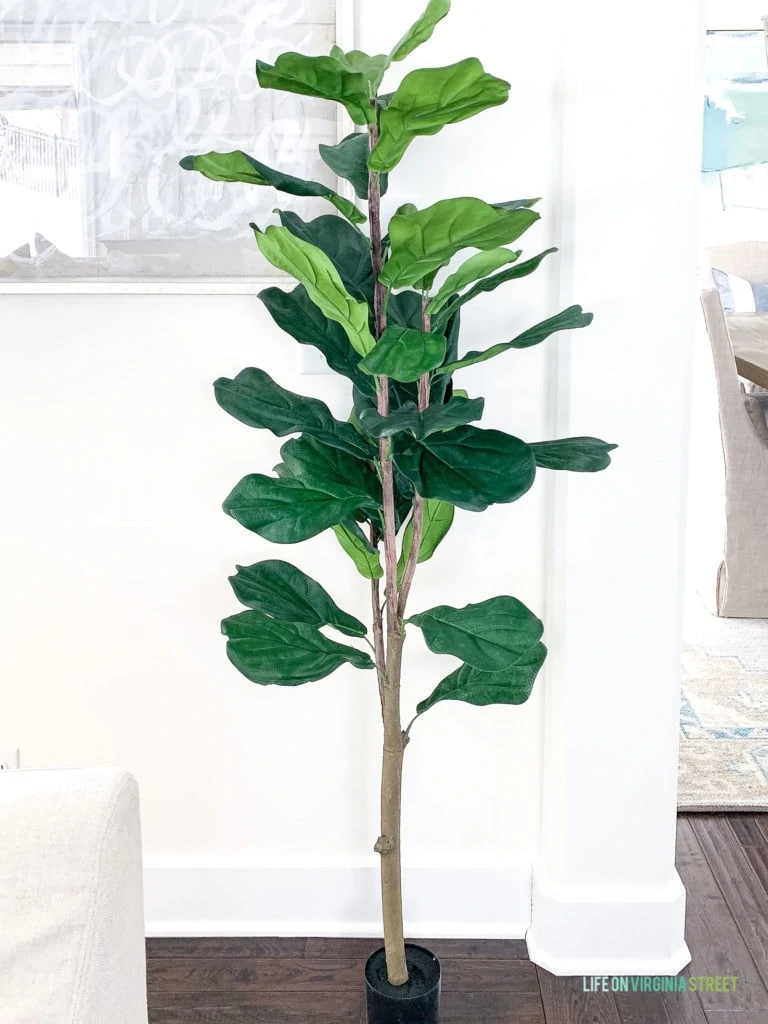 The size difference is pretty substantial when compared to the 6.9′ faux fiddle leaf fig tree so I think it would work best in a smaller corner.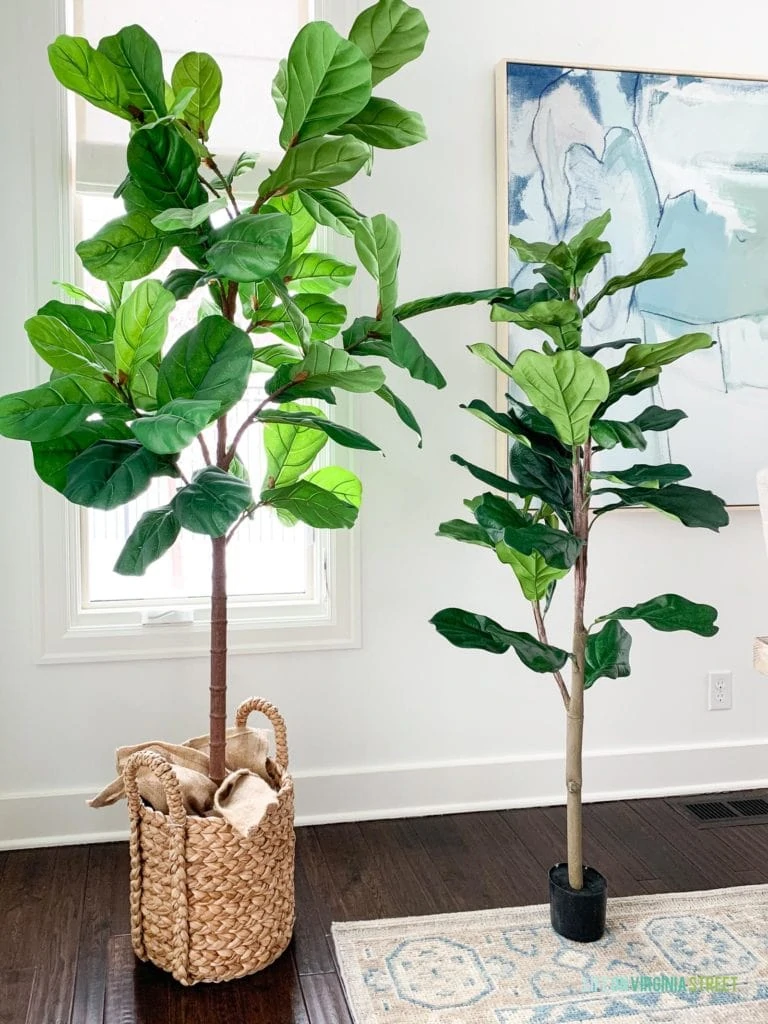 I'm showing the budget version below (left) next to the 5.4′ Pottery Barn version (right) that you see in my office above. You can also see the style of the bases as shipped below.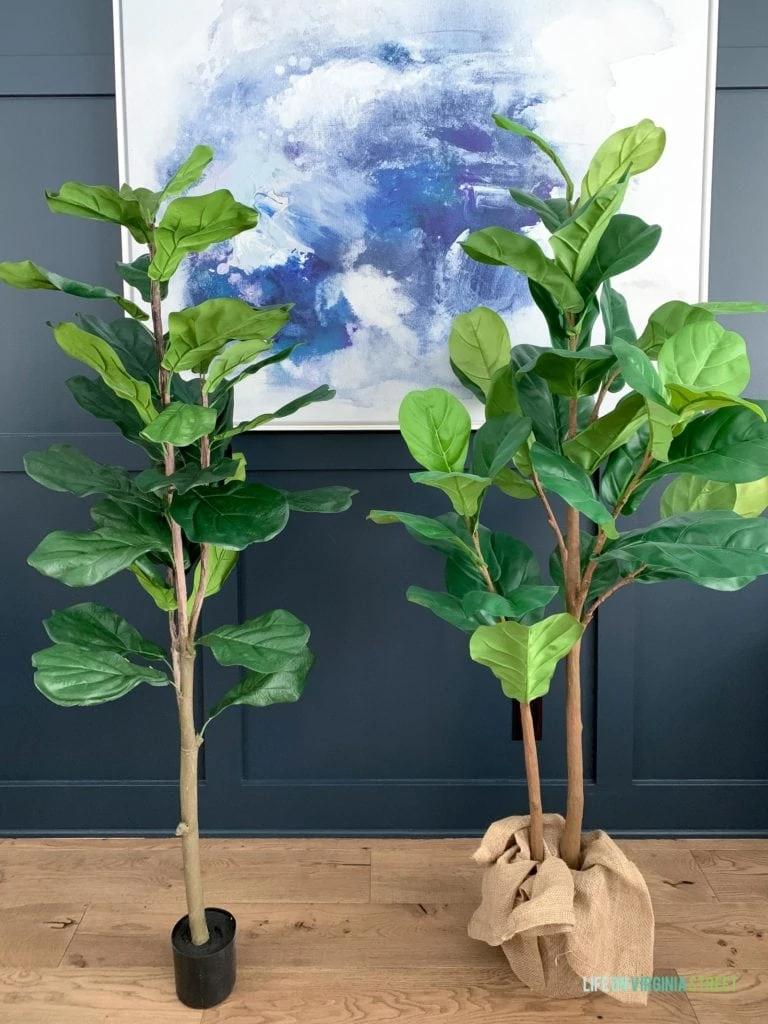 Here you can see a comparison between the two types of leaves, as well.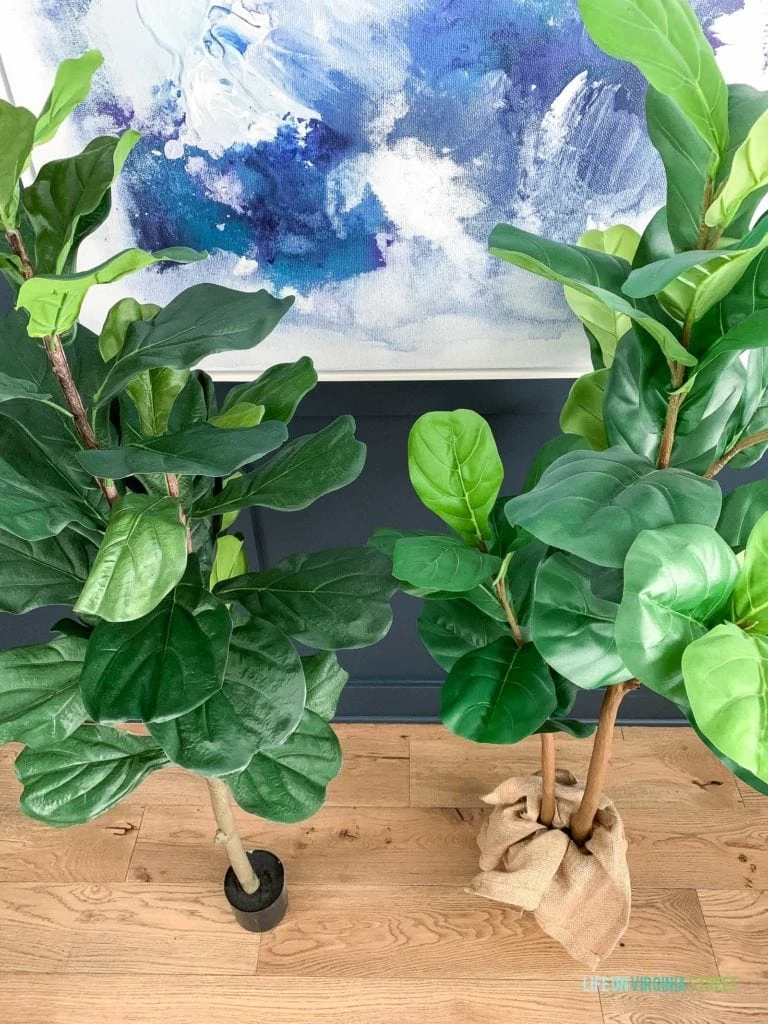 This 72″ fig tree and this 78″ fiddle fig tree are other popular options with excellent reviews, but I have yet to see them in person.
Following are my top picks for even more artificial fiddle leaf fig trees and stems. Simply click any of the images below to get additional information on each item


The Best Fake Fiddle Leaf Fig Tree Stems
If you love the fiddle leaf fig tree look but don't want to invest in a tree, I love these faux fiddle leaf fig stems. They're almost identical to the leaves on the Pottery Barn trees. I used two stems in the vase below, and as you can see, they're pretty substantial!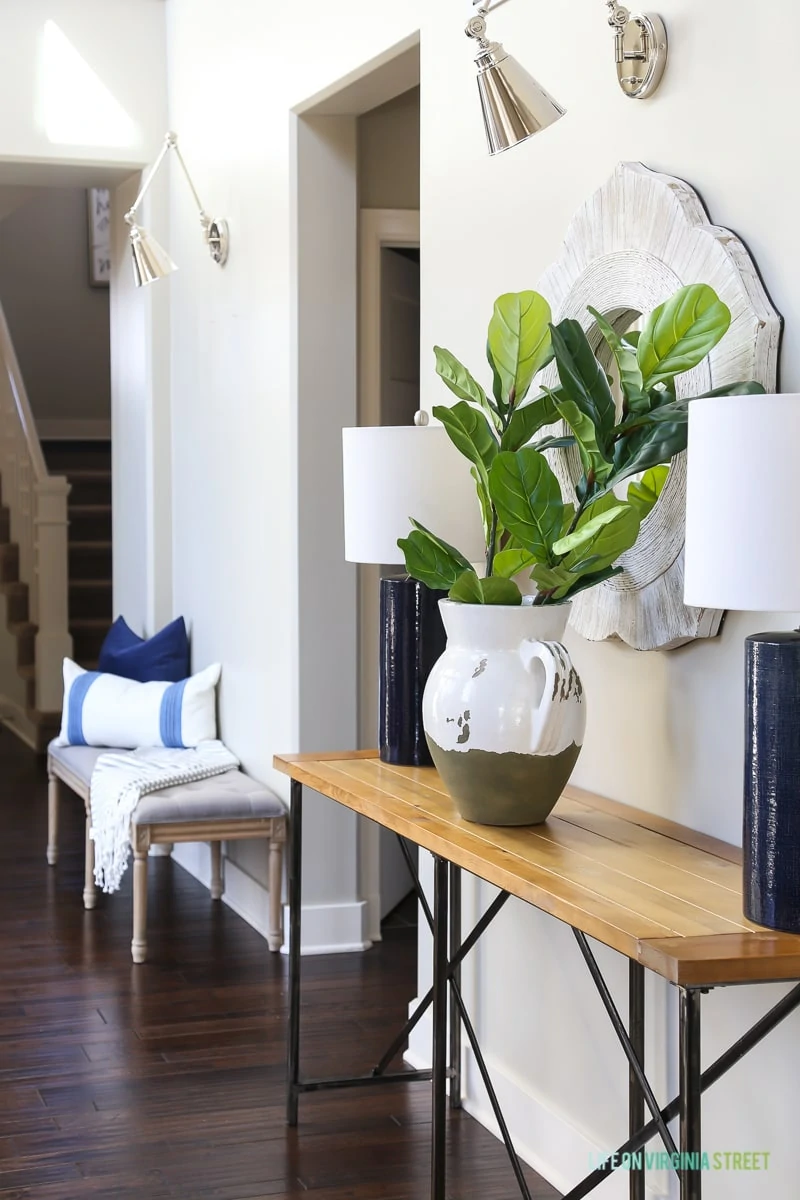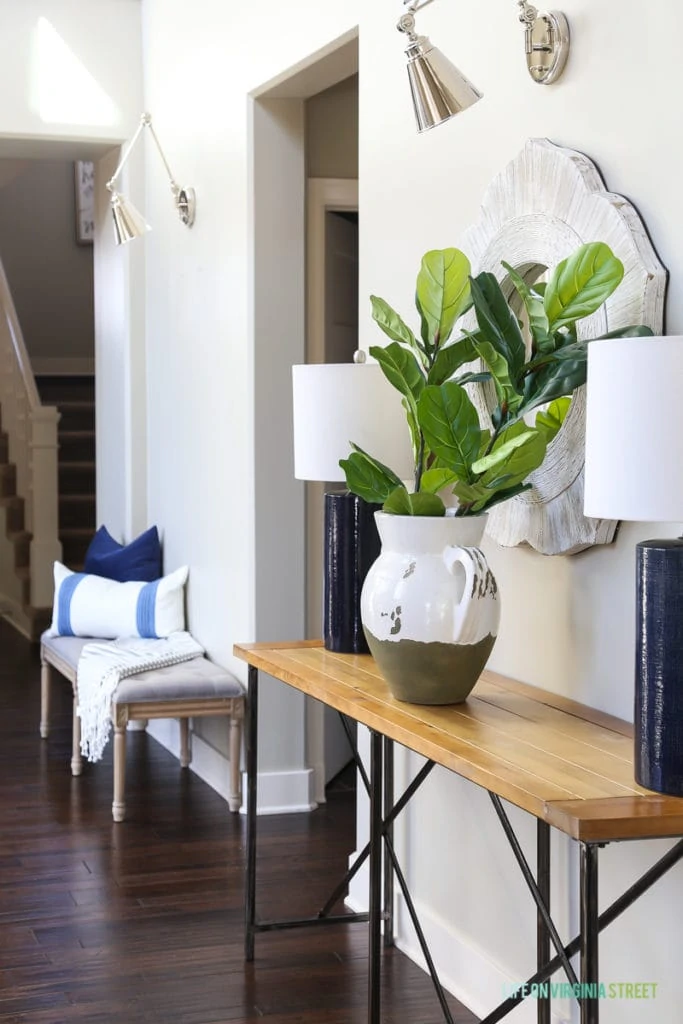 OLD ENTRYWAY SOURCES: Faux Fiddle Leaf Fig Stems | Vase (size medium) | Console Table | Lamp Bases | Swing Arm Sconces | Bench
What To Look for In a Faux Fiddle Leaf Fig Tree
I know sometimes you get lucky and stumble upon options while out and about shopping. However, it may be hard to know if your lucky find is a good option or not without something to compare it to. Following are some of the characteristics I look for when purchasing fake fiddle leaf fig trees and stems.
Ensure the leaves have wire running through them so you can bend to make them more life-like.
To mimic real leaves, look for options that are dark green on the top and a brighter green on the bottom.
I prefer a more rubber-like finish to give the appearance of the glossy, real fiddle leaf fig leaves if possible.
Read the reviews online! You can usually tell the quality pretty quickly by skimming the reviews and "real life" photos when available!
How To Make Your Faux Fiddle Leaf Fig Tree Look Real
Regardless of which tree you purchase, there are simple steps you can take to make yours look as real as possible. On a weekly basis, I receive requests from readers for tips on how to style the artificial fiddle leaf fig leaves so that they look real. There is definitely an art to the process, and you have to take caution not to bend or pull too hard or you may break the trunk or leaves!
The first year I had our larger 6.9′ fig tree, I was terrified to do too much with it after having a leaf fall off when I first messed with it. It sat in my craft room/TV room in the corner and looked good, but wasn't living up to it's full potential!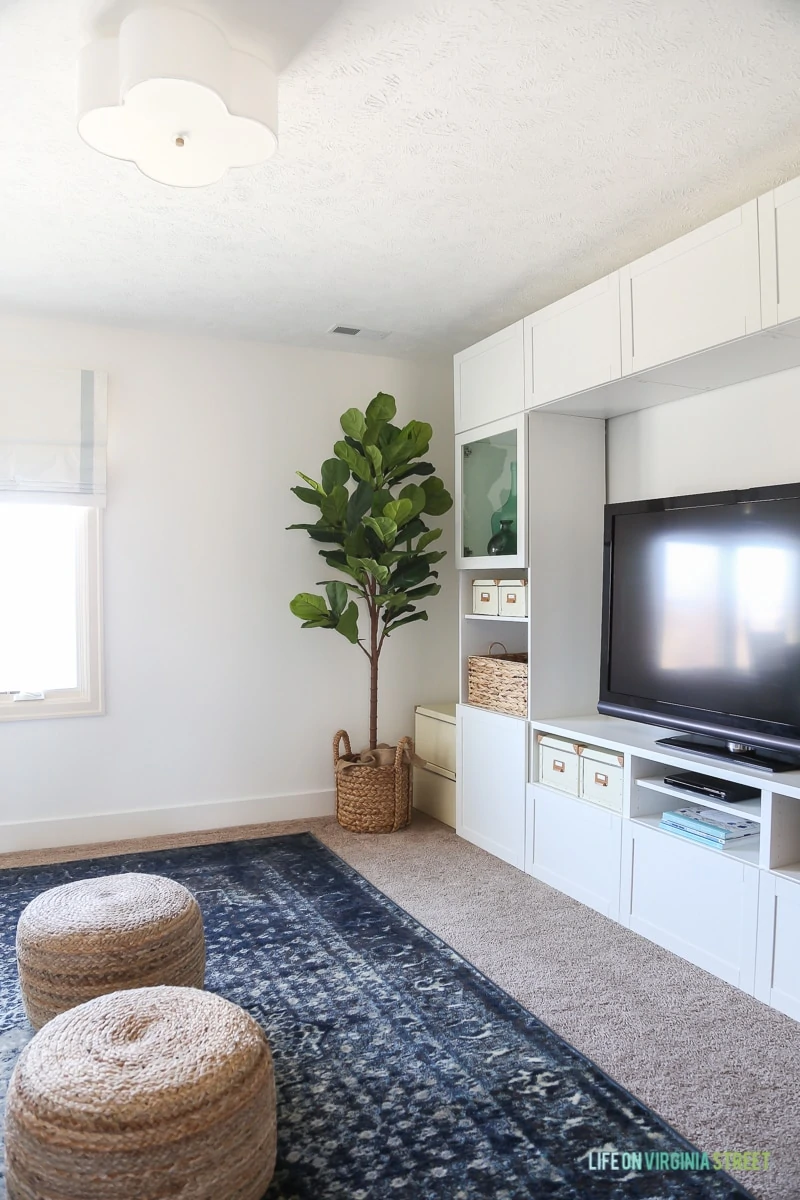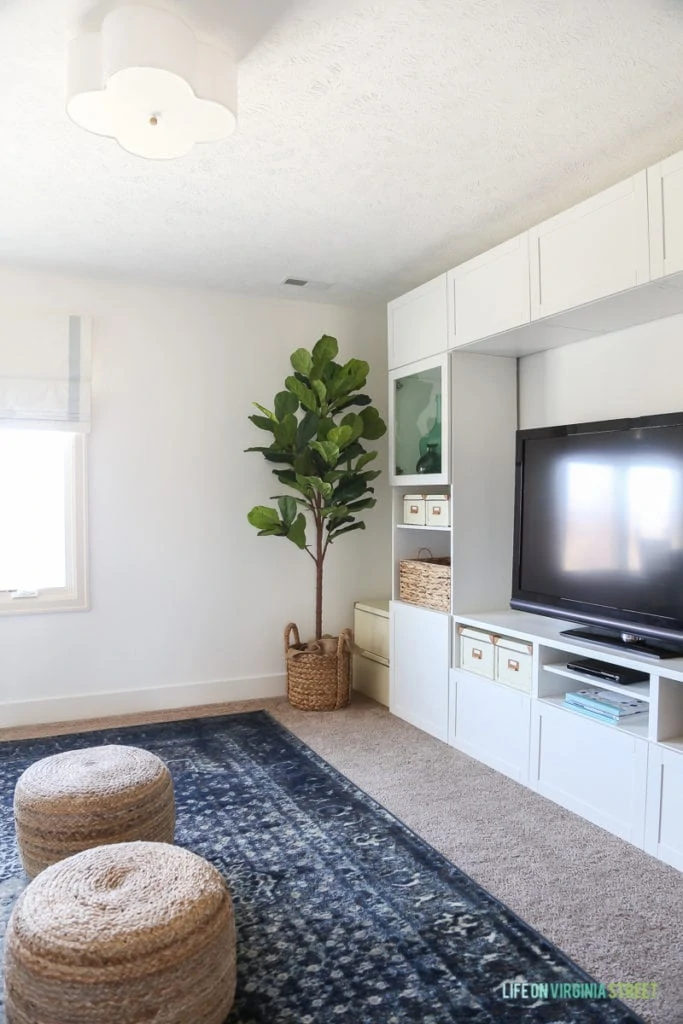 SOURCES: 6.9′ Fig Tree | Basket (size large) | Poufs | Rug | Entertainment Center | Roman Shades | Scalloped Light Fixture
But now I'm really happy with how it looks! You can see our real tree and fake version side-by-side below for comparison purposes! The tree on the right below is the same one as the one shown in the picture above. The only difference is, I followed the steps outlined in the section below to make it look more life-like!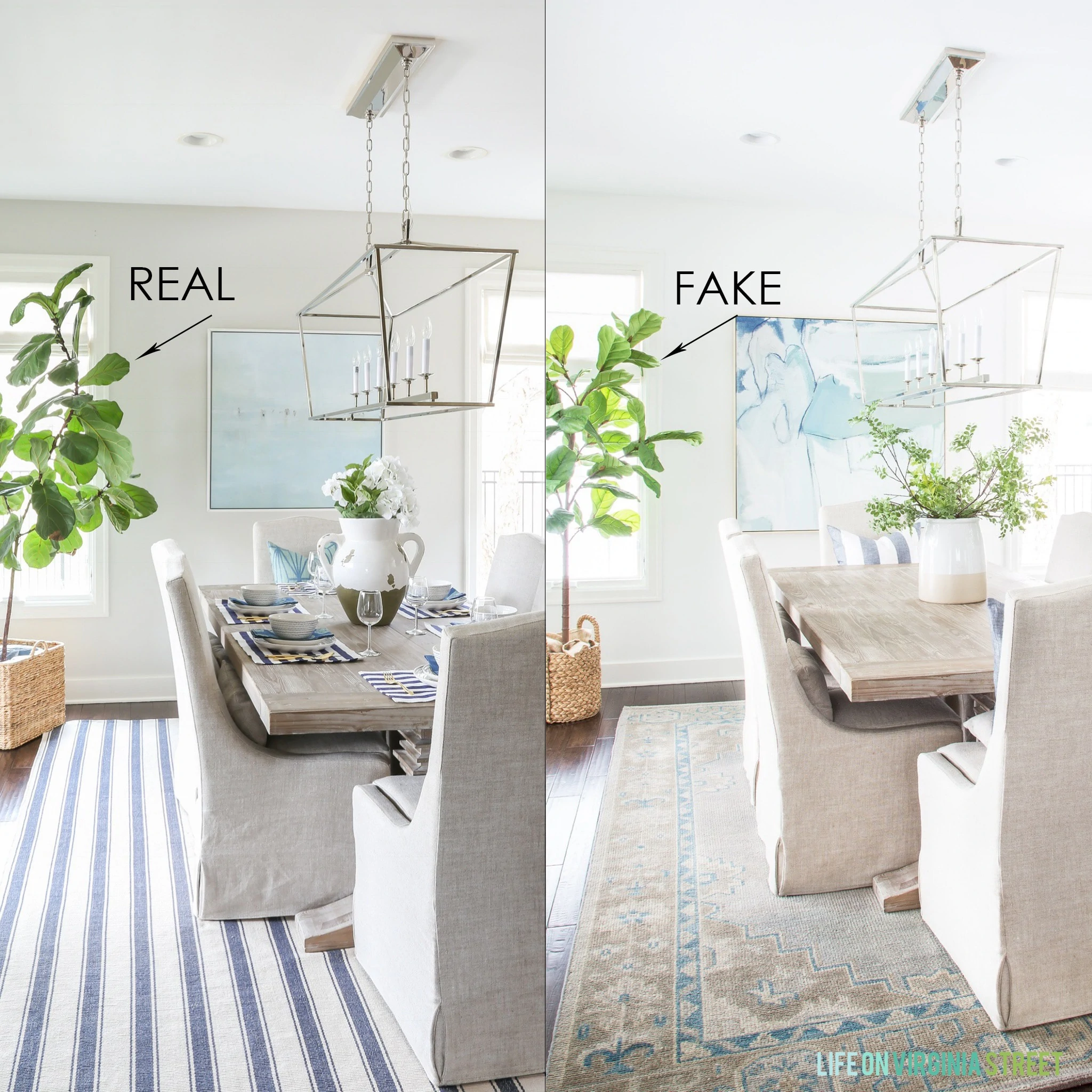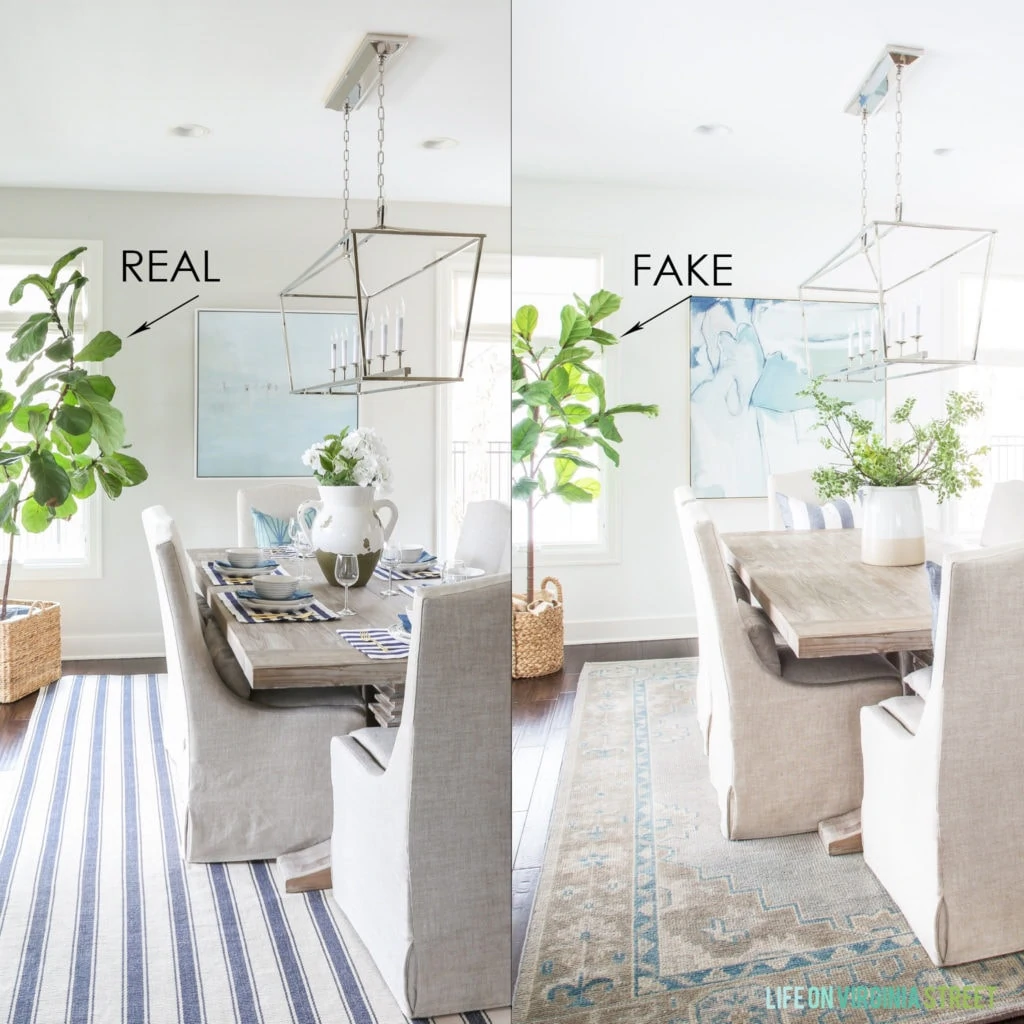 Following are steps you can take to make your faux fiddle leaf fig look as real as possible. Please note I've also filmed a tutorial on shaping the leaves in my Instagram Stories. Just look for the 'Fig Tree' highlight at the top on my page!
Study images online of real fiddle leaf fig trees. The leaves have a very distinct bend to them and you should carefully bend yours in a similar manner. This is the most critical step in getting the "real" look!
Remember that the real trees grow towards the light! You'll notice I slightly bent the top of my tree towards the natural light source and it look so much better than a perfectly upright tree!
Pinch the base of each leaf to the trunk before you bend your leaves. This will help ensure you don't snap the leaf off the tree! Be sure to watch my stories to see more of what I'm referring to here.
Place the trees near a window, much as you would a real tree. I find that the varying colors show up best this way! You can see in the two photos above just how much better my 6.9′ faux fiddle leaf fig tree looked once tweaked a bit and then placed by a window!
Add your tree to a basket or planter. I love the look of woven, natural options, but pick one that works well with your own decor style! I'm sharing a few options I love in the next section.
Much as you would a real fiddle leaf fig tree, be sure to keep the leaves dust free! Lightly dust the leaves on a monthly basis to help return as much shine and color as possible!
Basket Options for Faux Fiddle Leaf Fig Trees
I feel like most faux fiddle leaf fig trees will instantly look better if you "pot" them much like you would a real tree! In fact, many of the tree options come with a base that is laughably small, so sometimes, this option isn't really an option. Following are some of my favorite basket options to use to "plant" your faux fiddle leaf fig tree! If you find one you love that seems a bit too tall for your tree, don't be afraid to prop your tree up in side of it!

Once potted, I don't add anything additional to the basket or pot (mostly because the cats will mess with). But, I have a friend that added moss to the top of hers and it looked really pretty! They sell sheet moss at the craft store that could easily be cut to fit your exact shape our you could simply buy the loose stuff.
Additional Faux Greenery and Fake Trees
Looking for even more faux greenery and fake trees for your home? Be sure to check out the following.
Okay! I think that about covers it! Any other questions or things I didn't cover? If you ask in comments I'll be sure to respond and update the post accordingly. Have you found any other great faux fiddle leaf fig options out there? I'd love to hear about them!
If you would like to follow along on more of my home decor, DIY, lifestyle, travel and other posts, I'd love to have you follow me on any of the following:
Pinterest | Instagram | Facebook | Twitter 
disclosure: some affiliate links used