Good morning! I hope you all had a wonderful Christmas and New Year's break! It feels like I haven't hopped on to chat with you guys in a long time. And looking back, my last Weekend Recap was on December 14th, so it has definitely been a bit. Our break went by way too quickly (as they typically do) but I'm excited to be back and feel like I have so many things to catch you guys up on!
This post contains affiliate links for your shopping convenience. Click here to read my full disclosure policy.
Home Projects & Updates
The biggest news of all to share today – we found out demo starts on our bathroom renovations this week! In true Kurtis and Sarah fashion, we waited until yesterday afternoon to clean out all the cabinets. I have a lot to catch you up on (including the final design plans!) but we are beyond excited to finally start this project. Especially since we had decided to start it around this time last year and had to delay it thanks to 2020! I'll plan to share the design boards for both spaces for later this week.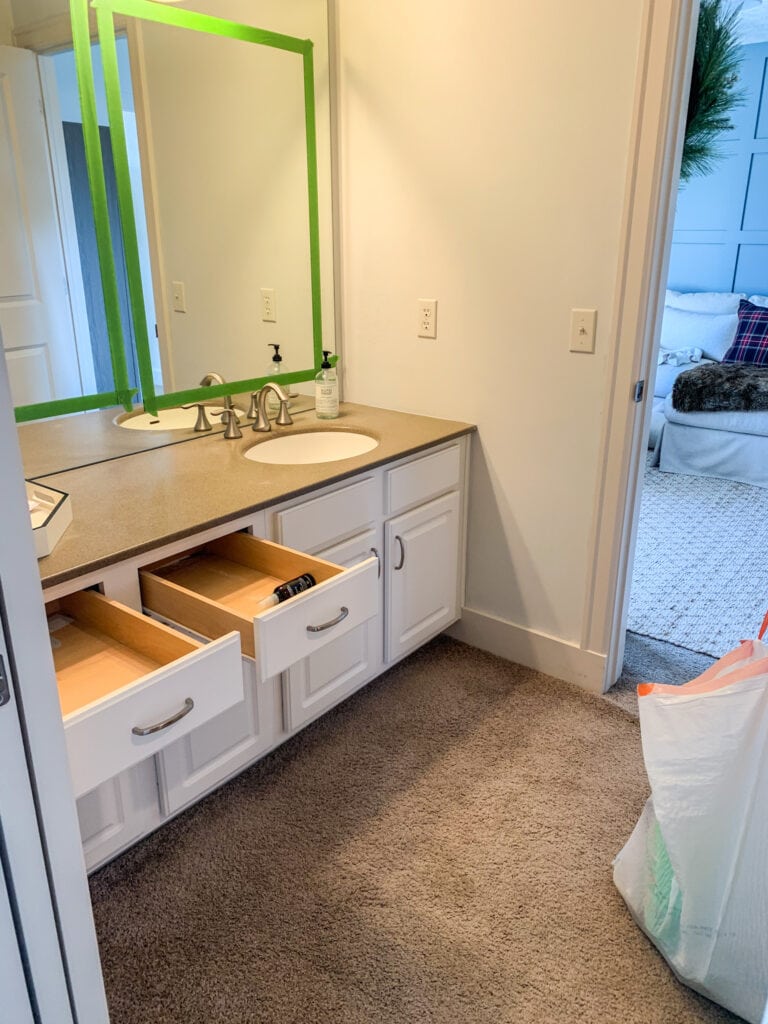 The biggest impact of the reno is that Kurtis has to move his temporary home office again since the guys will be in and out of the guest bedroom he's currently using. As of this morning, he still hasn't officially decided if he'll be moving to our dining room or our bedroom. But we're thinking he'll need to move for 4-6 weeks until they're all finished. I'm hoping to give live weekly updates over on my Instagram Stories if you're wanting to see more real-time updates of the renovation!
We also finally got a new mattress in our guest bedroom connected to the bathroom above. Although our prior one was still fairly comfy, it was 15+ years old and was starting to sink into the middle. I asked Kurtis to sleep on it for more than a week and he loves it! He says his back feels great when we wakes up too (which isn't necessarily the case with our mattress in our bedroom). I basically hate mattress shopping more than anything, so we were excited to find an affordable bed in a box that is comfy! Can you tell we're really hoping that by summertime, we can get back to hosting and entertaining again?!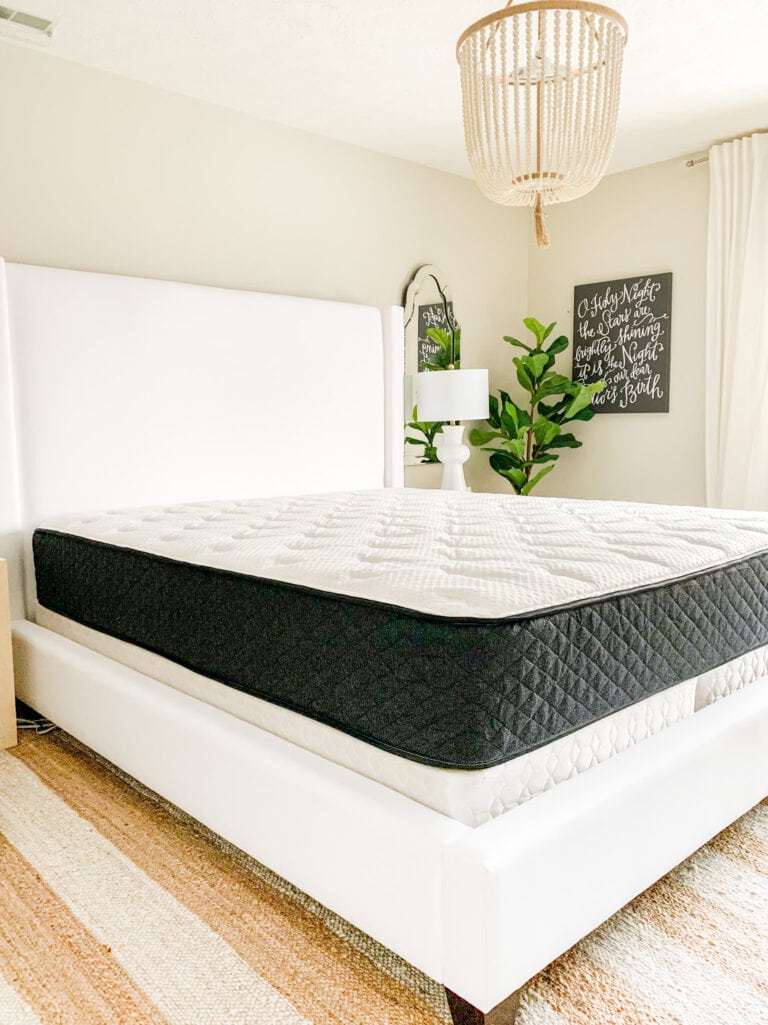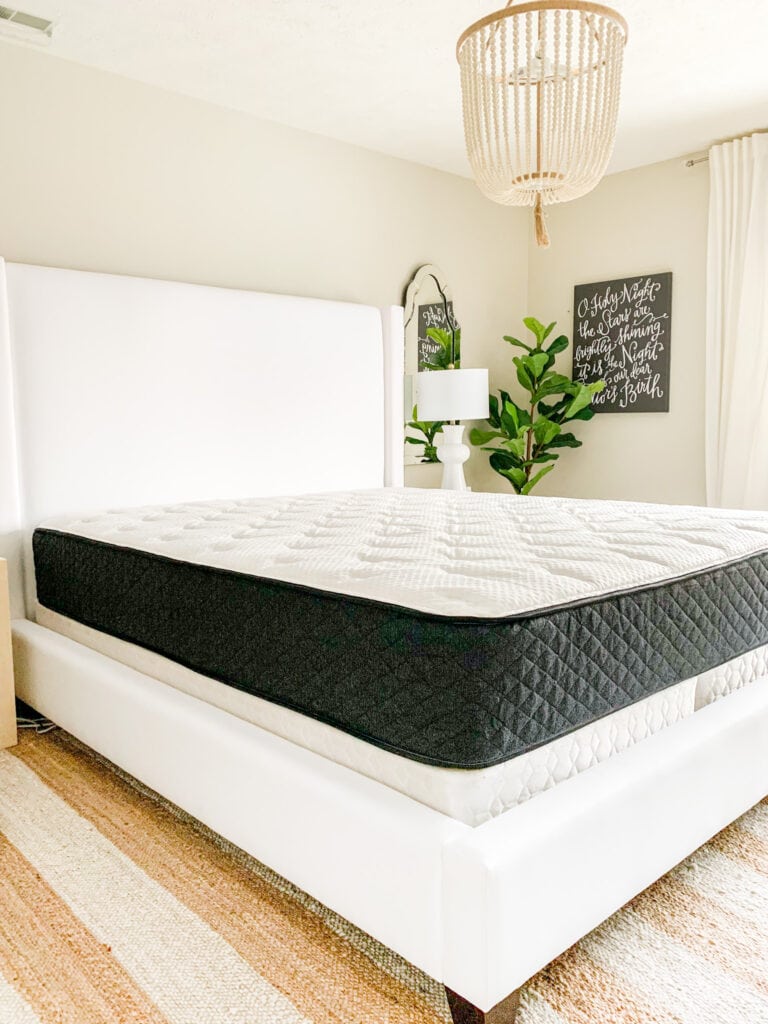 SOURCES: Upholstered Bed | Striped Rug | Bead Chandelier | Mattress | Faux Fiddle Leaf Fig Tree | Arched Mirror | Lamp | 'O Holy Night' Canvas
And although it wasn't on my fall and winter project list, this next task was meant to be and I forgot to add it. I finally took the time to caulk around our upper kitchen cabinets and range hood. Since ours were installed in the heat and humidity of July (2018), it's natural for the caulk to shrink in the colder months. It's bugged me for two years and I finally decided to take care of it.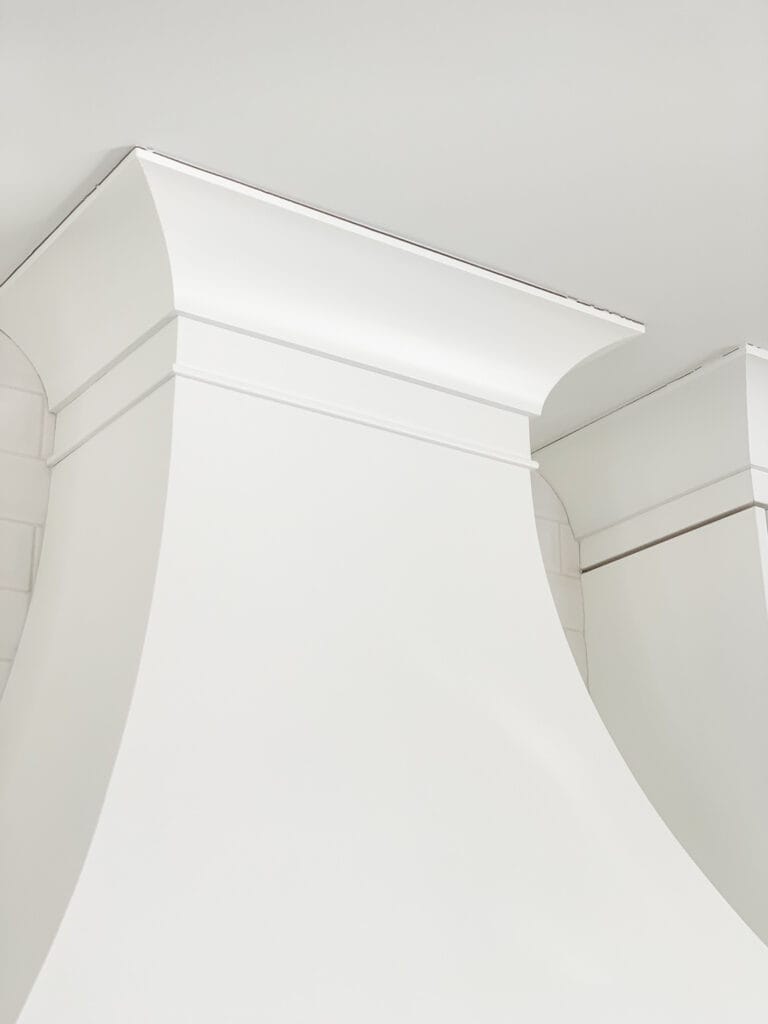 Below you can see the difference it made! The left side has been re-caulked and the right hasn't. I had to cut the old caulk out in some areas where the painters had applied it more heavily. It took me about an hour to do the whole kitchen, but it was more than worth it. Now I'm just kicking myself I didn't do it sooner!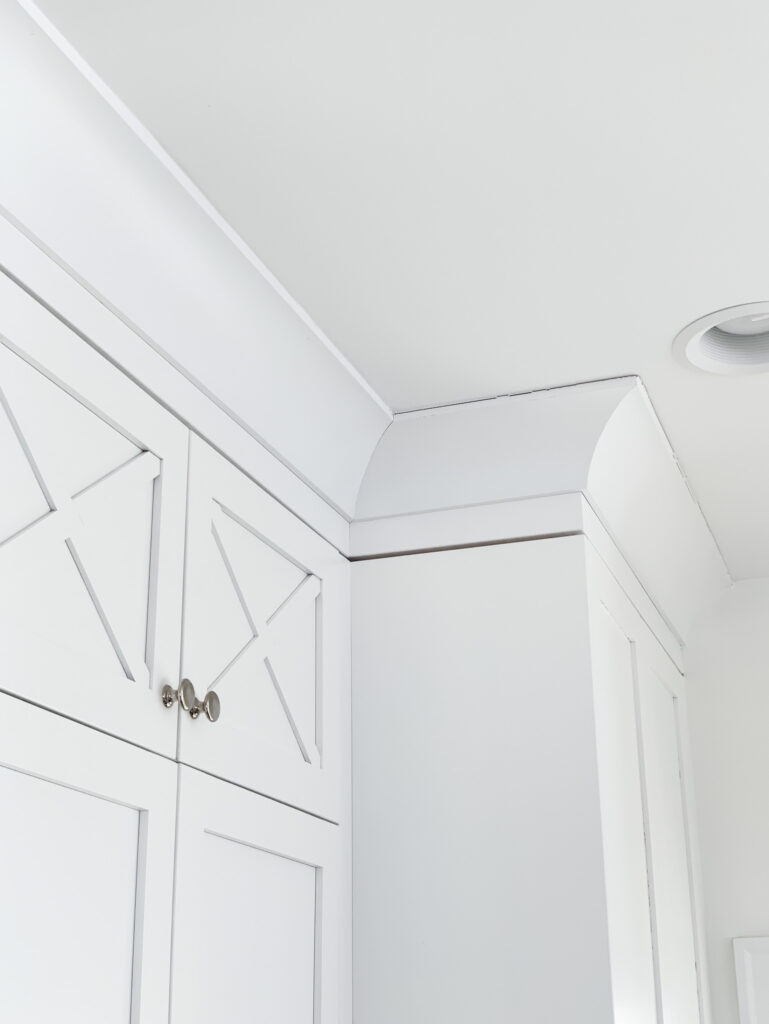 These are the "tools" I used for anyone curious. I went with the squeezable tube of my favorite caulk (rather than buying the version intended for a caulk gun). I got mine at Lowe's a while back but I've also used this version from the same brand with equally as great results. I then just run a bead down the trim (usually about a foot or 18″ at a time). I then lightly dip my index finger in the water and run it down the bead of caulk to make it as smooth as possible. I'll wipe off any excess caulk on the paper towel as I go. It's pretty straightforward but makes such a big difference! And since our ceilings are un-tinted white ceiling paint, I'm not planning to paint over it. It already blends pretty seamlessly!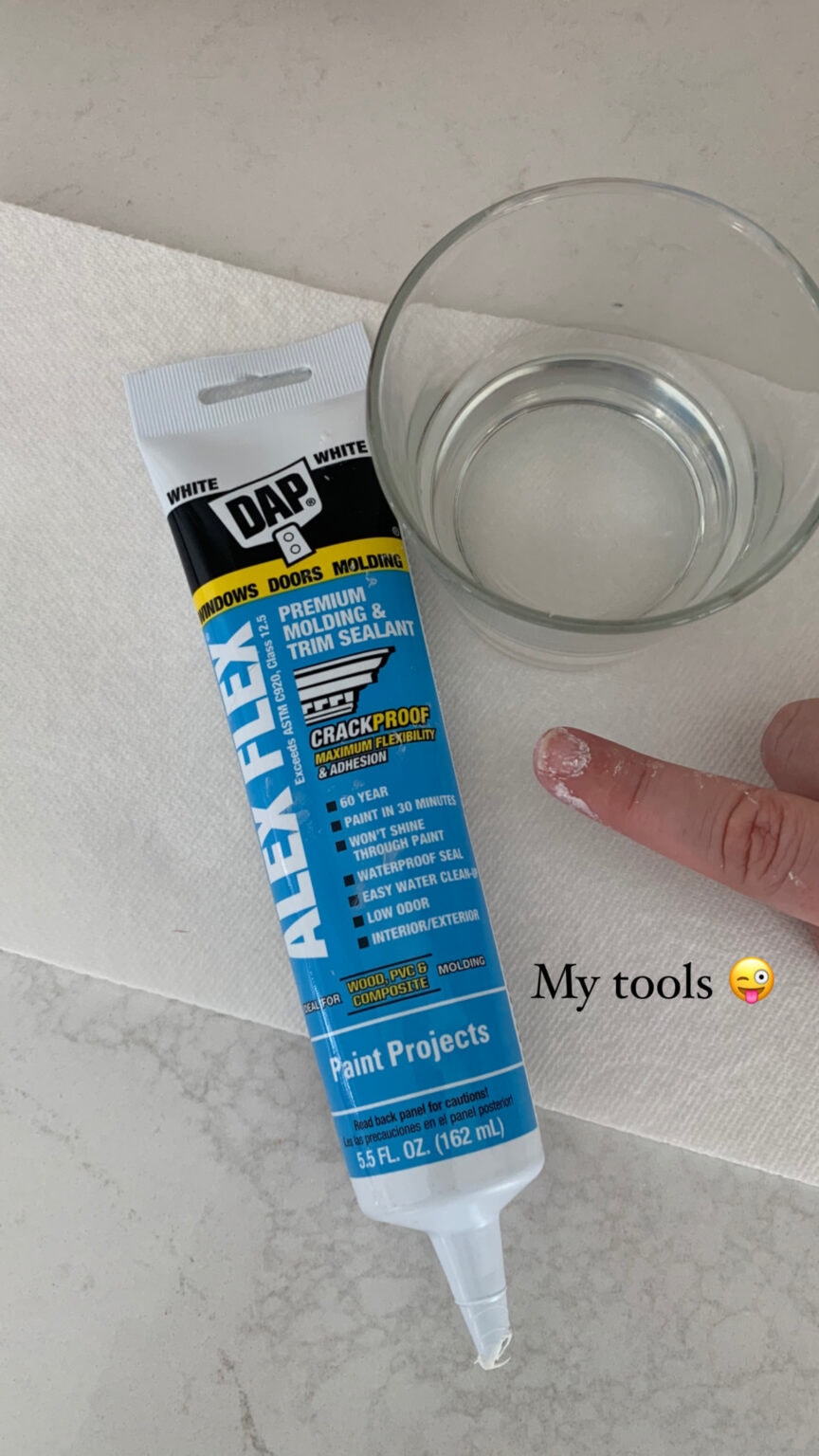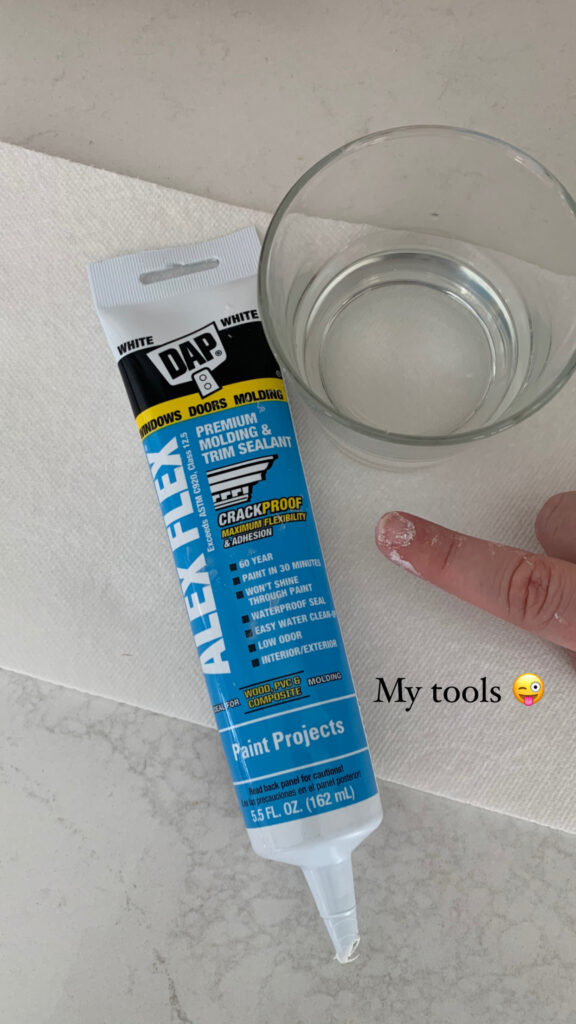 There's a new Studio McGee spring line launching at Target in about two weeks! But for whatever reason they launch a few new pillows already online! I ordered these block print pillows last week and think they're so perfect for late winter into spring and summer! They both come in the opposite sizes too.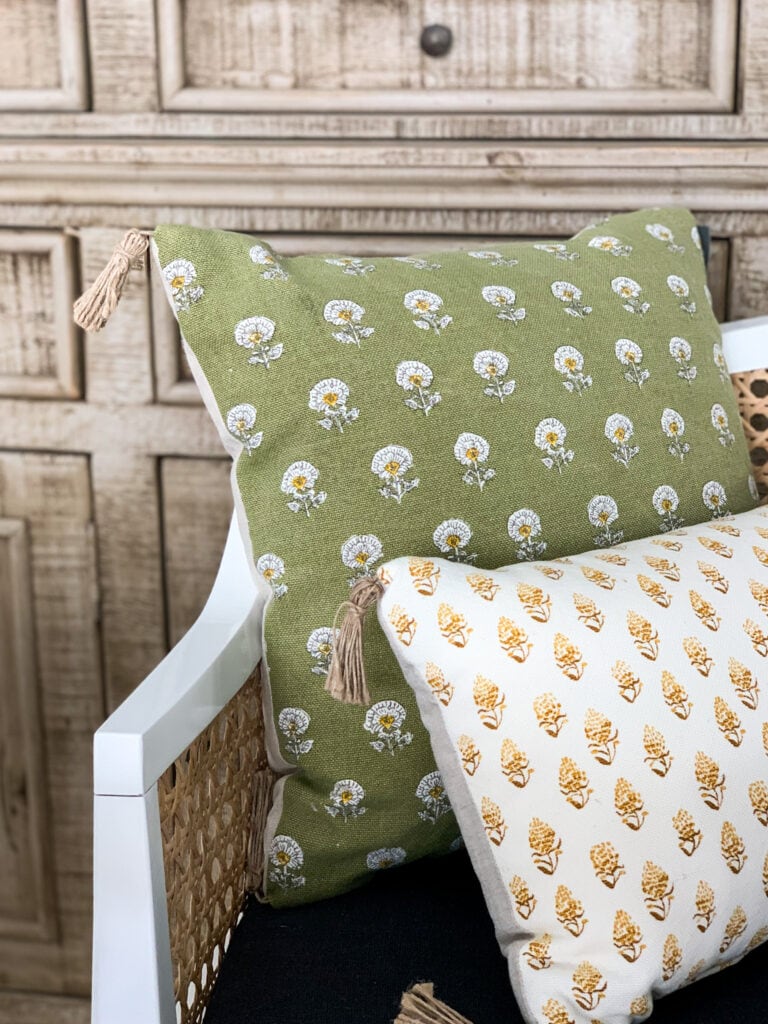 SOURCES: Block Print Pillows | Cane Dining Chair | Cane Dining Chair Look for Less
I haven't taken a single Christmas decoration down yet other than the ornaments on our bedroom tree. But that's it. So I'm hoping to tackle that later this week and get things back to normal-ish around here! I also only completed about 1/10 of my project list for the break, but I'm trying to be okay with it! Especially since I'm the most prepared for tax season I've ever been. I'm considering that a major win!
Top Sellers Of The Week
Following are the top sellers of the week across all of my channels. Links to each item are below the graphic. Since I've missed the last few Weekend Recaps, I thought I'd include the items from the past three weeks. The sale details are specific to the Sunday each of them were published on Instagram so may no longer be applicable, but newer sales may apply! A few have since sold out as well.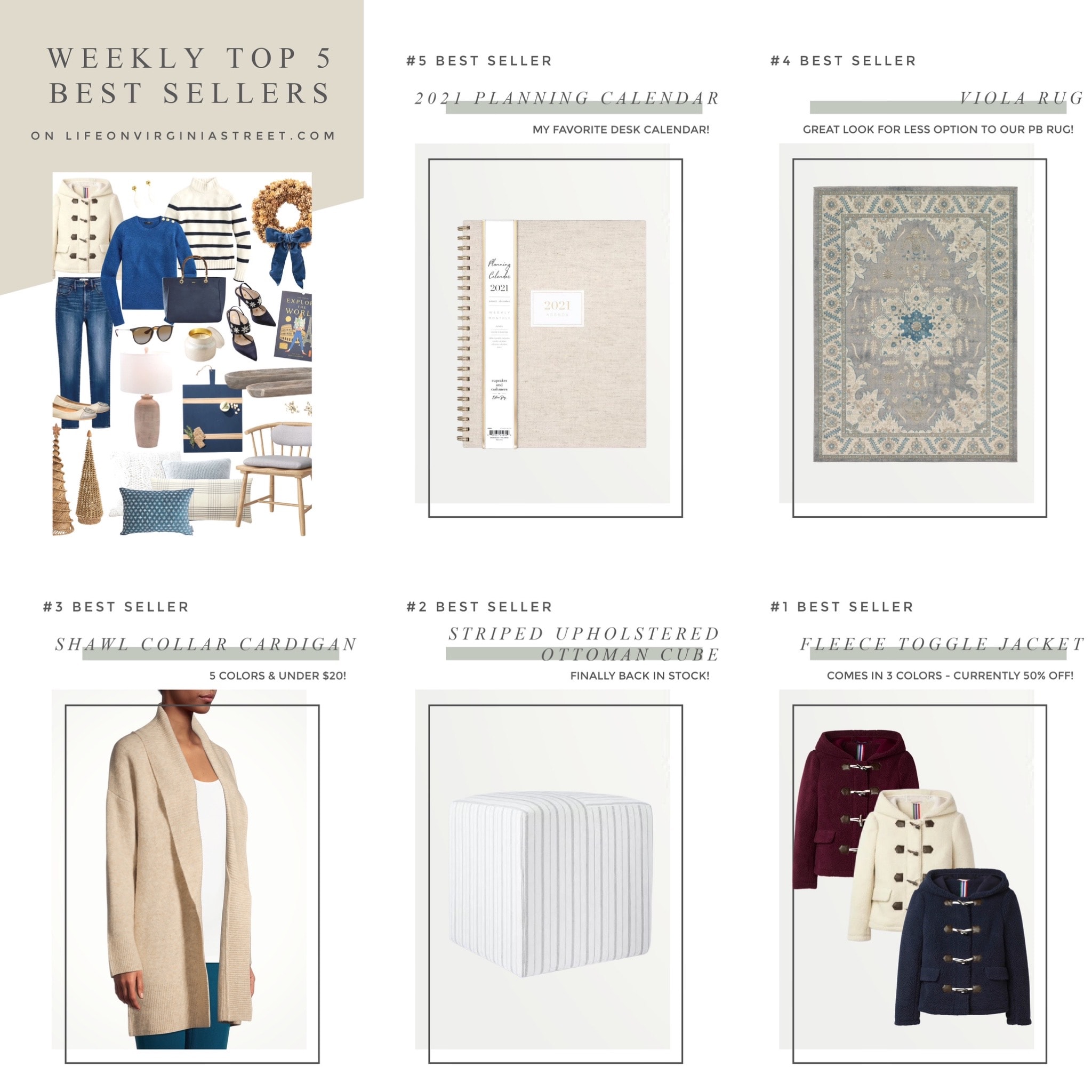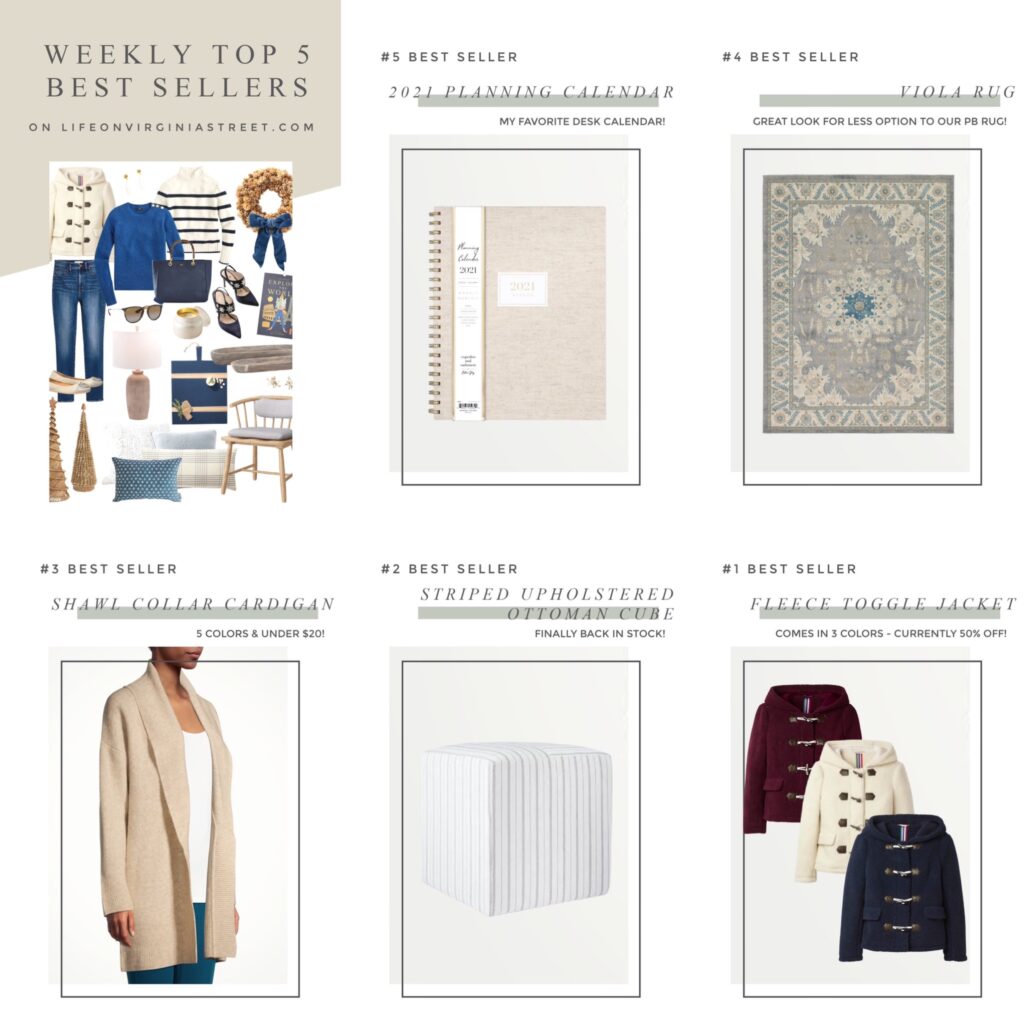 BEST SELLERS (each number is clickable): #5 | #4 | #3 | #2 | #1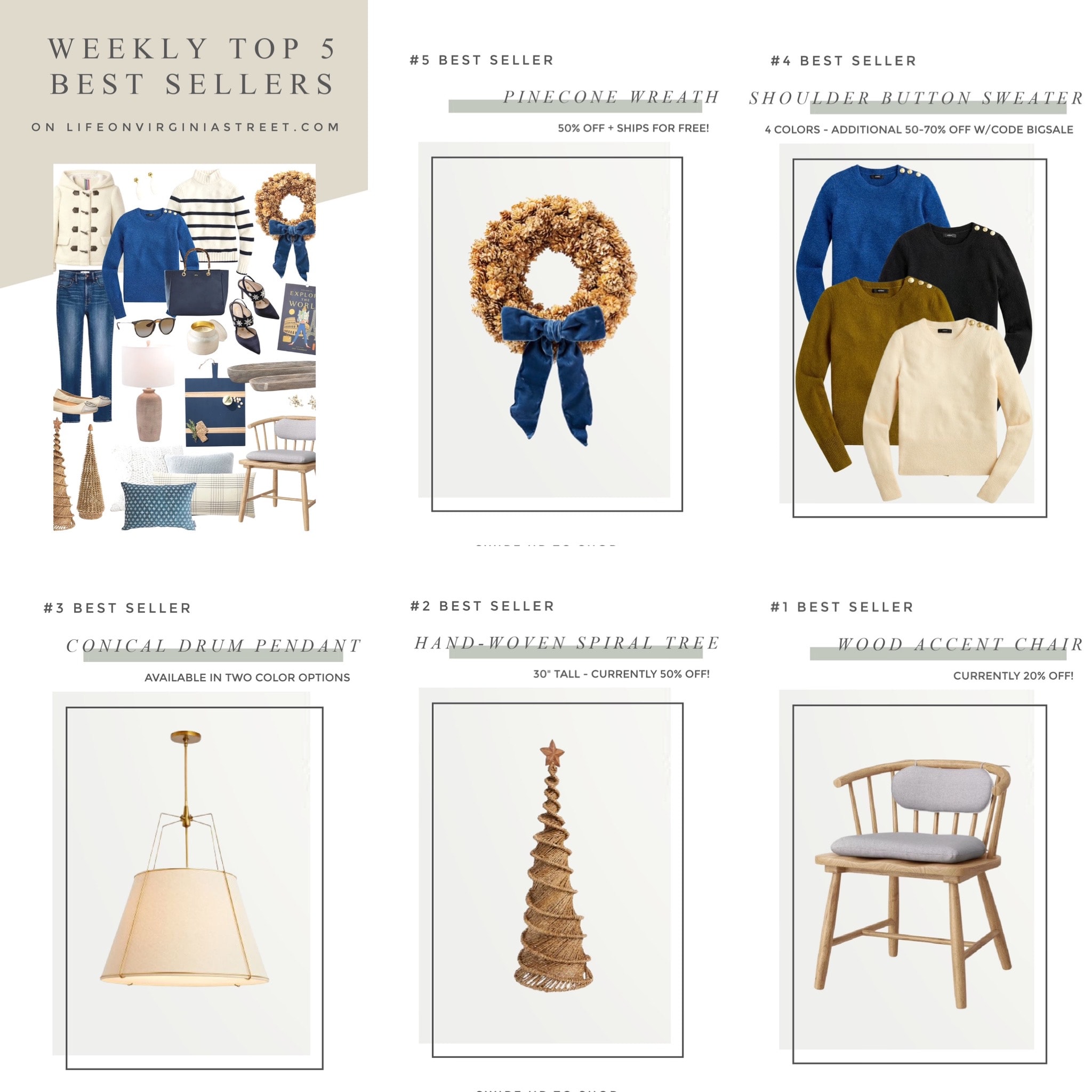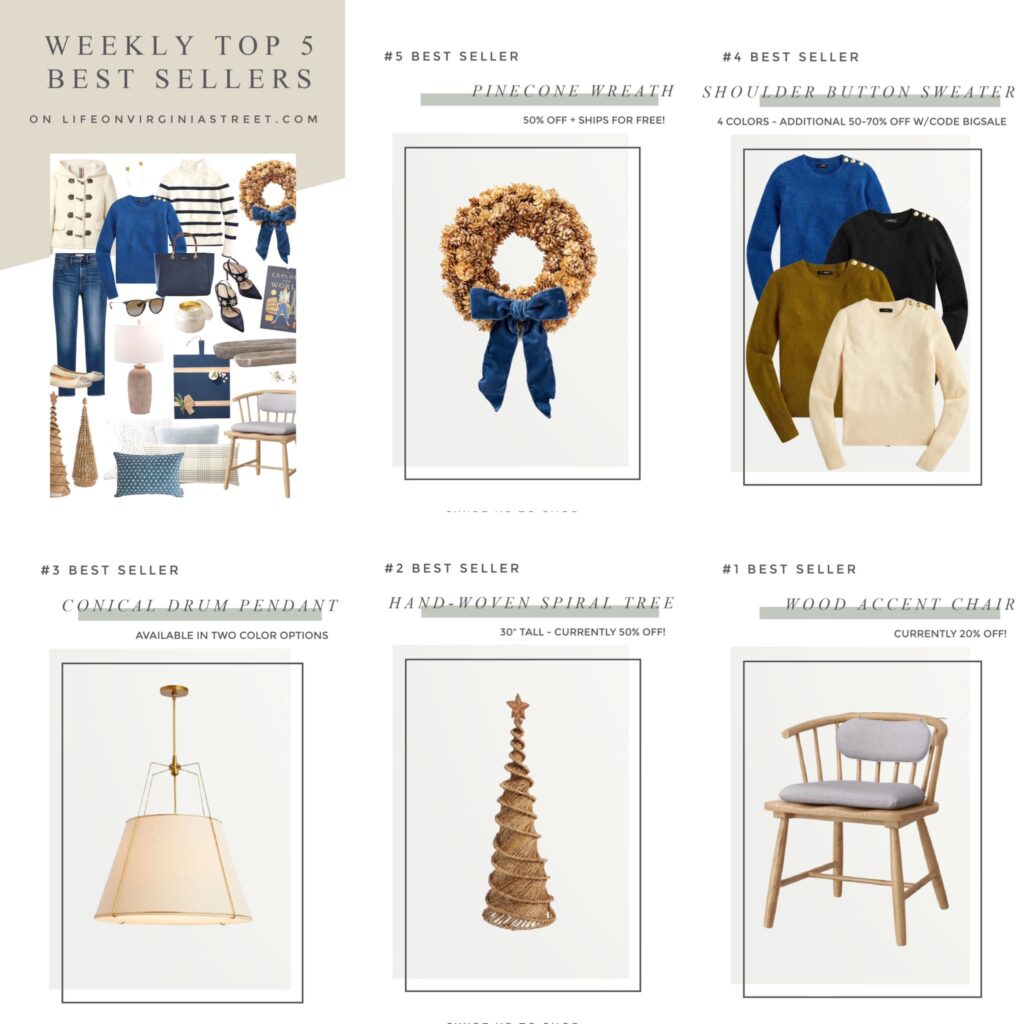 BEST SELLERS (each number is clickable): #5 | #4 | #3 | #2 | #1
Following are the most recent bestsellers from this past week!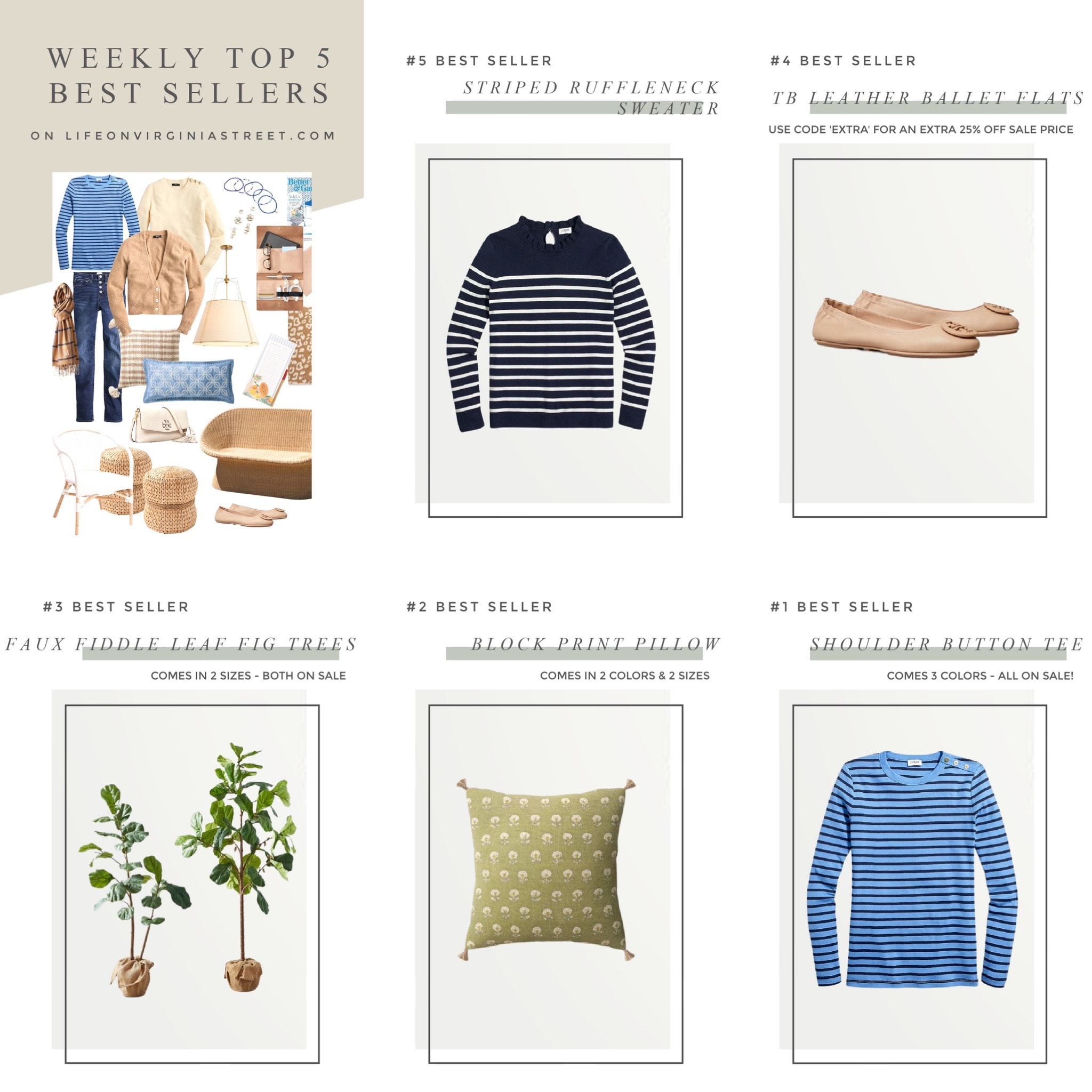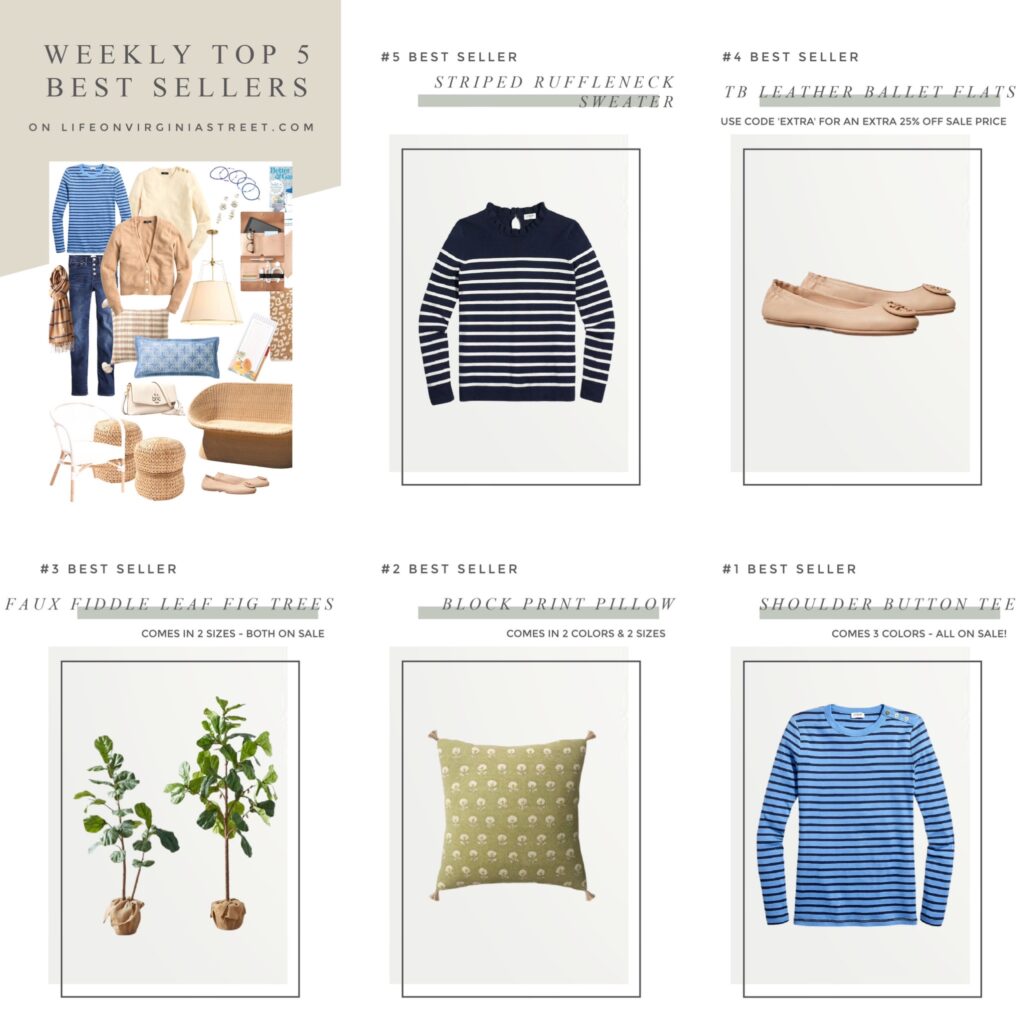 BEST SELLERS (each number is clickable): #5 | #4 | #3 | #2 | #1
I know a bunch of you have wanted these rope chairs for awhile and they sell out so dang quickly every time they come back in stock. I just found this gray pair but I'm guessing they won't last long again! Sorry for the crappy photo quality but it's a screenshot from my Instagram Stories. But I thought I'd add them here too, before they sell out!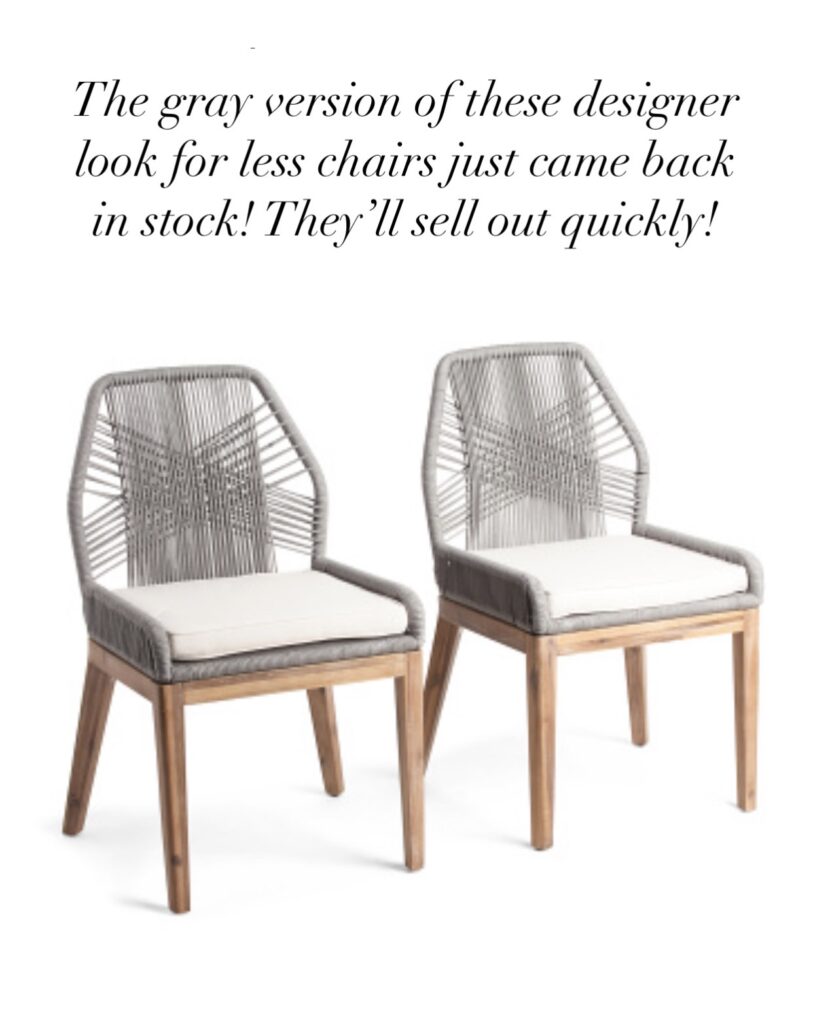 Around Town & For Fun
The past few weeks have been a bit of a blur. But a really fun and also relaxing blur! We had originally planned to go to Salt Lake to spend Christmas with my side of the family, but around Thanksgiving, I talked it over with my mom and we decided it didn't make sense since numbers were spiking around the country. So, we ultimately decided to stay home for Christmas.
We were able to celebrate Christmas Eve with our BFFs and goddaughters. We had grilled cheese and tomato soup and it was so good! I think my favorite memory of the night was Zoe eating a grilled cheese but then running to my lap to try my soup. She decided it was better, so she used her grilled cheese as an armrest to eat the soup. It was hilarious! We also decorated Christmas cookies and opened gifts. We got her this vet set and this remote control car and she loved them both! We told her she had to share with baby sister since Elle is too young for her own toys 😉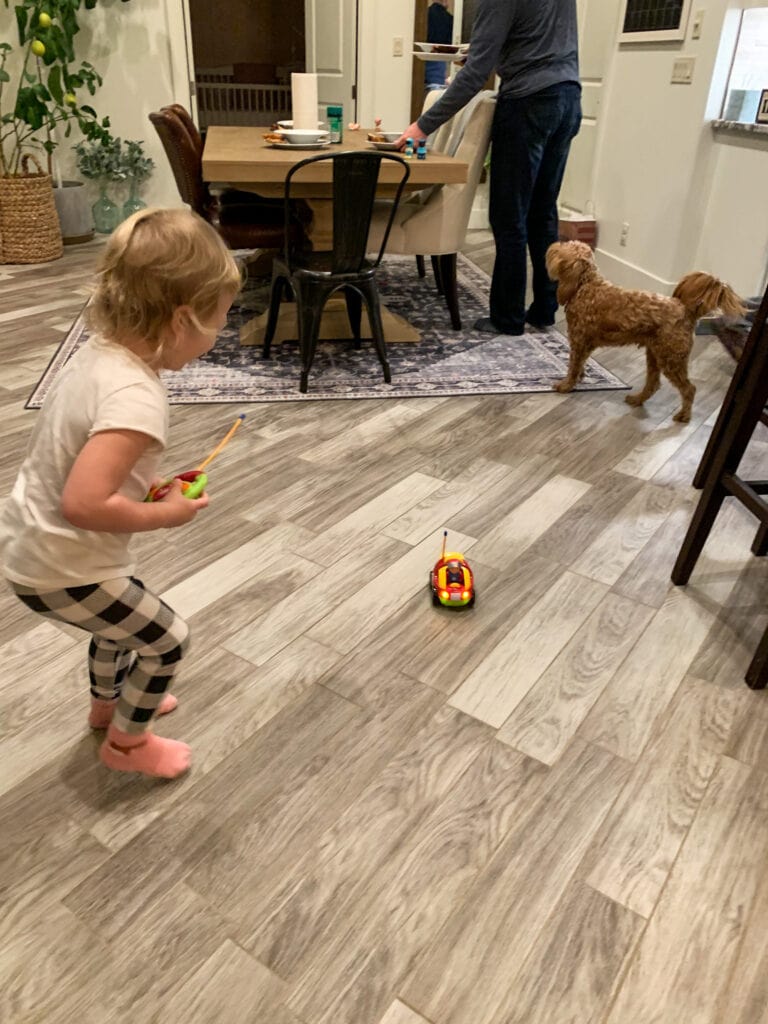 She caught on pretty quickly to both and we were excited she was still playing with both on New Year's Eve 😉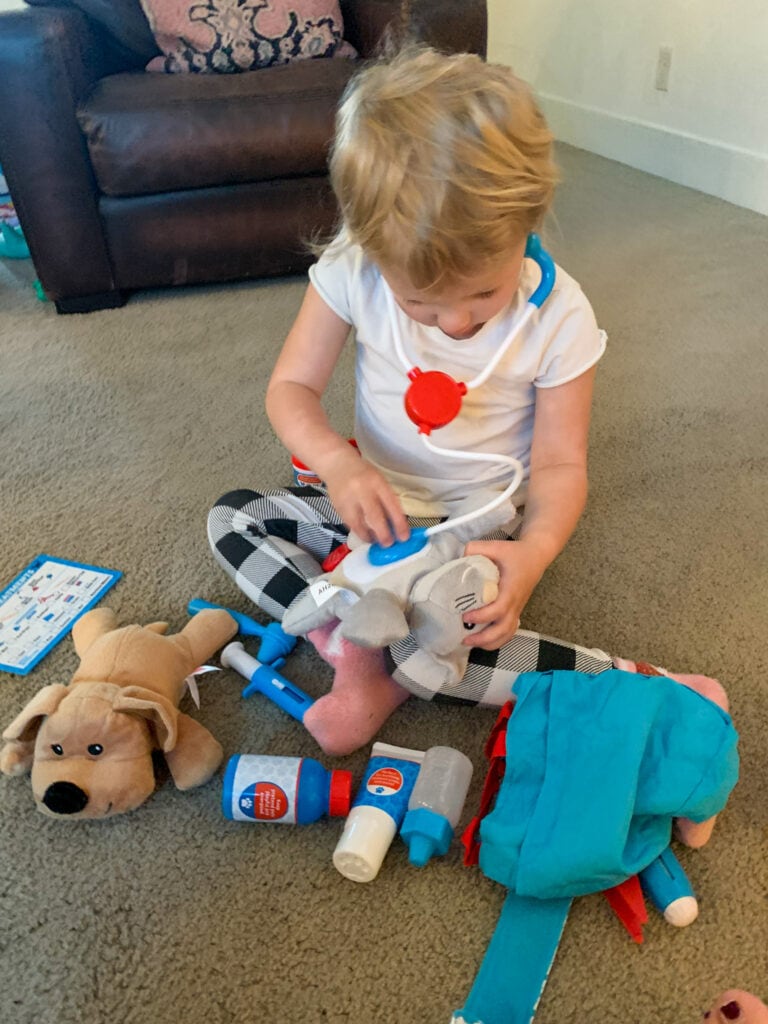 We truly had a white Christmas (which isn't necessarily that often here) when we got hit with a major storm! We got even more snow right before New Year's Eve and it definitely piled up. Now that we're both working from home, we find we don't hate the cold and snow quite as much. It sure is pretty to look at!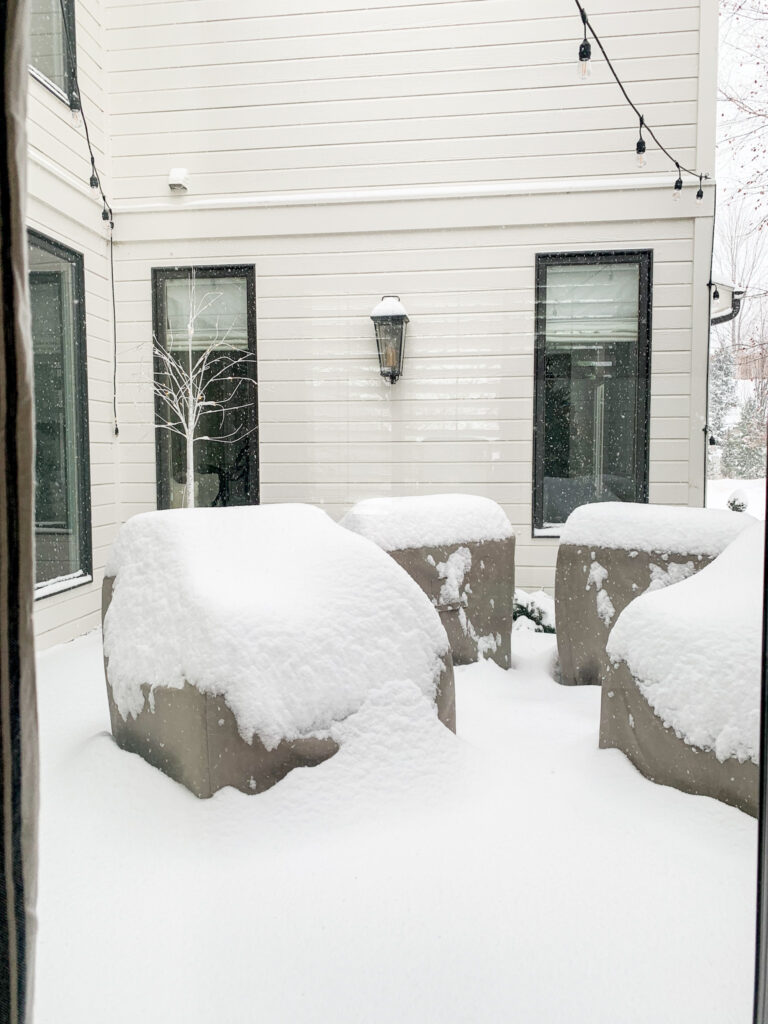 We had New Year's Eve at our friends' house. And although there were only six adults in attendance, you would think by the spread below there was a whole house full 😉 And in shocking news to most of us, we actually made it past midnight! I think that's only the second or third time ever in our eight years of celebrating the night together!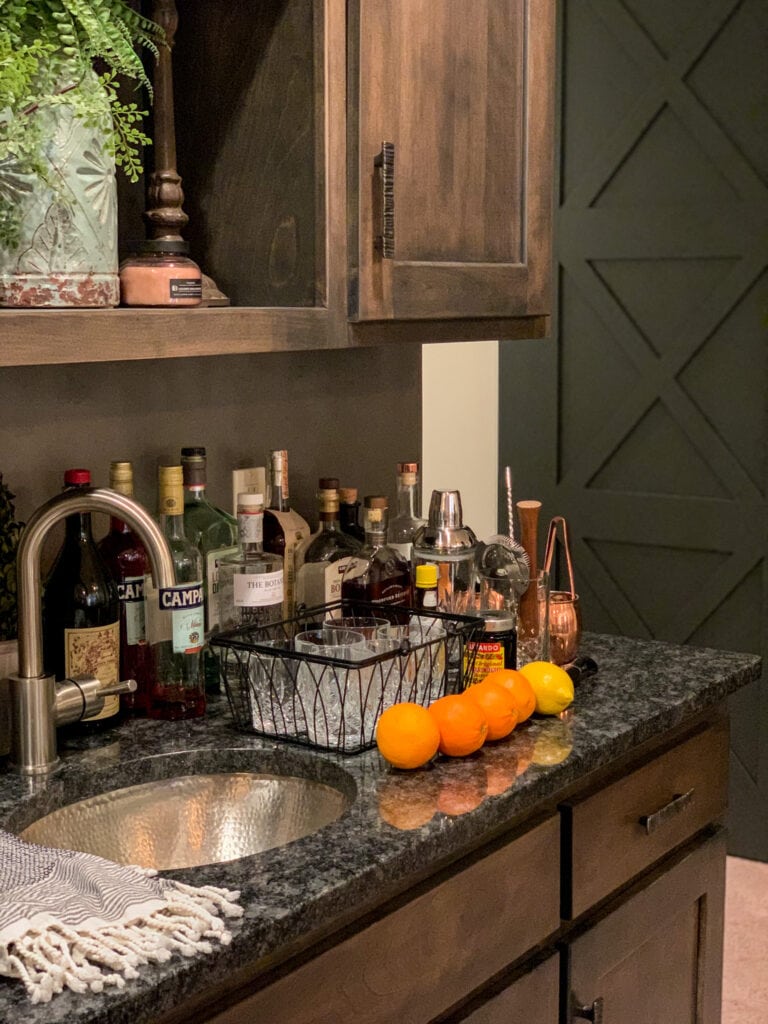 We also had a fun dinner with Kurtis' sister and husband over the weekend with homemade pizza and cards at their house. If you can't tell, most of our activities revolved around food and drinks and most of my photos were of actual said food and drinks 😉
We watched a bunch of movies over the break, we well. Can you believe I had never seen Die Hard before? I finally told Kurtis I'd watch it – mostly so I could judge if it was a Christmas move like so many claim. And while I liked the movie, I am firmly in camp definitely-not-a-Christmas-movie!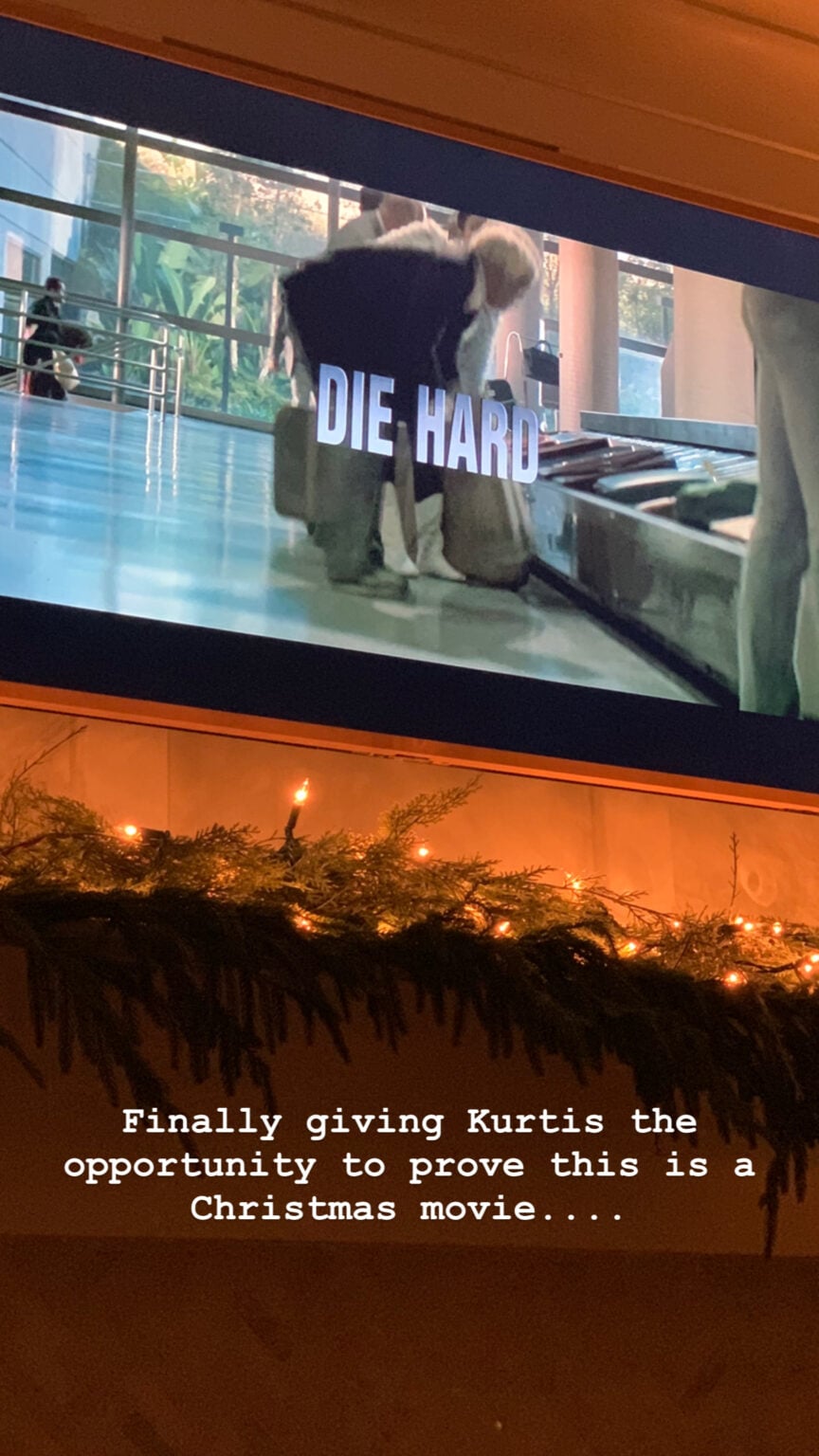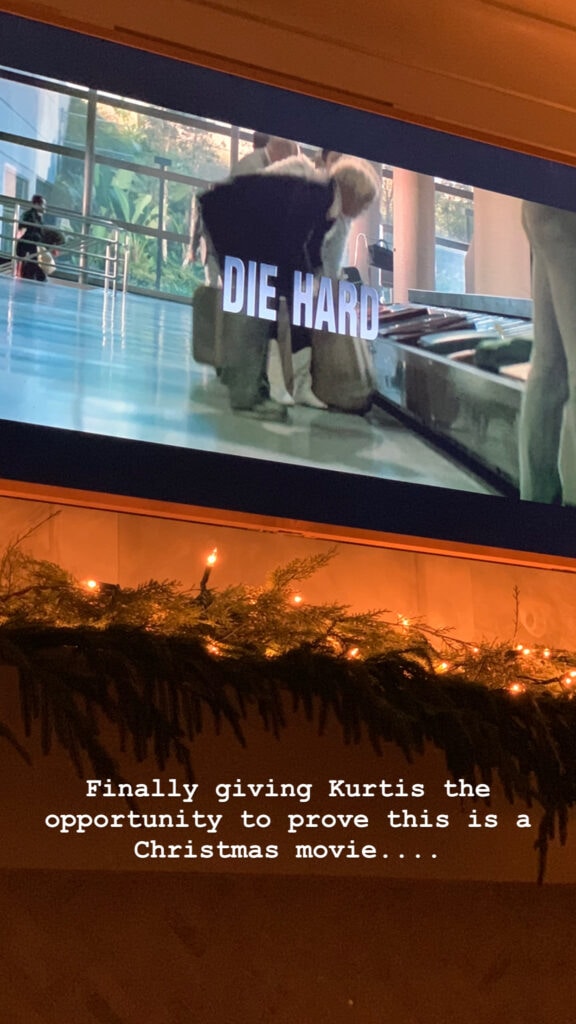 We finally indulged in some much needed downtime. I tried to unplug as much as possible, read a few books, nap when I felt like it, and overall be pretty lazy. It was glorious! Once I started reading in the den, Henley would head there each afternoon and basically not stop crying until I'd come up.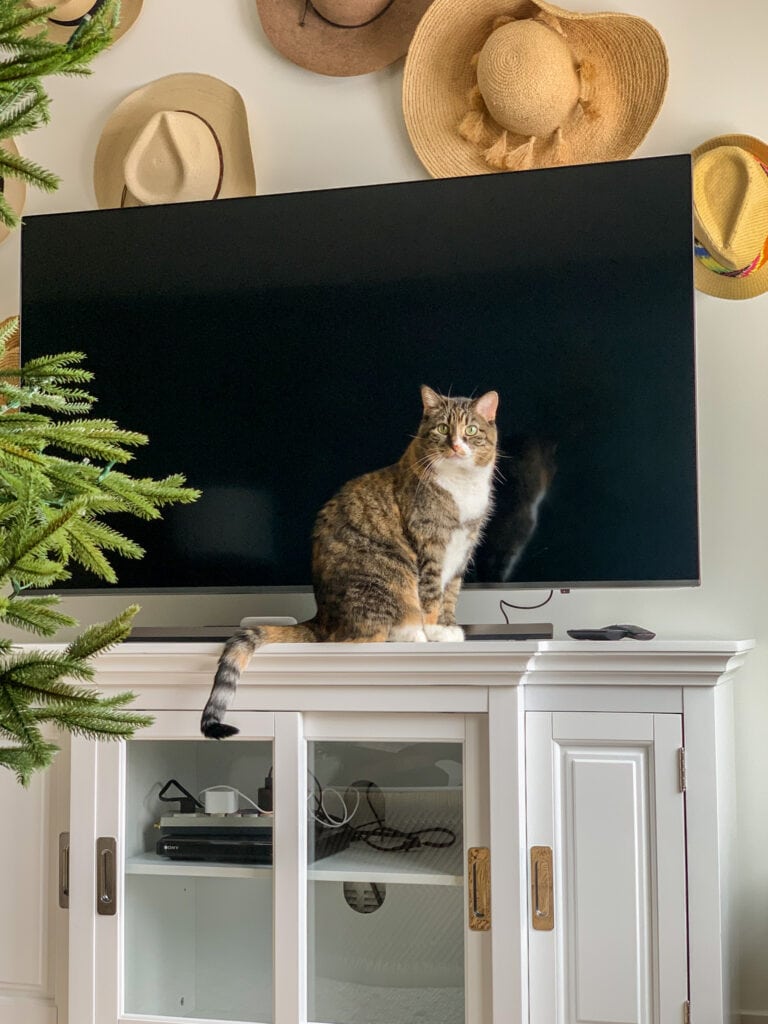 It can be hard for me to focus on downtime, as I easily get distracted. It helped these two would be pin me down when I was reading in the den 😉 One or the other seemed to always be laying on my legs or cuddle up tight so I couldn't move.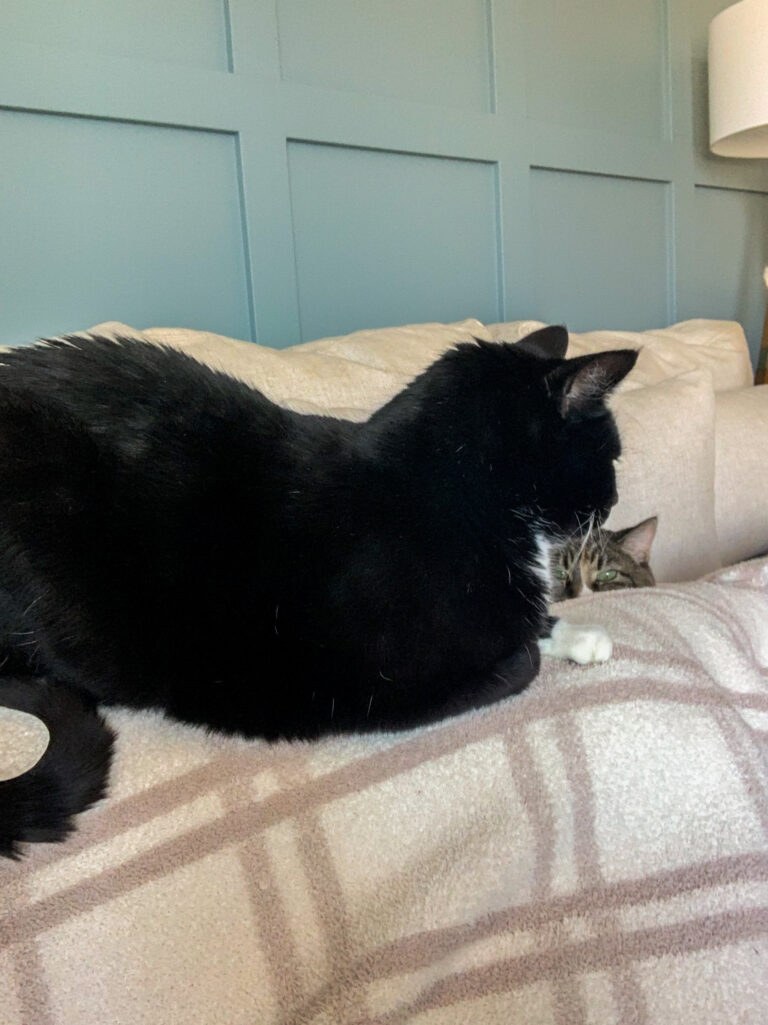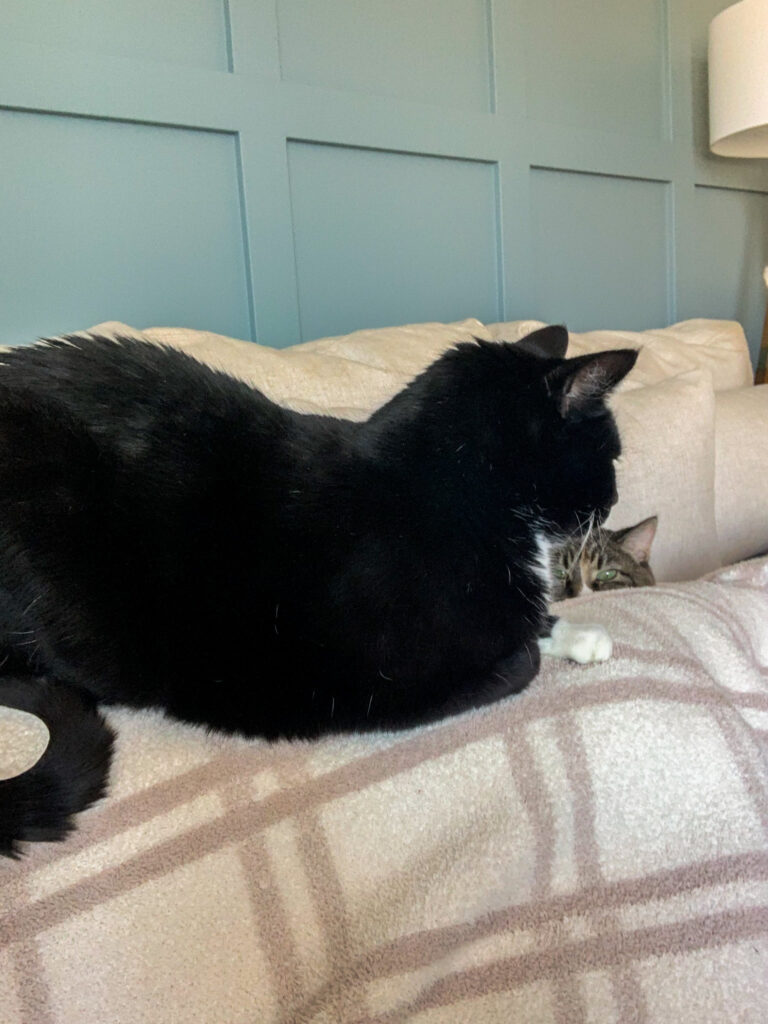 Bailey preferred cuddle time on the couch downstairs which worked out well for our movie nights. Could she be any sweeter?! I think all three are going to be confused by mid-week when they realize we're no longer spending our days laying on the sofas all day..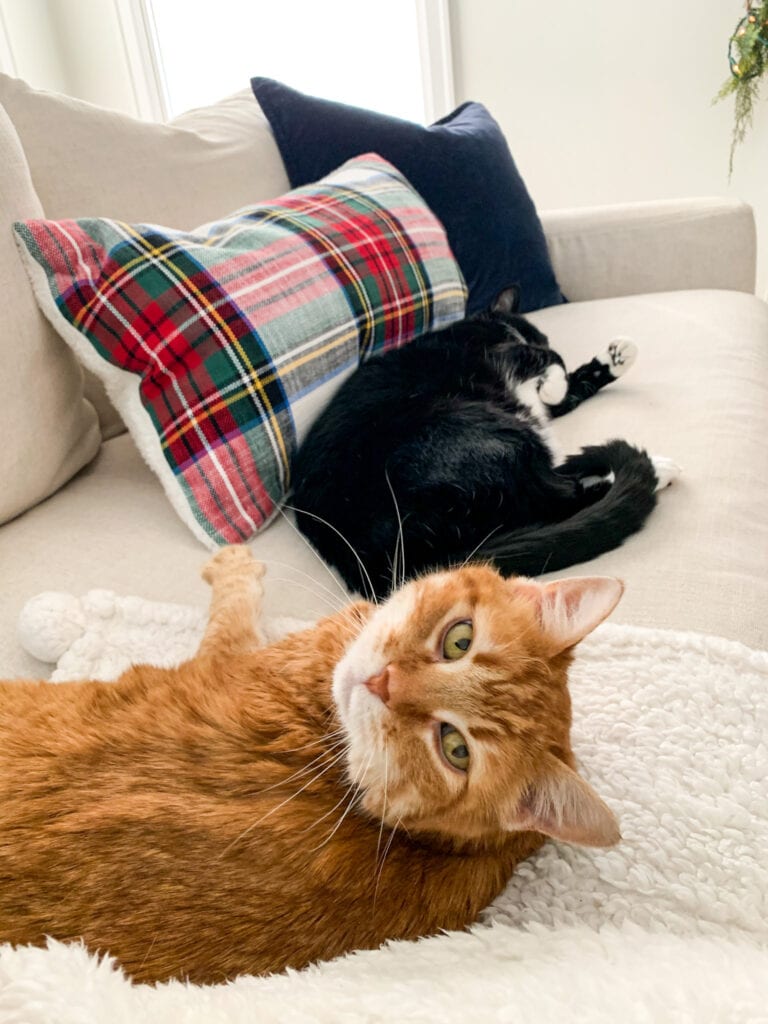 Over the holiday, we also finally booked a trip for our 15 year wedding anniversary. Our 15th anniversary was last July, but we postponed our plans not knowing what travel would look like at the time we needed to book. But we're ready, have a trip planned and are hoping we can still go! I'll share more as it gets closer.
We're participating in dry January again this year with our friends, and we each made individual health goals to stick to. I think it helps that there are six of us doing it so we can all cheer each other on, and complain about healthy food and drinking water together 😉 I think we're all tired of feeling gross and lazy and ready to get back to it!
I spent far less time planning and goal-setting than I initially had hoped for at the start of Christmas break. I'm hoping to get caught up on some of that today and later this week. Regardless, I'm feeling refreshed after the break and ready for a new year!
Recent Buys & Sales
Following are some of the sales that have carried over from the weekend. You can see my top picks here.
I hope you all have a great week and start to the new year!
If you would like to follow along on more of my home decor, DIY, lifestyle, travel and other posts, I'd love to have you follow me on any of the following:
Pinterest | Instagram | Facebook | Twitter
disclosure: some affiliate links used