Sharing a collection of black vase options and styling ideas. Black vases are beautiful for the fall and winter months if you're looking to add some contrast to your home!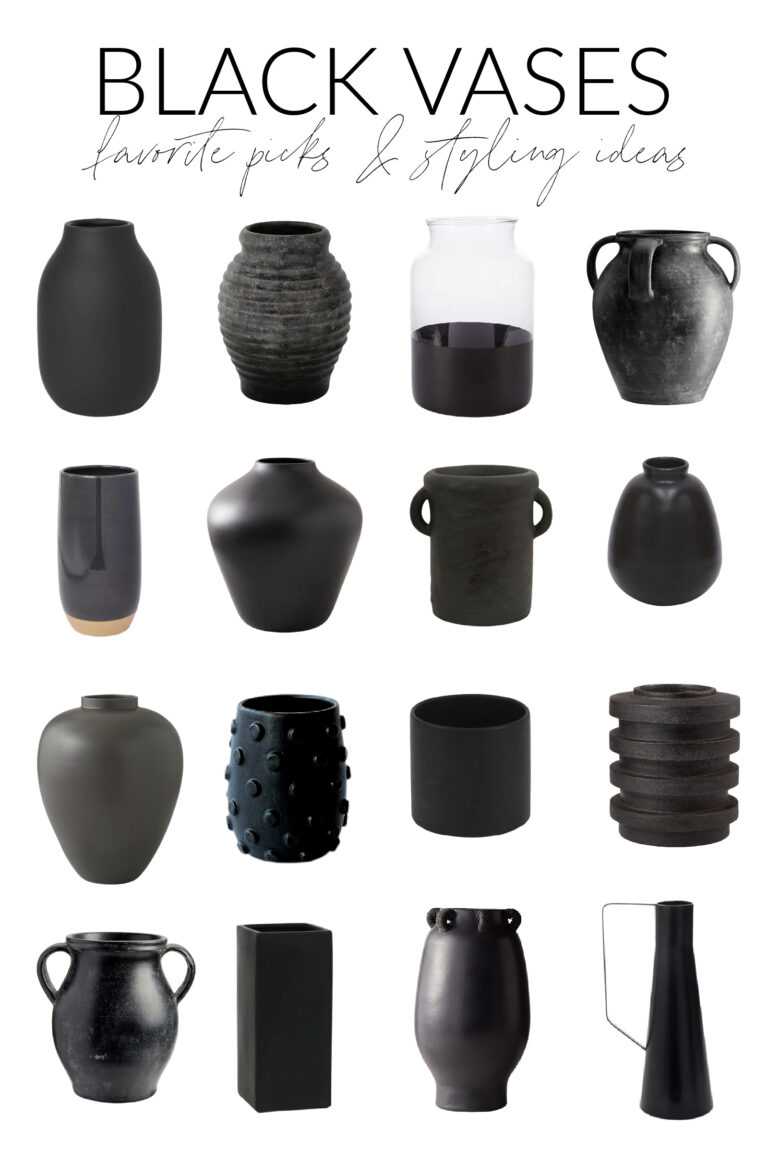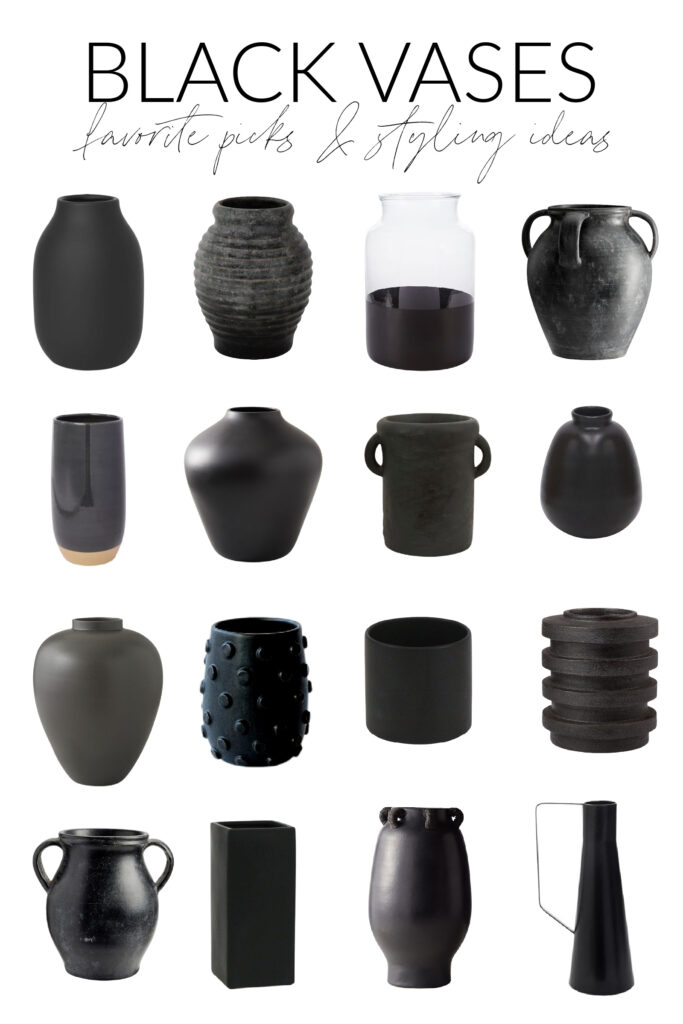 In my recent post sharing my 2020 fall design boards & decorating ideas, I mentioned I'm eager to add in some dark contrast to our decor for fall and winter this year. One of the ways I plan to try that is by finding a black vase I can use with my favorite fall foliage! Today I'm going to share some of my favorite finds and options!
This post contains affiliate links for your shopping convenience. Click here to read my full disclosure policy.
It's no secret I love decorating with faux greenery and stems! I have a post dedicated to my favorite sources and tips for buying faux greenery and flowers. And when my favorite large white ceramic vase sold out a few years ago, I made this post dedicated to white ceramic vase options and decorating ideas. So I have all those bases covered! But in the fall, I love the earthy vibes of weathered black ceramic options and there are so many pretty ones out there this season!
Black Vase Decorating Ideas & Inspiration
But first, a little inspiration to see how gorgeous black vases can look in a space! As you likely know, I'm typically a light, bright and airy decorator. But in the fall and winter months, I don't mind adding some darker decor for a little contrast and to add some moodiness. I'm personally loving the black ceramic vase options with a more matte & weathered finish, to keep it from looking too modern. But there are so many pretty options available regardless of finish preference!
I'm especially loving this black vase filled with olive tree stems! It comes in three versatile sizes depending on how you intend to use it!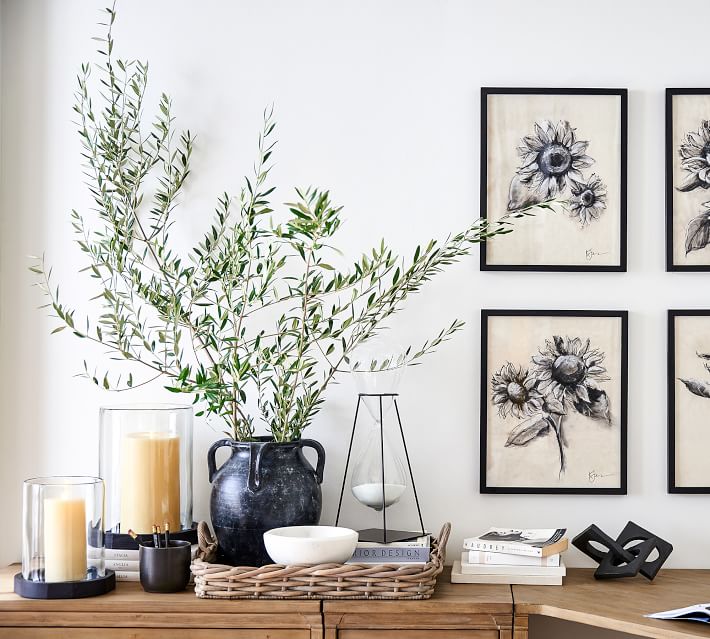 I'm also loving a combination of empty vases paired in collections on bookshelves. These are the same black vases shared above in two different sizes.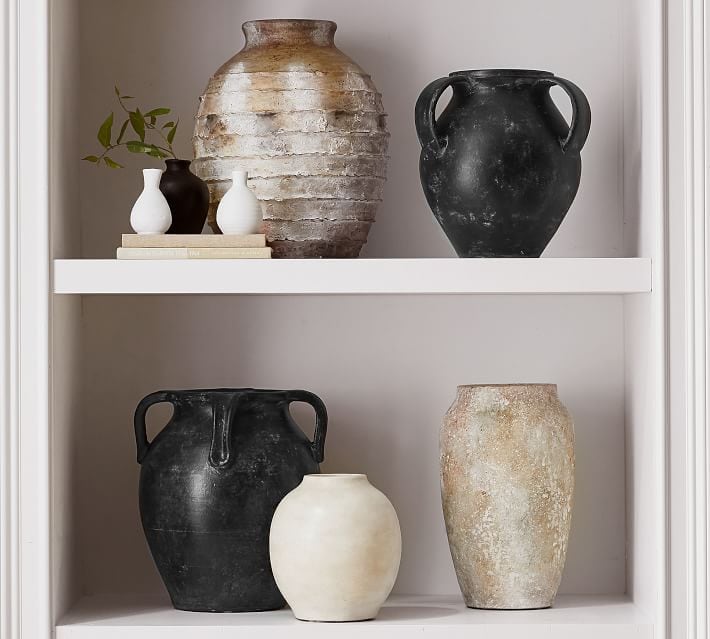 Although this vase is technically dark gray, it gives a very similar effect. And I love the exposed stoneware at the bottom! So pretty filled with natural clippings from your yard or faux fall foliage. This vase is part of the Studio McGee collection that launches at Target next month! Get excited!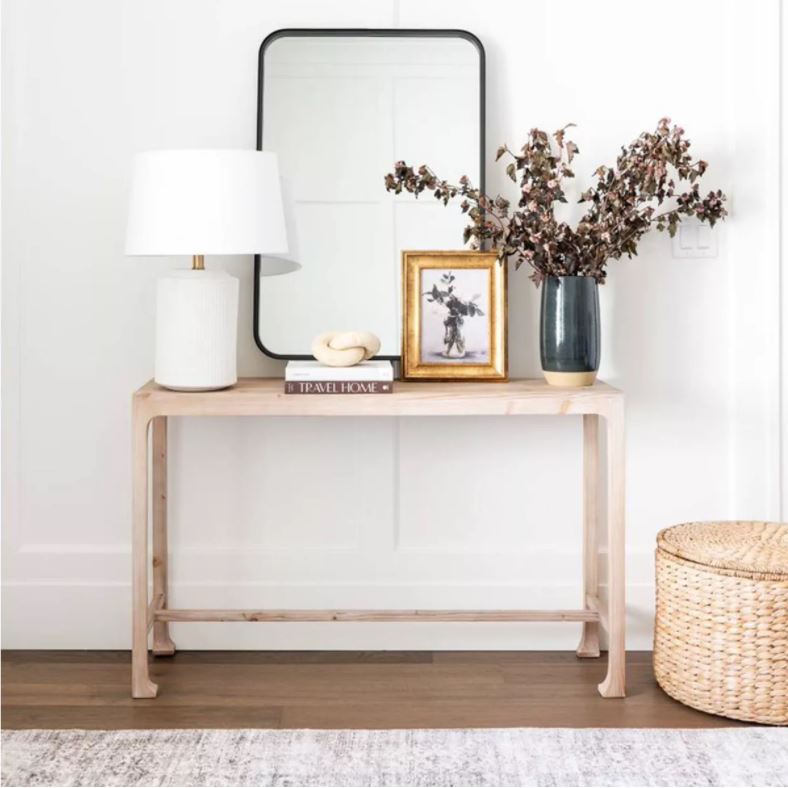 Here I love how a small black vase is shown in a mostly white kitchen. Doesn't that contrast look so pretty? Especially when paired with a natural stem. It doesn't hurt that my favorite fall hand soap is also in the shot 😉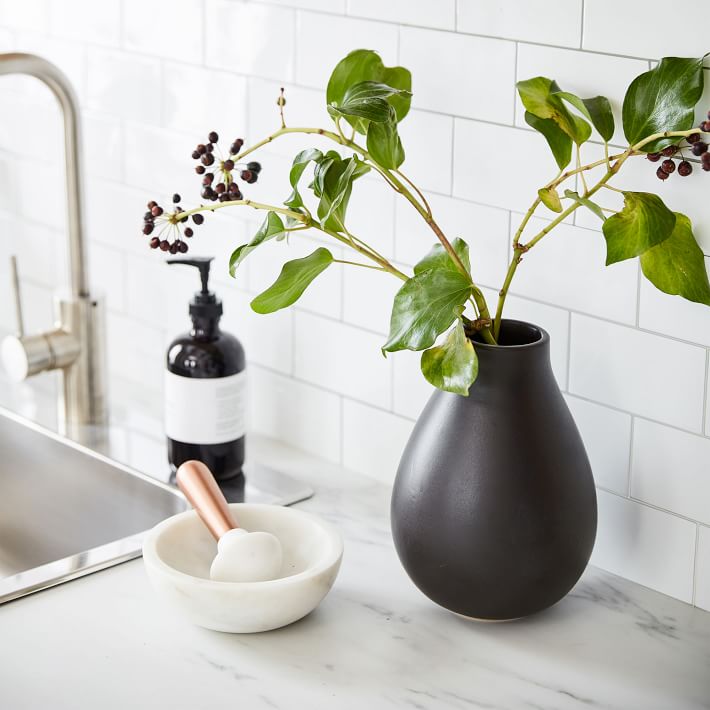 I love how Studio McGee filled this aged charcoal vase with natural branches much larger than the vase itself. Such a gorgeous statement! It feels organic and not too stuffy or overly styled.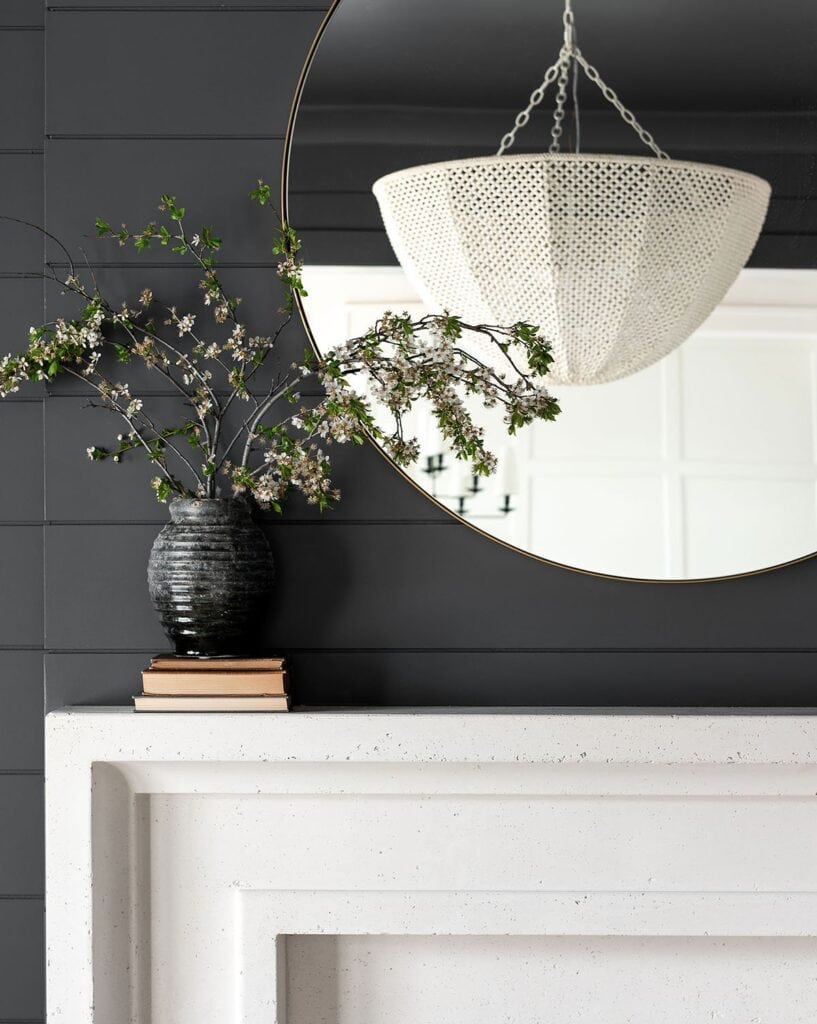 My Favorite Black Vases
Now that you've seen my favorite inspiration, let's jump into my favorite black vases I found in my search. I've included links to each of these options under the graphic.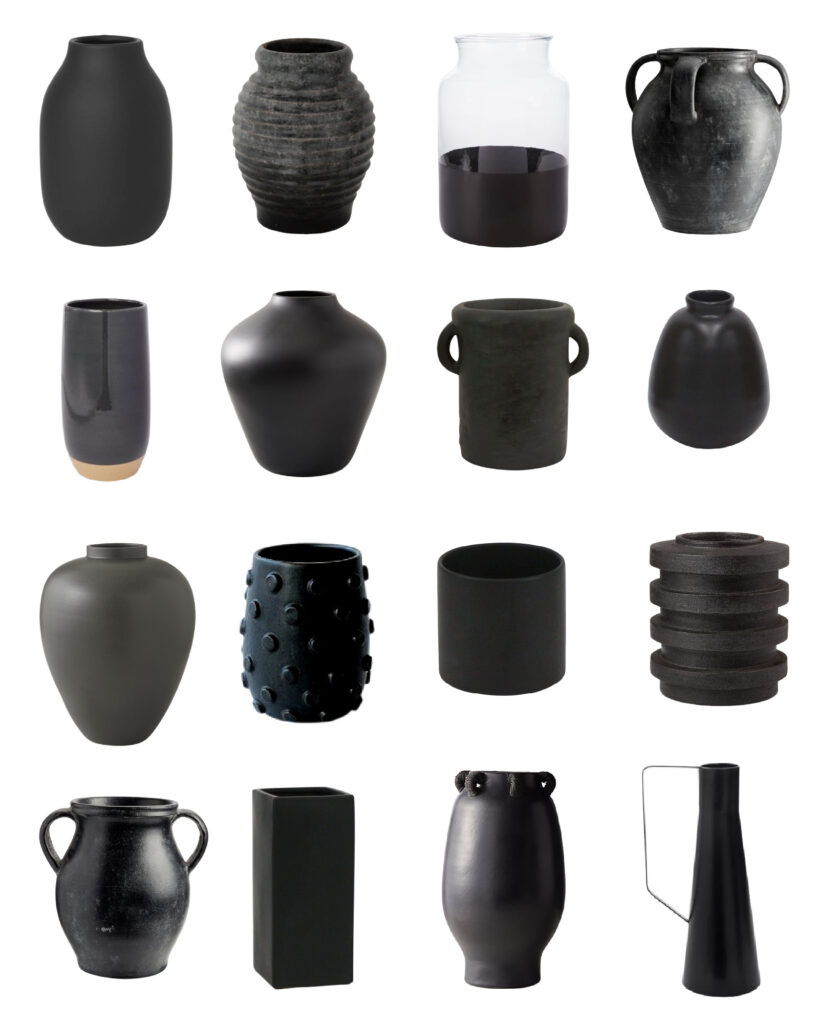 Row 1 Sources: Vase 1 | Vase 2 | Vase 3 | Vase 4
Row 2 Sources: Vase 1 | Vase 2 | Vase 3 | Vase 4
Row 3 Sources: Vase 1 | Vase 2 | Vase 3 | Vase 4
Row 4 Sources: Vase 1 | Vase 2 | Vase 3 | Vase 4

Following are a few additional options. Click on any of the images below to learn more about each of the vases shown.

Additional Fall Decor Inspiration
Looking for even more fall decorating ideas? Be sure to check out all of these other posts I've written!
So what do you think? Are you loving the black vase trend for fall, too? I can't wait to try it!
If you would like to follow along on more of my home decor, DIY, lifestyle, travel and other posts, I'd love to have you follow me on any of the following:
Pinterest | Instagram | Facebook | Twitter
disclosure: some affiliate links use