Today I'm sharing a collection of  classic and timeless white ceramic vase options that will work year-round in your home decor! These vases and pots come in at a variety of prices to work for all budgets.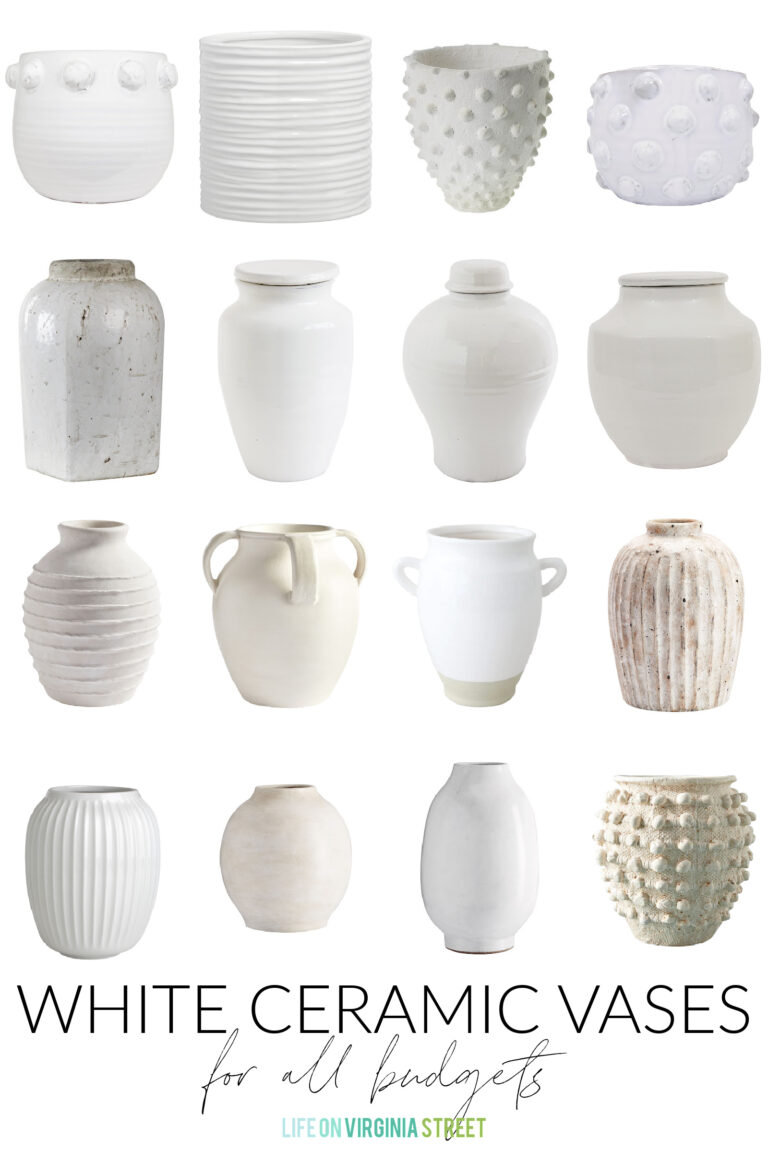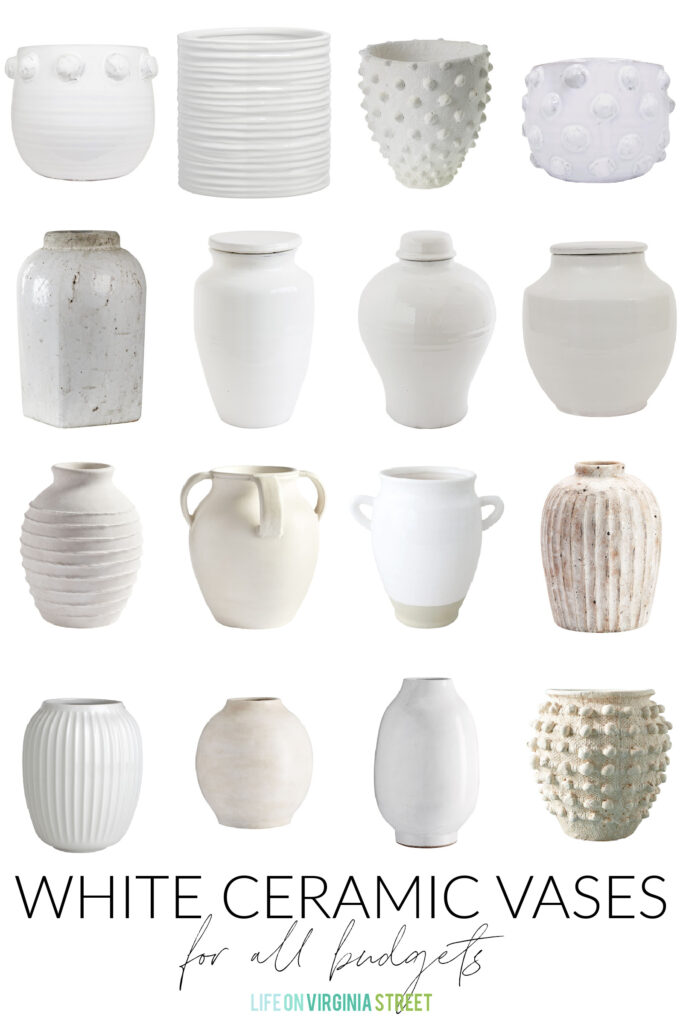 Today's post is a simple one, but helps answer a question I get frequently about one of my favorite decor pieces in our home. Our large white ceramic vase along with other alternatives! And if you're on the hunt for a darker version, be sure to also check out my post on black vase options.
This post was originally published January 9,2020 but has been updated to include in-stock options and additional ideas. This post also contains affiliate links for your shopping convenience. You can read my full disclosure policy here.
White Ceramic Vases Around Our Home
If you've followed me for any amount of time, you likely know that this white ceramic vase has made the rounds in our home and has been used every single season since I bought it. It's a timeless look I love, and when the seasons change, it's an easy way to refresh your space with some updated greenery stems!
Unfortunately, the vase we have sold out pretty quickly years ago. It's massive and beautiful and unique and it's one of those timeless pieces I know I'll have for years to come. Although I haven't found something similar for a few years, it taught me that a good, timeless vase is worth the investment and I can get years and years of use out of one. With that, I am sharing several other beautiful alternatives for all budgets further down in the post!
The vase first made its appearance in our coastal kitchen reveal clear back in 2018! I have loved using it with simple faux greenery in the spring and summer.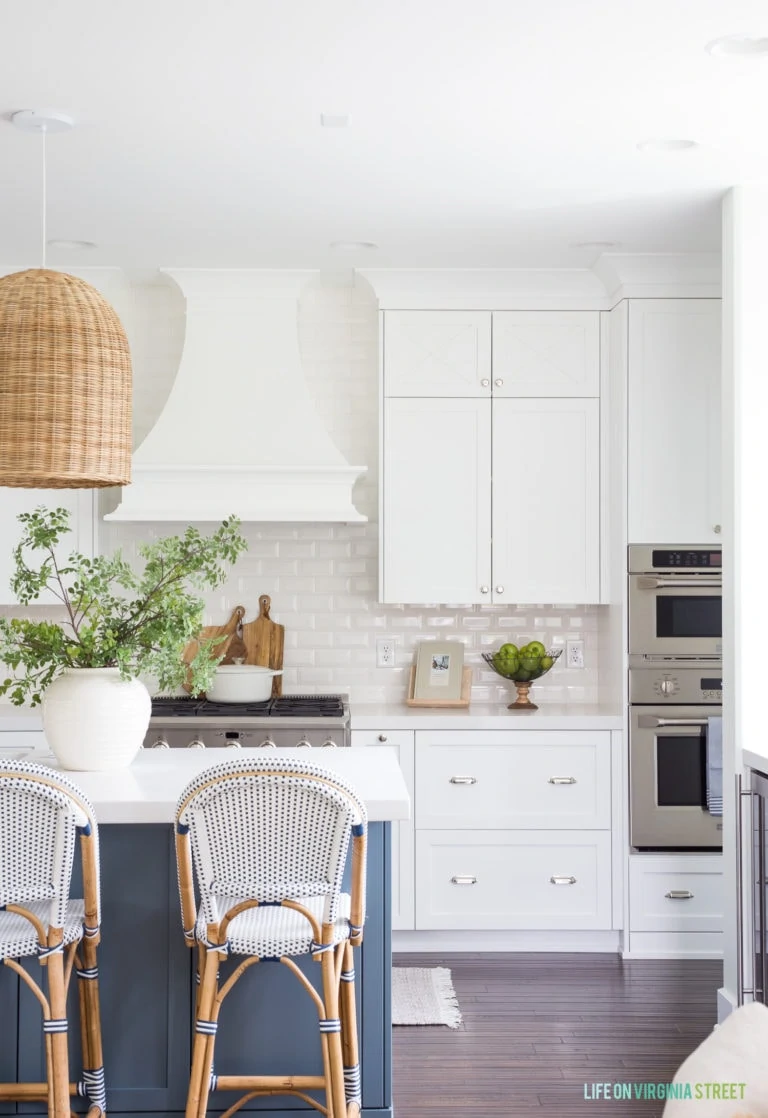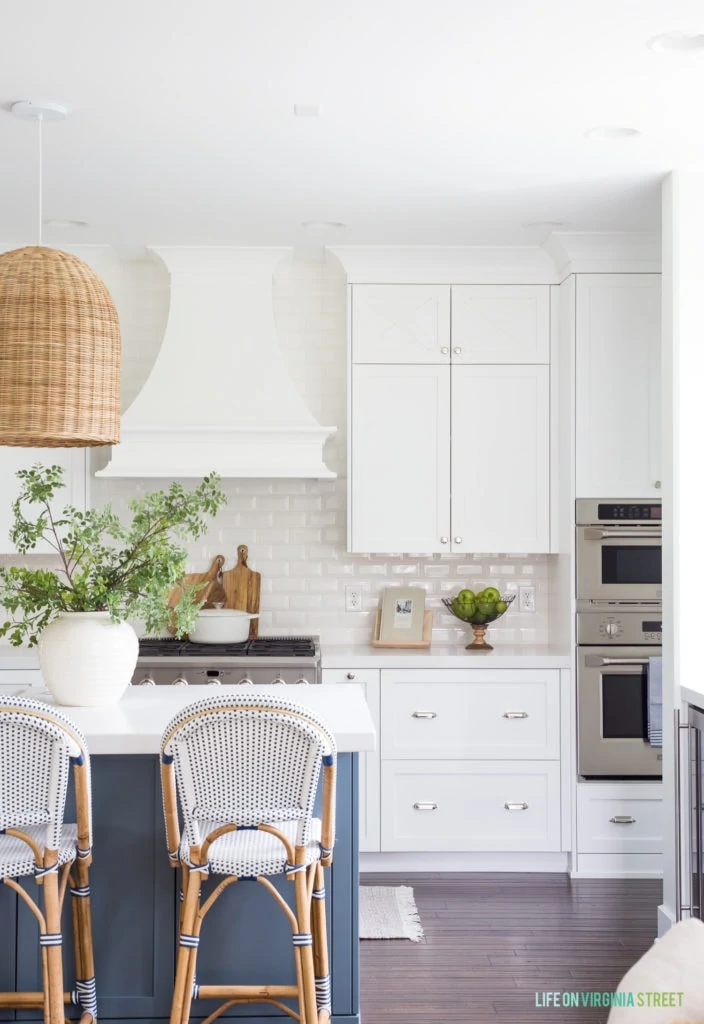 KITCHEN SOURCES: Basket Pendant Lights | Bistro Counter Stools | Large White Ceramic Vase | Faux Greenery Stems | Runner Rug | Cabinet Hardware: Knobs and Bin Pulls
As fall would roll around, I'd fill it with faux olive stems, as shown in my 2019 fall home tour.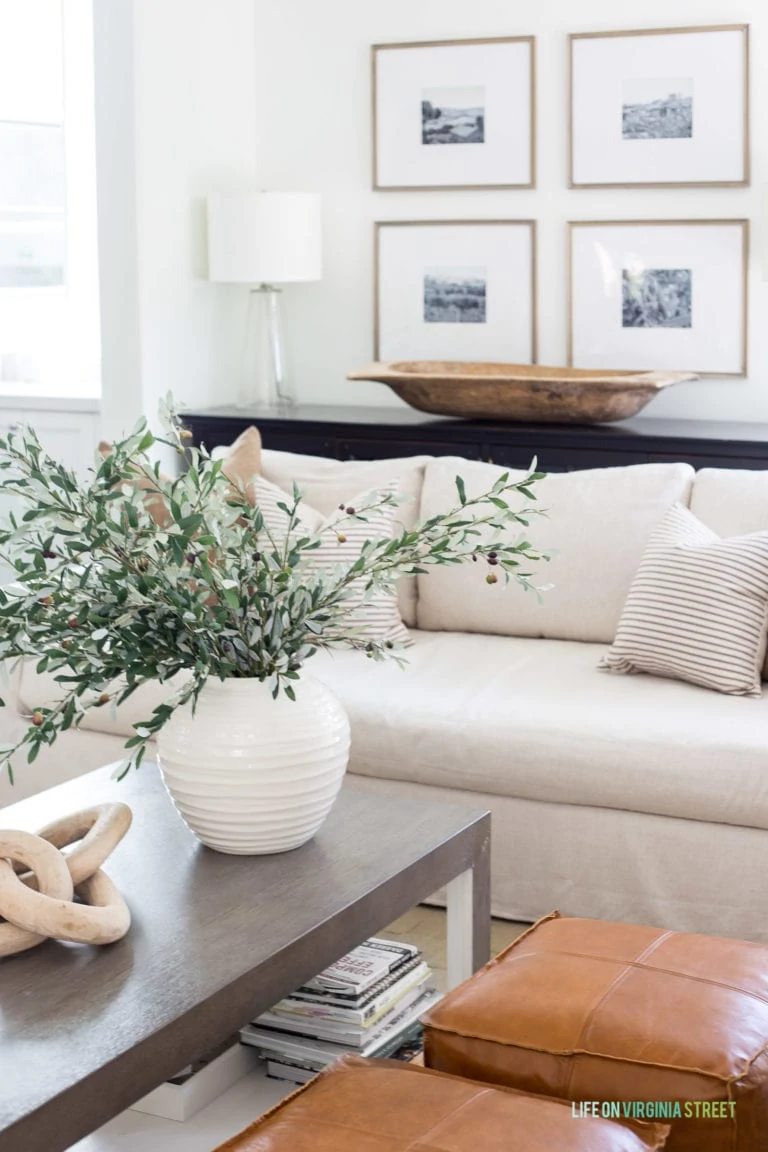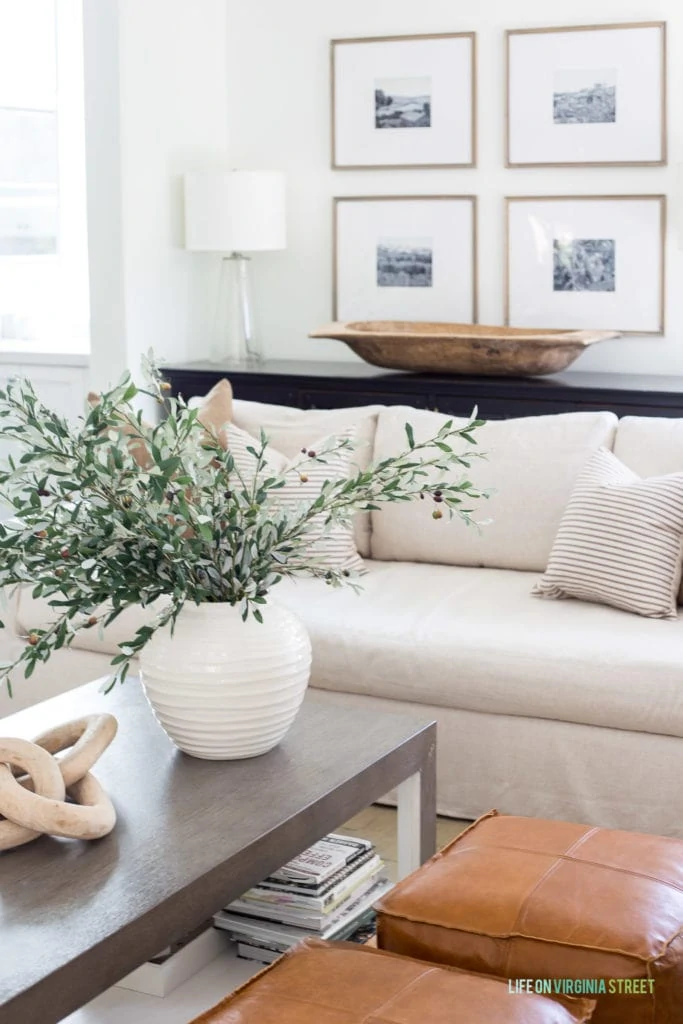 LIVING ROOM SOURCES: Linen Sofas | Coffee Table | Leather Poufs | Bronze Linen Pillows | Striped Pillows | Similar Wood Chain | Vase | Faux Olive Stems | Gallery Wall Frames (look for less here) | Wood Dough Bowl | Lamps
If you like the look of the ridged vase, I recently ordered this option and it's very beautiful in person! The finish is matte compared to the one above, and it's a little taller, but otherwise it's very similar! I actually prefer it with more loose stems like these, but I had the hydrangeas handy at the time it arrived.
SOURCES: Real-Touch Hydrangeas | Vase (Tall Ribbed – 15.25″) | Lamp | Abstract Art | Console Table
I've also used this tall ceramic vase in our entryway in the past. Although it currently looks like it's only available in smaller sizes, it shows another shape and style and just how timeless this look can be. One thing this particular vase taught me though, is that an opening that wide typically requires a lot of stems. Since that time, I've searched for vessels that are still large, but with a smaller opening.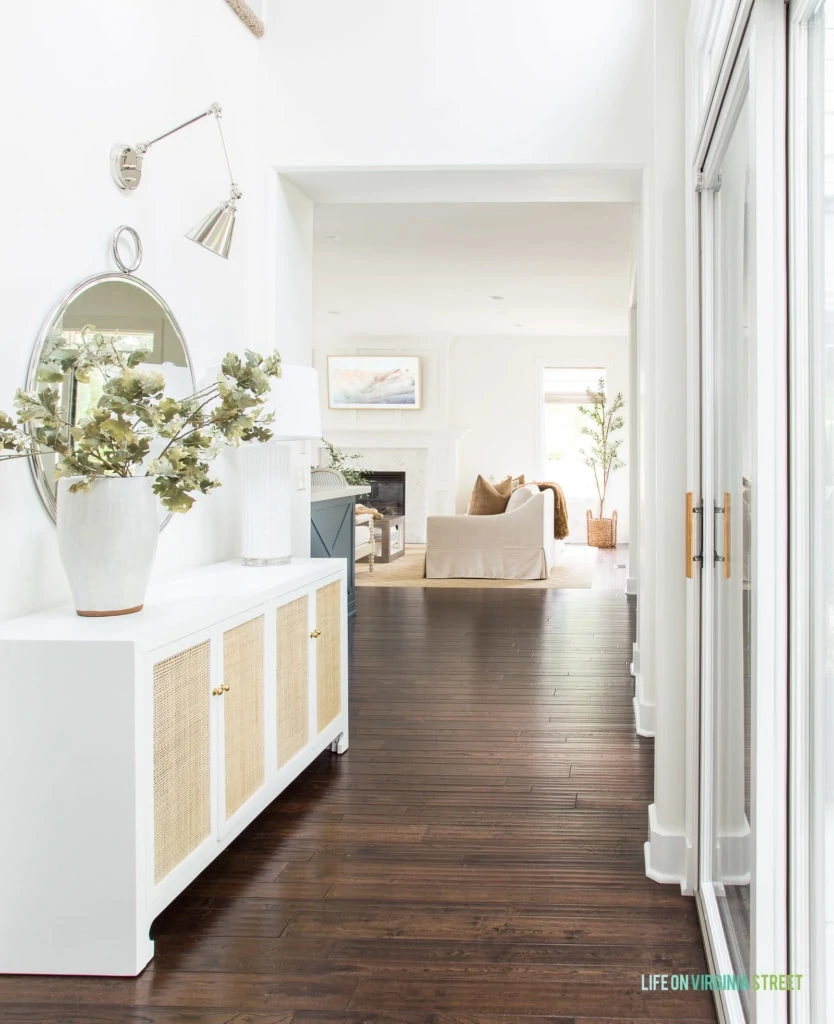 ENTRYWAY HALLWAY SOURCES: Cane Console Table | Similar Mirror | Vase | Similar Faux Oak Leaves | Swing Arm Sconce | Bamboo Lamp (old from HomeGoods)
If you really want to make a statement with your vase, I do feel like scale is very important. I love large, oversized vases that I can fill with seasonal greenery and stems (see my tips on buying fake greenery and where to buy it). When the scale is large and impactful, there isn't much need to do additional seasonal decorating in the space if you don't want to!
If you prefer smaller options, I love vases clustered in groupings with or without stems. I shared this little vignette near our kitchen window a few years ago and love the mix of textures and finishes of these white ceramic vases! This little set is a cute one that could give a similar vibe! This style also works well with shelf decorating.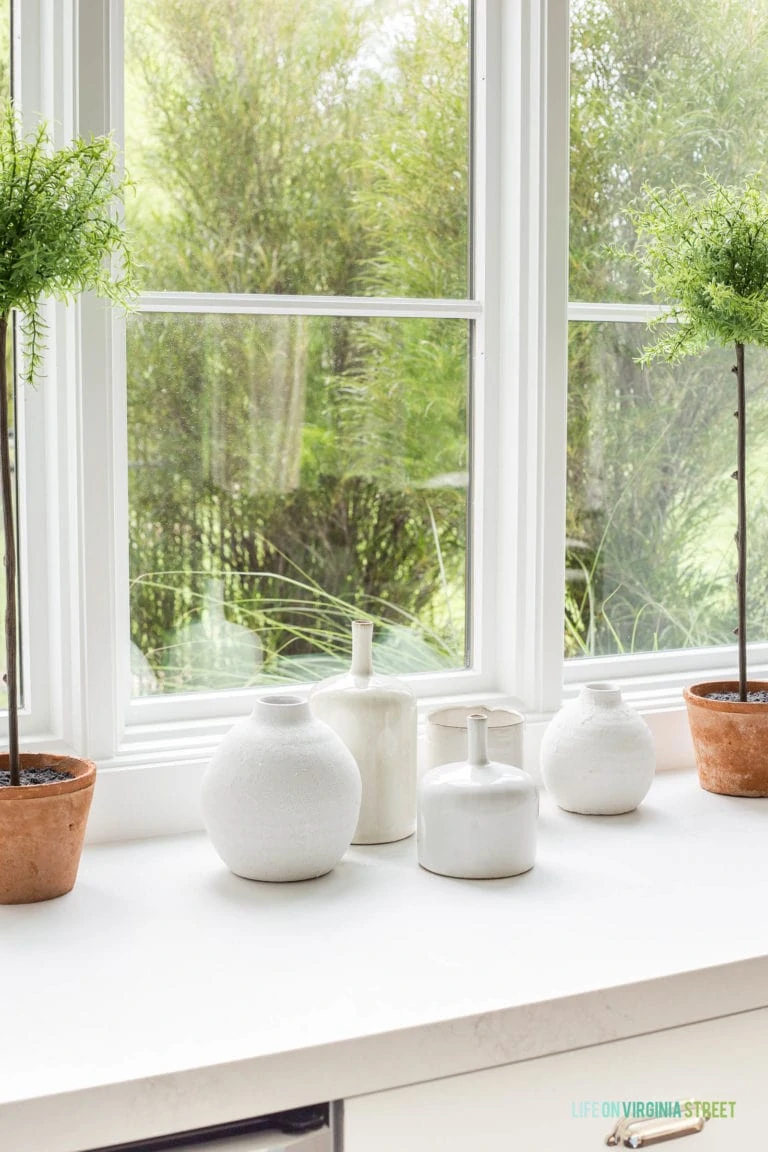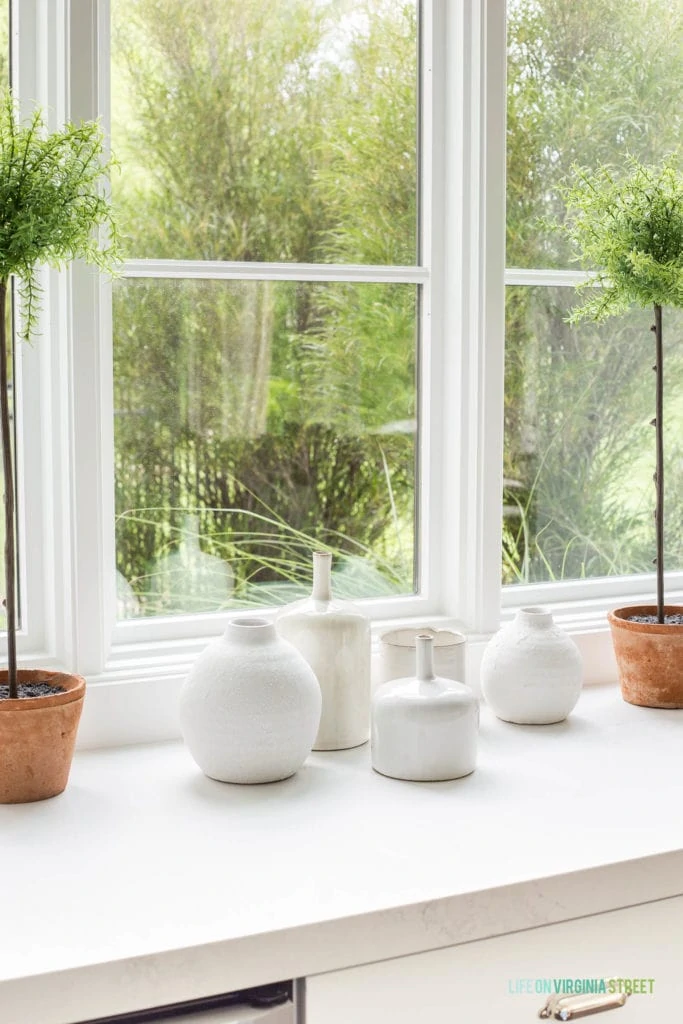 SOURCES: Topiaries | White Vases – Amethyst Home and Anthropologie (old) | Cabinet Hardware: Knobs and Bin Pulls
Two-toned vases are another popular trend. In prior fall home tours, I used this Tuscan style vase with some faux maple leaves. It's a favorite of mine, especially in the fall months. I love the weathered appearance and the added warmth! It has since sold out, but this vase has a similar style and is slightly less rustic.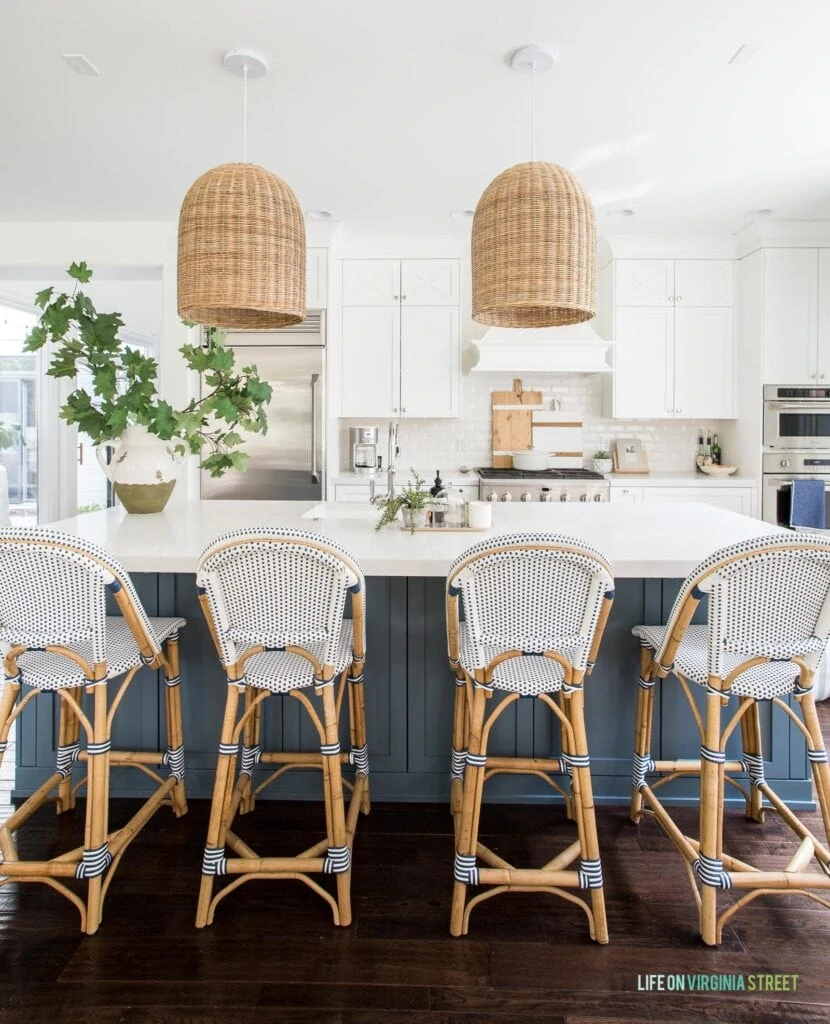 FALL KITCHEN SOURCES: Basket Pendant Light | Bistro Counter Stools | Runner Rug | Natural Wood Board | White Wood Board | Tuscan Vase | Cabinet Bin Pull | Cabinet Knob | White Dutch Oven | Similar Cookbook Holder | Paint Colors: Benjamin Moore Providence Blue & Simply White
Also, don't be afraid to use something that isn't intended to be a vase necessarily, as one! There are lots of vessels you can use that can work to hold greenery stems. In our Omaha office shown below, I used this decorative urn to hold some faux greenery for spring and loved how it looked.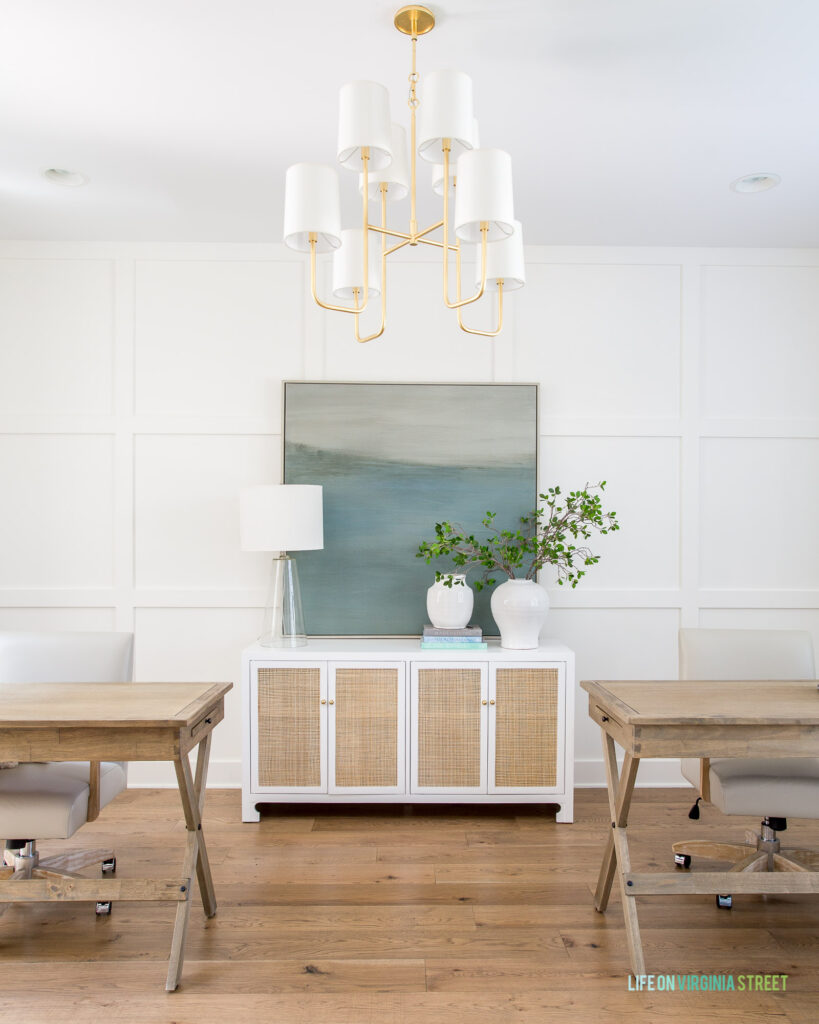 SPRING HOME OFFICE SOURCES: Chandelier | Desks | Leather Rolling Chairs | Rattan Cabinet | Abstract Art | Glass Lamp | Ceramic Cachepot Vases | Faux Greenery
More recently, I've used the large version of this vase for a spring update with our faux hydrangeas.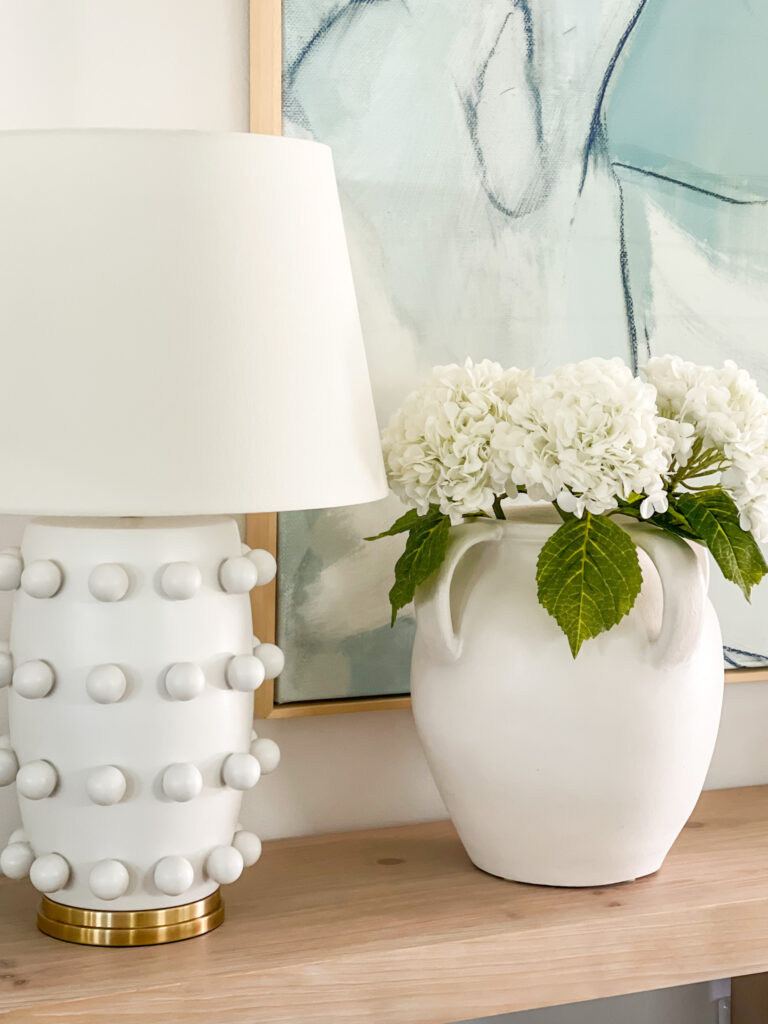 SOURCES: Real-Touch Hydrangeas | Vase | Lamp | Abstract Art | Console Table
Here is that same vase with a small faux tree, used more in a planter form. You can see it's rather large. The items in the image above are so oversized it may be hard to tell, but I think this next photo really captures the scale.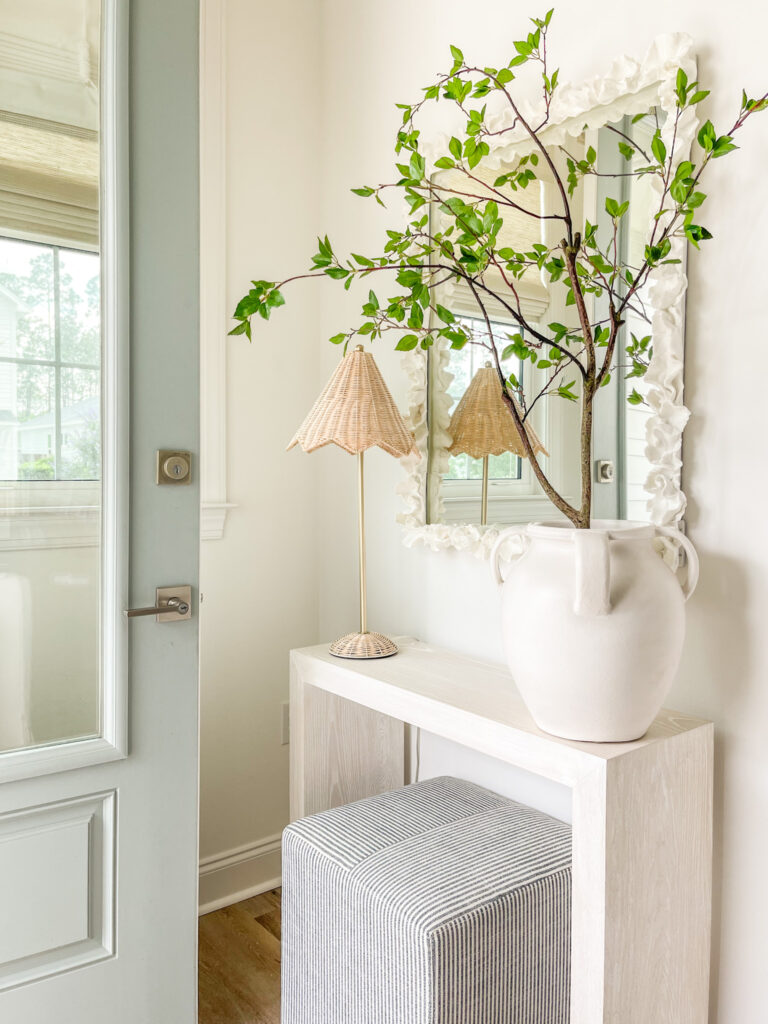 SOURCES: Console Table | Coral Mirror | Scalloped Rattan Lamp | Striped Ottoman Cube | 5′ Tree | White Ceramic Vase (large size)
If you prefer a more petite vase, I still really love this option we used at Hola Beaches. We have since bought one for our home, too!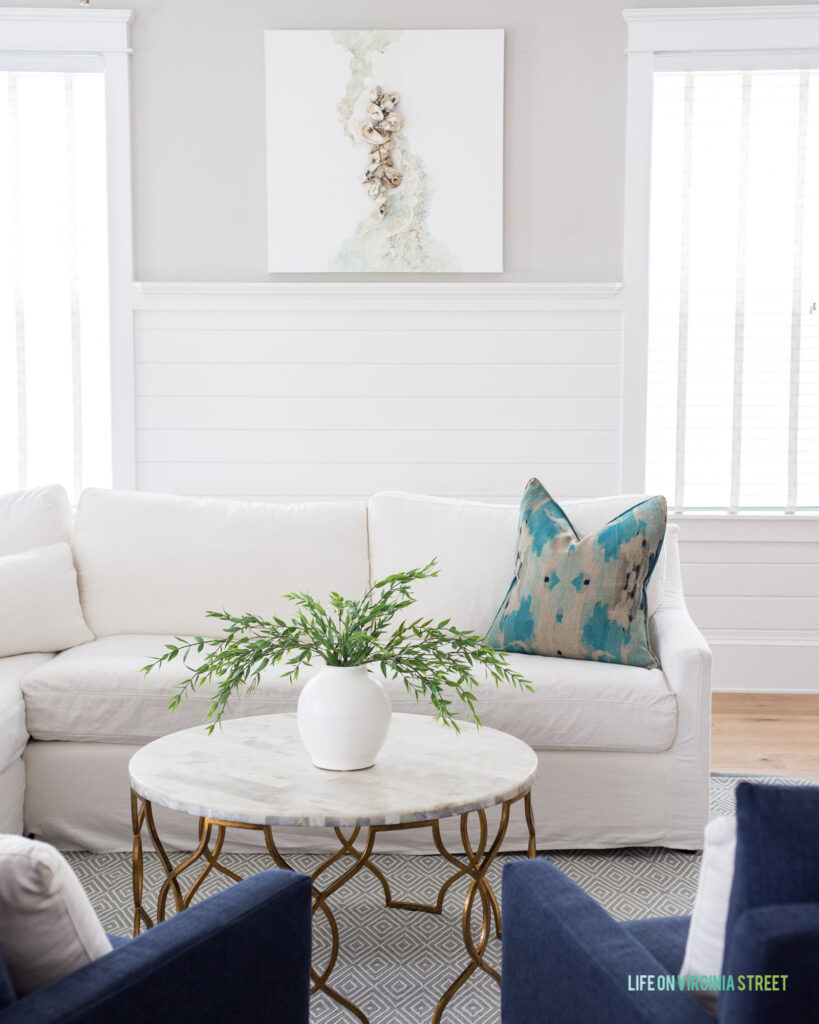 HOLA BEACHES LIVING ROOM SOURCES: Similar Sectional | Navy Blue Swivel Chairs | Coffee Table | Rug | Faux Greenery | Vase | Linen Pillows
A few other vases worth mentioning:
If you're on the hunt for something really petite, I've had this bubble planter for years and love it in our kitchen. I add a small faux plant to it in order to add a pop of green in our kitchen.
I made the mistake of order the large version of this "vase" and it turns out it's more planter size. It was massive, and I eventually used it to hold our faux fiddle leaf fig tree in our living room! It's gorgeous, but definitely check the dimensions!
I've seen this collection of vases in person and they're stunning! They're defnitely a more creamy color in person, but the texture is gorgeous.
White Ceramic Vase Options
Following are additional white ceramic vase options that I think you'll love! You'll want to pay close attention to the dimensions on each of them, as my graphic above isn't to scale among each of the options. Simply tap on any of the images below to learn more about each of the options shown.

Additional Decorating Posts You May Enjoy
Following are even more decorating and styling posts you may enjoy. Tap the article name below to read all the details.
Happy decorating!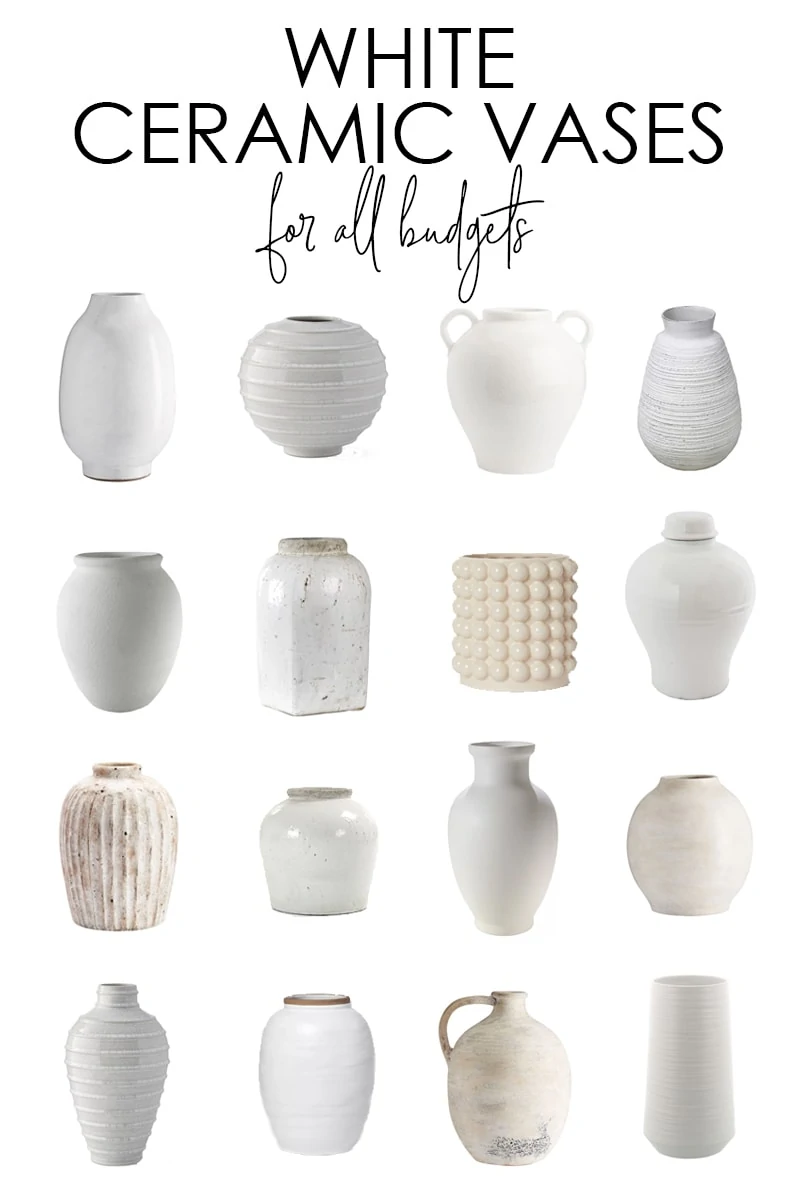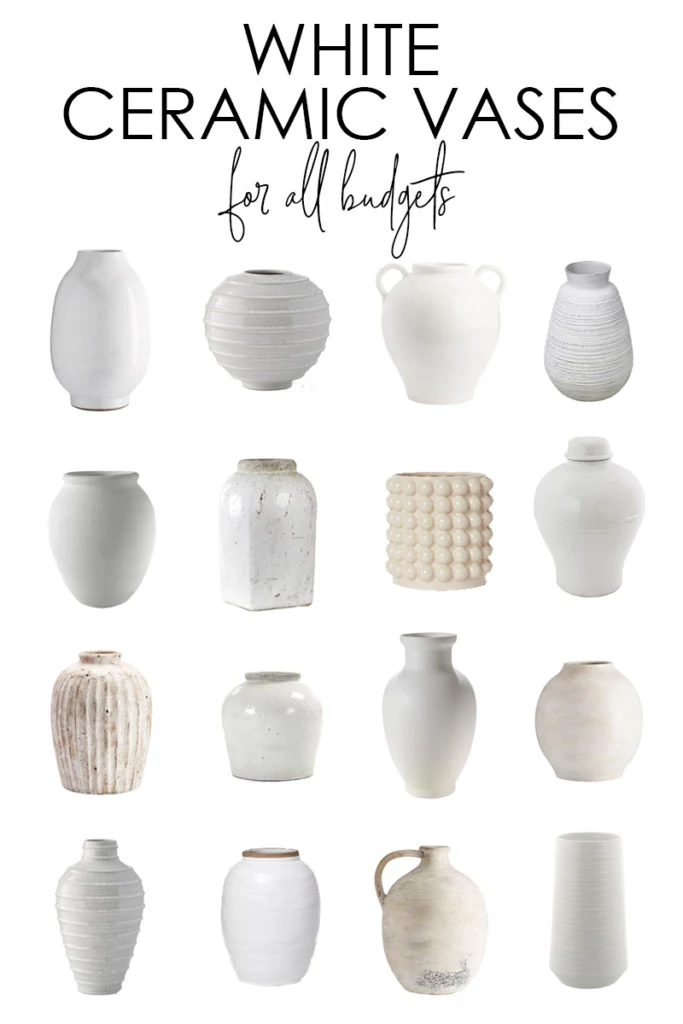 If you would like to follow along on more of my home decor, DIY, lifestyle, travel and other posts, I'd love to have you follow me on any of the following:
Pinterest | Instagram | Facebook | LTK
disclosure: some affiliate links used