Can you believe Thanksgiving is only two weeks away? I know it feels like I skipped over the Thanksgiving content a bit this year. We don't typically host at home, so each year my Thanksgiving content is usually a bit thin. But that doesn't mean it isn't one of my favorite holidays of the year! Today I'm sharing all things Thanksgiving from years past along with a bit of new content mixed in, as well! I'll be sharing everything from Thanksgiving outfit ideas to my favorite tablescapes to favorite recipes!
This post contains affiliate links for your shopping convenience. Click here to read my full disclosure policy.
I know Thanksgiving may look a lot different this year for many, with smaller get togethers or delayed celebrations. But that doesn't mean the day isn't still special! While most of this content isn't new, I know sometimes it can be difficult to navigate and find some of the nearly 2,200 blog posts on my site. That's a lot of a content! So today, I'm featuring some of my favorite Thanksgiving posts with all the links to the articles in one easy post. And, while I fully realize some of the items featured in each of the posts may no longer be available, many still are! And the out of stock items can perhaps serve as inspiration for your own celebration!
Thanksgiving Outfit Ideas
Last year, I shared a huge collection of Thanksgiving outfit ideas! Most of the clothing items are still available, and I still love all the looks!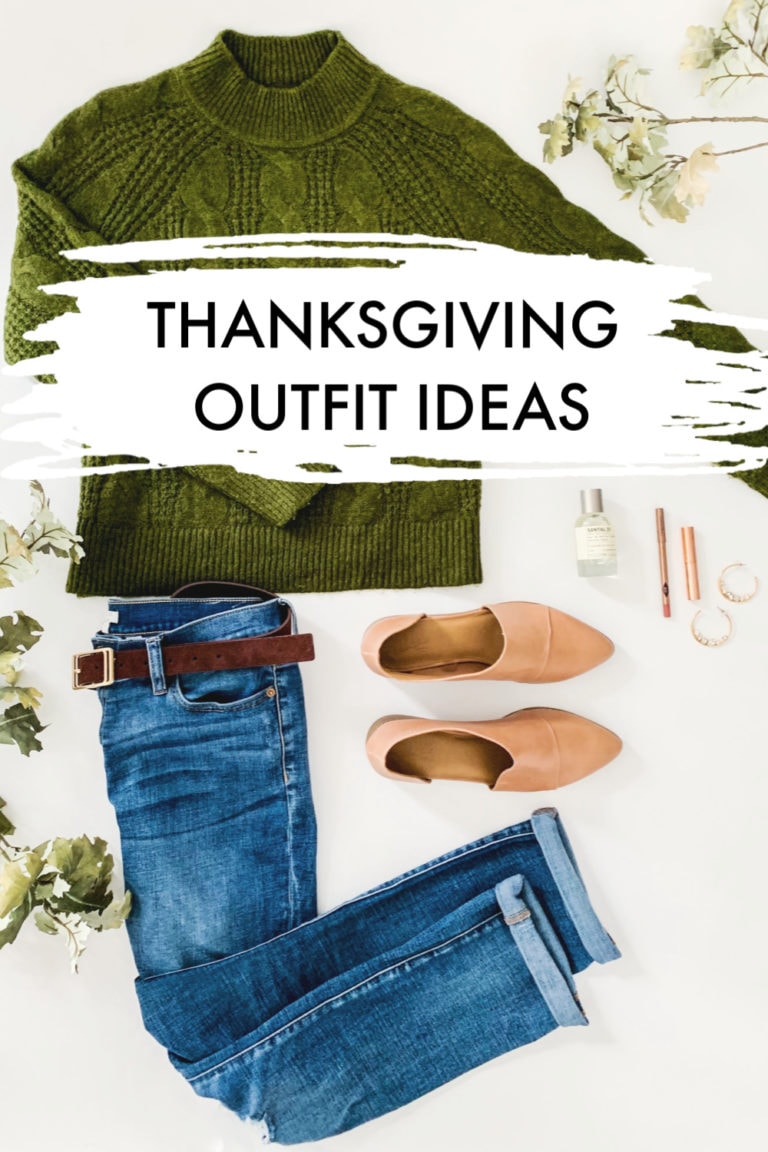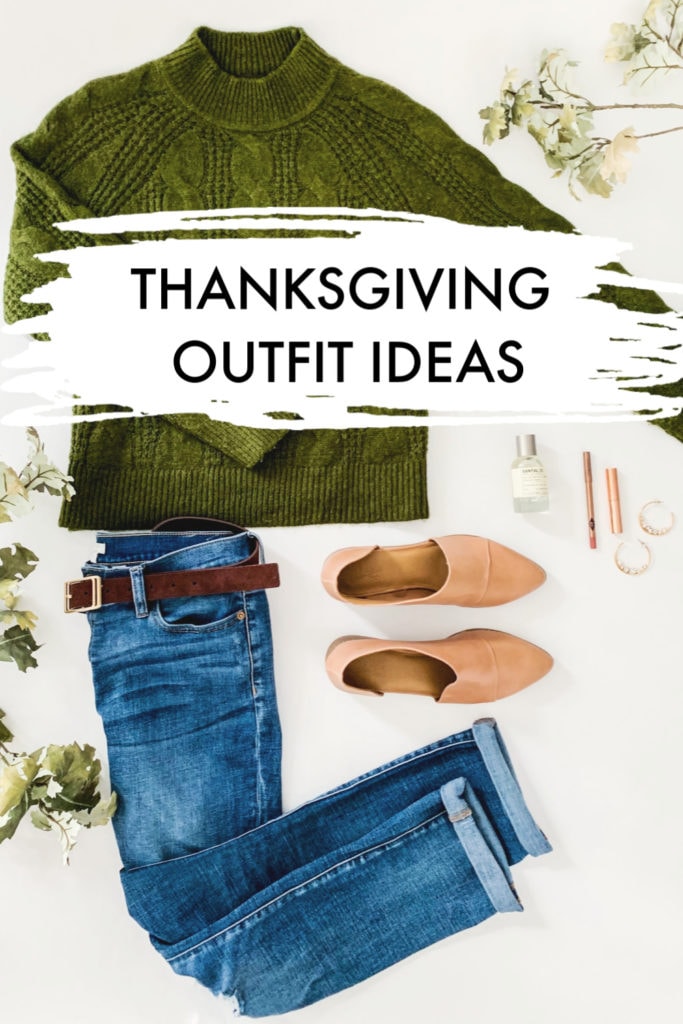 In addition to the tons of ideas in that post, some of these collages I've made over the past few months pay also provide some cute ideas for what to wear on Thanksgiving Day! All sources are under each of the corresponding graphics.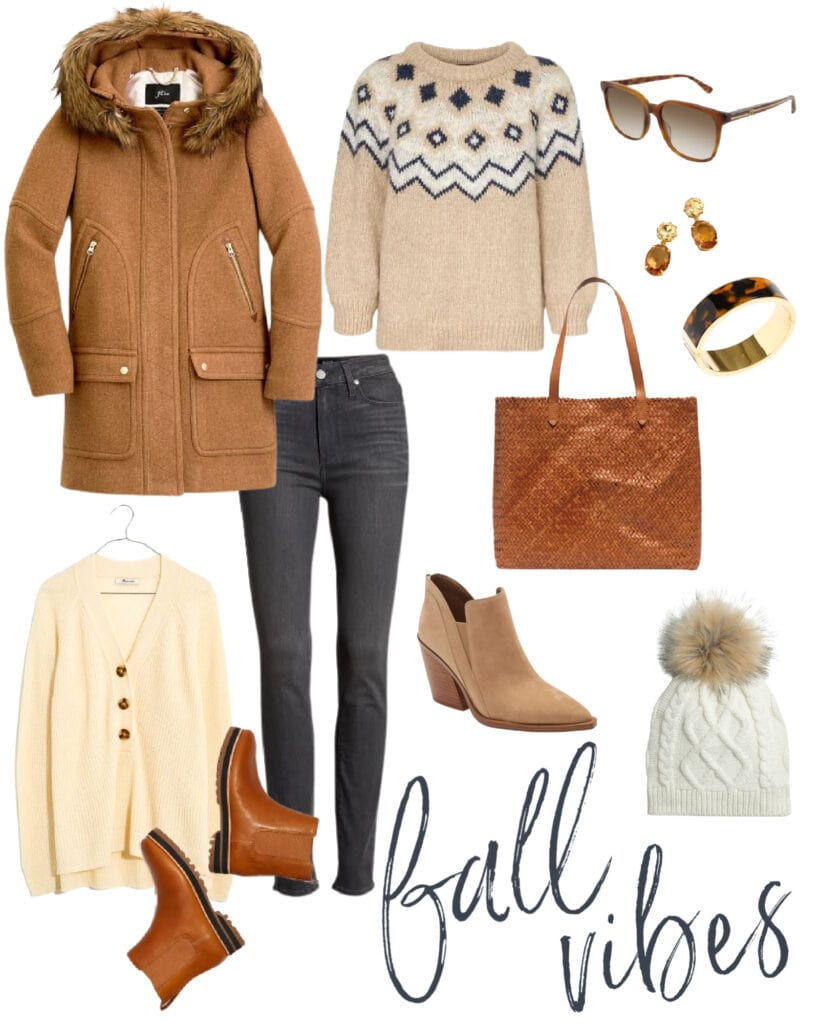 SOURCES: Coat | Fair Isle Sweater | Gray Jeans | Woven Tote | Sunglasses | Earrings | Tortoise Cuff Bracelet | Ribbed Henley Sweater | Leather Boots | Booties | Pom Hat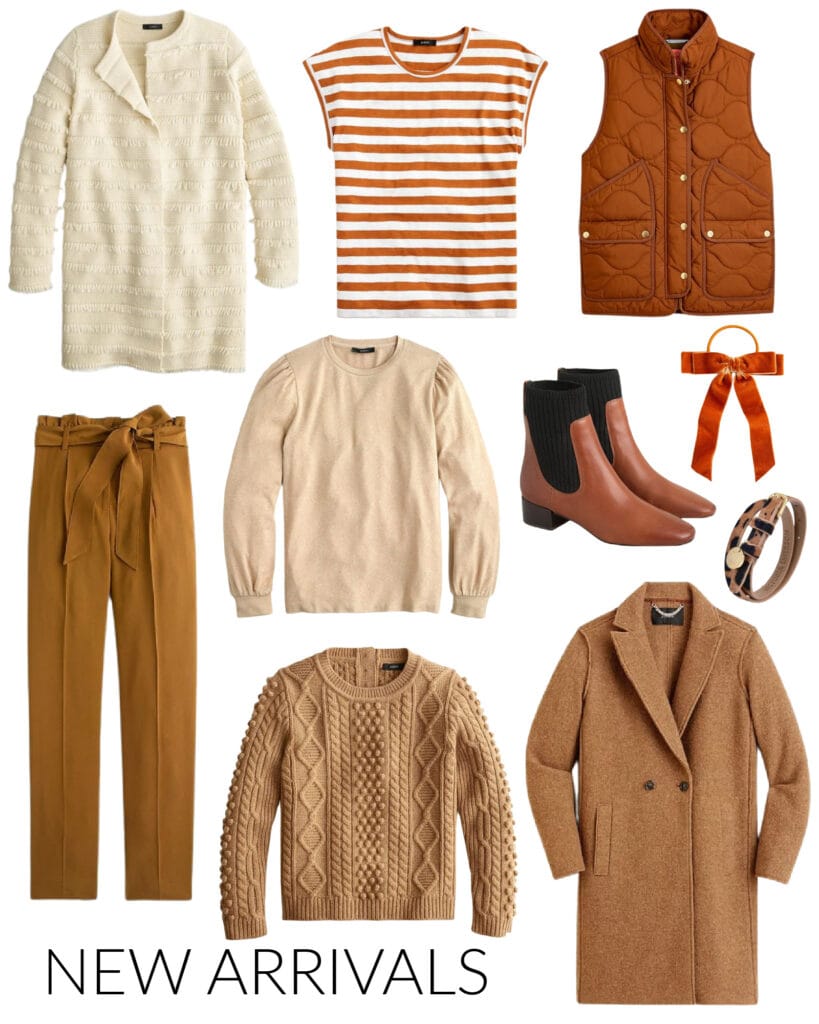 SOURCES: Collarless Sweater-Blazer with Fringe | Drop-Shoulder Tee in Stripe | Quilted Vest | Velvet Hair Tie | Double-Wrap Bracelet | Cozy Puff-Sleeve Pullover | Paper Bag Wide Leg Pants | Ribbed Chelsea Boots | Topcoat in Italian Boiled Wool | Button-back Cableknit Sweater
I'm still a huge fan of this super affordable cowl neck tunic sweater. So much so I now own it in three colors!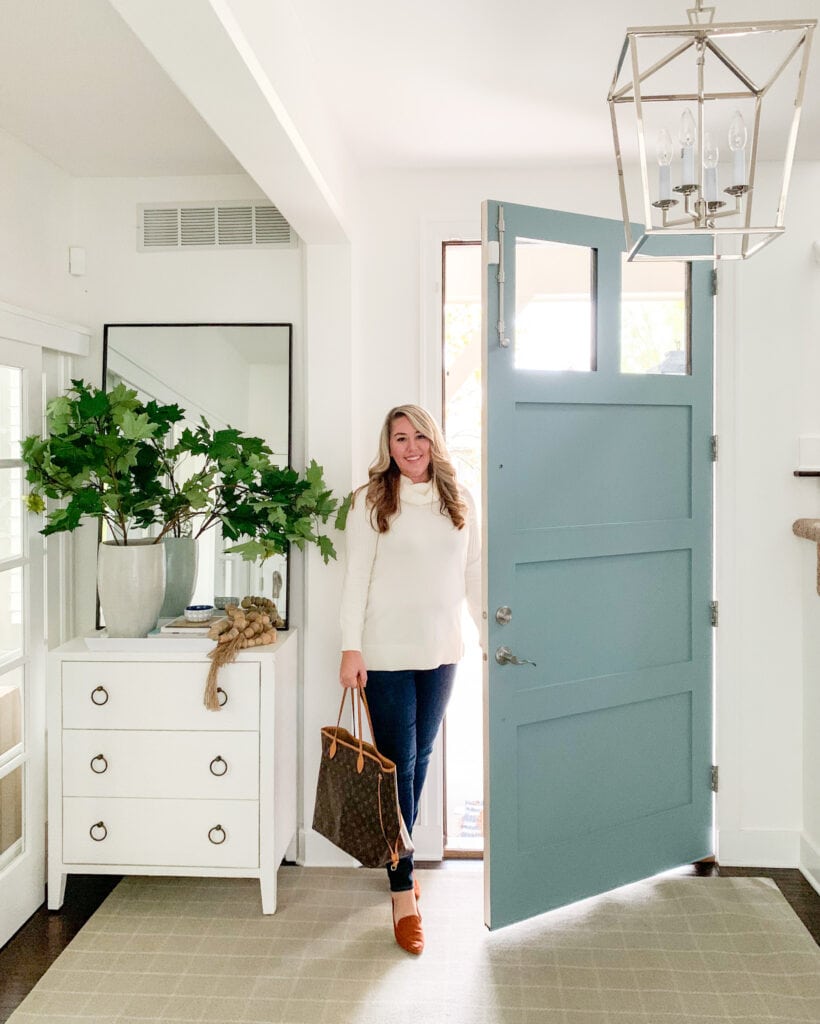 SOURCES: White Raffia Cabinet | Mirror | Vase | Plaid Rug | Cowl Neck Tunic Sweater | High-Waist Skinny Jeans | Loafers | Lantern Pendant Light
Here's the same sweater in the brown color. This is likely the one I'll personally be wearing on Thanksgiving! So comfy but also polished!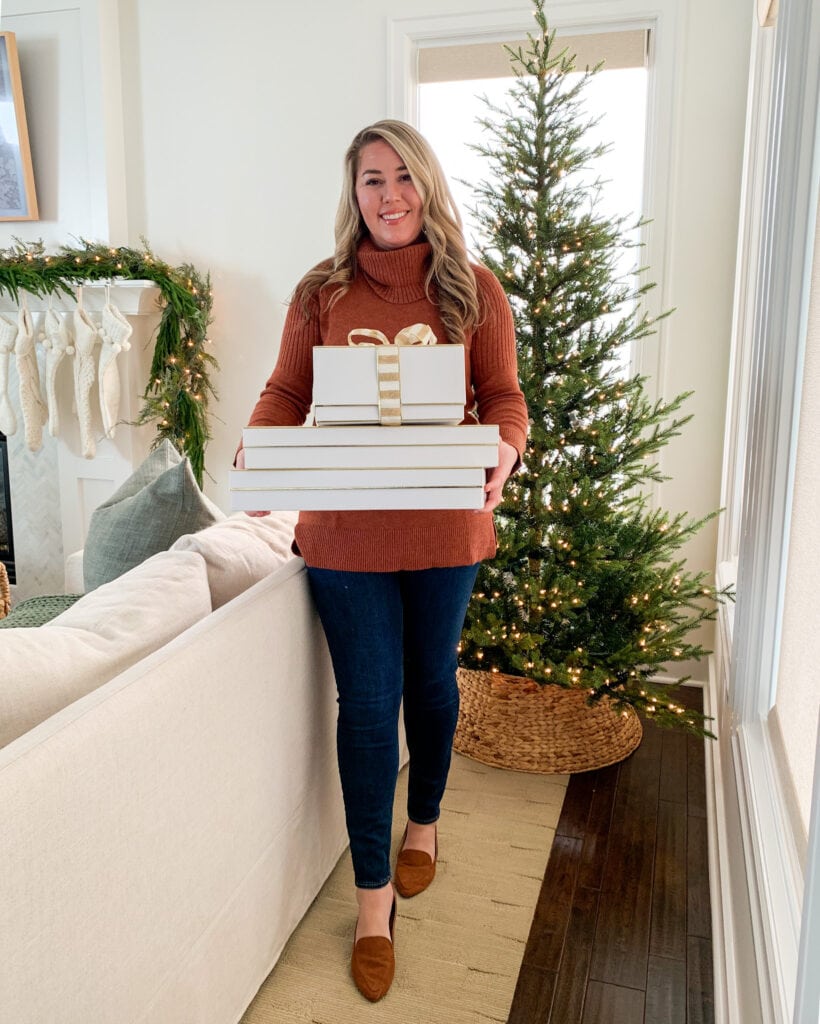 SOURCES: Cowl Neck Tunic Sweater | High-Waist Skinny Jeans | Loafers | Christmas Tree | Woven Tree Collar | Linen Sofa | Sage Green Linen Pillows | Pom Stocking | Cableknit Stockings
For a less obvious choice, I can't get enough of this ruffled floral print top. I have it here paired with these vintage straight jeans I've basically worn for two months straight! They both fit true to size.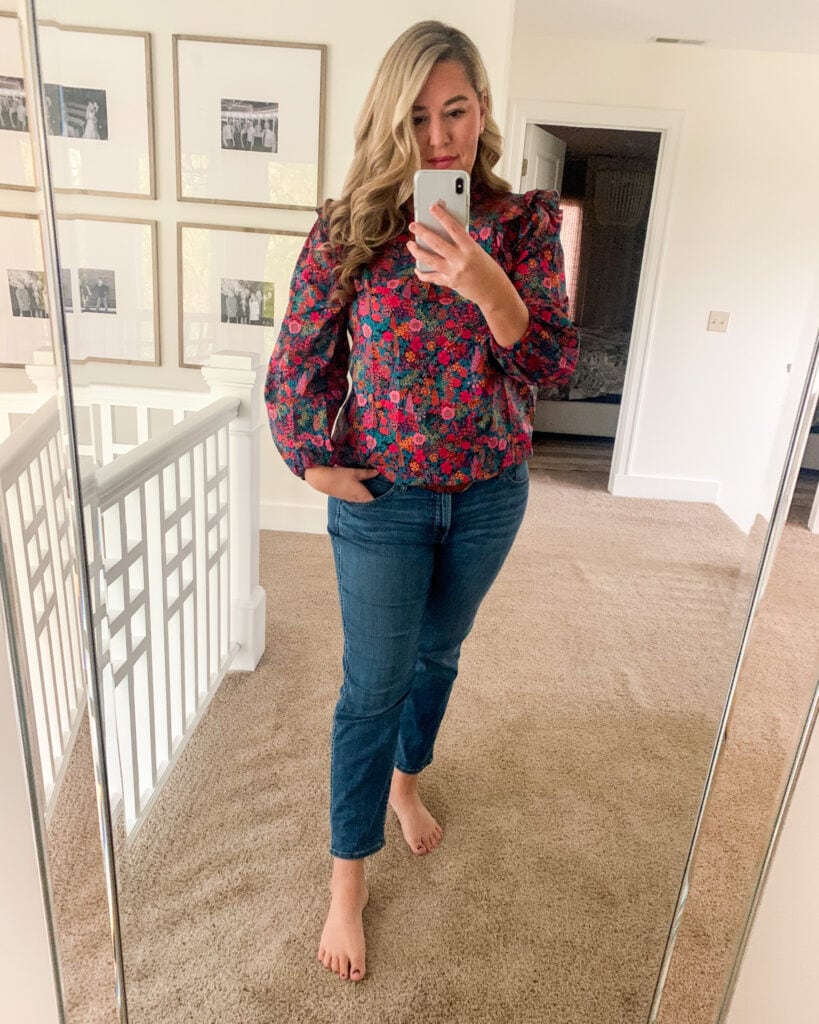 I love this brown and hot pink boxy sweater for a another non-traditional and unique color combo! It still very much looks like fall though!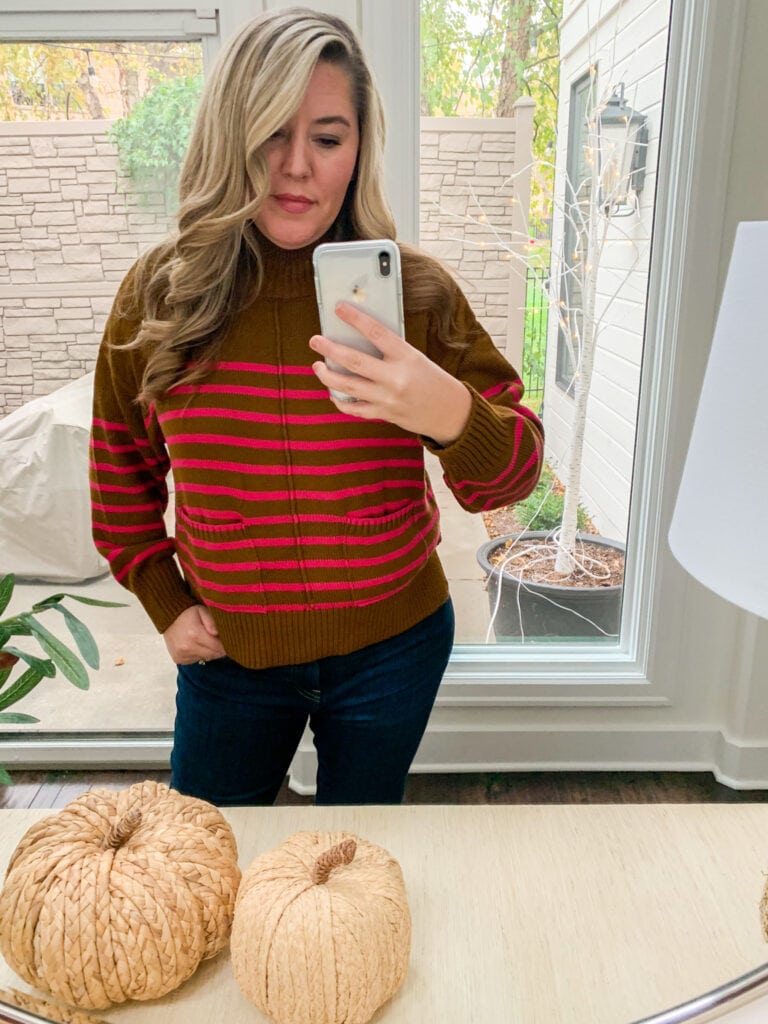 Thanksgiving Recipes
I've never been known to be the person with all the amazing recipes. However, if there's one thing I'm know for, it's this mashed potatoes recipe! I love that you can make them in advance, store them in a fridge for several days, and then heat them in a crockpot!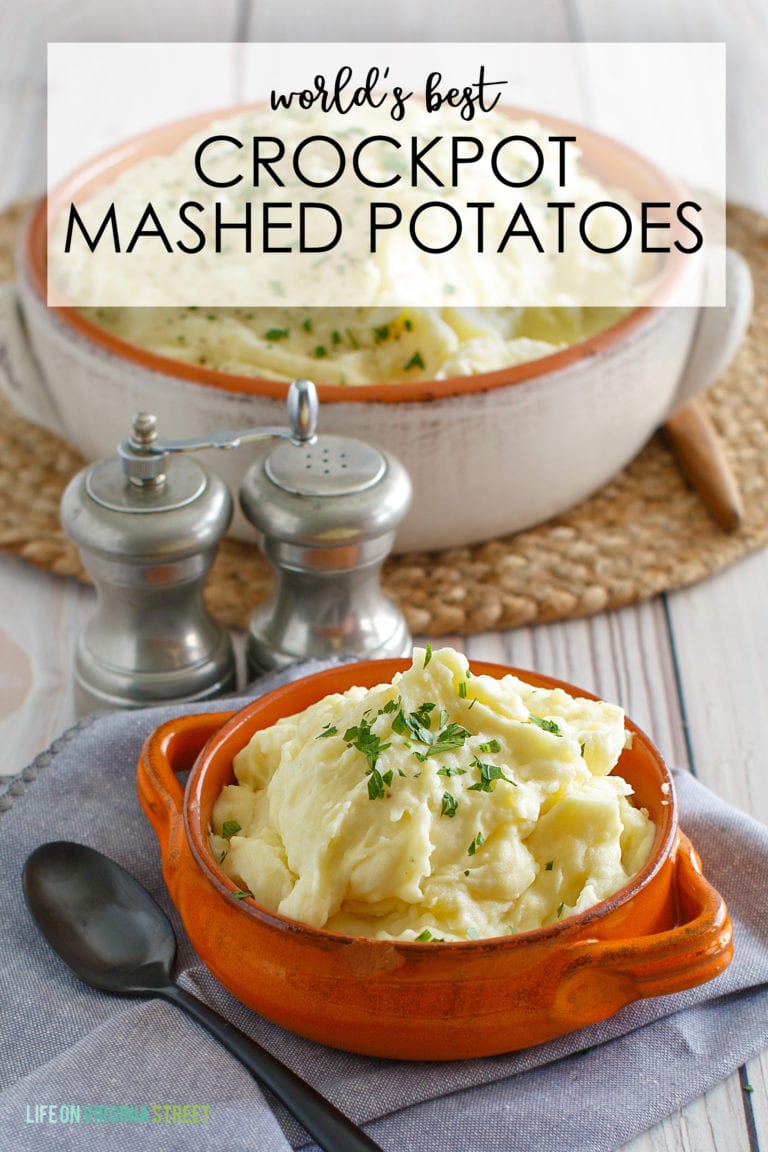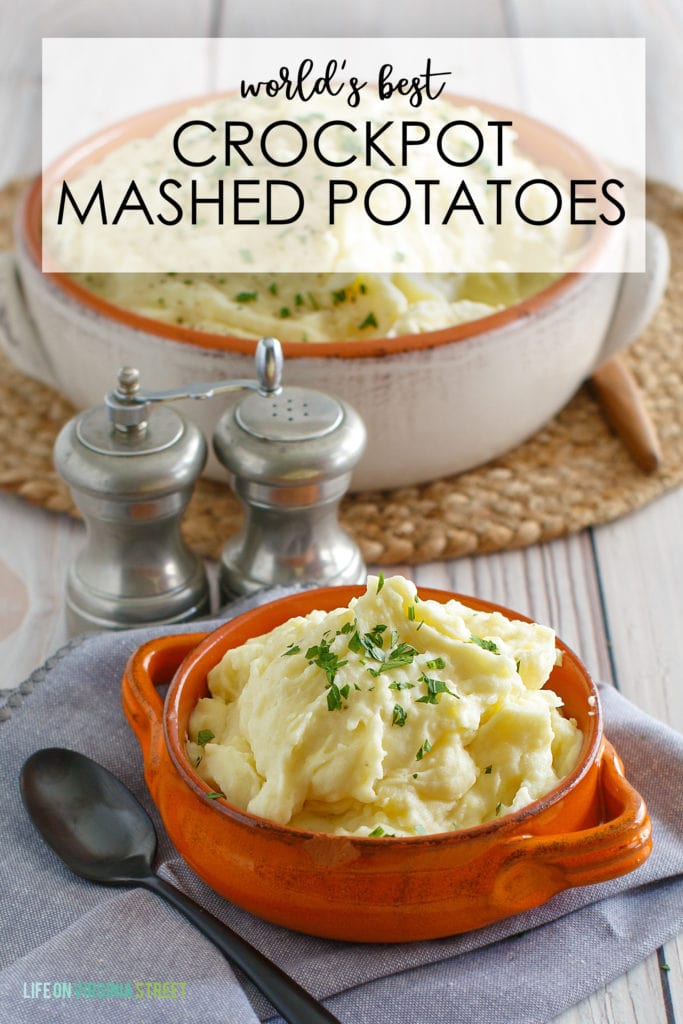 Last year I finally published my huge guide on how to make a charcuterie board. And since it was published around Thanksgiving, I put a fall spin on it that is perfect for Thanksgiving or other fall entertaining! I also include our favorite items to include on the board.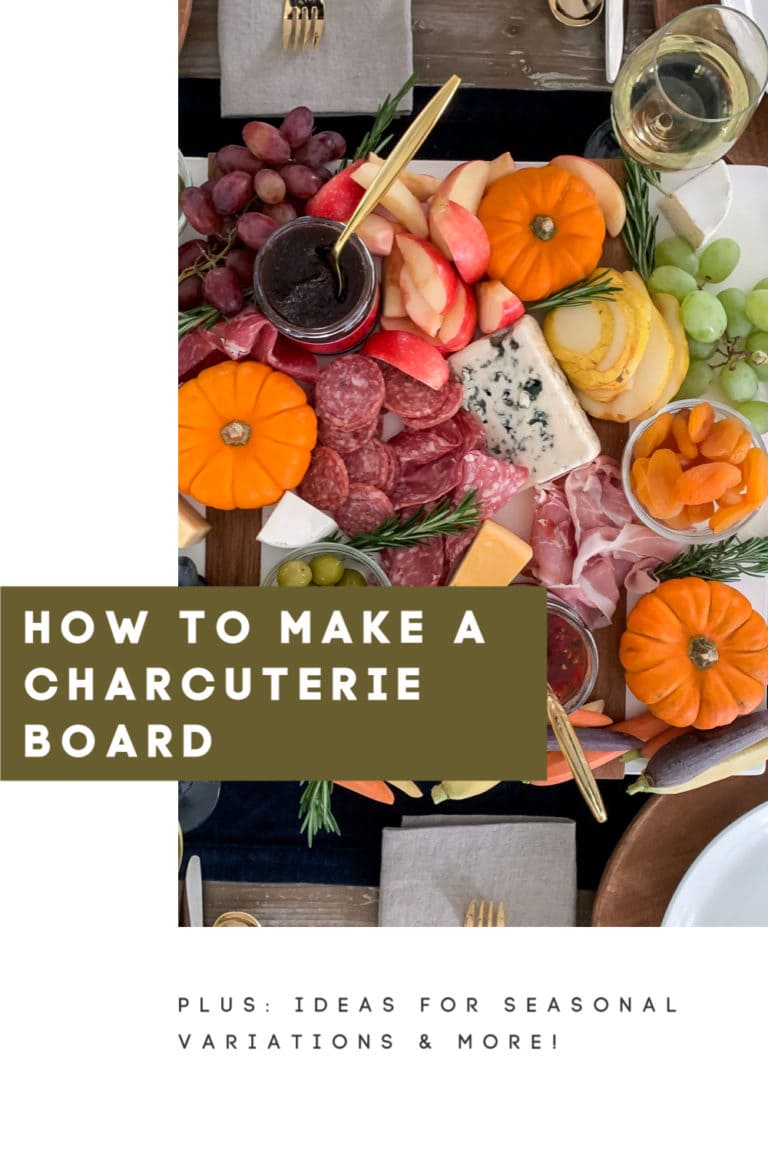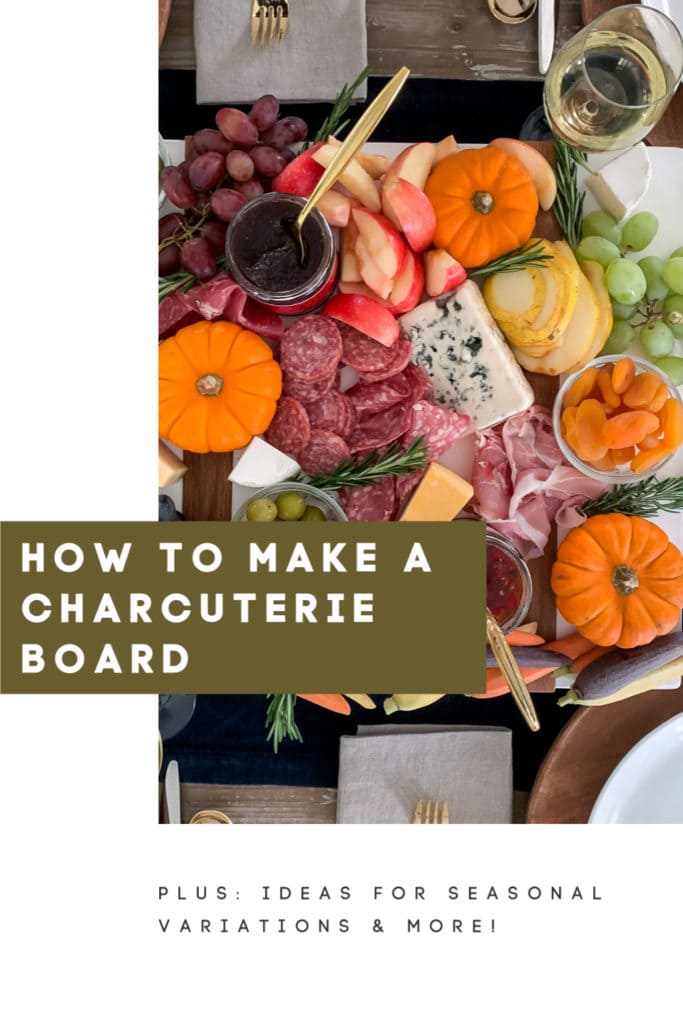 And what would the holidays be without a few adult beverages? 😉 This round-up of 20 Boozy Fall Drinks continues to be really popular!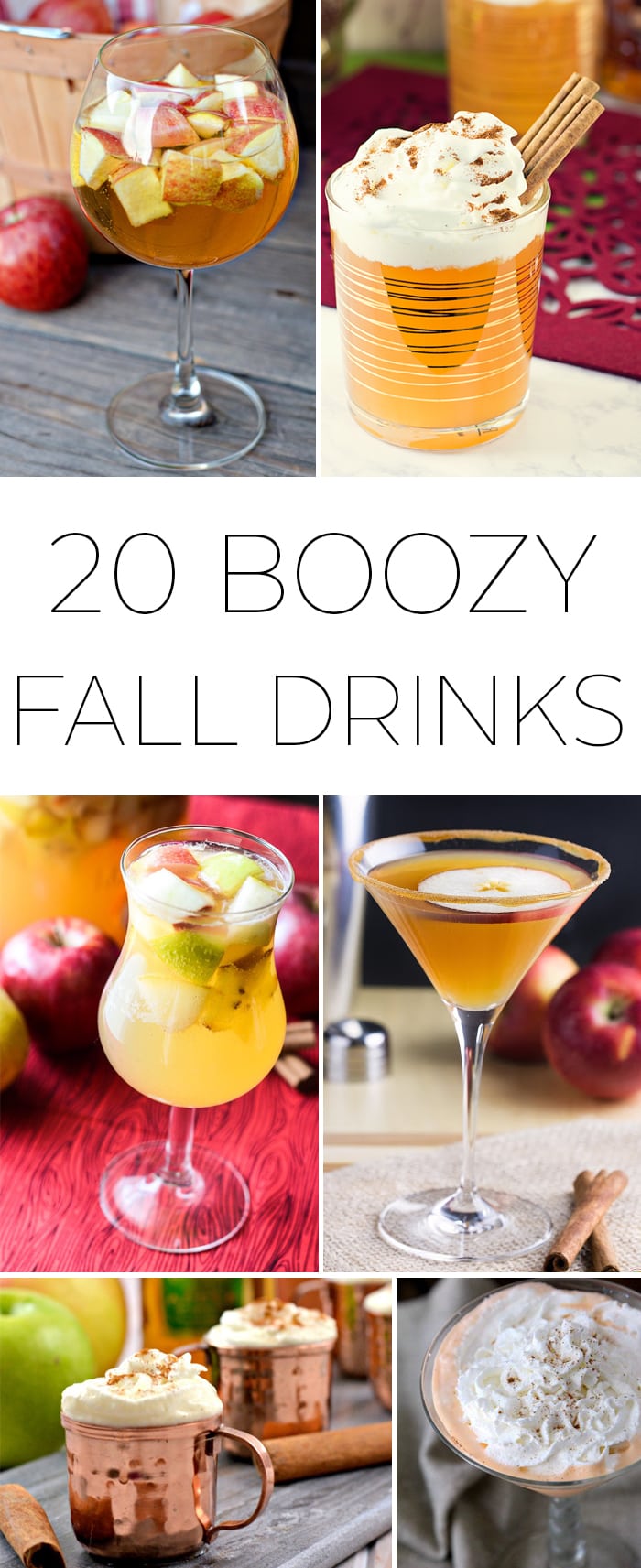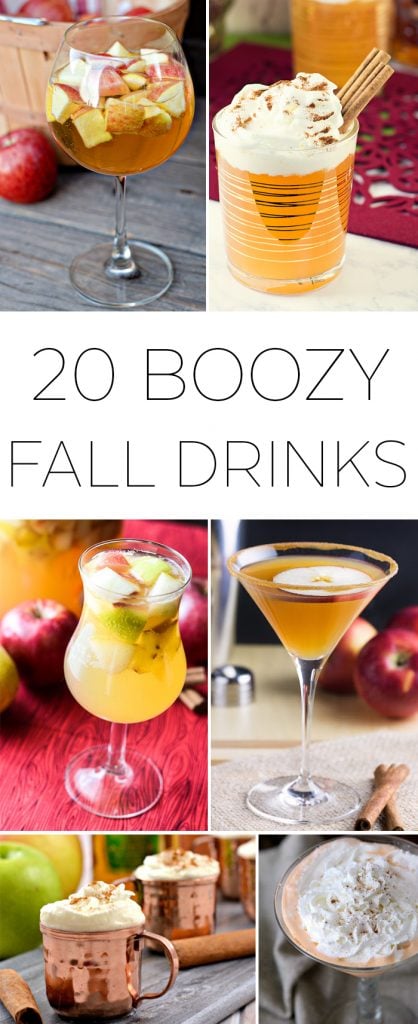 And if you're looking for some yummy sweet treat and dessert ideas, be sure to check out my recipe for Caramel Drizzled Chocolate Peanut Clusters! They are killer and the post also has links to a few of my friends' favorite recipes too!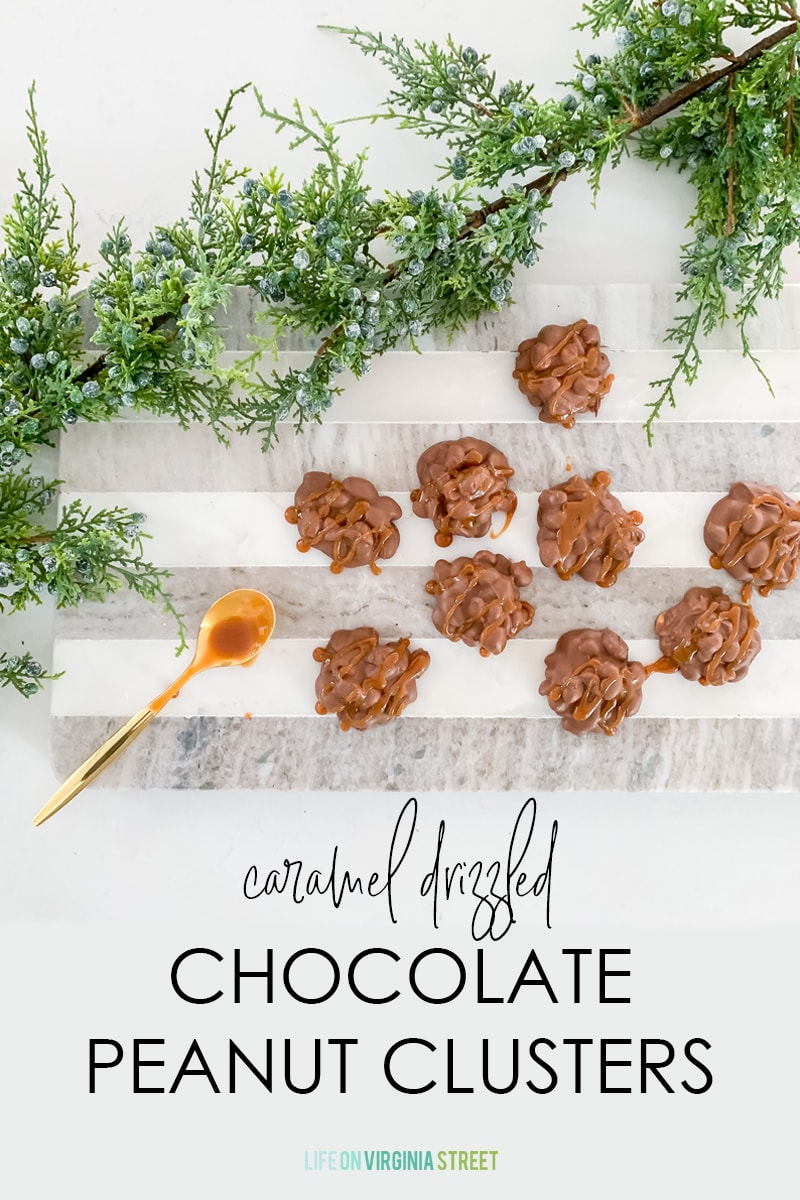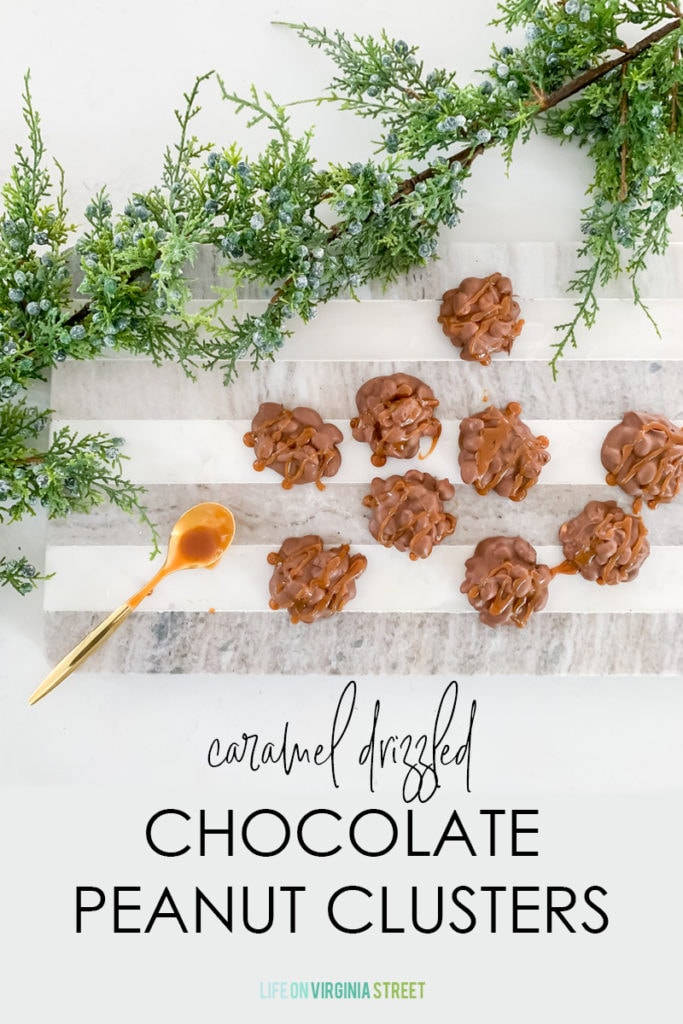 Thanksgiving Tablescape Ideas
Most of the tablescapes below were from earlier blogging days, when things weren't quite so elaborate. So even though they are super simple, I think they may also be a lot more practical for real-life! All sources for each of the tablescapes below can be found in the original post (linked with each image).
This blue and green tablescape was incredibly simple, but I love the non-traditional color combo for Thanksgiving!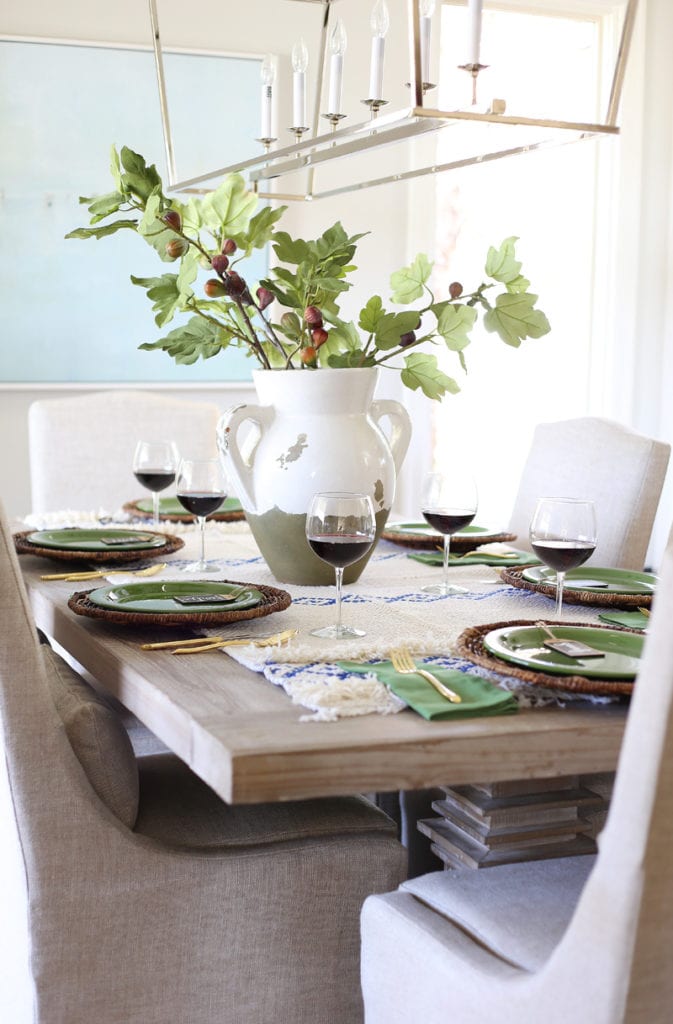 My olive, plum & artichoke Thanksgiving tablescape from a few years back was also super simple. But I love the jewel tones!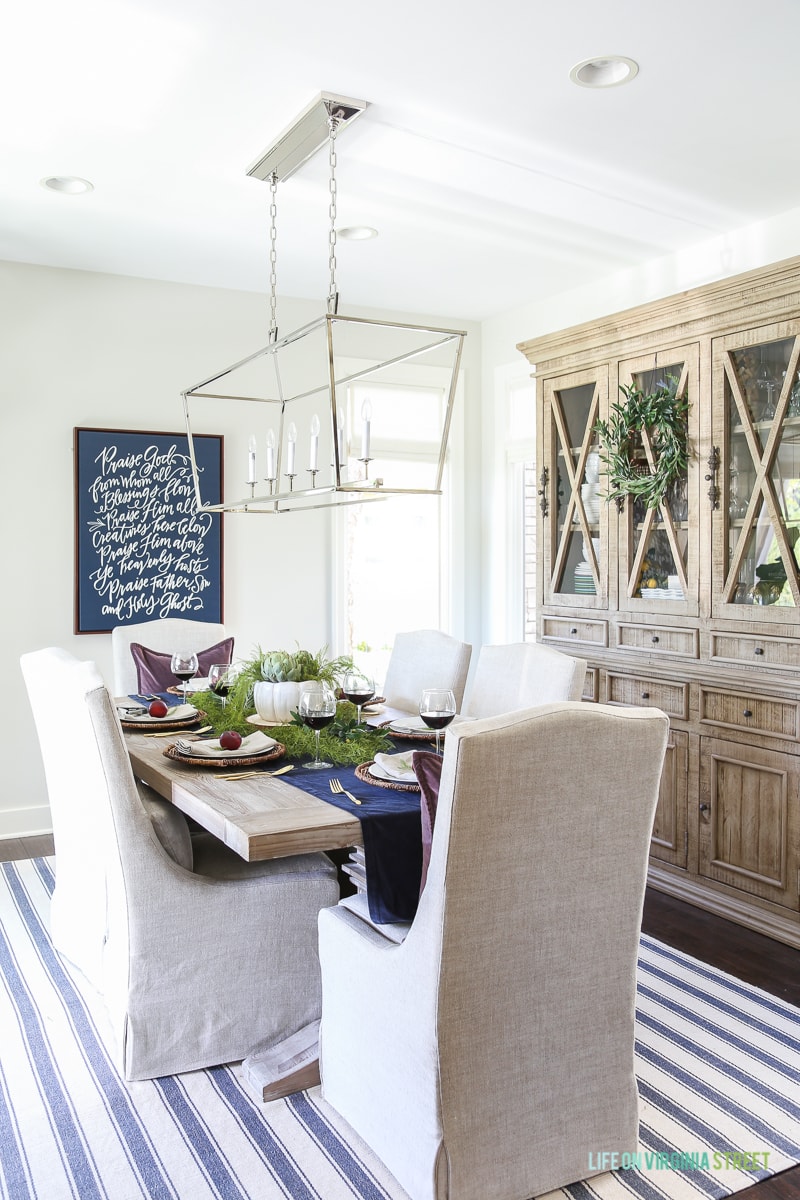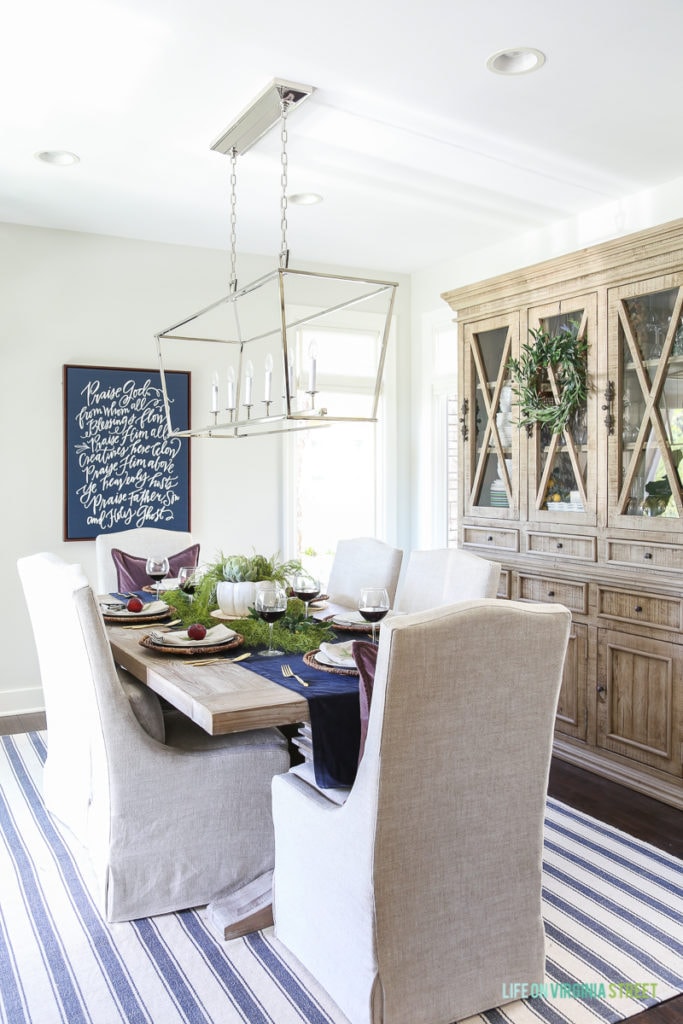 And if you're looking for a bit more washed out colors, I still love this pumpkin & oak leaf Thanksgiving tablescape!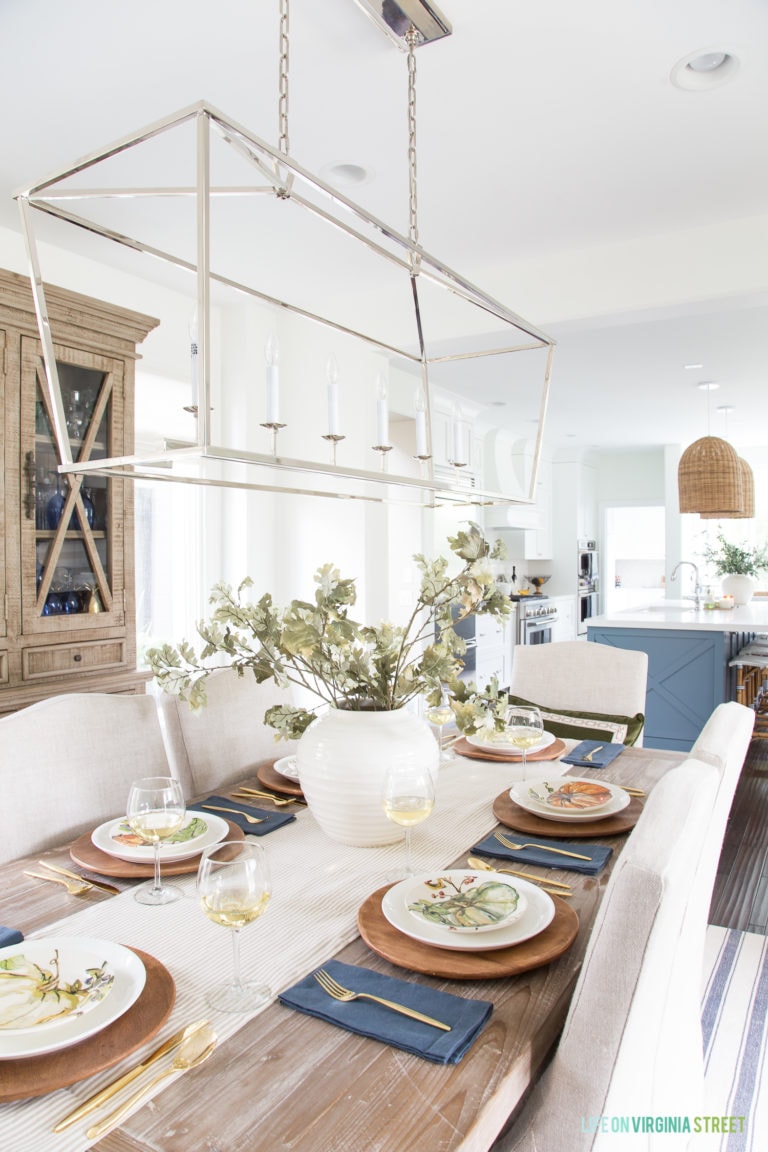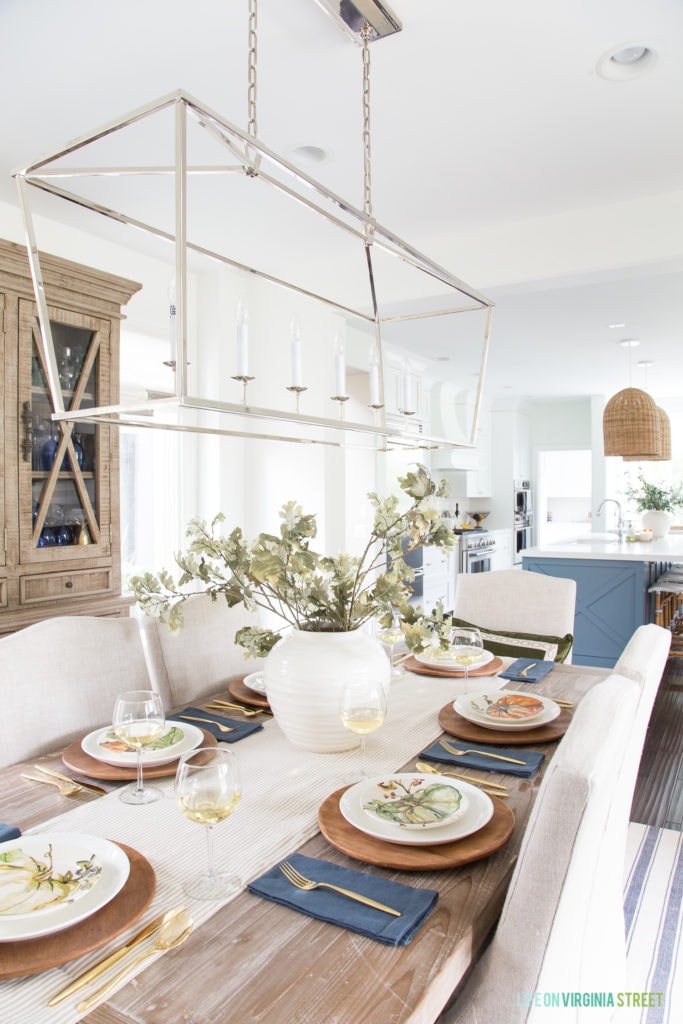 Last year, I got a bit more elaborate with my Thanksgiving Table Setting & Decor, but overall it was still fairly simple!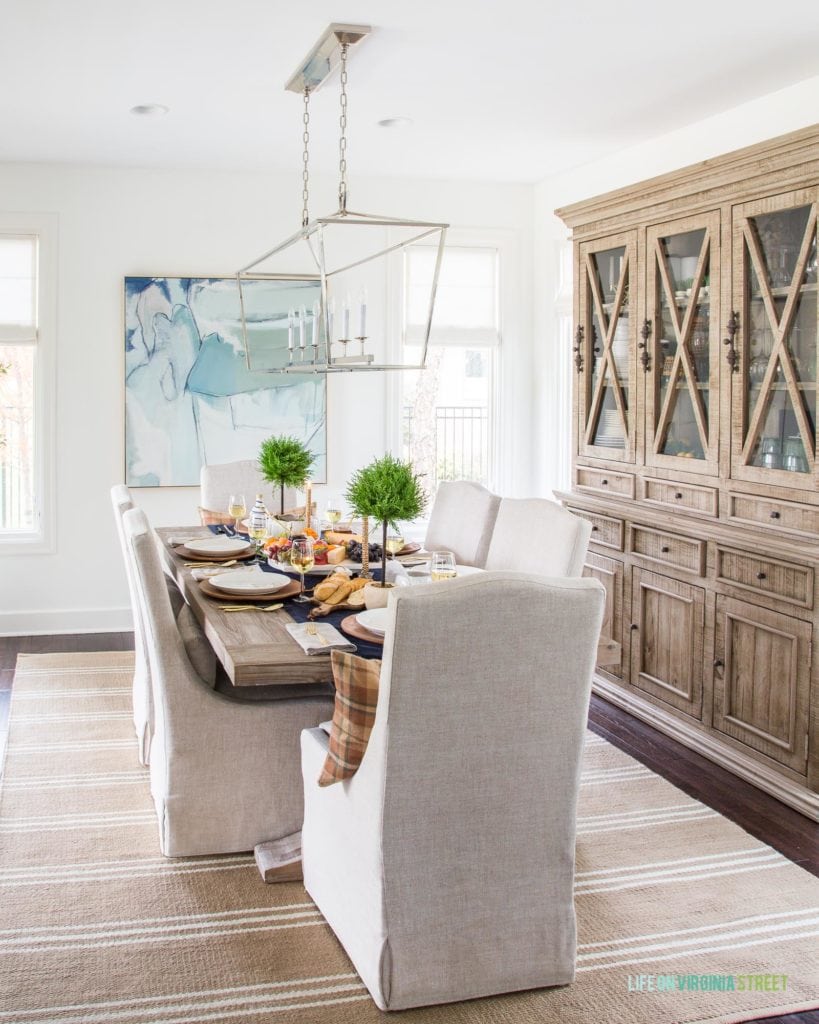 And if you're looking for some last-minute fall decor, be sure to check out my Amazon Fall Decor Finds, which will likely ship the quickest!
Although I haven't published my Hostess Gift Guide this year, most items from last year's hostess gift ideas are still available!
Additional Fall & Thanksgiving Inspiration
Looking for even more fall and Thanksgiving inspiration? Be sure to check out the following post. Click any of the titles below to be taken directly to the article.
I hope you enjoyed this post on All Things Thanksgiving, and found the last-minute inspiration you needed to celebrate!
If you would like to follow along on more of my home decor, DIY, lifestyle, travel and other posts, I'd love to have you follow me on any of the following:
Pinterest | Instagram | Facebook | Twitter 
disclosure: some affiliate links used