Sharing my tips and tricks on how to make a charcuterie board! Also includes our favorite meats, cheese, fruit, spreads and more as well as where to buy the best boards and trays.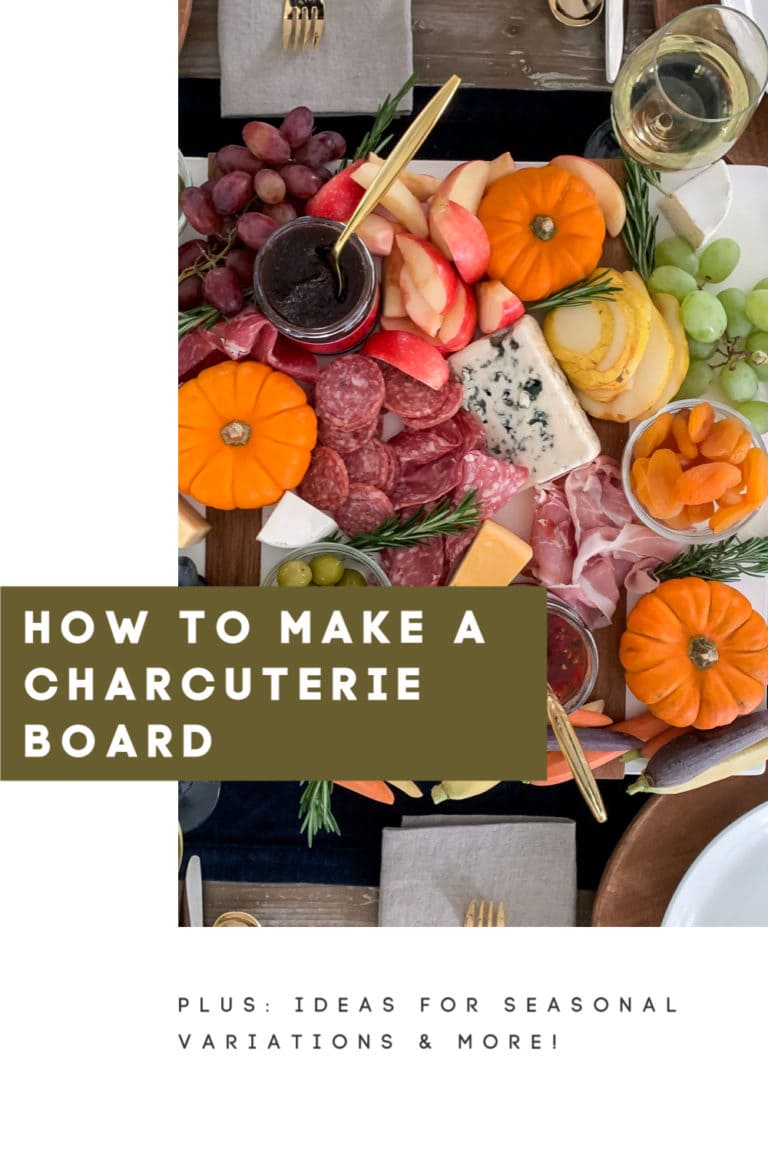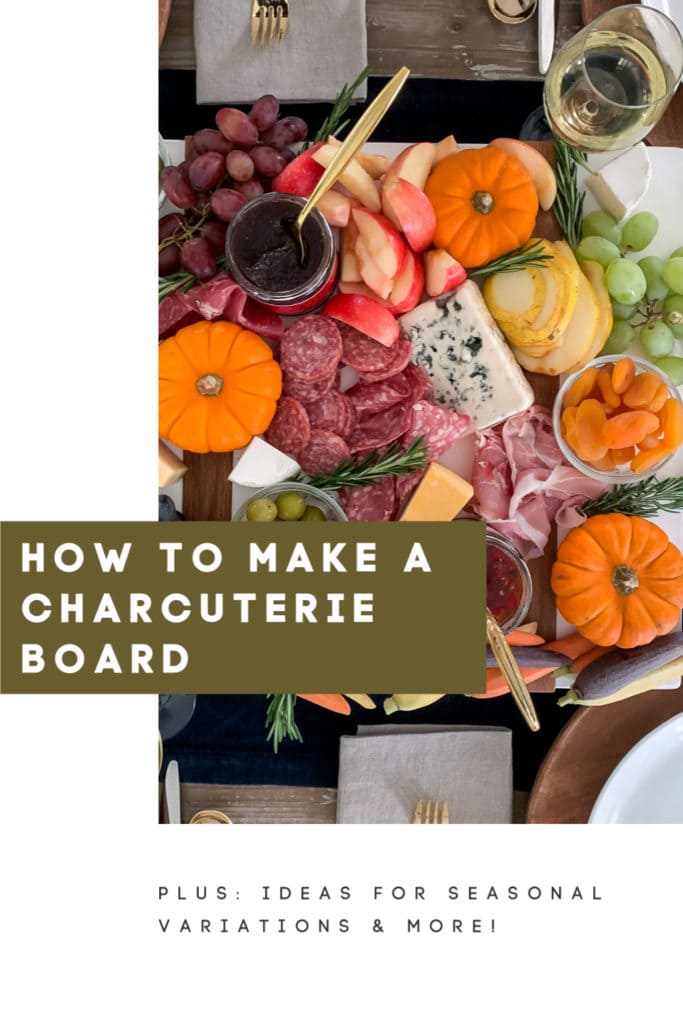 Last week, I shared my simple Thanksgiving table setting along with a colorful fall-themed charcuterie board. Today I'm going to share my tips on how to make a charcuterie board that is sure to impress your guests! My tips will also include easy ways to add a seasonal spin to your boards and where I find the best boards and trays.
This post contains affiliate links for your shopping convenience. Click here to read my full disclosure policy.
If I could eat charcuterie for every single meal, I probably would. And in the summers, it actually is our meal out by the pool many days! We love the variations of meat and cheese, and love to add in various crackers, spreads, veggies, etc. to give a whole new taste to each one! I truly think creating charcuterie boards is an art form, and they are so fun to make! Following are all of my top tips on creating the perfect charcuterie board!
Our Favorite Charcuterie Board Ingredients
Before I jump into how to make a charcuterie board, I want to share our favorite foods to use in our spreads! This is totally subjective and I would suggest you use what you and your guests love most. But, if you're new to charcuterie or are looking for some new additions, the list below may be of help! Following are our favorite charcuterie board ingredients.
MEATS
Italian Dry Salame
Prosciutto
Sopressata
Capocolla
Salame Calabrese
CHEESE
We love a variety of hard and soft cheeses. We'll usually stick with one or two favorites and then mix in one or two new ones. It's also fun to mix milk types (cow, sheep, goat, etc.) for varying tastes.
Roquefort Cheese (our current favorite)
Smoked Gouda
Pecorino and/or Manchego
Parmigiano-Reggiano
Brie
BellaVitano Merlot or Chardonnay (usually at the grocery store)
OTHER CHARCUTERIE BOARD ADDITIONS
Although charcuterie boards of old typically only included meat and cheese, modern day versions include much more! Here are some of our favorite additional charcuterie board additions
Crackers (we usually just buy the store variety party packs with multiple styles)
Bread (French baguette)
Olive Oil (this one is our favorite for dipping)
Balsamic Vinegar (this one will change your life – we stock up when they offer 20% off!)
Olives (these olives are our all-time favorites!)
Jams and spreads (we love the fig and the red pepper jelly from Trader Joe's)
Nuts
Honey/Honeycomb
Dried Fruit
Sliced apples, grapes or pears
CHARCUTERIE BOARD SEASONAL ADDITIONS
The following items are fun to add when in season, for a new spin on your traditional charcuterie boards!
Figs
Pomegranates
Berries
Peaches
Melon
Artichokes
Pumpkins (seeds or just the full pumpkins for styling like I did below)
Tomatoes
I've also found that Costco and many grocery stores are now making it super easy to assemble your own boards without much effort or thought. And I've been pretty pleased with the selections they offer in some of their "packages". In the assembly section below, I used the following items from Costco and Trader Joe's. The Costco "kits" were pretty affordable and then I just added in custom pieces from Trader Joe's that I love to include. I actually used less than half of all of this though on the huge board I created below.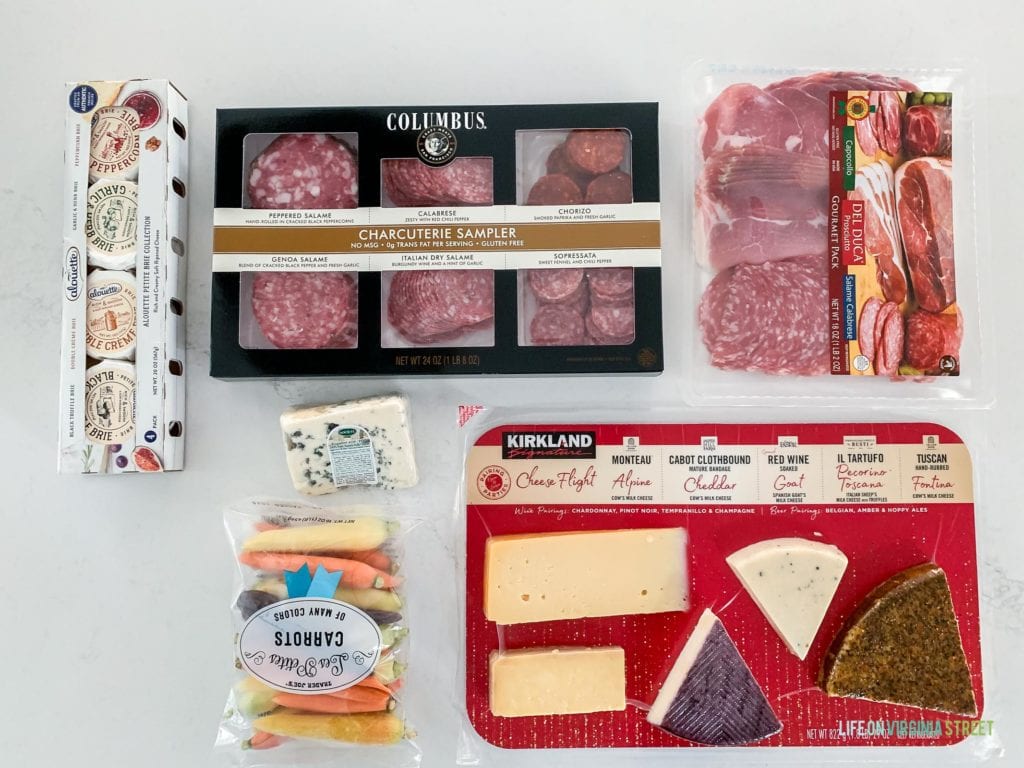 How to Make a Charcuterie Board
Following is my step-by-step tips for assembling the perfect charcuterie board every time! Based on the number of people you're serving, select your board for serving. I'm using this board in this example.
STEP ONE
I always start by adding the non-food items that can provide structure for your spread. This includes little glass bowls, vessels, jars, or other things you plan to add to your board. I like to place them in logical locations. For example, if you're using bowls for olives, spread those out in different locations around the board. If you're using jams, spreads, or honey, spread those out as well. Regardless, I try to place the structural elements in various spots around the board rather than clustered together.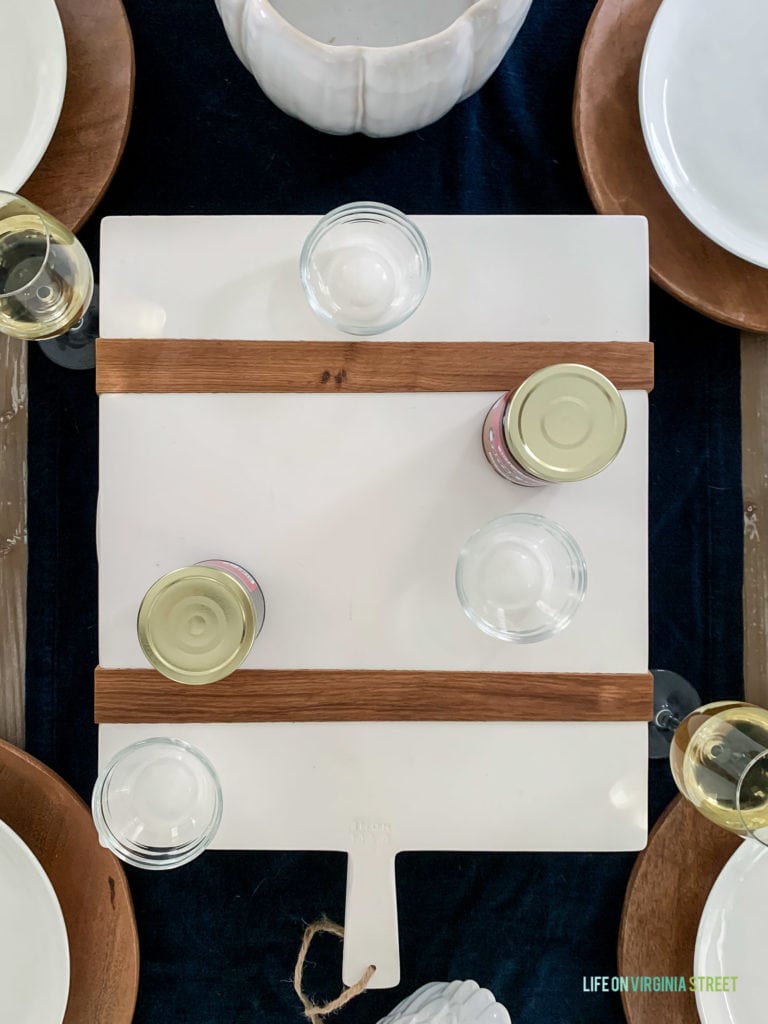 STEP TWO
If you're adding in non-edible seasonal elements, I add them in at this time. Again, I try to scatter them around the board. You could use items like pumpkins, pomegranates, pears, artichokes pineapples, etc. to give a seasonal festive vibe to your board. Keep in mind, this step is completely optional!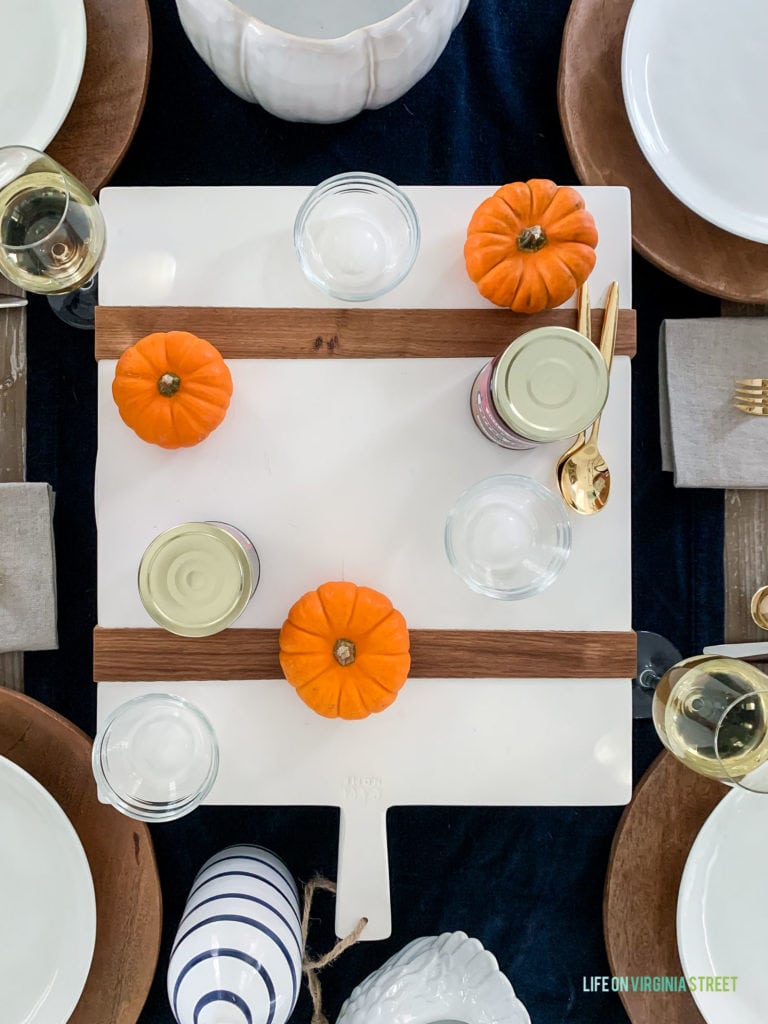 STEP THREE
Add in any large fruit or veggies you plan to serve. I find that if you add the larger elements in first, the flow is much easier when you add in the meat and cheese later on!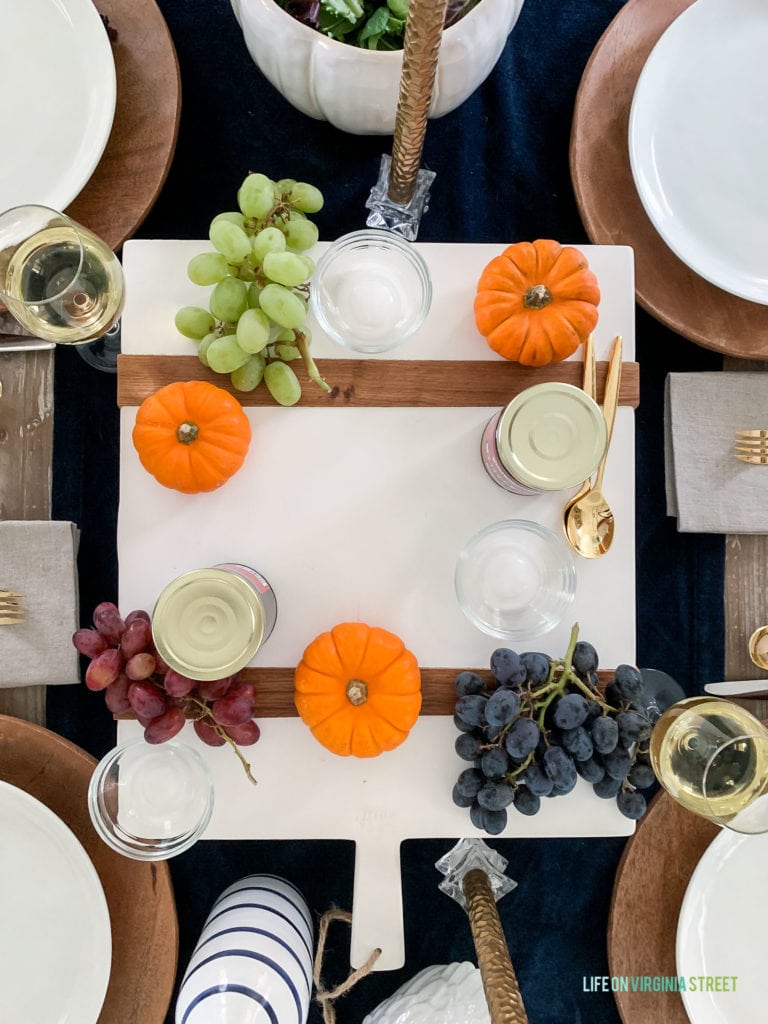 STEP FOUR
Add in your cheese blocks. I usually start with the larger blocks of cheese and then add in the smaller chunks later as space allows. You'll also notice in this step I added in my apple wedges and prosciutto. Since these tend to take up more space I like to get them in early! Prosciutto is one of the more difficult meats to add to a board because it wants to stick together, so I pull each slice apart and then layer it on the tray in piles so it's easier for your guests to grab! I also add my crackers and cheese on the board at this step as well. However, in this particular example, I used a separate board for the grains due to space restraints. Do what makes the most sense for your needs!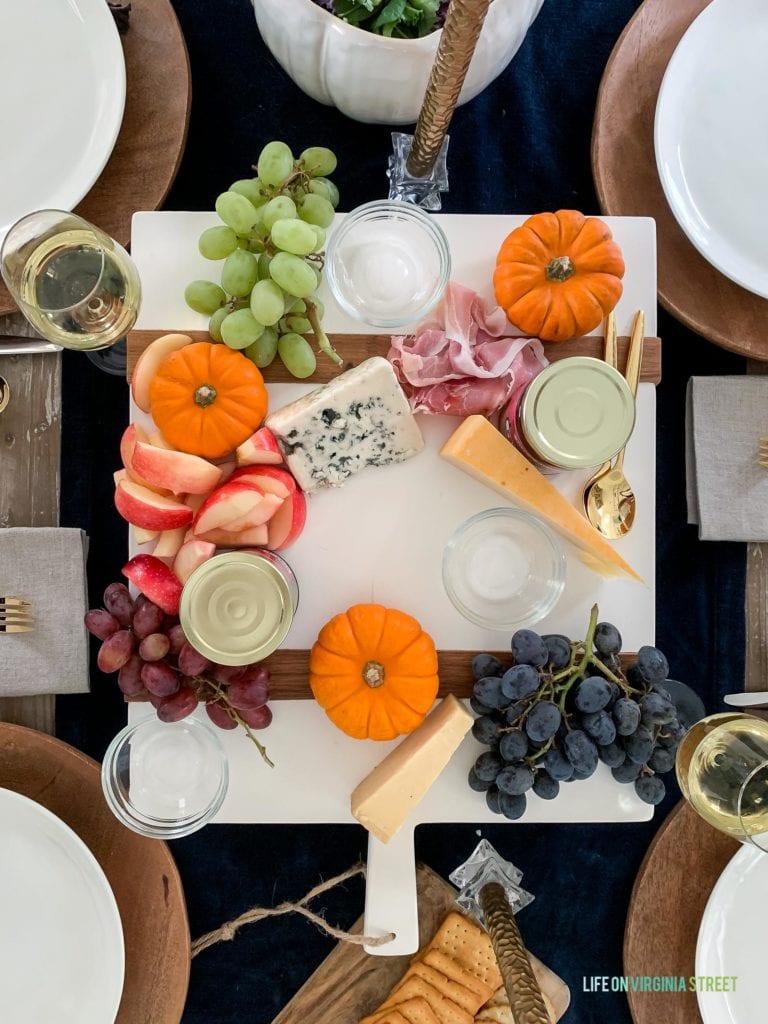 STEP FIVE
Add in the remainder of your meats and other food items you're planning to serve. I prefer not to spread out the various types of meats so it's easier to point out where each type is. If your platter is fairly elaborate or you have picky guests, you may wish to mark your cheese and meats with markers such as these.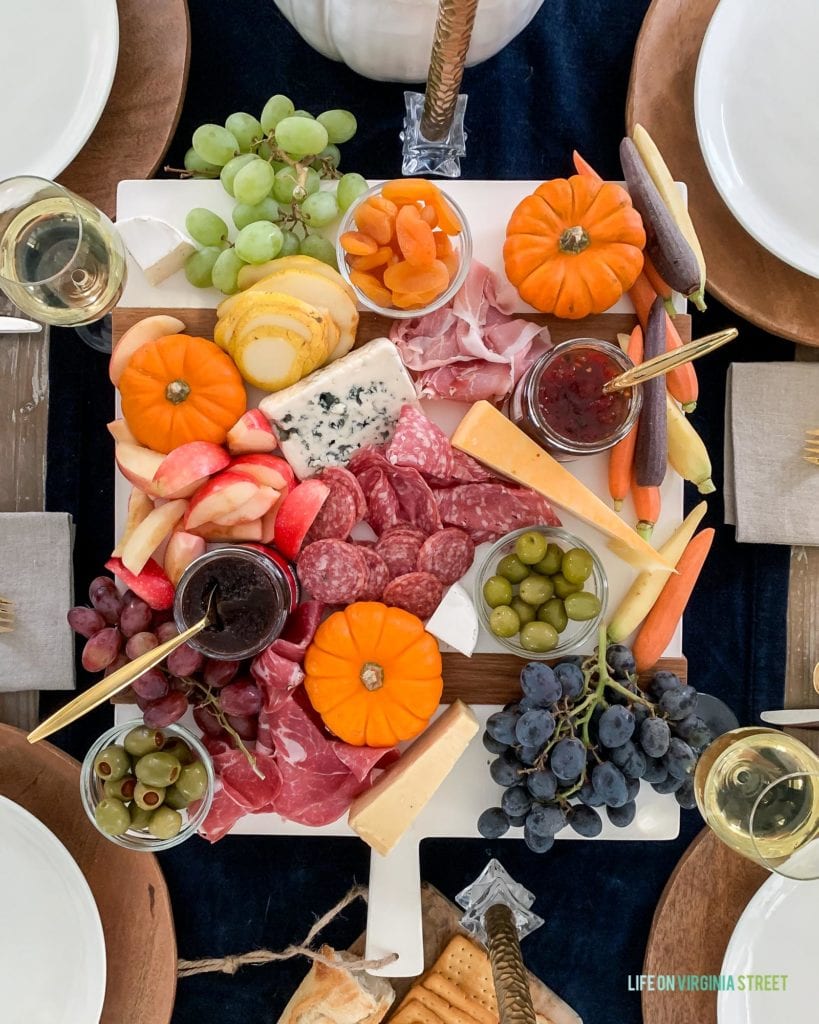 STEP SIX
This step is completely optional, but I love to garnish with rosemary or something similar! The rosemary not only smells amazing, but looks so festive during the holidays! It can also help fill in some of your bald spots on your board.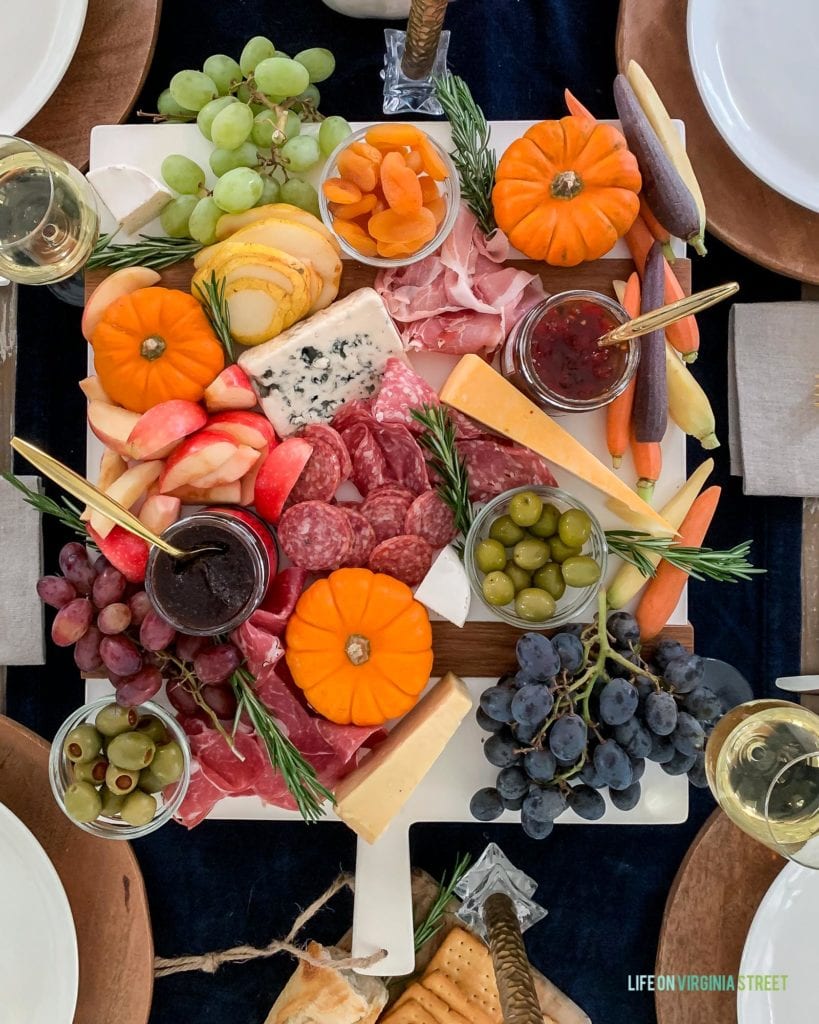 Where to Buy Boards & Trays for Charcuterie
I've accumulated quite the collection of charcuterie trays and boards over the years! I have multiple options to pick from ranging in sizes and materials. Before buying a board or tray, you'll want to ensure you buy the right type. Do you usually serve large boards or small? Do you need to cut on it or is it purely for serving?
Once you know what type you are looking for, you can start shopping! Here are a few options I'm loving currently. I've also been able to find good selections at HomeGoods on occasion. Click any of the images below to learn more about each item.

When not in use, we store all of our boards vertically in a cupboard near our baking sheets. I also like to style a few that we use most frequently on the back of our range and countertops.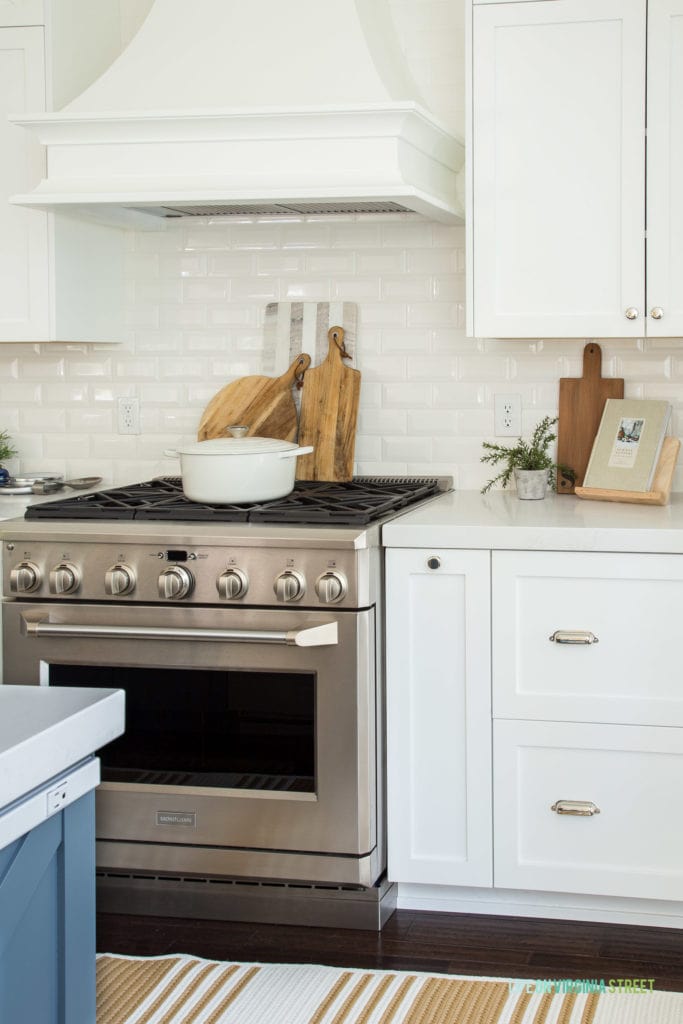 KITCHEN SOURCES: Striped Rug | White Dutch Oven | Wood Boards – HomeGoods (old) | Striped Marble Board | Wood Alphabet Board | Sunday Suppers book
Even More Charcuterie Board Inspiration
If you're looking for even more charcuterie board inspiration, I'd highly recommend the following experts!
This book is a great resources for parties, as well as various themed meals featuring charcuterie
Follow @cheesebynumbers on Instagram for step-by-step tutorials that are easy to follow
Follow @ladyandlarder on Instagram for all sorts of creative boards that "decorate" with gorgeous flowers, veggies and more
I hope you found these charcuterie tips and tricks helpful! Happy entertaining!
If you would like to follow along on more of my home decor, DIY, lifestyle, travel and other posts, I'd love to have you follow me on any of the following:
Pinterest | Instagram | Facebook | Twitter 
disclosure: some affiliate links used