Sharing a collection of beautiful Amazon fall decor finds to decorate your home for the autumn season!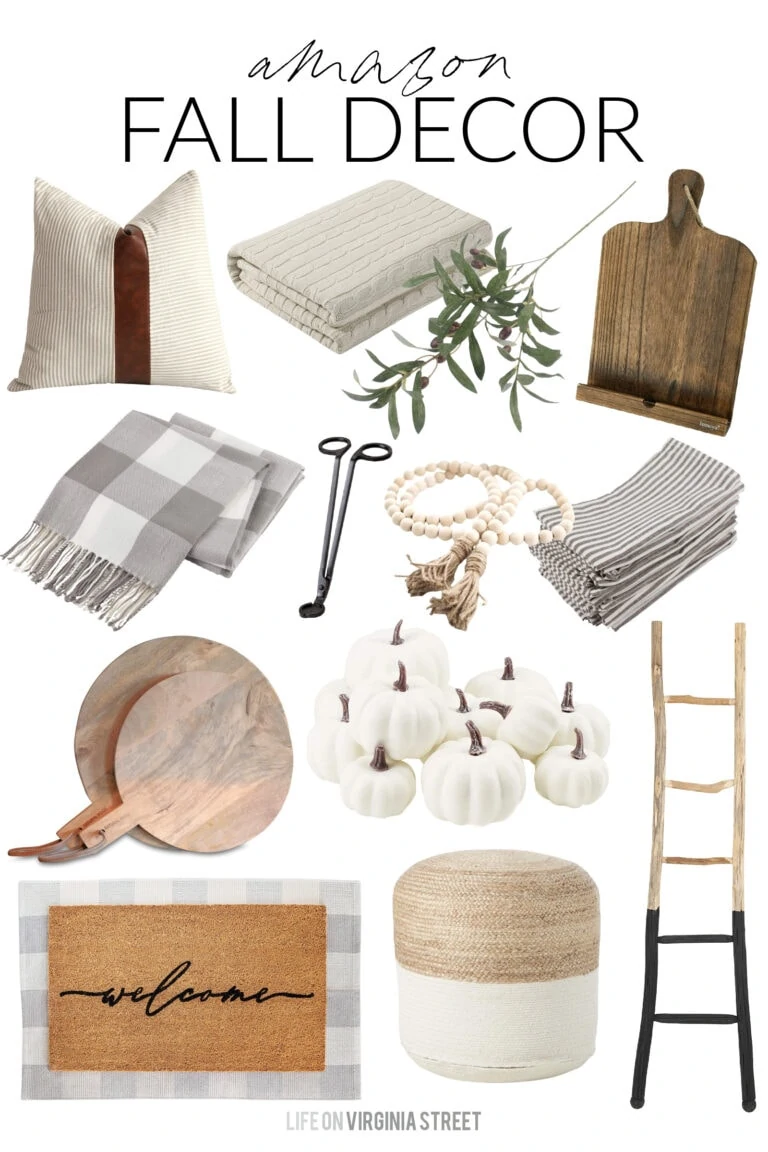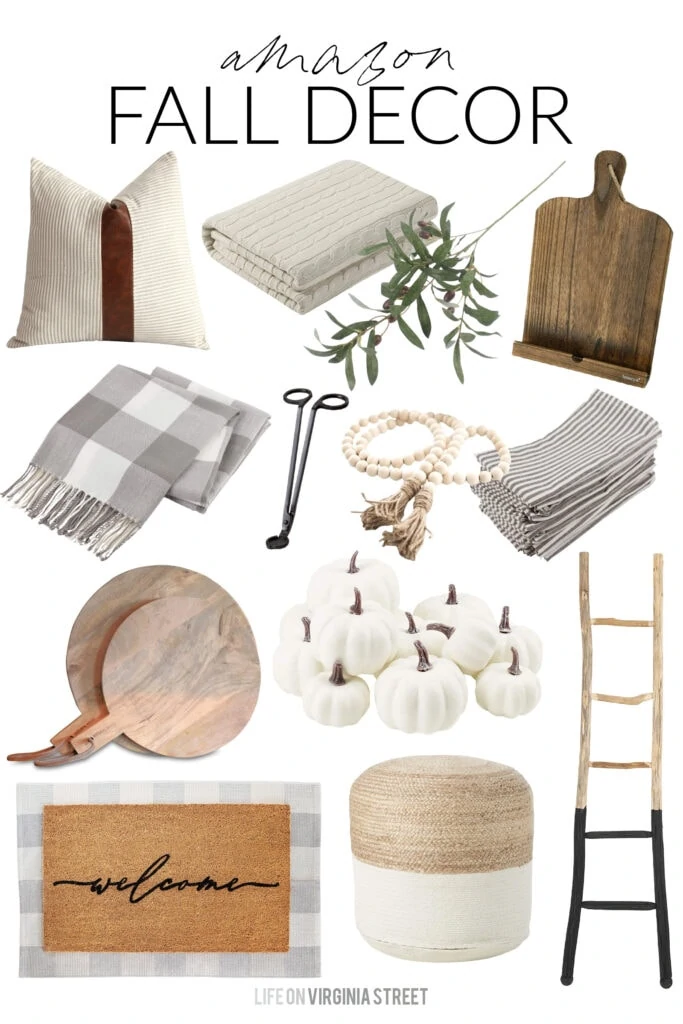 Early this year, I shared a post with some Amazon home decor favorites from around our home. Today I'm back with some Amazon fall home decor finds, some of which I own and others that seem to have a lot of potential! There is something way too gratifying about ordering something and having it delivered within one to two days. Just ask Kurtis – he knows from experience 😉 I was able to find a lot of cute items for fall this past week. I'm going to give some insight and detail on a few of the items I own, and then we'll jump into even more home decor fall finds!
This post contains affiliate links for your shopping convenience. Click here to read my full disclosure policy.
Amazon Fall Decor Finds I've Ordered
If you're on the hunt for some faux olive stems that don't break the bank, these olive stems are a good option. The olives on them are fairly life-like, and although the leaves look good at a distance, it does bug me a little how "crunchy" they are if you touch them. These stems are still my all-time favorites, but you can get five of the Amazon stems for less than the price of one Pottery Barn stem. There are a lot of customer photos in the reviews if you want to see how they look styled. I am going to try and hop on Instagram Stories later today to show you a real-life comparison too! And, while the price spiked dramatically for a bit based on demand, you can now find our faux olive tree for under $120! You can also check here too if the price spikes again. You can see it in action below in our living room from last fall.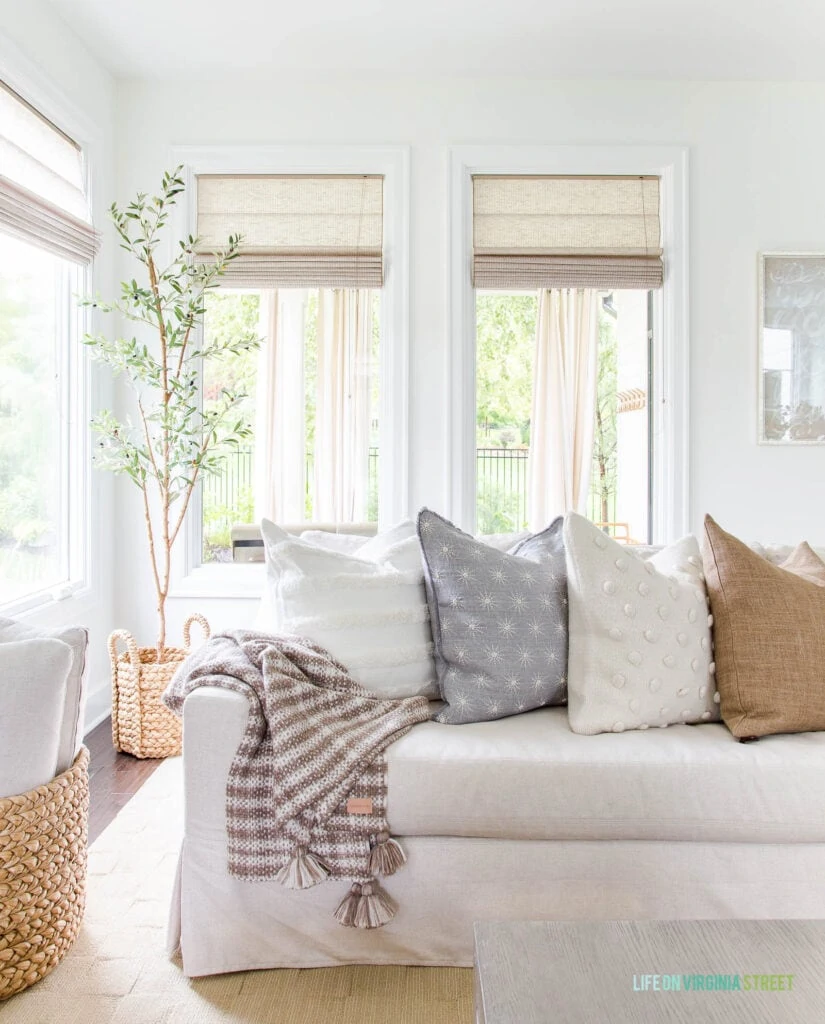 LIVING ROOM SOURCES: Faux Olive Tree | Seagrass Baskets | Linen Sofa | Plaid Alpaca Blanket | Ivory Fringe Pillow | Gray Starburst Pillow | Pom Pillow (look for less here) | Bronze Linen Pillow | Scribble Abstract Art
I ordered these faux leather and white fabric pillow covers and they arrived last night. I think they're actually super cute for the price! It was too dark to take a decent photo so I can try and hop on Instagram Stories later today and share a closer look at them! The price is pretty hard to beat for the pair, especially considering they go with multiple decor styles and seasons! I also ordered this one (in Coffee) and this one (in green) to test out for you guys but they don't arrive until Monday. The reviews look pretty good too! And check out these pair of buffalo check pillow covers that come in tons of colors and sizes. The reviews on these are nearly perfect and they're so affordable!
These faux cashmere throws are such a classic look and come in so many great color and pattern options! The reviews are excellent and these honestly make a great year-round staple! And I always love a good cableknit throw and these come in three sizes and tons of colors! The prices vary quite a bit by your selection, but most are really affordable.
And if you're looking for some amazing fall scents, be sure to check out my post on the best fall candles. If you don't already own a candle wick trimmer after me raving about them all these years, get one! They also make cute gifts when tied to one of your favorite candle choices. I also ordered this diffuser oil after my friend Mandy told me its a dead ringer for this cologne I can't get enough of in the fall and winter months! It also required I buy a diffuser too though, since I've never really gotten into oils. But it was worth it for this one!
Additional Amazon Fall Finds for the Home
Following are even more Amazon fall decor finds that look like great options! Click/tap any of the images below to learn more about each of the items.

Additional Fall Decor Inspiration
Looking for even more fall decorating ideas? Be sure to check out the following posts. Click any of the blog post titles below to read the article.
If you would like to follow along on more of my home decor, DIY, lifestyle, travel and other posts, I'd love to have you follow me on any of the following:
Pinterest | Instagram | Facebook | Twitter
disclosure: some affiliate links used