Good morning! I hope you all had a nice weekend. Here's a bit of what we've been up to this past week!
This post contains affiliate links for your shopping convenience. You can read my full disclosure policy here.
Home Projects & Updates
Over at our new build, they wrapped up installing most of the cabinet hardware. Our fridge will be panel ready, so I ordered coordinating appliance pulls for that as well as the pantry cabinets on the opposite side to make everything a little more symmetrical. Those will all get installed closer to move-in date.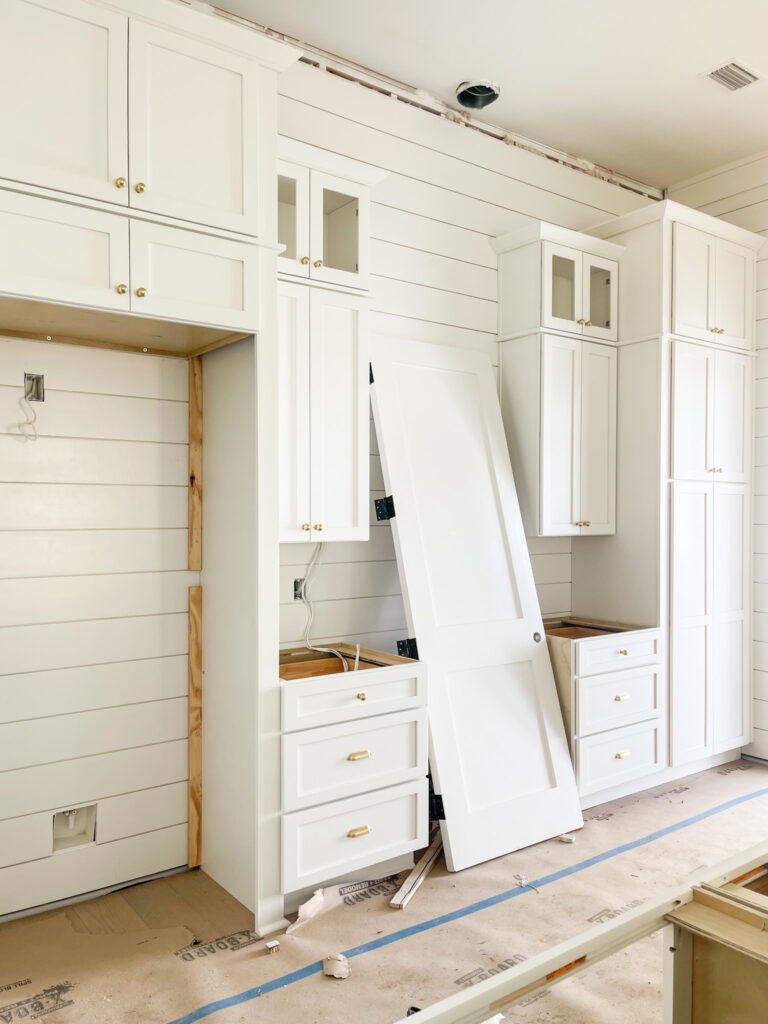 We tested about a half dozen tile samples we'd picked up at Lowe's and a few other spots. We didn't really love any of them so it's back to the drawing board. We have such a small space to even cover (the range hood will be built covering most of this opening) so we may just end up leaving it shiplap. The photo is a bit skewed here because I had it on wide angle to show the full view.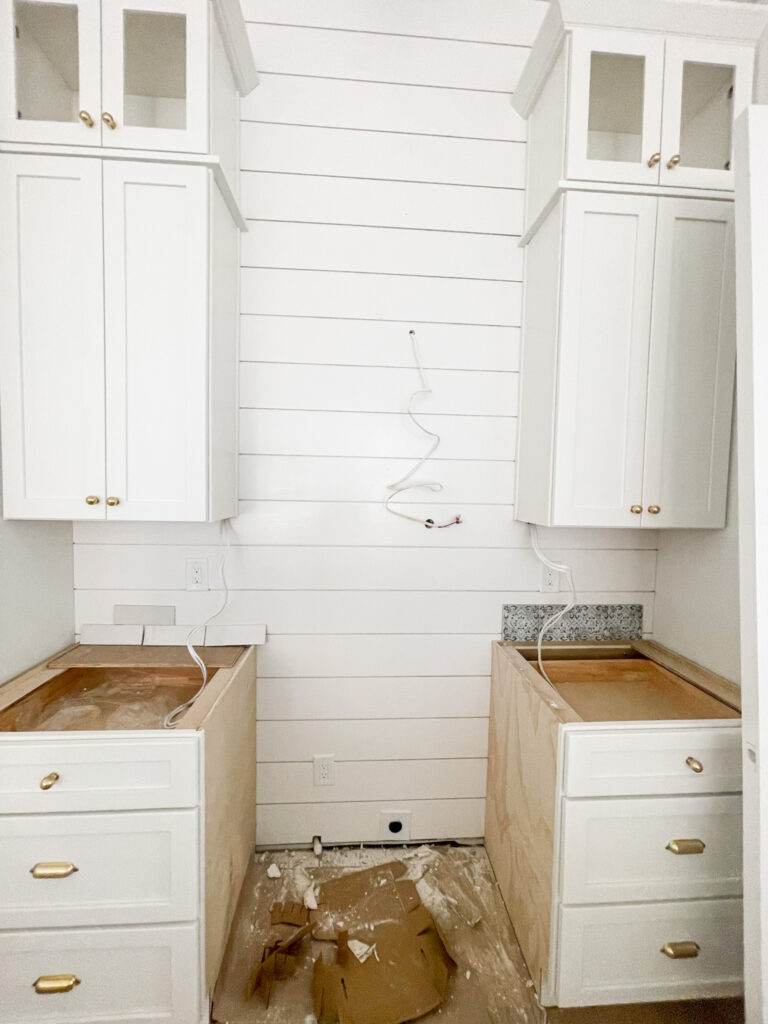 Most of the tile in the house has now been grouted, so it will be ready when the plumbers come in a few weeks for the fixtures.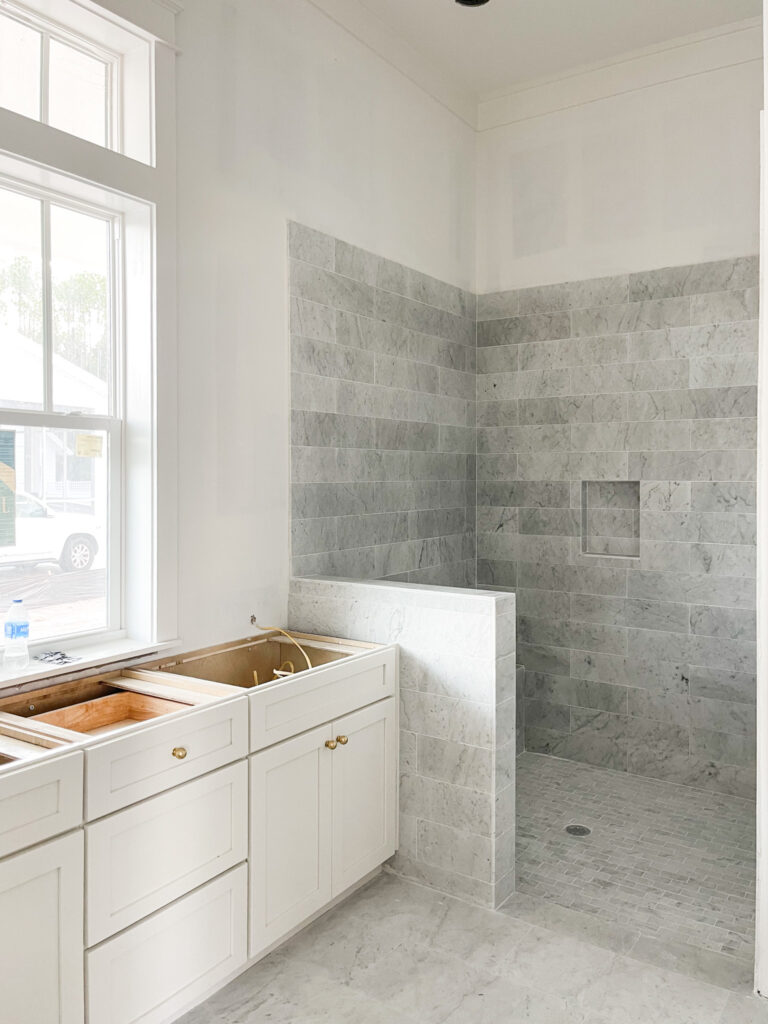 Our countertops were all templated on Monday, as well. In the living room, they installed the vented fireplace (kind of). They have some demo and reconstruction to do for the chimney stack on the inside, but I think we'll start seeing that move along fairly quickly now.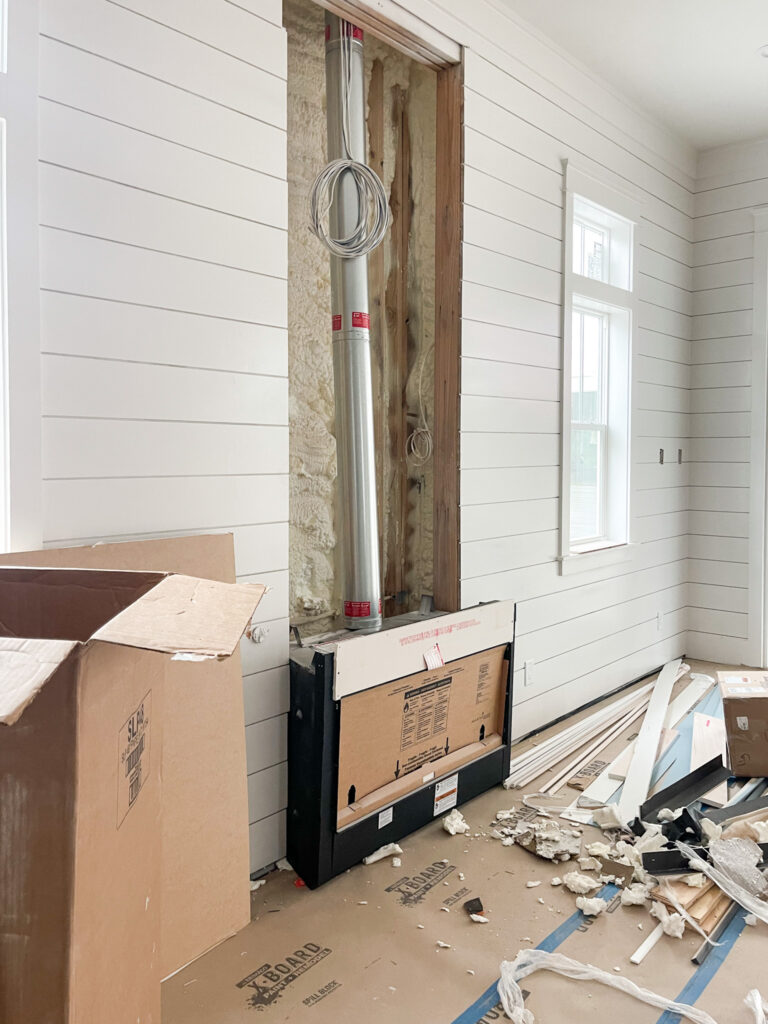 I thought I'd also share a peek of our friends Chris and Rachel's house. They're about a month ahead of us in the building process and just got their countertops last week! She chose Taj Mahal quartzite and it looks beautiful with their putty-colored cabinets and natural wood island. Like our home, I don't have the exact cabinet color because it's just a stock option from the cabinet company/builder.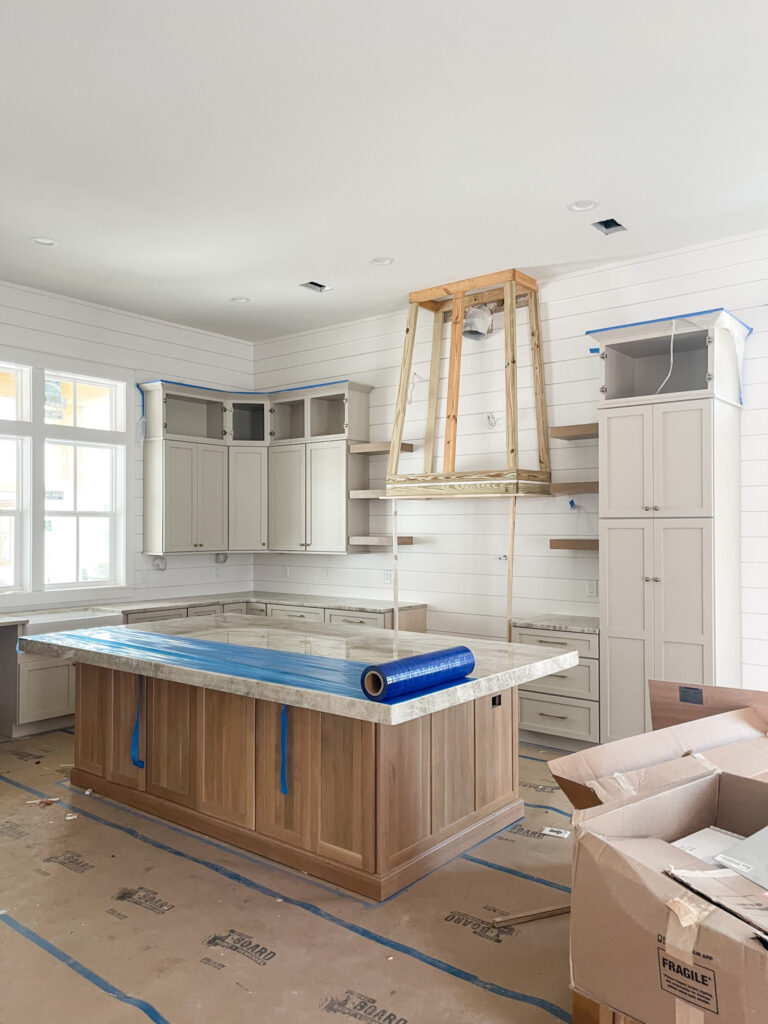 They are expected to move in within about a month, and then we should be about a month later. It still hasn't really sunk in yet!
Top Sellers Of The Week
Following are the top sellers from last week across all of my channels. Links to each item are below the graphic.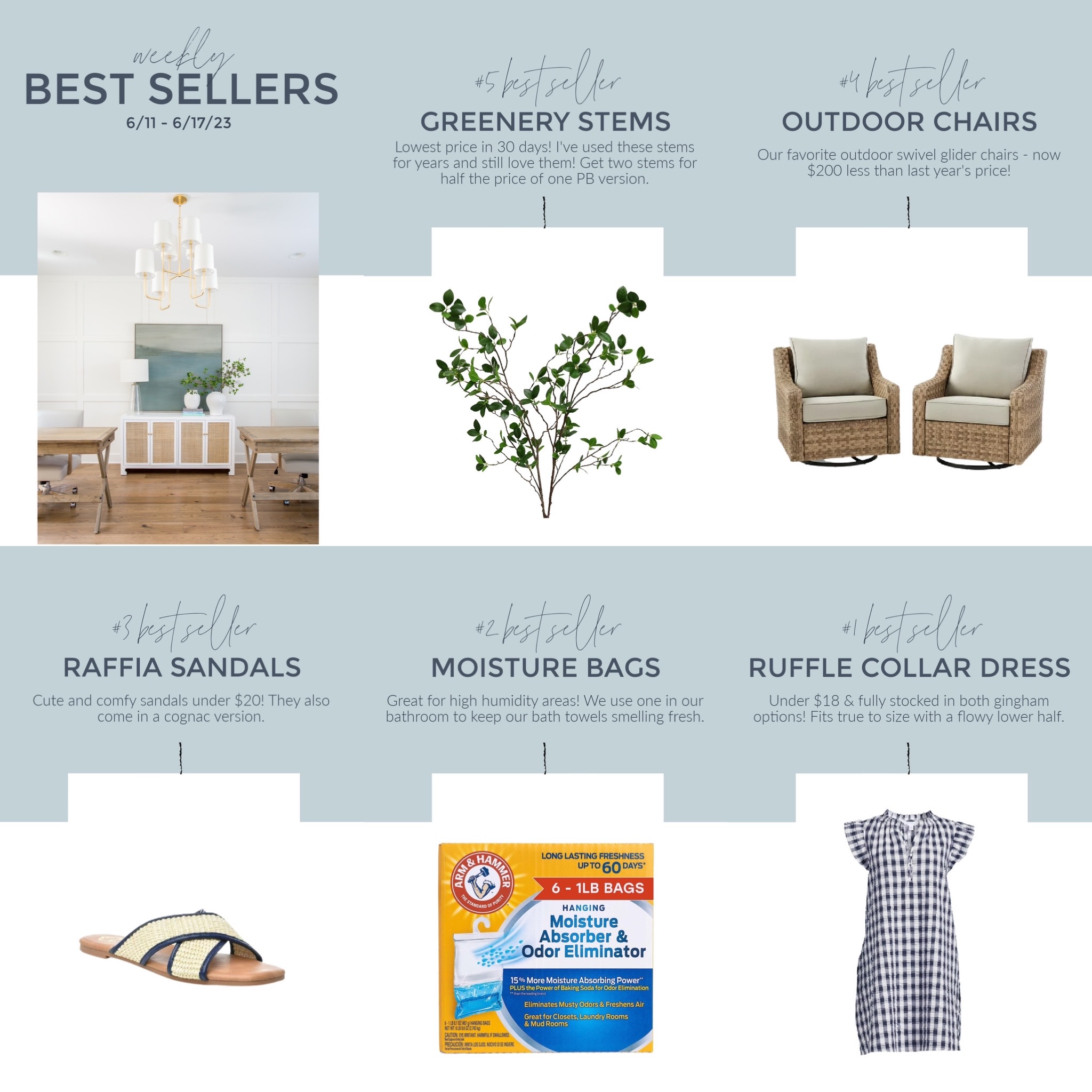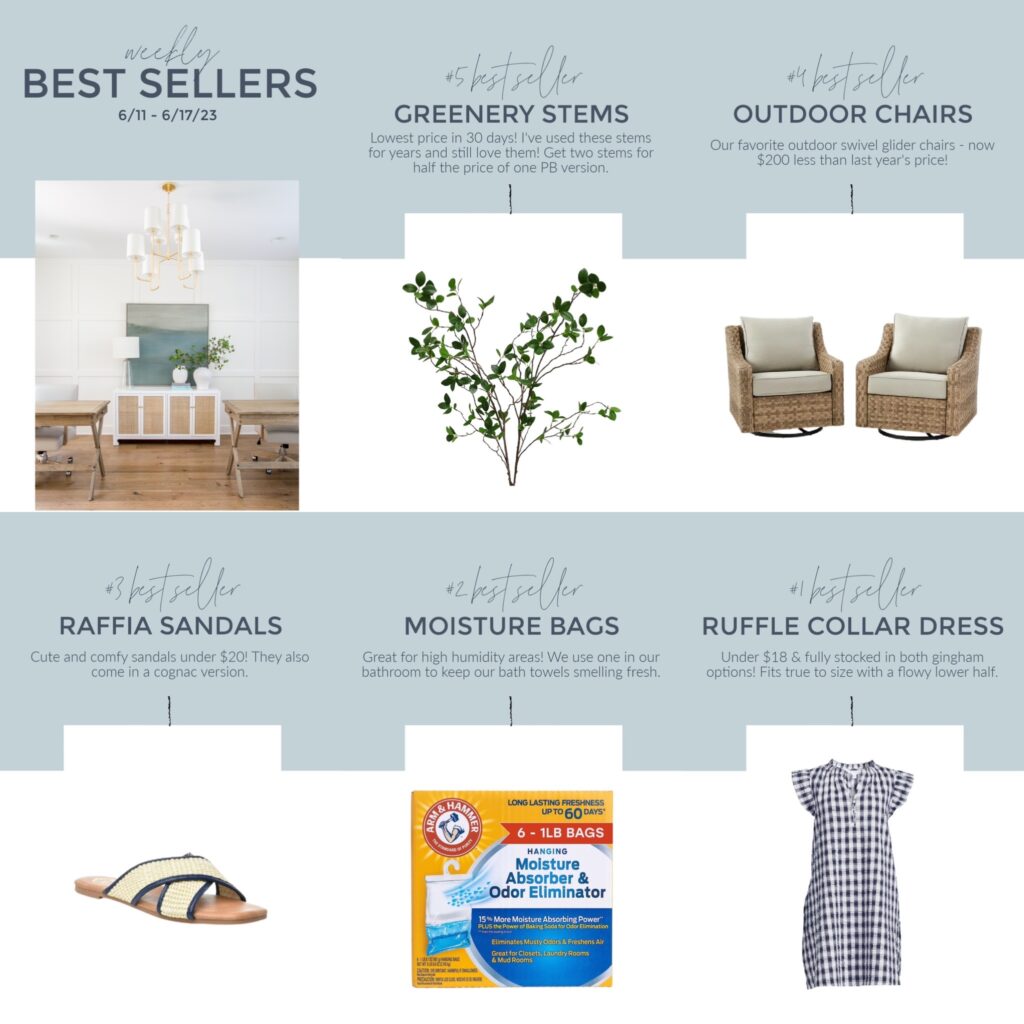 BEST SELLERS (each number is clickable): #5 | #4 | #3 | #2 | #1
In Case You Missed It
Following are the posts I shared over the past week, in case you missed some days!
Following are the most read blog posts of last week (excluding any of the new posts already mentioned above). Many times this includes old posts that are popular on Google or Pinterest.
Around Town & For Fun
We've had some wild weather this past week, but it has made for some pretty stunning sunsets. Tuesday night was trivia night and it was so beautiful outside!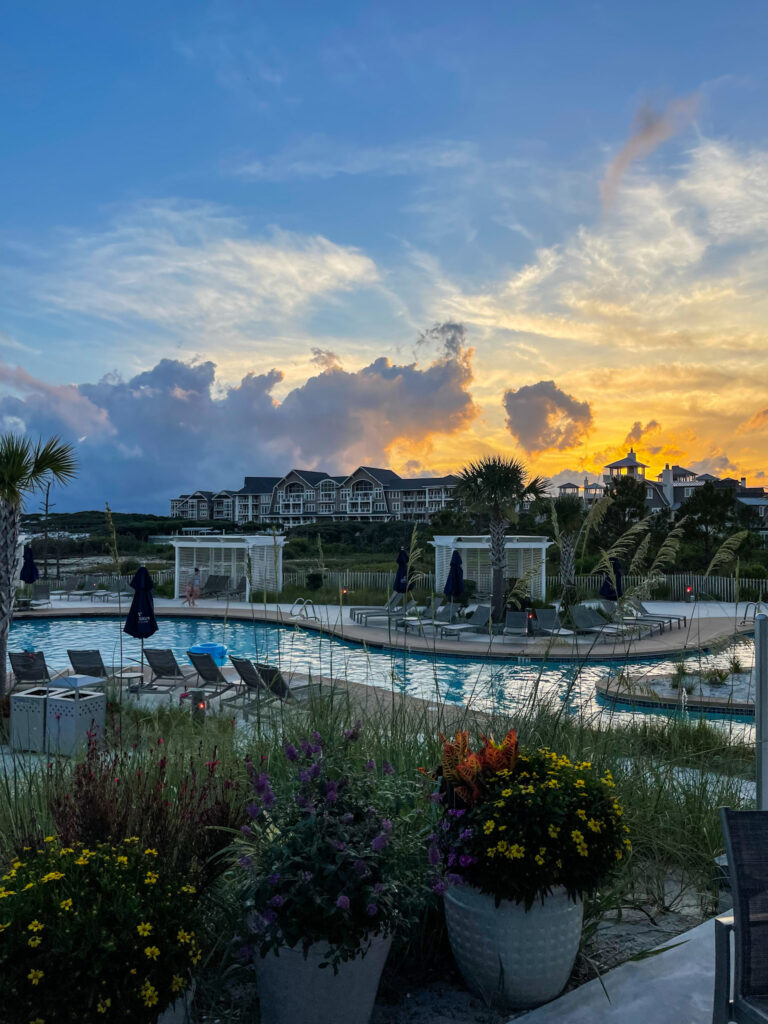 Friday night we had dinner with our friends in Rosemary Beach at Havana. We couldn't have hand-selected a better table if we tried! Unfortunately my camera lens fogged over before I took this photo, but glad I still captured it!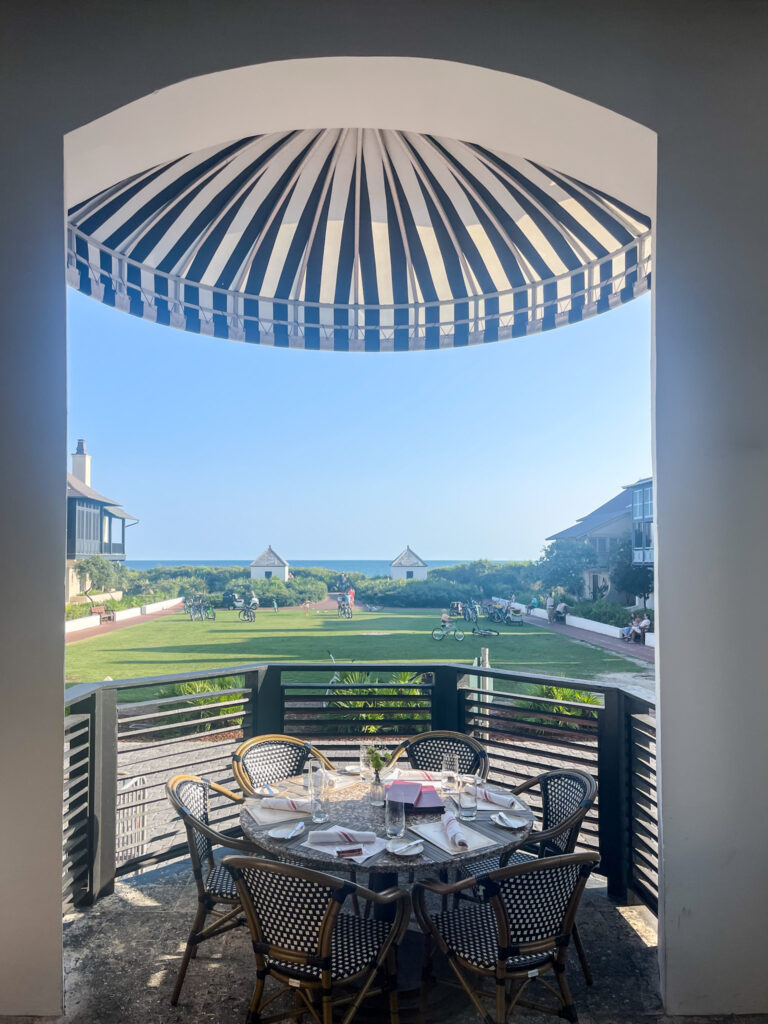 Rosemary really is the most charming little town! It hasn't been crazy busy down here yet this summer, so we've been much more willing to visit. Our cute little post office (and where we vote) is the white building shown below. The day had been really stormy, but it was the most beautiful evening outside that night! The boys challenged us to races in the green, and we enjoyed a long dinner out on the patio shown above. Such a memorable night!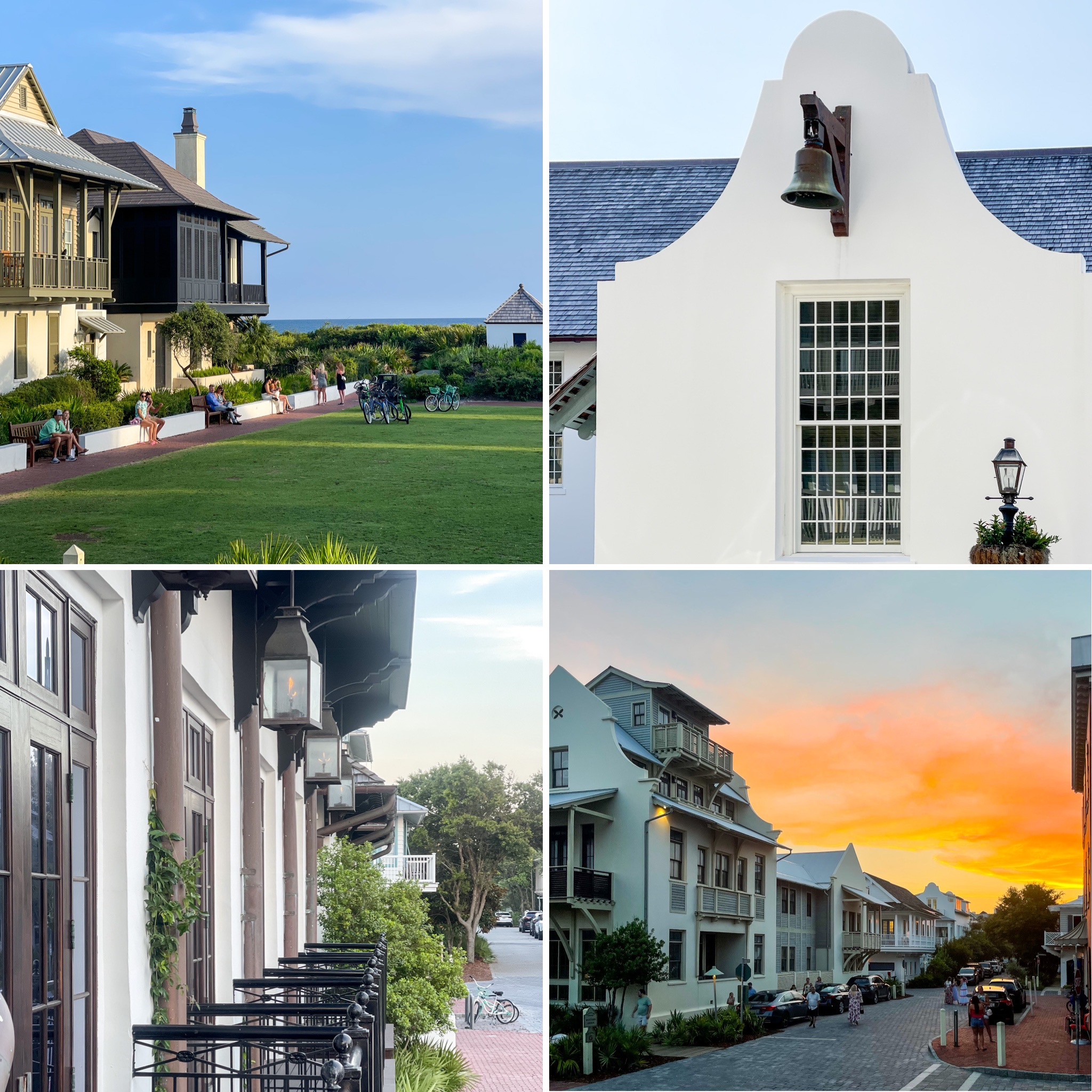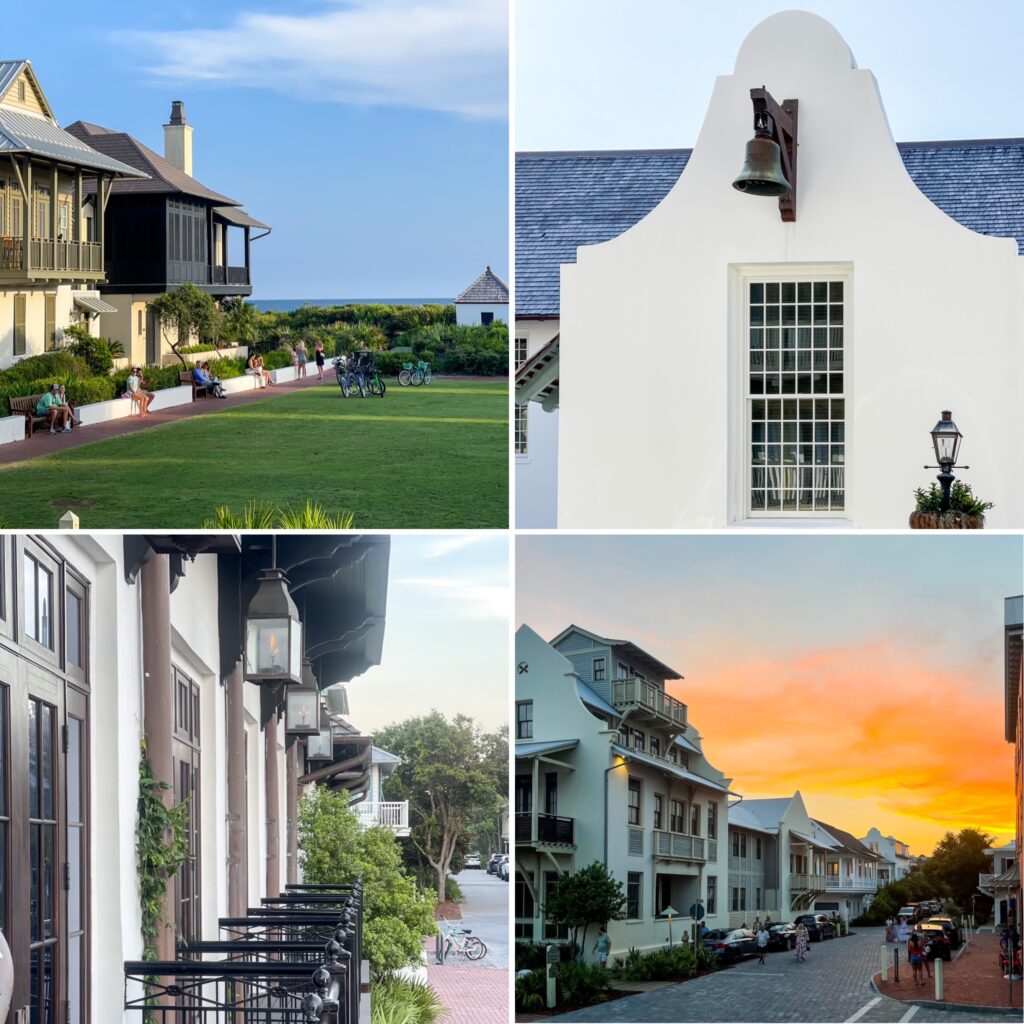 Here's a picture standing in the green looking back at The Pearl hotel (which is where the restaurant Havana is). Our table was in the bottom left bump out of the photo below.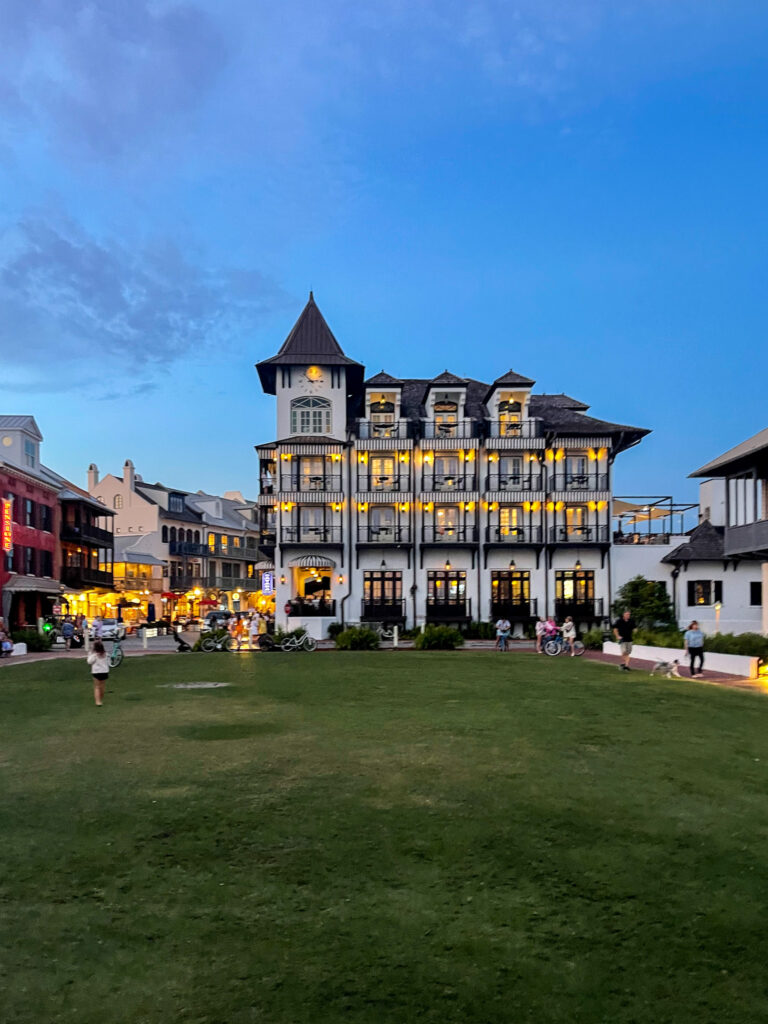 Saturday morning was another rain out, so Kurtis and I took the time to get a bunch of things done around the house. Really exciting things like cleaning and purging 😉 I had two little "helpers" in our closet if you look closely.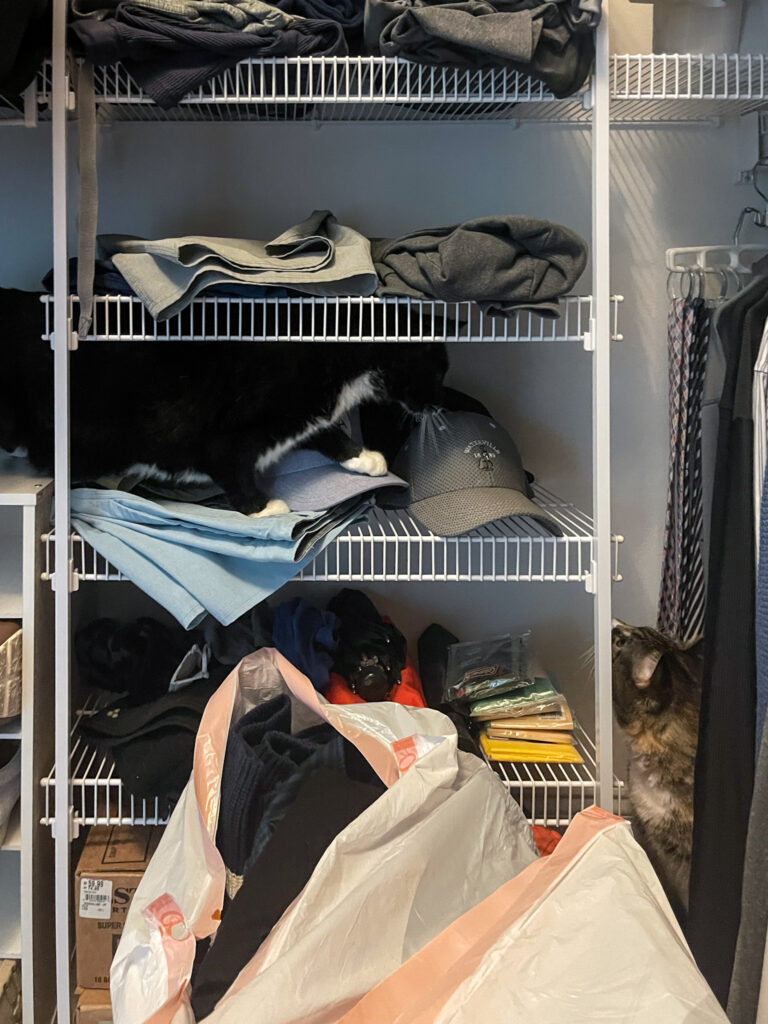 Sunday morning, the sun was shining and it was beautiful outside, so Kurtis and I headed to brunch in Alys Beach. We first took a drive around some streets we had never been to, and there were so many cute houses. I've already picked out my top new favorites. I wore this cute $16 maxi dress that works just as well for brunch as it does as a coverup at the beach! It comes in a bunch of colors too. I sized up to XL because I prefer a looser fit on dresses and coverups.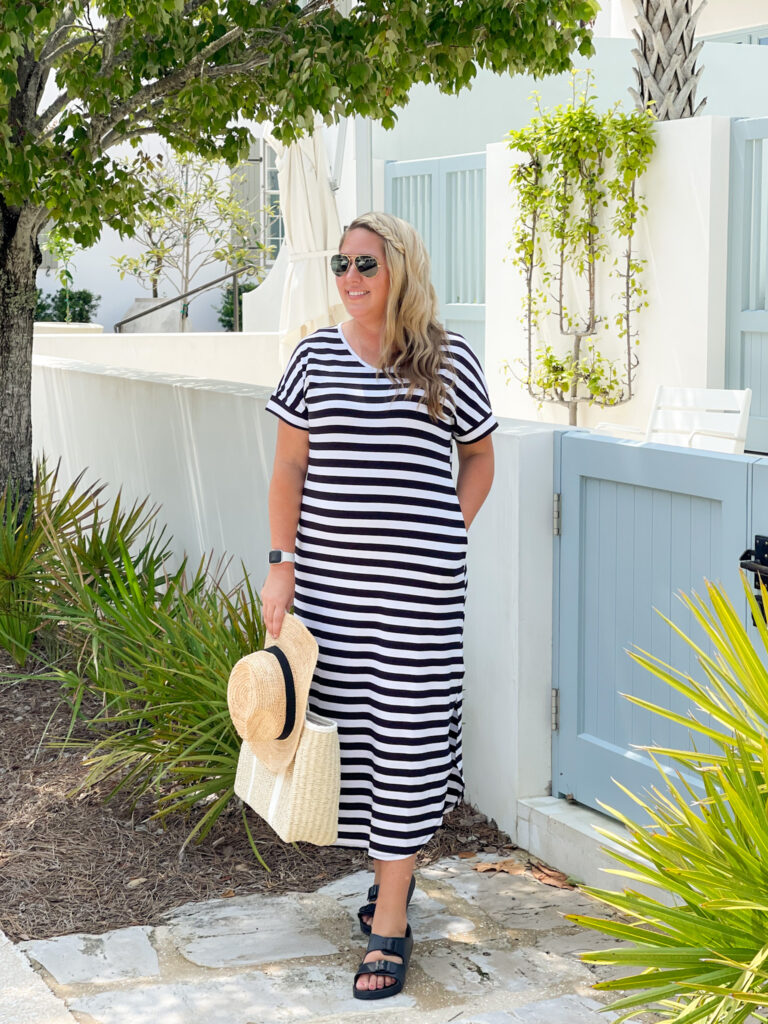 SOURCES: Maxi Dress | Sandals | Aviator Sunglasses | Packable Straw Hat | Straw Beach Tote
Raw & Juicy continues to be one of our all-time favorites!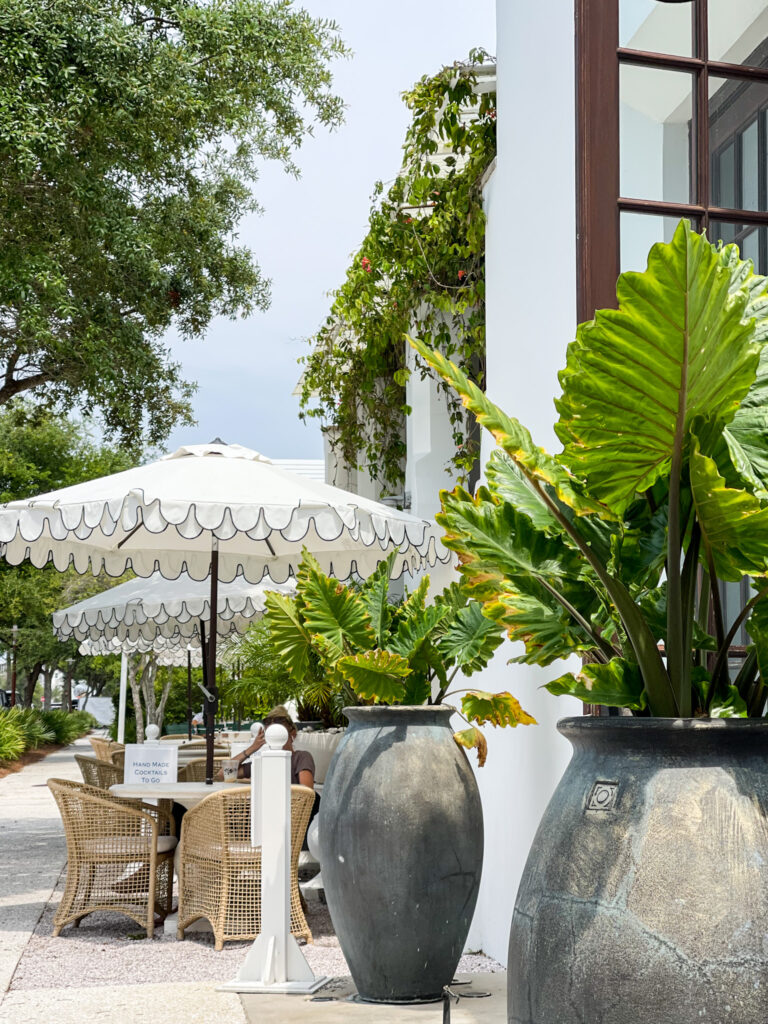 After brunch, we had to meet our friends/business partners at our commercial building to discuss some plans for the backyard area. After tearing down some dilapidated outbuildings, we're now left with a bunch of sand. So we quickly talked through some ideas with the landscaper, as we could quickly see another major storm rolling in!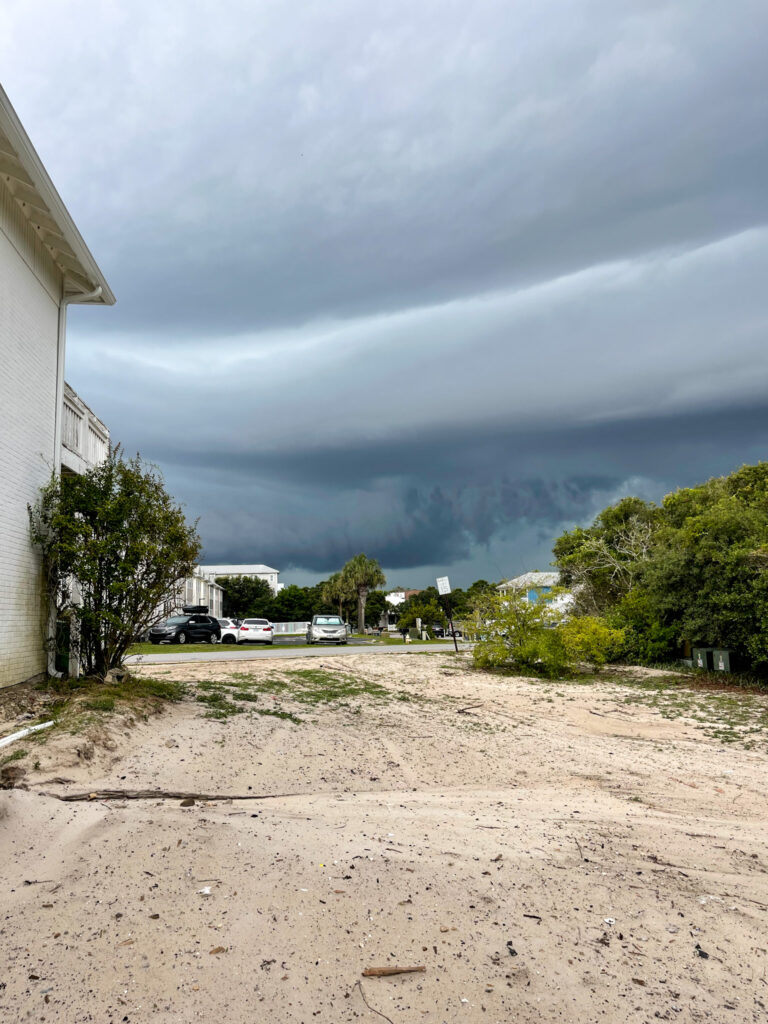 It rained most of the day again so we hung out for most of the afternoon inside. We chatted with both of our dads and then we had dinner that night with our friends at Amigos and it turned out to b e another beautiful evening outside!
We seem to be stuck in this cycle of storms for about half of each day and then beautiful weather. Right now, we're in storm mode again. But, it looks like tomorrow should be a fun day of sunshine (and heat and humidity) but we need a little reprieve from the clouds! One thing I have quickly learned in our time living in Florida: planter watering is a much easier chore since the storms handle most of it 😉
Recent Buys & Sales
Following are some sales from the weekend that have carried over and are still going strong! You can see my top picks here.
I hope you all have a great week!
If you would like to follow along on more of my home decor, DIY, lifestyle, travel and other posts, I'd love to have you follow me on any of the below channels: