Good morning! I hope you all had a nice weekend! I can't believe it's already the last Monday in September. How on earth?! Here's a bit of what we've been up to around here lately.
This post contains affiliate links for your shopping convenience. You can read my full disclosure policy here.
Home Projects & Updates
We were out of town most of the week last week, so most of the progress on the pool house occurred outside. They got most of the pavers wrapped up, but from what we can tell, it looks like they may have ran out and had to order a few more. But if you look closely below, you can see the channel drain was also installed between the house and the pool deck. It basically serves as a drain between the two and run underground to keep water from going back in the pool or resting along the house.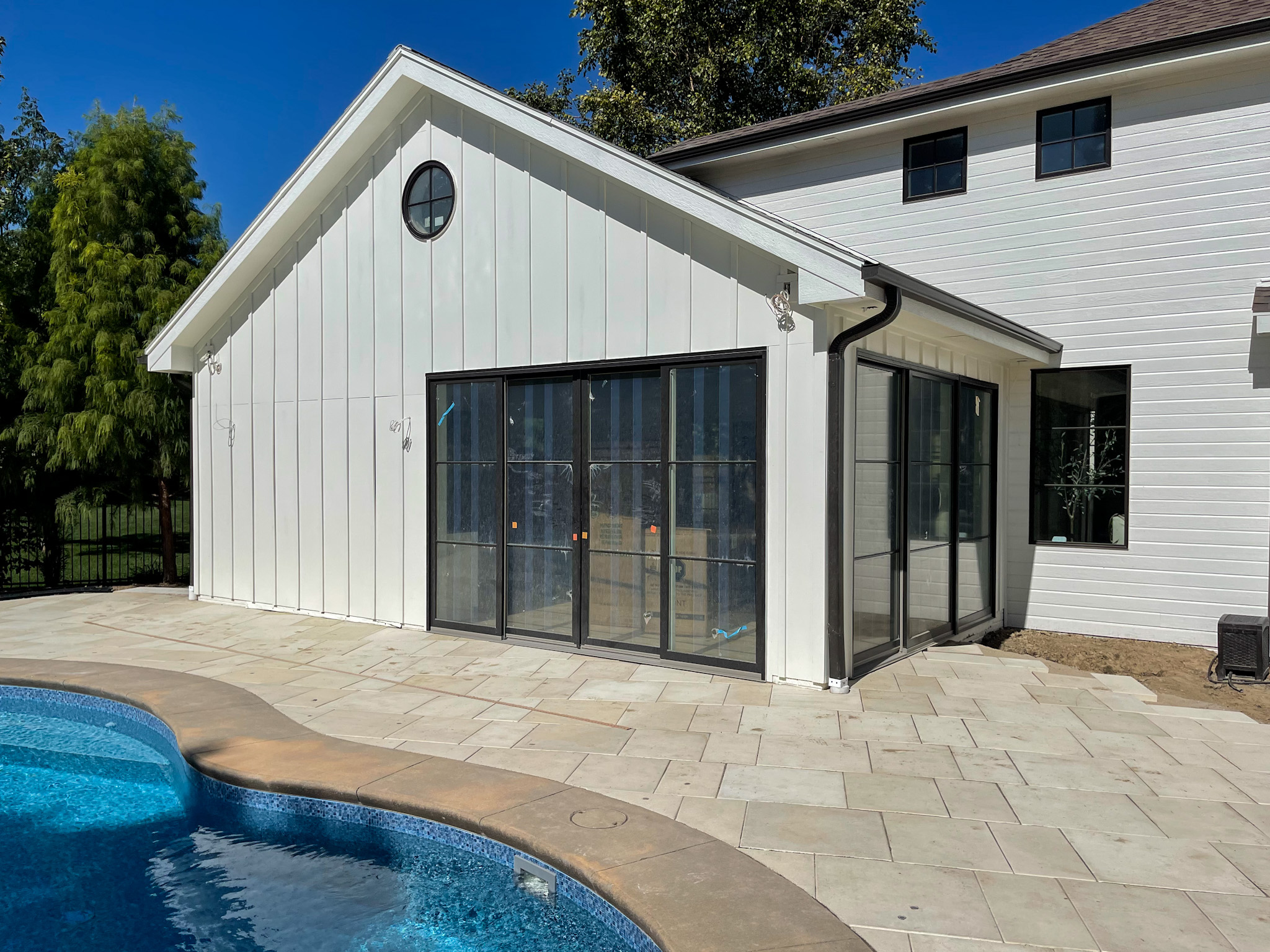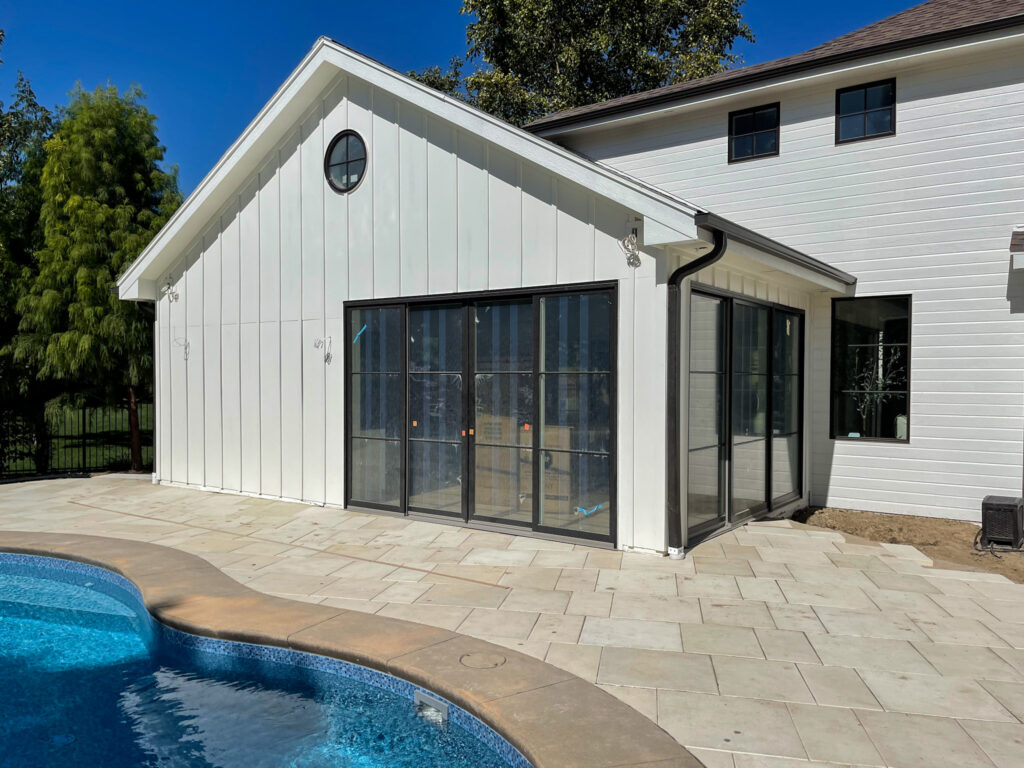 On the other side, the installed our leftover pavers from our prior checkerboard in our grass to make this little area. We'll be placing the grill on the right side of the door, so we just wanted a clean area and a solid surface. I think this worked out perfectly! They still need to add a few more pavers here and a bit of paint touch-up where the step didn't cover the foundation. But other than that, I'm happy with how it all turned out – and excited that this previously neglected area of our yard will look a lot better! Straight behind where I'm taking the photo is the access to the courtyard, so it will be nice to no longer have to walk through landscaping to get there.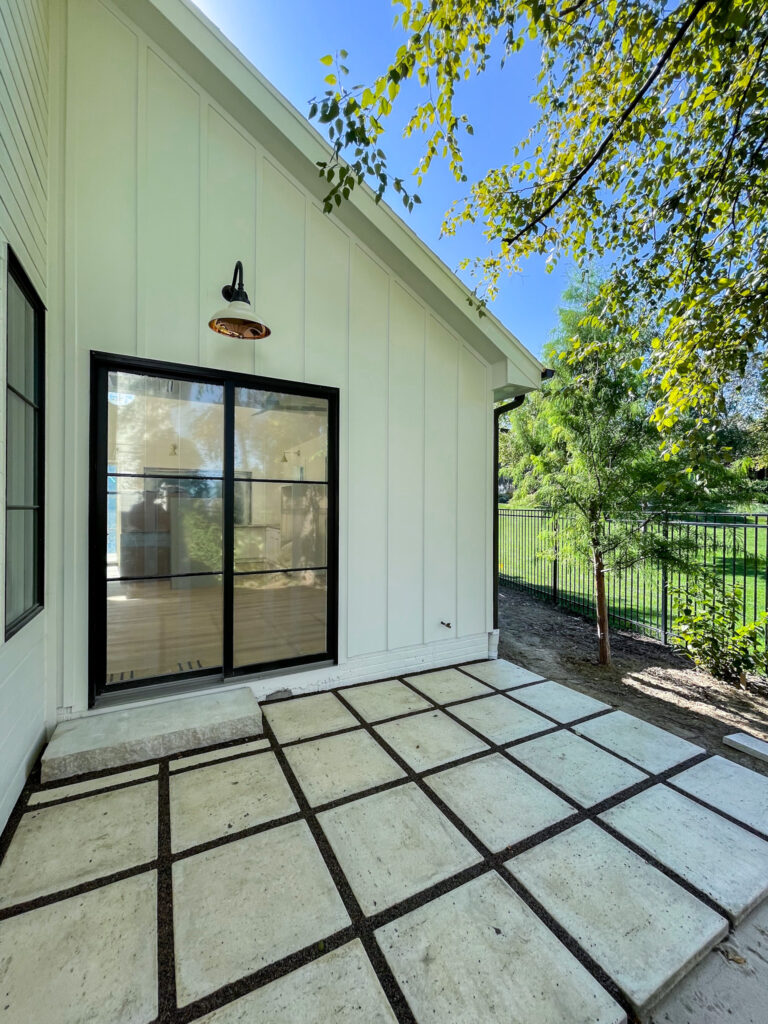 The unit for the mini split (HVAC) was installed last week as well. They couldn't get it up and running since they needed access to our basement, but it sounds like it's mostly ready to go otherwise!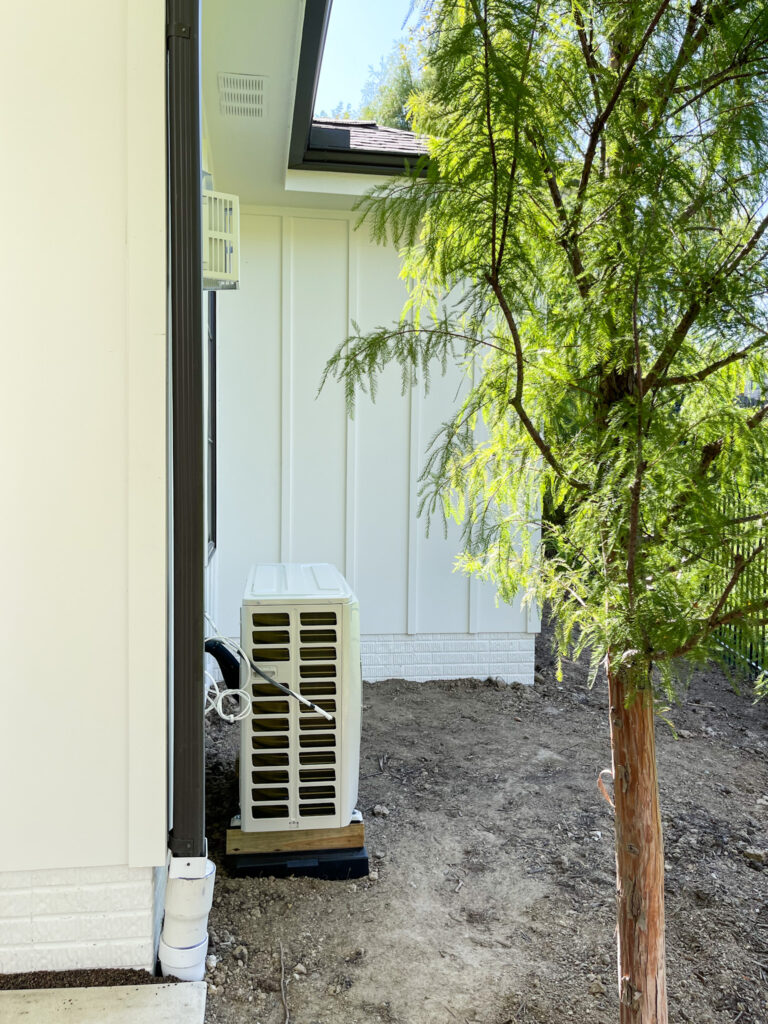 With us being out of town during the work days last week, they couldn't get inside to wrap up most of the other work. So today, we have the plumber, electrician and HVAC guys all coming to put most of the final finishes on everything. I think we're most excited to have electricity out there! Our appliances (fridges) arrived while we were gone, as well. We're getting so close, but that dang pivot window just got pushed back another week. I'm worried that may be the story for many more weeks to come, but I'll keep you all posted!
Top Sellers Of The Week
Following are the top sellers of the past week across all of my channels. Links to each item are below the graphic.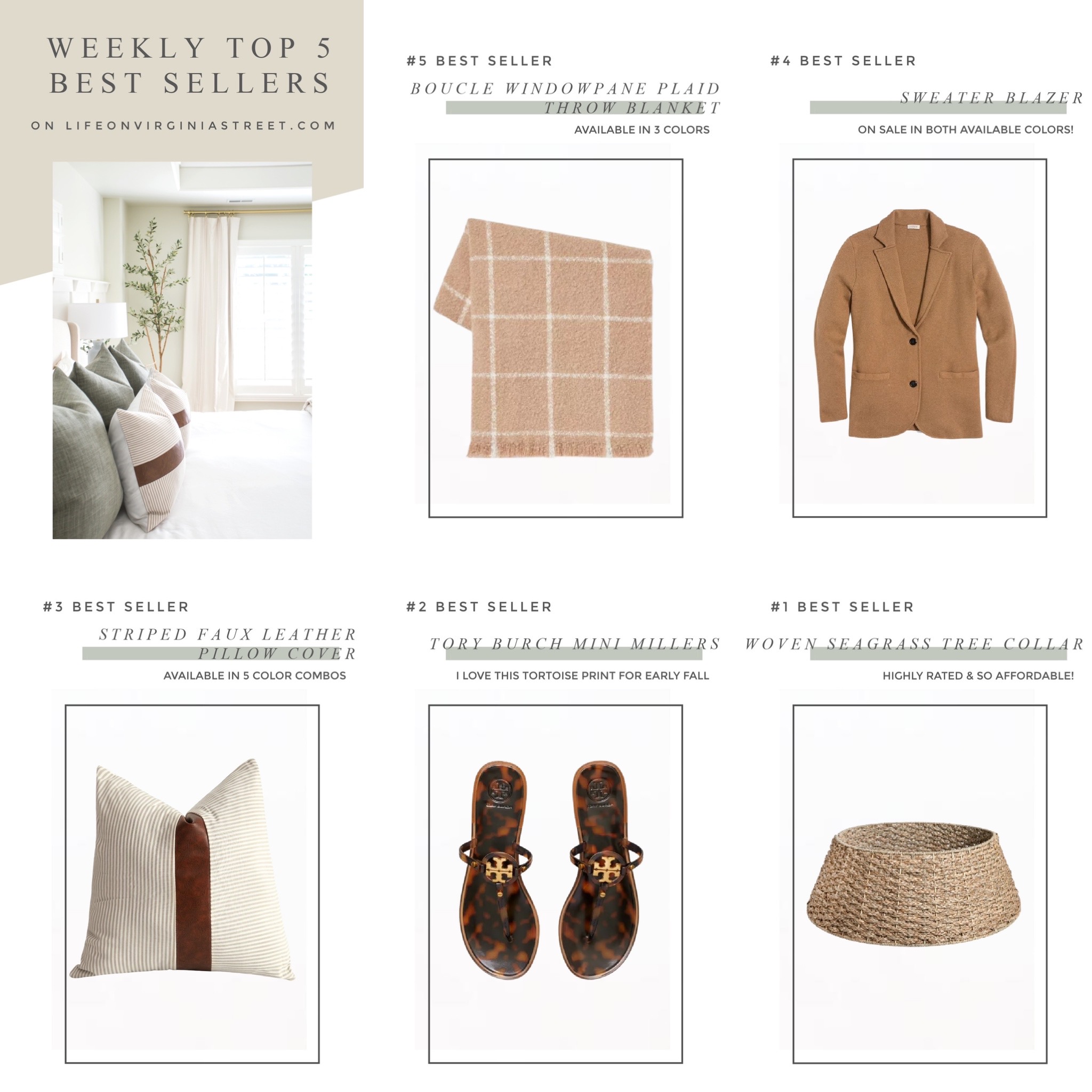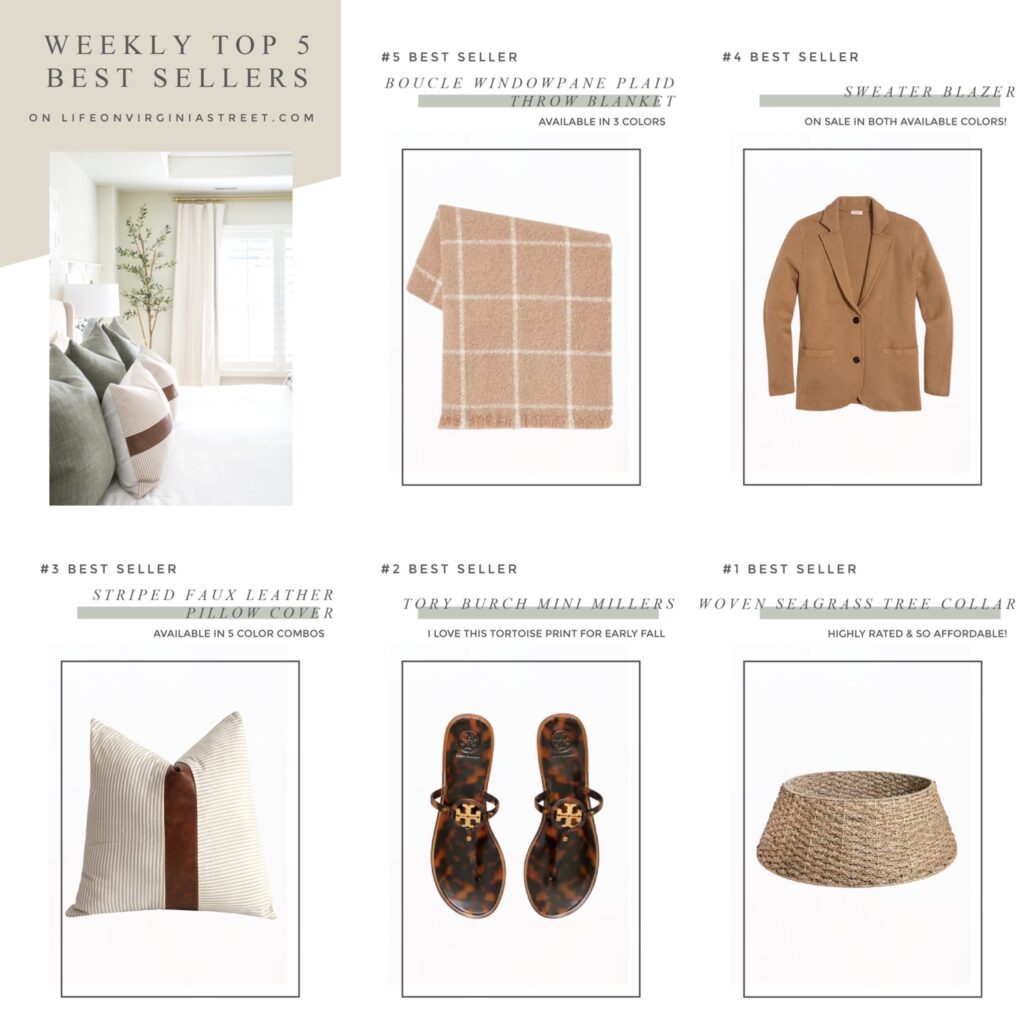 BEST SELLERS (each number is clickable): #5 | #4 | #3 | #2 | #1
In Case You Missed It
Here are the blog posts I shared last week, in case you missed any of them! Click any of the titles below to be taken to the full post:
Following are the most read blog posts of last week (excluding any of the new posts already mentioned above). Many times this includes old posts that are popular on Google or Pinterest! It's fun to see what is trending each week!
Around Town & For Fun
As I alluded to last week, Kurtis and I took an adventure down to Florida last week! We're doing research for some potential Airbnb locations, and we absolutely fell in love with the 30A area! We stayed just between Rosemary Beach and Seaside, in a little area called The Hub. My friend Rachel, who blogs over at Pinteresting Plans, has a gorgeous home there that we rented for the week.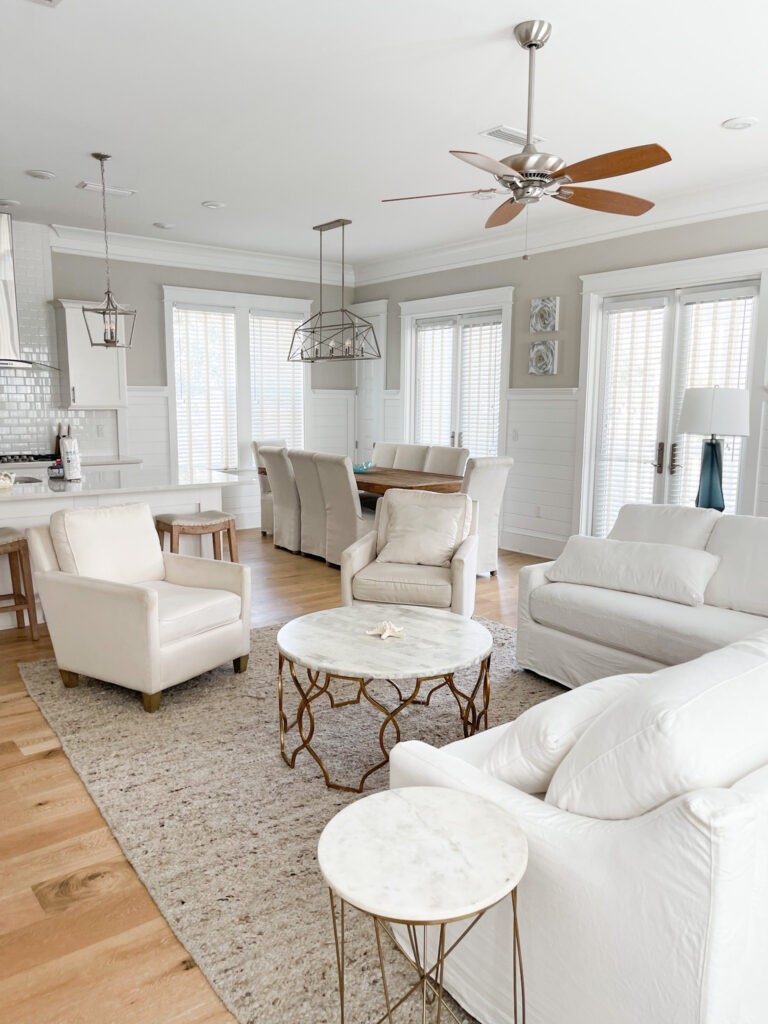 Rachel and I have talked on the phone and texted and messaged on Instagram before, but had never met in person. We hit it off right away and had such a fun week with her and her family. The first night we got together, it was trivia night at their beach club. The topic for the evening was Sports, and Kurtis declared it one of the best nights of his life. He finally got to put all that useless trivia in his mind to use 😉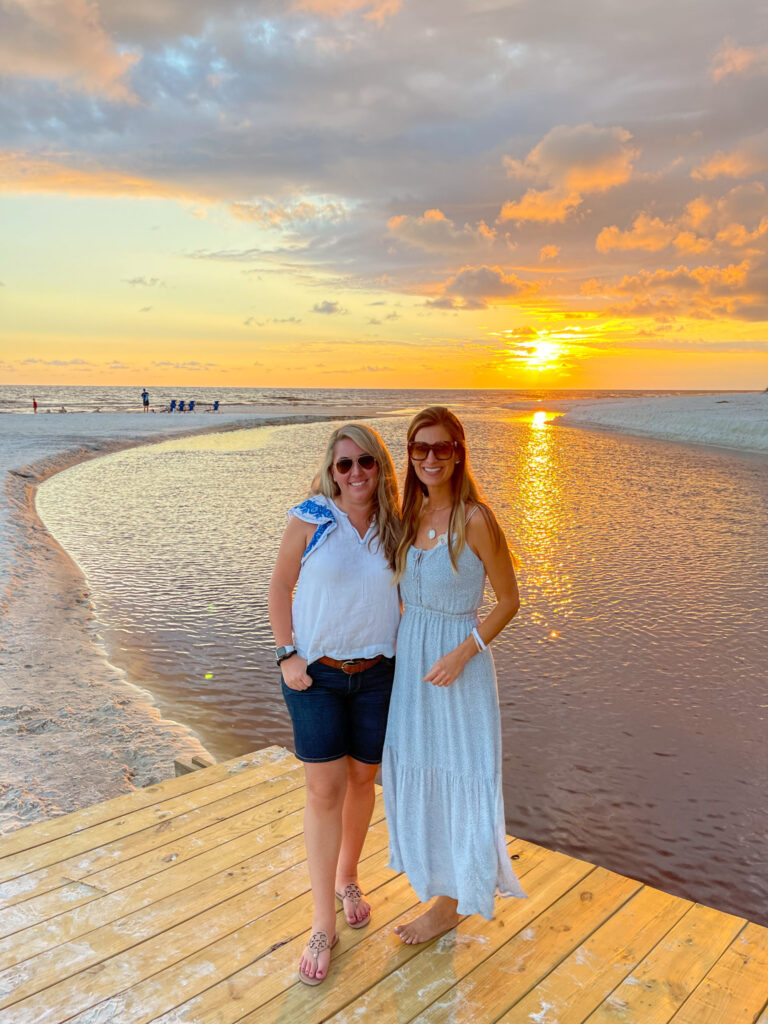 Kurtis also loved that our house had a golf cart. They're street legal on the 30A which was really odd to us, but they it was so fun to take around!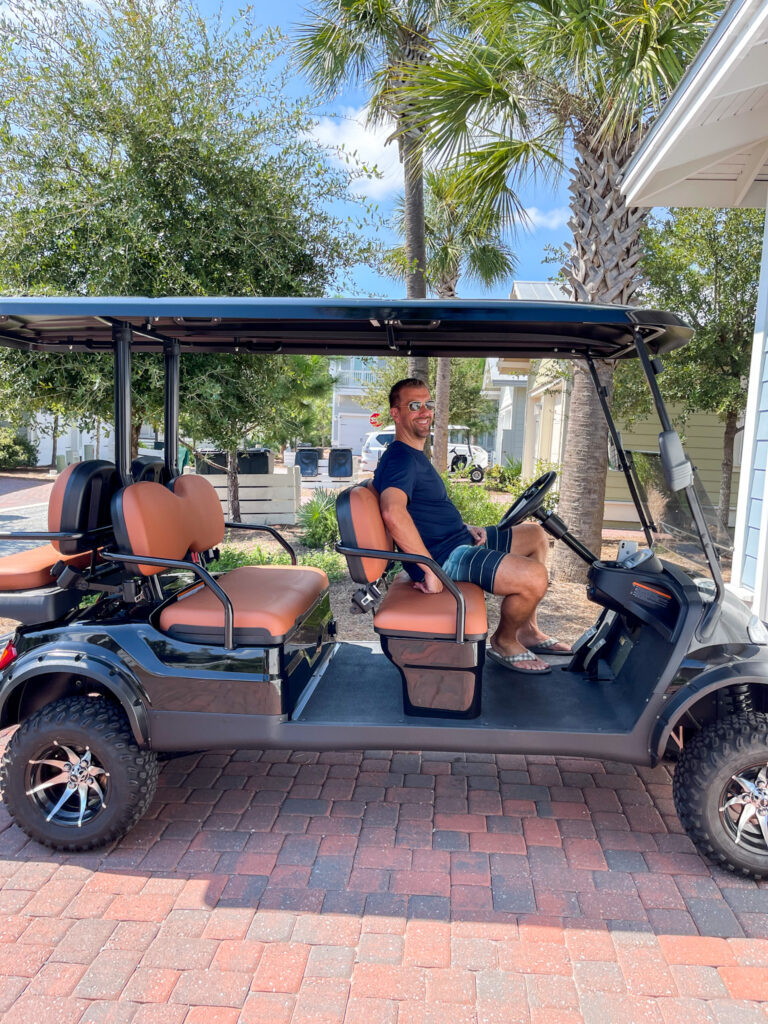 We purposely picked a really slow week and it was wonderful! We didn't have to wait once to get into a restaurant which was really nice. We truly just got to enjoy so much while we were there!
The last full day we were there, the water finally started to clear up and we got a preview of the beauty of the Emerald Coast! We didn't know anywhere in America had water like this! Earlier in the week, there were some storms and the red tide had come in, so the water wasn't nearly as clear. So excited we finally got to see the true colors!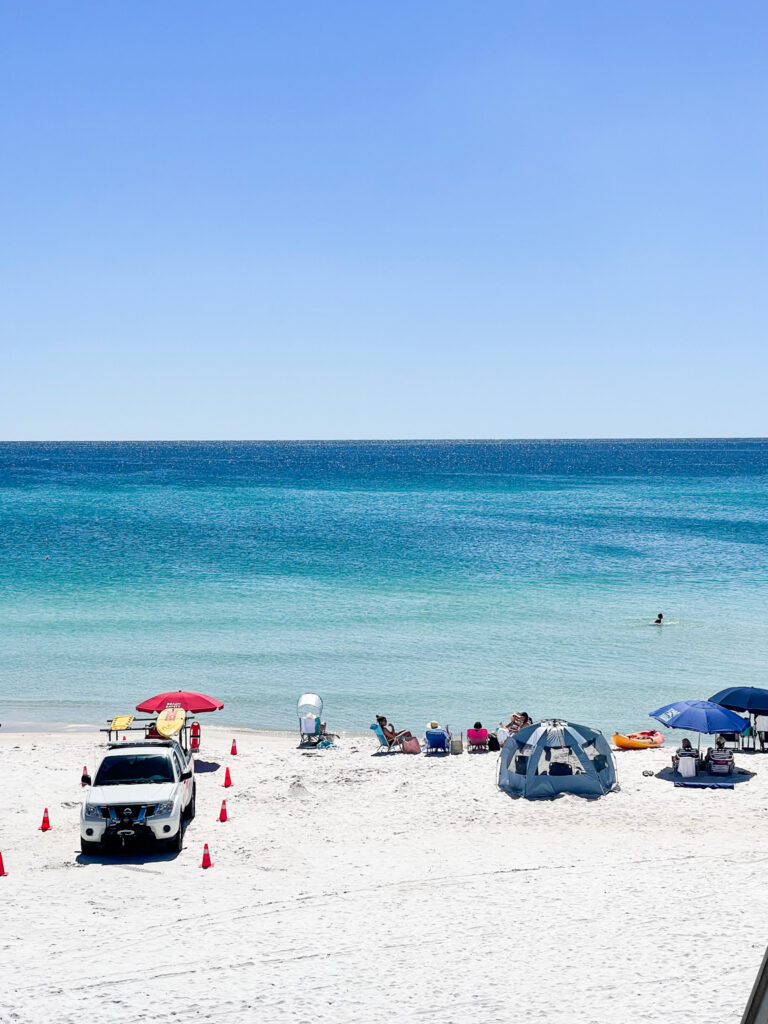 We also took a day to wander the streets of Alys Beach and Rosemary Beach. Holy cow – they did not disappoint!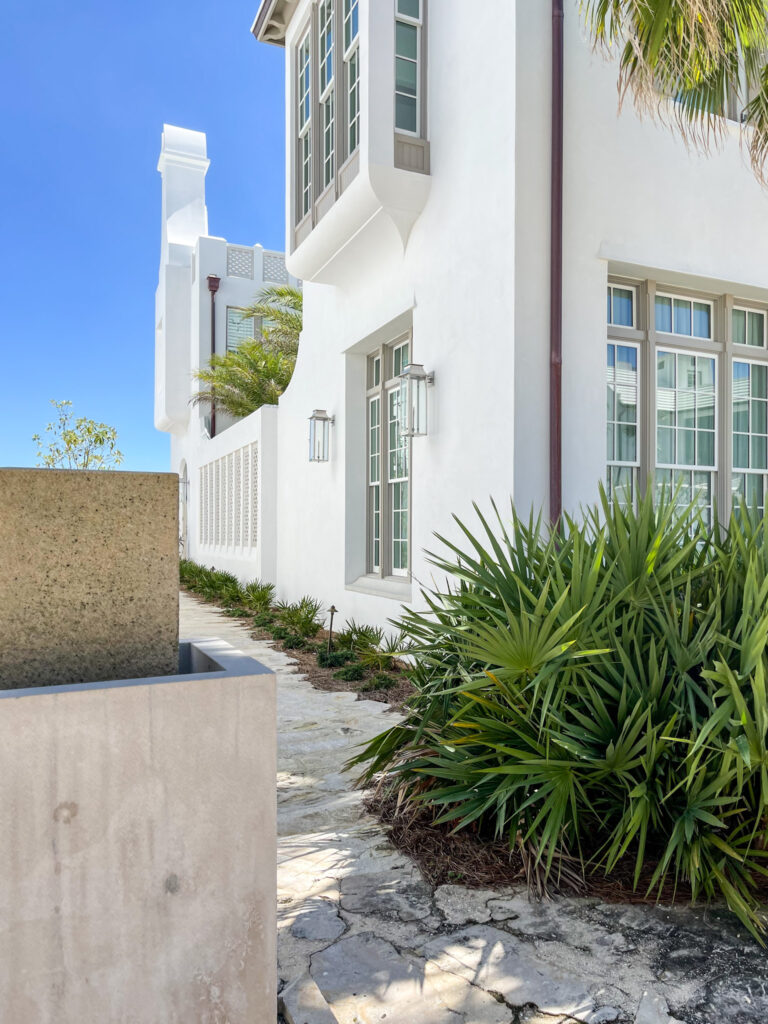 I'm not exaggerating when I say I could have taken thousands of photos in Alys Beach and still not taken enough! So much inspiration around every single corner!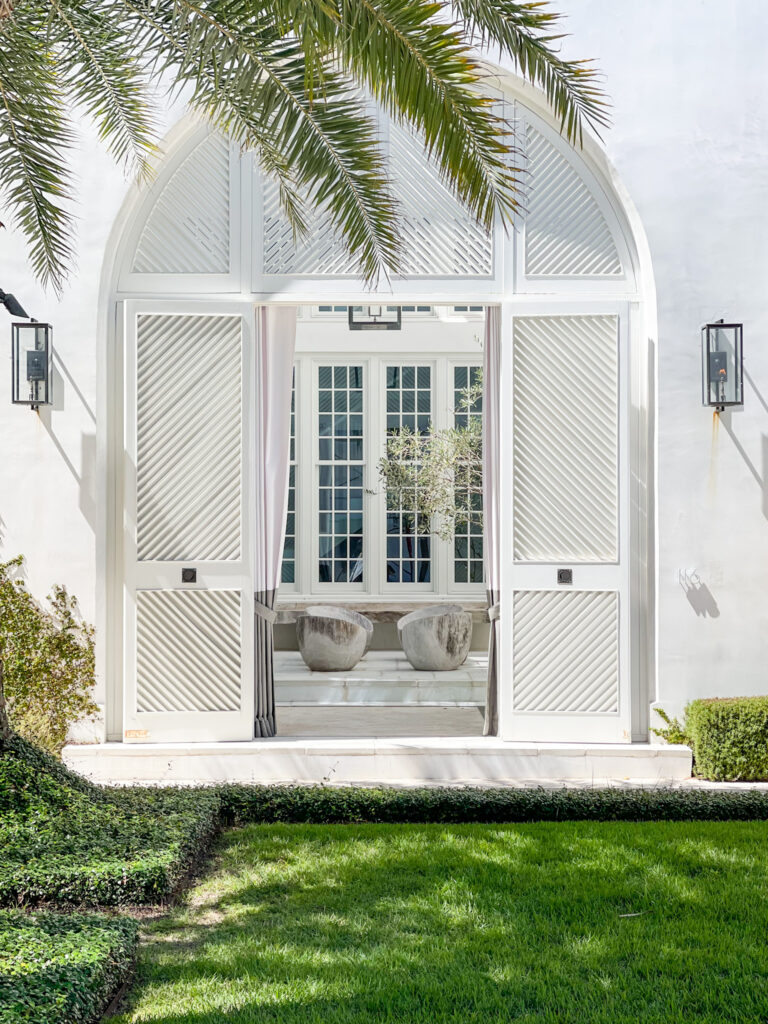 That night, we had dinner with some dear friends, who happened to be on vacation in the area at the same time! We went to The Citizen in Alys Beach and really enjoyed it! I had to also grab a photo of their interiors. There was so much to take in, but I love the cane trim around all the sconces, the unique trim on the walls that was painted navy blue, and the way they installed the cushions on a long rod with leather straps. You could probably recreate that for a bed headboard, too!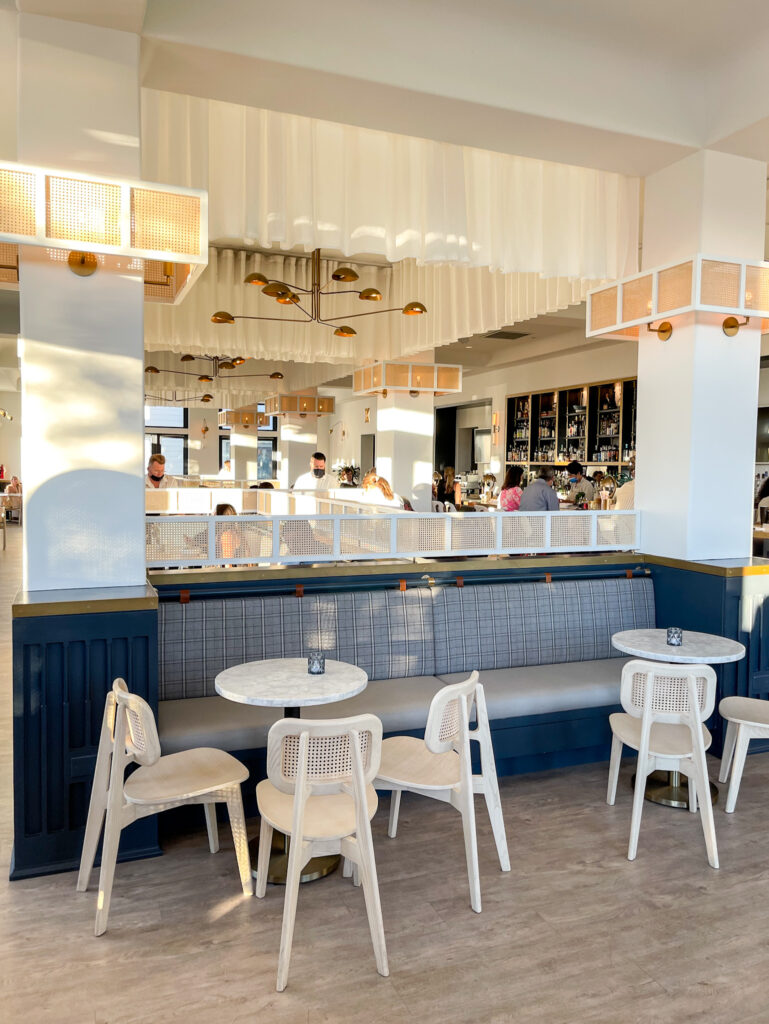 Needless to say, it was a wonderful trip and went by much too quickly! We got home Friday night and the rest of the weekend flew by from there.
Kurtis had a golf outing Saturday so I mostly worked all day trying to get caught up from the prior week. Sunday, we went out to the pool for a few hours since it may be the official end of pool season here. Our friends then had us over for homemade French dips and they were so good!
We'll be playing a lot of catch up this week, but it was worth the time away! I'm excited for all the expected progress in the pool house this week too! Unfortunately have the pool set to close next week, so I'm guessing it will miss the timing for the reveal. But it will be nice to have everything mostly near completion!
Recent Buys & Sales
Following are the sales from the weekend that are still going strong. You can see my top picks here.
Have a great week!
If you would like to follow along on more of my home decor, DIY, lifestyle, travel and other posts, I'd love to have you follow me on any of the following:
Pinterest | Instagram | Facebook | LTK
disclosure: some affiliate links used