Good morning! I hope you all had a nice weekend! I was just looking at the calendar and I can't believe Christmas is already next week. Where has this month gone?!
This post contains affiliate links for your shopping convenience. Click here to read my full disclosure policy.
Home Projects & Updates
I finally got to spend several hours working down in the basement. This picture is shortly before I started. It got a lot worse before it got any better, as is the case with most organizing projects. I was able to sort items into donate, sell or keep. I have some old seasonal decor I haven't pulled out in years, so I decide it was time to get it all donated! I still have a few hours left of work in here, and I also need Kurtis to go through some of his stuff. Once that happens I'll be sure to share how much better it looks. By biggest challenge by far is storing all my seasonal faux greenery (that I still use). I have yet to find a good solution for that!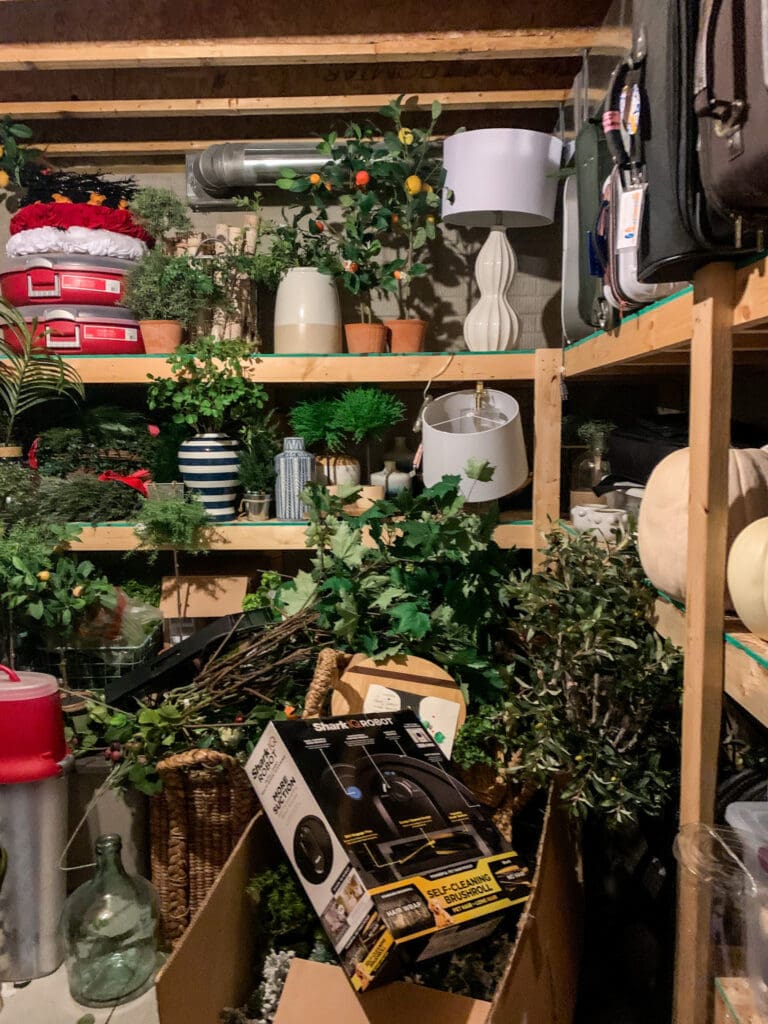 I also tackled our basement hallway. I'm not even ever sure I've shown this spot? Our basement is a super weird shape. But just envision this hallway under our entryway hallway upstairs. Off to the immediate right is the cat's "bedroom" which is an unfinished room but it holds their litter boxes and a bed and chairs on the rare days we have to keep them locked up. Off to the left is a rough-in for a bathroom. Straight ahead is the area under our living room and is where Kurtis' home gym is. The storage room is that room you see behind the door on the right at the end of the hallway. Basically our basement is a giant hallway (because of our courtyard upstairs) and as you can see we've lined it with crap over the years. The boxes at the end were the ones I was using for sorting/purging the storage room, but all the rest of this stuff has been here for awhile. I got about half of it cleaned out and it already feels so much better. I just need Kurtis to help me with some of the other items.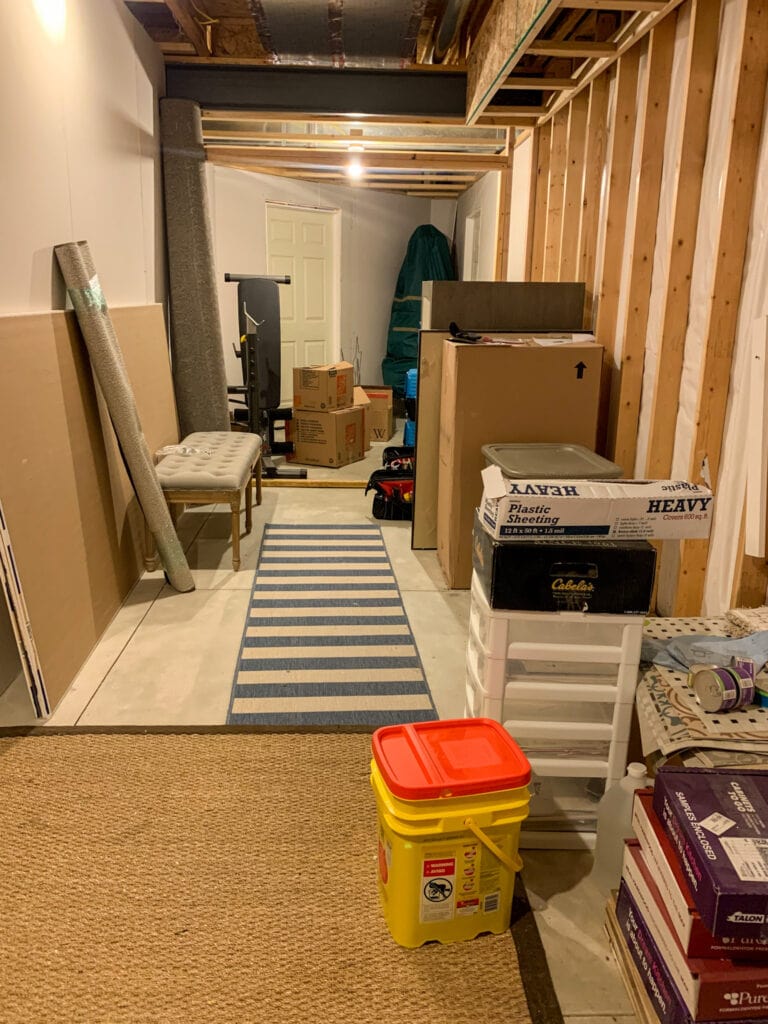 I also spent a lot of time over the weekend finalizing our two sets of plans for the bathroom makeovers! The most exciting part was finally selecting and ordering a vanity for the guest bedroom shown below. I'm so excited about it, and I'll plan to share a separate post about it over the coming week or two. Our contractor is hoping to start the projects by late January, so I realized I had better get things ordered with all the shipping delays that are occurring right now! Only a few other small details to finalize, and these bathrooms will be fully ready for the renovation! Our contractor wants everything here before we start.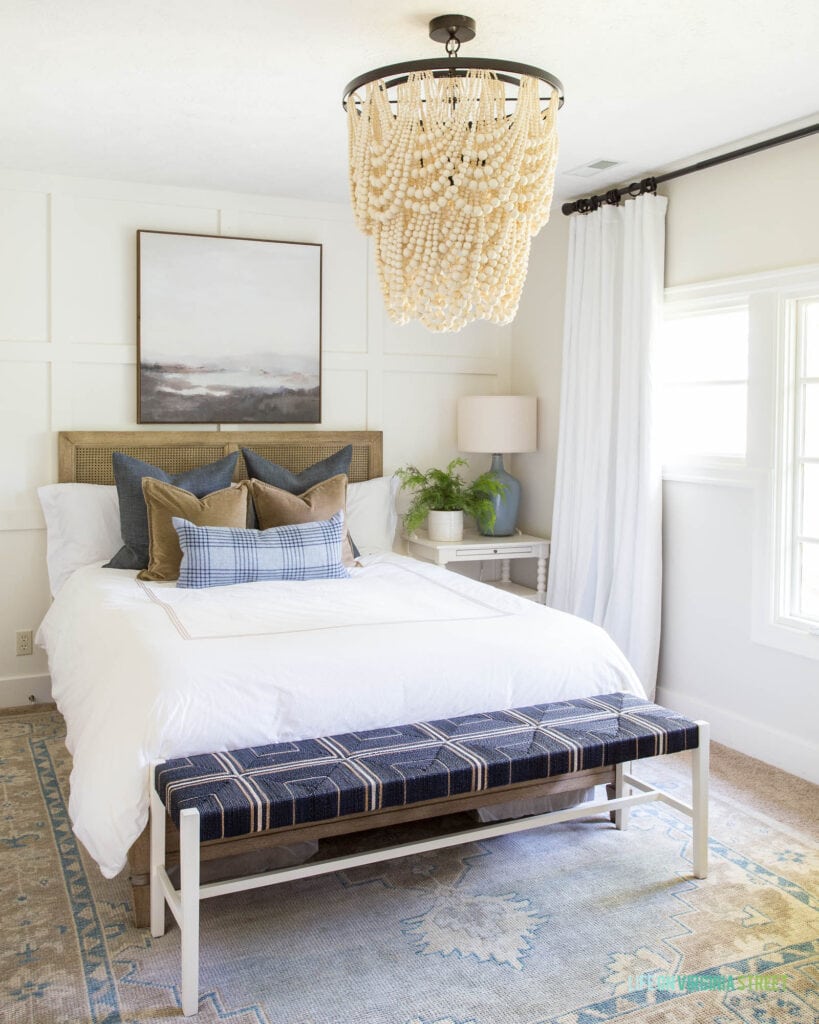 GUEST BEDROOM SOURCES: Wood Cane Bed | Hand-Knotted Rug | Bead Chandelier | Abstract Art | Spindle Nightstand | Belgian Linen Drapes | Iron Curtain Rod | Iron Finials | Iron Curtain Ring Clips | Woven Bench | Linen Pillows | Velvet Pillows | Plaid Lumbar Pillow | Ceramic Lamp | Faux Fern | Hotel Style Duvet Cover
Last week, I also took a random question to Instagram, and holy cow was I blown away by the response! I was thinking about our carpet upstairs, and then hardwood, and then as my mind typically does, I started wondering about refinishing our existing engineered hardwood floors. They're nearly 13 years old and have taken a beating over the years in the high-traffic areas. Long story short, I got a ton of feedback and photos from followers since I didn't know if they truly could be refinished or not (especially since ours are hand-scraped). I'll plan to do a full blog post on what I found out, since it sounds like so many people are in our same boat! It was really interesting (and super mixed) feedback!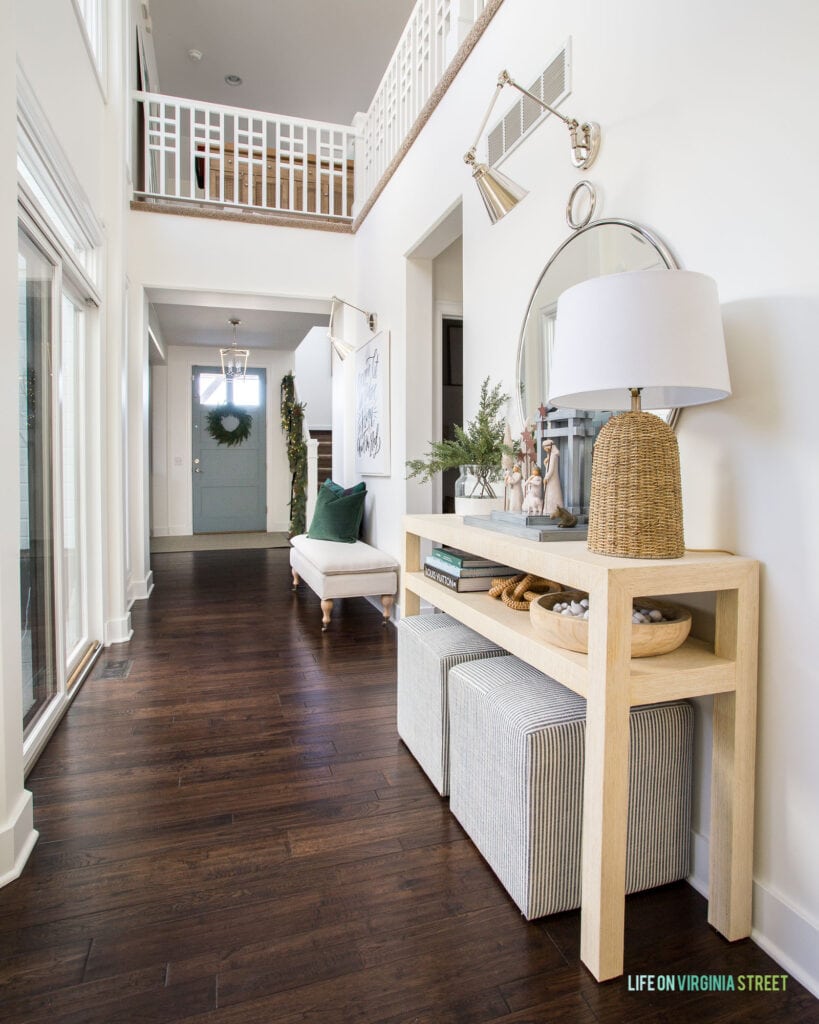 CHRISTMAS ENTRYWAY HALLWAY SOURCES: Bench | Velvet Pillow | Plaid Pillow – Old from Williams Sonoma | 'O Come Let Us Adore Him' print version | Raffia Console Table | Striped Ottoman Cubes | Seagrass Lamp | Paint Dipped Vase | Nativity Set | Creche | Star Backdrop | Woven Chain Link | Similar Wood Bowl | Similar Mirror | Swing Arm Sconce Lights
Top Sellers Of The Week
Following are the top sellers of the week across all of my channels. Links to each item are below the graphic.
Around Town & For Fun
It had been a while since we got any snow, so it was actually fun to see some over the weekend! It's always so pretty when you don't have anywhere to go 😉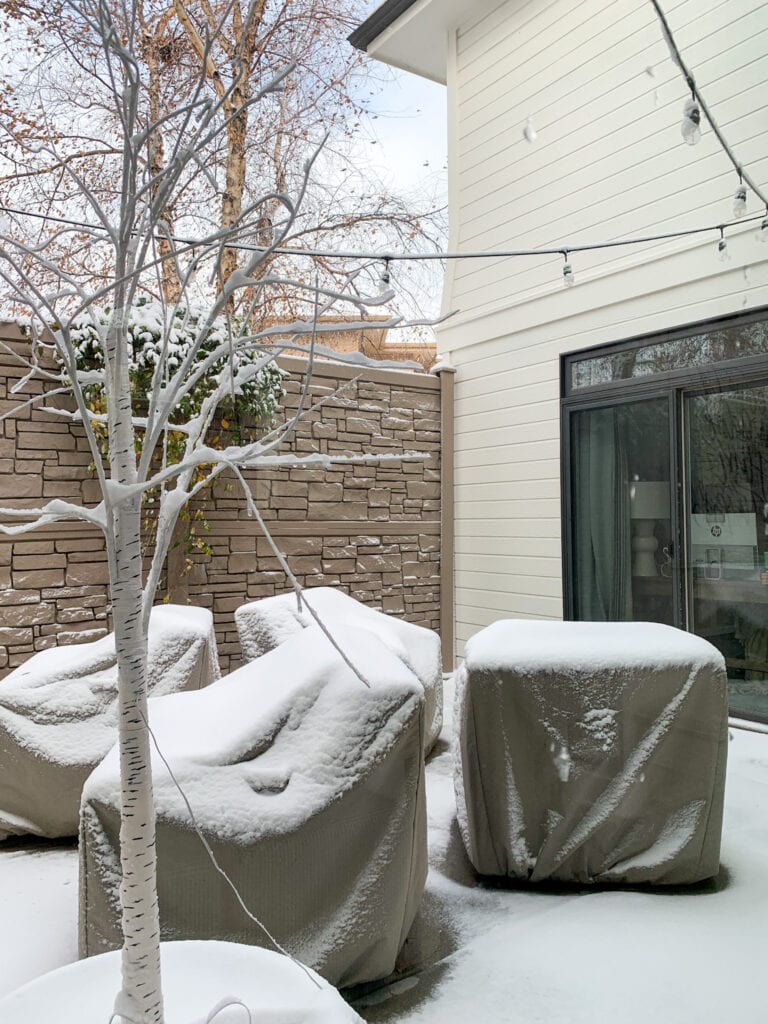 The cats got to FaceTime our goddaughter of the weekend. As you many know, Z is just as obsessed with them as we are, and she was so excited to see their faces. Hawkeye was very into it too!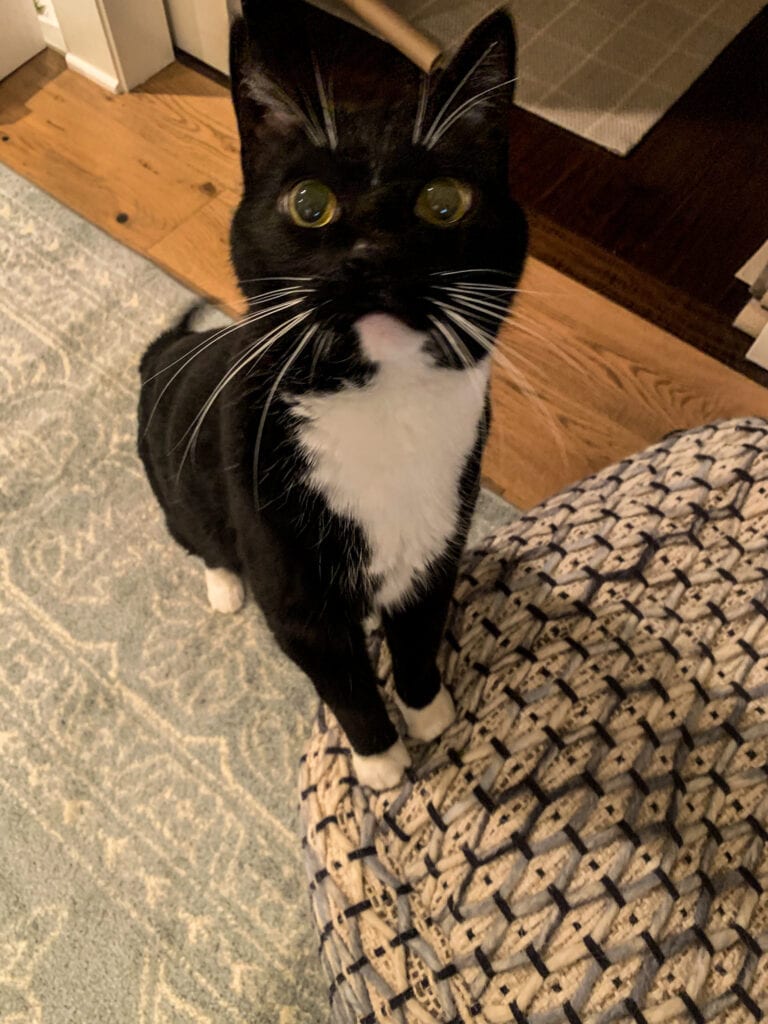 I was photographing a few rugs last week, and you would think it was the best day of the cats' lives. They get so excited when we get new rugs. Henley especially will roll on them, sleep on them, attack them, you name. She basically spent the whole weekend with her rug pile. The rugs seen below are this one and this one.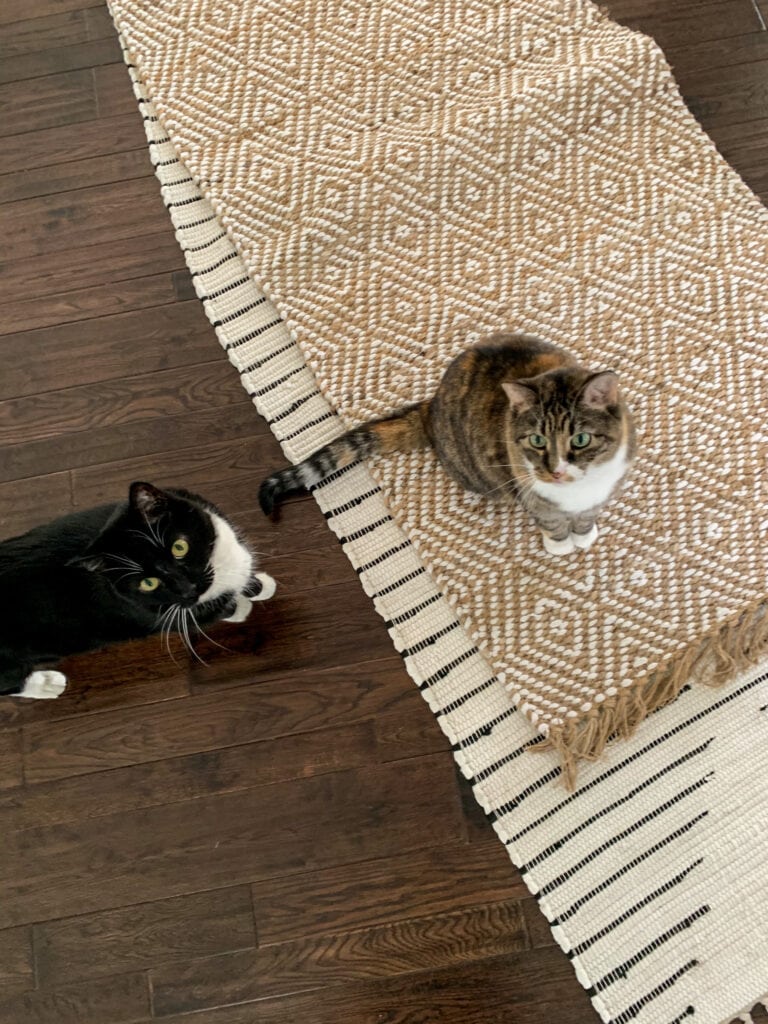 I shared this shirt on Instagram last week! It wasn't sponsored or anything, but I wanted to help spread the word about these t-shirts. All the money goes to support Open Door Mission here in Omaha. ODM is a non-profit organization that is committed to breaking the cycle of homelessness and poverty. They are such a great cause that we love supporting! There are so many people needing our help this year, and if you don't need a shirt, you can also donate directly on their website if you have any interest!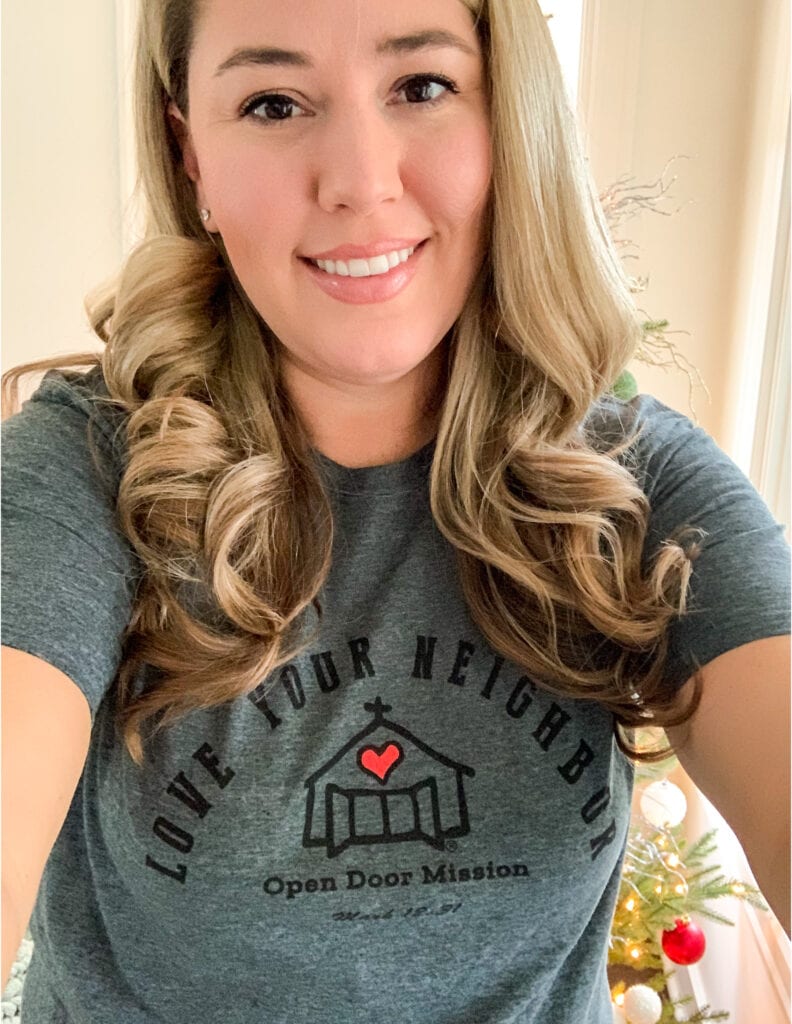 I took this photo last night and love how the Christmas lights on the trees make the snow glow! The snow is definitely helping to make it feel like Christmas is near!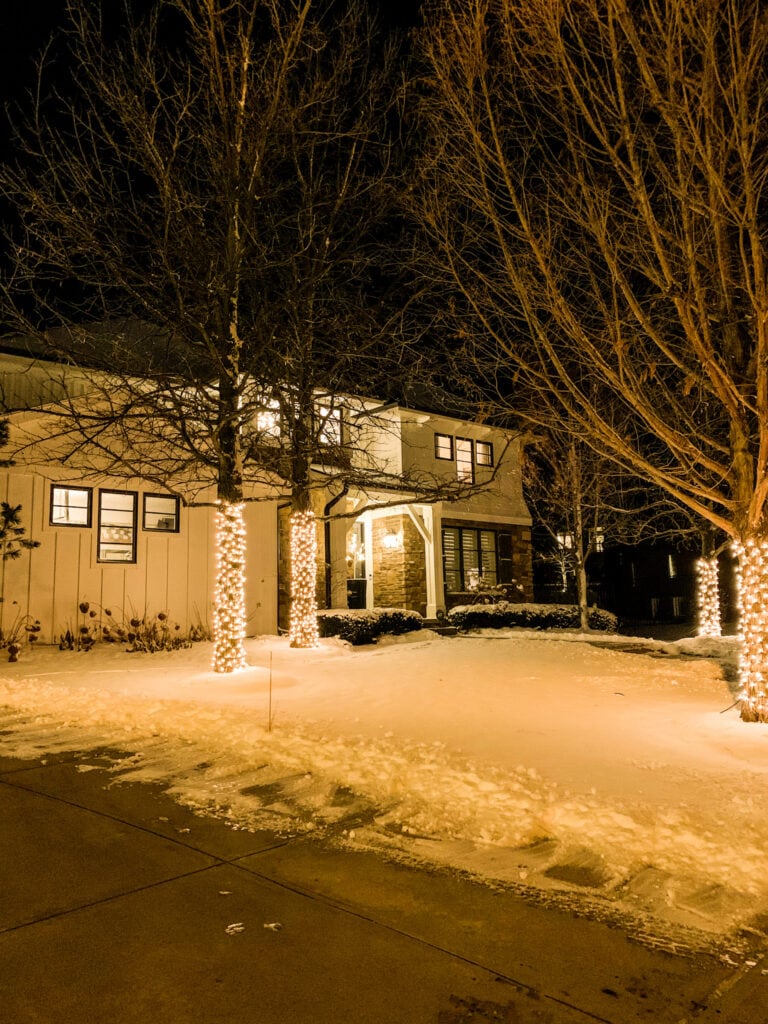 I'm planning to be in and out on the blog over the next few weeks. I'm hoping to take a few days off if I can force myself to do so. Ha! But my goal is still to pop in with the weekly regulars, and then a few others here and there. Historically, I know these next few weeks are really dead, as people obviously have much more important things to do than read my blog 😉 But I'll be back in full force after the new year, with a lot of fun projects, tips and favorites to share!
Recent Buys & Sales
Before we jump into each of the sales, I wanted to create a shortcut for all of my gift guides in one easy spot since many of the items featured are also on sale:
Following are some of the sales that have carried over from the weekend or new ones that have started today! The sales weren't that great over the weekend so I didn't do a sale post. But today, it looks like some stores have upped the ante, now that we're in the last few possible shopping days of the season!
I hope you all have a great week!
If you would like to follow along on more of my home decor, DIY, lifestyle, travel and other posts, I'd love to have you follow me on any of the following:
Pinterest | Instagram | Facebook | Twitter
disclosure: some affiliate links used