It's been a little while since my last pool house update, so I thought I'd put together a formal post here for easier reference in the future. Let's get right to it!
This post contains affiliate links for your shopping convenience. Read my full disclosure policy here.
If you're looking to get caught up on this project or see where we started, be sure to check out these additional posts:
Pool House Construction Progress
Although I've shared snippets here and there in my Weekend Recap posts over the past month+, I wanted to included the progress since my last post in one consolidated post for future reference. My last update was June 10 (how has it been so long??) and where I left off, demo had been completed and the cement footings were poured. That's it! So, looking back on it now, a ton has been completed in the last six weeks or so!
Here you can see the foundation walls once those were poured after the footings.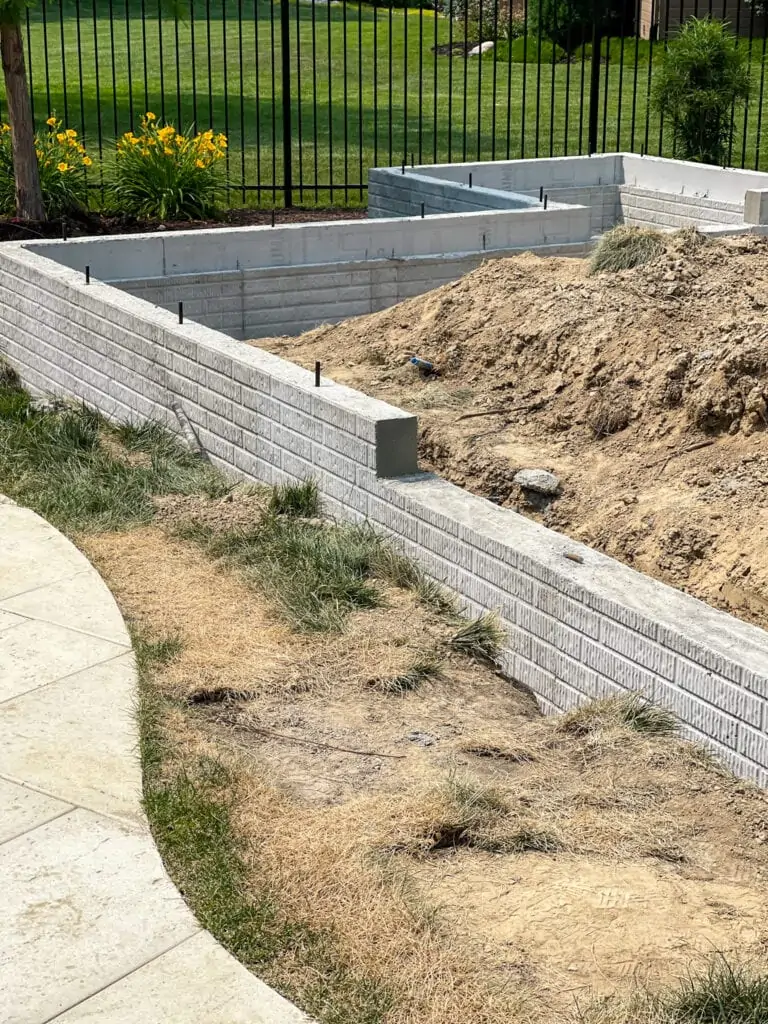 Our builders, BlueStone Custom Builders, have been so great to work with so far. They continually communicate what to expect each day and any delays they may encounter. This is something Kurtis and I both greatly appreciate! We've had a number of weather delays these past six weeks, but BlueStone has powered through most of them and got framing going in a hurry. It was so fun to really see the space start to take shape once the framing started!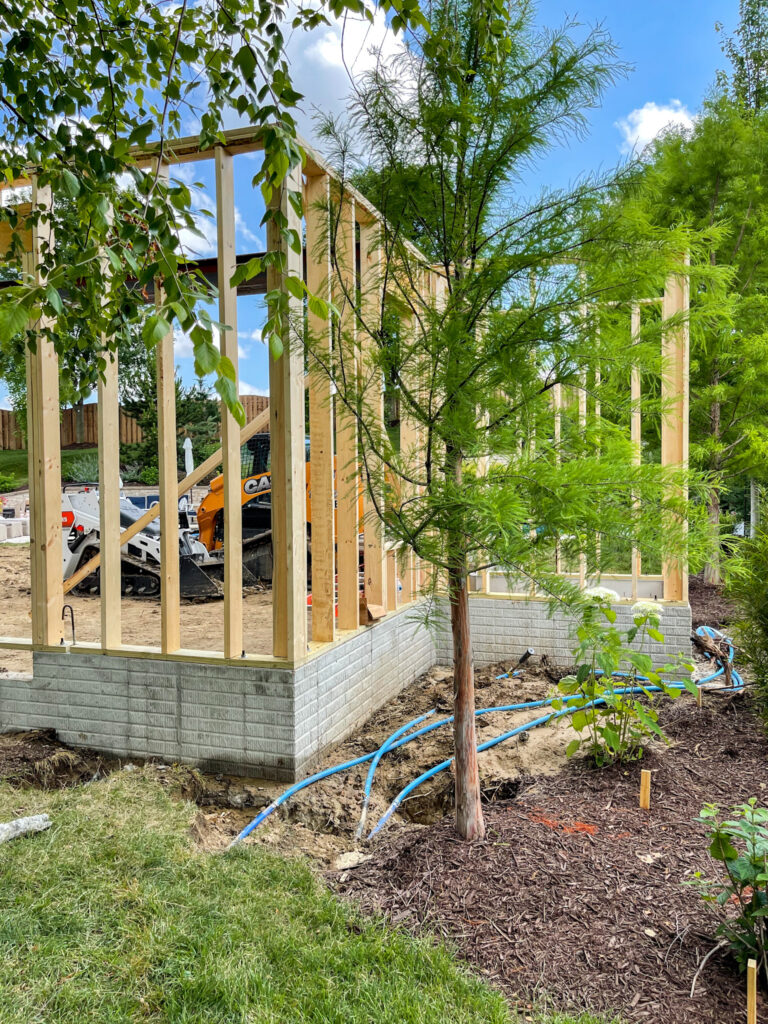 Kurtis and I had to take a front row seat to watch three of our builders get that steel beam in place. It was crazy, but they made it looks so easy!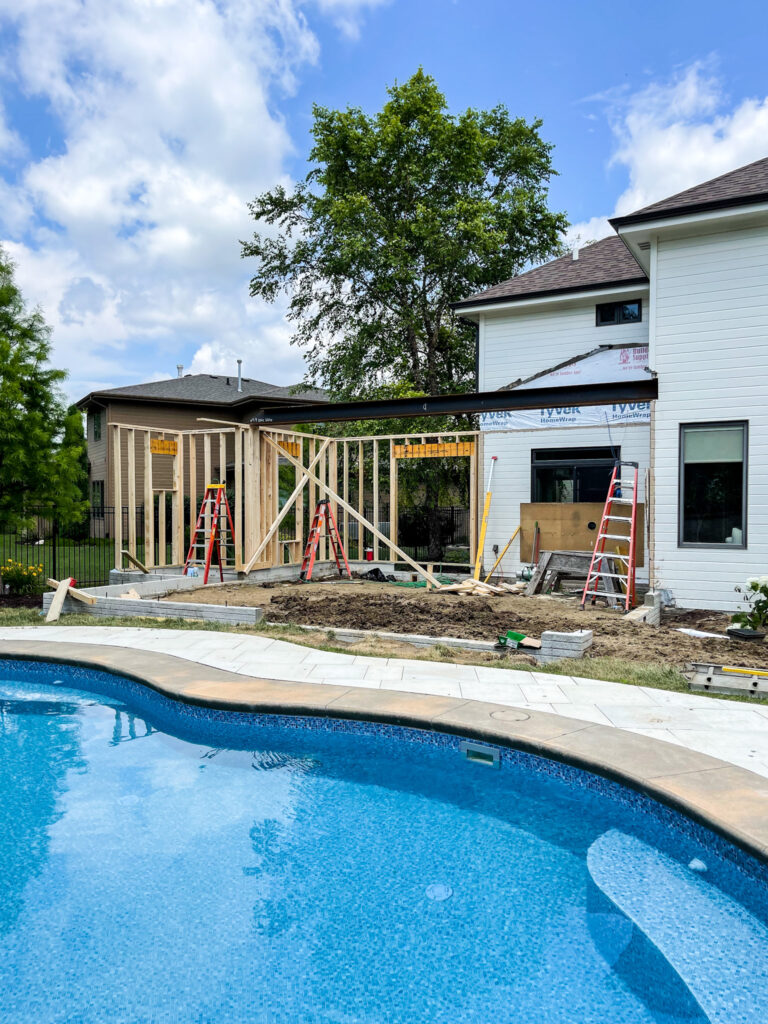 Things started to feel very real once they started to tear part of our old roof off!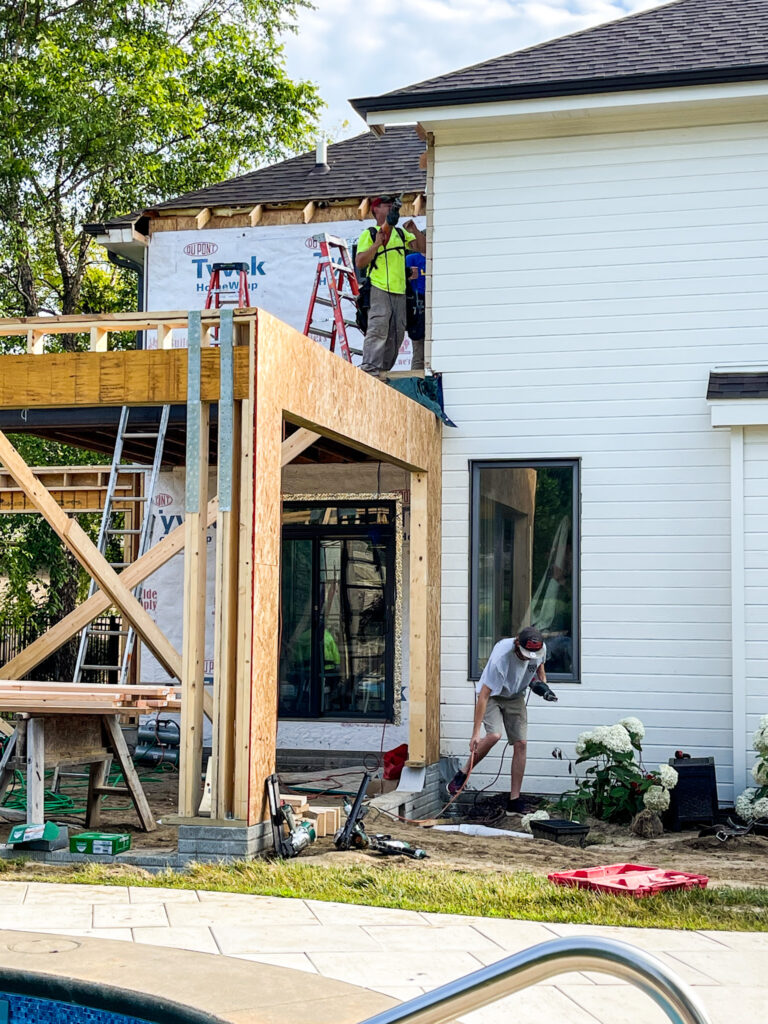 In the drone shot below, you can see the closet addition all framed out as well! Our bathroom has since become a black hole with only one tiny window now, but it's exciting to remember we'll be getting an adult-sized closet out this renovation as well!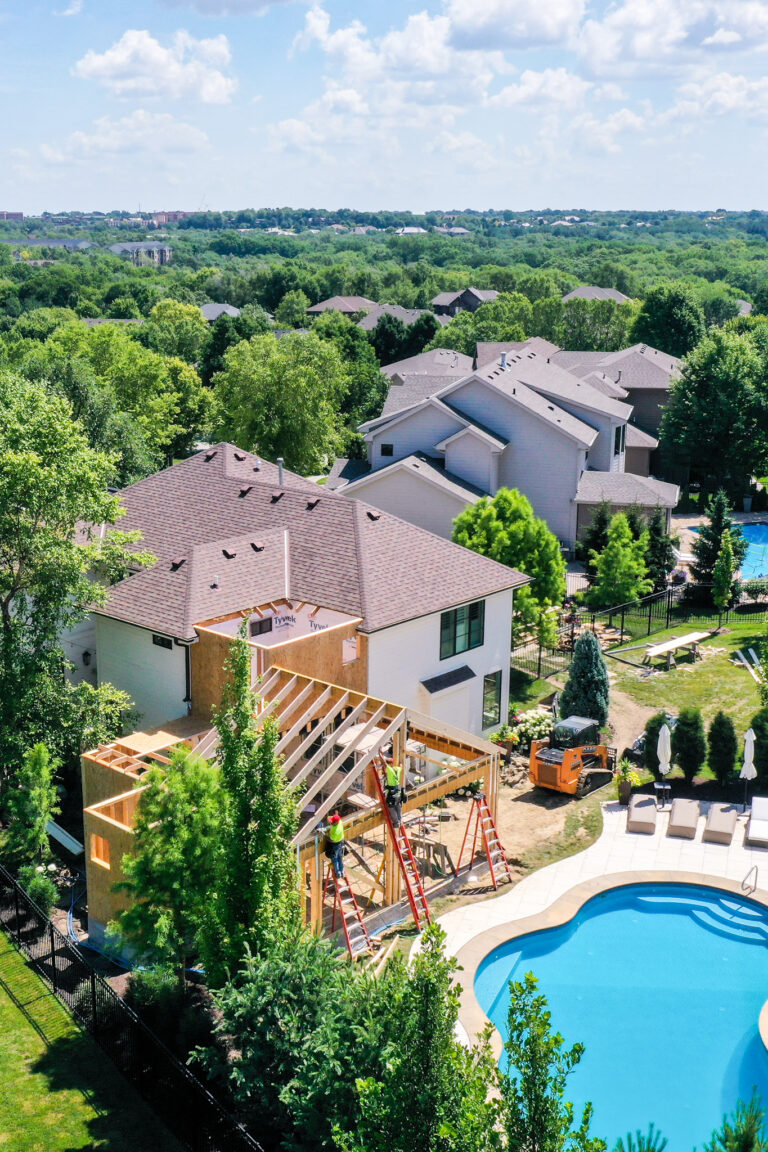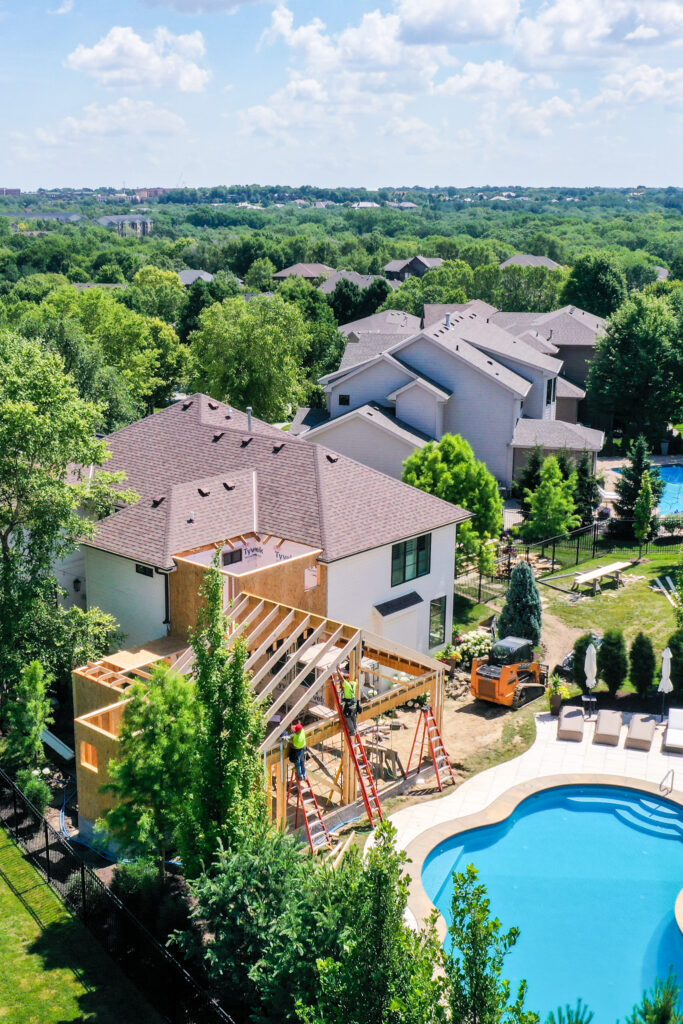 This next image is with my wide-angle on my phone, but it gives you a feel of the layout and the window and door sizes. The only one that isn't accurate is that opening straight ahead on the right. That's the opening for the bar, but they can't frame it out until the concrete floor goes in. That's where the gas strut window will go for the bar, and since it rests on the countertop, they need the dimensions to be 100% precise.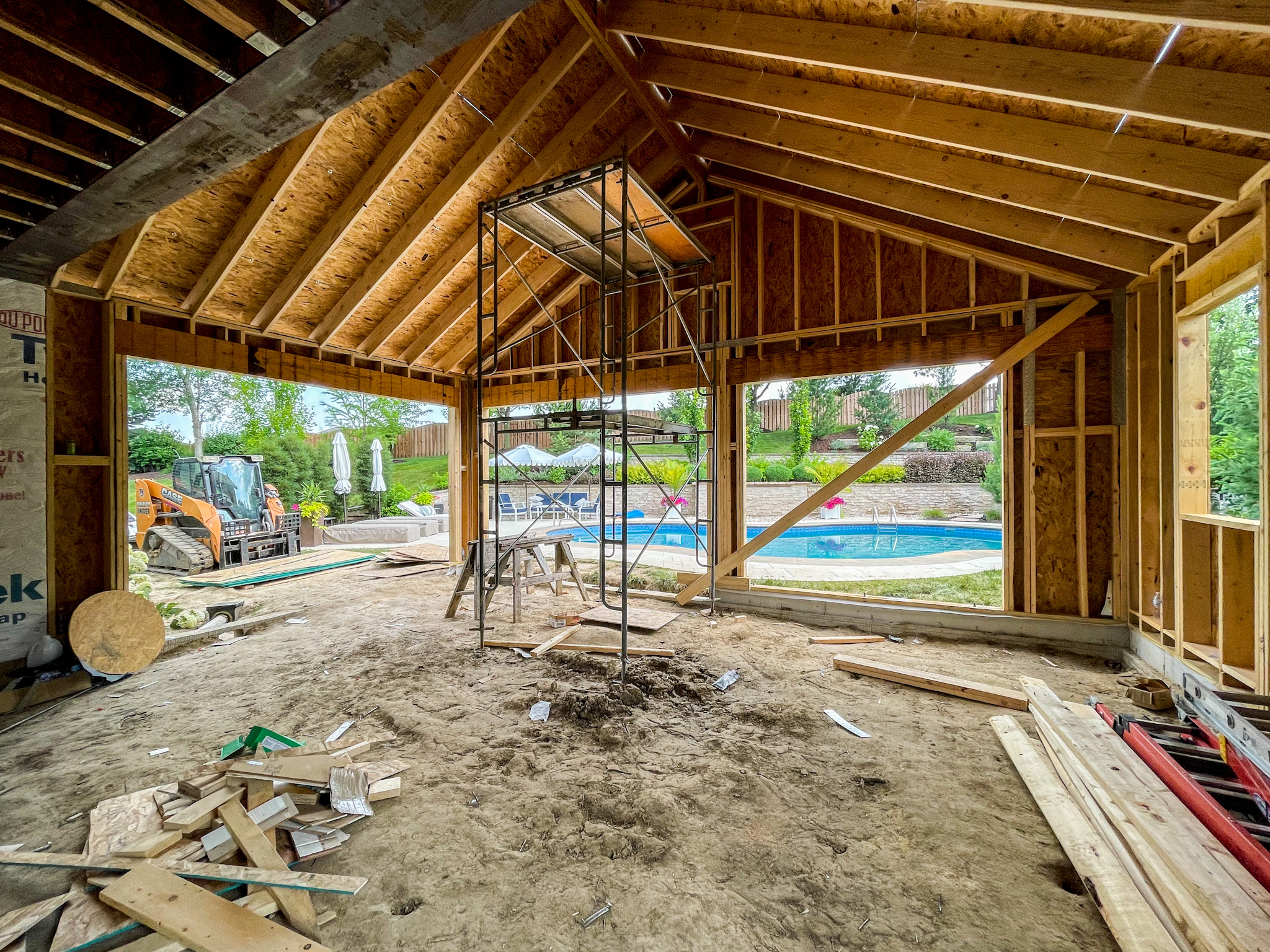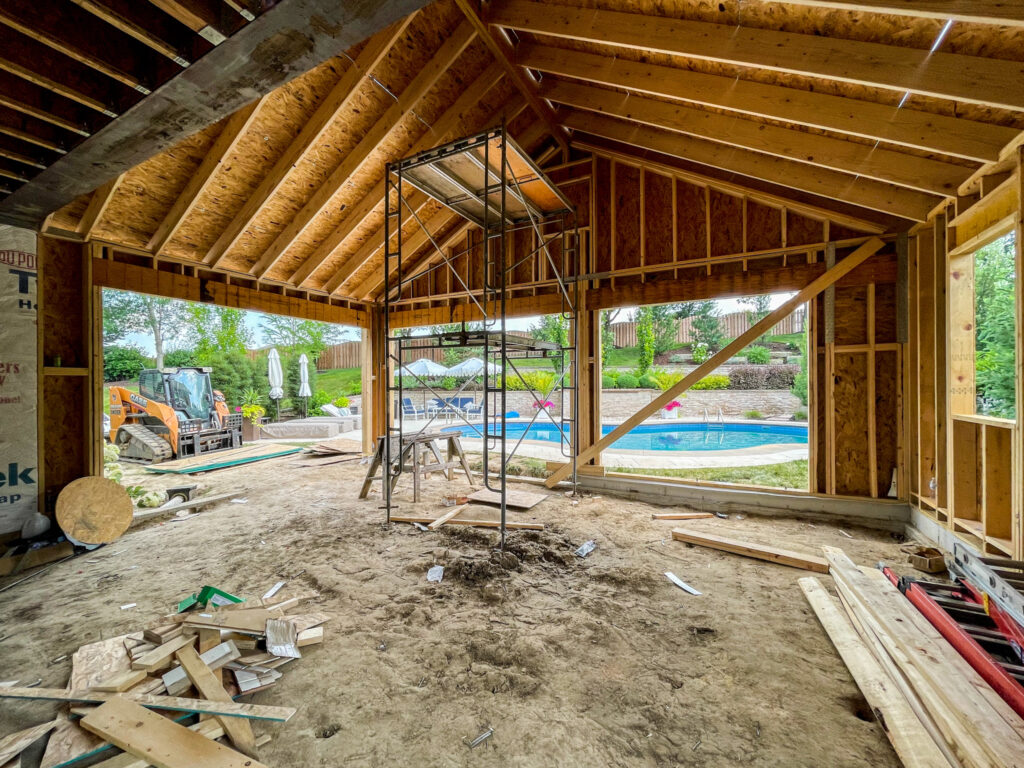 Here's how that same view looks from the outside. They still need to cut out my circle window in the top of the peak, but it has already been framed out and is ready to go once the windows arrive.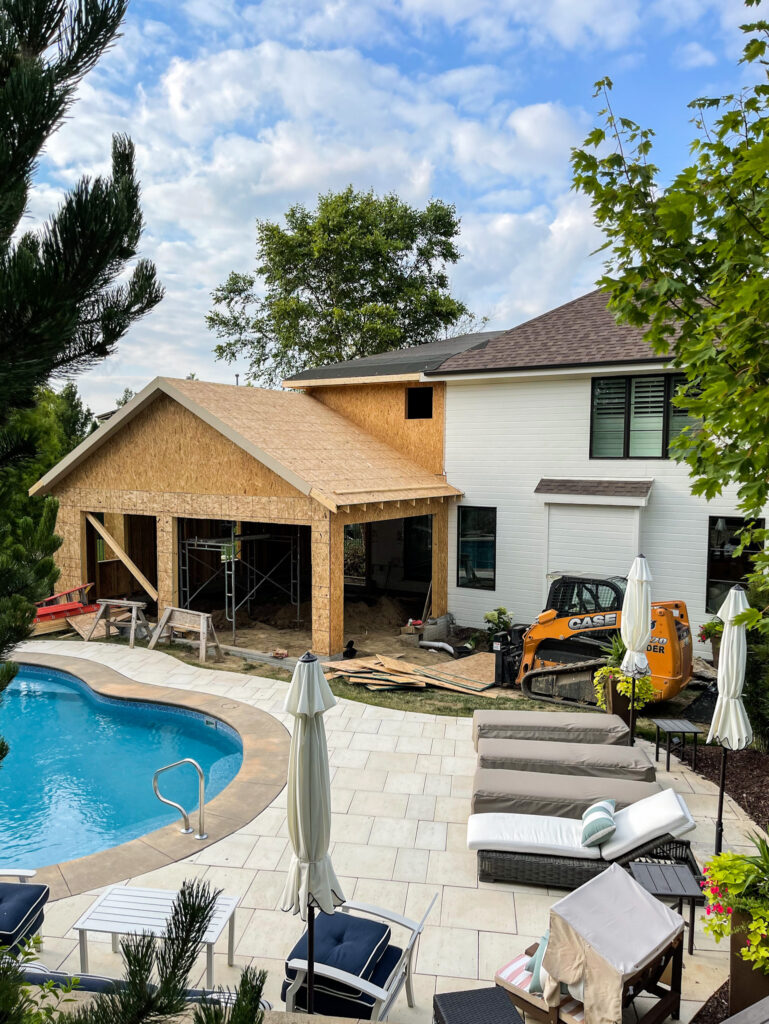 Once everything was framed, they had to come back in an excavate for the lines that all needed to be run underground, through our house, and into the basement.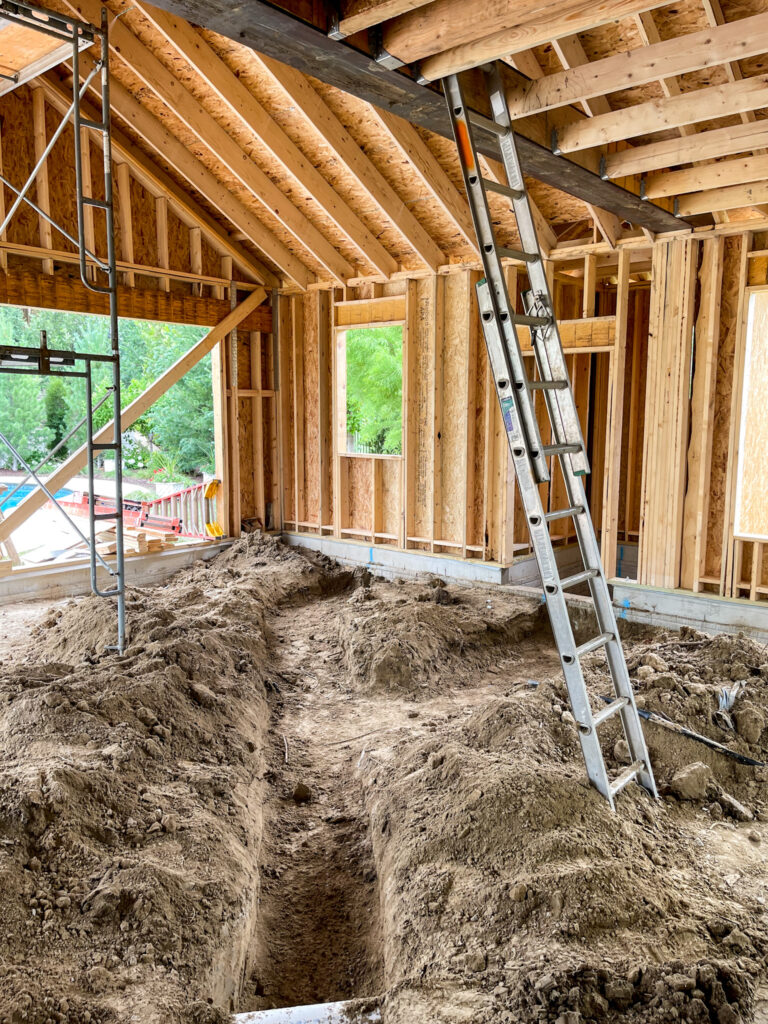 You all likely know the chaos with the water that got in our house from a major storm we had. So, we were super excited once the shingles went on the roof to prevent any further water intrusions!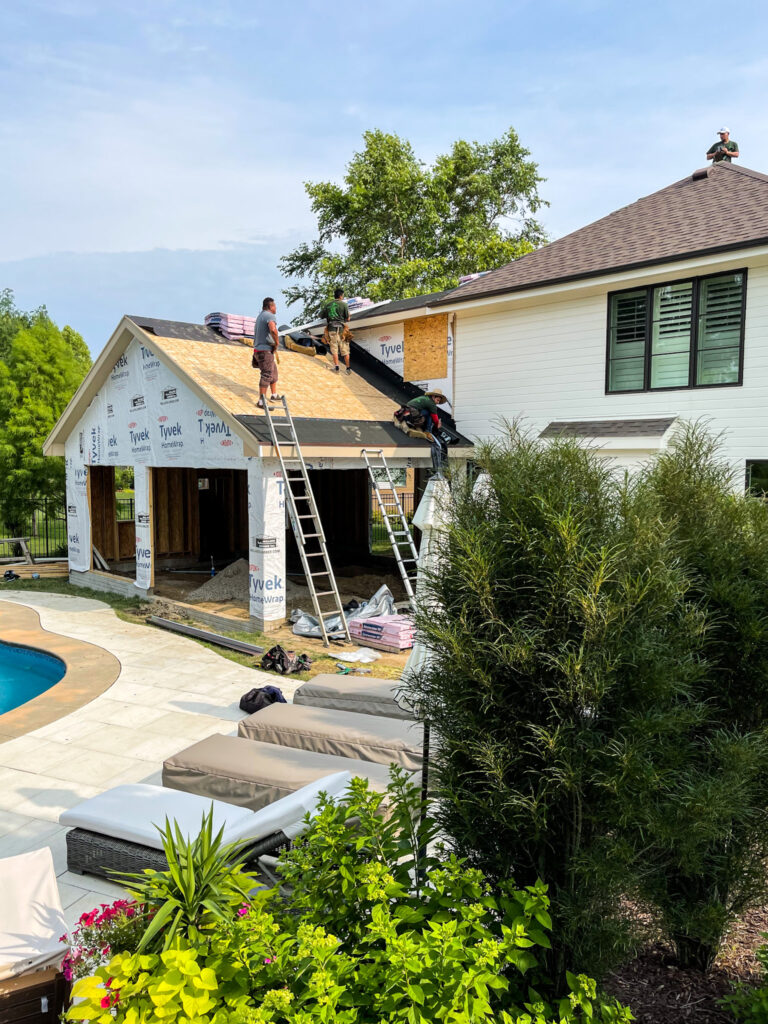 The roof was fully wrapped up last weekend, and now we're just waiting on the gutters. I need to confirm, but that step may not occur until the siding goes on the house.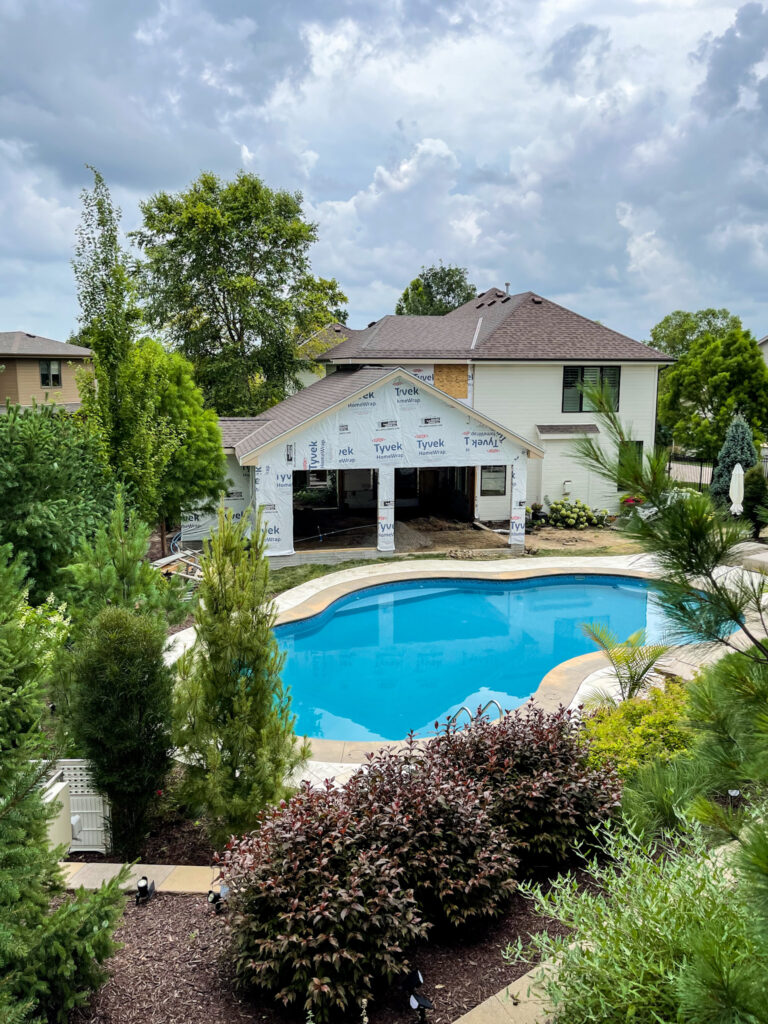 Last week, the final steps were completed for water, sewer, gas and electricity. It all had to be run "underground" before the concrete slab was poured. But before that could happen it all had to be inspected by the city.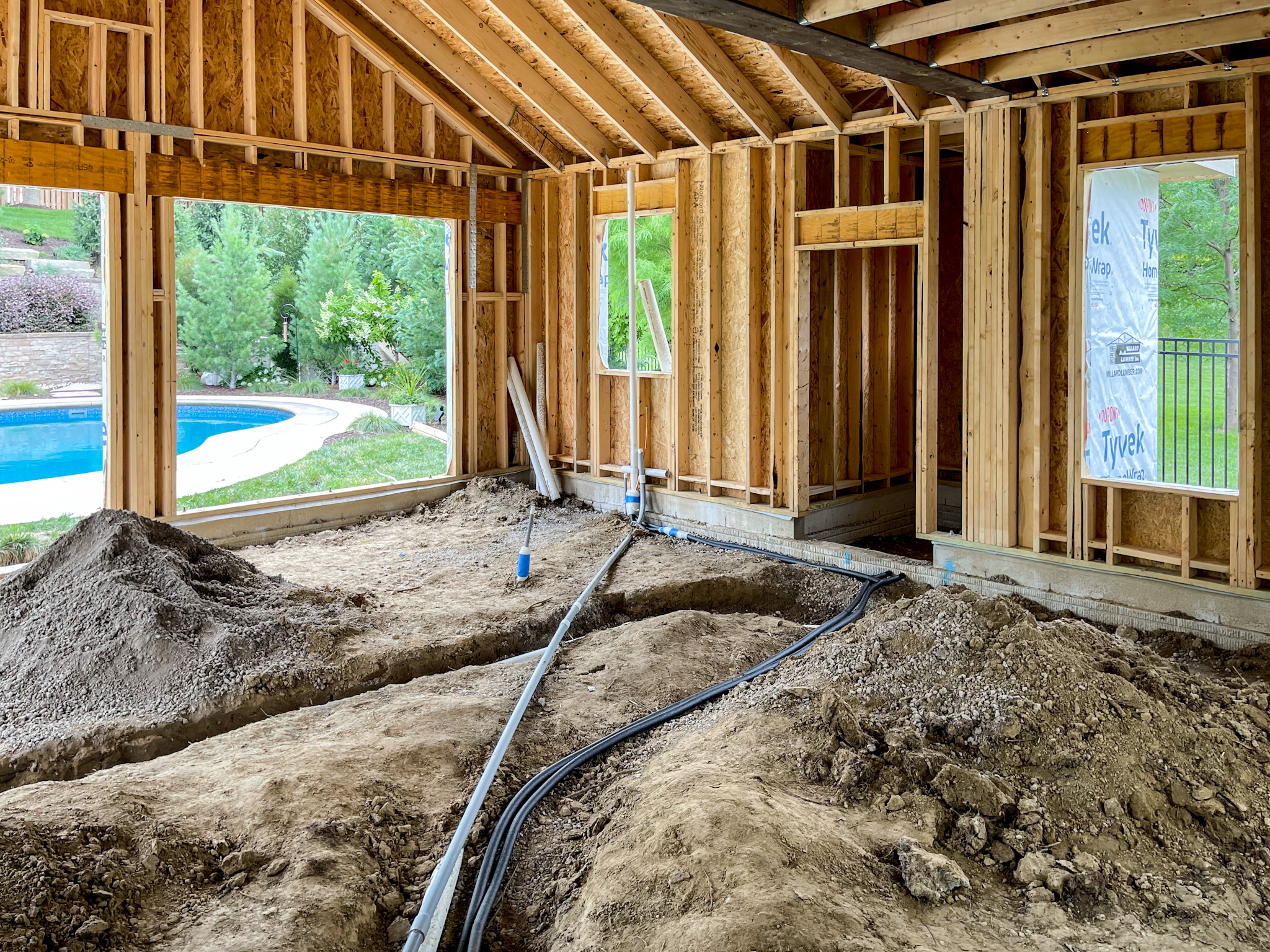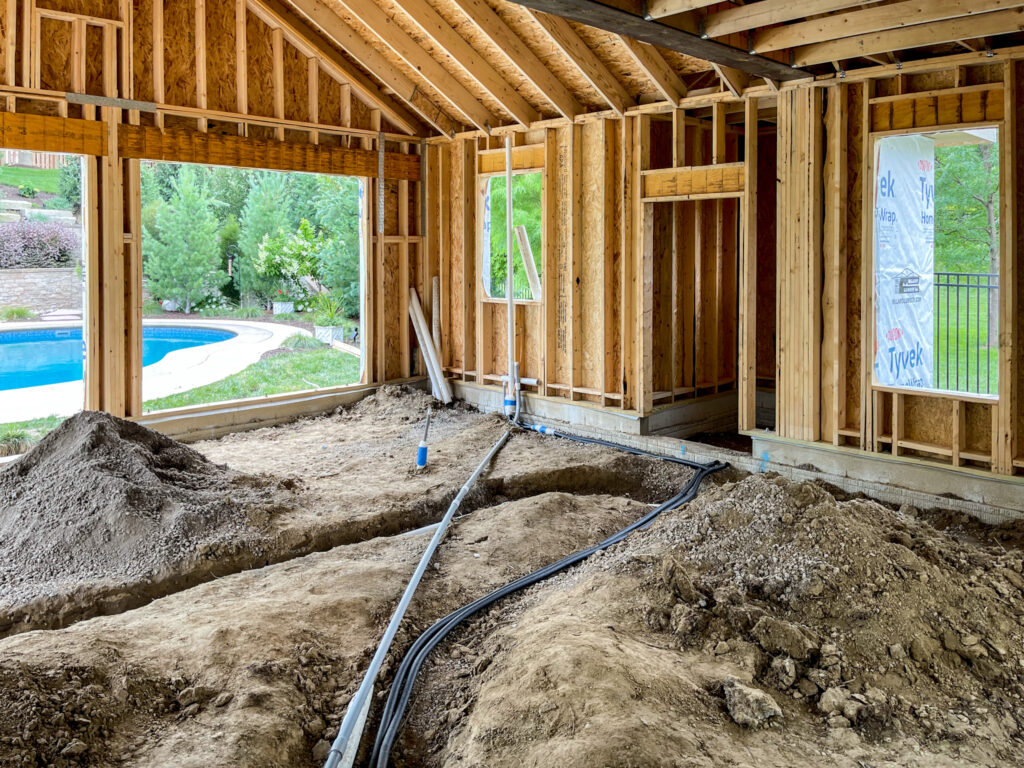 And here's how the space looks as of last night! Keep in mind I have my wide-angle lens turned on on my phone here, so it makes it look much larger than it is (and skews some of the lines/angles a bit). But I wanted to show how different everything looks with the flooring semi-smooth. The concrete trucks have already pulled up this morning to start pouring the pad. It will raise the floor in the space about another 4″ and is the final part needed to get this thing closed in! They'll then be able to start on windows (and building the half wall for the gas strut window on the bar area).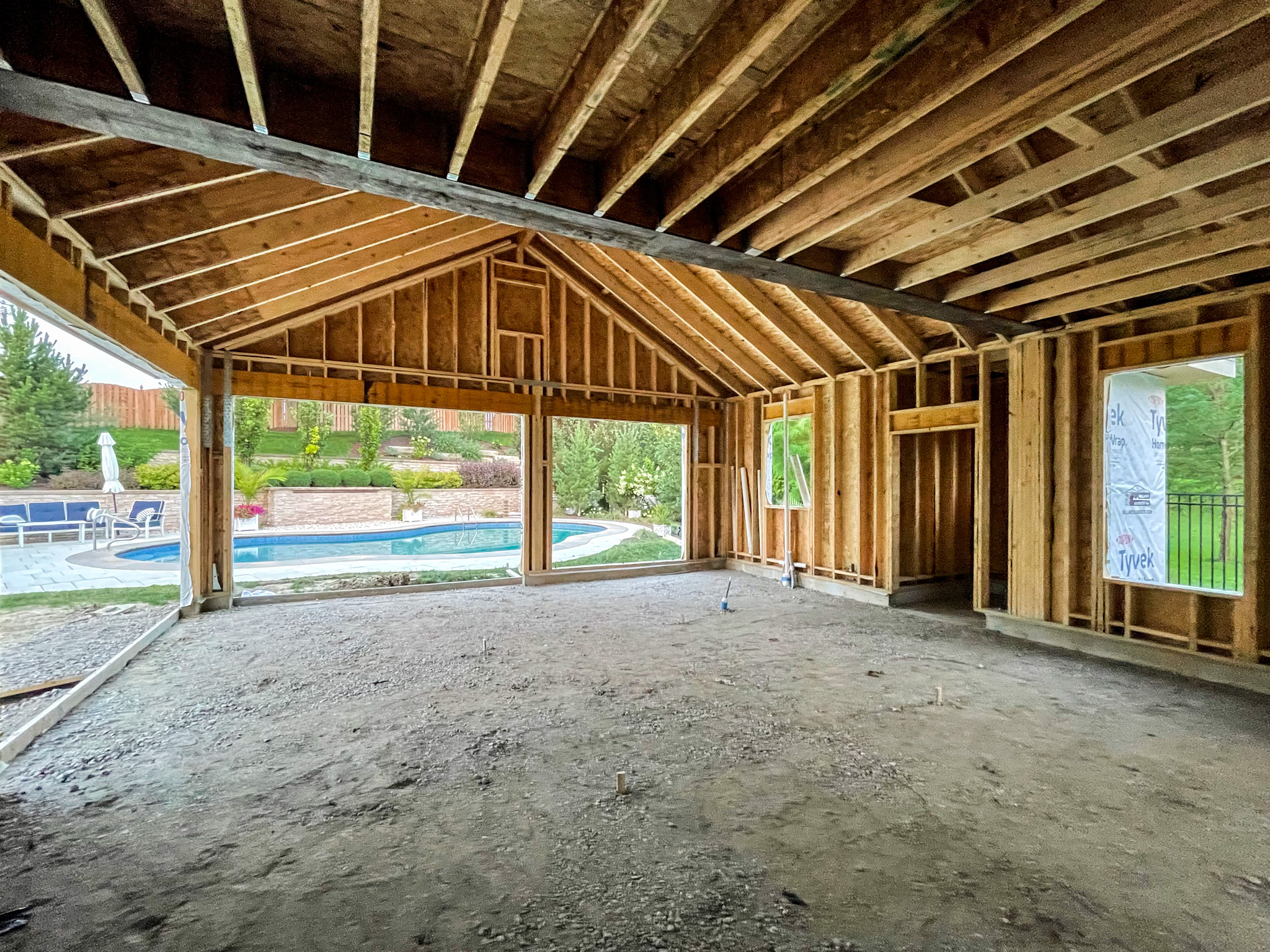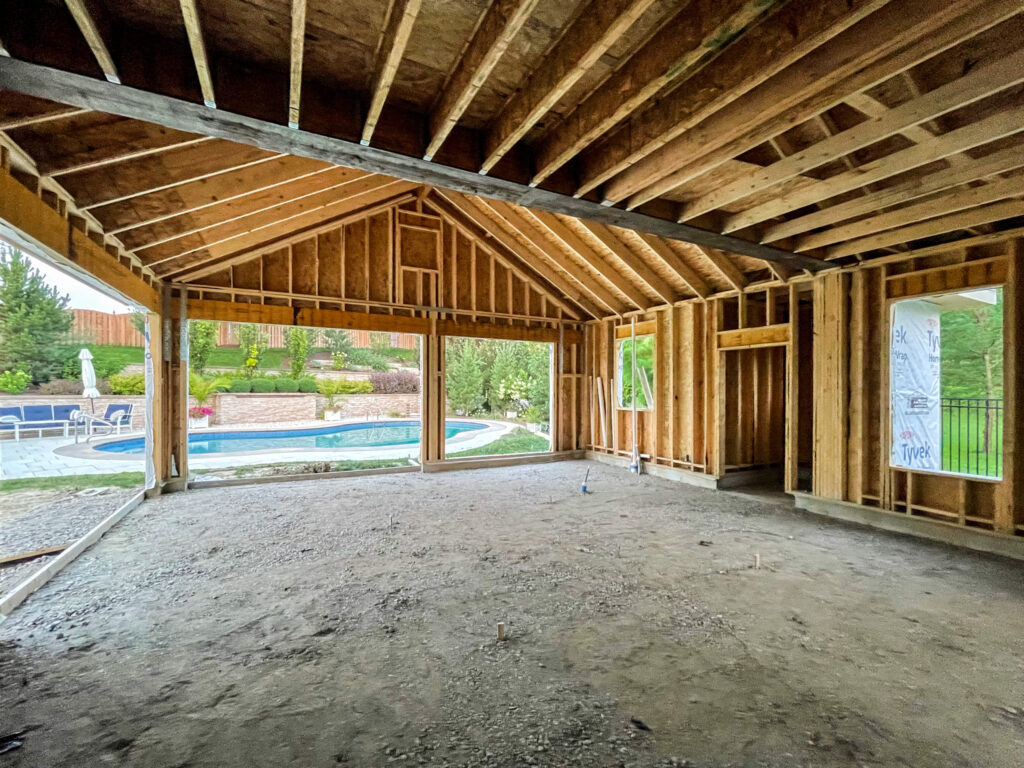 We're so excited for that concrete slab to go in. All the dirt has started to wreak havoc on the pool so it will be nice to "clean" everything up with a fresh slab and a lot less loose dirt!
More Pool House Selections
I've wrapped up more pool house selections in the last six weeks, as well, too! With all the shipping and inventory delays across the country, I should have gotten moving on some of these much more quickly than I did. But, it is what it is!
One of the most critical decision was getting the bathroom vanity ordered. In early June, I shared some of my favorite 24-30″ small bathroom vanities. After framing went up and we could visualize the space better, I talked it over with BlueStone and they suggested a 30″ vanity would look best in the space. The one thing I didn't realize early on is that the plumbing needs to come up through the floor and not in the walls in this space. So, that drastically limited some of the options I could use. Technically I could still go with a furniture-style vanity with legs (since you'd like only see the floor pipes if you laid on the floor). But, I needed to find something that we could run the pipes through on the interior. Unfortunately, that eliminated most options with drawers.
I ultimately decided on this vanity. It was a decent price and could arrive fairly quickly (it just got delivered this week). I think with a simple hardware swap, I can make it look a little more modern coastal rather than farmhouse. I also like that the blue will be enough of a contrast to the kitchen island that won't be too far outside this door.
Here is a little mood board with some of the items I'm envisioning in the space. I'm leaning towards using gold hardware in the pool house to change things up from the main house. As much as I love the look in other spaces, I'm still contemplating if it's really "me" or not though! But I think it would be a great way to add more warmth to all the white shiplap siding! I'm also planning to re-use this mirror that we used to have in our entryway in the bathroom. I think it will be a fun addition to the space! I also still love these woven tank basket to make it easy for guests to find extra TP, but without it being blatantly out in the open!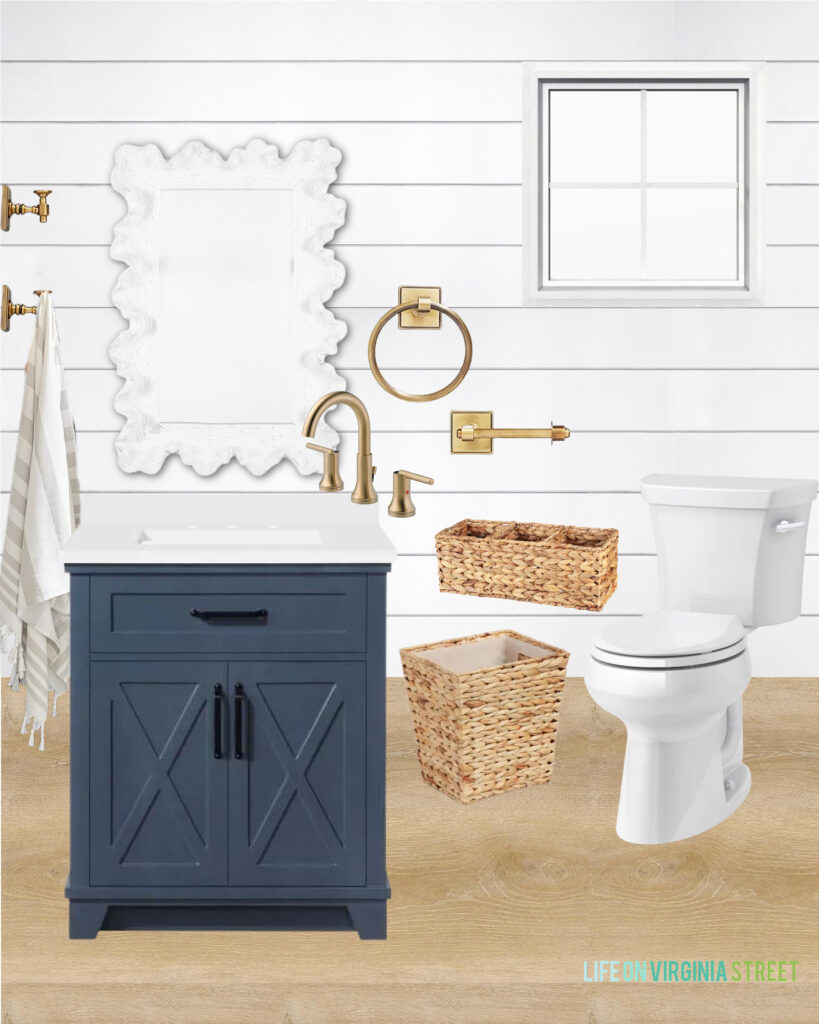 SOURCES: Gold Hardware | Mirror | Vanity | Faucet | Woven Garbage Can | Woven Tank Basket | Flooring | Toilet
You may have seen this image before, but my indoor/outdoor pillows have arrived for the pool house and we're using them in our den for the time being. I'm so in love with each and every one of them. I wanted to share them again in this post because they're all on sale today! The quality of Serena & Lily's indoor/outdoor pillows never ceases to amaze me. I'm guessing nobody would ever guess these could be used outdoors! They're also on of the few brands I know of that sell covers and inserts for outdoors, so you don't have to pitch them after a season or two if/when the inserts go bad! I love that I can take the covers off and wash them versus a fully filled and sewn pillow that has to be spot cleaned.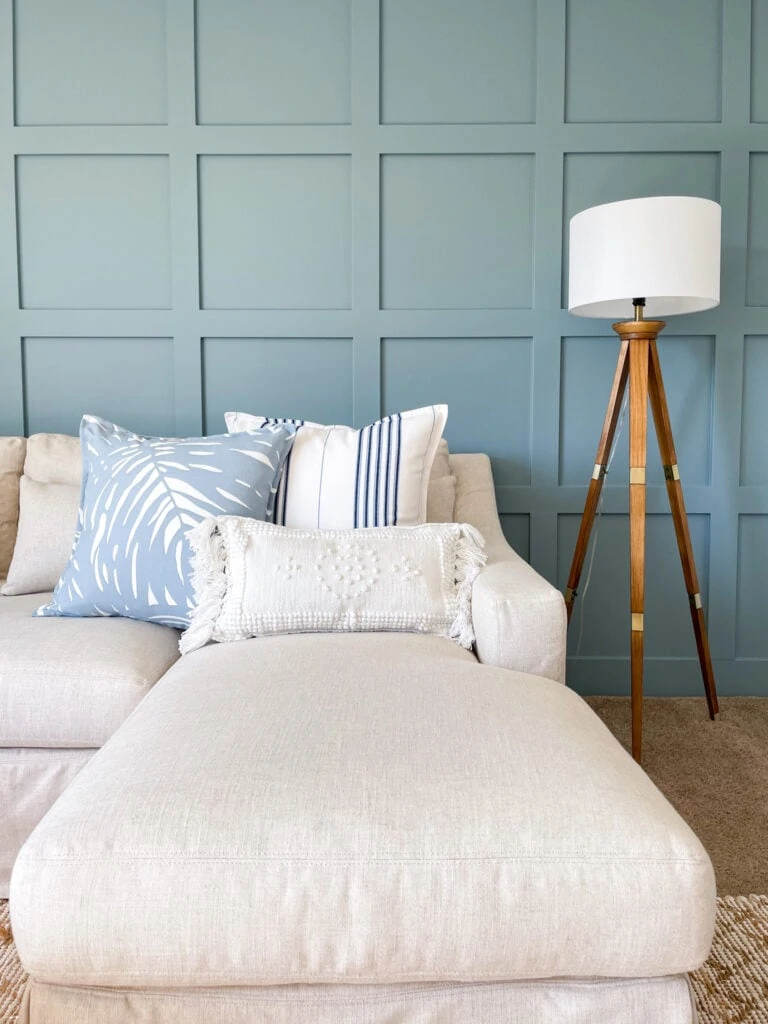 DEN SOURCES: Linen Sectional | Palm Print Pillow Cover | Striped Pillow Cover | Tassel Lumbar Pillow Cover | Diamond Jute Rug | Tripod Lamp
All of our other furniture I've ordered for the space has arrived! The only exception being the upholstered sofa and chairs, thankfully! At this point, I hope they take a little longer so I don't have to try and find a place to store them 😉 As a reminder, here are my two other mood boards I made of the space with tentative items.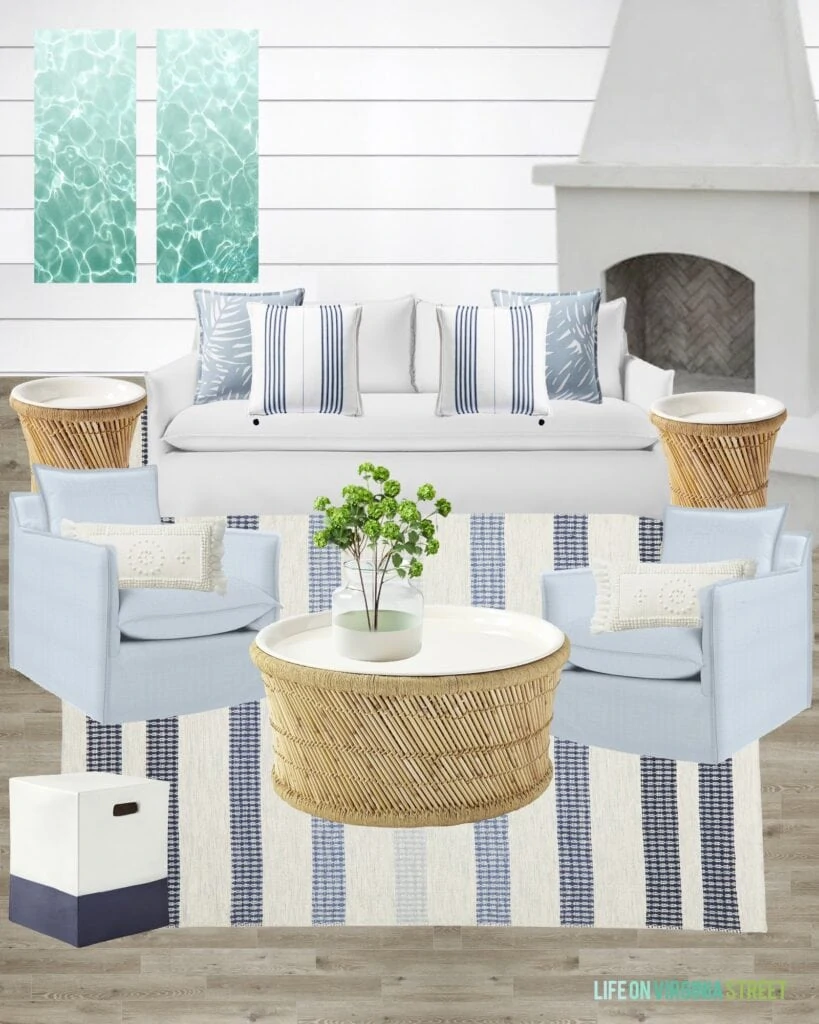 SOURCES: Pool Water Art | Upholstered Outdoor Sofa | Striped Rug | Upholstered Swivel Chairs | Coffee Table | Side Tables | Colorblock Stool | Palm Print Pillow Cover | Striped Pillow Cover | Embroidered Lumbar Pillow Cover | Paint Dipped Vase | Faux Viburnum Stems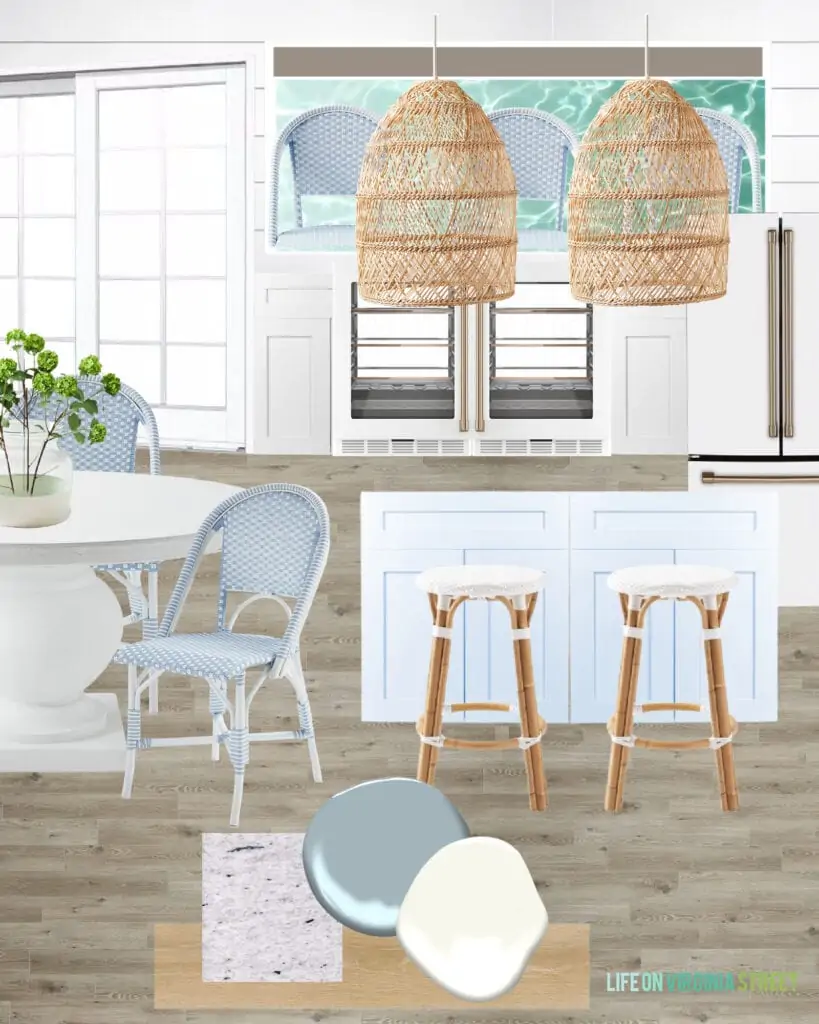 SOURCES: Round Dining Table | Paint Dipped Vase | Faux Viburnum Stems | Outdoor Dining Chairs | Outdoor Swivel Counter Stools | Basket Pendant Lights | Backless Counter Stools | Matte White Fridge | Matte White Beverage Fridge | Luxury Vinyl | Island Color: Benjamin Moore Santorini Blue | Wall & Exterior Cabinet Color: Benjamin Moore Simply White
We ultimately decided on White Macaubus Quartzite for the pool house after some lengthy discussions with Unique Stone Concepts here in Omaha. With our countertops extending outside, we were very limited on what we could use because of our weather extremes. With that, there are very few light colored stones that even work in the space, but I knew dark was also a terrible idea for the heat. If people sit at the bar, I don't want a black or dark countertop burning their arms since the counter will be in full sun all day. So, although we haven't seen these exact ones in person, we have two slabs from the White Macaubus lot below on hold for us. Is it exactly what I would have picked if the options were limitless? Probably not. But it will definitely work for us! This now reminds me we need to make our appointment to actually go see them!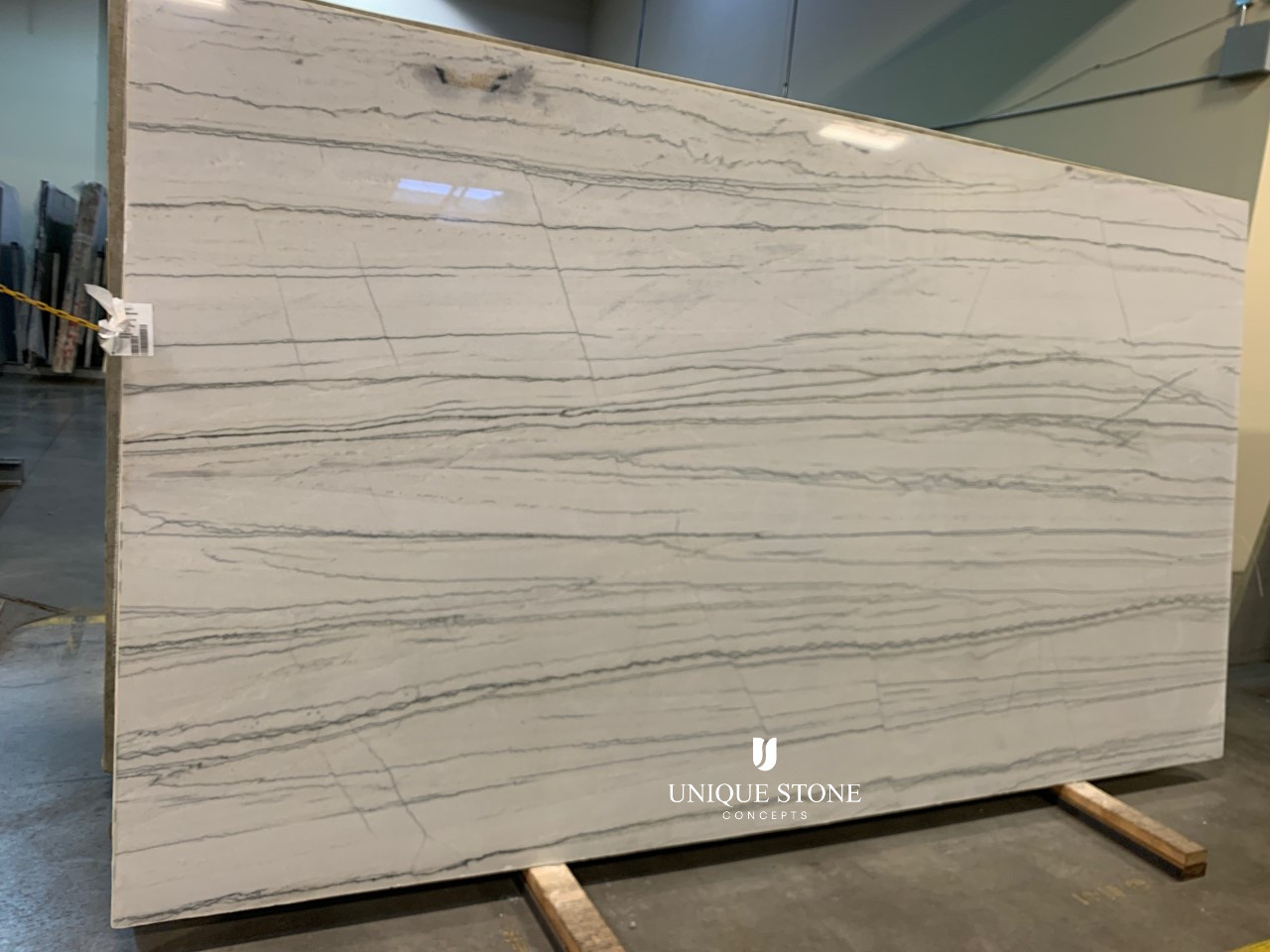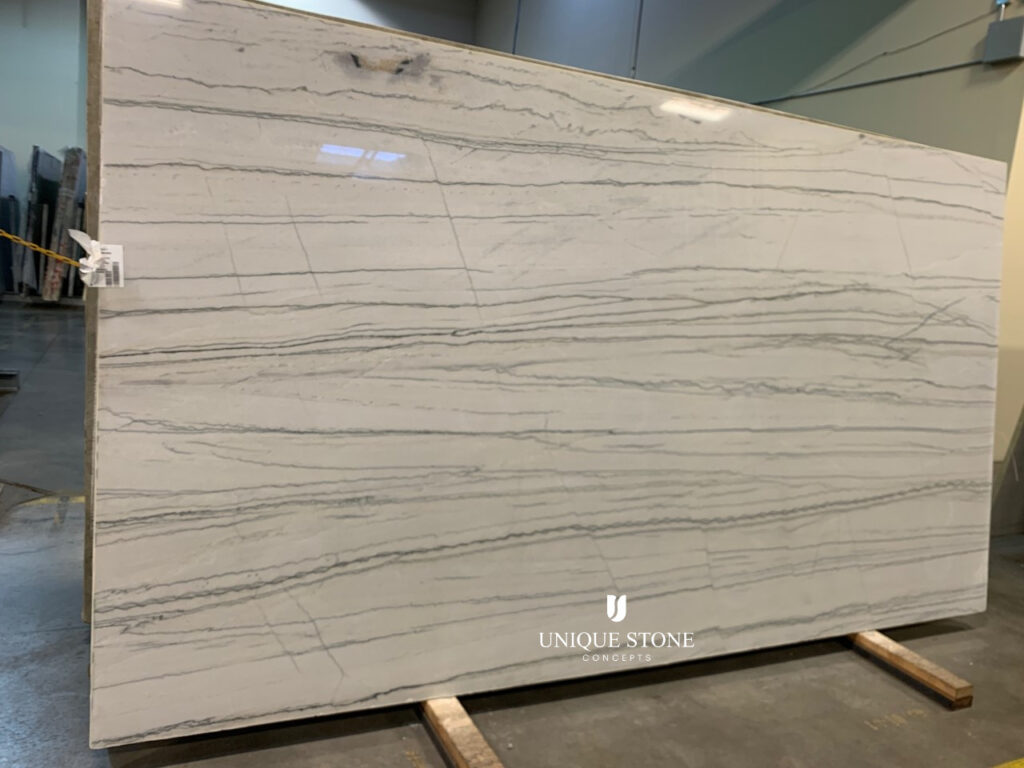 Some of my last decisions now come down to things like cabinet hardware and fireplace details. I ordered this floating shelf to test as a possible mantel contender. It's much more cost-effective than going through an actual mantel store, and I can see in the customer photos it's been used that way before! We just want something simple and I think with a cute tile below it (around the insert), it will be the perfect setup for this space.
Alright! That about wraps up the latest rounds of updates. As always, I'll continue to do live updates on my Instagram Stories. I'm saving them all under the Pool House highlight if you want to watch the whole series. I think the next time I'm back with more to share, the differences will be even more dramatic! We're getting so excited!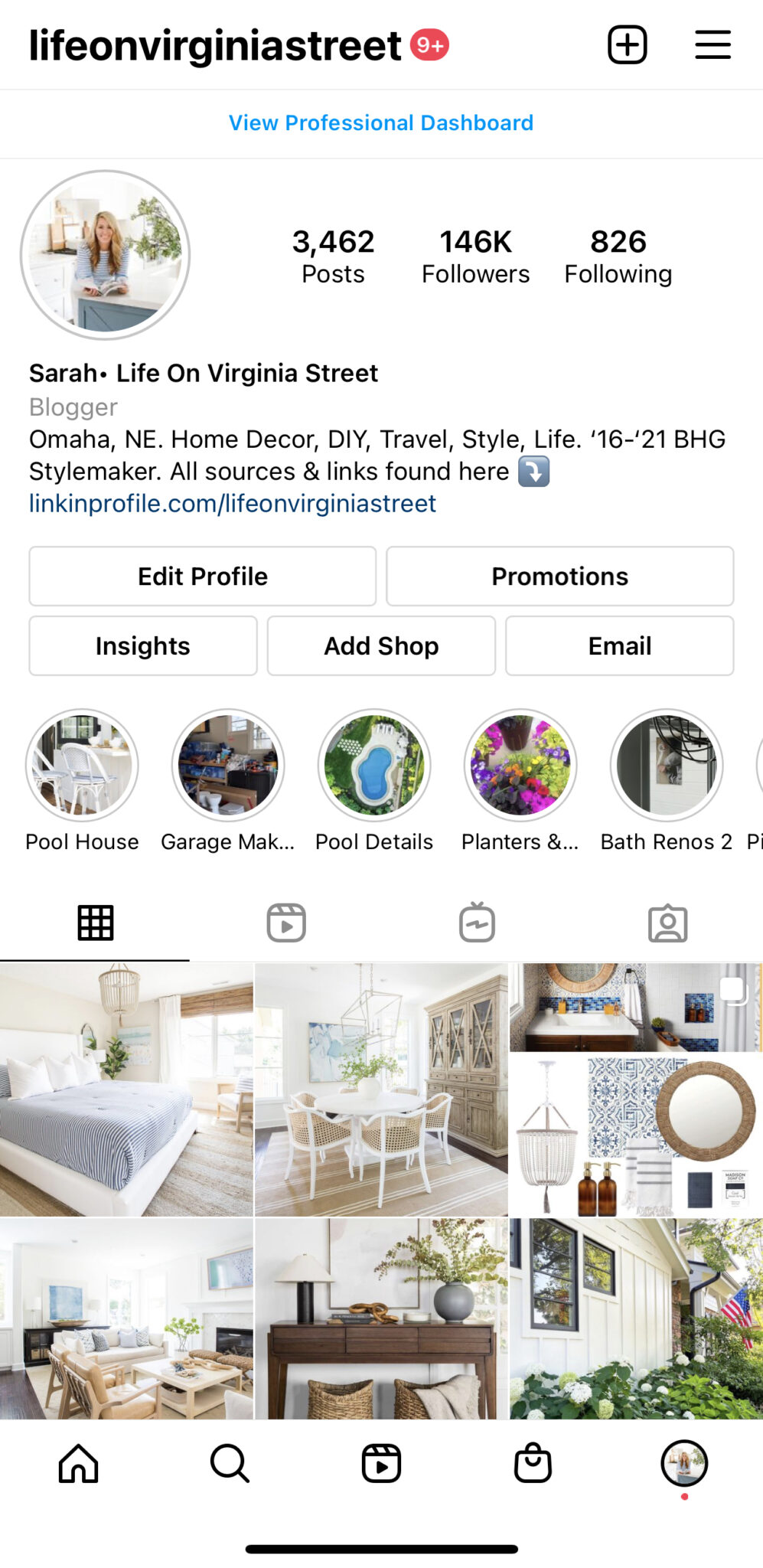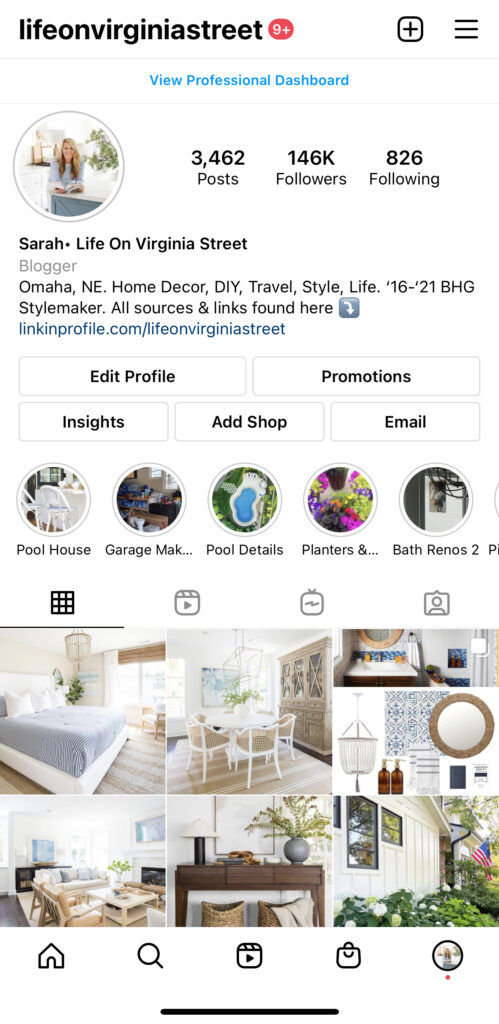 If you would like to follow along on more of my home decor, DIY, lifestyle, travel and other posts, I'd love to have you follow me on any of the following:
Pinterest | Instagram | Facebook | Twitter
disclosure: some affiliate links used