Sharing details on the best green paint colors in all tones and shades! Also includes examples of each color in a real-life home setting.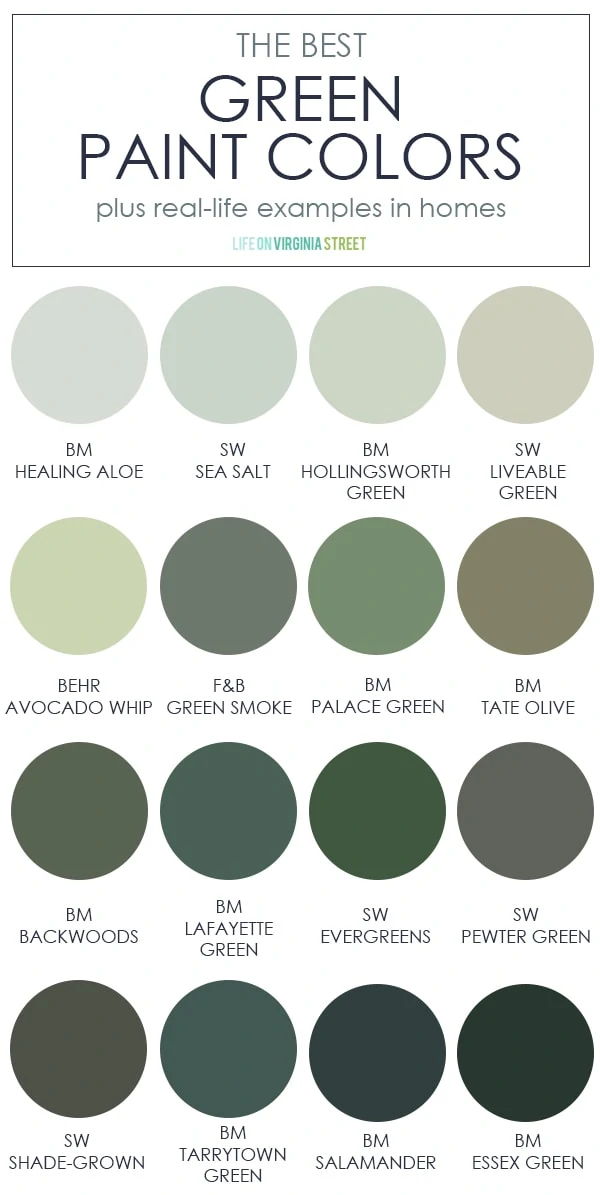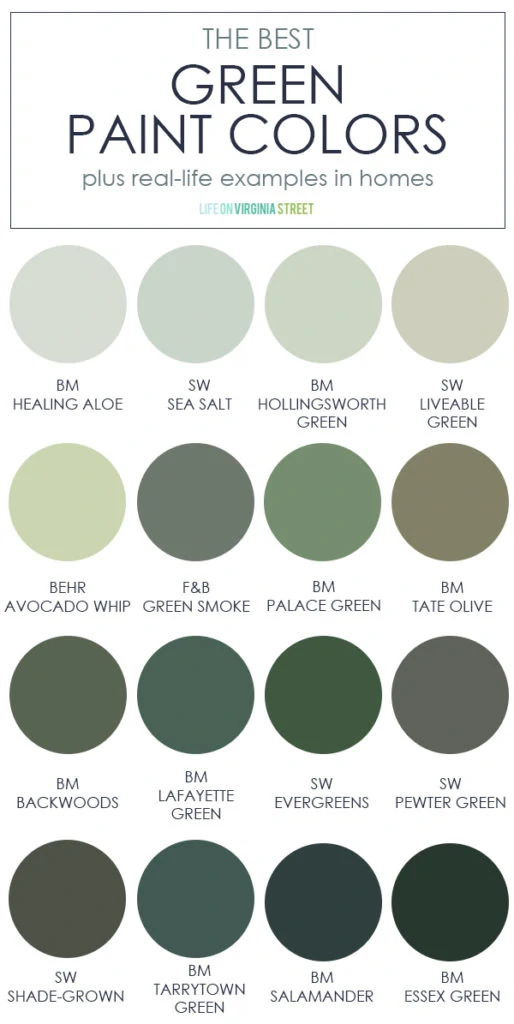 I'm coming at you with another reader request today! It's no secret that I'm a huge fan of the power of paint, and I've written a lot about the topic over the years. Not only is it an affordable way to update your spaces, but the right color can completely change the vibe in your home! Today I'm sharing the best green paint colors, from barely there to dark and saturated!
This post contains affiliate links for your shopping convenience. Click here to read my full disclosure policy.
The Best Green Paint Colors & Real-Life Examples
Green paint is making a comeback in a big way (if it really ever even left)! I'm especially loving the resurgence of green tones in the kitchen (all cabinets or just an island) as well as deep and moodier versions in home offices or dens.
Would you believe in our last home I painted green walls multiple times? Three or four times actually! And, two of the colors on this list were some of the first colors I used in our current home, as well!
Going from lightest to darkest, following are the best green paint colors and real-life examples of each! I've also tried to include a mix of tones that range from blue green to olive green. If you're wanting to try large, pre-painted samples, I'd definitely look into Samplize for picking the perfect green color for your home! Their peel and stick samples are made with real paint (not dyed to mimic the color) so it can definitely help narrow down your top picks. Now, on to my top picks for the best green paint colors!
Benjamin Moore Healing Aloe
Benjamin Moore Healing Aloe was one of the first colors I used in our home (back when I had a craft room. It's one of those colors that changes throughout the day, and has beautiful blue undertones.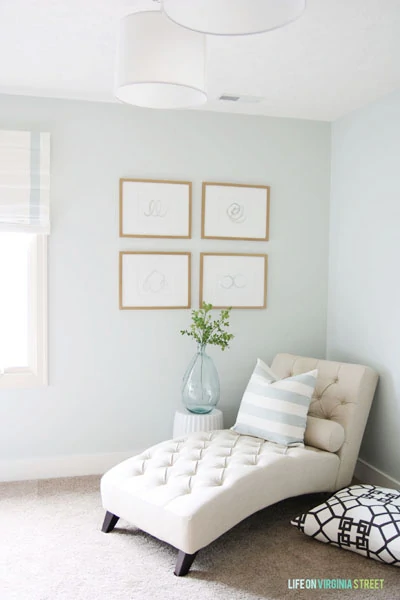 Sherwin Williams  Sea Salt
Shortly after we moved in, I painted our master bedroom Sherwin Williams Sea Salt. I actually still really love this color, but it's another one I feel is critical to have white trim with. It looked great wherever I had taken our trim from almond to white. However, it looked almost baby blue (and made the trim look pink) where I left the almond trim (like the ceiling). You can read of my thoughts on the color here.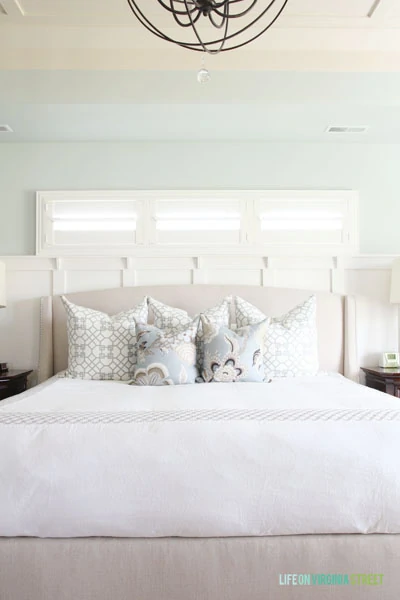 Benjamin Moore Hollingsworth Green
If you're looking for a calming green paint, Benjamin Moore Hollingsworth Green may be right for you! This barely there color almost works in as a neutral in spaces, as well!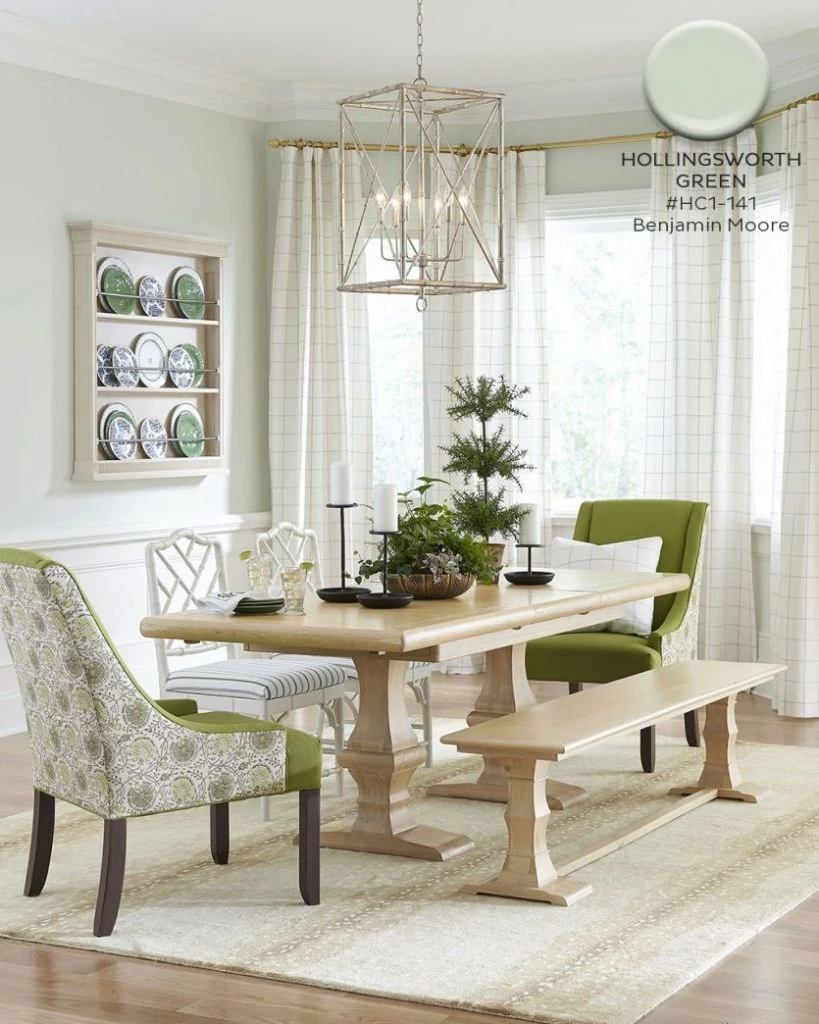 Sherwin Williams Liveable Green
If you're looking for a lighter green paint color with slightly sage undertones, Sherwin Williams Liveable Green is a great pick! Like some of the other lighter choices above, it pairs best with bright white trim to help keep it looking modern and fresh.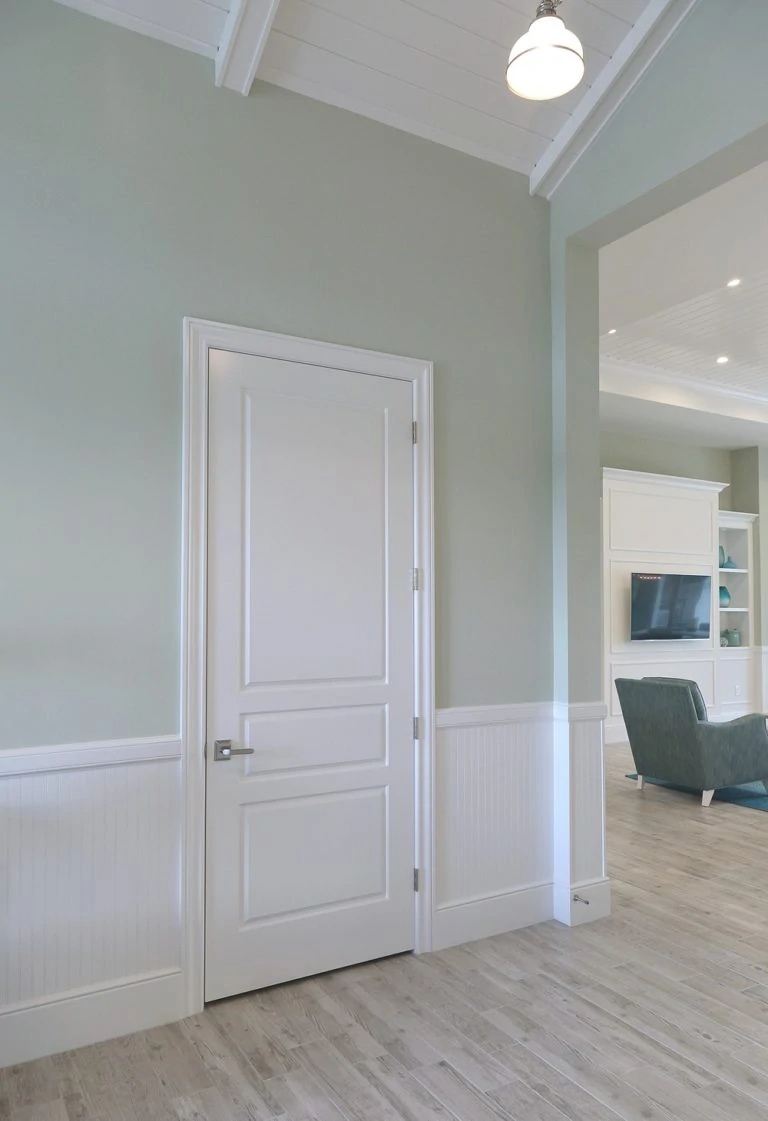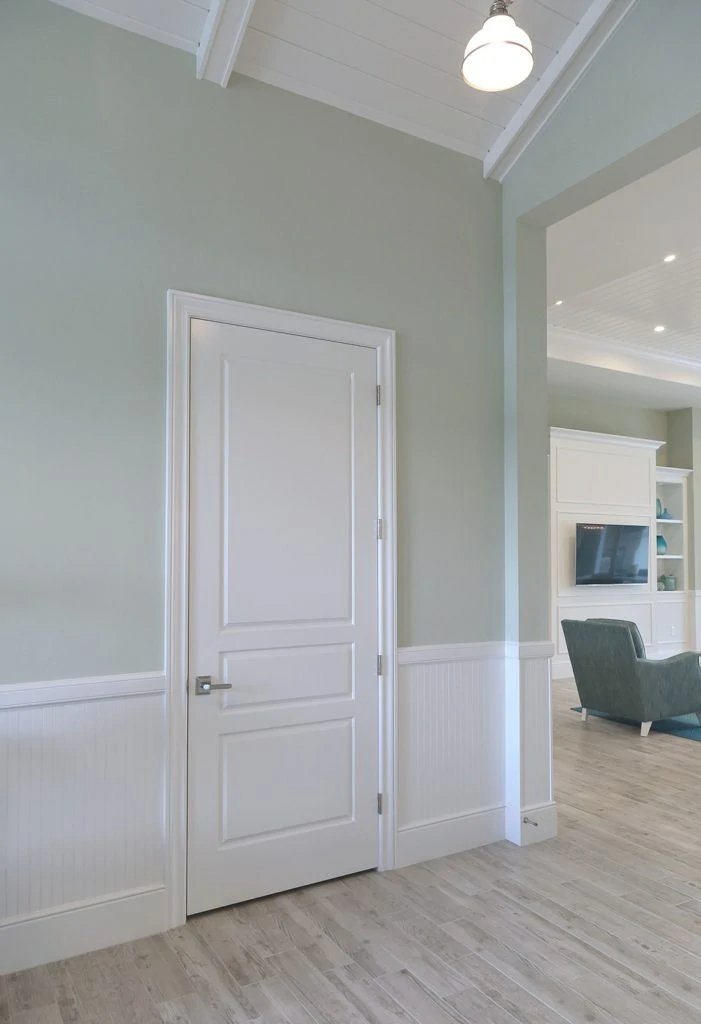 Sherwin Williams Clary Sage
Although Sherwin Williams Clary Sage didn't make the graphic, I felt the color was worth mentioning because I love it especially on kitchen cabinets!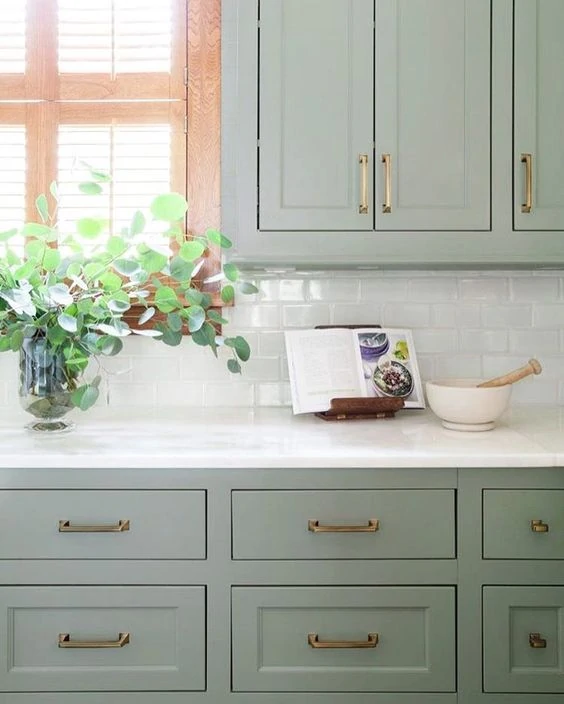 Behr Avocado Whip
If you're looking for a green with a bit more of a yellow undertone, Behr Avocado Whip is a gorgeous choice. I absolutely love it on these kitchen cabinets!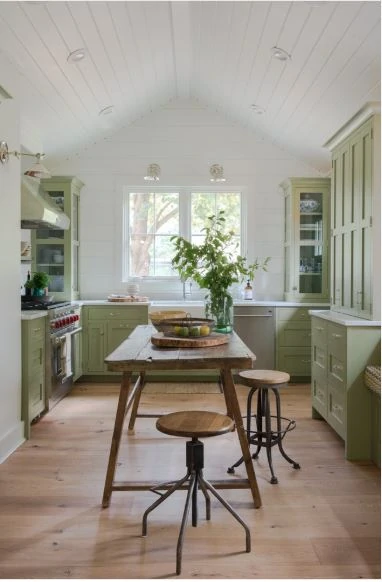 Sherwin Williams Evergreen Fog
Sherwin Williams' Evergreen Fog is a new addition to the list, after being named their 2022 Color of the Year! It's a soothing, subtle, and perfect shade to freshen up any space in your home. You can see more beautiful examples of this color in real-life homes here.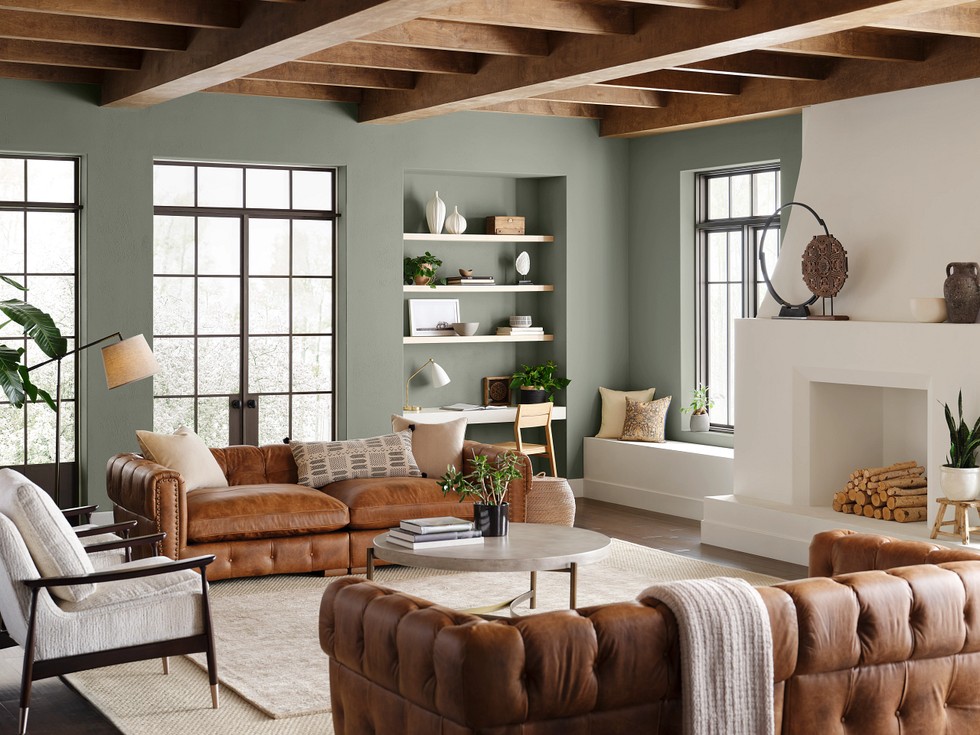 Farrow & Ball Green Smoke
From the Farrow & Ball website, F&B Green Smoke is a smoky green blue, this color was popular in interiors during the late 19th century. It has an irresistibly inviting deepness and weathered familiarity when used in exterior situations, while evoking calm and serenity when used inside. How gorgeous is it on the cabinetry in the image below?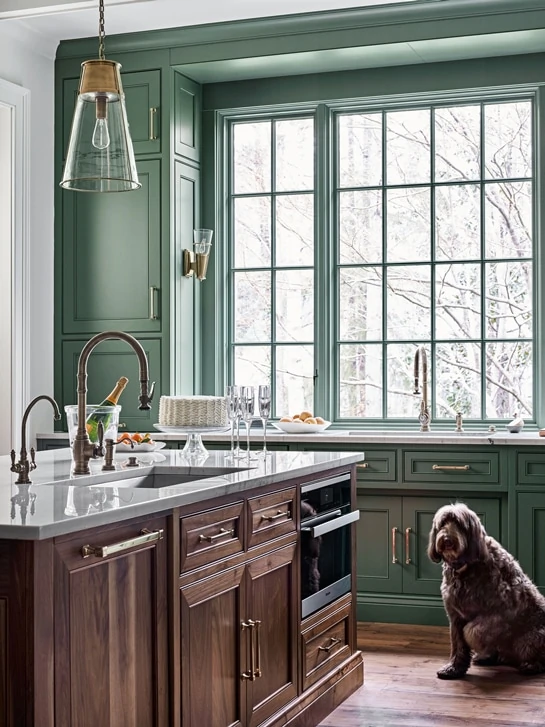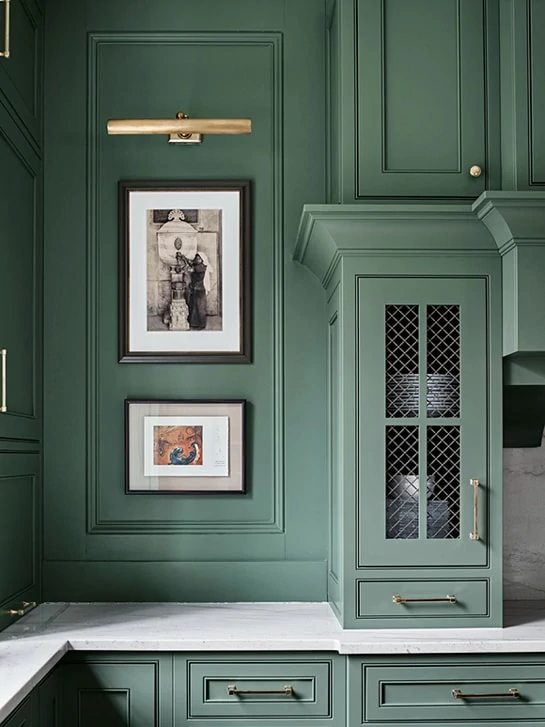 Benjamin Moore Palace Green
From Benjamin Moore, Palace Green is a mixture of Prussian blue, white and naturally occurring yellows. This rich, well-appointed green imbues rooms with style.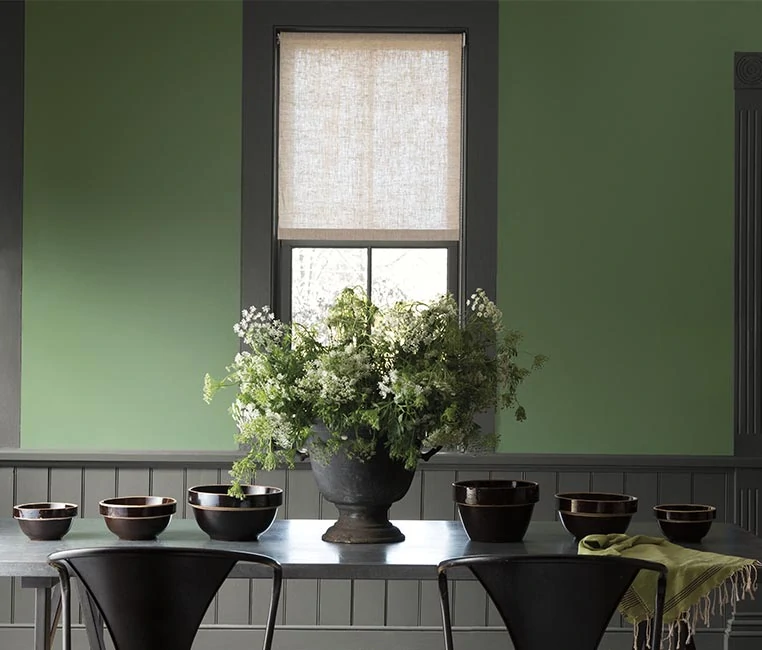 Benjamin Moore Tate Olive
As an olive tone, Benjamin Moore Tate Olive works just as well on exteriors as it does interior spaces!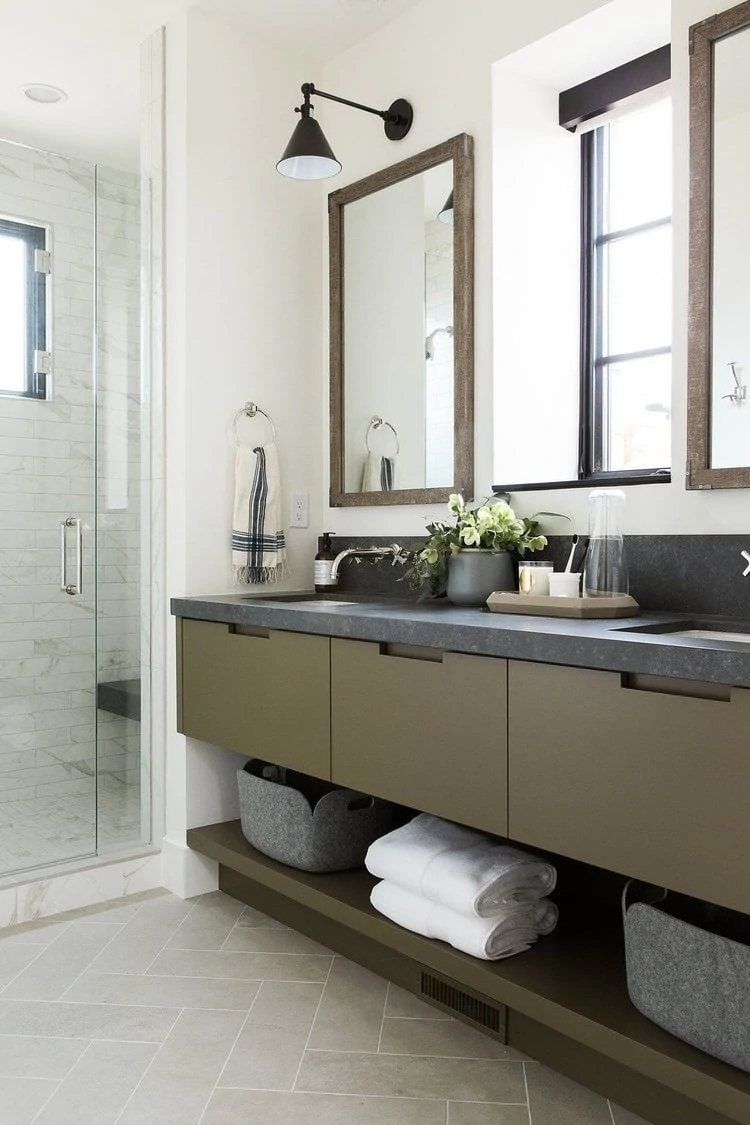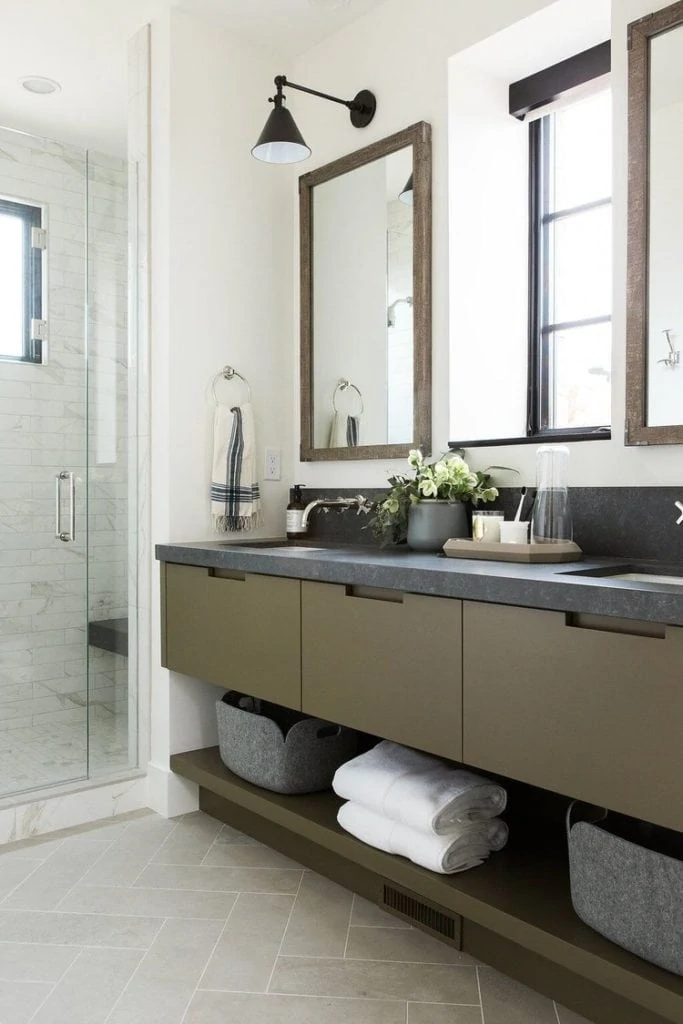 Benjamin Moore Backwoods
I love how Benjamin Moore Backwoods pairs so well with the re-emerging cottage style! It's gorgeous on board and batten, beadboard, and v-groove wall paneling!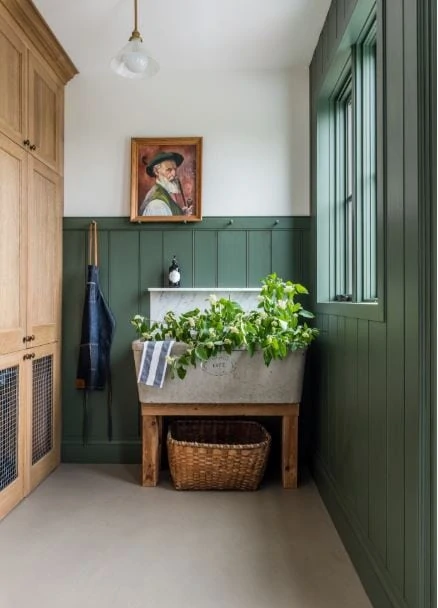 Benjamin Moore Lafayette Green
I love how Benjamin Moore Lafayette Green changes colors throughout the day and dependent upon lighting. It has a blue undertone, making it appear slightly teal at times and I couldn't love it more in this kitchen from Rosa Beltran Design.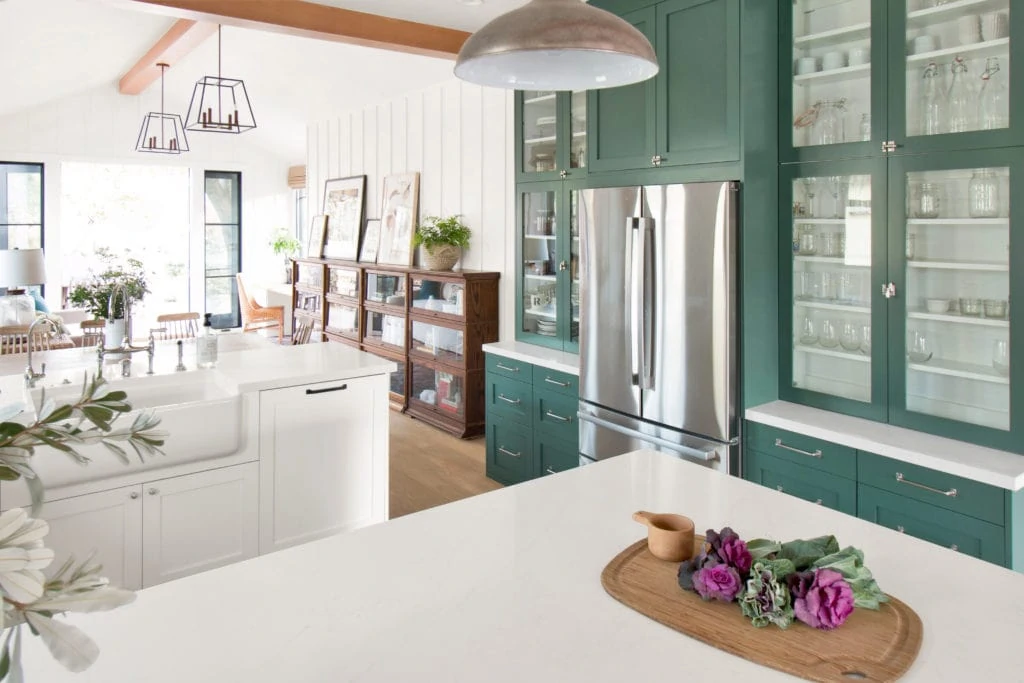 I love how this color gets a little bit moodier with less light.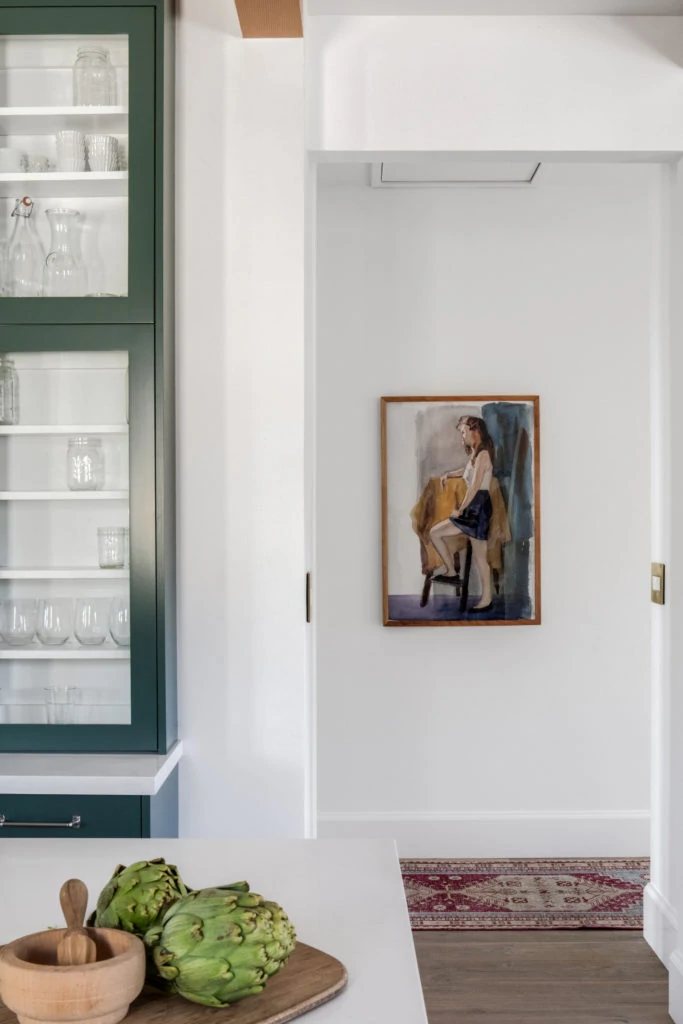 Sherwin Williams Evergreens
If you're on the hunt for more of a jewel-toned green, Sherwin Williams Evergreens is a winner! It was used in the 2016 Southern Living Idea House kitchen and they have great examples of the color in both a brighter light as well as low-light situation.
Here you can see how the color translates in the butler's pantry.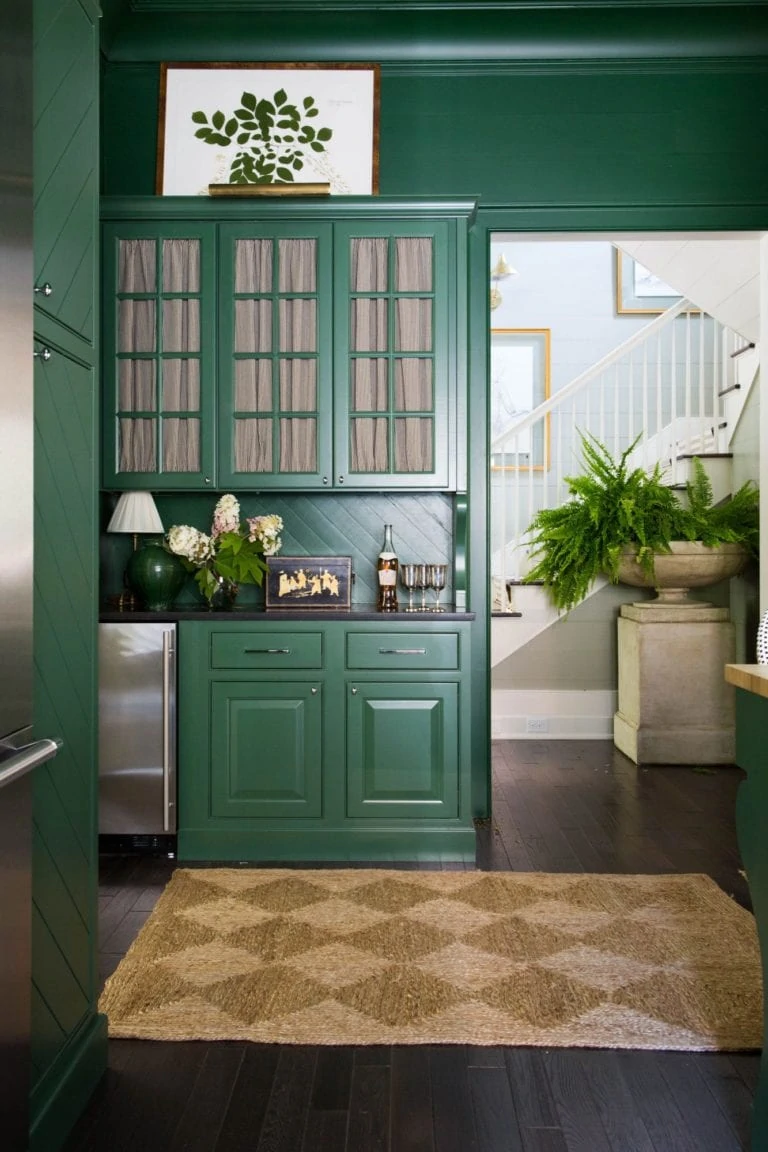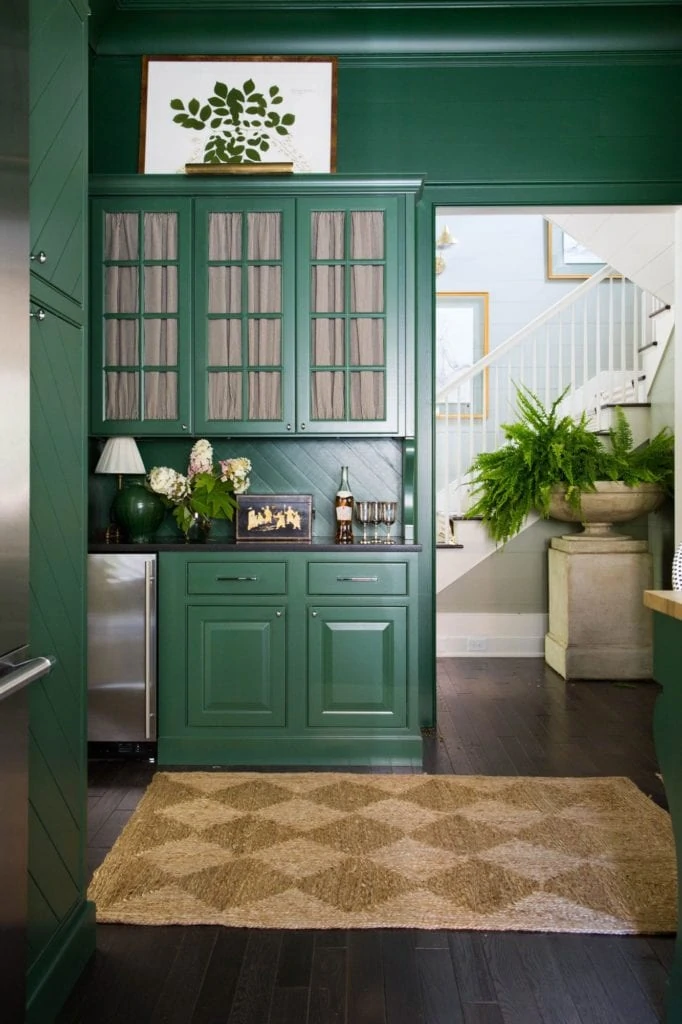 Sherwin Williams Pewter Green
A gorgeous gray-green paint color, Sherwin Williams Pewter Green reads like a neutral in many spaces but also adds so much personality! I absolutely love it in the kitchen below paired with warm wood tones.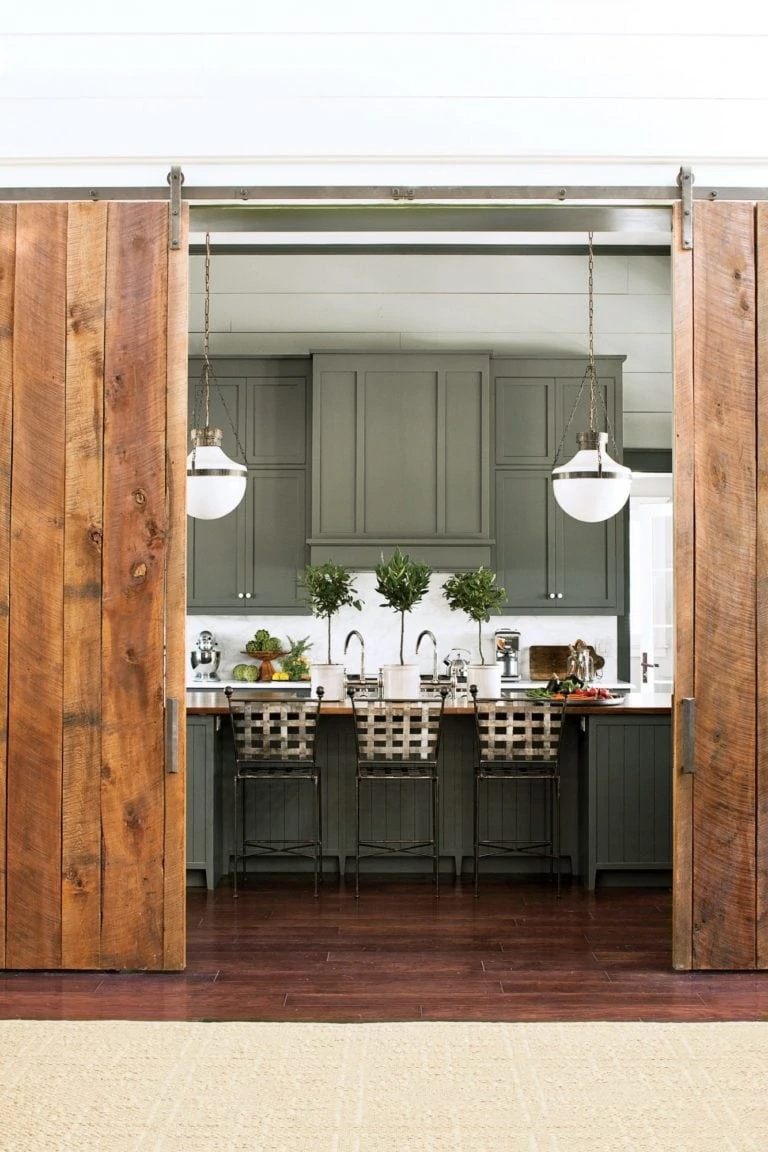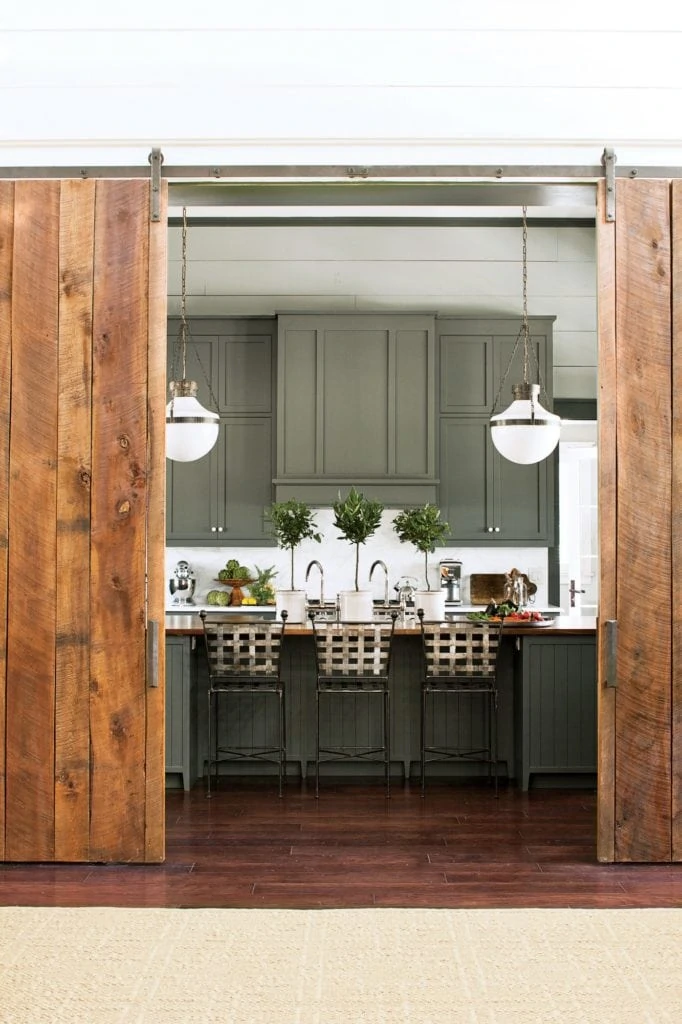 Sherwin Williams Shade-Grown
I'm loving the deep and moody vibe of Sherwin Williams Shade-Grown. It's perfect for that modern farmhouse vibe, and is great color choice for cabinets or accent walls and paneling.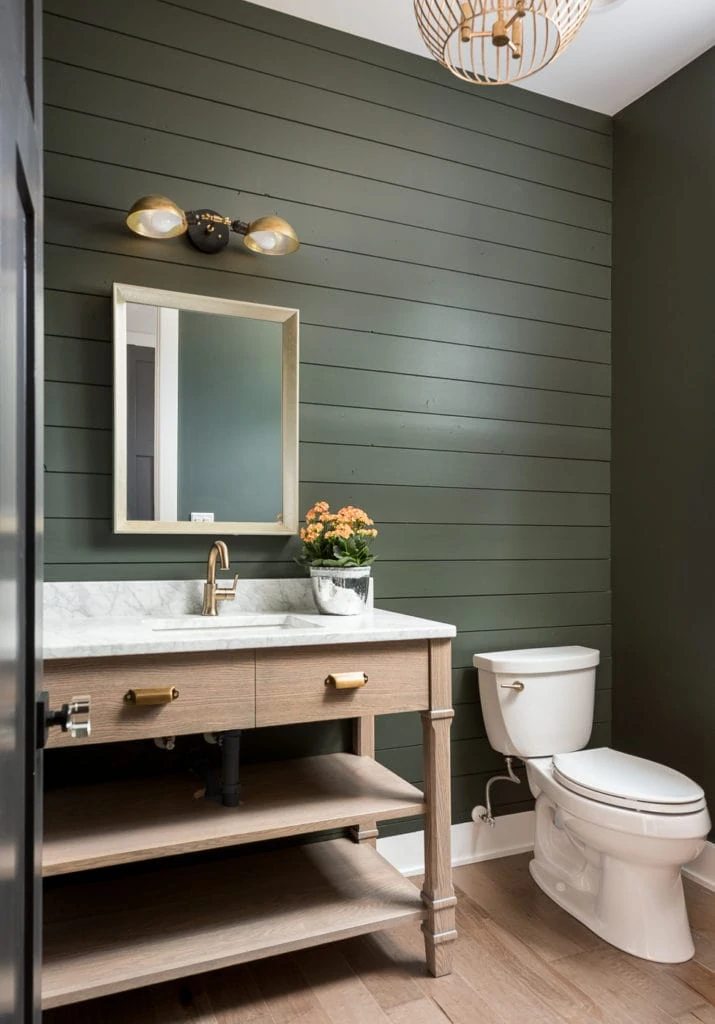 Benjamin Moore Tarrytown Green
If you're looking for a darker color with a bit more blue undertones, Benjamin Moore Tarrytown Green is a beautiful choice!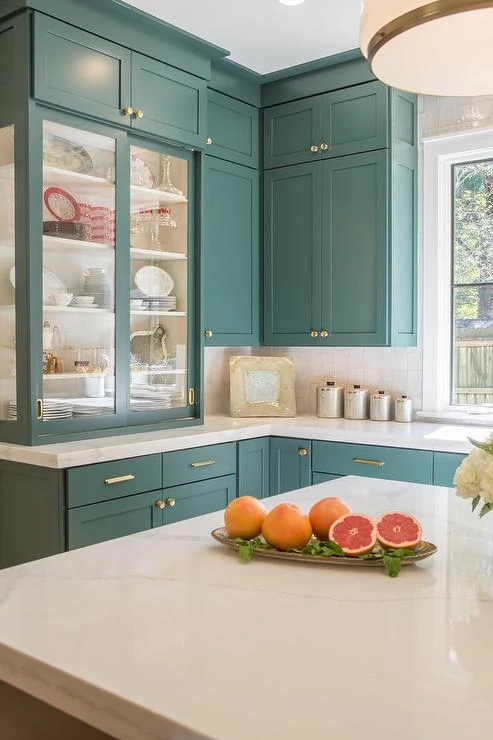 Benjamin Moore Salamander
When I see most examples of Benjamin Moore Salamander, it's usually on walls with trim and it's always perfect! Since it has a slight blue undertone, it comes across as a pretty true hunter green option (especially the more light you have).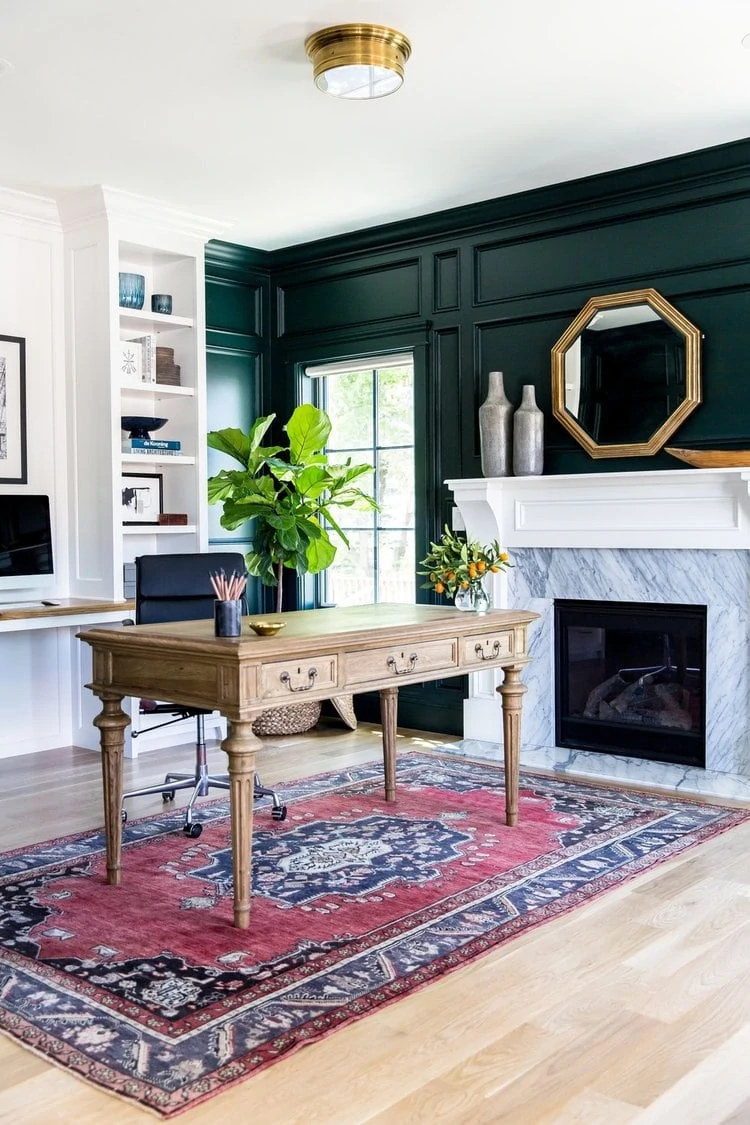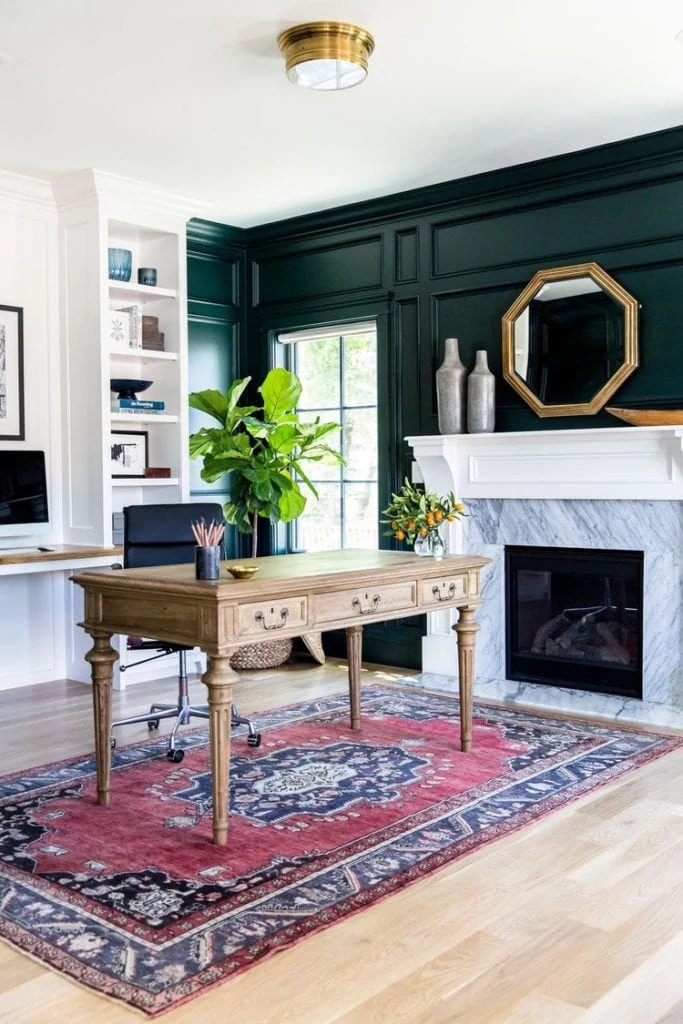 Benjamin Moore Essex Green
Out of the can, Benjamin Moore Essex Green may look black. But it's a gorgeous dark green that acts as a moody and rich neutral. Perfect in powder baths, bedrooms, office spaces or kitchen islands!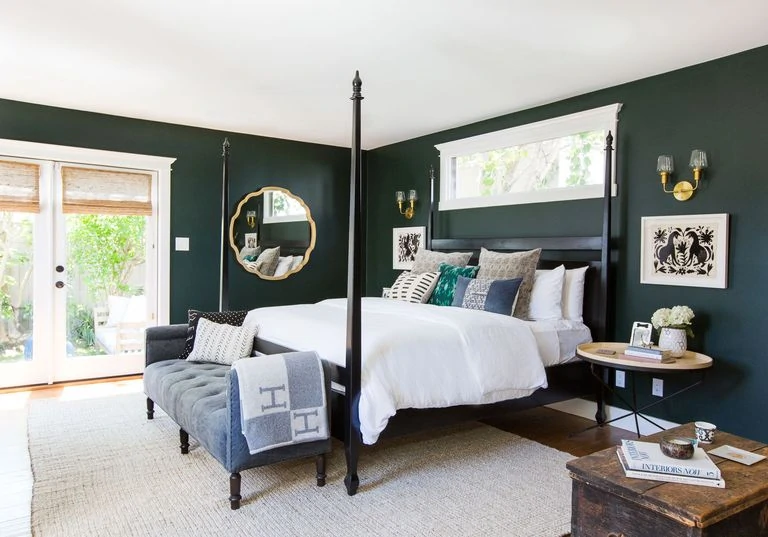 Are there any other favorite green paint colors you love that I should add to my list? Historically I've also loved the Restoration Hardware line of green paints (in the Sage family), but I know those are harder to access for some. I'd love to hear any other suggestions in the comments!
Additional Paint Color Inspiration
If you're looking for even more paint color inspiration, be sure to check out these other posts by clicking on their titles below:
Free Paint Color Organization Printables
If you frequently paint your home like I do, it can sometimes be difficult to keep all your colors (and paint cans) organized! I recently created a free paint color organization printable set that I think you will all love!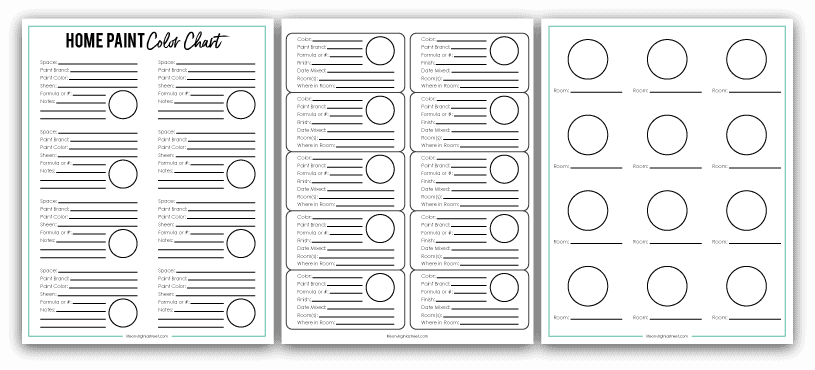 Simply complete the form below and I'll email the PDF files over to you to start using today! It will also subscribe you to my email list, but you can easily unsubscribe at any time if that isn't your thing.
I hope you found these ideas and the best green paint colors helpful! Any other colors you're on the hunt for?
If you would like to follow along on more of my home decor, DIY, lifestyle, travel and other posts, I'd love to have you follow me on any of the following:
Pinterest | Instagram | Facebook | Twitter 
disclosure: some affiliate links used