I hope you all had a great weekend! And hopefully you had the chance to enjoy the first few official days of summer! We got a lot of random but necessary tasks done around here, so it feels good to have them accomplished.
This post contains affiliate links for your shopping convenience. Click here to read my full disclosure policy.
Home Projects & Updates
This past week we ended up renting a dumpster thanks in part to our aggressive tree trimming and garage cleaning. Since we don't have a pick-up truck, this seemed like the best solution. We rented one about eight years ago and it was a total game changer. It helped a ton before we moved to this house (although we weren't planning to move at the time). But, there always seem to be things that accumulate that you can't donate or set out with the trash for one reason or another. For $229 for a week (all in) it was well worth the expense after nearly a decade! We actually had ours picked up after two days because we filled it so quickly (and a few neighbors had some odds and ends to add as well).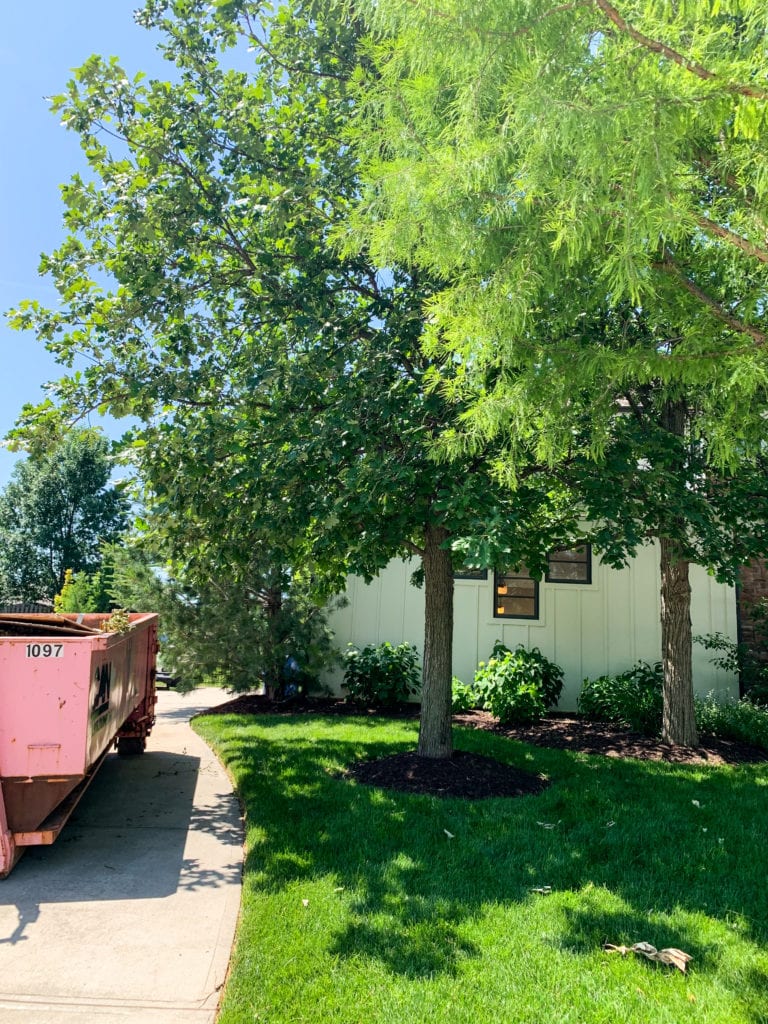 After we were actually done tree trimming, we were in the courtyard one night and the wind was blowing quite a bit. Turns out we had a limb crashing into and scraping our gutters. So, we got rid of that this weekend too. Hopefully our setup was a lot more secure than it actually looks in this photo. Please don't attempt this at home (insert face palm). Thankfully it came down very quickly and we spent more time getting the ladder set up than actually cutting the branch.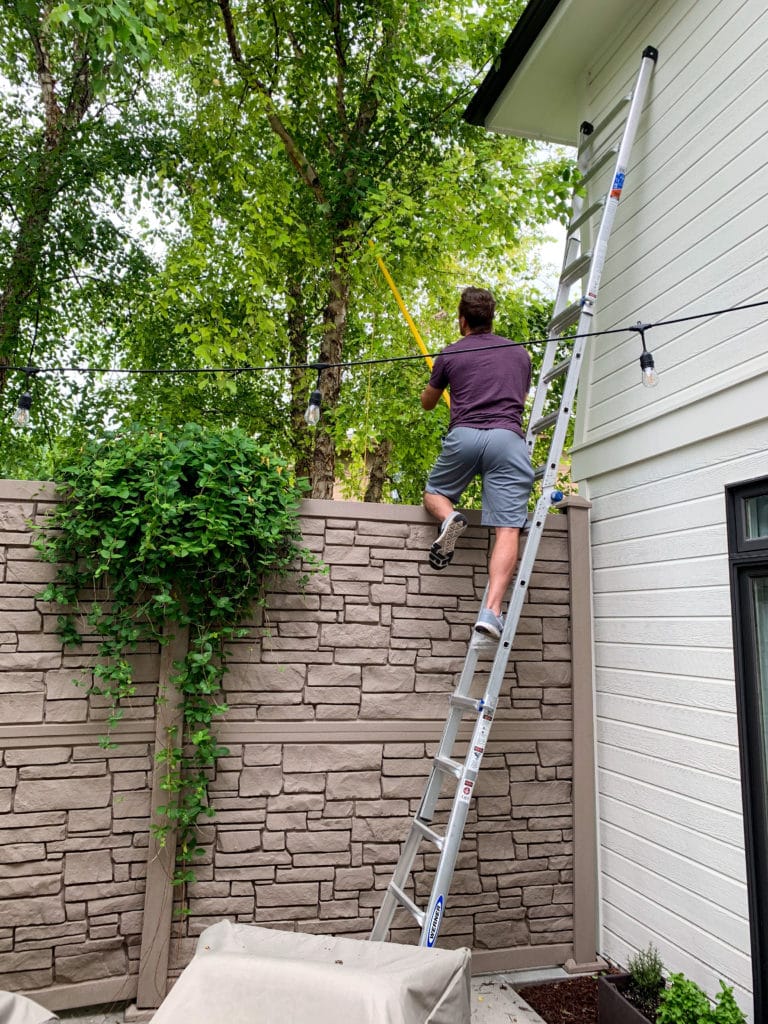 Do you guys remember about a year ago we had to take down the old maple tree in our parkway (the area between our sidewalk and street)? It had died pretty quickly out of nowhere (as had a few others on our street). It was a really sad day because those trees are what make our neighborhood feel unique (most don't allow it any longer). But, I picked out a new tree about a month or so back, and it finally arrived on Tuesday!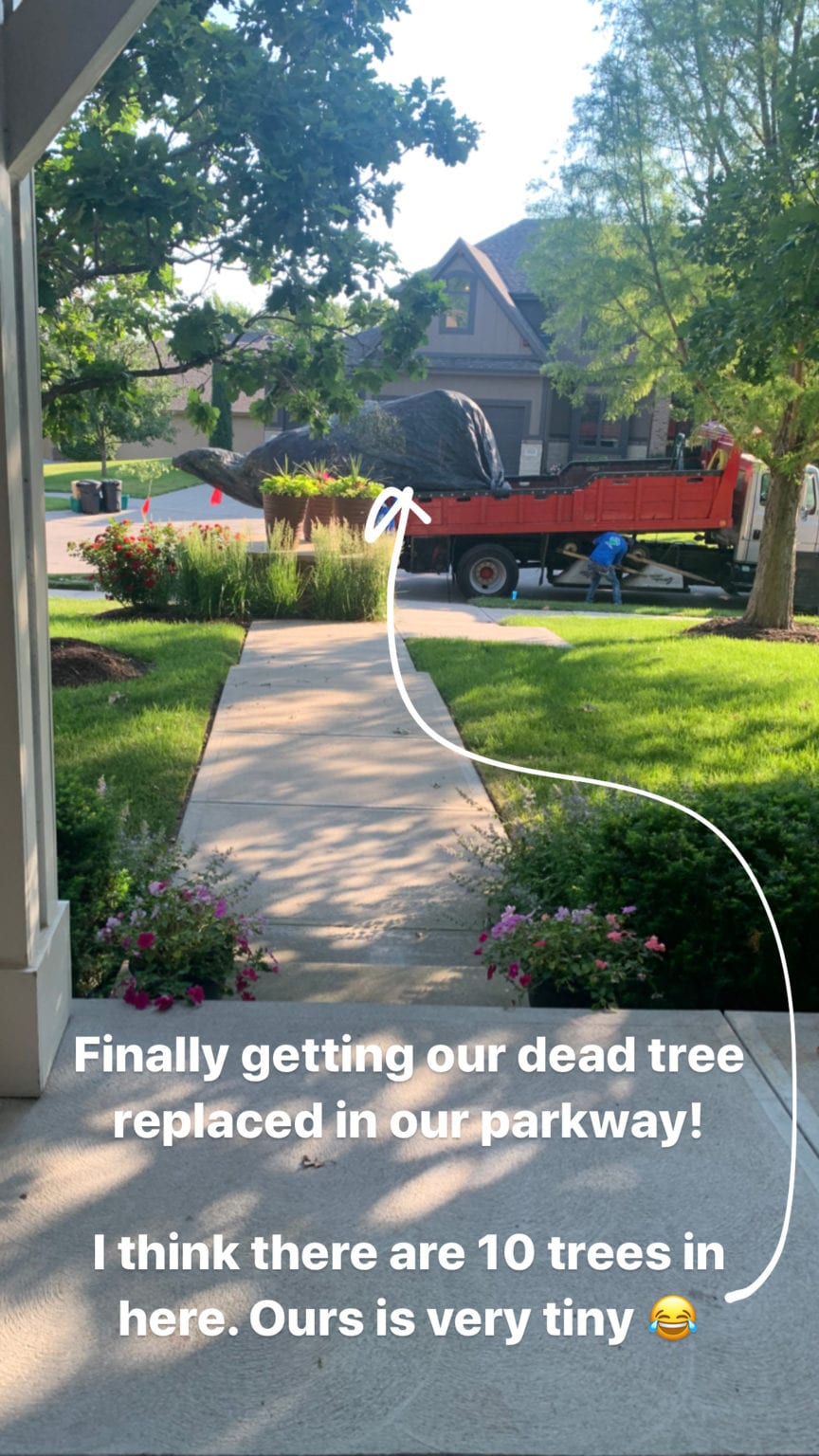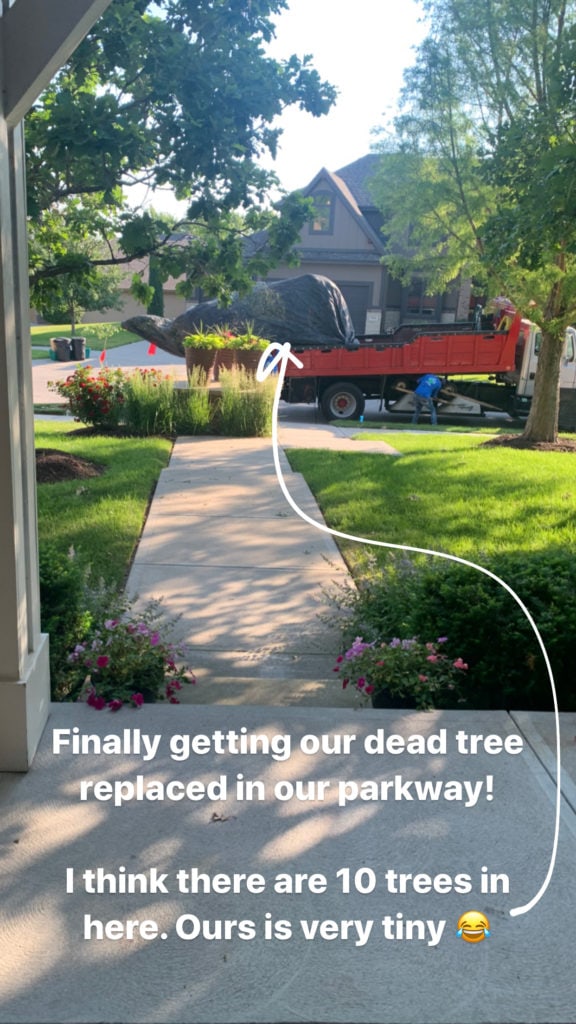 So obviously we weren't going to be able to replace the tree with the same size or style. In speaking with the nursery, they recommended I go with an Armstrong Maple, which is much more columnar and compact in size. This should help prevent as many issues with the roots, and will also help keep the garbage trucks from crashing into the branches on a regular basis. We actually have three of these in our backyard so it seemed like a great fit! Now we just need it to grow a bit 😉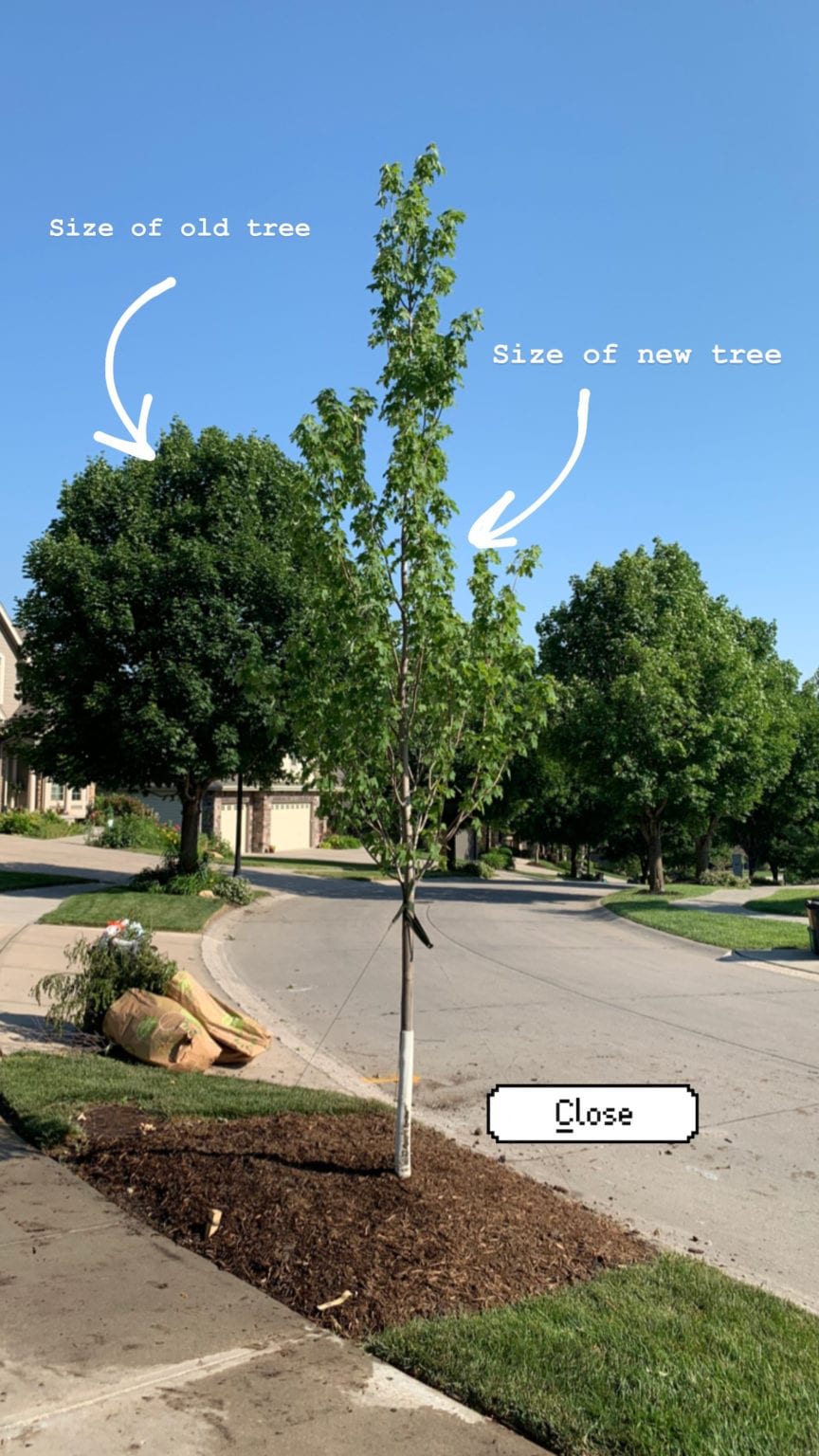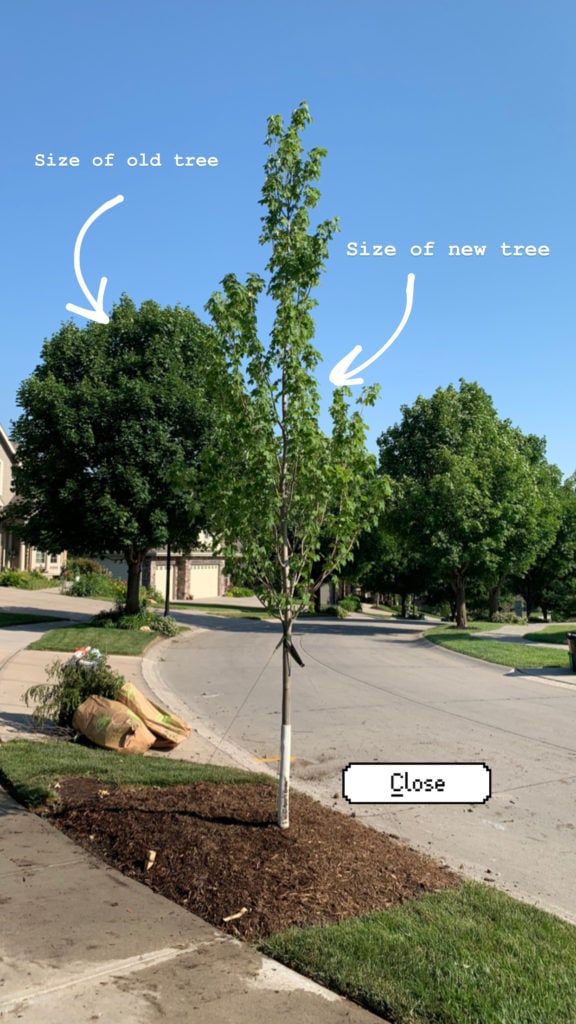 When I shared these few frames on Instagram, I got a bunch of messages about other tree ideas. So, I ultimately did a quick and informal tour of our trees around our yard. Once they disappeared after 24 hours, I got a bunch more requests to see the videos again. So, long story short, if you're wanting to take the tour or get some tree ideas, I've now saved the tour on my Instagram page in the highlight section shown below. I still plan to write out a formal blog post with a lot more details and close-ups. But, after realizing we're up to 52 trees in our yard, I think it's going to be a bit more involved to create than I initially expected 😉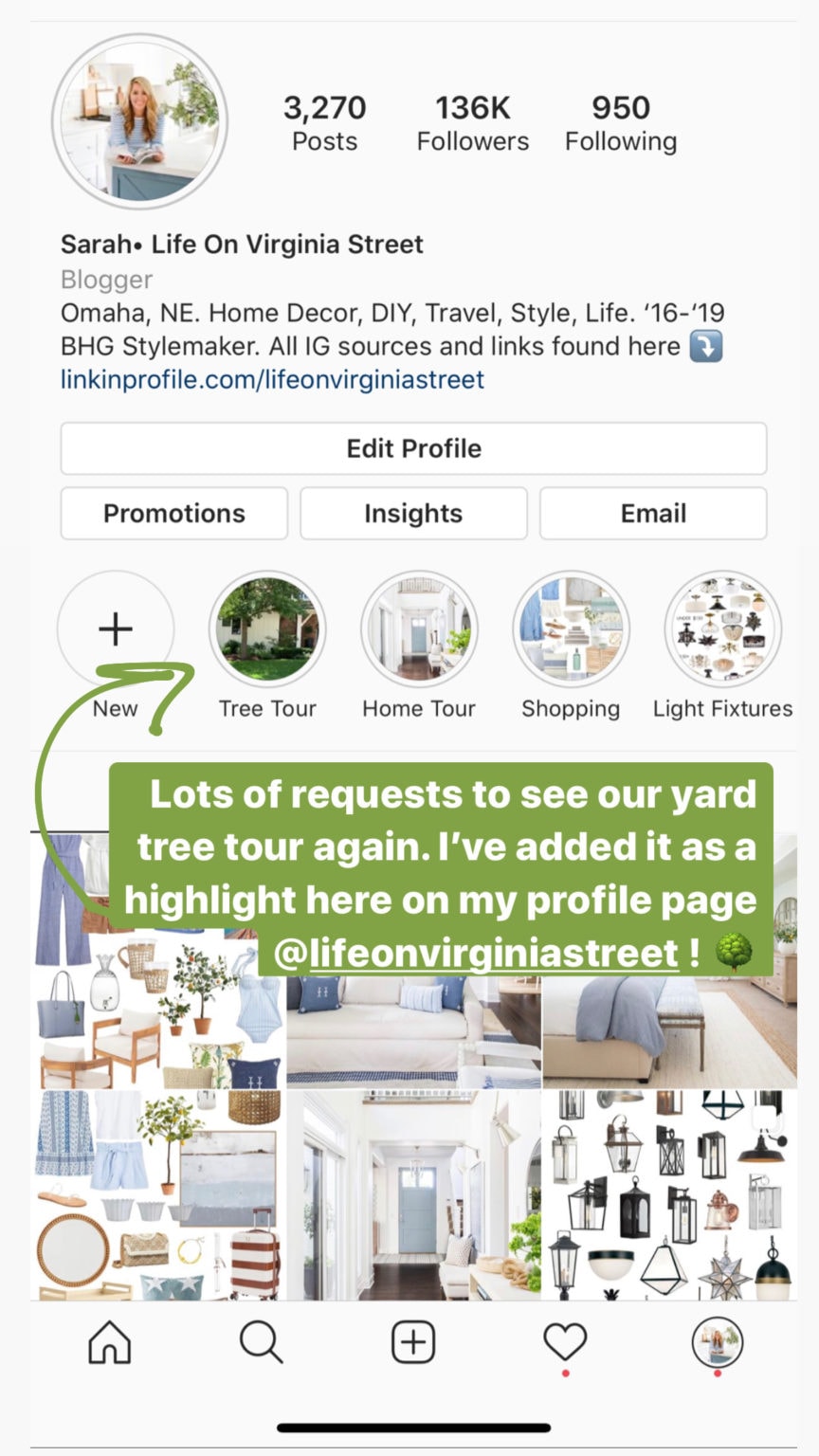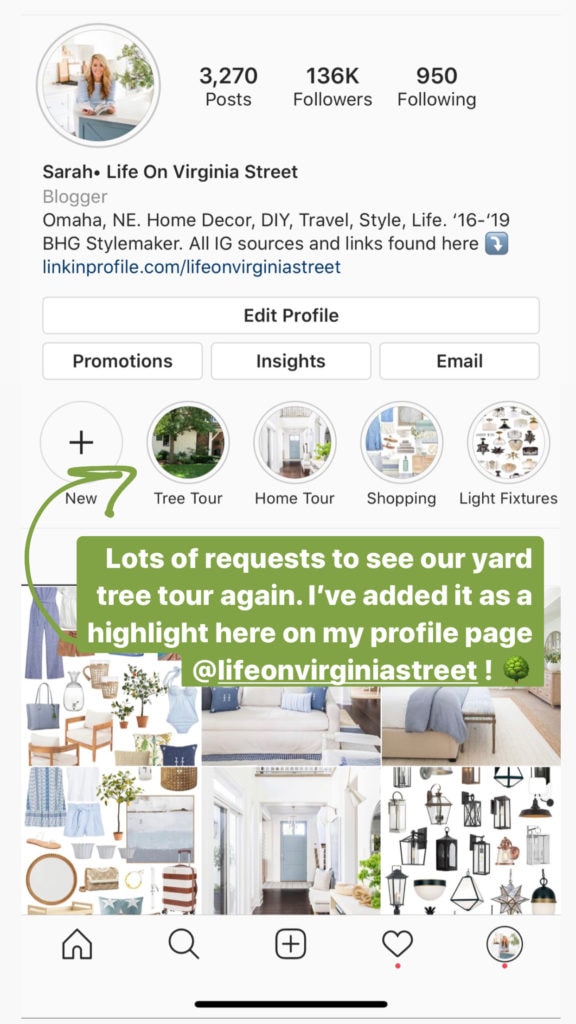 Another random project we tackled this weekend, since the weather wasn't super cooperative, was our basement stairs. You get to our (unfinished basement) right behind this area in our entryway. The stairs going up and going down essentially wrap around each other if that makes sense.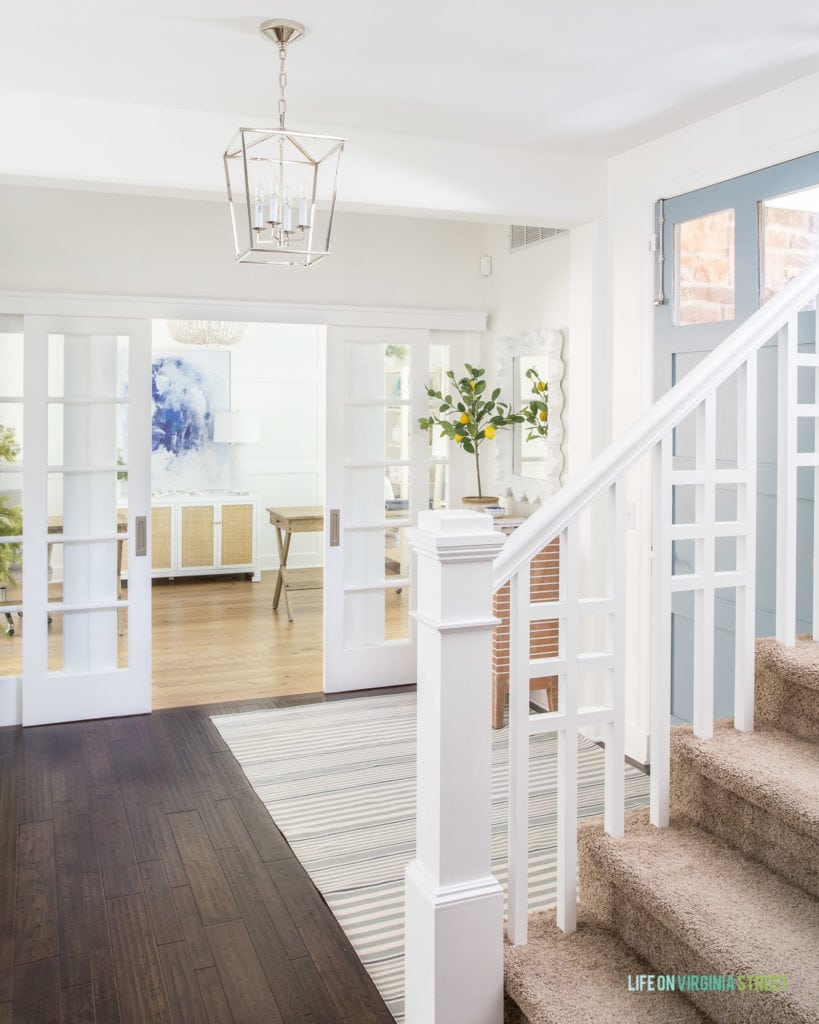 ENTRYWAY SOURCES: Striped Rug | Lantern Pendant Chandelier | Striped Wood Cabinet | Mirror | Faux Lemon Tree | Door Color: Benjamin Moore Water's Edge
HOME OFFICE SOURCES:  Cane Cabinet | Wood Desks | Linen Chairs | White Wood Bead Chandelier | Faux Fern Pots | Abstract Art | Marble Chain | White Bamboo Lamp – HomeGoods (old)
This project comes as one of the joys of being a pet owner. One of our cats (who shall remain nameless) has used this spot as a litter box on occasion over the years. You can really only clean the carpet so many times before it needs to go. Unfortunately, in areas, it had soaked into the stair treads. It's disgusting and embarrassing but also real-life. Kurtis had already tackled this project a year or so ago on the lower half of the basement stairs (the biggest problem area) but wanted to tackle the upper half, as well. Thankfully that area hasn't had any issues since now that the carpet is gone. So, Kurtis replaced all the stair treads in this area. It's not a fun project (or one I can help with much) but we're both so glad it's done.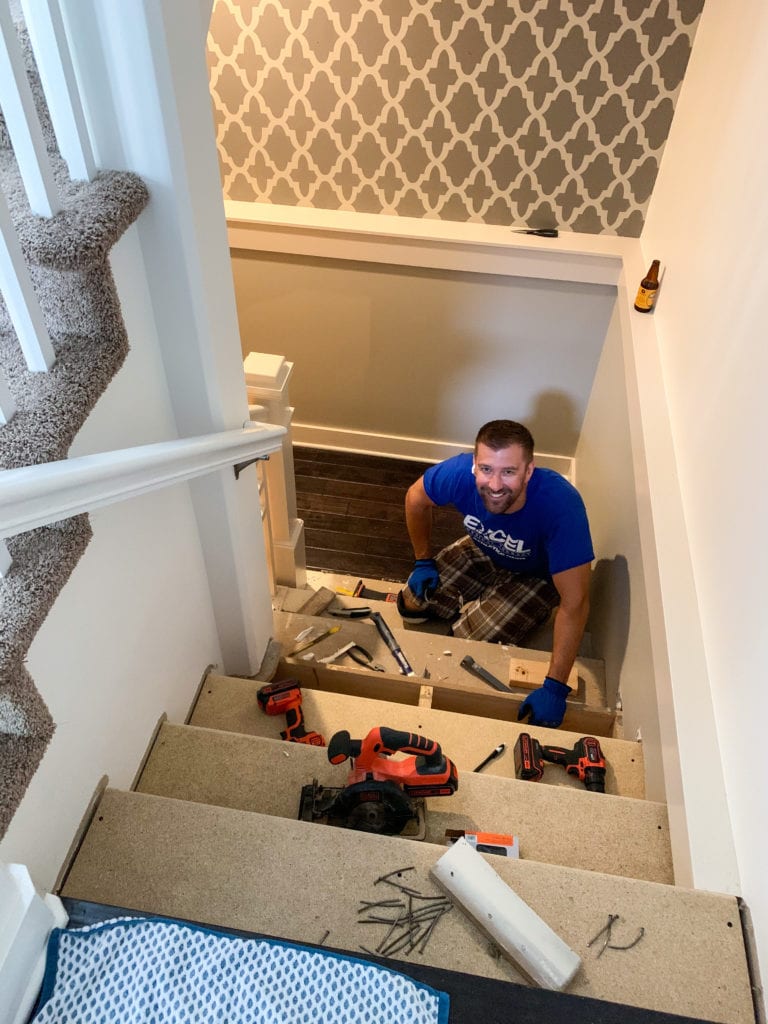 Is anyone else besides me shocked I still haven't painted over that stenciled wall? I loved it for a year or two after I first painted it and now it drives me crazy. And although I walk up and down these stairs on average of three times a day (to feed the cats) it just hasn't been a priority to update. Now that I need to figure out a stair solution (and trim to hide some of the gaps), I'm thinking I'll get this all painted too. And if you have any ideas for stair treads (like a rubber backed runner, etc.) I'd love to hear them! I'm not entirely convinced the problem will resolve itself simply by replacing the treads, so I'd like an affordable waterproof solution if possible! We don't think it's worth getting carpet at this time until we see how it goes.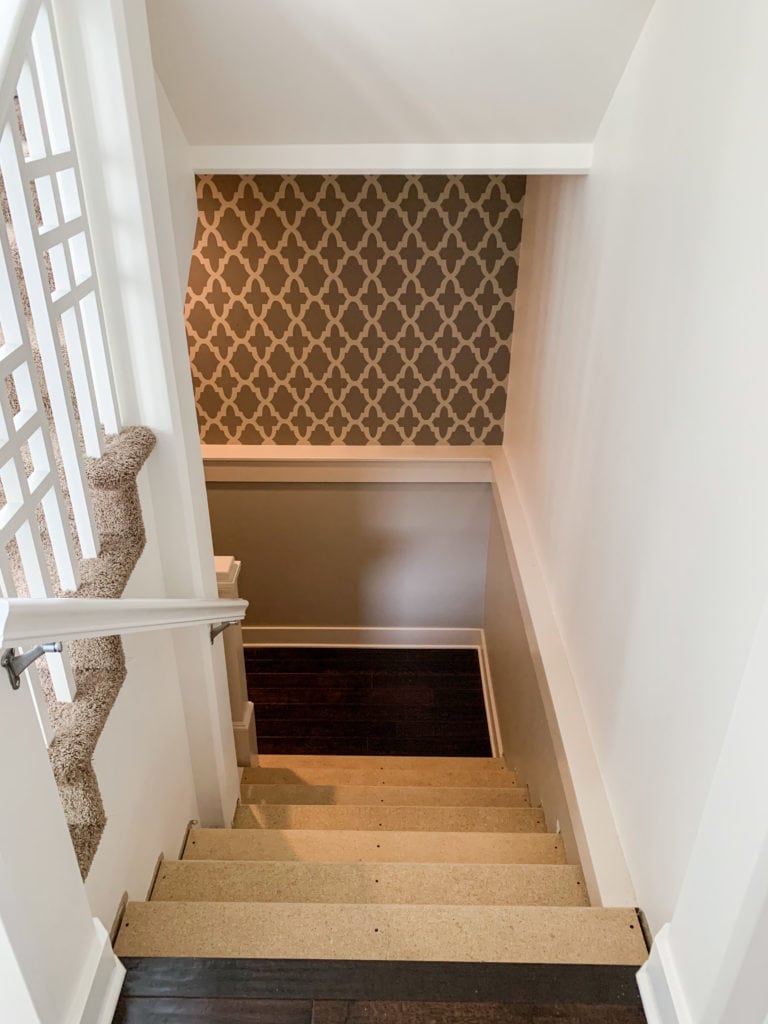 Top Sellers Of The Week
Following are the top sellers of the week across all of my channels. Links to each item are below the graphic.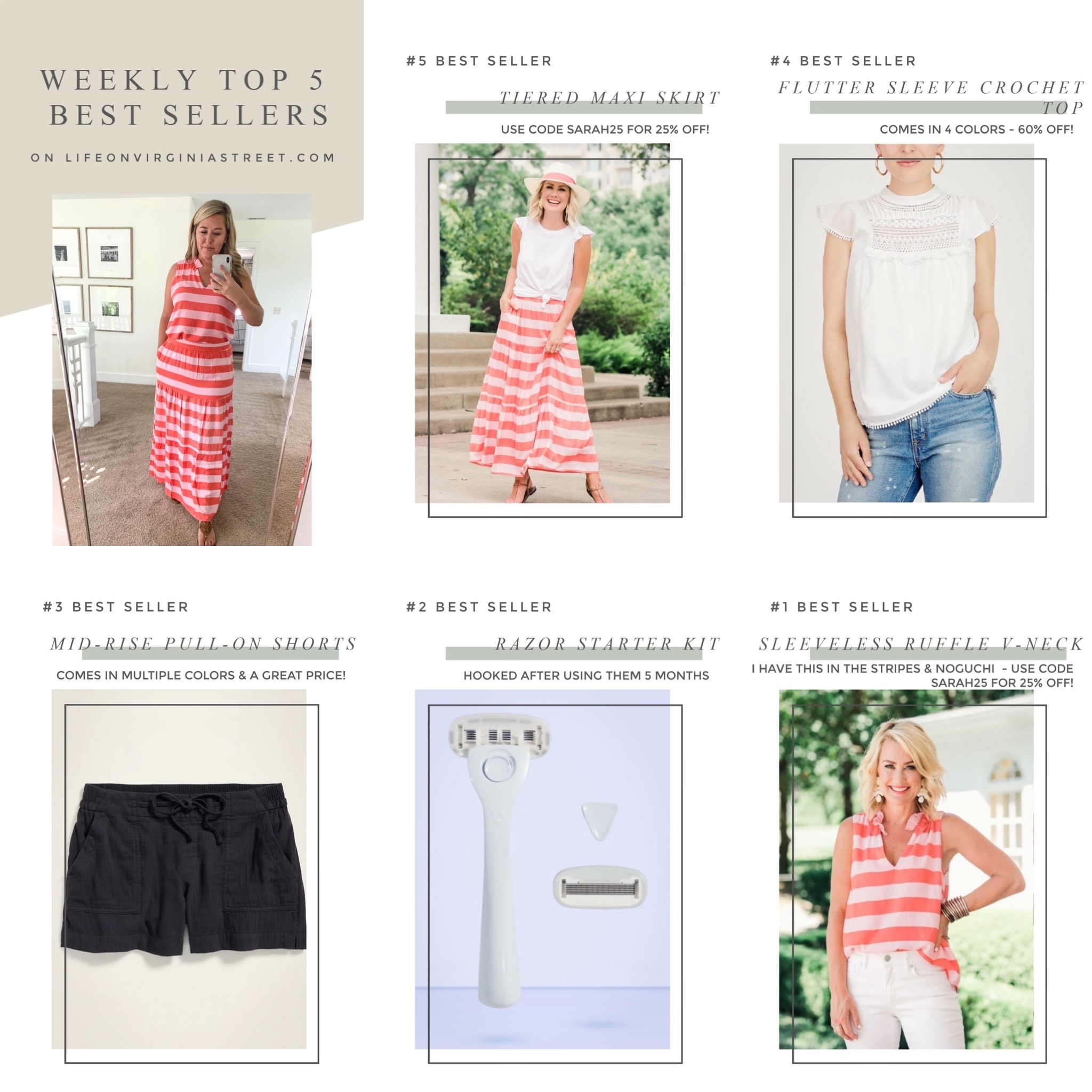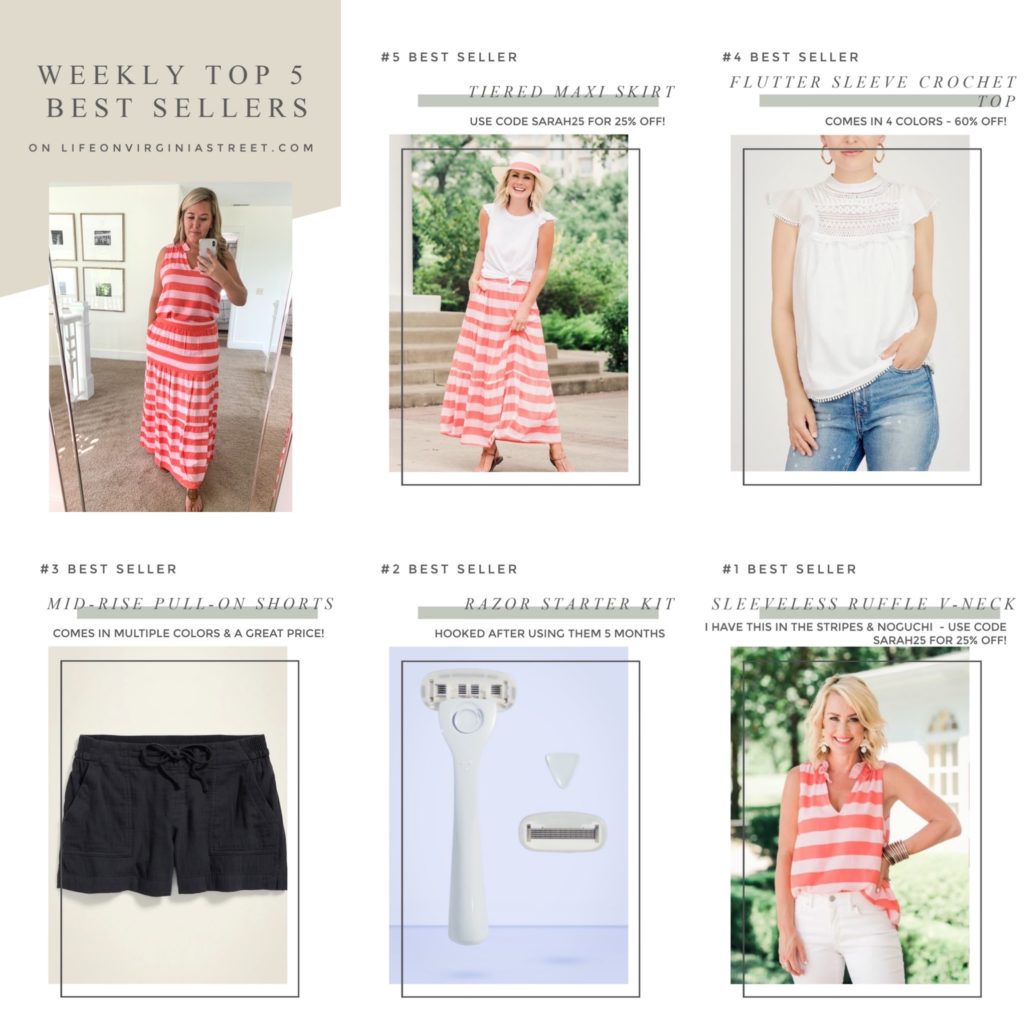 BEST SELLERS (each number is clickable): #5 | #4 | #3 | #2 | #1
Here you can see me wearing #1 and #5 together as a set so it looks like a maxi dress! Code SARAH25 will still get you 25% off all of these items! I actually wore the top on it's own with jeans last week and it was so cute! I'm wearing a large in both pieces. They do run a bit big (but do a great job of covering my COVID pooch and extra weight I've gained these past few months). If you're between sizes, I'd order down (unless you're busty or you like a slightly looser fit – then regular size).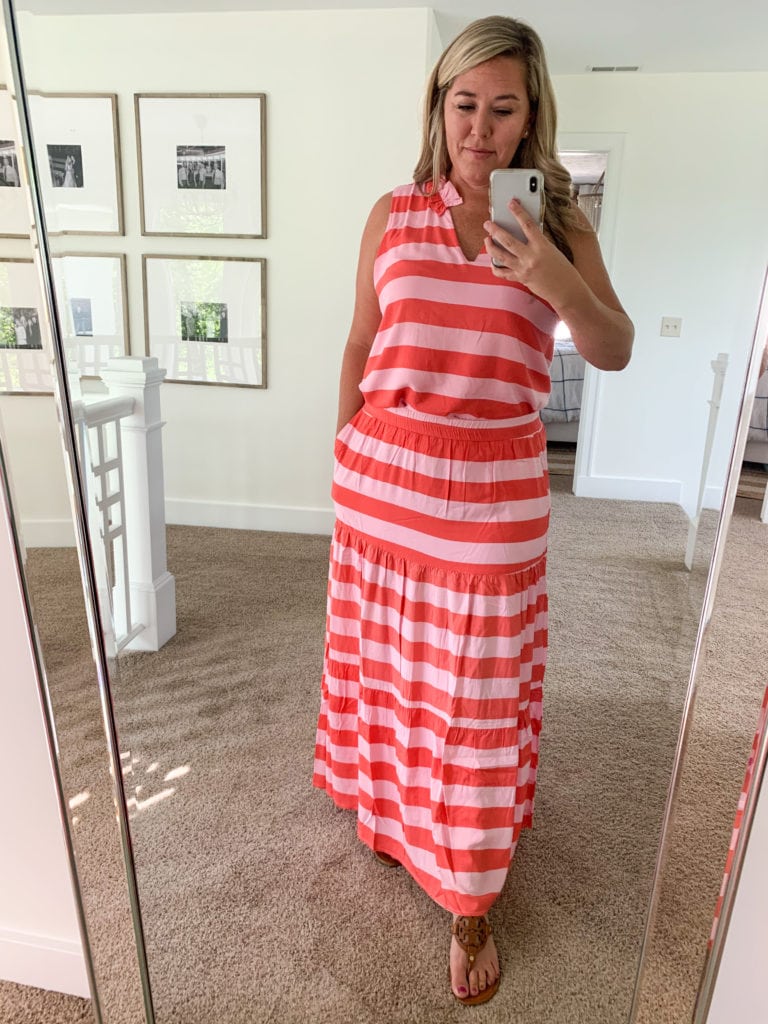 Here's the same top from #1 in the Noguchi print. I love it just as much! And although I have it tucked here, I love that it has a slightly longer, and flowy bottom. I'd say it hangs down three or so more inches than you see here. It's also lined and super soft!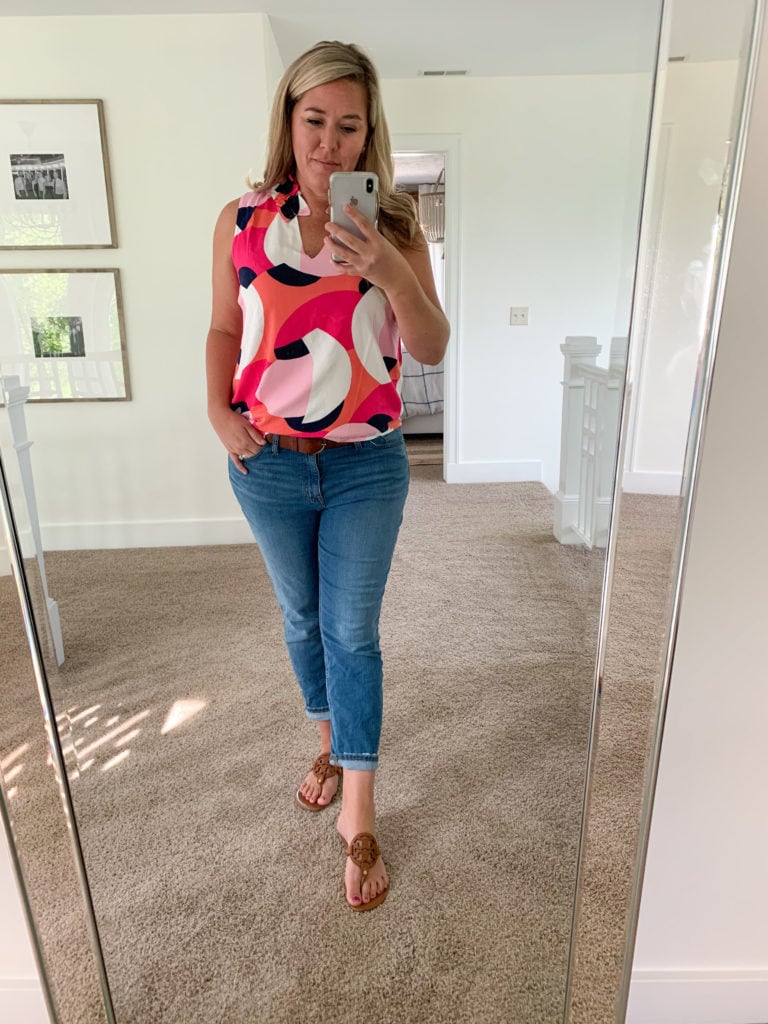 Around Town & For Fun
We actually only went in the courtyard once this week, but the cats are still enjoying every single minute of their time out there!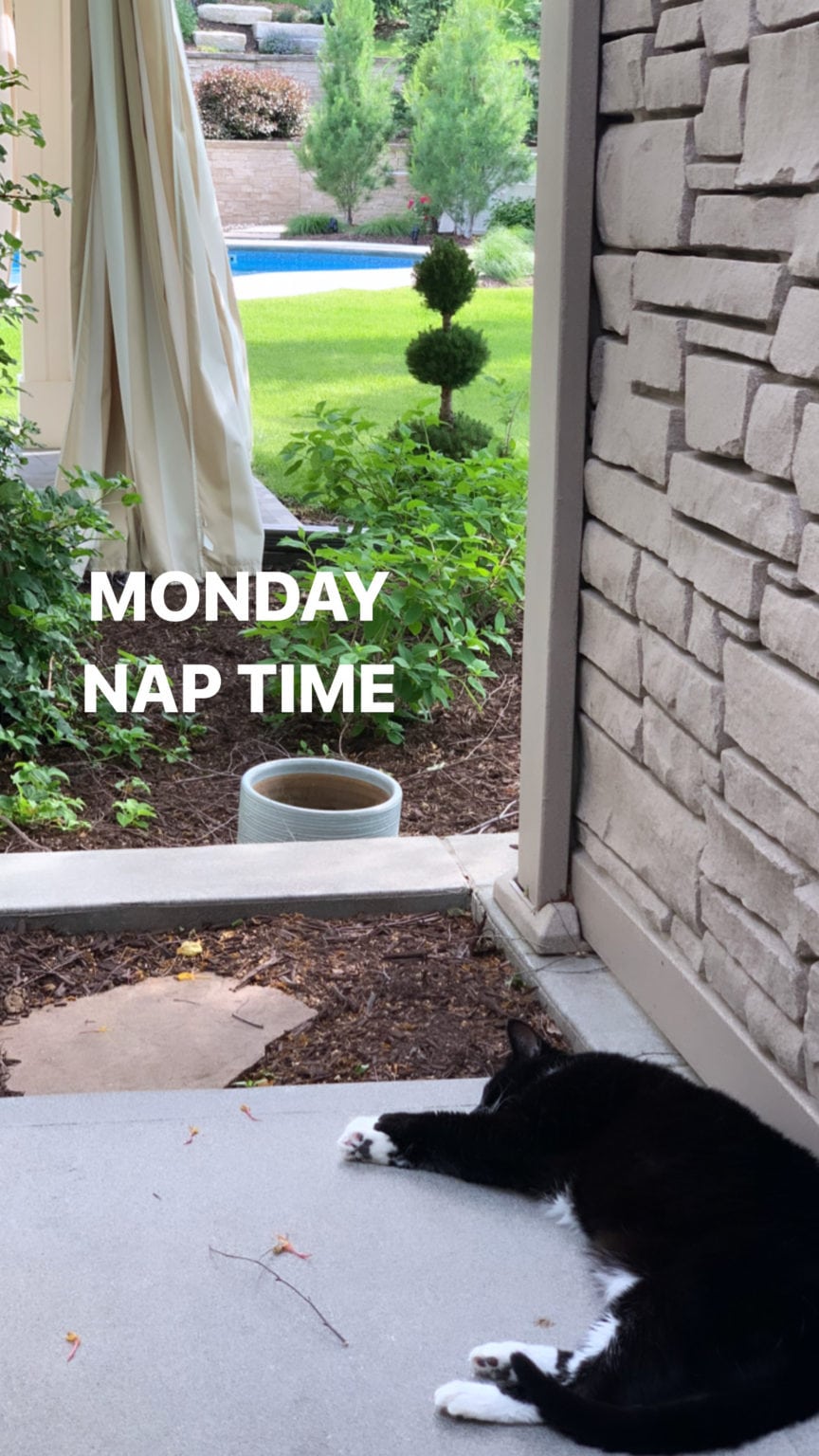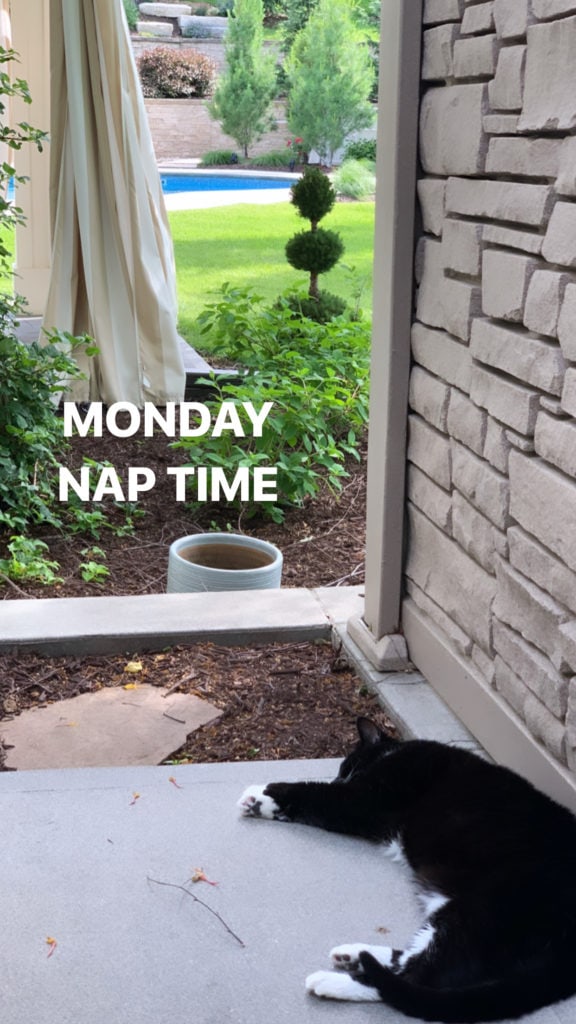 On Friday night we had our BFFs over for some pizza. We all laughed as the four of us spread out around the living room watching children's YouTube videos to keep Z entertained. Our lives have definitely changed over the years 😉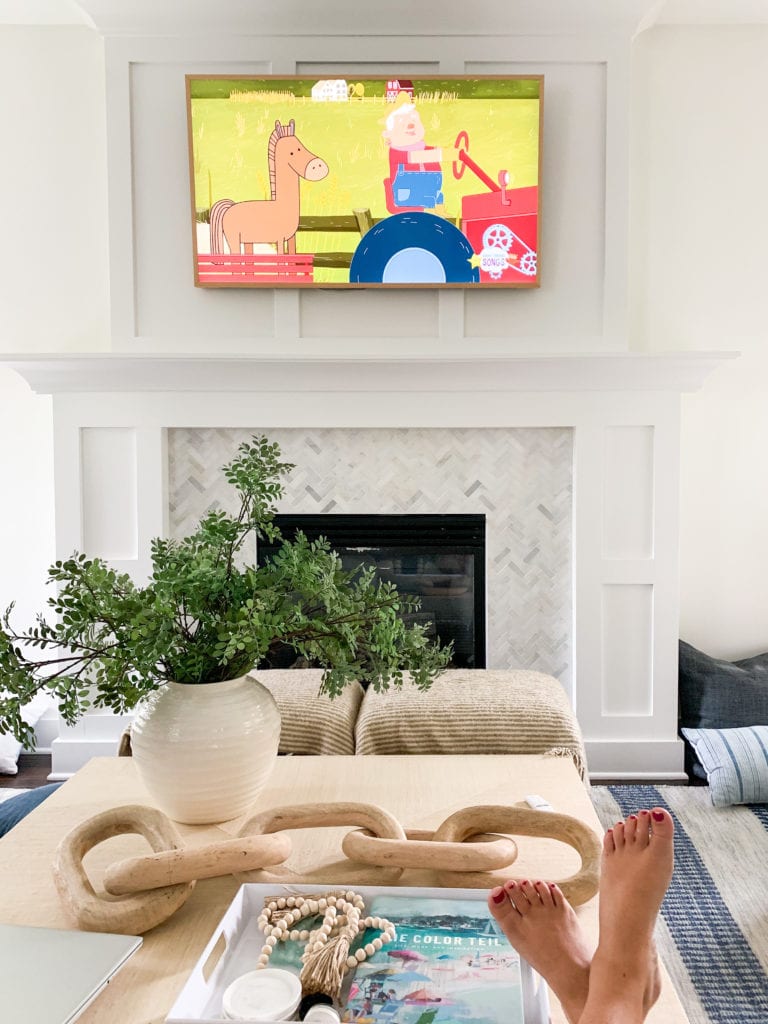 Thursday was jam-packed with meetings for me, both blog-related and for some other projects we have going that aren't blog-related. But, after our last meeting ran a bit late, we decide to head to our favorite local restaurant (Lazlo's) that had opened earlier in the week. They've been doing delivery and take-out for the past few months but had finally opened their dining room. We still felt really weird about eating out, but we also really wanted to support them! We usually eat in the bar area, and they only had two booths open and had cleared out all the bar chairs and left only two of the tables. It felt so weird but it was also great to see some of our favorites that work there (even if only from the eyes up)!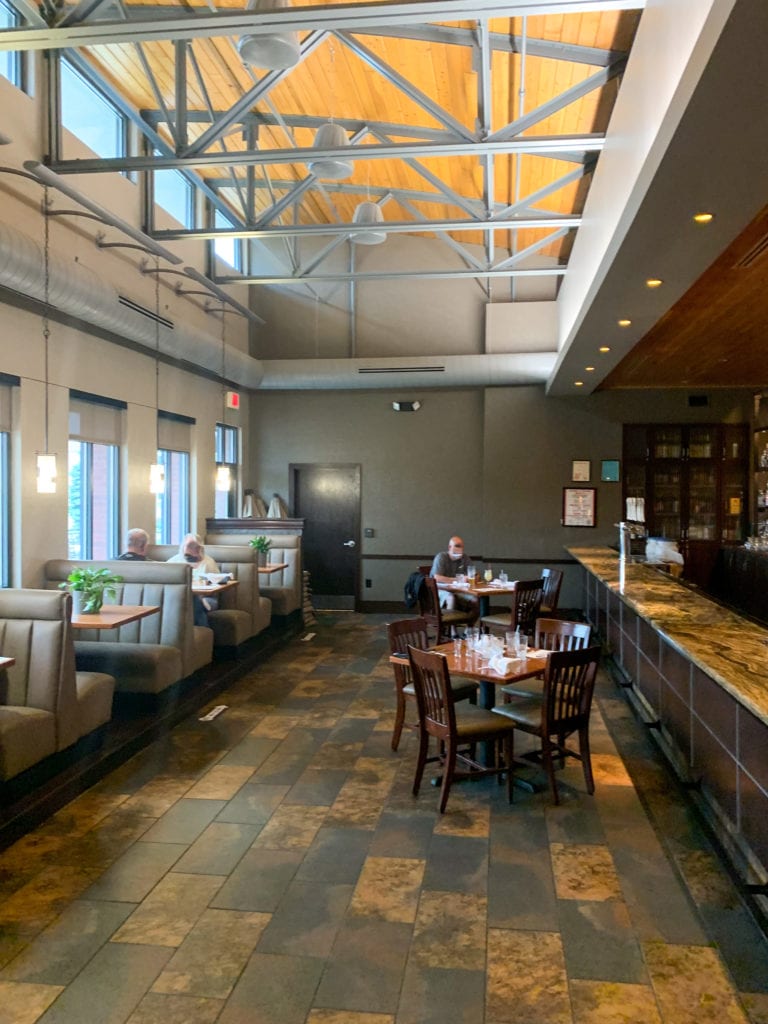 Sunday while Kurtis was working on the stair treads, I grilled some brats. The cats always love when they can get out back for a few minutes. It usually doesn't last long because all they want to do is eat grass, but they were behaving surprisingly well yesterday! You'll also see Z's stick pile she collected from our yard earlier in the week. It's one of her favorite jobs 😉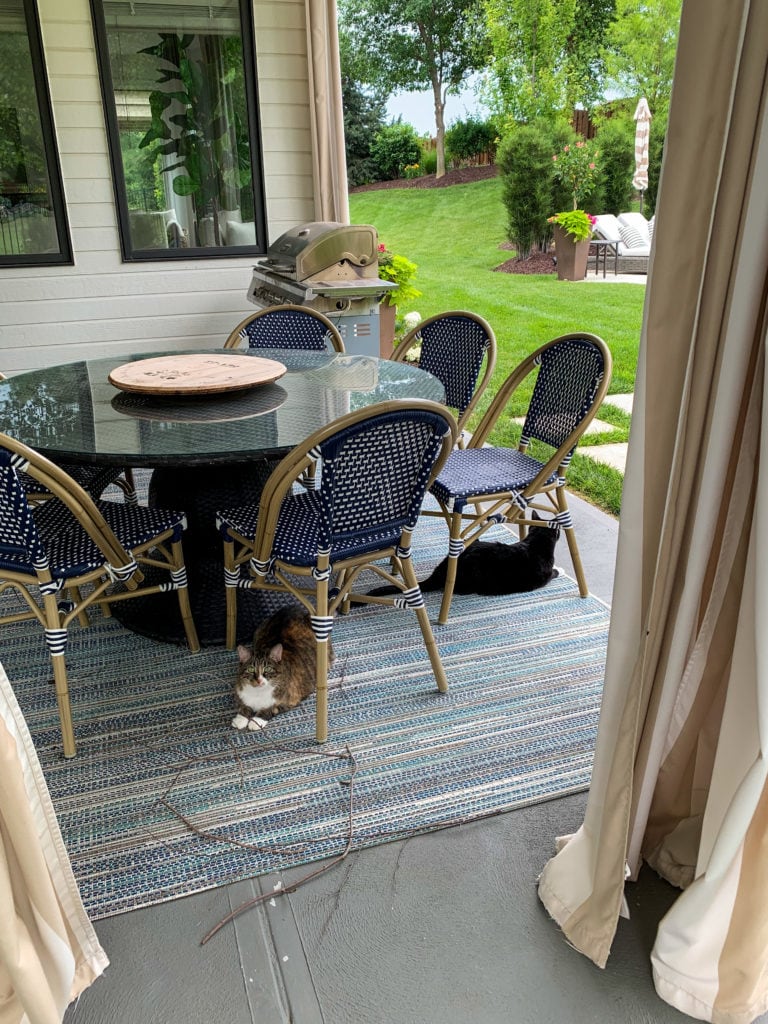 PATIO SOURCES: Outdoor Rug | Similar Dining Chairs (also here) | Dining Table | Striped Outdoor Curtains | Planter (in the distance)
Henley is still working on her bravery outside. She's getting there!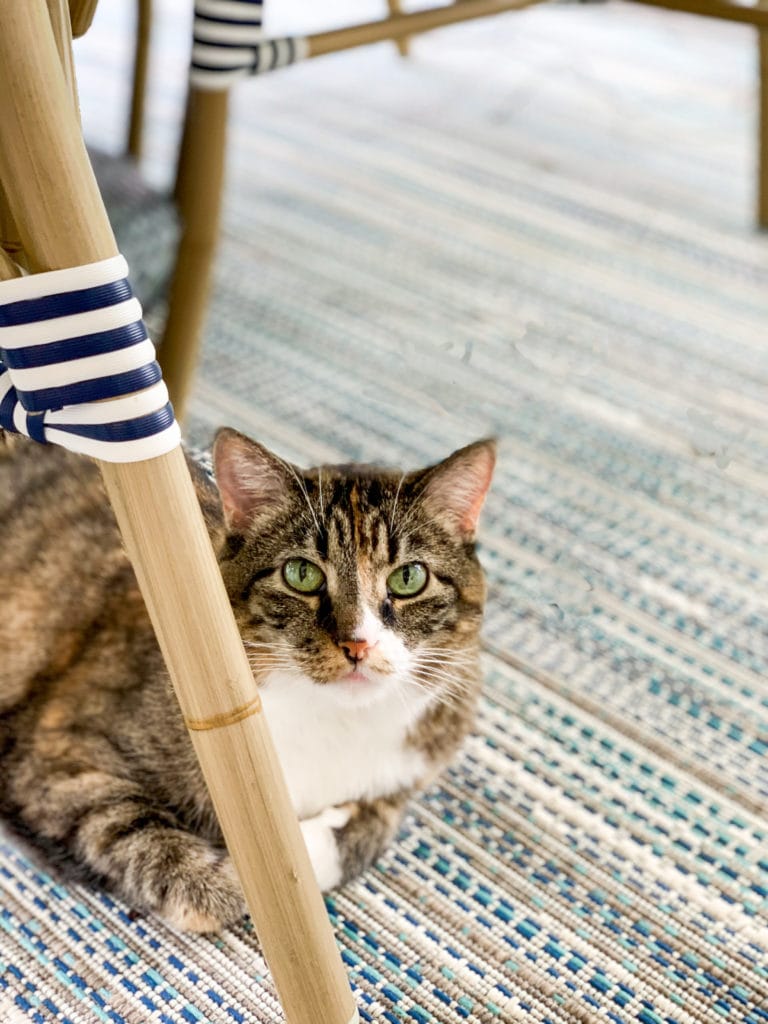 I hope all the dads in your lives had a great weekend! Enjoy your week, friends!
Recent Buys & Sales
Following are some sales that have carried over from the weekend, as well a a few new additions. You can see some of my top picks here.
If you would like to follow along on more of my home decor, DIY, lifestyle, travel and other posts, I'd love to have you follow me on any of the following:
Pinterest | Instagram | Facebook | Twitter
disclosure: some affiliate links used