I just love Sherwin Williams Sea Salt paint in the master bedroom, it gives a lovely serene calm to the room!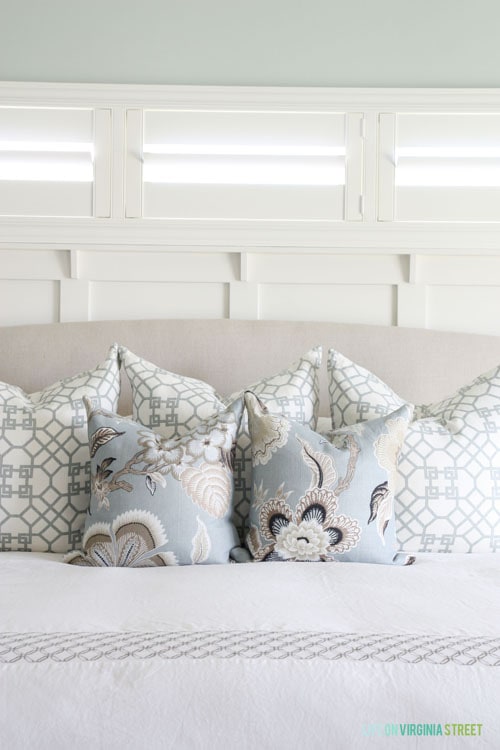 It's an exciting day around here! Today I'm revealing our master bedroom painted in beautiful Sherwin Williams Sea Salt!
This may go down in history as one of my most productive weekends ever. If you follow me on Instagram you probably couldn't keep up with all things I was doing. Even I couldn't focus! Although I finished the Sea Salt paint, it is very apparent I still have to paint the trim, doors and ceiling. A helpful tip with the pretty Sea Salt color is that if you don't have bright white trim, almond toned trims really makes the wall color look much brighter/baby blue that it is. To be more happy with the color, you'll likely want to also paint your trim, or perhaps look for a color that works better with your existing trim.
The Sea Salt Color
The first picture below is the most accurate of the wall color – and that's because I painted the board and batten white (Behr Swiss Coffee). It makes the Sea Salt color look much more true and a good grayish blue paint color. However, in areas where our trim is still almond-toned, it makes the paint look like a pretty bright baby blue in certain lights!
Here are some sneak peaks of how the Sea Salt walls look currently. I'm also sharing all sources for the room at the end of the post. For details on the pillows I made check out this post.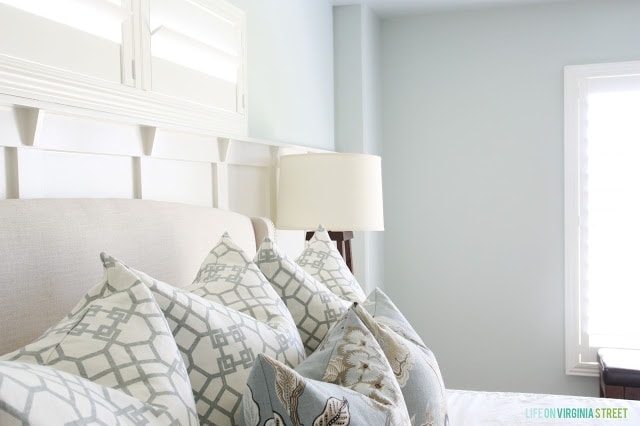 Helpful tip: if you're trying to avoid the over-saturation of blue like I have in some areas, try ordering at a lower saturation point. For example, you can ask the Sherwin Williams paint counter to only mix the paint at 75% saturation (or any percentage you wish). This will help reduce some of the blue and green tones that can come out strongly in certain lighting situations. I've seen examples of rooms at both 50% and 75% saturation levels and they both turned out gorgeous!
This photo exemplifies how difficult the paint color is to photograph and how the color can change in certain lights. It looks grayish on the wall around the dresser/mirror and yet seafoam green in the reflection – and I don't feel like either is an accurate representation. Crazy!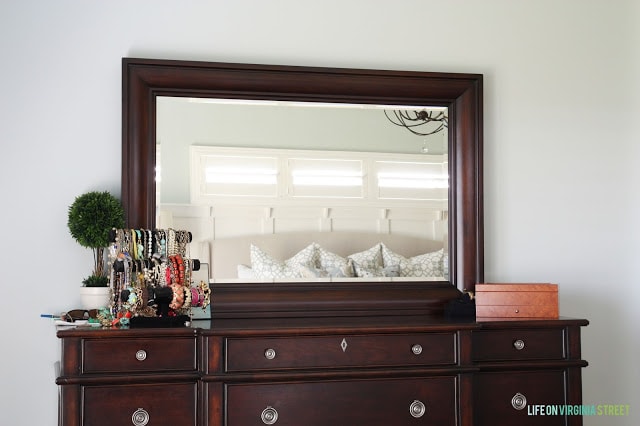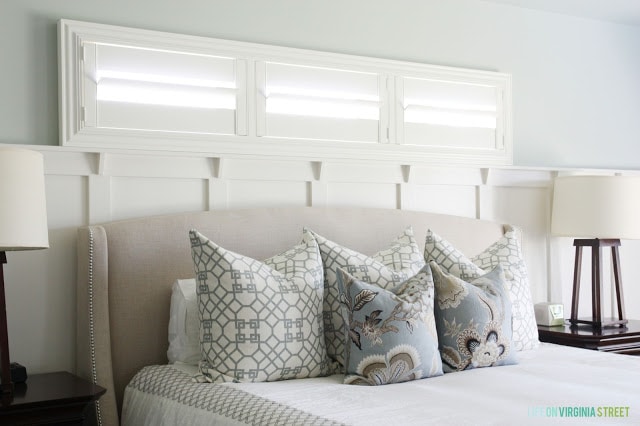 Next up, in addition to painting the doors/trim/ceiling, I decided to sew the curtain panels with the fabric I selected. I'm sharing a sneak peek below with just the uncut fabric in the fabric the Euro shams are in (Windsor Smith Pelagos in Mist). I'm so glad to have one less flesh-colored room, and I'm glad I made the choice to go lighter than the Atmospheric that I originally started with!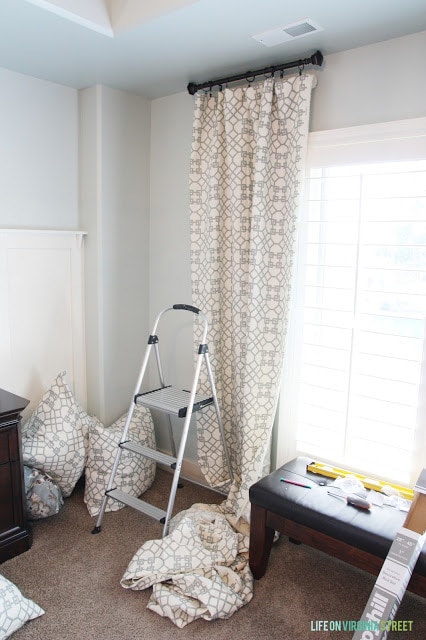 Lots to do but here is the progress so far – a little before and after for you!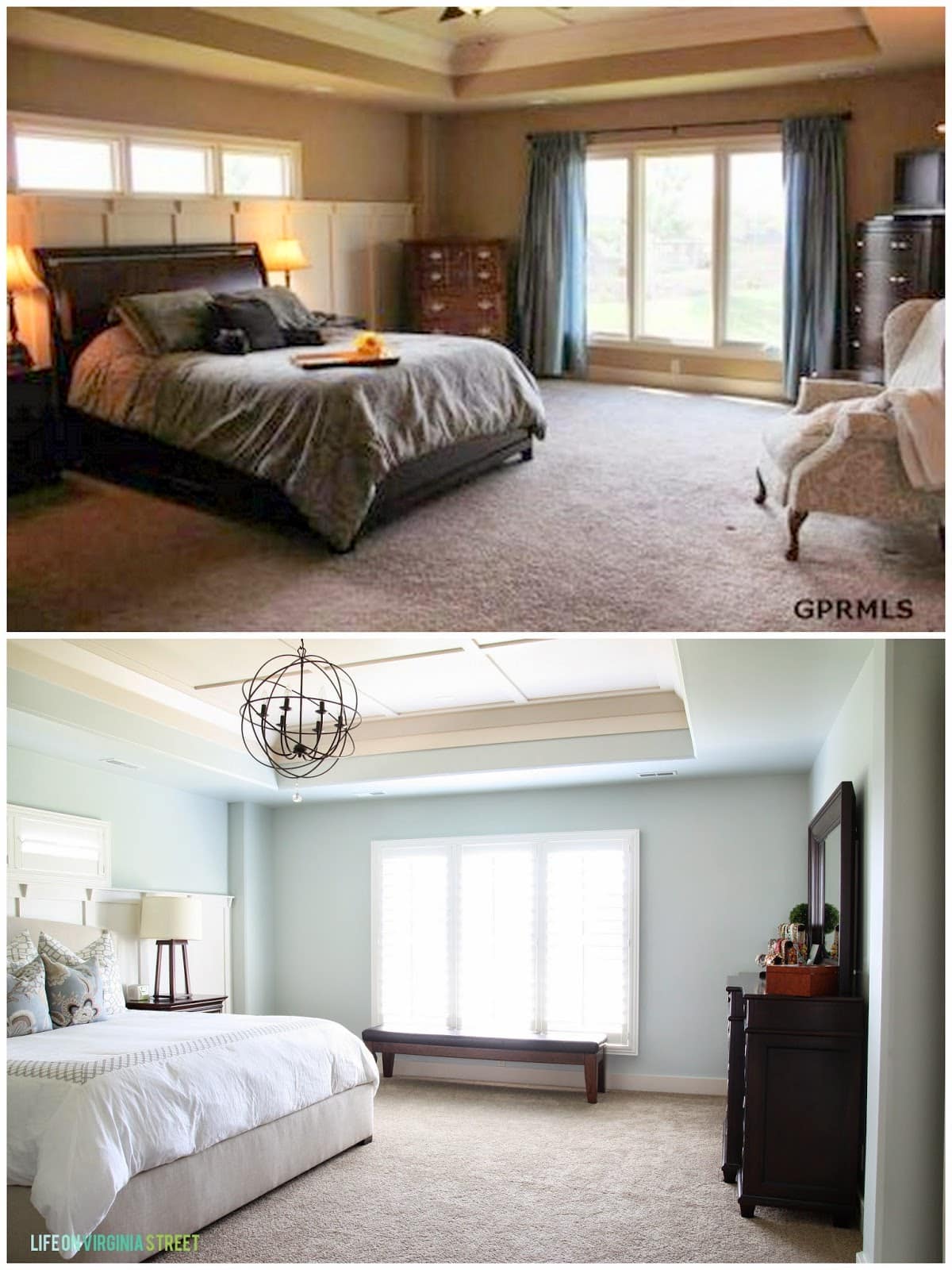 This post contains affiliate links for your shopping convenience. Click here to read my full disclosure policy.


Wall Color: Sherwin Williams Sea Salt
Trim Color (fresh paint): Behr Swiss Coffee
Bench, dresser and nightstands: Nebraska Furniture Mart
If you would like to follow along on more of my home decor, DIY, lifestyle, travel and other posts, I'd love to have you follow me on any of the following: