Today's post is pretty random with things I wanted to share that aren't necessarily related at all. So, rather than not sharing them at all I thought I'd throw them all into a post for you today! It includes some random re-stocks you may want to know about, some Christmas decor conversations, and some of the few sales that are worth mentioning this weekend!
This post contains affiliate links for your shopping convenience. Click here to read my full disclosure policy.
Re-Stocks
My chunky knit throw blanket that inspired all my fall decorating is finally back in stock and is 40% off! I wanted to share it today because I'm guessing it won't last until Monday!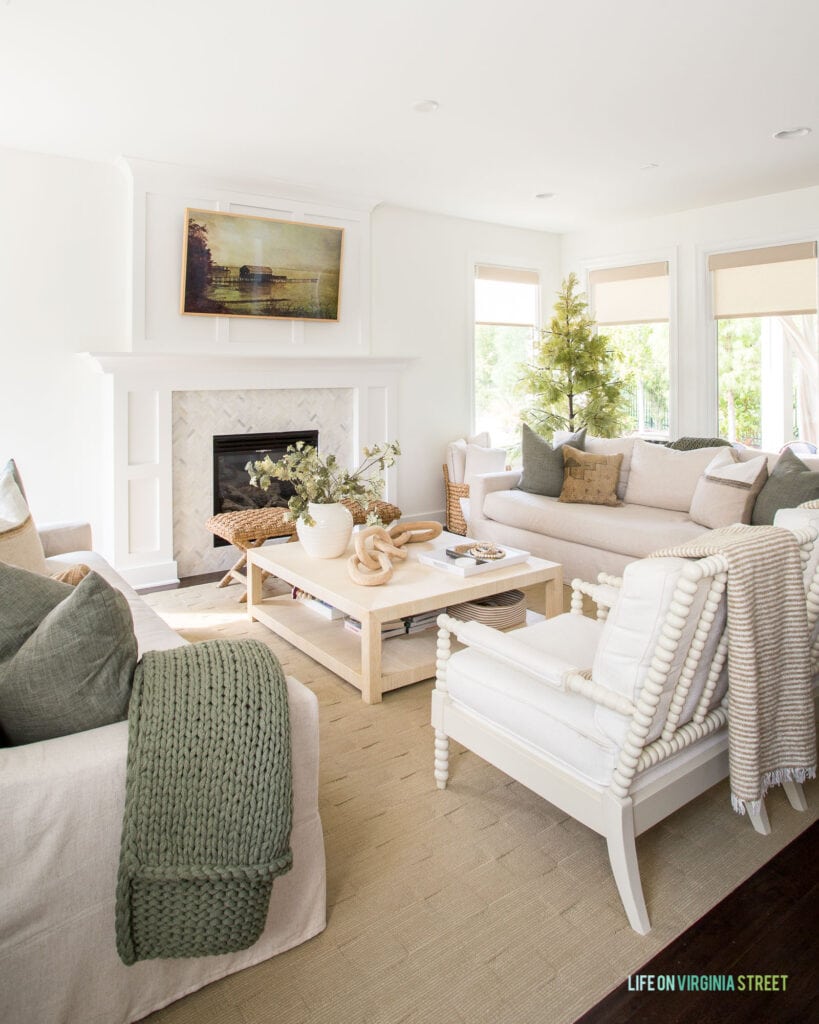 FALL LIVING ROOM SOURCES: Linen Sofa | Spindle Chair (similar here) | Raffia Coffee Table | Woven Stools | Frame TV | Chunky Knit Throw Blanket | Striped Throw Blankets | Sage Green Linen Pillows | Vintage Stripe Pillows | Vintage Rug Pillow Covers | Similar Wood Chain Decor | Wood Beads with Tassels | Woven Baskets | Similar Vase | Faux Oak Leaf Stems (old) – Pottery Barn | Cypress Tree (old) – from Amethyst Home
In yesterday's Home Decor Looks for Less post, that the gallery wall frames that are as close to PB's as I can find are back in stock. It looks like several of you ordered them, because shipping is now delayed on new orders. But, for the first time, they're letting you pre-order rather than just showing them as sold out! I thought I'd re-share this image for those of you that may have missed it in the past so you can see the comparison. The Amazon frames are on the floor on the bottom right. Next to them are the ones that are the older version from PB of the ones on the wall that we have in our living room. Both versions of my PB frames are "gray" which is more of a gray-washed warm wood. The new frames are the color "Brown". They look slightly yellow next to the others but on their own, it's much less noticeable. And although they look small below, they are actually 16″x20″ matted to 8″x10″. But that just gives you an idea of just how huge the PB ones are (about 2'x2′) and they span nearly 7′ of that wall. So, while I get asked all the time if I have a dupe for the PB ones, these are the largest I can find.  But again, look at the image above, and you can see they still look large when not next to the other ones! Be sure to check out my post on photo gallery walls for even more inspiration and additional frame options if you're looking to create your own!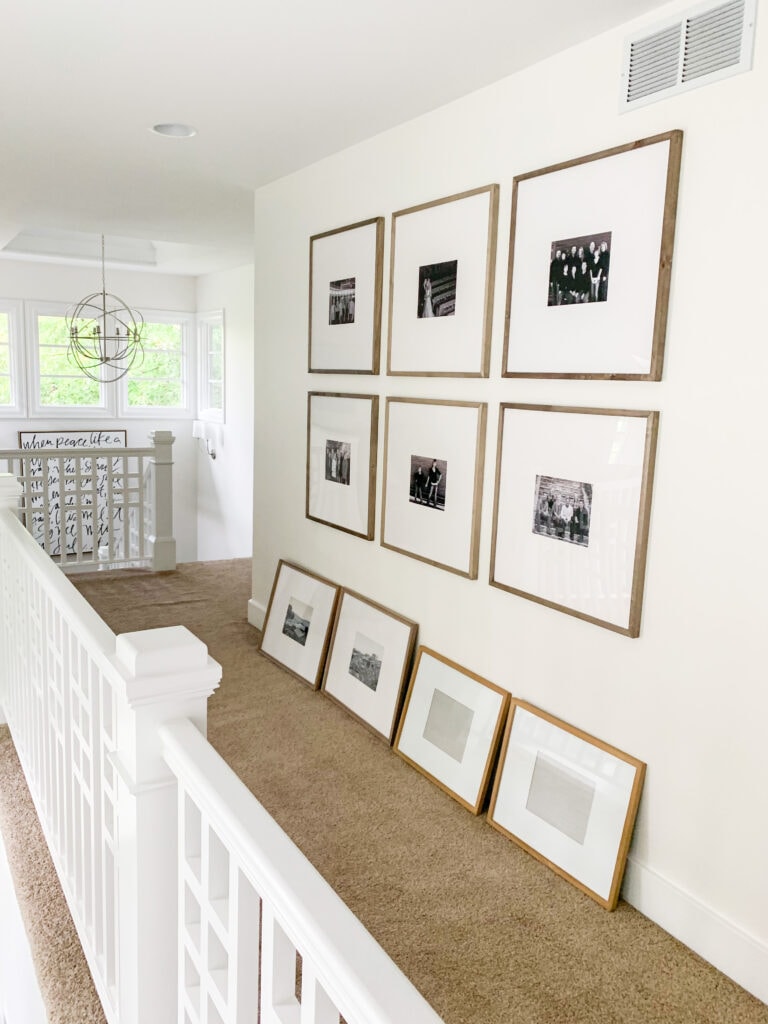 HALLWAY SOURCES: Similar Orb Chandelier | Wall Sconces | 'It Is Well' Canvas | Gallery Wall Frames on Wall | Gallery Wall Frames on Floor
I also mentioned in yesterday's Home Decor Looks for Less post that the white dipped version of my ladder sold out but there were still black and mint green available. Well – they've since re-stocked the white too! Plus it now also comes in this gray version or this all white version! They look so much like the S&L versions, and are perfect for storing extra blankets, towels, etc. Here is ours when it arrived (our door is 8′ tall for scale). I currently have it in our den but I haven't photographed it there yet!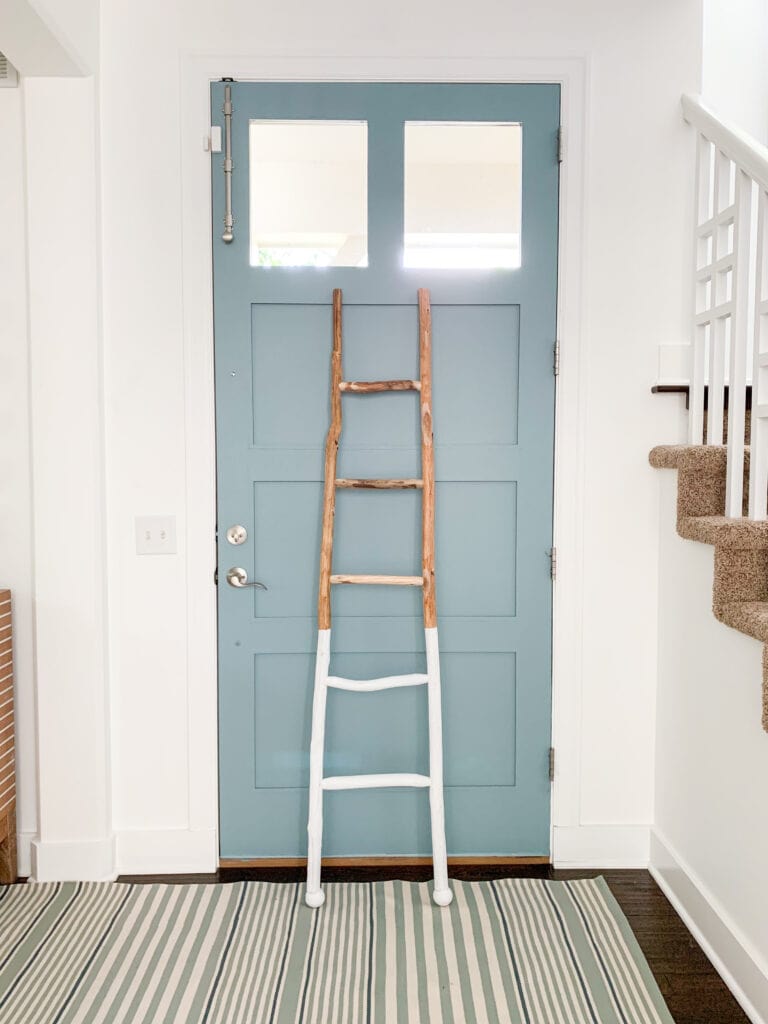 In additional random news, I wanted to let you know I'm sharing additional content over in the LikeToKnowIt app. Sometimes I share there before I can get a blog post together, so it's a great place to look for additional inspiration! My username is lifeonvirginiastreet if you don't already follow me. And if you don't want to get another app, no worries! I also share the same content here on my site!
Christmas Decor & Miscellaneous
I started working on my Christmas design boards yesterday – so crazy! Kurtis actually asked me when I was going to put up our mantle garland and twinkle lights. I think now that we're basically going to be inside for the next few months, he's ready to move right into the holidays. I'm here for it! I tend to rotate color schemes over the years, and I think this year I might be going back to adding in some red and lots of plaid!
All three of our Christmas trees are miraculously in stock right now! That basically never happens! I've already had messages about two of ours over the last two weeks or so asking for more info, so I know many of you are already in a holiday mindset too! I thought I'd show the difference in all three to make it easier.
First is the natural faux Christmas tree I bought last year (also available here). I loved it so much I picked up a second one! You can see how it looks "naked" in this post.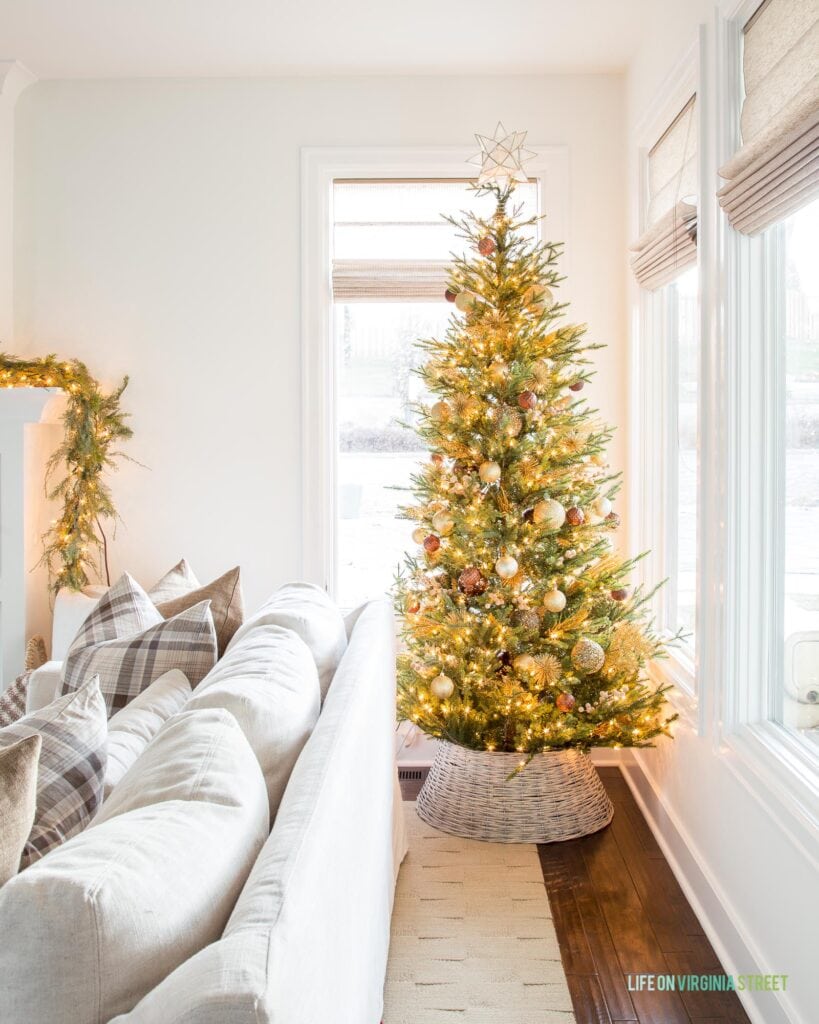 CHRISTMAS LIVING ROOM SOURCES: Linen Sofas | Linen Pillow | Plaid Pillows | Velvet Pillows | Plaid Throw Blanket | Natural Christmas Tree | Moravian Star Tree Topper | Similar Christmas Tree Collar
I've had this 7.5′ flocked tree since 2017 and it's still going strong! It's by far my messiest tree, but once it's set up, it couldn't be more beautiful!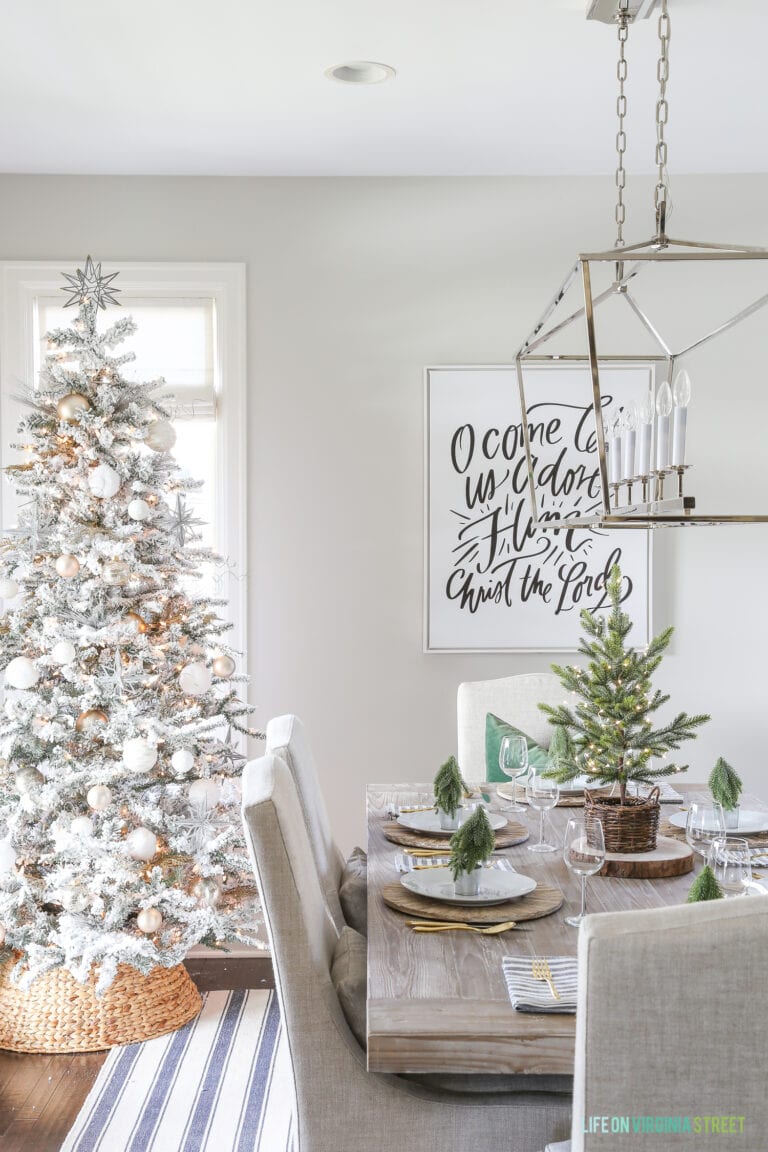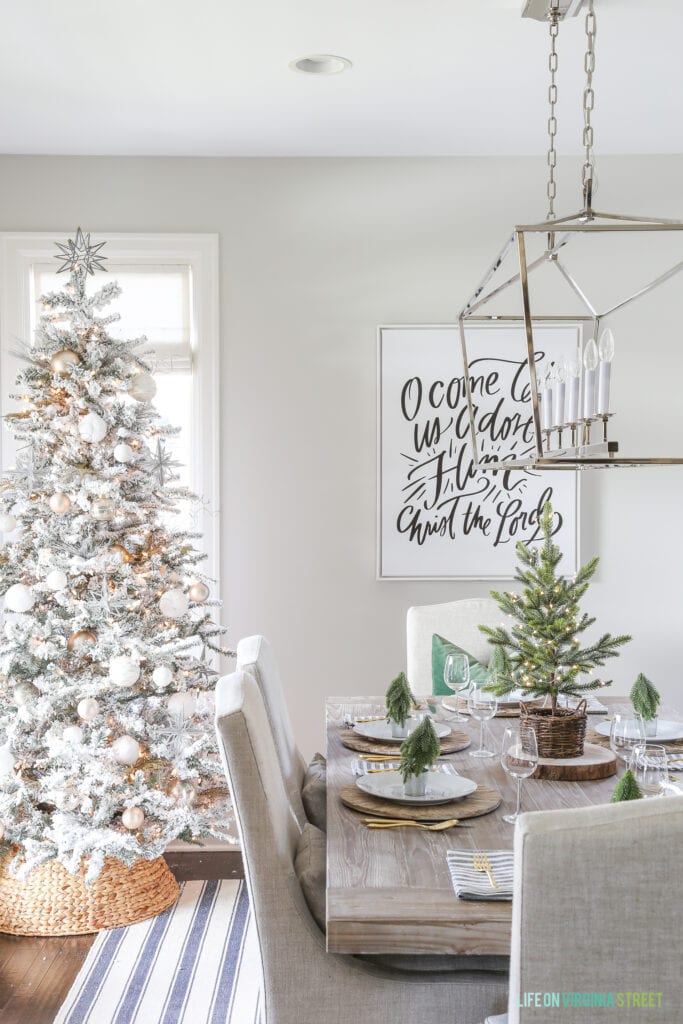 CHRISTMAS DINING ROOM SOURCES: Flocked Christmas Tree | Similar Seagrass Woven Christmas Tree Collar | Canvas Art | Chandelier (look for less here) | Dining Table | Dining Chairs | Similar Wood Chargers | Similar Potted Mini Christmas Tree | Striped Rug | Velvet Pillow Cover
I've had this 9′ flocked Christmas tree since 2018 and I love that it's a cleaner version of the one above. The flock isn't as heavy so it doesn't get nearly as messy, and some of the green shows through. We have a 9′ ceiling and still used this tree – I just bent the top down a little to accommodate a star!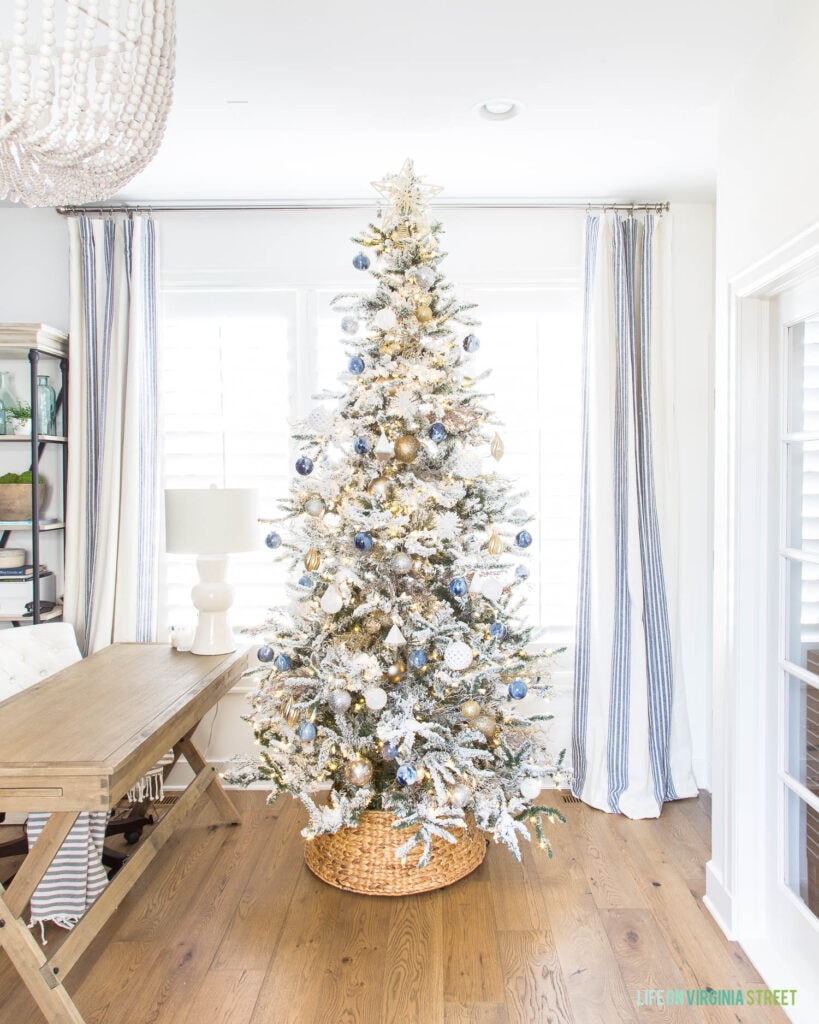 OFFICE CHRISTMAS TREE SOURCES: 9′ Flocked Christmas Tree | Similar Seagrass Woven Christmas Tree Collar | Wood Bead Chandelier | Wood Campaign Desk | Desk Chair | Bookcase | Similar Ceramic Lamp | Striped Drapes | DIY Marble Paint Ornaments
I created a new menu item on my blog page for "HOLIDAY". You can click that menu item to see all past Christmas and holiday blog posts, or you can hover (on desktop) and a bunch of sub-headings will drop down. Hopefully that will help make finding Christmas content easiest! Here are a few posts you may be interested in right now as we gear up for the holiday season.
Weekend Sales
Tthere aren't tons of weekend sales that are worth mentioning this week – likely due to Prime Day exahaustion 😉 However, there are a few worth noting!
ANTHROPOLOGIE is offering 25% off everything sitewide! This is a major sale for them. It's a great time to stock up on favorites like my favorite candle brand. I love the Spiced Cider scent during fall and the holidays! You can shop their site here.
J. CREW is offering up to 60% off coats, sweaters, and more! Plus get an extra 20% off your purchase with code WARMUP. This cute quilted barn jacket is included! You can shop their site here.
VICTORIA EMERSON is offering buy one, get one free sitewide! Such a great time to stock up on gifts and all my favorite bracelets (they also have darling Apple Watch bands). I'm sharing a few of the ones I own below. You can shop their site here.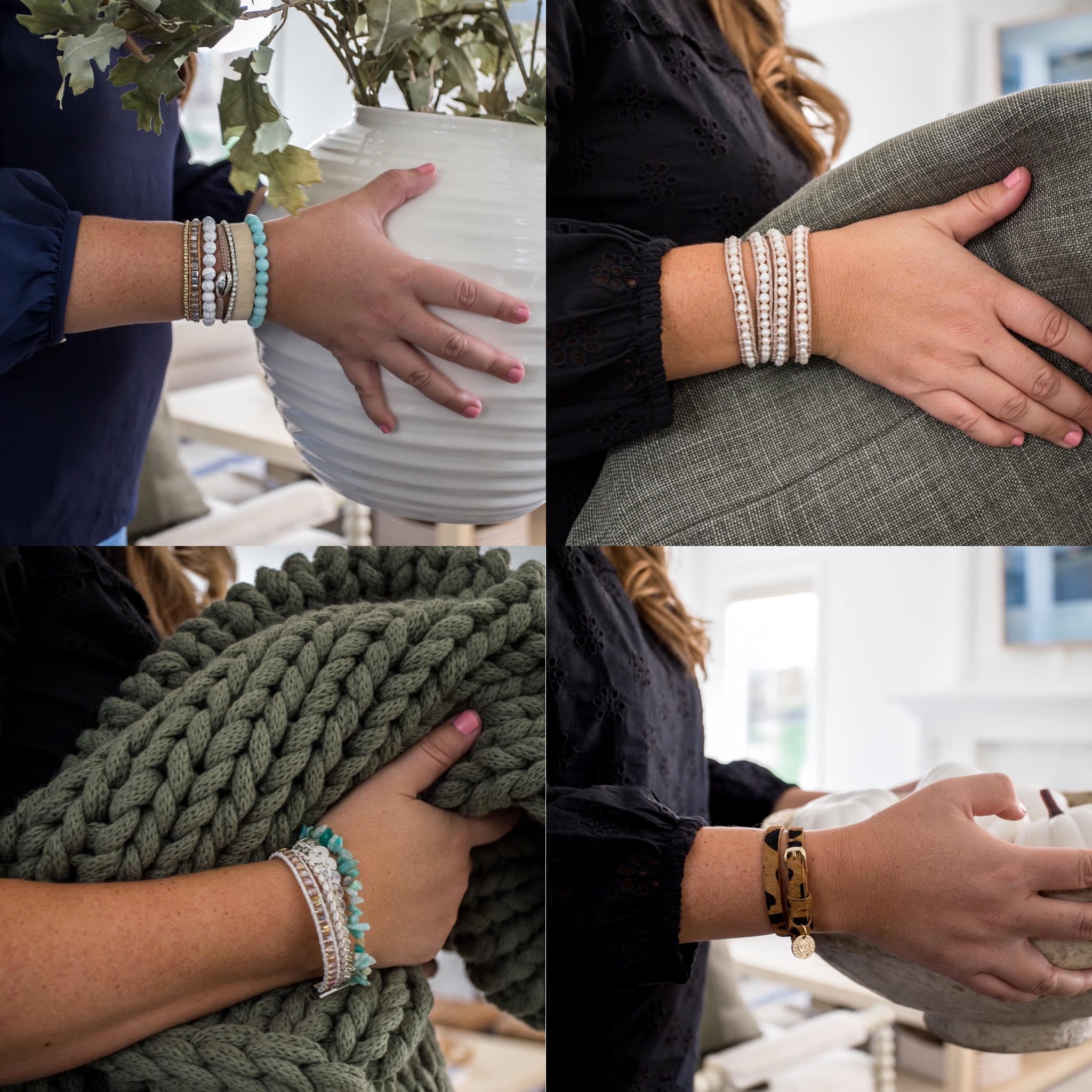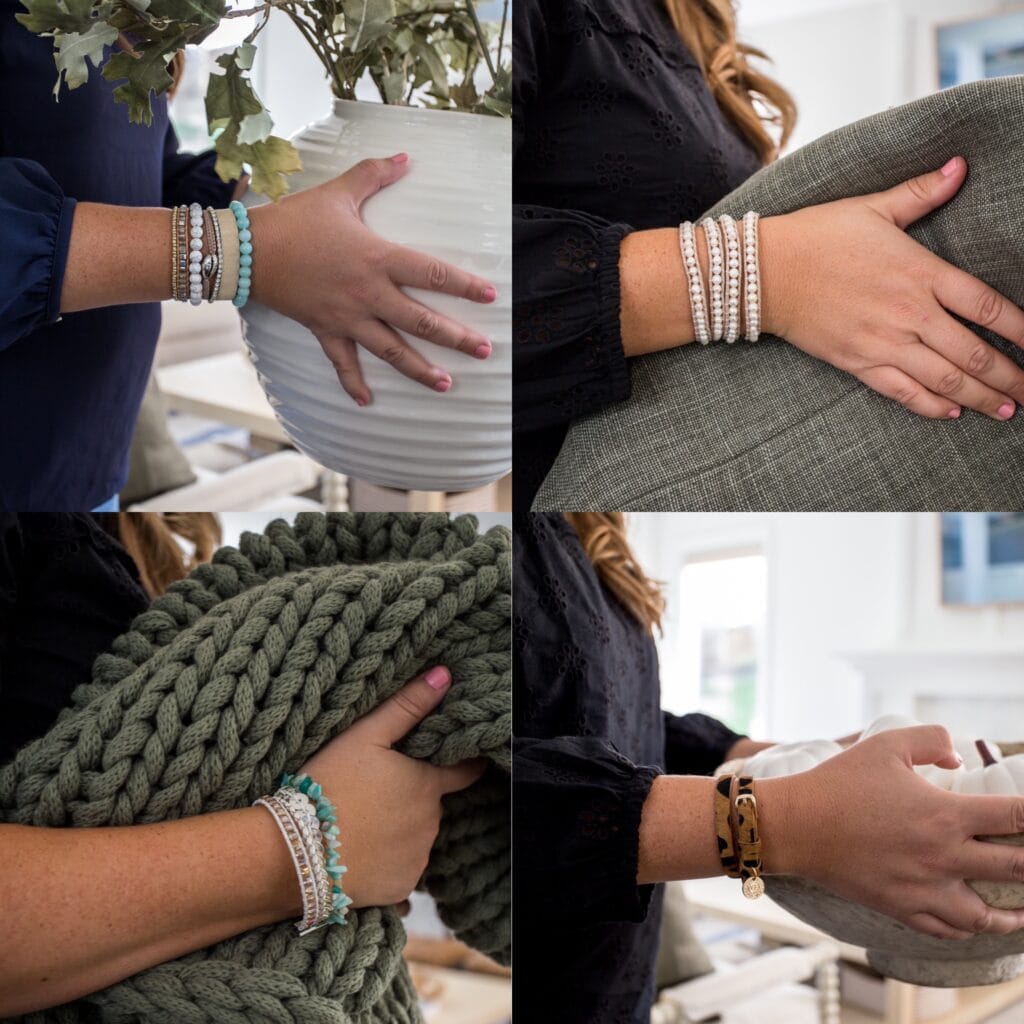 SOURCES: Bracelet 1 (magnetic closure) | Bracelet 2 (wrap & loop closure)| Bracelet 3 (clasp closure ) | Bracelet 4 (wrap & buckled closure) | Navy Blue Ruffleneck Crepe Top | Black Eyelet Top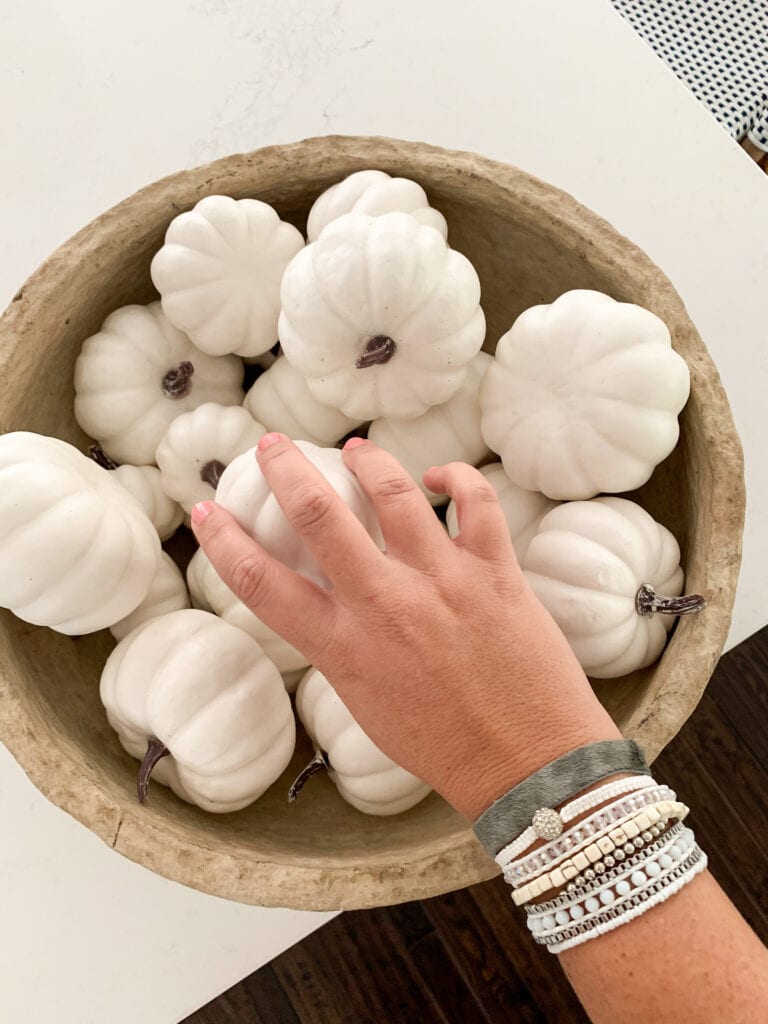 SOURCES: Bracelet | Paper Mache Bowl (also here) | Faux Pumpkins
Okay, enough randomness for one day! I hope you all have a great weekend!
If you would like to follow along on more of my home decor, DIY, lifestyle, travel and other posts, I'd love to have you follow me on any of the following:
Pinterest | Instagram | Facebook | Twitter 
disclosure: some affiliate links used