I hope you all had a great weekend! It's hard to believe it's August. I feel like I have so many summer things I still want to do, but am also somewhat looking forward to the new season ahead!
This post contains affiliate links for your shopping convenience. Click here to read my full disclosure policy.
Home Projects & Updates
I had a few questions last week about patio sources from my Favorite Summer Basics & Initial Nordstrom Anniversary Sale Picks post so I thought I'd share them all here. And for those that asked about the pool towel hooks, those were a HomeGoods find about five years ago. All other sources are linked below!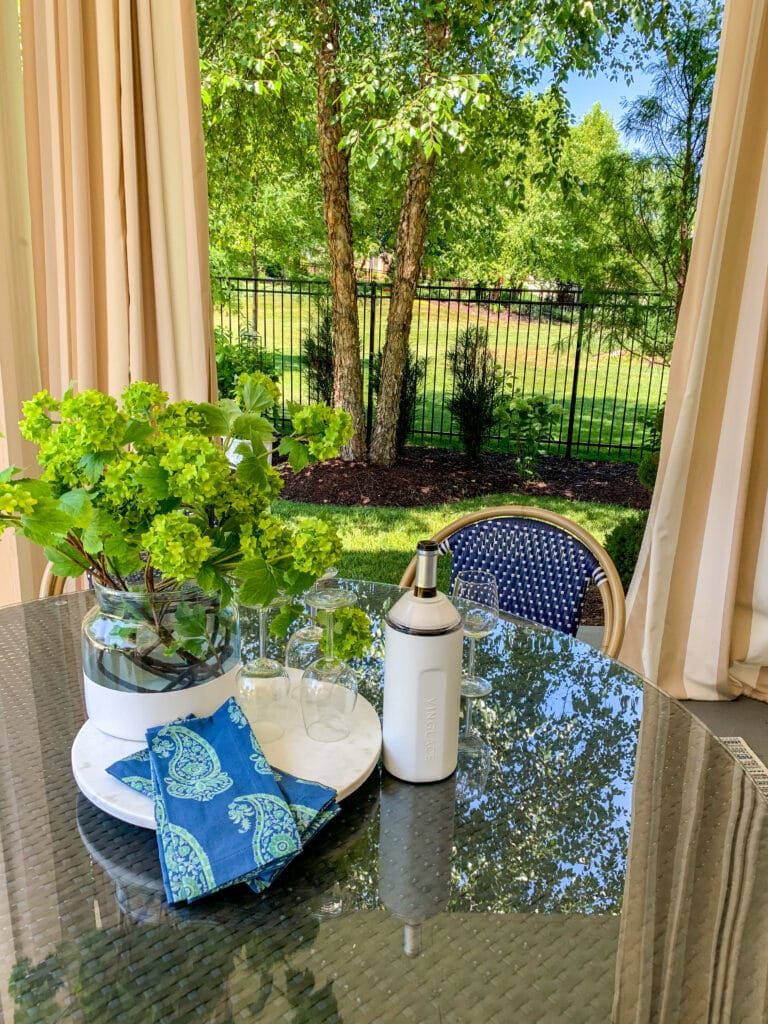 PATIO SOURCES: Round Patio Table | Similar Chairs | Striped Curtains | Vase | Faux Viburnum | Block Print Napkins | Marble & Acacia Lazy Susan | Vinglacé Wine Chiller | Outdoor Rug
After five years of wanting to complete this project, we finally did over the weekend! Ever since we got the pool, our bathtub area has been our swimsuit dry-out zone. It honestly always looked horrible and messy and they'd sit there all week (or for weeks on end) until I had enough to do a load of bathing suits in the laundry. We have this bare wall that you can't see from our bedroom and I decided it was the perfect time to get some hooks up. Especially since I randomly came across the hooks we bought about seven years ago for our towels on the other wall!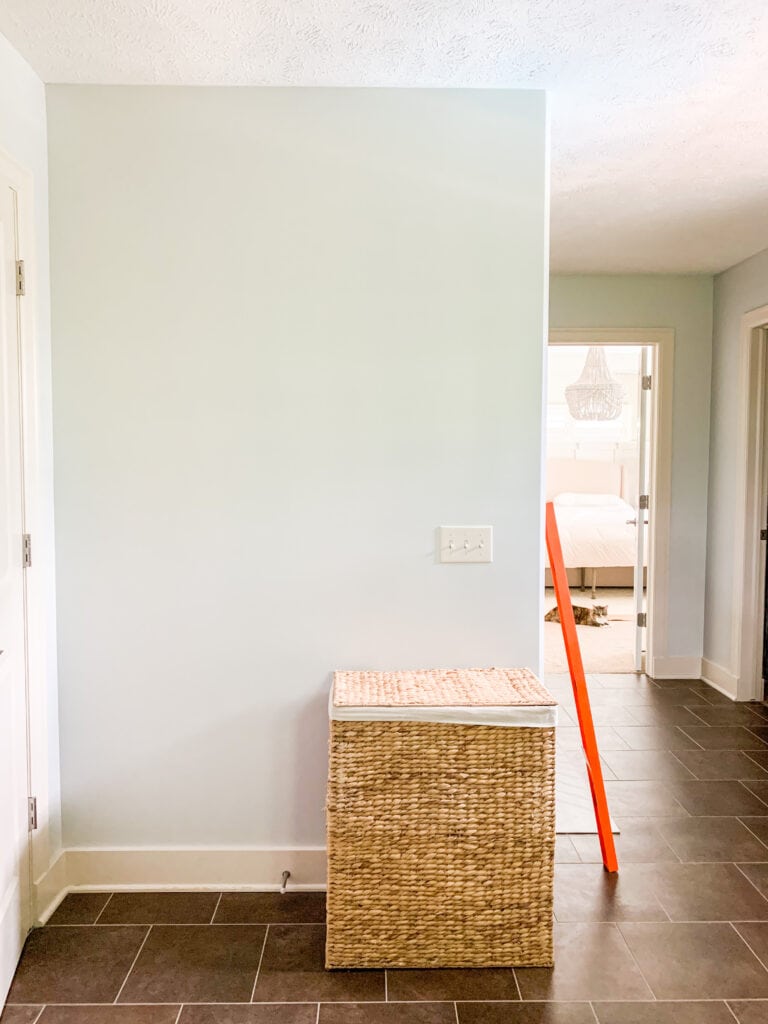 It honestly took less than 20 minutes and I'm now just kicking myself we waited so long. We don't ever plan to hang towels here since we have separate hooks for that. So we hung them on the two studs closer to the door so Kurtis' hamper could still fit under the light switches. So happy we finally knocked this one off the to-do list!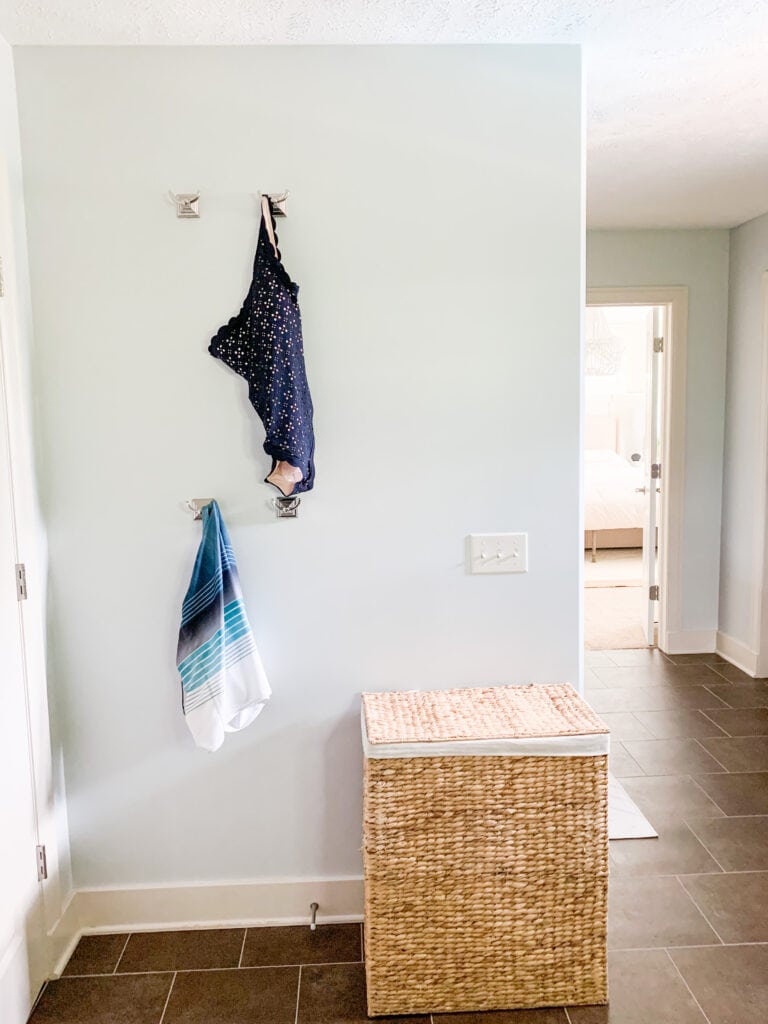 Kurtis told me last week I had a planter that was starting to look like a Disney movie. Turns out I had a rogue Rapunzel style sweet potato vine out in the courtyard. I swear that limb grew in two days. It was crazy!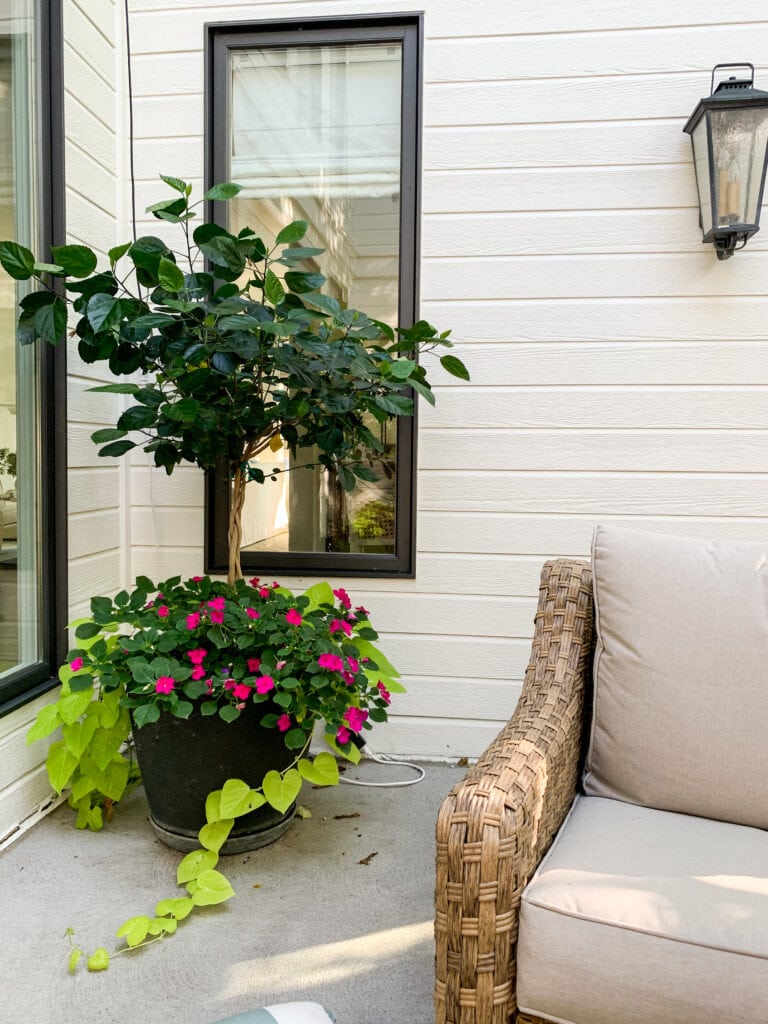 I'm trying to get my butt in gear on wrapping up our office, as well. I made some good progress with plans yesterday, so I think I'll share that in a separate blog post this week!
Top Sellers Of The Week
Following are the top sellers of the week across all of my channels. Links to each item are below the graphic.
Around Town & For Fun
On Monday I realized I was only 41 days out from my 40th birthday! I had already decided over the weekend that I needed to kick it in gear before my birthday but knowing just how close I was freaked me out a bit! Kurtis and I stuck with it and did 30 Day Shred all week! This was me after the first workout. It was awful but I survived. Barely 😉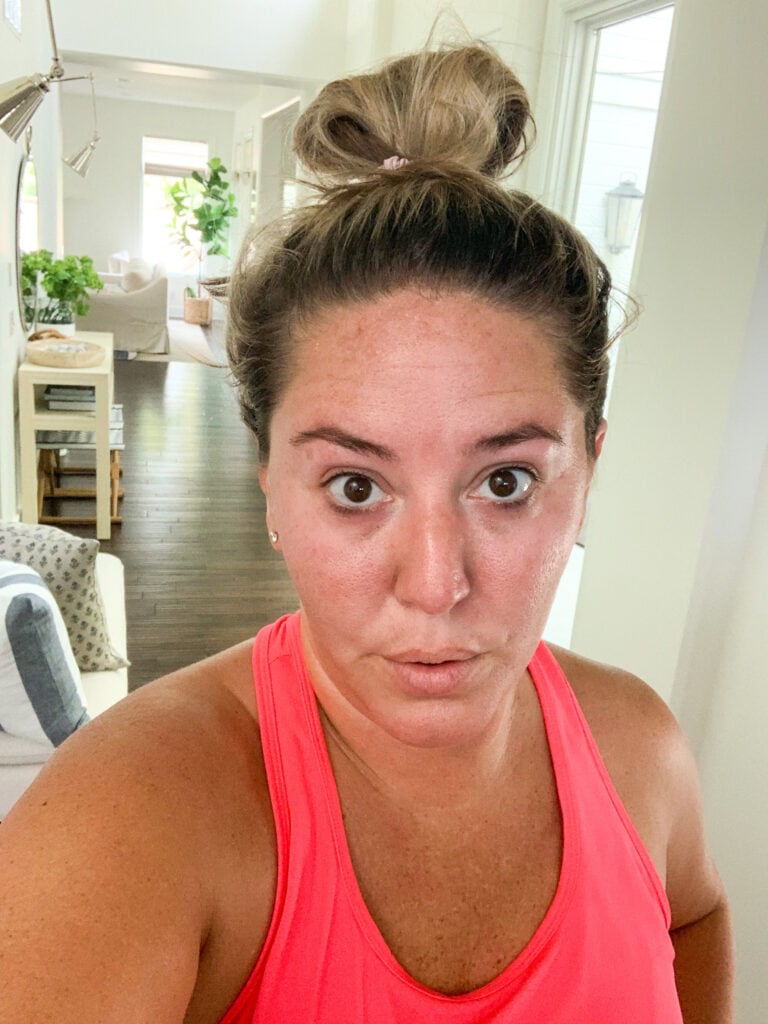 Kurtis had to take my photos for this post shortly after. He said I looked like a whole new person from the one he saw in the basement an hour prior. Haha! I couldn't argue with that statement. But it felt great to get our workouts in early each morning and it made me feel so much more productive the rest of the day when I was showered and ready by 9 am. We definitely need to stick with it!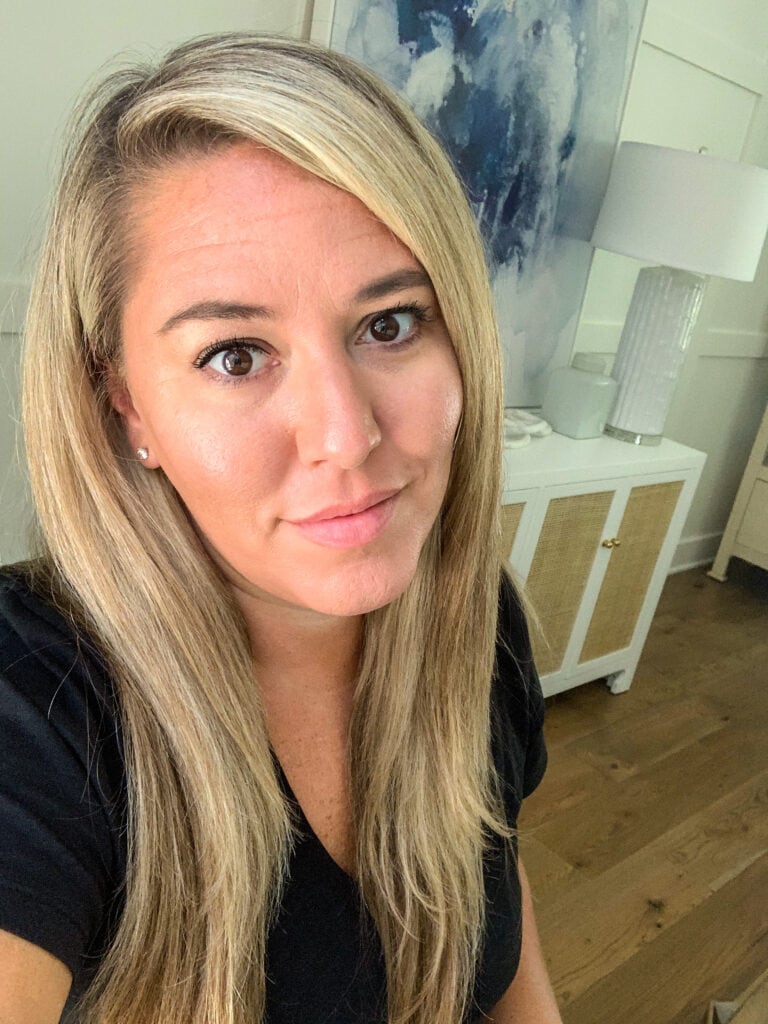 We tried to eat healthier all week too. I find it's so much easier to do so when I'm also working out. We loaded up on veggies with our steak last week. We've decided we prefer them much more on skewers that in a pan on the grill. We just brush them lightly with olive oil and then add seasoned salt and throw them on the grill with whatever meat we're eating. Yum!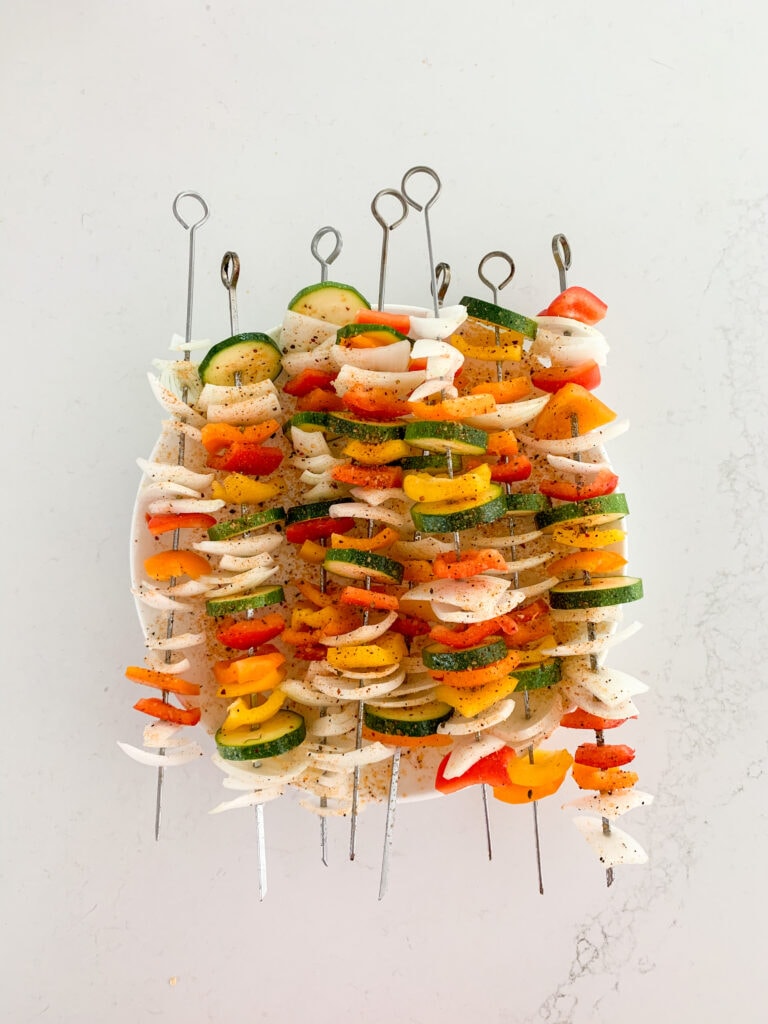 We had a fun evening one night last week! One of Kurtis' co-workers hosted a wine tasting evening after work one night. The wines were shipped to each of our homes and then there was a cheese pairing guide so you could grab some cheese at your own grocery store. We then did the tasting on Zoom and it was so much fun! I hadn't "seen" most of the people since our trip with them to Nevis in February so it was a really fun night! Most of them are a bunch of goofballs, and were clearly thriving on the video portion. As much as I'm a rule follower and classic first-born/oldest child, I'm also the one that literally can't stop laughing when I see others misbehaving. I was basically laughing the entire time. But, I thought this was a fun idea you could do with friends or family if you were looking for a fun virtual party idea! You can do it with wine or food or cocktails or really whatever! Just coordinate the shopping list ahead of time and then meet everyone on Zoom at the same time!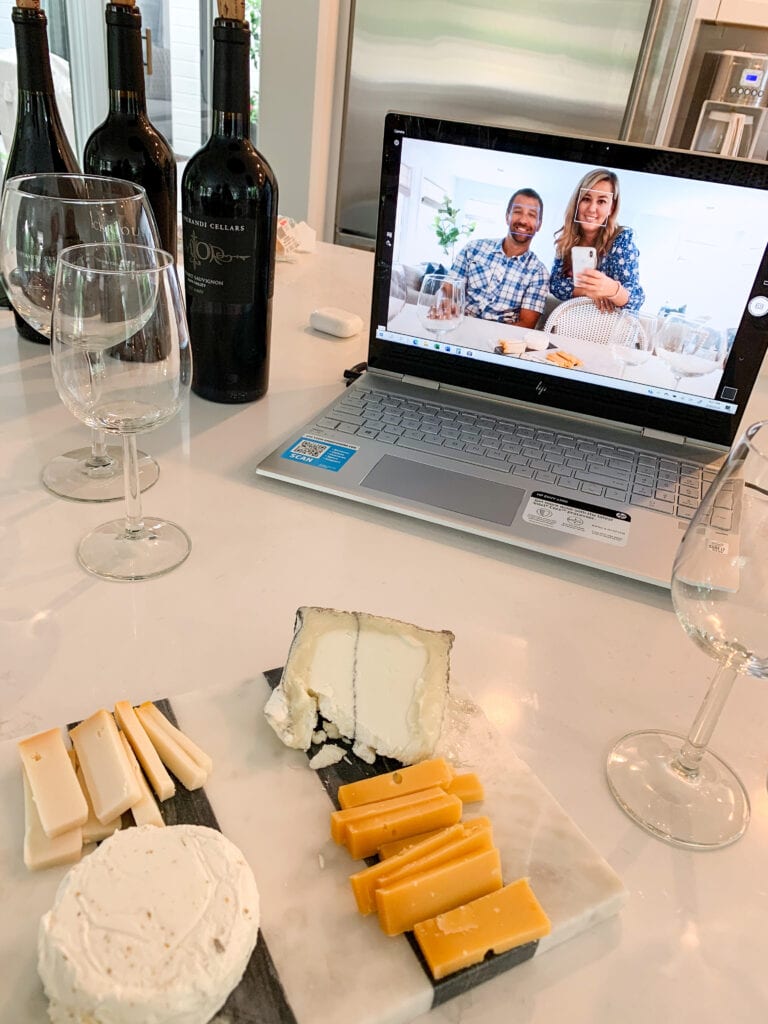 It was a weird week here weather-wise. We finally got some more rain in the form of a few torrential downpours! The weekend felt more like fall and we didn't even get in the pool once all week because it was too cool!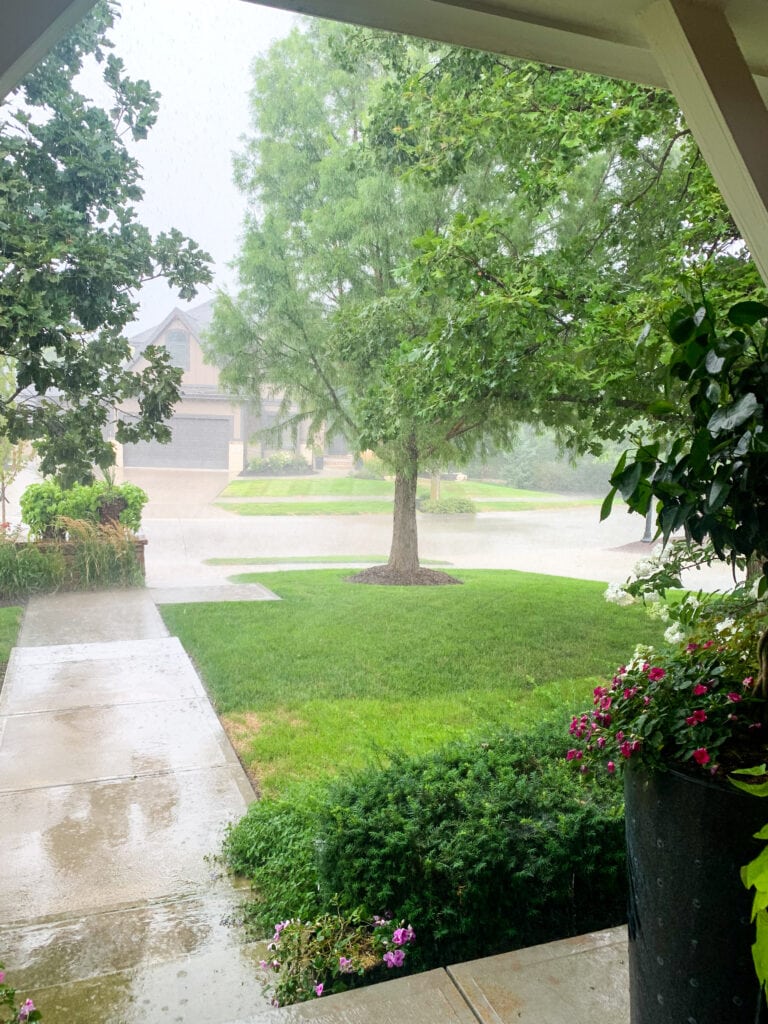 We really needed to make a Costco run over the weekend, but I usually avoid it at all costs. I told Kurtis if he went and handled it all, I'd clean all the bathrooms and vacuum the entire house and he wouldn't have to help. It was a win-win for both of us. Usually the cats get locked in the basement on vacuuming day, so they were very confused when I left them out. I'm pretty sure they think the vacuum is attacking me 😉 I rarely show this area of our home, but you can get sources and see more photos in my Upstairs Hallway Photo Gallery Wall post.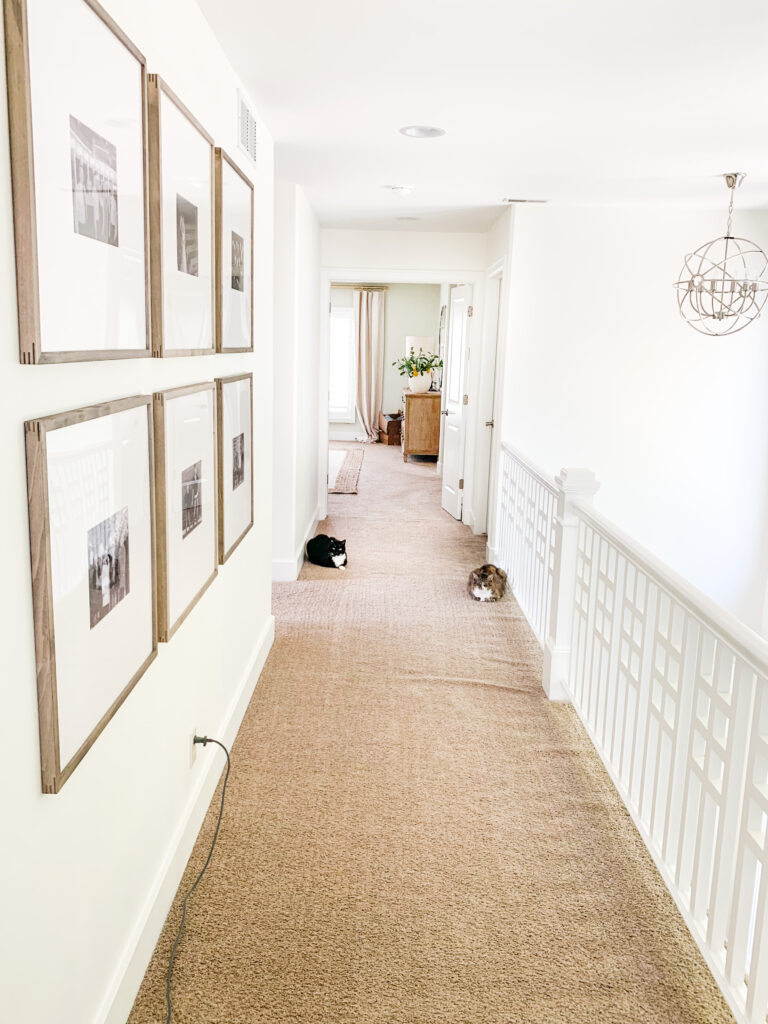 My reward was a BLT when Kurtis got home. And it was amazing!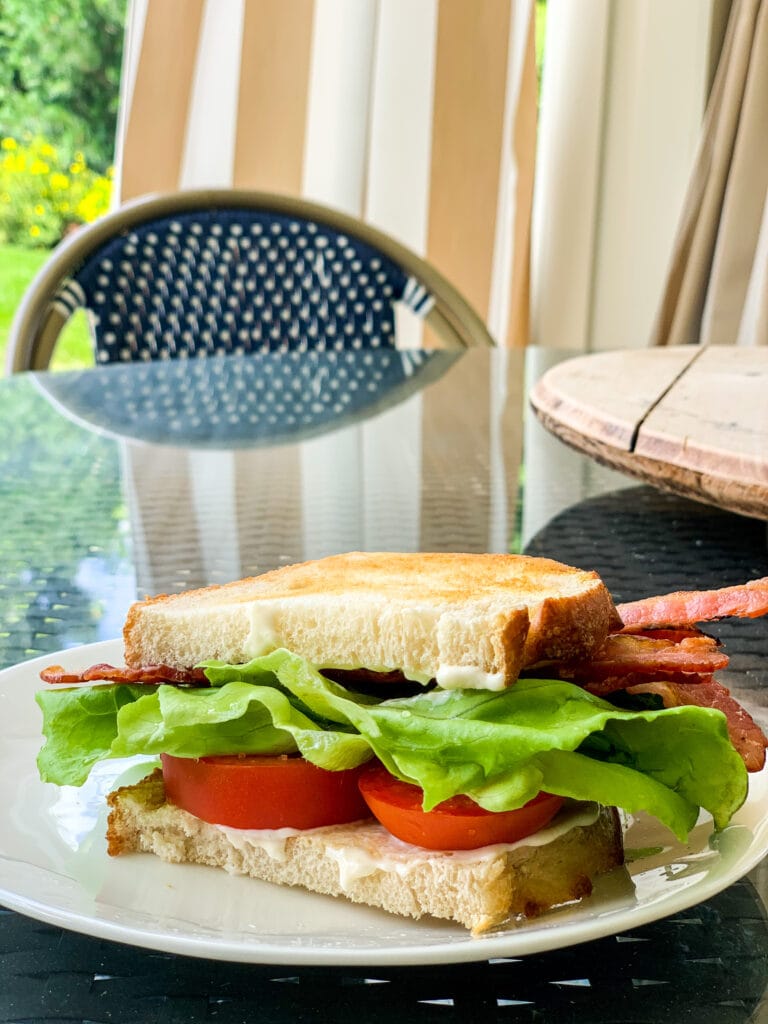 With the cooler temps, we spent more time in the courtyard in the evenings this past week. Bailey is such a little daddy's girl. She managed to con Kurtis into letting him share his chair with her.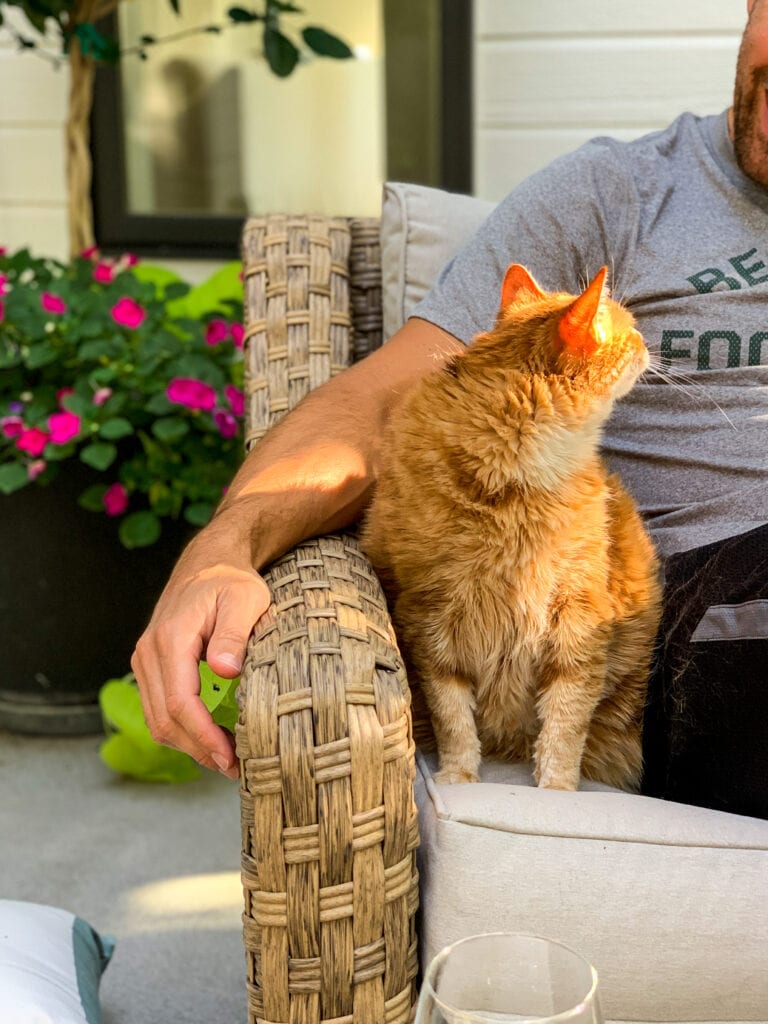 She would for sure move out here if we allowed her to.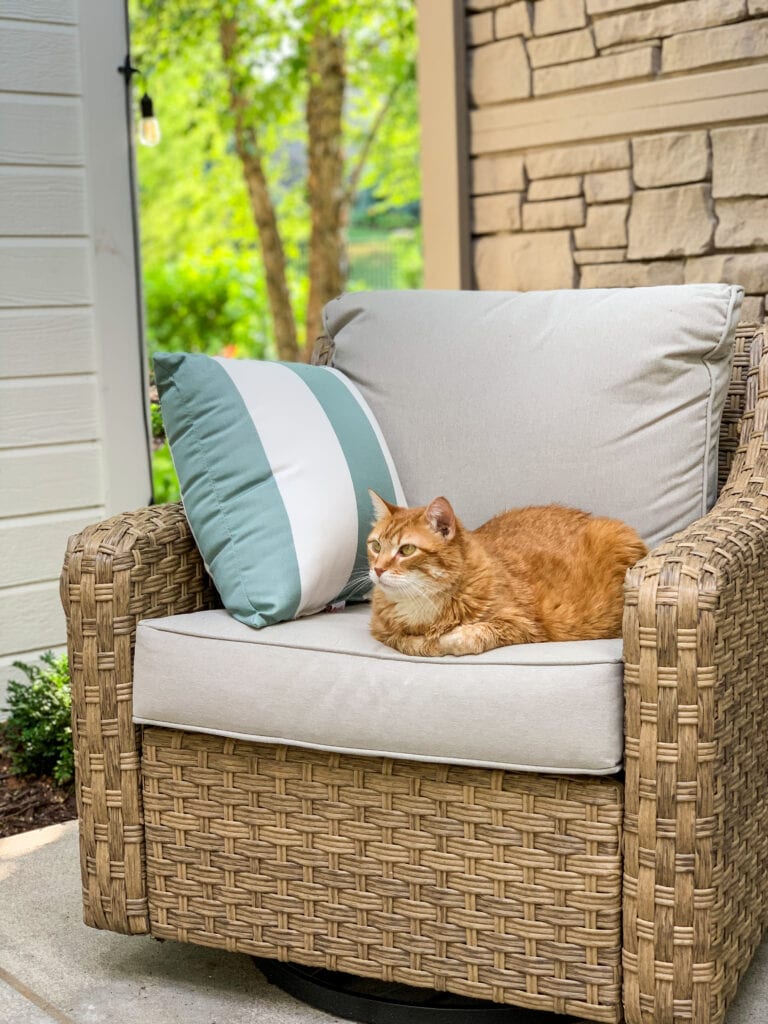 Henley has a little sore on her lip but still looks cute as ever! It's so funny watching them sniff the air any time there is any sort of air movement outside.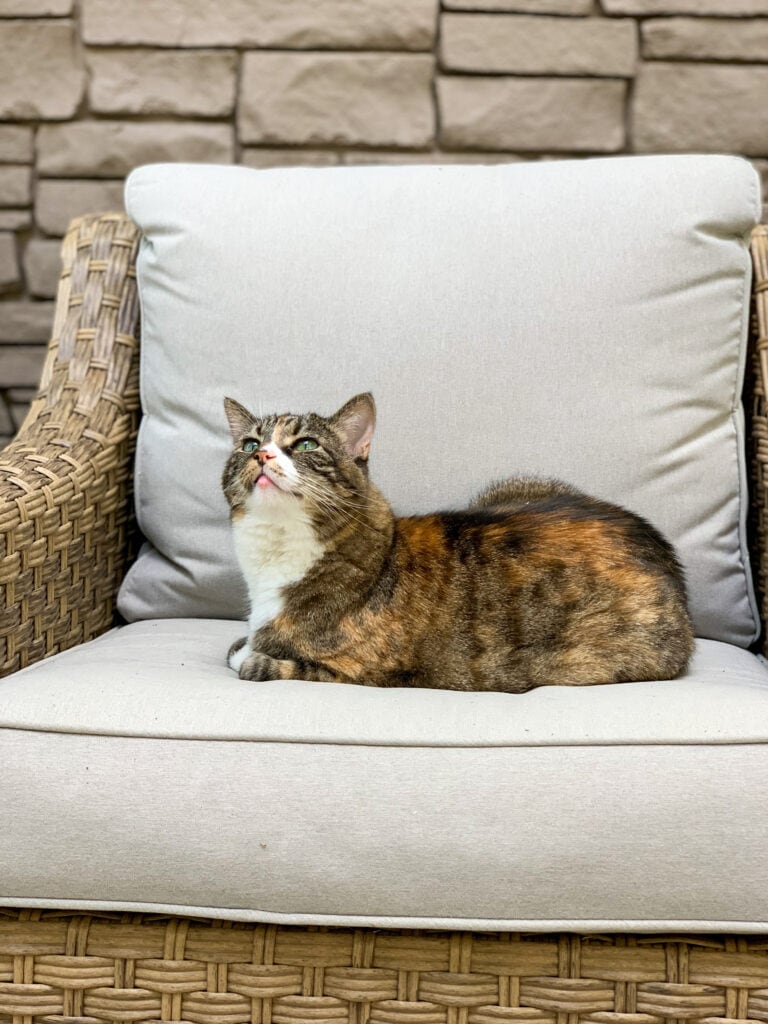 And here's Hawkeye. Just living his best life 😉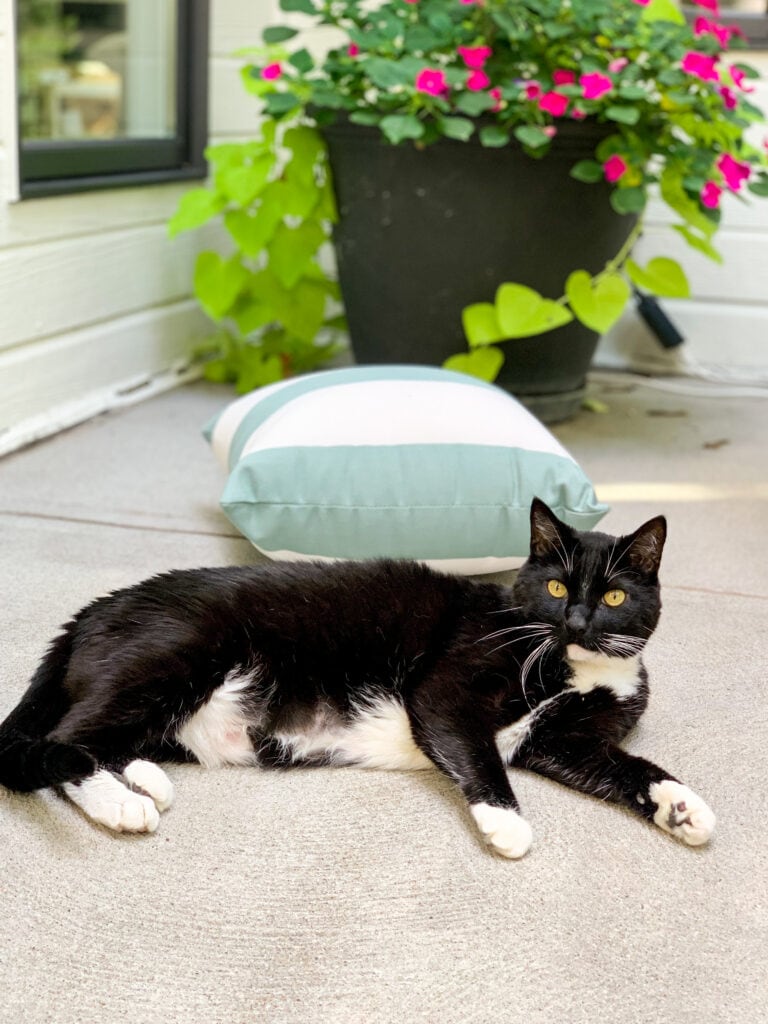 I'm hoping the summer weather returns this week! Although, the cats would probably argue these fall-like temps work best for them and their social lives 😉
Recent Buys & Sales
Following are some sales that have carried over from the weekend, as well a a few new additions. You can see some of my top picks here.
I hope you all have a great week!
If you would like to follow along on more of my home decor, DIY, lifestyle, travel and other posts, I'd love to have you follow me on any of the following:
Pinterest | Instagram | Facebook | Twitter
disclosure: some affiliate links used