This post is sponsored by Nordstrom and ShopStyle and contains affiliate links for your shopping convenience. As always, all thoughts and opinions are my own. Click here to read my full disclosure policy.
One thing that quickly became apparent to me earlier this year as we entered self-isolation was that I need some better comfy clothes and basics. Since I've worked at home for about three years now, I had already put a small dent in what I needed. But, once we were home essentially 24 hours of every day, I decided it was time to invest in some additional pieces. As is typically the case, I turned to Nordstrom to try a handful of items. I love that I get free shipping and free returns and their customer service is always top-notch whenever I reach out! I also rely heavily on their product reviews online. Now that I'm doing even more online shopping, I appreciate sites that have a fair volume of reviews to peruse and Nordstrom's never fail me!
Priority one was finding some comfy bras. Honestly, I hate spending money on bras. But, they're pretty much a necessity and I was sick of not having comfy options. After trying several brands and styles, I ultimately fell in love with the True & Co. Triangle Convertible Strap Bralette. They provide support (without underwire), have light (removable) padding, and are crazy soft and comfy. I loved them so much (and found myself exclusively wearing the two I had) I also decided to recently try the v-neck bralette (on the top of the image below) and racerback bralette (second down in the photo below). I'm telling you, they're all game-changers! I've actually found myself wearing them to bed on occasion because I forget I'm even wearing them! You can see the full line of bras from this brand here (many are included in the Anniversary Sale so you know I'll be buying more)!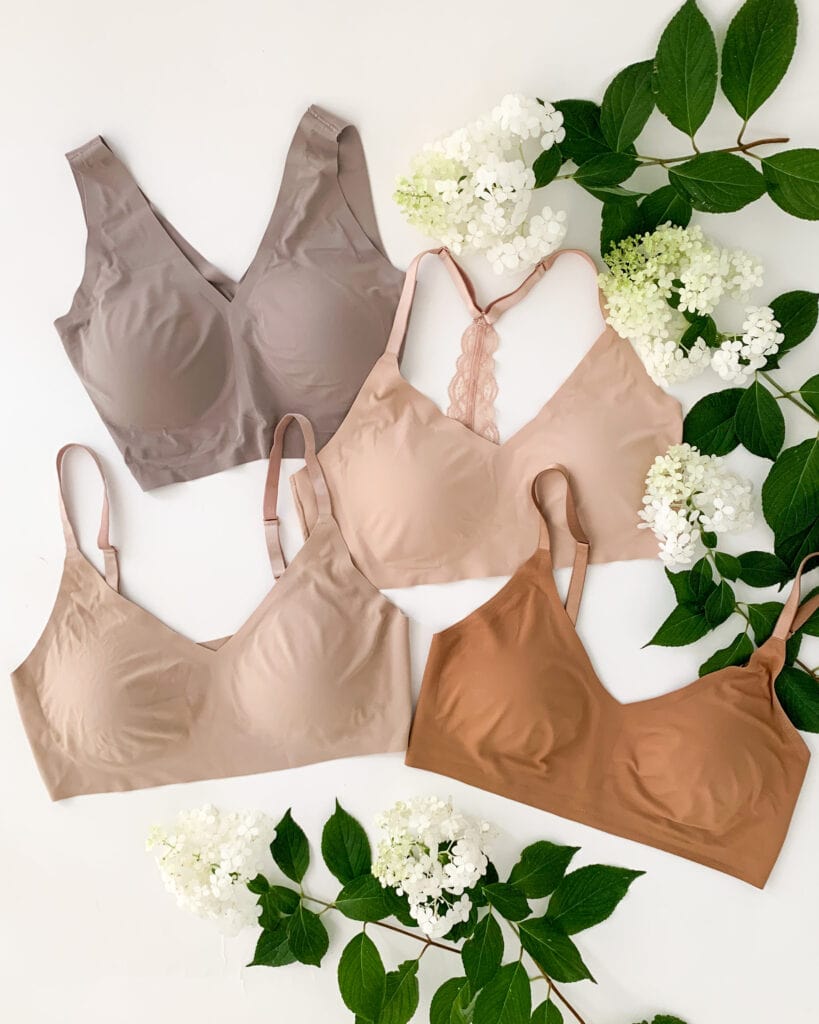 For reference, I'm wearing the Triangle Convertible Strap Bralette in all the outfit photos following. They're the bottom two bras in the photo above.
Next up. My all-time favorite basic t-shirts are these v-neck pocket tees. I've collected several colors over the years and still wear them all! I'm usually not much of a v-neck person, but I love these when I'm outdoors or working around the house since they help keep me a bit cooler. They fit true to size and are a seasonal basic I always go back to. And, if you're looking for the all-time softest joggers (similar here), look no further. They're lightweight enough to wear in the summer, have pockets, and are long enough for my 5'8″ frame. Ever since I got some in this fabric last fall, Kurtis always calls them my "fancy pants". Not sure what that says about the other clothes I wear around the house 😉 But he agrees it's the best fabric ever! It's the perfect "work" uniform for me when I'm in our office (especially since I have an AC vent right next to my desk and my legs are always cold).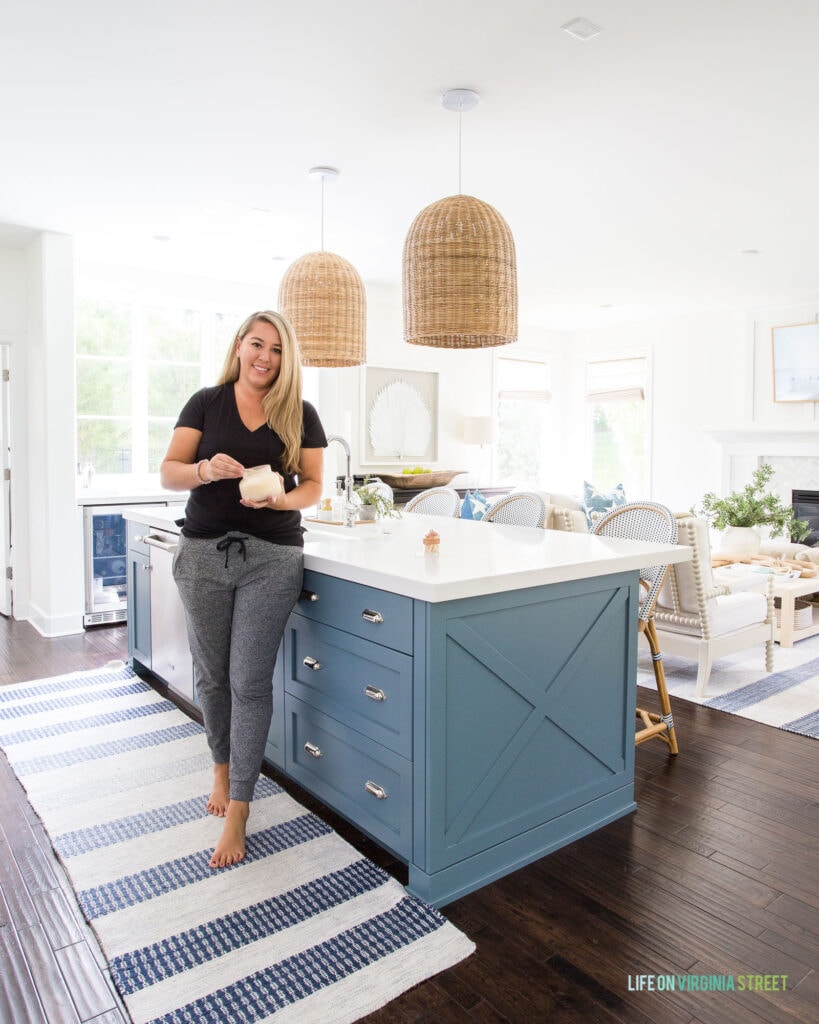 I'm linking a few of my other favorite basic tees and joggers/leggings below.
Kurtis would also like it to be made known that this is his favorite candle I've ever ordered. Ever. That's a bold claim but it is super yummy! I had shared the Volcano version (the light green vase) in my recent summer beauty favorites post. I loved the sea salty look of the vase (and obviously the scent) so much that I ordered the Coastal version, as well. It is the perfect light and sweet summer scent with pineapple, verbena and coconut, accented by sparkling lemon, bergamot and grapefruit. Highly recommended! Now I feel like I need to give the Lagoon version, also in the salt & sand collection, a try too.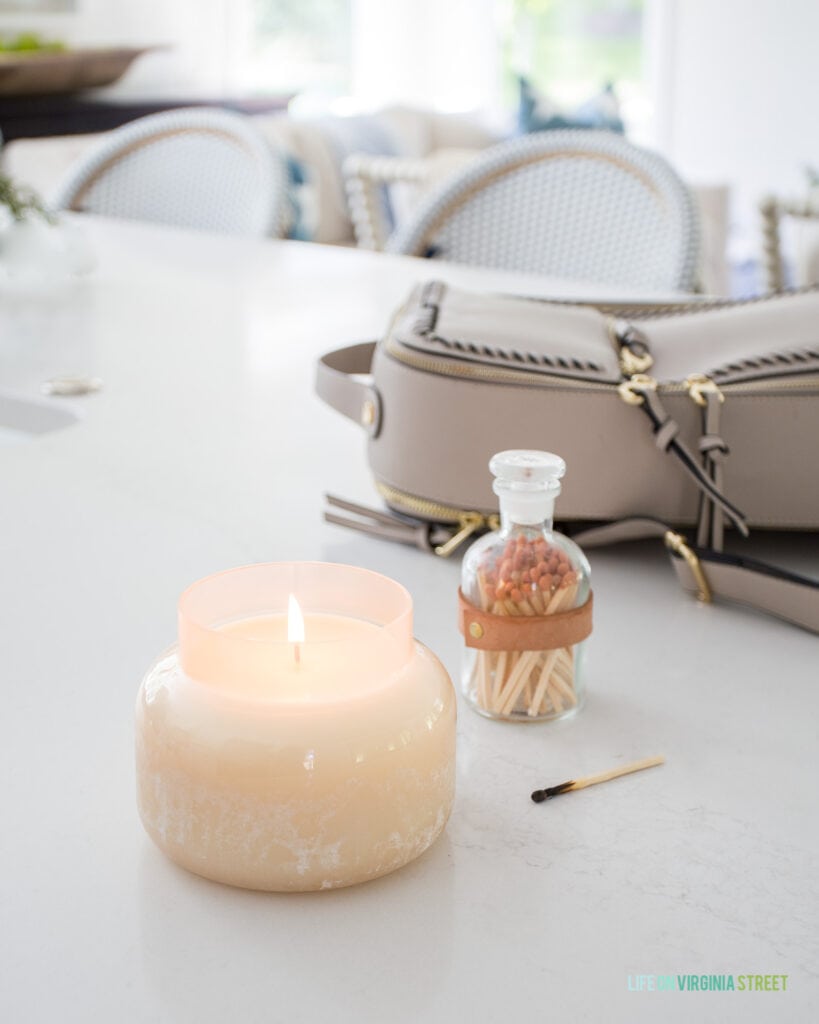 The outfit I shared above is also perfect for spending mornings or cooler evenings outside working! These flip flops have been a favorite for a while for running to get mail, out on errands, or around the yard. I love that the foot bed is foamier than a lot of the rock-hard plastic bases so many brands have gone to. And I love this rose gold color for summer, but they have tons of color offerings. I've also shared my laptop backpack before when talking about travel. But I've found it just as convenient to use around the house when I'm moving from room to room or shifting to outdoors with my laptop, cords, and paperwork! Mine is the Stone color but each of the options available are so cute!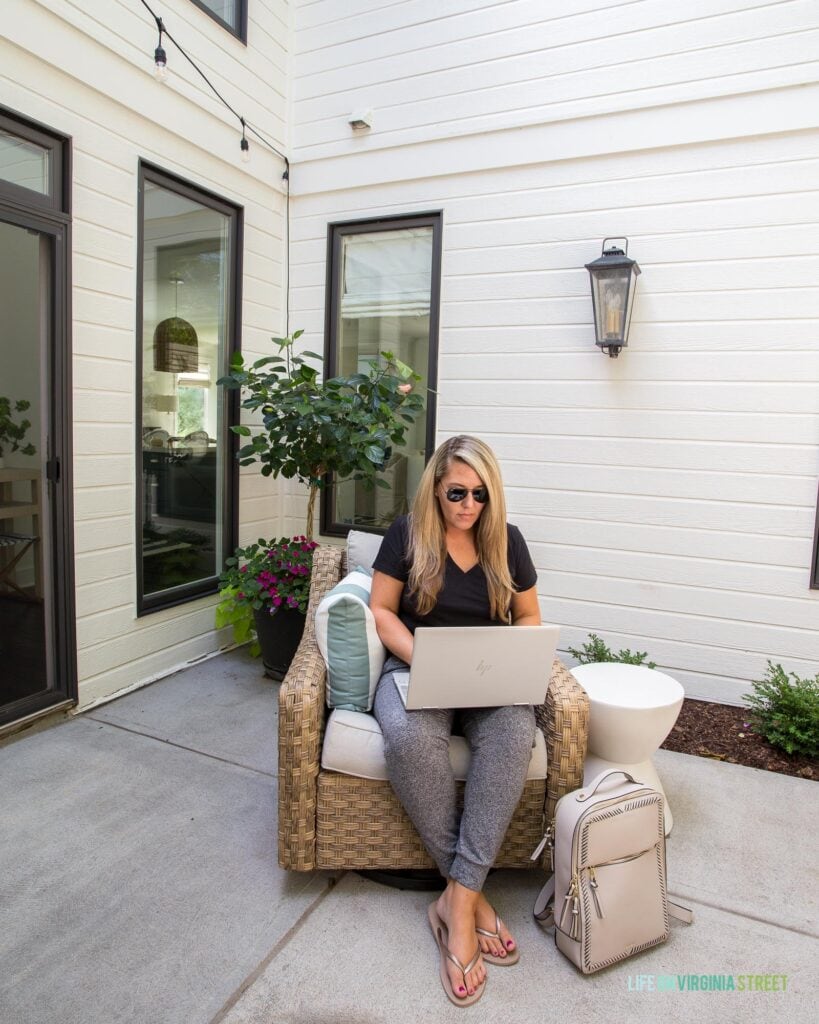 When I'm outdoors watering or cleaning up the yard, I dress even lighter, usually opting for a tee or tank (this Caslon tank has been a favorite for years) and some drawstring waist shorts. These drawstring shorts (similar here) have been a lifesaver with extra weight gain this year and I love that they aren't too restricting when working outdoors. I also still love my rubber-like Birkenstock sandals. They're easy to hose off when I get them muddy and they couldn't be comfier!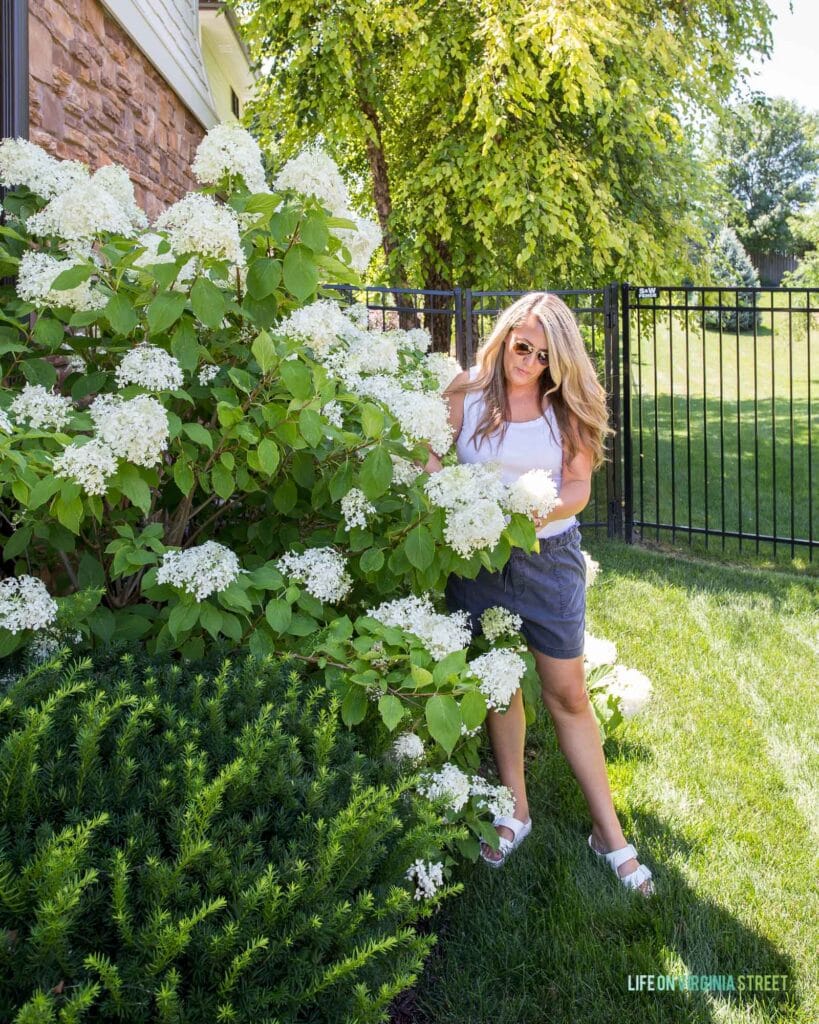 The tank runs a bit large so you can order down one size if you like it more fitted like I did. Otherwise, I'd order your regular size if you want it looser to use as a swimsuit cover up, etc. It's also unlikely you'll ever see my outside without a pair of these sunglasses on! I've linked additional tank and drawstring shorts below this image for even more ideas!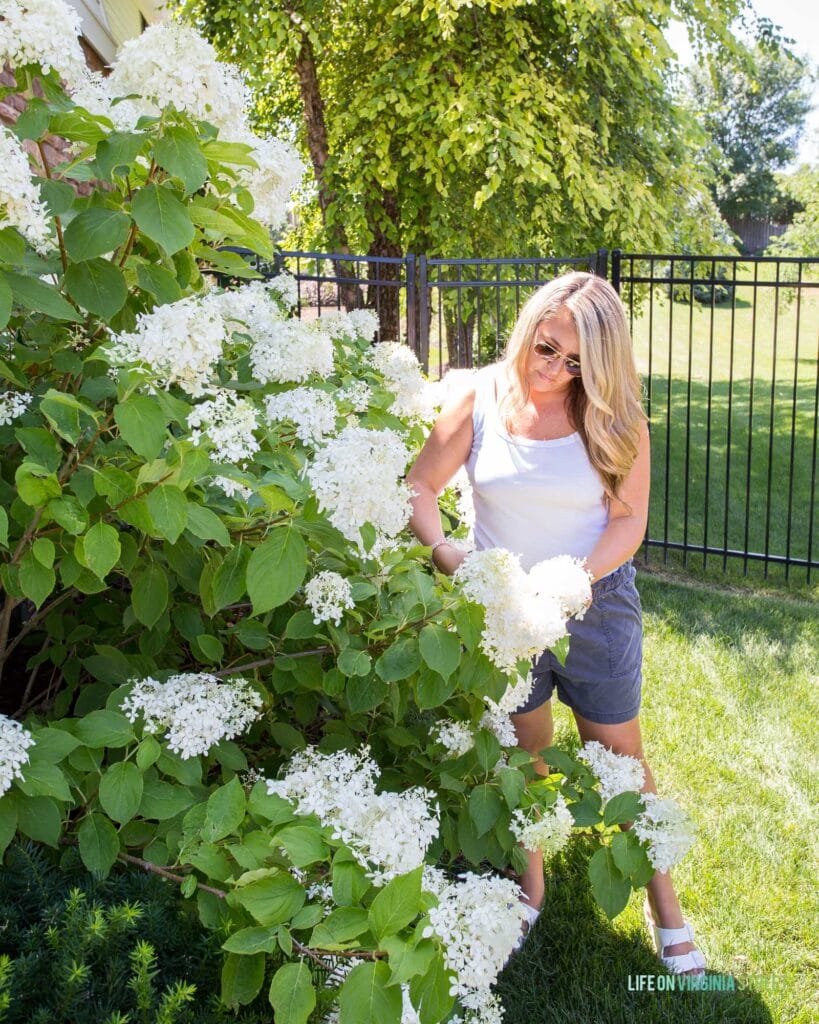 When I'm feeling like wearing a bit "dressier" version of my basics, I usually turn to a cute striped tee or graphic tee paired with stretchy denim shorts. You've heard me sing the praises of the Ab-solution line before and my love is still going strong! If you're not familiar with the line, they have a revolutionary fit system that's designed to shape, mold and hold. I also am a huge fan of the hidden stretchy waist panels. I wear my usual size 12 in most of their items, including these shorts. I'm also wearing my favorite leather sandals – I really can't get enough of them!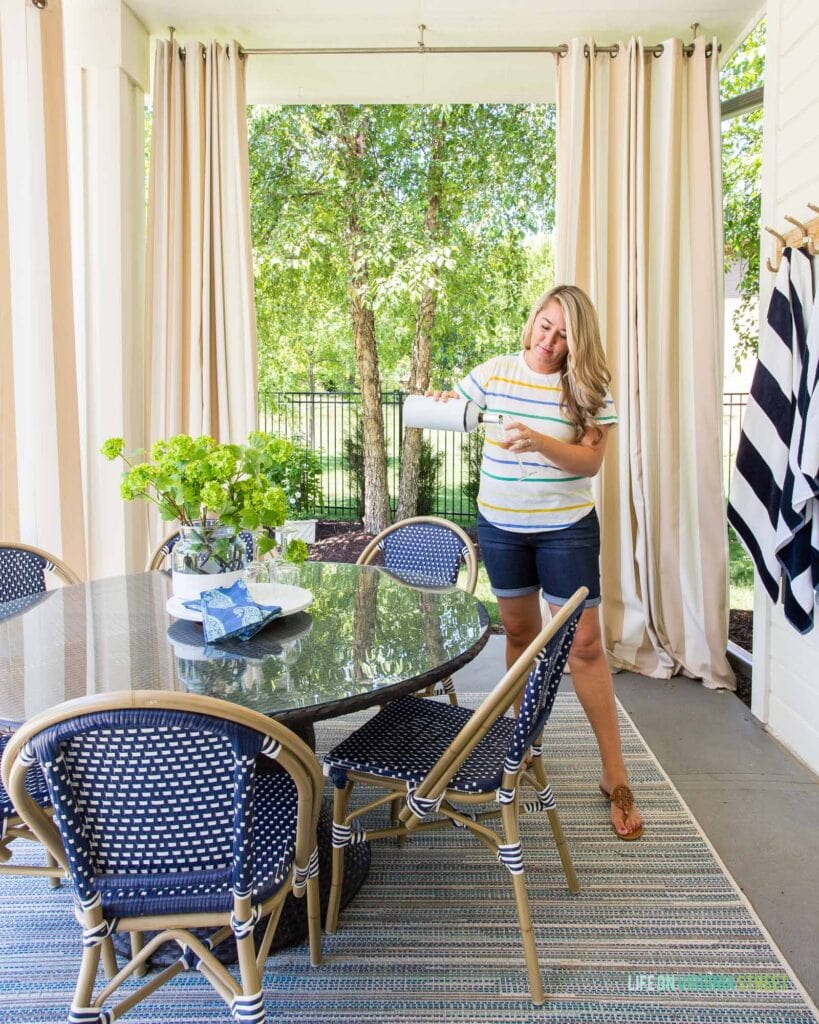 Here are a few additional cute tee and short options I'm loving for summer, all from Nordstrom!
And I was so excited to see that Nordstrom is bringing back this marble & acacia wood lazy susan for the Anniversary Sale! It was one of my favorite buys last year. It works well on a round table, but we also used it on our rectangular dining table at Christmas time to make various condiments easily accessible for everyone at the table. We've also gotten a lot of use out of our Vinglacé Wine Chiller since I got it around Christmas time. It's been so helpful in the summer months with dinner on the back patio or with drinks in the courtyard! It keeps your wine super cold even in the heat! No ice or separate chiller required!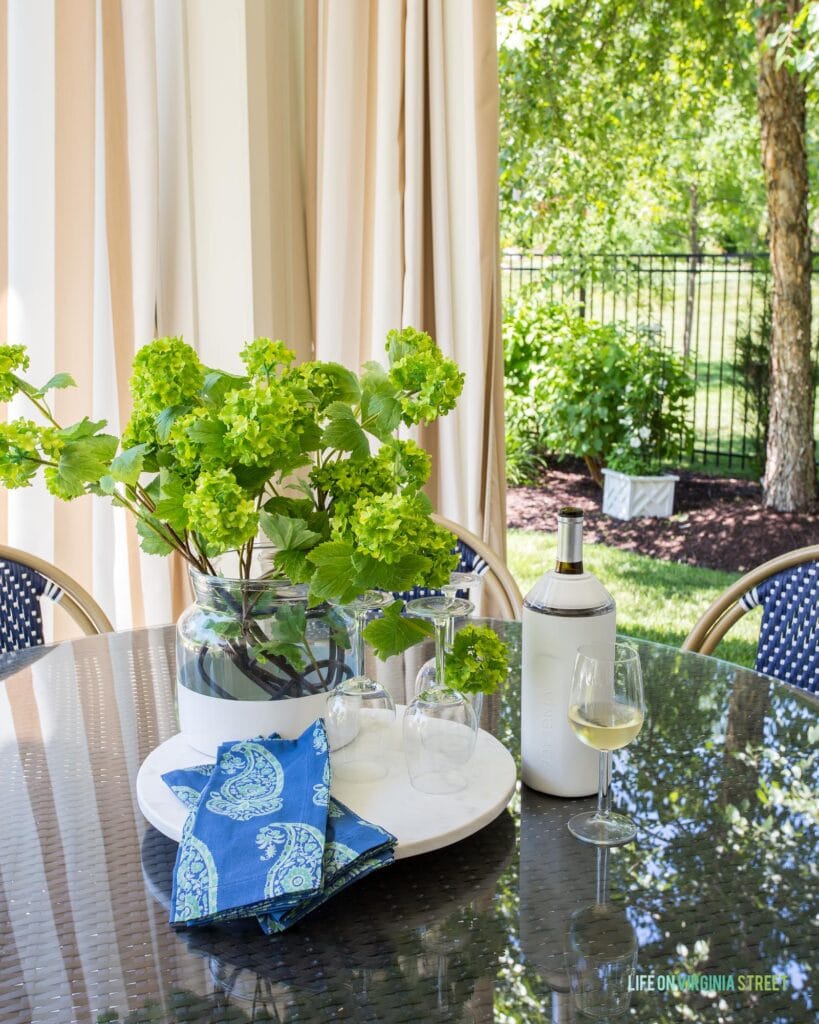 NORDSTROM ANNIVERSARY SALE DETAILS
Lastly, I wanted to share some details on the upcoming Nordstrom Anniversary Sale. The sale typically occurs in July each year, but this year it will run from August 13-30. As is the case in years past, early access for cardholders will begin starting 8/13 and the sale then opens to the public on 8/19. But, if you're Icon level cardholder you can shop as early as 8/4, Ambassadors as early as 8/7 and Influencer cardholder status as early as 8/10. It's consistently one of my favorite sales of the year because you get the opportunity to buy fall items on sale, before the season even starts! The best part about this year's sale? Everyone can already preview the items included in the sale! This way, you have plenty of time to save your favorites to your Wish List so you can check out faster when it's time to shop. Be sure to also join their (free) Nordy Club if you haven't already! It's a great way to earn back cash to spend at Nordstrom, regardless of how you pay! You can read more about this year's sale here.
Initial Nordstrom Anniversary Sale Picks
Following are some of the items I'm most excited about in this year's upcoming sale! Click any of the images below to learn more about each of the items. You can also log into your Nordstrom account and add the items to your 'Wish List' so you can check out even more quickly as soon as the sale goes live!
2020 Nordstrom Anniversary Sale Picks for Women's Fashion
2020 Nordstrom Anniversary Sale Picks for Home Decor
I'll be sharing even more favorites from the sale in the coming weeks, and will also be doing a try-on session once I'm able to order and my items arrive!
If you would like to follow along on more of my home decor, DIY, lifestyle, travel and other posts, I'd love to have you follow me on any of the following:
Pinterest | Instagram | Facebook | Twitter 
disclosure: some affiliate links used