Sharing our plans for a mini entryway makeover along with some new entryway cabinets I considered to help with our storage needs!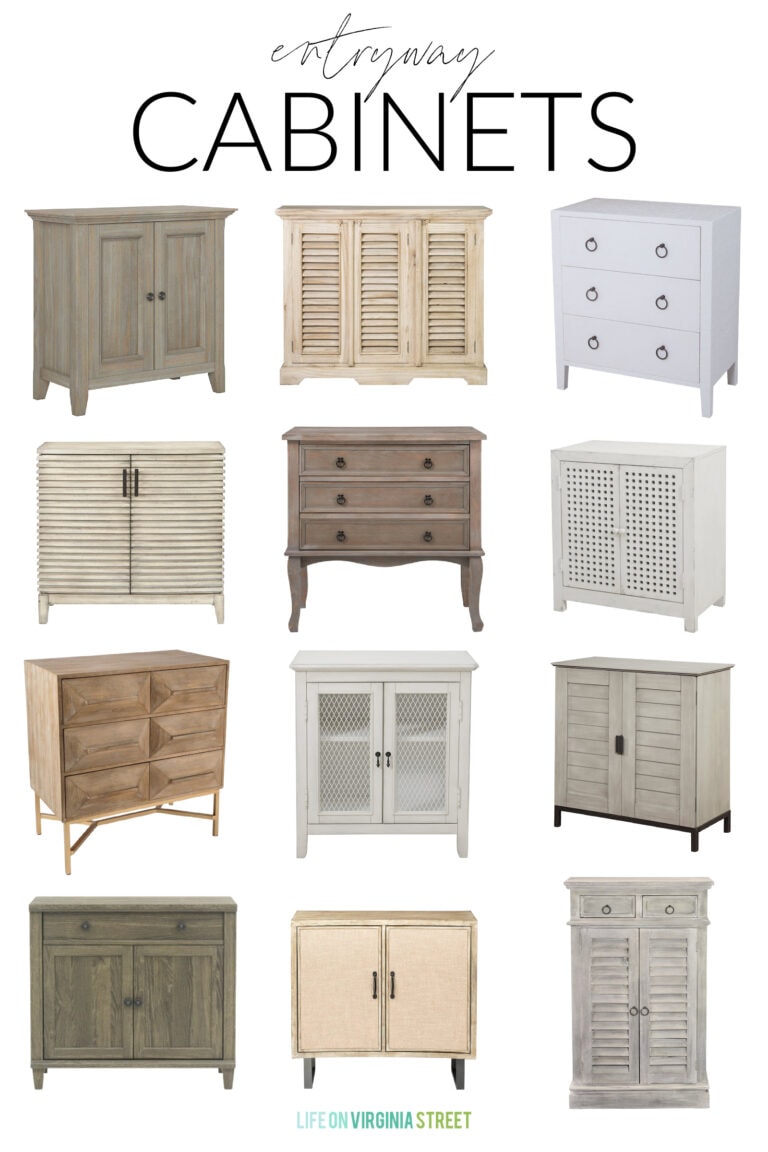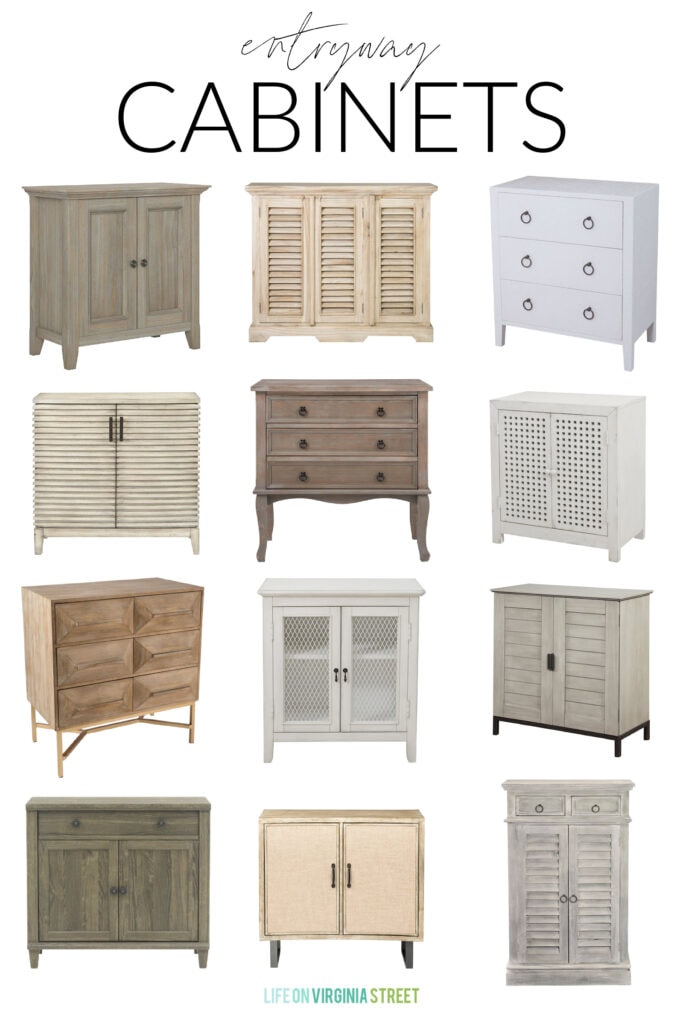 I swear as soon as the calendar pages flip to September, I immediately start thinking of all the projects I want to tackle around our home during the fall and winter months! Over this past weekend, I set the wheels in motion for something I've been meaning to tackle for nearly a year! It wasn't actually a true priority so I had set it on the back burner. But today I'm going to share my plans for a little entryway refresh along with some beautiful entryway cabinets I found that you may like!
This post contains affiliate links for your shopping convenience. Click here to read my full disclosure policy.
Current Entryway Details
As many of you may know, I've literally changed nothing in our entryway for nearly and a half! We're still loving the door color (Benjamin Moore Water's Edge). But, as we've made other changes to the space (like when I painted the walls white, and made some office updates) a few other things now need tweaking.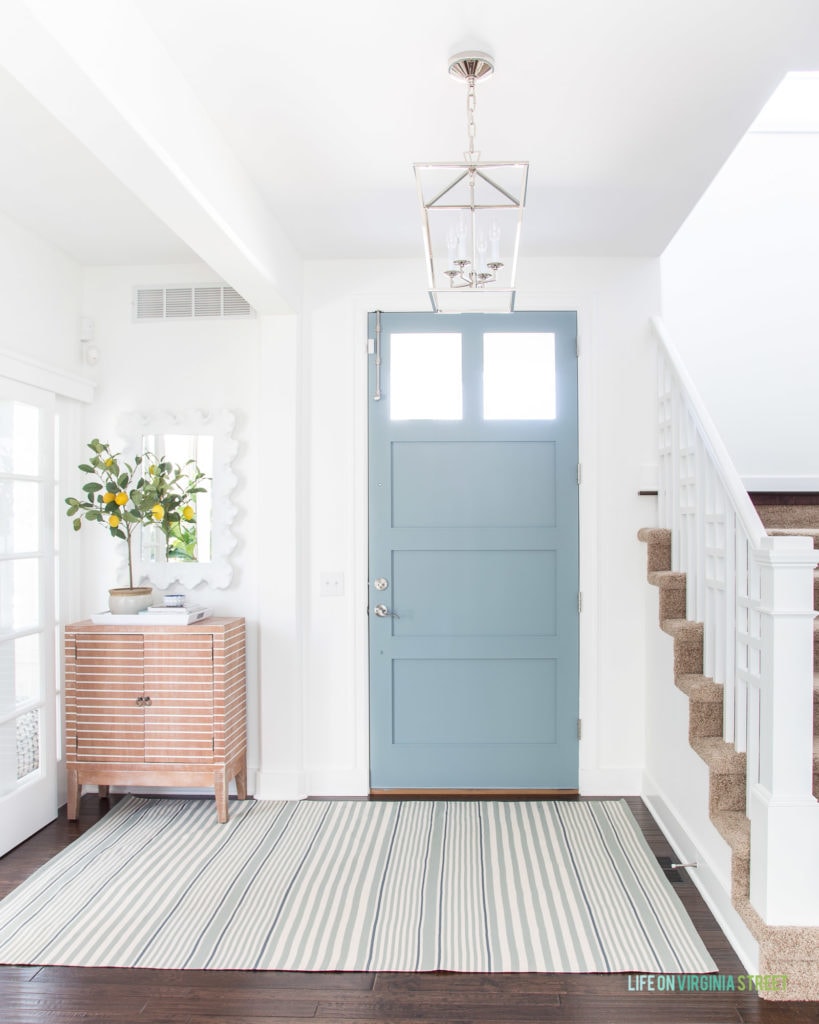 ENTRYWAY SOURCES: Striped Rug | Lantern Pendant Chandelier | Striped Wood Cabinet | Mirror | Faux Lemon Tree | Door Color: Benjamin Moore Water's Edge
If you've been a long-time reader, you know I actually bought that striped cabinet to use as a nightstand in our smaller guest room. But it turned out to be way too tall for the bed. So, while it was never really intended for the entryway, it has served use well for a few years here now. However, as we've used the space, I've found that we really only use the tray on the top. The cabinet otherwise stores paint cans I'm too lazy to take to the basement. What we really need is something with a drawer so we can hide items we like easily accessible like mail key, gate keys, mail, etc..
I also love our mirror, but after painting the walls Benjamin Moore Simply White, the pretty coral-like features just get lost in the wall. And it honestly just makes it look to small for the space. I'm planning to move this elsewhere in the house. Not sure where yet, but I love it too much not to use it!
And just for fun, below is a photo showing how the entryway looked shortly after we moved in. It's gone through a number of transformations, but I think this one is likely going to be my favorite yet!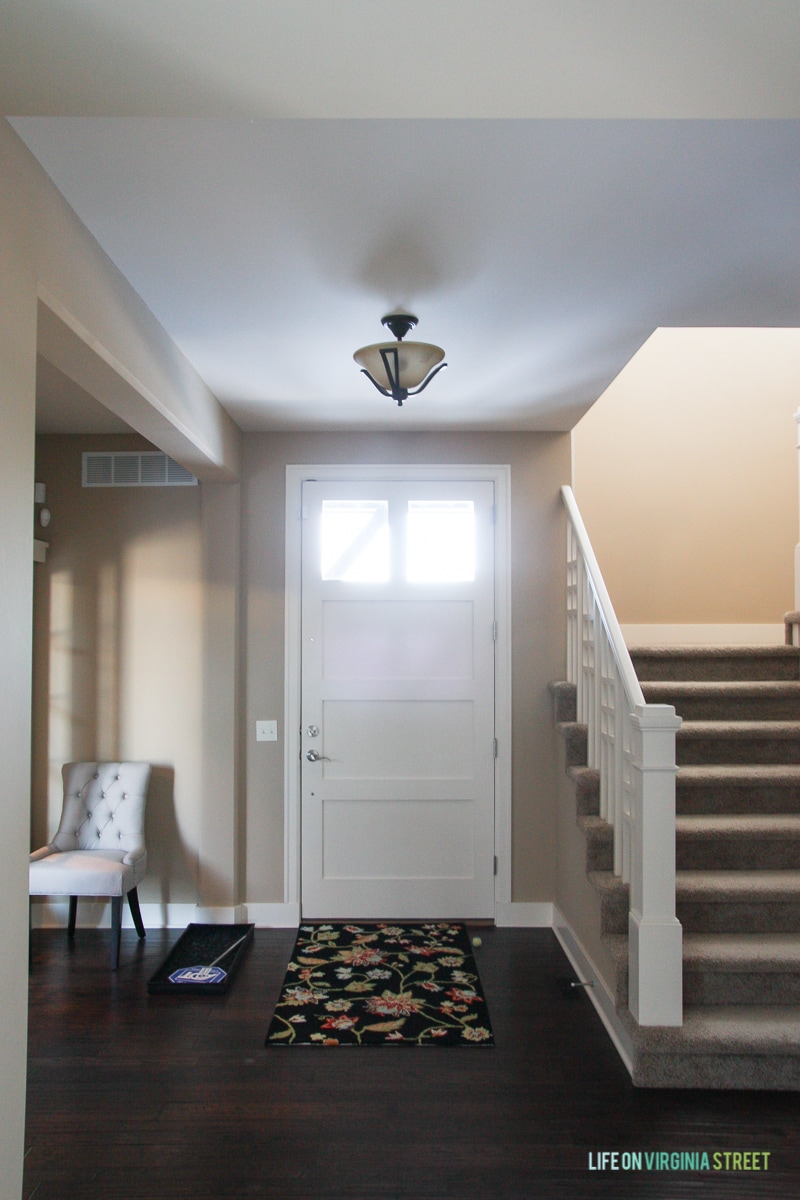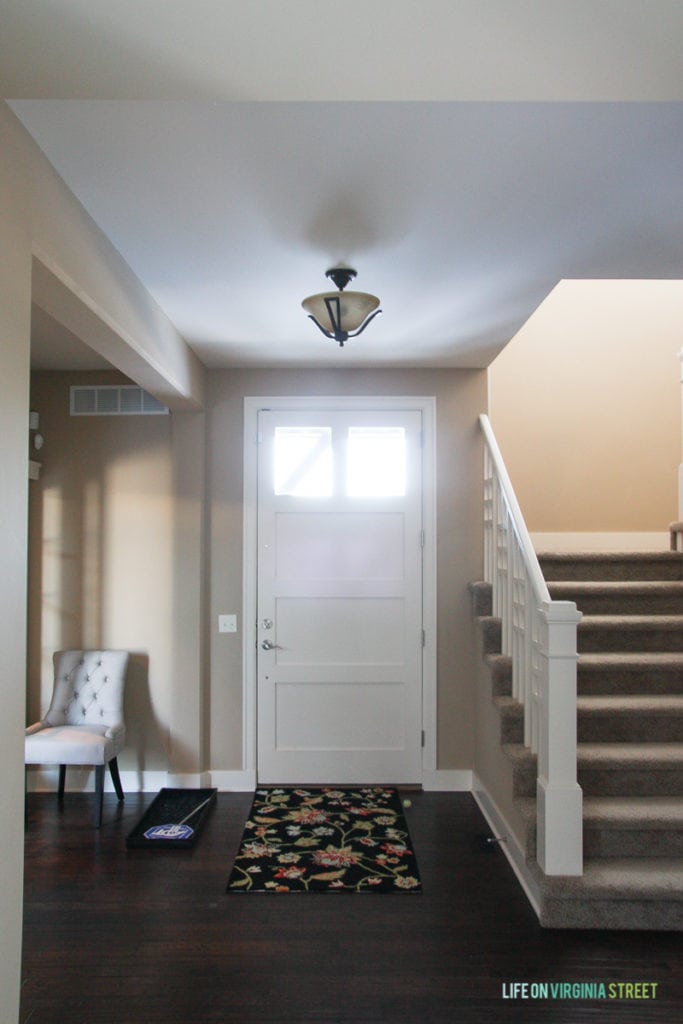 Entryway Cabinets
Over the weekend, I started my search for a new entryway cabinet. I initially thought I would want a light wood option, but found a lot of other great pieces along the way. I noticed that many of the options I really liked were too short for the space. Our existing cabinet is 36″ high and I really wanted to avoid going shorter than that if at all possible. Following are a bunch of the options I initially considered even if they didn't fully fit my parameters. You can click on any of the images below to learn more about each of the cabinets.

Entryway Refresh Plans
I ultimately ended up buying this white raffia chest. I actually found it on several sites, and it was crazy how much the price varied. We're talking all the way from $1,100 down to $397 at Walmart over the weekend. It's crazy how competitive their furniture pricing has been lately (even beating Wayfair's price by a fair amount at times). I am a little nervous because it's a new product and I can't find any reviews or even any styled images of the cabinet. Fingers crossed it's a good one! But here is the same cabinet at Wayfair, as I'm guessing the prices will fluctuate on both sites. If you're interested in it, it's probably worth checking both sites at various times.
Below is a little mock-up of the look with the mirror I also ordered over the weekend. I'm really excited to try it in the space! The reviews are excellent and I love that it comes in so many dimensions, to make a perfect fit for nearly wherever you use it! I'm so happy I'll finally be able to fill more of the vertical space and have a better balance to our oversized door. I opted to go with the black finish for a little contrast to all the white. And it's so much more affordable than very similar other options I found! The overall space looks a bit stark right now, but I'll plan to add in some warmth with the decor and rug (I think this one – also available here – is fun for fall and winter).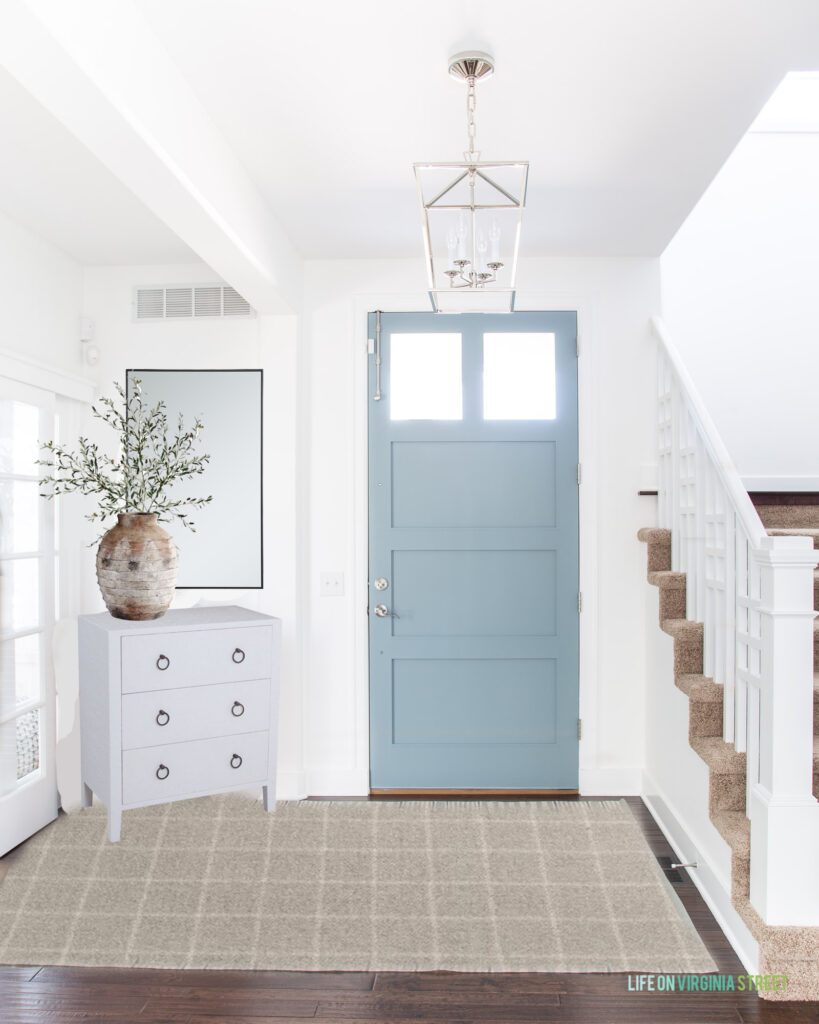 ENTRYWAY PLAN SOURCES: Plaid Rug (also available here) | Lantern Pendant Chandelier | White Raffia Chest | Mirror | Weathered Vase | Faux Olive Stems | Door Color: Benjamin Moore Water's Edge
The cabinet and mirror are both scheduled to be delivered yet this week! Once I finalize a rug option, I'll be sure to circle back and show you how it all looks!
If you would like to follow along on more of my home decor, DIY, lifestyle, travel and other posts, I'd love to have you follow me on any of the following:
Pinterest | Instagram | Facebook | Twitter
disclosure: some affiliate links use