Good morning and happy Presidents' Day! I hope you all had a nice weekend. Here's a bit of what we've been up to this past week!
This post contains affiliate links for your shopping convenience. You can read my full disclosure policy here.
Home Projects & Updates
Lots of fun stuff happening over at the new build this week! Our 10'x16′ slider was installed so it's fun to see it in action now! The three panels on the right all slide and stack near the panel on the left, so it creates about a 12′ opening out to what will be the screened in porch.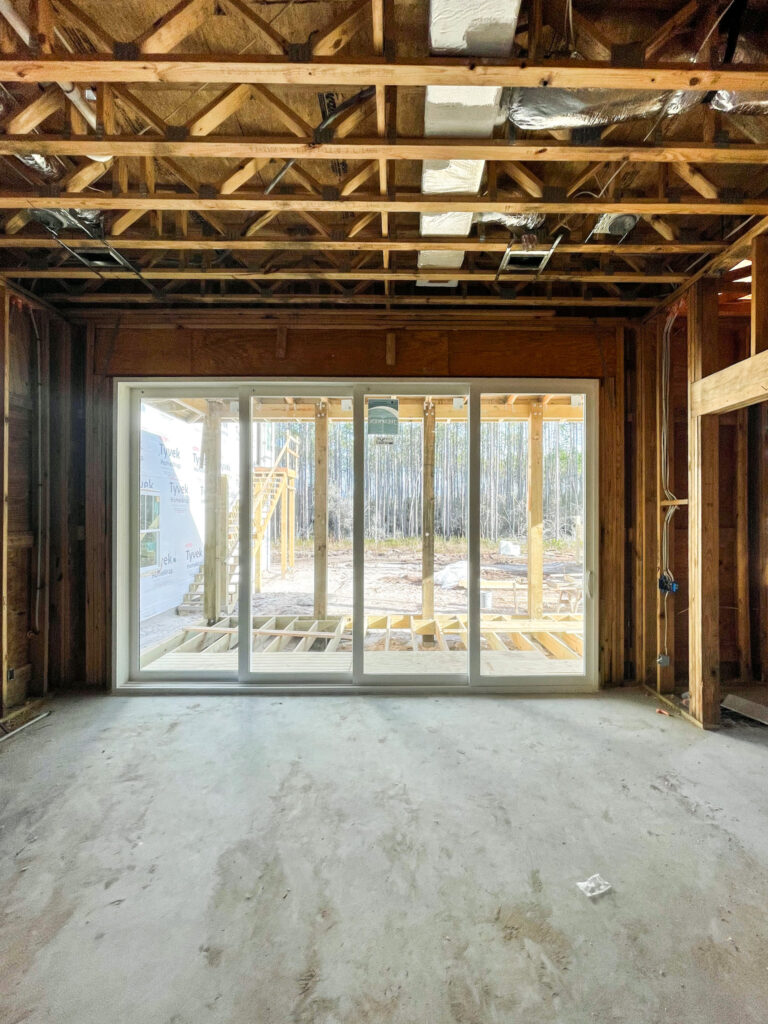 They also started priming/prepping our eaves. They plan to get all of that painted before they install the shingles on the roof (hopefully this week)!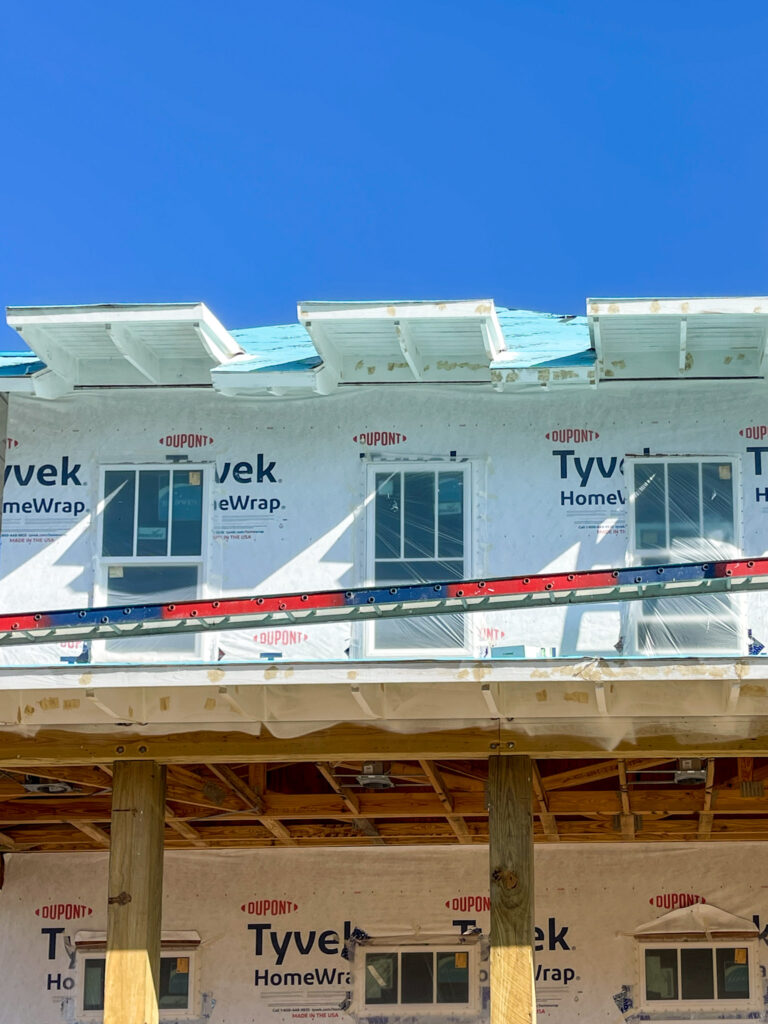 And, the cabana was all framed out! It definitely makes the already small backyard feel tight, but with a fireplace and TV, we think we'll get a lot of use out of it.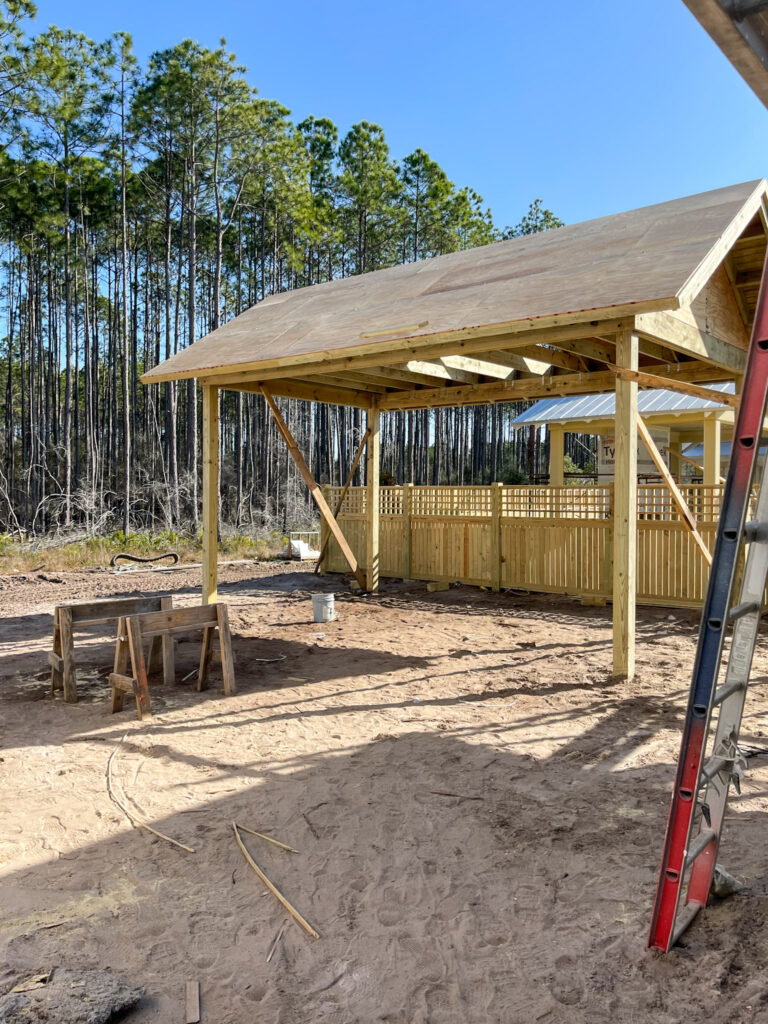 Last week we also met with the cabinet and hardware guy and got that all finalized. I actually didn't really know what our carriage house kitchen would look like, but it turns out it's pretty legit! Here's a photo I took of the cabinet guy's computer screen. It won't have a dishwasher, but otherwise, it's a fully functional kitchen! I decided to do light blue cabinets out there (like we'll have in our laundry and several bathrooms) since I want the space to have a fun vacation vibe for our guests.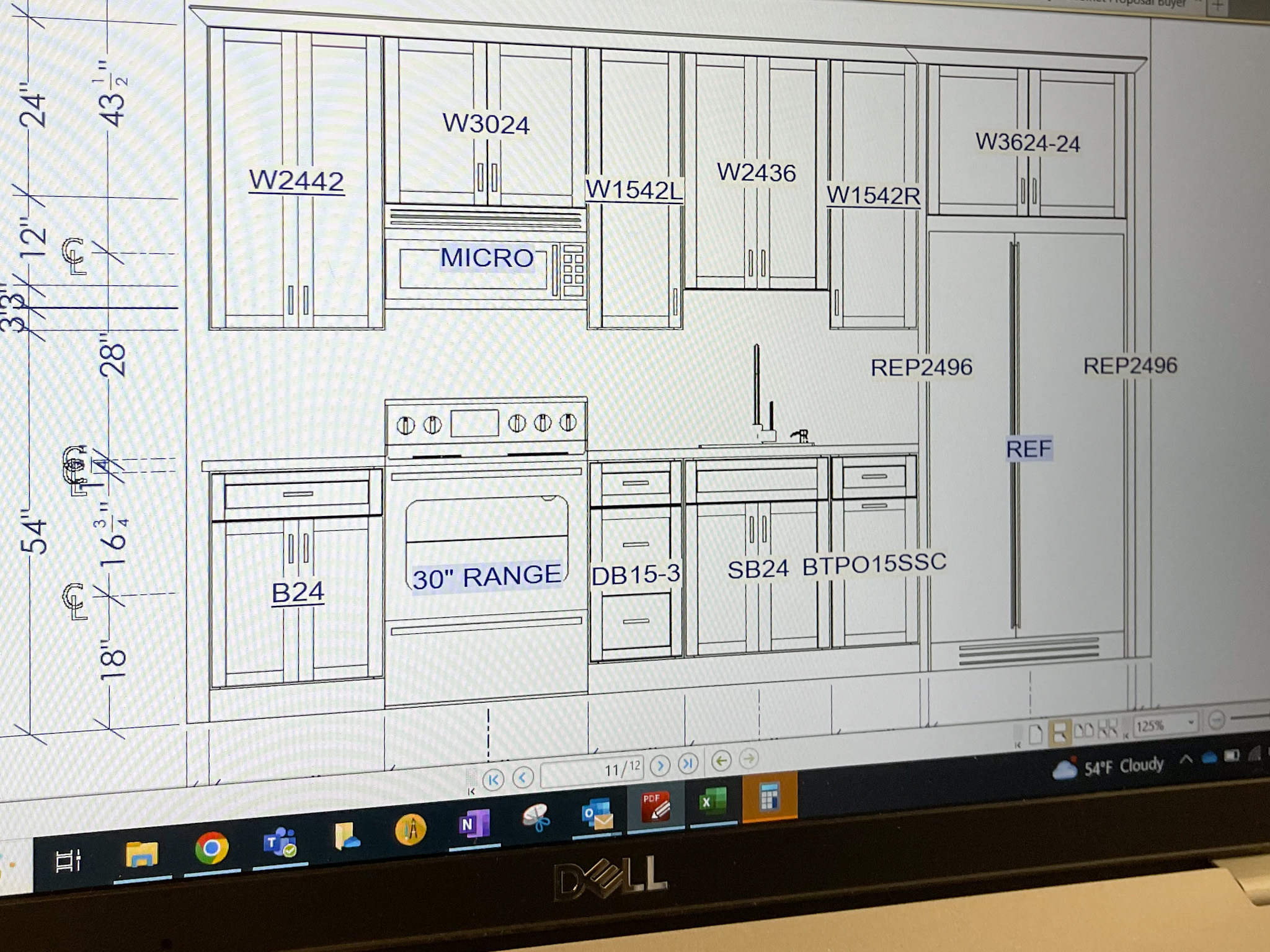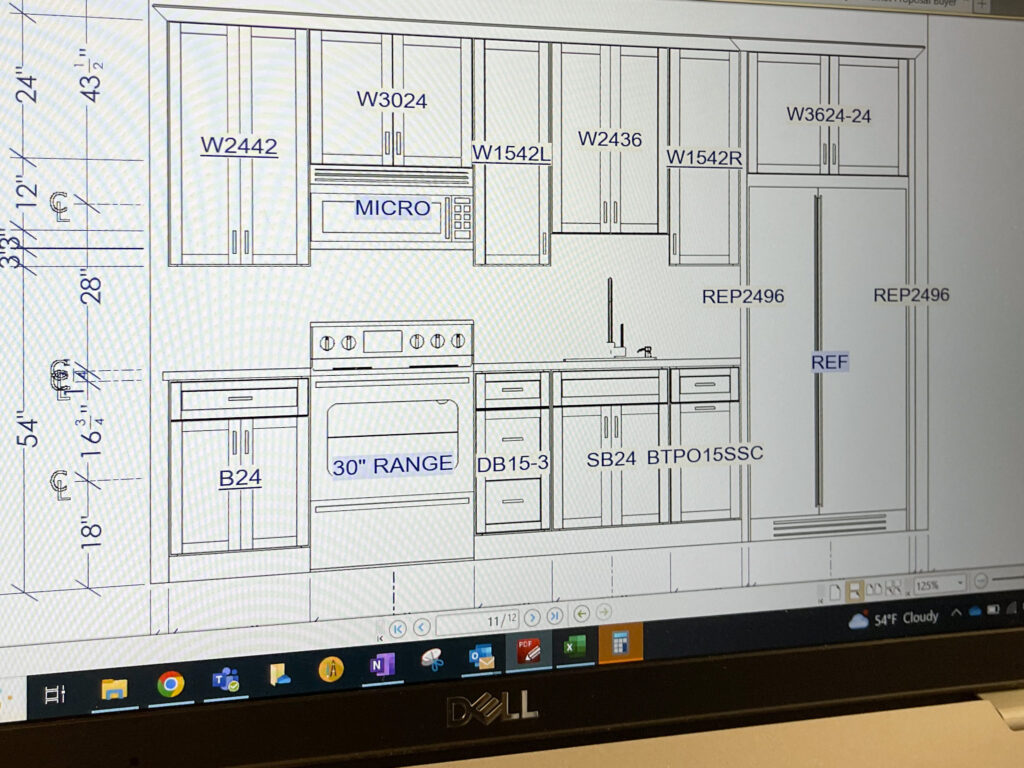 They're now thinking we could be in as early as the first week of July. We were originally thinking it could be as late as September or October knowing all the delays industry-wide. But we forget that the weather here makes it much easier to build year-round when you don't have to contend with snow and other winter issues. We're still going to assume early August at this point so we don't get our hopes up too much, but it's exciting to think how quickly we'll be able to move in!
I've been meaning to share this cute little Clover Tini Table for a month or two now. We actually bought it around the holidays because Kurtis was needing a little side table for drinks when we watch a show. The coffee table we're using temporarily is too small for the space, so neither of us can actually reach the coffee table easily from the sofas. I had been using an old c-table we've had for a few years, but he needed something as well. I obviously love the shape and it is very sturdy and heavy at the base. Funny enough, one of my blogging besties Kris at Driven by Decor bought the same one and we didn't even realize it until a week or two back! I wanted to share it while it's $50 off today!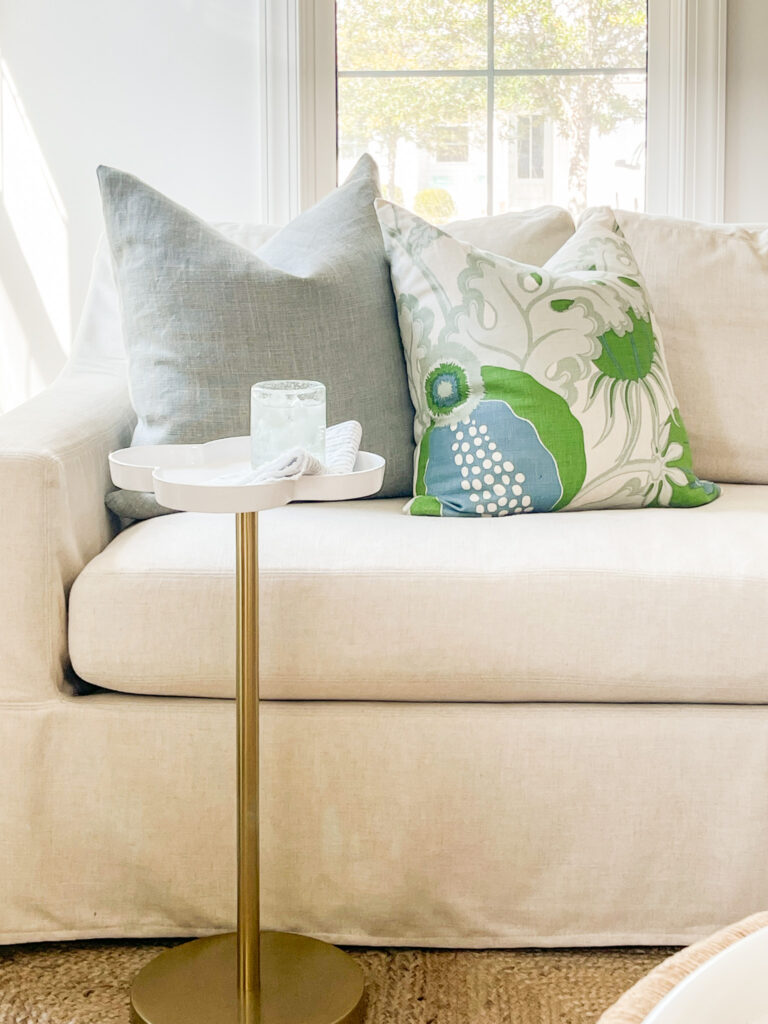 LIVING ROOM SOURCES: Linen Sofa | Linen Pillow | Patterned Pillow | Clover Tini Table | Recycled Sea Glass Drinking Glass | Rug
Tuesday night we had an "interesting" evening, when Kurtis tried to toss me the TV remote (left-handed) while laying down on the sofa. Turns out my freshly poured wine glass was a better target than my hand (several feet away), and the entire glass spilled and shattered on the sofa. I've talked about this fabric before in my sofa review post, but this truly put it to the test. Some areas (like on the upper right) wiped right off, but in the areas where it soaked in (while we were first cleaning the glass shards), it took a bit more work. Ultimately, it came out 100% of the way with a cycle through the wash with one Tide Pod. That didn't get it all, so while it was still wet, I sprayed some Dawn on it and let it soak for about 45 minutes. I then washed it again with another Tide pod. It thankfully came all the way out! This fabric is technically dry clean only, but other than a ton of strings I had to cut on the interior, I didn't have any issues. I even threw it in the dryer until it was about half way dry, and then let it air dry the remainder of the way. So glad we were able to get it all clean!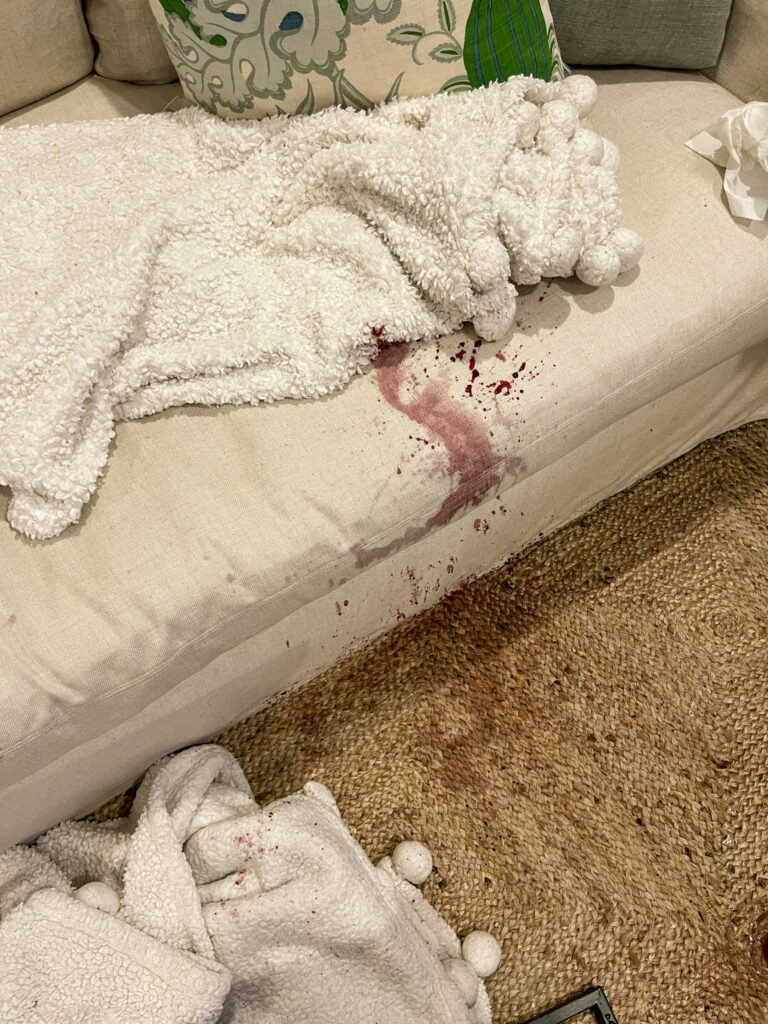 Here's a bad night pic of it the next day, but you can see how clean it got. The rug was a bit more difficult and has some dark patches, but I was surprised by how well it cleaned up too. We poured baking soda on it overnight and then vacuumed it up.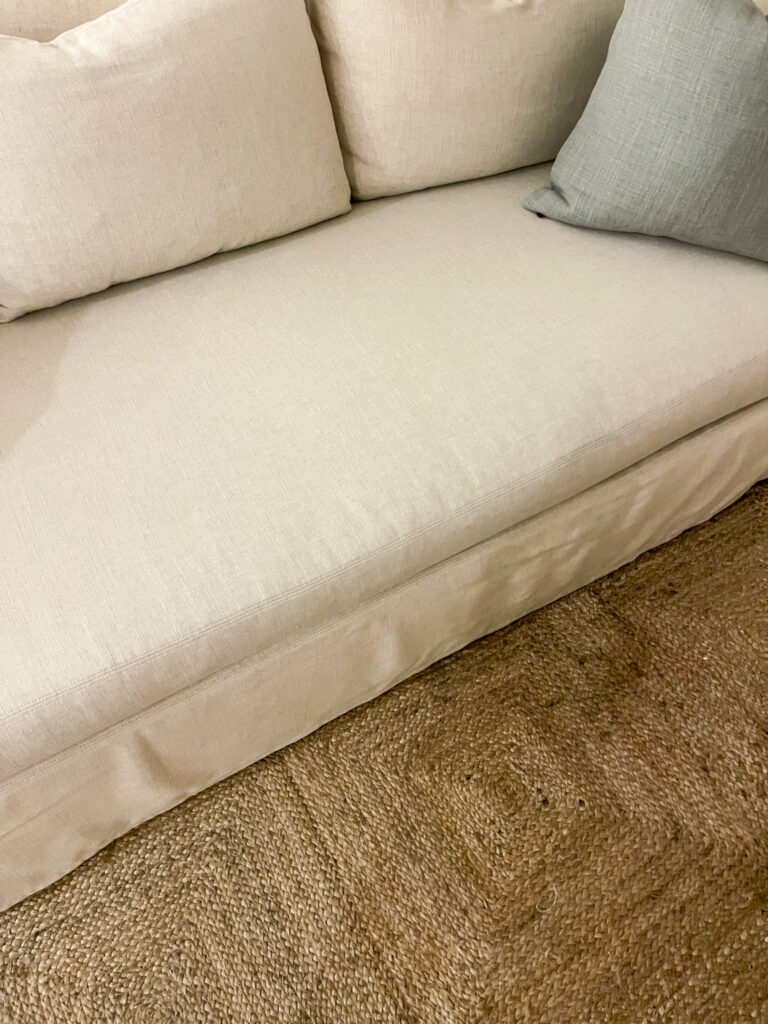 Top Sellers Of The Week
Following are the top sellers from last week across all of my channels. Links to each item are below the graphic.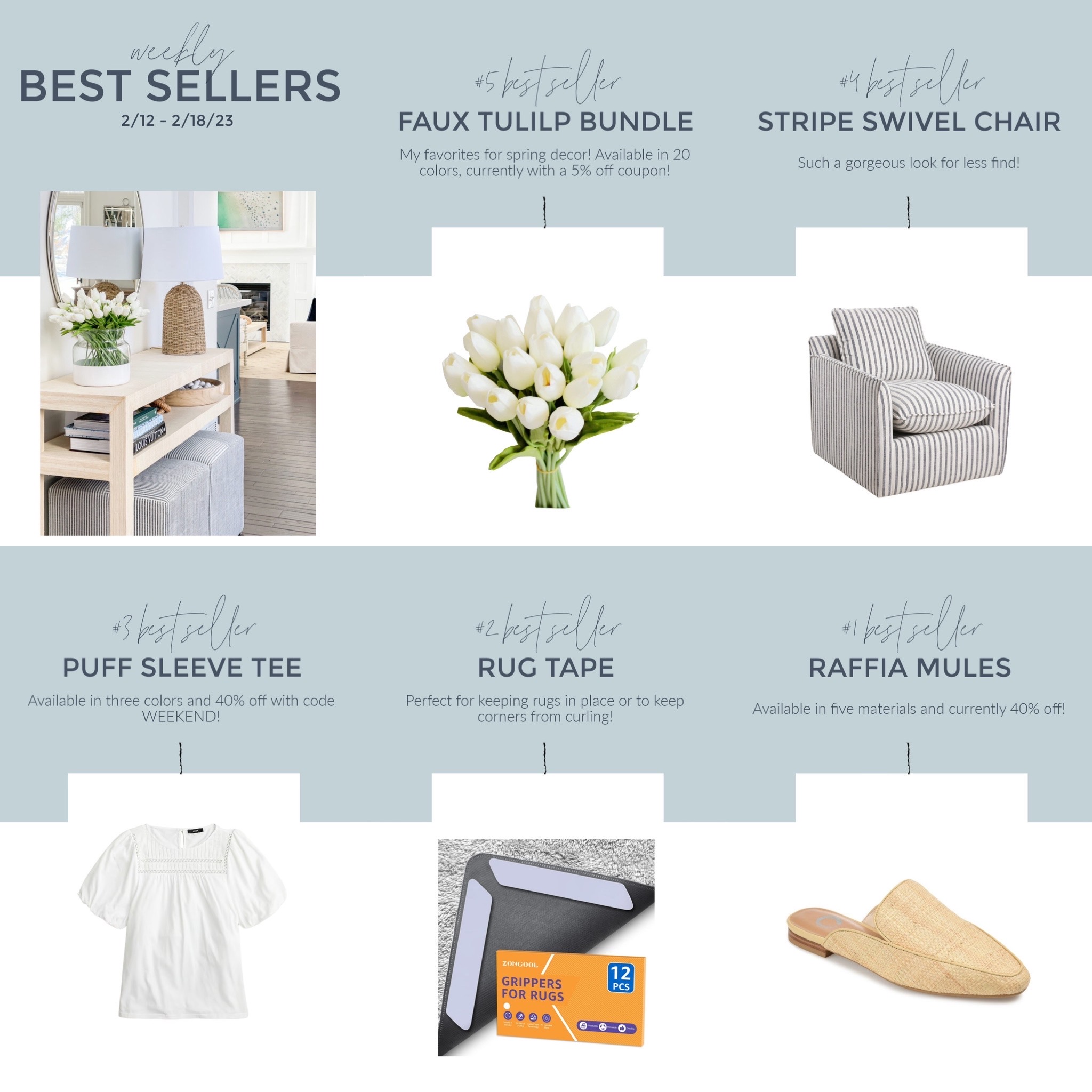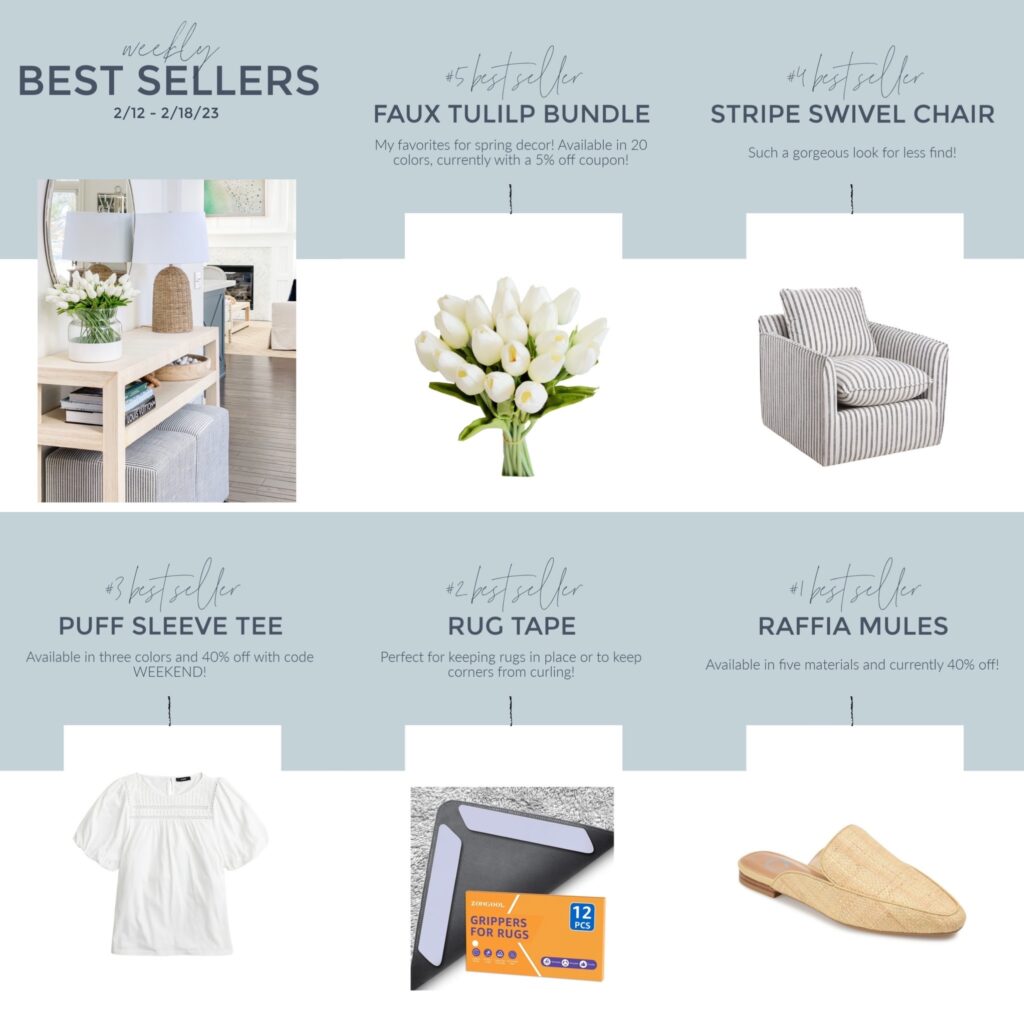 BEST SELLERS (each number is clickable): #5 | #4 | #3 | #2 | #1
In Case You Missed It
Following are the posts I shared over the past week, in case you missed some days!
Following are the most read blog posts of last week (excluding any of the new posts already mentioned above). Many times this includes old posts that are popular on Google or Pinterest.
Around Town & For Fun
Wednesday morning, the weather was beautiful after a dreary weekend, so we got up early and biked to Alys Beach for breakfast. Spring is definitely starting to arrive along 30A, and I'm excited for all the buds and blooms that are slowly starting to appear! This area of Florida definitely has four seasons, and since we moved here mid-October, we're eager for things to green up! You gotta love all the gorgeous doors and paint colors along 30A! I could honestly wander the streets for hours.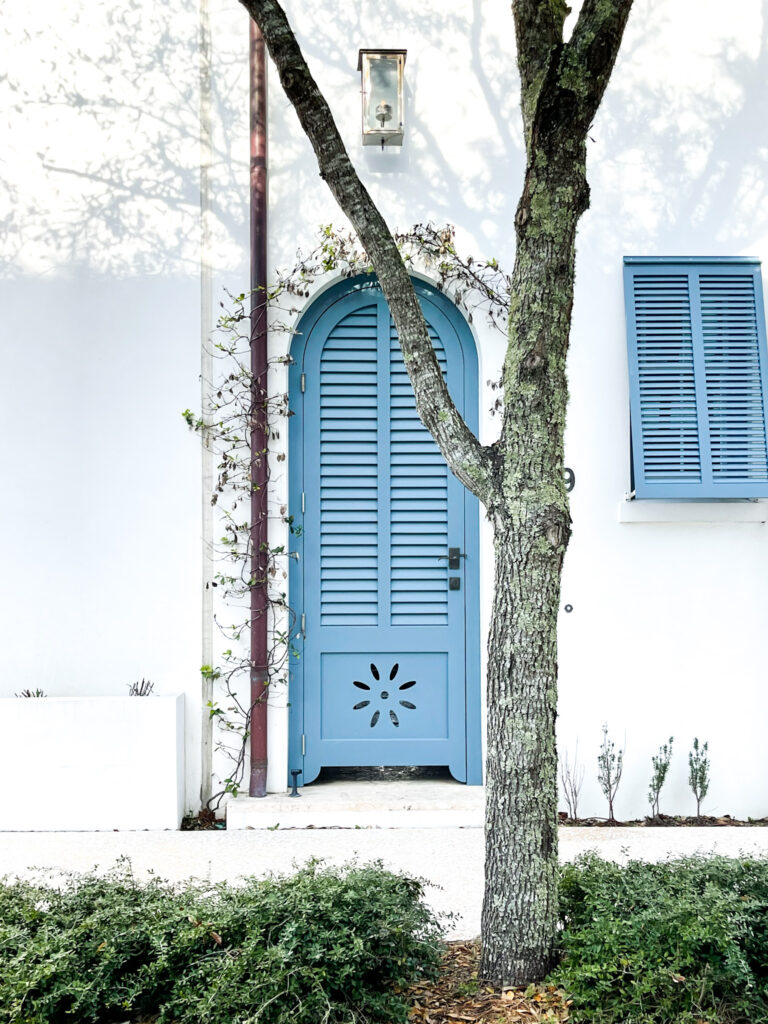 Wednesday night, my friend Rachel and I had our first golf class! We're in an eight week series and learning the Operation 36 method (which basically means we've only played with our putter so far). It was a beautiful night but very windy and freezing by the end. But it was so fun to start the class!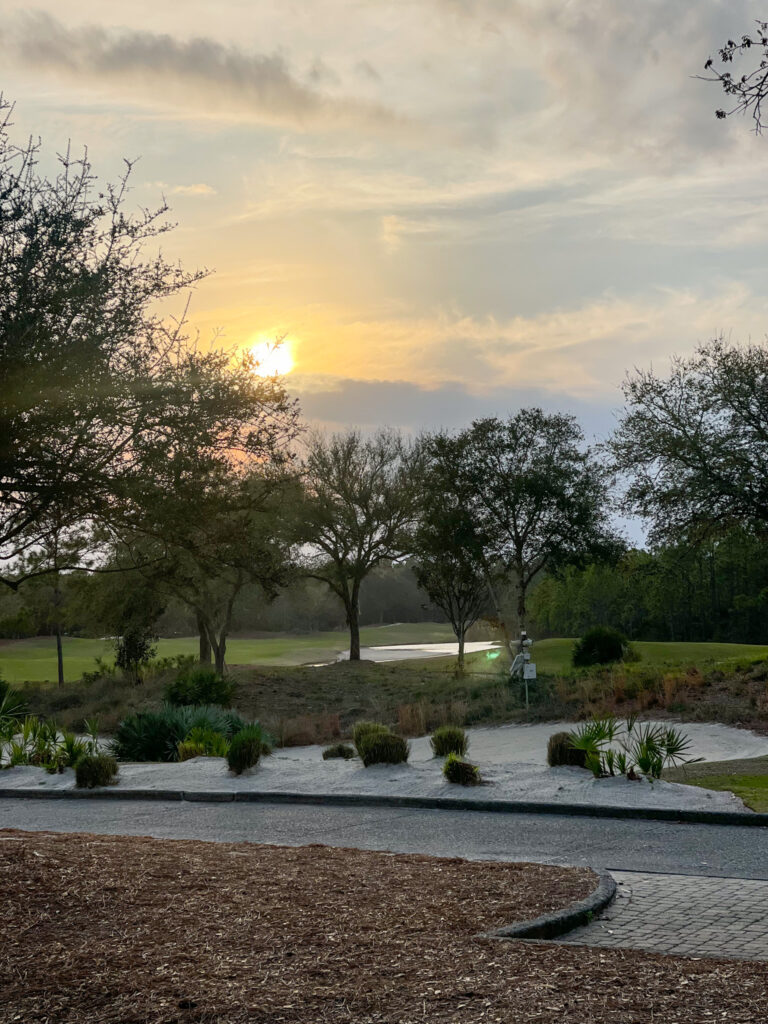 Saturday afternoon, I took a charcuterie class with my friends Kelli and Rachel at Blue Magnolia, and we had such a great time!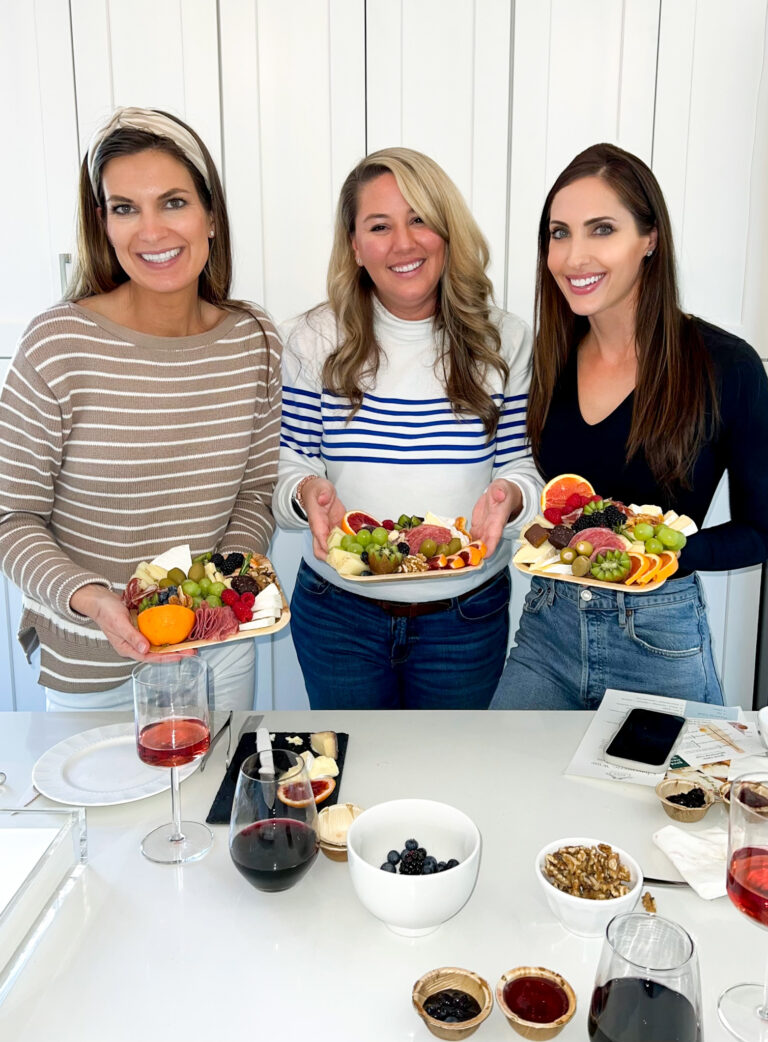 We picked up several helpful tips, and we're really looking forward to some of their pasta making classes in the future, as well!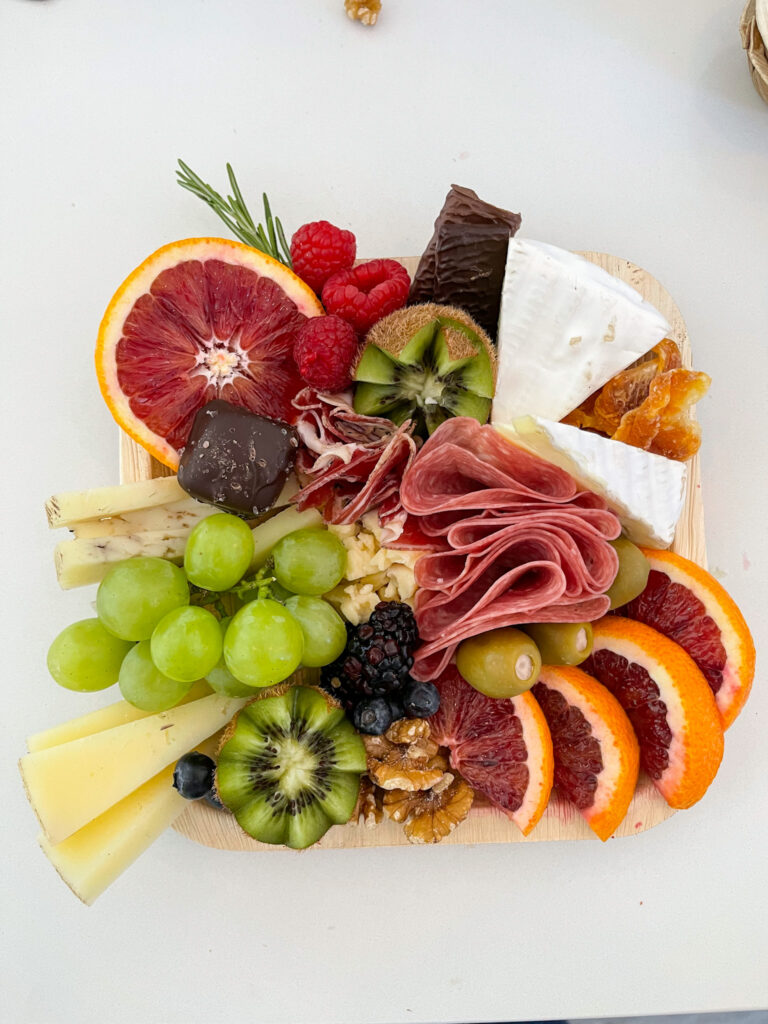 While there, I couldn't stop staring at this gorgeous wall. It's the look we want for one of our home offices in the new build, and I asked if they happened to know the paint color. Turns out it's Benjamin Moore Santorini Blue, which is the color we used on our pool house island, and was also on the short list for the office. Well, the decision has finally been made after seeing this in person! So gorgeous!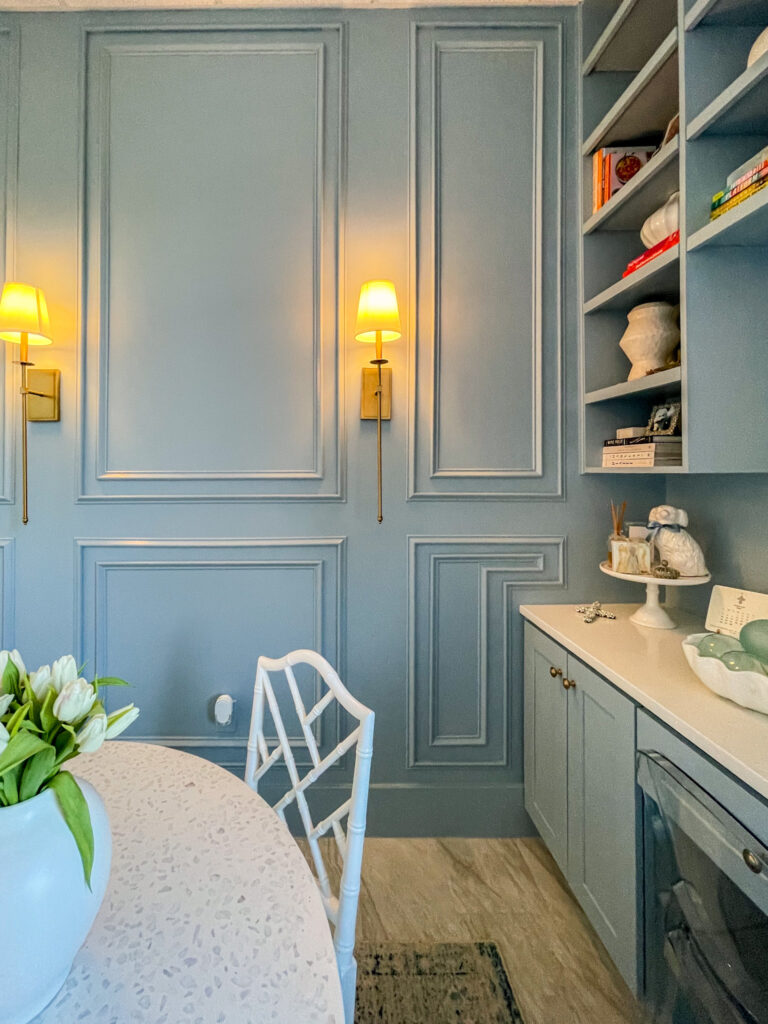 Sunday after lunch, we had an hour golf practice and this time around the weather was warm and sunny and borderline felt like late spring! So fun to get outside and enjoy the warm air! I had done a poll on my Instagram Stories a few weeks ago about ladies golf clothes, and I got some great feedback. I've ordered some of the recommended items, and had a bunch of people ask for me to share the results so I'm working on that post to share soon!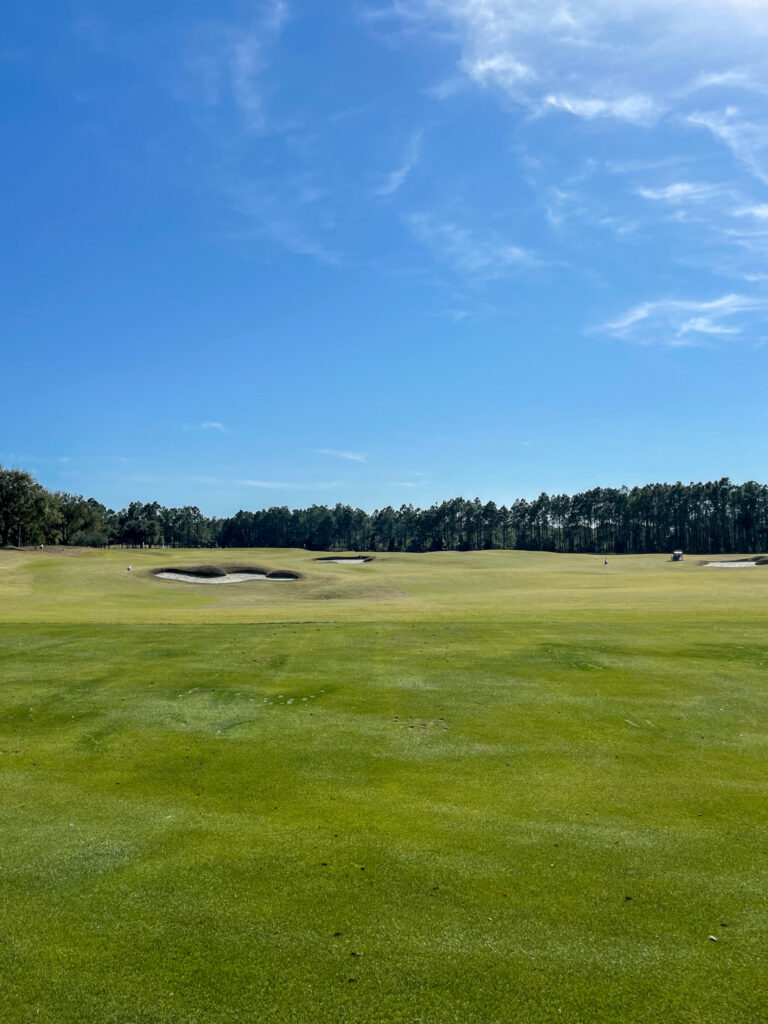 Sunday afternoon was also our neighborhood Mardi Gras party! Along with that, there was a golf cart parade, so my friends Marissa and Rachel and I decorated and entered. It was such a fun time! We threw candy and bead necklaces to the kids (and adults) lined up along the parade route. Mardi Gras Matt on the roof and Roo (Marissa's dog) had a great time as well!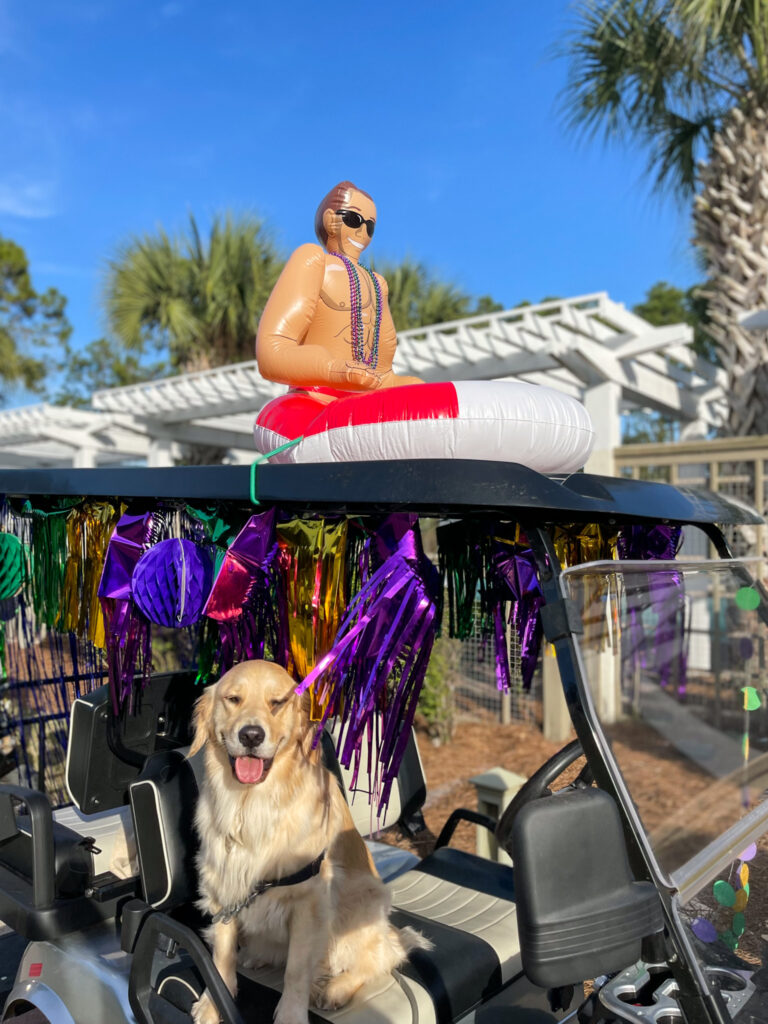 We ended the night with dinner at Amigo's, a local favorite. We know things are about to get a lot more chaotic down here, as the spring break tourists start to arrive, so we're soaking up all the activities we can before we won't want to venture out nearly as much!
Recent Buys & Sales
Following are some sales from the weekend that have carried over and are still going strong! You can see my top picks here.
I hope you all have a great week!
If you would like to follow along on more of my home decor, DIY, lifestyle, travel and other posts, I'd love to have you follow me on any of the below channels: