Good morning! I hope you all had a great weekend! Here's a little bit of what we've been up to this past week.
This post contains affiliate links for your shopping convenience. You can read my full disclosure policy here.
Home Projects & Updates
My impatience in the pool house showed this past week 😉 Once the screens and door hardware were installed mid-week, I decided to start pulling the protective vinyl off some of the windows. Holy crap! I was so excited to see just how much that improved the view! I tried to contain my impatience a bit, and just did a handful of the panels.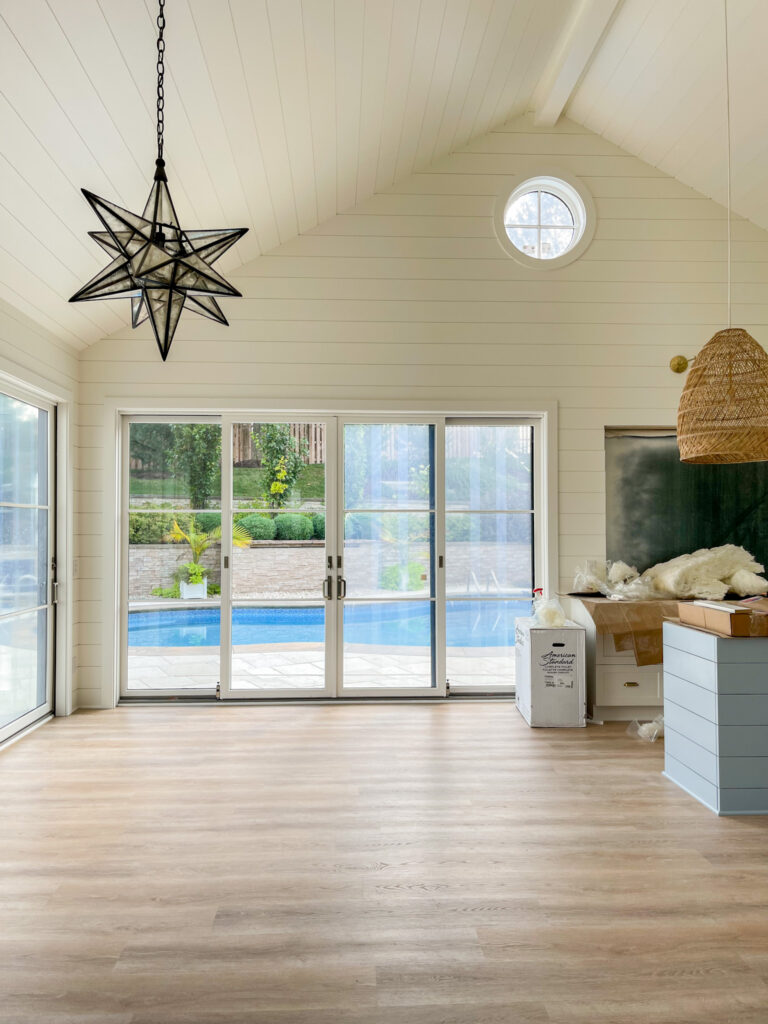 We also decided to start hauling some of the furniture out there. Probably a bit premature, but I'm so happy we did it. We brought out the two swivel chairs, the counter stools, and the dining table and chairs. It was so nice to get it all out of our house (which was the motivating factor in the first place). The additional clutter and furniture was starting to drive me crazy! We only have very limited power at this point out here, or else I can guarantee Kurtis would have had the TV hung, watching football out here all weekend.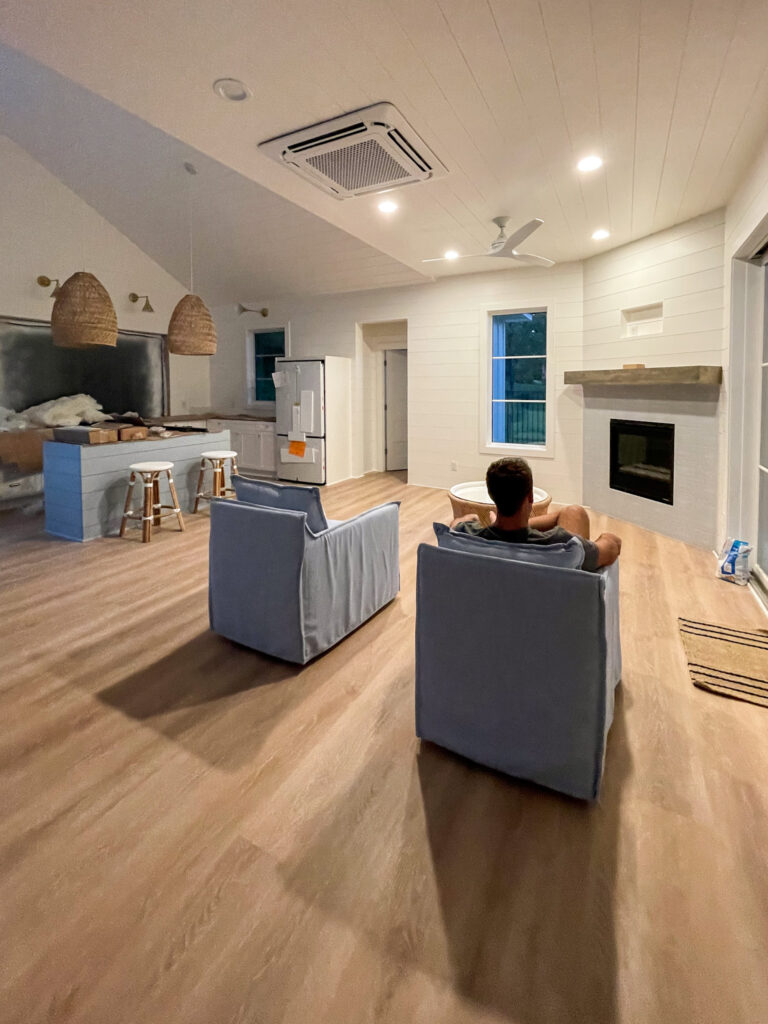 But, we got great news in regards to the backordered pivot window. The clad has finally arrived at the manufacturer, so they hope to ship the window either late this week or early next week! Once we get confirmation, our builder can then coordinate with all the other subcontractors to get things moving again, and hopefully fully wrapped up! I'm counting down the days!
I ordered two of these Swiss cross pillows for my Christmas decor (trying to get a head start). But, I thought they looked just as cute with our fall decor so I'm leaving them out! The quality is excellent, although I didn't love the insert that came with it. So, I just swapped it for one I already had! It's actually on sale today for a few dollars less than I paid for it! I'm hoping to put together at least an abbreviated fall home tour, before I start pulling out holiday stuff next month!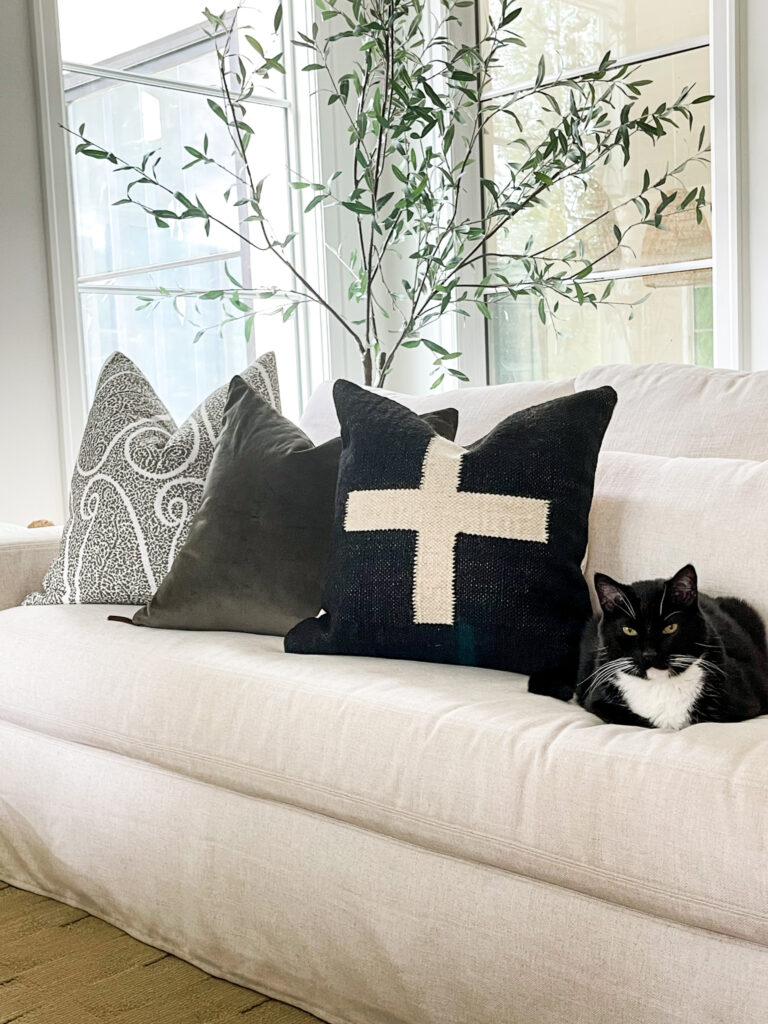 SOURCES: Paisley Pillow | Velvet Pillow | Swiss Cross Pillow | Faux Olive Tree | Sofa (read my review here)
Our new carpet gets installed starting on Wednesday. This has been a to-do list items for eight years since the carpet is not great quality, has been buckling more and more every year, and is continuing to look worse with age. Then, after some of the water damage we sustained over the summer from some big storms, it got wet and had to be pulled back. So, we worked with our builders to coordinate it all with the rest of our renovation (since part of it required carpet regardless). With that, Kurtis and I have had to start moving everything on our top floor into our bedroom. Once they finish those rooms, we'll move things back so they can then do our bedroom. It's essentially why we've avoided doing it all these years. The process sucks!! But we shouldn't ever have to do it again while we live here, so we may as well enjoy it!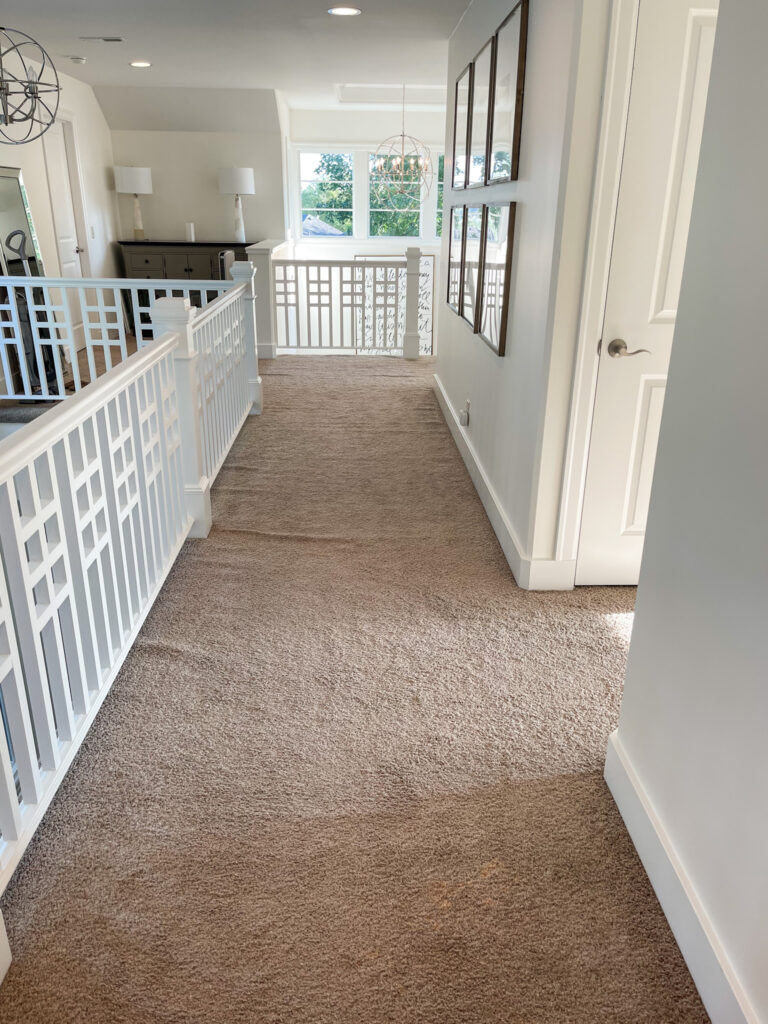 Hawkeye thought moving day was just a big game. He literally always goes exactly where we tell him not to 😉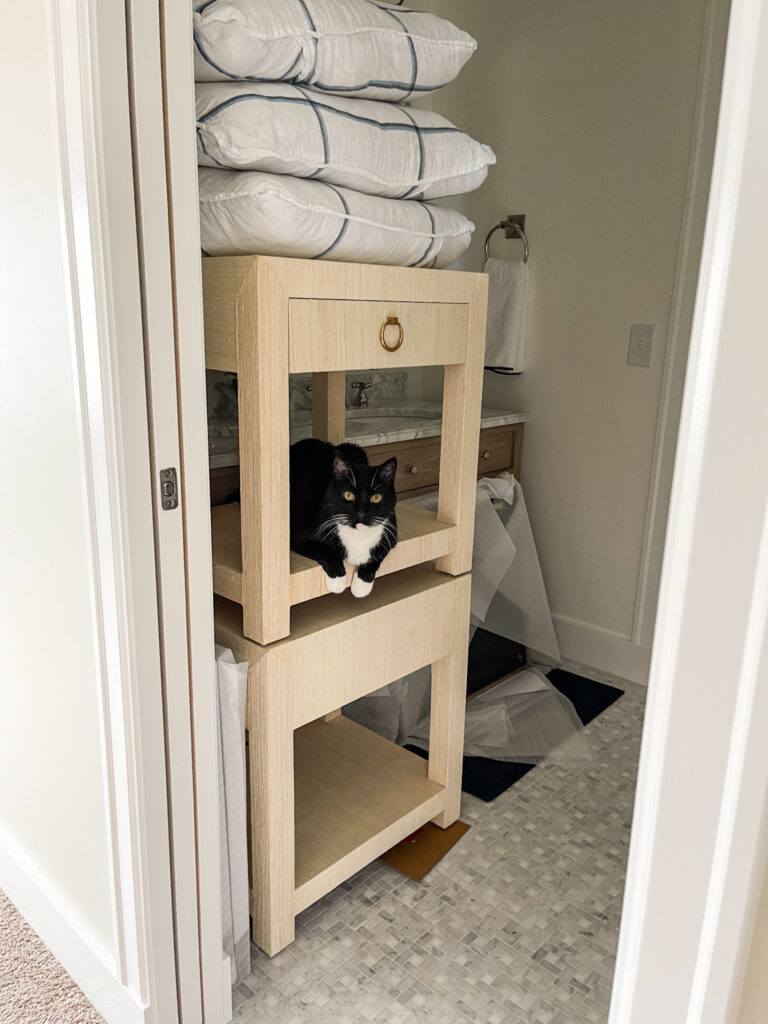 We got the bulk of items moved, but still have to take apart the beds in the guest rooms, and move heavy pieces like Kurtis' desk and a dresser. But we should be fully ready for them Wednesday and I'm excited to get it done! That will also make our bedroom closet somewhat useable again since it's been a construction zone for three months or so. I'm ready to have a little bit of hanging space back for the time being.
I'll also keep you posted on the pool house window. Fingers crossed it ships yet this week!
Top Sellers Of The Week
Following are the top sellers of the past week across all of my channels. Links to each item are below the graphic.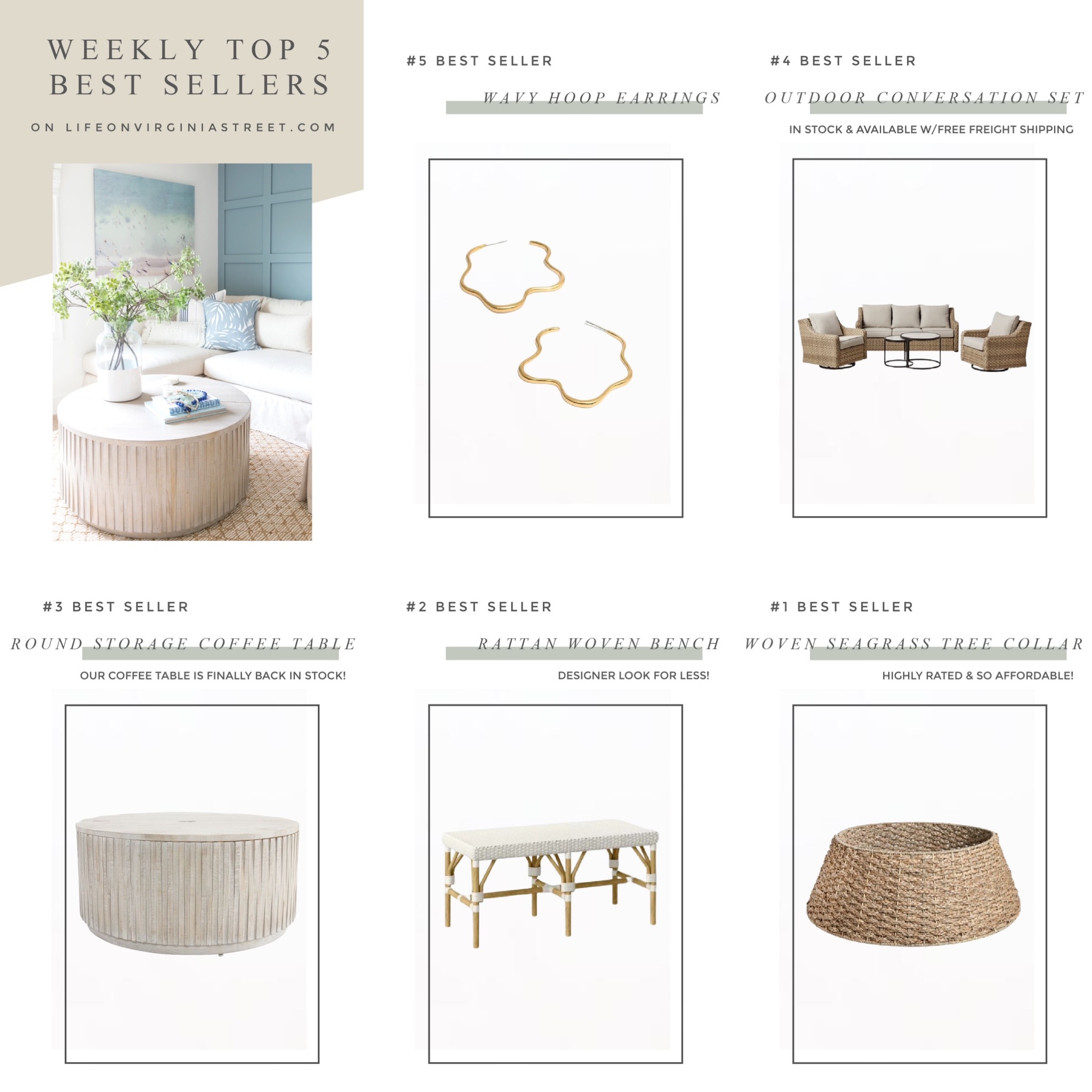 BEST SELLERS (each number is clickable): #5 | #4 | #3 | #2 | #1
In Case You Missed It
Here are the blog posts I shared last week, in case you missed any of them! Click any of the titles below to be taken to the full post:
Following are the most read blog posts of last week (excluding any of the new posts already mentioned above). Many times this includes old posts that are popular on Google or Pinterest! It's fun to see what is trending each week!
Around Town & For Fun
Our goddaughter, Elle, turned one on Friday. It was the same day they moved into their new house on our street, so it was a bit chaotic! But that didn't stop her from having fun!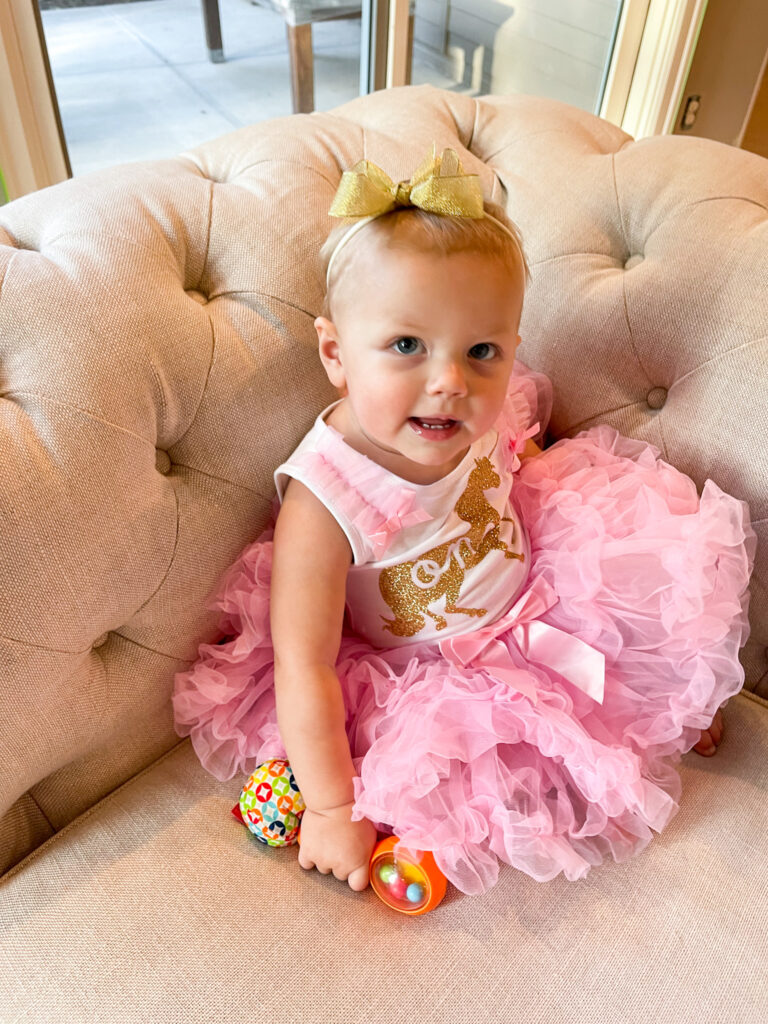 Her smash cake made her a little nervous at first, but then she went to town!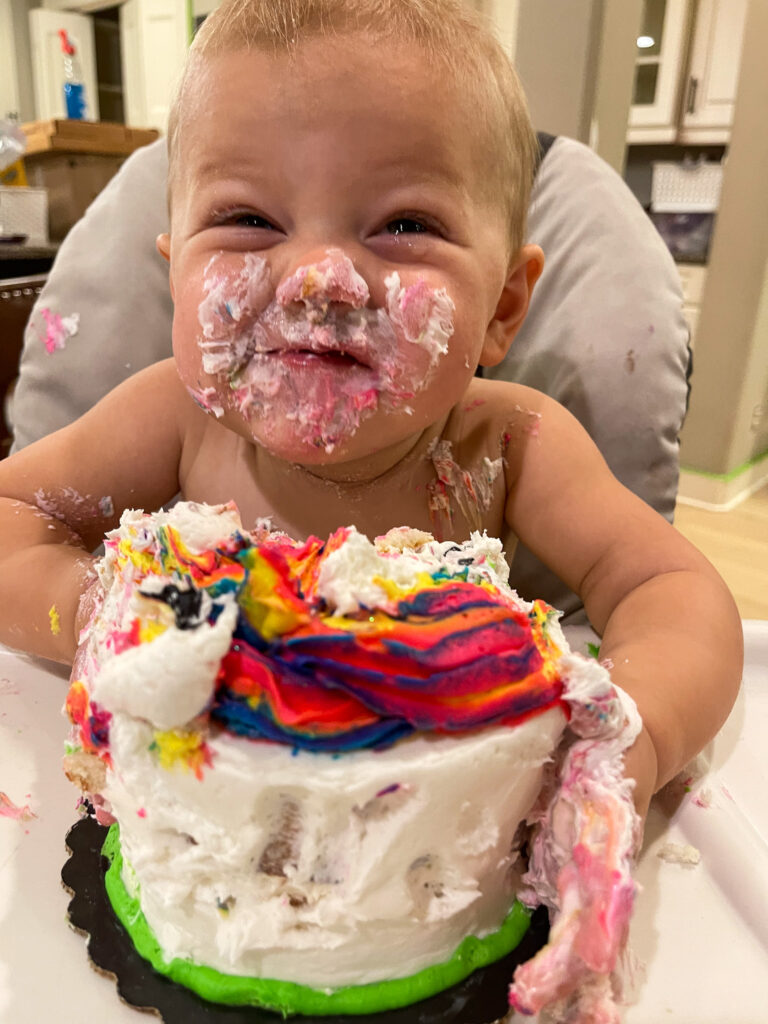 Saturday night, our friend Zach Miller played at Barnato Lounge. One of our friends reserved a booth and we had a lot of fun!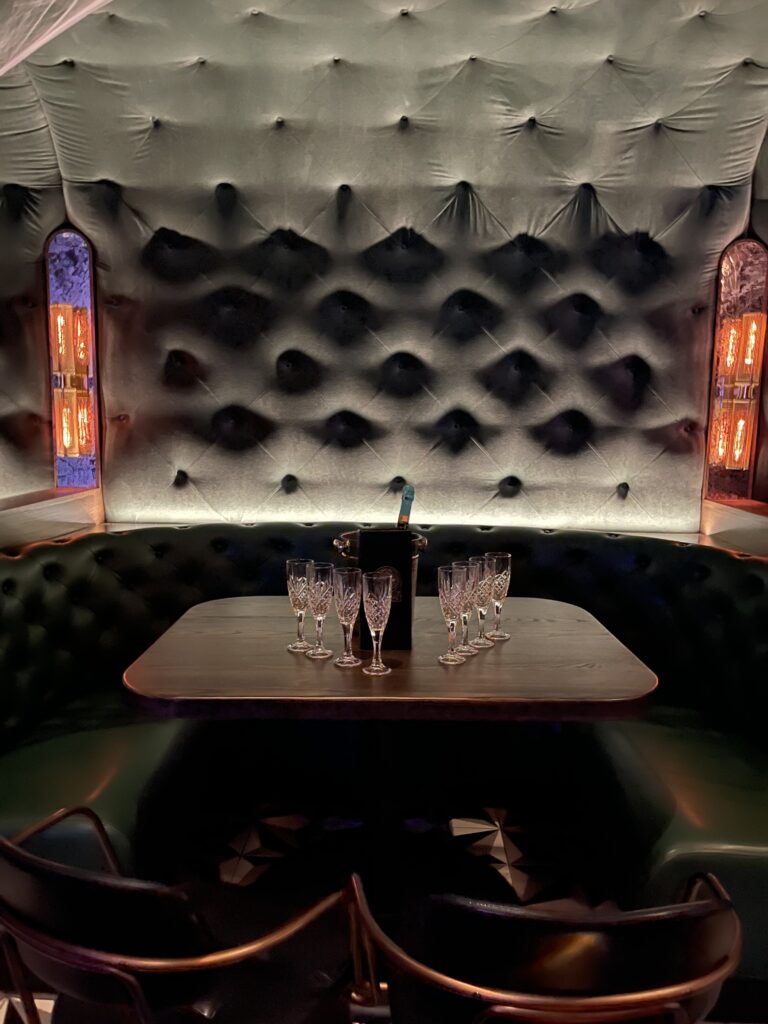 If you haven't been to Barnato, it's a small, intimate venue hooked on to the Bentley dealership at Village Pointe. Zach did an amazing job and it was our first time seeing him with his band!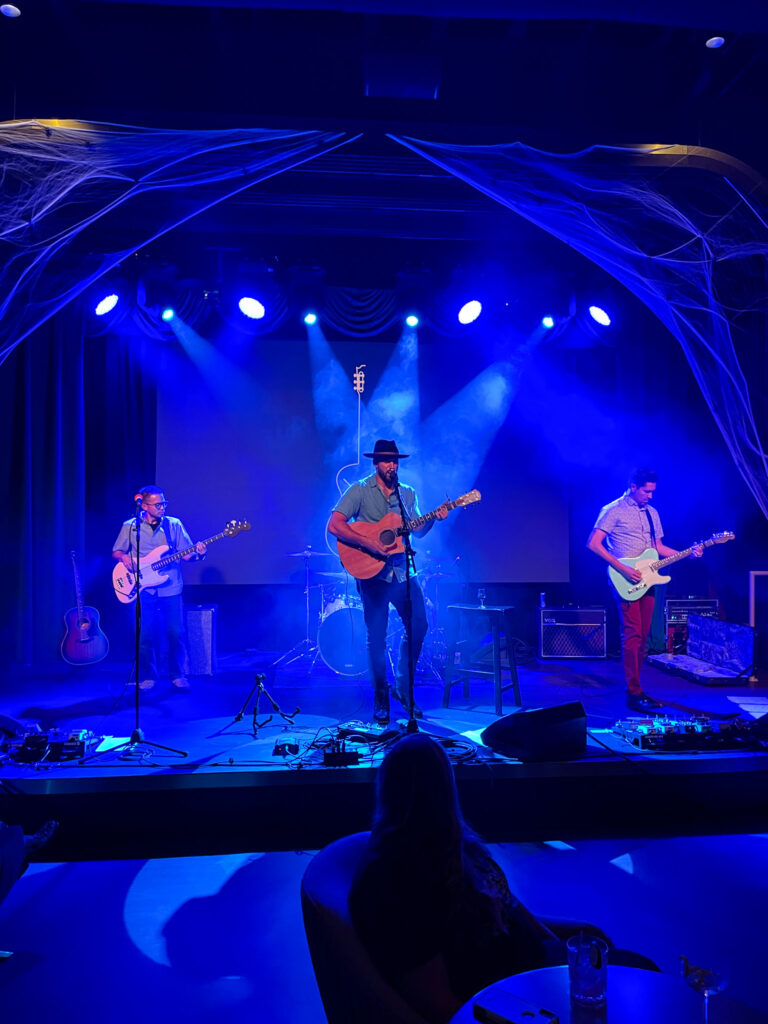 For the past five days or so, Henley had a bump on her neck that continued to grow. It had gotten to about the size of a quarter by Sunday and then she started showing other signs of sickness that day. So, I took her to the emergency vet last night. She had an abscess they needed to operate on to remove. We have no idea how she got a puncture wound that could get infected since she's not an outdoor cat. My guess is her brother bit her while wrestling one day or she rubbed it a bit too aggressively on something and got cut. She was supposed to return home with me last night, but when I called at 10:30 PM last night, and they had just barely put her under, and said it would be another hour and a half before she could go home. I wasn't super comfortable bringing her home when I'd go right to sleep so I'll be picking her up this morning. But I got a text after midnight that said the surgery went well and she was awake!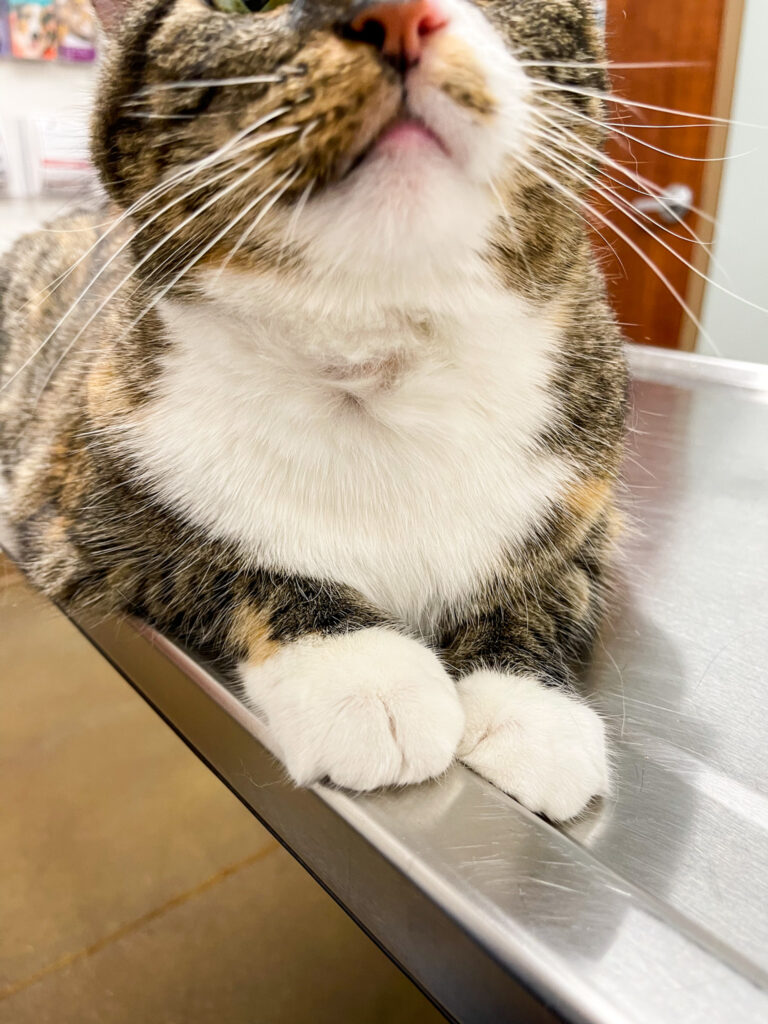 She was so sweet at the animal hospital. She hates her carrier and literally howls in it the whole time. Multiple people were laughing at us at the clinic 😉 But, once I took her out while we waited in her room, she was so sweet and calm!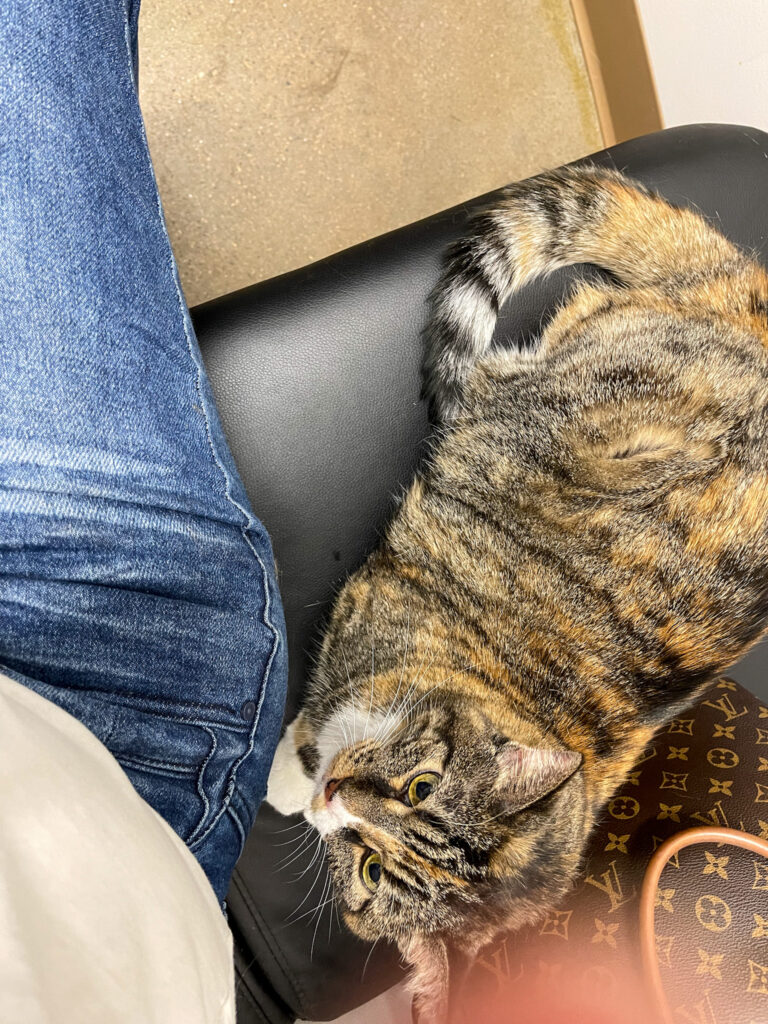 When I was chatting with Kurtis on the drive home, he told me we need more of these floor cushions. We already have two, but they're the hottest seat in the house 😉 They're actually perfect for Bailey, because with her neuropathy, she can't jump very high any longer. She is obsessed with them!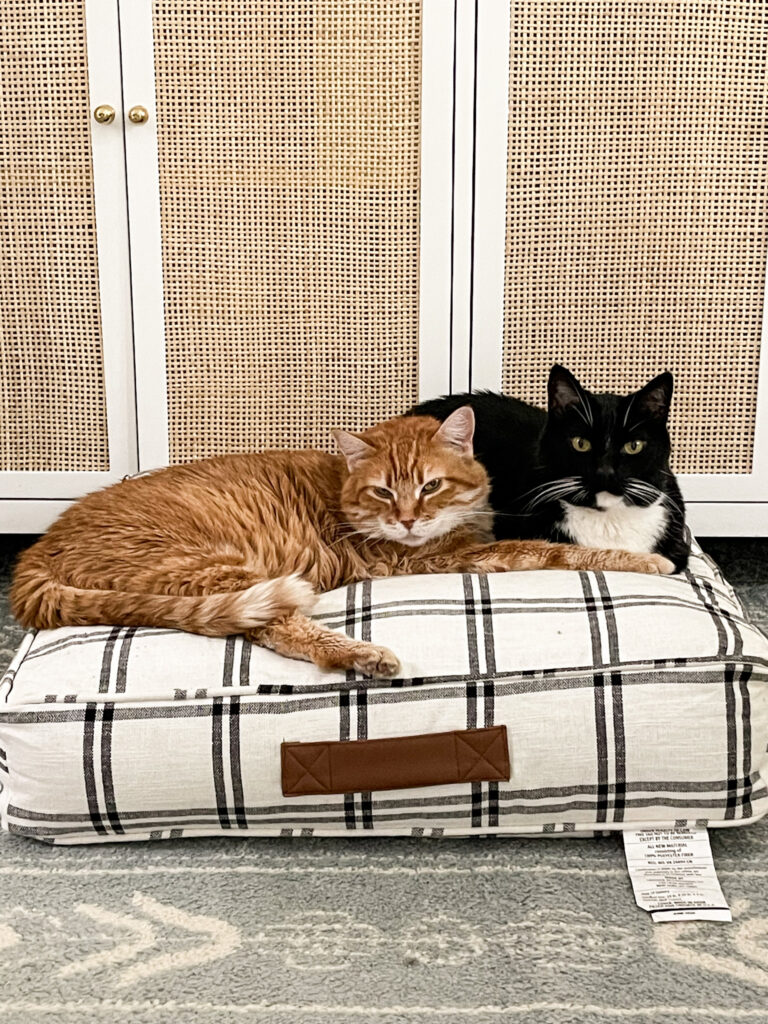 There was the most beautiful sunset last night! There's no filter required when it looks this stunning!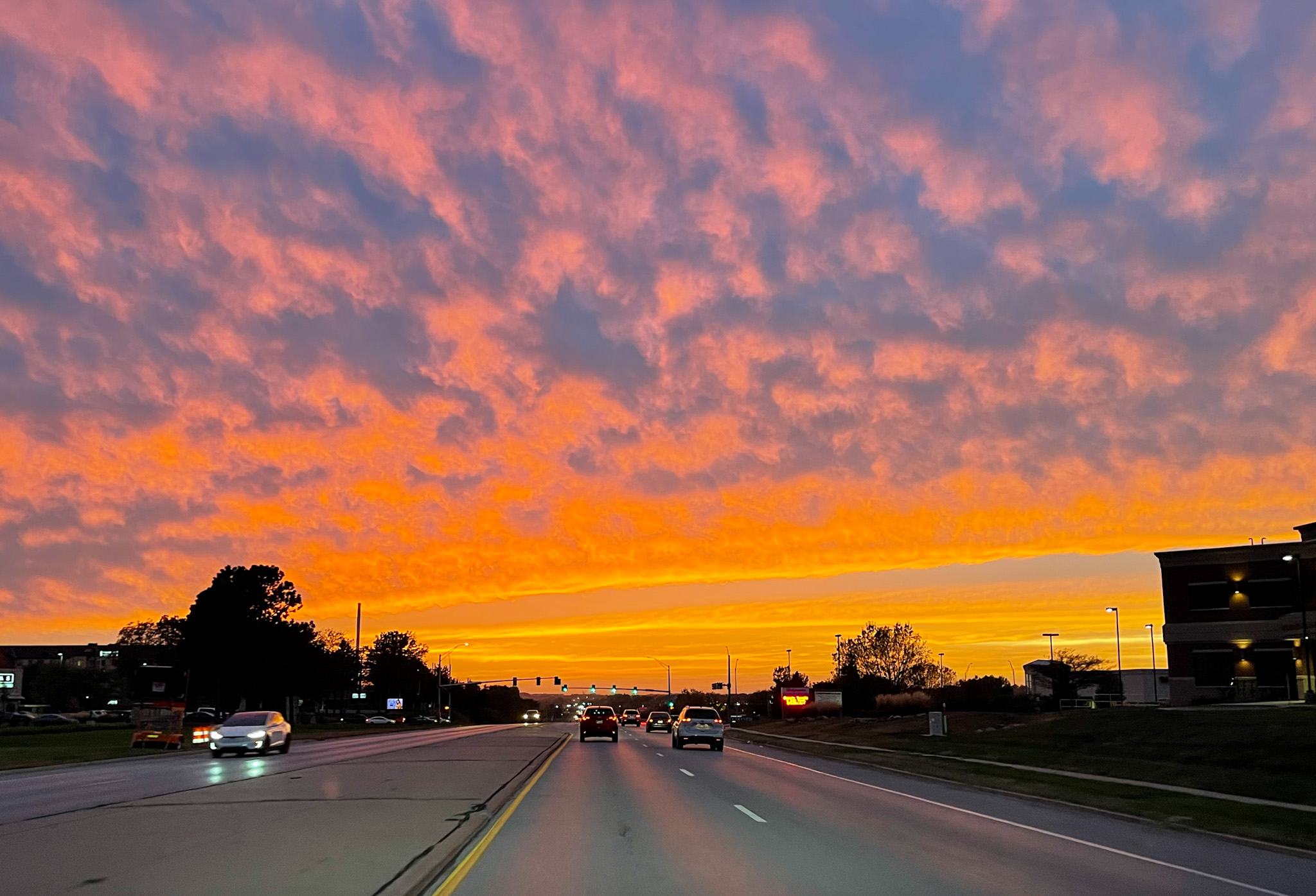 Somewhat quietly, Target launched some of the Studio McGee Christmas collection! A few more pieces launch next Sunday and then a few more the following Sunday, but there are a lot of really cute items that all seem to be in stock still! You can see the full collection here.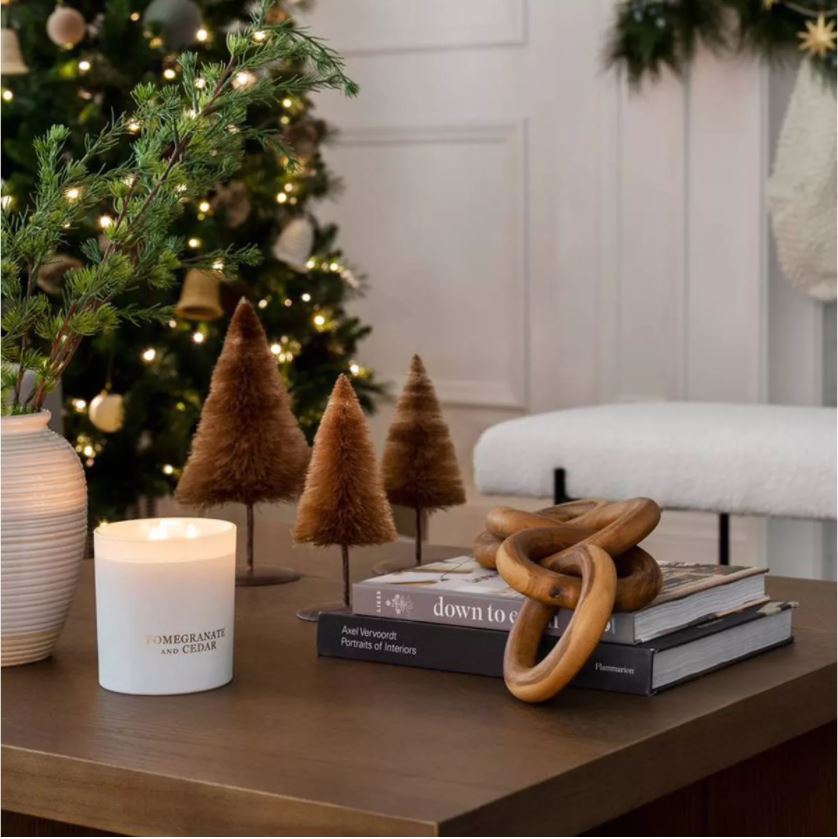 SOURCES: Pine Branch Arrangement & Vase | Pomegranate & Cedar Candle | Bottlebrush Trees | Wood Link Decor | Woven Bell Ornaments | Velvet Ball Ornaments | Gold Star Garland | Spruce Garland | Coffee Table
I'm guessing I'll be pretty active in my Instagram Stories this week as things unfold with the various projects going on!
Recent Buys & Sales
Following are the sales from the weekend that are still going strong. You can see my top picks here.
AMAZON has a number of deals sitewide, but they're also hosting a huge winter face and body skincare event until the 11th with savings on all your skincare essentials. They also have a great price on this Ceramic Vase Set when you apply the additional 20% off coupon! You can shop their site here.
ANN TAYLOR is offering 50% off one full-priced item and 30-40% off your purchase with code FAVORITES. You can shop their site here.
ANTHROPOLOGIE is offering 20% off select wall art, mirrors and wallpaper. You can shop their site here.
BALLARD DESIGNS is offering up to 20% off sitewide. You can shop their sale here.
BODEN is offering 15% off full-priced items and free shipping and returns on orders of $49+. You can shop their site here.
CRATE & BARREL is hosting their Fall Savings Event with up to 60% off furniture and more. You can shop their site here.
GAP is offering 50% off sweaters, sweats and activewear; an extra 50% off sale styles with code PERK; plus an extra 10% off at checkout with code ADDON. You can shop their sale here.
J CREW is offering 30% off sweaters, outerwear and more plus 50% off sweatshirts and sweatpants. You can also save an additional 60% off sale items with code SALEONSALE. Plus if you're a J. Crew cardholder, you get an extra 20% off your entire purchase with code CARDLOVE. You can shop their sales here.
J CREW FACTORY is offering 40% off sitewide plus get an extra 15% off a $100+ order with code BIGSALE. You can shop their sale here.
MARK & GRAHAM is offering up to 50% off sale styles. You can shop their site here.
MARSHALL's has a number of deals sitewide including new markdowns. You can shop their site here.
NORDSTROM has a number of new markdowns in their sale section. They're also offering 2x point to Nordy Club members on beauty purchases! The super popular Marc Fischer Izzie Shearling Lace-Up Boot are price matched at 27% off today! You can shop their sale items here.
OLD NAVY is offering up to 75% off clearance items. Plus, today only, get 30% off your purchase –  no code required. You can shop their sale here.
OVERSTOCK is hosting their fall Red Tag Sale with up to 70% off 1000s of items, which also includes free shipping on everything! You can shop their sale here.
PHILOSOPHY is hosting their Friends & Family event with 30% off your purchase with code FRIENDS. You can shop their site here.
POTTERY BARN is hosting a Warehouse Sale with up to 70% off furniture, bedding, decor, and more. Plus get free shipping on all eligible items with a purchase of $99+ with code FREESHIP. You can shop their sale here.
REJUVENATION is hosting a Warehouse Sale with up to 75% off tons of items sitewide. You can shop their site here.
SERENA & LILY has all pillows and throws on sale – and they all ship for free! They also have a lot of new items in their sale section. You can shop their sale here.
SHOPBOP is hosting a sitewide sale with 15% off $200+, 20% off $500+, and 25% off $800+ with code STYLE. You can shop their site here.
TARGET is hosting their Deal Days event for three days, with major savings on tons of items. You can shop their site here.
TJ MAXX is has a number of deals sitewide! They have a great price on these popular backless indoor/outdoor stools! You can shop their site here.
TORY BURCH has a number of new items in their sale section. You can shop their site here.
TUCKERNUCK has added some new sale pieces that are all darling per usual! You can shop their site here.
WILLIAMS SONOMA is hosting a clearance sale with up to 75% off tons of items sitewide. You can shop their site here.
WILLIAMS SONOMA HOME is also hosting a clearance sale with up to 75% off 100s of items. You can shop their site here.
WORLD MARKET is offering up to 30% off select wall decor and lighting. You can shop their site here.
I hope you all have a great week!
If you would like to follow along on more of my home decor, DIY, lifestyle, travel and other posts, I'd love to have you follow me on any of the following:
Pinterest | Instagram | Facebook | LTK
disclosure: some affiliate links used