Good morning! Not sure about you guys, but I'm ready to start a fresh week and put last week behind me! I'm guessing it was a long and stressful week for everyone. Here's what we've been up to around here lately.
This post contains affiliate links for your shopping convenience. Click here to read my full disclosure policy.
Home Projects & Updates
Kurtis took Wednesday off, knowing that we'd be staying up super late to watch the election results. The weather outside was gorgeous, so we took the opportunity to wrap up some final winterization tasks. We finally took down our outdoor curtains (which is only a ten minute process but we always make it so much worse in our heads).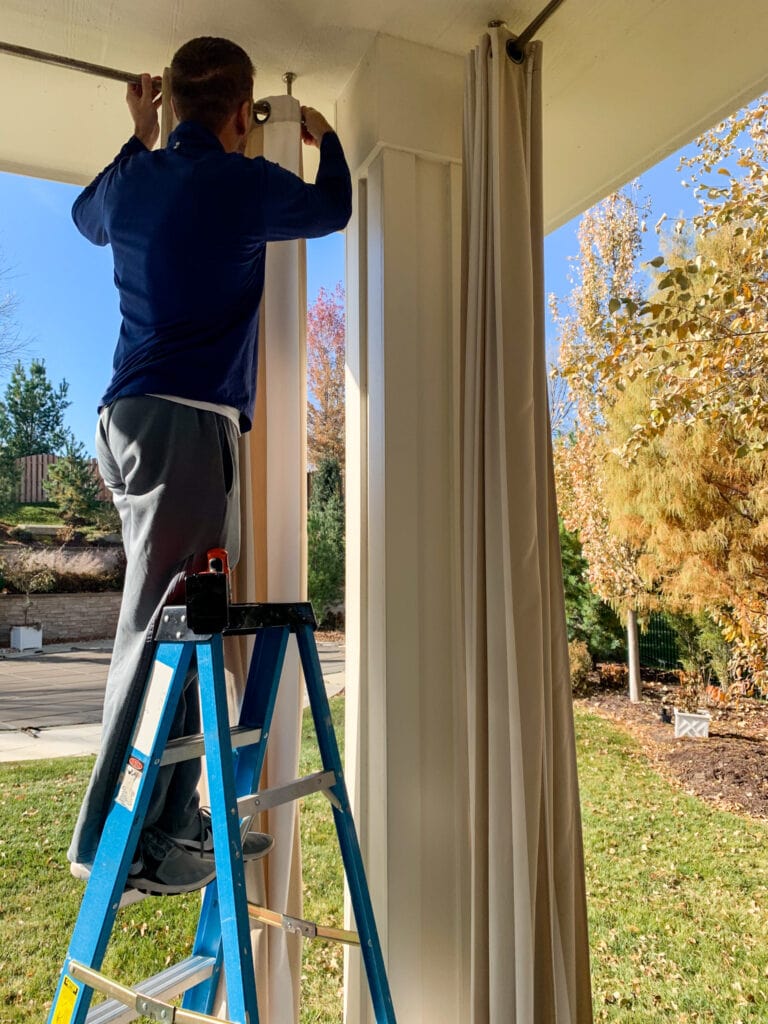 While we did that, we let the cats outside and they were in heaven. It had probably been at least a month since they last went out!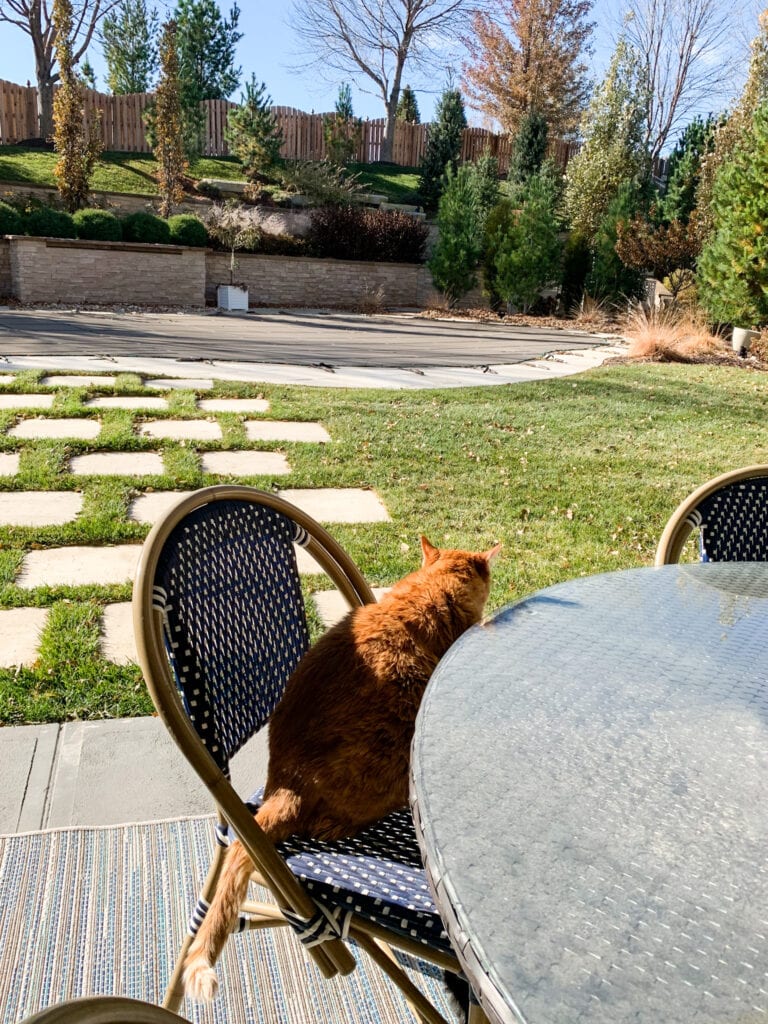 We also cleaned out two of my final remaining planters. Kurtis was pretty excited to do the potato "farming" on my sweet potato vines.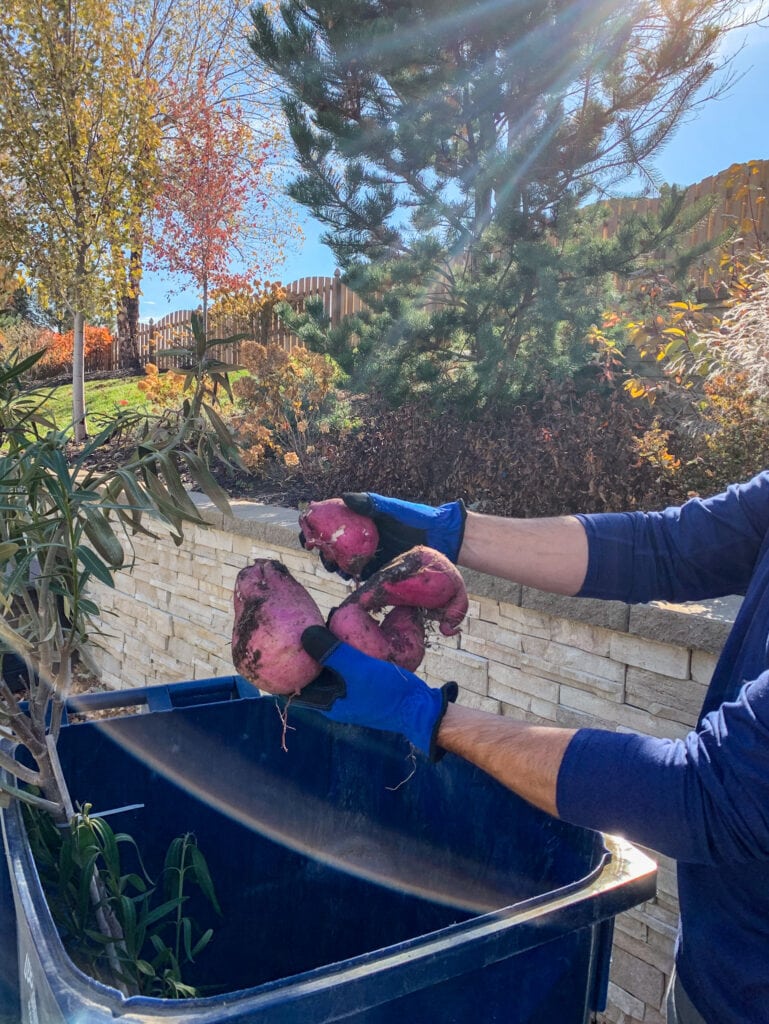 It was his first time ever helping me clean planters, so I let him go to town. I think he actually thought he grew the potatoes since he was the one that dug them up 😉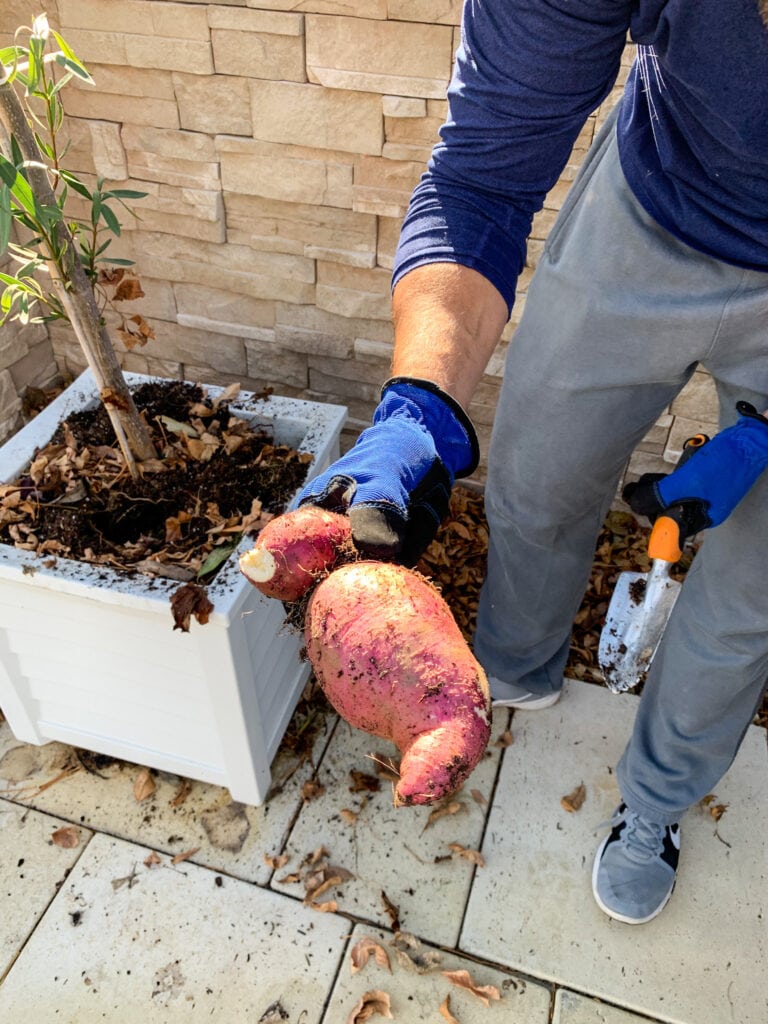 This next photo was to show that hydrangeas basically look beautiful, regardless of season! I've pruned them both in the fall and spring in years prior, but we may leave the heads this year until early spring. I love the dried effect of the blooms in the fall and winter months!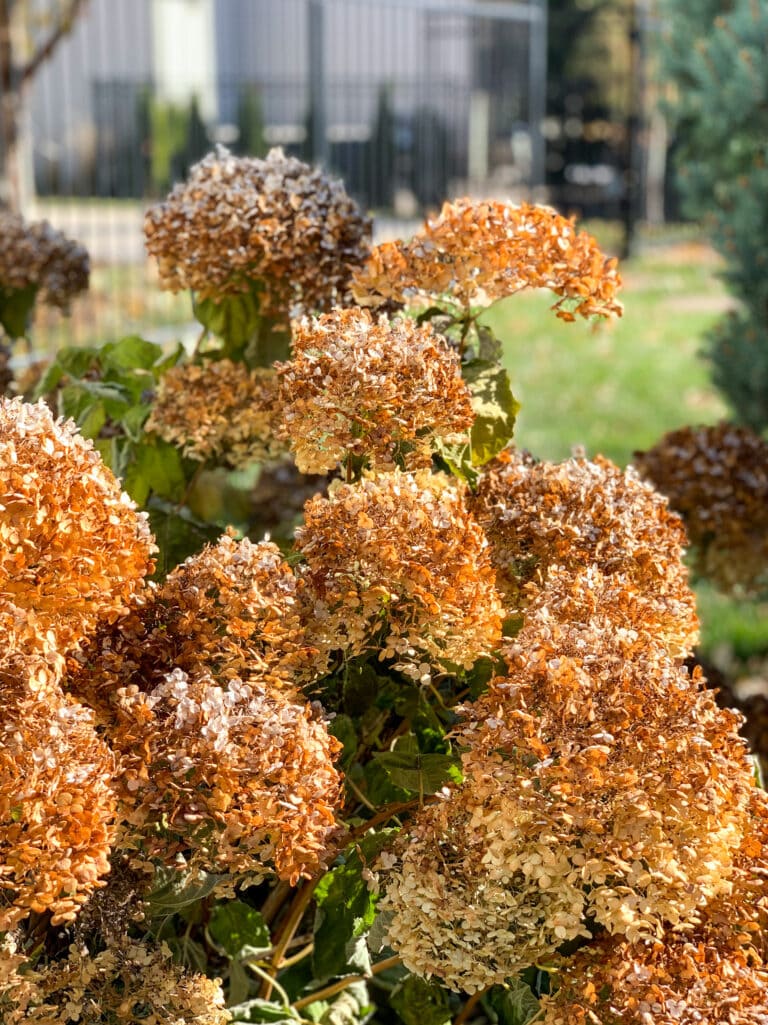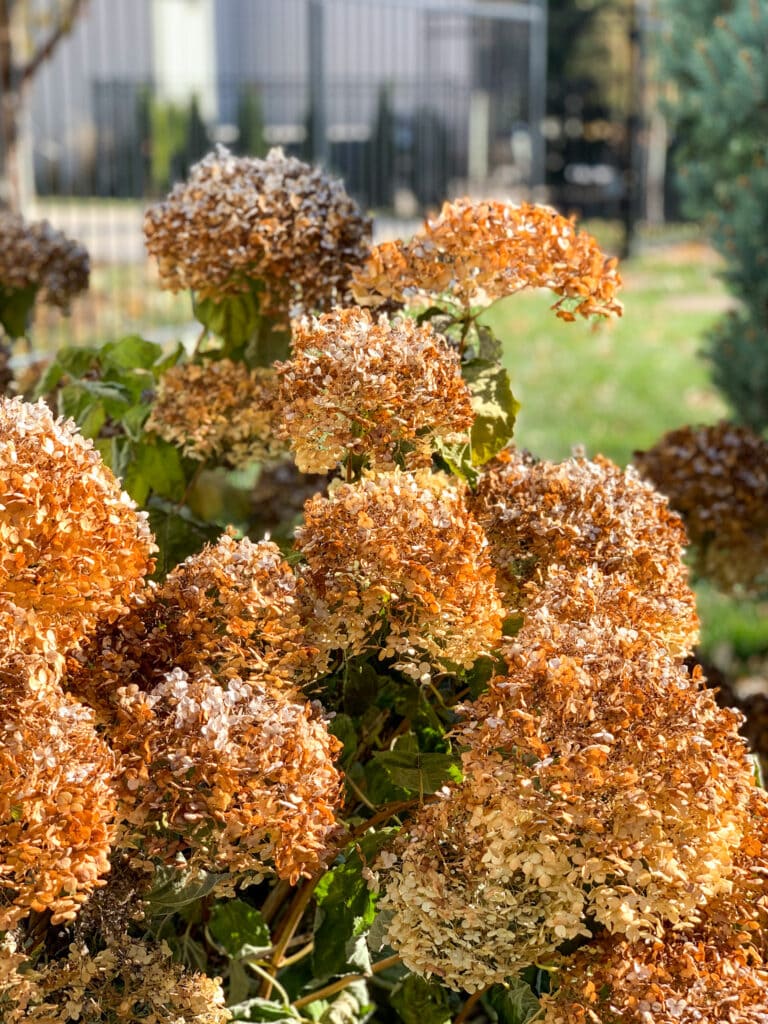 I get a lot of questions about where I store my seasonal decor. As you can likely imagine, as a blogger, I have more than any one person needs. But I have really tried to pare it down over the last year or so, so that it doesn't flow into other rooms in our house. Here is our storage room in our basement. It's the exact footprint of our dining room and the shelves were already here when we moved in. I have about 1/3 of the room with decor and then we store other random things (like 10 totes of every pair of Air Jordan's Kurtis wore as a child – only half kidding). We both made a pact about a week ago that we're tackling this room this winter. Admittedly, there are a few boxes in here with stuff from when we moved in almost eight years ago. Time to be sorted and donated! Since I store our Christmas trees upright and assembled, the room is only semi-navigable during the Christmas season. So, by the new year, we're hoping to have half this crap cleared out of here before the trees come back down.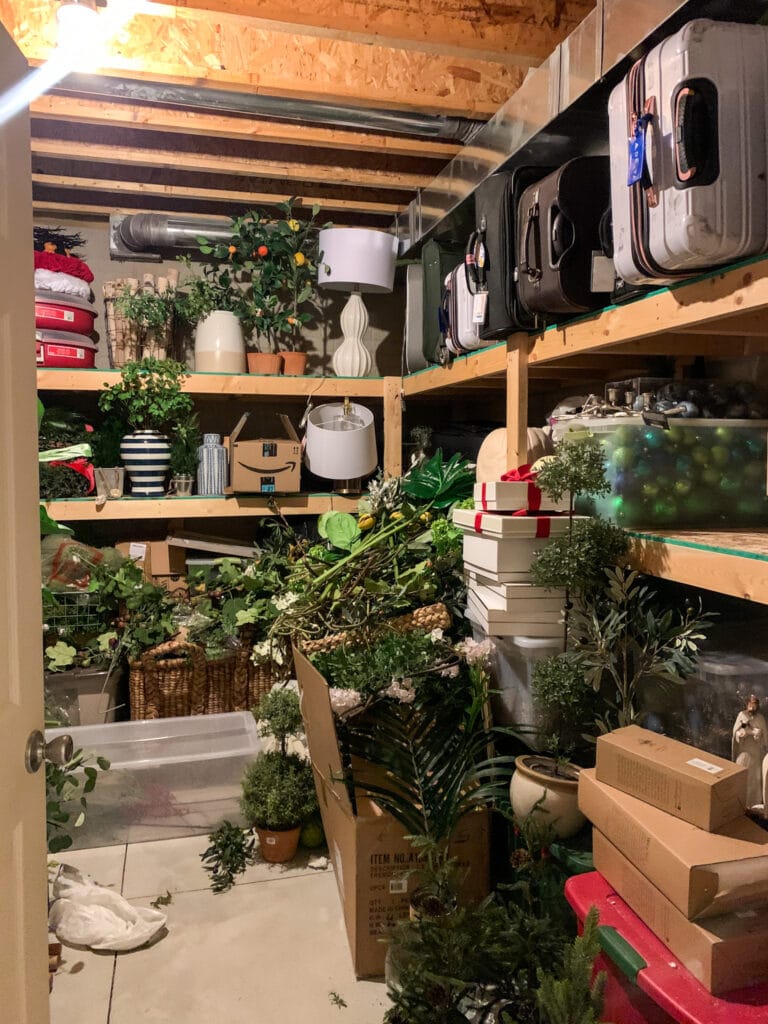 I ultimately ended up bringing up ALL of my Christmas greenery from storage. I laid it in our entryway on the rug to decide where to use it all and grouped similar stems together. These are all old, so I don't have links for them. But, I plan to use it all because I keep most of my decor pretty simple. But I'll always use greenery in every room!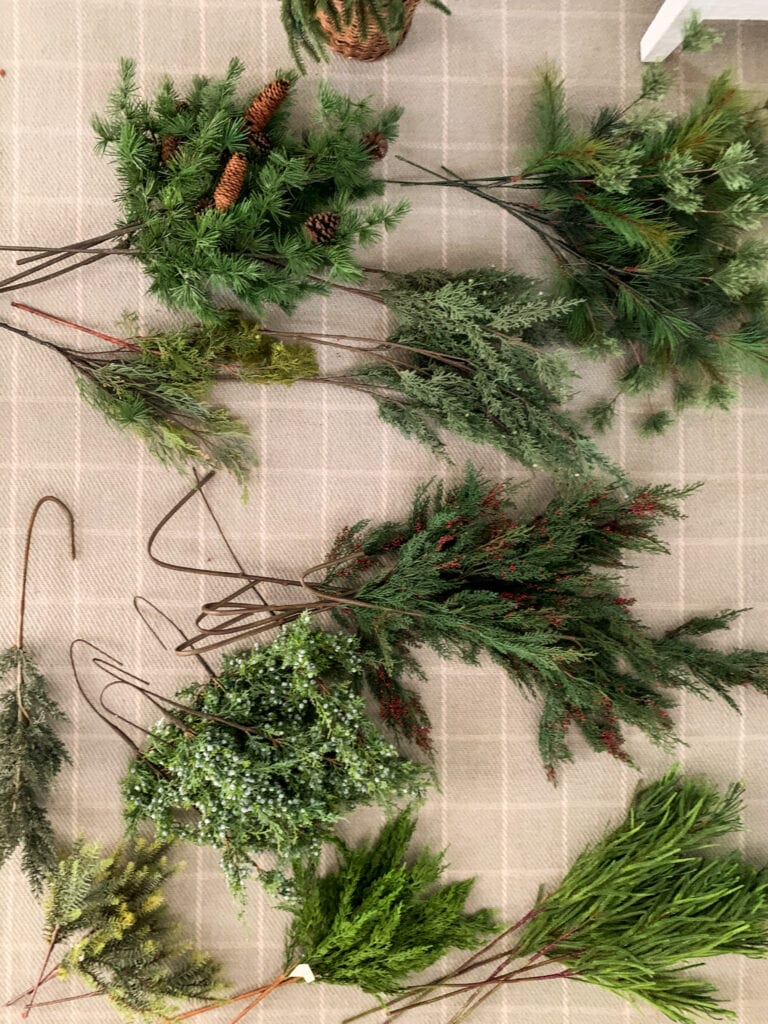 The few new items I ordered for Christmas have mostly arrived. These tartan plaid lumbar pillows (with sherpa backs!) are so good. I have them folded in half here because they are huge! I also got these two darling prints from Lindsay Letters this week. I have the "Have Yourself A Merry Little Christmas" and "Let Your Heart Be Light" in the 8×10 Evergreen print. They're going to be perfect in the gallery frames in our mud room!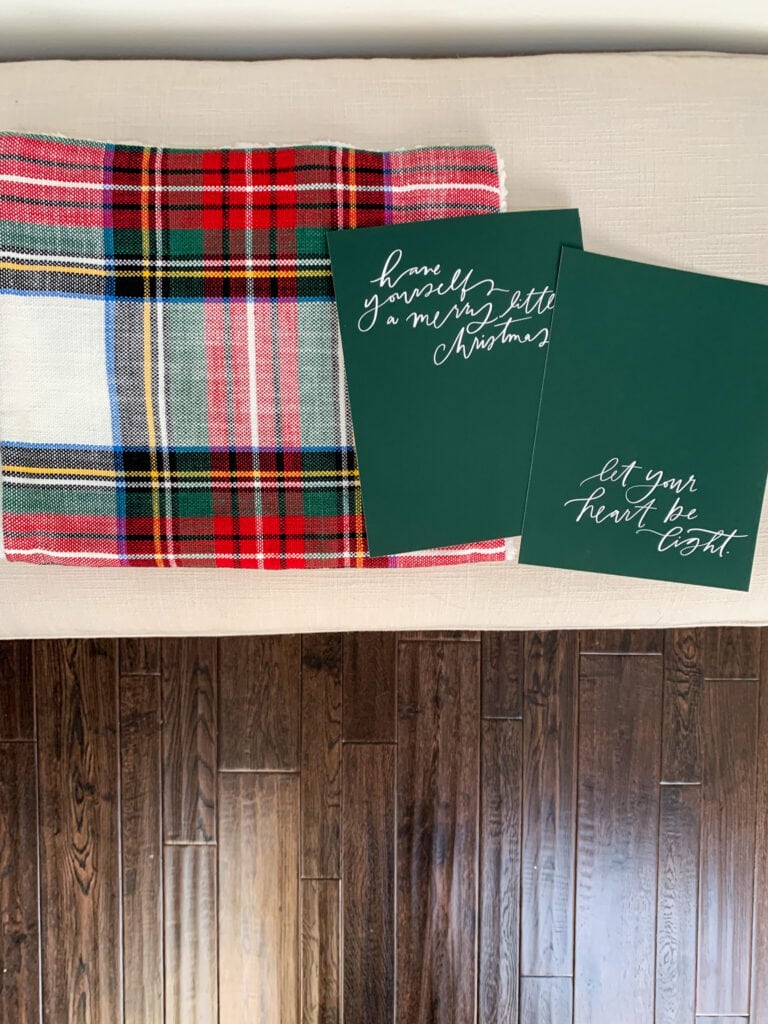 We made a quick trip to Lowe's yesterday to get supplies for a few projects. Our courtyard patio concrete has really started to drop over the past few years. Kurtis wanted to make sure water isn't getting in the cracks so he re-caulked everything.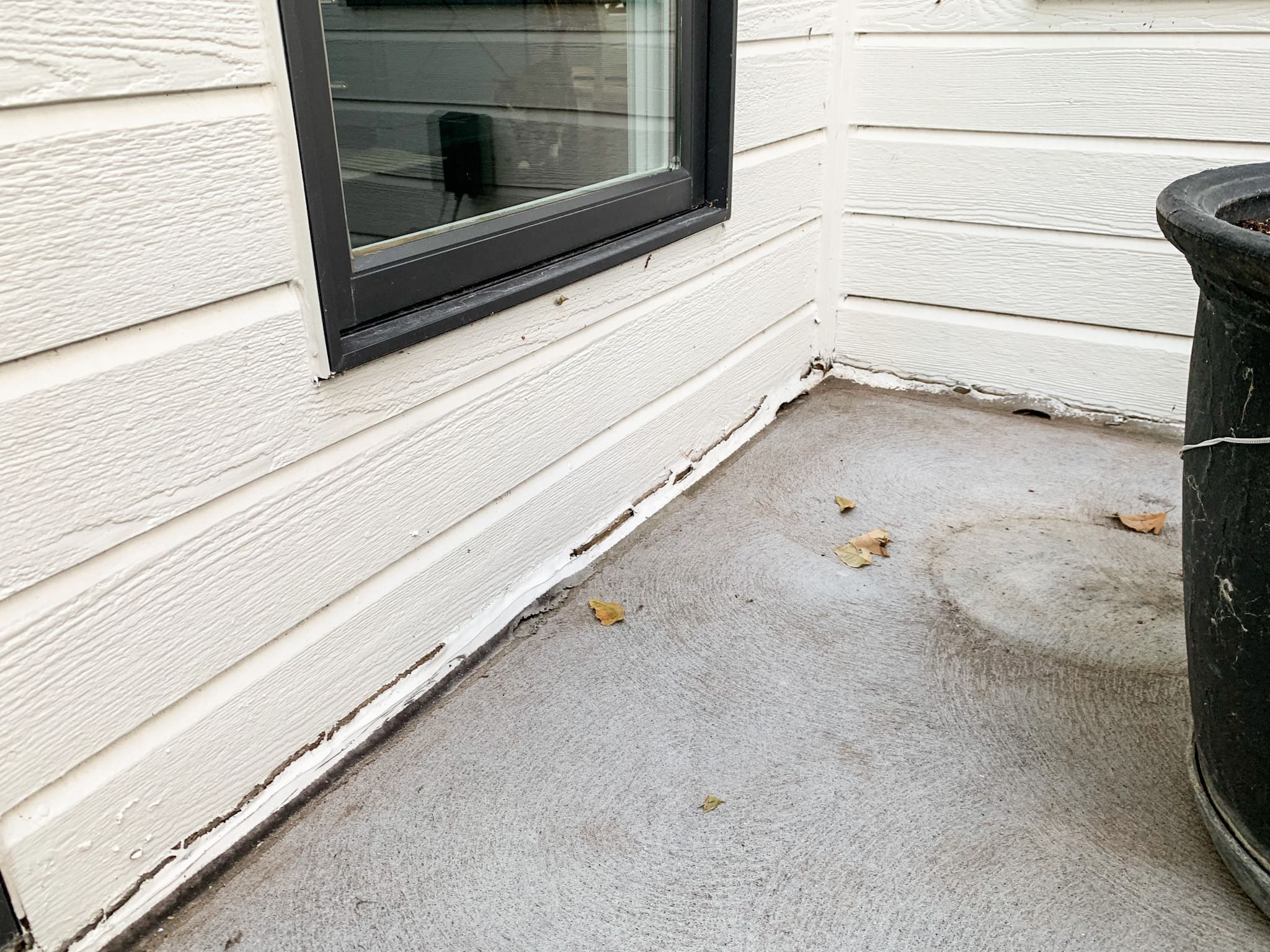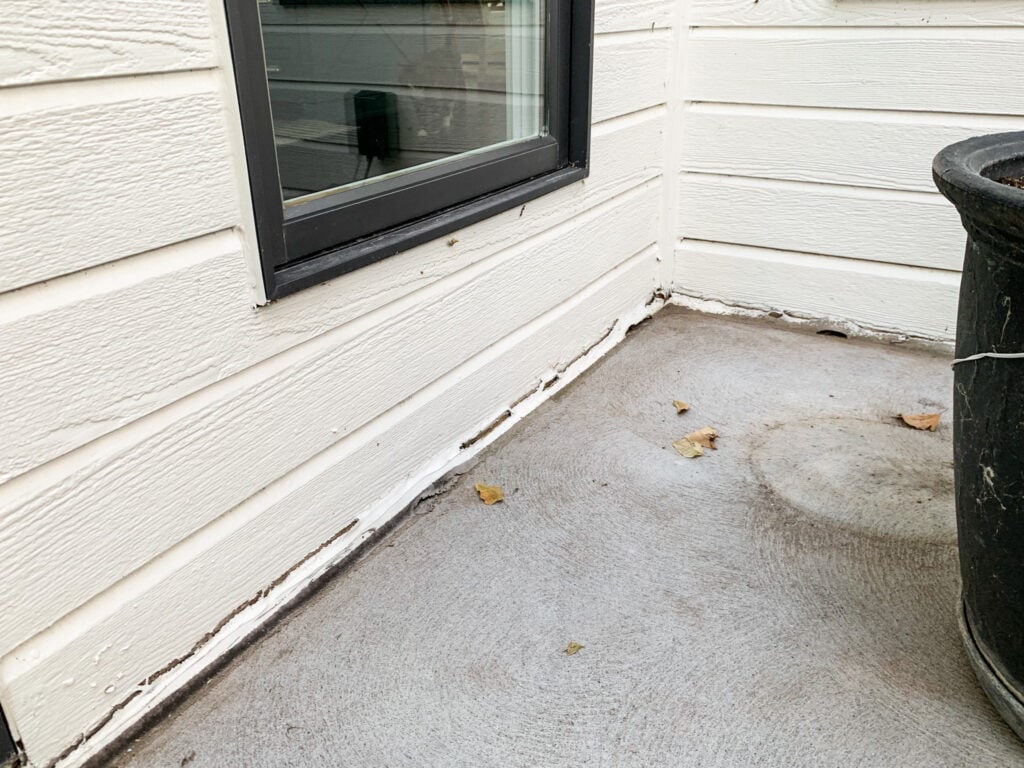 We also looked at possible tile samples for our bathroom renovation. The picture below is one I shared when I announced our Tudor flip. But we actually got a few samples of some of these exact tiles. They're all from Lowe's and relatively affordable. They've really upped their tile selection lately. None of these are special order and can be bought right off the shelf!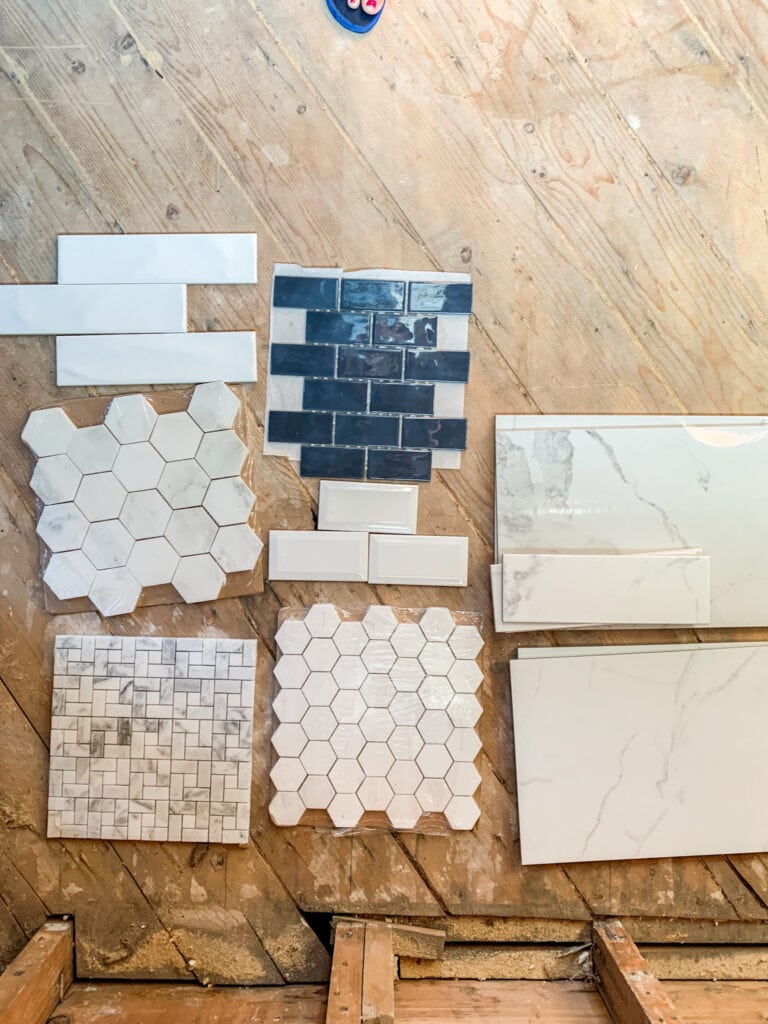 Speaking of bathroom renovations. We finally got our bids back for both bathrooms. I'll go into it all more in another post, but long story short, I'm probably going to have to scale my plans back quite a bit. I'm sure any of you that have done a bathroom reno recently were laughing when I thought we could tackle our smaller bathroom pretty affordably 😉 I'm not sure affordable should actually ever be used in the same sentence ever when talking about bathrooms if any demo is involved! I'm planning to circle back to the contractor and get a line-item bid so we can see what needs to be eliminated to make this happen. But I'm guessing the existing tub/shower inserts will be staying. And since I have a vanity sitting in our hallway upstairs, I know one of them rooms will still be moving forward in some form.
Top Sellers Of The Week
Following are the top sellers of the week across all of my channels. Links to each item are below the graphic.
Around Town & For Fun
Apparently the day we did a bunch of yardwork, the gate got left open. I opened the blinds in our bedroom one morning and the yard was full of turkeys. This was only about a third of them. I find them terrifying and fascinating at the same time. A giant one came charging out of a bush at one point when I was watching them, and I'm pretty sure I screamed. Inside my house. Haha! Thankfully they found their way out pretty quickly, because there was no way I was going out there.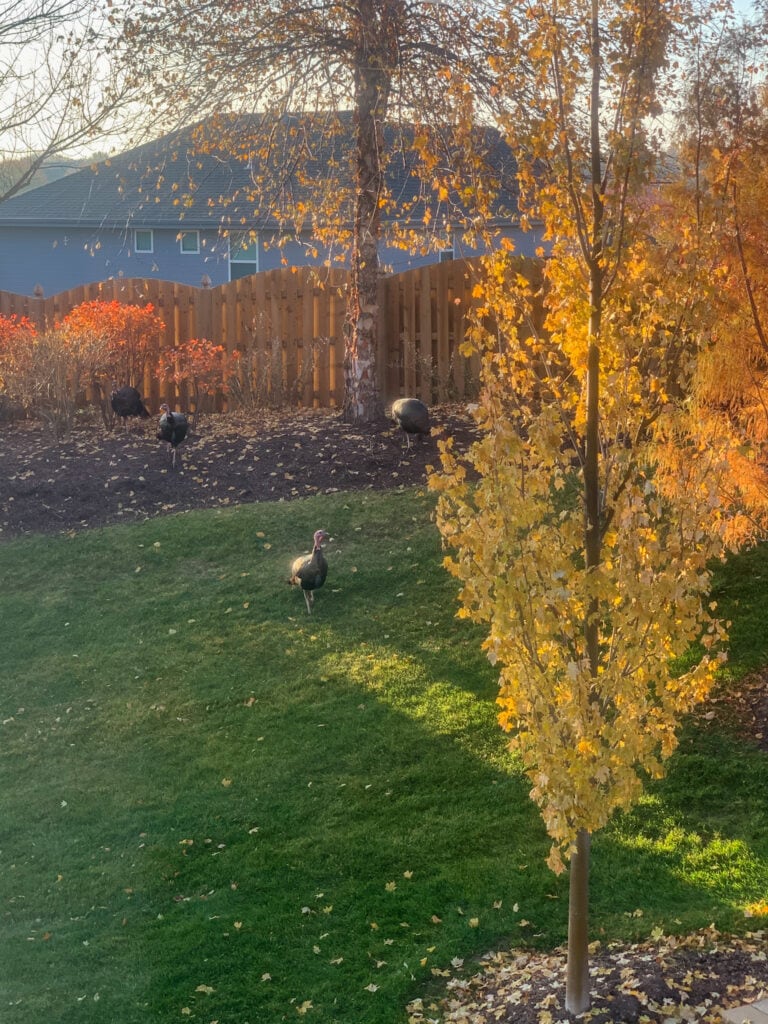 We had to take several trips down to the flip house last week. The guys had a little memorial set up for our contractor, and to be honest, I cried every time I saw it. But it also goes to show just how much he was loved. Thank you for all of your sweet words last week. Last week pretty much sucked but I tried really hard to focus on the positive. The house is on the prettiest street and it was really showing off how beautiful it is each time we visited.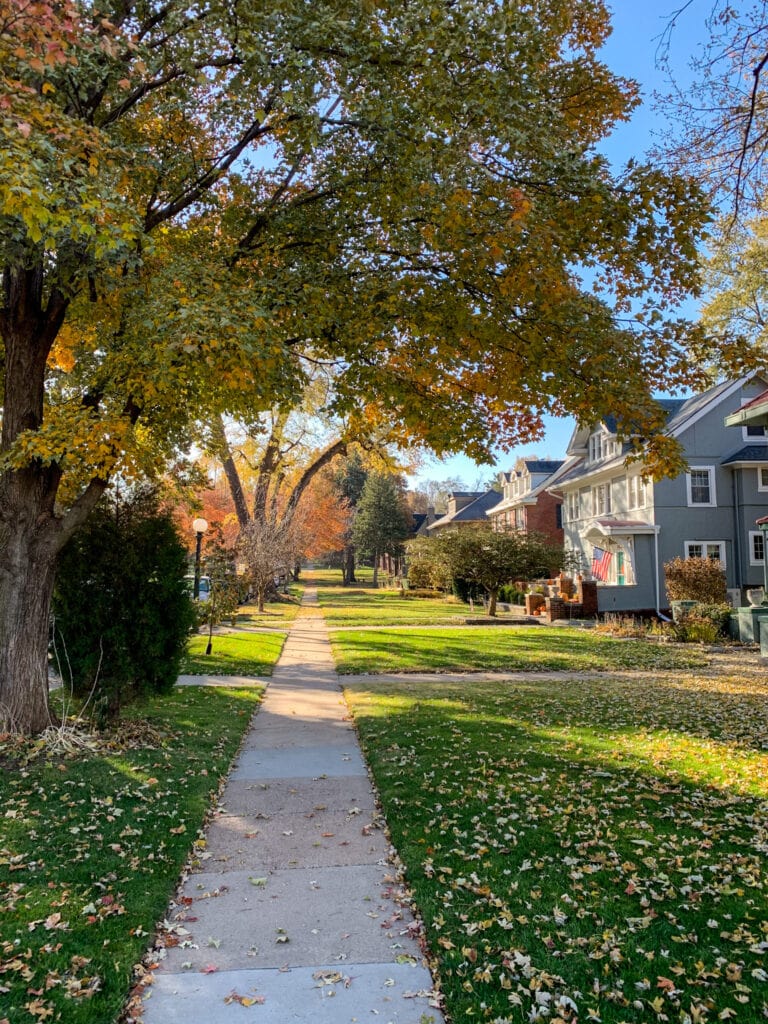 I pulled our stockings out of the basement over the week. Clearly it's super early, but they were some of the easier items to find and decorate with 😉 And as of this morning, the garland in front is 25% off today with code HOLIDAY25. They've been known to deactivate codes by mid-morning on Mondays (after the weekend), so I'm not sure if it will work all day or not.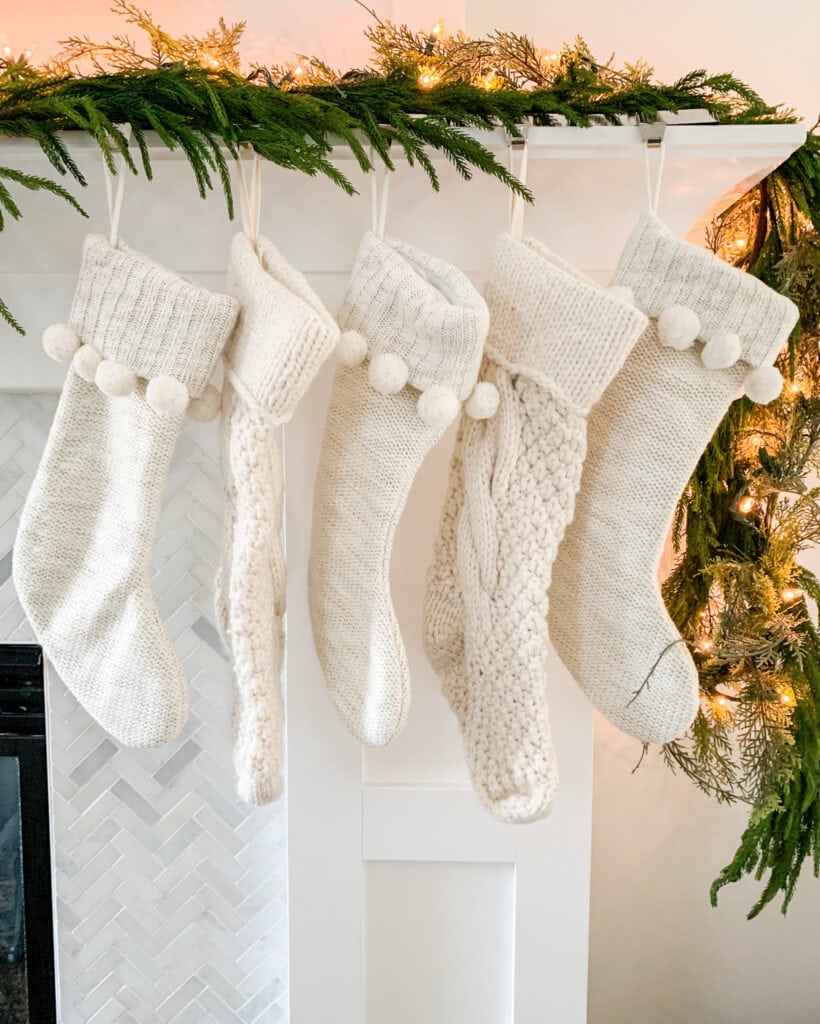 MANTEL SOURCES: Pom Pom Stocking | Chunky Knit Stocking | Real Touch Garland | Garland in back is old from JOANN
Kurtis and our brother-in-law went golfing Friday afternoon because it was another beautiful day. We then had dinner at their house and played some more cards. I thought this idea my sister-in-law used was super cute! She put some of those battery operated flameless candles under these cone trees you can find a lot of places. It's hard to tell here, but they looked so beautiful at night when they were lit up!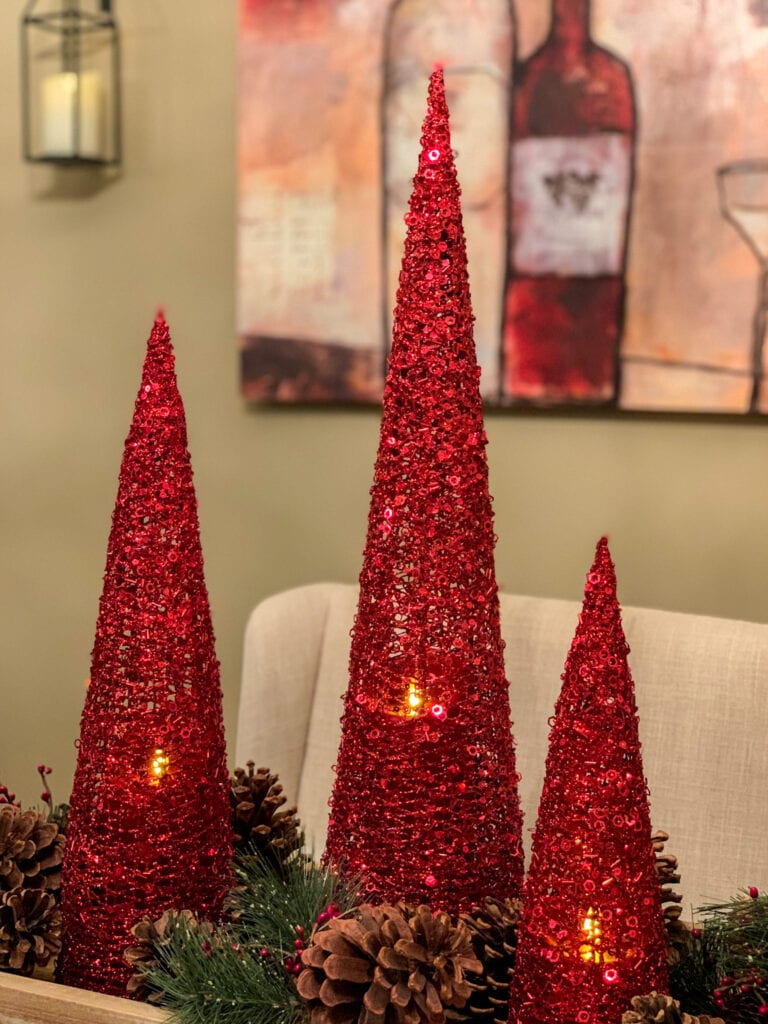 These two love when any of our doors are opened, especially since it doesn't happen that often this time of year! I think they want Kurtis to caulk the courtyard on a daily basis now!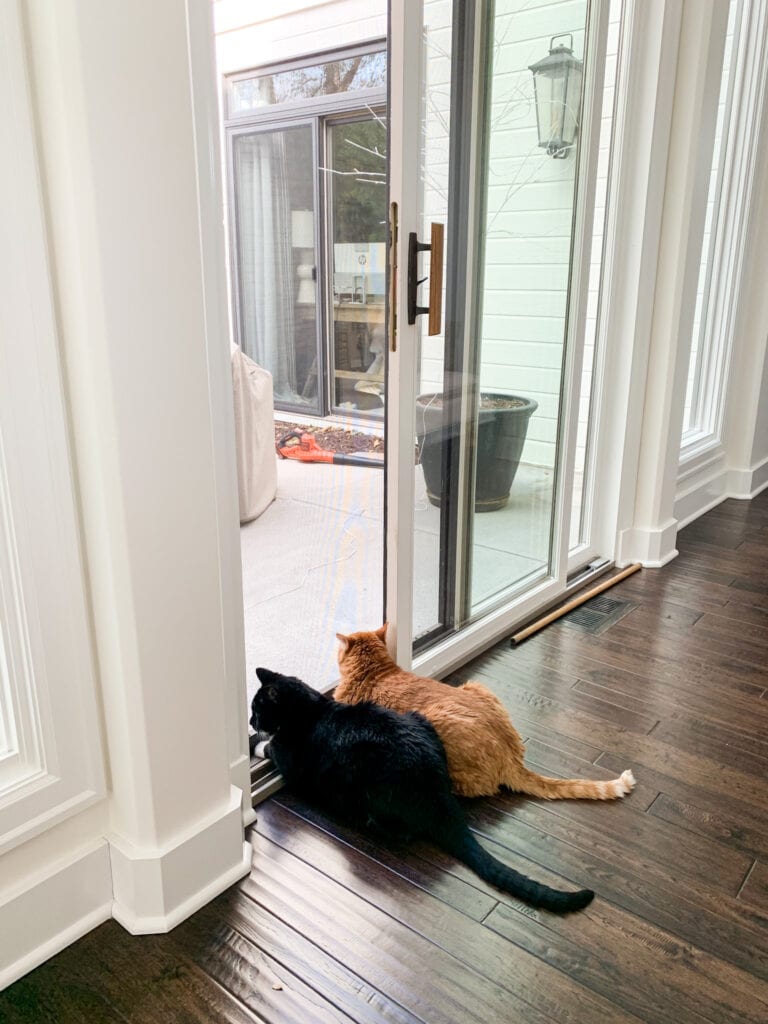 My goal is to share our Christmas home tour next Tuesday, the 17th. It's dependent on two more things arriving in time, and if they don't I'll plan to have the post up prior to Thanksgiving for sure.
I'm also planning to launch some of my gift guides this week, and continuing those through Thanksgiving (and possibly early December). I'm trying to get them up a little early this year since many retailers are still experiencing shipping delays. They're always fun to put together!
Recent Buys & Sales
Following are some of the sales that have carried over from the weekend or new ones that have started today! You can see some of my top picks from the weekend here.
I hope you all have a great week!
If you would like to follow along on more of my home decor, DIY, lifestyle, travel and other posts, I'd love to have you follow me on any of the following:
Pinterest | Instagram | Facebook | Twitter
disclosure: some affiliate links used