I hope you all had a nice weekend! We've been trying to soak up every ounce of summer that remains! It's still so hard to believe September is only two weeks away!
This post contains affiliate links for your shopping convenience. Click here to read my full disclosure policy.
Home Projects & Updates
We finally got some of the furniture back into the office. I say some, because there are still items out in the entryway and Kurtis' desk is still against the wall. But, for the most part, the rug flattened out pretty much on it's own. However, there is still one heavy crease in the middle that doesn't want to drop naturally. I'm planning to try a steamer today or tomorrow so we can hopefully get it stretched out and everything back in place! Thankfully the side against the wall was already relatively flat, so we got everything in place there to keep it pinned and to continue to hold it all flat. I love that the rug breaks up all of the yellow/beige/neutral tones (especially since the hardwood was close in color to our desks, bookshelves and cane in the cabinet). I saved an Instagram Stories highlight with some in-person looks and details if you're interested! Just click the circle that says "Office Rug" here.
We're also considering leaving each of our desks turned looking outside. Mine would face the courtyard and Kurtis' would face the street. We kind of like having a fresh view, even if our backs are to each other. I'll keep you posted. In the meantime, you can read our plans for the space here.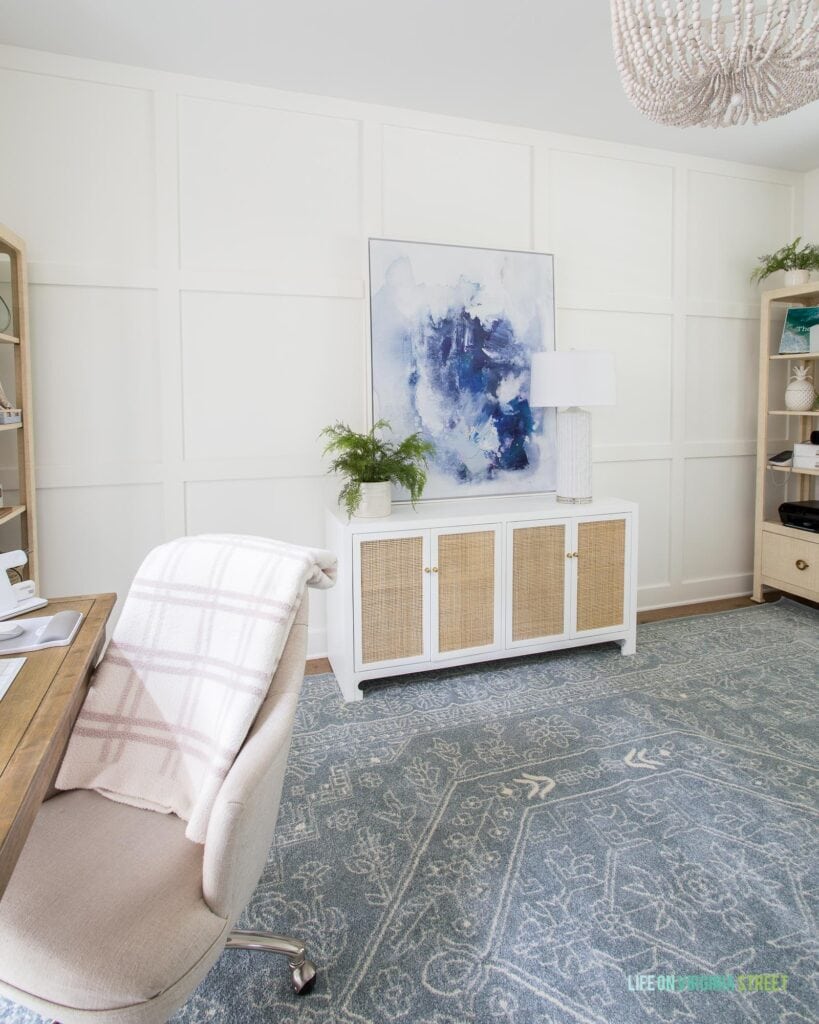 HOME OFFICE SOURCES: Rug (ours is the Slate/Ivory color) | Cane Cabinet | Wood Desks | Linen Chairs | Plaid Throw | Bookcases | White Wood Bead Chandelier | Faux Fern Pots | Abstract Art | White Bamboo Lamp – HomeGoods (old)
I shared this next image on Instagram last night. The bulk of the room is on sale right now so I wanted to share it for that purpose. But also because this windowpane linen bedding has now been in the room for every single season of the year! That may be a record for me 😉 But I may swap it up come fall this year. It will be fun to bring it out again next spring and summer!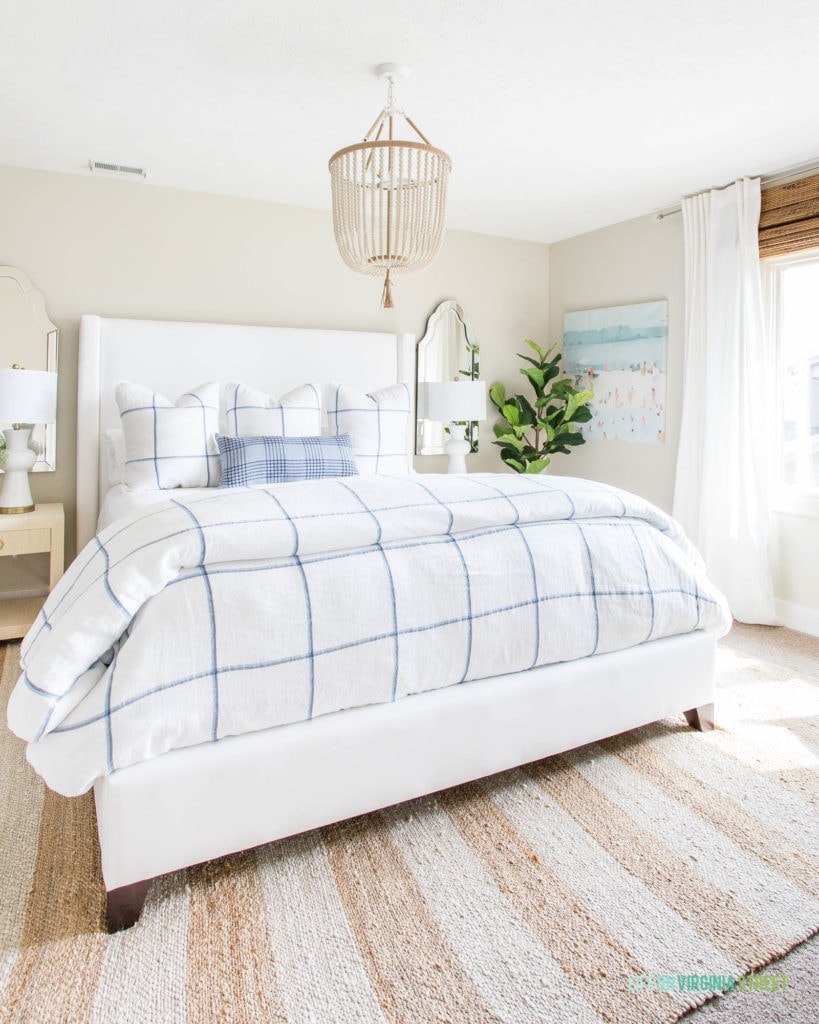 GUEST BEDROOM SOURCES: Upholstered Bed | Windowpane Plaid Bedding | Plaid Lumbar Pillow | Bead Chandelier | Striped Rug | Raffia Nightstands | White Ceramic Lamps (come as a set of two) | Abstract Beach Art | Faux Fiddle Leaf Fig Tree (this is the 5'4″ size) | Mirrors | Cane Chair | Striped Pillow
I've been working on a project for three+ months now that I still haven't decided if I'll ever share on the blog for more reasons than one. Mainly because there are other people involved and that also complicates things in many ways. But, I wanted to let you know that Lowe's has really upped their tile game recently! These are all samples I found in stock and on the shelf a week or two back! They were all fairly affordable (ranging from about $2-12 square foot, I believe). I could seriously look at tile samples all day long!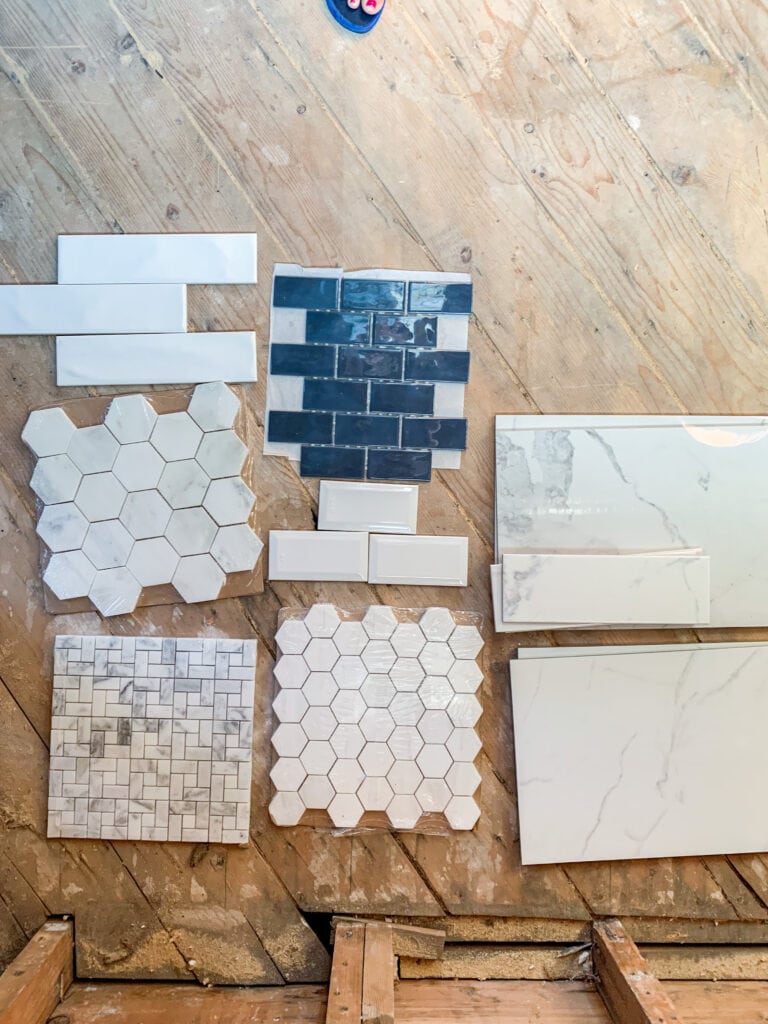 We had a rogue storm come through Monday that included some pretty crazy straight line winds. Thankfully we didn't sustain any major damage and just had to spend some time cleaning up all the fallen branches in our yard and pool.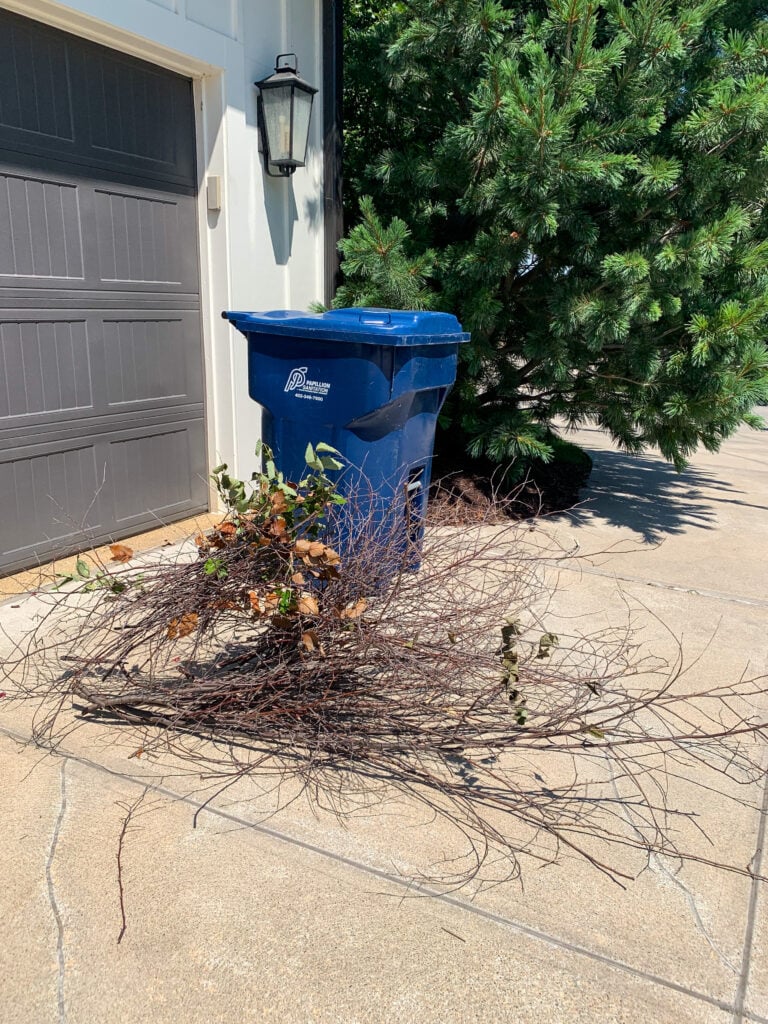 I've done a really horrible job of watering my plants the last week or two. But thankfully some of them are still thriving – despite the crazy storms this week! My limelight hydrangeas (and Little Limes) are at the phase where they need virtually zero work. And yet they bring me the most joy of anything in our yard! Definitely adding " plant more hydrangeas" to my to-do list this fall!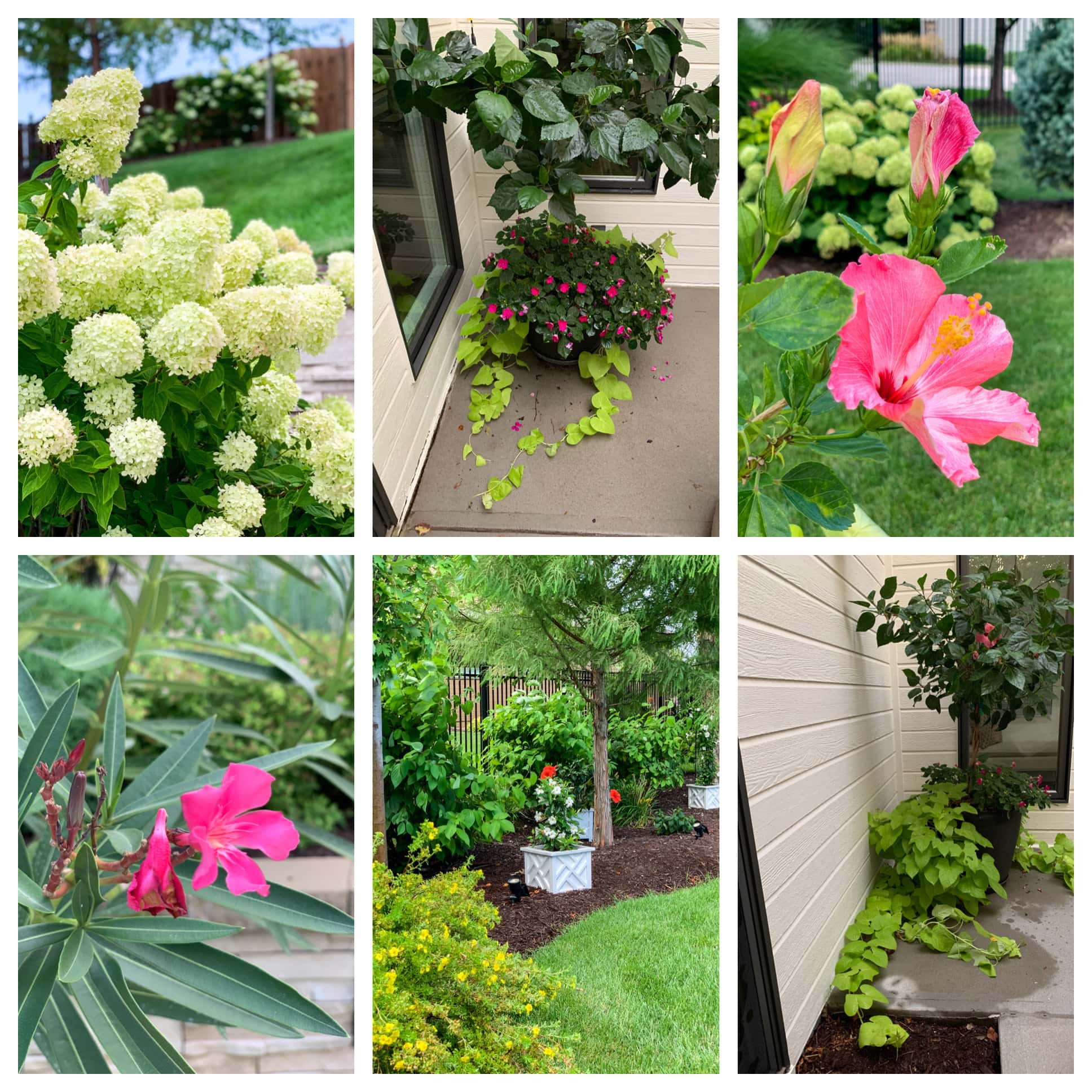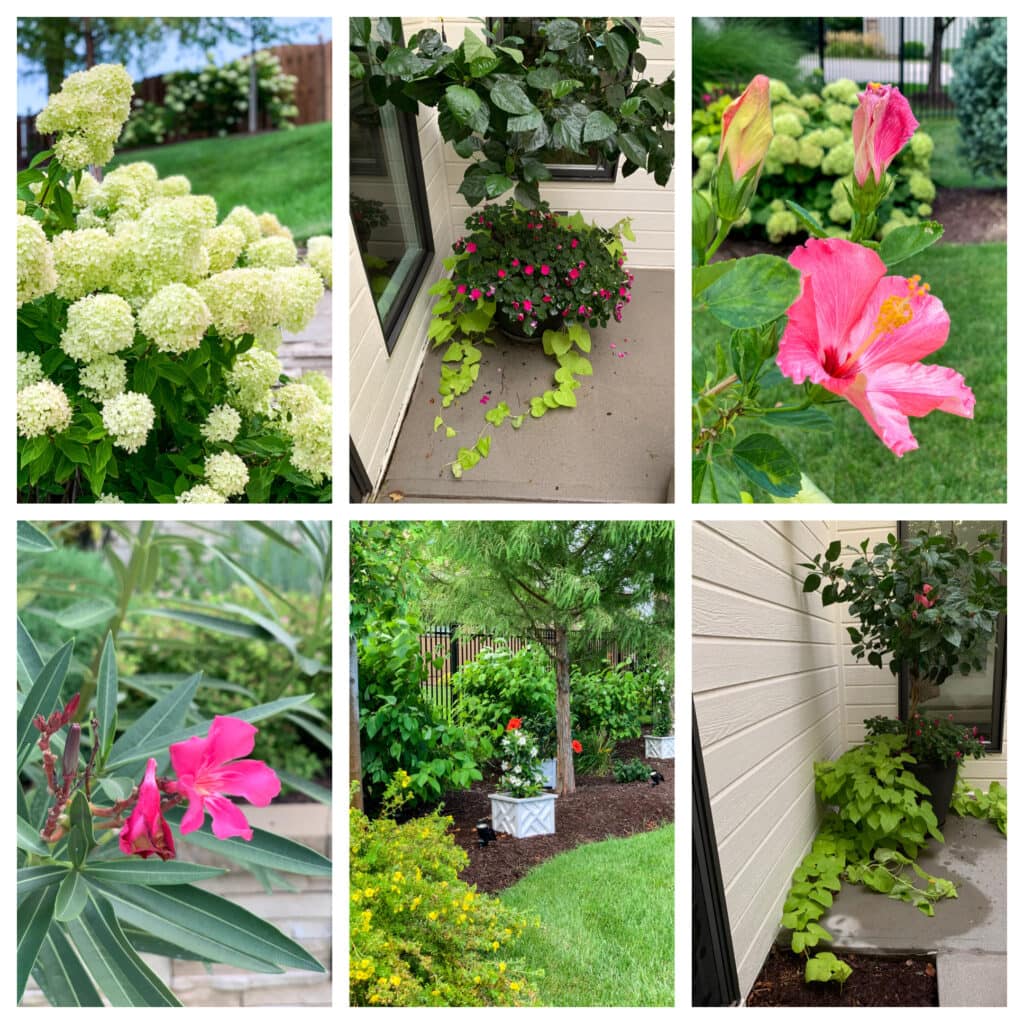 Top Sellers Of The Week
Following are the top sellers of the week across all of my channels. Links to each item are below the graphic.
Around Town & For Fun
Most of the week was rather beautiful outside, so we decided to support two of our favorite local restaurants and make use of their patios! The first one we went to comped our drinks because they said they missed us so much. Queue us feeling like we should definitely go there weekly now! We had been ordering delivery for the past few months from them, but you really do forget how much you miss the camaraderie at your favorite establishments!
One night Kurtis said he'd make us a charcuterie board. It was really yummy, but I had to laugh that, out of all the pretty boards we own, he served it on a literal cutting board. I should have left the blue rubber handle on in this photo just to show you how cute it was 😉 But I'll never complain when someone else is making me dinner!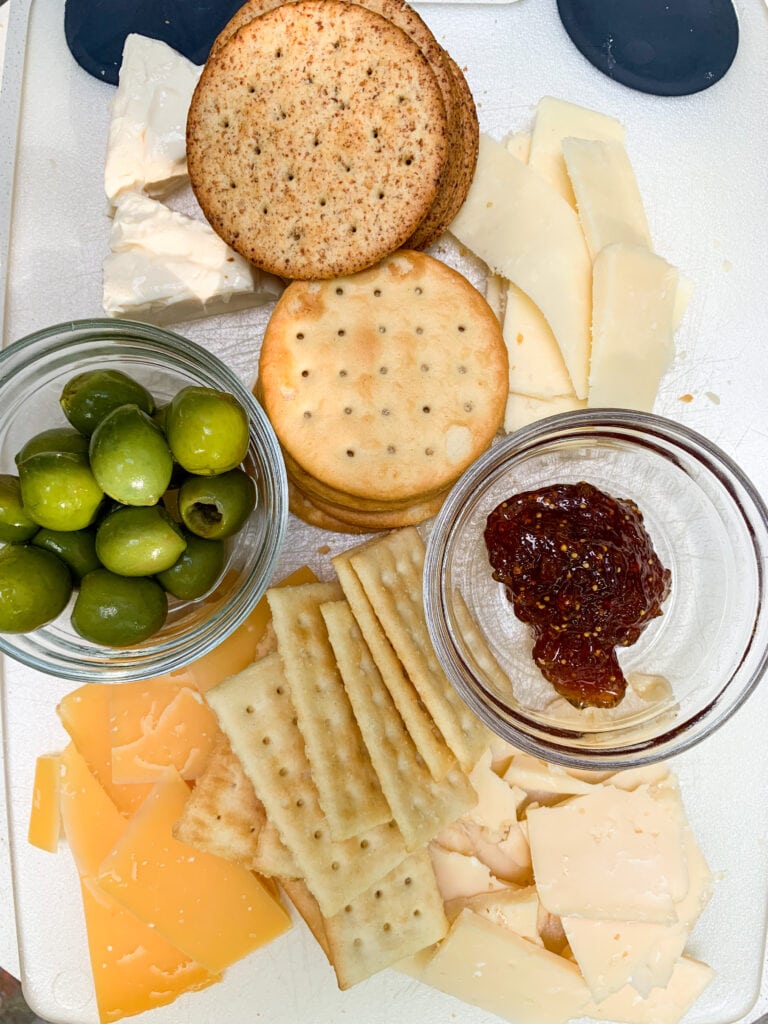 While most of the furniture was out of the office, it was funny to see how the cats reacted. They loved having a big open space to play, but then we'd randomly find them sitting on or near the most random things. Henley may have been trying to hide behind the throw in this one.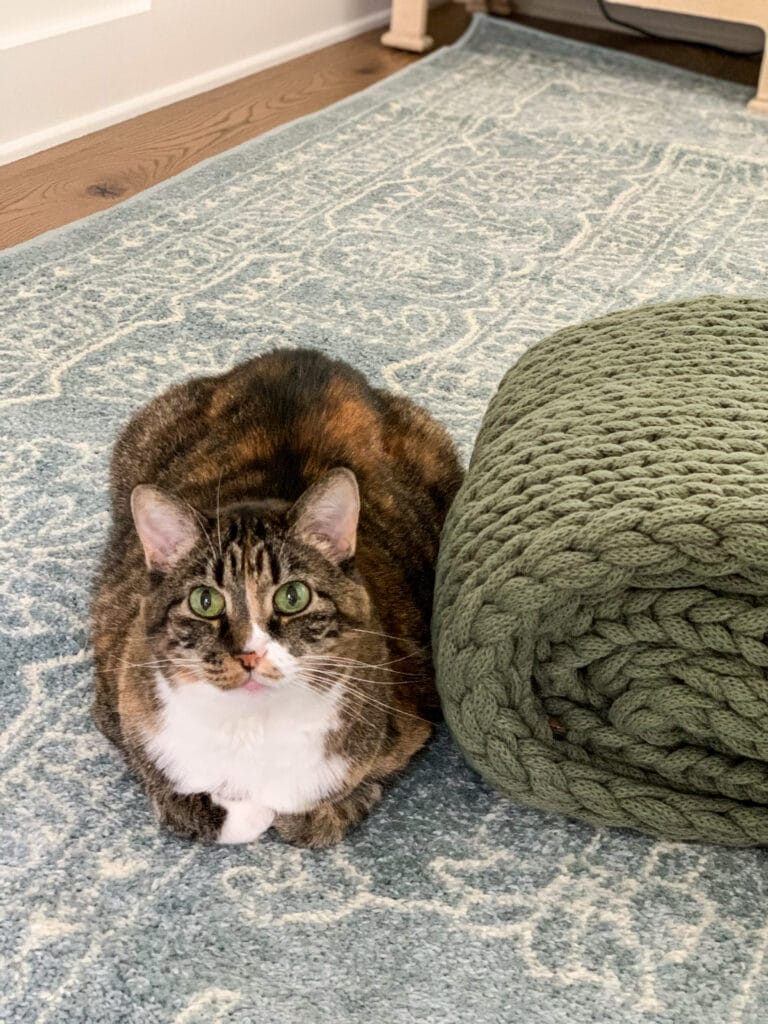 I had to spend a lot of time working on Sunday playing catch up (and was still rocking a slight sunburn from Saturday), but Kurtis headed out to the pool for an hour or two to enjoy the beautiful weather. He really is in his happy place when he can just veg out on a raft with his music playing!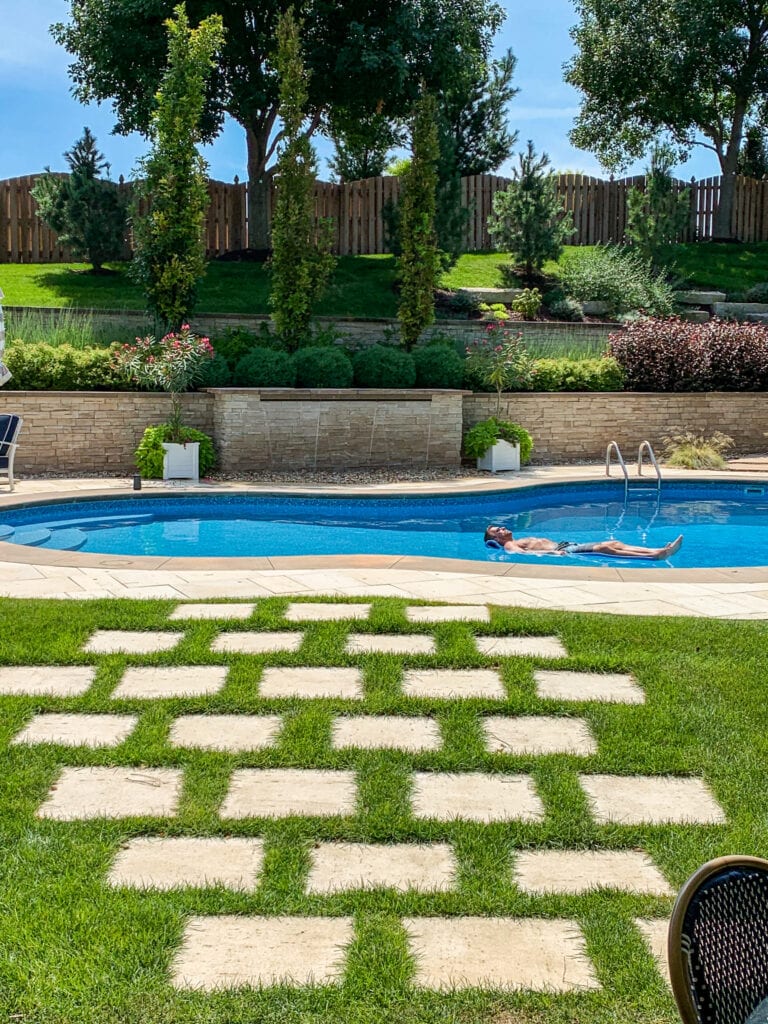 I went out to hang out for about 30 minutes but then a crazy storm came through, hail and all. It's crazy that the temps were pushing 90 and then dropped to 72 and looked like this in such a short window! Definitely feels a lot more like June weather for us than August!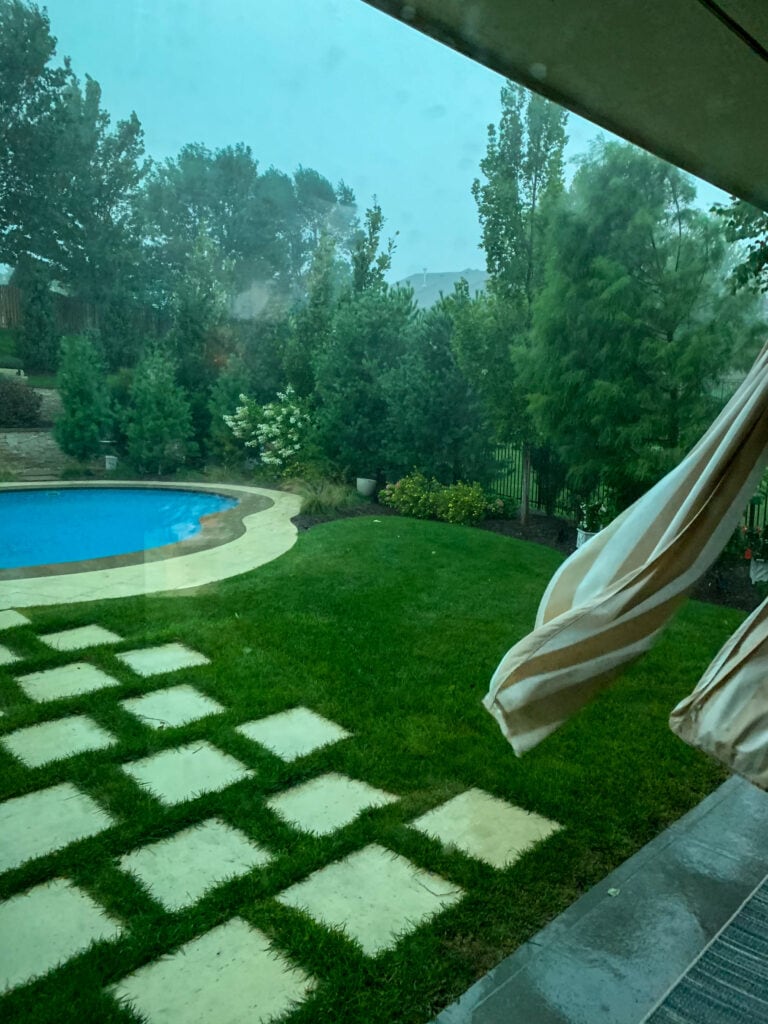 But after the storm, look how gorgeous everything was outside! I'm guessing it was the humidity and moisture in the air(?) but everything was covered in the prettiest golden light and it was all so beautiful!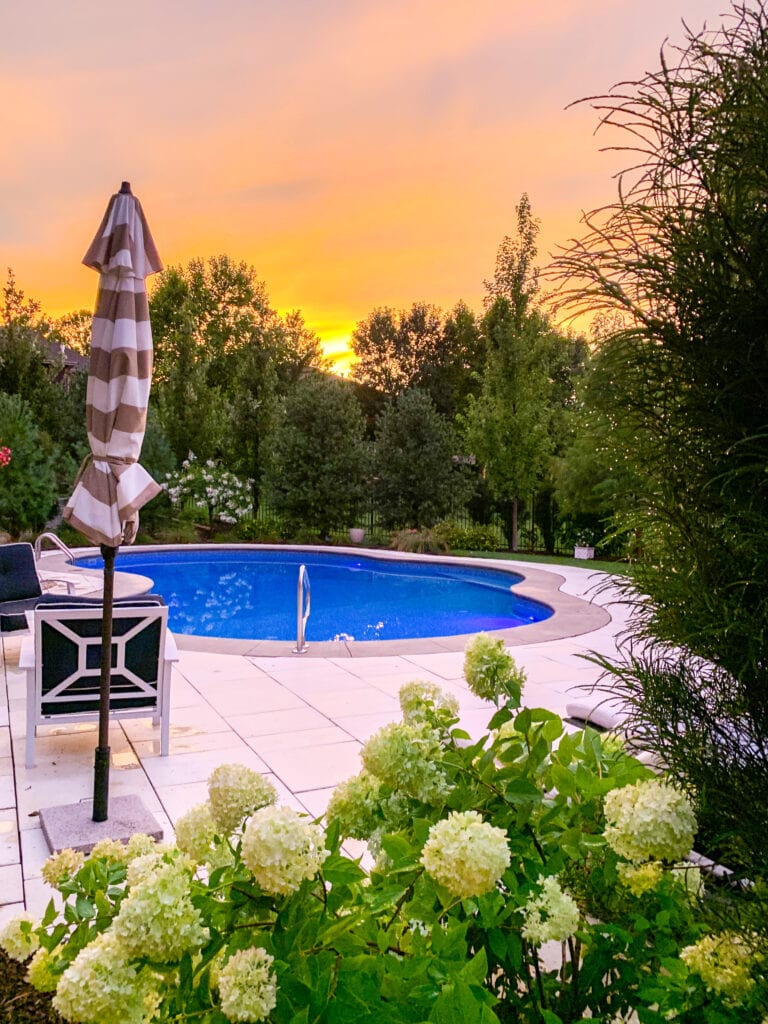 POOL DECK SOURCES: Conversation Set | Striped Umbrellas | Chaise Lounge Chairs
We've still been hitting the 30 Day Shred and I refuse to give up until my 40th in September! And ideally, I need to continue something like this long after my 40th!
And speaking of my 40th. With our 15th Anniversary also this year, we had planned to do a big trip sometime this fall. While we've had to set those plans ahead, we're both thinking we really need to go somewhere in late September. Admittedly, neither of us do well in the car past about six hours. But we're thinking we may need to try and up our radius to eight hours. I actually found this really cool website called Within Hours that lets you pick a distance or amount of time and will tell you sites and cities within that radius. It was fun to play with! It reports in 30 minute increments, so you have to play around with it a bit, but I found some cool options. All that to say – if you have any places you love within about an eight hour drive of Omaha, we've love to hear them!
Lastly, just a reminder that the Nordstrom Anniversary Sale opened to cardmembers last week but opens to the public on Wednesday! I'll have another post ready with some additional ideas, but in the meantime, you can also see some of the things I bought (and am returning) in this post.
Recent Buys & Sales
Following are some sales that have carried over from the weekend, as well a a few new additions. You can see some of my top picks here.
I hope you all have a great week!
If you would like to follow along on more of my home decor, DIY, lifestyle, travel and other posts, I'd love to have you follow me on any of the following:
Pinterest | Instagram | Facebook | Twitter
disclosure: some affiliate links used